Introduction


Welcome everyone to Let's Play
Ace Combat Zero: The Belkan War
, the first entry in what will hopefully be a larger look at the
Ace Combat
series' Strangereal-based games. Much like the previous LPs I helped create with my partner in LP Crime Blind Sally,
Star Wars: Shadows of the Empire
, and
Killzone
/
Killzone: Liberation
/
Killzone 2
, this LP will also be an in-depth look at the fictional history, politics, setting, and characters of
Ace Combat
's Strangereal shared universe as told over the course of multiple games and done in in-universe chronological order.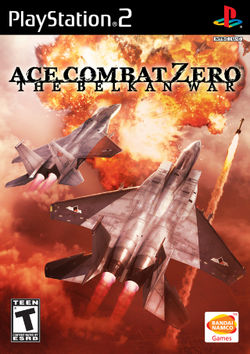 To do this, we are starting things off here with
Ace Combat Zero: The Belkan War
. Released in 2006 for the PlayStation2,
Zero
Project Aces' swan song for the PS2, and the second-to-last game released for that console generation before moving on (puzzlingly) to the Xbox 360 and
Ace Combat 6: Fires of Liberation
. Despite it being called "Zero",
Ace Combat Zero
is actually the 8th game in the
Ace Combat
franchise in terms of release order. It's called "Zero" because this is the earliest game in the Strangereal setting's in-universe timeline, and thus a natural starting point for this LP project.
The game was built off a refined version of
Ace Comabt 5: The Unsung War
's game engine, so you should be able to come back here and compare 5 to its successor when (and if) we get to it in the timeline. I will be highlighting what was changed and improved upon where I can in this run however.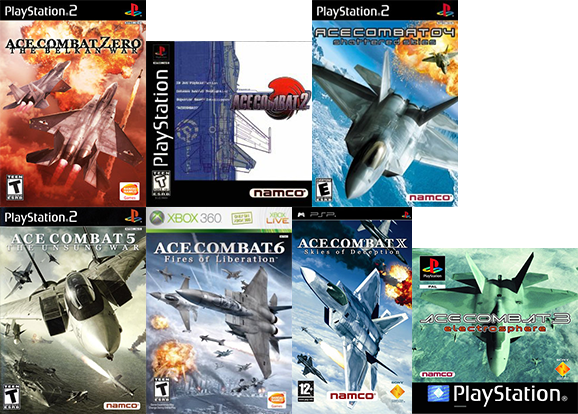 Project Aces'
Ace Combat
franchise is a sprawling mass of games spread out over many different consoles and handheld platforms with several wholly unrelated continuities depending on which sub-set of games you want to look at. The games most people are familiar with and have played, however, are the ones we will be covering over the course of this Mega LP: the ones set in Strangereal.
These of course are
Air Combat
,
Ace Combat 2
,
Ace Combat 3
,
Ace Combat 04
,
Ace Combat 5
,
Ace Combat Zero
,
Ace Combat 6
,
Ace Combat X
,
Ace Combat Xi
, and the recently announced
Ace Combat 7
.
That said, I will not be covering the following games: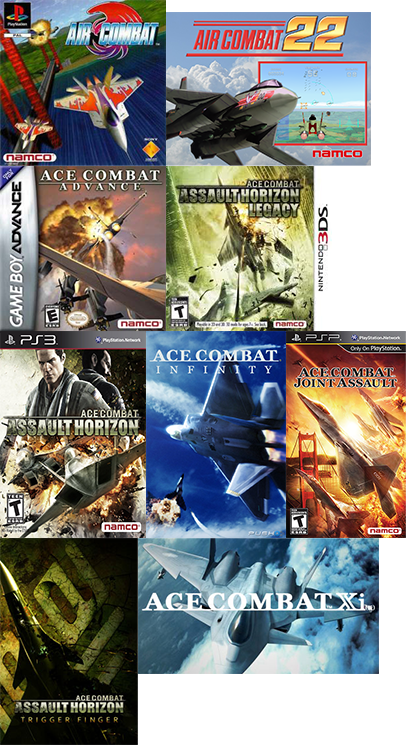 Air Combat - The very first AC game is a sparse arcade-y game with zero real connection to the Strangereal games. It was later retconned into Strangereal with the mightiest of :shrug:s
Air Combat 22 - A literal arcade game.
Ace Combat 3: Electrosphere - It's a bizarre sci-fi cyberpunk corporate warfare game set in the 2040s; too weird, not enough connections to the other games. Its English localization was also hilariously terrible. Lunethex is tackling Electrosphere for me.
Ace Combat: Joint Assault - A PSP game set on real world Earth, not a part of the Strangereal series.
Ace Combat Advanced - A GBA game also not set in Strangereal.
Ace Combat: Assault Horizon Legacy - 3DS remake of Ace Combat 2, I'm going to be looking at it's enhanced version Ace Combat: Assault Horizon Legacy+... if I can. (I'm not spending $400-ish for a 3DS capture mod, and 3DS emulation is still spotty at best).
Ace Combat: Infinity - A freemium PS3 game built on Assault Horizon's engine that takes missions from Strangereal and sets them on our Earth.
Ace Combat: Assault Horizon Trigger Finger - iPhone multiplayer game designed to hock Assault Horizon. Pass.
Ace Combat Xi: Skies of Incursion - It's literally Ace Combat X told from the perspective of the game's B-Team. It's also not available on the App Store any more, nor was it available in Canada when it was anyway.

Now, the uninitiated among you might be asking yourself "What the fuck is a
Shakespeare
Strangereal?" And to that I say "welcome to the weird and wonderful world of
Ace Combat
!"
The majority of the
Ace Combat
games are set in a shared universe setting that has been dubbed by fans as the "Strangereal" world. The name originated from a trailer for
Ace Combat 04
which contained the phrase "A strange, real world." Fans compacted the phrase into the portmanteau of "Strangereal" to describe the setting of the game. As you can see by the two world maps (the left one is "canon", the right one is fan-interpolated conjecture), the world of the
Ace Combat
series shares a number of similarities to our own while also being radically different. Namco itself would come to adopt the term Strangereal to describe the setting in more recent
Ace Combat
games such as
Ace Combat: Infinity
. It has also been implied that the
Ridge Racer
series also takes place in Strangereal, as background worldbuilding elements and settings from the
Ace Combat
games appear various
Ridge Racer
games, particularly the character of Reiko Nagase, who is implied to be a relative of several other Nagases who appear throughout the
Ace Combat
franchise.
Project Aces also previewed a trio of concept games at the dawn of the PlayStation3-era that used the Strangereal setting as well. They were, in no particular order,
Brave Arms
, a
Metal Gear Solid 4
/
Bionic Commando
third-person action/espionage game set in the Kingdom of Sapin;
Second Season 01
, a first-person cop drama game which appeared to be set in Oured, Osea; and
Chain Lim!t
, an
Alpha Protocol
-style action spy game with multiple user-determined solutions to action problems. All three games were either cancelled shortly after their announcement or were just internal proof-of-concepts that somehow were teased to the public as actual games before being pulled. Either way, they remain just another aspect of the enduring enigma that is Strangereal.
The Strangereal world is a massive, intriguing, and reactive place that gets developed a little more with each
Ace Combat
game set in it and elements of this setting speak to each other across multiple games. We're going to be looking at this setting from a near-pedantically scholarly viewpoint, so I hope you all have your over-analysis caps on like I do!
Because this is a thinking man's LP, not one of those "Shoot Visari in the face-RICO NO!!!" LPs. (Actually it is one of those LPs, don't tell anyone though!)
For the purpose of this LP series, we will be following the games in in-universe chronological order from 1995 to 2020. The order we will be going in will be Zero > 2 > 04 > 5 > 6 > X > 7 (depending on where it falls in the timeline when it eventually comes out). We even
might
do
Air Combat
and
Ace Combat: Assault Horizon
in some capacity for shits and giggles at the end as a bonus depending on how burnt out I am of
Ace Combat
in general and how good you've all been.
For more information about the
Ace Combat
franchise, please consult
Acepedia
, the Ace Combat Wiki. (Note: there's a lot of bullshit conjecture stuff on the AC Wiki, so read at your own risk. Also, lots of unmarked spoilers for the whole franchise.)

I'd prefer you
didn't
post spoilers, if you are one of those people who do know what happens in this and subsequent games. So try to avoid letting huge things that could ruin the game for people who are experiencing it fresh slip out like how Cipher
is actually a collection of springs in a flight suit
or how Pixy
is voiced by Yuri Lowenthal
.
Because that shit just sucks.



BONUS VIDEOS



ACES CURE PLANES
has volunteered to show off a curtailed "what if" run of
Zero
on Ace Difficulty on the Mercenary path. He will be taking me and several other guest commentators along for the ride, so be sure to check his stuff out too.

Presenting the "Great Up-Till-Now
Ace Combat
In-Universe Timeline". As we go through the games and possibly threads, this timeline will fill in with bullet points on events in the Strangereal world as new updates are posted.
1900s - 1910s
The First Osean War between Belka and Osea erupts. The conflict rages for five years between 1905 and 1910.

The war marks the first time aircraft are used in combat roles during a conflict. The Belkan Air Force leads Belka to victory over the Oseans with their superior planes.
1940s
The Second Osean War erupts between Belka and Osea following decades of tension between the two nations. Belka annexes a large portion of North Osea south of the Waldreich mountains.
1950s
The Cold War between Osea and Yuktobania begins following the end of the Second Osean War.
1970s
The Belkan military invades and annexes the nation of Recta.

Belka begins selling munitions to the Union of Yuktobanian Republics on Verusa and the Federal Republic of Erusea on Usea.
1986
The Tyumen Dispute between the Union of Yuktobanian Republics and its neighboring Republic of Kaluga erupts. During the climactic Battle of Zhytomyr, the Yuktobanian Air Force crushed the Kalugan military, though at the cost of numerous lives.
1987
The Blood War between the Union of Yuktobanian Republics and the Republic of Romny is fought. Yuktobania claims victory after the Romnian Air Force collapses.

17 December, 1987 – The Belkan Federal Law Review.
1988
8 February, 1988 – Belka permits its eastern territories to secede amidst economic strife. The newly established state of Gebet declares its capital at Mons.

12 May, 1988 – The Republic of Ustio announces its independence from Belka. Directus declared new Ustian capital.
1989
18 December, 1989 – Project Pendragon initiated. Belka begins construction of a chemical laser weapon installation codenamed Excalibur in the mountain town of Tauberg to act as a missile defense system.
1990
May, 1990 – Construction of Excalibur briefly halted after a violent riot by conservationists at the Tauberg construction site.
1991
29 August, 1991 – Northern Belkan territories sold off to the independent and FATO states. Northern islands and Five Great Lakes regions are ceded to the Osean Federation.

2 September, 1991 – Yuktobania announces the development of 2 Scinfaxi-class nuclear submarines.

16 December, 1991 – Territorial reformations are made. Boundaries of Ustio, Belka, Ratio, Recta, Gebet, Osea, and the FATO states are finalized.
1992
November, 1992 – Economic woes in Belka continue. Far-right Fatherland and Workers Party wins majority in Belkan National Assembly, pledges to restore strength and stability to Belka.
1993
3 August, 1993 – Construction completed on Excalibur installation.
1994
14 July, 1994 – Excalibur chemical laser deemed fully operational by the Belkan government after successful test fire.

December, 1994 – The International Astronomers Union announces the discovery of the Ulysses 1994XF04 asteroid.
1995
25 March, 1995 – Belka launches an invasion of Ustio, Sapin, and Osean held territories following the announcement of the discovery of natural resources in Ustio.

30 March, 1995 – The Republic of Ustio falls to Belkan forces. Valais Air Base in the Tyrann Mountains is Ustio's last remaining military facility.

1 April, 1995 – Osea and Allied Forces counterstrike action begins.

2 April, 1995 – Operation Crossbow: Ustio's Galm squadron repulses a flight of Belkan B-52s and escort fighters sent to destroy Valais AFB.

15 April, 1995 – Operation Roselein: Galm squadron conducts a bombing raid along Route 171 in Arlon, Sapin to secure a supply line for the Allied Forces.

20 April, 1995 – Operation Choker One: The Allied Forces begin their counter-attack on Belka. Galm Team is dispatched to Belkan Priority One Airspace B7R (Codename: The Roundtable) and is confronted by Belka's Indigo, Grun, and Rot fighter squadrons.

24 April, 1995 – Operations Gelnikos, Round Hammer, and Costner: The Galm Team secures the shipping lane of Futuro Canal on the Sapin/Osea border, crippling Belka's ground and naval forces, and escorting the Osean flagship OFS Kestrel safely through the canal.

12 May, 1995 – Operation Varsity: As the Allied Forces press closer to the Ustian capital of Directus, Galm Team provides top cover for an Osean paratrooper insertion into the occupied mountain town of Solis Ortus.

13 May, 1995 – Operation Constantine: The Ustian capital of Directus is liberated by the Allied Forces. Galm Team provides air support for the advancing army and downs Belka's rapid response fighter squadron, Gelb Team.

17 May, 1995 – Operation Hell Bound: Using Ustio as a springboard, the Allied Forces press into Belkan territory for the first time since the war's outbreak. The Galm Team is tasked with crippling the Belkan mountain fortress of Glatistant, the centerpiece of Belka's legendary Hydrian Line.

19 May, 1995 – Operation Dynamo: The Allied Forces attack Belka's airbase, ground defenses, and air squadrons on Schayne Planes. Alpha Team focuses on the ground defense installation. Beta Team cripples Schayne AFB. And Theta Team mops up the base's fighter contingent.

19 May 1995 (cont.) – Belka launches a surprise counterattack on the Allies during Operation Dynamo with their experimental chemical laser installation Excalibur.

23 May, 1995 – Operation Judgement: The combined force of Galm Team and Crow Team is dispatched to Tauberg, Belka to destroy the Excalibur laser weapon.

28 May 1995 – Osea announces the abrogation of its international non-aggression treaty with the Assembly of Nations.

28 May 1995 (cont.) – Operation Battle-Axe: The Allied Forces launch a massive assault on the B7R airspace in Southern Belka, intent on crippling Belka's local air superiority once and for all. Galm Team and Crow Team are thrust into the center of this battle and encounter Belka's Schwarze, Schnee, and Silber Squadrons in the war zone.

28 May 1995 (cont.) – Wolfgang "Huckebein" Buchner attempts to defect from Belka to Osea and is pursued by Schwarze Squadron into the B7R Round Table. He is shot down in the chaos of the battle and officially listed as "missing, presumed deceased."

1 June 1995 – Operation Cannibal: Galm and Crow Teams are dispatched to provide top cover for an Osean bombing run on the city of Hoffnung, Belka. While the mission is intended to cripple Belka's war production facilities, the Allied bomber crews begin to take matters a little too far...

6 June, 1995 – Operation Ravage: Galm and Crow Teams are sent across the Waldreich Mountains to rendezvous with an Osean strike team bound for the South Belka Munitions Factory in Sudentor. The operation is aborted after the Belkans detonate seven V1 nuclear warheads on their own soil in a last ditch effort to keep the Allied Forces from invading Dinsmark. In the chaos following the nuclear strike, Galm Two, Larry "Solo Wing Pixy" Foulke, turns against his wingmate Cipher and deserts the Ustian Air Force, fleeing the battlefield to parts unknown.

13 June, 1995 – Operation Stone Age: The newly restructured Galm Team of Cipher and PJ are sent to investigate reports of a Belkan remnant contingent at the Yering Mine complex at Mt. Schrim and eliminate any hostile forces they encounter there.

20 June, 1995 – The Belkan War comes to a close with the signing of the Treaty of Lumen at an official capitulation ceremony in Lumen, Osea (formerly Belka). Ratified by representatives from Osea, Belka, Ustio, Sapin, and Yuktobania, the treaty calls for the immediate cessation of hostilities between Belka and the Allied Forces, as well as the disarmament of the Belkan military, and the relinquishment of South Belka to the ownership of the Osean Federation.

20 June, 1995 (cont.) – Operation Broom: As the capitulation ceremony gets underway in Lumen, the Allied Forces launch one final covert assault upon a Belkan contingent hiding in the coastal town of Anfang, Belka, who refuse to abide by the cease fire order. Galm Team is dispatched on a three pronged operation: Mars Strike Team attacks the Belkan remnant's naval and land forces occupying the town, Mercury Strike Team bombs the makeshift runway in the highway tunnel just outside of town, and Jupiter Strike Team mops up the remnant Belkan Air Force unit stationed with the contingent, including the squadron's E-767 AWACS unit.


Early October, 1995 – The Sapin Air Force's Espada squadron goes AWOL from their airbase and disappears into Belkan territory. Similar incidents involving other fighter squadrons from Osea, Ustio, and Yuktobania are also reported around this time.

Late October, 1995 – Researchers from the Usean Universities of Shellsbridge and Comona determine the Ulysses 1994XF04 asteroid, discovered the year prior, is indeed on a collision course with the Earth. It will pass Earth's Roche Limit and impact the planet on July 3rd, 1999.

Early December, 1995 – The Federation of Central Usea (FCU) convenes a continental congress of the nations of Usea to discuss the Ulysses threat. After much debate, the nations of Usea agree to begin construction of a railgun network in a politically neutral nation in order to attempt to shoot down oncoming asteroid fragments. The central Usean nation of Delarus is chosen as the home of the turret network codenamed "Stonehenge". Development of Stonehenge and the existence of Ulysses is classified as top secret for the foreseeable future in order to prevent a global panic.

25 December, 1995 – Operation Valkyire: Several high ranking members of the Belkan military stage a coup and reveal they have seized control over a large amount of former South Belka Munitions Factory and Project Pendragon assets. Under the command of former Project Pendragon chief engineer Dr. Anton Kupchenko, the organization calls itself "A World With No Boundaries", and lunches a surprise attack on the city of Lumen, Osea, with a massive gunship codenamed XB-0 Hresvelgr. After the XB-0 attacks Valais Air Base, Cipher and PJ are recalled to active duty to hunt down and destroy AWWNB's "Talon of Ruin". However, before they can strike, they are intercepted by the Espada Squadron, defectors from the Sapin Air Force.

31 December, 1995 – Operation Thunderbolt: The Allied Forces launch a final strike on A World With No Boundaries' HQ at Avalon Dam to prevent the launch of their V2 WMD. Cipher and PJ are dispatched towards Avalon through the B7R Round Table, where they encounter interceptor squadrons lead by members of AWWNB's core leadership.

31 Decemeber, 1995 (cont.) – Operation Point Blank: Cipher and PJ reach the Avalon Dam and disable the V2 launch control modules. As they celebrate their victory, they are intercepted Larry "Pixy" Foulke, piloting an advanced fighter craft known as the ADFX-02 Morgan. After killing PJ with the Morgan's on-board tactical laser pod, Foulke reactivates and launches the V2 MIRV. He is then shot down after a grueling final battle with Cipher and the V2 scuttles itself in mid-flight when the control transmission from the Morgan is terminated.
1996
Early January, 1996 – Cipher resigns from the Ustio Air Force's Mercenary Division and leaves the country. All records of his involvement in the Belkan War are sealed by the Ustian and Osean governments due to the politically sensitive nature of his role in the post-armistice conflict against A World With No Boundaries. He is never seen again.

Mid Summer, 1996 – Terrorist forces seize control over the Skully Islands off the coast of Usea. They are defeated by the Scarface Squadron of the Federation of Central Usea's mercenary division. Nobody cared.
2005
7 September, 2005 – OBC's Brett Thompson interviews Erich "Phonix" Hillenberand (Schnee 1) for Warriors and the Belkan War at Jackson Hill International Airport in Jackson Hill, Osea.

13 September, 2005 – OBC's Brett Thompson interviews Rainer "Cormorant" Altman (Gelb 2) for Warriors and the Belkan War at his home in Directus, Ustio.

22 September, 2005 – OBC's Brett Thompson interviews Dominic "Vulture" Zubov (Schwarze 1) for Warriors and the Belkan War in an abandoned apartment complex in Oured, Osea.

24 September, 2005 – OBC's Brett Thompson interviews Dietrich "Boss" Kellerman (Silber 1) for Warriors and the Belkan War at his dairy farm in Birneheim, Belka.

10 October, 2005 – OBC's Brett Thompson interviews Dimitri "Blue Heron" Heinreich (Indigo 1) for Warriors and the Belkan War at his family estate in Lichtenburg, Belka.

12 Octorber, 2005 – OBC's Brett Thompson interviews Dr. Detlef "Red Swallow" Fleisher (Rot 1) for Warriors and the Belkan War at his office at the University of Dinsmark.

15 October, 2005 – OBC's Brett Thompson interviews Berhanrd "Night Owl" Schmidt (Grun 1) for Warriors and the Belkan War at Pop's Diner in Sudentor, Belka.

20 October, 2005 – OBC's Brett Thompson interviews Marcela "Macarena" Vasquez (Espada 2) for Warriors and the Belkan War at a bar in Gran Rugido, Sapin.

25 October, 2005 – Unable to track him down for an interview on account of his alleged death, OBC's Brett Thompson visits the grave site of Dr. Anton Kupchenko (Gault 1) at Holtz Public Cemetary in Dinsmark, Belka.

31 October, 2005 – OBC's Brett Thompson interviews Anthony "Bedivere" Palmer (Sorcerer 1) for Warriors and the Belkan War at his office in Oured, Osea, on Halloween.

11 November, 2005 – OBC's Brett Thompson interviews Joshua "Lucan" Bristow (Wizard 1) for Warriors and the Belkan War in his cell at Land Ford Federal Prison in Osea.

25 November, 2005 – OBC's Brett Thompson interviews Larry "Solo Wing Pixy" Foulke (Galm 2) for the documentary Warriors and the Belkan War on the border of Delarus on Usea.

30 November, 2005 – OBC's Brett Thompson charters a helicopter flyover of the now-defunct and flooded Avalon Dam facility. While exploring the shoreline of the Mund River, he comes across a makeshift grave site constructed out of F-16C wreckage, and a bouquet of flowers recently planted there in honour of the late Patrick James "PJ" Beckett. This is the closest Thompson ever came to encountering Cipher, missing him by mere days, possibly even hours.
2006
23 March, 2006 – Brett Thompson's documentary special on Cipher and the Belkan War, Warriors and the Belkan War, airs on Osea's OBC broadcast network.
2030 - 2040