Part 16: Mission 15 - Operation Valkyrie, December 25th, 1995
"The Talon of Ruin"
Mission 15: Operation Valkyrie – December 25th, 1995
Overview:
After six months of uneasy peace between Osea and Belka, a terrorist organization calling itself "A World With No Boundaries" launches a devastating surprise attack against the city of Lumen, Osea on Christmas Day. Using a massive aircraft known as the XB-0 Hresvelgr as their command ship, AWWNB appears to be comprised of former pilots and soldiers from Belka, Osea, Ustio, and Sapin. Their motives and objectives remain a mystery; however their hostility towards the nations of the Allied Forces is clear.
Cipher and PJ are scrambled from Valais AFB to run down and destroy the XB-0 over the Waldreich mountains, and are challenged by the heavy command cruiser's escort wing, Espada Squadron, defectors from the Sapish Air Force.

Guest Commentator:
Dr. Snark
joins me for this mission. He's been a staple of my LP threads since all the way back to
Shadows of the Empire
…He hasn't done any LPs of his own, but he has asked me to plug
bgreman
's long running LP of
Aurora
, of which he is a frequent contributor.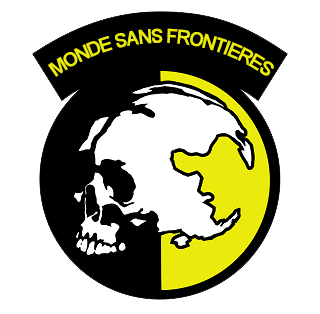 A WORLD WITH NO BOUNDARIES
They've been pre-figured since Mission 10, and were namedropped in the Assault Records for Mission 14, but this mission is our formal introduction to A World With No Boundaries. Agents of AWWNB are going to be our main adversaries from now until the end of the game.
The organization that would go on to become A World With No Boundaries was formed by Belkan Air Force commander and former Project Pendragon chief engineer Dr. Anton Kupchenko shortly before the end of the Belkan War at the behest of Belkan Chancellor Waldmarr Rald. It was originally designed to be a post-war resistance militia against a potential Osean occupation of Belka, but Kupchenko went rogue on Rald and repurposed the organization in the waning days of the Belkan War to serve his own ideological purposes. The Belkan government has since disavowed its ties to A World With No Boundaries and claims that Dr. Kupchenko actually died in March of 1995, shortly before the Belkan War began.
Prior to the Allied Forces crossing the Hydrian Line at Glatistant, Kupchenko reached out to pilots and soldiers from Osea, Ustio, Sapin, and Yuktobania whom his contacts in Belkan Intelligence suggested shared similar views and philosophies as himself and would be open to defecting from their homelands if need be. Chief among those pilots were Captains Joshua "Lucan" Bristow, and Anthony "Bedivere" Palmer (aka Wizard 1 and Sorcerer 1) of the Osean Air Defense Force, who became two of Kupchenko's principle lieutenants in the organization. Following the nuclear detonations in the Waldreich Mountains, Bristow and Palmer defected from the ODAF, going AWOL with their respective squadrons in tow. Bristow had also been instrumental in recruiting Larry "Solo Wing Pixy" Foulke into the organization prior to Foulke's own defection from Ustio during the nuclear strike.
Though few in number in terms of soldiers and pilots, AWWNB possesses a large arsenal of weaponry shunted to them by sympathetic contacts from the South Belka Munitions Factory, including many recently completed assets from Project Pendragon such as the XB-0 Hresvelgr heavy command cruiser, the V2 nuclear MIRV weapon, and the highly experimental
[INFORMATION REDACTED]
. Intelligence sources claim that Kupchenko, Bristow, Palmer, and Foulke are holed up at the Avalon Dam, a top secret Belkan military installation disguised as a hydroelectric dam in Belka's Valley of the Kings, which has recently fallen under the control over AWWNB, and are overseeing the final stages of a planned V2 launch.
AWWNB's motives remain a mystery. However, Anton Kupchenko's archived writings and correspondence paints a picture of what led to the genesis of the organization in its current form. Kupchenko expressed a deep disgust for both the petty infighting within the Belkan government, and the seemingly endless cycle of brutality that had engulfed Belka for the better part of a century over, in his view, some meaningless lines on a map. To end this suffering, the governments responsible for these endless wars would have to be eliminated and replaced with wiser leaders, by any means necessary in Kupchenko's eyes.
Regardless of their motivation, AWWNB is actively hostile to the nations of the former Allied Forces, primarily Osea and Ustio. Following the Christmas Day bombing of Lumen with the XB-0 Hresvelgr, the Osean government officially declared A World With No Boundaries to be a terrorist organization and vowed to eliminate it swiftly and decisively, and see its leaders brought to justice for their crimes.
In the real world, "A World With No Boundaries" is perhaps the longest of the long bomb Arthurian references in the game. It's such an obscure reference that I didn't even know about it until I recorded the commentary for this mission with Dr. Snark, so I just want to credit him for that one. The phrase comes from
The Once and Future King
by T. H. White, a novel comprised of four books, the first of which is
The Sword in the Stone
, where the original quote comes from.
The Sword in the Stone
deals primarily with Arthur's upbringing and his tutelage under Merlin. Over the course of the book, a teenage Arthur travels Britain under the assumed name of Wart to disguise his royal lineage from Uther Pendragon's enemies and so he can experience people treating him like a normal person instead of a prince all the time. Many of Merlin's "lessons" to young Arthur involve turning him into various animals and having him learn the ways of the world from the creatures who inhabit it rather than these stupid, mundane, warlike humans. The story was later adapted into the Walt Disney animated film of the same name.
In one of his animal lessons, Arthur encounters a goose named Lyo-lyok and is shocked by how carefree and unguarded she is, wondering why she is not on guard from potential attacks from other geese like humans are towards one another. She responds thusly:
quote:
"Dear me, you are a silly," she said. "There are no boundaries among the geese. ... How can you have boundaries if you fly? Those ants of yours — and the humans too — would have to stop fighting in the end, if they took to the air."
The idea is that it is ground-based boundaries that lead to conflict, while in the air there are no such things as boundaries and thus there should be no cause for fighting because everyone is free to go and do as they please. I'm of course giving this a rough gloss for the sake of brevity, the issues at play are far more complex, but that's the gist of it. It comes back to what Pixy said at the start of Mission 9, about how there were no borders visible from the air (or in real life, as opposed to a map). So then it's thematically appropriate that AWWNB was founded by a group of geese then—pilots, who consider themselves above the ants (soldiers and politicians) on the ground who do nothing but start war after war, while they fly above it all.
An adult Arthur later reflects back on Lyo-lyok and her lesson to him in the fourth book of
The Once and Future King
,
The Candle in the Wind
:
quote:
Frontiers were imaginary lines…It was geography which was the cause—political geography. It was nothing else…Countries would have to become counties—but counties which could keep their own culture and local laws. The imaginary lines on the earth's surface only needed to be unimagined. The airborne birds skipped them by nature. How mad the frontiers had seemed to Lyo-Lyok, and would to Man if he could fly.



There would be a day—there must be a day—when he would come back to Gramayre with a new Round Table which had no corners, just as the world had none—a table without boundaries between the nations who would sit to feast there. The hope of making it would lie in culture.
Project Aces gets accused of using some really shallow references for the sake of reference at times by critics, but not here. My hat's off to them. They really did their homework on this one. Fine work, PA.
Beyond that, the other real world element at play tracks into the other half of what Belka's all about : being Germany. Specifically Nazi Germany. It shares a number of structural similarities and background details with the Nazi Werwolf project, a contingency drafted by the SS but never actually implemented to basically take a decent chunk of the Wehrmacht and turn it into a guerrilla militia to fight back against what was almost inevitably going to be an Allied occupation of Germany following the end of World War II.
The idea was that Werwolf would make occupying the Fatherland functionally impossible for the Allies and force them to retreat in order to get out of the endless quagmire, thus allowing the surviving members of the Nazi party to come out of hiding and retake power. This thankfully never came to pass, and what few Werwolf actions there were remain highly disputed as to their ties to Werwolf by historians due to the fact that it was poorly commanded, armed, and funded, highly disorganized, and hamstrung by the German populace failing to support it due to war weariness, demoralization from defeat, and an unwillingness to sacrifice themselves for the sake of a failed government. By and large it functioned more as a propaganda tool than as an actual military unit.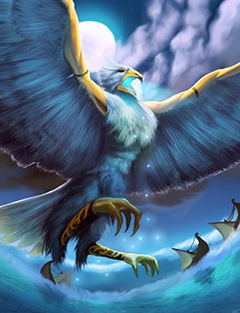 HRESVELGR
Pronounced "Her'res-vel-ger," Hræsvelgr means "corpse swallower" in Old Norse, and is the name of a giant who can transform into the shape of a massive eagle. According to Norse legend, he sits at the edge of the world and creates the winds with his wing flaps.
Hresvelgr marks our return to Norse references in
Ace Combat Zero
, having strayed away from them for a while after dropping Galm on us at the start of the game.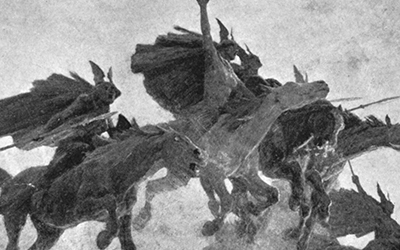 VALKYRIE
Another Norse reference, this time in our mission codename. The Valkyries were a host of female warrior demigods who governed the fates of those who rode into battle, choosing who would live and who would die. The fallen, if they were honorable in life and died well in battle, would then be taken by the Valkyries to Valhalla where they would become Einherjar (the once-fought), the soldiers the Æsir gods who would then fight for them at Ragnarok once the time came.
In
Zero
, the appearance of Valkyrie here is a callback to something incredibly importing coming down the line in
Ace Combat 5
, so to talk about it here is nothing but spoilers for what we will be seeing in the future, unfortunately.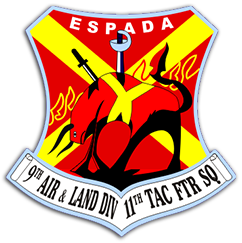 ESPADA SQUADRON
Sapin Air Force 9th Air and Land Division, 11th Tactical Fighter Squadron (Defected)
Members:
Espada 1 – Alberto Lopez

Espada 2 – Marcela "Macarena" Vasquez
Squadron Composition:
J35J Draken (x1), Rafale M (x1)
A two-plane squadron from the Sapin Air Force. The Espada Team flew many sorties for Sapin as part of the Allied Forces during the Belkan War. While they were among the SAF's top aces over the duration of the war, both Lopez and Vasquez slowly grew disillusioned with their homeland's role in the war and its support of Osea's increasingly brutal treatment of the Belkans and of its creeping imperialism across the continent in its lust for power and territory.
Following the signing of the Belkan armistice, they began to distance themselves from the Sapin Air Force, and in early October of 1995, they formally defected from the Kingdom of Sapin, flying off illegally from their air base and evading all attempts to intercept and shoot them down. Before they disappeared from Sapish radar, they were noted as heading towards Belkan territory.
Once in Belka, they joined up with A World With No Boundaries. Anton Kupchenko had reached out to Lopez with overtures of joining the organization earlier in the war, but he had resisted initially, opting to join later in the fall once the fighting came to a close. Vasquez went with him out of loyalty and love for her commander. They would be joined in AWWNB by Ramos Gonzalez and Ricardo Mejia of Suerte Squadron, which flew alongside them for numerous SAF missions and would ultimately join them for their final sortie on Christmas Day, 1995, when they flew as escorts for the doomed XB-0 Hresvelgr heavy command cruiser.
Following the destruction of the Hresvelgr, Lopez and Vasquez would renounce their ties to A World With No Boundaries and return to civilian life and to Sapin. The Sapish Government declined to prosecute them on war crimes and terrorism charges following the Christmas Day attack on Lumen citing a lack of evidence.
Espada is another pattern-breaker in terms of naming conventions for boss squadrons in
Zero
, but that's because it's not a Belkan squadron, it's a Sapin one. Espada is Spanish for "sword" and their squadron logo depicts a bull impaled with several swords in a style reminiscent of the fate of many a bull in traditional Spanish bull fighting matches.
Much like Gelb Squadron from Mission 6, Espada will be fought regardless of your Ace Style. And just like Gelb, on Normal difficulty, they are almost an afterthought in terms of being any actual threat to you. Like I say in the video, they are there to be a time sink to distract you from taking out the Hresvelgr. In fact, I would say that you didn't even need to deal with them at all but for the fact that you are literally prevented from destroying the Hresvelgr by the game until you down the Espadas.
Trailers for
Ace Combat Zero
depict both members of the squadron as flying J35J Drakens with Espada 1's colour scheme. That was later changed for the final game where Espada 2 flies a custom painted Rafale M. Their paint colours are unlocked for their respective planes in the hanger when you clear the game, along with those of the other ace squadrons you faced along the way.
Espada 1 is also the only boss ace in the game that can be neutralized rather than shot down. The game basically turns shooting Lopez down into a conscious choice on your part as the player. You're only required to knock him out of the fight; it's entirely in your hands whether or not you go one step further and go in for the kill. A particularly pertinent turn given what we later learn about his fate.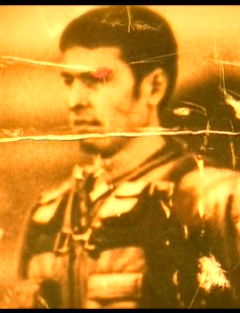 ESPADA 1
Real Name:
Alberto Lopez
Callsign:
Espada 1
Age:
32 (deceased)
Nationality:
Sapin
Signature Plane:
J35J Draken
Voice Actor:
Uncredited
On Camera Actor:
None
Former flight lead of the Sapin Air Force Espada Squadron attached to the SAF 9th Air and Land Division. Prior to defection from Sapin to the terrorist organization A World With No Boundaries, Captain Lopez was one of the SAF's most elite aces. His flying skills were unparalleled in the SAF, as was his bravado and flare for the dramatic.
He would fly into battle piloting an otherwise antiquated J35J Draken, yet his skill behind the flight stick allowed him to outmaneuver and down enemy pilots flying even state-of-the-art fighters. As if his flying skills weren't attention grabbing enough, his Draken was also emblazoned with a bright red and yellow paint scheme reminiscent of a traditional Sapish matador's traje de luces costume from the old bull fighting arenas. His squadron logo also depicted a defiant bull standing tall despite several Sapish swords (espadas) plunged through its hide.
He was approached through back channels during the Belkan War by representatives of Dr. Anton Kupchenko, who convinced him to defect from Sapin and join Kupchenko's fledgling A World With No Boundaries terrorist organization. A diehard romantic at heart, Lopez believed Kupchenko and his cohorts to be revolutionaries fighting a just cause against the corrupt governments of the Osean continent. He also convinced his number two and lover Marcela Vasquez, as well as members of his partner Suerte Squadron to defect with him. In early October of 1995, four months after the signing of the Belkan armistice treaty in Lumen, Osea, Lopez, Vasquez, Gonzalez and Mejia all defected and joined AWWNB.
Two months later, on Chistmas Day, they would all be deployed to fly escort for the XB-0 Hresvelgr heavy command cruiser as it bombed the city of Lumen in retaliation hosting the Belkan capitulation ceremony, and Valais AFB in Ustio, the home base of the Demon Lord of the Round Table—the single greatest threat remaining to the organization. However, Cipher survived the attempted destruction of Valais and would go on to shoot down Lopez, the XB-0, and his fellow Sapin pilots shortly thereafter.
He survived the crash of his Draken and found Marcela on the ground in the Waldreich Mountains after she bailed out of her downed Rafale as well. Together, they braved the frozen, irradiated wastes of Waldreich as they trekked back to civilization on foot, alive and unscathed, and thankful to still be with each other. They severed their ties with A World With No Boundaries and never made any attempt to return to the organization, contact any of their former colleagues, or carry out any further activities in its name.
Upon their return to Gran Rugido, Sapin, they settled down and made a peaceful and happy life for themselves for a brief time. However, Lopez wasn't able to put his days as a pilot behind him and enlisted in a foreign mercenary force as a pilot. He was shot down in combat (possibly during either the Skully Islands Incident of 1996, or the Usean Continental War of 1998) and left Marcela to carry on without him.
Lopez's fate is determined by your Ace Style. He dies in all three styles, but your playstyle determines the
manner
in which he meets his end. Since the LP is ostensibly following the Knight path, he receives the "canonical" Knight fate. This is where making that choice to double tap him comes into play thematically.
On Mercenary, Lopez dies instantly as his J35J Draken explodes (Cipher is directly responsible for his death). On Soldier, he bails out but is badly injured and later succumbs to a combination of his injuries and illness brought upon by exposure to the elements and radiation poisoning as he tries to traverse the mountains home with Marcela (Cipher is indirectly responsible for his death). And on Knight, he survives both the encounter with Cipher (even if you shoot his disabled plane down) and the journey home to Gran Rugido, but later chooses to return to the sky and is killed by someone else (Lopez is responsible for his own death).
Of the three, the Knight version is considered the "happiest" outcome, but it still comes down to a matter of "so just how much of an asshole ARE you, Cipher?"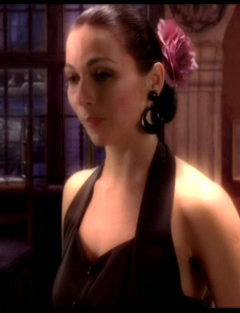 ESPADA 2
Real Name:
Marcela Vasquez
Callsign:
Espada 2, Macarena
Age:
27 (37, frame narrative)
Nationality:
Sapin
Signature Plane:
Rafale M
Voice Actor:
Wendee Lee
On Camera Actor:
Uncredited
"A Woman of Undying Faith." Espada Team's number two and former lover of Espada 1, the late Alberto Lopez. The one-time 2nd Lieutenant Vasquez was one of the Sapin Air Force's top aces and by all accounts a loyal daughter of Sapin. Her defection to the A World With No Boundaries terrorist organization took many of her colleagues and superiors completely by shock.
For Vasquez, joining AWWNB had nothing to do with politics or personal beliefs; she joined to follow her lover Lopez. She believed in him, and if he believed in Kupchenko and his cause, then she would as well.
That faith was put to the test on Christmas Day, of all days, 1995. Following the bombing of Lumen, Osea by the superweapon XB-0 Hresvelgr, Vasquez and Lopez were tasked with safely escorting the cruiser back to Avalon Dam through Osean, Ustian, and Belkan airspace. When the Galm Team chased the XB-0 down over the Waldreich Mountains, Vasquez engaged them and was ultimately shot down by Cipher.
She watched in helpless resignation from the ground as first her lover was shot down by the Demon Lord, then her colleagues, and then the Hresvelgr itself. Following the smoke trail to his downed Draken, she found Alberto near the crash site, alive and uninjured, miraculously, after he bailed out of the crippled plane. As the Hresvelgr's remains burned on the horizon, and with nothing left to fight for, she convinced Lopez to abandon A World With No Boundaries and return home to Sapin with her.
They then made the long, harsh trek south through the mountains back to civilization, eventually finding transport across the border to Ustio, and then on to Sapin. Following their return to Gran Rugido, they were court marshalled for going AWOL and desertion from the air force, but dodged the more serious charges of terrorism and war crimes due to a lack of hard evidence directly connecting them to A World With No Boundaries or its activities.
They then settled down together and attempted to live a quiet and peaceful life. But while Vasquez was able to put her time as a pilot behind her, Lopez could not. She refused to follow him back to war when he enlisted in the foreign mercenary forces (being unable to return to active duty in the SAF due to his dishonorable discharge), so he left her in Gran Rudio with a promise to return to her one day.
He never did.
Following his death, she resolved to carry on without him. She became a dancer and remained in Gran Rugido, and has been involved in many national performances, receiving rave reviews for her graceful movements. In an interview with OBC's Brett Thompson for his special
Warriors and the Belkan War
, she revealed that she never blamed Cipher or anyone else for her lover's death, and that she even cherishes the pain of losing him as much as she does his scant few personal effects, as it was the last thing he ever gave to her.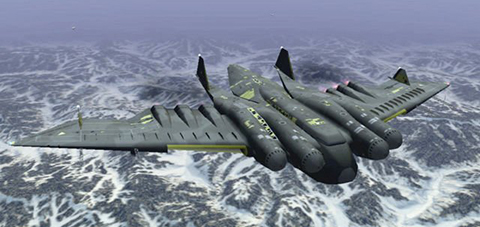 XB-0 Hresvelgr
Designated the "XB-0," the Hresvelgr was the centerpiece of the South Belka Munitions Factory's Project Pendragon weapons development operation. It was intended to function as an airborne command cruiser and battleship for the Belkan military as well as a heavy bomber platform. Constructed in secret at the Yering Mine complex at Mt. Schrim, the SBMF constructed the airframe of the XB-0 in a giant domed hanger at the mine's airfield, incorporating elements from their BM-335 Lindwurm bomber into the XB-0's design.
However, following the Belkan economic downturn in the late 80s and early 90s, development on the XB-0 was halted as the Belkan government shifted its resources toward the Excalibur chemical laser system instead. The partially completed XB-0 languished in its hanger at Mt. Schrim for several years until the formation of the A World With No Boundaries terrorist organization by the XB-0's own designer, Dr. Anton Kupchenko.
Using materials and technology appropriated from SBMF facilities or donated by SBMF personnel sympathetic to Kupchekno's cause, A World With No Boundaries hastily retrofitted and completed the remaining construction work on the XB-0 after moving it to a secure location away from Mt. Schrim. And on December 25th, 1995, the Hresvelgr made its maiden (and only) flight when it bombed the city of Lumen, Osea, where the Belkan armistice treaty had been signed, and Valais Air Force Base in Ustio, where the Demon Lord of the Round Table, Cipher, was stationed.
The XB-0 and its support squadrons were then shot down by Cipher and PJ over the Waldreich Mountains, due east of Stier Castle later that afternoon on Christmas Day.
The XB-0 had a total wingspan length of 503m, and its six high output engines were capable of propelling it to a top speed of 1553 mph. Its heavy armour was strong enough to weather direct attacks from the air and ground, including enemy air-to-air missiles. Its only vulnerable spots were its engine exhaust ports and its cockpit. It was armed with multiple anti-air gun emplacements and several AAM or air-to-air missile batteries for defense. Its antenna arrays were also capable of deploying ECM interference to jam enemy radar and lock-on capabilities.
Intended to be an extended use craft capable of housing Belkan military and civilian leaders in an continuously mobile flying command center during a time of crisis, the XB-0 was designed to be refueled in midair by tanker aircraft, and was to be guarded at all times by an elite fighter squadron wing.
Following the bombing of Lumen, the XB-0 was to return to the Avalon Dam facility to become the mobile command center for AWWNB's principle leadership.
Despite its destruction by Galm Team, the XB-0's design schematics appear to have made it onto the black market, and numerous members of its core design team from Project Pendragon escaped apprehension by Osea following the war.
Intelligence reports have turned up sightings of former Hresvelgr design team members in Erusea and Estovakia.

Aircraft featured in Mission 15, Operation Valkyrie: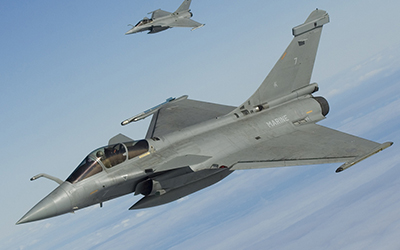 Rafale M
Manufacturer:
Dassault Aviation
Role:
Multirole
Manufactured:
1986-Present
Status:
In Service
Primary Operators:
France, Egypt, Qatar, India (pending)
Quick Facts:
A mid-game unlock for most Ace Combat games.

A rare "jack of all trades, master of all too" plane.

The Rafale M is the carrier based variant of the Rafale.

"Rafale" means both "gust of wind" and "burst fire" in French.

Was designed to be a companion/competition piece to the EF-2000 Typhoon after Dassault pulled out of the Eurofighter design conglomerate.

Dassault boasts that it's not just a multirole fighter, but an "omnirole" one.

Expected to remain in service into the 2040s.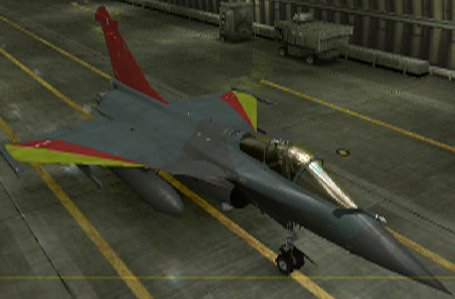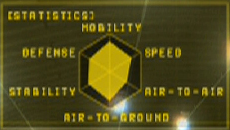 A multirole, carrier-based aircraft characterized by its delta wing and canards. A well-balanced plane that can handle a wide range of missions. Its name roughly translates as 'Squall'.
AMMO
Missile: 74
LASM: 14
XMAA: 16
SOD: 14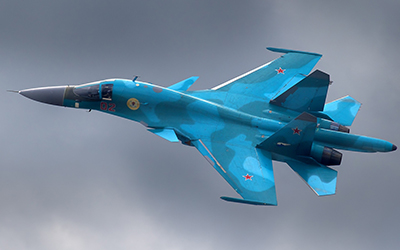 Su-34
Manufacturer:
Sukhoi
Role:
Fighter bomber
Manufactured:
2006-Present
Status:
In Service
Primary Operators:
Russia
Quick Facts:
Was a concept fighter at the time of its appearances in Zero and 5. It has since gone into active service in the VVS (Russian Air Force).

Has a distinct "hump" on its topside to distinguish it from the Su-27 it was modified from.

Designed to replace the Su-24 bomber.

Known as the "Fullback" in the NATO reporting catalog, and as the "Strike Flanker".

Has a compact toilet and kitchen behind the cockpit.

I am not making that one up.

Also used as a reconnaissance plane at times.

Su-34s sold to other countries for combat or training use are designated as Su-32s.

…kitchen/bathroom.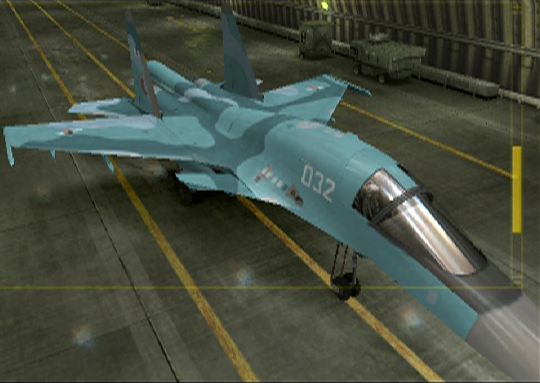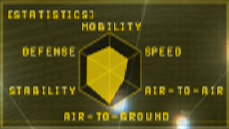 A modified Su-27, called the 'Strike Flanker.' Specializing in long-range ground attack missions, this unique design includes a toilet and simple kitchen behind the pilot's seat.
AMMO
Missile: 80
XGAM: 14
LASM: 16
XMAA: 12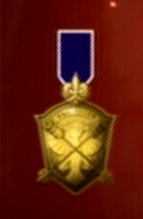 Medal:
Ragnarok
Awarded for:
Completing Mission 15 "The Talon of Ruin".
Description:
Awarded for destroying the flying command center XB-0 and helping to end the coup d'etat.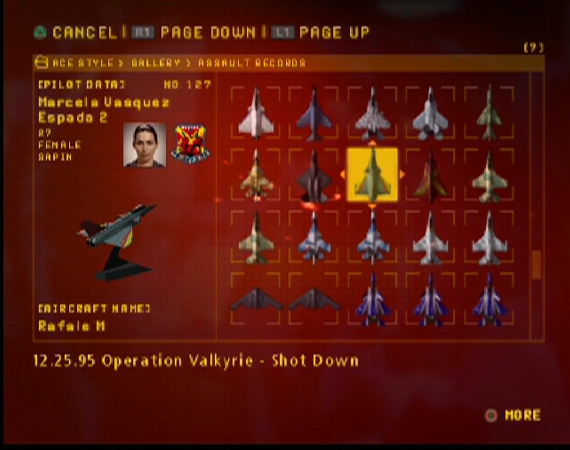 127
Marcela Vasquez
"Espada 2"
27, Female, Sapin
12.25.95 Operation Valkyrie - Shot Down
Rafale M* (Special Plane Colour Unlocked)
Difficulty: Any
Ace Style: Any
She was formerly assigned to the Espada Squadron of the Sapin Air Force. There are rumors that she joined the coup d'etat forces before the end of the war, but it is unverified. She was shot down by Galm Flight while escorting XB-0 and became a dancer after the war.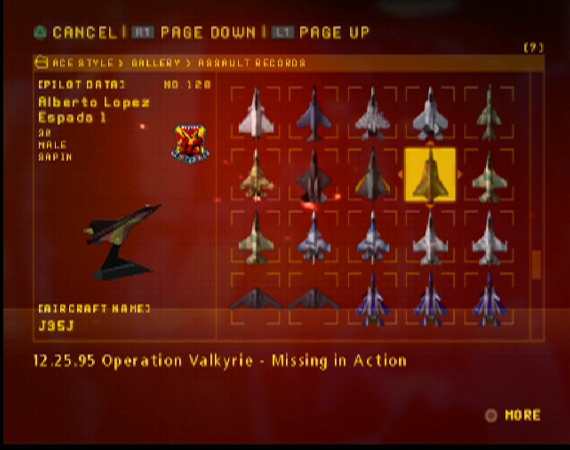 128
Alberto Lopez
"Espada 1"
32, Male, Sapin
12.25.95 Operation Valkyrie - Missing In Action
J35J Draken* (Special Plane Colour Unlocked)
Difficulty: Any
Ace Style: Any
He was paired with Marcela Vasquez in the Sapin Air Force and was rumored to have a deep personal relationship with her was well. He went M.I.A after his plane was shot down by Galm Flight while escorting XB-0.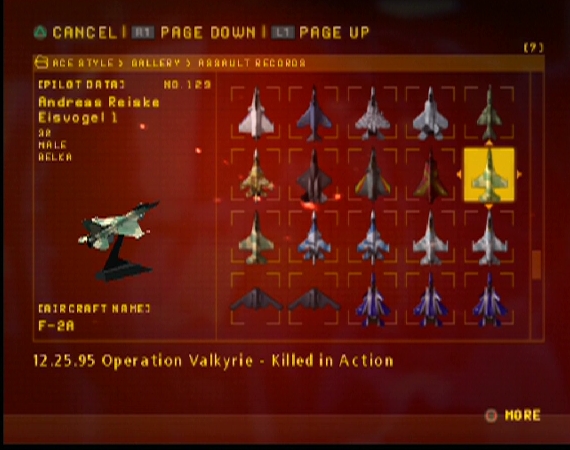 129
Adreas Reiske
"Eisvogel 1"
32, Male, Belka
12.25.95 Operation Valkyrie - Killed In Action
F-2A Viper Zero
Difficulty: Any
Ace Style: Mercenary (Appears after Espada Squadron and the two Su-37 have been shot down.)
Lead pilot of the Eisvogel Squadron. Motive behind joining the coup d'etat is unknown. There is evidence that he was in contact with the conservative party known as Rald. Currently, this is under investigation.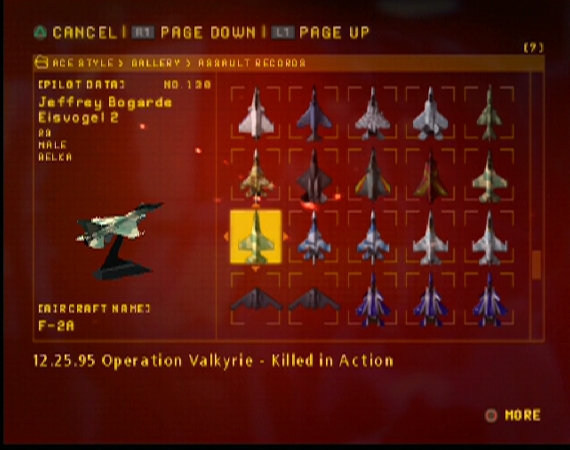 130
Jeffery Bogarde
"Eisvogel 2"
29, Male, Belka
12.25.95 Operation Valkyrie - Killed In Action
F-2A Viper Zero
Difficulty: Any
Ace Style: Mercenary (Appears after Espada Squadron and the two Su-37 have been shot down.)
Pilot of the seocnd plane in the Eisvogel squadron. Motive behind joining the coup d'etat is unknown. As a friend of Commander Reiske, he shared strong political ideologies. This is confirmed by former Belkan soldiers.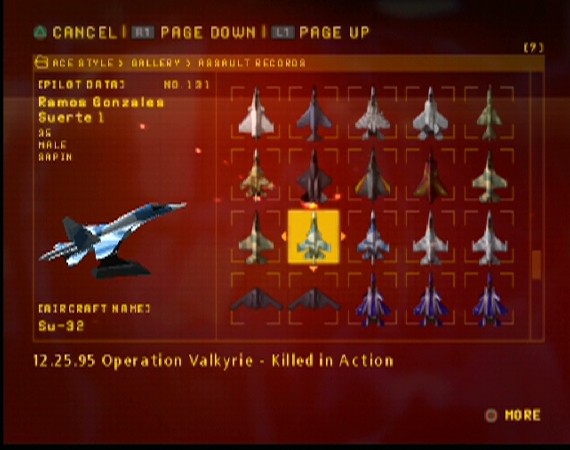 131
Ramos Gonzales
"Suerte 1"
35, Male, Sapin
12.25.95 Operation Valkyrie - Killed In Action
Su-32 Strike Flanker
Difficulty: Any
Ace Style: Soldier (Appears after Espada Squadron and the two Su-37 have been shot down.)
A 20 year old veteran of the Suerte troop, he served as commander for the Sapin Air Force. He was called "Picador" for being a master marksman with the machine gun. He died in a battle with Galm flight while escorting XB-0.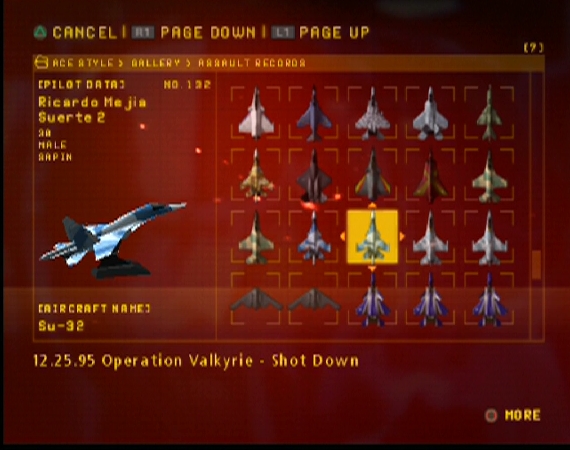 132
Ricardo Mejia
"Suerte 2"
30, Male, Sapin
12.25.95 Operation Valkyrie - Shot Down
Su-32 Strike Flanker
Difficulty: Any
Ace Style: Soldier (Appears after Espada Squadron and the two Su-37 have been shot down.)
Former Suerte Squadron pilot in the Sapin Air Force. He was handed over to Sapin as a war criminal and was imprisoned for four years. Upon release, he started working for a brewery. He is no longer taking part in ideological movements.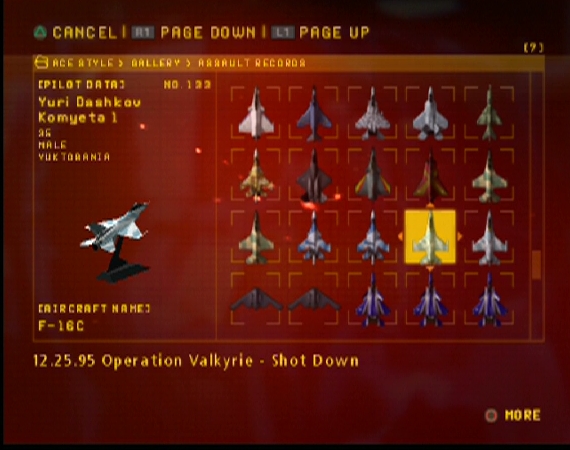 133
Yuri Dashkov
"Komyeta 1"
35, Male, Yuktobania
12.25.95 Operation Valkyrie - Shot Down
F-16C Fighting Falcon
Difficulty: Any
Ace Style: Knight (Appears after Espada Squadron and the two Su-37 have been shot down.)
Joined the coup d'etat forces after defecting from the Yuktobanian Air Force. When tried by the Allied Forces, he asserted that Osea's imperialism was the cause of the war. He is currently serving time in a Yuktobanian prison.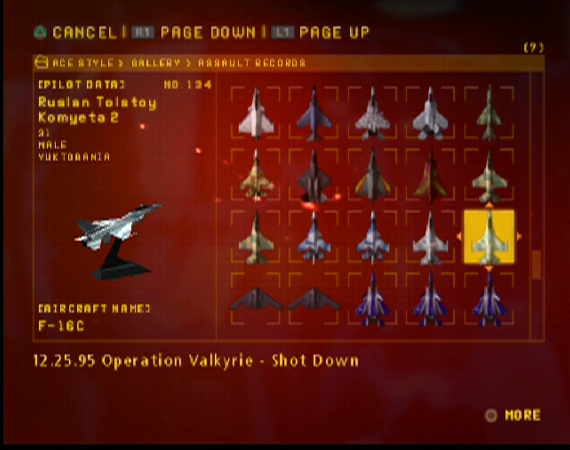 134
Rusian Tolstoy
"Komyeta 2"
31, Male, Yuktobania
12.25.95 Operation Valkyrie - Shot Down
F-16C Fighting Falcon
Difficulty: Any
Ace Style: Knight (Appears after Espada Squadron and the two Su-37 have been shot down.)
Joined the coup d'etat force after defecting from the Yuktobanian Air Force. He was captured after his plane was shot down. He evaded penalty by testifying against fellow squadron member Yuri Dashkov.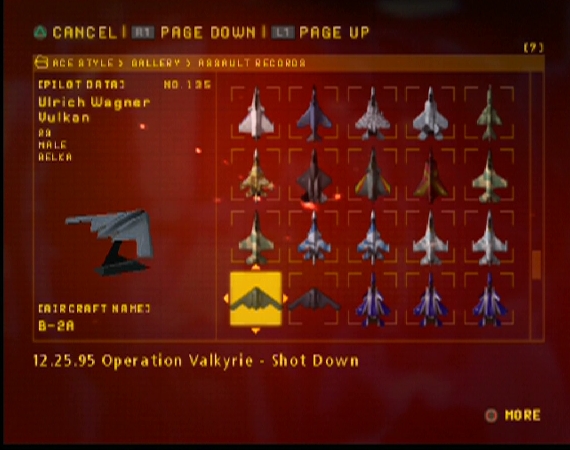 135
Ulrich Wagner
"Vulkan"
29, Male, Belka
12.25.95 Operation Valkyrie - Shot Down
B-2A Spirit
Difficulty: Any
Ace Style: Any (Appears after Espada Squadron has been shot down.)
Former bomber pilot of the Belkan Air Force. He flew alongside escort for the XB-0, and joined the Coup D'etat force alongside Amy Pitt. He returned to Belka after being released, and now works for one of the nation's largest transportation companies.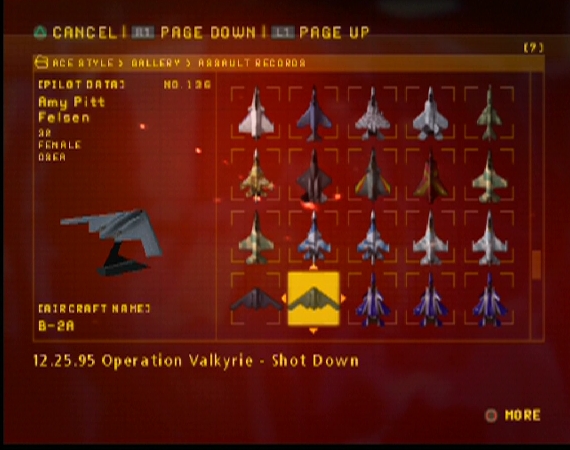 136
Amy Pitt
"Felsen"
32, Female, Osea
12.25.95 Operation Valkyrie - Shot Down
B-2A Spirit
Difficulty: Any
Ace Style: Any (Appears after Espada Squadron has been shot down.)
An Osean CIA agent, she infiltrated the Belkan Air Force and continued espionage after the coup d'etat. In 1999, a Belkan commanding officer revealed she was a double agent. She is still currently under Level 1 surveillance.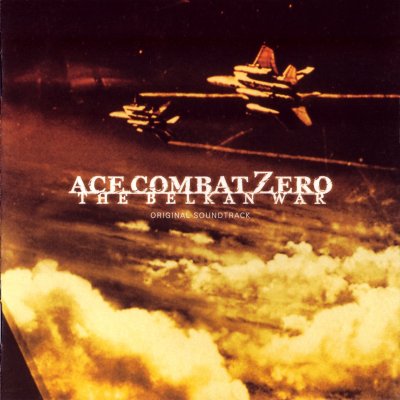 Tracks featured in Mission 15, Operation Valkyrie:
DISC 2

Here's some artwork depicting the XB-0 Hresvelgr in various stages of its construction. Note the familiar hanger from Mission 13.