Part 31: Skills Rundown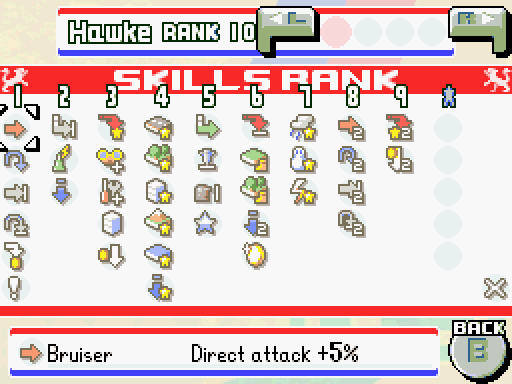 A little mini-update since I've been working behind the scenes grinding for you guys. Now, thanks to absurd point gains, Hawke, Lash and Sensei are up to level 10 and soon the others will be up to the same point. While I'm working on that in the next few days, why don't you gawk at how absurd the skills in this game are. We've seen Levels 1 and 2 before, but 3-9 are new, and the * ones are only earned after you beat the campaign (and are even more absurd).
Level 1:
Bruiser: +5% direct attack

Sharpshooter: +5% indirect attack

Slam Guard: +8% direct defense

Snipe Guard: +8% indirect defense

Combat Pay: Earn 2% of the damage delivered back in funds.

Luck: +10% maximum bonus luck damage

Level 2:
APC Guard: +10 APC defense

Tower Power: Com Tower effect +5%

Sneaky: Dive/Hide fuel cost -1

Level 3:
Teamwork: Tag CO gains +5% attack (constant buff as long as your CO is in the background)

Scout: Vision +1

Mechanic: Base Repair +1

Invader: Capture +1

Sale Price: Production Costs -5%

Level 4:
Road Rage: Road attack (attack power while sitting on a road) +10%

Ranger: Woods attack +10%

Urban Fighter: City attack +10%

Mountaineer: Mountain attack +10%

Seamanship: Sea attack +10% (or "Why aren't you using this on a naval map?")

Backstab: Dive/Hide attack +15%

Level 5:
APC Boost: APC Range +1

Missile Guard: Damage from silos -1

Cannon Guard: Damage from cannons -2

Star Power: Power Meter fills quickly

Level 6:
Bodyguard: Tag CO's defense +10%

Prairie Dog: Plain movement cost =1

Pathfinder: Woods movement cost =1

Stealthy: Dive/Hide fuel cost -1

Gold Rush: Funds from bases +100

Level 7:
High and Dry: Attack in Rain +20%

Icebreaker: Attack in Snow +20%

Sand Scorpion: Attack in Sandstorm +20%

Level 8:
Brawler: +8% direct attack

Sniper: +8% indirect attack

Slam Shield: +12% direct defense

Snipe Shield: +12% indirect defense

Level 9:
Synergy: Tag CO's attack +8%

Fire Sale: Production Cost -8%

Level *:
Eagle Eye: Vision +2

Gearhead: Base Repair +2

Conqueror: Capture +2

Mistwalker: During a Super CO Power, all units gain Sonja's first stike counterattacks. (Beat Hard Campaign)

Soul of Hachi: During a Super CO Power, gain the ability to purchase ground units from cities, and then lose all your friends. (Beat Hard Campaign)

Level 10:
Unlock a new picture for your CO.
Yea, how does any of this seem balanced? The AI never use them, but then again, would you want the AI to use any of them? Imagine Spiral Garden if Kindle had Star Power.