Part 14
Facial features!
Elvis!
Nudity!
And more nudity!
You can expect all that and more (possibly less) from Advent Rising: Rock The Planet: Volume #1: New Kid on the Planet!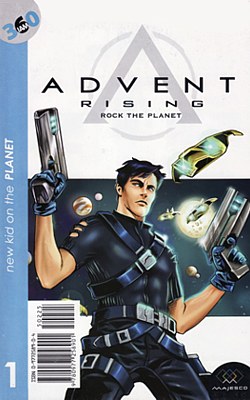 [
Hosted
/
Mediafire
/
MegaUpload
]
Rock The Planet is a set of five prequel comics, detailing Gideon's late teenager years after migrating to a nearby planet called Artemus (which brings up some questions). The cover shows Gideon as we've come to know him, but in fact the cover is lying to you and you'll actually see him as he was about a decade earlier. It's not exactly an integral part of the Advent Rising universe, but it's not bad as far as comic book tie-ins go. It's a treasure trove for dumb looking panels though.
Unfortunately there's no main site or .pdf you can view these off of like the previous one, so I'm afraid the only option is to download it. These are of course my scans so they're high-quality. I also included the alternate version of this issue they released, which was exactly the same as the other one but with a different cover, of Olivia instead of Gideon.