Introduction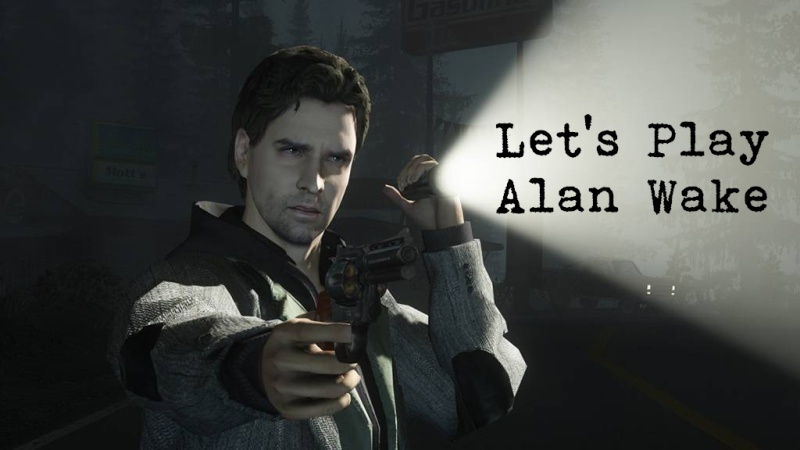 Alan Wake was the highly anticipated and self described "Psychological Action Thriller" from the developers at Remedy, the creators of the first two Max Payne games, and published by Microsoft Game Studios. Originally slated for a PC and Xbox 360 release, many PC fans were upset to hear that the PC version was scrapped in favor of what Microsoft described as a game that was "more suitable to be enjoyed on a console…" than on a computer. Eventually the game was released on May 14th in Europe, 18th in North America and 20th in Australia to average first week sales (In some cases released the same day as Red Dead Redemption)
The game itself is unique in having a narrative driven story and draws inspiration from TV shows, movies, and books such as Twin Peaks, Lost, The Shining, and the works of writers such as Stephen King. Like a TV show, the game is presented in "Episodes" and they even recap previous events the player has experienced just like a TV viewer gets a recap of what happened on a show from episodes of past weeks. Besides that, people noted it for its dark and especially oppressive atmosphere, and unique form of story telling not seen too much in other games today.

First and foremost, this is going to be a subbed VLP so as to best preserve the atmosphere of the game. As I mentioned before, this is a narrative heavy game meaning that I will not be talking too much. In fact, in most cases I will only talk when I want to explain secret content, cultural references, or facets of gameplay. I will also be playing the game on Nightmare Difficulty because it is the only place to get every collectible item. However only some collectibles like the Manuscript pages, radio shows, and TV programs actually add extra content and those will be collected 100%. Other collectibles that don't add extra content such as coffee thermoses and tin can pyramids will be picked up if I see them but not hunted down. As for the DLC, I have both of them and will be including them in this LP.
The only thing I ask of you is that if you're going to talk about something in the game ahead of the videos to use spoiler tags.










BrightFalls.com - Alan's Story
BrightFalls.com
is the official website for Alan Wake made by Microsoft. Within it, there are a series of tabs, one series being the Alan Wake prequel and another that says Alan's Story. Alan's Story contains a series of extras including a newspaper article, text messages between Alan and his agent Barry, fan messages on forums regarding his books, information about the Cauldron Lake Lodge, and more.
Alan Wake Prequel: Bright Falls
The other part of the Bright Falls website. Before the release of Alan Wake, Microsoft released a set of prequel episodes meant to take place before the events of the game. These episodes follow the experiences of journalist Jake Fischer while he's visiting Bright Falls, and the mysterious events that he experiences while there. Six episodes in total were made, and I will be adding more the further into the LP we go.
Episode 1: Oh Deer
Episode 2: Time Flies
Episode 3: Lights Out
Episode 4: Local Flavor
Episode 5: Off the Record
Episode 6: Clearcut
Music Selections
One of the best parts of this game is the varied, and at times unexpected soundtrack. As the game progresses, more songs will be added to this section.
Selection 1: A Writer's Dream
Selection 2: Welcome to Bright Falls
Selection 3: In Dreams (By Roy Orbison)
Selection 4: The Clicker
Selection 5: The Beaten Side of Town
Selection 6: Haunted (By Poe)
Selection 7: How Can I Be Sure (By Anomie Belle)
Selection 8: Coal Mine Museum
Selection 9: Up Jumped the Devil (By Nick Cave and the Bad Seeds)
Selection 10: Mysterious Savior
Selection 11: Children of the Elder God (By The Old Gods of Asgard aka Poets of the Fall)
Selection 12: The Poet and The Muse (By The Old Gods of Asgard aka Poets of the Fall)
Selection 13: Young Dead Men (by The Black Angels)
Selection 14: Electrica Cadente (By Dead Combo)
Selection 15: War (By Poets of the Fall)
Selection 16: Air Kissing (By Violet Indiana)
Selection 17: Space Oddity (By David Bowie)
Selection 18: No, I Don't Remember (By Anna Ternheim)
Selection 19: The Darkest Star (By Depeche Mode)
Microsoft Smart Tags
Throughout the game, there is the opportunity to make use of a few pieces of visible code that are compatible with the
Microsoft Tag
application that you can download on your mobile phone. By scanning the tags in the game, you can get extra content related to Alan Wake.
Tag 1: Located in Episode 1, Chapter 1 - Scanning the tag in this level gives you a link to this
Code Generator Website.
Here you can pick up a free Alan Wake theme for your Xbox.
Tag 2: Located in Episode 2, Chapter 1 (In Alan's apartment) - This tag gives you a phone number to call (1-857-239-7600) which gives you access to a fictional voicemail account that belongs to Alan Wake. You can also hear the voicemail messages here:

Tag 3: Located in Episode 4, Chapter 1 - This tag also gives you a phone number to call (1-857-239-7601) and this leads you to the fictional voicemail of Dr. Hartman. You can listen to it here:

Fanstuff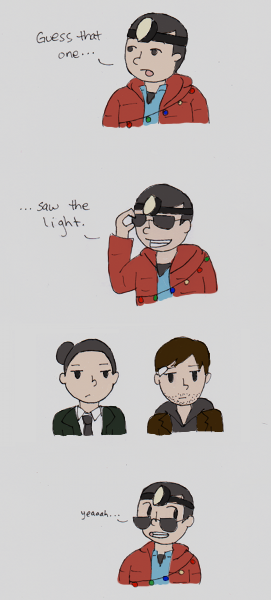 By splendidninja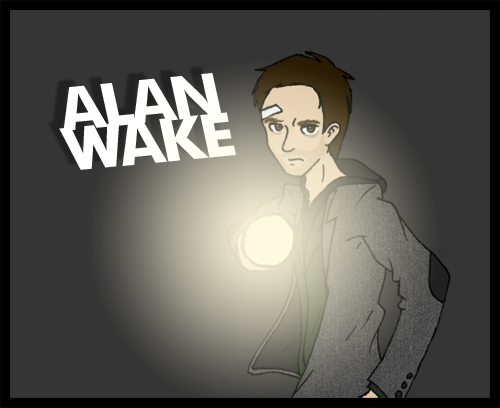 By splendidninja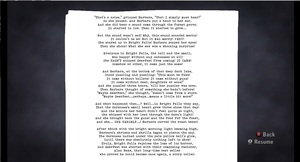 Written by Orekoya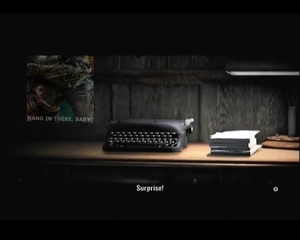 By Orekoya
How Barbara Jagger Stole XMas Readings

By Blackbelt Bobman

By Haller
A Farewell Gift: The LP Network