Part 22: Finnel's Soulspace, Level 4
Aoto and Finnel Dived again before they left for the Tower.
Video Record- "Finnel 4"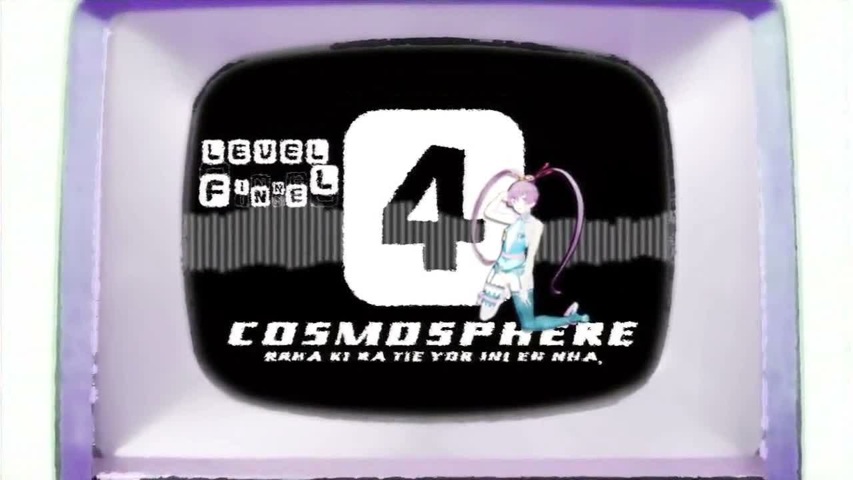 Watch
I once wrote a game like this level. Mine was better.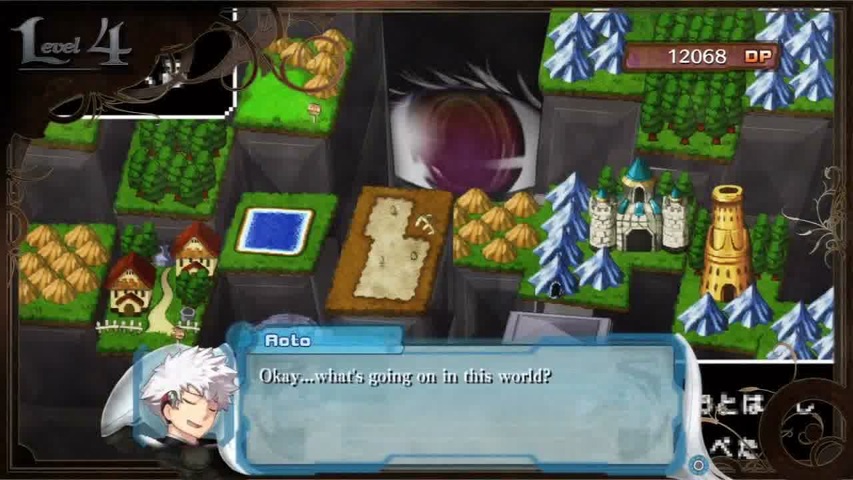 What tragedy awaits him?

Seriously, what the heck is this stereotypical swashbuckling hero world?

Y'know, classic fantasy worlds are the nests of tragedy and absurdity.
Of course, this is a product of our love for self-pity-loving Finnel.

Don't even pretend that that made any sense. Or that you can analyze her.
Finnel was caged up again because her mind is a cesspool.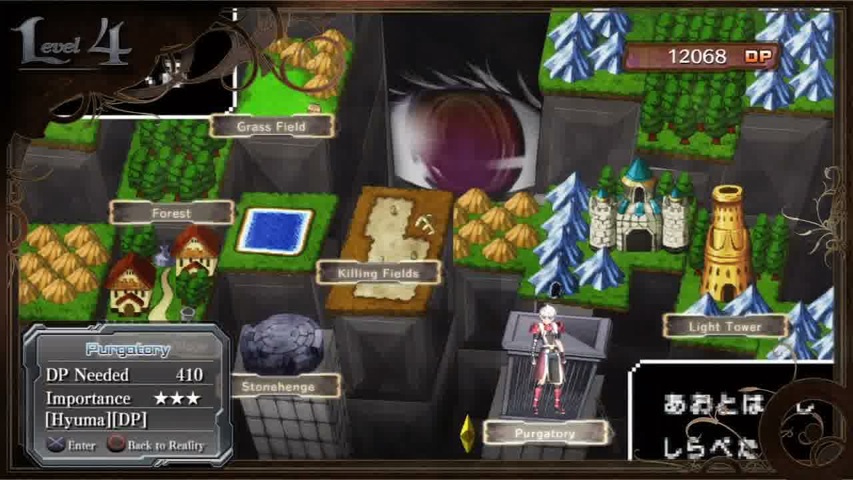 But the cage is still there... She really does like cages, doesn't she?
I will admit, though, that I'm sort of embarrassed I didn't make him fight random encounters. That would have been really funny.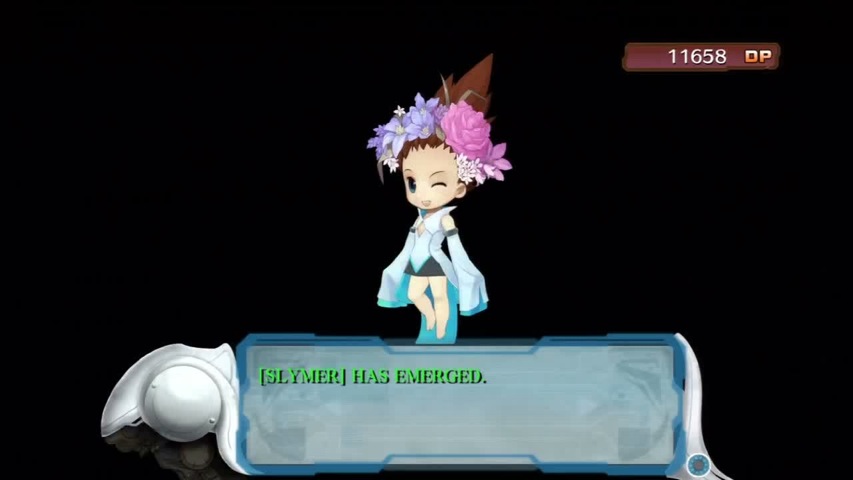 Whoa! Wh-what do you mean!?
SLYMER'S INITIAL ATTACK!
SLYMER CASTS A SPELL!

Whoaaa!
AOTO RECEIVED 60 DAMAGE!

Bastard! I wasn't ready for your attack!
Slymer:
NGYAH!
SLYMER RECEIVED 9 DAMAGE!
Slymer:
THAT HURTS!
SLYMER CASTS A SPELL!

Whoaaa!
AOTO RECEIVED 90 DAMAGE!

Urwoooo! This is the final blow!
Slymer:
NGYAH!
SLYMER RECEIVED 18 DAMAGE!
Slymer:
NGYAHHH!!
YOU DEFEATED SLYMER!
AOTO LEVELED UP! AOTO LEVELED UP!

What is this...? I can't keep up!

OH, YOU'RE...THE LEGENDARY HERO, AOTO!
Still, I guess it takes a real special sort of person to turn a portion of their own mind into something like this.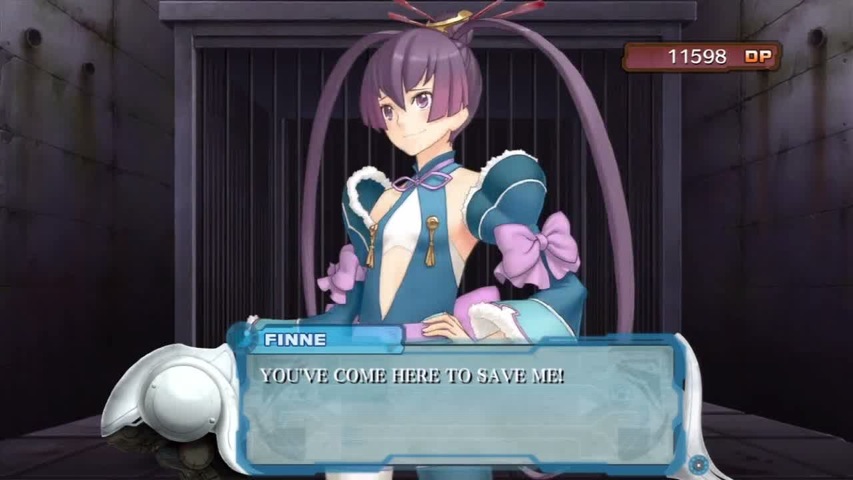 Ah, Finnel...and you're still in a cage!

MY NAME IS FINNE.
I AM THE PRINCESS OF THIS COUNTRY, THE MAIDEN PROPHET WHO SAVES THE WORLD, AND THE HEROINE WHOSE CLASS IS [SHAMAN].

…Huh?

WILL YOU WHISK ME AWAY FROM HERE?
He agreed, which is good because these are never actually choices in this sort of game.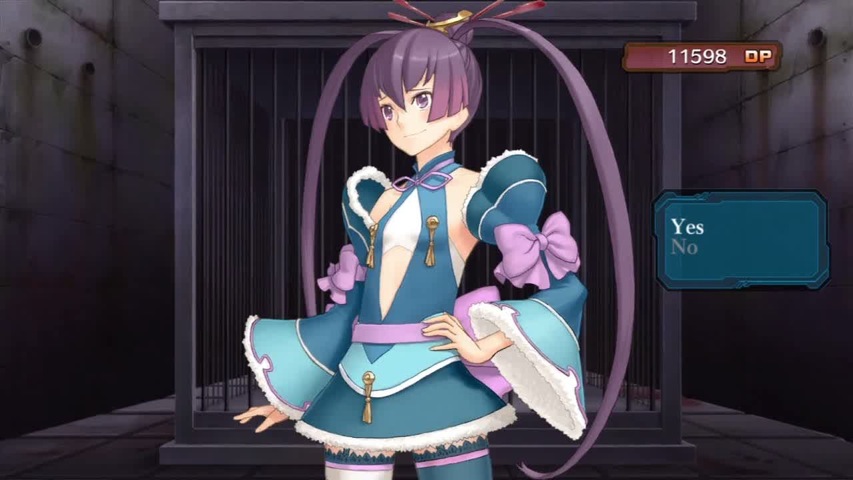 MUCH OBLIGED, MY HERO AOTO! YOU'RE SO HOT!

Well, I don't know what's wrong with you, but you're definitely not the princess type. Why don't you stop this?

WHAT DO YOU MEAN!? I WAS TRYING SO HARD TO MAINTAIN THE AMBIANCE OF A CLASSIC RPG.

First of all, a princess wouldn't say, "You're so hot!" Saki would be a good princess, but not you!

UGH...

Plus, don't call yourself the heroine. A suitable class for you would be more like...[SERVANT].

URGH! YOU'RE SO MEAN!

What about [FOOTMAN]? That rhymes with [SHAMAN]. ...Just stop complaining!

YOU'RE NOT NICE AT ALL... I'M THE PRINCESS--- THAT'S ACTUALLY WAY ABOVE BEING AOTO...

...I won't allow that. First of all, you're my servant, remember?

YOU DECIDED THAT WITHOUT EVEN ASKING!*SIGH* ...THIS IS HOW YOU TREAT THE PRINCESS AND MAIDEN WHO SAVES THE WORLD?

Alright, let's try this...
The setting wasn't really helping but still, Aoto was not treating Diving with the sort of gravity it deserves.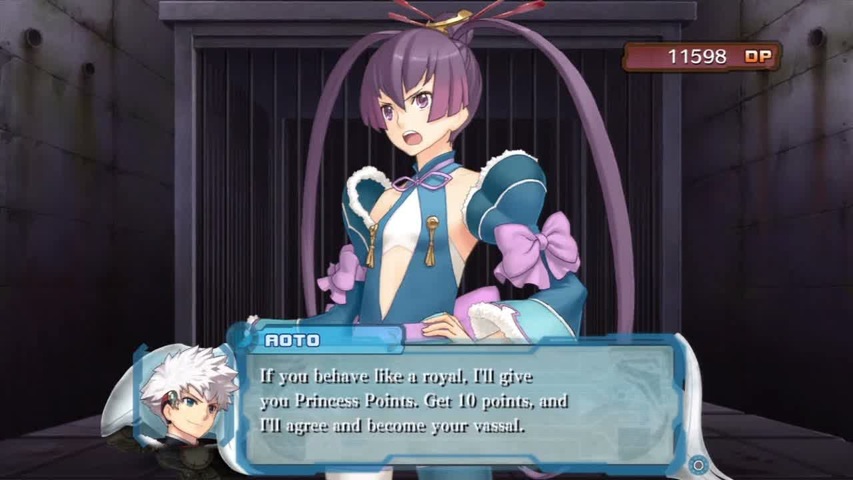 ...WHAT!? REALLY?

But if you don't behave like one, I'll give you negative points.

AWWW!

Alright. You've just gained 10 Negative Princess Points.


So what is this whole thing about? What am I supposed to do here?

OH, YEAH. WE HAVE TO TALK ABOUT THIS. AS A MATTER OF FACT, THE WORLD IS ON THE VERGE OF ANNIHILATION.
THIS LAND WAS RULED BY A DEMON LORD. ONE DAY, A HERO WHO HELD A MANASPHERE CAME TO THIS LAND, AND SEALED HER AWAY.
EVER SINCE, THE WORLD HAS ENJOYED PEACE, BUT IN TIME, THE DEMON LORD AWAKENED AND STOLE THE MANASPHERE.
SINCE THAT DARK DAY, THE SUBJECTS' HEARTS HAVE WITHERED FROM HOPELESSNESS, AND THE WORLD HAS BEEN COLLAPSING.

...I gotcha. Then, what you need me to do is defeat the Demon Lord and get the Manasphere back?

THAT'S RIGHT!

Cool! Then, let's go to the Overlord Castle.

WAIT! THE DEMON LORD IS FORMIDABLE. PLUS, SHE HAS SEALED OFF HER CASTLE. NO ORDINARY PERSON CAN ENTER IT.
SO, FOR NOW, YOU HAVE TO GATHER INFORMATION, FIGHT BATTLES TO GAIN EXPERIENCE AND GET STRONGER.

Damn, that old pattern? Alright. Then, can I go get some level-ups?
The Hyuma, Slymer, has been unlocked.
They could see the Overlord's Castle from the cage, but couldn't reach it.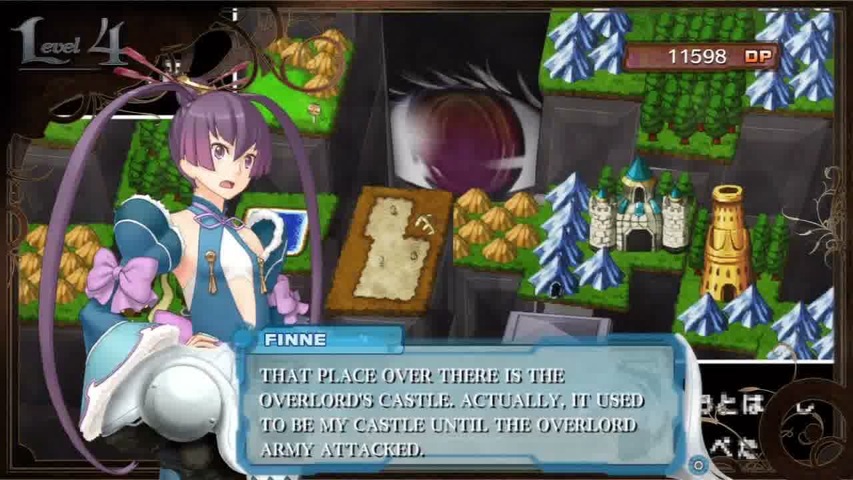 Oh, yeah? That doesn't look anything like a Demon Lord's castle.

ANYWAY, LET'S GO TO THE VILLAGE AND COLLECT SOME INFORMATION.

...I wonder if this whole thing is an attraction at an amusement park or something...

It's fun, isn't it? There are so many tragic endings, which makes it really exciting.
Let me give you a serious tip, this world was also created by Finnel's trauma and disappointment.
Please accept everything about her, and cure her complexes.

It's rare of you to be so serious...
They passed through a grassy field to reach the town.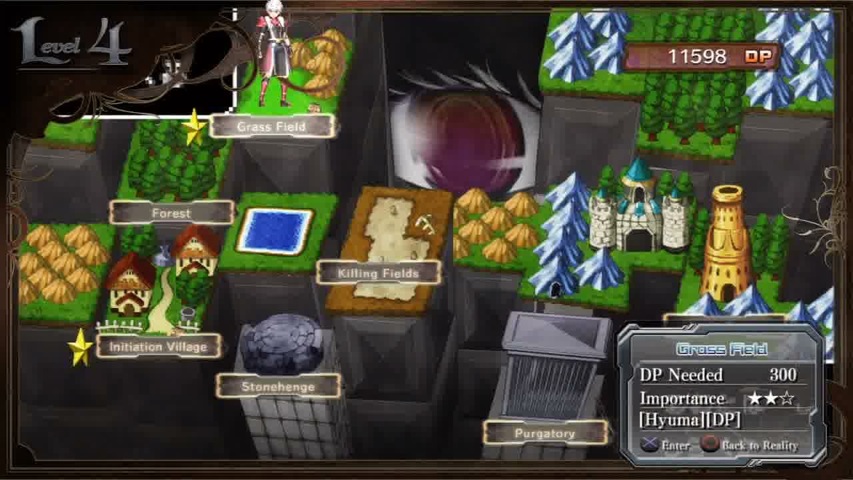 This is a pleasant pasture.

YEAH...
I don't get why they add things like this in to games. It's just annoying.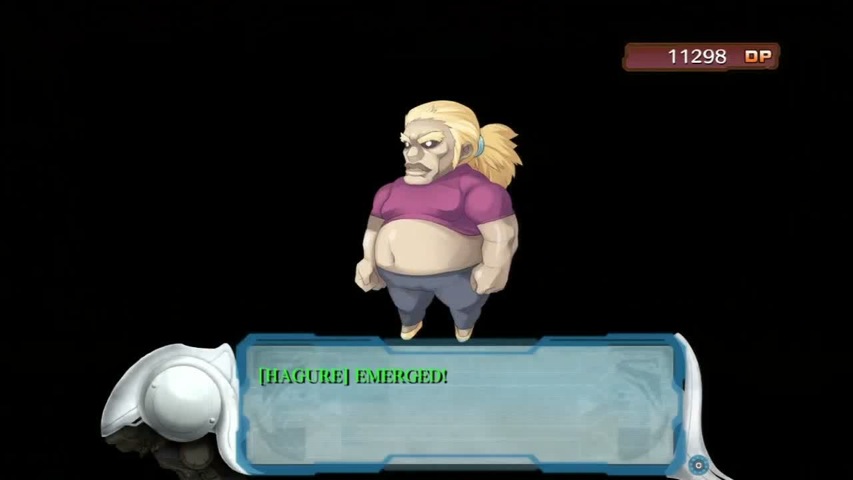 Whoa! A surprise attack!?

AOTO! THIS IS HAGURE! IF YOU BEAT IT, YOU'LL GAIN A BUNCH OF EXP, BUT IT RUNS AWAY IF YOU'RE NOT QUICK ENOUGH!

What!?
You won't escape!
HAGURE RECEIVED 5 DAMAGE!
Hagure:
KIYAHHH!
YOU DEFEATED HAGURE!
AOTO LEVELED UP x35!
The Hyuma, Hagure, has been unlocked.

YOU BEAT HAGURE!? UNBELIEVABLE!

Heh, did you witness my prowess!?
They then headed down to the nearby village.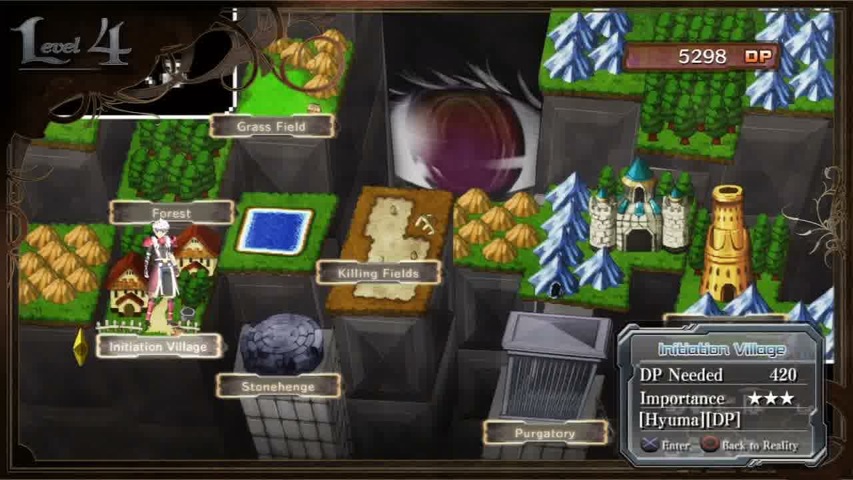 THIS VILLAGE IS UNDER MY COUNTRY'S JURISDICTION.

...What a shantytown.

DON'T BE SO RUDE! IT'S PRETTY URBANIZED!

Oh, Your Highness. How do you do?

She looks like more of a princess than you do. You gain 10 Negative Princess Points.

HUH? WH-WHY ARE YOU TAKING THAT MANY POINTS AWAY!?

Well mister, do you wanna play some Munyu Munyu?
So, um, the woman tried to lure Aoto away.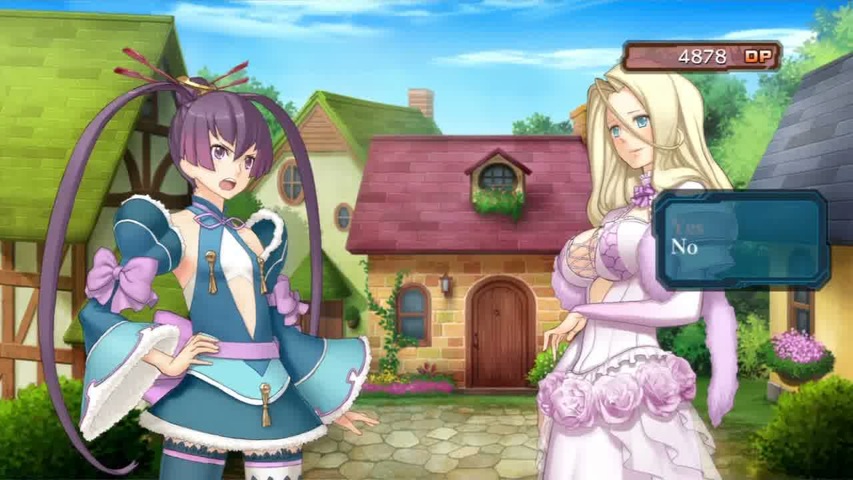 Well, maybe not now...

Don't be such a party pooper. Please, handsome boy?

That's enough, Munyu Munyu Girl!

...Who's there!?

...Yurisica...

I don't have a name to give to such a filthy harlot. Get away, Demon Lord's piggy!

HUH!?

Demon Lord's...piggy?

Oh, that's not very nice. What ever do you mean by that?

Don't act so coy! You won't fool me. This Sacred Injection Needle shall reveal the truth!
Haaah!

Gyaaah!
It turned out the girl was a Hyuma.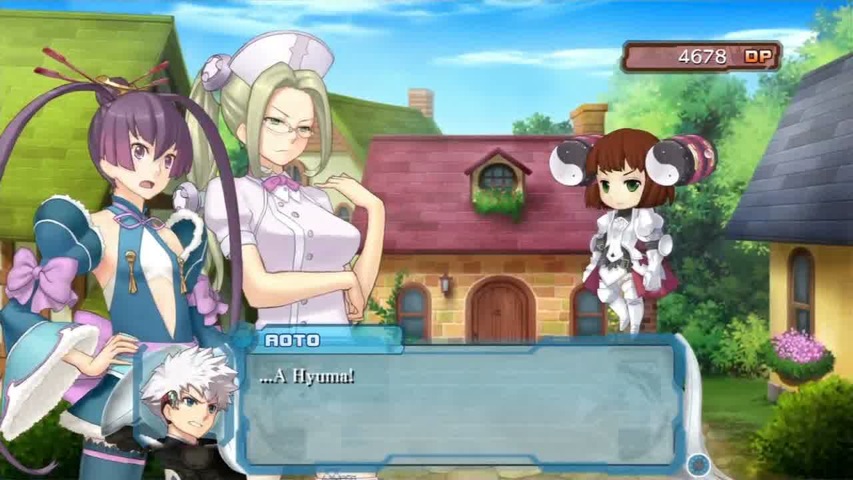 Thunderles:
Grr, you've put my mission in jeopardy!
You'll pay!

Hmph. Talk about sour grapes...

Whew, that was close. Thanks.

Don't mention it. I'm YURIS, an ordinary nurse who works in this small village.

You're not ordinary. You just beat up a monster. Normal nurses don't do that.

Well, it's normal for nurses to vanquish diseases. Is she the princess?

HUH? HOW DID YOU...? SEE? EVERYONE ELSE CAN TELL THAT I'M A PRINCESS. AOTO, YOU'RE THE ONLY ONE WHO DISAGREES.

I had heard you were unreliable, so it was pretty obvious to me.

NOOO! THAT'S NOT RIGHT...

I'm gonna have to give you another 10 Negative Princess Points...

Anyway, why is the princess in such a tiny village as ours?

ACTUALLY...
They explained the situation to Yurisica.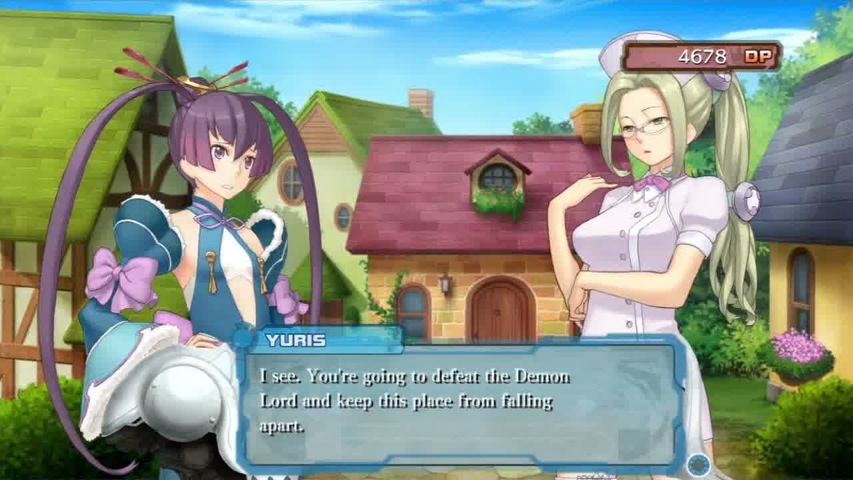 Is it okay to give such sensitive information to a subject like this?

BUT, I COULDN'T THINK OF ANY OTHER EXPLANATION...

No, thank you for telling me. Please, let me accompany you.

OH, REALLY?

I'm just a nurse, and I only carry needles, scalpels, drills, forceps, defibrillators, knife guns...
YURIS JOINED THE PARTY!

Are you really a nurse...?

I'M THE PRINCESS OF THIS COUNTRY, BUT I'M ALSO A SHAMAN. MY CLASS IS...

[SERVANT]. You can use her any way you want, too.

H-HEY!

...You have nice tastes, Your Highness.

N-NO! THAT'S NOT MY TASTE!

Okay, we have a new ally, so we're looking more like a heroic party. Let's go to the Overlord Castle!
The Hyuma, Thunderles, has been unlocked.
As always Aoto was amusing Momoko, though that really just means he's being way more of a jerk than strictly necessary.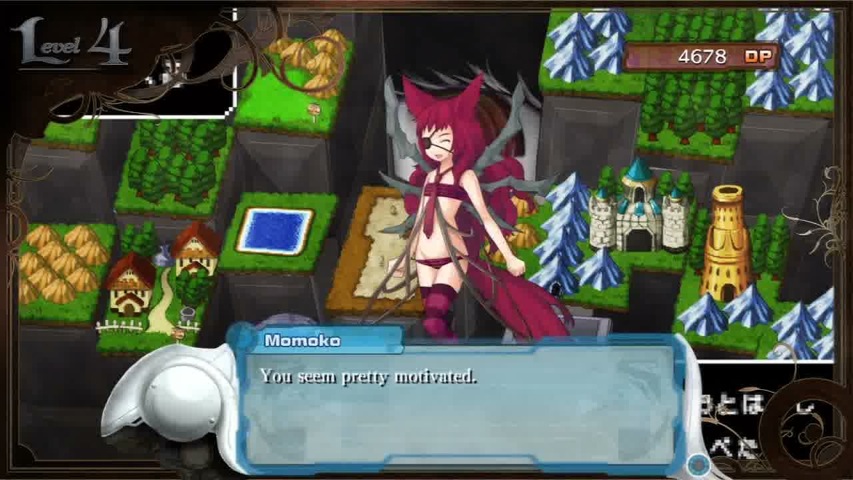 If we play an RPG, we have to play it hardcore. Plus, this is kind of fun. Hehehe.

I hope it's fun all the way to the very end.
They had to cross a desert to reach the area the Overlord's Castle was in.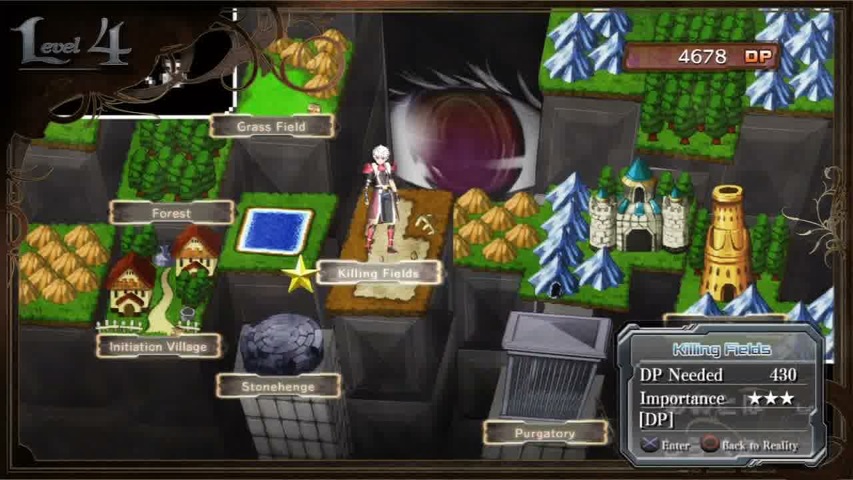 EXCUSE ME, BUT WHAT'S UP WITH THIS PLACE?

The plants have withered, and the land is dry...

KYAAAH!

Are you okay!?

The rumors about the world's end are true...

AOTO, WE'VE GOTTA HURRY! IT'S GETTING REALLY DANGEROUS!

I know, but it's been such a long journey. I'm kind of tired...
???:
Wimp. Do you think you can really beat the Demon Lord? No way.

…Who's there!?
There's a really complicated thing going on behind the scenes in this level I think, but I don't want to spoil things by explaining it.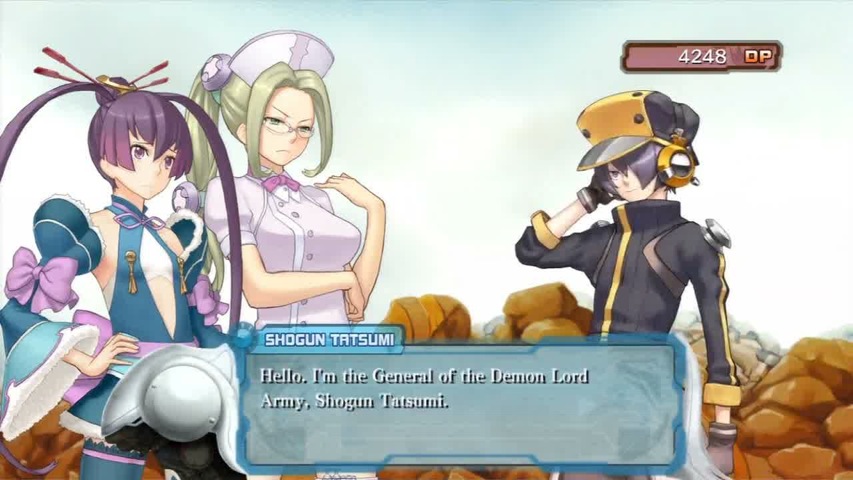 I overheard you say something about a heroic party, so I expected a strong group, but...talk about disappointment.

What'd you say!?

Hmph. Are you offended? Do you want to rumble?

Sure! I'll take you on!

H-HEY!
[SHOGUN TATSUMI] HAS EMERGED.

Whoa! What the hell!?
SHOGUN TATSUMI ATTACKS!

Grr!
AOTO RECEIEVED 530 DAMAGE!

Grr. Not bad, of course, now it's my turn!

Hmph.
SHOGUN TATSUMI RECEIVED 30 DAMAGE!

That's it?

Fly, Injection Needle!

Hmmm...
SHOGUN TATSUMI RECEIVED 40 DAMAGE!

YAAAH! HEART RIPPLE LASER!
AN EXCELLENT HIT! SHOGUN TATSUMI RECEIVED 5 DAMAGE!

Hey, you made us expect a lot from that heart move, but...that's it!? And it was a critical hit!?

SH-SHUT UP! I WAS A LITTLE DISTRACTED!

Hmph. You're not worth my time. Let's end this futile struggle.
SHOGUN TATSUMI'S SUPER ATTACK!
They were surely doomed, if not for some unexpected help.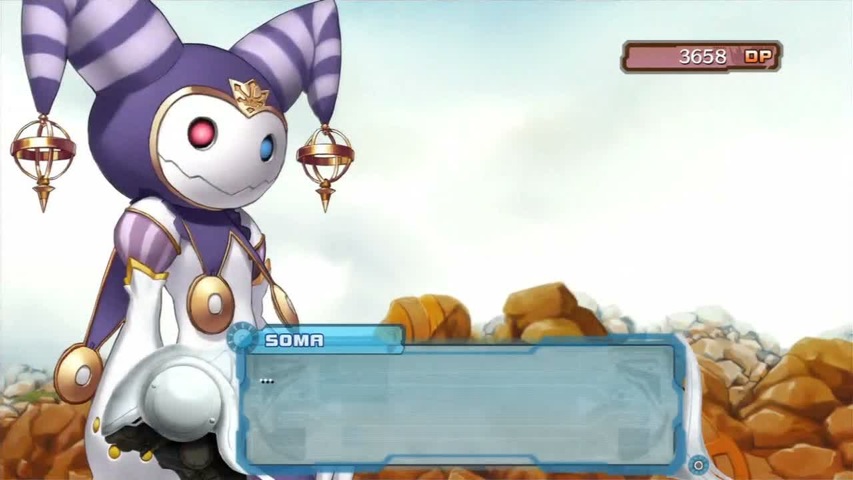 Soma!?

What, SOMA? Why...!? Why are you interfering!?

Did you think I was your ally? Unlike you, I've abandoned the underground. You should've know that.

I know, but there's no reason for you to disturb me. If you're not one of us, just leave.

...Sorry, but I have to get involved because I don't want this world to be destroyed.
This world isn't the one I fell in love with. There's no way I'd be willingly die with it.

Hmph. Your betrayal makes no difference. As long as we have this, the world is doomed.

THAT'S THE MANASPHERE! THE SPIRIT OF THIS WORLD'S REGENERATIVE POWER! WHY DO YOU HAVE IT!?

Power flocks to the powerful. That is the kind of might our Lord has. Just accept it.
I'll give you a stern warning this time. Don't get any closer to the Overlord's Castle. If you do, you will die.

Oh, hey!

Don't give chase. He's just a henchman on an errand.

So why did you leave the Demon Lord's domain? Or are you just a decoy?

...Hehehe. It seems you don't trust me at all.

If you did betray them, would you mind telling me why?
I have to sympathize with Soma's predicament, having something you're trying to do while a gaggle of idiots surrounds you.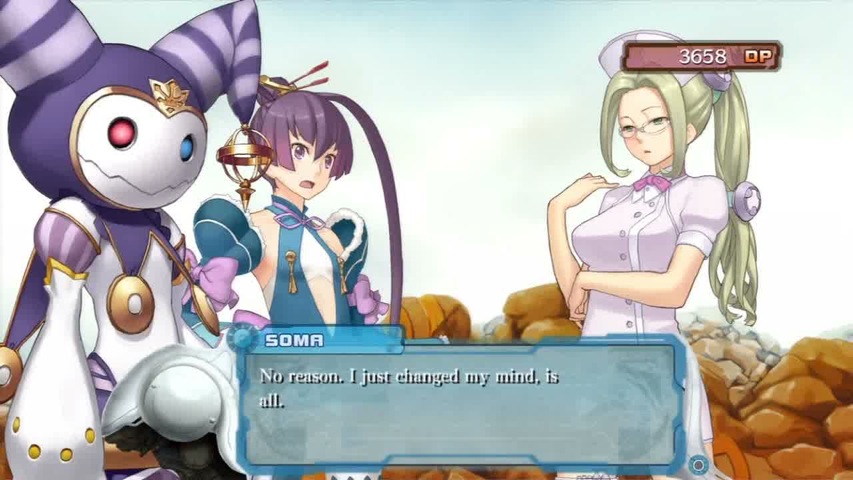 By the way, you're going to steal the Manasphere, right? Shall I help?

...

You'll betray us as soon as we get it, won't you?

No, I won't. Additionally, I know what must be done before you can defeat the Demon Lord.
Like, sneaking into the castle.

I see. What do you think, Aoto? Should we take her with us?

Why not? It seems like she'll be a helpful addition to our party.

Thanks.

Why're you thanking me?

I felt like it. Take good care of us.
SOMA JOINED THE PARTY!

The reason you can't get into the castle is because the Tower of Light is sealed.
The tower's seal quells evil life forms. So, there are less monsters here, and it remains relatively safe.
However, to enter the castle, we have to remove that seal.

Okay...then, let's go to the Tower of Light.
They headed to the stupidly tall tower.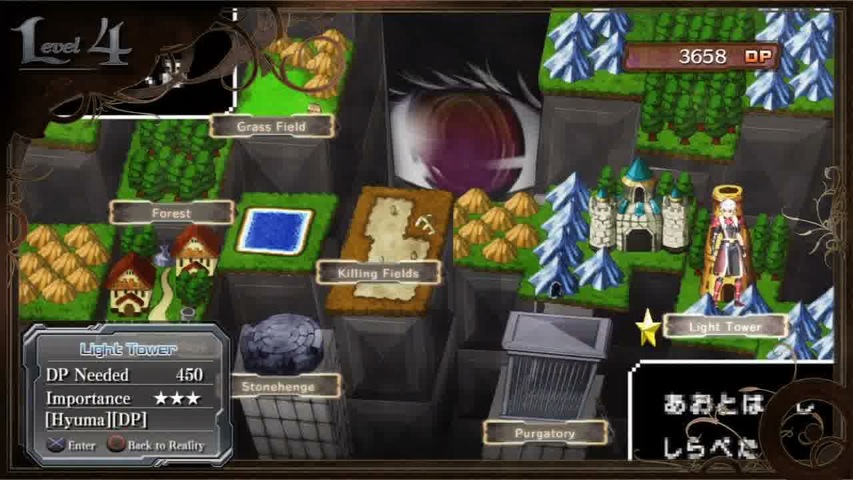 So the seal is on the top floor of this tower...

It's pretty high up. Climbing all the way to the top is like torture...

*HUFF* *HUFF*

Hey, are you okay, FINNE?

I'M... *GASP* OKAY...

Hey, how high up are we?

I don't know that sort of useless information. We're halfway there.

Are you freaking serious?
???:
Hold it, heroic party!
Things weren't going to be so easy, though.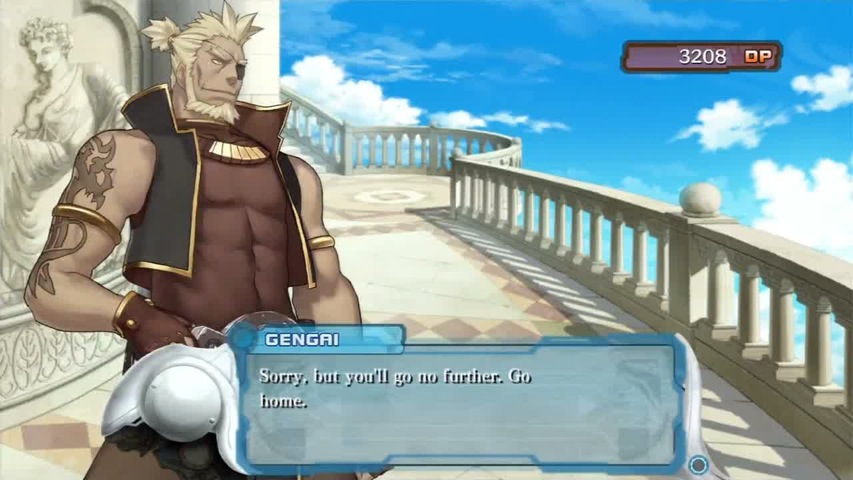 Rev. Gengai?

Who're you?

I am GENGAI, the watcher of this tower.

Please let us pass. We need to get into the Overlord's Castle.

Oh? What will you do there?
You're gonna unseal the castle and let monsters roam the lands, huh? You demonic party!

No, we're going to defeat the Demon Lord!

Unfortunately, you won't have your way. How could I let you pass? Isn't that right, Demon Lord?

What? Who're you talking about!?

NO WAY!

Interesting.

...Oh, it seems you don't have any manners.

Huh!?

I said I quit. Would it kill you to call me Ex-Demon Lord?

HUH!? YOU USED TO BE THE DEMON LORD!?

Indeed. I was the first one, but I am no longer.

So the former Demon Lord will dethrone the present one? Is this a joke? Do you miss it so much?
If Aoto wasn't a moron he'd have gotten a lot of important information about now. Too bad for him.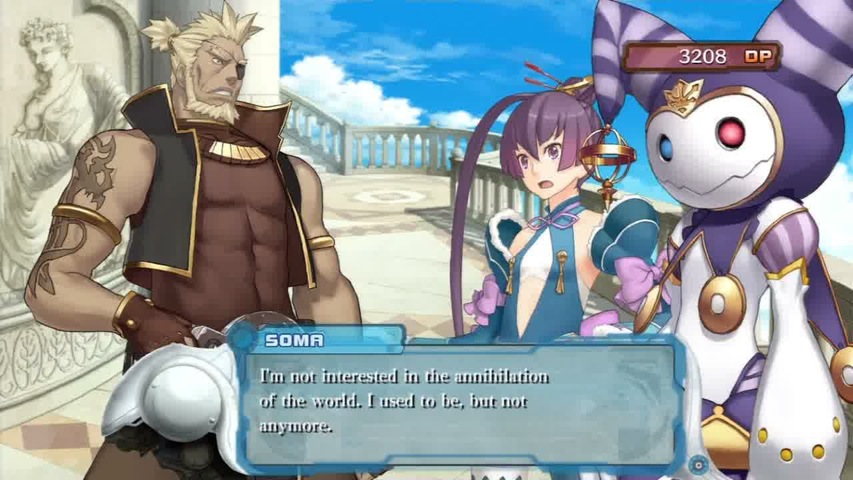 I needed to do something, and I needed to do it fast, since this world was on its last legs.

WHAT DOES THAT MEAN?

But one day the Manasphere appeared, and with it came hope. Since the Manasphere exists, I didn't need to rule.
I still feel the same way. I just need to know who the new Demon Lord is and what they're up to.

Hmph. You can't fool me.

Too bad. By the way, how's your son?

...!

Son…?

Damn you! You're the one who dragged him into that hellhole!
Soma also wasn't shy about picking fights with random Cosmosphere residents.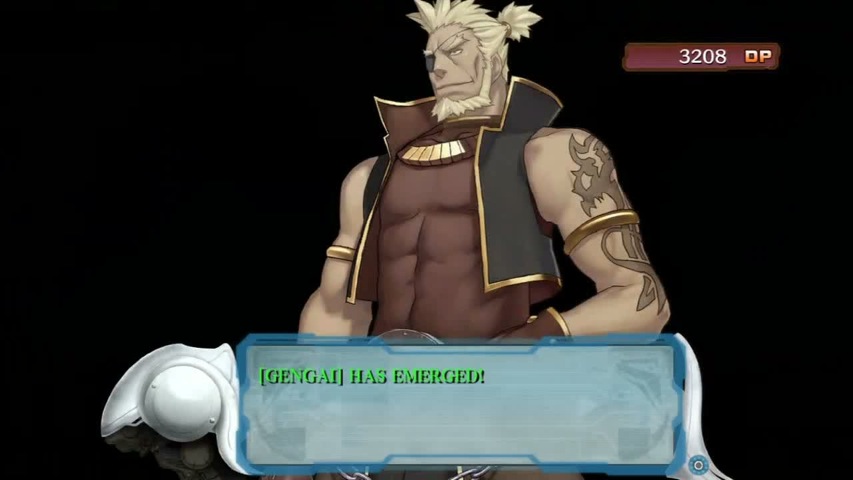 GENGAI ATTACKS!


WHAT SHOULD WE DO!?

What choice do we have? We have to help SOMA!
Okay, SOMA! I'll help you!

Thanks.

Yaaah!
GENGAI RECEIVED 50 DAMAGE!

M-ME, TOO!
HYAAAH! HEART RIPPLE LASER!
GENGAI RECEIVED 500 DAMAGE!

Ugggh!
GENGAI WAS DEFEATED!
AOTO LEVELED UP x14!

Whew. Finnel, that was amazing.

I...WHY...?

Let's hurry. We've still got a long way to go.
It seemed Aoto wasn't great at climbing Towers, which is an unfortunate trait.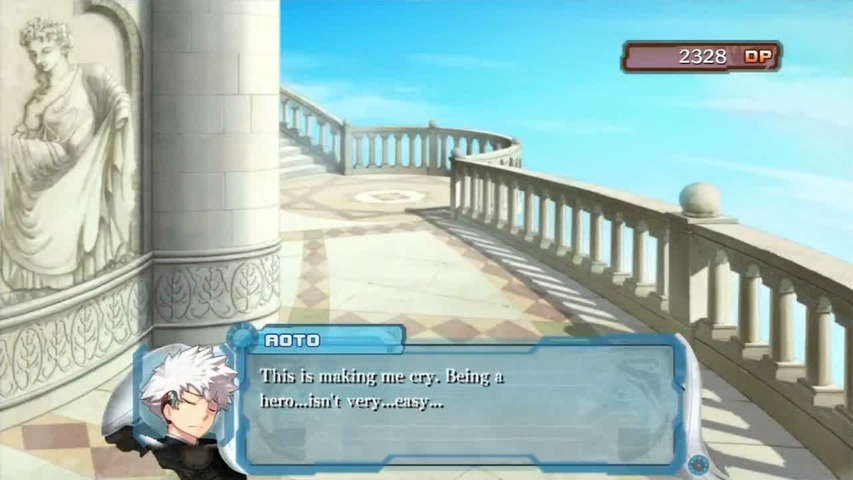 We're almost at the top. SOMA's the former Demon Lord... Isn't that a typical dramatic twist?

...I'm not too fond of it.

Speaking of which, Gengai said that his son was dragged into something. What's that all about?

His son is Shogun Tatsumi.

What!?

They were both Guardians of the Manasphere.

WHAT!? THEN THE MANASPHERE HE WAS HOLDING WAS...

Tatsumi sold his soul to the darkness. He delivered the orb to the Overlord's Castle.
I was still the Demon Lord then, but when I learned the Manasphere could save the world, I ceased my ambitions.
I no longer had a reason to conquer the world.
Then I heard a monarchy planned to unite the world, but it was too late. The new Demon Lord conquered the world...

...HEHE. THEN I GOT THROWN INSIDE THAT CAGE...

The Helpless Princess trope? That earns you 5 Negative Princess Points.

So why'd you try to destroy the world in the first place?

I wanted an environment where I could do what I needed to. I didn't have time to achieve my goal through normal means.

...Didn't have time...?
It's really funny how quickly people rush to label those they don't understand as evil.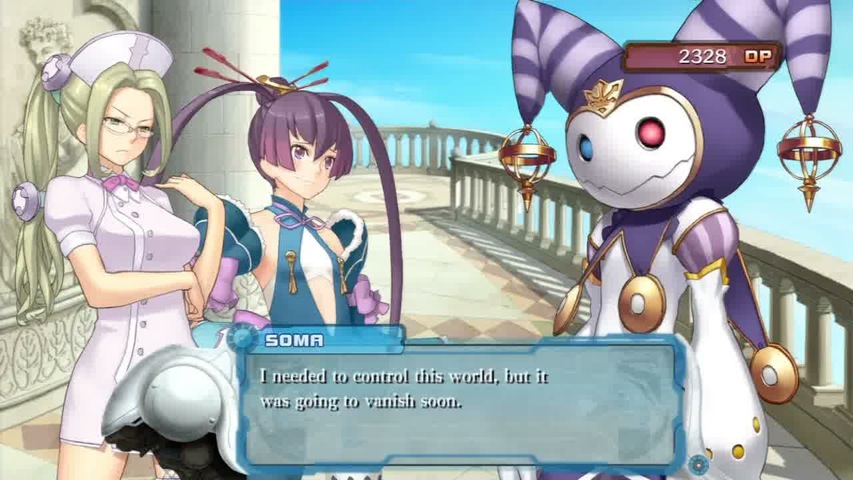 What!? I never heard about that.

If it was true, I needed to complete my duty before it vanished completely.

Duty?

We're here.
Castellia:
Oh, who are you?

I'm here to unseal the Overlord's Castle.
Castellia:
Are you sure you want to remove the seal?

Yep.
Castellia:
Okay. See ya!

Great. Now we can get into the castle.

I'm confused.
Let's me get this straight. We beat the Demon Lord and get the Manasphere...then the world will be safe, right?

Correct.

Okay. Let's go to the castle!

I'M SCARED...

Don't be. It was once your castle, right? It's only natural for you to get it back!

Y-YEAH...
The Hyuma, Castellia, has been unlocked.
OVERLORD'S CASTLE HAS BEEN UNLOCKED!
They headed to the Overlord's Castle, much stronger than when they'd ended up here accidentally a while ago.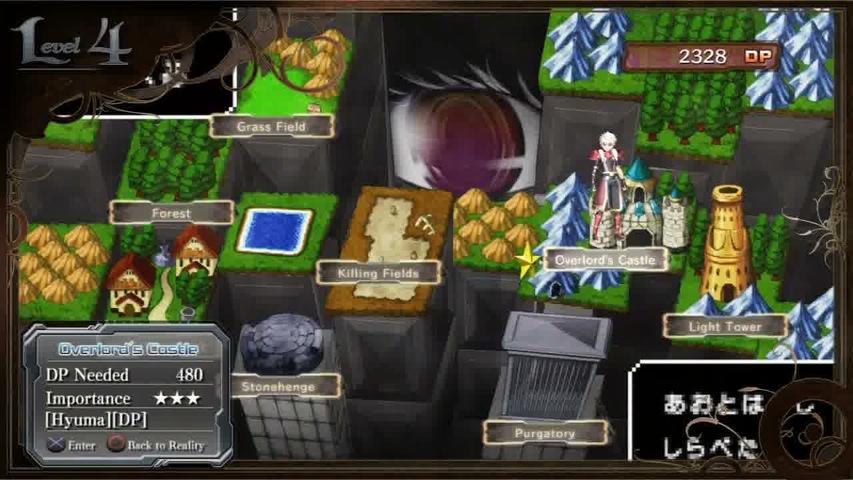 This is the Overlord's Castle, huh? The exterior looks pretty normal, but the interior certainly has an air to it.

I only redecorated the interior. This is a solemn Overlord Castle...at least the palace must look dignified.

YOU RUINED MY PALACE!

You should remodel yourself so that you'll fit in better with this dark castle.

But why only the interior?

It was a budget issue.

What a realistic reason. It kind of destroys the mood...

Oh, so you did come back.
Just like the first time, Tatsumi was waiting.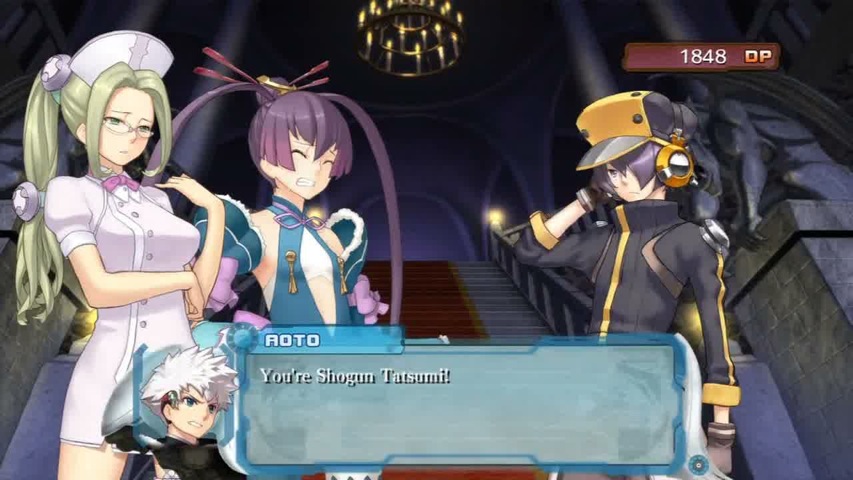 YOU USED TO BE THE GUARDIAN OF THE MANASPHERE! WHY DID YOU BETRAY US!?

Why? That is...of course...well... Why did I?

WHAT...?

I guess I was just in the mood...or I thought it would be cool... I just did it. The world kinda made me do it.


Wait! Because of your stupid "mood," FINNE was confined to that dark, little dungeon!?

...Huh? Oh yeah... Was that the plotline...?

Huh? Gimme a break, Tatsumi!

Anyway, now that you've shown up around here, I'll give you all the deaths that I promised you!

Same to you, traitor!
This time, though, Aoto wasn't level one.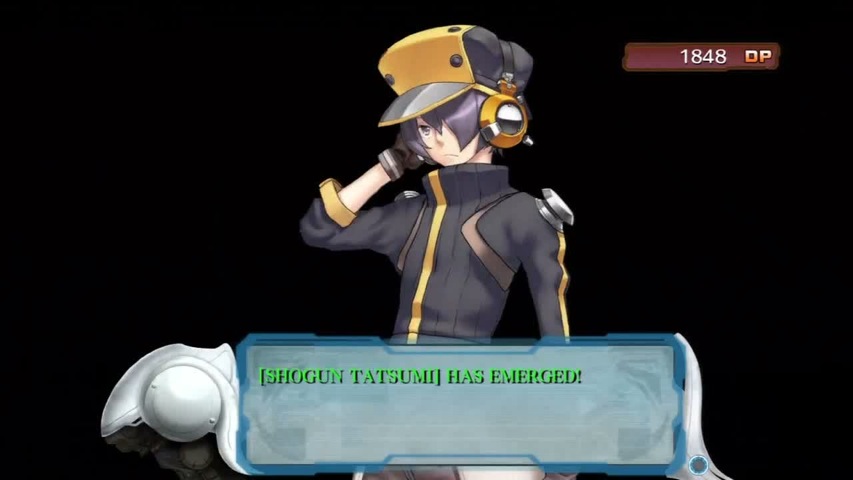 SHOGUN TATSUMI ATTACKS!
AOTO RECEIVED 5 DAMAGE!

What!?

You can't even hurt me! Now it's my turn to attack!
SHOGUN TATSUMI RECEIVED 720 DAMAGE!

Grrr!
YOU DEFEATED SHOGUN TATSUMI!
AOTO LEVELED UP! x 18

Aoto, you've become incredibly strong, have you not?

Yeah, I trained like a Spartan in the Tower.
I lost to you when I was Level 1, but now there's no way I'll get defeated by you!

WHERE'S THE MANASPHERE?

It's on the throne in my Lord's chamber. Its guardian is a millionfold stronger than I am.

Hmph, the guardian or custodian or whoever...is no match for me. I'll slay her in one blow.
Tatsumi just laughed, even though he was defeated.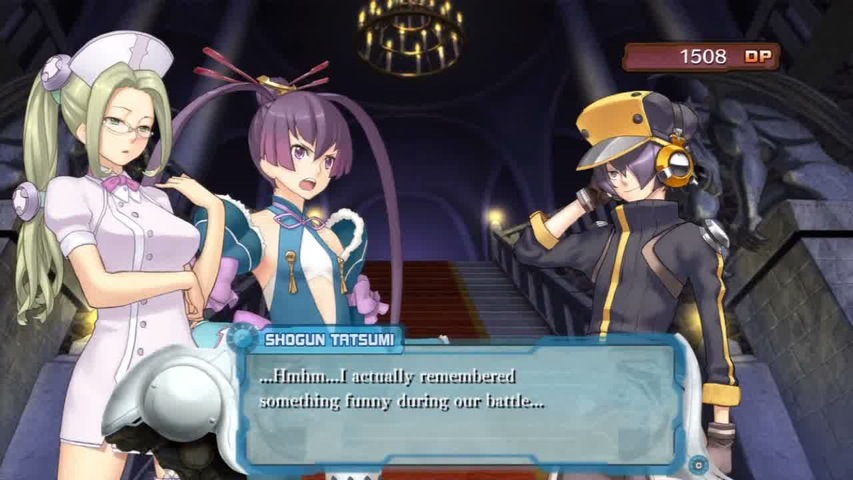 ...Huh? What is this "something funny?"

Even if you defeat the guardian, you still won't be able to defeat my Lord.

That's funny!? Hmph, I will defeat her!

You'll never be able to...not even in millennia. Hmhmhm.

...He stopped breathing.

But his last words kind of concern me. That AOTO can never defeat the Demon Lord...

That's total BS! First of all, after locking FINNE in that cage, "Why did I?" Don't make me laugh!
Let's move on.

A-AOTO! PLEASE WAIT!

...Are they actually secretly attached to each other?

...That doesn't interest me.
They once again found themselves in the lava-filled room.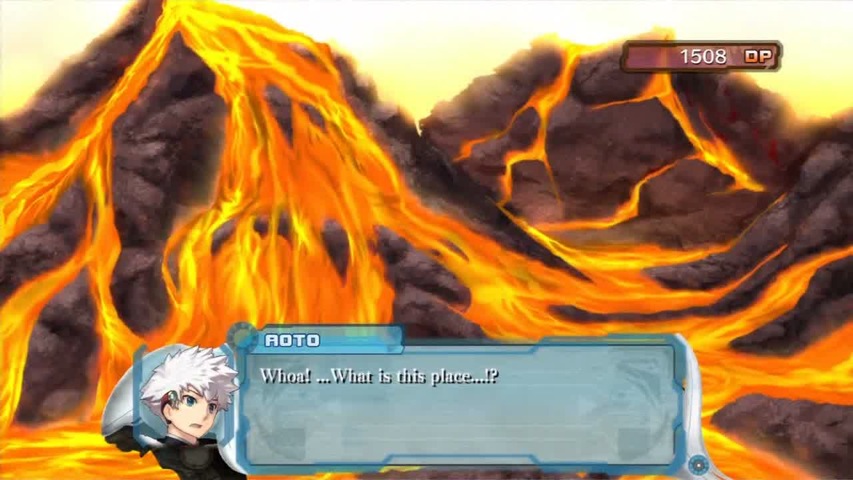 AOTO, LOOK AT THAT!
The strange guardian was there, just like the last time.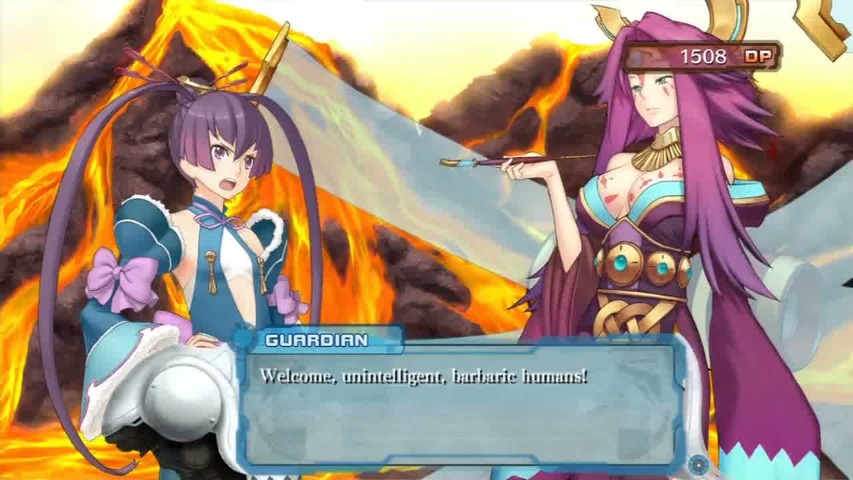 What the hell is she!?

My name is Guardian Demon Lord Chisel! I am the curator of the Sacred Hall.
Tatsumi told me all the details. You're trying to take the Manasphere away from us?

YES! I'LL BEAT YOU WITH MY FAMILY SUPERMOVE: DIAMOND VAJRA MOUNTAIN RYU DRAGON FIST SOUL-CHISELING SLASH...

Silence, human!

KYAH!

FINNE! Are you alright!? Pull yourself together!

I'M FINE NOW...

We got here too late.

Is this the guardian Tatsumi was talking about?

Oh, you are the former princess and overlord of this world, are you not?
The time is ripe. Before the great ruler rises to her supreme throne, I'll rip you both apart.

I won't let that happen... I shall be your opponent!

What a spunky cub...

You'll pay for abducting and torturing FINNE up until today!

...AOTO...
And then Aoto had to go spoil everything by being, well, Aoto.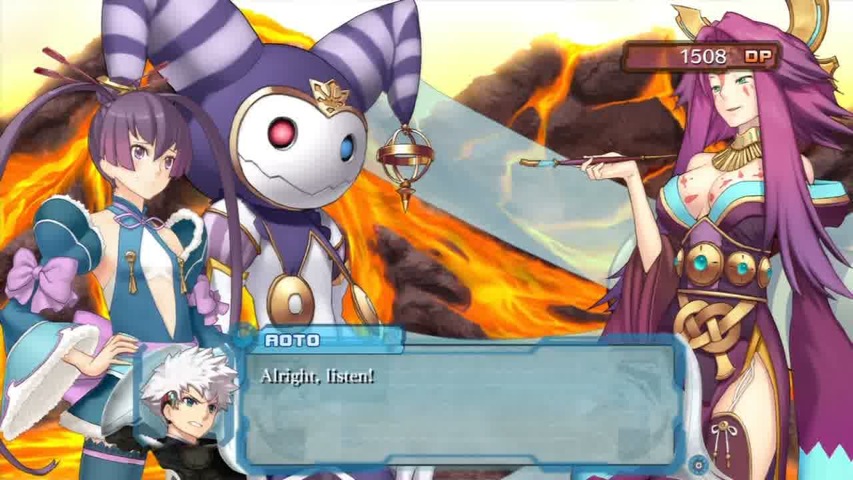 The only person who's allowed to bully FINNE is...

Meee!

HUH...?

...How stupid.


I won't forgive anyone who bullies her other than me, no matter who you are!

Gyahhh! Such tremendous strength!

Of course! I hate it when someone takes my toy away from me!

HEY...AOTO! YOU'RE EMBARRASSING ME...

Take one more! Suck on this, moron!

Grrrahhh! Inconceivable!

It seems like your Demon Lord won't be awakening now...

FINNE! Go to the Manasphere now!

OKAY!

The Manasphere is mine!

Not so fast!

Kyahhh!

...She's dead.

Serves you right, villain!
With the Guardian defeated, they could claim the Manasphere and save the world.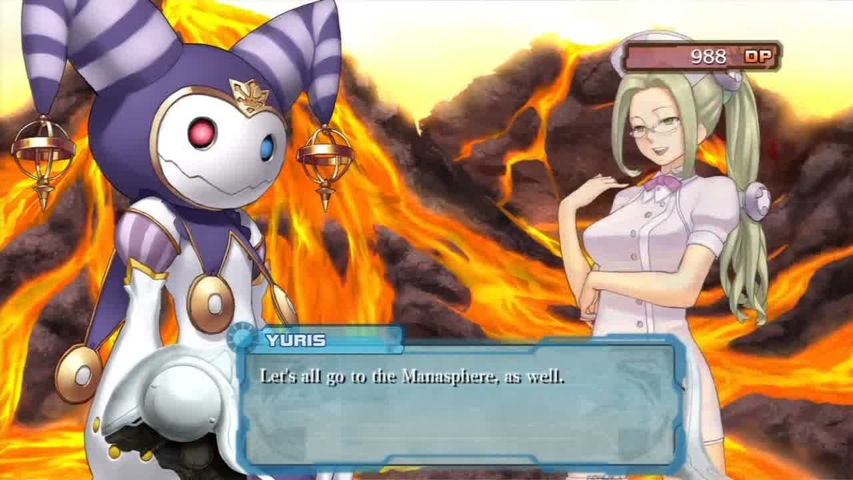 FINNE! Where's the Manasphere?

...AOTO...

Oh! Good job, FINNE!

This must be the linear path to the happy ending.

At last…

THANK YOU, AOTO. NOW ALL THE CONDITIONS HAVE BEEN MET, RIGHT?

Huh? What are you talking about?

YOU'VE DEFEATED TATSUMI AND THE GUARDIAN, GOT THE MANASPHERE BACK... AND...
Unfortunately, Finnel's Cosmosphere rebels at happy endings.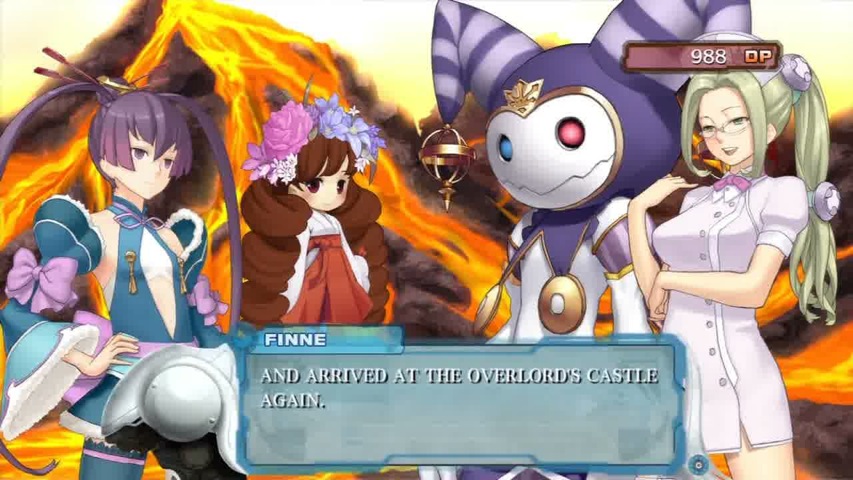 ...FINNE...?

THANK YOU, AOTO, FOR BRINGING ME BACK HERE.

What's going on...!?

A quake…?

No, this is...

Kyah!

…Kh!

I AM ACTUALLY THE FORMER DEMON LORD.

Huh?

I'M SORRY, AOTO, FOR KEEPING THIS A SECRET UNTIL NOW. BUT I REALLY DO LONG FOR PEACE.
AFTER GETTING THE MANASPHERE BACK AND GAINING EVERYTHING I WISHED FOR, I THOUGHT I COULD LIVE WITHOUT FEAR...
BUT THEN I THOUGHT, "SOMETHING JUST ISN'T RIGHT."

Whoa!

Aoto, this is not good. If FINNE really is the DEMON LORD, this world is doomed.

...It's the same situation as last time... This seems to be the destiny of this realm.

SOMETHING JUST ISN'T RIGHT. THIS IS NOT THE WORLD THAT I LONGED FOR...
I CAN'T BACK THIS FEELING. AT THIS RATE, I REALLY WILL BLOW THIS WORLD AWAY.
PLEASE, AOTO, LOCK ME BACK UP IN THE DUNGEON. OTHERWISE, I...
Aoto applied violence to the situation, which was the most expedient solution I suppose. I mean, if you're a jerk like him.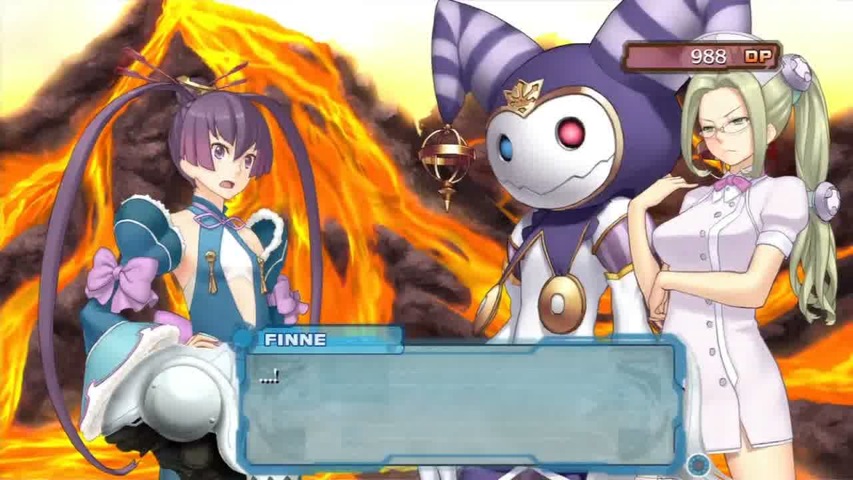 Are you stupid!? Cut it out! Don't turn this world into a ultra-twisted RPG just because of your overinflated ego!
Not to mention that, your clumsiness is insurmountable... What are you thinking!?

HYEAH!

First off, you're just a [SERVANT]! You can't annihilate the world without your master's consent!
Do you understand!?

Y-YES, SIR! I'M SO SORRY, MASTER!

Very good. You're so bothersome. Maybe you need to be punished...



I don't know what kind of world you want, but you don't have to destroy it.
Let's create your ideal world starting from here. Shall we?

...AOTO...THANK YOU...
The Hyuma, Manasphere, has been unlocked.
Somehow he managed to cause a Paradigm Shift, even though he was being a rotten person. That says as much about Finnel as anything.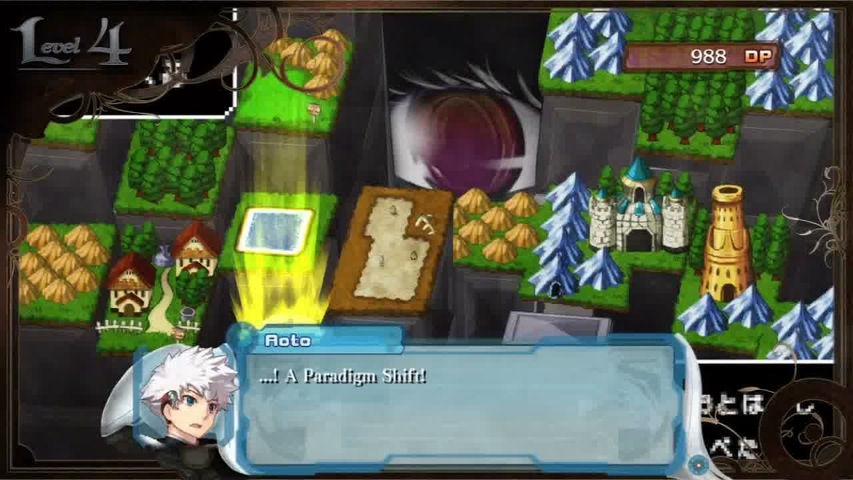 Whew...it looks like we managed to avoid seeing the world getting cracked again...

Wow, you're pretty good. I can't believe you detected her preference.

Huh?

Oh, I guess I was wrong. Maybe it was just a coincidence...

I don't know what you're talking about, but the Paradigm Shift occurred, so something triggered it, right?

That's right. And more than that, it was a positive change in her opinion about you.

Oh, that's good. But either way, don't you think she's being spoiled by the people around her?

...I can't believe your egotistical sadism... I kind of like it. Maybe you and Finnel are a perfect match...

I don't know about that... Do you really think so?
Anyway he headed to Stonehenge, where he got the first hints that Finnel actually really didn't appreciate how he was acting sometimes.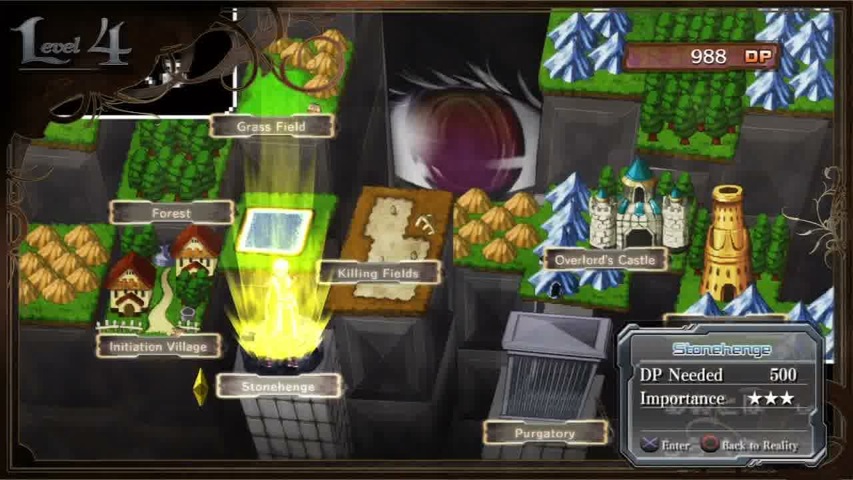 OH, AOTO.

Feeling better?

YEAH. THANKS.

I know it's frustrating to not always get your way, but you don't have to destroy your own world over it.

...I KNOW.

You only got Negative Princess Points, too.

WELL, THAT'S CUZ YOU JUST KEPT GIVING ME NEGATIVE POINTS, BASED ON YOUR FLAWED JUDGMENT.

Don't be such a pessimist. You don't have to be a princess.
I like the Finnel I see in front of me, not the princess.

UMM, REALLY?

Yep. You're my servant, after all. I'll use you like that forever!


Oh, you're not arguing back...?

UM, WELL, ANYWAYS...AOTO...

Huh?

WHAT YOU SAID DURING THE BATTLE...DID YOU REALLY MEAN IT?

…Mean what?

I'M ONLY...YOUR TOY...OR SOMETHING...

Oh! I just said that because that's what the situation demanded...or something like that...

Forget about it!
She wasn't particularly interested in forgetting about what a jerk he'd been, though.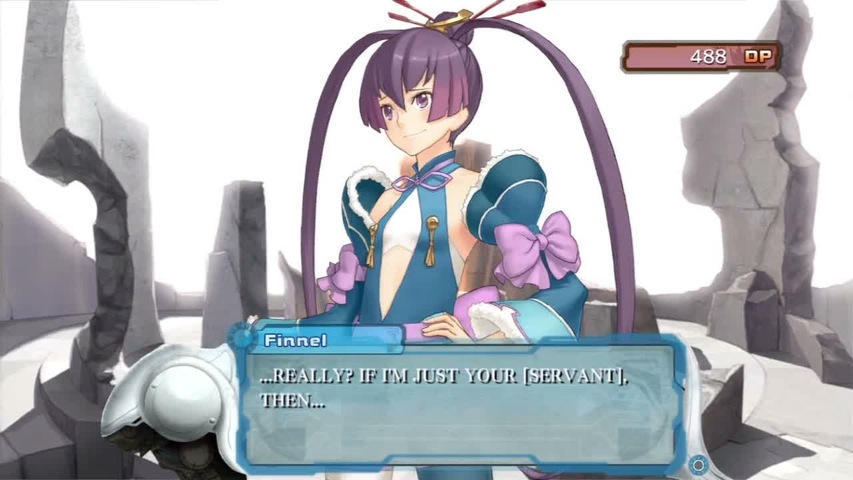 B-by the way, what happened to Yurisica and Soma?

THEY LEFT.

Really!? Then, why don't we just move ahead?
Let's Parashift!

WH-WHAT IS THAT? ARE YOU COINING A NEW TERM?
Anyway, somehow he managed to finish another Dive.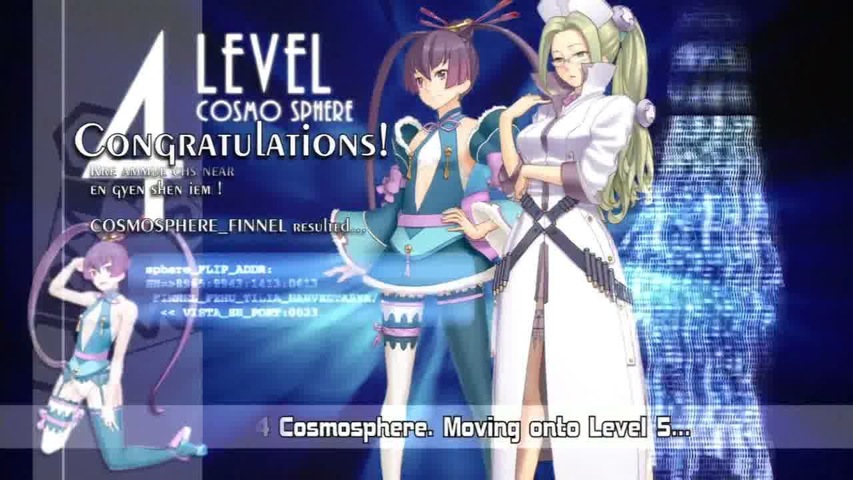 Feinne on Qoga: Double Purge
This level lets us attempt a Double Purge. We can hold two shoulder buttons down when we Purge and shed two levels at once, but it won't always work. It would make battles quicker I suppose but I don't use it much because it's unreliable.
Finnel in the real world was also mad, though she didn't quite know why.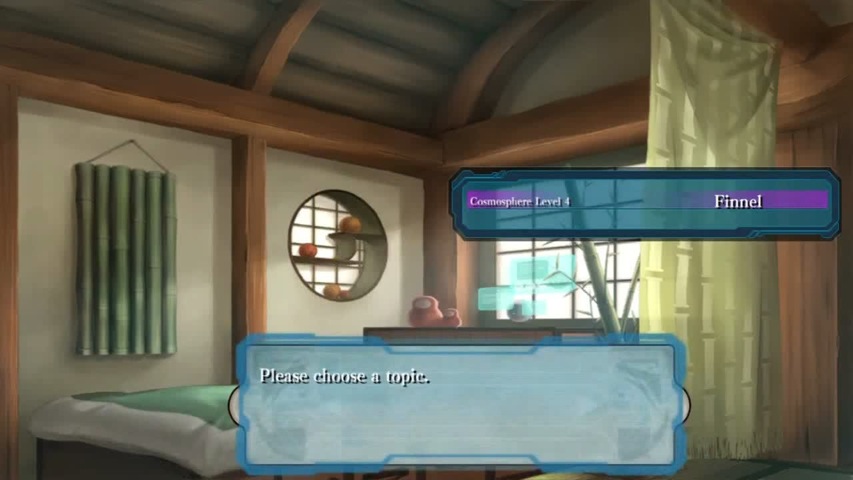 Oh, by the way, I caused another Paradigm Shift.

Th-thank you...

What? Aren't you happy about it?

No. That's not it.

Then tell me. Hasn't anything changed since then?

Aoto, don't treat me like a toy.
I don't know why, but since I woke up at the Dive Shop, when our eyes meet, I feel...
Not cold, but more like...as if you were looking at a toy.

You dummy! How can that be!?
I caught you in the other world, slapped you, and lectured to you, but this is what we got?

Did you slap me in the face?

Anyway, you'll notice something after you take a good rest.
(...It's not that I failed, is it?)
Anyway I'm sort of sick of talking about how bad he is at Diving for now, so next time I'll tell you what happened when they went to the Tower.