Part 71
Chapter the Seventieth: Foolish Indulgence
I stared at the portal for what seemed like hours, almost unwilling to force myself to go through it.
Am I truly ready? Can I face Kerghan? Whether I can or can't... this is it... this is the end.
I breathed a heavy sigh, unable to calm my nerves. I stepped near the portal, closing my eyes and letting my mind wander, hoping to find some thought to comfort me in my time of need.
Like so many times before, I felt the familiar sensation of teleportation washing over my body, that peculiar lurch in my stomach that told me I was being transported to a distant locale. I could hear a voice, both in and out of my head, dark and deep and terrible. It echoed throughout my soul and chilled me straight to the bone, like the sound of thousands of tortured and damned spirits given voice and form. Standing in front of me was that same, robed figure I had met years before when I was only just searching out the Wheel clan. I would recognize it anywhere.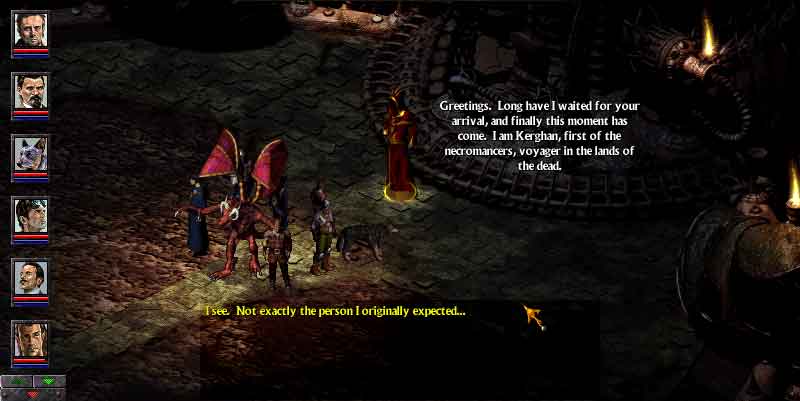 "I see." Anger flared in my eyes, alongside abject hatred. I wanted to strike out at the bizarre, twisted abomination in front of me, half-living and half-dead. The only thing that stopped me was fear. I could feel the power coming off of him in waves; it intimidated me.
I can't... how can I fight this...?
"Not exactly the person I originally expected..."
He stared at me intently for several moments and then passed his gaze over the whole of my group of companions before finally returning to focus on me once again. "I would think not, although the presence of Arronax tells me you already know much of my tale. At least as much as he deemed necessary in order to bring you into his confidence..."
I despised Kerghan's manner of speaking. Not only his voice, but his attitude, that constant air that he knew something I did not. He was even worse than Arronax, and twice as imposing.
I've got to be brave... I can't back down now...
"He told me enough. I've come to put an end to your madness..."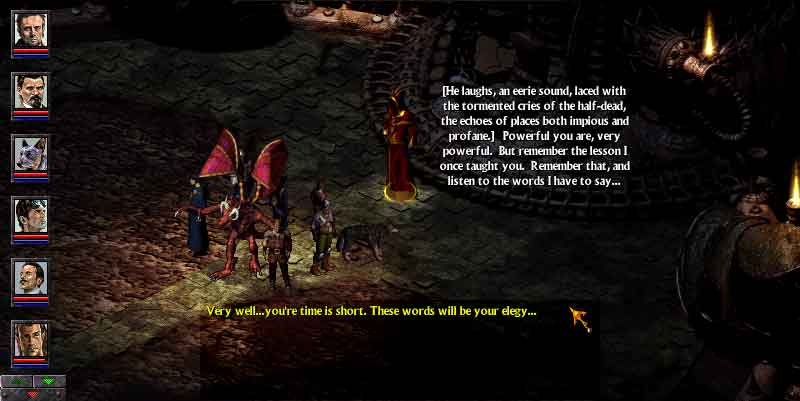 I've grown far more than you ever could have anticipated since we last met... you've no idea...
"Very well, but your time is short. These words will be your elegy." I knew I was only delaying the inevitable with my false bravado, but I just couldn't bring myself to strike out at him, not yet... it was all I could do to avoid shaking from the intense fear I felt as I faced him.
Damnation! I've got to pull myself together! I can't back out now!
"I can sense your fear, traveler, I can feel the emotions boiling just underneath the surface." His laughing dimmed down to a dark chuckle, "I walk both the lands of the living and the dead... you know what death is like, you have not been able to forget... there is nothing that you can hide from me."
If I had been afraid before then I truly became frightened when I heard that. It was entirely possible for him to truly exist in a state between life and death and, if so, I would be an open book to him. Just as Frederick and I could feel and understand each other so intensely in those scant few moments between my death and my resurrection, so could Kerghan feel and interpret my every thought and action. "Yes... I will not try and hide it... I am afraid. That does not mean I will hesitate in striking you down when that time comes."
"That would be most unfortunate," he taunted me, "if something were to happen to me, the spirit of your son would spend the rest of eternity writhing in the endless torment of undeath." His gaze pierced me straight through and, overcoming my fear, I felt sadness and horror.
No... how could you? Even from across the Void... you son of a bitch!
I swallowed hard, trying to hold back the tears in my eyes and failing. "H-how...? Why? What purpose does that serve?"
His voice softened almost to a whisper and he beckoned me, taunted me further, "It has stayed your hand, has it not? I've been following your progress for some time and I will stop at nothing to get what I want. I hold your son's fate in the palm of my hand... it would be regrettable if you chose to disobey me..."
Virgil sighed deeply, placing a hand on my shoulder even as I slowly sank to my knees, doubt assaulting my mind. "What? What is it? What do you want?"
I have to at least hear him out, for Nathaniel's sake... Gods, Nathaniel, I'm so sorry... I don't know if I can do anything for you.
"Death." He let the word hang in the air for several moments before continuing. "I tire of life, tire of the pointless pain that it brings, tire of this endless existence with no purpose... I will return to Arcanum and bring an end to it all. You will help me, and when it is done your son can finally be granted the respite of death along with the rest." I wanted to cry out in agony and despair, and Kerghan could see it in my eyes, feel it in my soul... he knew everything about me.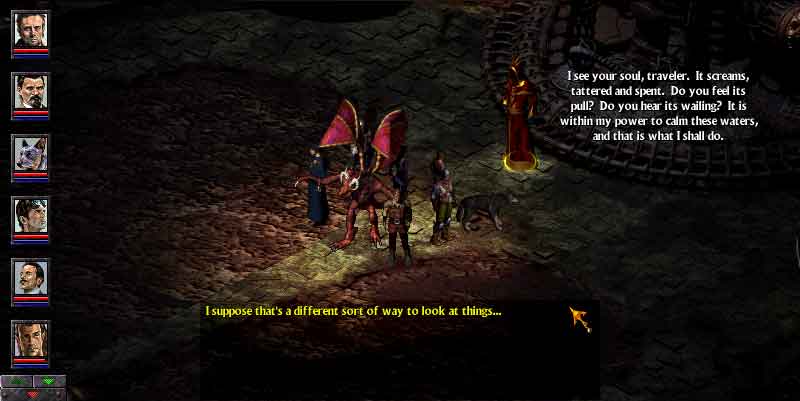 He's got me right where he wants me... I can't make this decision. If I kill him, Nathaniel will... no, I can't do that to my son. ...but the alternative... I can't turn my back on the rest of Arcanum either. Everybody's counting on me. What's my happiness compared to the lives of thousands? Of course my soul screams out in pain! No matter what I do, I will either betray my son, or betray the world... and in each case, I will also betray myself.
"I suppose that's a different sort of way to look at things..." Different was hardly the proper word to use, but in my anguish I could hardly even think straight.
I felt Virgil's hand on my shoulder squeezing gently and he whispered in my ear, "Hold on a moment... might I speak with you?"
Nodding, I looked up at him with teary eyes. As much as I'd rejected the safety of his embrace in the past, now I longed for it. I felt so lost, so unsure... all I wanted was the simple comfort of knowing what to do, knowing I was doing the right thing. "Of course, Virgil..."
He sighed, looking at me with uncertainty in his eyes, "I know this must be very painful for you... I-I wanted to help you before it all came to this... but looking back, I guess you were right. There's nothing you could have done, and now here we are." He sighed, knowing he was tripping over his own words and making things sound even worse than they did already. "Look, I just want to say... I know you don't have an easy decision ahead of you, but please try to think of the rest of us... of all the people we met on our journey."
I didn't want to believe what I was hearing. It felt like Virgil was turning his back on me after everything, after all the offers of help he suddenly turned around and told me he didn't care how much I suffered. I realized that I only felt that way because I so desperately wanted to give in to Kerghan, but I couldn't. Virgil was doing a poor job of comforting me. "Are you saying I should just abandon my son to an eternity of torment? To go on living, knowing that he'll never be allowed to rest, and that it's all my fault? I don't think I can live with that pain, Virgil... my life has been nothing but pain. Would you really try and stop me if I decided I didn't want to live like that?"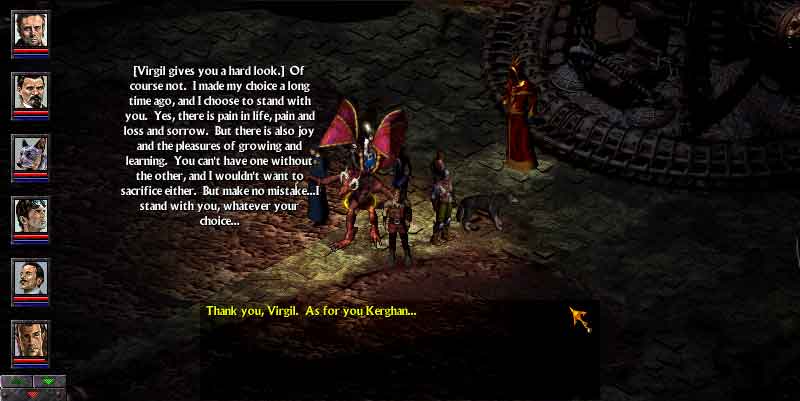 I felt a burst of confidence at Virgil's support... perhaps, with him by my side, the pain of guilt could somehow be more bearable. "Thank you, Virgil. As for you, Kerghan..."
When I stared at him, the words caught in my mouth... I longed to say them, to tell him that I wouldn't be his bloody puppet, but I couldn't do it. No matter which decision I picked, the words just wouldn't come out of my mouth. Kerghan took that opportunity to taunt me further, to make it even harder for me to choose against him. "I can feel the pain in your heart, Samantha Colburn... the pain that has always been there, from the very day you were born, screaming, into this world. It is the same for all people, for all creatures... never ending pain for as long as they should live. Don't you want to put an end to their suffering? Don't you want to bring them - and your son - eternal peace?"
Yes... yes, I have suffered... so many people have suffered. From Kings like Loghaire and millionaires like Bates... all the way down to lowly prostitutes, kidnapped and forced to endure rape by ogres... but does that give me the right to choose whether or not their lives are worth living?
"Do you truly know that for certain? That everybody would be happier if I helped you do this...? Can that really bring them peace?" Even as I thought it I knew it was true, remembering just how peaceful my own death had been, but it just wasn't right to force such a thing on all of humanity. Arronax stared at me angrily, refusing to accept that I was even considering Kerghan's offer..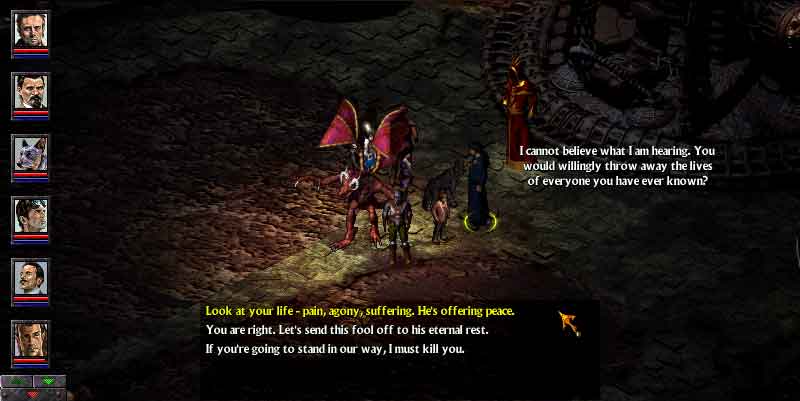 I looked at him with uncertainty in my eyes, seeking a confident resolve no matter which side I chose to stand on. "Look at your life - pain, agony, suffering. He's offering peace."
Peace for you, for me, for Nathaniel... for everybody. I want to release my son, to spend the rest of eternity with Frederick... Gods, could I really go through with such a thing?
He growled at me, refusing to back down. I couldn't particularly blame him, either. If I had never tasted death's sweet embrace I might never have longed for it, never somehow grown to believe that it was an acceptable solution to the world's problems. Arronax continued arguing against me stubbornly, and I was happy for the help in clarifying my thoughts, "I might choose a different path if I had my life to live again, but I wouldn't trade the life I had for non-existence. It is how we deal with our pain that defines who we are. Life is a privilege, and it is not to be thrown away lightly!"
No, death is not non-existence... you're wrong. Good heavens, I can't believe what I'm thinking. I never asked to make a decision like this, I'm too weak... all I've ever wanted was freedom from my pain. That's the whole reason I ran away in the first place.
"But we all end up dead, eventually. Why suffer needlessly?" I could feel myself starting to give in, to seek relief from the pain and guilt I had felt for so long. Arronax wasn't having any of it.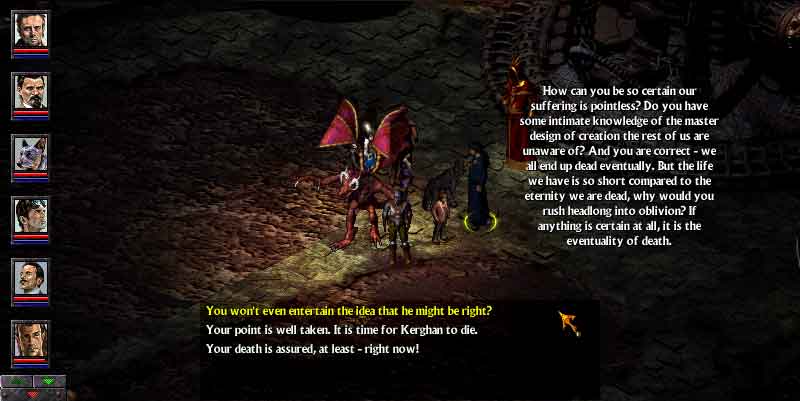 I detested the finality of Arronax's statements, his arrogance still manifesting itself in everything he said. "You won't even entertain the idea that he might be right?" If I could have I would've continued the discussion for an eternity, slowly picking away all of my remaining doubts. All I knew for sure was that death truly had been a blessing to me, and being brought back to life was a horrible pain, being torn away from Frederick even as I tried desperately to cling to him... there was no argument Arronax could present which would somehow erase that from my memory.
He shook his head decisively, crossing his arms to make clear how firm his position was, "I don't need to. I know he is wrong, and I have had enough of this discussion. It is time for you to make your decision - whose side are you on?"
I had never been the hero that anybody tried making me out to be. I'd always known, right from the beginning, that fate had chosen her champion poorly.
Deep down, I know you're right... I know that what I am doing is wrong... but if I had to make this decision a thousand times over, each time I would make it the same way. Frederick, I'm coming home.
"I must side with Kerghan."
I closed my eyes and flinched away from the angered shouts I received from my comrades. "Traitor!" "Then it will be death for you!" "You will die for this!"
We've traveled together for so long... can none of you understand?
I heard Franklin and Vollinger cocking their guns, preparing to fire on me. Arronax began to radiate an intense magickal energy as he whirled his hands about.
At last, I heard Virgil's voice... soft, sad, and regretful. "Samantha... after all we've been through together, I care for you deeply... perhaps more deeply than you'll ever know. That's why I can't let you do this. I'm sorry, but in the end... perhaps, by standing against you, I will be doing you a favor. Goodbye, Samantha."
NO! You promised! You said you would stand with me no matter what I chose! Why, Virgil...? How could you do this to me? I can tolerate the others, but not you.
I weakly lifted up my blade, staring at my angered companions through tear-filled eyes. From down by my feet I could hear a ferocious growling, and I could feel Terry nuzzling up against my leg protectively. I heard another gun cocking nearby, followed by Sebastian's voice, "I know better than to stand against you, or Terry. I trust you both... even if that means I'll be right alongside you, helping Kerghan destroy the world. Just promise me one thing... when we get to Willoughsby, you'll let me pull the trigger."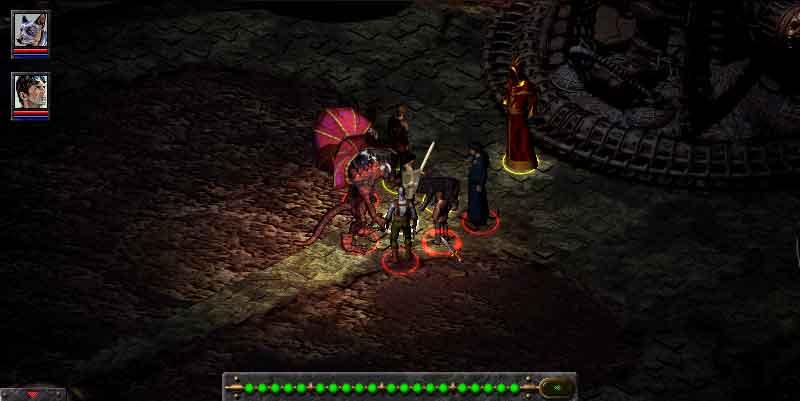 Although I couldn't so much as force a smile, I did nod my head at him, "It's a promise, Sebastian. Willoughsby's all yours... but Bates is all mine." He grinned and chuckled darkly, aiming his gun and firing the shot that would start the most difficult battle I ever faced. It wasn't that I feared defeat, or even death... far from it. What I feared most was success. There was nothing I wanted less than to have to fight the very people I'd called friends for several years, to have to finish them off with my own two hands.
Why did it have to come to this? Virgil, you can still change your mind...
Vollinger's gun went off at point blank range, his bullet piercing my leg and penetrating deeply into my flesh. I winced in pain, betrayed for a second time from one I had called friend.
Is this the thanks I get for trusting you, even after everything? No, that's not fair... I can't expect you to side with Kerghan. I know too much about the Hand to expect that... and I really can't blame you for fighting against my foolish indulgence.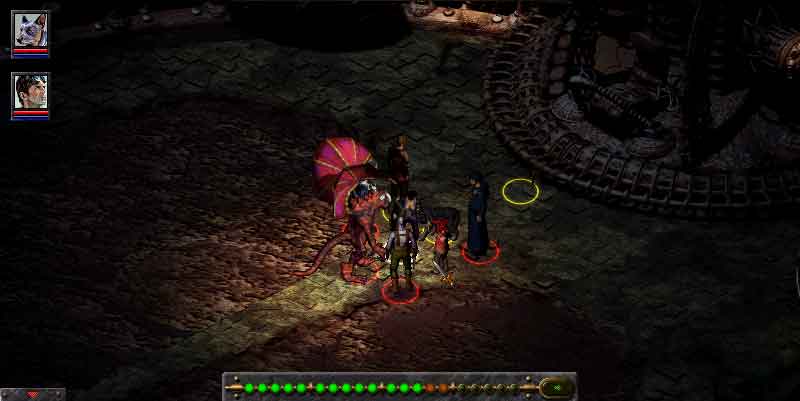 I forgave you, Vollinger... for spying on me, for being a member of the Hand. I forgive you still, for not standing by me... even for trying to kill me. I'm sorry it had to come to this, but you leave me no choice.
Kryggird's Falchion had made short work of the the most horrible beasts in existence and it certainly had no problem doing the same to a single, unarmored gnome. The blade flashed through the air like lightning, nearly half of Vollinger's body being forcefully removed as it passed. Several seconds passed by silently before blood started seeping out of the mortal wound and, at last, Vollinger fell to the ground... dead.
Goodbye, Vollinger... I'll be joining you soon.
As Vollinger's blood spread out on the rough, stone floor beneath, I was finally struck by Arronax's spell. I could tell it had been cast with a weakness of will, a haste that detracted from its potential power. The primary force of the strike was absorbed by my technological shield, the electrodes on the front fizzling out from the terrible overload. What little remained spilled around the edges of the shield, scorching my skin and making me sweat. When the flames settled and I still stared at Arronax through the thick cloud of smoke, he gave me a look of terrible dread.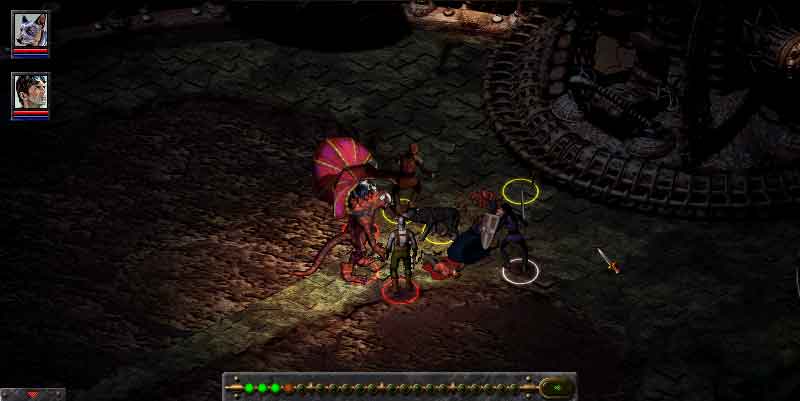 I twirled around expertly, Kryggird's Falchion sailing through the air with a musical hum. Arronax was caught off guard, momentarily helpless in the wake of his spell. For perhaps the first time ever he had failed to kill what he was aiming at, and it would be the end of him. My blade sliced through his midnight black robe effortlessly, elven blood spraying up into the air like a fountain. He gasped, mortally wounded, and fell to the ground while still clutching his chest. He flailed his arm desperately, mumbling what I suspected could only have been a healing spell. At the last moment, Sebastian's gun rang out and Arronax stopped moving entirely.
I can't deny that you deserved that, Arronax, but for what it's worth... I think you've turned over a new leaf. Rest in peace, it's been a long time coming.
Franklin fired his own gun at me, but I moved too fast for him to anticipate. Combat had begun in earnest and my reflexes took over where my emotions left me helpless. I was behind him before he even realized he missed, but before my blade could pierce his chainmail I stopped.
I can't do this... these people are my friends... Franklin, you've made me laugh so many times, I just can't...
That momentary pause was all it took for Franklin to turn around and fire a shot at me, piercing my shoulder straight through. The pain hurt terribly, but the blessing of Velorien kept me strong. For all the mortal wounds I'd already suffered, I was still in excellent shape.
From the corner of my eye I saw Kerghan discarding his robe, emerging from it as a horrific, beastly amalgamation of parts both living and dead. His figure was gaunt and skeletal, his rotted and yellow skin stretched tightly over the thick bones protruding from his ghastly form. His legs were twisted and mutilated into a single appendage without shape or form, giving his lower half the appearance of a half-decomposed snake. Even his bones were a mangled and mutilated, several bony spikes protruding at odd angles off of his shoulders, elbows, skull, and even the ridges of his spine. He was positively revolting, and yet... for some reason I had chosen to side with him.
I had to... I had no choice, if I didn't then Nathaniel would...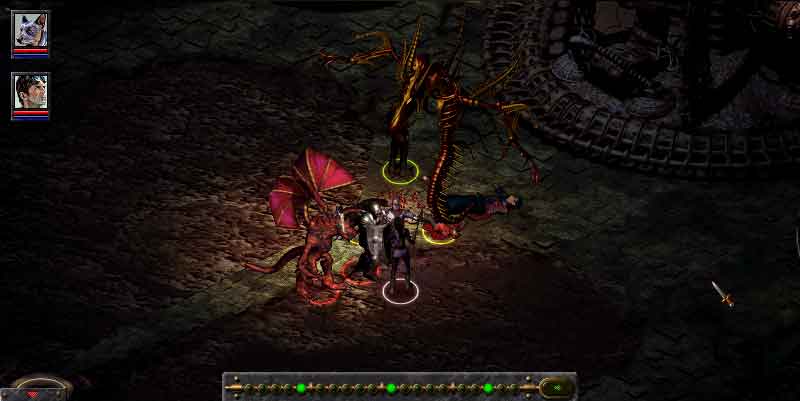 Terry dove through the air, grabbing Franklin by the back of the neck and sinking his teeth in deeply. He gripped Franklin's shoulder with his front paws, twisting his neck powerfully and violently while chewing through Franklin's armor. I closed my eyes and wished I could silence the horrible noises as well. Franklin gasped in horror as Terry pierced his armor and his flesh, snapping his spine and quite literally tearing his head off at the neck.
Even if I'd wanted to, it's too late to change my mind now... I'm sorry, Franklin... this truly was your last adventure.
Seeing everybody slowly falling all around him, Kraka-tur shrieked in horror, "No! You won't! You can't! I won't go so easily!" His fear obvious and direct, he swiped at me uselessly with one of his claws. Of every one of my companions, he was by far the easiest to bring down.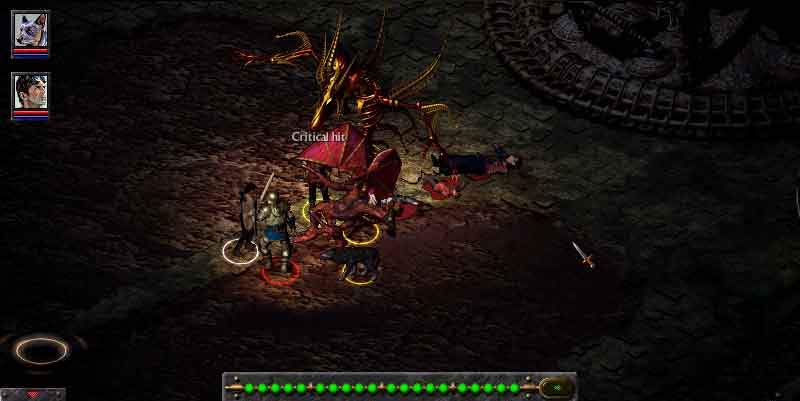 I twirled around him deftly, swinging my blade from the ground upwards when I'd reached his back. Kraka-tur was no different from the dozens of dragons I'd slayed before, only my hatred for him was far more solid. Kryggird's Falchion sliced through his scaly hide easily, piercing through to the vital organs beyond. The force of the strike sent him flying, and finally he collapsed to the ground with a solid thud.
I can't say I ever liked you, right from the time I read your journal. This one's for Bellerogrim.
While my attention was distracted, Virgil turned and swung his axe at me... the very axe that I made him. I didn't even have the energy or desire to avoid his blow, I simply looked on as he attacked me, the axe cutting clear through my armor and chopping across my midsection. It was almost as if I sat there hoping his strike would kill me, prevent me from doing what I knew had to come next. The pain from the wound, the feeling of the blood seeping out and dripping to the ground was nothing compared to the emotional torment I felt in that single moment. If it hadn't been for the blessing of Velorien I would have fallen dead right where I stood... the blessing that I never told anybody I even received.
"Virgil... why...? How could you...?" Tears clouded my vision. I refused to believe that Virgil, of all people, was trying his best to kill me.
From the sound of his voice, he wasn't having any easier of a time with it than I was having of killing the others. "You leave me with no choice, Samantha! I can't... I can't let you be the one to destroy the world! You're better than that! I'll tell the world that you died fighting Kerghan bravely... it's the least I can do..."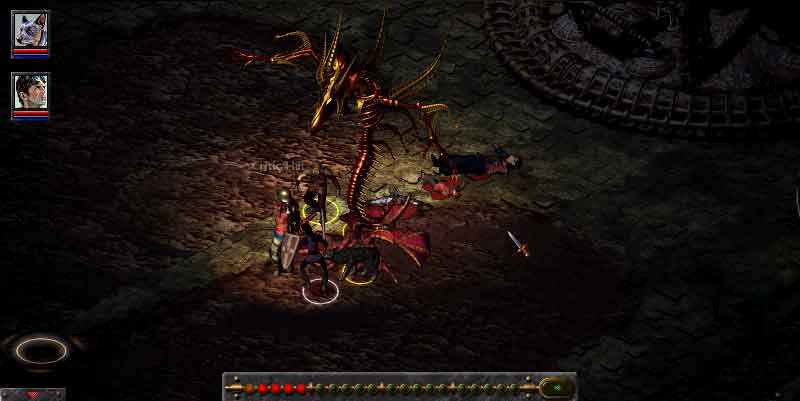 "Oh, Virgil... why...? I don't want to do this..." I could scarcely see through my tears, and my soul cried out in such fierce pain that I very nearly went numb. "I can't possibly tell you how sorry I am, Virgil. This is like some horrible nightmare that I can't wake up from, no matter how hard I try. Goodbye, Virgil." I didn't even watch, I simply let my reflexes take over.
Please forgive me, Virgil... I have no choice.
I felt my blade cutting through his flesh and I winced as though I were cutting my own arm from my body. When I heard his plate armor clattering to the floor, his body lifeless within it, I finally collapsed to my knees and I sobbed.
Terry barked and I could see Sebastian petting him lightly, quietly. Kerghan picked up his robe and shrunk back into it. I simply sat there and cried. I cried even harder than I had when I first learned how Frederick had died.
I'll join you soon, Virgil... I'll introduce you to Frederick, I promise...
I looked up at Kerghan, tears still streaming down my face, and he beckoned to me. His voice was so confidant, so satisfied. He'd known exactly what to do to get his way, and in the end I was nothing more than a puppet dancing on his strings.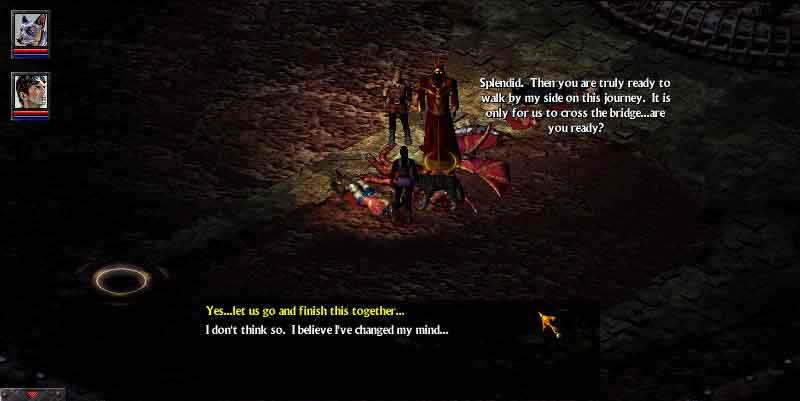 You left me with no choice... you left me with no bloody choice.
No matter how much regret had assailed me in the last several moments, there was no turning back. Even if I decided to turn on Kerghan and somehow came out the victor, it would only spell an eternity of torment for Nathaniel. I had made my decision and I would stick by it all the way through to the end.
Frederick... Virgil... I'll be home soon.
"Yes... let us go and finish this together..."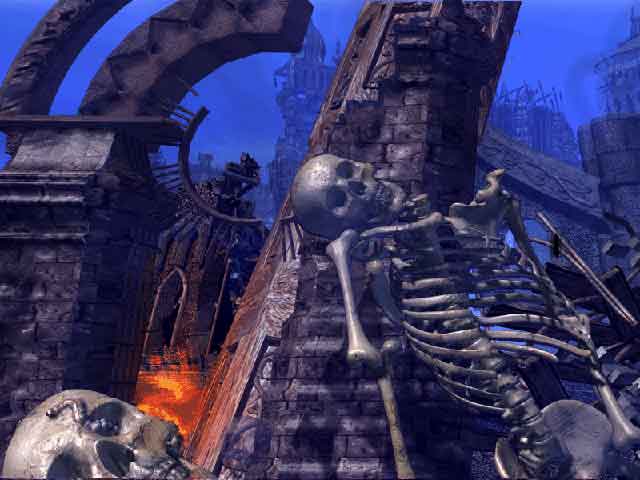 Having joined with Kerghan in his quest to extinguish all life, I returned to Arcanum by his side and vanquished all that lived there. Kerghan then turned on me. In the ensuing battle I narrowly defeated him, but at great cost to myself. I am even now sitting upon the ruins of Arcanum, waiting for my end to come...
Bonus Content
Since at least a couple people are probably interested, here's the link to the ending video:
Video
I can't get enough of posting random bonus crap, so here's another. After that downer of an ending, cheer yourself up by reading every single 'stupid' quest journal entry in the game

There are tons of spoilers, though most of them have been covered in this thread. You'll pretty easily be able to recognize quests I didn't do, though... like anything involving K'an Hua (you meet him if you take the evil path that branches off at T'sen-Ang).
Mrs. Randoophus want me find sumtin. Maybe it be book? I think she say it be in cave eest of town. I think.
King Praydoor want me get tax mony from Back Tree, uh, Roof?
King Preytore want me find his dawder.
King Fador want me kill prinse Augustimu, uh, Auggie Farodimus.
Gladus want me find ring, a famuhly hair bloom (What be a hair bloom?).
Pretsel Keers train me Bow Master! But I gotta find Bow of Eplesiastessess at rooins of saabo.
The Mare of Black Roof want me find his knife dagger! It wuz stolen by thiefy guys.
Duk Tan the silly thief guy want me rob the Fredgewizard chest. If I do it, he give me robbed stuff!
Duk Flaan the silly thief guy want me get poizuhn from Gun Walled! If I do it, he give me robbed stuff!
Teodoor want me get his "tefnolonically impooved" plate from Ashberry scyentifical guy.
Silly halfling want me play game!
I need find who own strange ring silly gnome guy gave me.
Ask kestions to Peeskylerandsuns about guy what own silly ring.
Axe kestion about ring from Gilboort Boates.
Look tru tha mines of Black Muntain Can for where they be ... oh, I gotta tell that Bates guiy what I finded, to.
Look tru tha mines of Black Muntain Can for where they be
I gots ta find da Back Mountoon Kan on Island Deespaire!
I gots ta find what be happenened to Back Mutton Can!
Look at the Whool Clan for stuff bout the Black Mutton Clan.
Find elfened village of Kantorahe.
Get human guys go away frum Felchers Acke.
Find village of Dark Elf guyses.
Find out stuff bout Renfro Aterwilliboor.
I gots ta get book "Horrer Among da Dark Elveses" by Renfro Aterwilliboor.
Find out who this Arrondymanax guy be about.
Me gotta find Nufroodin!
Kill all the peoples that be livin in Stilwader.
Go to Caluhdun tempuhl of Puhnareezs and talk to Kan Hoo hah?
Get the Vendbidrothiusnian Defise!... oh, I also be gots ta meet Kant Hugah in the Round thing of Brudgahrez.
I gotta go Round thing of Bra gard now!
Find Arronunaxianism.
I gots to beat up that Korgan guy!
Kill Arroslimaax, the Band of Keee, Gorgothimus and Krakur Tore to join Korghimus.
Consterble Oten need me get stinky thiefses off the bridje.
I gonna join theifses! But me must break the stuff they gonna be use to make new buhridje.
Dongl Jun want me bust town steams enjun.
Consterbl Ons want me fix steam enjun.
Loy Gurloz want me get pure oar for to give him.
Rustzzz da Imputer guy want me find camera OR Betsee Toon stuffs. Then he tell me bout Peeskuylrzansunz!
Some lady lost her grampa in Showted Pills.
Steal sumptin from Bates cauz Apple guy don't like him and want to s'pose him.
I gots ta get rid uv the sabotoors for Batz gard guy. Then I get talk to Batzz! The factry is at end of Ten Handz Allee.
Appuhlbeez will get me inna Batez house if me destroy Batz new steemy enjun prodo thingy in Batezes factuhry. It be at end a Ten Handz Allee.
Tell da Weel Klan 'bout Dorfald be in jayel. (He that guy be on Island deespair)
Mirf want belt a Stilwader Giant and den he tells me where be Kuuntahrahh. I dint no giantzes wore belts...
Oguhn want me bring book "Da Han" ta him.
Find out bout Mun Goorad in villuhj of Dark Elfses, and tell Raven guhrl what I finded out.
Find part for Weldoz thing from junk in the wastez.
Find Mistor Viktor Mix
Hadriuhn the Archaalogististism want me bring peece of Nuhfroodin'z bonz.
I gots ta rescoo Tolo Uhndrhill, silly thief guy, from pit unduhr Paydor's Kastel
Get the Venduhgrot Devise an meat Narfooduhn in the Round thing of Brahgar.
Liluhn Mix want me find who told peeples her huzband rite book about dark elfses.
Nazrooden want me kill the Booguhrot. Then he tell me how ta kill Arronaxezzz!
Stringee Peete want me bring back his stuff like tha boot bucklz a Jonuhs Wilamsuhn to the Wilamsuhn family that still be live.
Stringee Peet want me fix the tempuhl thing he did sumptin to in Vooriduhn.
Stringee Peeete want me break the Bangelium Scorje.
Free Arrobynxz frum green magik thingy he trapped in.
Jonguh Dohn need a pakuh... puika... box got from Charlz Doluhn guy. He be shop guy in Duhrnhome.
Jakob Bendz in Shrouted dills want me steal pay role fruhm bank's safe. (whut pay role? Iz that food?)
Dok Robuhrt want me help stop bank robbing guys.
Silly man in Wellunnton want me bring note to 36 Low Durvuhsh Roe.
missus Casuhnda Pretty bone want me steal elfenant funererariy stone from ruinz in paper with newz in it.
Missus Even Garruhn Burg want me find her painting.
Dores Beetuhn want me steal Maduhm Toosohz's cristal ball.
Maduhm Toosohz want me bring her cristuhl ball ta Deors Besuhn.
Taddeuhs Miner say me kin join in the Thiefeses Unnerground if me get the map of the Tuhranteean Sooers.
Taddeuhs Miner want me get the map of the Tuhranteean Sooers.
Mattyiou Jamzon want me get his ring from sooers.
Benjy Guhshwin the head doctuhr guy want me bring him skullz of the Ren Ahr simeez twinz.
Noriuhn on the I luv Dees pare want me bring stuff to man name Maximilmullia... Max.
The gard on Ile of Deespare want me kill the Sorserus Beest.
Find Warren Pel Dar of Cumbria and tell him that Maximillian still lives on the Isle of Despair.
Jonz the Collectuhr want me get some stuff fruhm Shadz Beech. If he like any of them he trade me for a silly wepon thing!
Sinteea Bogz axed me help her excape from camp on the Isele of Deespare.
Jeffree Tarelondash want me help him solve mustryious musry puzl of Ashburee semetaree.
The Mayer of Asshburee say I kin anser kestions at Town Counsil meeting tonite! Me ansers must make lots peeple happy!
Ellemeno want me get some Mythrahl from caves of the Whool Can.
Swiftt want me bring her to Tuhrant.
Mistur Wind want me make sure the lost elfen hunter be on his way home.
Kill poachuhrs for Kan Keeri.
Help Jormunt get free! Find stupid rath guy kiler.
Whyspuhr want me get 5 essenceses from Will-o-da-wips.
The innkeeper want me bring back his box from the backsmith.
Muggs want me get 200 gold from Larz in Boil. If Larrs no got money, I sposed kill him.
Muhr anda Teers want me take crate of ale from Can Mawg warehouse.
Caleb Maloi want me pick up his shipmuhnt of whixey.
Silly stinky guy Milo want me kill Treet for messin with his guhrl.
Miss Mugane D Brueriastianezs, uh, lady want me to find evidence that A.J. Thorteen be using orc iron and not dwarfenen iron.
Potluhck want me kill Dariuhn Mawg.
Dariuhn Mawg want me kill Potluhck.
Thrain Iron Hart want me find his brudder Uhrland at Stonescuder Clan and tell him go home.
Vee gart Moltuhn Flo want me get his family hair loom from the deps of Dredje.
Eruhc Ob Sidiuhn want me find lost buriuhl ground of Irun Clan, and get Durin Stone.
Me are go to middle of Tuhrant and make fool of meself by running around in unter undder untder.. with nothin on.
Brigit Preestess of Stillwader say I shud find stolen idol of ther goddess Gezshtiananae.
Richard Leekz the blacksmith in Stillwader want me find his frend Siruhs.
I need get Azruhms Star from Knatha for Clarisa Shal Mo in Blakroot.
Edd Willosbee want me convinse King Farudd's guys that Caluhdon be frends with the Unifide Kingdom.
Dan McPersuhn will train me to be Trap Master! if me can surfive the traening maz under his hous.
Cheef Inpectuhr Hendrzun say I need find White church killer Person.
F. Fitzgeruhl be the master of Spotting Trapz! He want me get the staff of Kantau from castuhl of Snellyfa. Then he make me master traineded!
JT Morguhn's mom (JT be Pick Lock Master!) she want me help him excape from prizuhn. The he master traine me!
Me need get the Blade of Zerxez so I kin kill mean demuhn Lanuhmeluhch.
Henry Jenkz want me kill King Fuhrad of Caluhdon.
Addkuhn Chamberz the Dodge Master want me kill Suhr Garik Stout the Meley Master and bring his eyez as proof that me have kilt him.
J MMorat is Haggle Master and he want 10,000 coin and the he be master train me.
Taddeus Minuhr want me steal the golduhn iduhl of barbarianz of Kree.
Gurn Rock say he tudor me in skillz of gambling.
Gildr Nite Walk say he give me 1500 coin if me can pass the beasts of death and get great ruby for him!
Me got find Master of Prowling by doing stuff it say on musteerious note.
I gots ta stop Arrroonymaxus.
Take J Morguhn Master Loksmith his tool things so he can excape from Caluhdon's high securetou secrti tuff jale prizon place.
Kill all Willwacker Gang so they let Misuhs Roluhnd go.
Find Lady Dru hella and say she gots to marry Suhr Garruhck Stowt and tell hur to go bak to be wit hims.
Take heeling poshuhn to Adkuhn Chambrz so he see agin. I also need tell him wheres Lady Drellan be.
Kill Suhr Guhrik Stat and bring his eyez to Adkun Chumpers for being proof.
Kill the 3 wild pigs that eat Teo Britstartz corn.
Pik up 5 big roks in Teo Bruthart's field and put them on his cart.
Missus Cameruhn want me find her suhn, Leeuhm.
Break the portuhl thing that in Leeuham kameruhn's joornuhl buck.
I gotta bring box ta missuhs Morguhn in Roseboro for the Thievy guys Under the ground.
Aduhm Max wuhl a guy thats from Thievy peoples Under the ground, he be askin me to steal the anshend old book "Divuhnationz and Magix for the Appett Wizuhrd" from home of Window Misk in Caluhdon.
Aduhm Maxel be from Theefy guys Under the ground axe me to rob the priseless Neckluhs of Queen Kinaseaaaa from the museum in Caluhdon.
Bring bag of hot jooils to Aduhm Maxel in Caluhdon for the Thiefz Under the ground. (They not be realy hot, they just called that)
Maduhm Lil wan me to get Cassee's necklase fruhm Mistuhr Moor land'z house at 46 Devonshuhr Way.
Muhstuhrr Langee owe 400 coin to Madam Lil. I gots ta brung it to huhr. He be guy that be the doorman guy at Bridesdale In.
Maduhm Lil want me bring gift to missuhs Halstur at 48 Devuhnshire Way. Me must tell her it be from her huzband.
Maduhm Lil want me find a Medal yawn of Booty for her.
Maduhm Lil want me to service Mistuhr Frankluhn. (what be service?) He be at corner of Vermilliuhn and Grimzuhn.
Tom Grak is a happy haf ork! he ax me find Sir Mat du See Saw for him.
Mistuhrr Plow want me kill ratz in his ware houzes neer the doxs in Tuhrant.
Jared gard guy want me find whut happen to woolhemeena, his guhrlfrend.
Jared gard guy want me go to stonecuder at corner of Mulligan Bone Allee and Eest End Avenoo in Tuhrant to say he make toomstone for his dead guhrl woolhemeena.
Mistuhr WRite, Editor of Tuhranteean, want me bring payment note to Missurs Halstuhr who be at the corner of Devonshuhr and Vermiliuhn.
Trevor Linwud be jurnalizt for the Tuhrantian he want me get a photgrf fogoph fotgoph picshur of Leth Wivuhrn thingy.
Riuhn Zanderz want me kill his dad Jon Zanderz. He pay me 1000 coin! when I kill his dad!
Dav Wit want me find what be killing his bunnys.
Find qur cre fix for Cynthia Witz wherewolfes curs.
Me need find how get Peloshianz spirit to answer queshionz when it be float above hiz pool at midnite.
Kill dark elfses mage T'vale'n'n'ore so I kin break spell holdin the half oger slafes.
Find proove for Hironeemuhs Maxim that his heavy as air machinz could be flyed.
Fred Ex Master of Water Magix in Tuhlla want me get jem of Water Poorificashuhn from the guy waiting outside Tuhlla.
Artur Tiruhn wnt me find proov of haf oger breedeeng being happening on "Haf Oger ailand".
Captuhn Wheelee of Tuhrantian Gard want me kill Don Throg to end the orc upriseeng.
Capuhn Wheelee of Tuhrantian Gard want me convinse Don Thog to give hisself up.
Mistuhr Bubcox want me convinse Don Thog slip out the factory unseen, so he gonna becomes unyon repersentuhtive for orks of Tuhrant.
Get the platmum shalise from Fal'Kuhnz Maze for Herzod Munx.
Eddie Walloz of the Halsyuhn Order in Vooriduhn want me get new altuhr stone from Torn Corry.
Persivuhl Tun want me free the gost of his mum.
Karisa Shamo say me practice thro-ing skill to be better and bring her 1000 coin before she train me at Master at Thro-ing.
Suhr duh Seesawr want me find skullz of Renuhar simees twinz and bring them to him.
Me need find Artur Tyruhn and bring him simeez twin skullz as proof of a larger conspuhras cinracy bad thing peeple doing. He last be in Back Ruht.
Arvuhd Millzton want me kill whut be killin minurz in the Weel Clan.
Renzo want me to put the stolen hair bloom statoo thing on Fredurikoo guy that usually be in bar of Roseboro Inn cuz he double cross them and he mean guy. Then I gots to turns him in to the Captuhn of the Gard.
Dead guy Bargo want me kill bad preest guy Arbaluh so he no be cursed no mores.
Arbaluh say Burghus dead guy be liar and Bahrgus guy and his bad frend Fahrkusz robbed afita architex speshul thing from him and he want me bring it bak.
If me find elf amyulit of EnTala, Gaylin lady say she gimme reeward if me give to her.
Sebastuhn want me kill Pollok and then he be my friend follower guy.
Sebastuhn want me kill Dariuhn Mawg and then he be my friend follower guy.
Saruh Toonz want me get her mine bak!