Part 16: Episode 13 - Part 2 - Phobos

Episode 13 - Part 2 - Phobos
And for the second part of the big plot finale, we still have
nine-gear crow
with us, as we get ready to take care of Klein once and for all.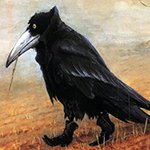 Nell Aulter posted:
Raven
Klein has made it to Phobos.

His most likely target is the information contained within the Martian Control System. What does he gain from this information? What objective does it help him achieve?

Raven, you're the only one capable of finding out. I pray for your safe return.

F
Beatmask