Part 9: Episode 09: Conspiracies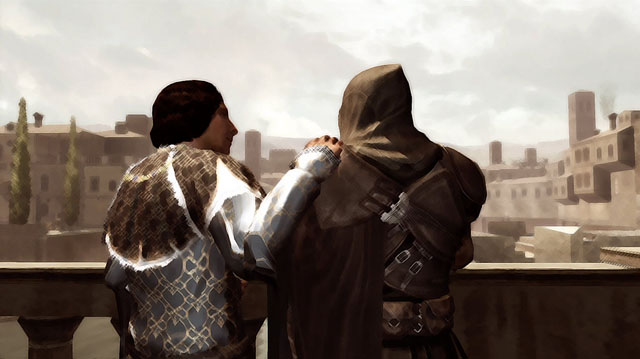 Blip (HD)
-
Hosted
-
Let's History!
Youtube
-
Link
Notes
-
- Plot progression will be swifter now. Monteriggioni is basically finished, as I mentioned in the video. Also, unless you guys are against it, I'm gonna skip 99% of the footage showing myself collecting feathers as I round them up in the future. As opposed to speeding it up, of course. That should save us a few minutes in that case.
- Pardon the dry commentary. Still a bit sick, but hopefully it'll pass soon

---
The Pazzi Conspiracy (Part 1 of 3): Backstory & Planning
Hosted
-
Let's History!
Youtube
-
Link
Notes
-
- I botched a subtitle at one point

The crest shown early on is the
Pazzi
family crest, NOT the Medici one.
- You'll notice that I didn't have paintings of everyone involved. Well, two reasons behind why: number one, just the age. If you were important, you had statues and paintings out the wazoo, so that's a contributor. The other, from my understanding, ties in to... Well... Remember Lorenzo's line that I chuckled about in the video regarding erasing the Pazzi? Definitely had a part in it. I'll get in to it later, but he went so far as to make it illegal to even say "Pazzi" for a month or so after this incident. He also forced everyone with Pazzi as their last name to change it or else face pretty harsh punishment. There was a painting made of the conspirators which depicted them hanging from the Signoria, but it was destroyed some time later. Kind of odd that Salviati didn't have much to go on, but to make it even more confusing, there was another Francesco Salviati in the 16th century, and he was an artist. So, basically, tracking down a picture of him (without a doubt) is pretty hard. I dug for a while but none such luck.
- Ubisoft did skip over lots of this material, but if you
re-watch the conversation Ezio sat in on
, several bits of this backstory is referenced. The main noticeable change (aside from Borgia's involvement) is that Montesecco was removed entirely.
- Here's the music I used for the segment, in the order they're played:
Tyler Bates - Xerxes' Tent

Matt Uelmen - Tristram

Nobuo Uematsu, Yasunori Mitsuda - Corridors of Time

Greg Edmonson - Marco Polo

Misao Senbongi, Shusaku Uchiyama - Save Theme

Misao Senbongi, Shusaku Uchiyama - Serenity
---
The Codex
New additions:
Page 21.