Part 21: Episode 21: Hand-Me-Downs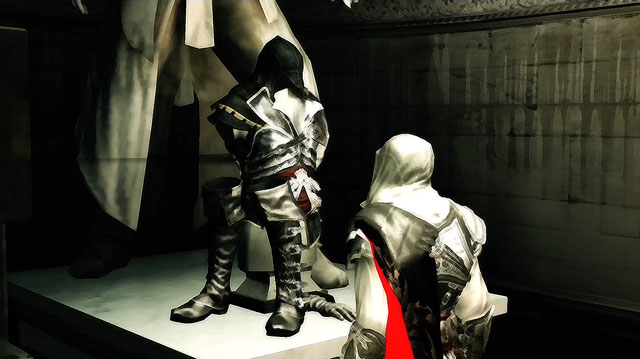 Hosted
-
Let's History!
Youtube
-
Link
Notes
-
- As I alluded to in the past, once we get the final piece of that Missaglias stuff, I'll swap over to it for a while. In that time, I'll re-dye Ivory & Ebony

Al's armor looks pretty nice for Carnivale, but I'm still a sucker for the original outfit.
---
Caligula
Hosted
-
Let's History!
Youtube
-
Link
Notes
-
- Something that I removed was a bit more info on Claudius. This guy was left alive and knocked around by Caligula because everybody already saw him as a weakling of sorts. He had a limp, was indecisive, hard of hearing, and so forth. He was just "that guy" that nobody saw as a political threat. During Sejanus and Caligula's "removal" of figures in society, Claudius was seen as, well, harmless. That's largely why he didn't get killed or something of the sort. After Caligula's death, he was quite literally the only remaining legitimate choice.
- Also, another thing that played against Cassius: he and the senators wanted to oust the entire dynasty, but the Praetorian guard weren't on the same page. Claudius was still part of that same dynasty (Julio-Claudian, which ended with Nero). Basically, you had the senate who was on Cassius' side, and they wanted to squash the whole dynasty. The Praetorians, who, by this point, were a major entity as a whole, just wanted Caligula offed (though I've seen mention that the Praetorians who helped Cassius were a splinter faction). Hence why they grabbed Claudius and threw the heap of the blame on Cassius. Prior to Sejanus' death, in fact, the Praetorian didn't have a massive political impact. The choice to make Claudius the emperor was the first major display of how much political power they held. The senate wasn't keen on this choice, but the Praetorian guard was the muscle; the politicians weren't about to butt heads with them.
Edit:
Additional Notes -
Paracelsus posted:
No mention of Incitatus and the senate, though?

Yeah, it was one of the things that I removed

I eyeballed my outline, guess-timated that it'd take me an hour, so I picked-and-chose about 25% of the material and winged it. I also hoped to cover Germanicus a bit more, because he was pretty awesome.
For example, Tiberius kind of blew off his promises to give a bonus to the guys on the frontlines of Germania. They were on the verge of rebelling, so Germanicus went to the front line and said "hey guys, let's go loot and pillage. Keep everything you find!" He ended up turning a pretty nasty situation in to a surge of frontline morale & territorial expansion

Some historians think that Tiberius actually had a hand in Germanicus' death (ie: put the Syrian governor up to it) because he was jealous/intimidated by his popularity. Tiberius didn't want to be emperor, but in his hayday, he was essentially a military superstar of sorts kind of like Germanicus.
Also, a bit of a tie-in, but remember Octavian/Augustus who I mentioned with Cleopatra? Tiberius was his step-son. There's a lot more stuff with Tiberius, though. His life story is pretty sad

He was pretty happily married to Vispania Agrippina, and while she was pregnant with their second child, due to political machinations, Augustus forcefully divorced the two of them (both of them were very happy with their marriage, mind you). Vispania had a breakdown, the baby was stillborn, and Augustus saw to it that the two of them rarely crossed paths. He was forced to marry Julia the Elder (who, in most basic terms, was a horrible woman who slept around all the time and loved to humiliate Tiberius), who he downright despised. Also, Vispania was forced in to another marriage. Drusus, the first (and only) child that Vispania and Tiberius had, was claimed as the son of her new husband (Gaius Asinius Gallus Saloninus). He basically went "Tiberius? Haw haw. No, I'm your father, Drusus

" He was also best pals with Emperor Augustus, making him untouchable.
In case you think this is just history putting prejudice on things, about ten or fifteen years after Vispania died, Saloninus began to court Germanicus' widow. Tiberius already had the guy on his shitlist (ie: had the senate declare him an enemy of Rome), so he said "y'know what? I'm throwing you in prison. Oh, and food? You aren't getting any."
Three years of solitary confinement later (with minimal food), he starved to death! Happy ending, yes?
- Here's the music I used, in the order they're played:
Edvard Grieg - Piano Concerto in A minor Op. 16

Johannes Brahms - Hungarian Dance No. 5