Part 58: Part XLV: Hear the Footsteps of a Dream - Meet the Sage
Part XLV: Hear the Footsteps of a Dream - Meet the Sage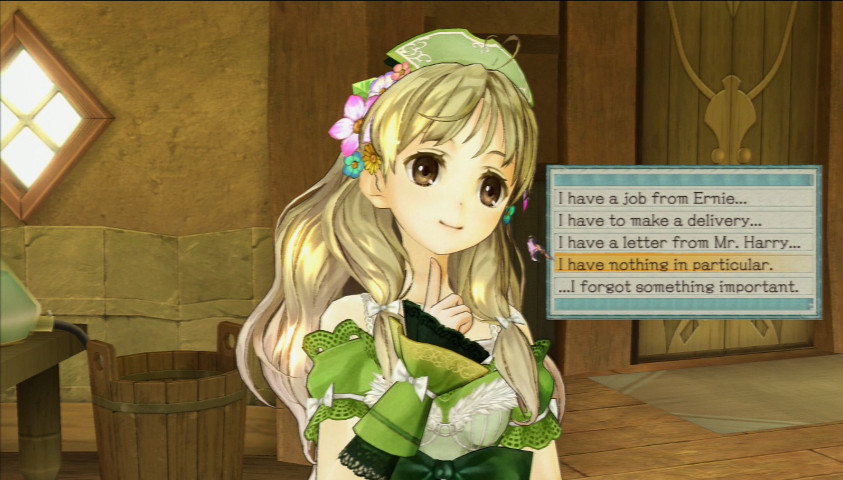 ...Well, none of my orders need to be rushed. And, I did get a lot done today...

Oh, really? Then I guess we don't need to push ourselves. Sis, you've been working nonstop for the past couple of days. Maybe you should take a break...

Hmm...but I still have lots of work, so if I slow down, the deadlines are gonna sneak up on me in a flash...

No! If you work too hard and collapse, it's only gonna cause trouble! A first-class apothecary takes a break when she can! Resting is a part of the job, too.

Yeah, you're right. Then maybe I'll take it slow today...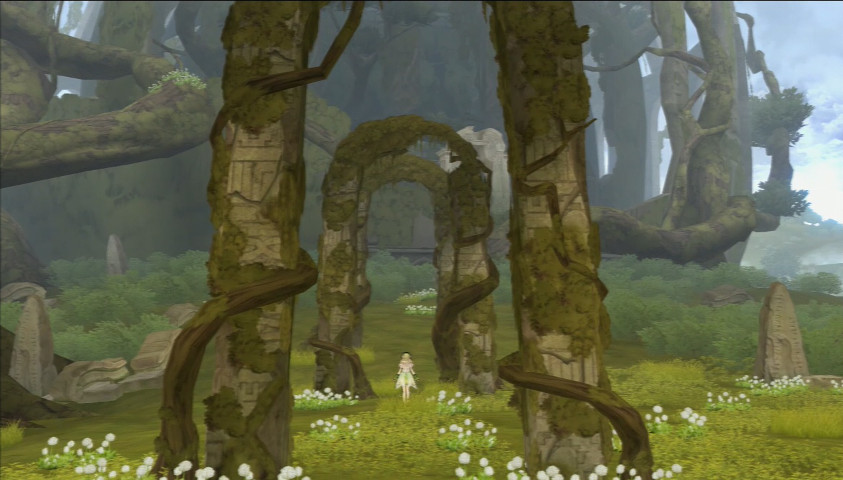 The herb garden hasn't changed one bit since I first came here, long before Nio even went missing. Time just seems to pass this place by...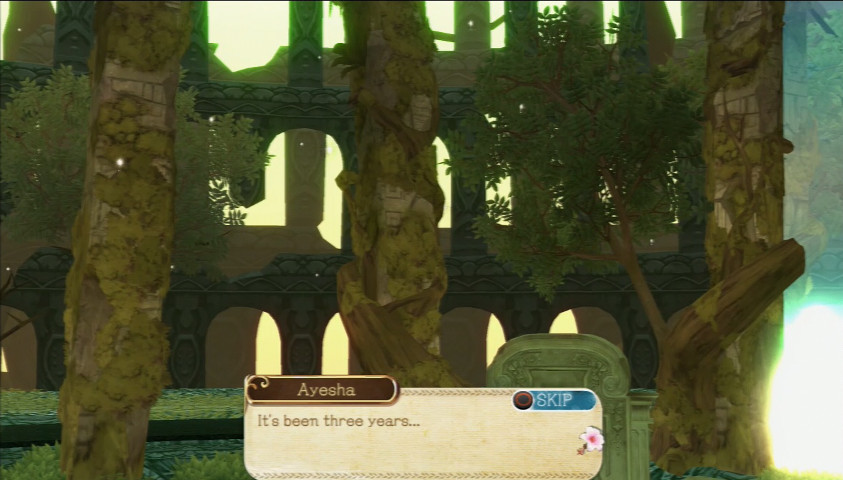 Since the day I met Mr. Keith right here. That's when everything started. In the beginning, I was only concerned with saving Nio, but... Before I knew it, I got involved with different people, and had many new experiences. I grew so much, it even surprises me. But... What should I from now on...? Hehe, I guess I haven't changed as much as I thought. I'll think about my future more some other time.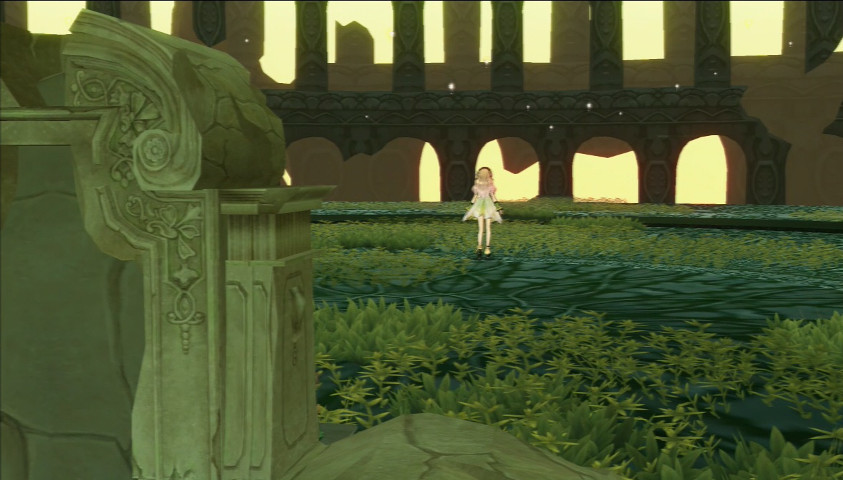 That was the last time I ever went to the herb garden...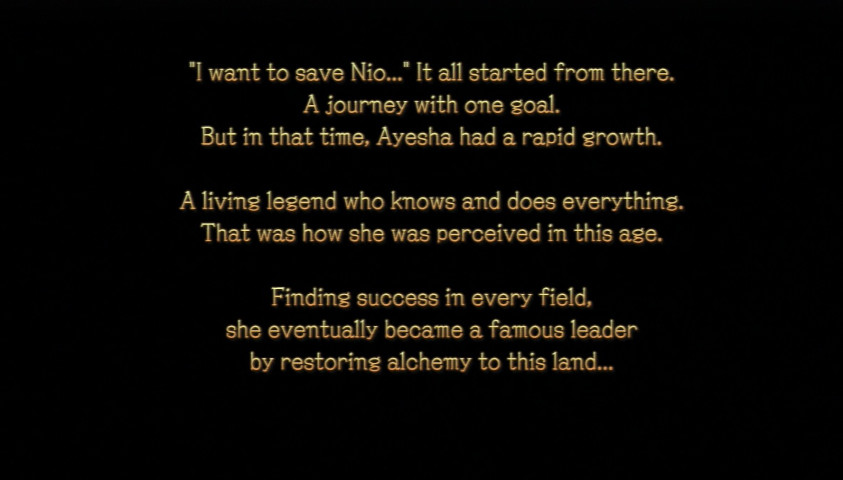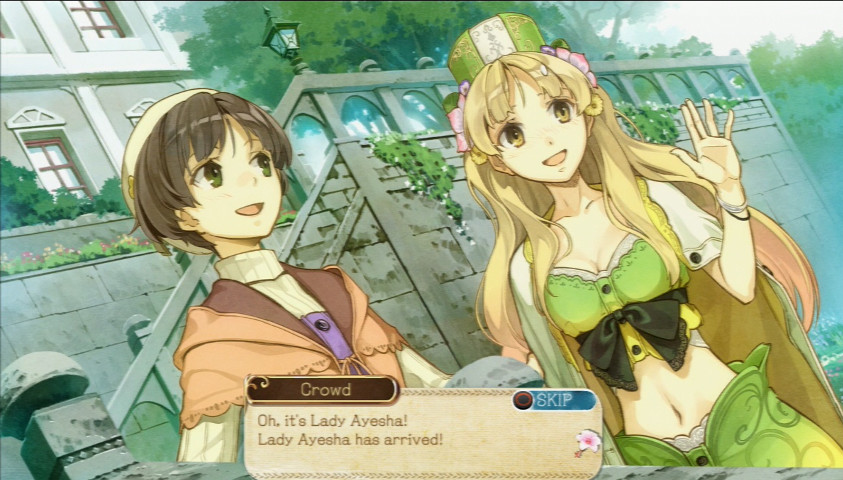 Me and Nio decided to close the workshop and leave toward other lands. That day, after I returned from the herb garden, I just thought I had reached my peak in these lands. Mr. Keith gave me the inspiration to find my own path. I thought deeply about what cost alchemy had taken on the world, and what it could do now, with so few people knowing how to do it, outside of where Mr. Keith came from.
I decided I'd forge a new path for myself. I would travel the world and plant the seeds of a new alchemy to grow. My sincere wish is to revive alchemy, and have it give back to the world. A few years passed, though, and my name was known everywhere, as the sage of alchemy who brought wisdom to the people. It's totally embarrassing to be called that, but it's not too far from the truth, I guess. What happened in this town happened all over the place, after a few years...

Her divinity... She's like a goddess from ancient myths.

Look Mom, it's Lady Ayesha! Lady Ayesha came to see us!

Yes, how amazing is it that Lady Ayesha would come to our town...!

Come on, Lady Ayesha, everyone is calling for you. You should wave to them.

S-Stop calling me that, Nio...

Sorry. But see? It looks like everyone's waiting for you.

*sigh* No matter how many times they treat me like this, I'll never get used to it... I haven't done anything to deserve this...

Nobody else seems to agree with you. Your medicine is amazing.

I just want to lock myself up in the workshop and synthesize...

No whining. Hurry, wave your hand! They kindly held a grand ceremony to welcome us.

Haha... Okay...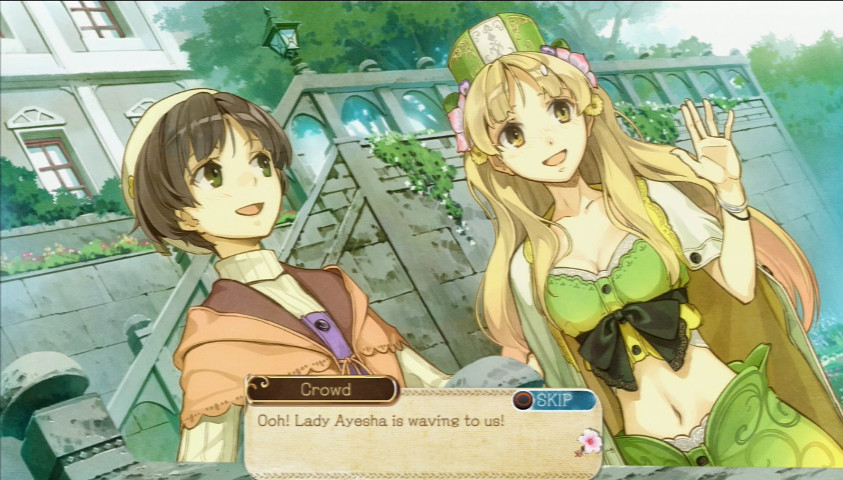 Lady Ayesha is so marvelous!

My, my, how fortunate. Now my back pain will be cured!

There's no doubt our farm will have a good harvest this year! Oh, heaven be praised!

Ooh, Lady Ayesha! How beautiful...

Ha, haha, hahahaha...ha.

Lady Sage Ayesha! Welcome to our town! We are extremely honored to have you go to the trouble of coming here today!

How kind of you. Then without any further delay, can you tell us your story?

Certainly. Our town is currently being threatened by a mysterious, black slag. Our fields have been ravaged and our children are unable to play outside. If you could please, with Lady Ayesha's power, rescue our-

Sis, what do you think? Can you defeat it?

Hmm, I think it'll be easy, but...

Got it! Just leave it to us. We shall exterminate that slag by the end of the day.

Oh, how reassuring your words are! Everybody, it is as you heard! Our town will be saved! By the hands of Lady Ayesha, the evil slag will be slain!

Ohh, Lady Ayesha! Thank you so much!

Ooh, now our town is virtually saved. No, it has already been saved!

Heaven be praised...

Umm, you don't have to be that humble...

If you do something naughty, I'm gonna have Lady Ayesha scold you...

I won't do anything for Lady Ayesha to scold me about.

Ahh...no one's listening to me. What should I do...? Hey, Nio, I just want to help people normally... Why do people always get so excited?

It's because you're so awesome, Sis.

*sigh* But I'm not. I'm just a regular apothecary.

I kept telling them that in the beginning, but nooo one listened. But, it'll be fine, as long as we don't get carried away. Even with a royal welcome, we'll be able to keep going without losing sight of ourselves.

Ugh, I'm happy that they're happy, but I'd still prefer "normal"...

Ooh, seeing Lady Ayesha smile, I feel like it's added 50 years to my life.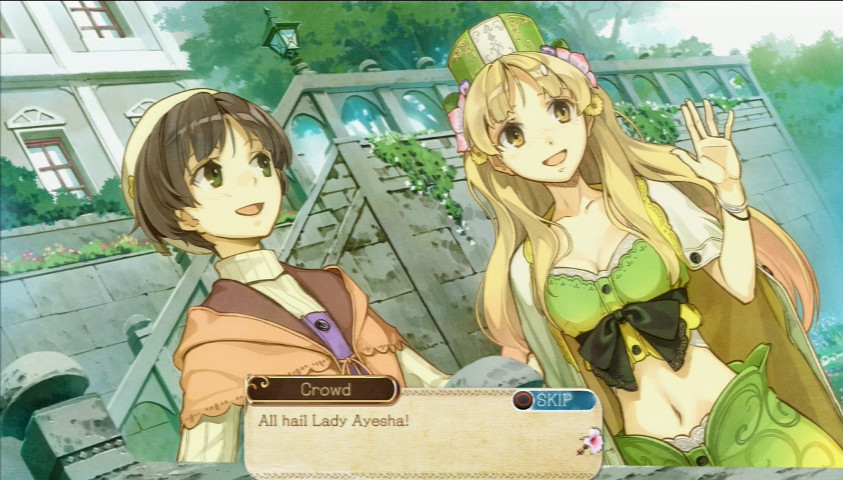 I don't exactly know how things came to this, but I really do want to help people... A part of me thinks I'm cool, like Nio says, but another doesn't... Oh well, as long as I can do something for people...