Part 13: The Far Side of the Twilight Ocean (DX)
Part XXIV: The Far Side of the Twilight Ocean (DX)
Original Update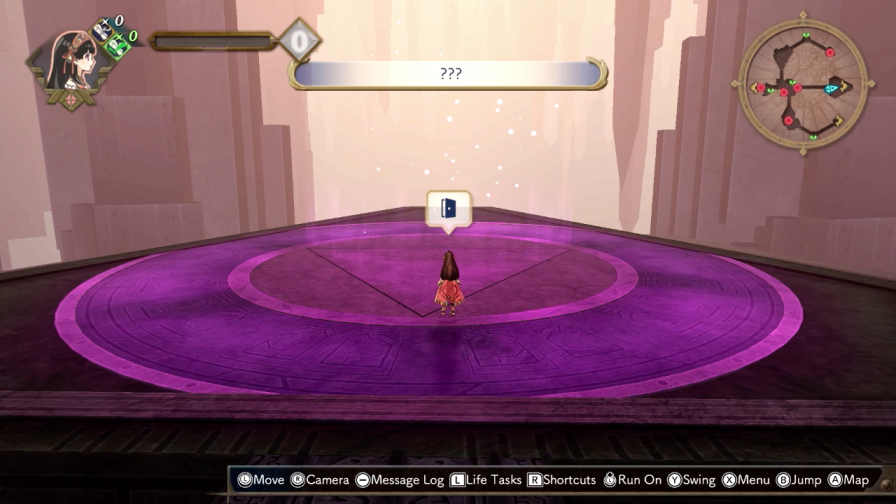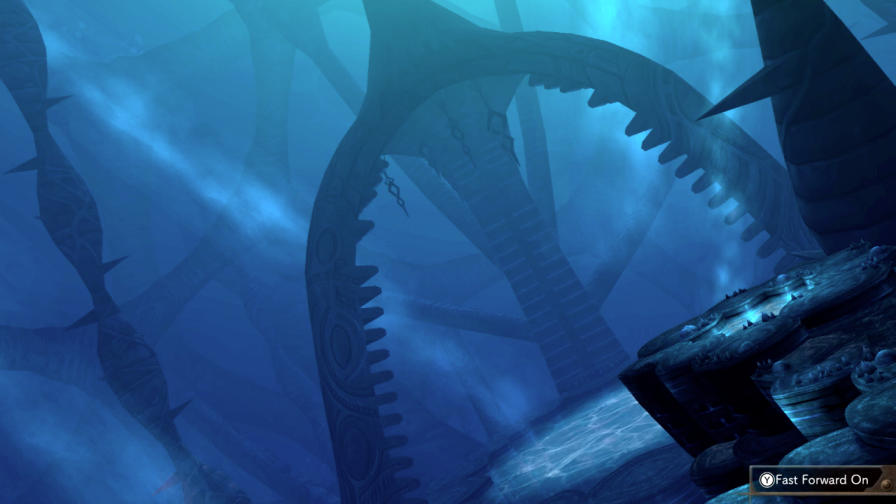 The abyss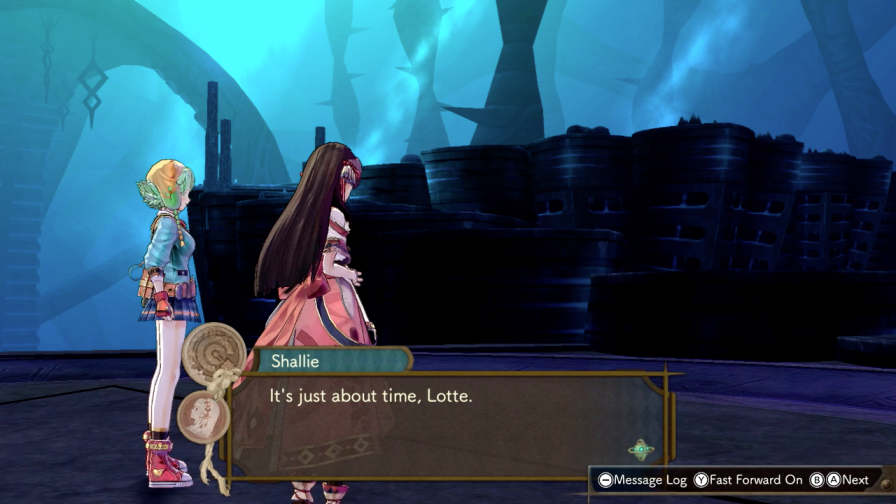 Yep. If we stop the purification device, the water will go back to normal eventually... Right?

It would probably take a long time. This was caused by humans in the first place... We need to take responsibility.

Hah… You don't need to think that way… Of course a human should stop a device a human created. This is a result they brought upon themselves.
Hmm… If we stop it, will the Dusk stop too?

The Dusk isn't an individual phenomenon, it's a condition. A collapsed system isn't easily restored.
I guess that would be too easy…

In the long term, the condition should be more favorable for people, even if the world itself doesn't want it.

The world doesn't want it?

This is the path you chose.
We just need to do what we can, Stera!

You're right. Let's go, Lotte!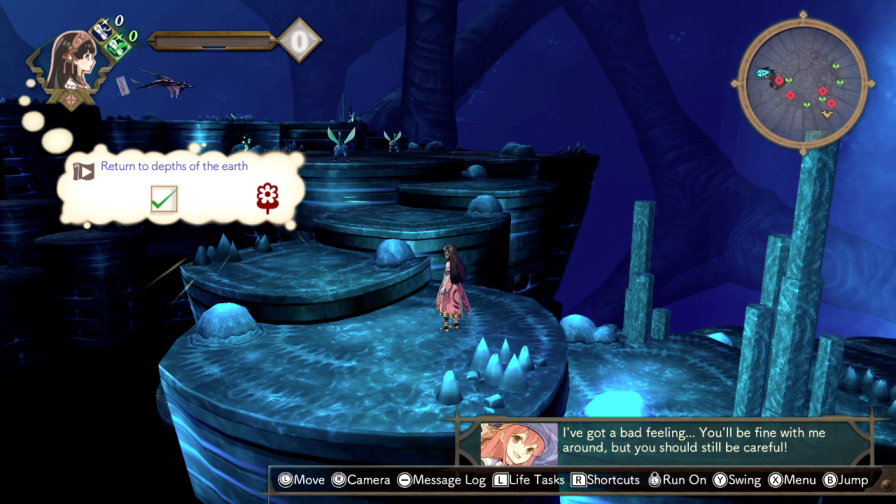 Music: Narcolepsist

In the very deepest depths of these ruins, we'll find the Water Control Device.
And the Controller that presides over it.

Let's go!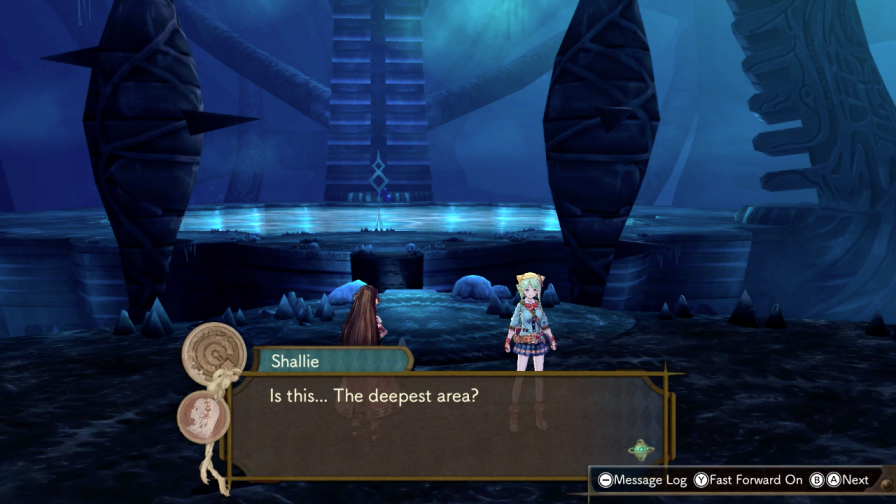 Ocean-colored (DX)
Wow, I didn't think there'd be a place like this underground…

Lotte! Look!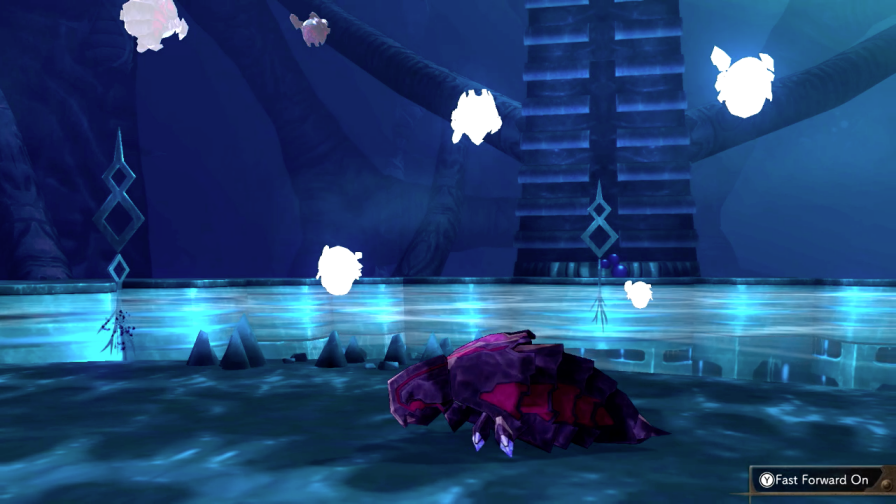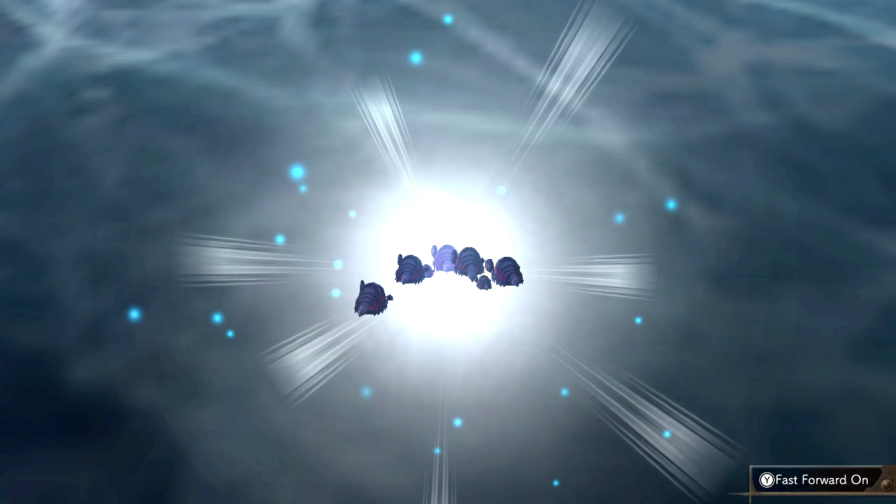 What's that?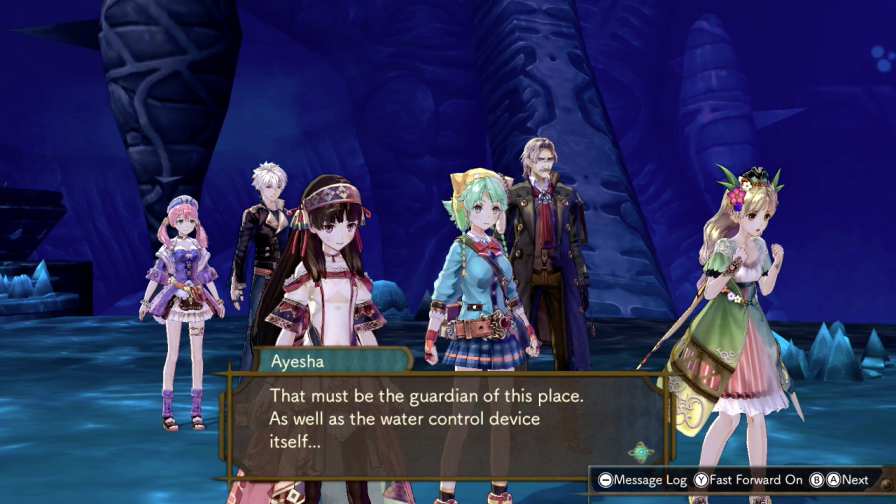 Then, if we stop that…!

Stay on your guard.
Huh?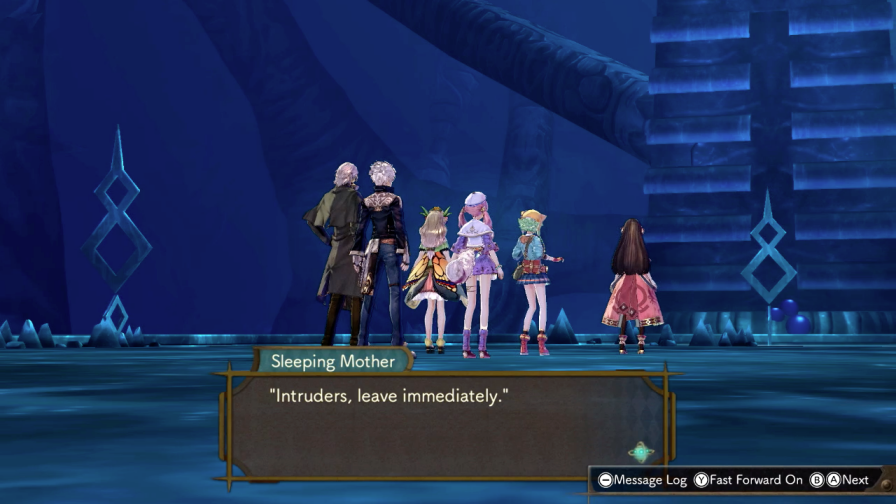 Linca's voice!?

…I knew it. The controller of that device is the artificial lifeform we witnessed in the botanical garden. The device may be malfunctioning, but as long as the controller functions, it can continue to operate.

"Intruders, leave immediately. If not, you will be eliminated."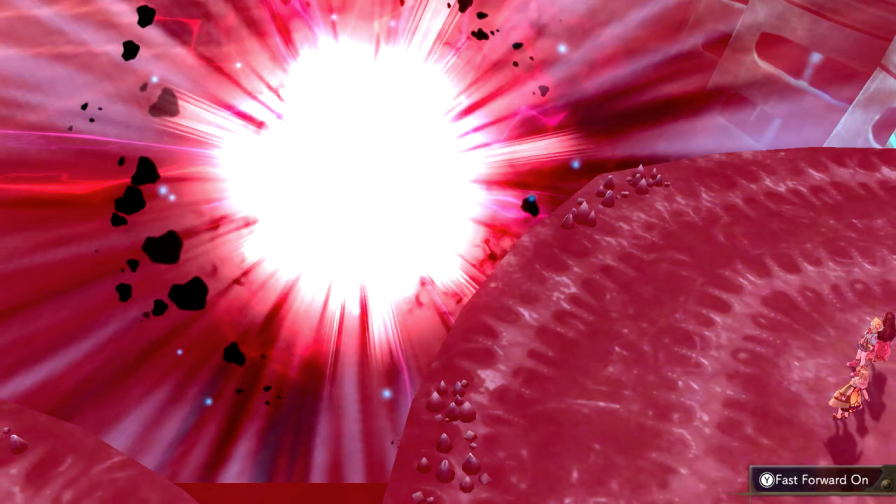 If we destroy this device, will it hurt that other Linca!?

Probably a little, at least… It was the same for Flameu.

If she operates the whole facility, damaging the devices will likely have an effect on the controller.
T-then we can't attack it…!

Didn't I tell you before? Humans only repeat the same mistakes.

That's right, Lotte. We need to be the ones who overcome these mistakes…!

A malfunctioning device is probably painful for the controller, too!

"Intruders recognized as having no will to leave. Commencing elimination immediately."
You're right, Stera. We definitely need to stop this device!

Alright!!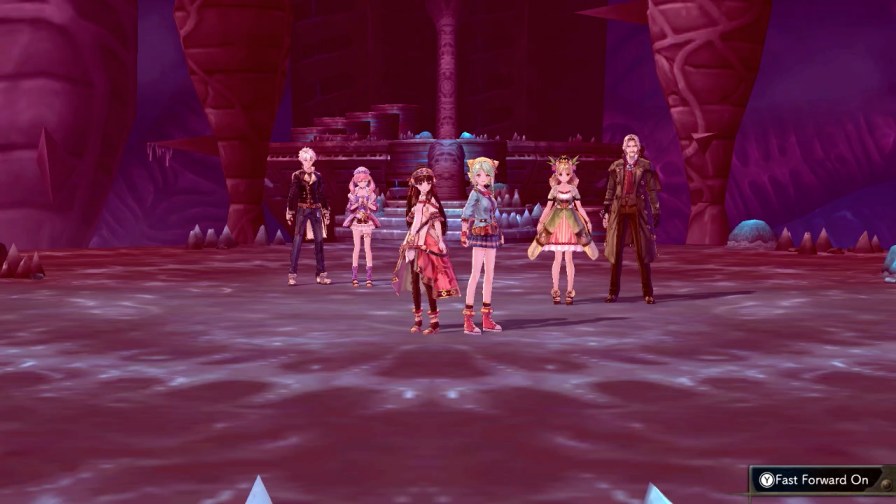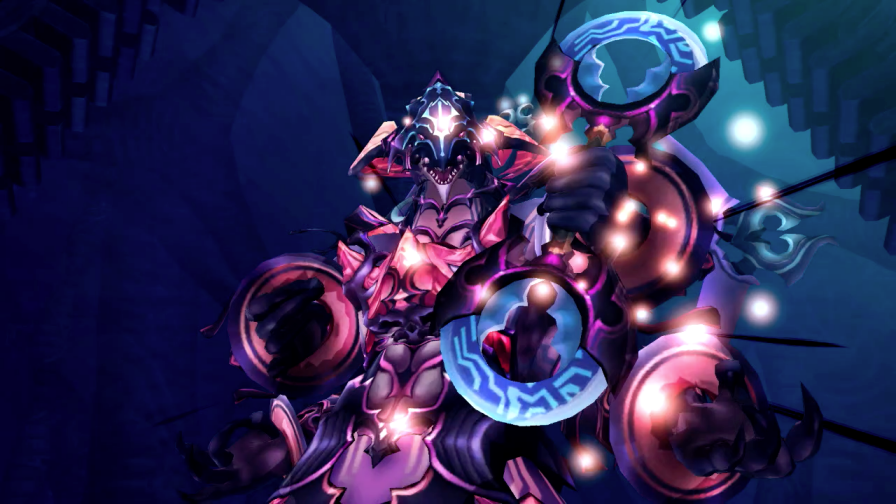 Music: Tsunami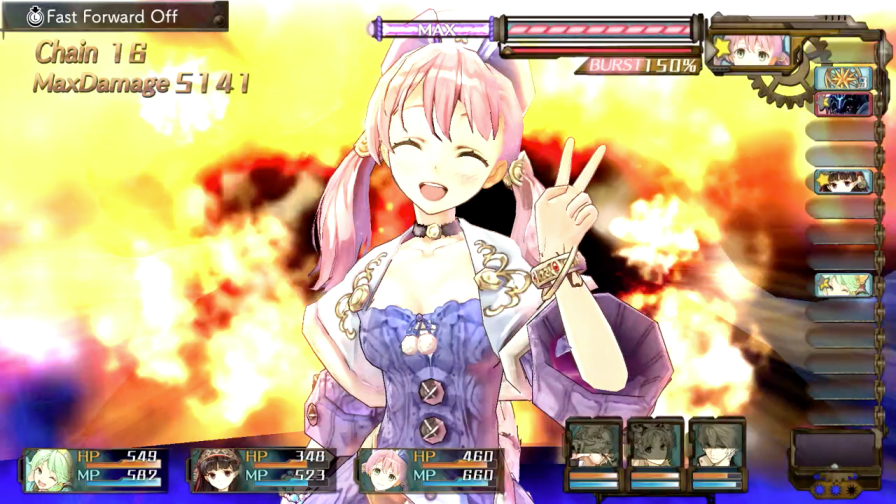 "Minor damage sustained. Continuing elimination."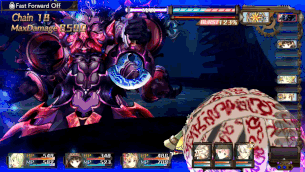 "Moderate damage sustained. Continuing elimination."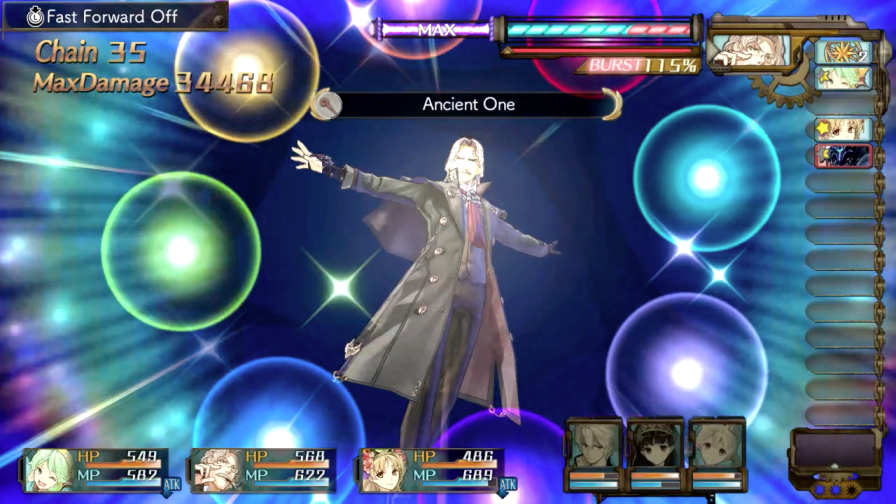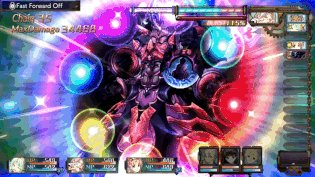 "Critical damage sustained. Transitioning to final form."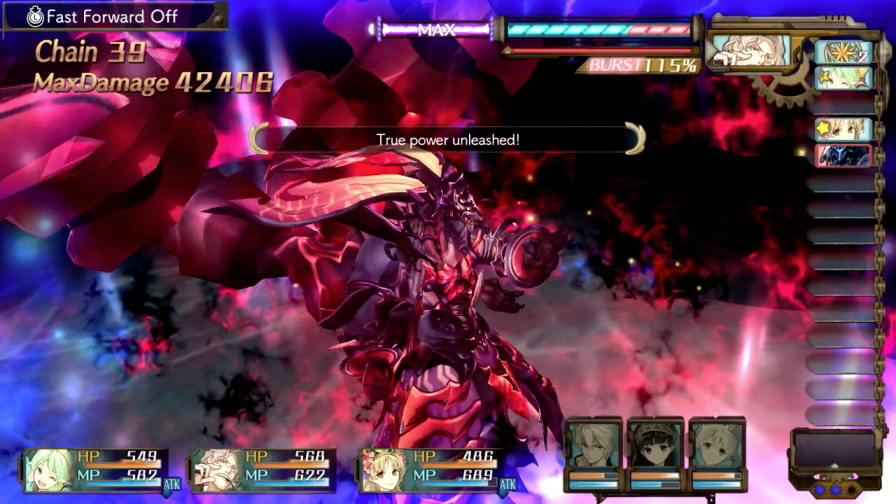 Music: Luto -The Controller- - mao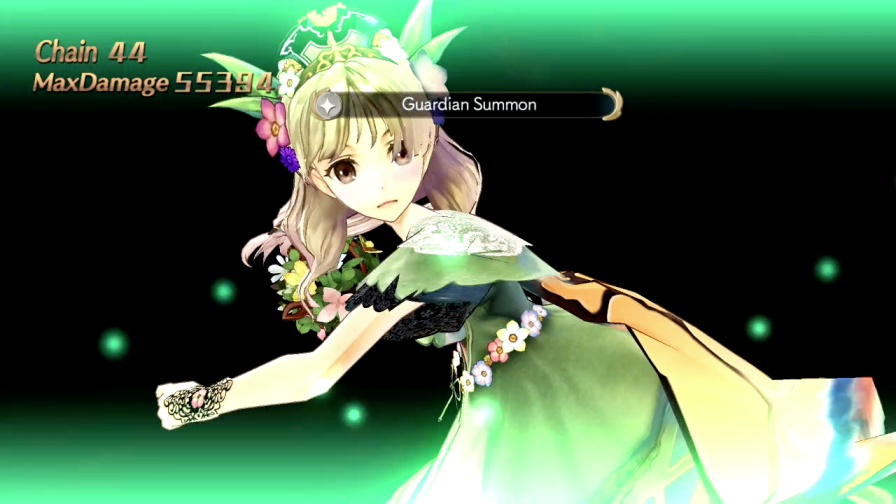 FJ: Guardian Summon

I'll show you the full extent of the alchemy I've researched!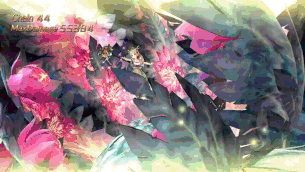 I can't stop in a place like this…!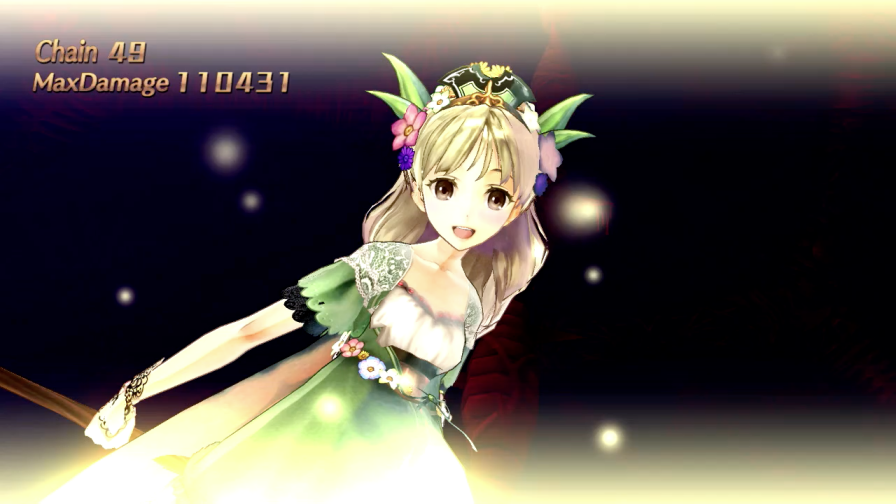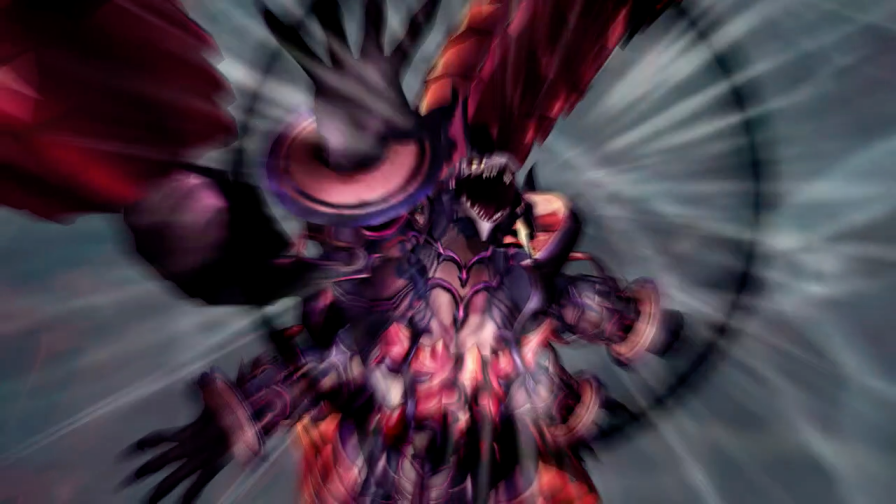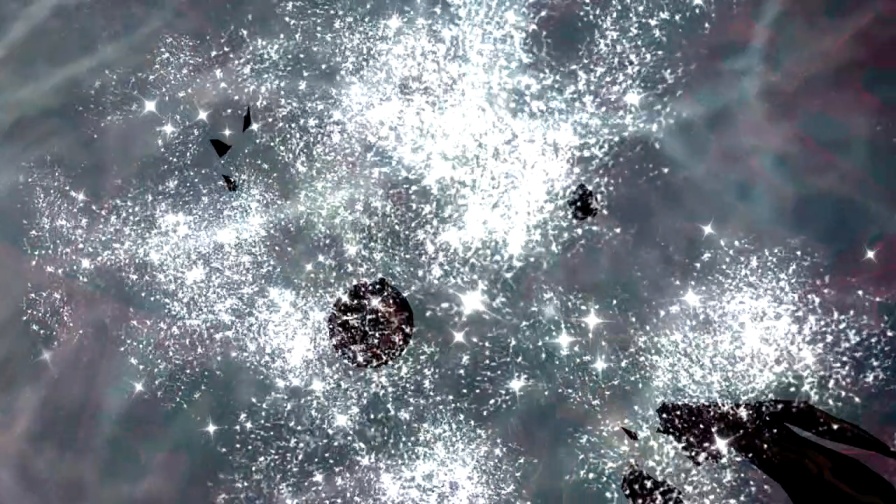 "Control device, and purification device, functions terminated."

It's over.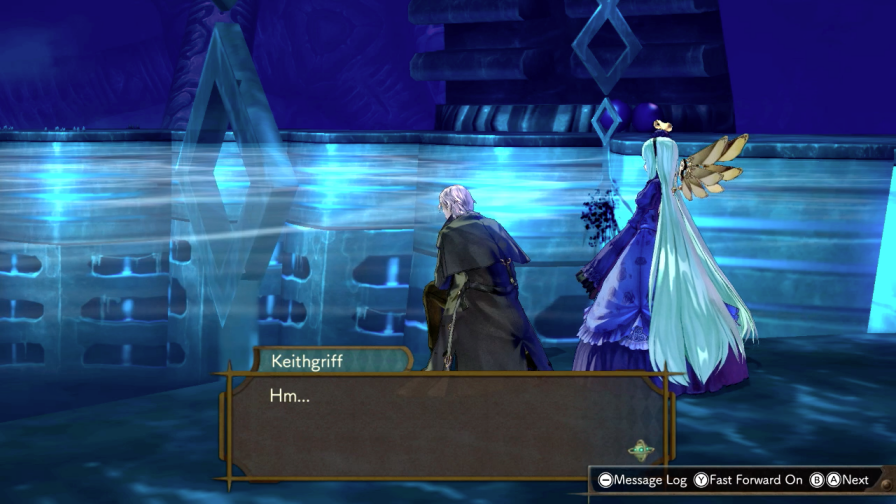 "Restarting purification device."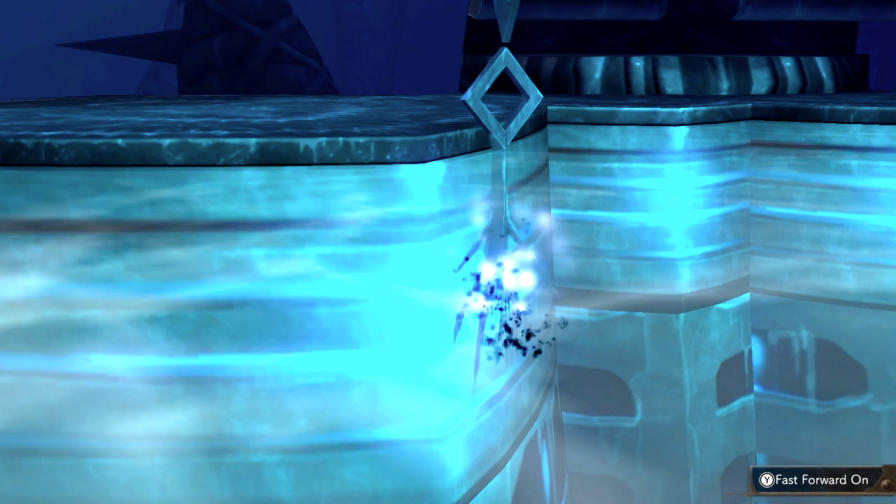 The device has restarted under normal operation conditions.
Restarted?

The problem wasn't the device, it was what was controlling it. This should buy a little time.

Is it okay not to stop it?

I've fixed the levels for the intake and output. It won't intake more than necessary. Better than nothing. The rest is up to nature.
The power of nature…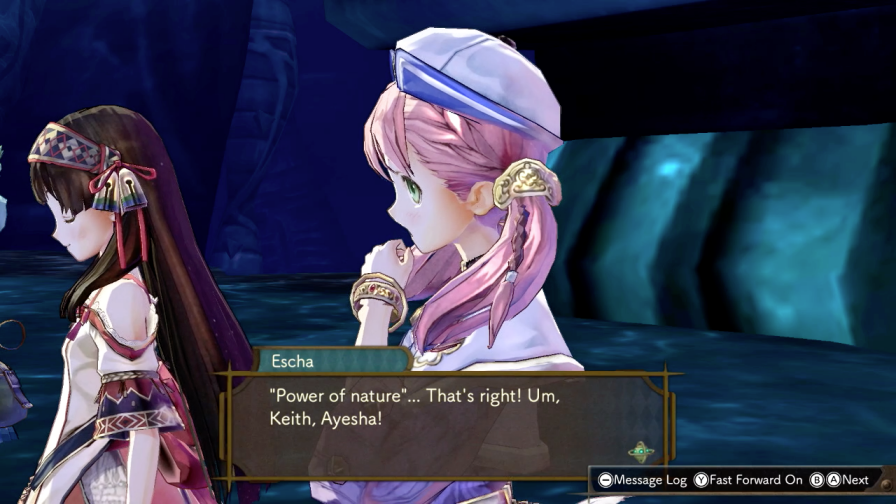 U-um! I found something out! About the seed Flameu entrusted to me… I think this seed was for a time like this… It's possible… No, I'm sure of it!

The seed from Geosis…

Plants require water and earth… Yeah, that seems right.

However, that seed is no ordinary plant seed. There are too many unknown factors.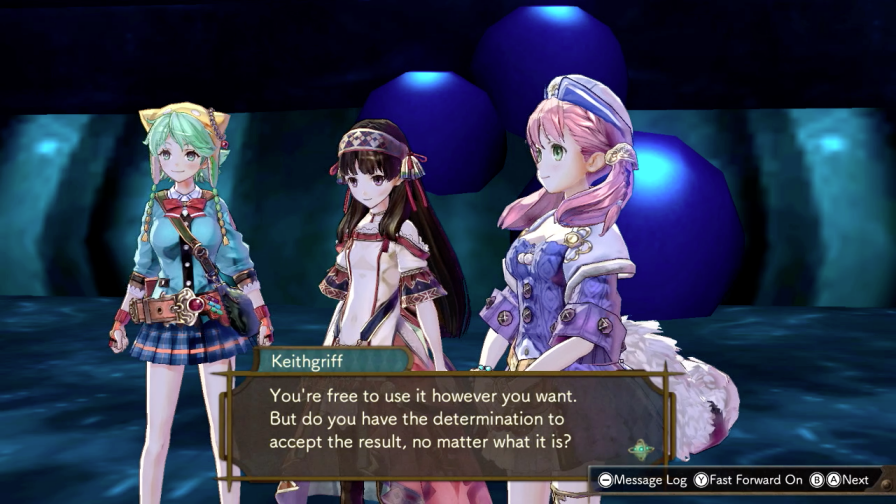 …Determination?

Yes. I'll repeat myself, that seed is a product of Geosis. Remember that Geosis was a failed project. It's safe to assume that it contains the functions of Geosis as well.

It's true that Geosis failed… Or more like an incomplete device. But Flameu wished for the earth to be revived, and gave this to us. She said it was needed for this land… I can't see it harming the land, or repeating the same mistakes as before!

You believe the intention of Geosis was to solve the Dusk?

…Yes!

…I gave you my advice. Make the final decision for yourselves. The administrator of Geosis… I'd like to have a chance to speak to this Flameu as well.

You'll see her! …Someday, I'm sure!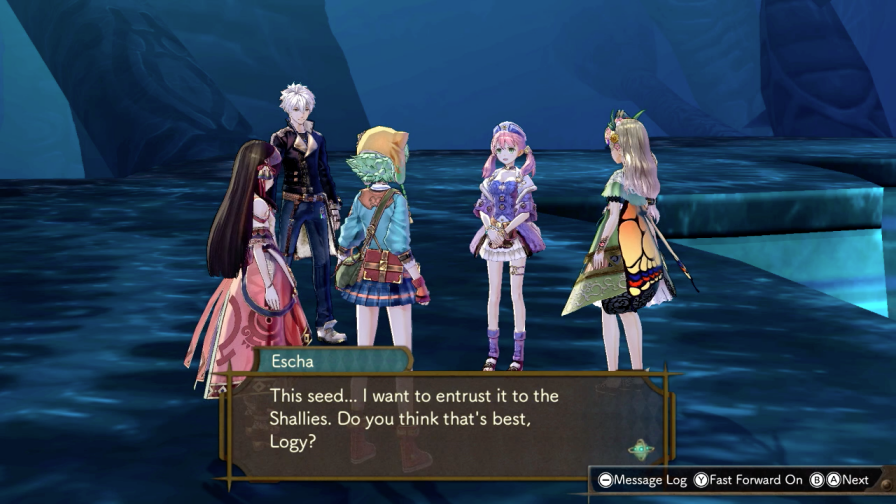 Yeah. It seems like Flameu herself wanted it to grow somewhere in this region as well.

Wait… Us!?
U-um… T-then! I have an idea! This seed… Maybe we can plant it in Lugion Village?

L-Lotte!?
It's a seed that can help the land regain its energy, and let plants take root again, right? If we plant it downstream from the water source, it could help weaker land regain its strength. Two birds with one stone.

I'm thankful for your thoughts, but… I don't think that would actually solve the root of the problem.
B-but…! Your village is close to running out of water, Stera…!

Still, I think Flameu's seed should be planted in the best place to make a stand against the Dusk.

…I think either idea could work…

…That's right. The Dusk isn't a phenomenon that originates from a particular point. It's a global issue.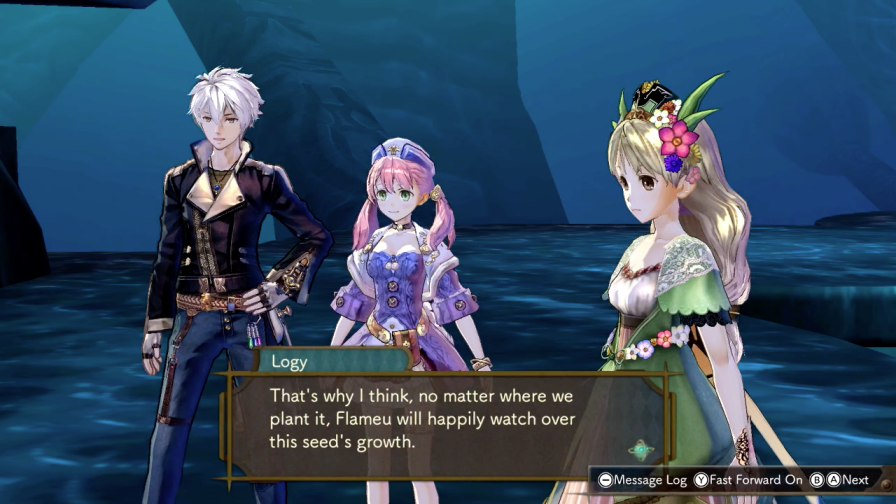 Yeah! I think so, too.

The ones to decide will be Stera and Lotte… You're the ones who've brought us this far, after all.
…Stera.

Please, give me a little time to think.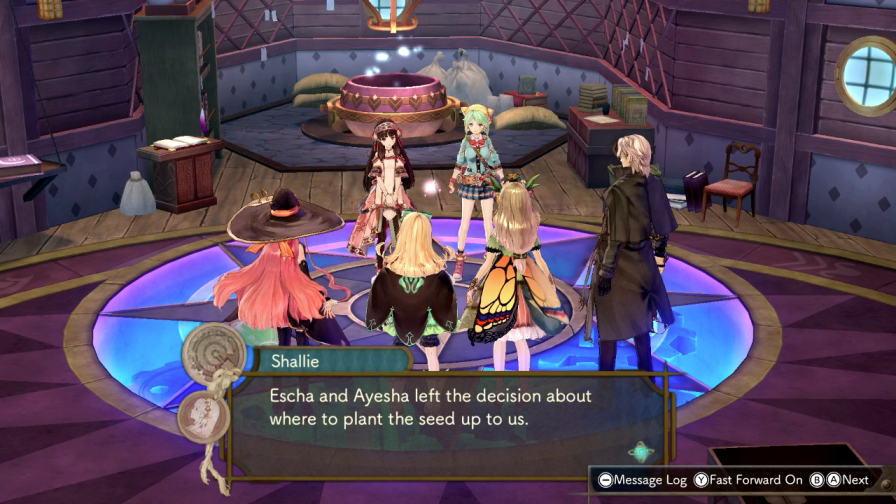 (Wait, I did…?)

I talked with Lotte, and we made a decision. Lotte and myself, as Lugion Village representative, decided… That this seed should be planted near the altar of the Lord of Water.

…On what basis?

We believe, by showing the Lord of Water that humans want to restore the land and water, her anger will subside.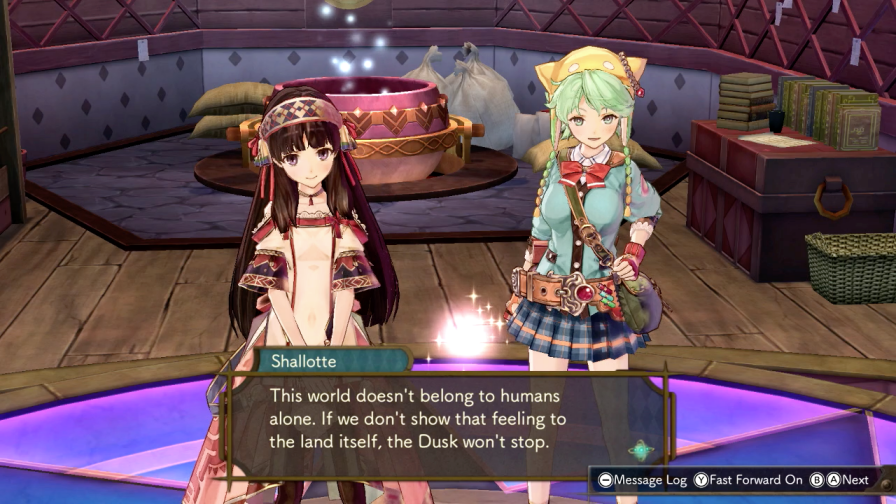 …Can you really prove that this decision isn't only for the sake of humans?
We're here to try, and find out. It might be hard to express, but…

We want to use alchemy, and Flameu's seed, for the sake of the world… We want to learn more, to accomplish that. That's what Lotte and I decided.

…Well, that sounds like an answer you two would come up with.

I'm sure the Lord of Water will be happy to hear it.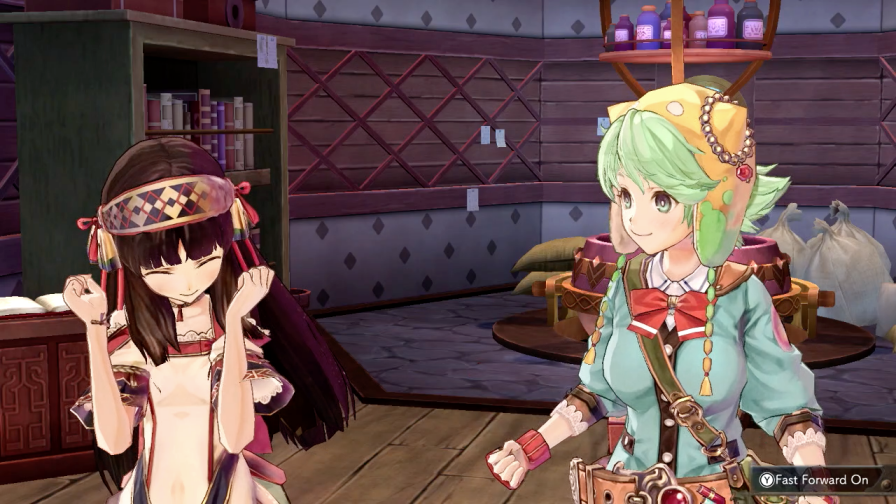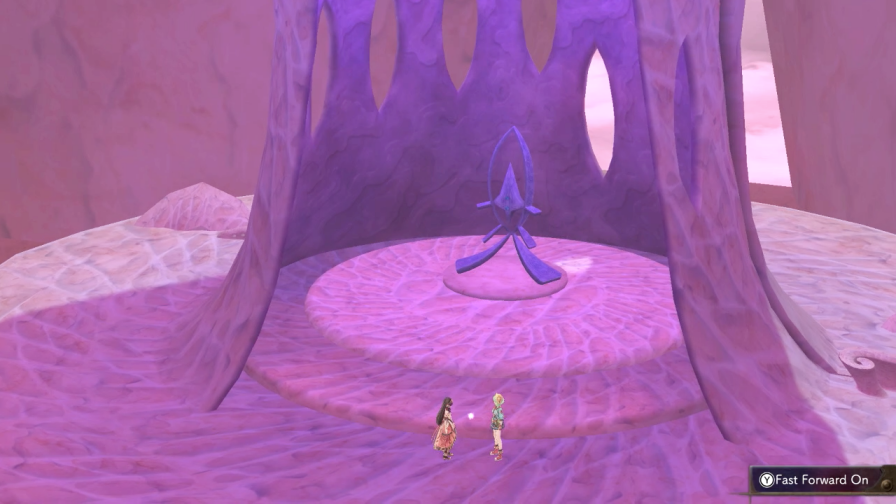 Alright, Stera. Are you really okay with this?

Of course, Lotte. If it comes to the village, I'm sure we'll find a way to pull through.
You've gotten strong, Stera.

It's because I had everyone supporting me… Especially you, Lotte.
Ehehe… Anyway, should we plant it?

…Yes.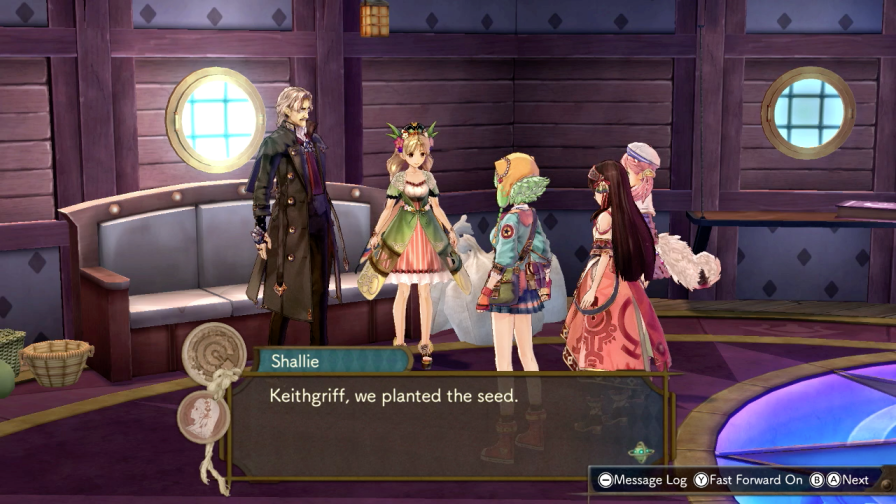 I see. I hope your decision brings favorable results.

There's no need to worry, Keith. That isn't a naughty seed.

Your statements are illogical from time to time, I have a hard time responding…
That seed… If only we had more of them… Then we might be able to solve the Dusk super quick!

You're hoping for too much.
Oh, I know! Keith… Can you make more of those seeds?

I-I think that would be impossible, even for Keithgriff…

That seed contains complex structures, most of which are still unknown to us.

Ah, that's right… But I want to make more of them, too.

…If this is the intent of Geosis, it may be worth challenging. We should continue our research. I merely seek the truth. However, you taught me that action can bring about the truth as well.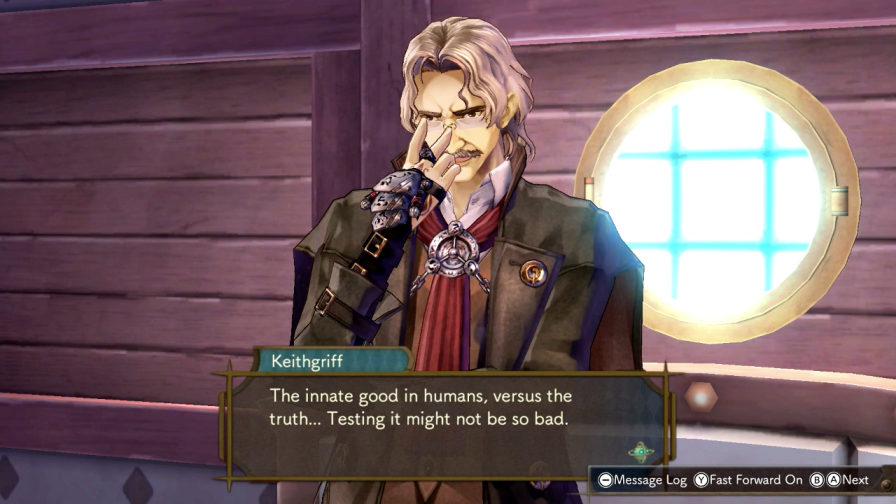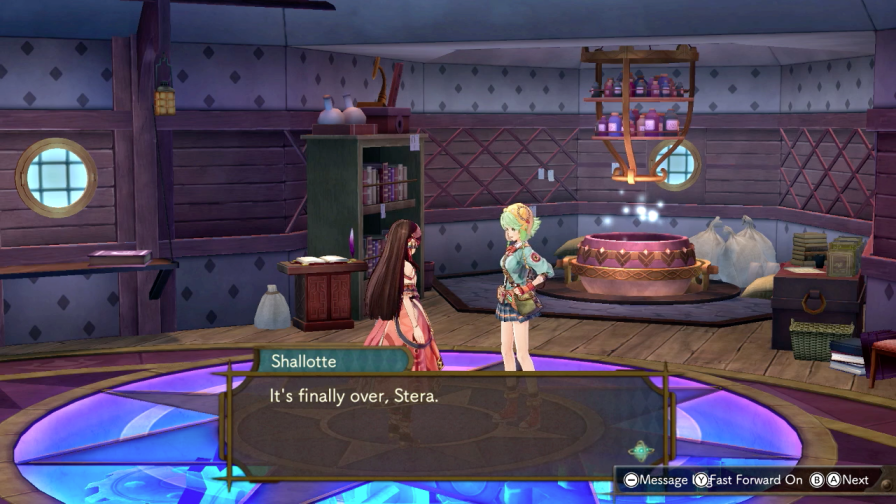 Yes. A lot of things happened… …And this isn't the end. This is only the beginning.
You're right. It's not like this will change things immediately…

But still, Lotte. I learned so many different things. Including the fact that I still know nothing at all.
Yeah. Me too! I don't need to overreach myself. There are still plenty of things that I can accomplish…!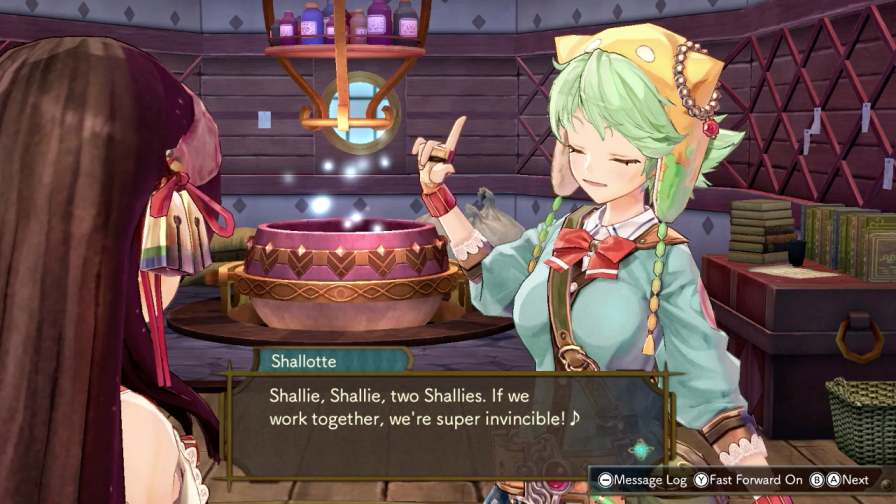 …Hehe. This is the first time I've heard you sing, Lotte. Anyway… Let's go home!
Back to our home, Stellard!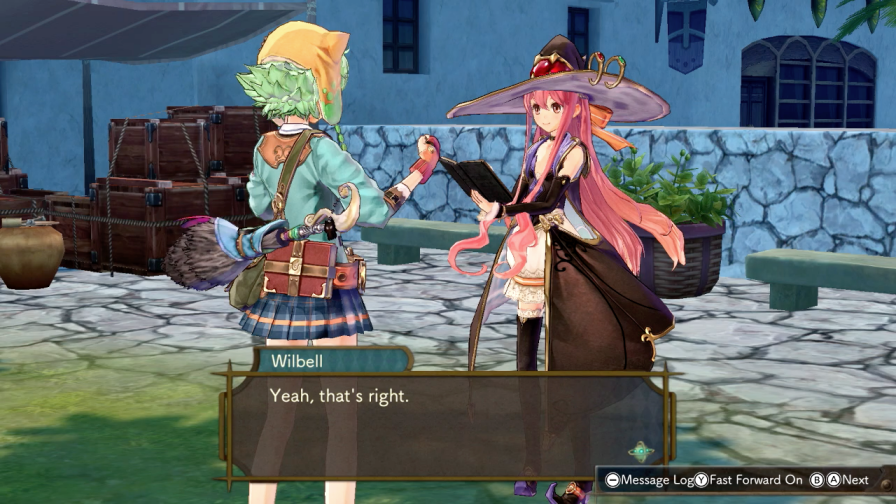 Graduation (DX)
I'll put the material in here. Easy!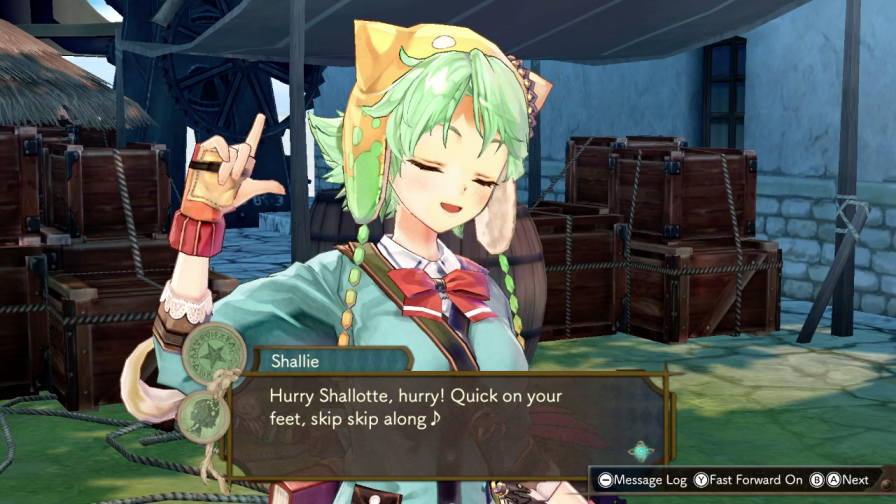 …What a weird song.
Hey, Miruca! You're late. You said you'd teach me alchemy from Central today!

There's not much I can teach. You've gotten really good at alchemy, Shal.
What? No way! Not at all. I can't do anything about the Dusk like this!

Well to be honest, you HAVE gotten pretty skilled at alchemy.
Wait, really? Stop! You're embarrassing me!

Today's your initiation!
Huh?

There's nothing else I can teach you. Not for a while, actually. Hahh. Now I can finally get back to my magic training!
Wait, does that mean I won't be your apprentice anymore?

I guess you could say that... Though I was never an alchemist in the first place. That okay?
No, it's not okay! You're my master!

You say that, but, the apprentice is more skilled than the master, here…
Please, Master! I want you to stay as my master! I want to learn more!

I just told you…
Please! Please…

Shal?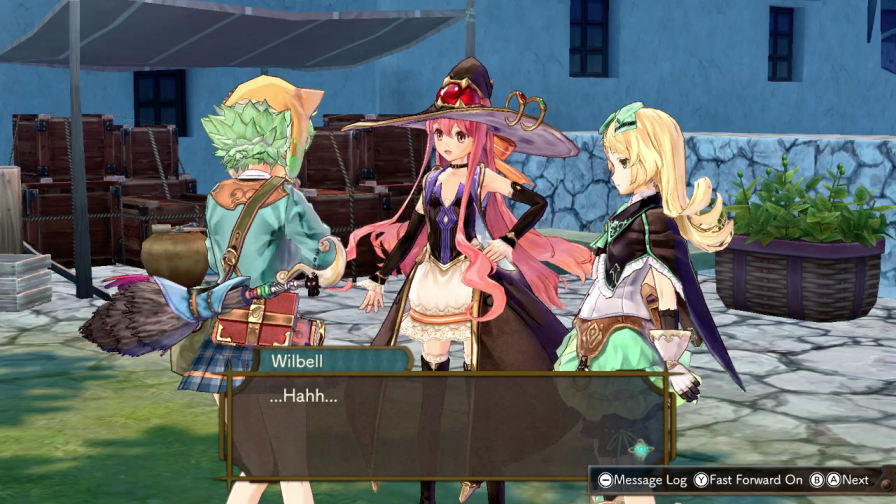 There're things I need to do, just like you. Or more like, I found out what I need to do. That's why I can't just be thinking about alchemy all the time. You'll be fine, your alchemy is amazing! I taught you, so there's no doubt! I know you'll try your hardest!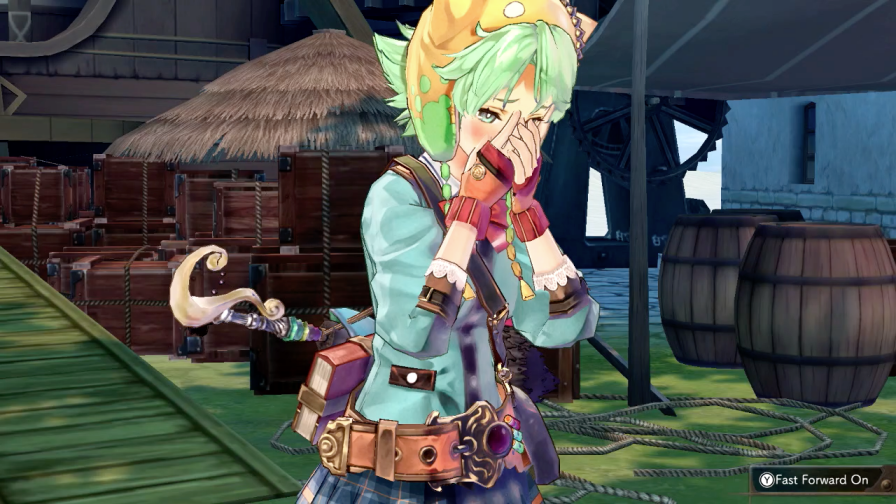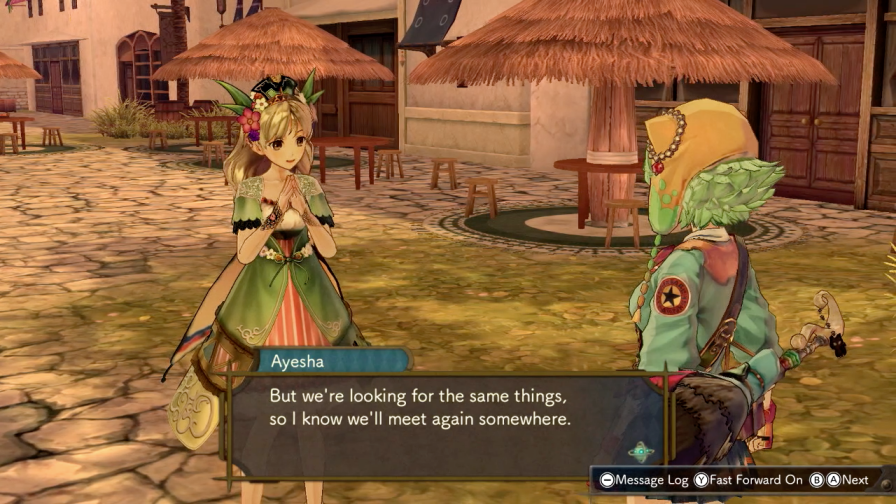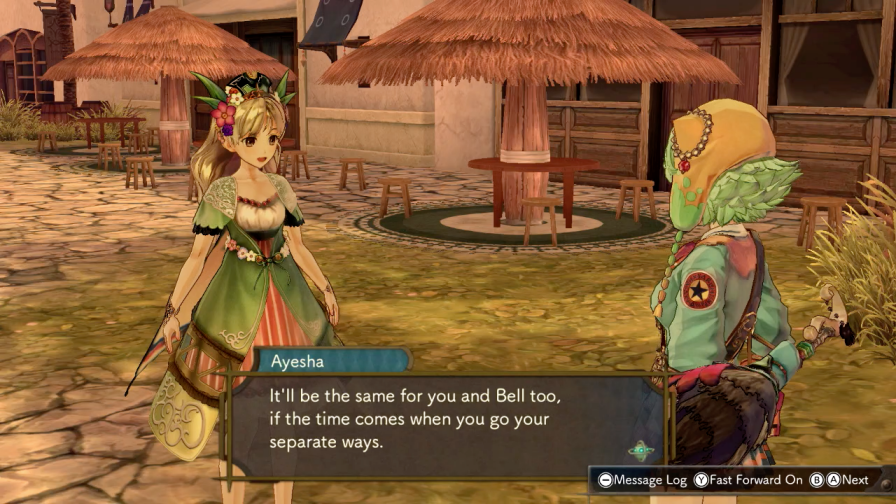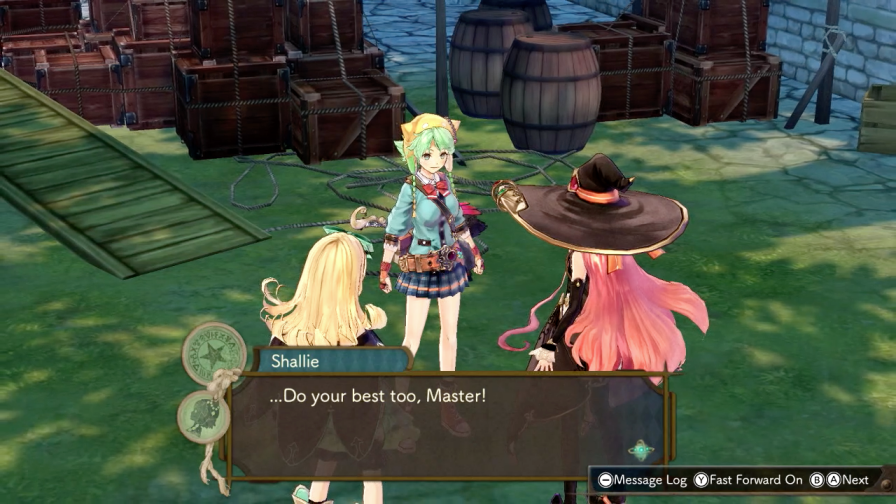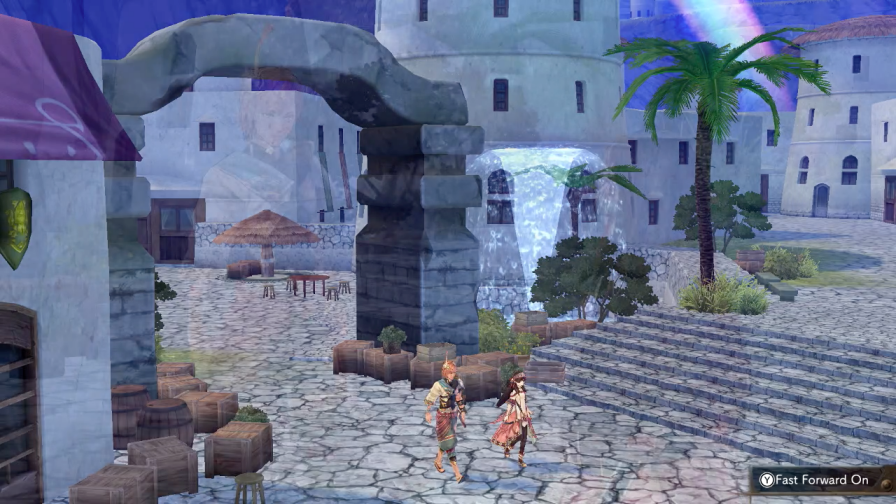 Future plans

Looks like it's finally over, Shallie.

In the end, I wasn't able to help the village… But that's okay, we know why the water was drying up, and what to do about it.

You've changed since coming to Stellard.

Really?

Yeah. A lot.

You've changed too, haven't you?

Have I?

Yes.

Well it's nothing compared to you… All I learned is that there's a lot I don't know.

Are you… Going to go on another journey?

I want to, if I can. Though I know there're probably things to do around the village…

Do you want to travel the seas with me?

Jurie…

I'm trying to get rich.

Get rich?!

I need to look out for Shallie. She's going to be the next chief. I can't just mess around.

…No, it's okay if you go.

What?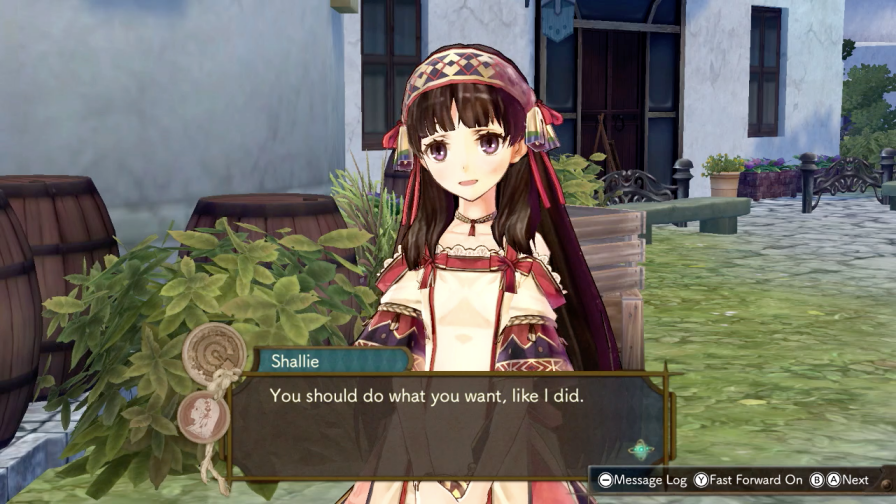 The Village will be fine. I'll definitely find something to do about it. That's why I want you to do what your heart tells you, Kortes.

I guess I don't have a say in this one…

I'm gonna get going… What about you?

Where're you going?

The Dusk Sea.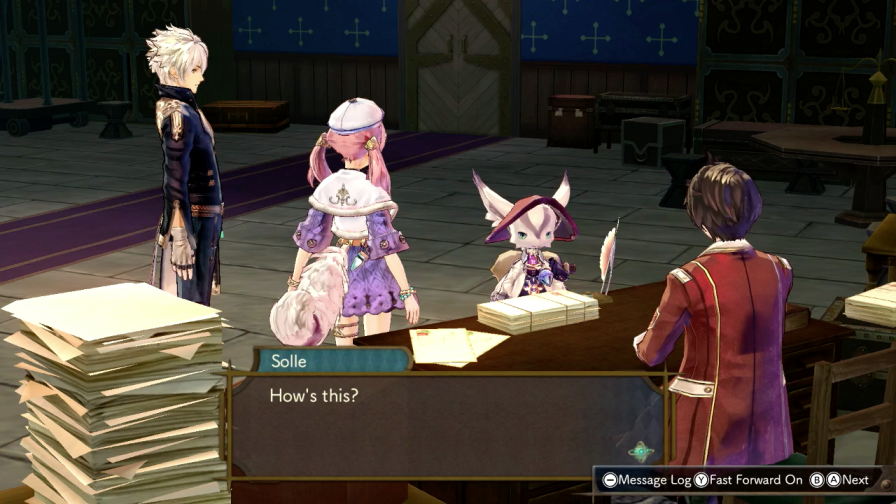 To each their own (DX)

Solle. Skills grow. Again.

Homuran, try this one too!

Escha. That name. Not. For skilled hunter… Nom nom.

What! Why is it okay when Shallie calls you Homhom, but I can't call you Homuran?

Reasons… Om nom nom. This flavor. Colseit apples!

Jeez… Are you two trying to make Homura get fat?

Hello.
Mm… Something smells good!

Shallies! You two should try this! It's my special recipe.

These apple tarts… They smell so good!!
This is a specialty of your homeland, right? They look delicious!

I made these using apples from my family's orchard.

This year's harvest was pretty big. I still remember Nio complaining that she couldn't even move her arms.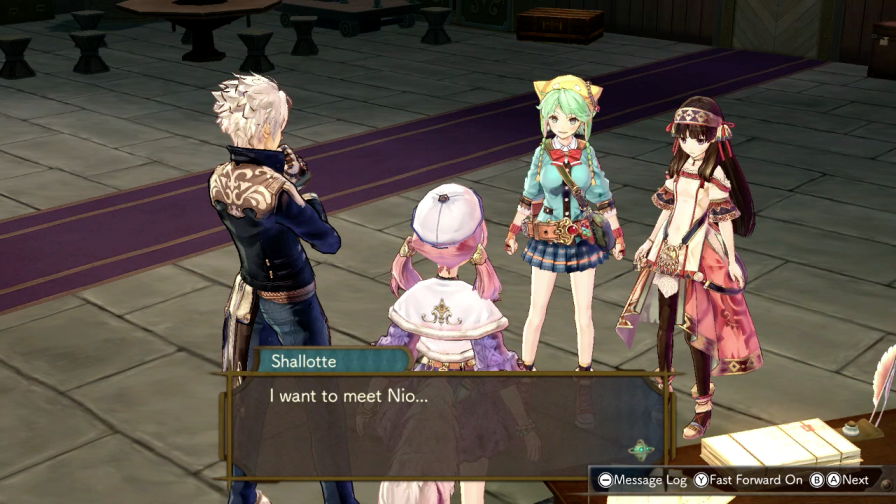 Me too…! I wonder if she's like Ayesha?

They're sisters, but they're actually pretty different.
Wow, now I want to meet her even more!

Escha, Logy. We should end our break soon. Please return to your work.

Uu… Okay.

I guess I'll continue where I left off.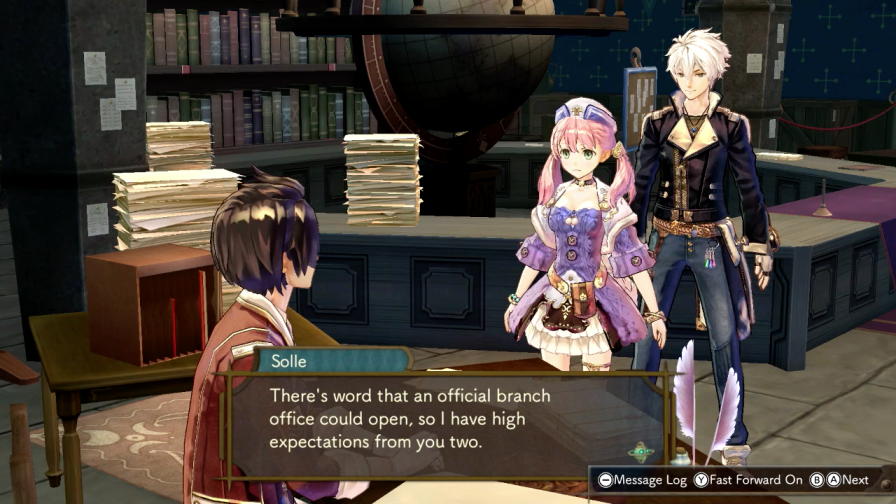 W-wait, we still can't go home!? Uu, I want to go and see everyone…!

There's no sense complaining. I'm here at least, let's work together to clean up these problems before leaving.

…Logy… Yeah, I'll do my best!

Escha. Tarts. More please.

Yep, coming! We still have plenty of apples! Shallies, please, eat as much as you like!

O-oh! Thank you!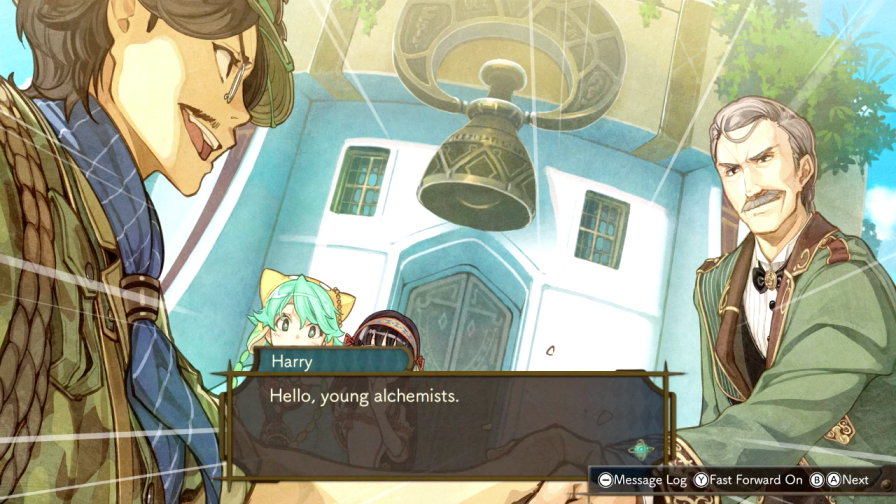 Oh, Harry, hello. Why are you here?

I guess you could call it a celebrity gathering.

Celebrity… What?

Olson runs a global company that publishes books, and is still quite an agreeable fellow.

Ohh, Mr. Perriend, your deep knowledge of ancient history and noble character are quite the accomplishment!

Sounds like… You're getting along?

We're planning a cooperation between the Harry Company and Perriend Corporation, to spread information and goods!

I didn't think I'd make a business venture like this at my age, but this is a breath of fresh air.

I agree, that sense of adventure is just what's needed to overcome the Dusk!

Heh heh… You're both capable with business… Yet daring.
I've never seen Mr. Perriend smile before!

Stellard looks like it'll become even more prosperous.

Shallie, what happened with the water control device? Did you shut it down?

Um… Well, when we investigated it closer, it turned out the being that was controlling the device was the problem with it. We defeated the Controller, and then the device restarted.
Keith properly recalibrated it so that it won't take in more water than it produces.

I see… It sounds like the city's water supply will be safe?

The rest is up to nature.

I see... I guess that was the best possible outcome, given the circumstances.

A marvelous one, indeed!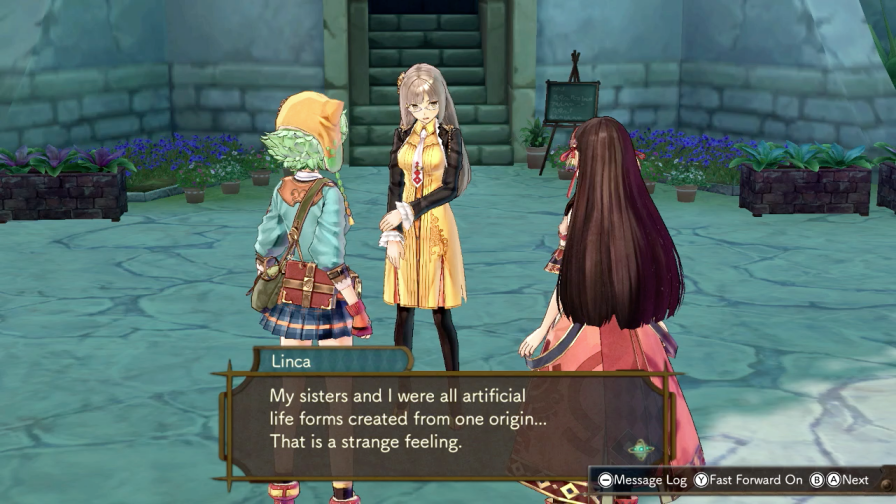 We didn't know if we should tell you… Uh…

No… Thanks to you, I can finally feel some closure. Without you two, I might've never learned the truth.
From what I hear, Ayesha, Escha, Logy are all acquainted with your youngest sister. The one in Colseit.

…I see. I'd like to meet the youngest who lives in Colseit some time.

I hope that day comes…
It will! You might end up getting along unexpectedly well, too. Maybe you should just pack your bags and get going, without thinking too much?

No, it would be strange to go visit them myself.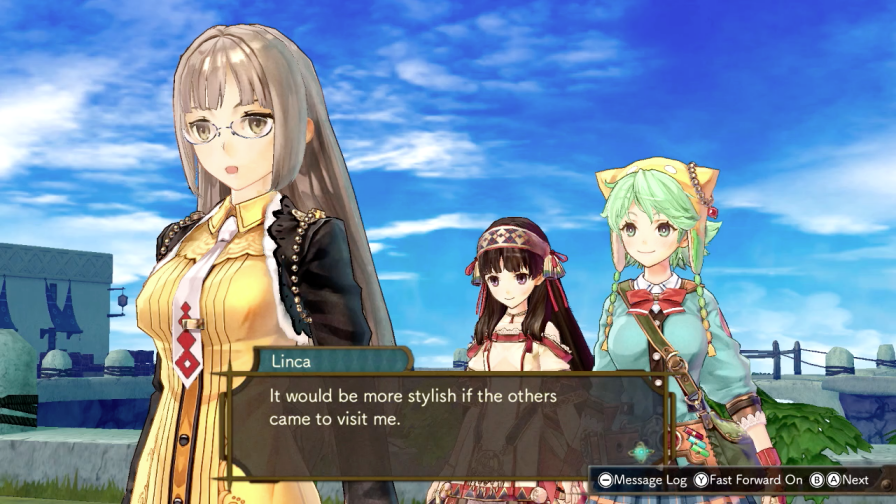 …Stylish?

Hahaha…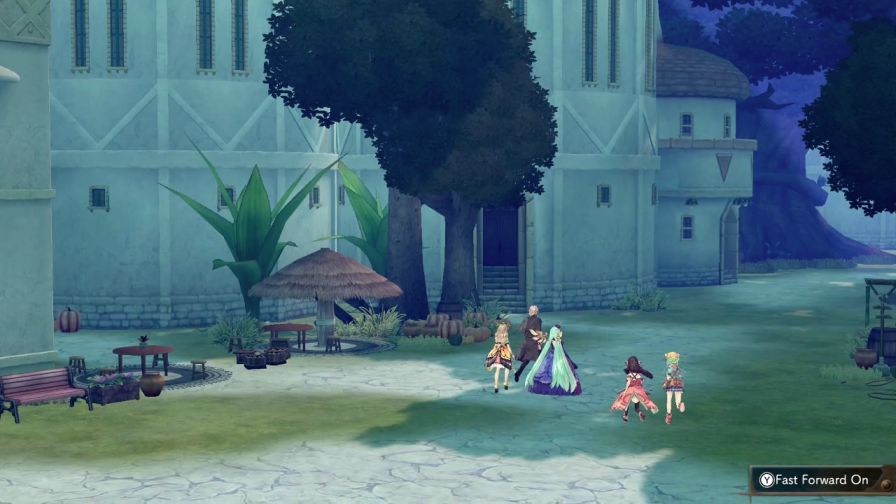 Oh, Keithgriff and Odelia…and Ayesha too…
Are you going somewhere?.

Yes, I'm done here.
You could relax and take your time.

We can't do that. We need to do some research on that seed, and we need to investigate ruins in other areas…

…You're very busy.

We ended up staying here far longer than expected, after all.

But I'm sure we'll meet again. We still have plenty of stuff to research here.

Master.

What?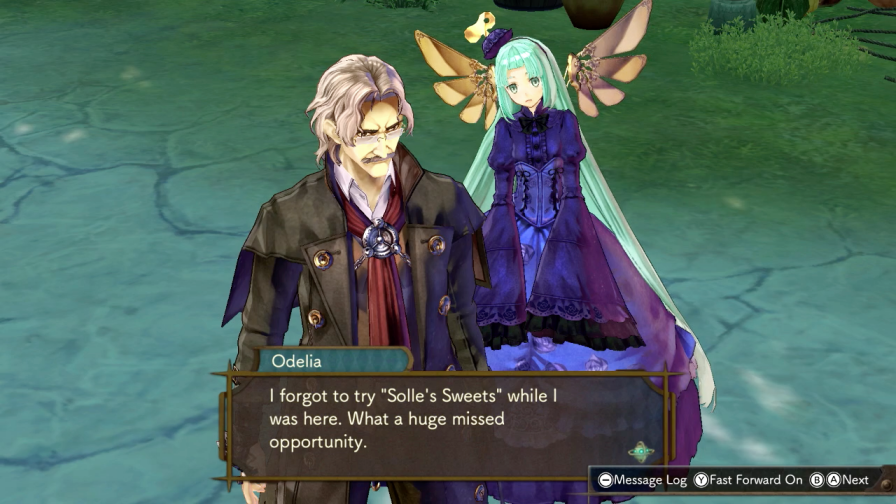 That's not a big loss. I'll buy you something sweet later.

Okay…

Uh, you can have this if you want…

!… This is!

Solle made it.

Thank you… A delicate texture and flavor… With a feeling of love and care for the person eating it… The vanilla is nostalgic, and the cinnamon and orange are a perfect blend... This was a lovely experience. Thank you.
Hehe! You're pretty cute sometimes, Odelia.

Anyway, we're leaving. Ayesha, Odelia.

Understood.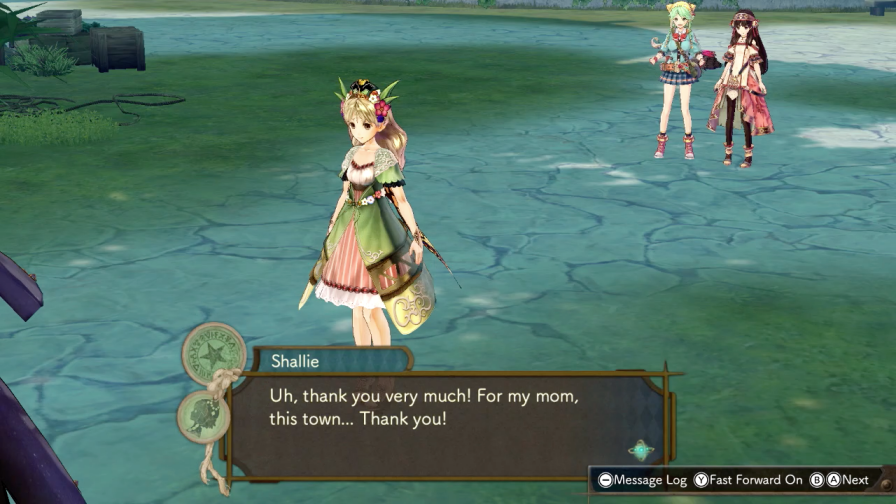 Thank you for helping me with alchemy… And seeing the truth.

See you again sometime!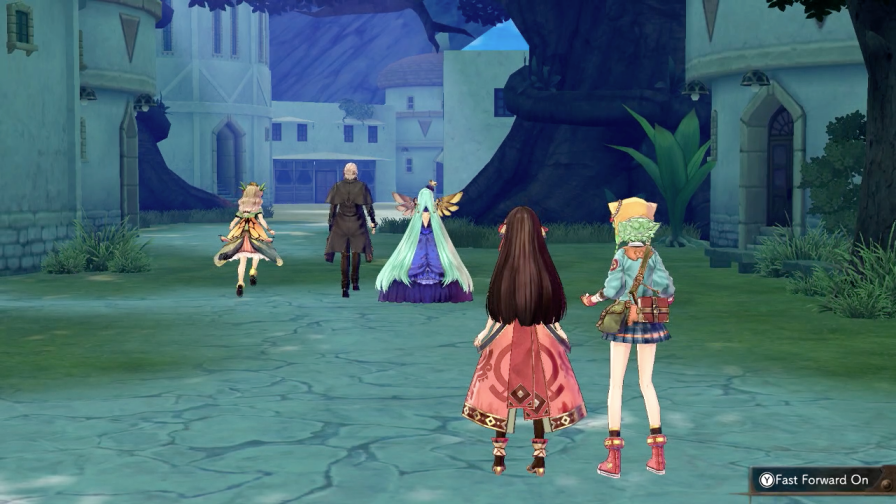 And off they go… and as for myself…
Your task is done too, right?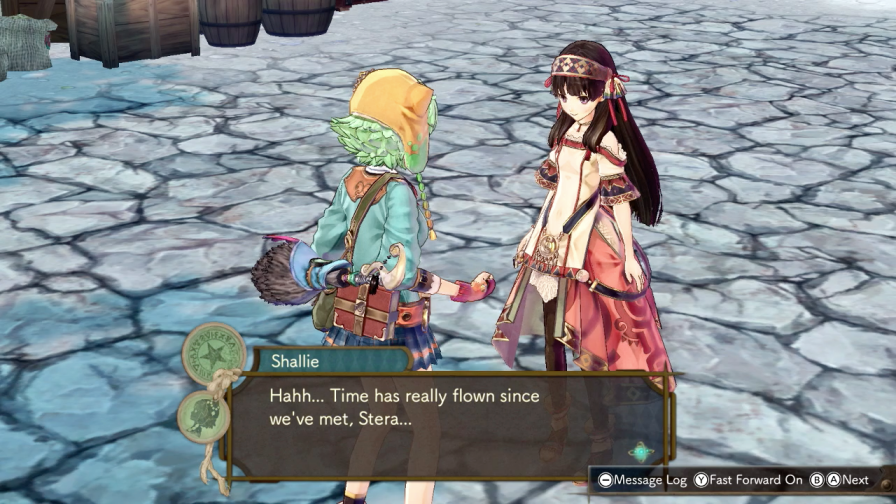 Raise the sails (DX)

Yeah, I feel the same way… But, after coming here and meeting you, and experiencing so much, I feel like a brand new person!
A new person, eh? I wonder if I've been able to move forward at all.

You have, for sure.
I hope so… You're going back to your village, right?

…Yeah. I know what I need to do, and what's the most important to me. So…
I see... Okay, I guess I have another dream...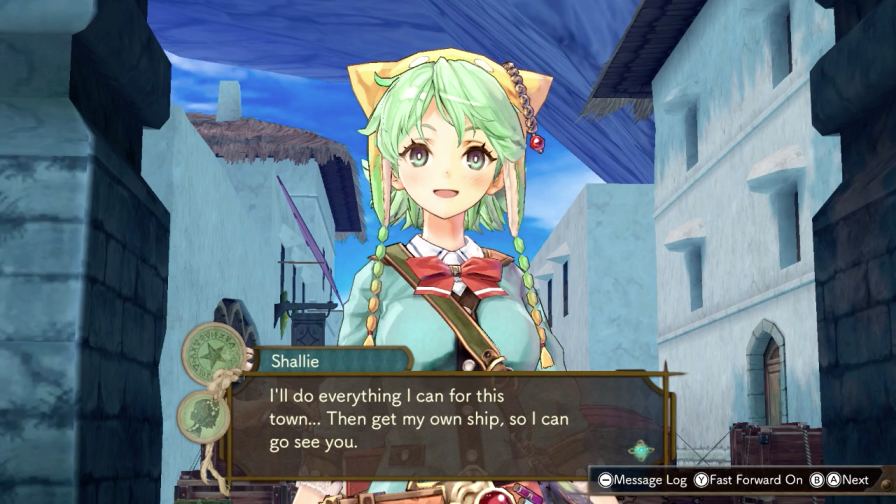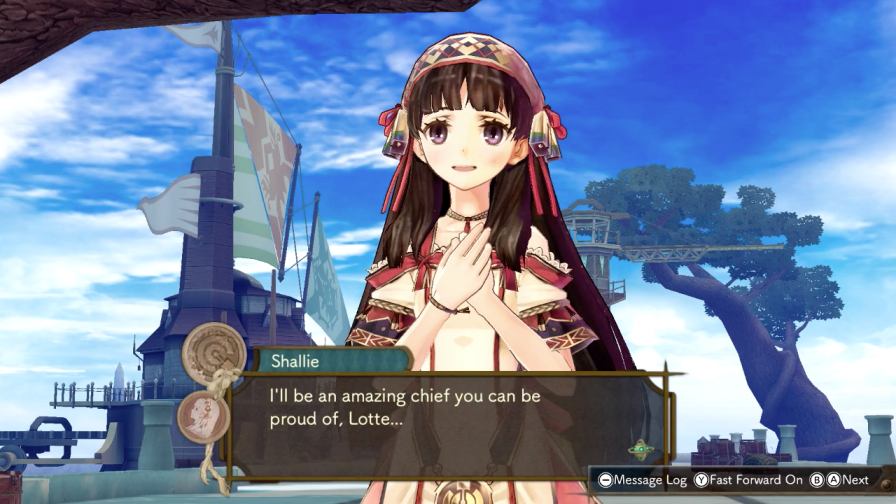 Mmm...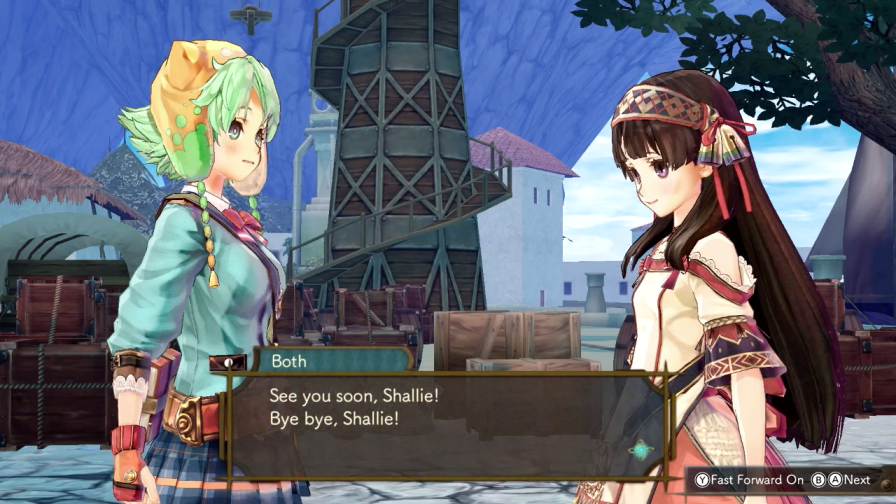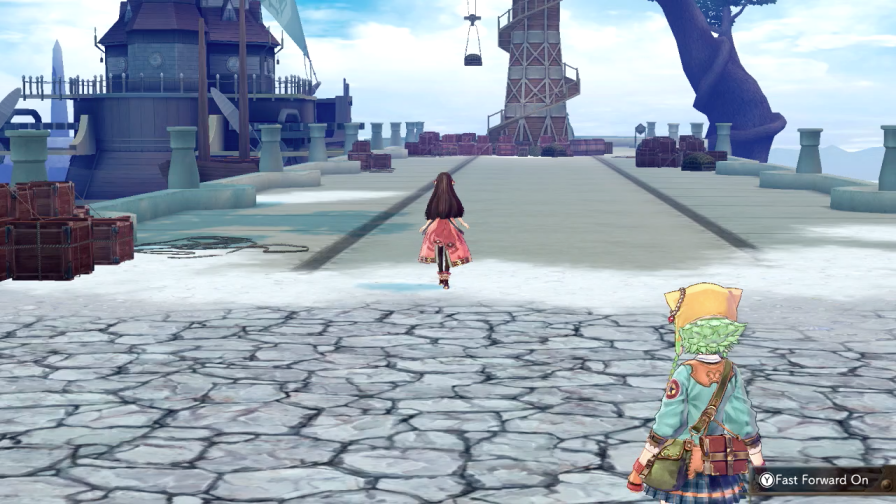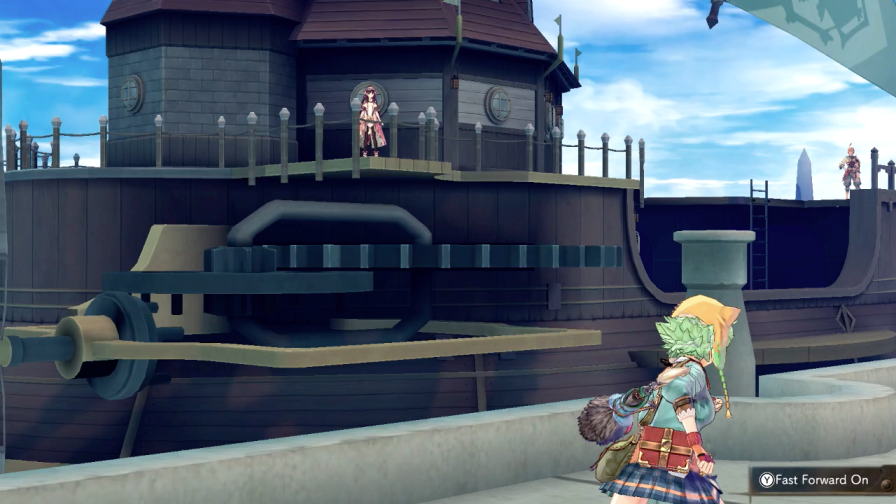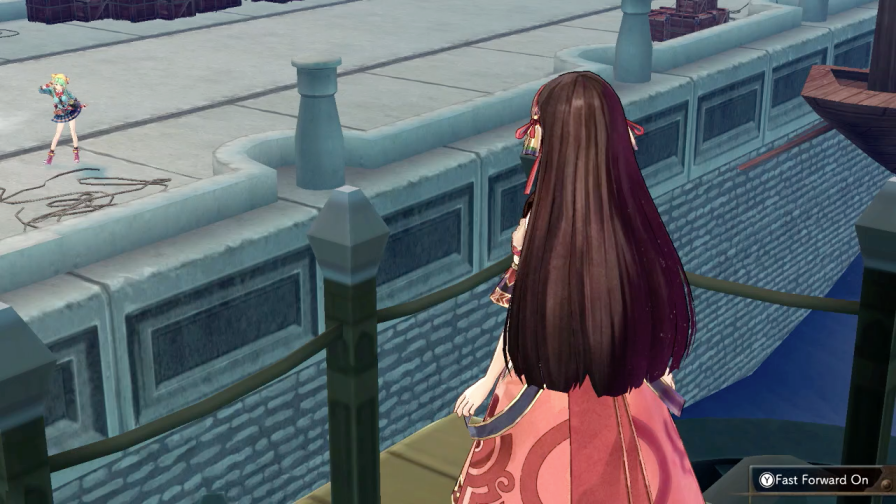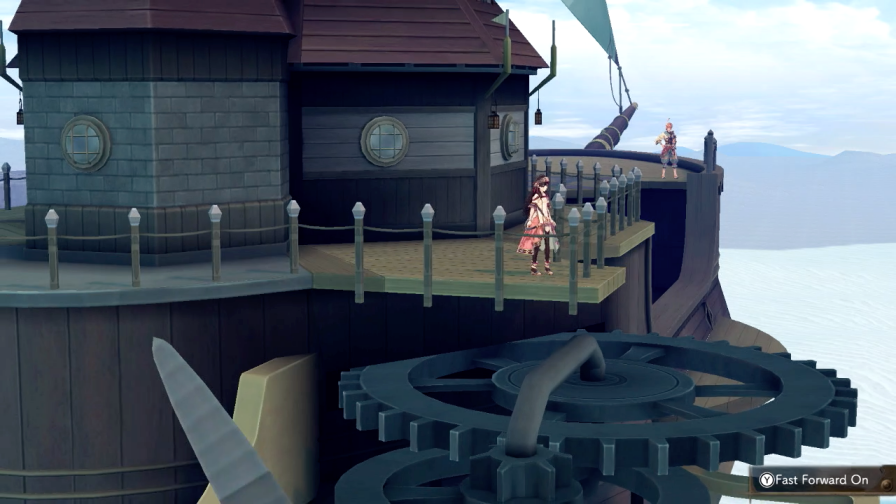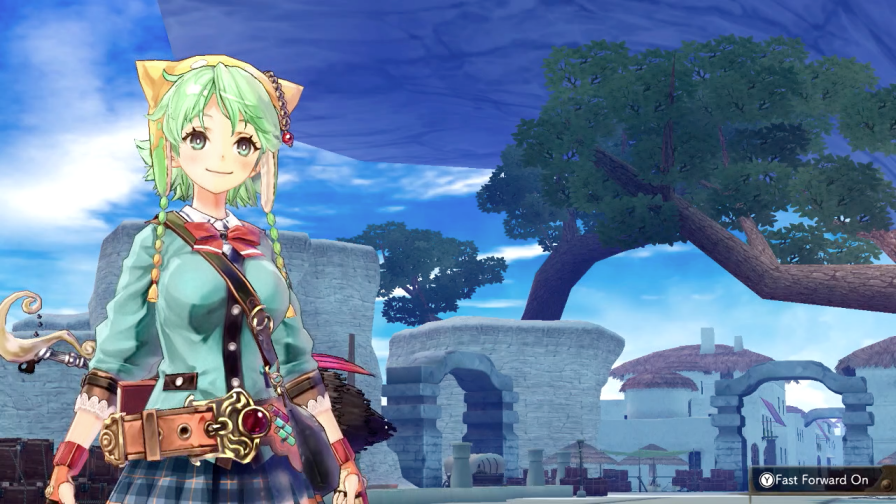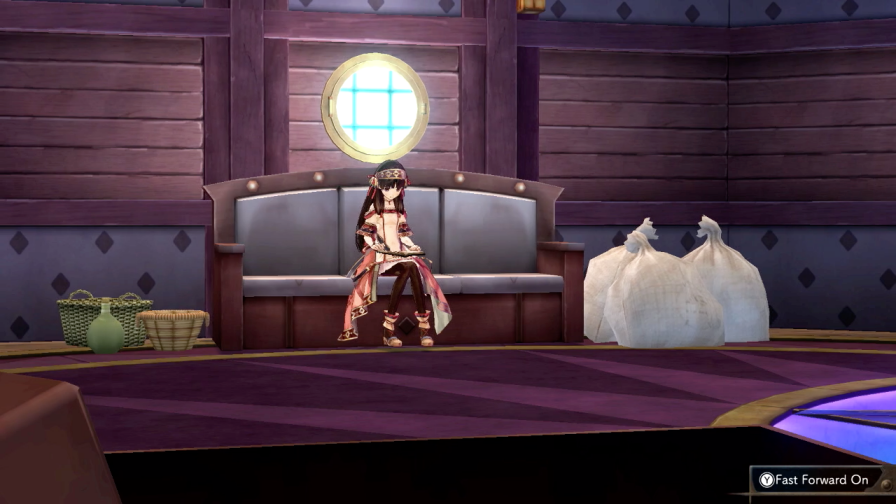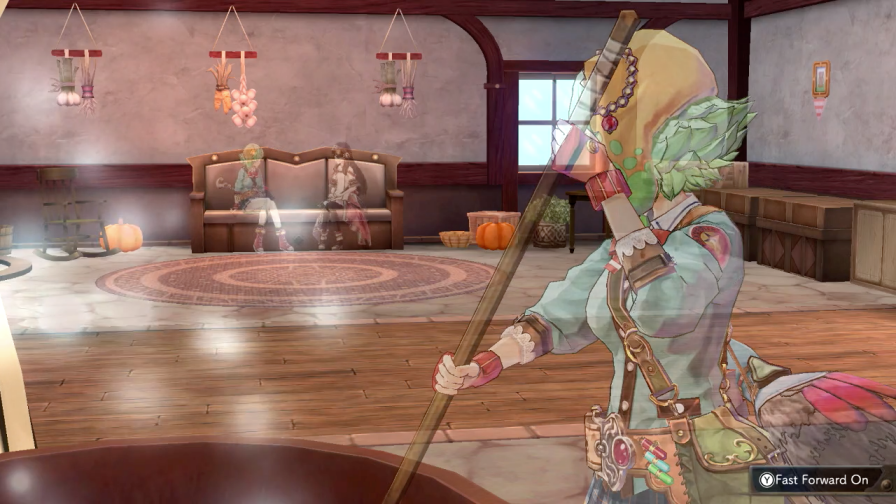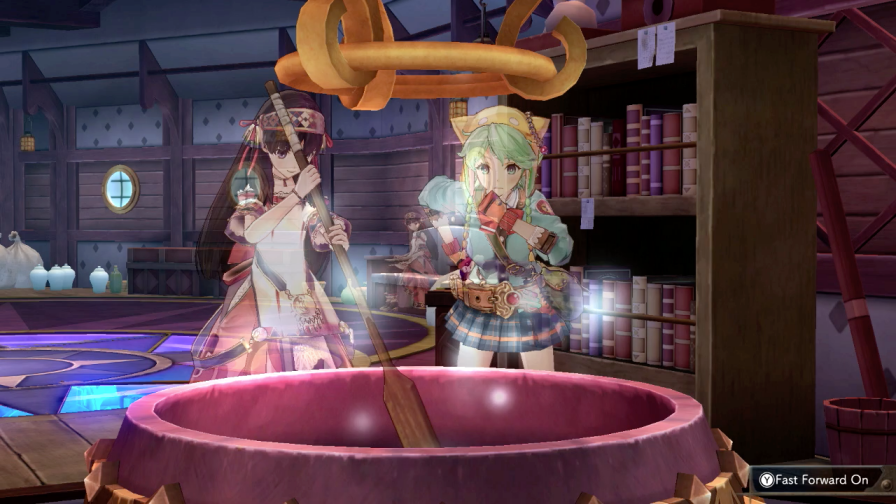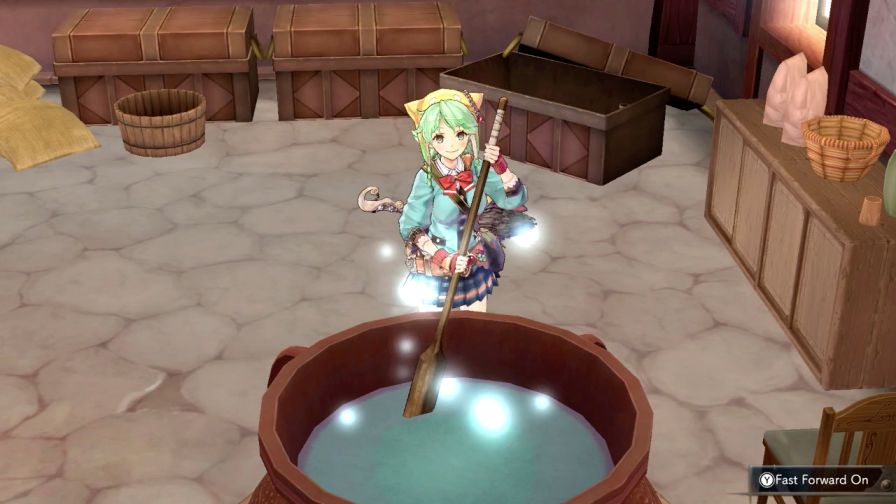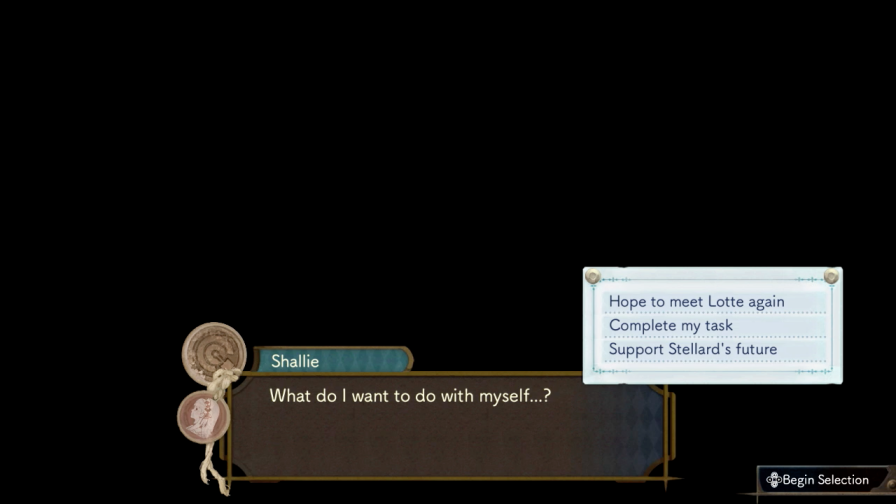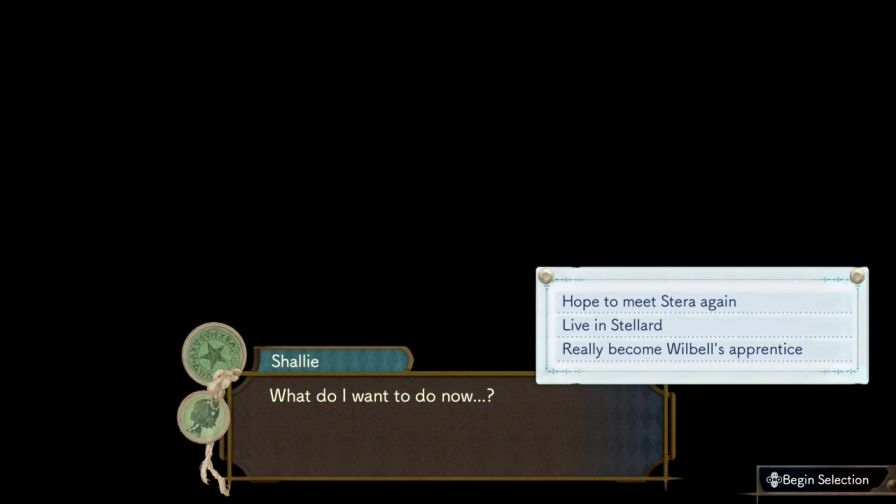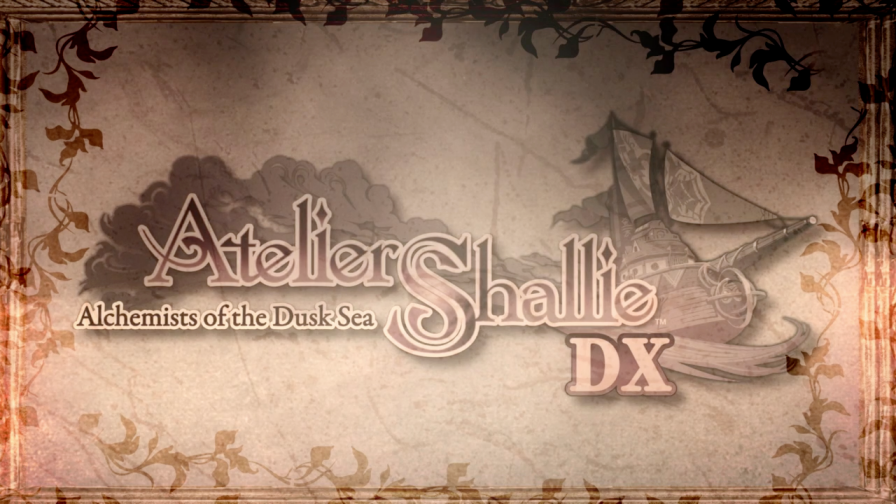 A weave of memories (DX)
Music: Last Wanderlust - matryoshka