Part 6: The Batcave

"Congratulations, team. Ready to head back out and continue the fight?"

"What, immediately? C'mon, man!"

"Would you rather swing by the inn first to not rent a room and get some unopenable ale bottles?"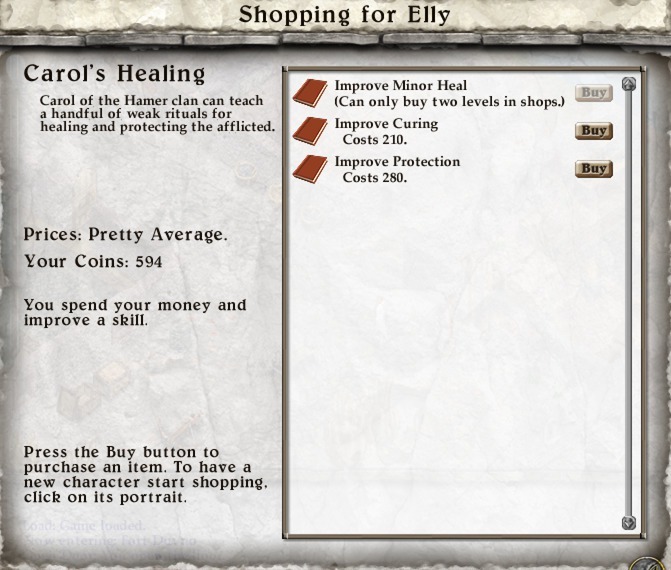 We pick up level 2 of the Protection prayer for Elly before we go, at least. This does in basically all the profits from the bandit fort. Oh well!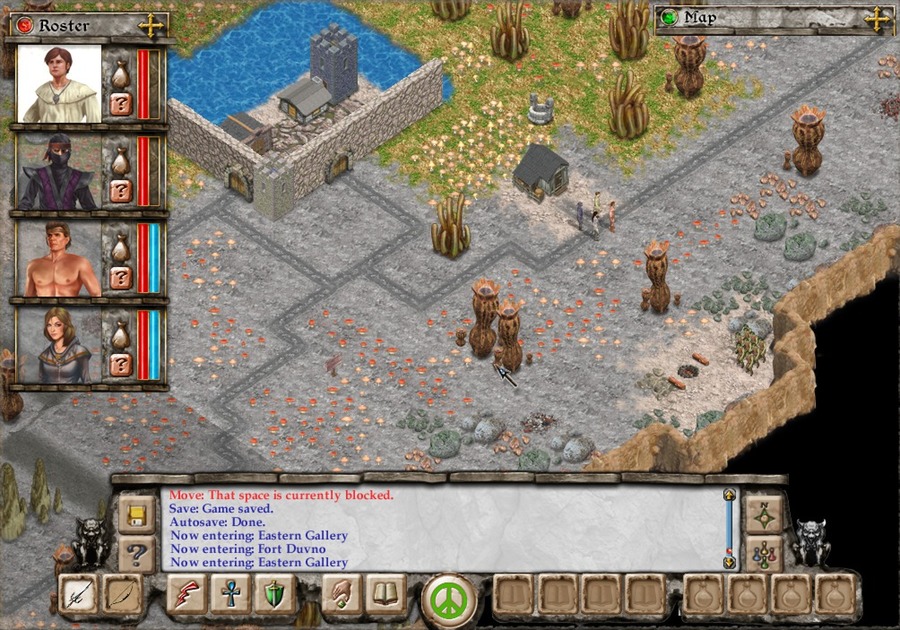 "Hang on a tick...is that a goblin camp to our east?"

"So close to the fort? They must be suicidal!"

"Then let's go give them a hand self-terminating, eh?"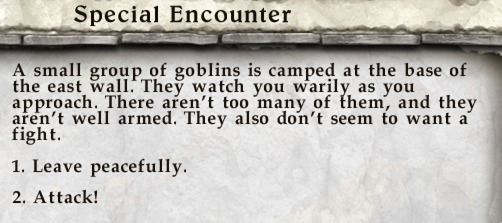 The "leave peacefully" option just dumps us back to the map, with no message, and "attack" puts us directly into a fight: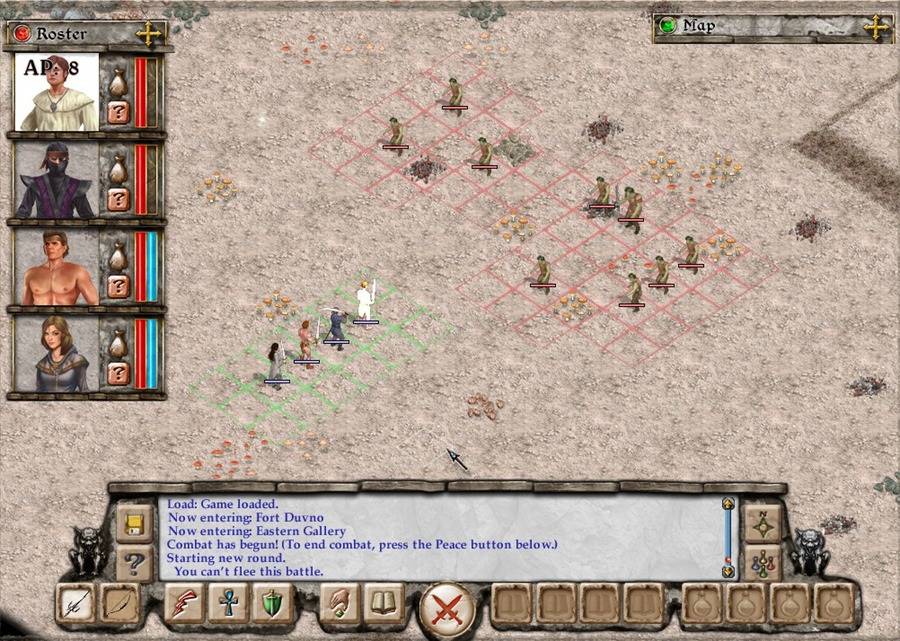 A quick word on combat. Note the "AP: 8" on Kane's portrait right now: those are his action points. Moving 1 space, and picking up/dropping/equipping items both consume 1 AP. Casting spells and attacking both cost 9 AP, and item use costs 5 -- both of course are doable with only 1 AP left, but it ends your turn. You can get extra AP from a few sources in this game, and if you have at least 10 AP then you can cast or attack twice in one turn (so long as you don't need to move or do anything else).

However, bonus AP is a lot harder to come by than in previous games. In the older games, the spell Haste was an AP multiplier, doubling or tripling your AP budget; combined with boots and a ring of Speed, a dual-wielding twink could attack a whopping 10 times in one turn (or cast 5 spells, which is arguably worse if less sustainable). In this game, Haste instead gives you a small-ish chance for an attack or spell to cost half as much AP as it normally would. This makes it a lot weaker. There's still an AP-multiplier ability, but it's only reliably available from potions, scrolls, and a specific high-end battle discipline.

Oh, right. Battle disciplines!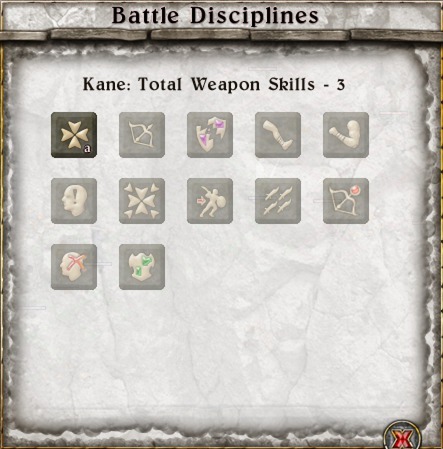 We don't know very many yet because nobody has invested many skillpoints into basic combat skills (any combination of Melee/Polearms/Bows/Throwing), but the Well-Aimed Blow discipline (top-left) roughly doubles the damage on a basic attack, and costs 3 turns of fatigue, during which no disciplines can be used.

The discipline we really want everyone to unlock is Adrenaline Rush: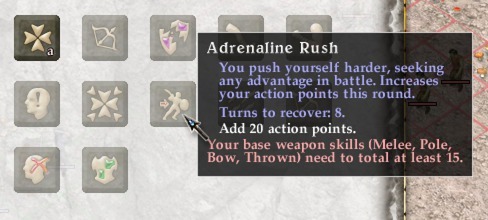 20 extra AP is a lot -- a caster can triple-cast with that. It's going to take us a while to get Byff and Elly there, but once they are they'll be able to alpha-strike most overworld encounters and make life a lot easier.

"I can already make life a lot easier!"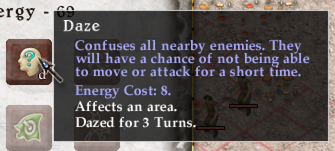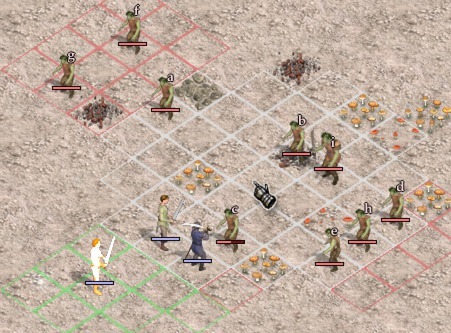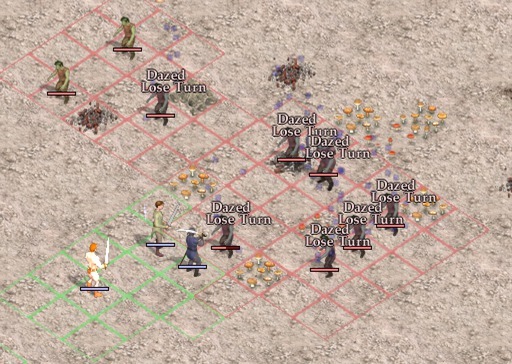 Daze is a fantastic spell early on, when your enemies have awful mental resistance. It reliably takes targets out of the fight for several turns (or until they take damage). Eventually it stops being as useful (and mages have better options), but for now Byff is going to be a Daze/Bolt of Fire mage.

Anyway, these goblins die like chumps, because they are chumps.

"Distateful work, but I can't imagine their intents were peaceful."


"Too bad they didn't have much on them."

"What do you expect? If they had to risk traveling so near defended territory, they couldn't have been well off."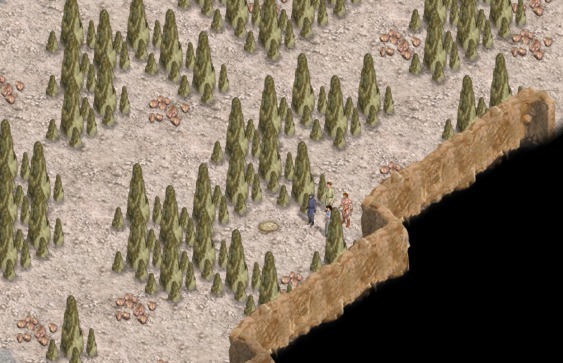 See that round patch of ground next to the party?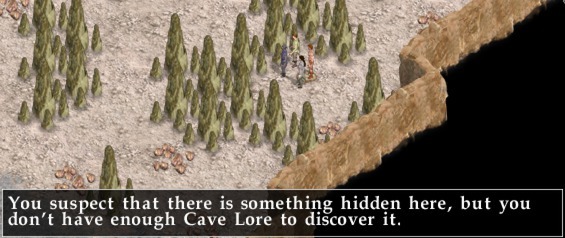 "Curse these inadequate oculi!


"
This is the primary use for Cave Lore. We'll be back later. We head north, travelling along the eastern cave wall...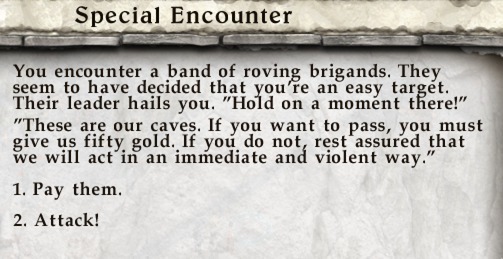 "What do you think, Kane? Are we ready for this?"

"What, these petty criminals? Sirs, you are guilty of assault, theft, and impeding commerce! Surrender or die!"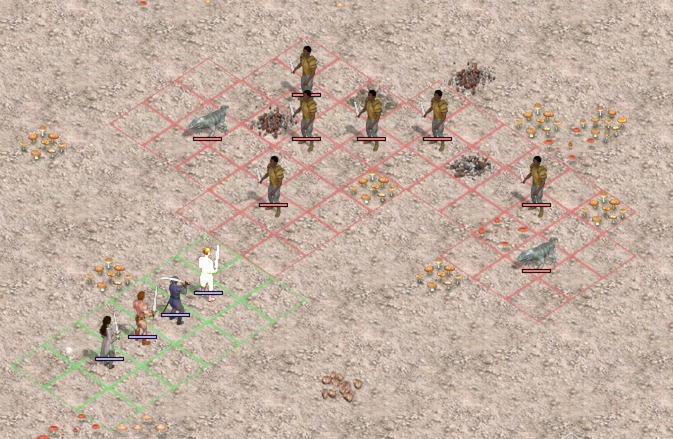 "Being judge, jury, and de facto executioner feels very strange. Normally I'd be on their side! ...not willingly, just because nobody else would bother to defend a criminal."

"Don't worry too much about it; I don't think Avernum has courts anyway."


Six thugs and their two pet giant lizards. The lizards are much more durable than the thugs, but only slightly more dangerous otherwise. Elly throws up a Protection spell, and we get them all clustered around Kane and One-Eye: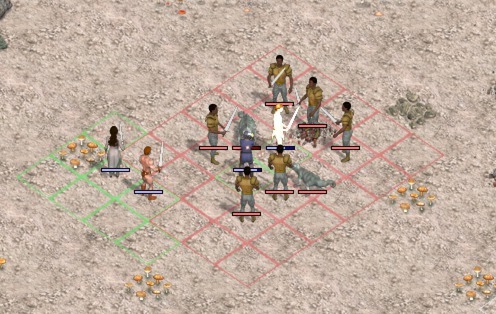 "Say goodnight, fellas!"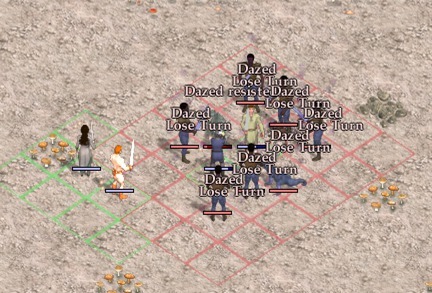 Fortunately there's no friendly fire in this game.

"You would think the last two would have tried to run..."

"You don't get to be a bandit by being intelligent."


"And there's our good deed for the day."
Further north along the cave wall: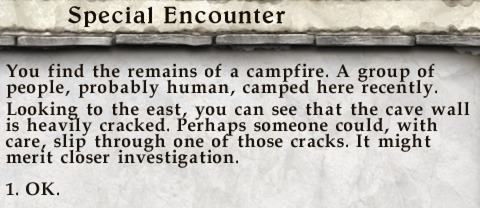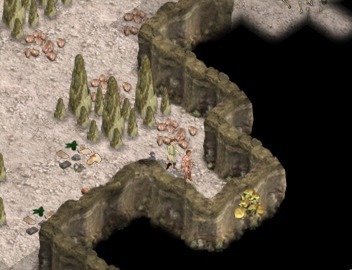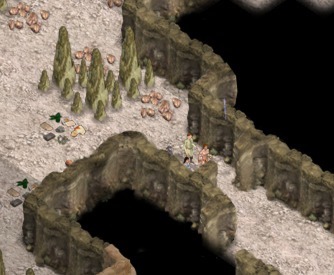 Okay, not
all
of the secret passages were replaced by buttons. On the overworld they're instead marked by giant mushrooms or similar, and disappear when you get close.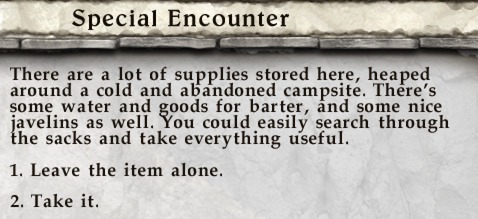 "I do believe we've found the bandits' stash. I say we impound it as evidence."

"You mean take it for ourselves?"

"As long as nobody asks us about it, what difference is there?"
Hooray, One-Eye can use ranged attacks again, for a little while anyway.

Finally, in the far northeast of the Eastern Gallery: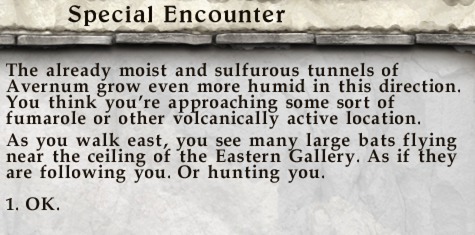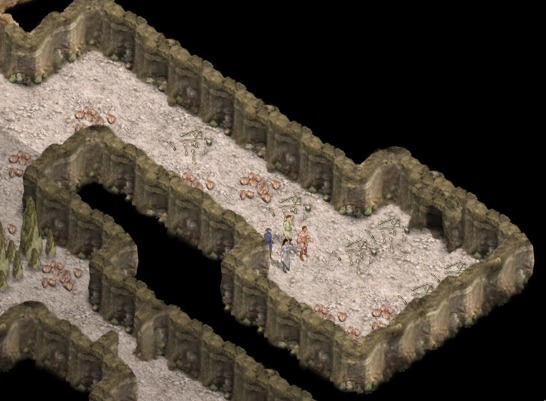 "Is this the nephil fort?"

"Never heard of nephils residing with bats before. I'd think they'd be natural enemies in fact."

"How so?"

"Well, nephils eat mice and so on, don't they? And bats are basically winged mice. What would you do if you saw a cow flying around?"

"Sounds logical."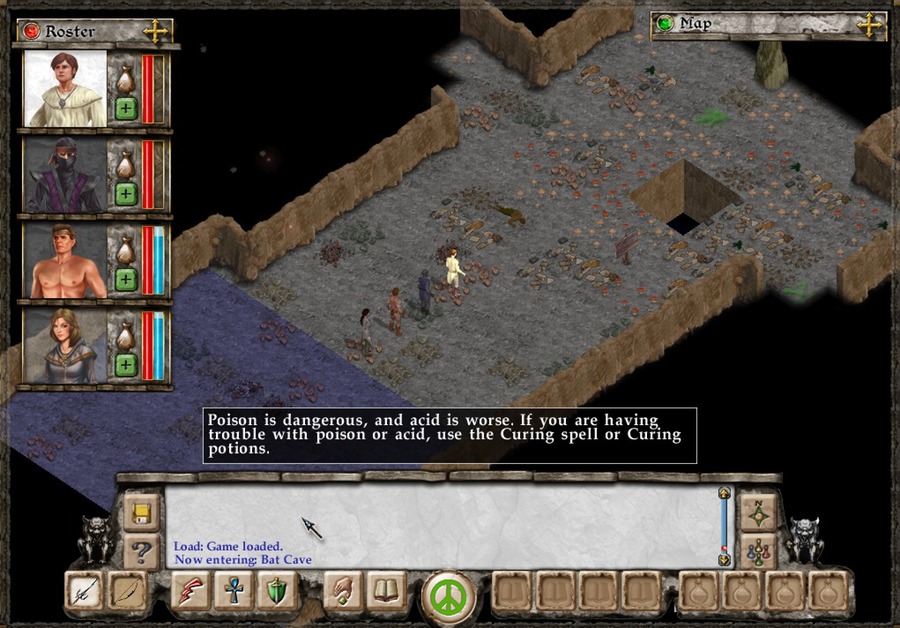 "Of course, cows aren't generally known for eating people."
There's no quest sending us here; it's just a random cave full of hostile wildlife.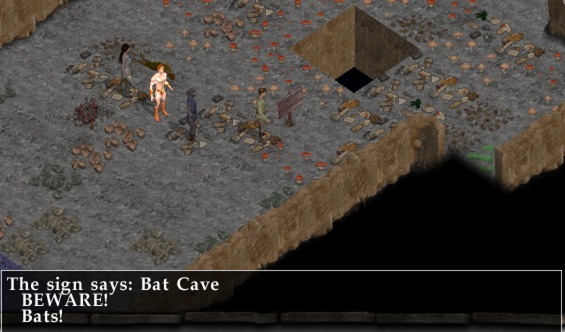 "I see the Empire exiled one of their signmakers down here."

"Because this sign is thorough, accurate, and utterly useless?"

"Quite so."

"Look out!"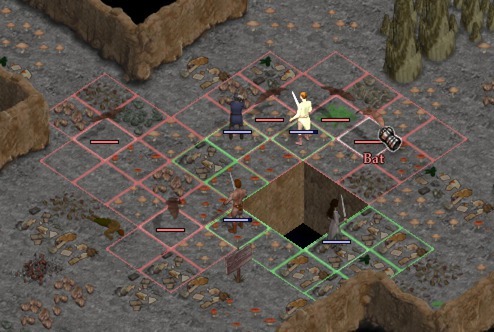 Basic bats are marginally more threatening than thugs, i.e. not very. Alas, being bats, they can't carry any loot.

Incidentally, we picked up a level off of those outside encounters, so everyone gets some incremental improvements. No traits, though; those don't come every level.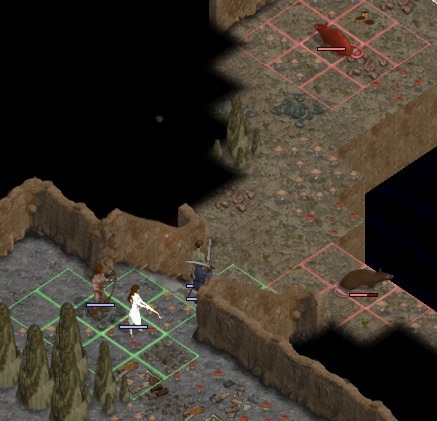 "Rats, too?"

"Makes sense. If a giant bat flies back with some food, and drops it, then the giant rats can eat it. A beautiful symbiotic relationship."
The red rat is a Fierce Rat, which hits a bit harder and is more durable than basic rats. Incidentally...





...enemies can sometimes flee in terror at the beginning of their turn if they're badly enough hurt or they've seen all their allies die. These rats are smarter than those brigands we fought earlier.

Only slightly, since the rat turned to fight on the next round, but what do you expect from rats?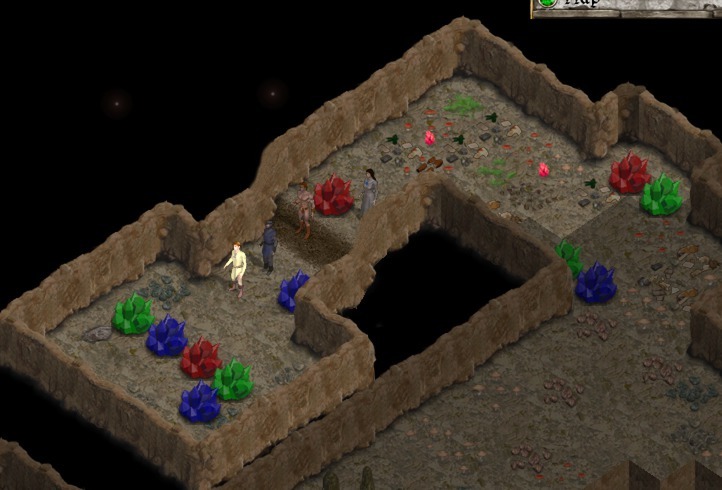 "Oh, how lovely!"

"Looks like quartz to me. Nothing too valuable, but some of these crystals should be worth a bit."

"Despoiling the caverns for our own gain seems wrong somehow."

"Look at it this way -- nobody's going to appreciate these crystals in the depths of a cave. Especially a cave that, I would like to take this moment to point out, is full of guano."

"Alternatively, consider this our payment for services rendered. We clear the cave, and others can come through to admire it. And clean it. Ew."

"Nobody said adventuring wasn't dirty work."

"I rather hoped that it wasn't quite so literal though."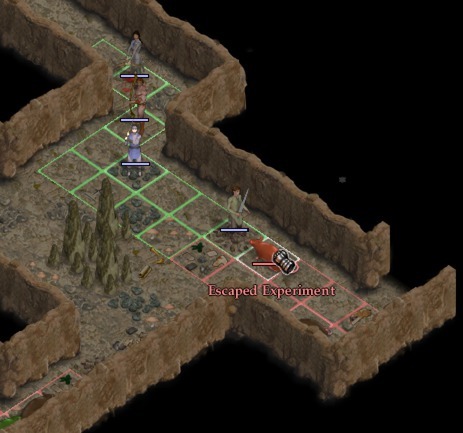 "Hey, this one has a collar on!"

"And my word those are some big teeth."

"And it just nearly bit my arm off! Ow."


"Elly? I don't feel so good."
The Escaped Experiment is a super-beefy rat with a poisonous bite attack. We can cure the poison with Curing, or just suffer the extra damage at the beginning of each of Kane's turns. Rather more dangerous, though, is this: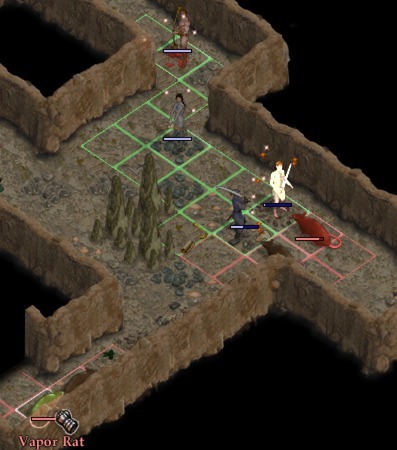 Vapor Rats are
assholes
, with an area-of-effect breath attack that deals decently heavy damage and inflicts War Curse, which worsens your accuracy and damage output. This is about the worst time possible to run into one.

Kane and Wang chug healing potions before attacking, so Byff's and Elly's turns can be spent on blasting rats instead of on healing. Unfortunately,
everyone misses their attacks
(and spells; attack spells can miss!).

We do manage to daze the Vapor Rat for awhile, but...




"Shit! Kane's down!"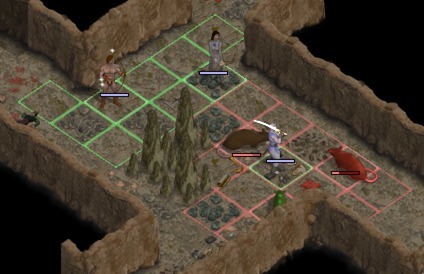 "We've nearly won, just keep fighting!"

"Watch your flank!"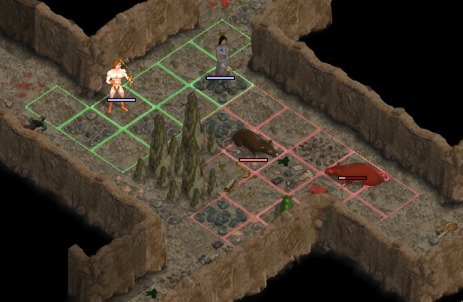 "Okay, new plan! Grab the bodies and RUN!"

"Uh, just one problem with that, Byff."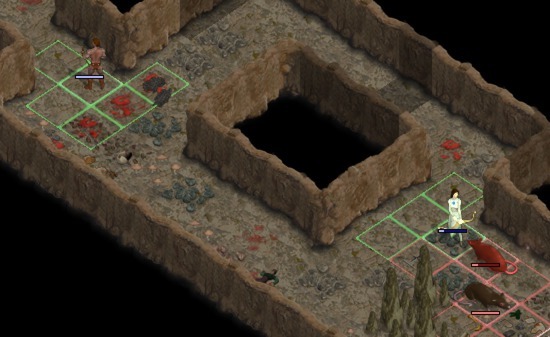 "Heal and run, Elly! Maybe he'll lose interest once he's had his fill of blood!"
It costs 3 additional AP to move if there's a monster adjacent to your starting position, which makes running away rather difficult. Fortunately, the Vapor Rat doesn't chase us. Unfortunately, the Escaped Experiment does...but he does indeed lose Elly when she dodges around a corner!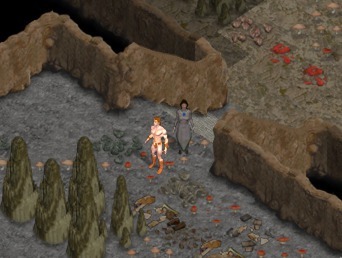 "That could have gone better. Are you okay?"

"More or less."

"So we have a big problem."

"Oh my yes. How are we going to haul these two lunkheads back to town? I hope they don't bruise easily."

"...you know what? I'm going to follow your lead on this one."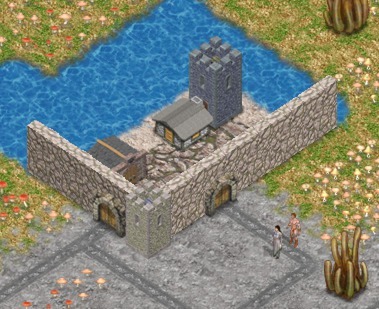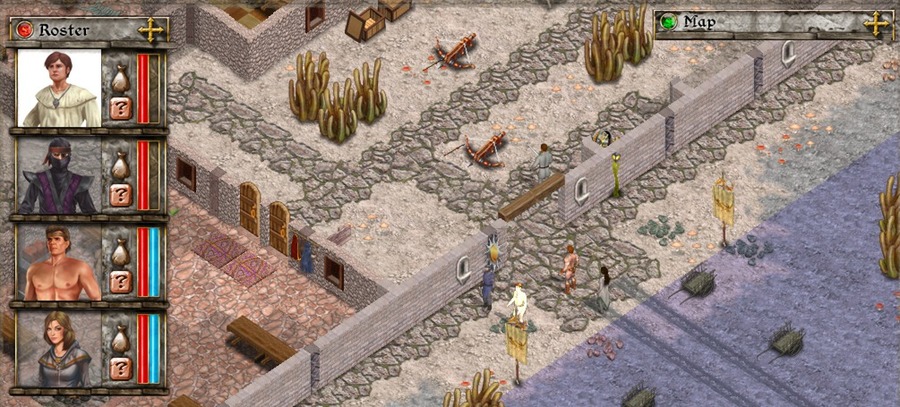 "Et voila!"

"Okay, what just happened?"

"I'm pretty sure I died back there."

"The Word is your savior!"

"I dearly hope you're being metaphorical and we merely lost consciousness."

"Doubt me if you must. I know the truth."

"Byff? What did she do?"

"As far as I can tell, she just dragged what was left of you by the arms twenty miles back to town, and then your torso regenerated itself."

"Well, that explains why my ass is so sore, at least."

"Don't blame me if I'm not as strong as you are!

"

"Thanks for reviving us."

"Yeah. Now we're going to go back there and get some revenge.

"

"Are you really sure that's wise?"

"What? No, of course not, it's a damnfool idea. And we're doing it anyway."


"Can we get a stretcher first?"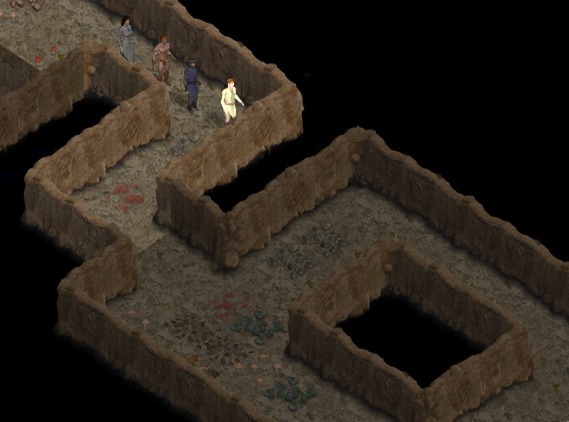 "Our problem last time was that we got ambushed. If we only have to face one foe at a time then we'll have much less trouble."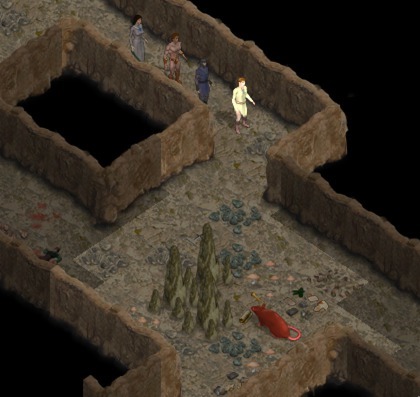 "Which means we
don't
run out into the open this time. C'mere, Fido, we're fighting you on our terms this time."

"Time to try out one of my new spells."

Cloak of Curses causes melee attacks to sometimes debuff your opponents -- with poison, war curse (reduced offense), weakness curse (reduced defense), and I think dazing as all possible results. It's not amazing but it lasts until you return to town, so it's still worth casting, at least until we get the better Cloak spells.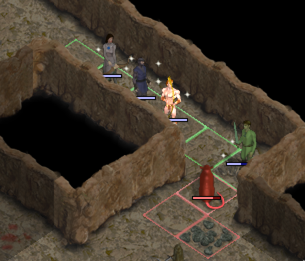 In this setup, Kane keeps the rat busy while One-Eye and Byff take turns standing where Byff is now and using ranged attacks -- party members can freely move through each other to switch places. Elly spends every turn undoing the damage done to Kane.

One-Eye does good damage with his javelins; they're easily outdamaging Kane's melee. There's just a strictly limited supply of them.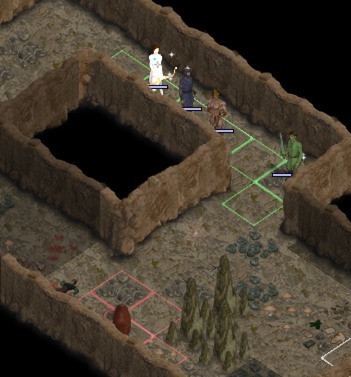 "He's fleeing!"

"Do not pursue! You'll get lured into an ambush!"

"These rats are a lot smarter than the bandits we've been facing."
A turn later the rat foolishly gets his courage back and returns to the death zone.



"We did it!"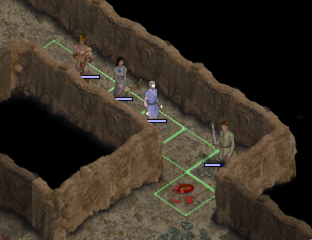 "Too bad nobody's paying us to kill this thing."

"No, but the rat's collar was enchanted; I think I can repurpose it as a belt."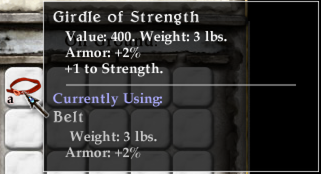 An easy upgrade for Kane, our only Strength-dependent character.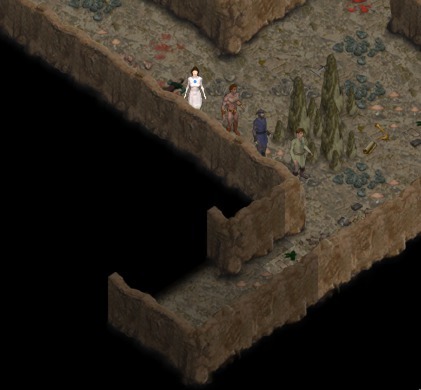 "Now watch out for that Vapor Rat that blindsided me. He should be right around this corner."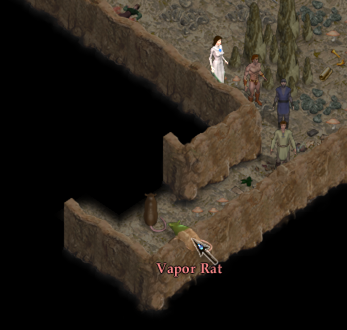 "Get 'im!"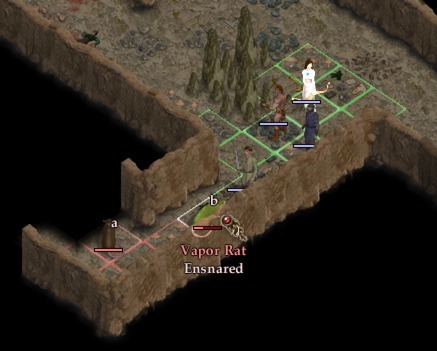 This is lousy terrain as he could hit all of us with his breath attack, but he has a lot fewer hitpoints than the Escaped Experiment did, so we can blitz him down. The Ensnared effect on him comes from One-Eye using his Flawless Shot combat discipline; it prevents the target from moving more than one tile per turn. Not really relevant here, but it's one of a very few ranged direct-damage disciplines.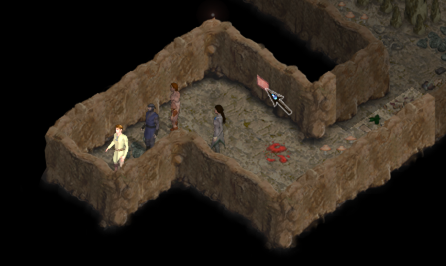 "Nothing back here...not even a nest."

"Hang on, someone put a false wall down here? What the heck?"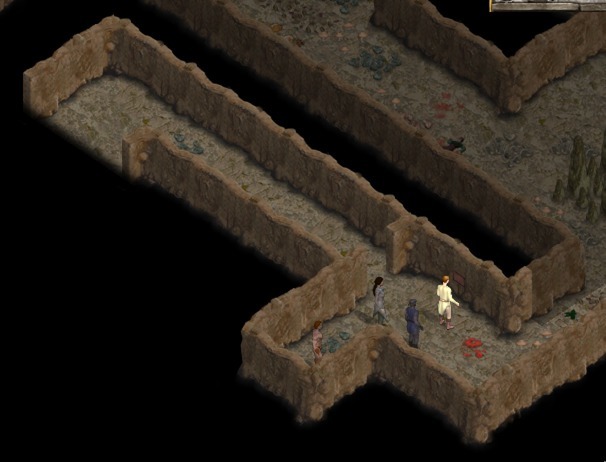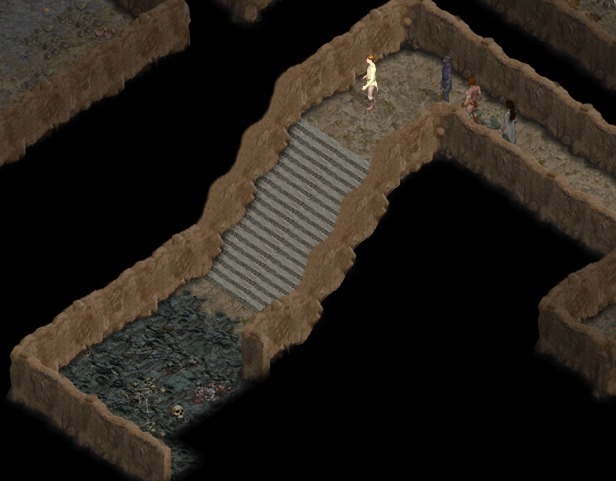 "Oooh, ominous!"

"I have a bad feeling about this, guys."

"Well, yes, we all do. Are we going to let that stop us?"

"Nah. Though I do want to check that
other
gigantic poisonous rat's home first."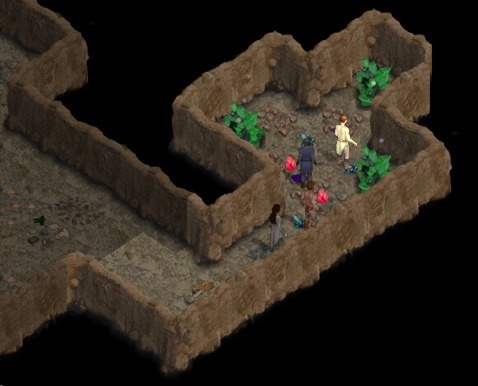 "Nice payday. Almost makes it worth dying."

"Really?"

"No."
There's a nominal 410 gold worth of crystals here -- I say nominal because at best we can get 50% sale value from selling loot, and that requires a trait we can't access yet. We won't be selling
anything
until then.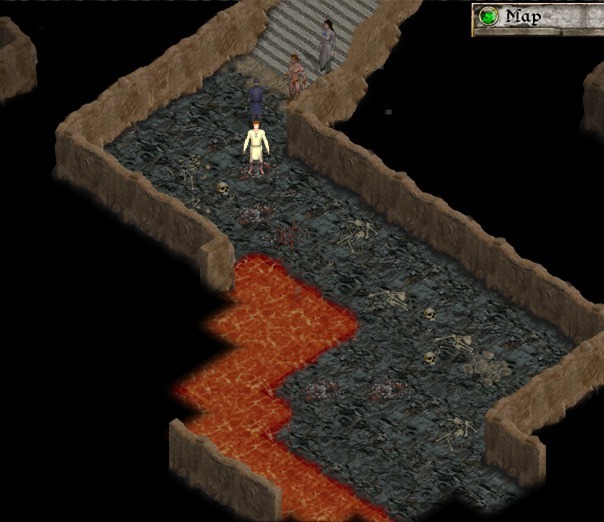 "That is a lot of skulls."

"Why would that many people even be down here?"

"I suspect they were searching for treasure."

"You mean, like we are now?"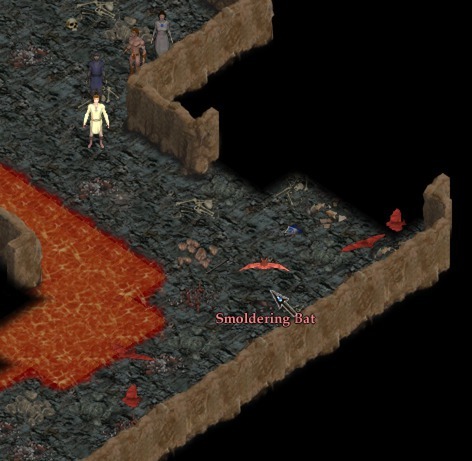 "Yep. Uh oh. Retreat!"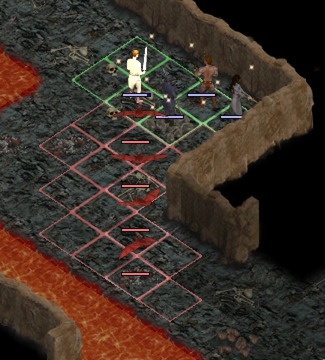 Same concept as before: run around a corner so we can killbox the bats. But there's no chokepoint this time. And they have firebreath, though fortunately it doesn't do nearly as much damage as the Vapor Rat's puke.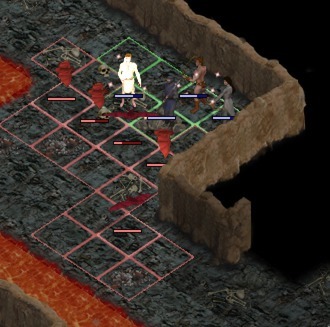 "Byff! Daze them!"

"One step ahead of you. Firebolts won't do much to these guys anyway."

"No, they wouldn't, wouldn't they? That gives me an idea..."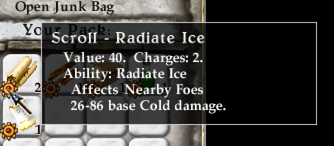 These scrolls do uselessly small damage outside of the early game. Guess where we are?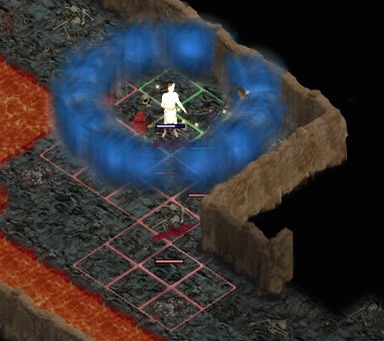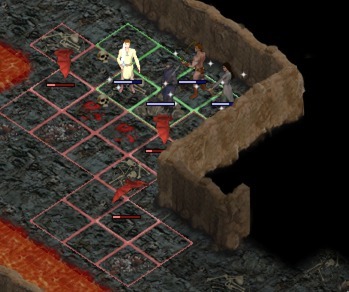 Best of all, Kane can use two in a single turn, or use one and then attack. One is all we need against this group.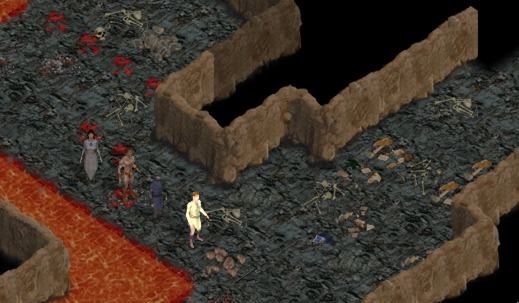 "Quick thinking, Kane."

"It pays to have a counterargument handy when the prosecution is getting aggressive."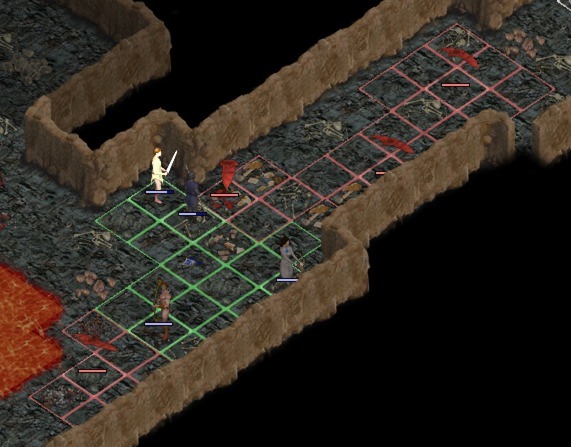 "Too bad there's more of them. Let's go!"

This fight goes more smoothly; there's fewer of them and they don't use their firebreath as much.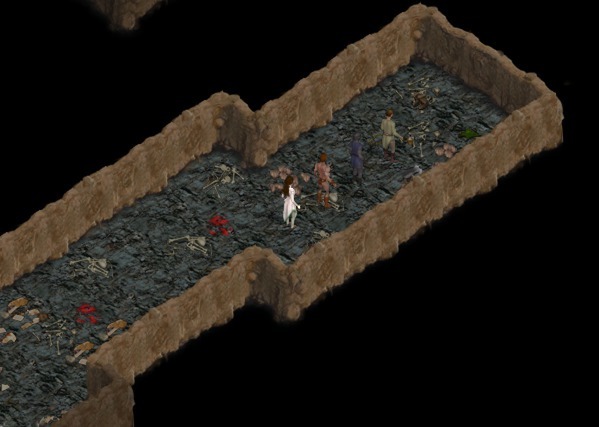 "Hey, boys, I found something!"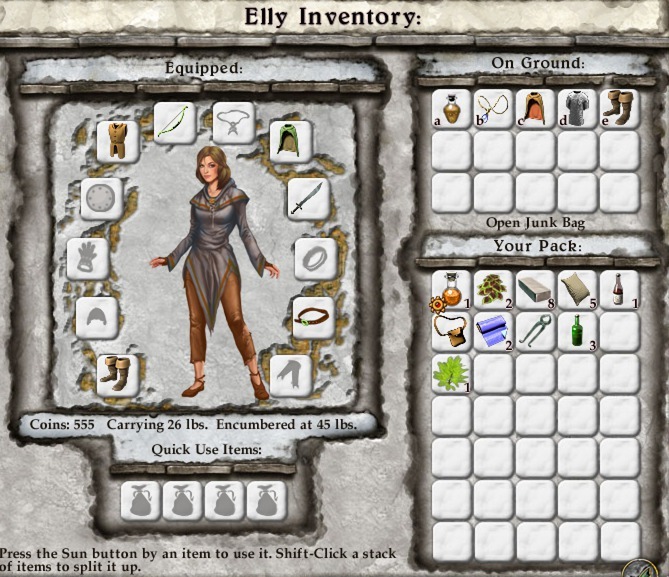 Chainmail, heavy boots, a fine cloak, an energy potion, and a silver necklace; only the necklace is useless (except as cash). There's also an iron shield a bit to the south. Kane gets all the armor upgrades.

"Why am I carrying sacks of mushroom meal and iron bars?"
Shush, you.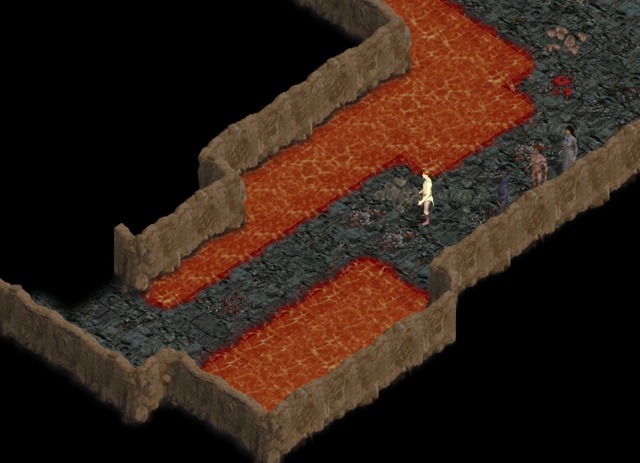 "Might I recommend against walking down a narrow bridge over molten rock?"

"Sorry, there must be
something
around that corner."

"How do you figure?"

"Nobody would defend a place this thoroughly if they weren't trying to protect something. Discover your opponent's secrets and you have defeated him."

"Your opponent in this case is a cave full of wild animals."

"Mutant wild animals. Who knows how smart they are?"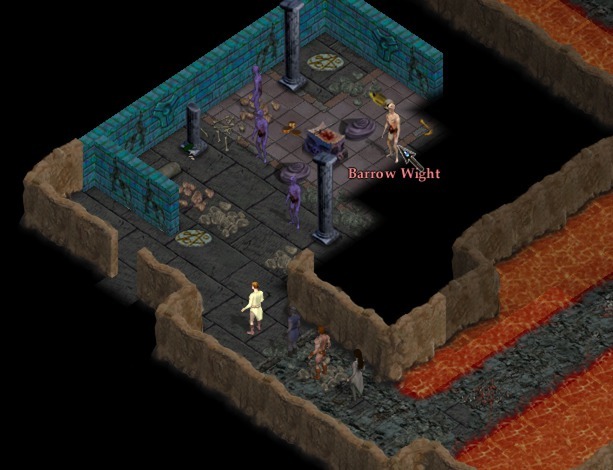 "Nope, you were wight, er, right. We're leaving."
We start combat, and two Searing Slimes run around the corner: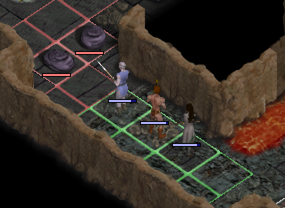 Searing Slimes do
not
fuck around.

"I think our ex-leader was onto something. Fall back!"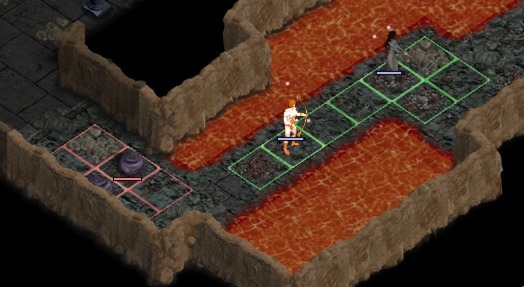 "'Bout that time, eh chaps?"

"Righto. You got Kane's...bits?"

"And you have One-Eye's? Right. RUN!"
Back at Fort Duvno...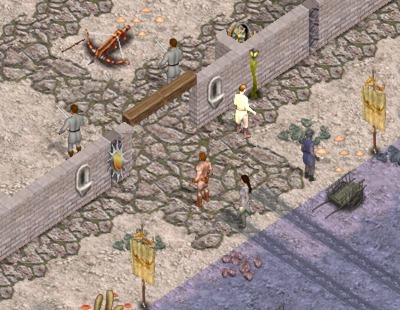 "What, again?"

"At least you guys didn't weigh so much this time."

"I keep telling you, undead are bad news."

"Actually, you got dissolved. By slimes."

"...great."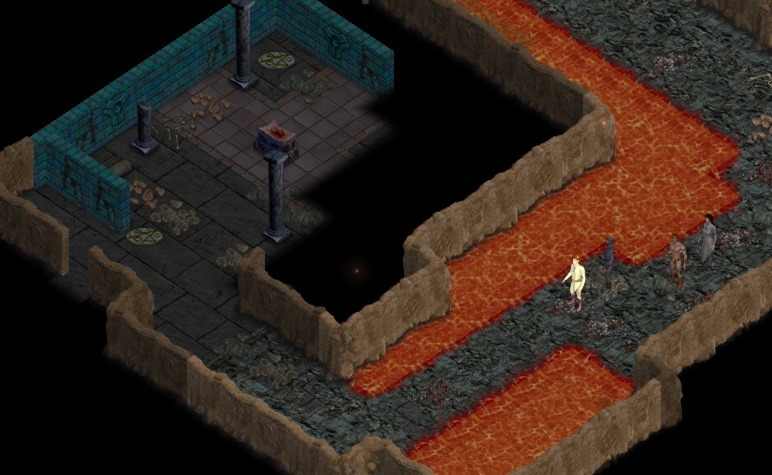 "So why am I doing this again?"

"Dunno. My guess is you're secretly masochistic."

"I
did
try to fight the Empire using legal papers. You may have a point."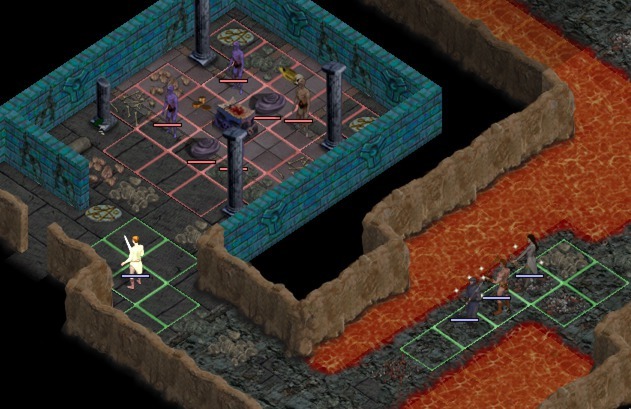 This is what we're dealing with, by the way: two Searing Slimes, 3 Ghouls, and a Barrow Wight (which is a unique enemy). We need a way to deal with those slimes; they can between them kill one character per round if both their attacks hit. Unfortunately, they won't move unless they can see us on their turns, which makes it hard to lure them out of position.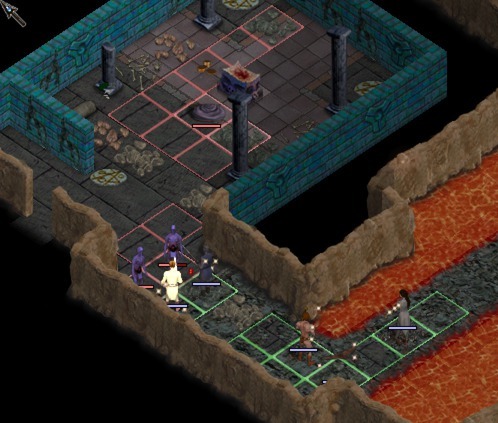 Manipulating turn order so that the Ghouls act before the Slimes do works. Ghouls slow with their attacks, which causes the target to randomly lose turns, but their attacks don't do much damage. We can kill one Ghoul and let a Slime take its place: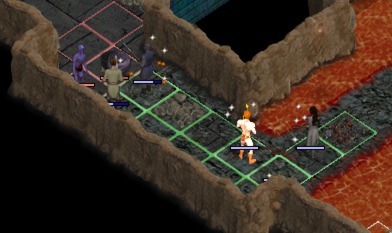 (also shown: a bat that Byff summoned, totally useless as it only has melee attacks)

Now we can kill the Slime, while constantly healing our torpid frontliners.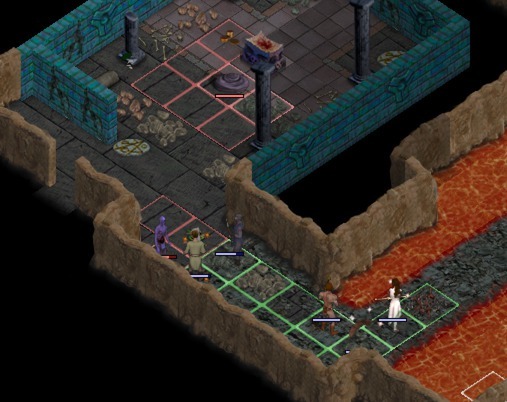 "I don't believe it, but it's working!"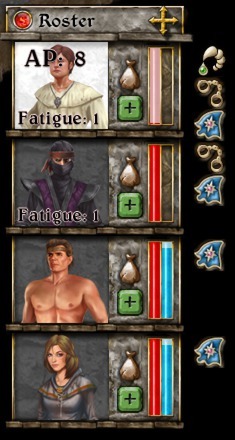 (The blue icon is from Cloak of Curses; the shackles are Slow)

"I beg to differ with your definition of ''working''!"

"S͒̈́͊t̟̍͛a̱̹̪̖͔ͨͦͮy͈̑̒̏́ ͪͨ̐̓̓u̼ͦ̈́ͤ̄p̗̤̥͍͍ͥ̑͂̍,̖̰͈͆͌̿ ̟̇̎̈́̐d̥a̱͕̯̓̅̊̀ͯ̾m̉̂ͤ̓n͖͊̏̂̈́̌͆ͮ ͇̝̹̻y̾̌̆̂̈̈o̺̎̀̊̂͊̇u̔̓ͧ͐ͤͨ͑!̯̮͍̼̂̇͐ͩ͊ͩ̏"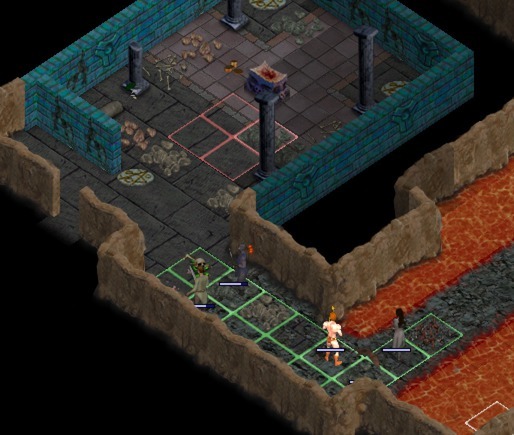 "Unbelievable. We're all still alive."

"Kind of? Kane's eaten a lot of healing spells."

"S'okay, I think I'm getting the hang of it. That giant flaming bats made of skulls and eyeballs aren't actually here, is they?"

"We-ell, more like they can't hurt you if you ignore them, so hey, close enough!"

"Before we celebrate too much, there
were
more monsters back there, right?"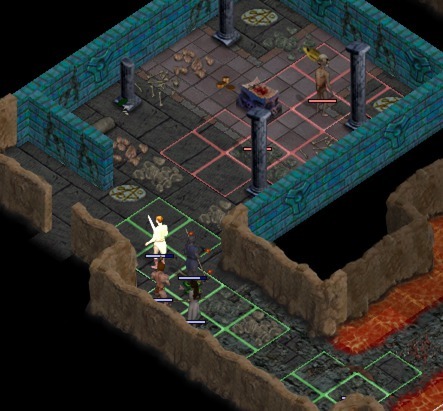 "Oh, yeah."

"At least those damned slimes are gone. Surely a few shambling corpses aren't much threat in comparison."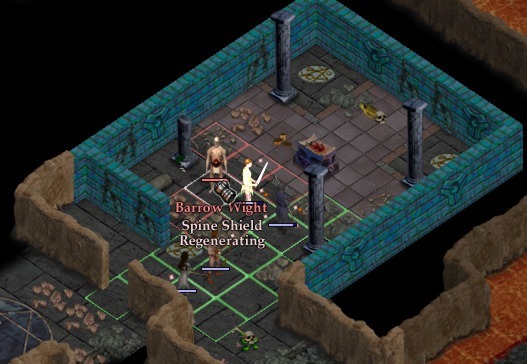 "Uh oh. Don't touch it!"

"Why no -- ow."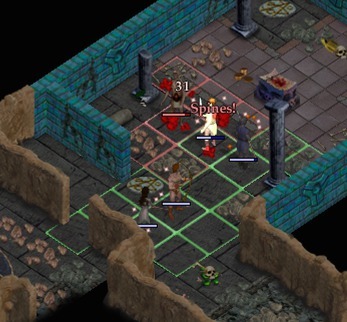 After taking damage, the Barrow Wight throws up a Spine Shield and Regeneration. Spine Shield reflects some of the damage taken in melee, which is totally inconsequential when you use it (because PCs usually die from magical damage...or by being massively underleveled, ahem), but is a total pain in the ass when enemies use it.

What's worse, he can re-start the Spine Shield/Regen combo when it runs out. This fight is about you indirectly smacking yourself in the face and hoping you can wear him down faster than he regenerates. His own offense is piddly in comparison to the damage you do to yourself. Alternatively, you can play in a marginally smarter fashion.

"Switch to ranged combat!"

"Already on it. Hold still, you stupid corpse!"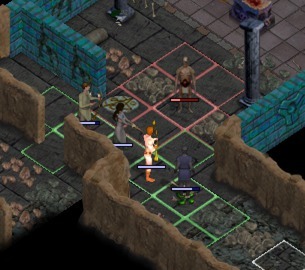 Flawless Shot takes away the Wight's movement options by ensaring it, allowing us to kite it around the room and wear it down with Kane's (totally unskilled) arrows, Byff's firebolts, Elly's Smites, and above all Wang's javelins, which are doubling the damage of the other options. Too bad he only has 6 of them left!

"Hey, Elly, why don't you stand in front of me for a bit?"

"Wait, what?!"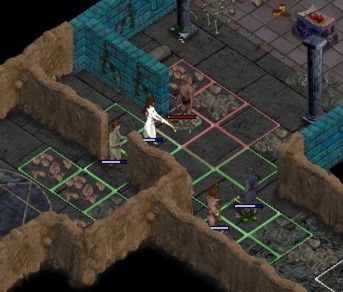 "Well, I can't shoot him when he's hitting me, but you can cast spells perfectly fine, right?"

"I object to this!"
It's true, you can't use ranged weapons when in melee range, but spells? No problem.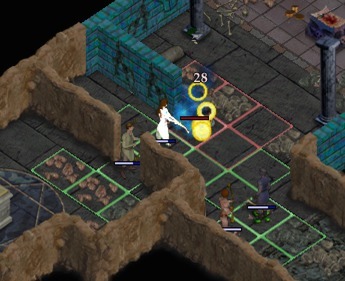 "But the Words are victorious against all failed beings!"

"Holy shit, we're
still
still alive."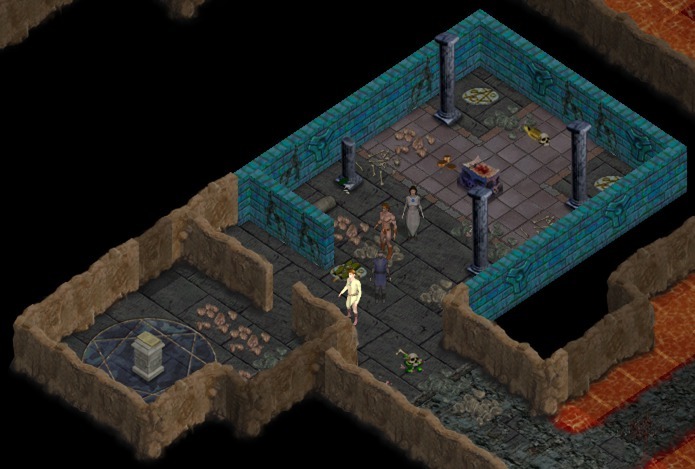 "Moreover, we appear to have run out of cavern. That's it! We've cleansed this place!"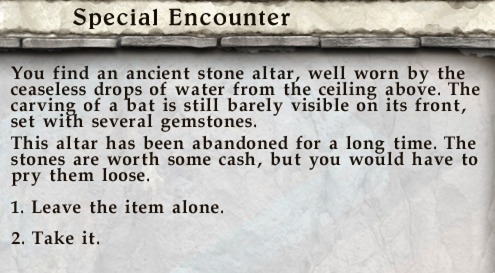 "Oh hey, free money! Yo--"

"Wait! Don't!"

"--ink."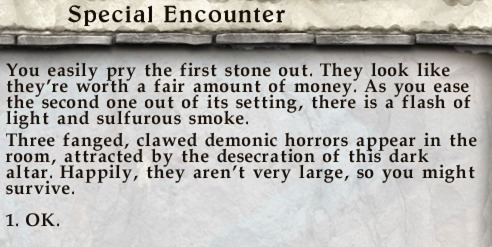 "Oh, now you've done it."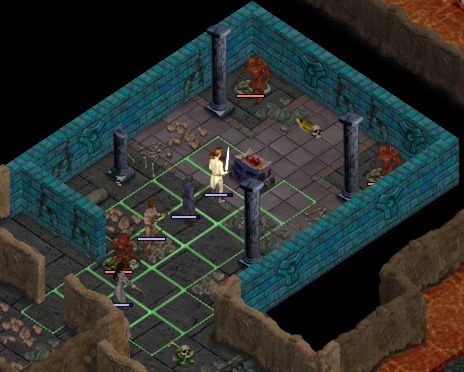 "Demons!"
Three Imps. Immune to Dazing, alas, but mysteriously vulnerable to fire. All they do (this time) is attack in melee, and they're not that durable, so we just tank the damage with everyone while we wear them down.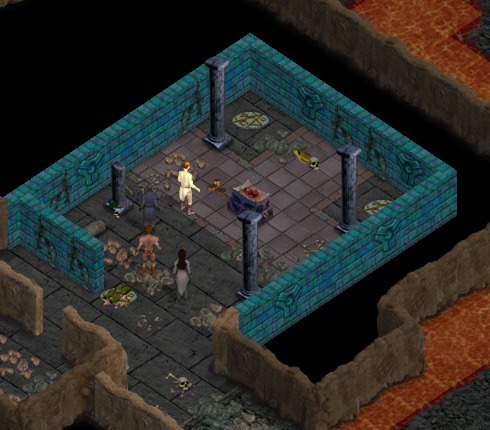 "That was...unexpectedly anticlimactic."

"Don't question it. We just killed some demons! Actual demons!"

"Only small ones though."

"Don't take this from me, Elly."
Our reward for desecrating the altar is 300 gold coins and a Wisdom Crystal:





Wisdom Crystals can be used for free experience. We'll save them for now.

Scattered around the site on the ground are some money, a dagger, and some fancy pants: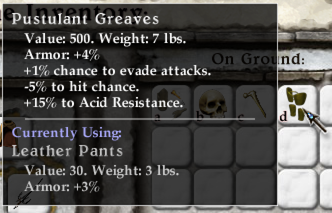 Kane, our primary recipient of enemy attention, gets these, and passes his old pants on to Byff. Now only Elly is pantsless.

Finally, there's a pedestal with a book on it: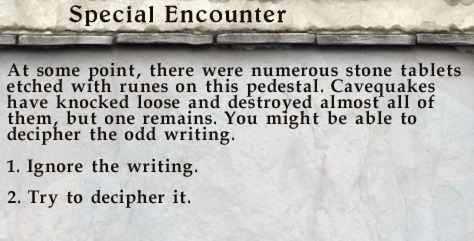 "An ancient book next to an evil altar? Nothing bad can possibly come of this!"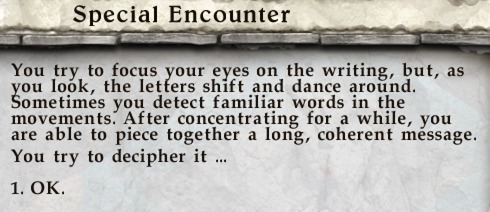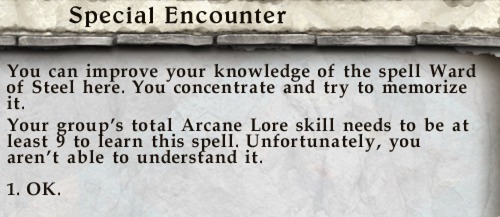 "Aww."
That's more than we can reasonably get by investing points in Arcane Lore right now. We'll have to return later. Ward of Steel is a "permanent" (until you return to town) buff like Cloak of Curses, that reduces physical damage taken. It's great. But even if we could learn it, Elly doesn't have enough ranks in Priest Spells to cast it yet.
Anyway, hooray! We just cleared a dungeon a decent bit before we were really supposed to! It took a fair bit of effort and a lot of bodies, but we got good experience and money from it. And the alternative would probably have been to forget about the dungeon until much later, at which point it wouldn't even have been a speedbump.

"Let's just head back to Fort Duvno and let Jason know we dealt with those highwaymen he was complaining about."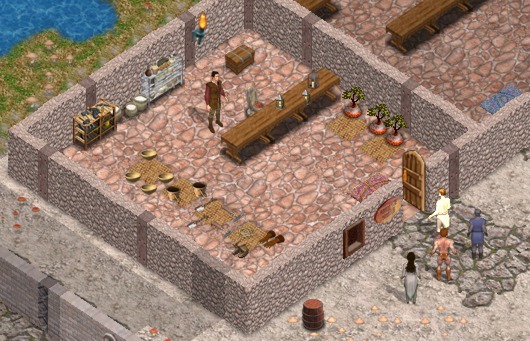 "Yo, Jason!"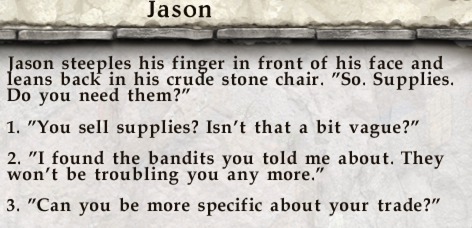 "We convinced those bandits to ply their trade in the afterlife."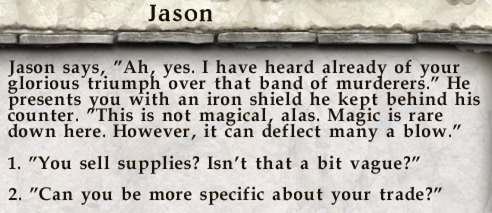 Just an Iron Shield, alas.

"Happy to help a businessman stay in business. You take care."
Finally, some administrative stuff. Everyone leveled up again and invests in their core competencies. Kane picks up the Backstab trait:





One-Eye gets better at ranged combat and picks up Nimble Fingers, a trait that just gives +1 Tool Use.

Byff continues to learn how to cast spells better, though he holds off on getting Arcane Lore, for Reasons. He picks up the Elemental Focus trait for 3% more elemental spell damage (this trait can be stacked multiple times, which makes it less worthless).

And Elly of course trains in Priest Spells, starts training Spellcraft, and also gets Nimble Fingers. More Tool Use eventually stops being handy, but we don't have access to the really good traits yet.

Next, some maps. Here's Fort Duvno: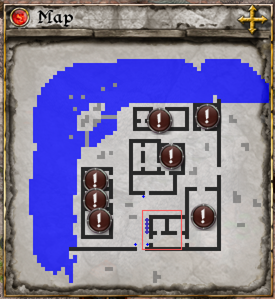 Captain Johnson is in the barracks in the middle; the inn with the bitchy innkeeper is in the southeast, Carol of the Hamer Clan is in the northeast with the smithy next to her, and the sage, fletcher, and thief are in the southwest.

Here's the Batcave: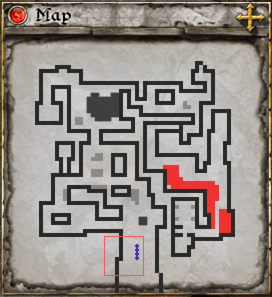 Here's what we've seen of the overworld so far: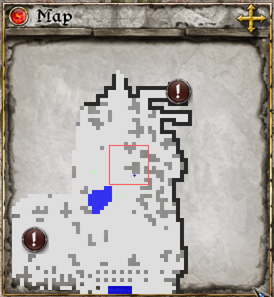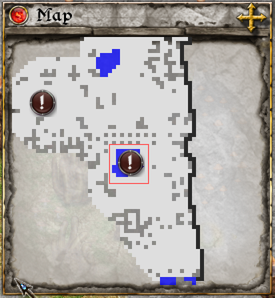 The map scrolls continuously as you move around, making it difficult to stitch together. I'm not going to try to do a massive map compilation like berryjon did for his LP. But you can see Fort Duvno, the Bandit Fort to its northwest, and the Batcave way in the northeast, with the bandit cache in that nook just south of it. Fort Avernum is in the southeast corner; it doesn't get a ! for some reason. Then again, there's little reason to return to it after you leave.

"Next time, can we do something that doesn't get half of us horribly killed, twice?"

"Is that like getting all of us horribly killed once?"