Part 28: Crypt of Drath, Part 1

"We'd better prepare for the Scree Caves. Let's find an unused bedroom and get some sleep, okay? Tomorrow's going to be a busy day."
...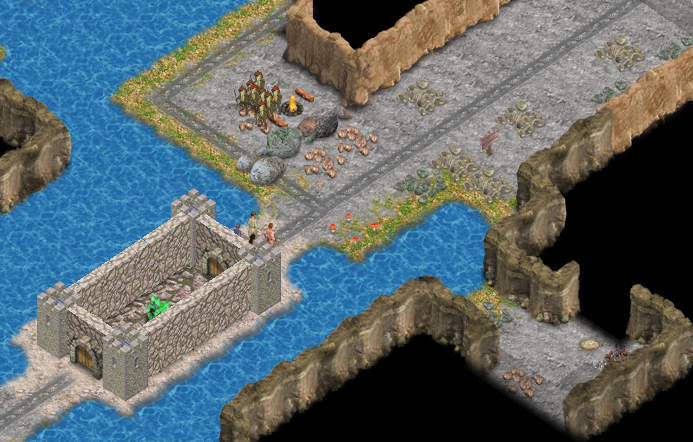 "Okay, let's get this over with. In, out, done. Right?"

"Here's hoping, buddy."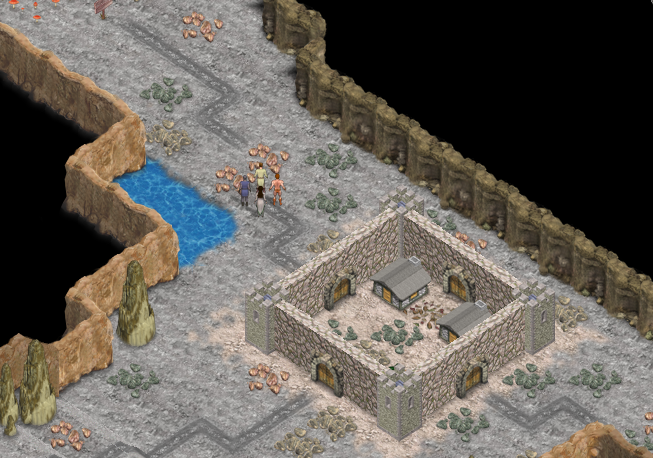 "Good thing we won't have to worry about being attacked from behind, right?"

"As long as those drakes don't escape from the second floor of the fort, no."

"Oh dear. I hadn't thought of that."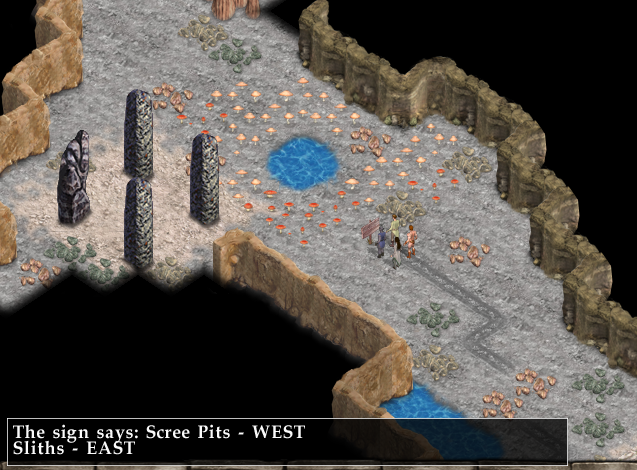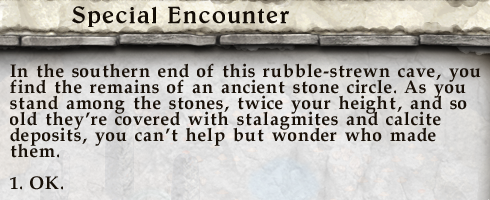 "These caves have been inhabited before, there's no question of that. But what were they like? And why is there almost no trace of them?"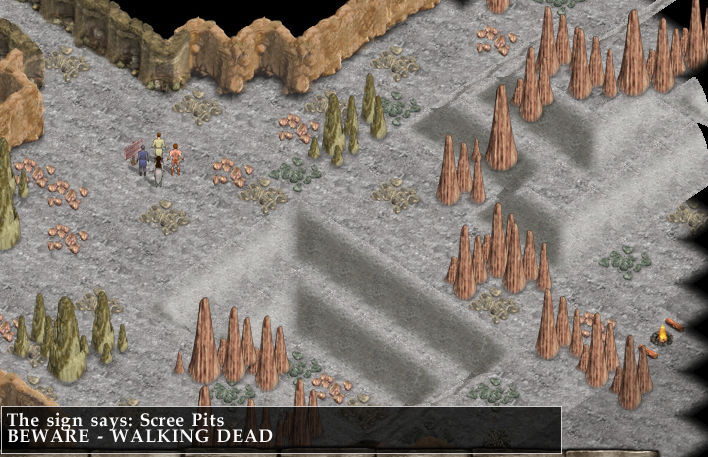 "Look on the bright side!"

"Uh oh."

"They could be flying dead! Like, skeletal birdies swooping around and trying to eat your eyeballs!"

"And now I'm going to have nightmares, thanks."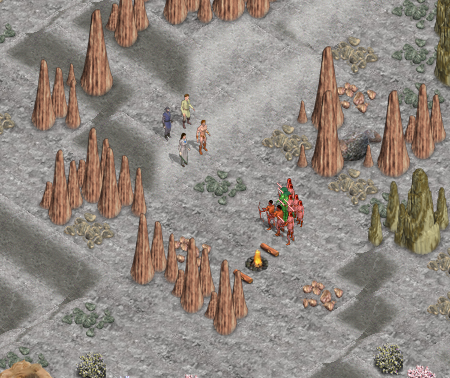 "Strange, they don't
look
dead..."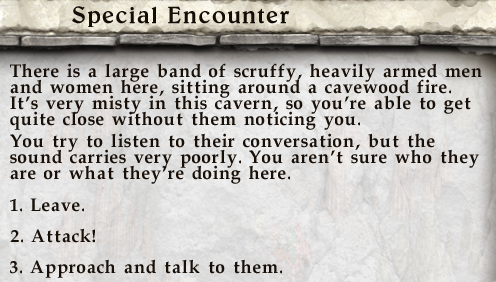 "They might be soldiers keeping watch. Hello the campfire!"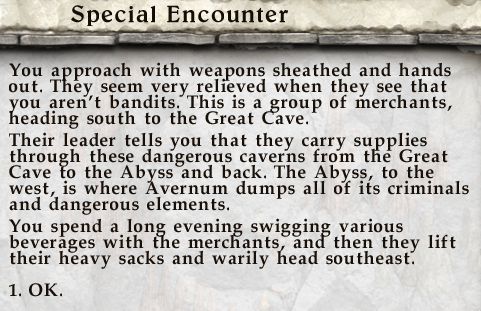 "What. Merchants?"

"This doesn't seem the wisest of trade routes, no."
If you attack them, you're given the chance to realize they're friendly and call off the attack, but you can't have the friendly conversation. Calling it off just causes the encounter to disappear. Attacking anyway faces you off against a nasty force of soldiers, sharpshooters, and two mages. The sharpshooters alone are enough to kill Kane and cripple One-Eye before we even get a turn. So yeah, let's not do that.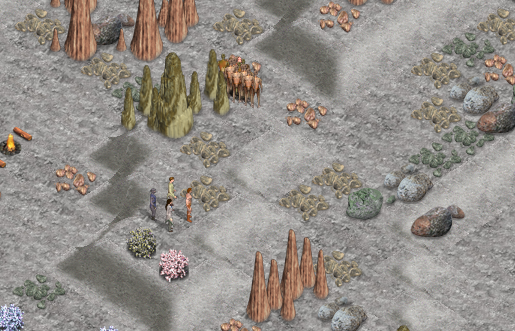 "Heads up, spotted a pack of undead."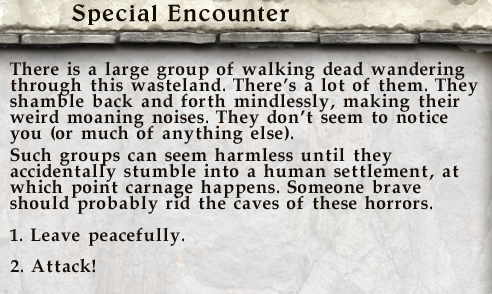 "Guess we'd better kill them now. Wouldn't want them hounding us on our way out, right?"
This presents a problem.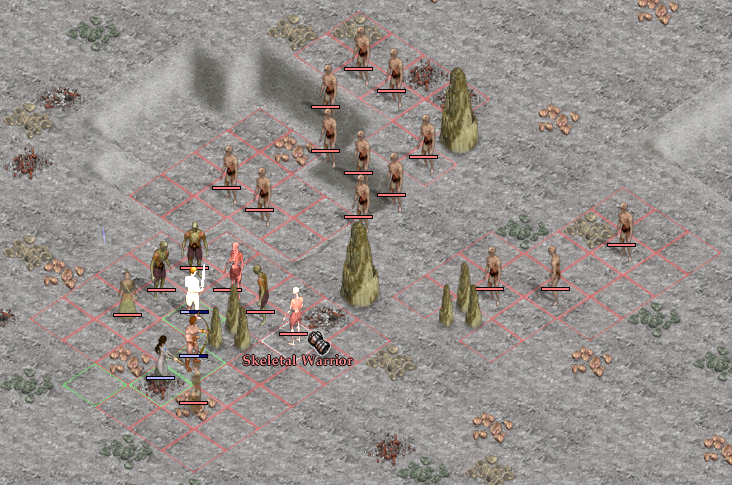 To wit, Skeletal Warriors, Revenants, and Ghosts all move before the party does, and the former two have melee attacks that are highly likely to cleave. And the party starts every encounter bunched up. Hence, One-Eye bites it even though every enemy attacked Kane. That's no good.

(The rest of the enemy group is just Wights, who at least have the decency to have low initiative)

Attempt #2 goes if anything even worse; Kane gets stunned, mostly-killed, and then knocked out of the way so a ghost can spray lightning over the rest of the party, crippling One-Eye and killing Byff. Attempt #3 sees both Kane and One-Eye dying to basic melee attacks. Attempt #4 gets the entire party doused in lightning and mostly killed, except for One-Eye who's entirely killed. That boy's durability needs some work.



Attempt #5 actually sees everyone survive the first round!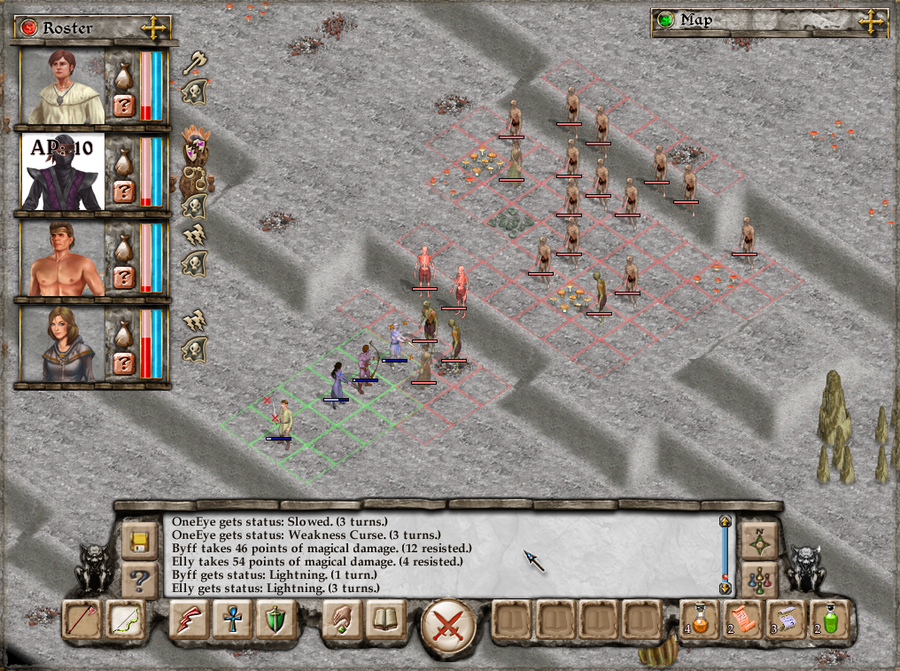 I mean, barely, but they're all alive! One-Eye doesn't accomplish a lot. Byff throws down three Lightning Sprays and does heavy damage to two Revenants and a Skeletal Warrior. Elly heals everyone up, throws up Protection, and adds Ward of Steel -- since One-Eye's now on the forefront of battle and needs all the help he can get. And our turn ends...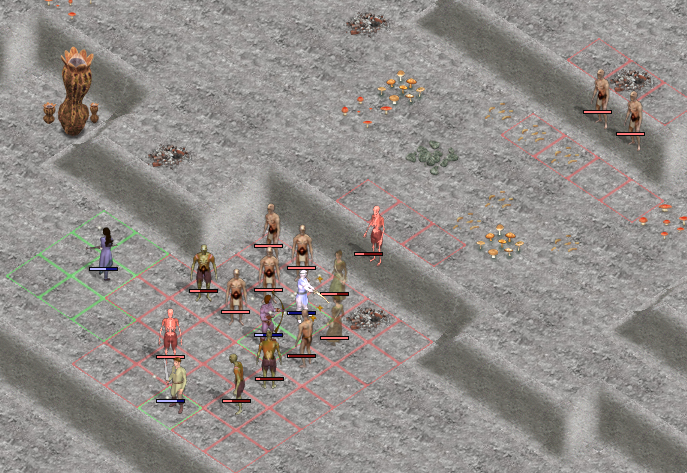 ...and miraculously, we survive the second round too! One-Eye has excellent evasion, between his Dexterity and high Gymnastics skill, so he avoided several melee hits. Unfortunately, he's too dumb* to use his turn to heal the Lightning debuff that Byff was under, so Byff dies when his turn rolls around. Dammit, One-Eye.

* I stand by my ridiculous claim.

Turn three, the ghosts kill One-Eye -- their attacks are ridiculously powerful and disturbingly accurate. Kane finally recovers from being stunned in round 1, and uses a few attack scrolls to damage everything a little. But it's too little, too late; he dies to the ghosts and Elly isn't far behind.

The problem with these outdoor encounters is that there's no way to constrain enemy movement or line-of-sight. In dungeons, we can fight enemies a few at a time, get them jammed up on terrain and hide around corners. But here we're out in the open and have to bear the brunt of their attacks without any way to hide. In short, it takes a lot of luck to win these fights.

Good thing we get lucky a few attempts later.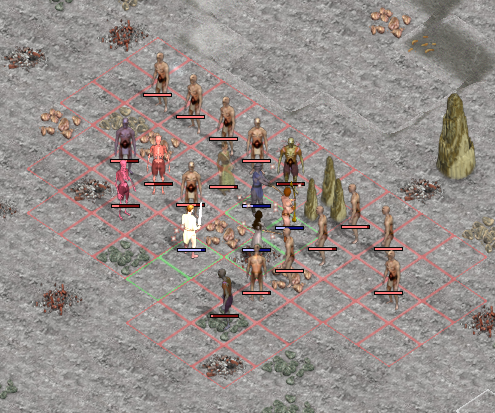 We ran back to town to throw up Elly's Ward of Steel prayer, then Kane started the fight next to a stalagmite, which prevented the enemy from surrounding him (in this screenshot he got knocked back; he was standing just north of One-Eye). He used one of our precious Burst of Speed scrolls for Battle Frenzy on the party, then he and One-Eye spent their turns undoing the debuffs that everyone had been put under (immobility, lightning, slowness, etc.). Byff and Elly healed the actual damage and managed to kill one of the Ghosts.

That still leaves one alive, plus of course all the others. But this is a target-rich environment...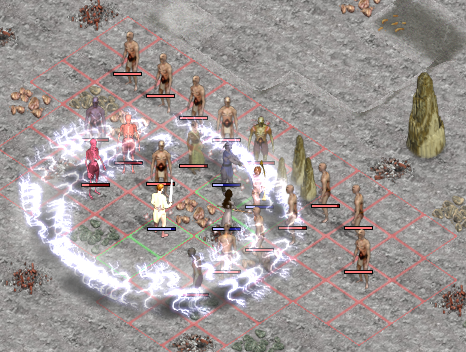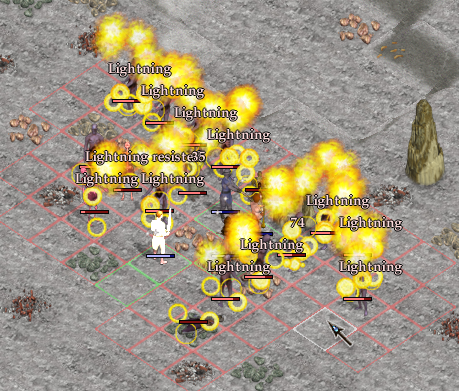 That'll do, Kane. That'll do. Well, that and unloading his old Wand of the Inferno, plus One-Eye dropping some acid damage and Byff casting two Lightning Sprays. That kills everything except for some Wights, though.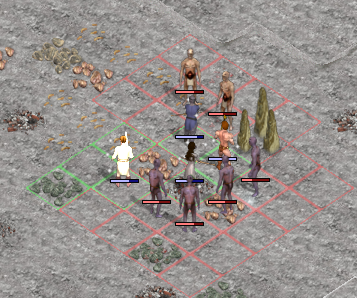 "This is insane! If the guards
inside
are anything like this, we're doomed!"

"And yet we're winning."

"I stand by my point. We don't
deserve
to be winning."

"What we do deserve, though, is some kind of reward."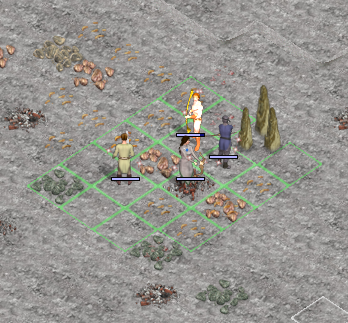 "This place sucks."
Here's all the buffs the party had active: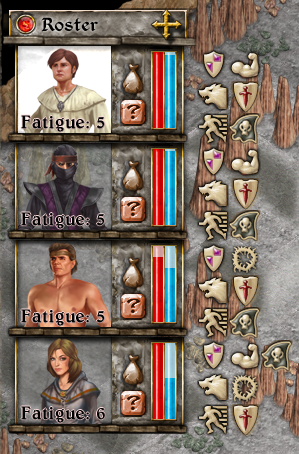 Checking Elly's set, we have Shield Chant (for better damage reduction and evasion), War Chant (better accuracy and damage), Haste (chance for actions to use fewer AP than usual), Battly Frenzy (bonus AP), Spine Shield (melee attackers take damage), Ward of Steel (take less physical/acid damage), and Cloak of the Arcane (spells do more damage). Basically all of those, except Spine Shield, were vital for winning this fight. Along with a lot of luck.

And now we go right back to Fort Emerald to heal and restore MP.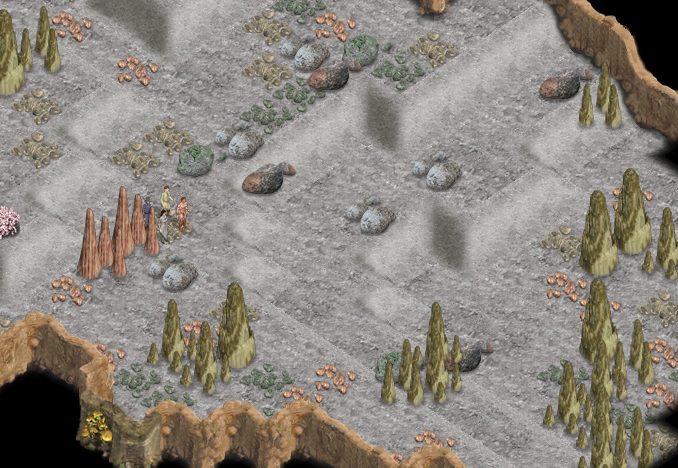 "It's hard to imagine anyone mining from this place."

"Oh, you know. It probably used to be perfectly safe! Then they exposed some ancient tomb of horrors and the next thing you know peoples' brains are getting eaten. Happens all the time, really."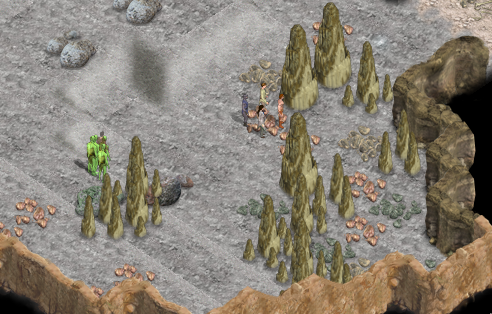 "Uh, heads up guys, we're being followed."
Normal random encounters chase you down, unlike the group we fought earlier which really was just wandering around at random.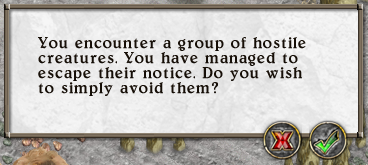 "Quickly, into these stalagmites!"
Hooray for a decent investment in Cave Lore.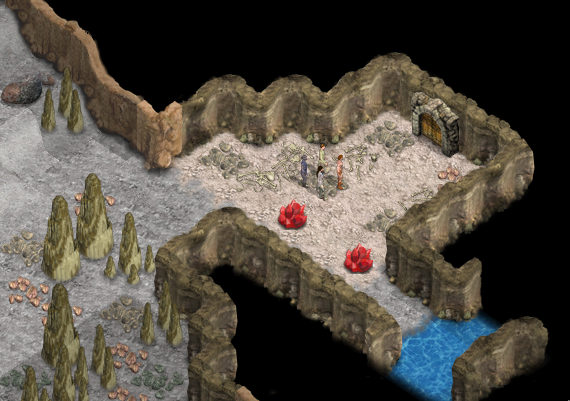 "If I were a betting man, I'd say this is our tomb."

"I
am
a betting man, and I wish you'd find a better way to phrase that."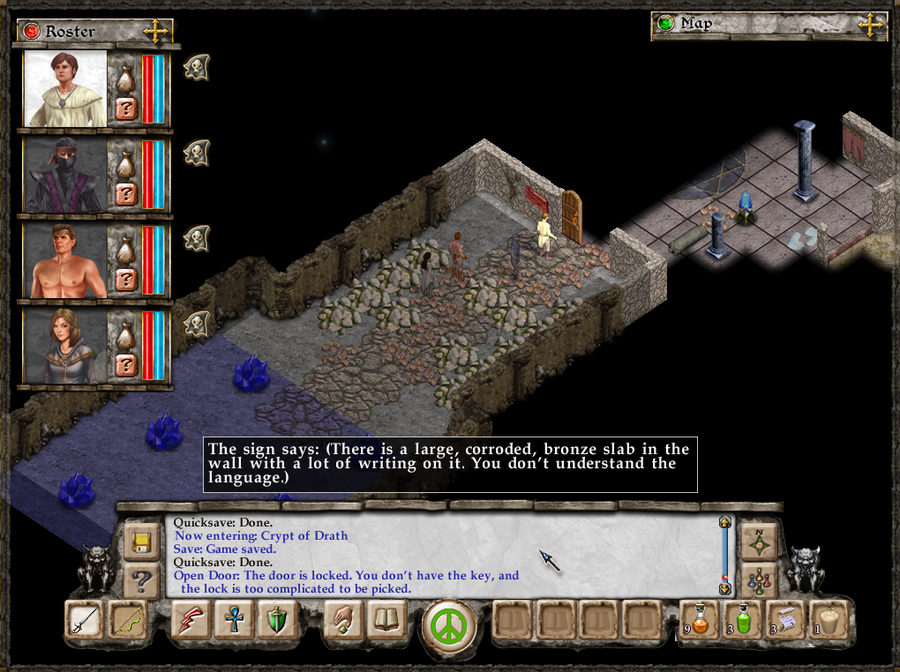 "Byff, any idea about this sign?"

"Not a clue. But if I had to hazard a guess, it's probably something like "This is the tomb of Lord Better-Than-You. Desecrators will have their faces extruded through a cheese grater." Or something like that."

"Sounds plausible."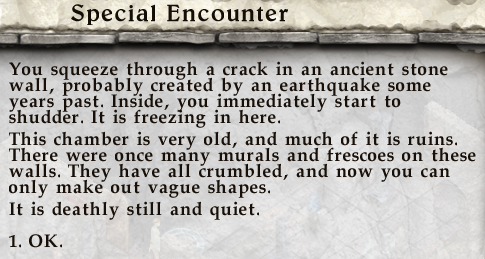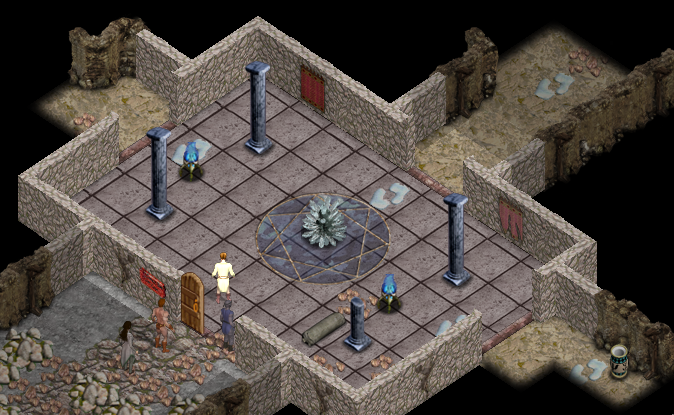 "Guess we pick a direction at random. Why don't these ancient forgotten dungeons ever have maps at their entrances anyway?"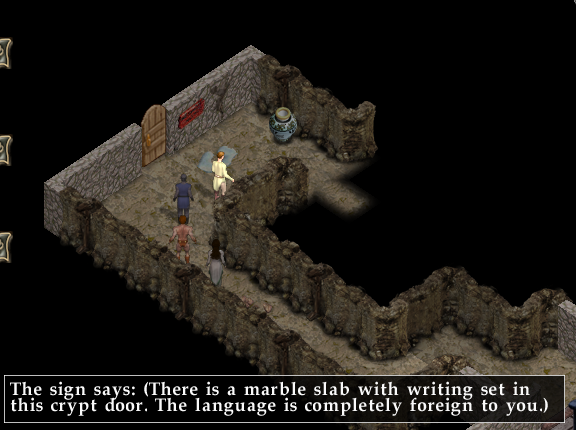 "More cheese graters, Byff?"

"I guess? Maybe if I had a few dozen of these plaques I could start trying to translate them."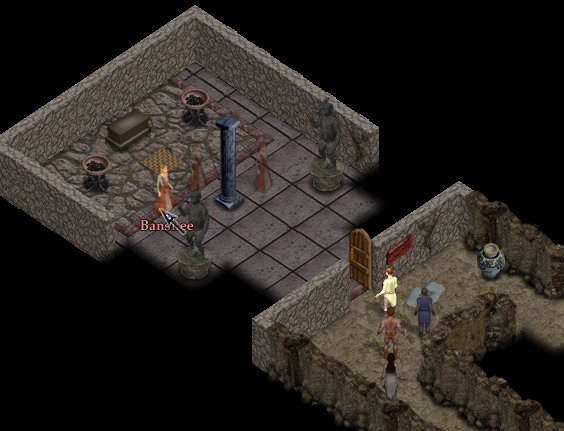 "Oh look, it's inhabited."
Three Banshees, which appear to be up-statted Ghosts. Remember what Ghosts did in the last fight? These waste no time in killing Kane as soon as we start battle. So let's try that again only with the initiative, by starting combat
before
we open the door. This works great -- we kill one Banshee in our first turn, which probably means they can't kill us anymore. Then one of the others uses their special ability -- a wide-radius Fear spell.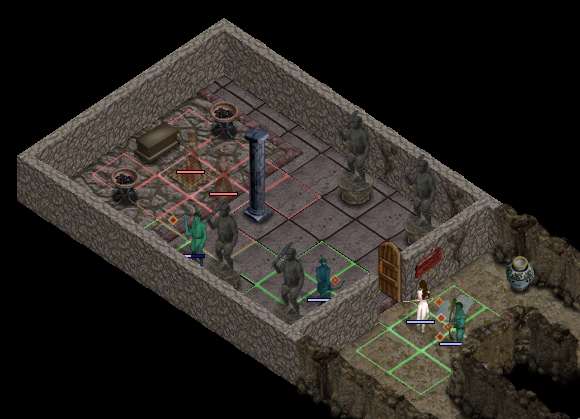 "Hey, boys. Boys! Snap out of it!"
Elly can cure one character's mental ailments each turn...if she doesn't cure their physical damage. And Kane needs to be fully-healed to survive each round, as I discover much too late.



Take three is more successful, though it still involves a lot of healing. Frankly, take two would have worked, if only all three male party members hadn't flubbed their mental resistance rolls.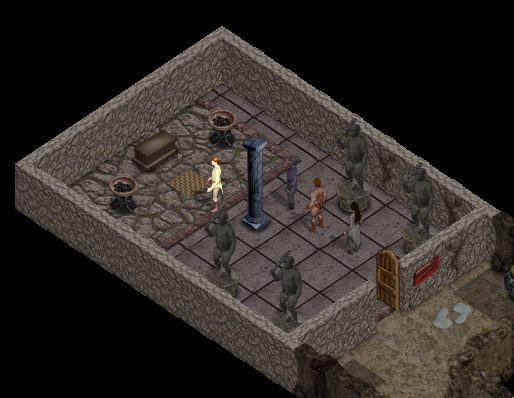 "Okay, new rule: no more fighting ghosts three at a time."

"Oh, you're no fun."

"I don't see you volunteering to stand on the front lines!"

"Ahem."

"Okay, closer to the front lines!"

"Aww, this sacrophagus just has gold in it!"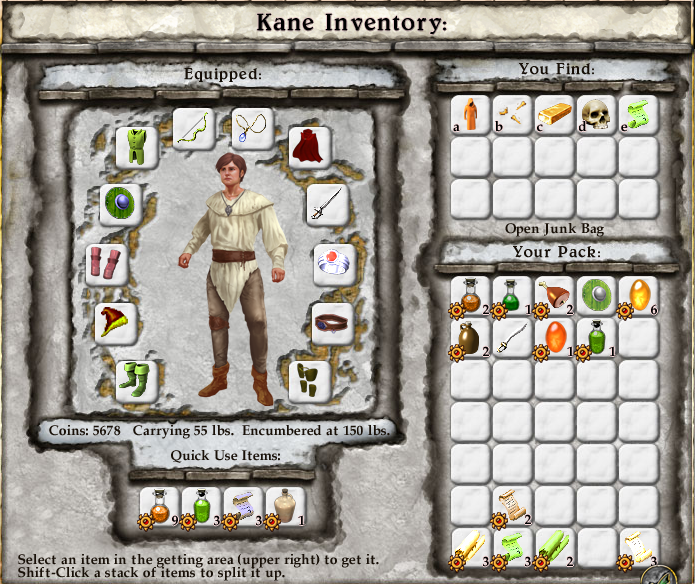 A Fine Robe, Gold Bar, and a scroll of Spineshield. Not the greatest reward ever.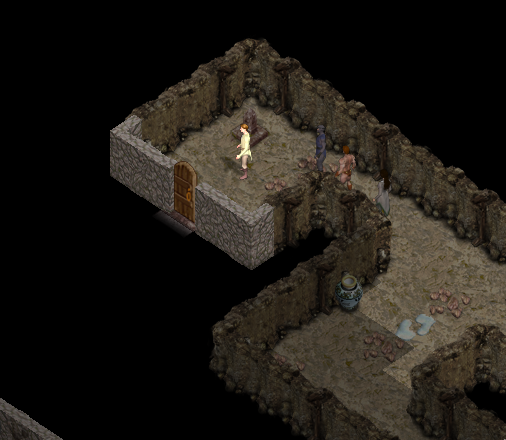 "Not more crypts!"

"I have some bad news for you, One-Eye: this entire place is likely to be full of crypts."


This one has three Vengeful Shades in it. They have stupidly powerful melee and a Cone of Cold-type attack ability. They're also very hard to hit. Fortunately, once we kill one, the other two can only
almost
kill Kane each turn.

"I'm starting to have serious reservations about my role in this group..."

"Well you're not taking over my job! I like my face where it is, thanks!"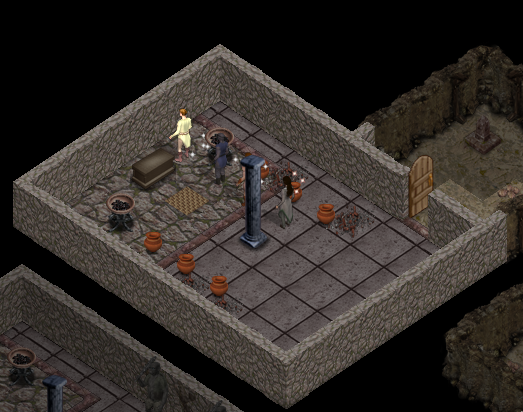 "Ahh, it's all right. I can't make heads or tails of how to use a bow anyway."
Our reward this time is some coins and some Fine Razordisks.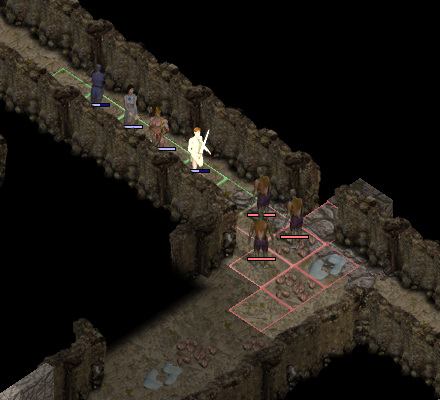 "Oh good, some of them have the initiative to come to us rather than waiting in their crypt for someone to knock."

"This is a
good
thing?"

"Sure! Means when we find their crypt it won't be guarded!"
A pack of three Revenants; no big deal since they can't swarm us.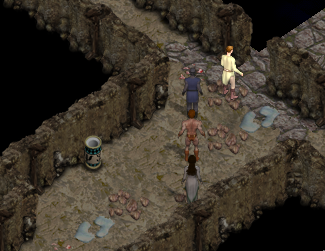 "My big problem with these packs of ravenous, flesh-thirsting horrors is that they aren't carrying any money."

"What would they do with money?"

"I dunno, corner the market on brains?"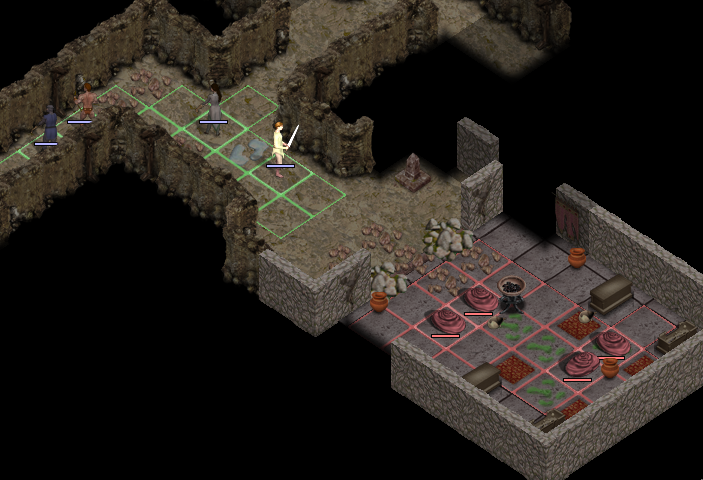 "Hey look! Undead shoggoths!"

"I think those are just ordinary slimes, Elly."

"Then why do they have a crypt to themselves? Gotta be undead; it's simple logic."
Four Draining Slimes, and they are jerks. They have a large-radius AOE attack that ensnares, poisons, and does heavy enough damage that they can two-shot One-Eye. We pull a tactic we last used in the Slith Temple and lure them out in as small of numbers as possible.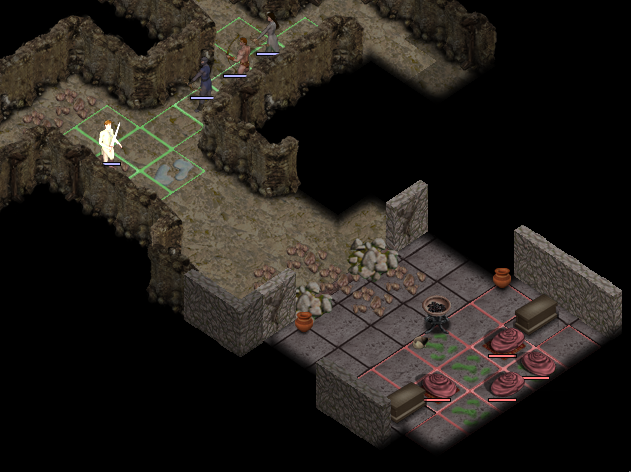 "Hey! Hey, slimes! You bunch of spineless wimps!"

"That one's got a spine? See? I think it must've eaten a skeleton."

"Not the point, Byff! Hey slimes! Get your lack-of-asses over here!"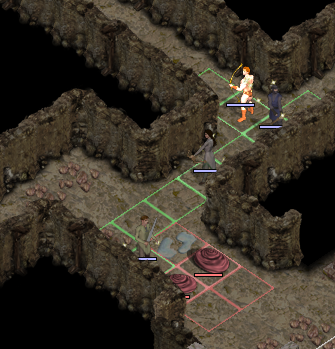 "Nice job, Kane!"

"This is a
weird
job sometimes."
Anyway, the slimes aren't horribly durable, so again, once we can avoid just getting wiped on the first enemy turn, this is pretty doable.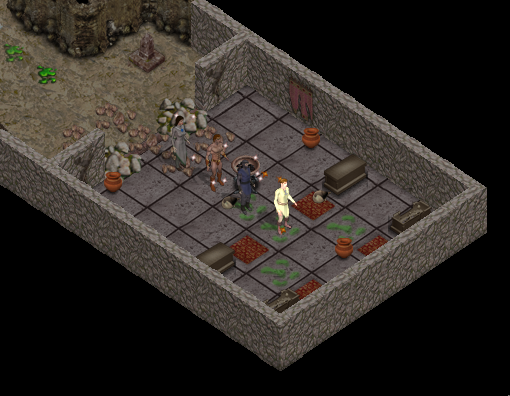 "Lemme guess, they ate everything of value already."

"Bizarrely, no. Look at this!"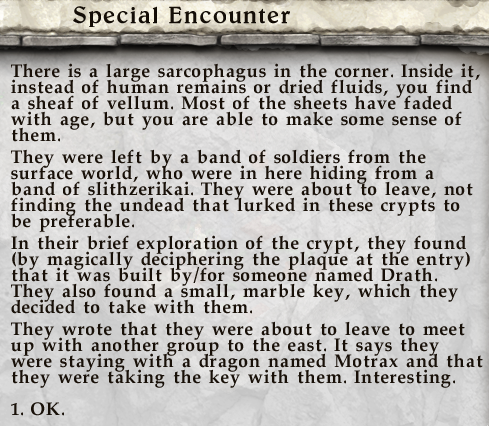 "Oh, these first-hand documents are wonderful archaeological artifacts. I'm keeping these babies."

"More importantly, we already have that key, don't we?"

"Yep, got it here, in the same sack as the mushroom meal and iron bars."

"Then let's go pay Mr. Drath a visit, shall we?"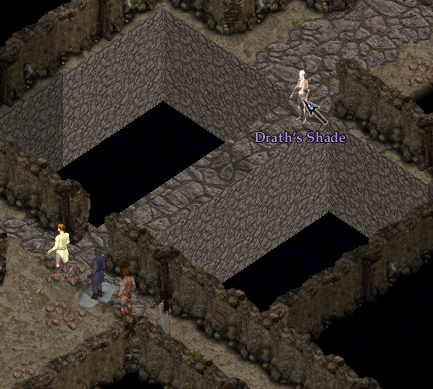 "Found 'im."

"Well. That was quick."

"Oh, don't be silly! This is only his, uh, ghost? Can liches
have
ghosts?"

"Don't look at me! You guys won't let me study undead up close, and I never had a chance, back topside."

"'Scuse me, Mr. Drath sir! Kindly hand over your fragment of Demonslayer! Or we'll take it by force!"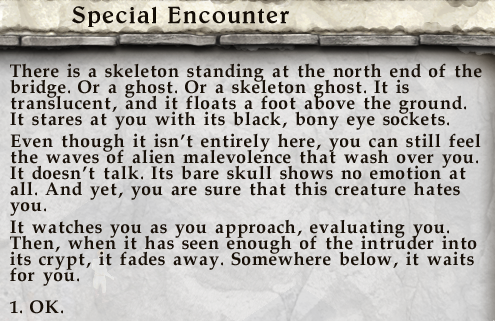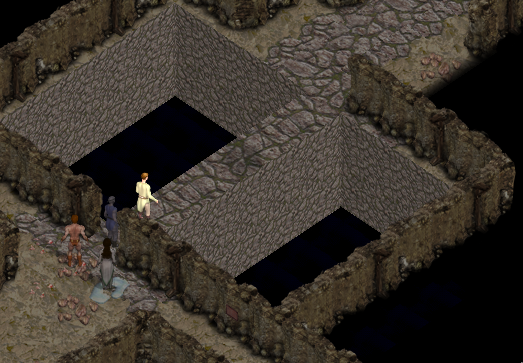 "Guess it's the force option then!"

"To be honest I really didn't expect otherwise."

"Hey, before we cross this narrow bridge over a vast, all-consuming chasm, how about we check the remainder of the foyer crypts?"

"Wouldn't want to miss something and get stabbed in the back, eh?"

"I was more hoping to find some priceless archaeological relics, but that too I guess."

"These priceless relics...does anyone actually
buy
them?"

"What? No! They're priceless!"

"That's what I figured. Phooey."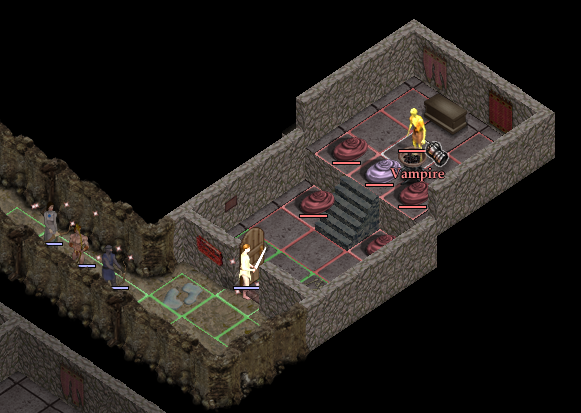 "Ooh, toothy!"
In addition to the Vampire, we have four more Draining Slimes, and a "Writhing Mass" in the middle. I don't know what it does -- it frightened me so much that I had Kane and One-Eye spend six attacks on it, and then Byff dropped a bunch of Lightning Sprays on the entire enemy group, and it died...along with everything else.

Well. That's one way to deal with encounters. Kind of expensive MP-wise, but conveniently, everyone leveled up from the fight, restoring their HP and MP!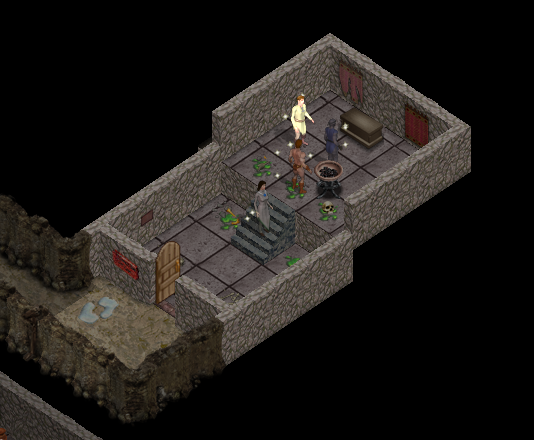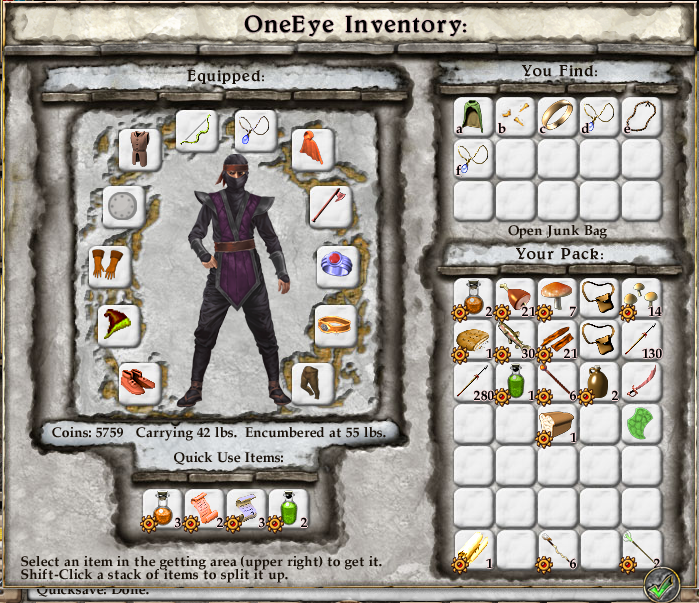 "Oooh, come to poppa.
These
relics aren't priceless!"
Sadly, all the jewelry is nonfunctional; it's just two Silver Necklaces, a Gold Ring, and a Gold Necklace. It's all worth a decent chunk of cash though.

"Hey, what's this button do?"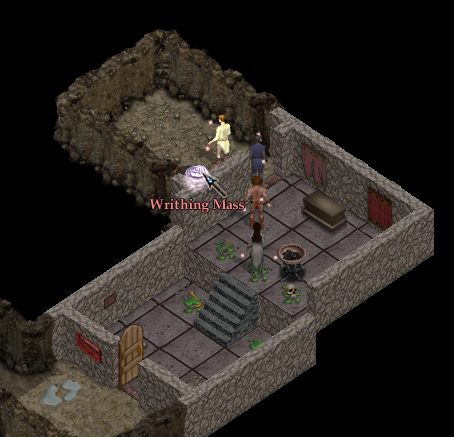 Whelp. It turns out that Writhing Masses are up-statted Draining Slimes. Hooray. Good thing this one's on its own. There's also an Energy Elixir (restores MP) lying on the ground in here.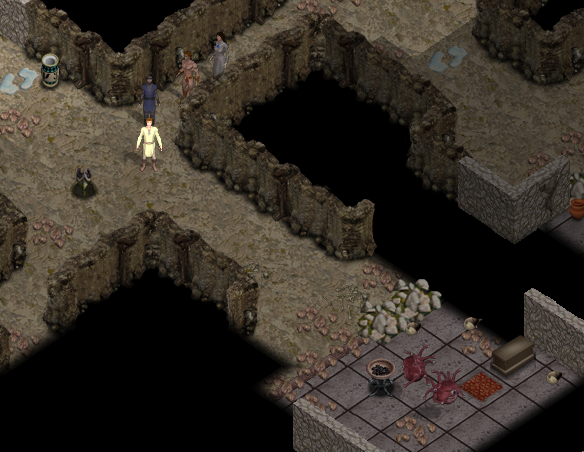 "Oh crap! Gazers!"
One of these guys was bad news. Two? That's serious trouble, especially with their near-immunity to magic. Byff and Elly can't blitz them down. And of course, they love to spam Daze, give themselves Battle Frenzy, and use a single-target spell that does heavy energy damage and puts the Lightning debuff on its target. It's only a matter of time before they get around to focusing on Kane and kill him in one round.

"Hang on! I just realized! They forgot to wear their safety goggles!"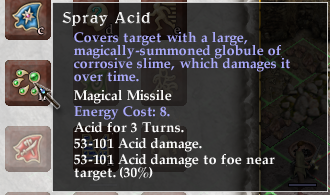 "Burn! Burn! I mean, it's a chemical burn, but BURN!"
Turns out Gazers have a hole in their resistances. It's appropriate, in hindsight: the game tends to bundle acid/poison resistance in with physical resistance, and Gazers have fairly poor physical defenses. With Byff's added offense, we're able to blitz down one of the Gazers, after which the other is considerably more tractable. It's still not remotely an easy fight though, and repeatedly casting Spray Acid is expensive and inefficient.

Then, right at the end of the fight, I accidentally have Byff cast Icy Rain instead of Spray Acid and it turns out that Gazers are highly vulnerable to cold.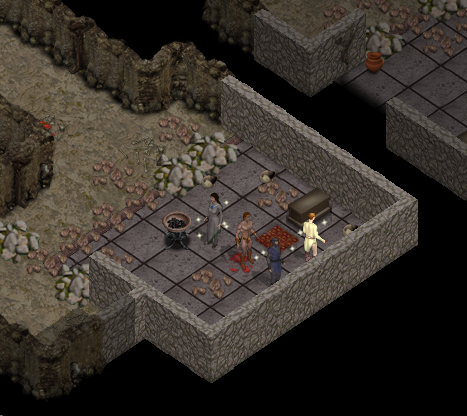 "I want to file a complaint. Those weren't undead at all!"

"Also they nearly killed us."

"Yeah, yeah. Whoever designated this place a crypt is guilty of false advertising!"

"Let me know if you figure out who to complain to, because I've a bone to pick with them too."



"..."

"Geddit? A bone?"


"No."

"Sorry, Kane."

"Aww."

Insult to injury, the sarcophagus only has an emerald and a robe in it.

"Well, back to the chasm I guess."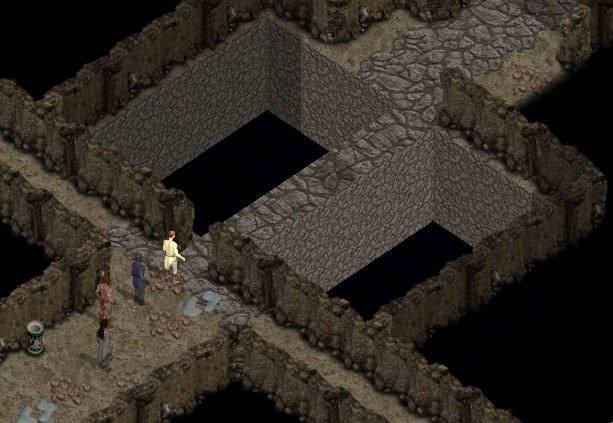 "You guys know this is a trap, right?"

"Really? Where's the trigger mechanism?"

"What? I don't know. But it's a tiny-ass bridge over a gaping chasm, and we just saw the dude in charge glaring at us from across it. He's obviously going to drop it out from under us if we go across."

"That would be the sensible course of action, I agree."

"Do you have a better idea then? Or is this another attempt to convince us to run away to Fort Remote?"

"As a matter of fact..."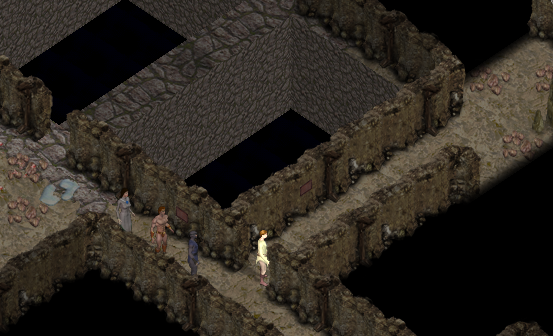 "It's like you guys can't even see these buttons."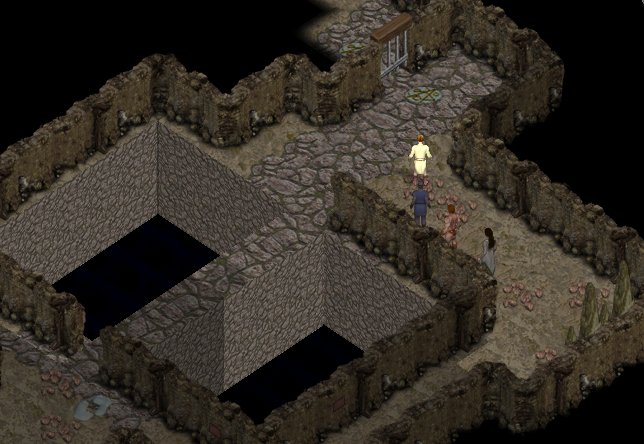 "I'd hate to have come all the way out here only to discover we had to walk back to the Formello caves."

"See? This is our just reward for being thorough explorers!"

"You mean for getting lost all the damn time?"

"I like my phrasing better."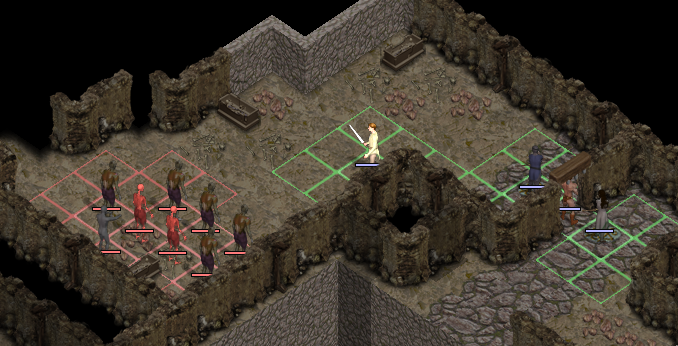 "Aww, they put out a welcoming party!"
Five Revenants, two Skeletal Warriors, and a Vengeful Shade.

Fortunately, we can buff up beforehand, and then lure them back to the gate: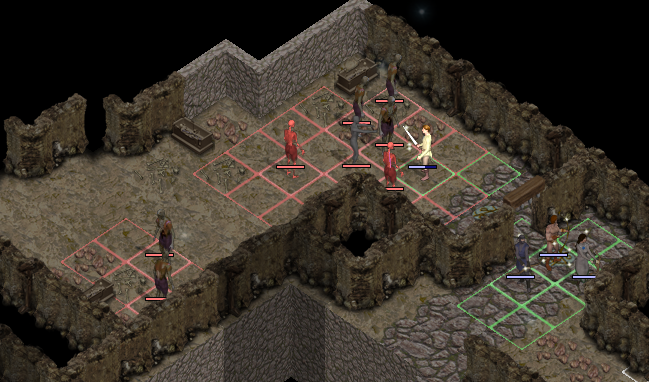 "Ha! You hit like my grandmother!"

"Then your grandmother was a powerful woman!"

"No, she just died from falling off a cliff. Hit the ground rather hard; it made a real mess."


"Look, I'm just gonna zap these guys and try to forget you just said that."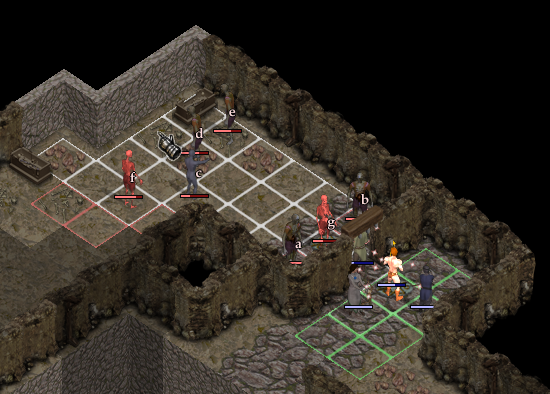 Lightning Spray is a godsend down here. Hitting 5 targets for heavy damage is great, and it doesn't even cost much MP: 10, same as Icy Rain and only 2 more than Spray Acid.

"Sorry, what was that? One of these guys hit me on the head really hard. I feel kind of dizzy."

"Oh dear. C'mon, Kane, H̺̞̖̠̞͚ͦ̽̑̽͌e͎͓͖̗̔̊̊ͮ̓a̰͙͉̙̲̠ͩ̀̊ͪͅḏ̣͓͈̬̏̂ ̭̪̜̺̲̠̄ͤͅt̠̼̼̺̤̯ͧ͌̑ͯ̀ͯͅͅȓ̜̬̯̦̱̮̆̊ͨͬ͂̊ͧ̐a̙̞̣̟͚̣̖̝̻ͩͤ͒͆ͨ͛u͇̦͍̯̬̰̯̙̿́ͥṃ̫̰̅͗ͨ͊̈̅ͦa̺͙̯̰̼͖̪͕̱͐̀̈́̏̊͒ b̠͍̘̼͋̇ͭͨ̍̓ͨ̿e̖̳͔̥̼͋͑ ͎̖̣͇͓̎̈́͒̂ͬg̫̹̞̯͔͚ͨ̈́̽͛͑̋o̮͈̼͇̠͖̠ͬ͐̌̐̈́̇͑n̹͔̩͖̪͍̄̅ͮẽ͍̳̙̩̙̰̻̄͂!̬̮̖͉̭̼͂"

*blinks* "Thank you, Elly, for replacing physical damage with psychological damage."

"Any time!"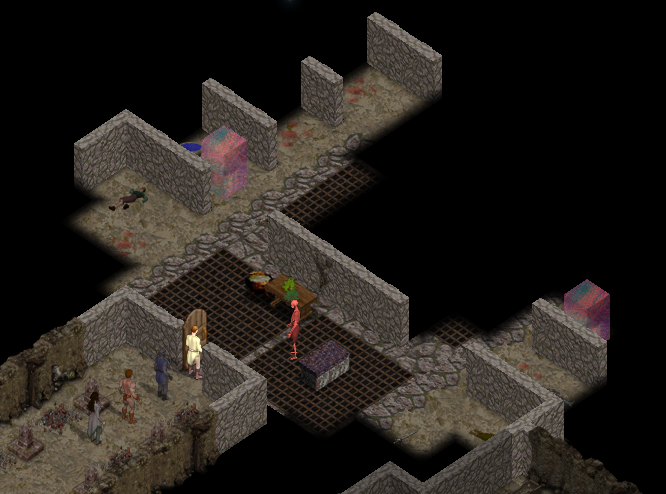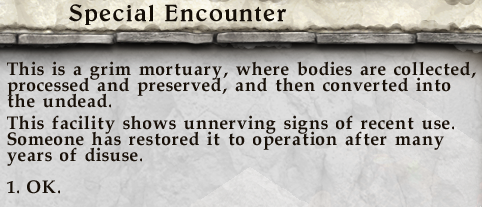 "Now see,
this
is what I could accomplish if you'd let me study the undead!"

"Not really advancing your cause any here, Byff."

"Er, and if I were completely lacking in morals. Of course."

"Right, mental note: keep Linda the hell away from here."
I'm starting to think that I should work on One-Eye's physical defenses. This Skeletal Warrior hit Kane for 23 damage, then cleaved and hit One-Eye for 76. Ouch. Anyway, the Skeletal Warriers aren't the biggest problem in this area.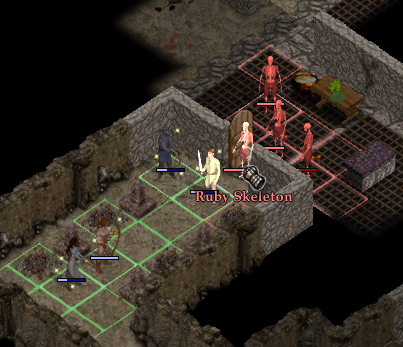 These assholes are. Ruby Skeletons have a Radiate Fire ability -- it deals significant fire damage in a huge radius around them. There's two of them hiding in the corners of the lab. Fortunately for us, one of them has the decency to stay put until we've dealt with his friends.

In the original game, Ruby Skeletons instead could fire a heat ray, which was a somewhat weak single-target fire attack -- but it only cost 1 AP to use, so they could fire it four times per turn. And the game loved to make you face multiples of them at the same time. Still, I think this version is more lethal. At least they still drop rubies!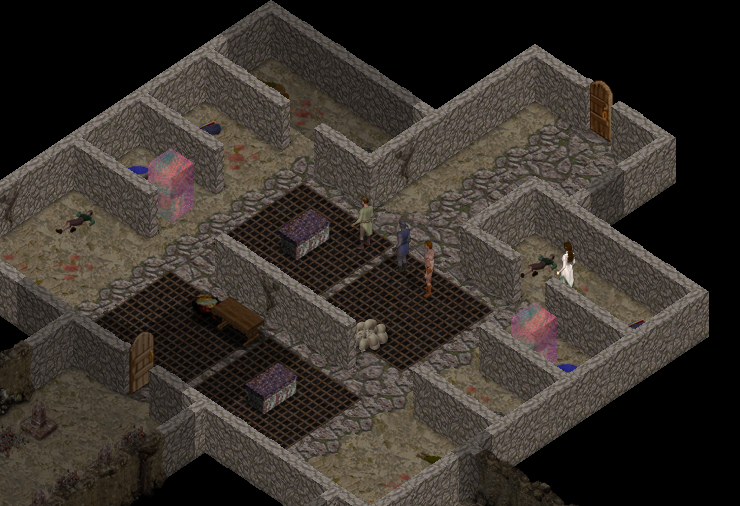 "Well, this place is grim."

"Hey, but if we destroy it I bet Drath won't be able to make any more minions!"

"Wonderful. Do you know any spells to destroy large blocks of rock?"

"Uhh...no."

"Then do you have any pick-axes in that pack of yours?"

"Sorry, dropped the last of 'em off in Silvar ages ago."

"Then maybe we'd better push on and destroy Drath instead. I doubt he's as sturdy as his furniture is."
The bodies lying around are pre-looted, the bastards.


As for the barriers, the one on the left guards a fountain that gives everyone a decent chunk of experience! The one on the right guards a fountain that, when activated, summons a Divine Shade two Spectres, who will do this to you: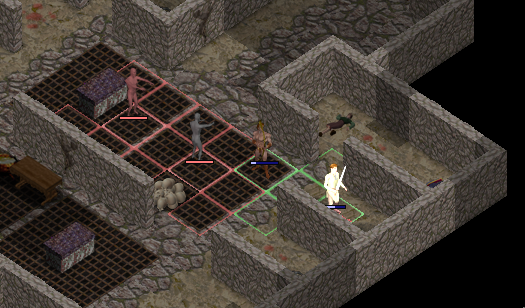 "Wait, what? What just happened? Where's Elly and One-Eye?"
This fight is actually winnable, if we have Byff cast Haste over and over again until he gets the party-wide Battle Frenzy effect and then spend everyone's Adrenaline Rushes on blitzing down the Divine Shade, who has a ridiculously strong AoE attack but can't
quite
survive being hit 12 times. And then get lucky enough against the Spectres that they don't focus-fire anyone. But there's no reward for beating them whatsoever, so let's just move on instead.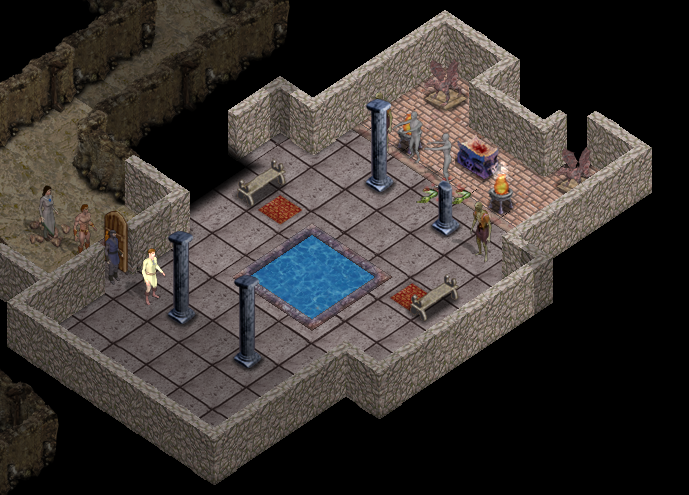 "Another room, another fight. This is getting tedious."

"Aww, don't say that! We've graduated up to the non-fleshy kinds of undead at least!"
Two Spectres and two Revenants. Spectres have some kind of spell whose effects I don't really understand; it looks like a conic AoE spell, but it can hit targets that the Spectre really shouldn't be able to see. It hits like a truck, too, and they get multiple attacks per turn; it's really down to luck more than anything else whether or not someone dies.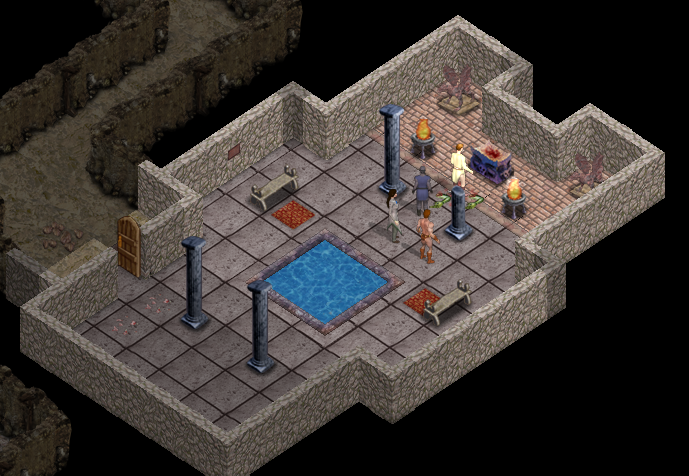 "Weird."

"What?"

"This altar. It's perfectly normal rock."

"Uhh, correct me if I'm wrong, but aren't those bloodstains?"

"Okay, perfectly normal rock covered in perfectly normal blood. I mean, it's not magical at all."

"The walls aren't perfectly normal, though. I found the way forward."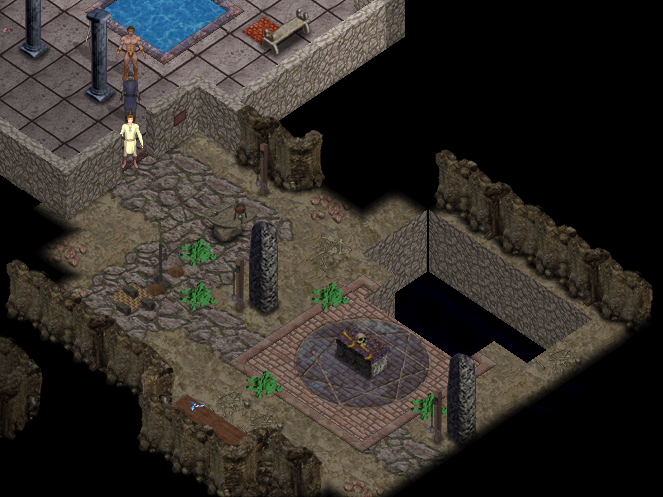 "And I found the guards. Sigh."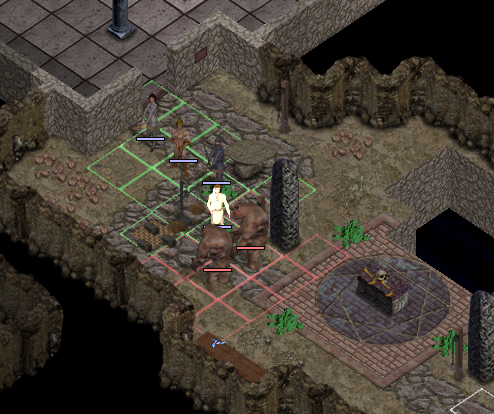 "Wait, did you just
say
''sigh''?"
Two Golems. As you might expect, they're very strong; their melee can cause knockback and immobility, and they're highly resistant to magic. But all they can do is hit one target at a time, so they're cake.

Which isn't to say things don't go wrong when Kane gets knocked out of the way though.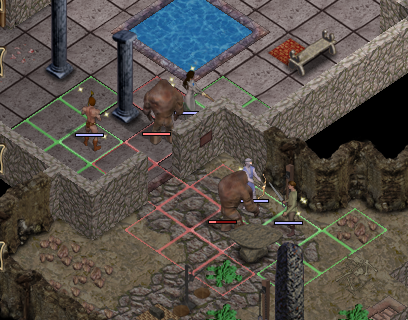 "Bad statue! You stay away from me!"
...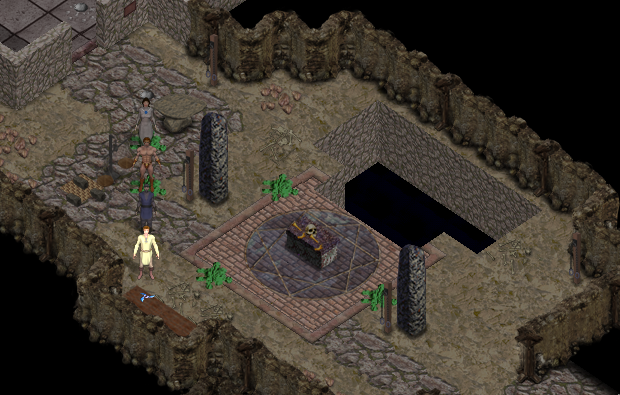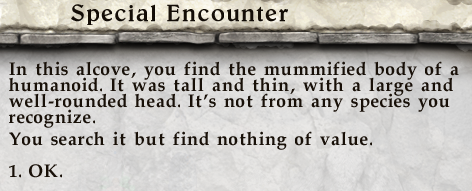 "And more of those bizarre throwing weapons. What were these people?"

"Dead, from the looks of it."

"Yes, I suppose you're right."


"Hey boys? What's like a demon, but cold?"

"This isn't a trick question, is it."

"Oh no. Rather imminently relevant, in fact."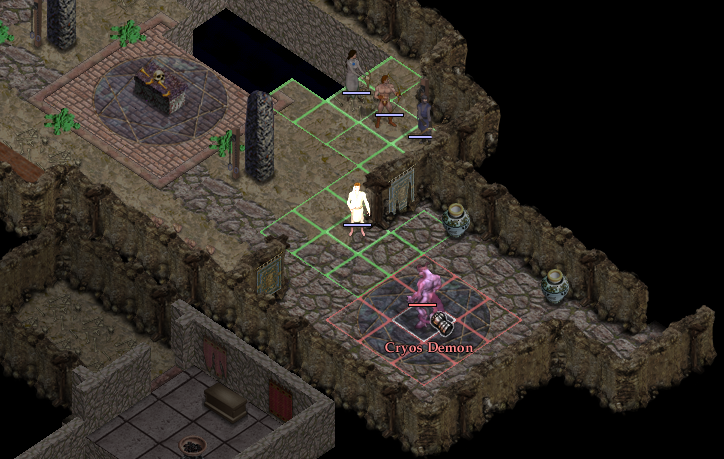 As you might imagine, Cryos Demons can breathe cold. But there's only one of them, and the only other thing he does (in this fight, anyway), is hit Kane in the face. Kane is very good at being hit in the face.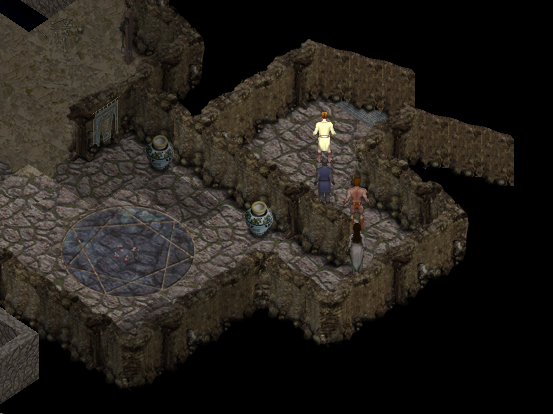 "Alright! I think that went rather well, myself."

"What would it take for you to think things had gone poorly?"

"Waking up in Fort Emerald with a splitting headache and a concave helmet."

"You know we're not done yet, right? These are stairs right here?"

"Oh, shut up and let me have my little fantasy for a moment."
That's floor 1! Here's the map.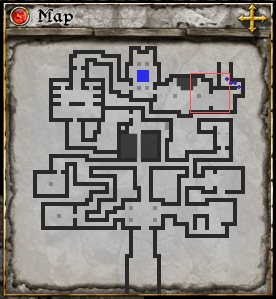 This floor of the crypt is a combat gauntlet. There's five rooms near the entry, then the bridge, then a linear path through to the stairs. Clockwise from the bottom-left, the five room fights are 3 Banshees, 3 Vengeful Shades, a Vampire + a Writhing Mass + 4 Draining Slimes, 4 Draining Slimes, and 2 Gazers. The hardest fight is probably either the Gazers or the 4 Draining Slimes, both of whom are hard to approach and have nasty area attack abilities.
...

"So, are we going downwards or what?"