Part 33: Foul Cavern

...

*nomch* "Y'know, I've been thinking..."

"Do you ever
stop
thinking? Hey, could you pass the salt, Elly?"

"Here you go. 'Scuse me, more beer please!"

"Sure thing!"

"Stop? When I sleep, I guess. But anyway, we don't have anything urgent on our plates right now, do we?"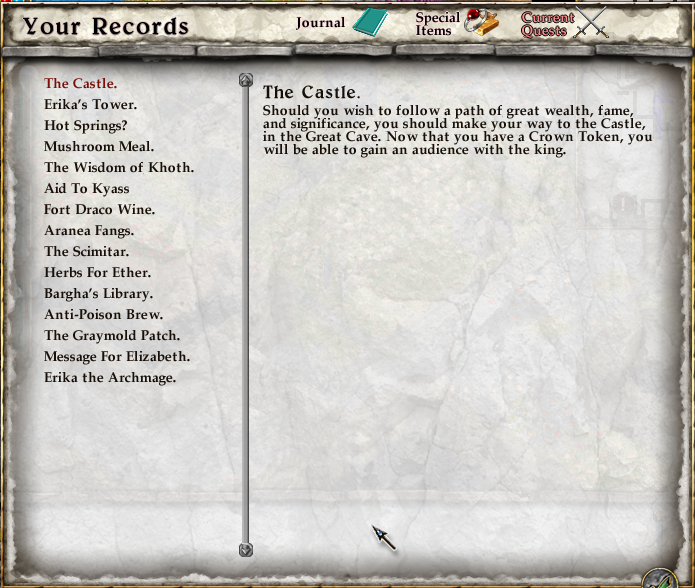 Shown: the current active quests the party has stumbled into.

"We really ought to do something about those sliths."

"Ehh, she'll hold. The Avernum army has to be good for
something
, right?"

"Quite so. So I propose we go do something for
us
, instead of following someone else's orders."

"Man, that is music to my ears. What's the plan?"

"How do you feel about learning to fly?"

"Erm."

"You're serious?"

"When we were retrieving the last piece of Demonslayer, I'm fairly certain we passed the entrance to the Waterfall Warren, where Thralni's orb was lost."

"So you're suggesting that we explore a maze of waterfalls, doubtless getting soaked at every turn and possibly becoming shipwrecked, so we can gain the ability to float about hundreds of feet above the ground via a magical artifact of dubious origin and condition?"

"Yes, that's about right."

"I can't say that I -- "

"Sold!"

"Sure, why not? Sounds fun."



"Excellent! Let's find our ship then."

"Boat. And it leaks."

"Then we'd better bail it out frequently, hadn't we?"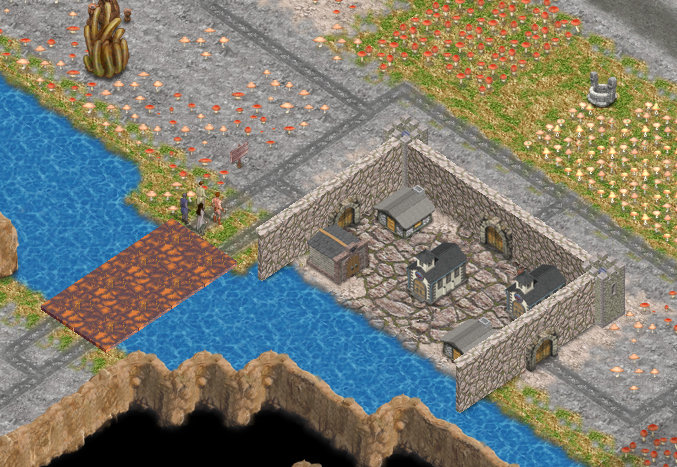 "Oh, hang on! We have Efram's tongs and pincers!"
I apparently forgot to actually get the quest for this, which is why it isn't in the quest listing in the previous screenshot, but it's still waiting for us at the jobs board.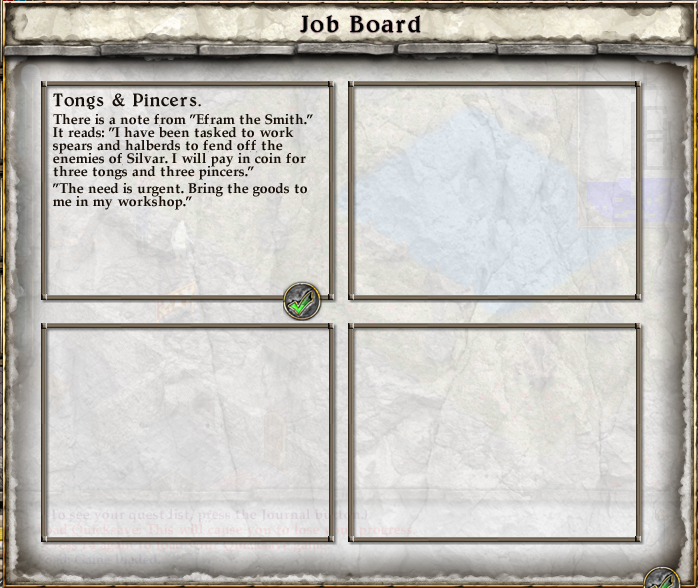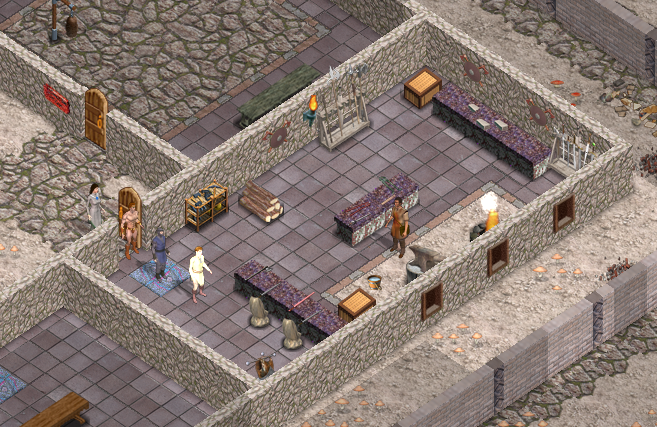 "Hey, Efram! I can finally stop lugging all this heavy crap around for you!"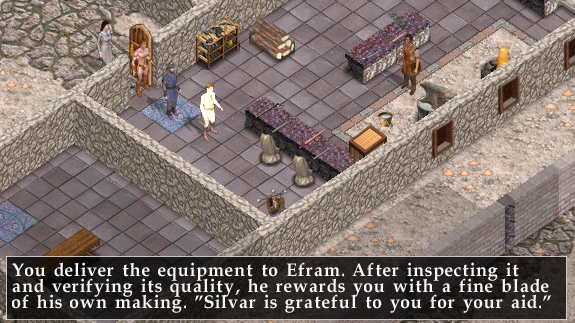 "Aww, thanks!"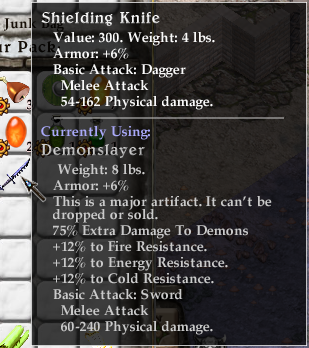 "How much you want for it?"

"One-Eye!"

"Well, we're sure not going to
use
it, and Efram buys goods, right?"

"Uh, sure. I'll give you 84 gold for it."

"Say, how's Demonslayer holding up?"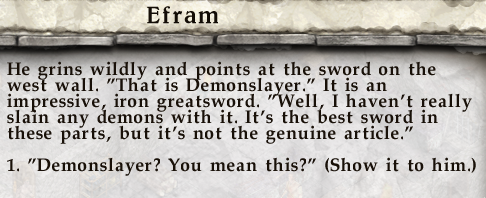 "Yeah, that's a pretty nice sword. Want to see the real deal? We have it right here."


"Okay, take care, Efram!"

"Y'know, we were supposed to find someone named Elizabeth around here...but nobody in Silvar's named that."

"Wait, who wanted us to do that?"

"That asshole mage in Fort Emerald, I think."

"You don't suppose he got Silvar and Cotra confused? I know I do."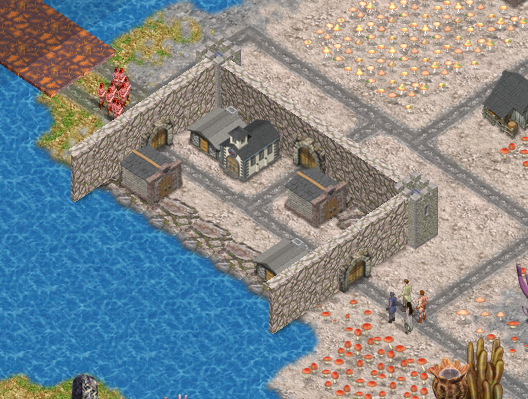 "Well, we've been following the coast, and still no sign of our ship."

"Boat."

"So I guess we might as well check in."
And sure enough, in the inn: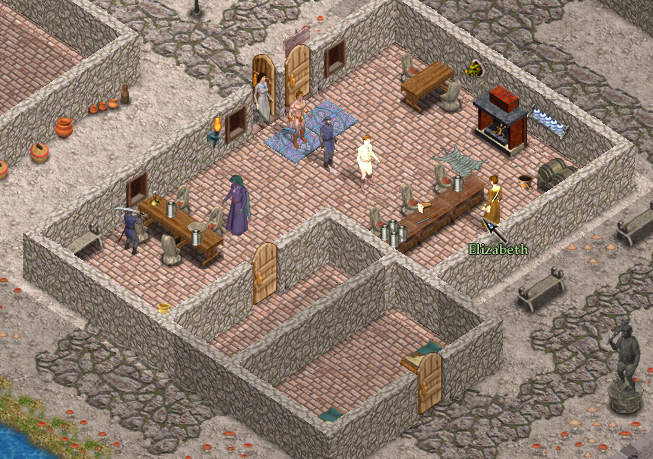 "Hey Lizzy, some jerk named Matt is looking for you."



"Oooh, spicy!"

"Wait, you didn't want to provide shelter to rebels?"


"And as an unwitting accomplish to rebellion, you ended up down here. Sounds about right."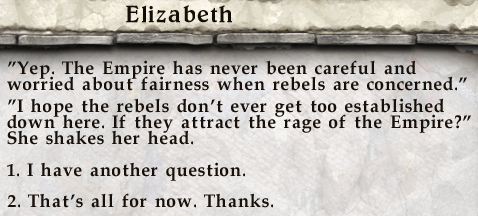 "Aww, I was hoping for a story of doomed romance and desperate intrigue."

"With Matthias? That pasty nerd?"

"Well, he'd be sexier in the novelized version, of course."

"C'mon, you can write your fanfic while we're on the road."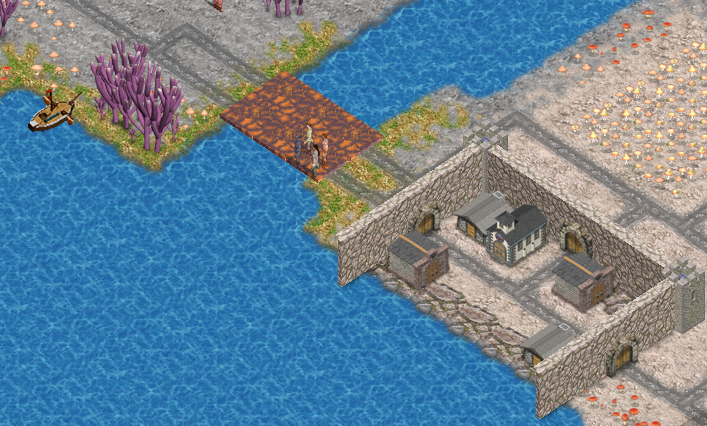 "Aha! Our ship --"



"I have a solution to your little bickering, you two."

"Oh?"

"I hereby christen this boat the ''SS Shipboat''."

"That's not better."

"Yes it is! Anyway, this should be our route:"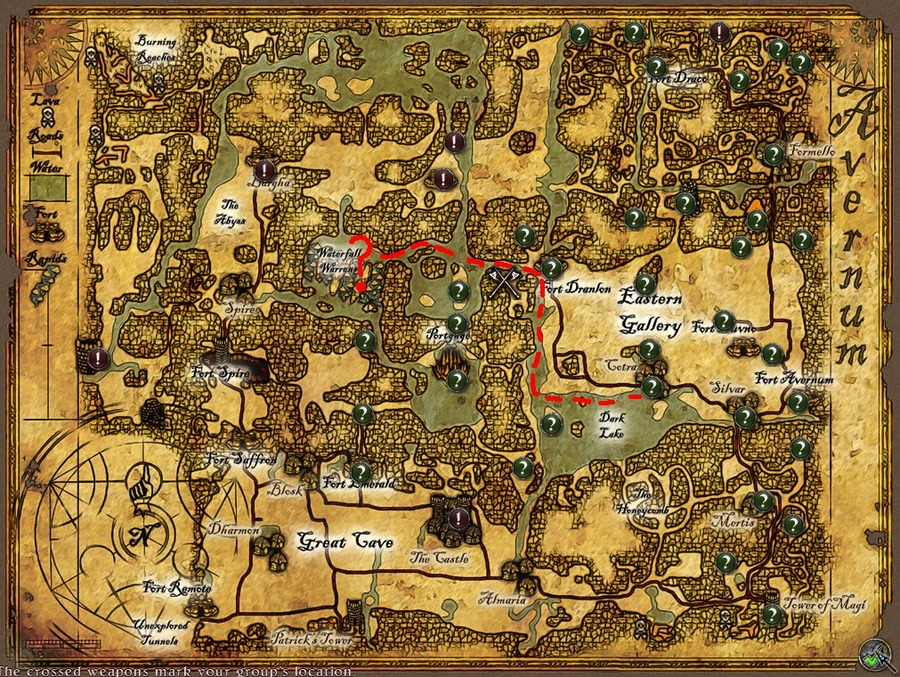 "It still weirds me out that you can write on the map like that and not permanently damage it."

"Magic."

"Right."
En route...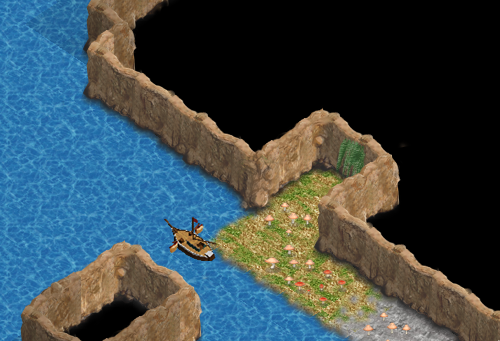 "My finely-trained survival skills tell me we should get off here."

"That wall looks suspicious to you too, eh?"

"More my boots are soaked through and if I tried to dry them out here I'd set our boat on fire."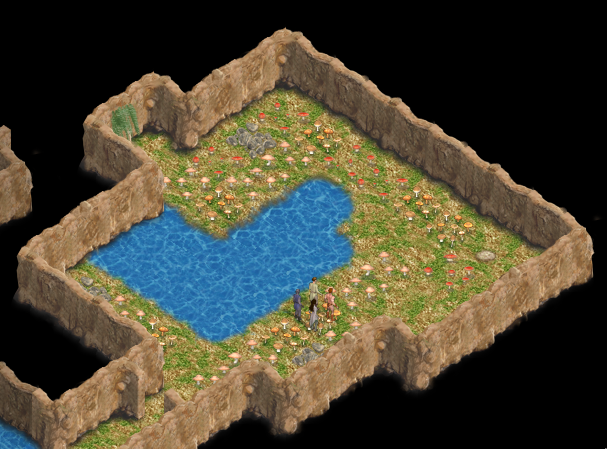 "Hey, looks like decent farmland. Pity about all the sliths right next door."
The patch of dirt in the northeast corner is one of those Cave Lore-requiring caches; it has a platinum ring in it. I'm not mentioning most of the caches we find because they contain similarly boring stuff, but later ones will be more interesting.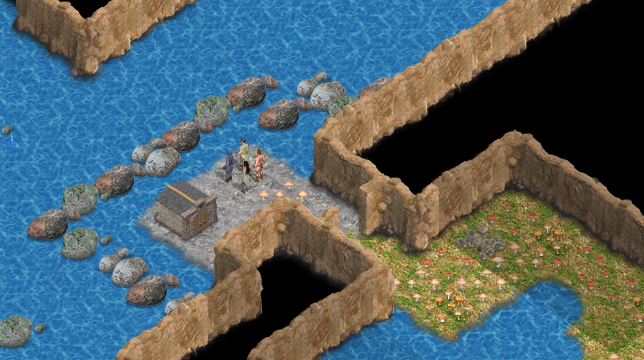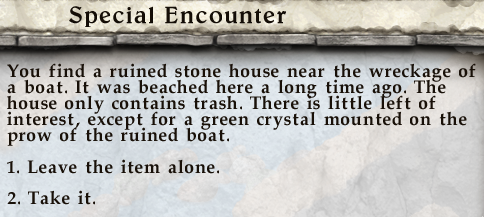 "Hey, another Wisdom Crystal. Kind of weird it was on the boat though."

"Maybe if they'd used the thing they wouldn't have crashed."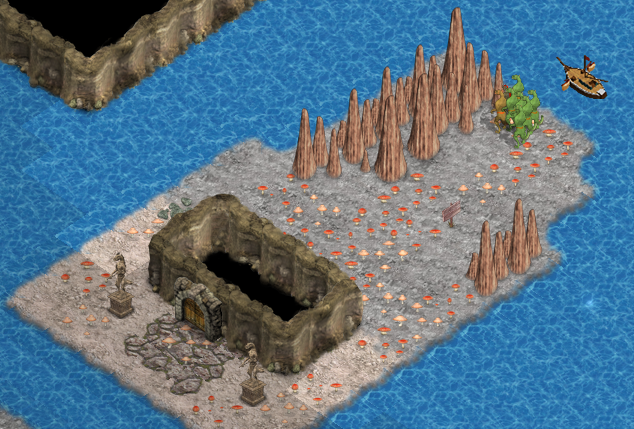 "Ooh, ooh! Can we stop off here?"

"Oh, fine. Since you were so patient last time we came this way."

"Yay!"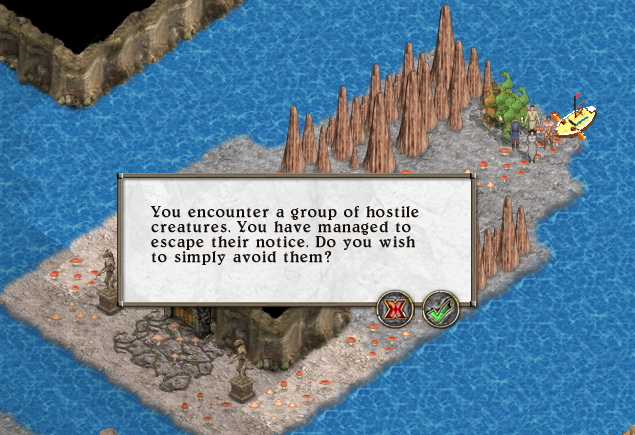 If this were an actually dangerous group, we probably wouldn't have been able to hide from them. As it is, it's just a few basic Sliths, plus a Mage and a Warrior.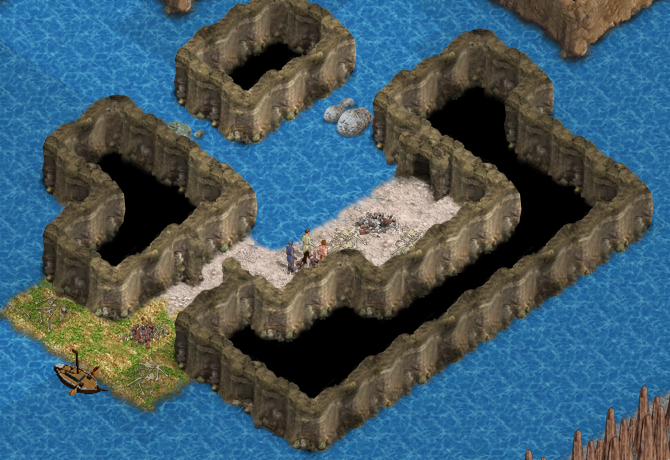 "Okay, another rest break time."

"What's your excuse this time?"

"I just really don't want to go down any waterfalls."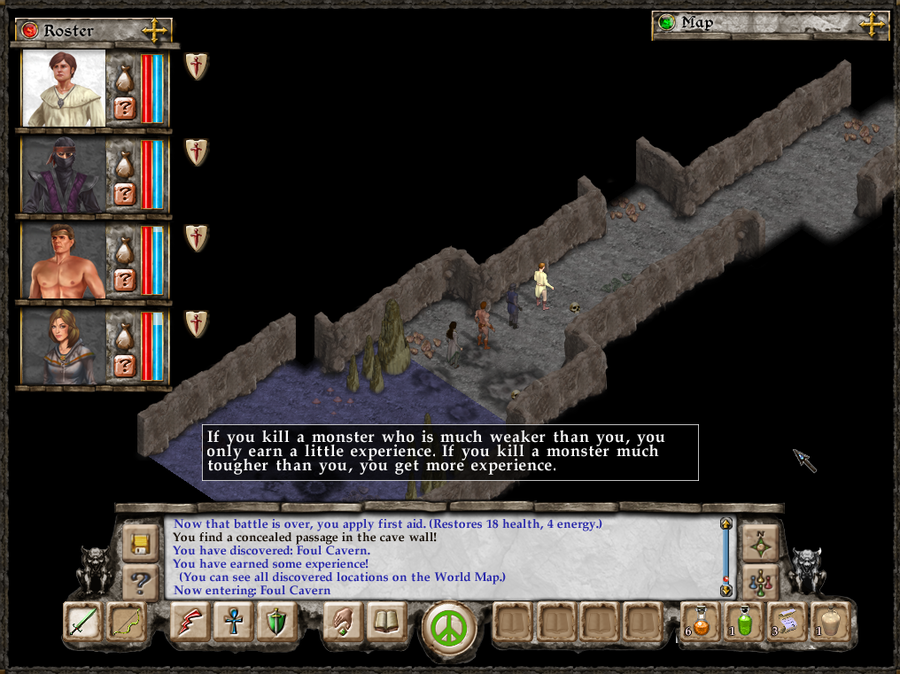 "Phew! This place reeks!"

"No sign of sliths either."

"I wonder what lives here, then?"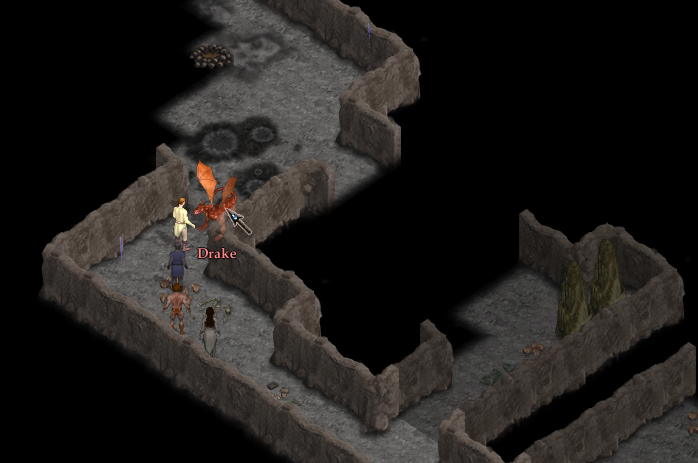 "Um. Nice lizard."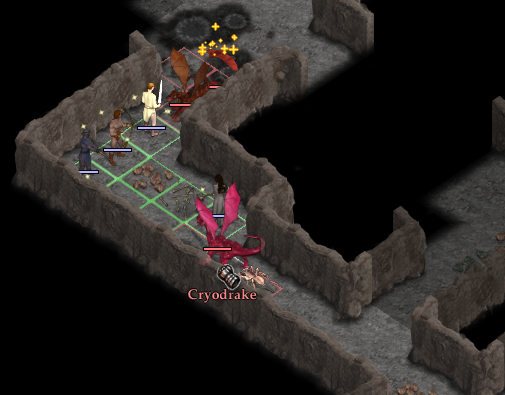 "He's got friends!"

"Arrows, don't fail me now..."
There's two Drakes and a Cryodrake here. They're nasty, but not as durable as they used to be. Still...






Too bad there isn't a cold-based flamethrower emote; everyone just got liberally doused with the magical equivalent of liquid nitrogen.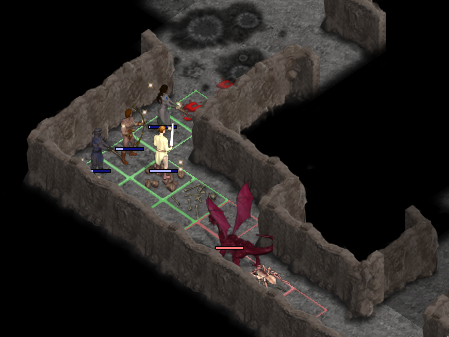 "Ow!"

"O̹̝̙͊ͫ́́͂ḫ̮͉̹͈̞ͮ̔̈́̉̉ͅ,̲͖̘̬̼̤̅ ͙̪̅ͥ͊̋d̥̱͒̓͆ͨö̺̮̻͎̼ͨ̊ͩ́n̻̤̮̂̇̐̚'̲̼̟̌ͧt̮̰̒ͫ̊͐̄ ̻̭̦͖͛̑͗b̙͍̩e̩̓̄ s̱ͪ͒ͭ̅û̞̰͓̂̓ͪ̓́c̭̹̞̟̞͇̗̈h̫̻̹̽̐̂ ̪̪̰̤̭̩́͒̍ͣȧ̏ ̹̖̏̾͑͐̊̃̋b̳̩͎̰͆i̱͍̦̍g̞̲̻̫͔̩ ͖̱͙̯b͈̓̃̂á̔͌ͬ̃̍̿b͙̻y̠̼̮͙̌.͈͐̉͒͛̚"


"And look! I can fight too!"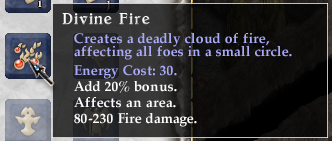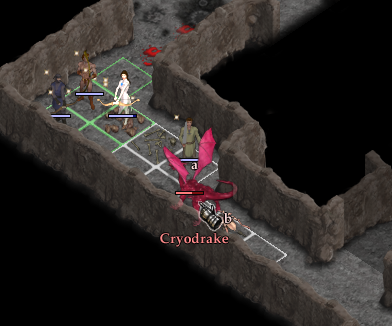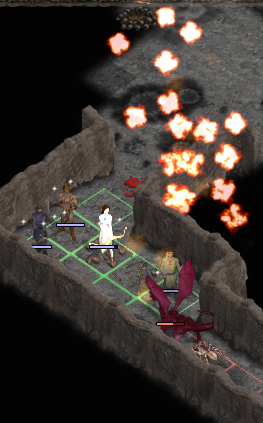 "Hey, nice shot Elly! ...Elly?"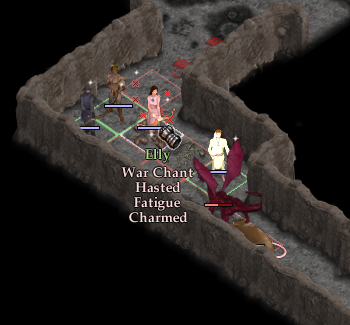 "Oooh, that's a problem."
I'll say! She has an 83% mental resistance!

Also she's the only party member that can cast Unshackle Mind, our charm-fixing spell.

"I guess we'll just have to stay out of her way while we kill this thing, guys! Hey drake, eat lightning!"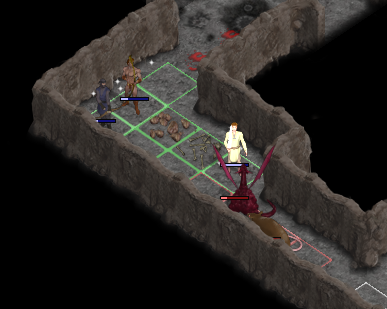 "...oh. Right."
Charmed characters are subject to friendly fire, folks! Good thing the cryodrake's almost dead; One-Eye acts as an ersatz healer while we whittle it down.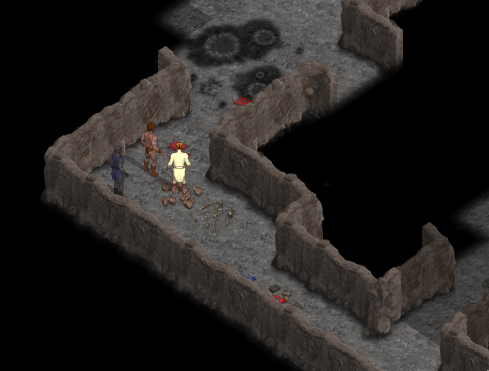 "All in favor of not telling her what happened?"


"Aye."

"Right. Meanwhile, let's loot this place."
The nest has a bunch of money, but no interesting treasure.

"Hey, found a switch!"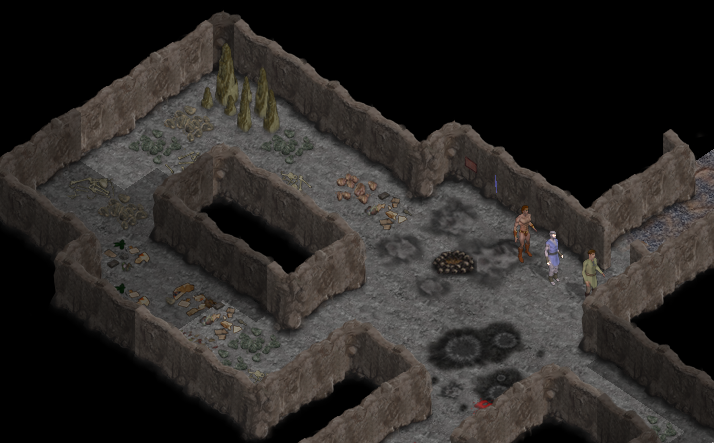 "Ahh, let's...go get Elly back before we continue this, okay?"
One quick trip back to Fort Dranlon later: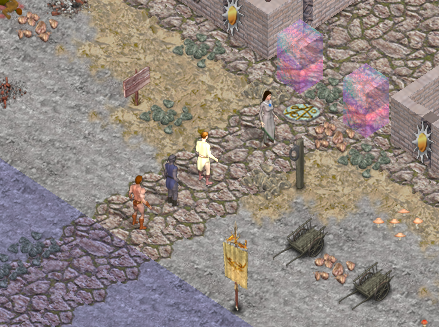 "I live again! Master, my enemies stand before me! L͓̞̥̖̞̺͖̄ͯ͊̓a̳͈̟͖̲̓̒ͯy̬͗͆ͪ́̂̾͋ ̰̹͚̻͉ͫ̋ͨ̒̍ͅẅ̼͇́̇̿̐͊͆a̱̪̙͔͇̮̎ͭͅs͍̖͛ͯ͋t̹̹ͨe̙̼̐ ̲̯̫̼̤͊ͫt͍̺̥͆̉̍̈̎̀͒ͅȯ͓͍̲̮̮͙̦̆̊̎ͦ̋͑ ̟̫̃́̓̄̾͊̚t̰͉̤̺ͦͦͯ̅ͭ̏h͈̞̲͉͙̩͕͂e̞̱͈͙͖̝̽̇̈́͊ͅs͓͈̙̙̖̯̼̅͒e̼̠͕̓̔̈́̀ͨ͒̚ ̱̫̼̹̥̣͖ͪ̊̑͐̊͊l̤͉͔̎ͤa͈ͯ͐ͣ̅̄n͔ͧͫ̋d̼̮͕͊ͦs̲͇̲̄͒̌ͭ!͉͓͕̞̜̽ͫ̈́̆"

"Shit, she's still charmed!"

"Run for it!"

"Nahh I'm just screwing with you guys. Sorry 'bout that! But Byff, man, have better aim, dude."

"Sorry, Elly.

"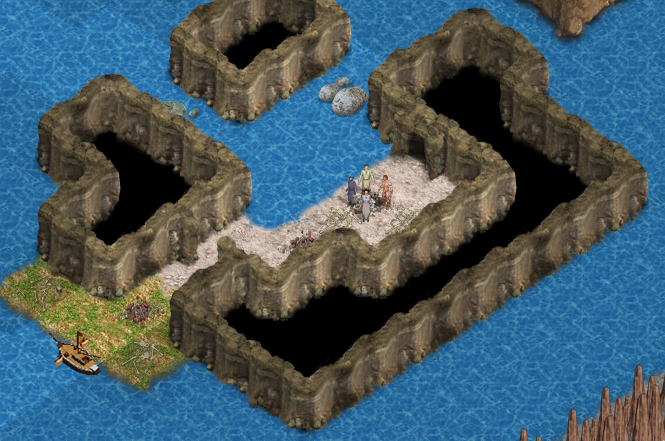 "So wait, why are we coming back here? This isn't the Waterfall Warren."

"No, but this cave has claimed one of our own. We must raze it to the ground! ...or at least clean it out. Y'know, for revenge."

"Earth to Kane, your melodrama is showing."
...

"Let's take the eastern branch this time."

"Hey look, more drakes."
We can just lure this one away from his (presumed, unseen) pals and fight him four-on-one. At least, until he turns to flee...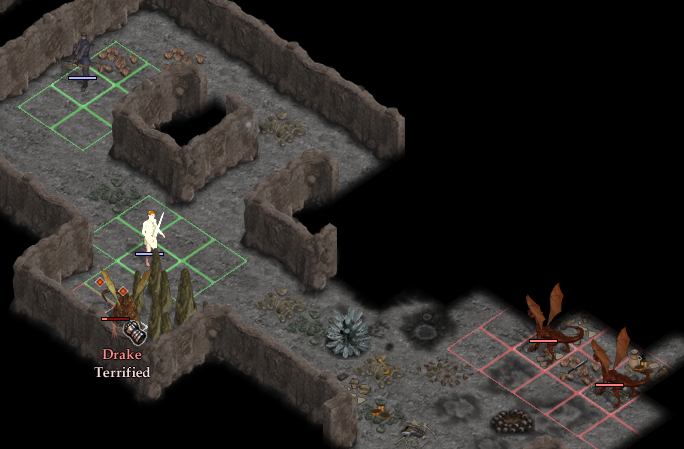 "Aw crap, there's his buddies."
Actually we just hide around a corner until the drake stops being scared and comes back to us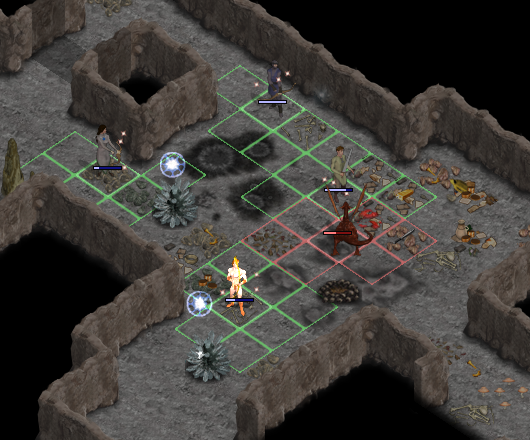 "Someday, I hope this kind of thing becomes routine. In the meantime, my clothes are on fire, could someone please fix that? Soon?"
And then the remaining drake spent both his actions breathing fire on Byff.



Enemies should not be allowed to use their super-powered AoE attacks twice in one turn.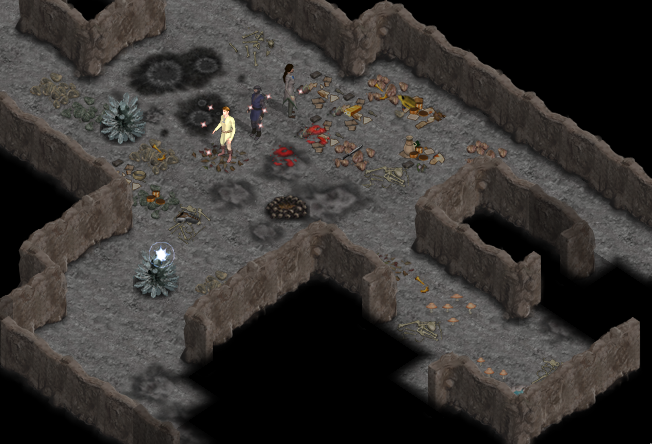 "Hey, it wasn't me that died this time!"

"This place appears to be bad for the magically-inclined."

"Oh just help me carry him back to the shipboat."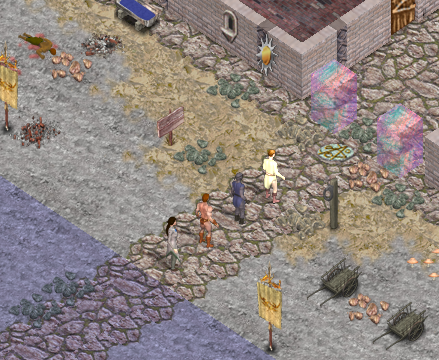 "Man. Maybe if I could wear clothes this kind of thing wouldn't happen."

"Didn't help me much."

"You're alive, right? Better burning clothes than burning skin, is all I'm saying."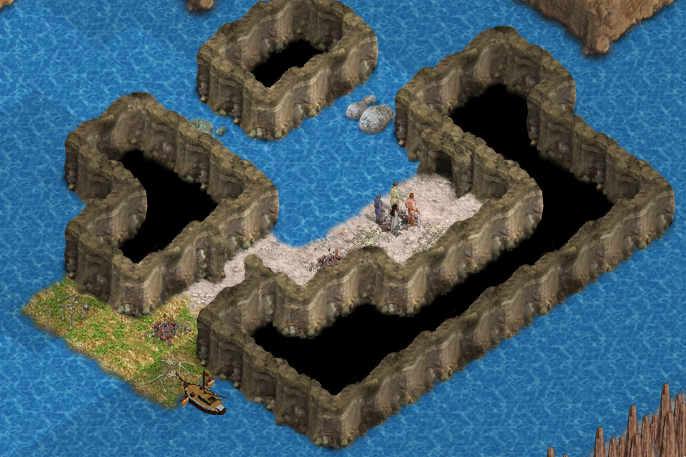 "Take three!"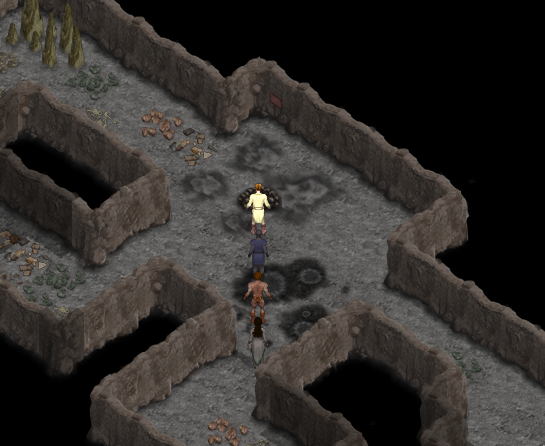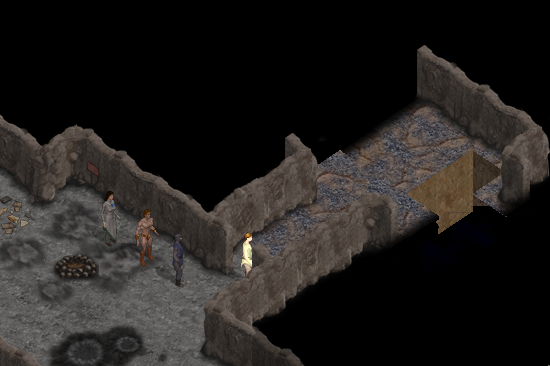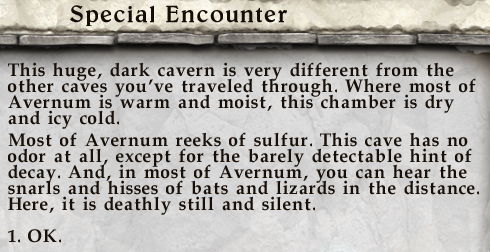 "Hooray, more undead."

"Really? How can you tell?"

"It's cold, it stinks, and nobody else would live sealed up in some mouldering old cave in the middle of a lake."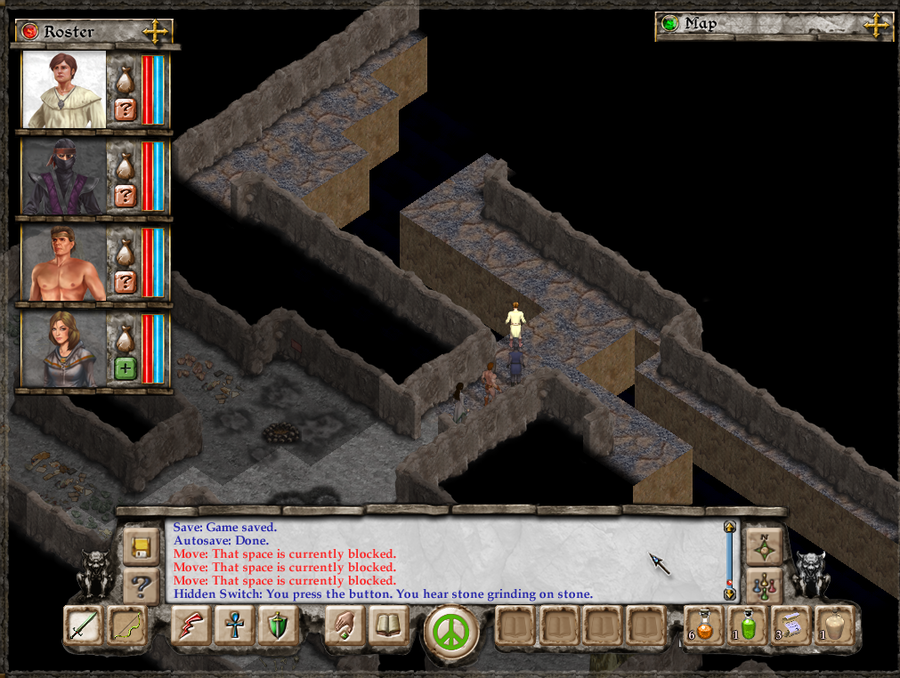 "Kind of exposed here, guys. If anyone decided to attack us, we'd be sitting ducks."

"Ehh, what's the odds of that happening?"
Indeed, there's no enemies to attack you around the outer edge of this gigantic room.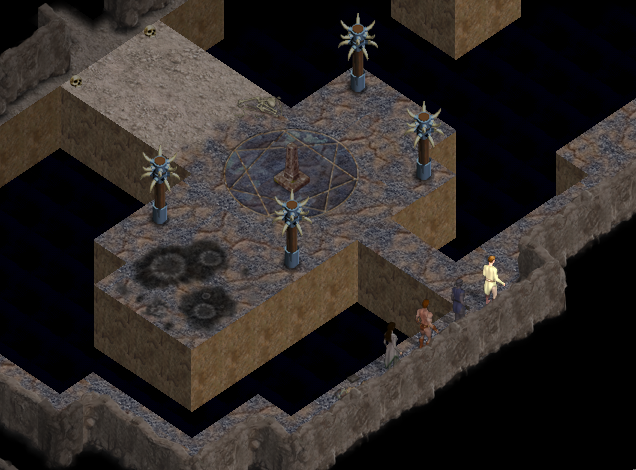 "Ancient carvings! Leavings of a forgotten civilization!"


"Let me guess, more priceless artifacts? Well, hold on until we know we aren't going to be attacked, okay?"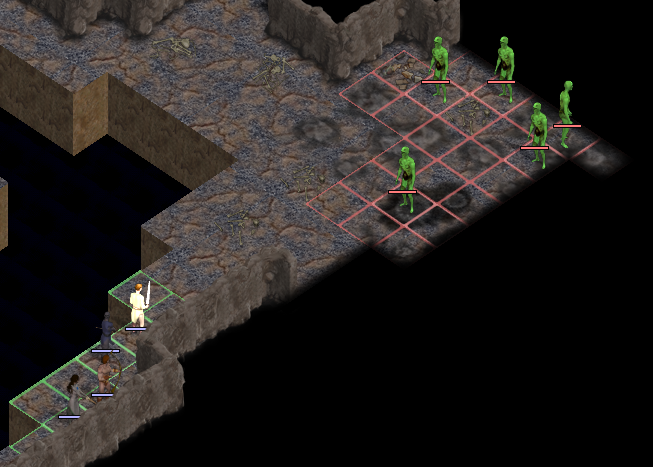 "Case in point. Hello boys, please line up in an orderly fashion and we'll process you just as soon as we can."
Six Ghasts, no real threat.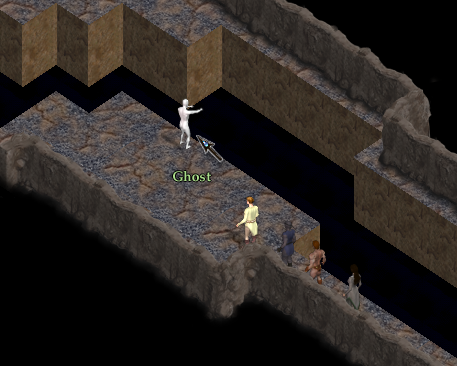 "Hey, a friendly ghost! I'mma name you Casper! Whatcha doing here, Casper?"


"Cool. Nice place for it, huh?"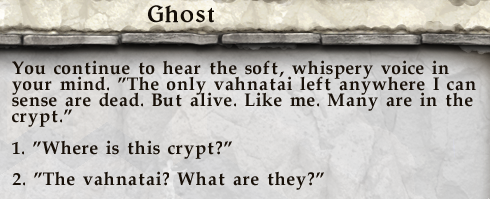 "Wait what. Vahnatai?"


"Heads up, One-Eye, sounds like we're about to learn more about the marital lives of the undead."

"And here I thought the last crypt was the end of that sordid business."


"Okay then! You take care, Casper."

"What a nice young man."

"Can we go inspect those ruins now? Pleeeease?"

"Fine, fine."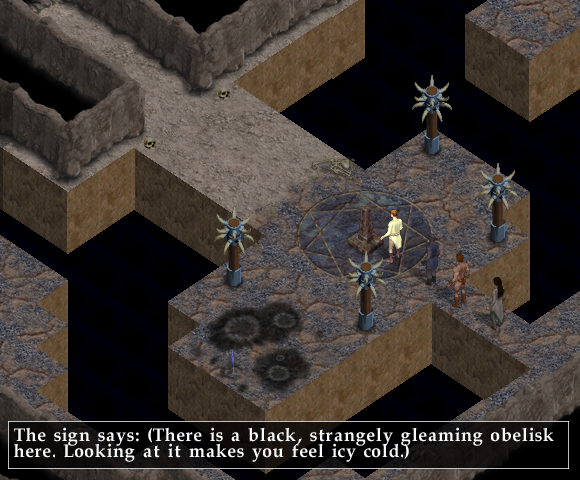 "Brrr. I miss those Ruby Skeletons. At least with them around you weren't so damn cold all the time."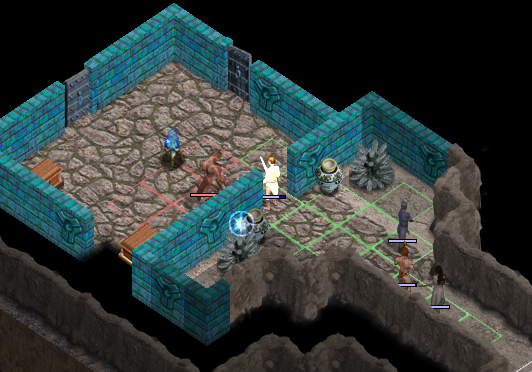 "Don't mind us, general ne'er-do-wells extermination service passing through. Oh wait, you're a demon."

"Well, he
was
a demon. Now he's a stain on the wall."

"I love this sword." *mwah!*

"Gross! There's still demon bits on it!"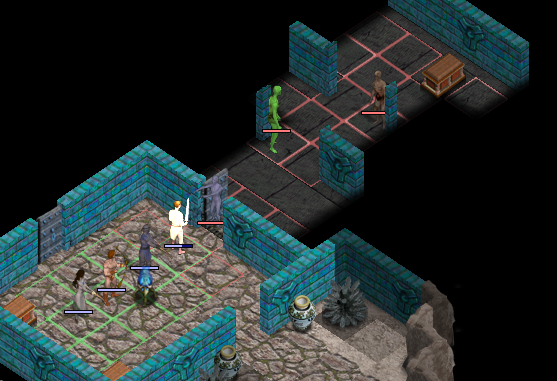 "Hey, could you guys fight more quietly, please? You're disrupting my research."
Two Vengeful Shades and some Wights. Fortunately we're able to take on the shades one at a time, because they're still really bad news.

"Hey, Byff, check this sword I found in one of the sarcophagi."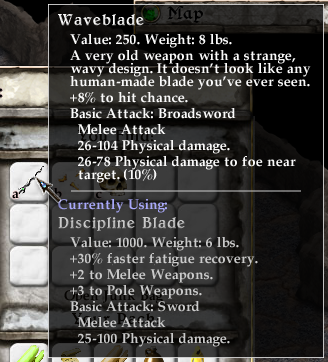 "Fascinating! I wonder why they curved the blade like that?"

"Beats me; I just hit people with the things, I don't know how they work."
Waveblades appear to be basically identical to broadswords in this game, mechanically. There's also some shurikens in a pile of skulls.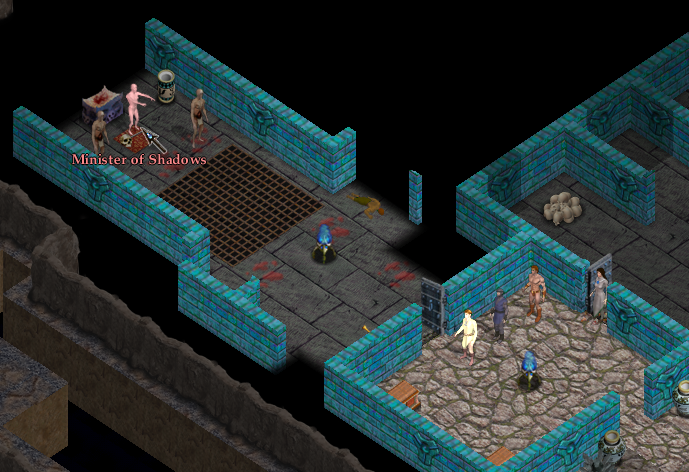 "He looks kind of like a bad stage performer pretending to be a vampire. Only with too many joints in his limbs."
And he can summon Vengeful Shades, and give himself and his pals Battle Frenzy.

Fortunately, our ability to blitz down groups has improved massively thanks to Elly being able to cast Divine Fire, so we manage to kill them all before anything unfortunate happens.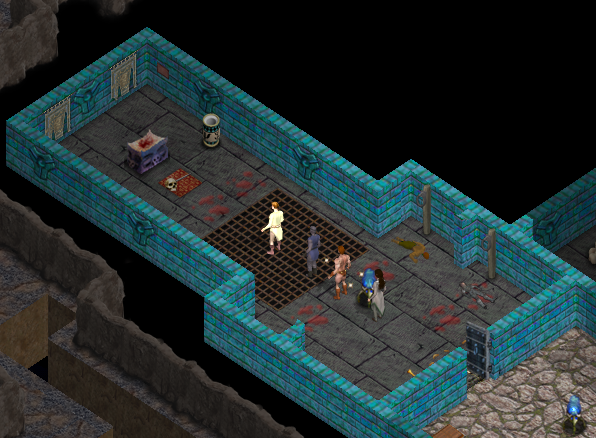 "Hey Byff, how old do you think this place is?"

"Oh, it must be centuries, at least. Why do you ask?"

"Blood on the altar's fresh."

"Ooh, nasty."

"Hey, I found more priceful treasures!"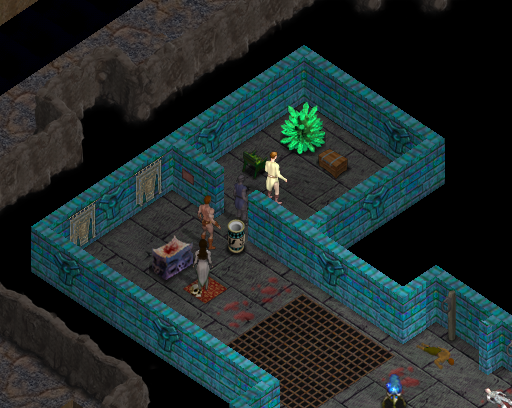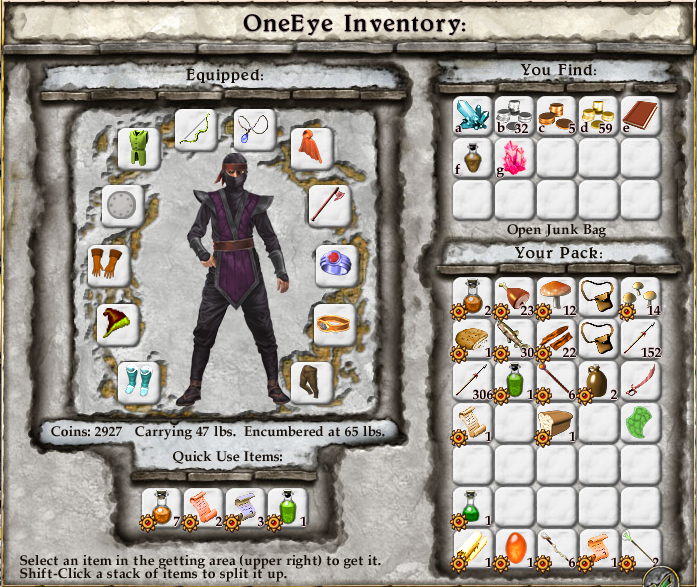 The book is another batch of Magical Notes, whose purpose we don't yet know. The potion is an Energy Elixir, and everything else is just various forms of money.

"Are we done yet?"

"Heck no! Can't you feel the hatred for all things that still draw breath, radiating from the center of this very crypt?"

"Oh, is that what that was? Guess we'd better push the button then."

"What button?"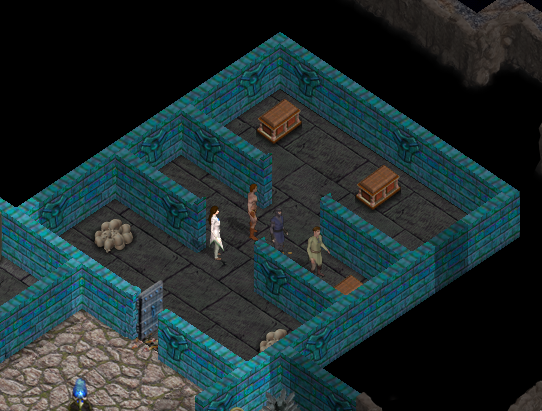 "The one in this sarcophagus."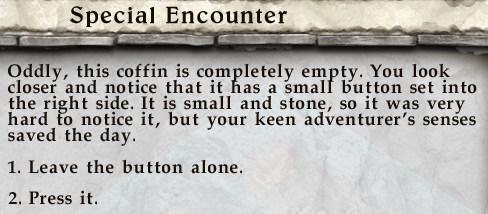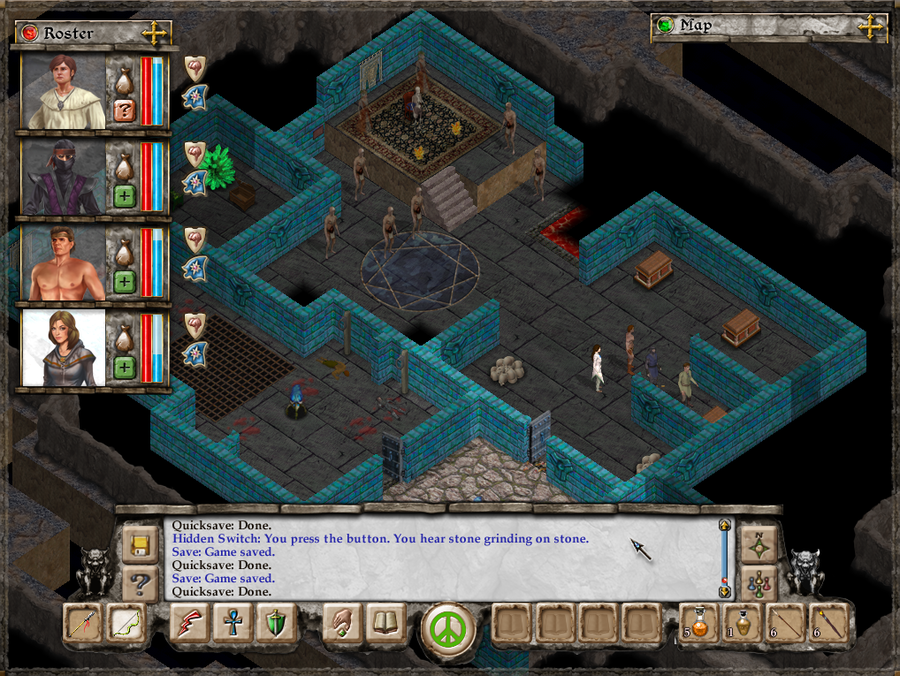 "See? And that's why I didn't push the thing as soon as I saw it."
Six wights, two banshees, and the lich is Lich Knor'Ihrno. We are
not
trying to fight these guys in open terrain like this.

"Fall back to the foyer!"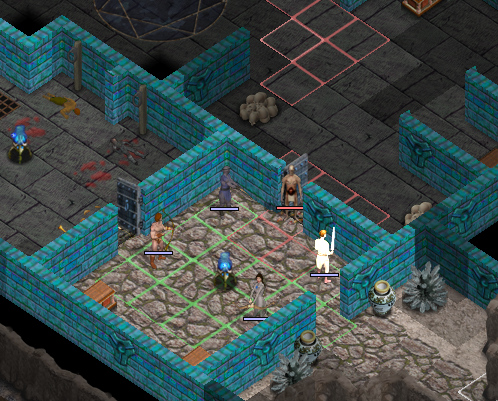 The wights obligingly file through the doorway single-file to get chopped down. After that come the banshees, leaving Lichy on his throne, all alone.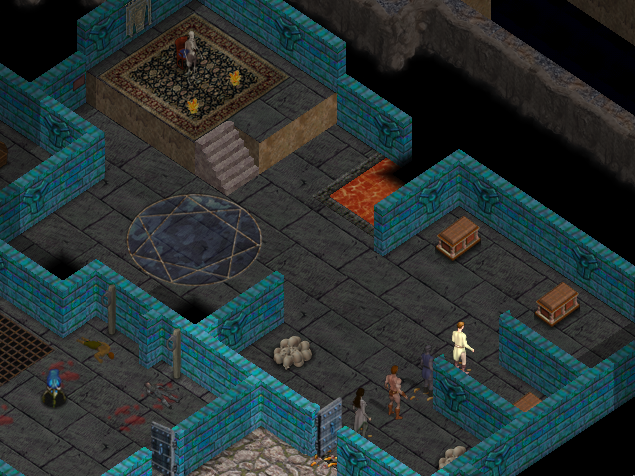 "Hey! Hey, buddy! Think you could maybe shuffle off this mortal coil? It'd be doing us a favor, believe it!"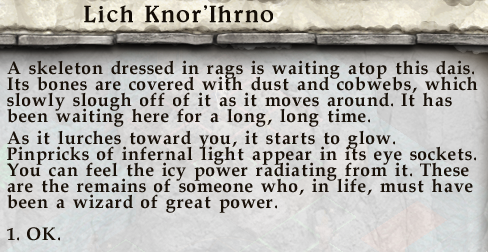 "No? Okay, fine, have it your way."
Remember the last time we fought a lich? Let's do that again!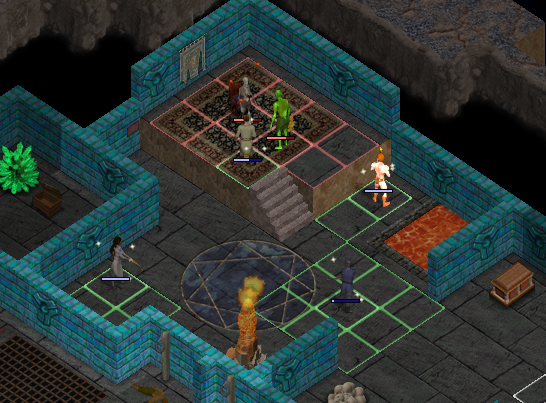 "Medic!"

"Workin' on it!"
At least we can hit this guy in melee without it backfiring horribly, and his defenses don't seem to be as strong as Drath's were. On the other hand, with Battle Frenzy, he can cast Arcane Blow twice in a single turn!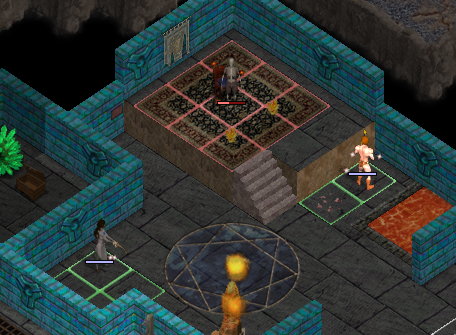 "This is suboptimal!"

"I'll say! Get up off the floor, boys!"


"Agh!"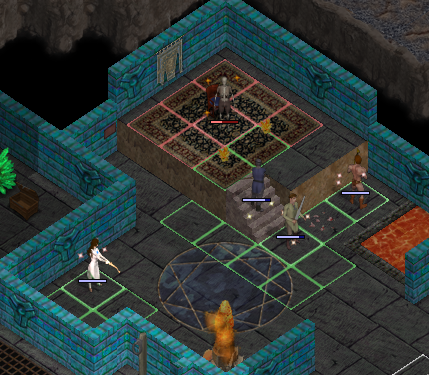 "Wait, why am I in front? This is wrong! Very wrong!"
And then the lich one-shotted One-Eye with some kind of single-target lightning spell. And used the same spell on Kane, who survived -- only to get pushed the rest of the way to death by the lich's summoned Mutant Lizard.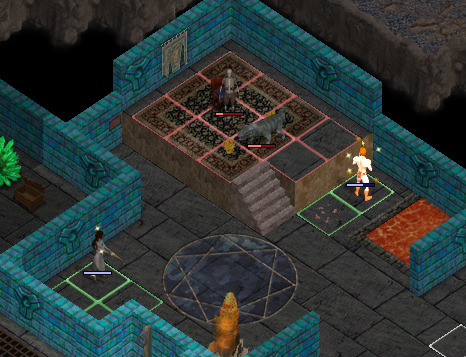 "I'm all out of scrolls!"

"I'll get it, then. Keep shooting him!"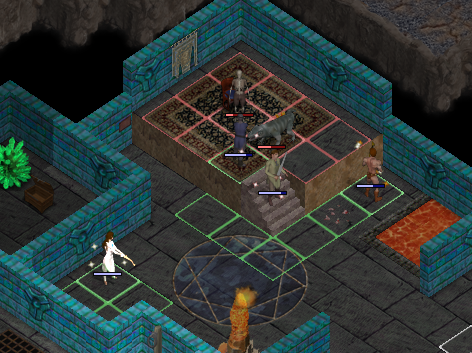 "Seriously, how does this keep happening?"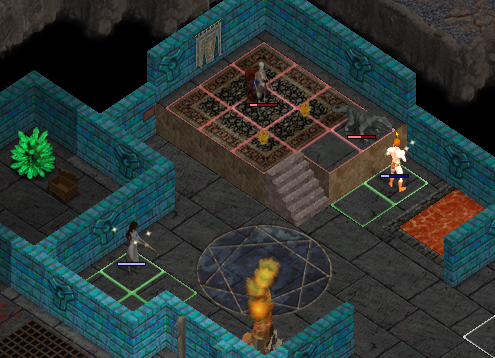 "We need to invest in more durable friends!"
Byff is being attacked in melee by the lizard


"Well, there goes my last scroll."
Wonder of wonders, the lich only casts Arcane Blow followed by Slow this time. Of course, he one-shots Kane on his next turn...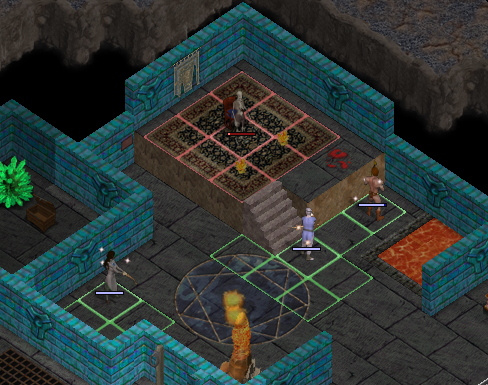 "Will you just die already?"



"Oh. Wasn't expecting that to work."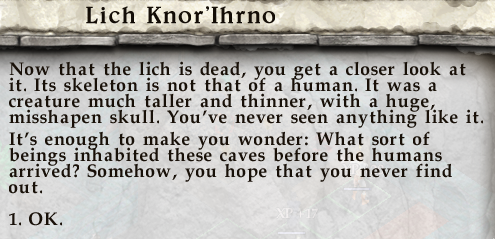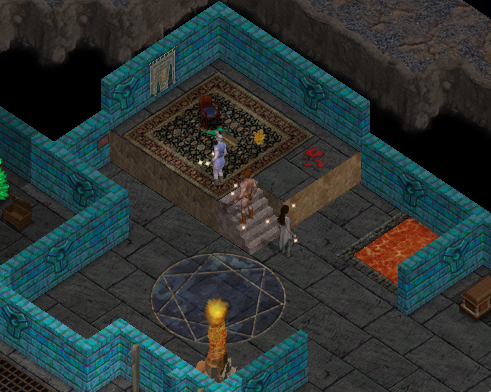 "Well, that sucked ass."

"Congratulations, One-Eye! You get to take point!"

"Just shoot me now and get it over with."

"Hey, nice robes!"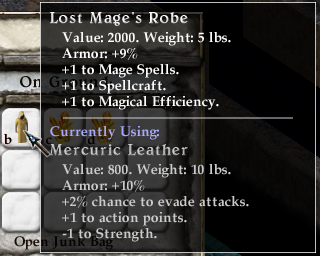 The lich also had one of those shimmering poncho-cloaks and a couple of shiny rocks. The switch in his room just opens another door to the little treasure room. Which reminds me, we didn't take a closer look at that crystal.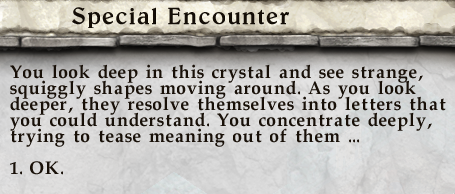 Level-3 Daze can put the Stunned debuff on enemies, which costs them their turn just like Daze does, but doesn't go away if they get damaged, unlike Daze. Realistically I expect all our enemies to resist it anyway, but it might be worth experimenting with.

"Okay, I've got Kane's corpse. Let's go tell Casper he's free, and then get out of here."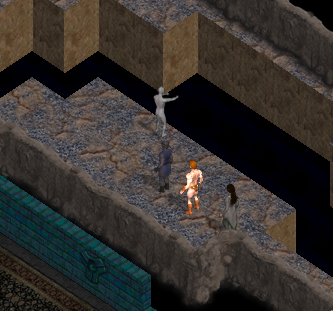 "Hey, buddy! Lich is dead! Or, uh, destroyed. Gone, anyway!"


"Well okay, then. Let's get back to town."
...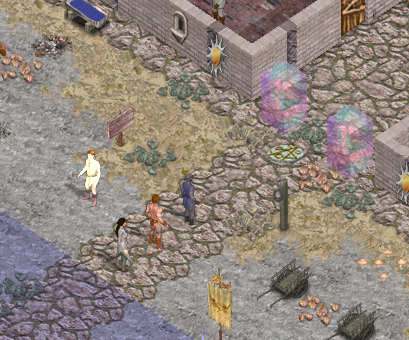 "Cripes, that guy was persistent. We got him, right? The lich is destroyed?"

"Sure is! Shot him through the eyeballs and out the back of his skull."

"And...was it worth it?"

"I'm a little better at leaving our enemies unable to think clearly!"

"So, no, not really."

"Oh, well. Guess we'd better get on with it, then."


"To the Shipboat, and the waterfalls!"
Final tally for that fight: three Scrolls of Return Life, a healing potion, an energy potion, and an energy elixir -- both used by Elly because Divine Fire is
expensive
.

Here's the map of the Foul Cavern:




Drake nests to the right and left as we enter, and Casper is along the northern edge of the crypt. The !s are the lich and the spell crystal.