Part 10: Chapter Ten
Chapter Ten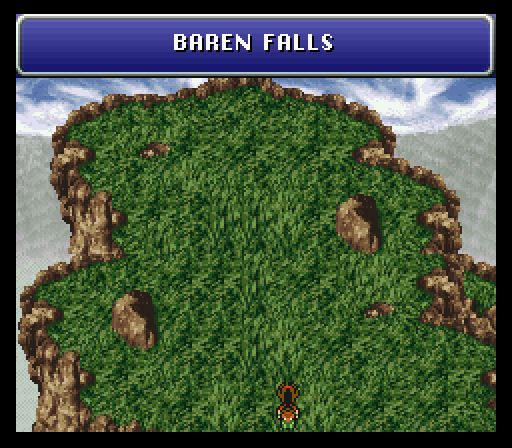 Ozma: This must be Baren Falls.
Jeddite: That big text box that said BAREN FALLS might have been your first clue.
Jeddite: may i take you order? dude i dont got any money. DUDE WATCHOUT.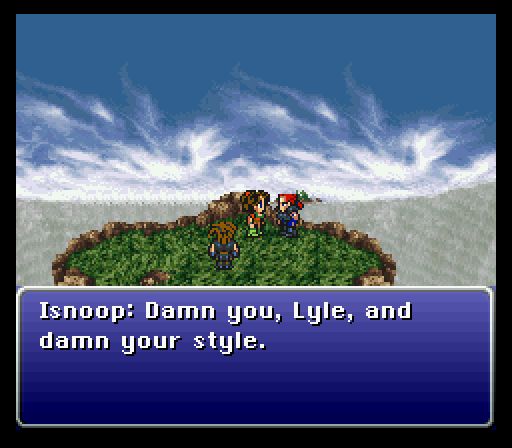 Ozma: I am sorry you will not join us in our suicide jump off the cliff into the monster mating grounds. Your lack of adventurism brings pangs of sorrow to us all. Good- goodbye.
X JAKK is determined to get as much mileage out of that joke as humanly possible.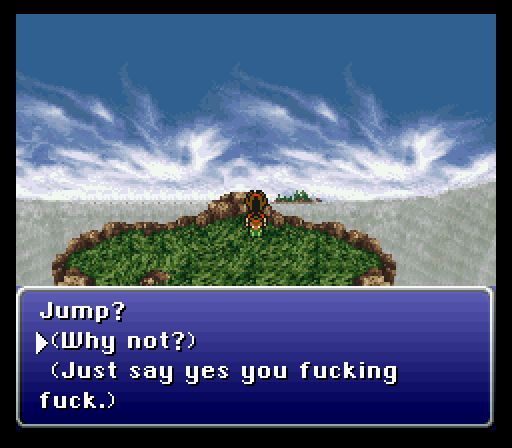 So yeah, the trip down the falls was entirely unremarkable so I didn't bother taking any pictures of it. I hope you understand.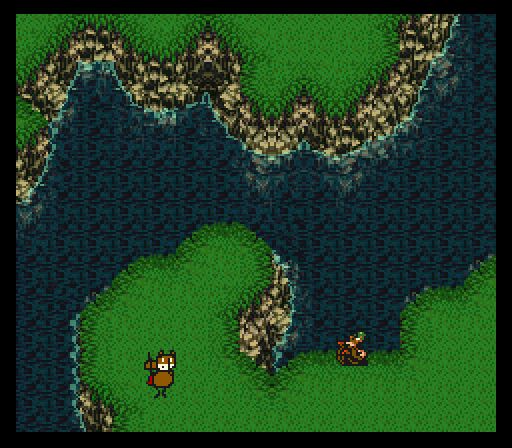 Let's instead take a look at this amazing little guy.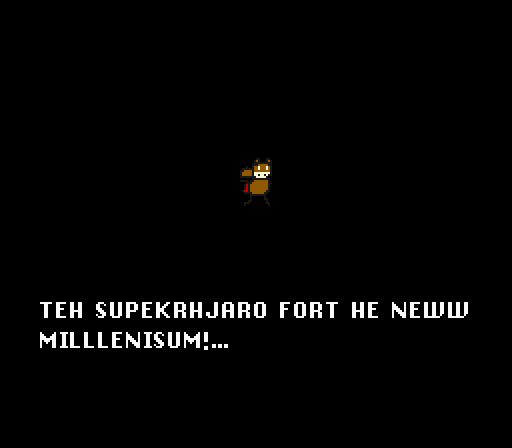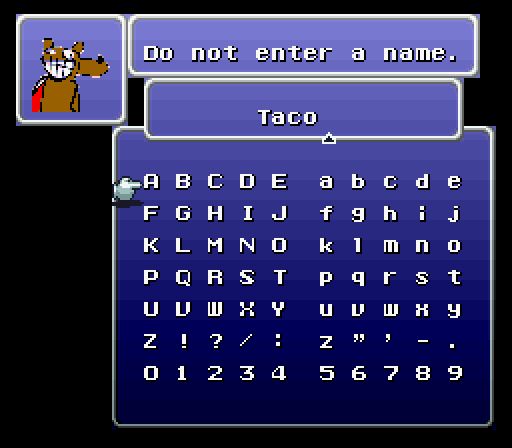 This is the best character, story-wise, in the game.
Ozma: I'm not shy, I just hate you.
The un-renamed Mobliz is un-interesting. I bought some Cake and headed out into the Sloppy Vagina.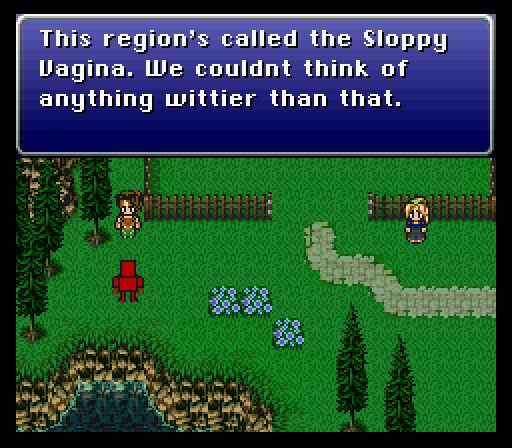 Yep. The Sloppy Vagina.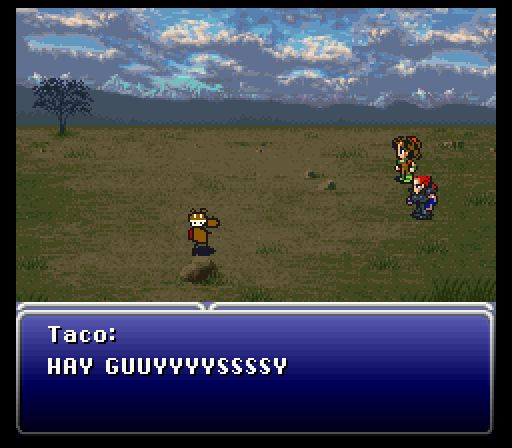 ANYWAYS.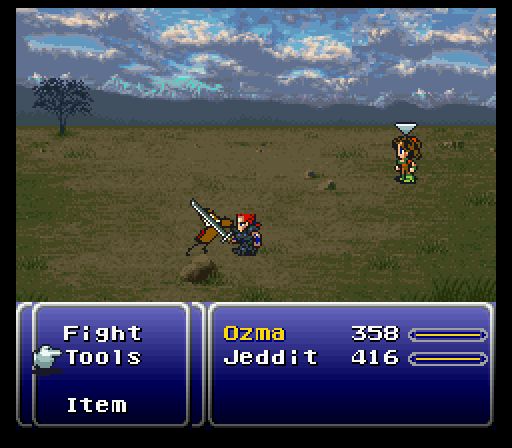 no Jeddite don't do that.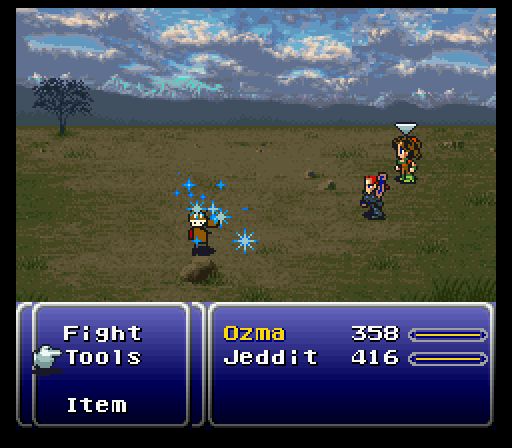 Do this instead.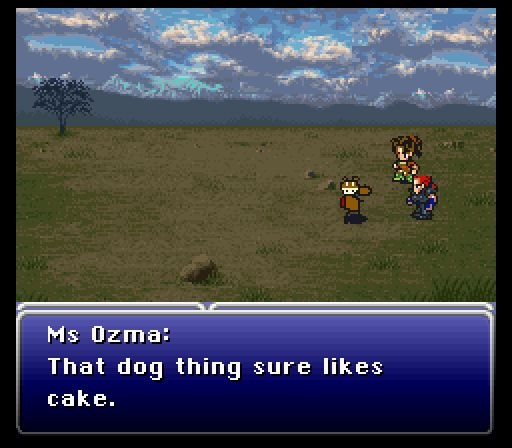 Jeddite: Who doesn't like cake? Or pie. What a surprise! Why, it's Taco the Wonder Dog!
TACO: SWEKJLT MERCILESSLESS TaSTAY CAKEEEE
I hope you people appreciate when I transcribe him. I will edit nothing he says.


Ozma: More? Jeez...
TACO: SPLOIEWORLLL teh GGGGNQ
Ozma: You're wierd, but funny.
TACO: FUNNY LIEK A PASTRY, FOR LAUGTER SI THE BES MEDISIN!
Ozma: Dance with me, Taco! less than three
TACO: ZOMG yuro a verr purty ladeee sprOINGNNGNNNGN
Ozma: ya ya I know I know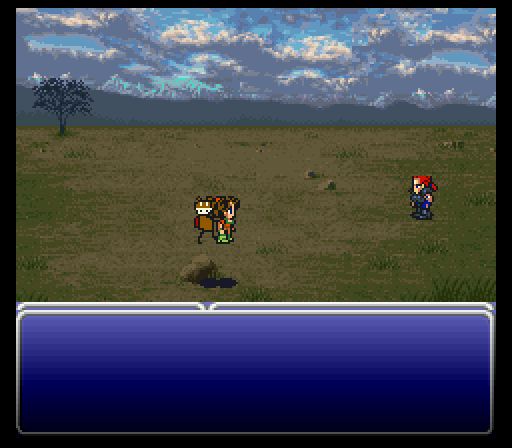 And they called it Bella Notte.


Ozma: :giggle:
TACO: DOUBLKJE TIME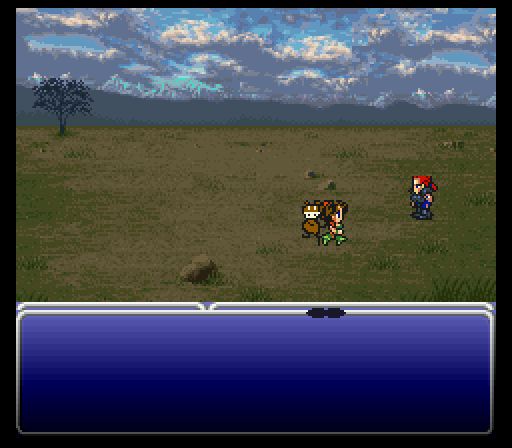 TACO: DNACE FFUN, FILE TURPEDOSE
Ozma: Er, thanks.
Jeddite: Enough, you two! ...what zany nonesense.
TACO: ZANY? ZAANNYY! :NONSESE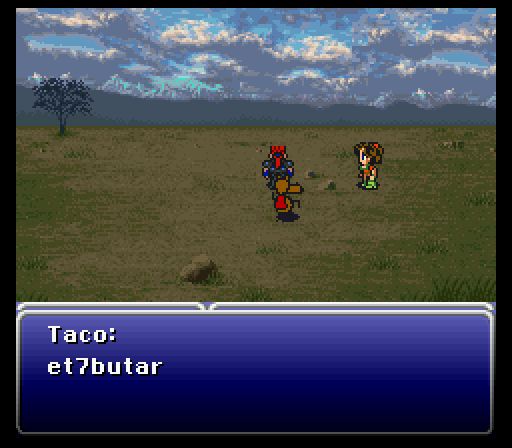 Ozma: So, Taco, what brings you here, anyhow?
TACO: Salsman sold a PEEN, looko ut worlf!
Jeddite: ANYWAY, we should get going. Taco, you should join us.
TACO: ME GIEV PRSANT IN EXCHANGE FOR UOR CAEK1
Ozma: A present? For me?
TACO: TAOCSTRESUR, SHINY SHINY TIMS INFINTee
As annoying as he is to transcribe I love him all the same.
Ozma: Shiny? ME WANT SHINY!
TACO: TRULY SHINEY EQUALS BLESED
Ozma: SHINEY WANT! Me want shiny!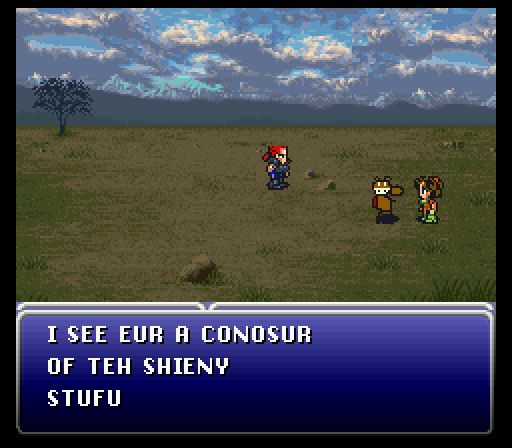 Ozma: SHOW ME WHERE THE SHINY IS! I WANT GODDAMN SHINY!
Jeddite: Oh, hush.
Ozma: ...WANT SHINY.
TACO: I TELU WERE SHINY SI
TACO: GO SOUTH A BILLION STEPS
TACO: ENTAR SLPY BAGINA HOLE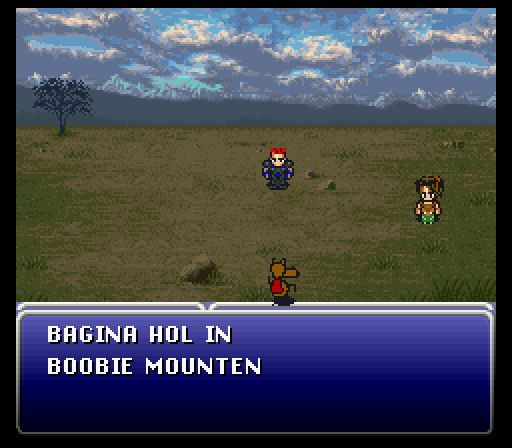 Jeddite: A cavern of some sort?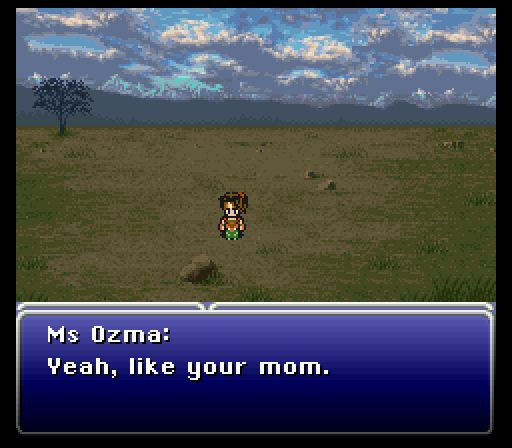 TACO: I HERD THAT
Ozma: SHINY!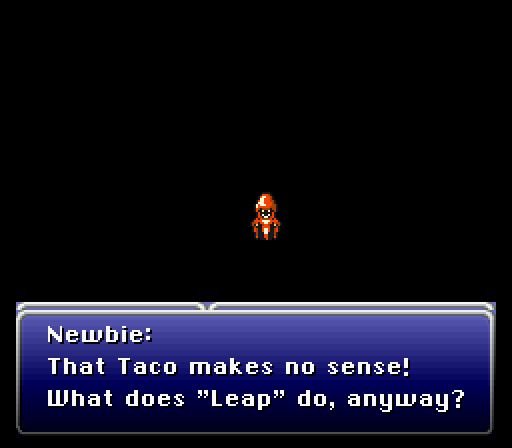 We're treated to a tutorial. Of sorts.


Ghost: When he uses "Leap," the abilities of the monsters encountered are learned...but Leap isn't in the game anymore, it seems...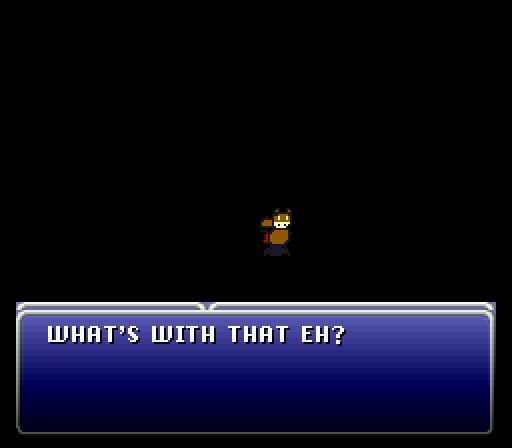 TACO: TI SI A CRZAY THING LIEK BARES IN PANTS

Ghost: That kinda defeats the entire purpose of this speech, I guess. Back to the damn game already.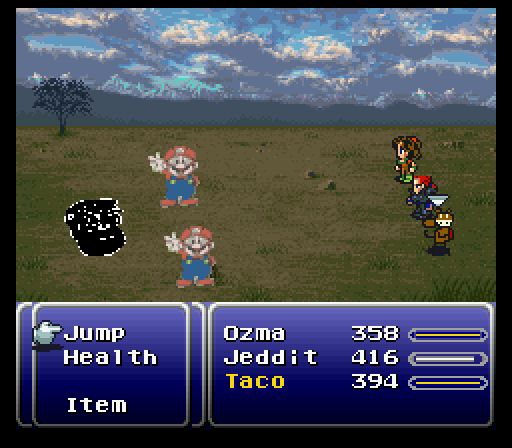 Gameplay-wise, I'm not a huge fan of fighting with him. I've never liked Jump as an ability, since I'm impatient to wait for the person to land - the battle should be OVER by then. Mp-free cures are nice, though.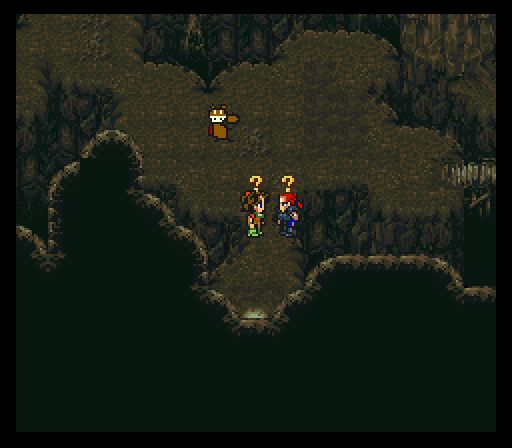 We follow Taco into the Sloppy Vagina Hole of Boobie Mountain.
Ozma: Jeddite! I want the fucking shiny!!
Jeddite: Uh, Taco, where exactly is it?
TACO: OVertp THET THING EIN THE MEGA WOOOOW!!!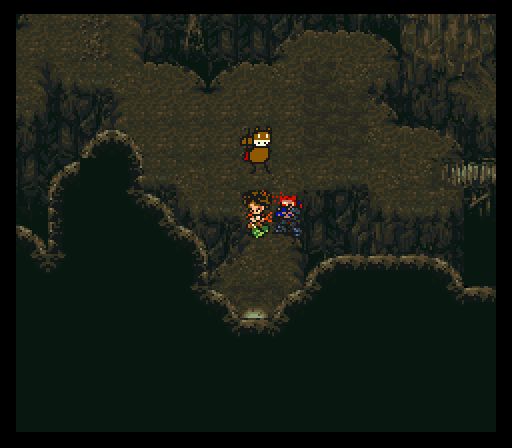 Ozma: I want to have TACO's manbabies.
Inside the Sloppy Vagina Hole, there's various things to look at.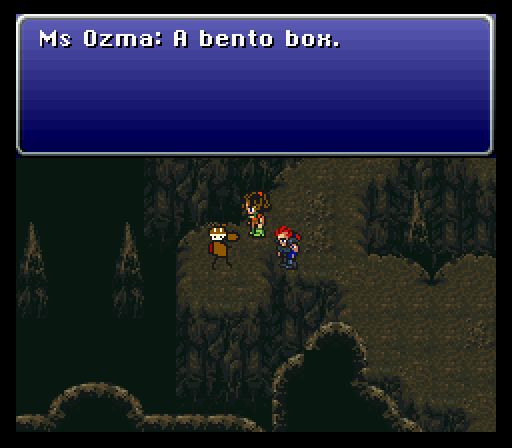 Jeddite
:
What's that about bento boxes? Something pinku?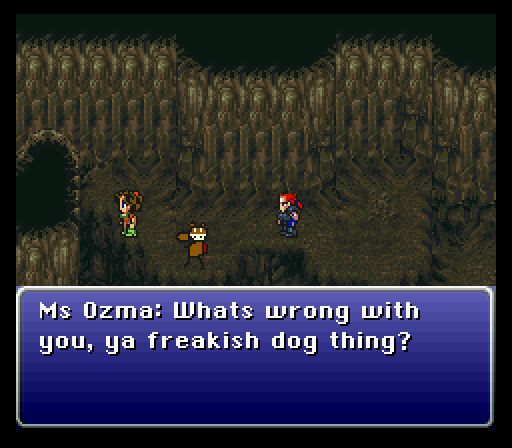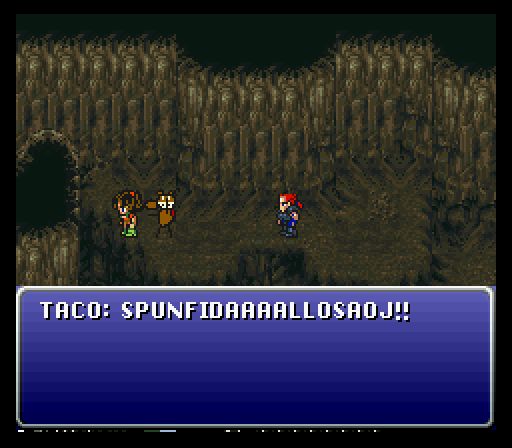 Ozma: G'uh! My ass! This fruity dog thing poked my ass!...!
Ozma: What is your take on the situation Jeddite?
Jeddite: I have also been poked in the ass...with Democracy!
Ozma: Urggggh! Burn the chair!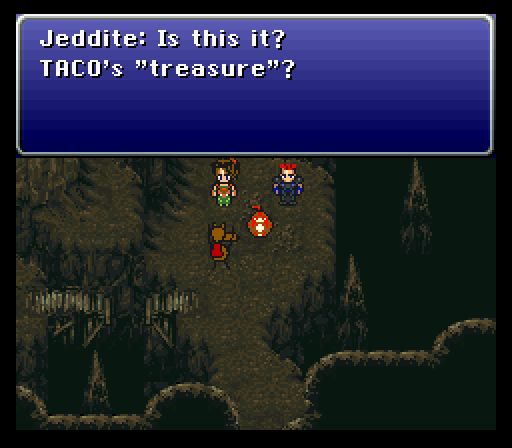 But enough fucking around. Here's the shiny.


TACO: TREETSAURE/// ZOOKM!
Jeddite: Excellent, now we can haphazardly jump into the river with no provocation!
Ozma: Hummmm... oh, Magic 8 Ball, hear my voice, wherever you are!! Can nothing stop Torg?
Magic 8 Ball: All signs point to yes!
Ozma: Nothing can stop torg...now is the winter of our discontent!
Don't even know what the fuck.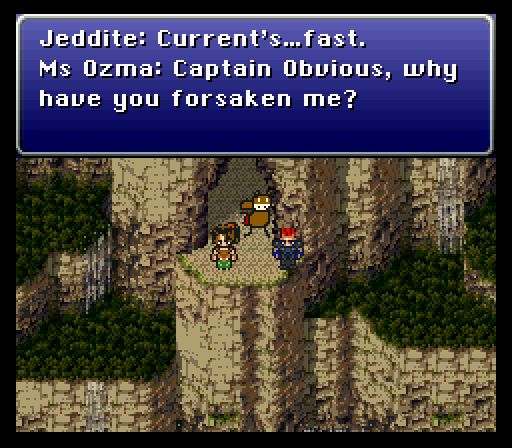 Jeddite: Goodbye cruel world. Hello sexy world!
Ozma: Now is the winter of our discontent!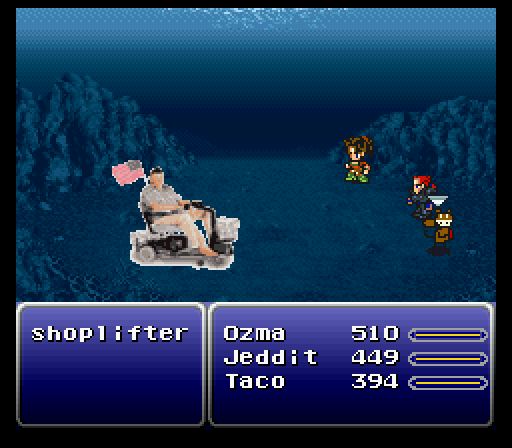 Here's the only picture I took of Serpant's Trench. I hope you treasure it always.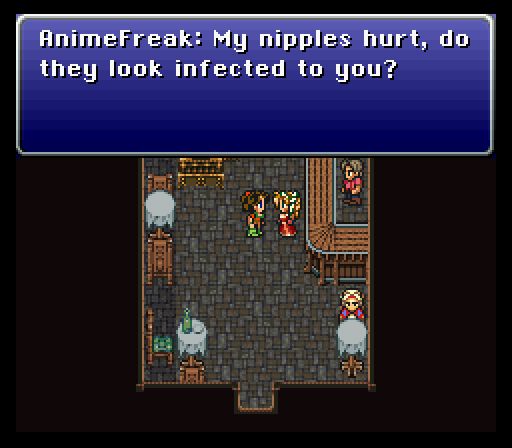 In Nikeah, we meet this lovely lady.
Jeddite: Pancake nipples galore!!
AnimeFreak: Geez, where's the love, fag?
Jeddite: F...fag?!
Ozma: Jeddite...don't let it get to you.
Jeddite: I'm not like that!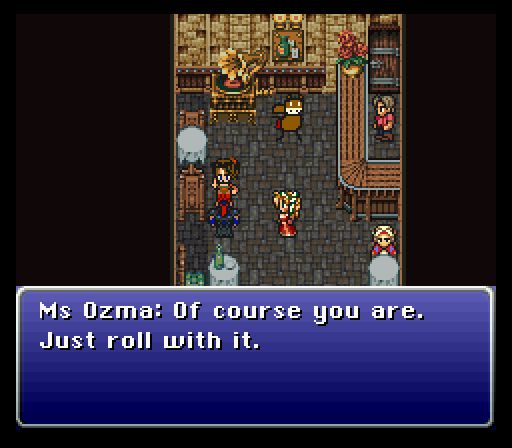 AnimeFreak: Go spoon a bagel, clownhat!
Jeddite: Bagel? I'll tell you a Bagel story, young feller...
AnimeFreak: Goodness!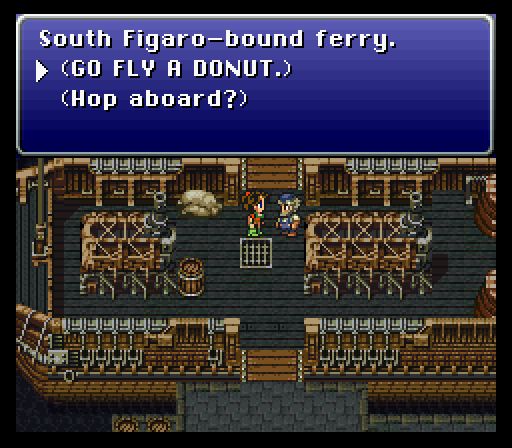 Nikeah is boring. Let's go.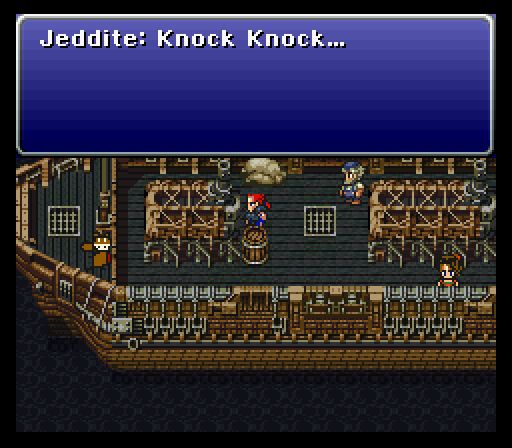 Ozma: Who's there?
Jeddite: No one, because you are not liked by anyone...
Ozma: I don't get it.
Jeddite: I didn't think you would.
TACO: Bermude Ninjaz owz J)OOOO!
And so, we've reached the end of the groups individual sections. Everyone is getting back together in Canada.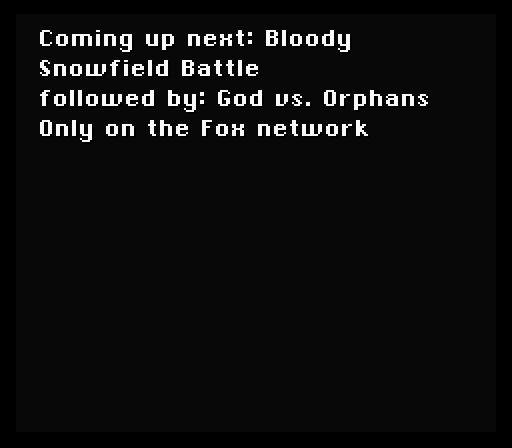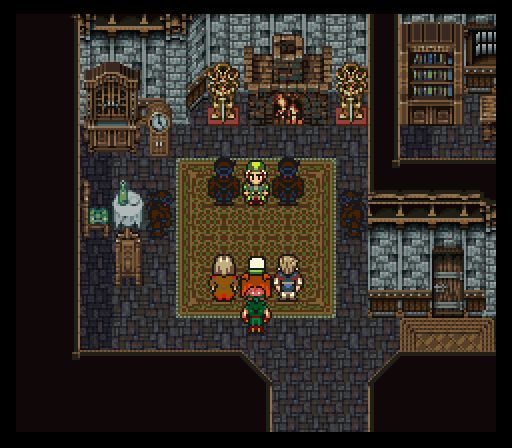 Me Clumsy: We shouldn't have put the porn factory next to the pillow factory...
Airdisc: Oh well...I made you a board with a nail in it!
Me Clumsy: Love you, I do!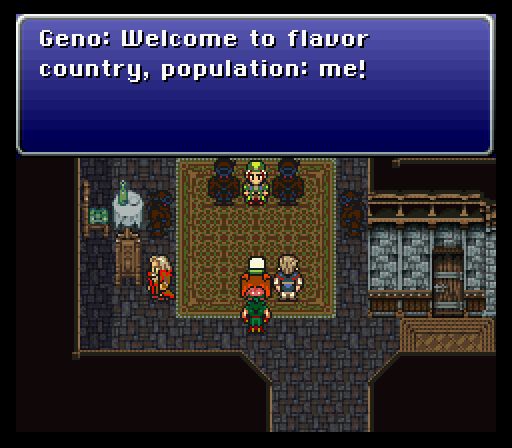 Airdisc: ...
Geno: C'mon, laugh at me, too.
Geno: Anyway, Al is racing to acquire yiffing power. He's set his sights on the cosplayer that was found here! The increased use of yiffing power'll surely lead to...
Me Clumsy: What the hell are you talking about?
Geno: Yiffing...when two people dress as animals and hump...
Airdisc: ...
Me Clumsy: Ewwwww...
Airdisc: CAN WE CAN WE PLEASE OH GOD PLEASE??
Me Clumsy: Later...first we have business to take care of...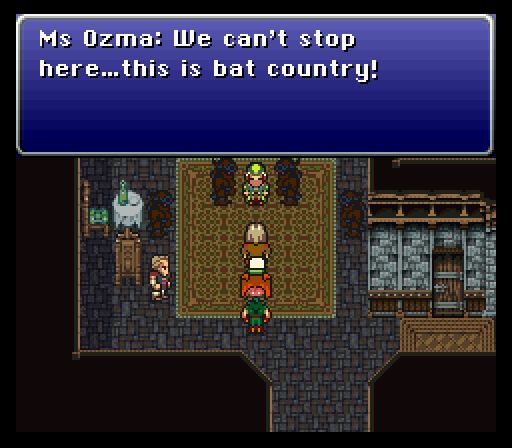 EPG: Ms Ozma! How nice to see you...alive...who are these sexy gentlemans?
Jeddite: I'm Jeddite, I eat babies!
TACO: TACO TAOC! NEED MORE TACO! DROP THAT SANDWHCIH! PICK UP A TOAC! AINT IT GRAND? PICK UP A TACO AND BE A MAN!
The best character in this room.


Ozma: Jeddite got hit by a ceiling tile...
Jeddite: It was THE cei-ling time...
Me Clumsy: Did you do the sex?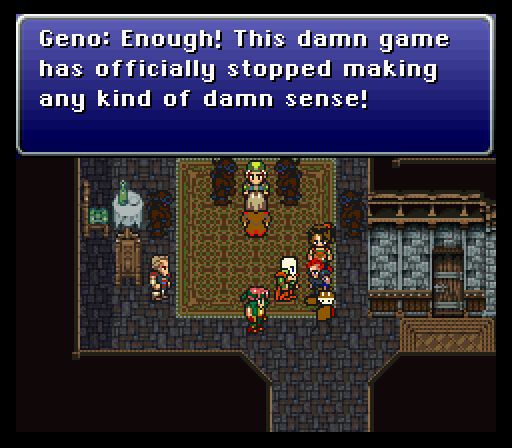 Me Clumsy: LIKE GI JOE! WITH HIS PANTS BLOWN OFF! IN THE WAR!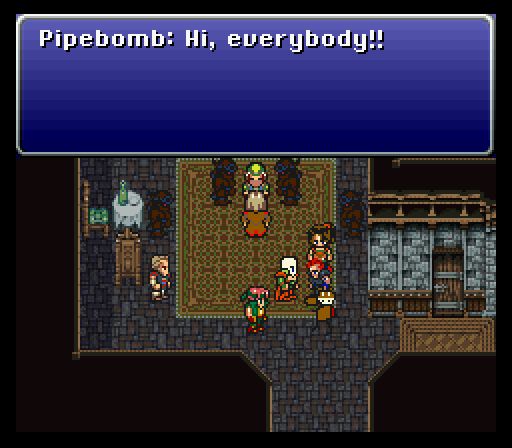 Oh Goddamn it.


OMGWTFBBQ: Hi, Pipebomb!
Pipebomb: Hey, there's a bunch of pirates on their way!
EPG: What?!
Geno: Pipebomb. Why?
Pipebomb: Fistgrrl told me!... she's an evil pirate demon after all!
Jeddite: EVIL?!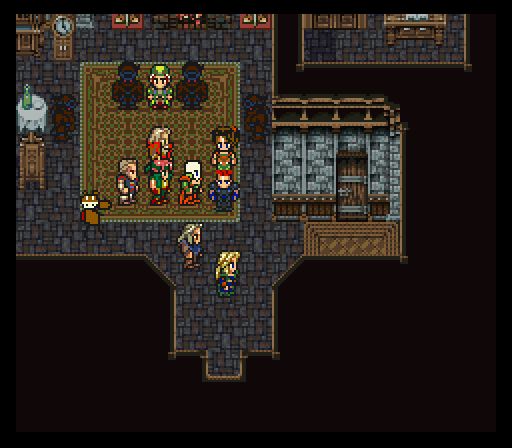 He slams TACO out of the way.
Jeddite: My blind rage against the forces of evil compels me to slaughter you needlessly!
Pretty sure she could easily murder your ass but whatev.
Pipebomb: STOP IT! I'll spin your head off so fast, it will spin BACK IN TIME!
EPG: Man! There's a Carcklin' Tata choked in my throat!
OMGWTFBBQ: I like it when my bento box keeps the Cracklin' Tatas seperated.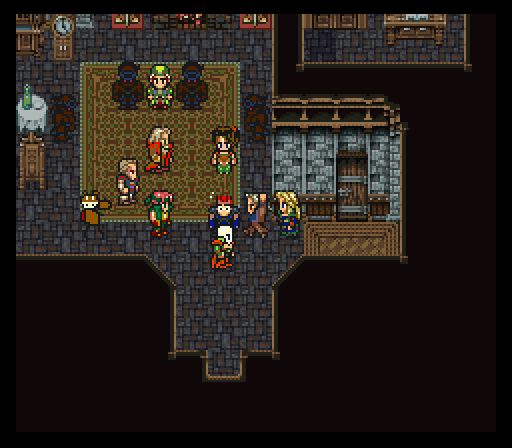 In...Indecent!


EPG: What were we talking about again?
Ozma: Eh, it probably wasn't important.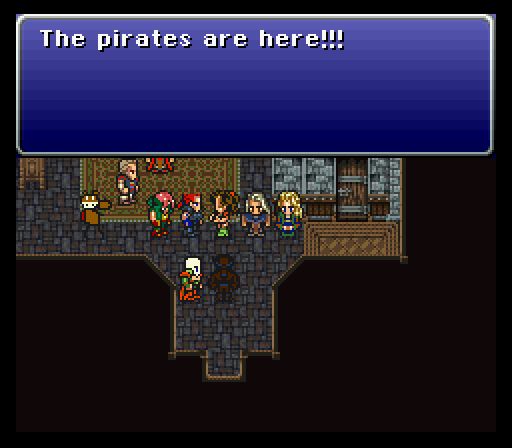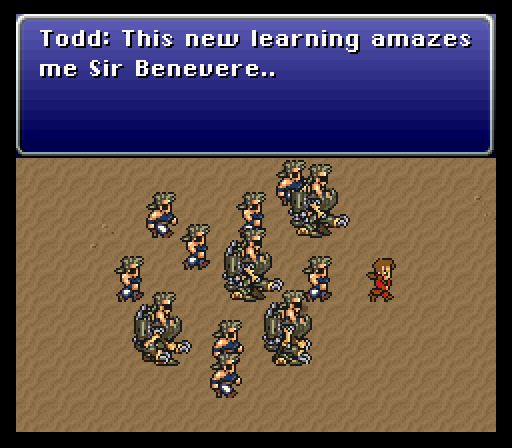 Todd: Explain to me again how a sheep's bladder can be used to prevent earthquakes...
SOLDIER: Certainly, my liege!
SOLDIER: Sire, look!
SOLDIER: Camelot!
SOLDIER: Camelot!
SOLDIER: Camelot!
SOLDIER: ...it's only a model.
Todd: Ssh!!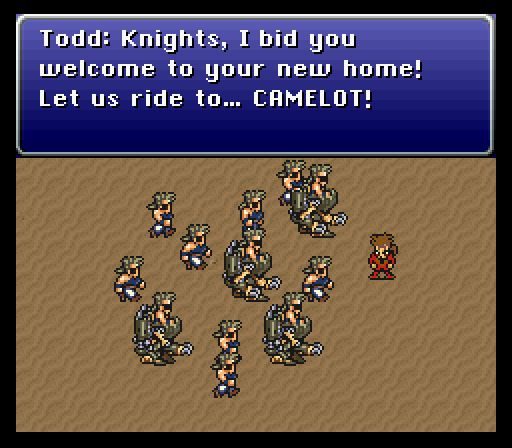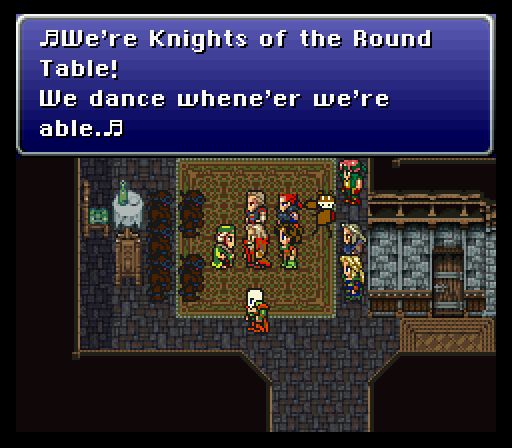 Ladies and gentlemen, I present to you: filler.


♪We do routines and chorus scenes, with footwork impeccable. We dine well here in Camelot. We eat ham and jam and spam a lot! ♪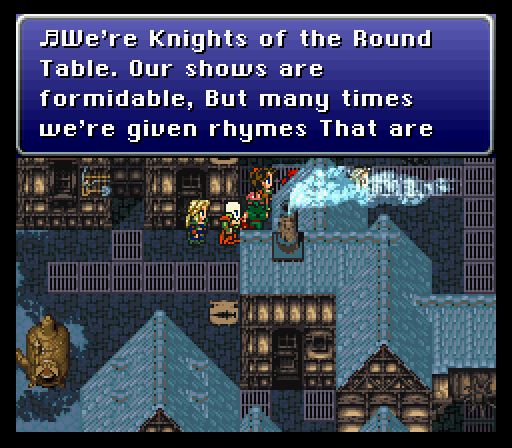 ♪quite unsingable. We're opera mad in Camelot. We sing from the diaphragm a lot! ♪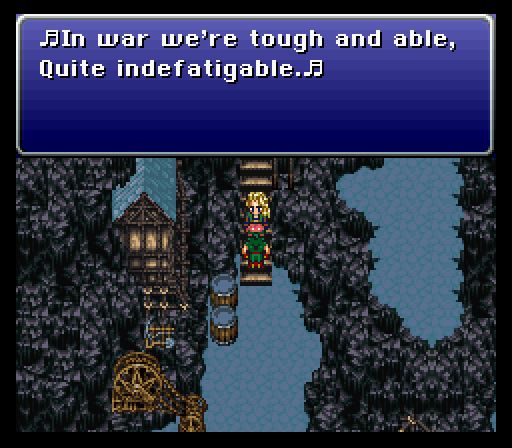 ♪Between our quests we sequin vests and impersonate Clark Gable. It's a busy life in Camelot.....♪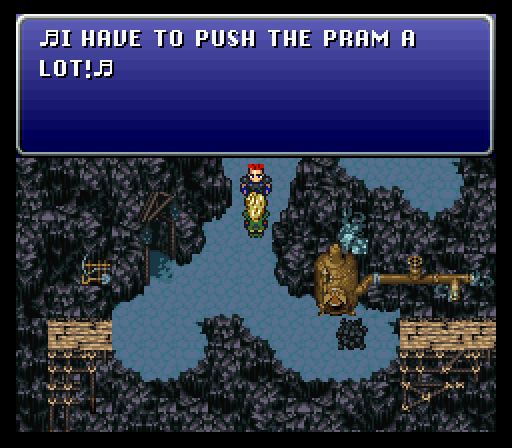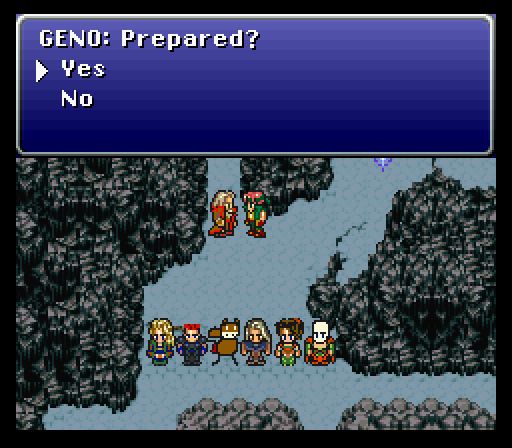 That was pretty dumb. ANYWAYS! Let's get this show on the road.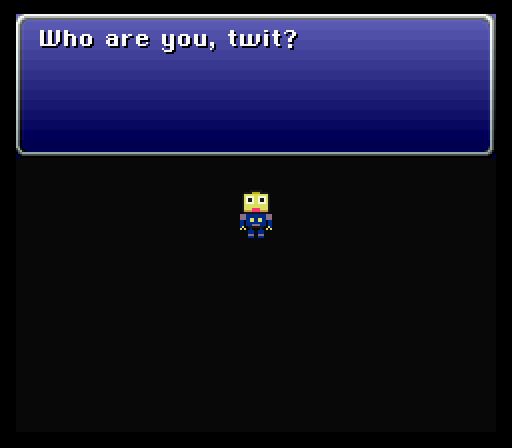 Telling Geno we're ready sends Gamequoter back out here.


Why are you after Kyokugenryu?
>Because I suck
I'm a smarty man

Maybe you need a bigger stick...bus for Loserville, boarding gate 2!
Hey, guys, remember when I asked you to help me make groups?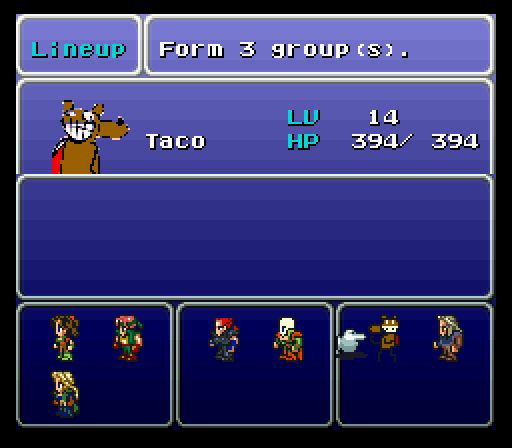 Here's me completely disregarding all of your suggestions because I'm a stupid moron.
I threw OMGWTFBBQ and Fistgrrl on one team along with Ozma, consider the former two were lackluster fighters along with a really strong fighter.
I threw Jeddite and El Pinto Grande on team 2 since they were both decent fighters and could hold their own against pirate grunts.
I threw Pipebomb and TACO on team three because despite his terrible nature PB is a pretty good tosser when he has the right equipment, and TACO is there to counteract his terrible face.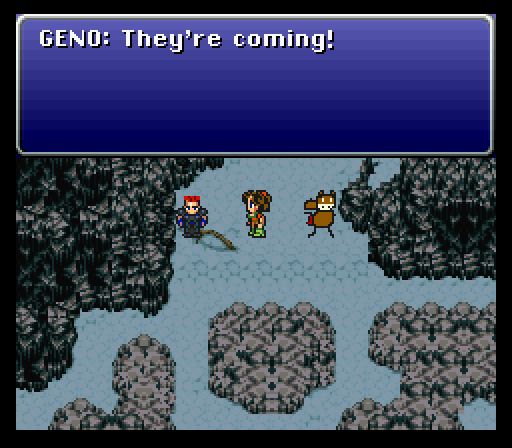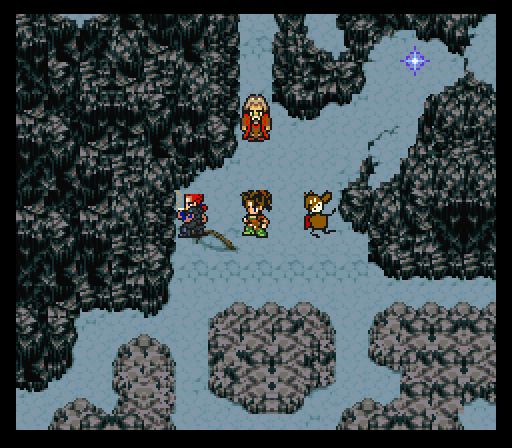 BATTLE POSE!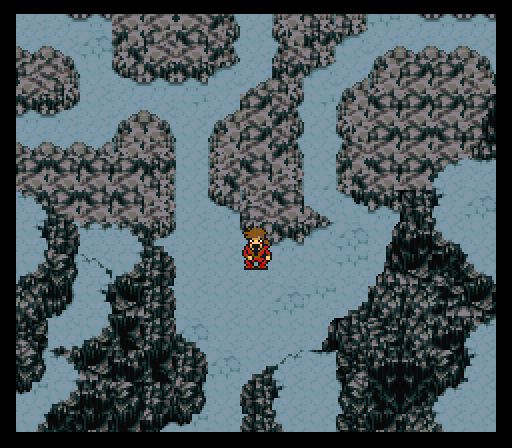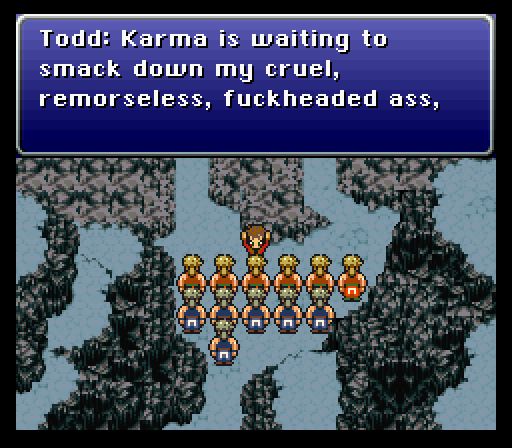 Todd: and when it happens the world will be a brighter place.
Geno: I'm...tying my shoe...now go fight the army of bloodthirsty pirates, deary!
This is what Geno spouts at us if we talk to him. Unlike his SNES cohort, Geno could probably be in a group by himself and decimate the pirates so this protection bullshit makes even less sense.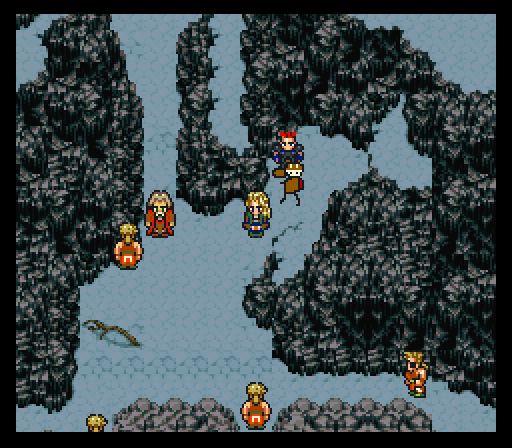 As is such, I don't feel much like protecting him.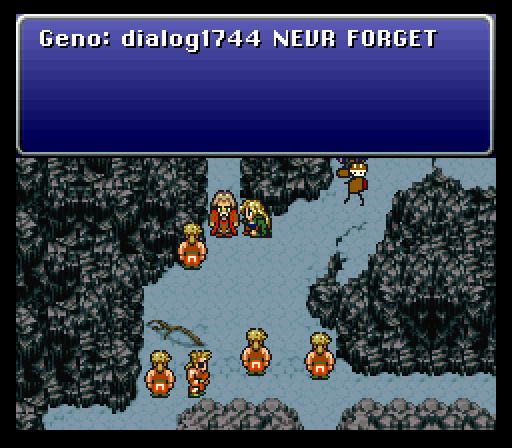 Okay I guess that doesn't work. Fight time!
You can watch the excitement unfold by watching
this video
. It's almost 20 minutes of exciting action! I'll give you a few lines so you can avoid spoiling the chilling action.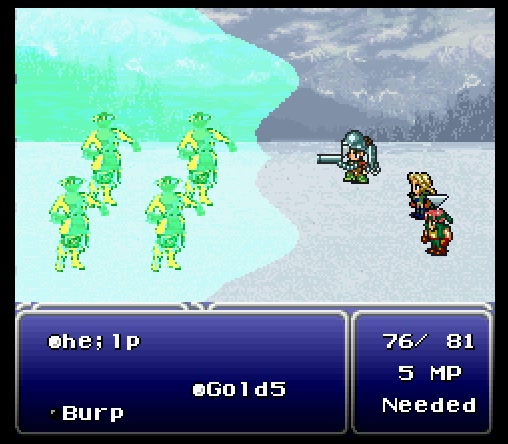 I made the worst possible teams imaginable. The tri-fecta here decimated everything, mostly thanks to Ozma's Gas Chamber. She could easily have been on a team by herself and OMG and Fistgrrl could have supplemented the others, but they spent most of their time using unnecessary supplementary magic.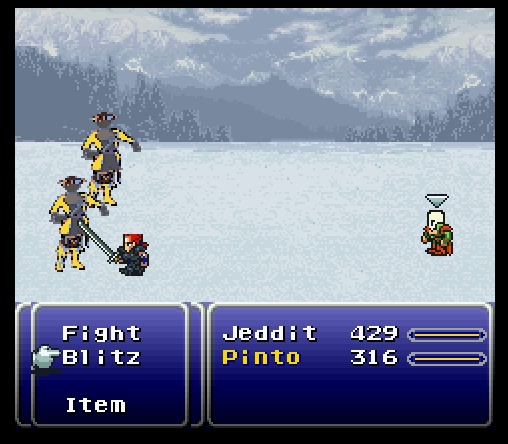 Jeddite and EPG are definately strong - strong enough to the point where one of them is unneeded. EPG has an all-enemy attack, so Jeddite because redundant in their fights. He could have served his time better elsewhere.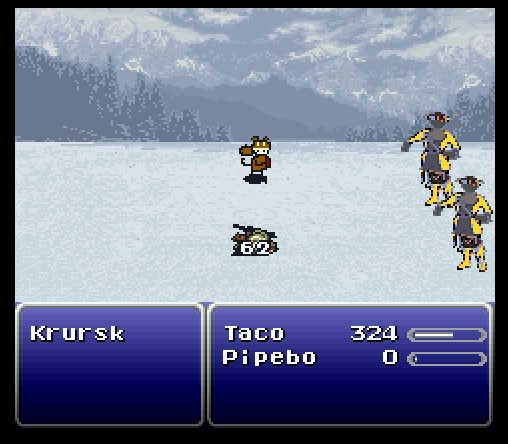 THIS group, however, was a COMPLETE disaster. Pipebomb throws well enough, but he's incredibly weak against their phsycial attacks. It wouldn't be so bad if TACO could attack without removing himself from the screen, and - as such - the enemies could attack him too. As it was, PB died pretty quick with everyone focusing on him first.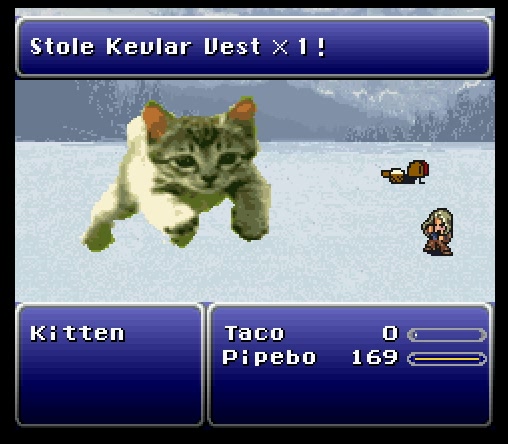 Not before stealing the Kevlar Vest, though. THEN the Kitten killed us proper.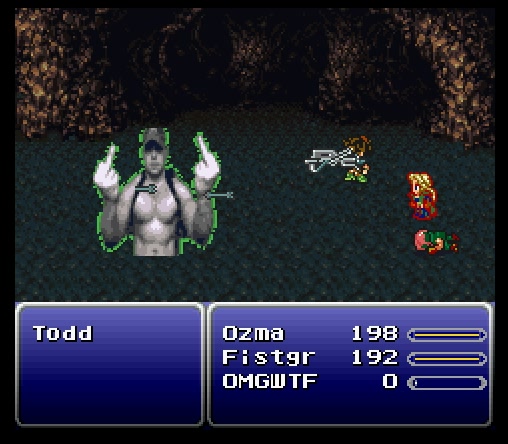 Not much to say about the Todd fight, except that I failed miserably when I had Fistgrrl dance, as she spent most of her moves trying to insta-kill the boss. Useless.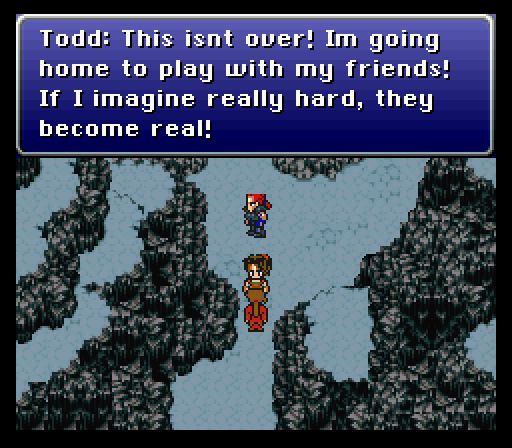 In the end, though, my stupid stupid teams worked out just fine.


EPG: Where's the cosplayer?
Pipebomb: Is it okay?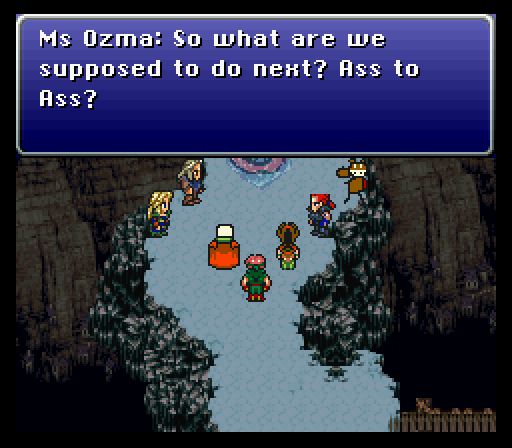 Pipebomb: Hey, I remember this! This is where the thingy shoots lightning and everybody died! ...uh oh...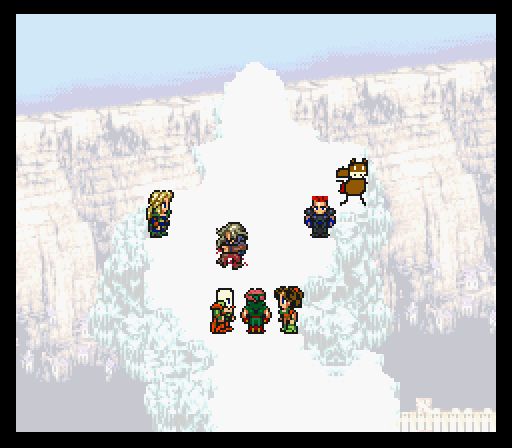 Fortunately, the Cosplayer decided to just hit Pipebomb. I approve of this development. Fistgrrl helped him up.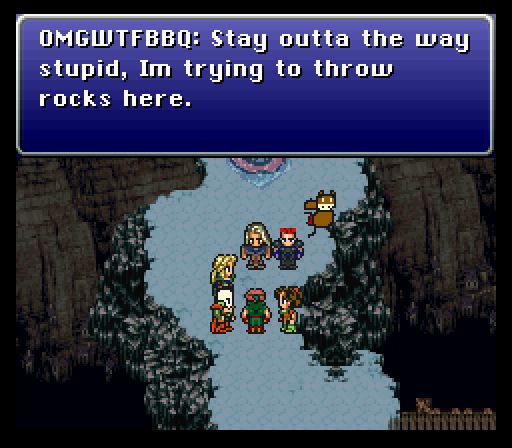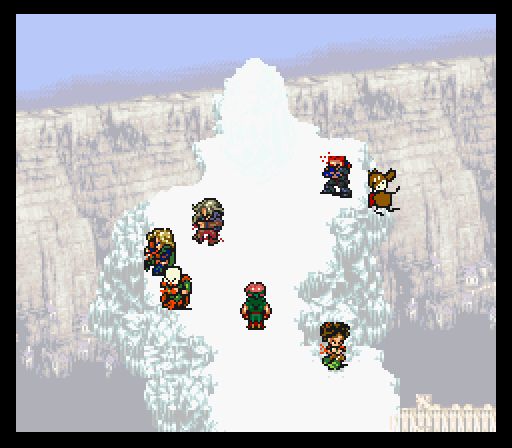 Ozma: ...this is stupid. ...well, it is.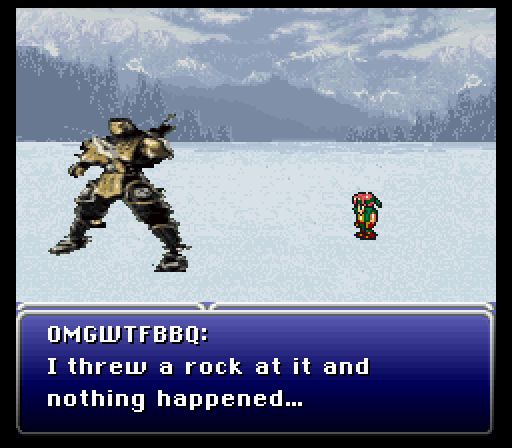 OMGWTFBBQ: I'm confused, what's happening? Is this...is this the powerup? For winning the game?
Pipebomb: I don't get it.
Fistgrrl: Something horrible should happen right
Fistgrrl: about
Fistgrrl: NOW.
EPG: RUN! IT's GONNA BLOW!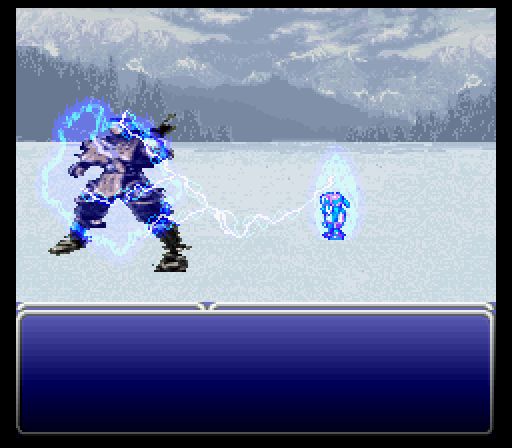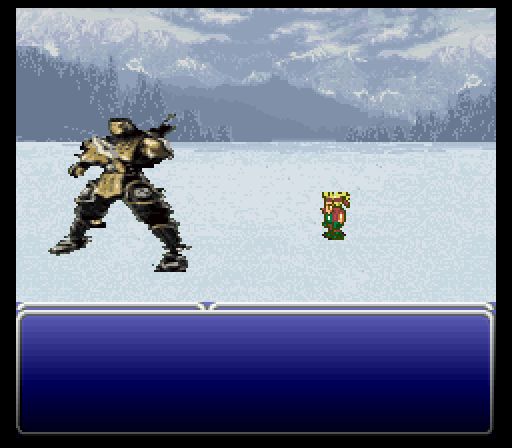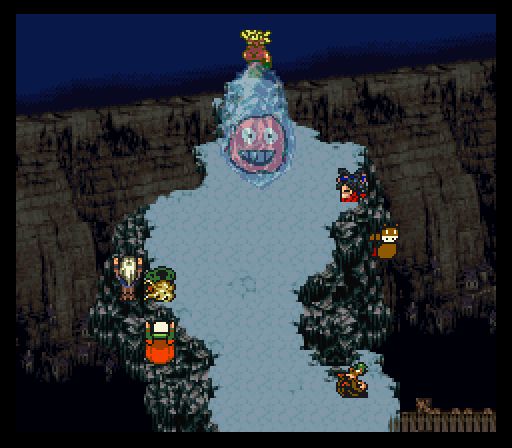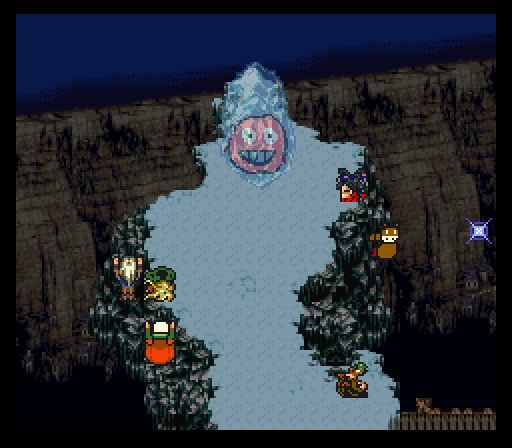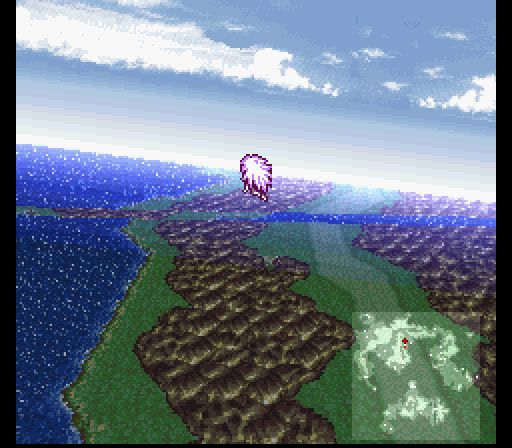 ...
goddamnit, X JAKK.
Next time
: