Part 12: Chapter Twelve
Chapter Twelve
A lot of people quit in this chapter and I can't really blame them, considering the circumstances.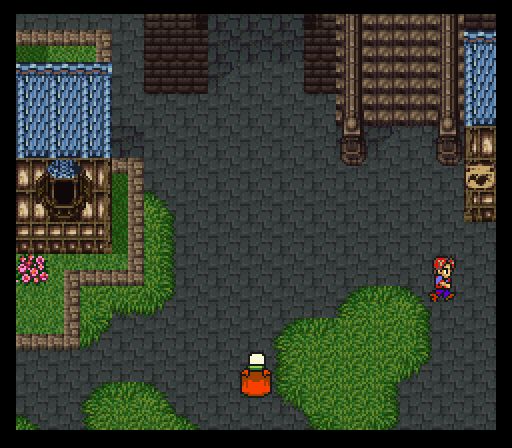 But that's later. Welcome to Jidoor!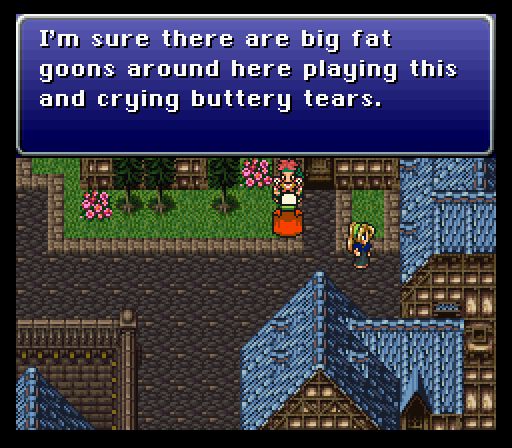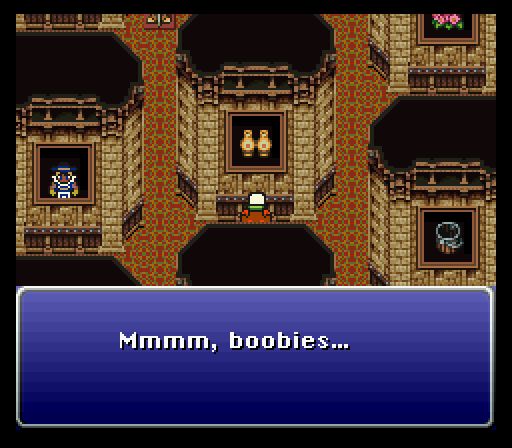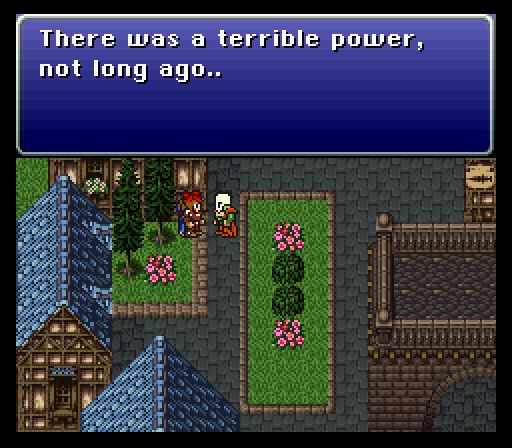 Dude
: We constructed Space Robots to protect us from the terrible power...but they malfunctioned and went north. We haven't heard from the people there since.
That's where OMGWTFBBQ went! I hope he's alright.
Before heading to Zozo, the group decided to hit the inn.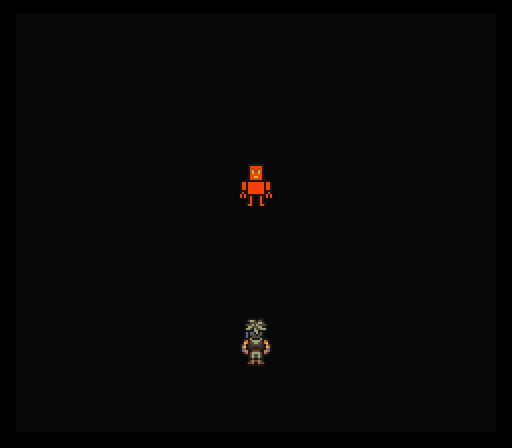 Wherein I completely forgot I was toting around Isnoop and he went and had a dream.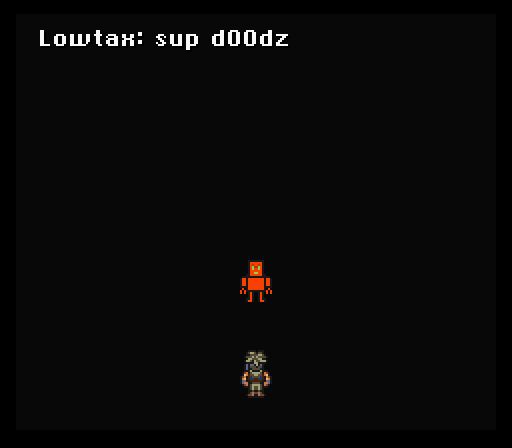 And that's it. Nice dream, dude.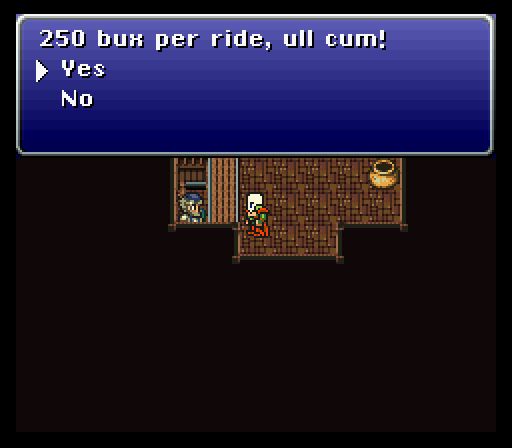 Chocobo Dealer
: Wanna know how to ride a chocobo?
Chocobo Dealer
: TOO BAD ASSHAT!
Even without his help, we wrangled the thing and rode north.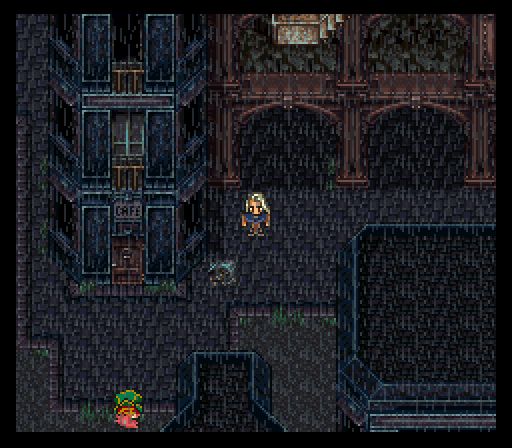 Welcome to Zozo.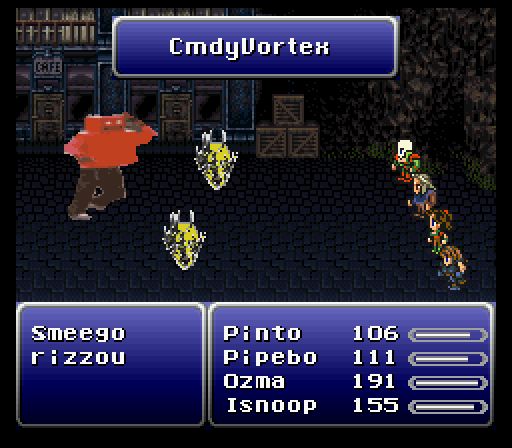 Some of the fights here aren't a problem.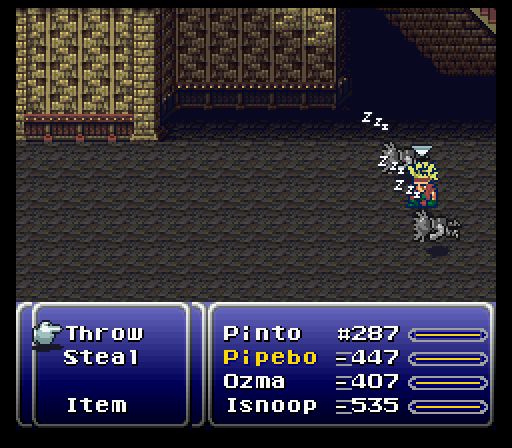 Some are.
I have no idea what the ROM is trying to do. I'm not a programmer and don't understand the technical side of these things. The group is not dead or stoned. Once the enemy (which, coincidentally, the Veil Dancer is the enemy that seems to be the most fucked up) attacks, the group changes as a whole with completely fucked-up sprites a'la MISSINGNO. You can fight normally then, but whatever enemy the Veil Dancer is supposed to be is unable to be attacked, so running is the only option.
I don't hate these encounters too much.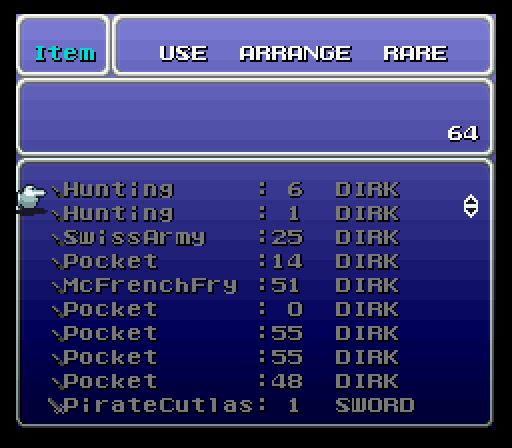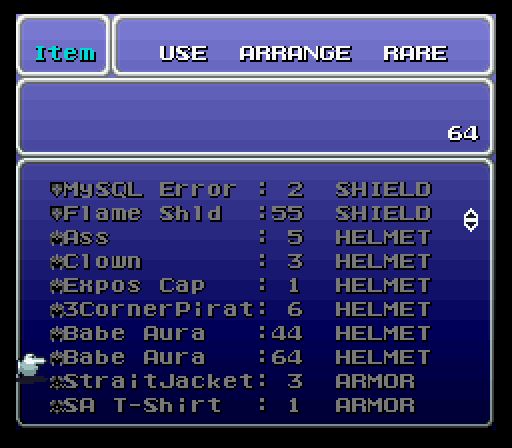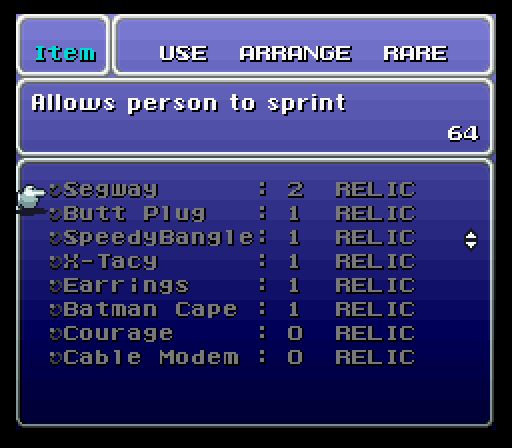 Since shit like this happens. Whatever bug causes the fuckup in the battle also completely fucks my inventory. I have way over a hundred Cable Modems and Courages (which dodges attacks more easily and turns steal into capture, respectively) and hundreds of hunting/pocket daggers. Pipebomb will never have problems with throwing again, and I'm not going to have money issues anymore.
I don't respect this game enough to not exploit its awful bugs. Plus, the Flame shields mean everyone's going to learn Fart sooner or later. It's been mentioned that this bug gets rid of rare items or tinticures or whatever, but I never use the latter and honestly at this point in the game there's not a whole lot of valuable things to lose that aren't already equipped anyways.
Anyways, let's get the chainsaw.
Euro is pretty like a:
(Beaver)
(Stick)
>(Pony)
(Turd)
(Gravy)

Lowtax's youngest cat.
>(Stupid)
(Cat)
(Mortimer)
(Darth)
(Uglycat)

The ultimate insult is "Fucking:
(Magpie)
(Crackwhore)
(Chihuahua)
(Fucksack of Fuck)
>(Farker)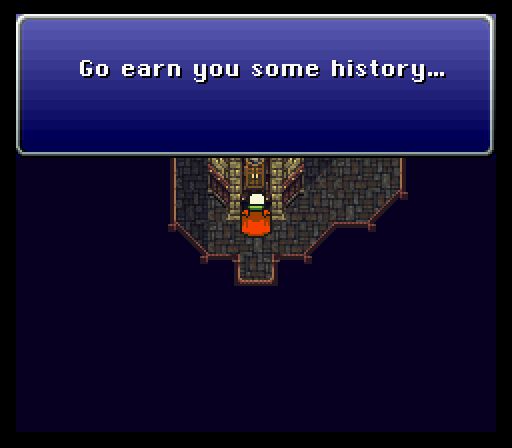 The only way I could even begin to guess these is to know the pattern from the original game of 6:10:50.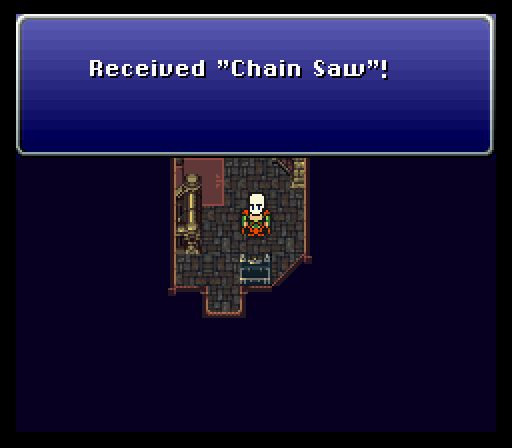 Unnamed. Boring.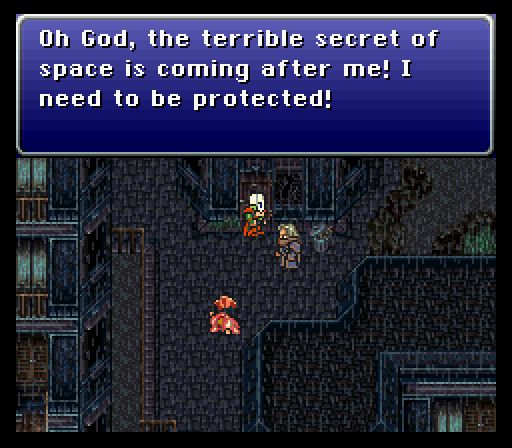 The robots from space have a lot to tell us.
I WILL PUSH GRANDPA OUTSIDE INTO THE SNOW.
I WILL SHOVE THE SNOW ON TOP OF GRANDPA.
BZZZZT ERROR MALFUNCTION BLUE SCREEN OF DEEEEATH.
DO NOT TRUST THE PUSHER ROBOT. HE IS MALFUNCTIONING
I AM THE SHOVER ROBOT. I PUSH BREAD DOWN THEIR THROATS.
I AM THE PUSHER ROBOT. I SHOVE AROUND THE BLIND PEOPLE.
GRANDMA IS PROTECTED. GRANDMA HAS GONE DOWN THE STAIRS.
DO NOT TRUST THE SHOVER ROBOT. I AM SUPERIOR.
SHOVING WILL PROTECT YOU.
DO YOU HAVE STAIRS IN YOUR HOUSE?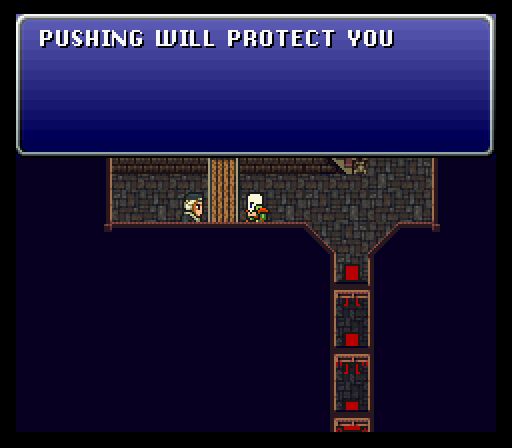 You're not a robot.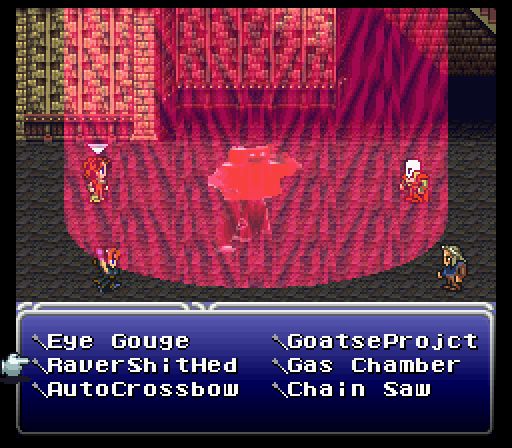 Here's a list of the tools Ozma has available now, as promised last update. The Goatse Projct is the Flash tool, and the Eye Gouge is the drill.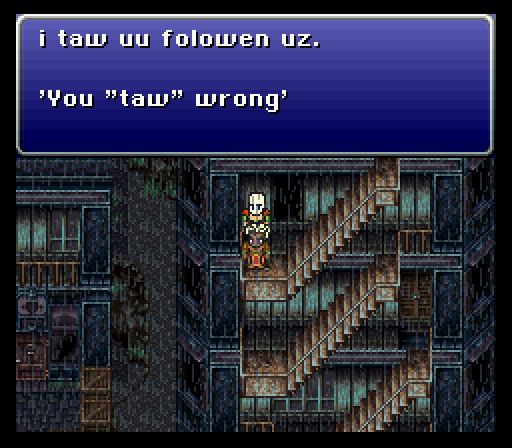 ar uu maken fun uf uz?
'Hmm...no.'
it not funny.
'Yes it is...'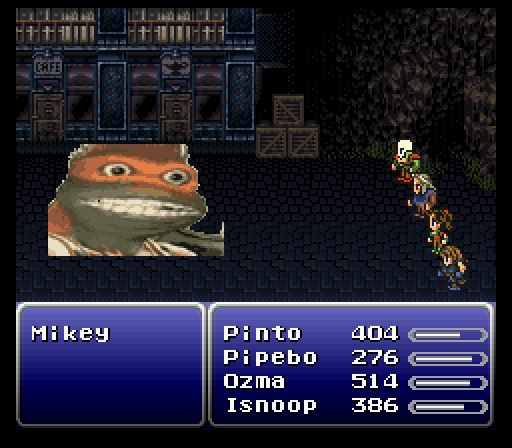 I have no idea what that was referencing but with Shock, the Eye Gouge, EPG's Haduken and Pinto's new supply of weapons to throw...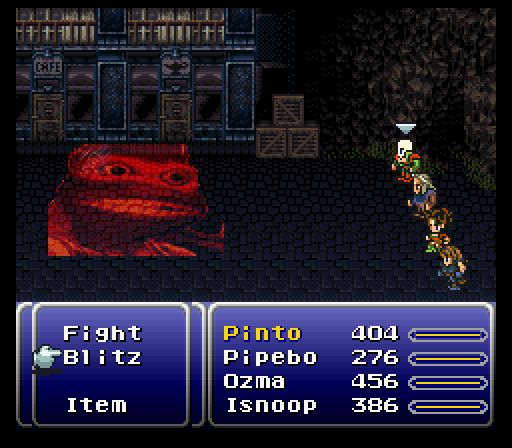 Mikey doesn't last two turns.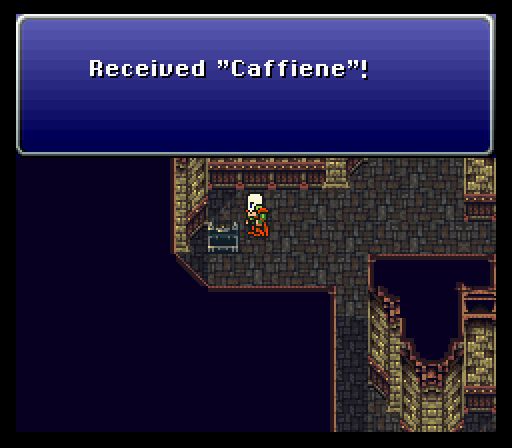 More Haste Boots or whatever they're called! I keep forgetting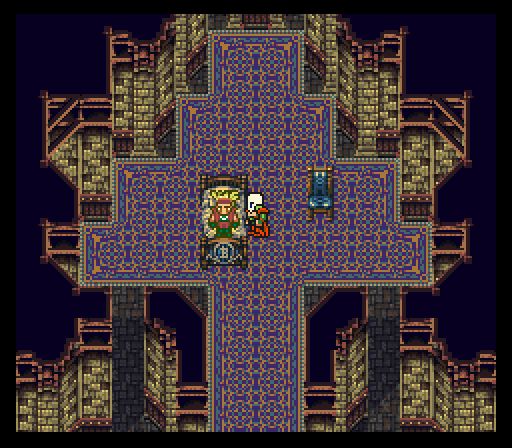 Oh, hey, found OMGWTFBBQ.
'Jesus is sweating for your sins, you and your filthy band of muggalos.'
'We have located our friend! Let us celebrate with a big bowl of peach ice cream!'
Moltar: You dumb shit! That wasn't peach ice cream!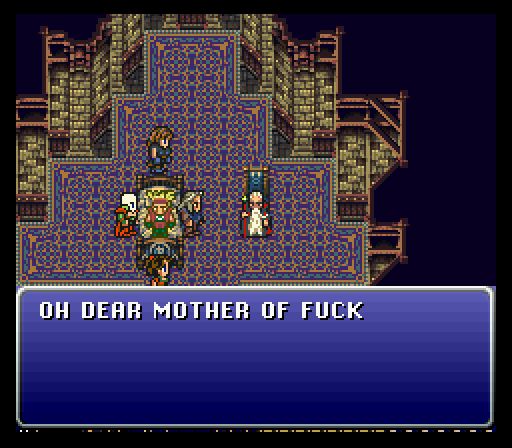 Moltar: I would just like to establish that I know nothing about... the whereabouts of Umberto Malzone.
'Ironically, I am not good at the math or the funny.'


TACO posted:
SQUID IN HAT IS A GOOD TIME OR FREE RIDE
'Hey guys, lets see what happens when I stick this tazer up his ass!'
Pipebomb does so. As expected, OMGWTFBBQ freaks the fuck out and lands near the top of the room.


Moltar: I find you very interesting. So interesting in fact that we will now FIGHT WITH KNIVES!
'...what?'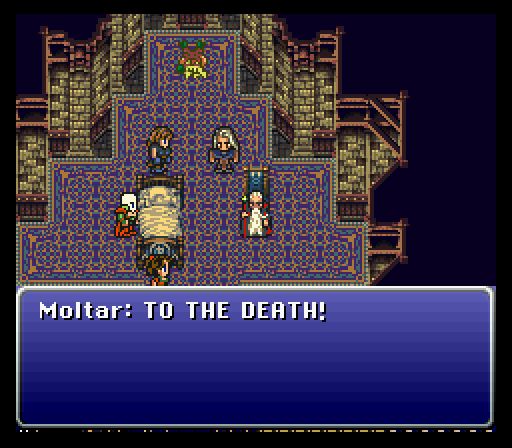 TACO posted:
A MURDERER MURDERED MY PARENTS, WHICH IS WHAT MADE ME WANT TO BE A COP LIKE YOU OFFICER COP!

Moltar: Therapy?! That's your solution to everything these days!
'I just had the craziest dream. Let's have a bake sale!'


TACO posted:
I DIDN'T BUT BUH I DUH ANAL!!!!

Moltar: Shut up, you don't like anything fun.


The normal group got a blank text screen here.
TACO posted:
SHIT FUCK PISS LICK'N COCK BOATPEOPLE

Moltar: I don't give a shit what you want. You're a dancer, you do what I want. Now it is time for a story...there once was an Ugly Barnacle. He was so ugly that everyone died. The End.'
OMGWTFBBQ: That's just super! Now everybody's dead! My stories are much better!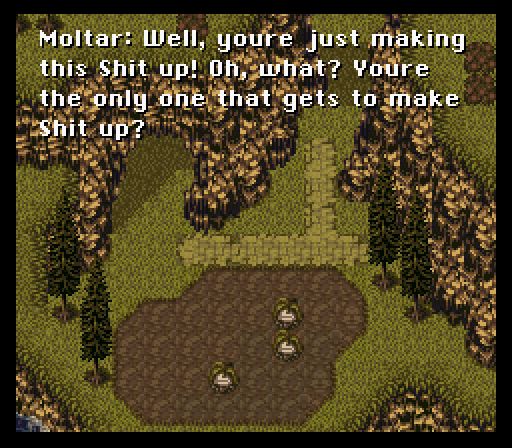 OMGWTFBBQ: Why don't you tell them about that time you went to eat at that one place?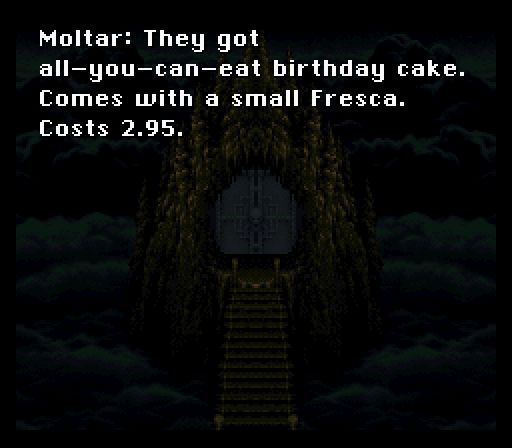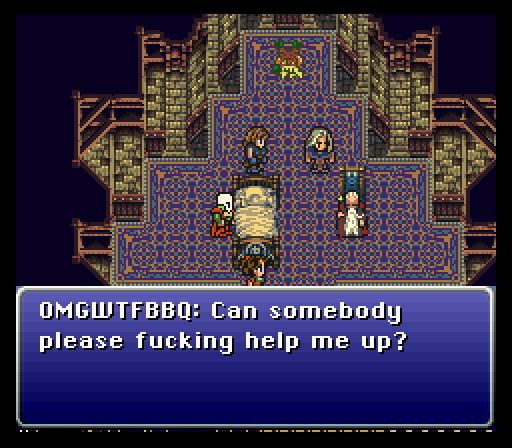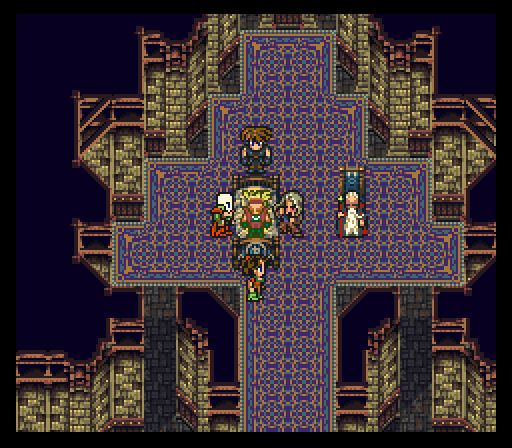 Moltar: My, he's a saucy lad.
OMGWTFBBQ: I live under your bed, watching your every move. If you don't obey your parental figures' every whim, I'll attack you in the night and chew on your bones like I would bacon...bacon...BACON! Argh...
'What's wrong with him?'
Moltar: Nyeh...evil...it's consuming his soul or something like that.




Moltar: Don't be sassy. Once you collect enough Yiff Tokens, you can heal him.
'Righteous! And where might those be?
Moltar: The Black Science Institute!! DUN DUNNN!
'OH SNAP!'


TACO posted:
THIS IS PORTRAIT...OF A ROOKIE WITH AN ATTITUDE WHO GOT RESULTS!!!!!! BUT ONE DAY HIS ATTITUDE ATTITUDED HIM TOO FAR...INTO THE TWILIGHT ZONE!!!!!!

Moltar: Damn it! I forgot Jesus!
'What do you mean?'
Moltar: Buddy Jesus. Cosplayers. Mystical voodoo shit. Blah blah blah now about the Yiff Tokens...they are the mystical remains of our dead bodies, because we have powers for some apparent reason.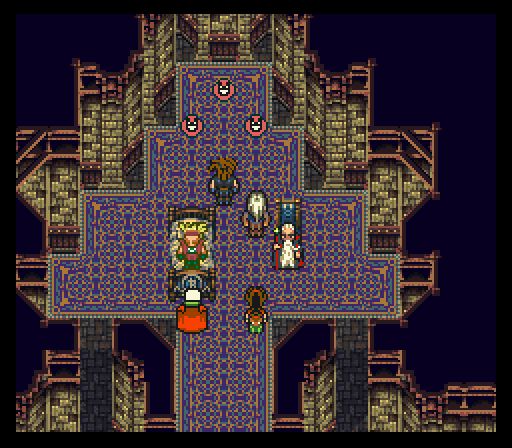 I feel no reason to contribute anything to this stupid scene.
Moltar: Here's the remains of my friends. You can have them, if you can survive my suicide bombing. FOR ALLAH!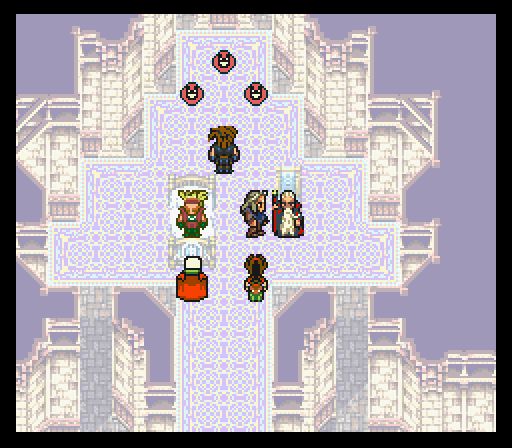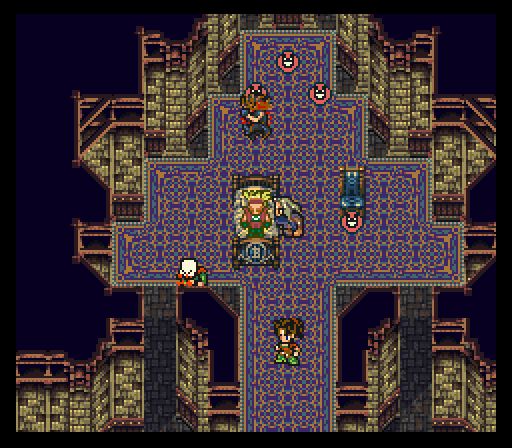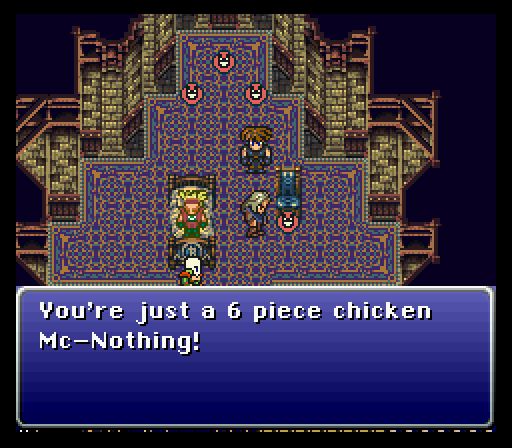 TACO posted:
SO THEY PUT HIM IN THE CAGE AND POKED HIMM WITH STICKS AND YELLED AT HIM UNTIL HE DIED.
'I also regret to inform you that when I don't see you, you really aren't there, and when I sleep the universe disappears. Adultery, it's not just for adults anymore!'


TACO posted:
MAN THEN LIED DOWN IN THE CENTER OF THE ROAD AND WAS ALSO HIT BY A BUS.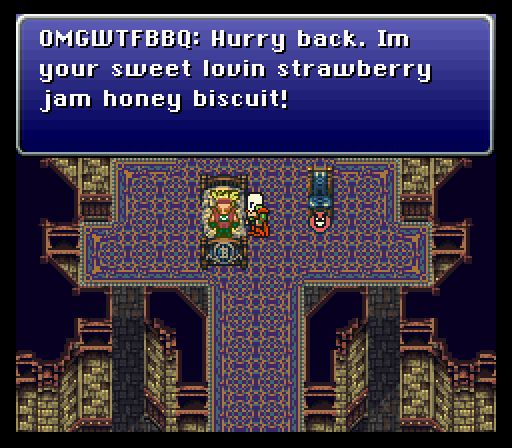 So OMGWTFBBQ is just gonna chill out here, I guess.
The party turns back to Moltar.
'Do not pass go, do not collect 200 dollars, go straight to hell!'
Moltar: Eh, I'll just be pals with Mike the razor-toed spine masher.

Received Moltar Yiff Token.
We also got Zorak, Space Ghost, and Sailor Moon.
I hope you guys appreciate how annoying it was to drag TACO all the way up here by himself without a working Moogle Charm code.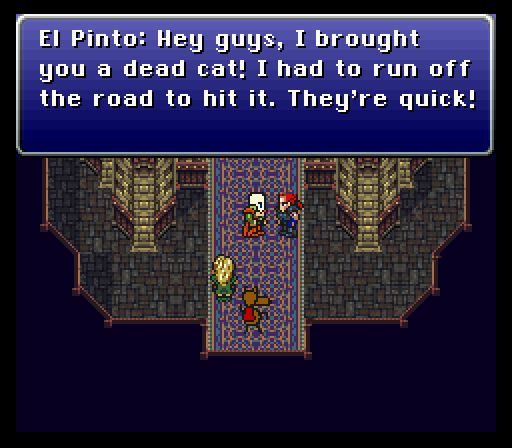 The rest of the group decides to show up at this point, deserting Canada.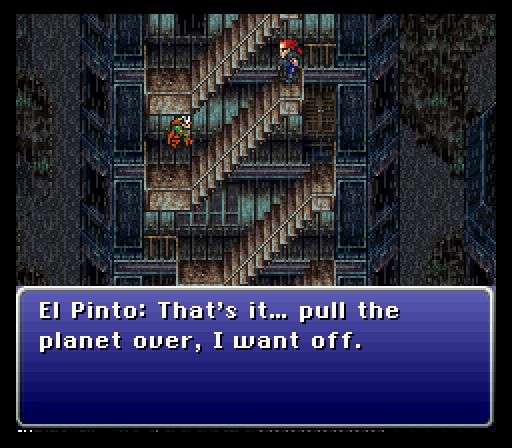 Ozma: Hey Fistgrrl, remember when we made the fake turd and fooled you?
Fistgrrl: I don't remember because I was asleep and I'll thank you not to bring up fecal matters.
Jeddite: Hey, you remember Pipebomb's dream girl, his one-and-only, his true love forever?
EPG: Yeah, I met her the other day. Nice girl.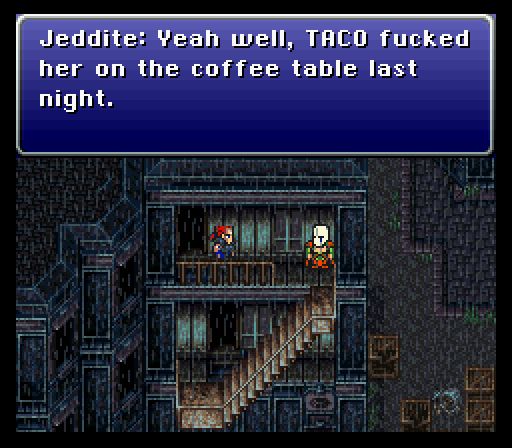 TACO. Still the best character.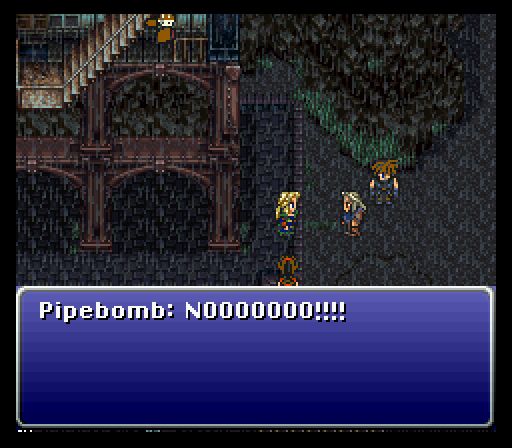 Jeddite: I thought I was watching a naked rodeo!
Pipebomb: NOOOOOO!!!!
Fistgrrl: Whores get paid, sluts don't. Remember that. I stopped being a slut when I realized all I was getting was lots and lots of sex.
Pipebomb: I feel empty. I need what you got. I need a woman. Someone that I can sell her organs to Black Sabbath, make me some money.
Pipebomb: How about it Isnoop? We can listen to some Led Zeppelin on the way!
Isnoop: OMG FBI!!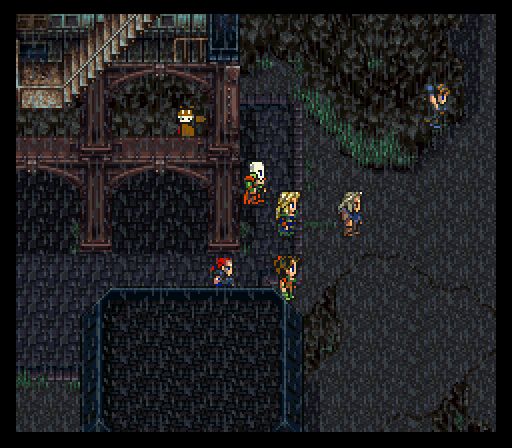 Well, it was fun while it lasted, Isnoop. See you in Albrook.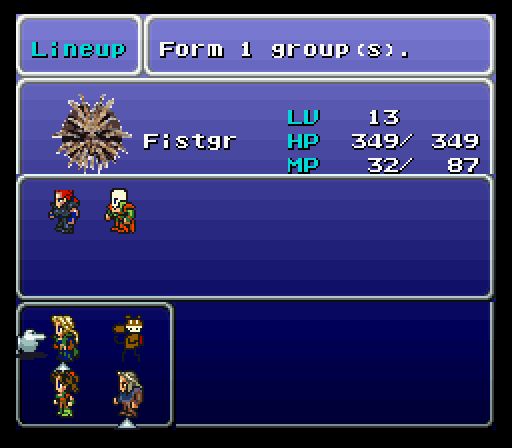 I'm honestly okay with Jeddite sitting on the bench the entire game.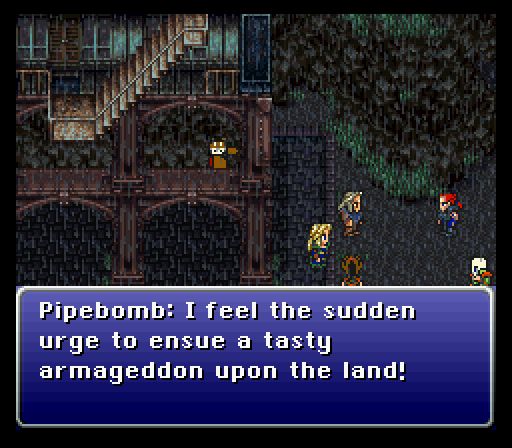 Fistgrrl: I would much rather go to the moon.
Pipebomb: NOO! On the moon nerds get their pants pulled down and are spanked with moon rocks!
Fistgrrl: Fine, we'll go to Jidoor. As long as we don't have to listen to your craptacular music on the way.
Pipebomb: My career at Big Lots has blessed me with impeccable taste in music. Also, I enjoy the taste of semen.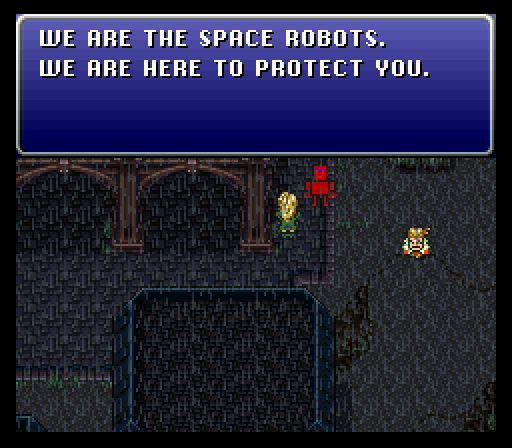 Oh, Zozo, I'm...not going to miss you. At all.
Thanks for the free shit though!
Speaking of which, TO JIDOOR!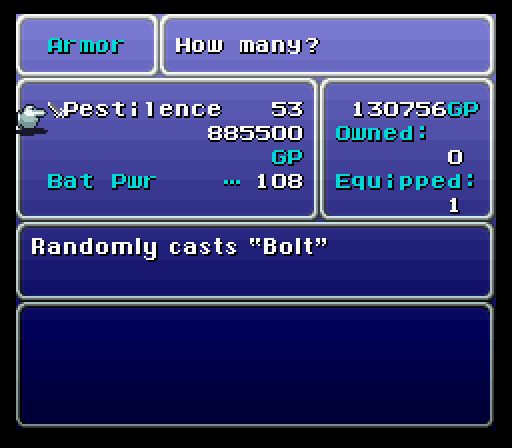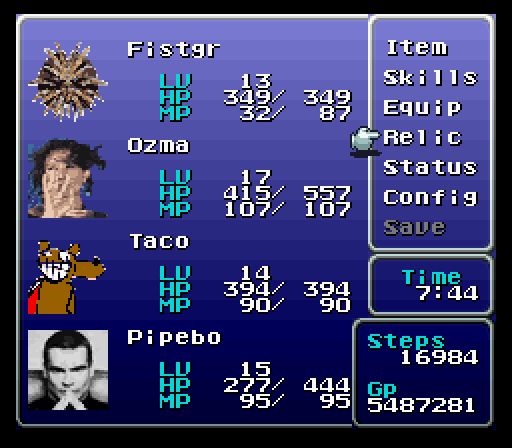 No need for money the rest of the game! Yay!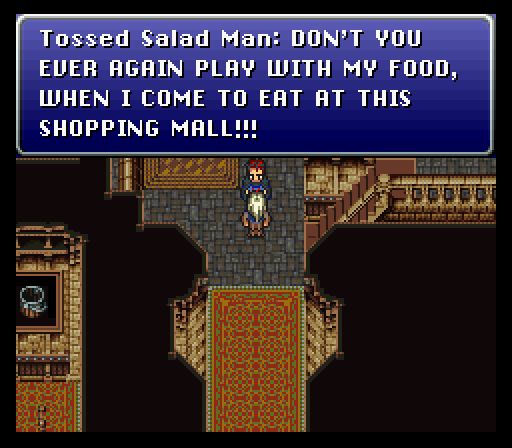 Fistgrrl: Perhaps we can set up a meeting to discuss this issue?
TSM: I'll have my people call your people. Wait a minute...I am your people! This is so cool!
'I guess we'll have to tell Bruce Springstein to get a new nickname, because YOU'RE the boss.'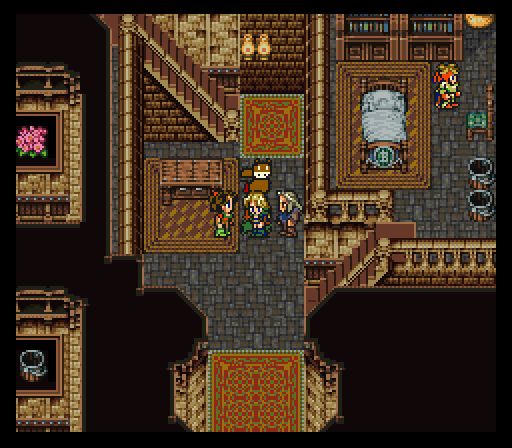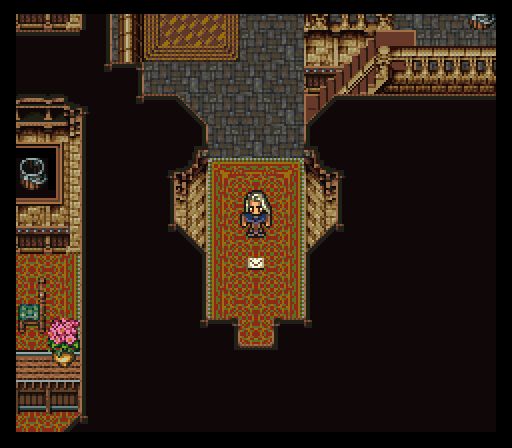 UVE GOT MALE!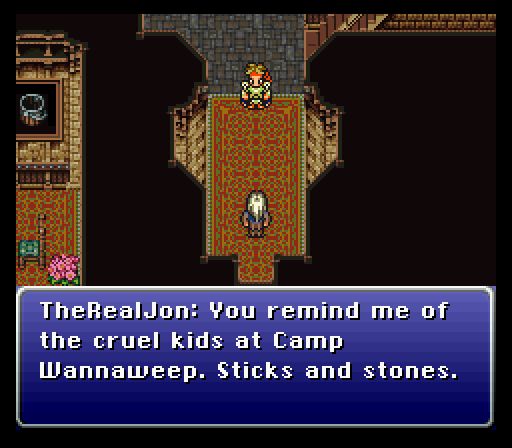 Fistgrrl: They called you names?
TheRealJon: Yes. While they were hitting me with sticks and stones.
Pipebomb opens up the letter.
Hey Carcinofuck, I just went to the chicken place and they had the drinks with only the syrup and it was like 3 orgasms in one all at the bottom of the cup its the best slurpee you've ever had oh my god.

Pipebomb: I'd know that annoying, high-pitched babble anywhere!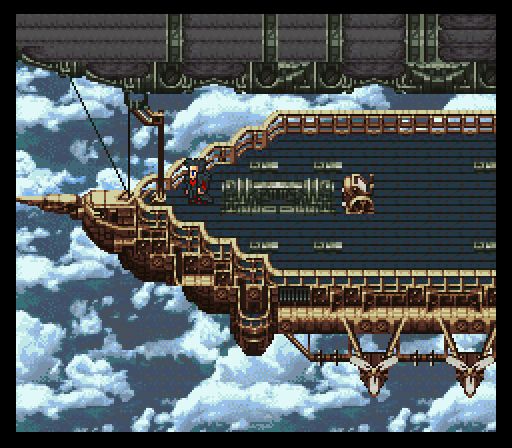 And here's the man of the hour, ladies and gentlemen.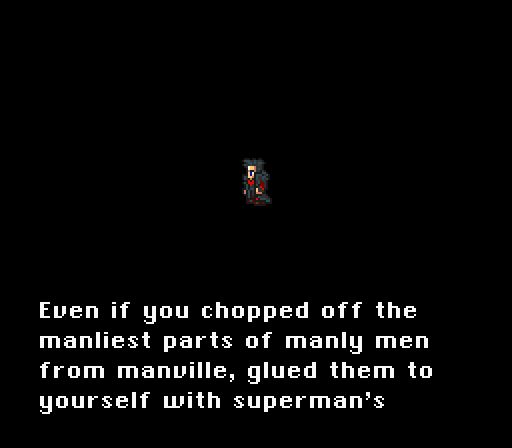 semen, and carved "man" 70 times on your dick, I'd still be more man than you could handle. I also scare children.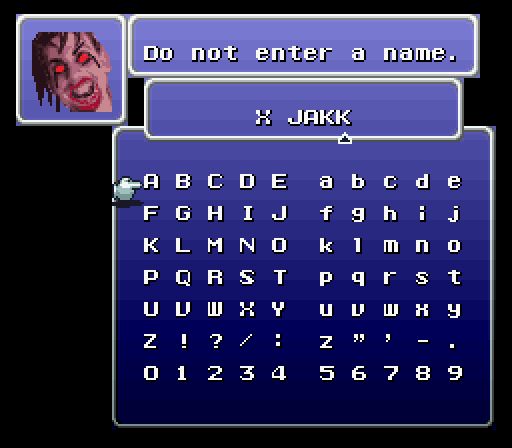 TheRealJon: And my faith in humanity goes down another notch.
Pipebomb: The good news is, I've named my nickel Phillip!
Fistgrrl: And the bad news?
Pipebomb: It's a girl nickel...let's go to the strip club, Phillip!
Next time
: