Part 28: Chapter Twenty-Seven
Update Twenty-seven
The Chapter of Loose Ends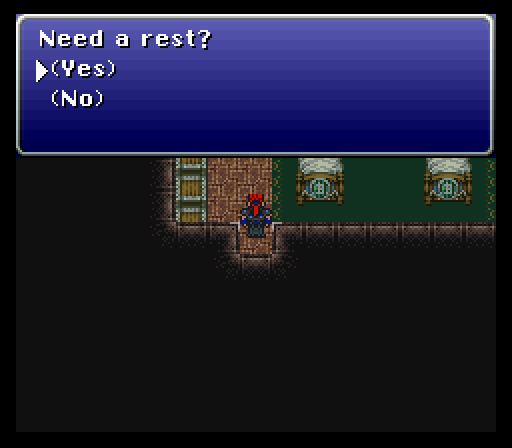 I have mixed feelings about this scenario. I'm kinda meh about it.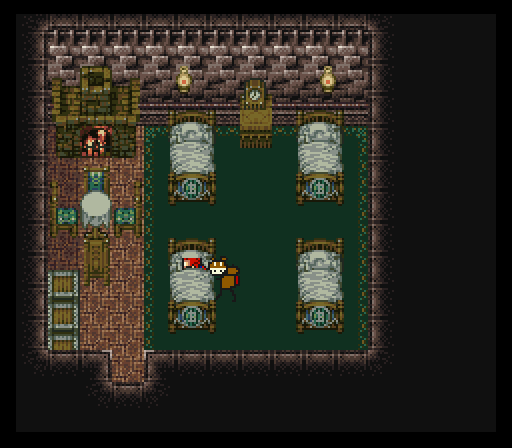 TACO stop disconnecting your head from your body you silly dog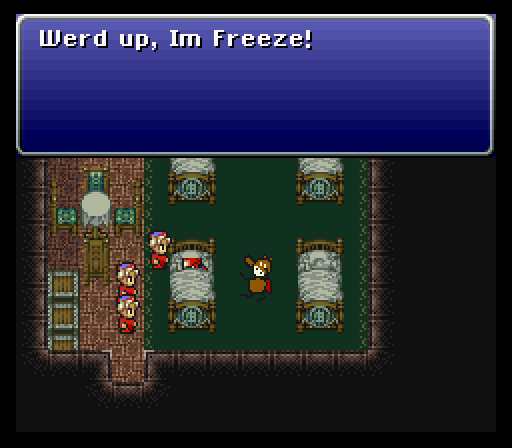 Yo yo yo, I be Blade!
Sup G, Im Da Flame.

We are The Icy Hot Stuntaz!

Word to yo mama!
Word to yo mama!
Word to yo mama!

Mad mo-nay, mad bitches
Mad mo-nay, mad bitches
Mad mo-nay, mad bitches

Our Group: WAIT!!!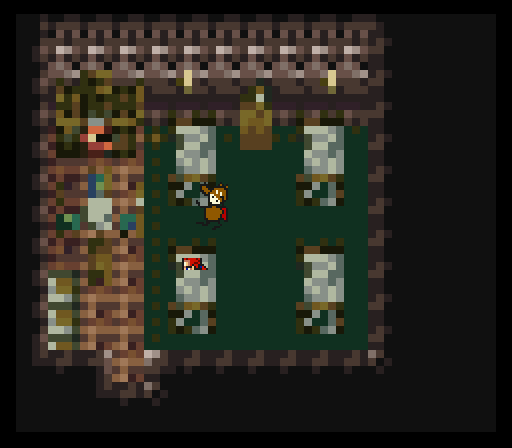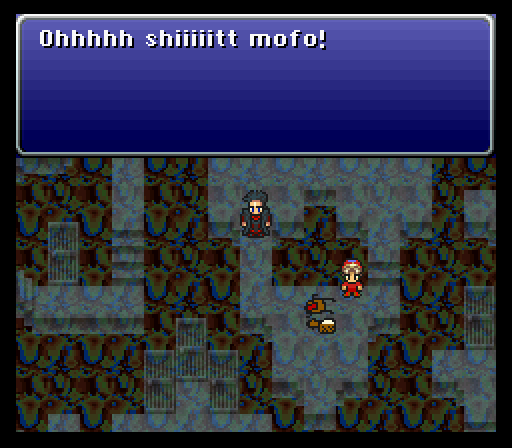 X JAKK is left alone. He finds TACO first, then Isnoop.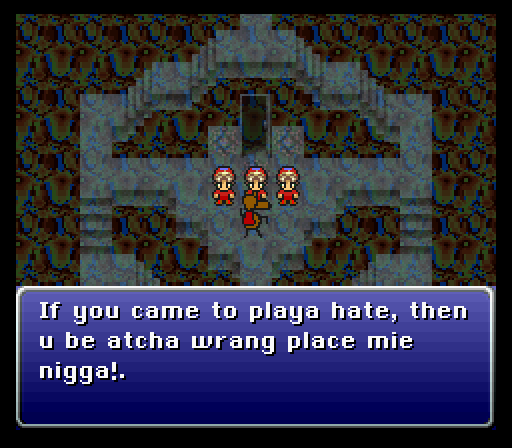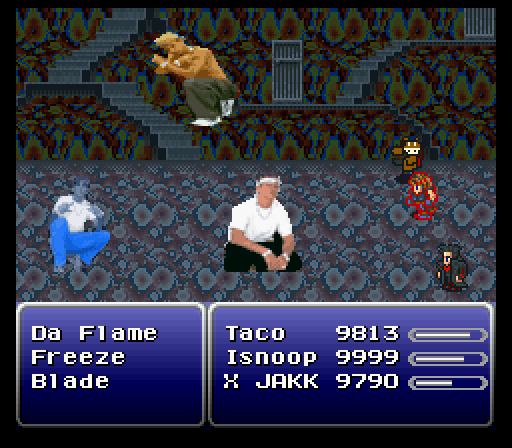 Easy peezee.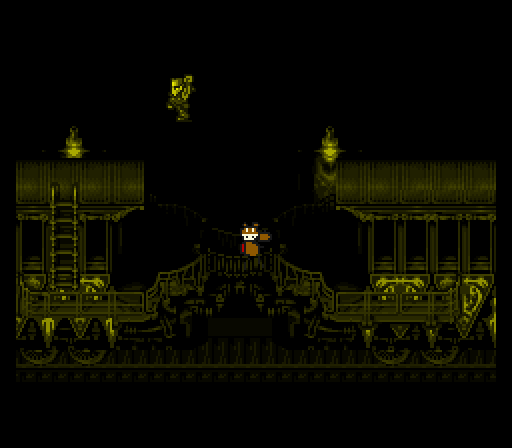 Do I really need to say anything about this? Nothing's changed and it's dumb.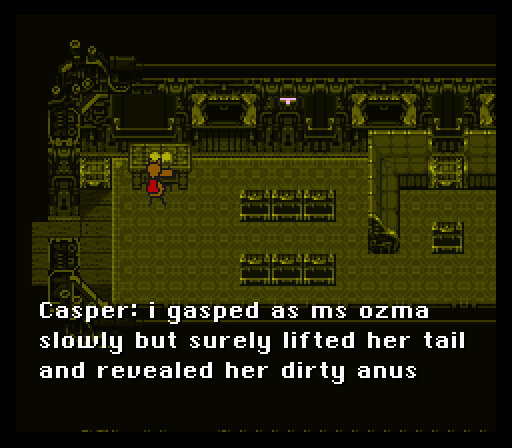 Well, this is a little different.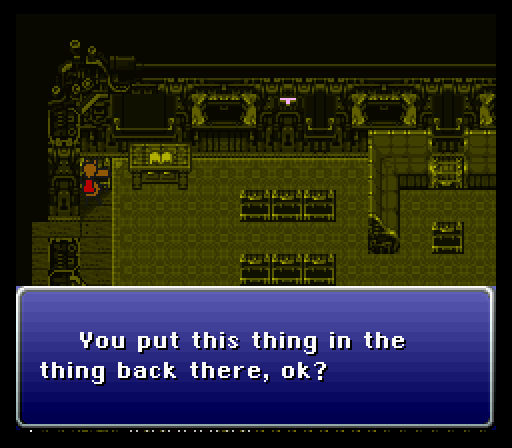 Fun fact: This is one of the first times you're supposed to get the Flame Shield.
I've had them for more than half the game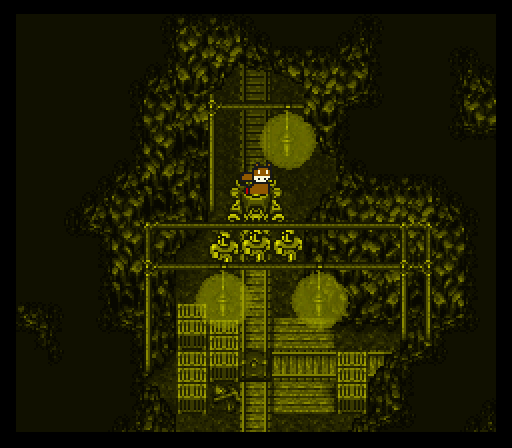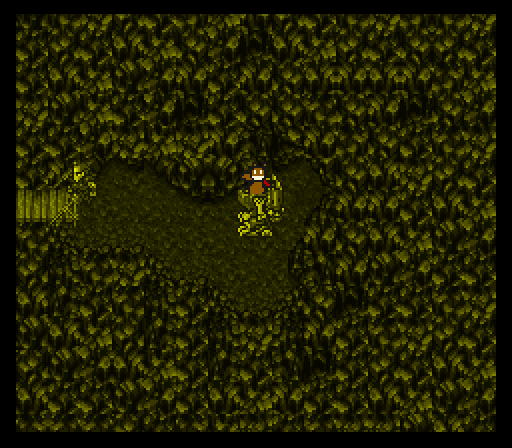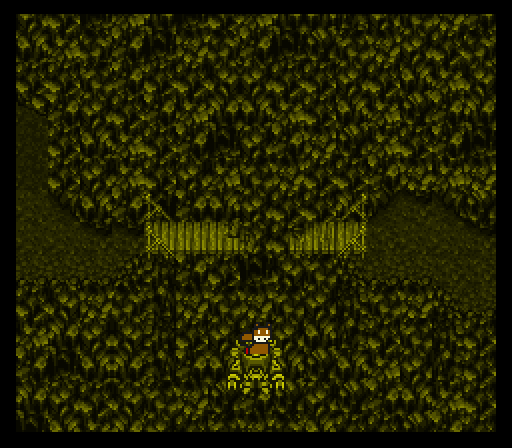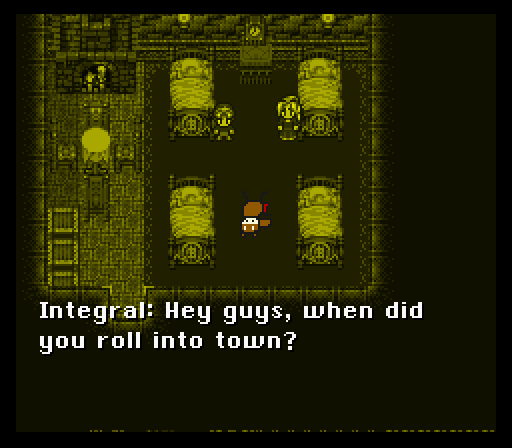 Our Group: Where are we?!
Integral: We got lodged in Jeddite's head after a lab accident...
TheGunOwner: There's a man known as Esco who is responsible...
Integral: He is a mad scientist, and has also resurrected Pele to assist him.
TheGunOwner: HE MUST DIE! I alone am best!
Bloodhound Gang reference. Or something else. But whatever I like the Bloodhound Gang.


TheGunOwner: Death to those who would attempt to poison and destroy my brothers!
TheGunOwner: Onward to VICTORY!
Integral: labias are ment to be pierced.
Whatever you say, Integral.
Outside, we find some of Jeddite's crazy thoughts.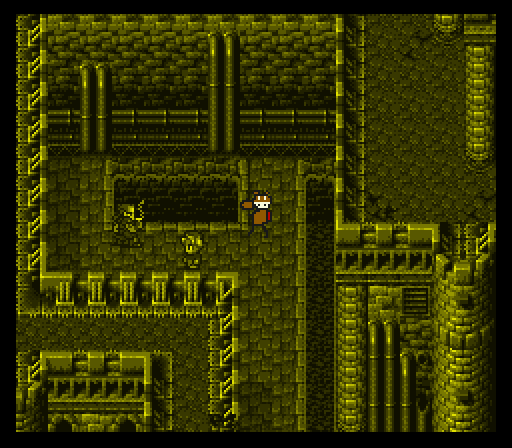 TheGunOwner: Do want to slide down my rainbow...of magic?
Jeddite: Rainbow? I...what?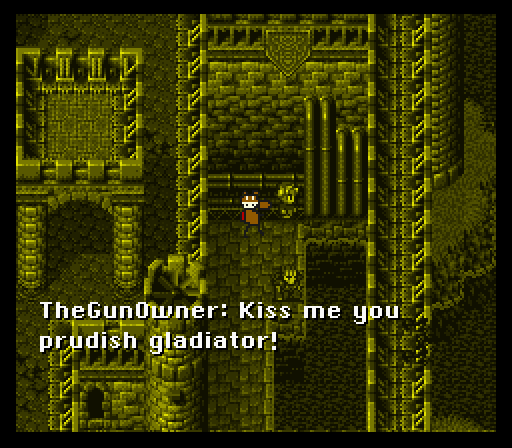 Jeddite: You know, I only like you as a friend.
TheGunOwner: Wahh, I don't want you to like me as a friend, I want you to sleep with me one time...
Jeddite: But...
TheGunOwner: Wahhhh...
Jeddite: Okay. Alright. Once! One time I'll sleep with you!
I wish he'd stop using kids for these lines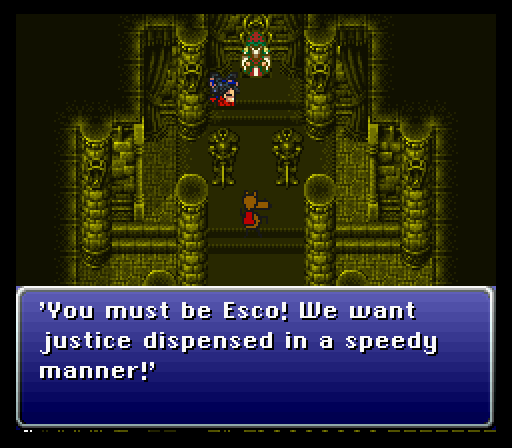 Here's Esco. Apparently he's the bad guy.
Esco: And I want to ride the mantrain, but NOOO. Now humanity must PAY.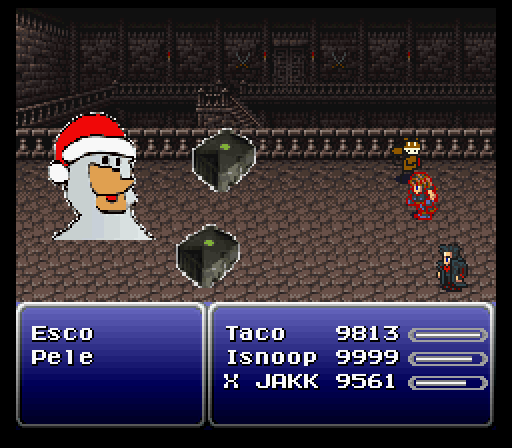 Esco: The answer, my friends, is suicide! Think about it and get back to me, I'm going to bed.
I don't like this guy because I had to kill TACO to get him to come out. I didn't teach anyone X-Zone so I didn't have an easy death route.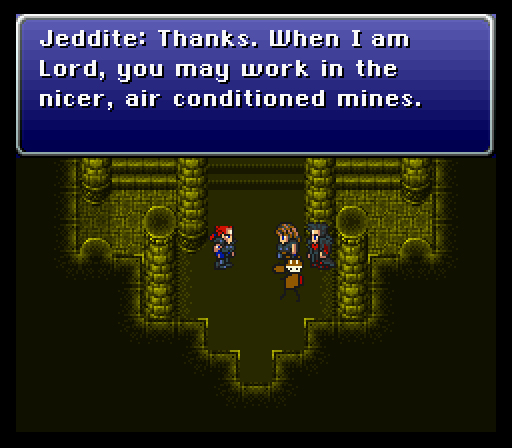 Jeddite: TheGunOwner's kind words and friendship helped me through it all...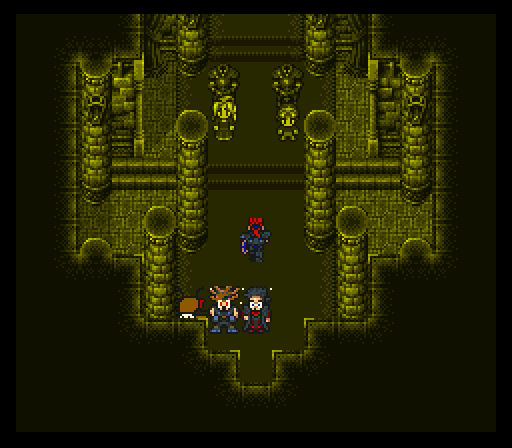 Jeddite: OH MY LAWD LAWD LAWD CRACK BABIES KILLIN BABIES LAWD!
Integral: Hey...I helped too! What about me?
Jeddite: YOU ARE A CURSE UPON THE HEAD OF TWO UNFORTUNATE PARENTS WHO BORN YOU OUT OF SIN, THAT IS WHAT YOU ARE.
Integral: Now might be a good time to degauss your monitor...NOW!
TheGunOwner: Oh my god I was doing the thing ya know and it was like WHEEEE
Jeddite: Don't leave me! I have more love than a vibrating Teddy Ruxpin doll!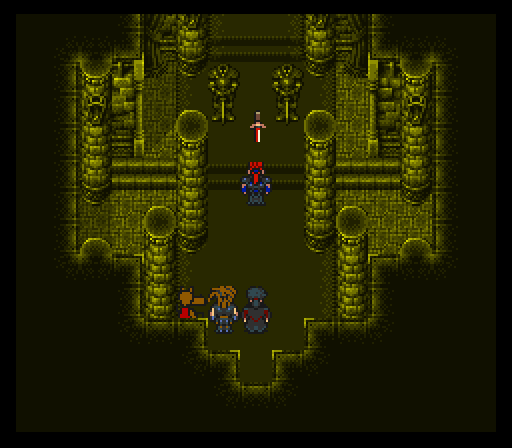 Jeddite: It's time to take you home to my bitch.
Jeddite: Integral sells soiled panties on the forums.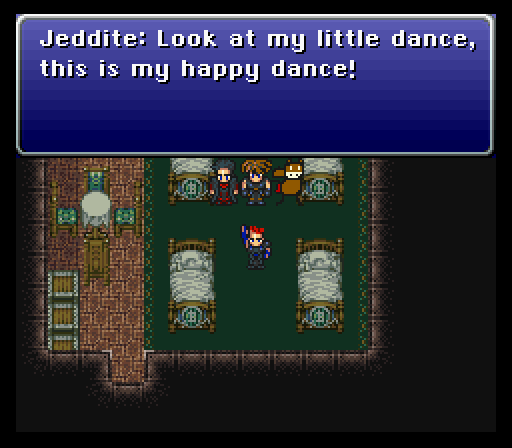 Jeddite: Did you guys see it? That was the dance of happy. That's why its the happy dance.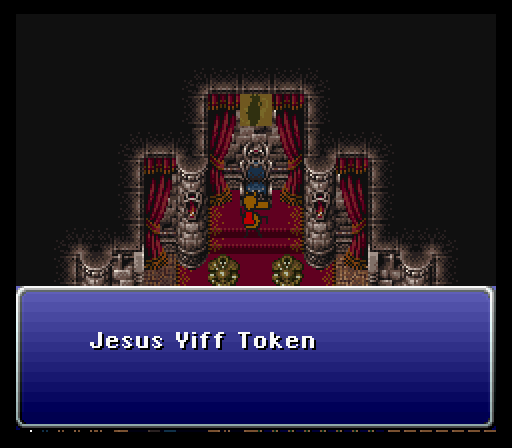 We found Jesus!

Guess who else we found!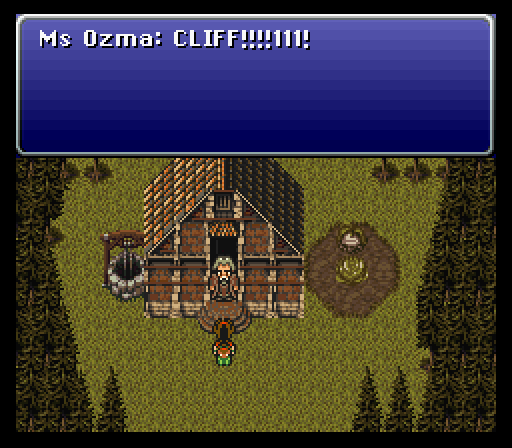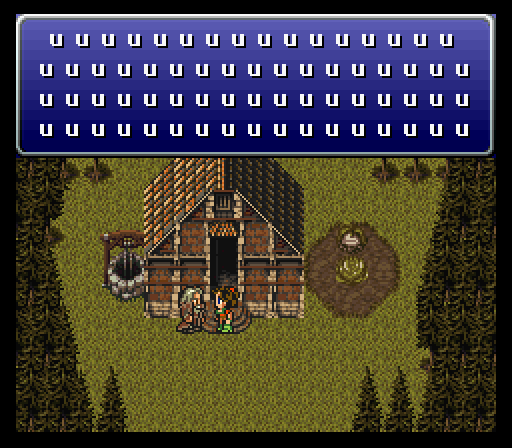 Unforunately, for whatever reason, this sequence is almost entirely made up of u's, up until this point -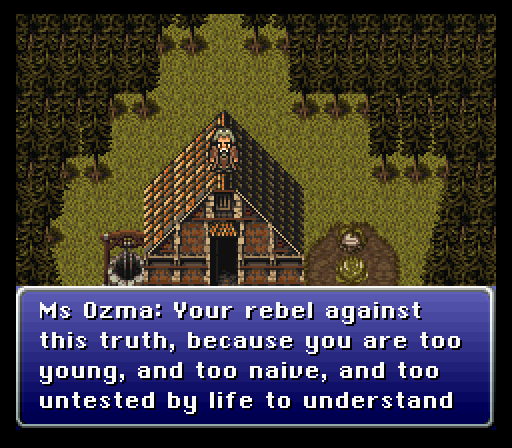 Ozma: it.
Cliff: Whatever. That fat chick with the mask knows a new move or some shit. Why don't you two start a ham parade?
Cliff: I hope the bus you're waiting for is the size of a mobile home you chunkyfucked sack of cottage cheese.
Cliff: Don't go near my GODDAMN BUSHES you stupid punk ratass shitstorm maggot skulled HUMAN REJECTS.
Not gonna lie, Cliff Yablonski or however you spelled his name's picture articles were probably some of the funniest things I've ever seen in my life.
In other news, I didn't bother to take any screenshots, but I literally cannot get Isnoop's dreams to trigger. I've tried like 5 different party combinations and stayed in almost every inn, but the fucker just won't dream. I asked X JAKK and he said that to trigger them I have to stay in the inns and it happens randomly, which literally tells me nothing so oh well!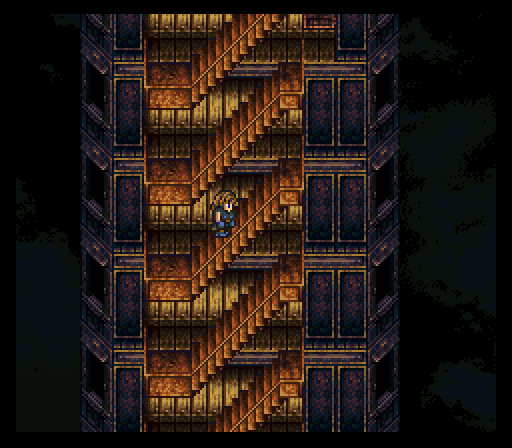 Because I feel like I have to, let's climb REoL's fanatic tower.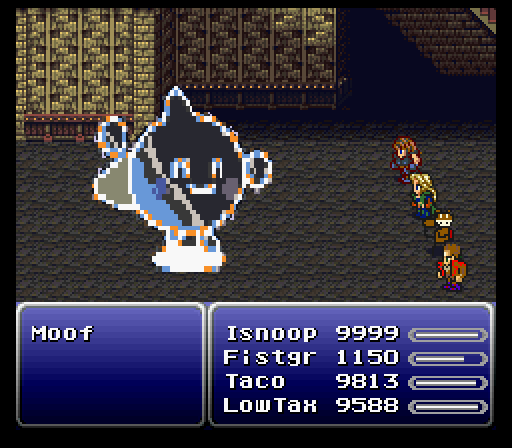 Kill the White dragon...
Soonmot
: OH GOD WHY DID YOU LEAVE ME DADDY WHY DID I CRY TOO MUCH I AM SORRY I PEE'D IN YOUR NOVA DADDY PLEASE COME BACK
Grab the Gem Box, hop outside...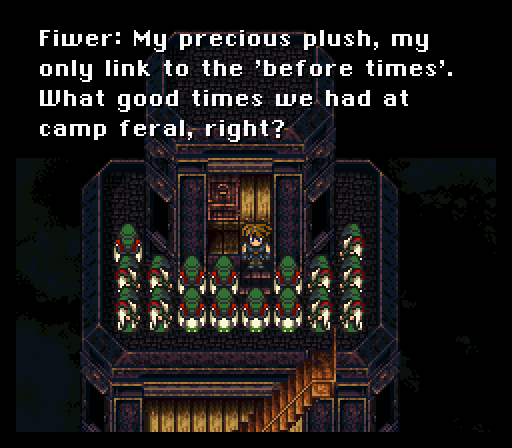 Fiwer: sigh...Oh if only that big overly friendly whale were here, he would break me out in no time.
Fiwer: He'll rescue me, I just know he will! So lonely...SO LONELYYYYYYYYY!!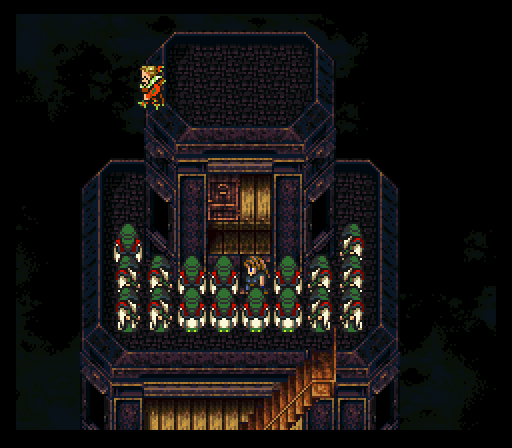 Isn't Fiwer that guy from Canada hanging out with Geno and Airdisc? Did X JAKK run out of names or something?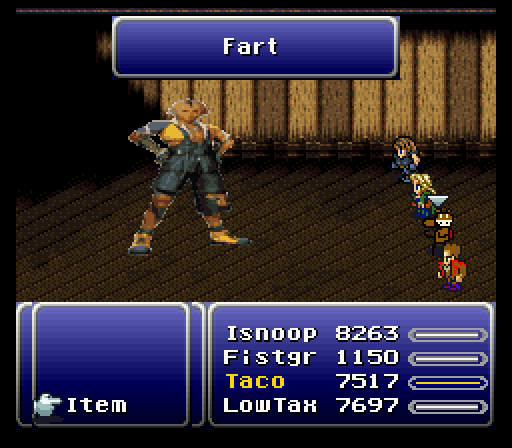 Whatever let's totally kill the Magi Master and not die horribly because my characters and still anemic in magic and don't know Life3 and die from Ultima even at level 99!
fuck the gem box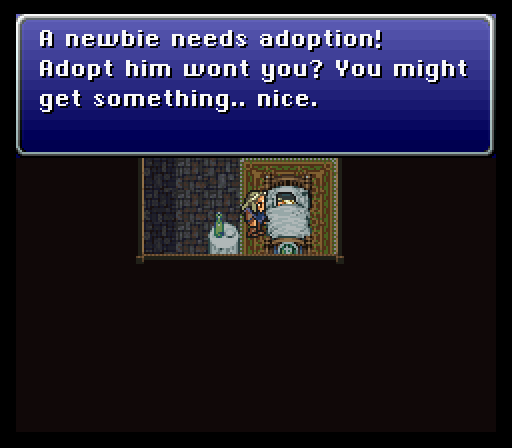 "Adopted Newbie"...Equip him and train him to be strong in his kung-fu.
This is the cursed shield. It's been modified to only work for Pipebomb, and it's called the Superponcho or something but fuck that I don't have the patience to unlock it.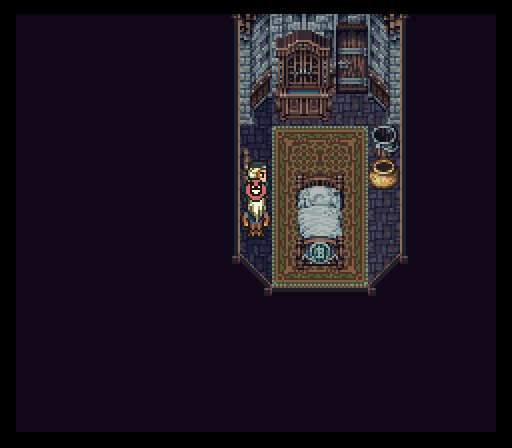 OMG YOUVE FOUND AN ULTIMATE WEAPON! MY ULTIMATE WEAPON! I GIVE YOU YIFF TOKEN FOR IT!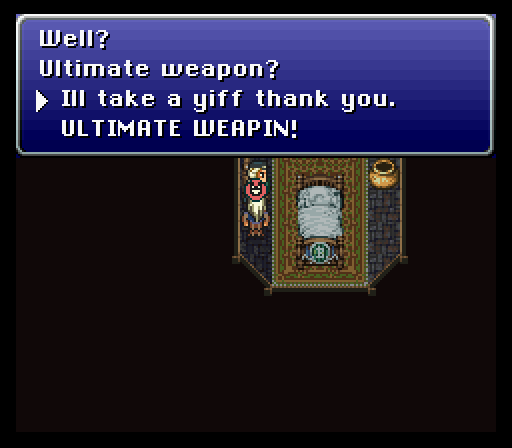 ULTIMATE ULTIMATE FREEDOM FRIES WOOWOO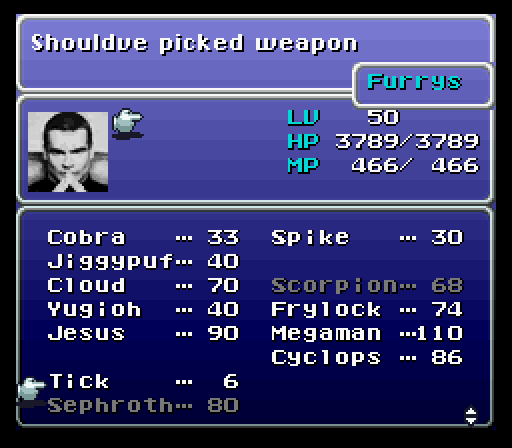 Choosing the weapon gives you a BANHAMMER. I already have one from Fragmaster, and most people have their Godweapons already anyways. Besides, I don't bother with basic attacks!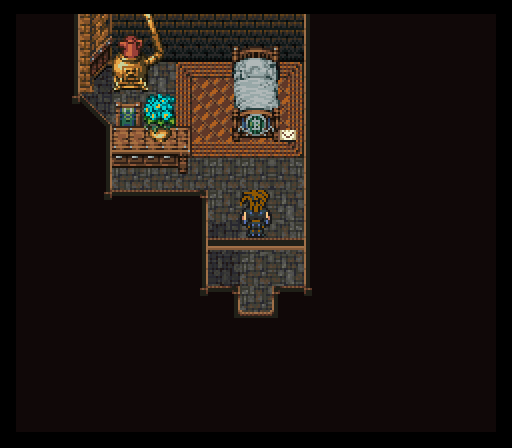 ...I could have sworn I had a save game where Stuntcock was still alive.
Oh well.
Next time: