Part 27: Chatper 22 - Part 2 of 2
Chatper 20 Part 2 of 2
Music- Necron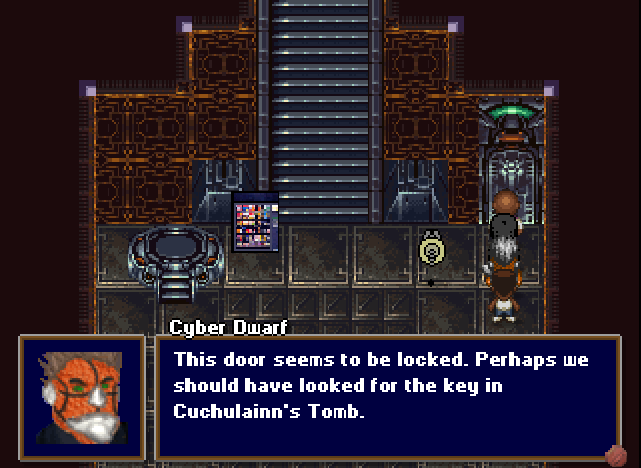 Absolute flim flam. This key does not exist, don't believe the hype. Let's get underway.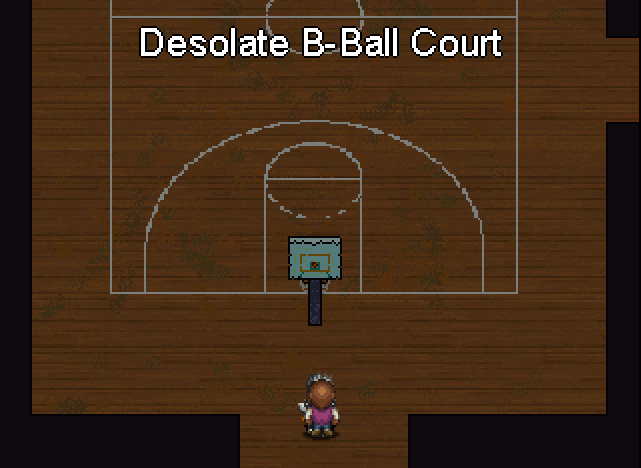 What the, I haven't seen one of these since… Since the purge.

This B-Ball court confirms our suspicions. B.L.O.O.D.M.O.S.E.S. has to be here.

My dwarf senses do not react well to this derelict arena… we had better brace ourselves, or risk being ambushed.
The party cautiously moves across the court, when a spotlight freezes Charles in his tracks. Silence fills the air.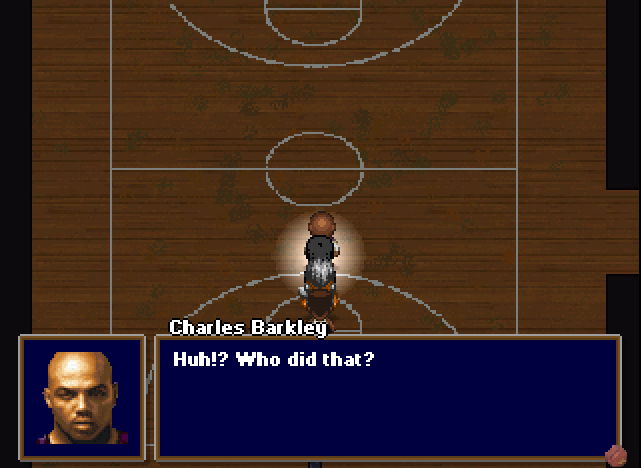 ???
What a surprise, to fine you here in the B.L.O.O.D.M.O.S.E.S. headquarters, Barkley.

That voice… Jordan! Jordan, you son of a bitch! You sick goddamn son of a bitch!
Michael walks forward onto the court, he stops short of center, and is bathed in a new spot light.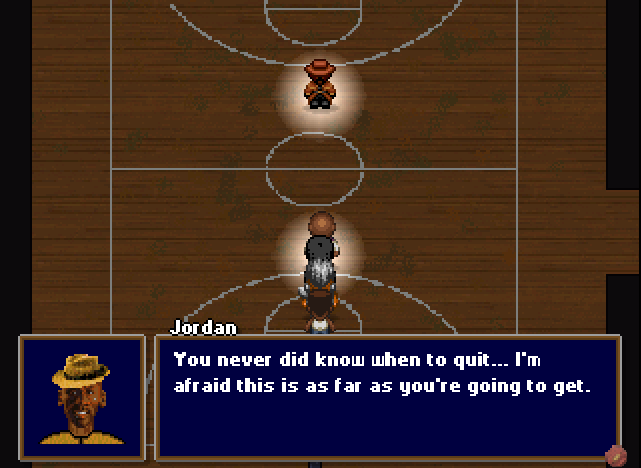 You know damn well that Chaos Dunk in Manhattan wasn't me! Don't be a gatdam fool!

You know, Charles, I thought you were smarter than that. I thought you realized this wasn't even about the Chaos Dunk anymore.

What are you on about?

Don't you hear it? The cheering of the fans, the dribbling of pre-game warm up b-balls, the swishing of nets as ballers perfect their shots, and…
Jordan pauses slightly to take in the imaginary sights and sounds. He relishes in the moment as he speaks.

Sweet Georgia Brown.

Sweet Georgia Brown?

It's been ages since I last heard that song but… but I can hear it now, a symphony of whistles and toots.
He steps towards Barkley.

This meeting between you and I is the culmination of thousands of years of b-ball. This is b-ball in all its glory, this is the final game! It's just you and me, Barkley. No refs. No whistles. No rules. Just you, me, and Sweet Georgia Brown.

Barkley, you don't need to do this. You don't need to fight Jordan.

This is something I gotta do Balthios.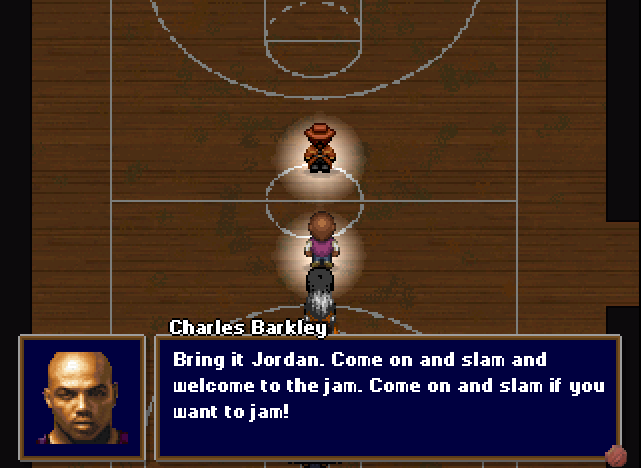 Music - Sweet Georgia Brown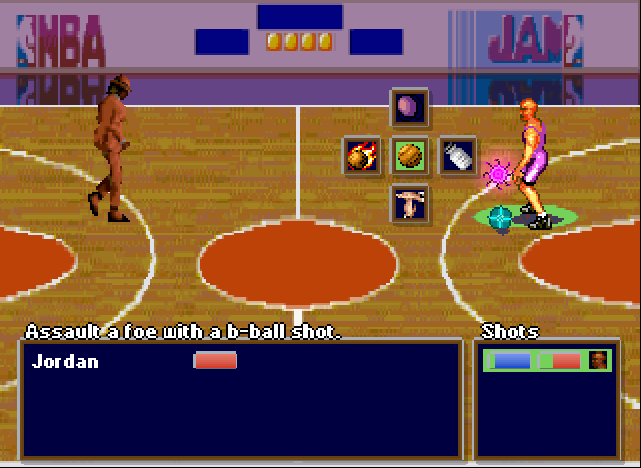 The H/S pain train special. Like as mentioned earlier in the thread double team now delivers broken levels of damage. Two attacks around 70 each, six times in a row. Over 800 damage for 10 BP.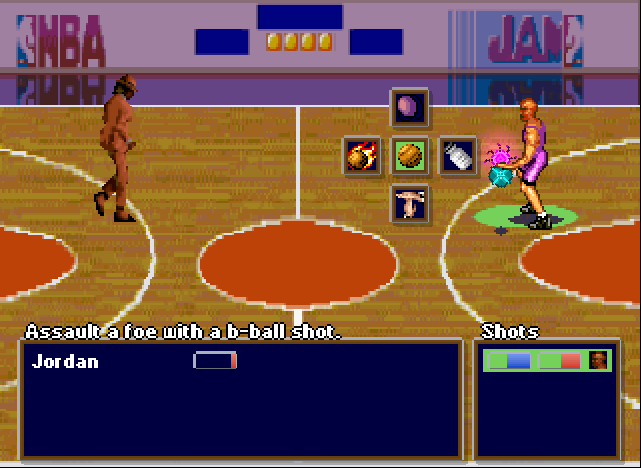 But life isn't all about completely dominating your enemies, dear friends. Sometimes-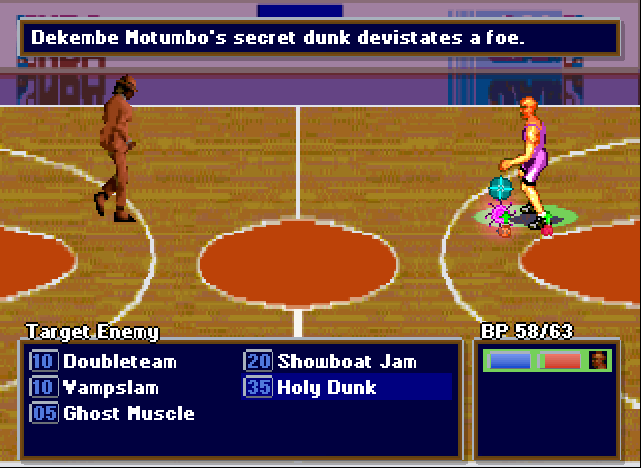 Sometimes it's about forgiveness.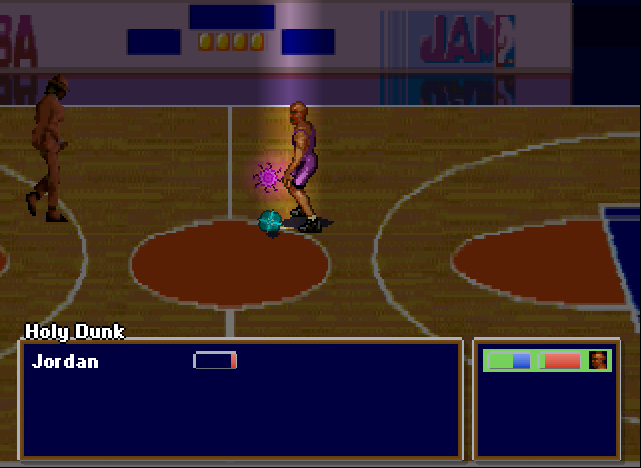 With my finest consecrated B-Ball-
You may finally rest.
Music - Jordan
Jordan drags himself back towards his end of the court like a crazed and wounded animal .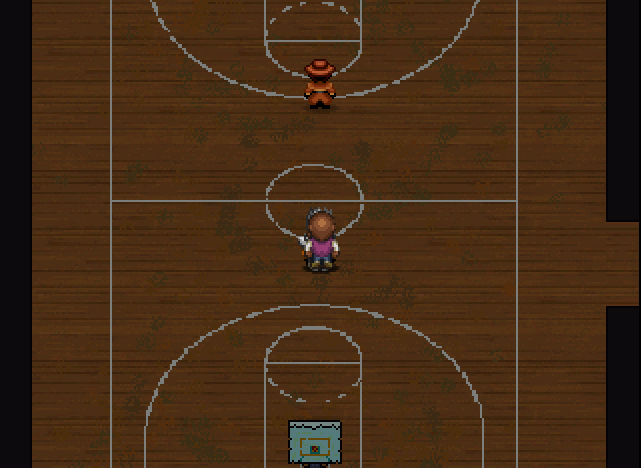 S… So desu ne…

So be it…

If you can't slam with the best, then jam with the rest.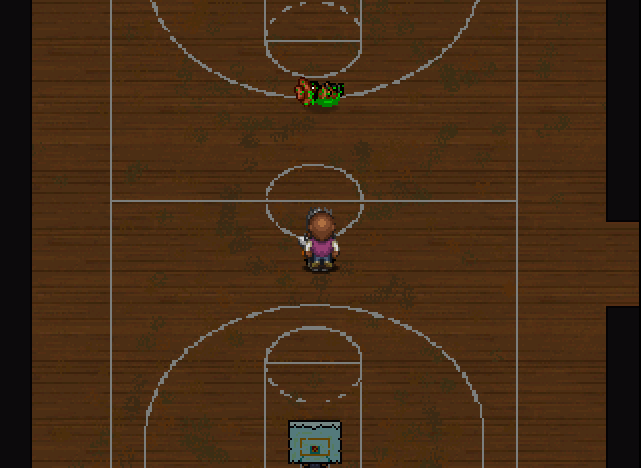 Mr. Jordan is gone, isn't he dad?

He's gone for good, Hoopz. He won't be coming back this time.
He looks toward Michael's corpse with his Gatorade still draining out over the wooden floors.

There's… there's nothing more to be said. Come on, Let's go.

Right.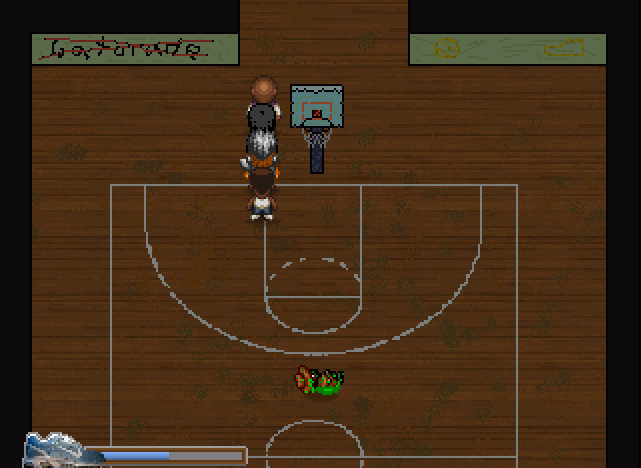 Music - Church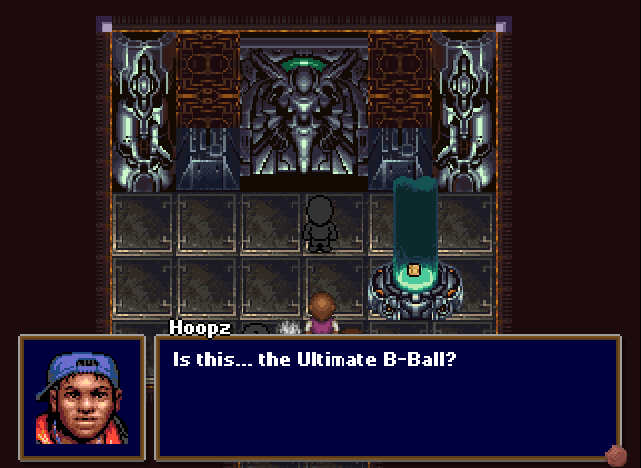 ???
Hahaha, I see you are very astute, Hoopz Barkley, perhaps moreso than your father!

…who are you?

Tell me who the hell you are before I dunk you into oblivion.
???
You don't… remember me?

What?
???
Charles, I am…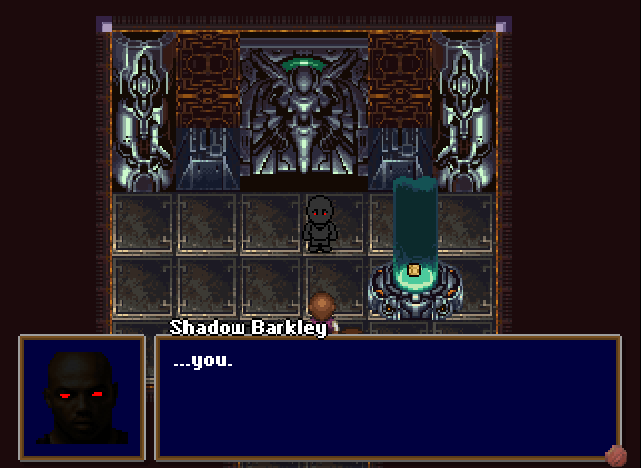 By Clispaeth…

What the hell is going on here?! Who the hell are you?!

Surely you member the Space Jam, Charles Barkley. That is when I was born, although I have pondered more than once if I existed even before then. You see, I am a manifestation of your sub-conscious, of you dark thoughts and emotions. When you were released from the Ultimate B-Ball by Michael Jordan and the Looney Tunes, I remained behind, my power culminating over the years until I was strong enough to control the powers of the Ultimate B-Ball. Heh, when Jordan said you were the one who performed the Chaos Dunk on Manhattan, he wasn't entirely wrong.

N-no… no, this can't be.

Dad…

This is unbelievable…

Ah, but none of that really matters. You got here just in time. You see, Manhattan was just a "pre-season warmup" as you might have called it, Barkley. Tonight, I will harness the power of the Ultimate B-Ball and cleanse the entire world with one final Chaos Dunk. There will be no survivors.

But… but that's mad! Why would you ever do something like that!?

Hahaha, why don't you ask Charles? After all, I'm merely a manifestation of his own thoughts.

N-no… I don't believe any of this… this can't be true.
Shadow Barkley begins to idly pace across the room, slowly dribbling an imaginary ball.

B-ball has become…
He stops and stares out into space.

Convoluted. Charles and I, we wanted to take the game to the next level, we wanted to take the game so much further and when we tried, the world, didn't only backlash against b-ball, but they got rid of it outright. They weren't ready for what we wanted to do with the game. They were too stupid and cowardly to accept the game's full potential. They weren't good enough for it. If I destroy all of mankind, I can begin anew a world of b-ball based on my prototype, Charles Barkley.

What, so we're all just a bunch of sub-humans not good enough for you?
Shadow Barkley looks concerned at this, like he takes pity on Balthios for saying such a thing.

Sub-humans? No, I do not believe you are sub-human. I believe you are
merely
human and that is the downfall of your species . Instead of welcoming the next generation, you suppress it. I represent something far greater than yourself, something greater even than b-ball. I represent the post-human. What do you say, Barkley? Shall we start a new, glorious age of b-ball or shall we let it stagnate and die in the current world? Will you join me?

Don't do it, dad…

Think of all that B.L.O.O.D.M.O.S.E.S. has done, Charles…

The choice is yours, Barkley. This is your journey, not mine.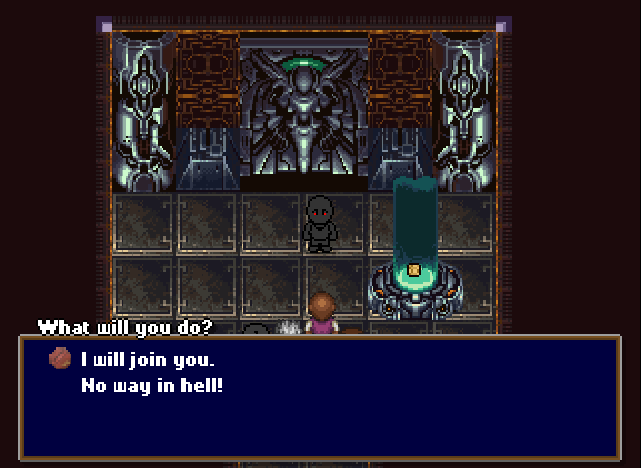 Music- Shut up and Space Jam

No way in hell! You and the Ultimate B-Ball are going down and basketball will be restored the right way!

Hmm, so you want a fight? SO be it, Barkley. Face me and my deadly b-balls.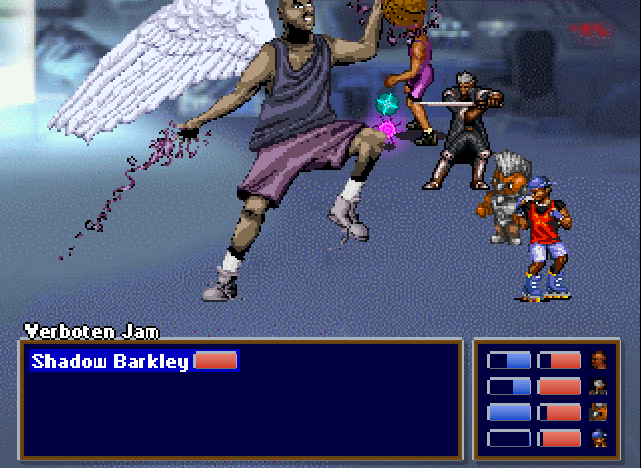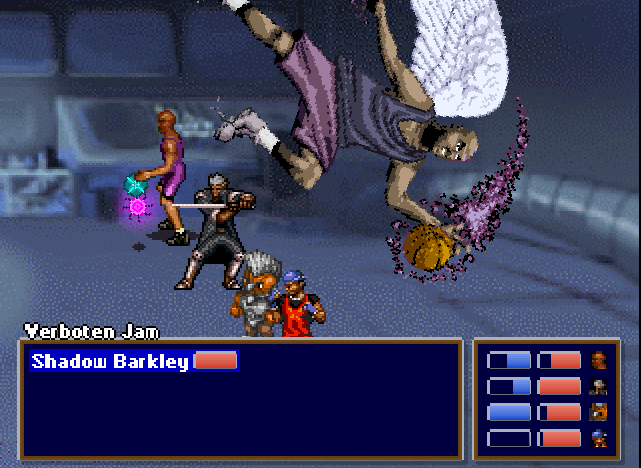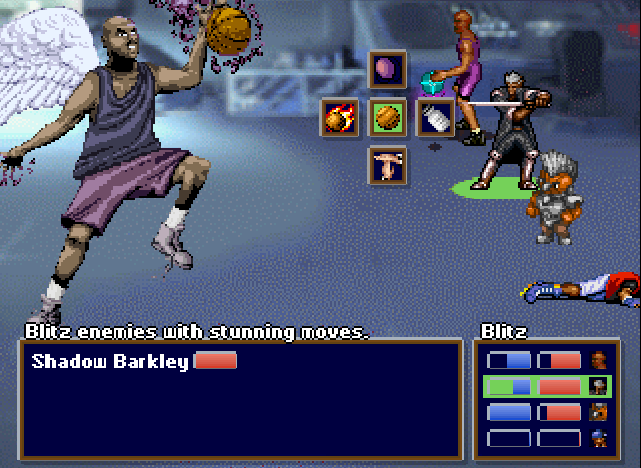 This battle starts in an unorthodox way, immediately one member is killed at random.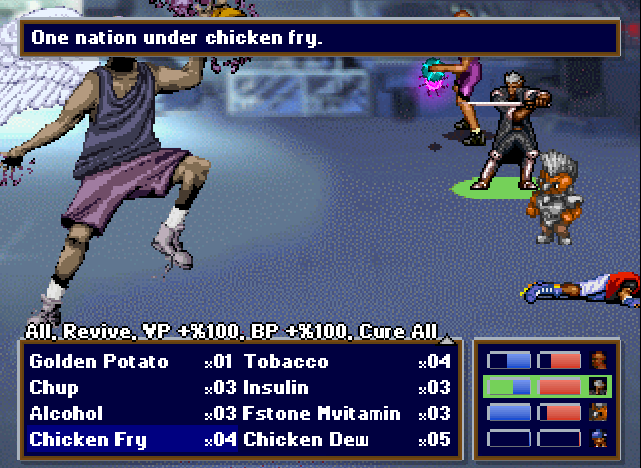 Shadow Barkley wears the mantle of final boss well. Each time he attacks, he kills at least one member, and intersperses status effects and damage to all. Nothing a couple chicken fry's can't handle though.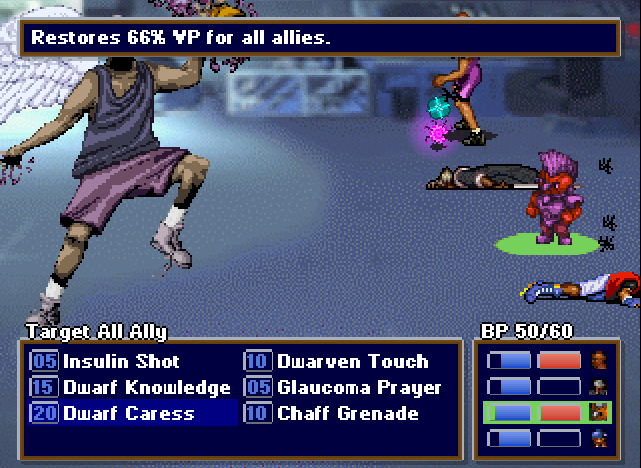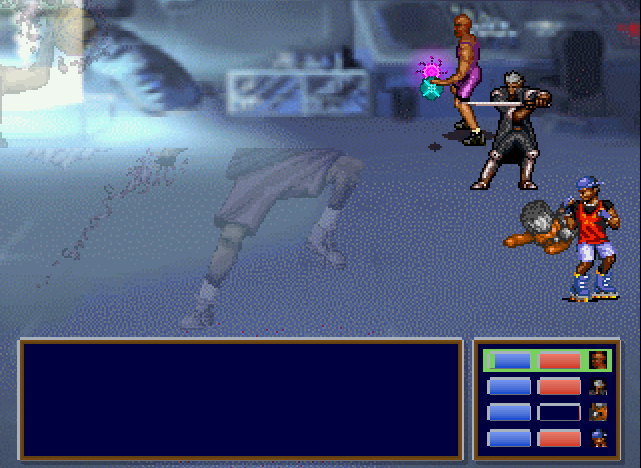 N-no… It seems you put up more of a fight than I thought you would, Charles Barkley. So be it.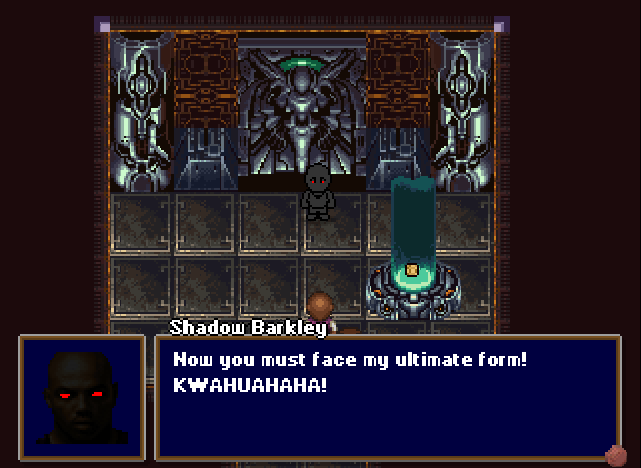 Music - Final Boss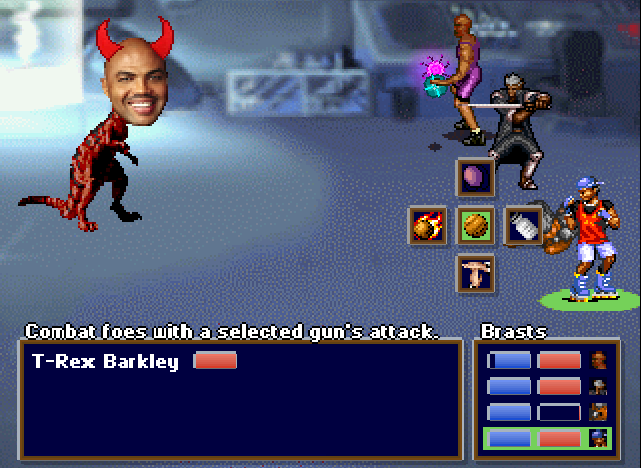 And like any good final boss, he has more than one form. You may remember many moons ago, us picking up a golden potato. It's time to crack that open.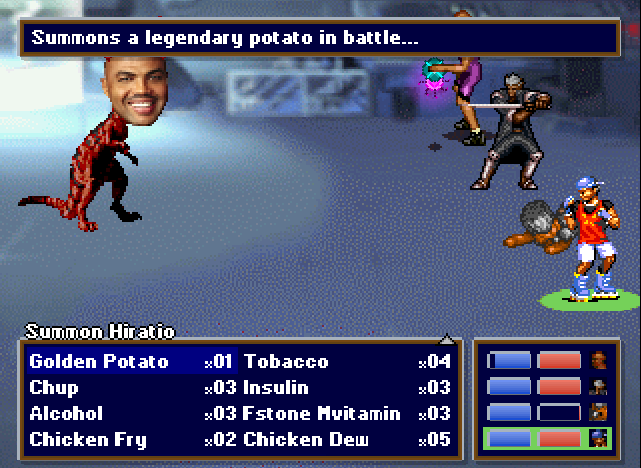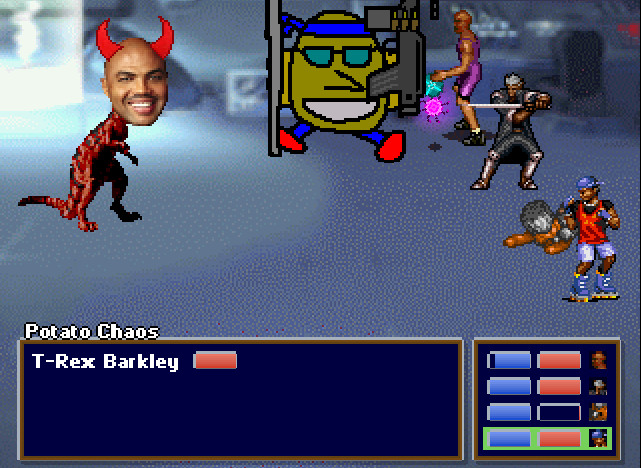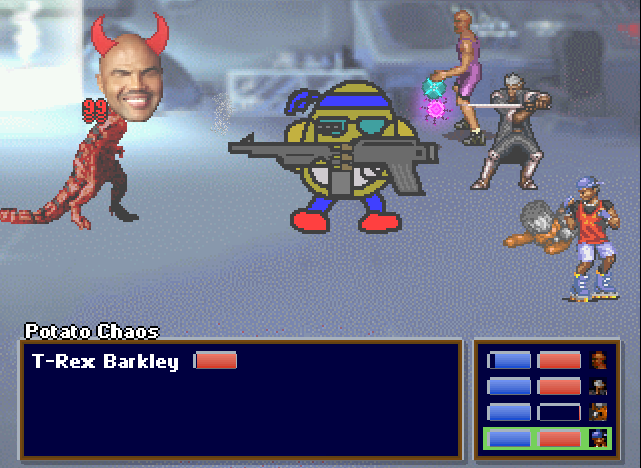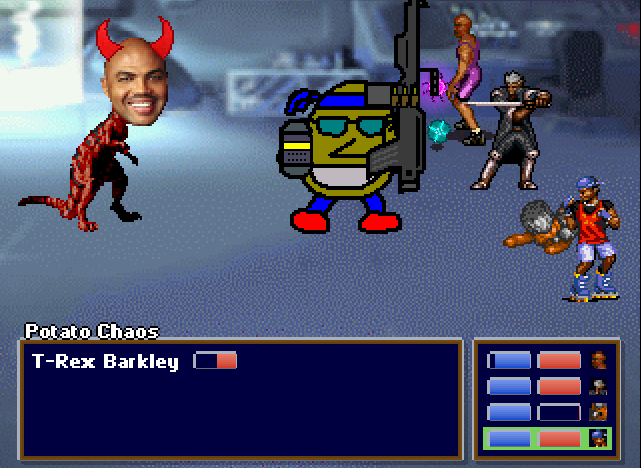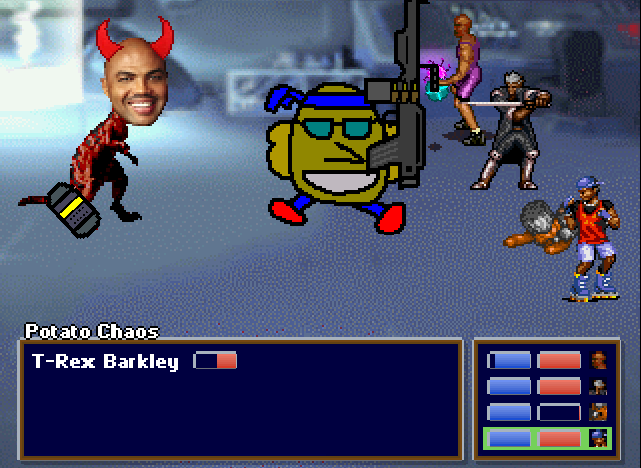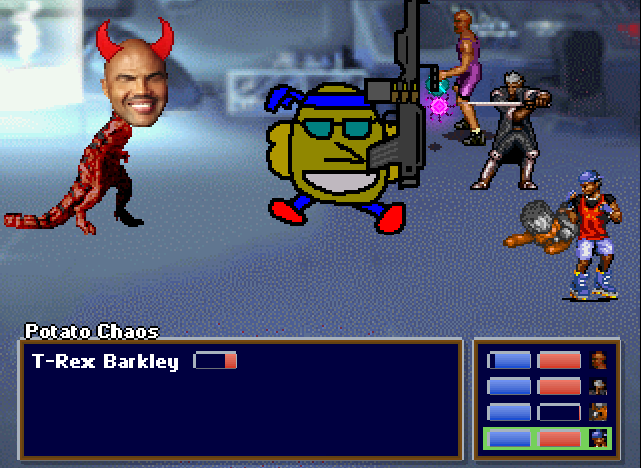 Now T-rex Barkley has many varied moves aswell, he can drain a single party member of a large amount of health, foul everyone, do a few tail swipes for large damage. and command a meteor storm to do large damage to all party members. That's all well and good, but …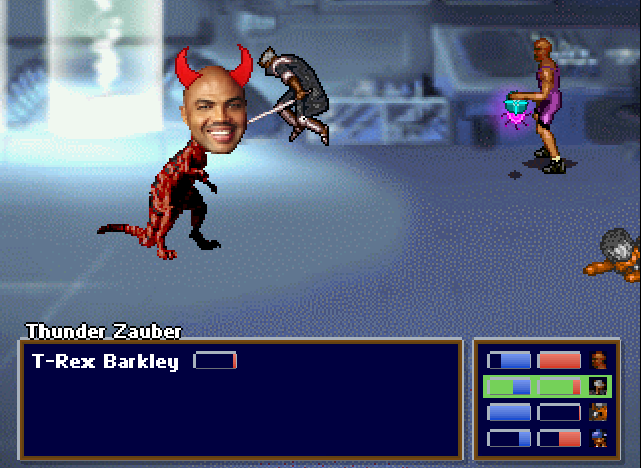 It's time to end this.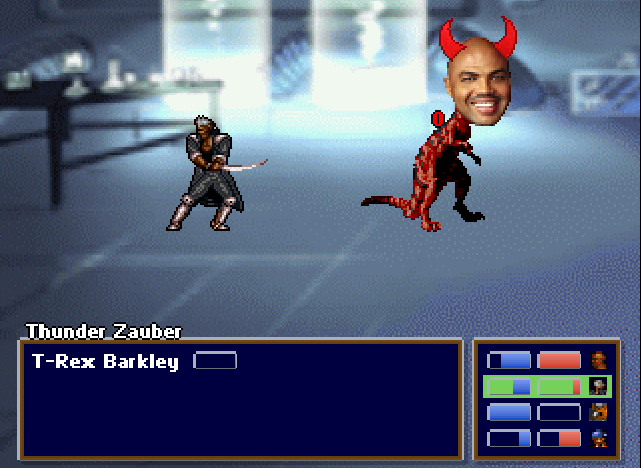 . Kwa… kwahuaha… KWAHAUAHAHAHA!

What's so funny, chump?

You've accomplished nothing. Nothing! The Ultimate B-Ball will destroy Earth whether I'm here or not. The Second B-Ball Purge will destroy all mankind!

C… Clispaeth…

D… dad... What are we gonna do?
Music Run away

Balthios, Cyberdwarf, take Hoopz to the escape pods.

Charles, are you… sure about this?

Dad?

Yes, I am sure.

Barkley…

Just do it, dammit! Get him somewhere safe!

Yes, Charles.

D-dad?

Come on, Hoopz. We've got to go.

DAD!

Come Hoopz, we must move quickly.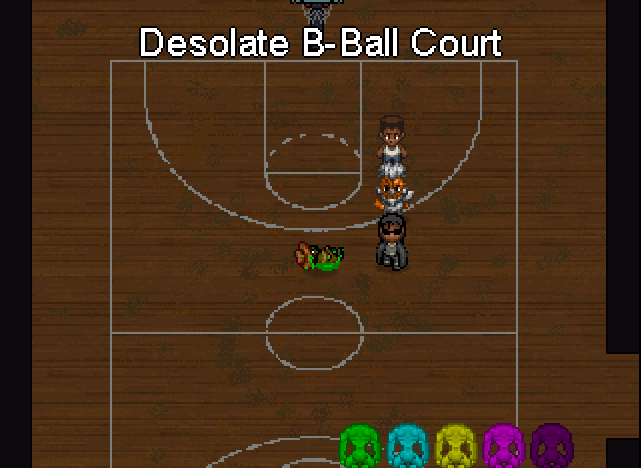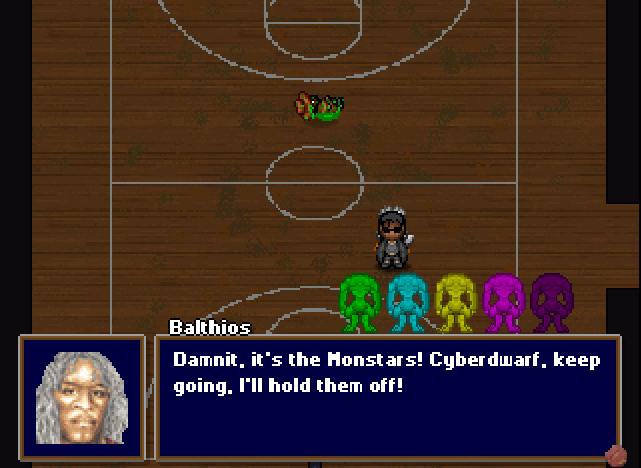 Be careful, Balthios…

Don't worry about me, just make sure Hoopz gets out okay!

Right!
They run off to the escape pods!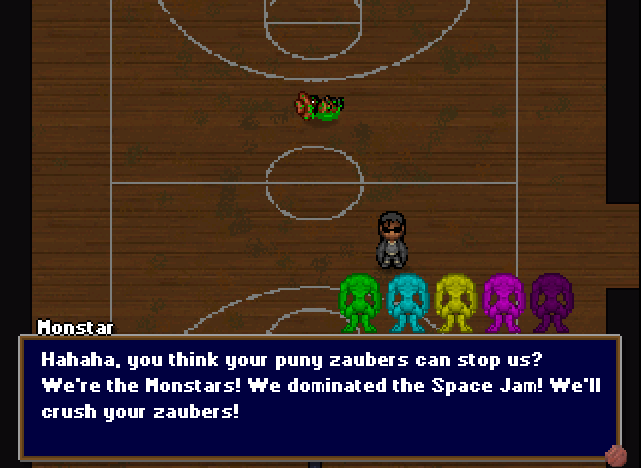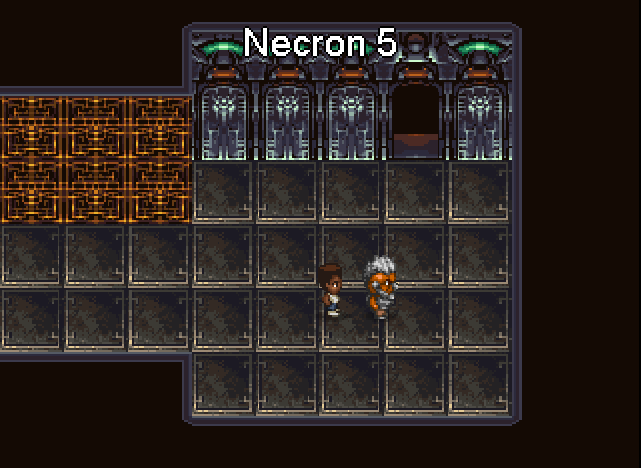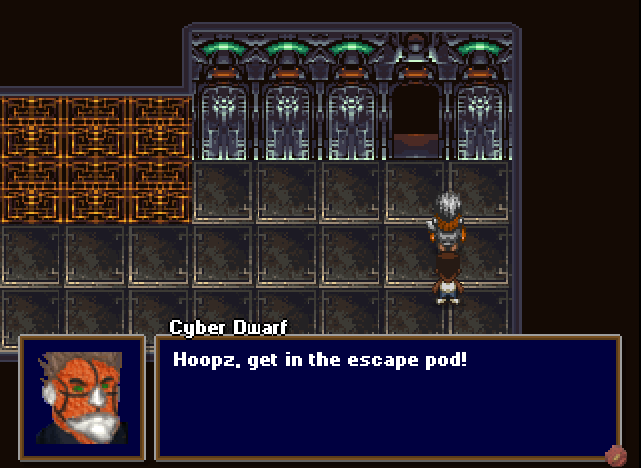 But what about dad and Mr. James?

They'll… they'll be okay.

Are you sure?

I… yes, I'm sure. Come, Hoopz.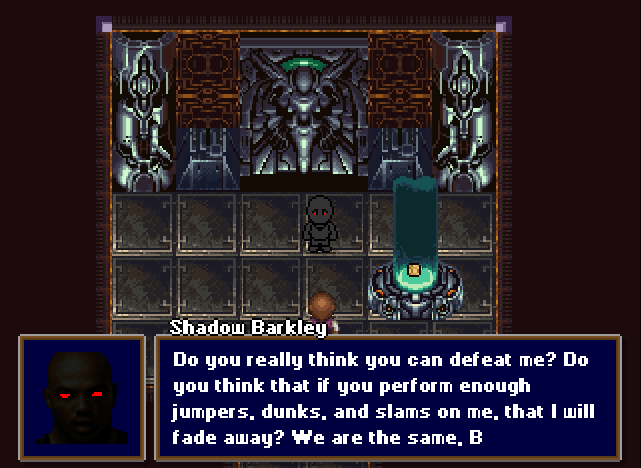 -arkley, cannot defeat me!

You took everything I had. You took my wife. You took my game. Hell, you even killed my friends… but that's where it stops. Heh… There's only enough time for one last dunk…

No! Think of what we could do! B-Ball would usher in a new era!

I am the beginning and the end. The alpha and the omega. The first and the last.