Part 12: Samuel's Lair


Chapter 10 - Samuel's Lair
Music: "Heartbeats of Undeath"
(Click here to download)
(thanks to Grawl)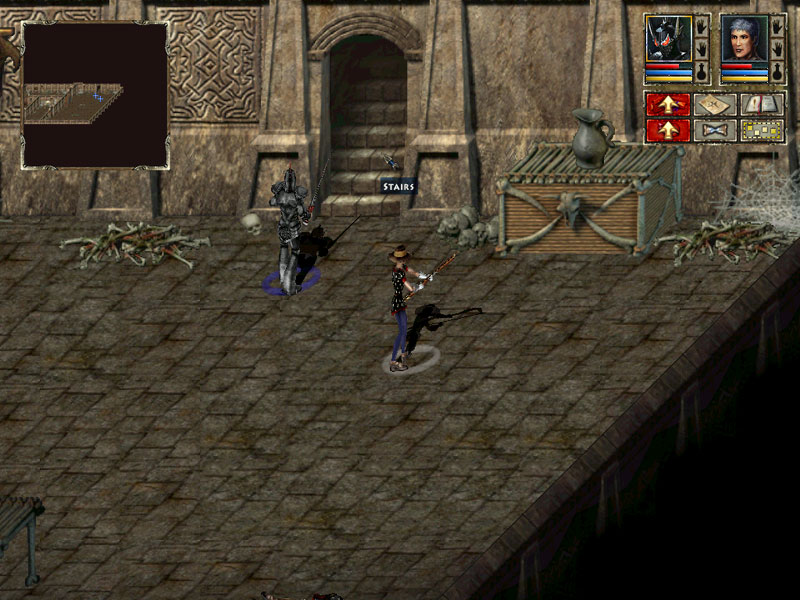 Mort and D.K. entered Samuel's lair, hoping to go unnoticed.
Video: Samuel's Lair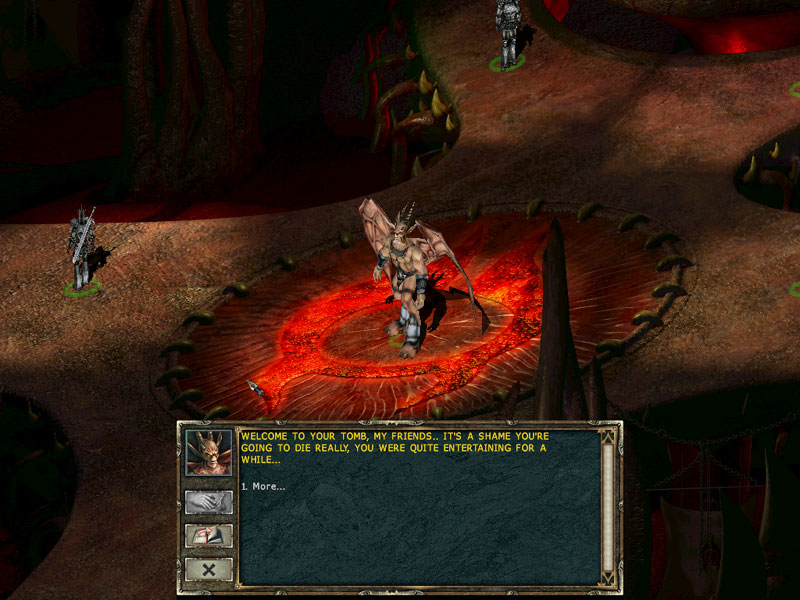 WELCOME TO YOUR TOMB, MY FRIENDS… IT'S A SHAME YOU'RE GOING TO DIE REALLY; YOU WERE QUITE ENTERTAINING FOR A WHILE…

You've been watching us?


If only I had thought to… Damn, damn, DAMN! Why does it only occur to me now that this situation could have been easily avoided?

DID YOU REALLY THINK YOU WOULD BE ABLE TO GO THROUGH MY CITADEL UNNOTICED? HOW AMUSING.

Pathetic creature, you hid behind others, instead of confronting us yourself!

HARHARHAR… I PARTICULARLY LIKED IT WHEN YOU GAVE THE GUARD THE RUM. GOOD THINKING. I HAVE HIM A QUICK SWIM IN THE LAVA, OF COURSE… JUST TO CURE HIS HANGOVER. … AND YOU, SERVANT OF GOODNESS… HOW DID IT FEEL BEING BONDED TO SUCH AN EVIL CREATURE?

I used to be married. I'm used to it.
Should we fight him, D.K.?


You can't fight a demon, human. The barrier between this world and the demonic dimension was destroyed. Thus the life-force of demons is now in a state of constant regeneration…

ENOUGH! IT'S TIME TO RETURN TO YOUR CELLS, SUB-CREATURES. BUT FIRST I WILL TEACH YOU A NEW LESSON IN PAIN…

It will be *most* inconvenient if I need to intervene. But it appears that I will have no choice…
Suddenly, the air shimmered around Samuel, and a blue-white seal appeared beneath his feet and began to glow.

BUT WAIT… WHAT IS…? NO, NOOOOOOO, NOT NOW… THIS CAN'T BE… I AM CALLED… NOOOOO! … GUARDS! TAKE CARE OF THE PRISONERS… DON'T LET THEM ESCAPE!

As ordered, your excellency… they will await your return… from inside a cell!
Then the seal reached a blinding level of light, and Samuel vanished, the seal fading into nothingness.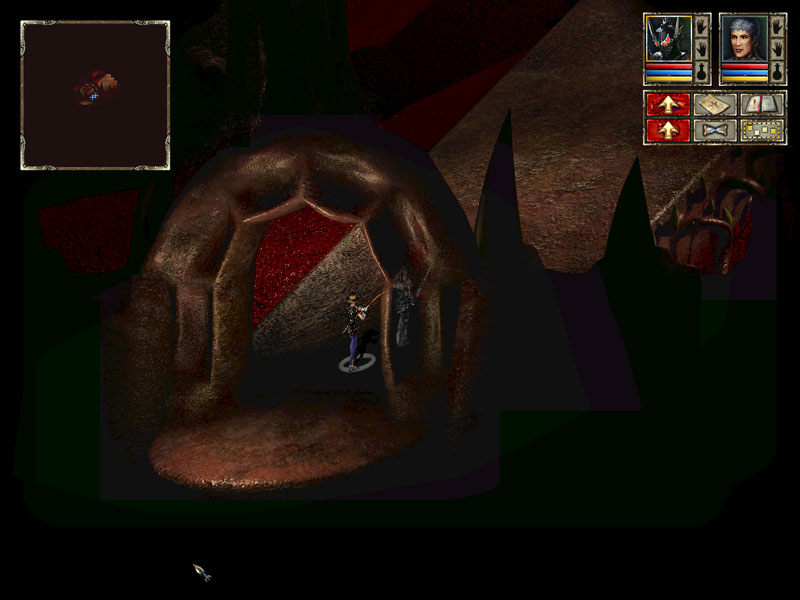 There was no time to waste thoughts on asking what happened, the four Elite Death Knight guards approached.

What now?


The same plan as if Samuel wasn't here - HIDE!
"About the Game" posted:
This is another fight which is pretty hopeless unless you hide and pick them off one by one. They're level 14, and Mort and D.K. are only level 11 (but almost to level 12).

There is simply no way you can survive fighting more than one at once. Two engage in melee, two shoot fire arrows, and DK does in seconds unless you're constantly pausing and healing with potions, and even then that might only be enough to keep D.K. alive, he might not be able to fight back at all.

If Samuel was here, even by himself… it would be flat-out impossible to win.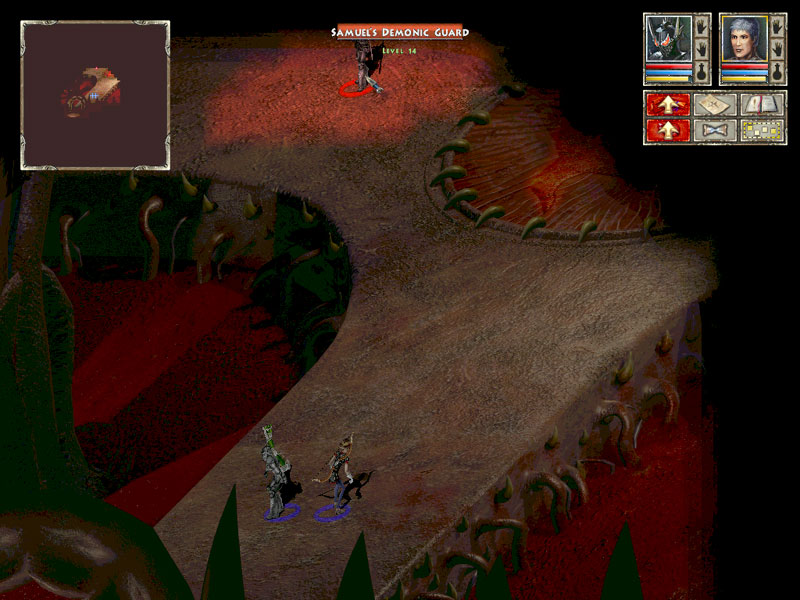 "About the Game" posted:
I equipped D.K. with a heavy crossbow I found. I probably should have checked the battlefield merchants first for better bows, but I probably wasn't thinking about that.

I'm doing only 20 Crushing and 10 Piercing with these attacks, thanks to the huge armor rating on the enemy Death Knights. It will take a long time to chew through these assholes, and there isn't much room, so I'll need to sneak the other direction, past them to resume shooting.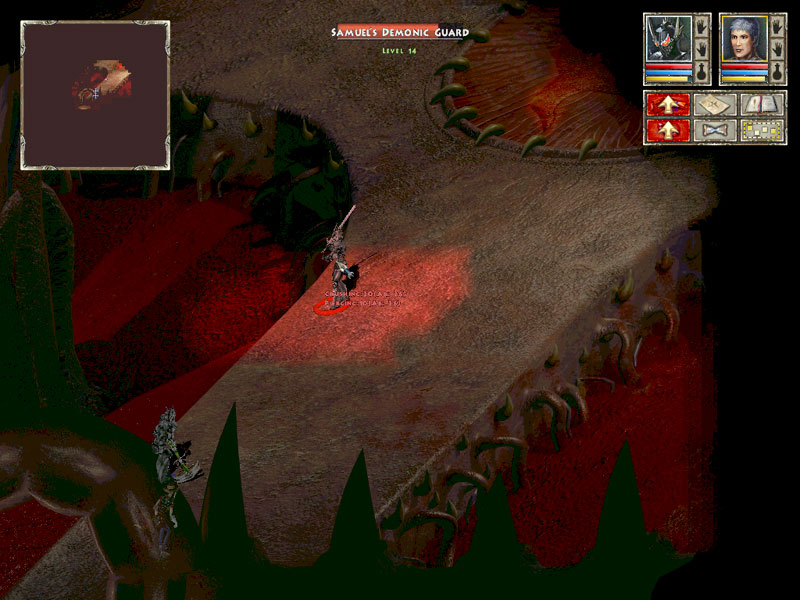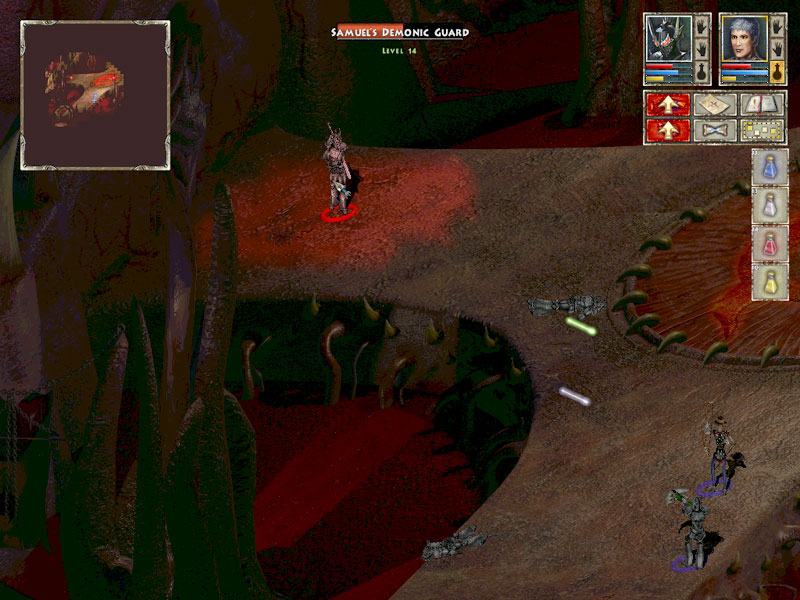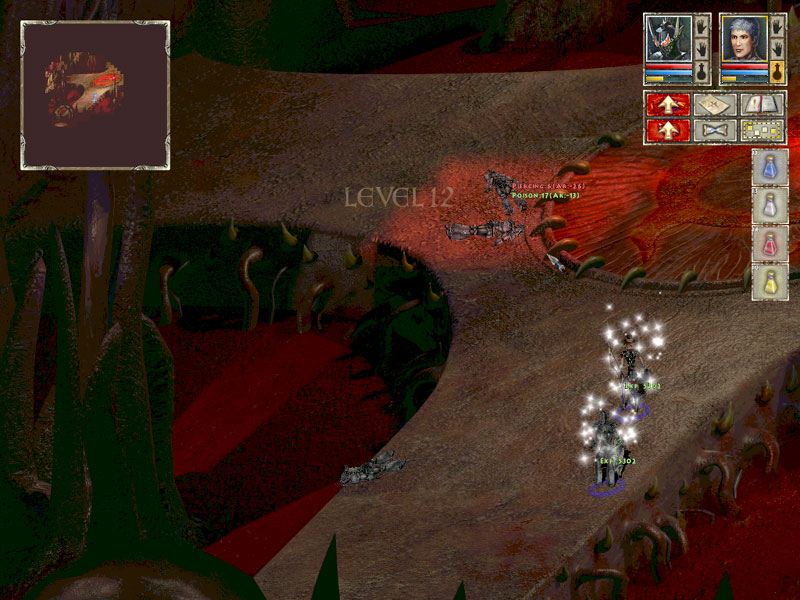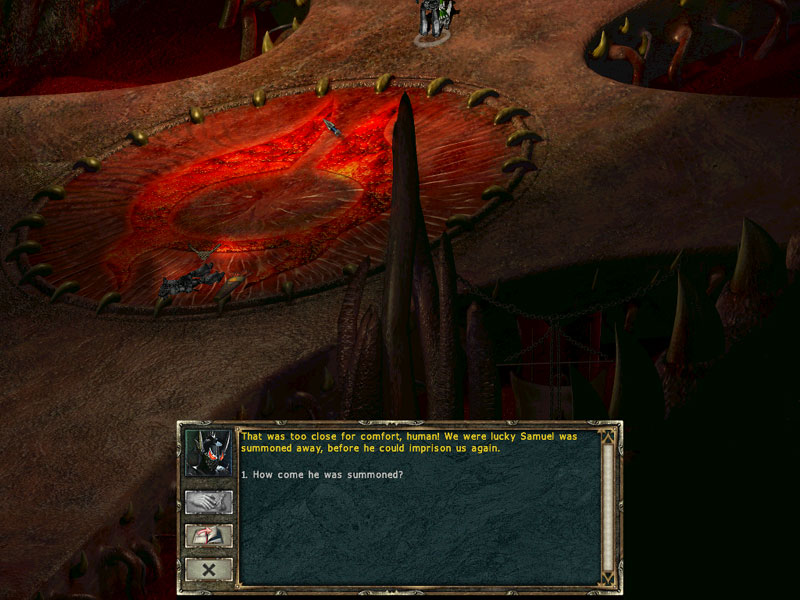 Finally, Mort and D.K. were able to finish off all the elite guards.

That was too close for comfort, human! We were lucky Samuel was summoned away, before he could imprison us again.


How come he was summoned?


It's something that happens in this dimension from time to time. Necromaners in Rivellon can summon creatures from this world, temporarily. Demons, imps, even humans…


So summoning doesn't last long?


Summoning is not forever. The necromancer can ask the summoned creature to answer questions, or perform certain tasks. The creature is bound by the spell to obey, but afterwards they will return to this dimension.


So even Samuel can be summoned as well?


Samuel is a tremendously powerful Arch-Demon, but if he is summoned, then like any other creature, he must follow the call. Eventually, he will return here, but it will take a while…


What about humans?


Humans can also be summoned, but this is very rare. The necromancer has to know the *name* of the creature they want to summon, and Samuel makes sure his reputation proceeds him.


We'd better get what we came for and be quick about it, too.


I'm glad to see that you're finally ready to stop dilly-dallying, human!
Mort picked up some keys the Death Knights had dropped. They opened rooms on either side of the chamber.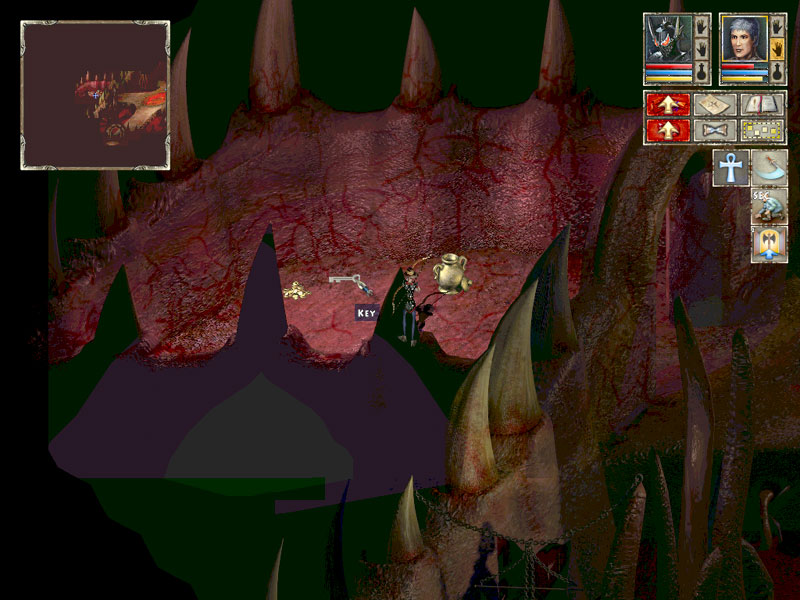 This is the key to the forge area, human. If you were planning to blow the wall open to let the heat in, we can do that now. … Also, I found these in one of Samuel's chests. Maybe you could make better use of them.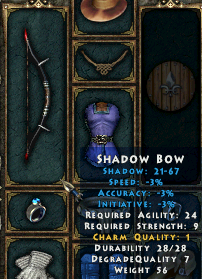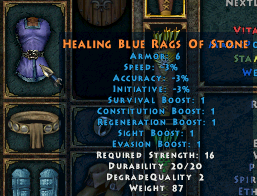 "About the Game" posted:
I actually got the new bow and armor from the Battlefields, but this was a good spot to put them in.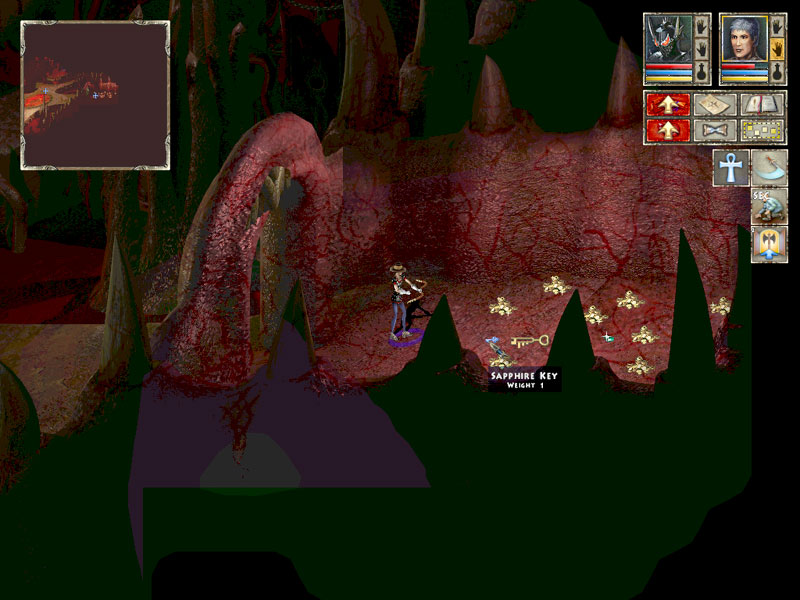 [/b]First, though, we should make sure that this really is the key to the exit. I'd rather not find out this opens Samuel's private treasure chest when I'm hip-deep in lava.[/b]
"About the Game" posted:
Yes, that is the final Battlefield Key of the act there, and we find it about 30 seconds before the act ends. The key and our access will vanish if we leave the act, so visiting the Battlefield for the last time is now or never.

The Battlefields are my primary source for traps, so doing all these dungeons is especially important. They get more and more helpful as we go on. I got about 150 traps from the first Battlefields 1-X and the Citadel, but from Battlefield 2-1 alone, I got 100 or so traps.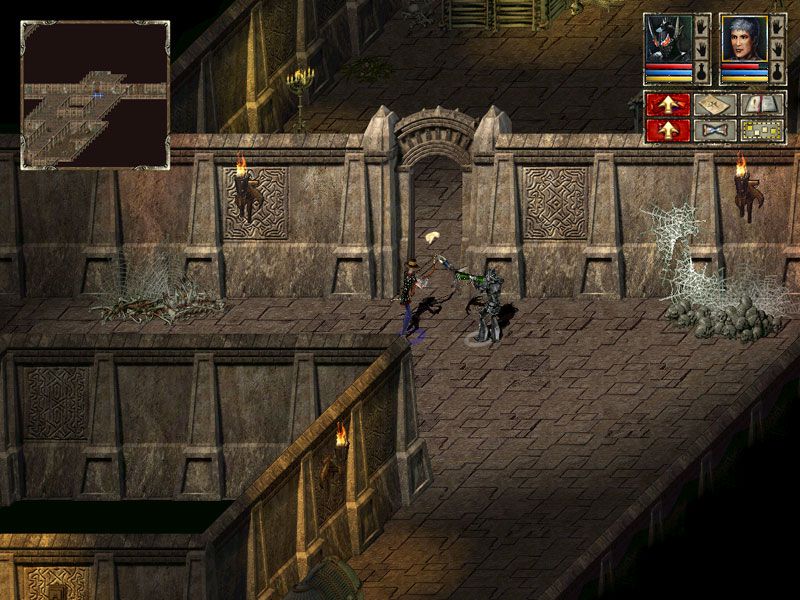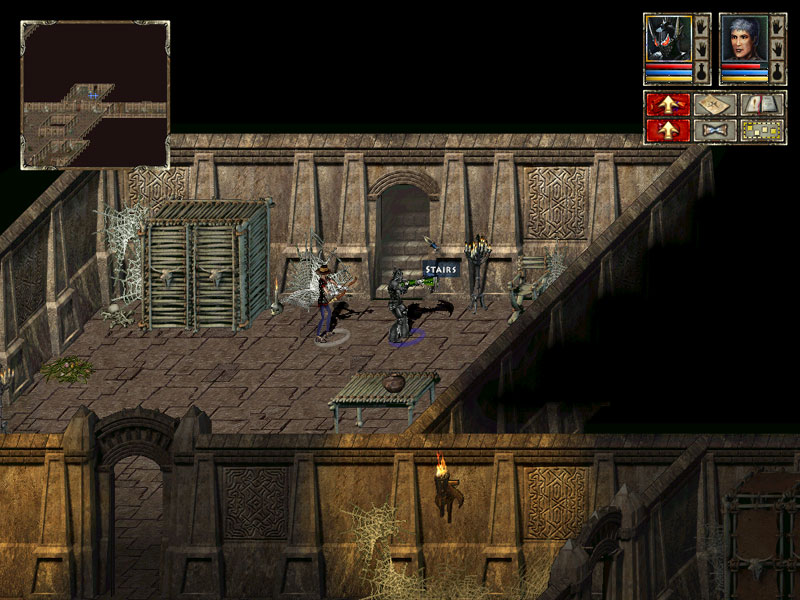 I… I see sunlight… real sunlight… and smell fresh… well semi-fresh... air… this is it! It's the way out!


Don't start cheering yet, human. Leaving the Citadel is only the first step. Finding a way out of this dimension will be *much* harder, and we can expect Samuel's soldiers to be on our trail the moment he gets back.


You're right. We haven't got a second to waste. But we should use that explosive before we go.


You read my mind, human.
Mort and D.K. hurried back to the forge. With no patrols remaining in the halls, it was a fast journey.
Video: Attacking the forge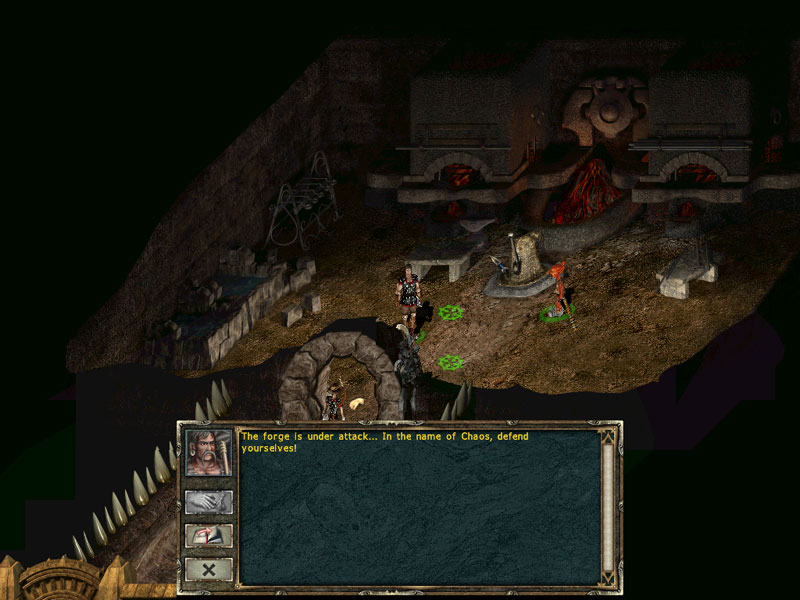 Who are -?
The forge is under attack… In the name of Chaos, defend yourselves!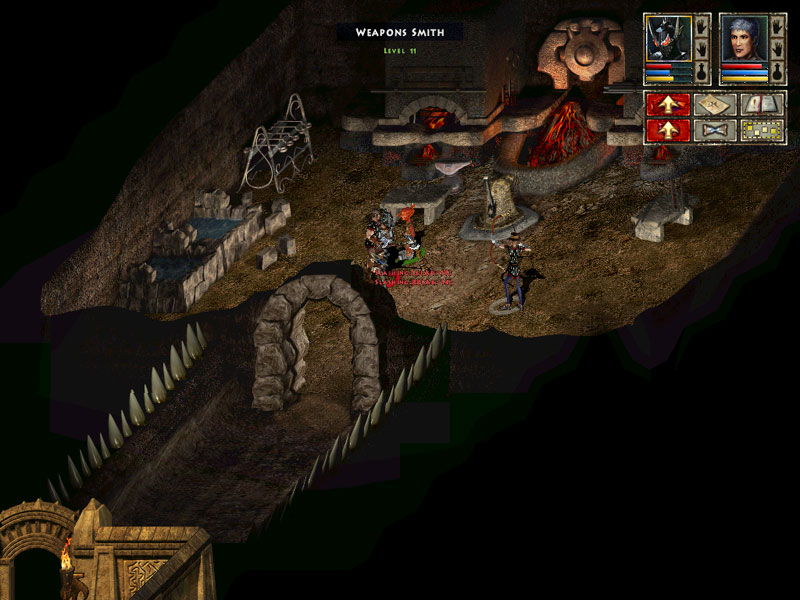 When the Forge Master was dead, the imp screamed and ran for it. Mort picked up the Forge Master's hammer.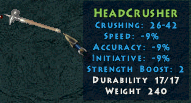 "About the Game" posted:
The unique one-handed hammer is going on Mort as an emergency melee weapon for when enemies target him instead of D.K.. Unlike D.K.'s sword, this has no minimum stat requirements and it does a healthy amount of damage.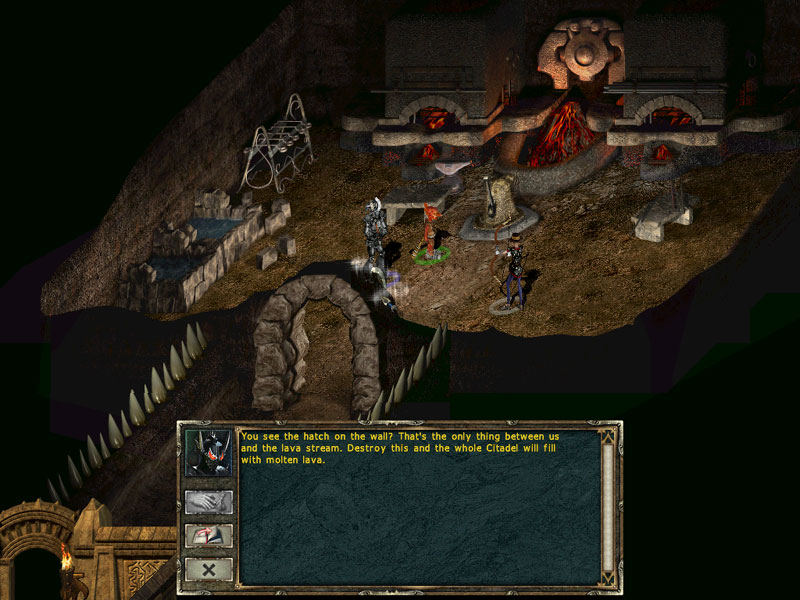 You see the hatch on the wall? That's the only thing between us and the lava stream. Destroy this and the whole Citadel will fill with molten lava.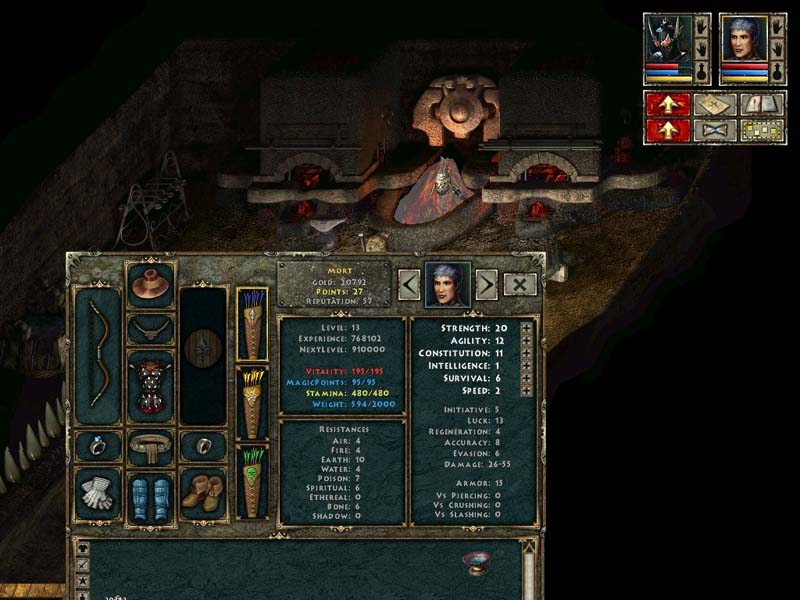 It isn't proper for a "Paladin" to kill innocent people, and certainly not in such a nasty way… but then again, the paladins that work for… *HIM* are merciless bastards.
Mort and D.K. hadn't made it very far when the explosion rocked the citadel. They kept running. The guards who had been eating were outside the kitchen looking confused.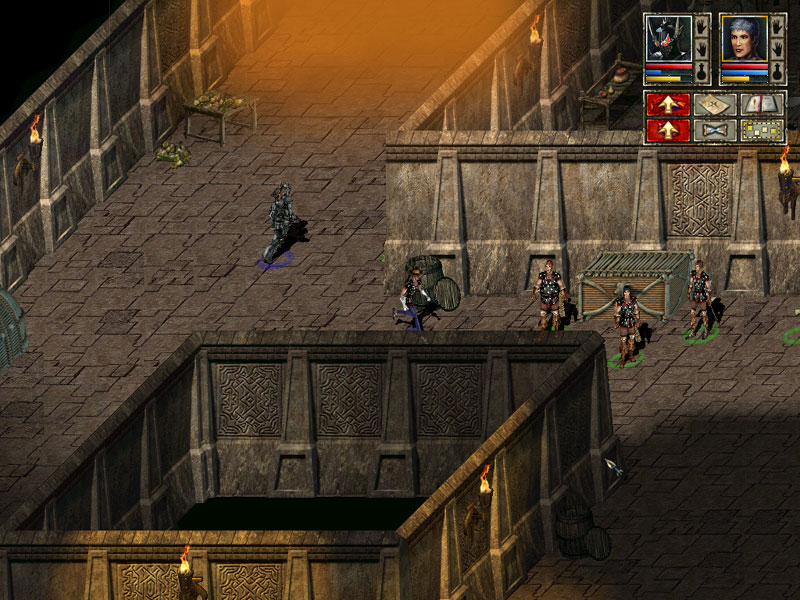 What was that explosion?


There's trouble at the forge! The Weapons Smith needs everyone there on the double!


And where are you going?


I'm the unfortunate bastard who's been sent to tell Samuel! Any of you lot want to trade places with me?
There were no volunteers. The soldiers quickly ran off towards the forge, Mort and D.K. ran flat-out for the stairs up. In the distance, screams and shouting could be heard ... but not for very long.
Video: Intermission 1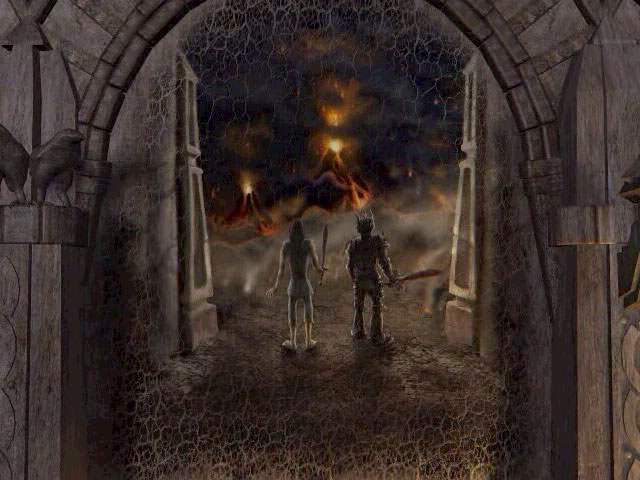 Nemesis. This place was originally inhabited by the Raanaar. Arrogant blue creatures that worshipped Raan. I remembered that their elders practiced riftrunning, which is all about opening doorways to other worlds. Our problem was of course, that the demons had been very successful in wiping them out.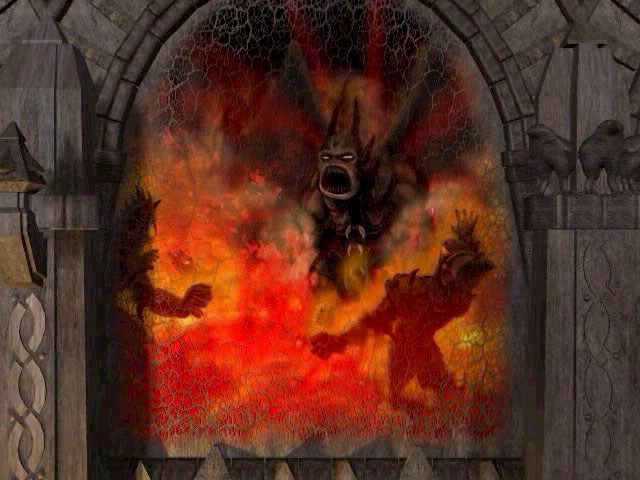 One particular demon wasn't happy at all, something *I* could relate to. Having to do the bidding of a mere necromancer isn't a barrel of laughs, especially for a demon overlord such as Samuel. But it turned out to be a stroke of luck for us.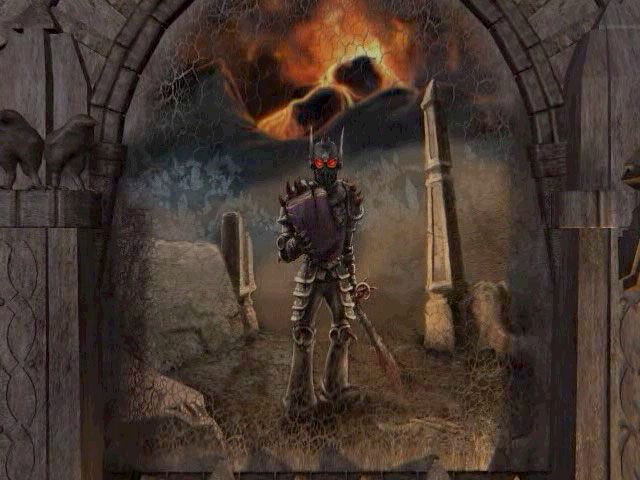 The paladin might not be my ideal companion, but at least I was still alive, something I hadn't expected given the task of escaping from the Citadel. My companion deserved *some* credit for that. Besides, I was curious to see how my new soul-mate would deal with Nemesis.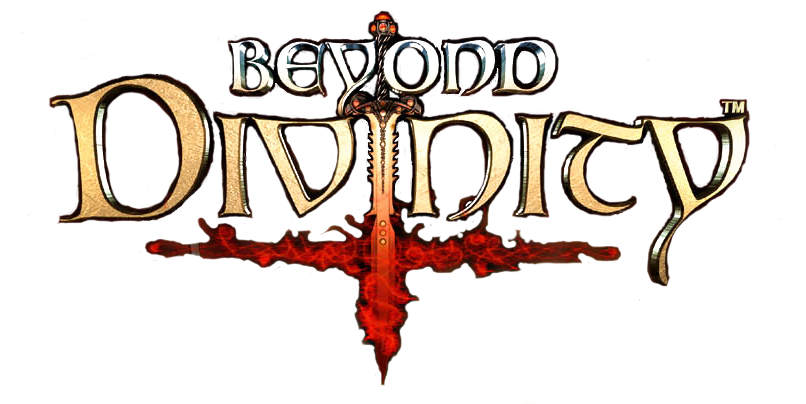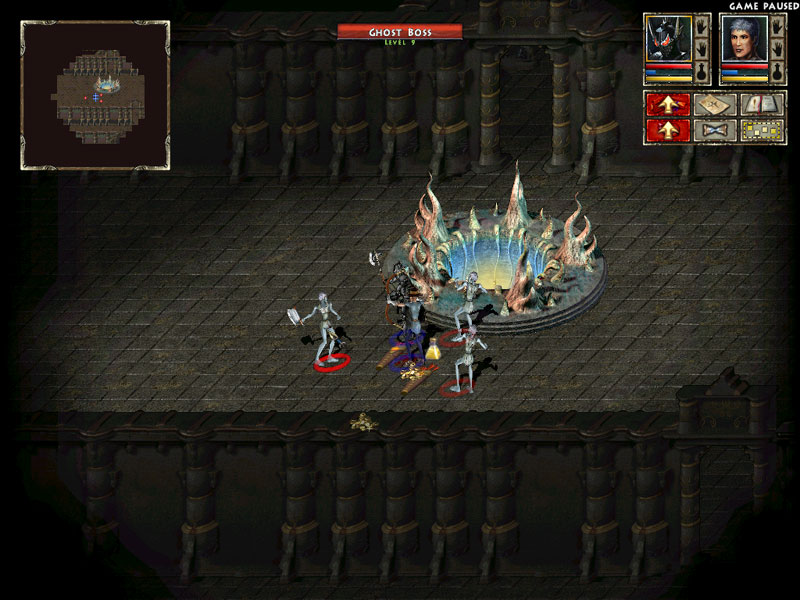 The third Battlefield Dungeon features Ghosts and Earth Elementals as the melee enemies, Evil Flying Eyes (shooting Fire arrows) as the rangers, and Ghost bosses as the mini-boss.
The tile-set is some kind of Black Ring temple. I don't like this one. It's barren inside, and few chests, and it is UUUUGLY (but sadly, not the ugliest dungeon.)
Next time, we finally learn the first trap skills, as you requested. I'll describe them here.
Explosive Trap
This trap blasts everyone nearby with fire damage.
Advantages:
It can hit multiple enemies multiple times and it is especially effective on enemies that are clustered.
Disadvantages:
Fire-based enemies are less affected by this, and it's not always easy to get enemies to cluster up properly.
My Thoughts:
Probably one of the more worthwhile traps.
Scorpion Trap
It spawns a scorpion to poison and distract your enemies.
Advantages:
It's a good distraction and does good damage.
Disadvantages:
Poison- resistant enemies are less affected by it, but the biggest damn problem is that sometimes it doesn't do anything, perhaps because the spot where it wanted to spawn the scorpion is affected. Sometimes the trap is triggered and nothing happens, wasting the trap. This trap might best be saved for areas that are very open.
My Thoughts:
When it works it's very useful, when it doesn't work it's very frustrating. It might be worthwhile.
Trail Bomb Trap
Shoot a fire trail to scorch a line of enemies.
Advantages:
It can potentially hit multiple enemies that are separated.
Disadvantages:
It's hard to aim, you need to get close to an enemy and plant the trap farther away from them for it to go in the right direction (towards them). The farther you plant it from the caster, the longer the flame goes. By its nature, it also isn't well suited for open areas. And again, enemies resistant to fire will take less damage from this.
My Thoughts:
Perhaps not the best trap. Situationally it has some use, but a lot of the times we'll be fighting in the next two acts will be in open areas.
Alternate ending: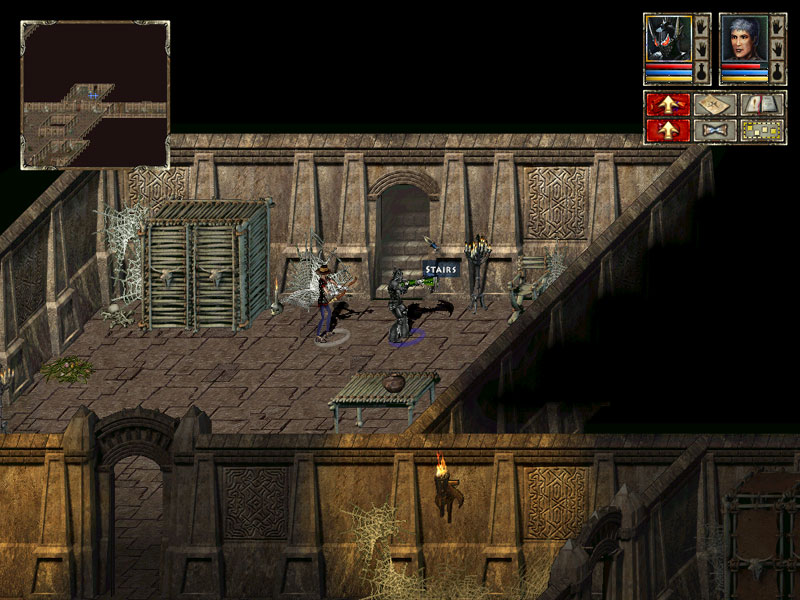 I… I see sunlight… real sunlight… and smell fresh… well semi-fresh... air… this is it! It's the way out!


Don't start cheering yet, human. Leaving the Citadel is only the first step. Finding a way out of this dimension will be *much* harder, and we can expect Samuel's soldiers to be on our trail the moment he gets back.


You're right. We haven't got a second to waste. But we should use that explosive before we go.


You read my mind, human.
Mort lit the fuse from one of the candles.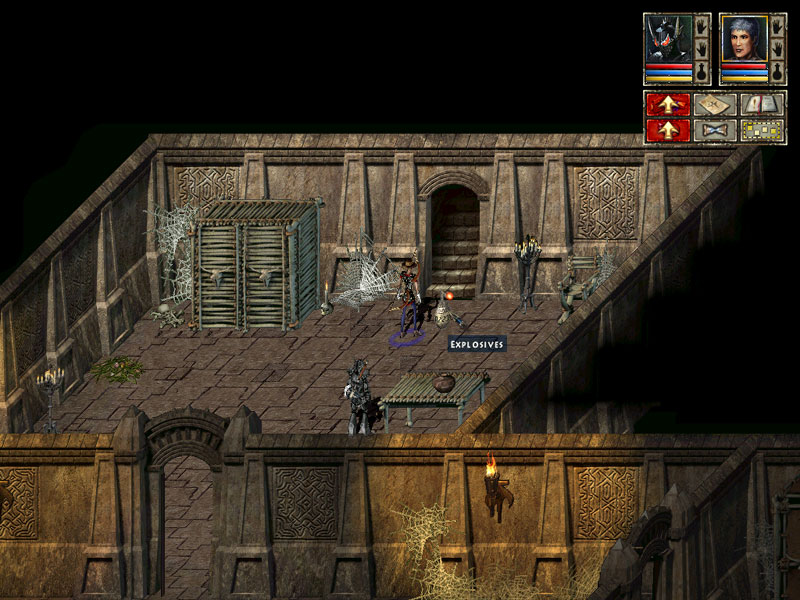 What are you doing?


Run!
Mort and D.K. ran up the stairs. Halfway up, Mort dropped the bomb. It exploded just after they reached the top of the stairs. The explosion weakened the ceiling, and the roof collapsed, sending tons of debris down to block the stairs off completely.

Perfect. It should take them weeks to clear that debris out.
READER PARTICIPATION REQUESTED:
There isn't going to be much for readers to vote on before the game opens up, and that's at least one update away, maybe two.
1) We're going to see the world outside for the first time. The game doesn't open up right away, you're stuck in a certain area. I'll show you a couple of things, how many is up to you:
a) Guard Deserter
b) A grisly sight
c) Friendly, drunk guards
d) A dangerous mini-boss
e) All of the above
f) None of the above
Showing everything might add another chapter in, I'm not sure.
2) I haven't even started putting Chapter 11 together, but this page is image-heavy, and
I'm not going to post Chapter 11 until there's a new page.