Part 43: Endurance and Faith


Music - "Wine and Blood"
Download
(Thanks to Grawl)
Chapter 38 - Endurance and Faith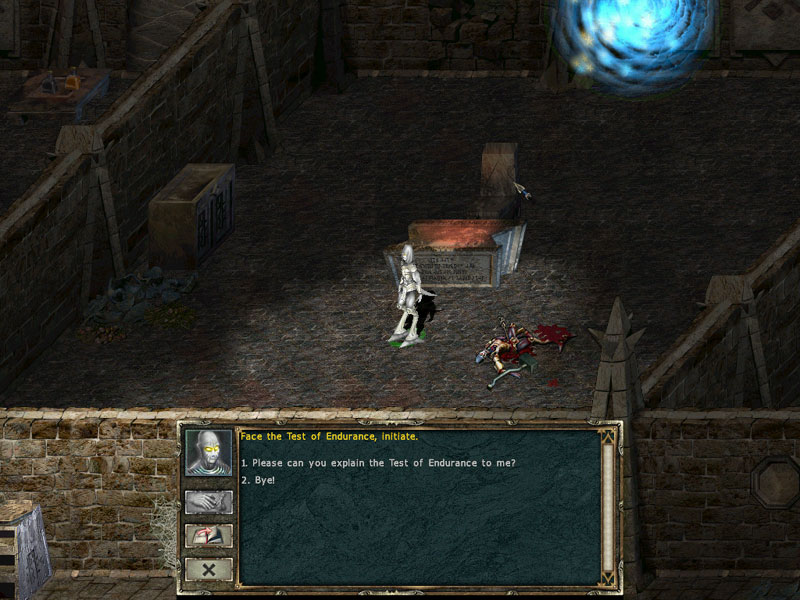 Face the Test of Endurance, initiate.

Please, can you explain the Test of Endurance to me?

This test will test your endurance… Enter the test room… you'll see a rift leading to a neighbouring room… it contains a golem… an imp… and a chest… Your task… bring all three through the rift… one at a time… the imp alive… the chest untouched… But beware… the imp is curious… if you're not careful… he will open the chest… And if you're not watchful… the golem will kill the imp… Once you step through the rift… there is no turning back…

Bye!

This? A test of endurance? What's to endure? This is a test of wisdom, not endurance.
"About the Game" posted:


Before you go, open the cabinet by the left wall and claim the first Battlefield key. But beware - you're now in a new act, and unlike going from Act 2 to Act 3, the difficulty has been kicked up noticeably.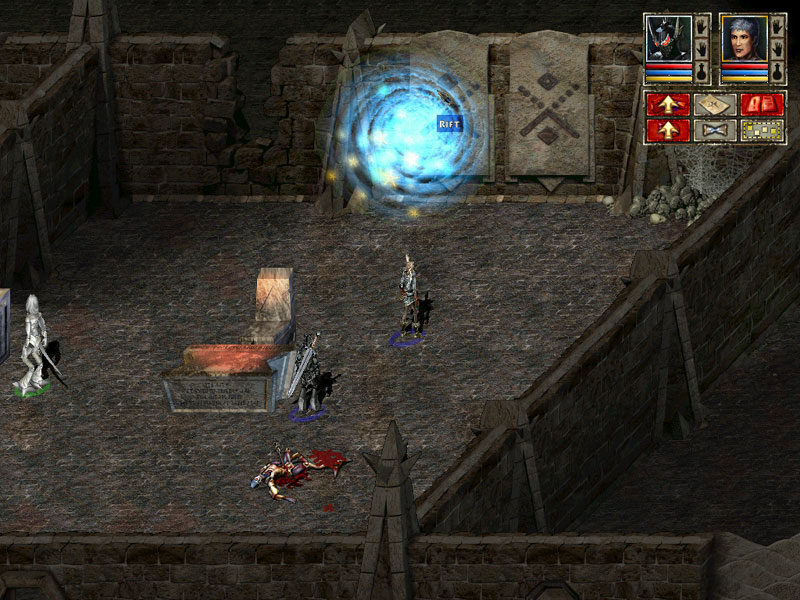 A rift…


You can give it your idiotic slack-jawed stare later, human, let's just get on with the test!


This seems simple enough.


Normally rifts are invisible unless you have special training or the natural gift of rift-sight... But some of the ones at the school are special...
Mort and D.K. entered the rift.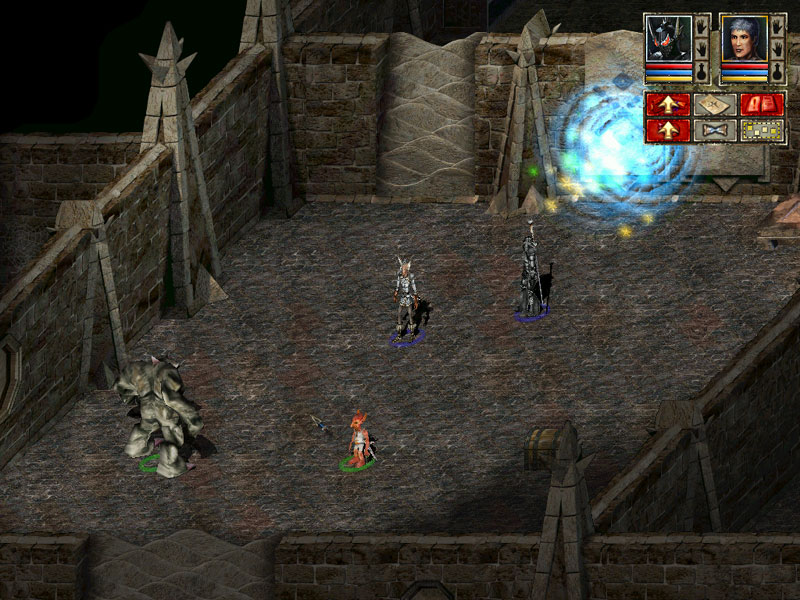 SMASH HIM… KILL HIM… SMASH HIM… KILL HIM…

Ohhh… What's in chest? Nice chest… Maybe genie? Maybe magic wand? Wanna know, must know!!!

Follow me imp.

I follow… do you know what in chest?
Mort deposited the imp in the other room, then returned and picked up the chest, leaving it in the room with the imp.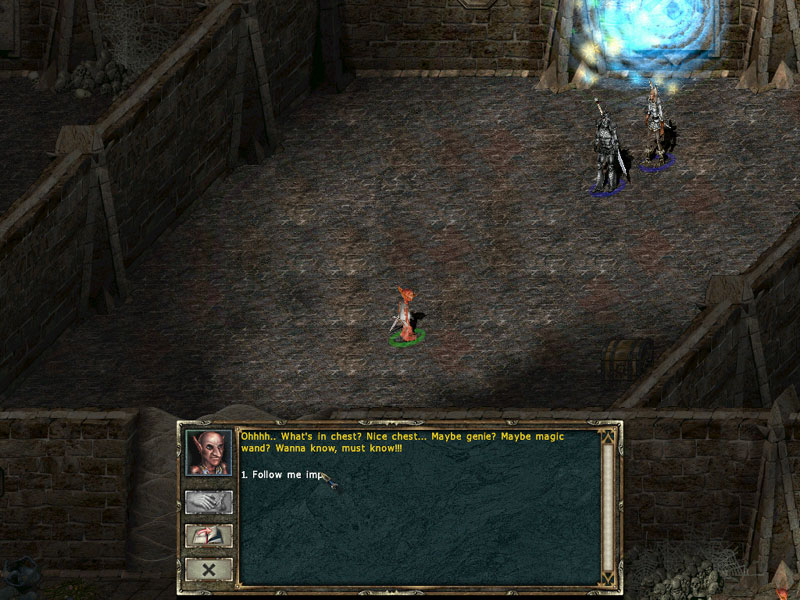 Follow me imp.

I follow… do you know what in chest?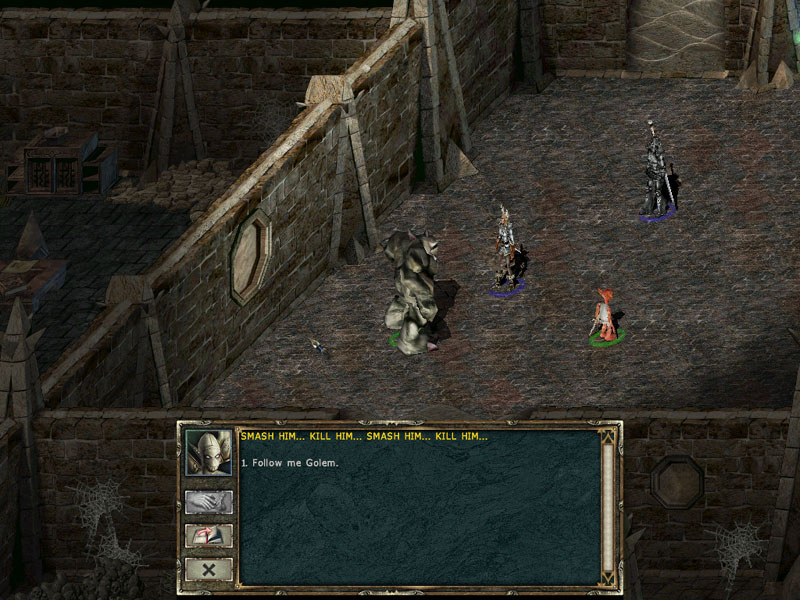 Follow me Golem.

FOLLOW… FOLLOW… FOLLOW…
Mort left the Golem with the chest, and then returned for the imp. Once all three were in the second room, Mort and D.K. were teleported back.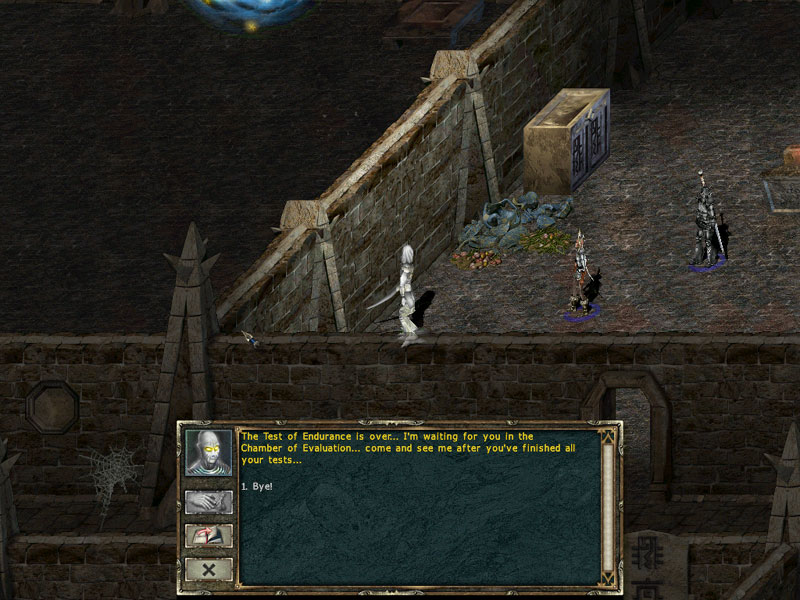 The Test of Endurance is over… I'm waiting for you in the Chamber of Evaluation… come and see me after you've finished all your tests!

Bye!
The ghost walked out of the room.

Hmmm…


What is it?


There's another room hidden behind this one. Look through that hole.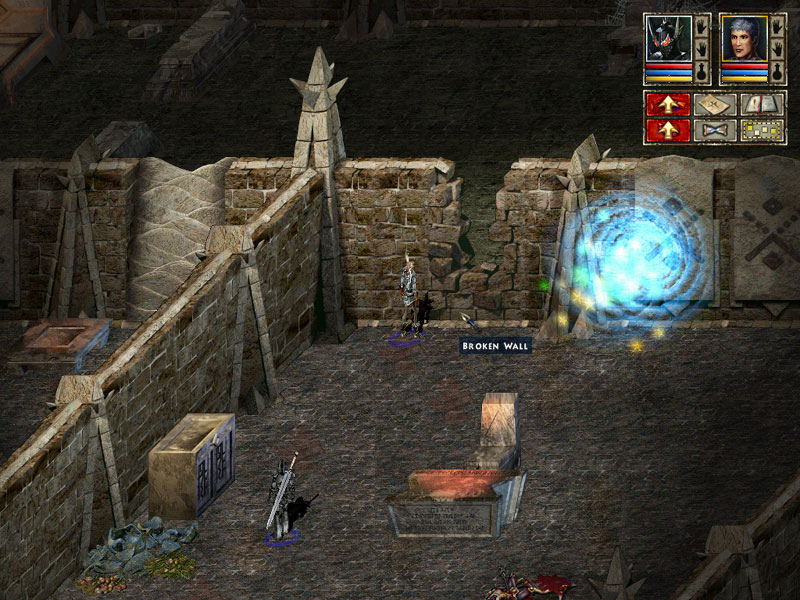 Yeah… but it's too narrow to climb through, and the remaining bricks aren't loose enough to pull out.


Hmmm… wait, this dead Raanaar is lying on something.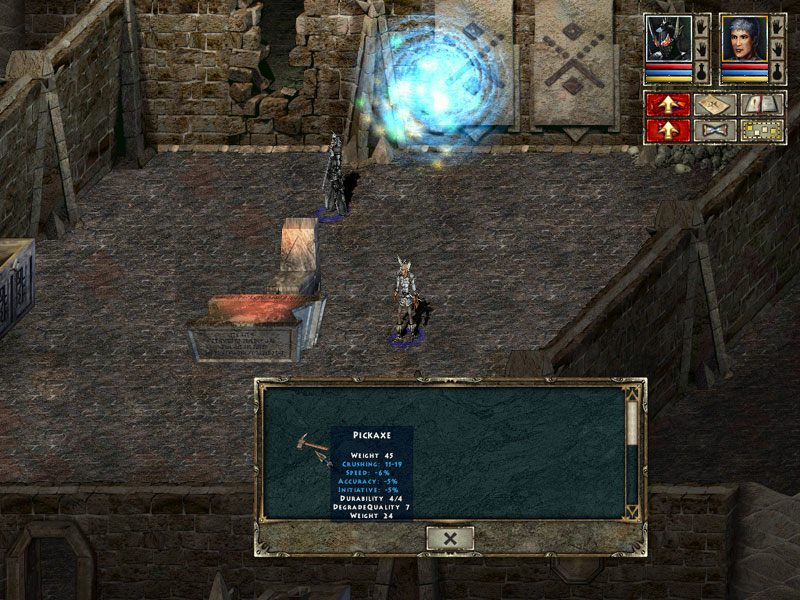 This should get us through these bricks.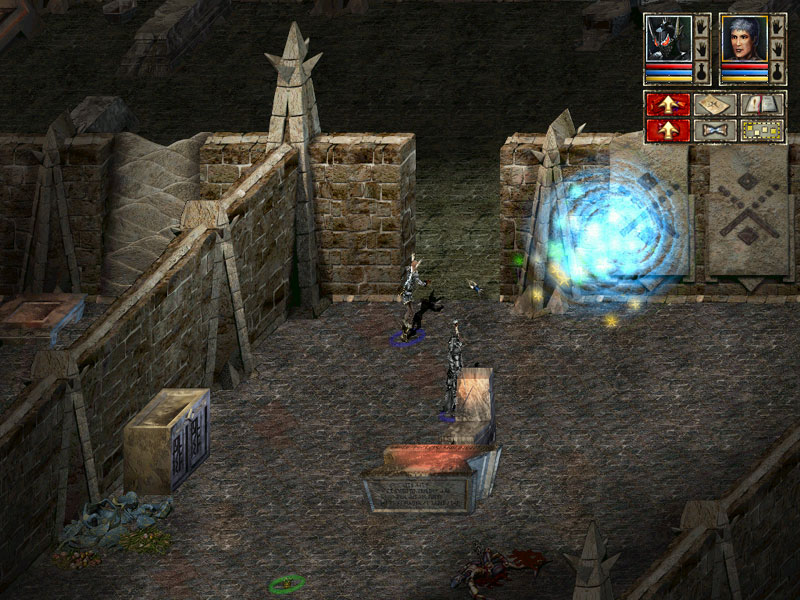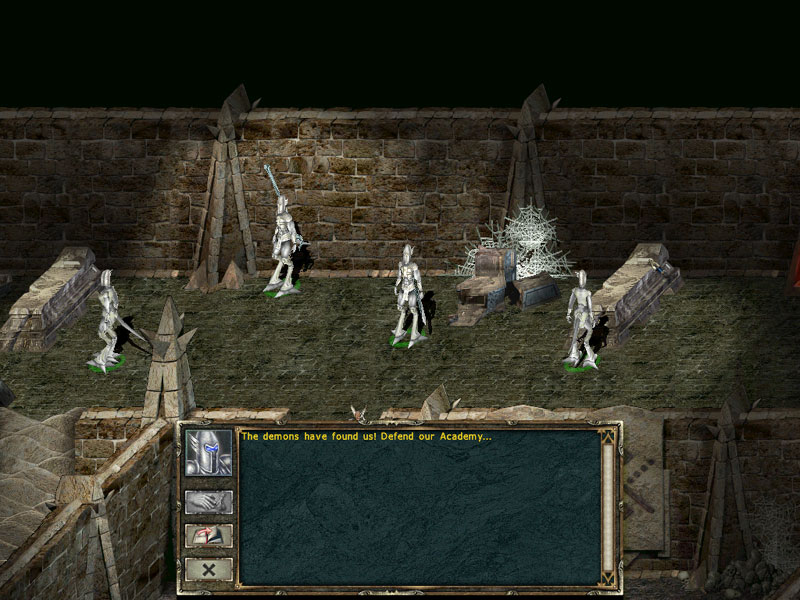 The demons have found us! Defend our Academy…

Oops.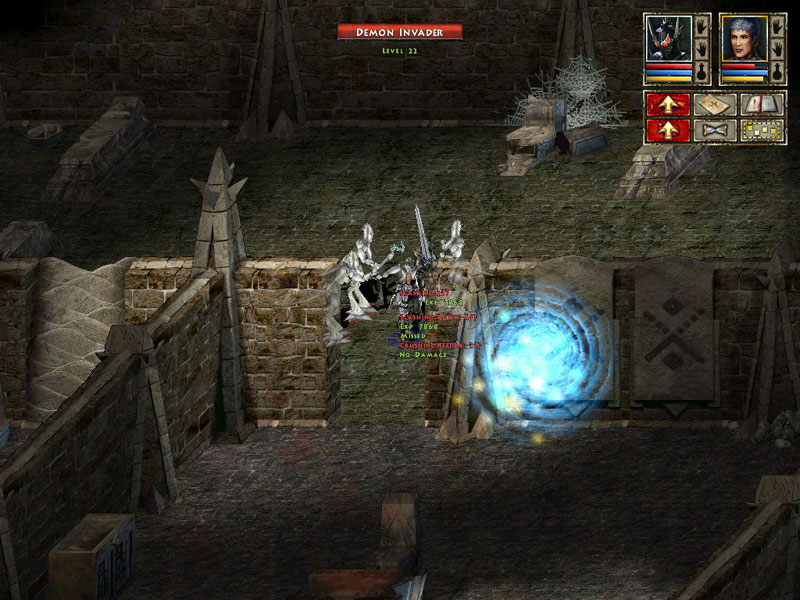 "About the Game" posted:
Uh, no game… that's not the right description.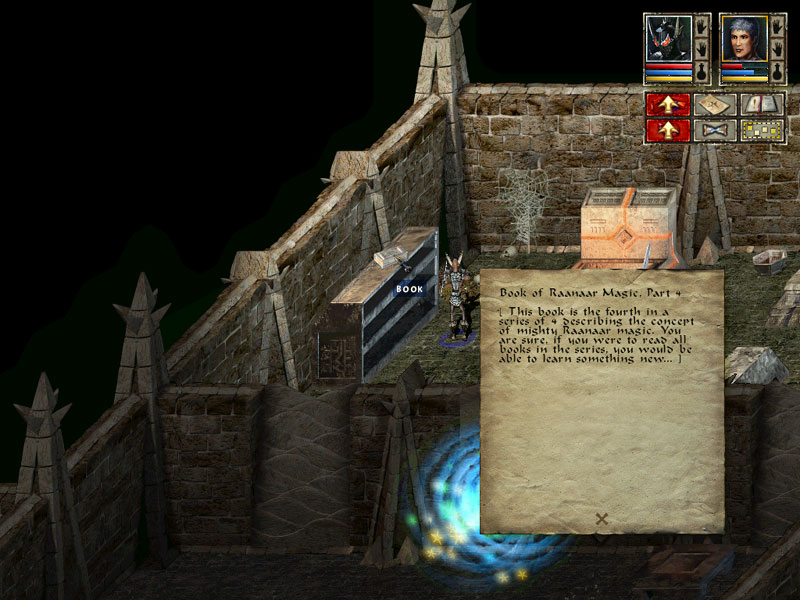 That's it? One lousy book?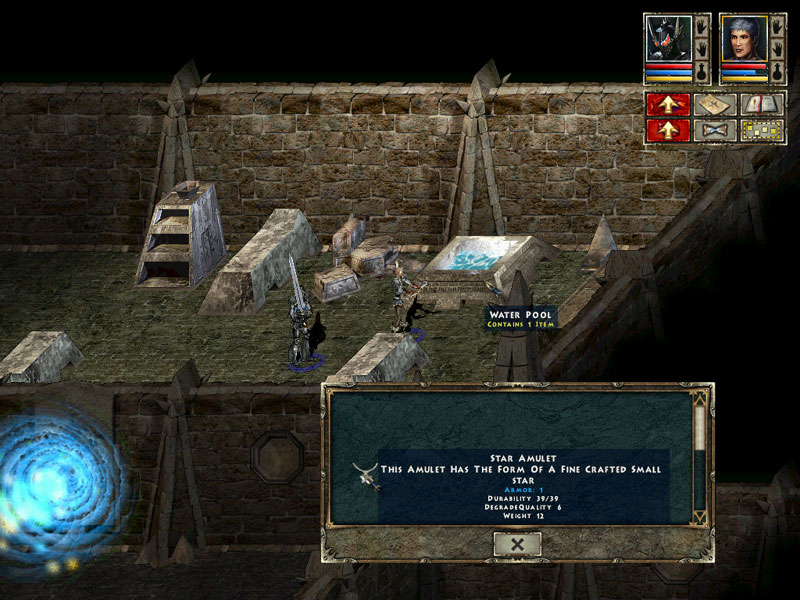 Wait… what's this?


So much for the Brotherhood of the Stars…


I bet it fits that door. Let's see what's inside?


What happened to "getting on with it"?


Shut up, human!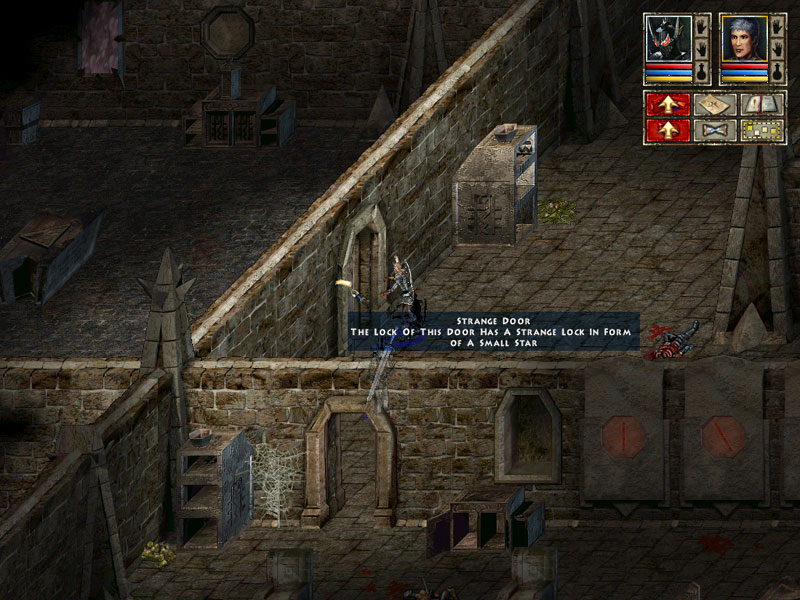 The star-amulet fit perfectly, and the door clicked opened when Mort gave the amulet a twist.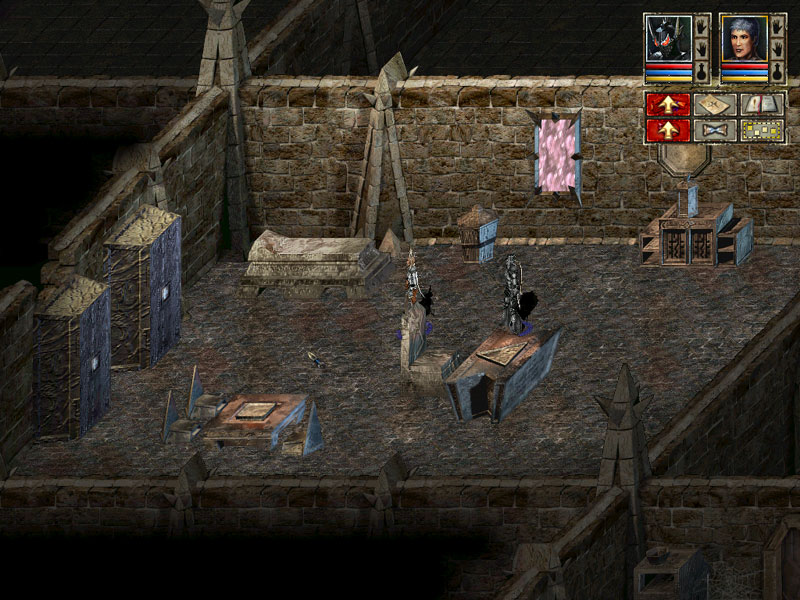 For a room which was so hard to get into, it was surprisingly ordinary.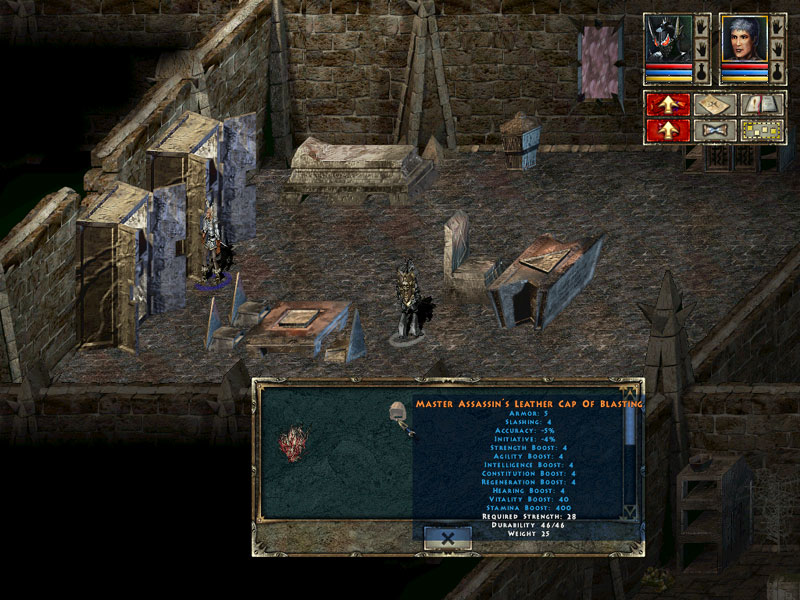 Well, I got a new hat, at least.
As they were leaving, Mort glanced at the mirror. Then he went for a closer look.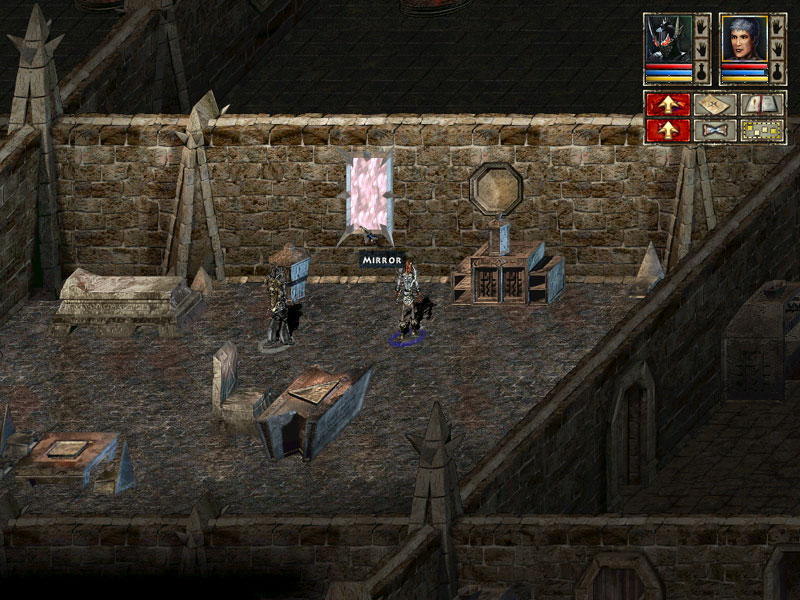 It's just a mirror, human. Come on.


If it's just a mirror, where are our reflections?


What?
Mort and D.K. took a closer look.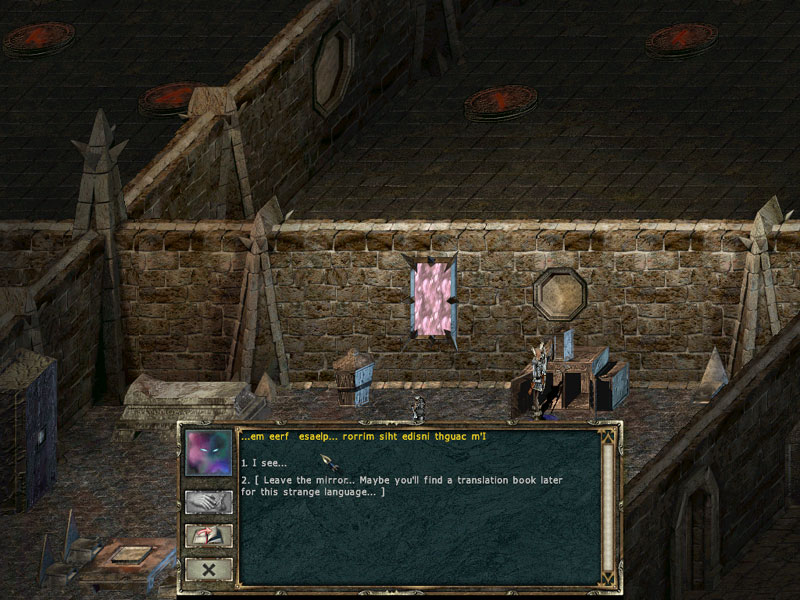 …em eerf esaelp… rorrim siht edisni thguac m'I

I see…

??? tahW

?uoy eerf I od woH

.gnir dnomaid ym dnif ot evah uoy tsriF

?gniR ruoy esol uoy did erehW

...em rof ti dnif esaelP .slennut eht ni erehwemos ti tsol I

…rorrim eht retne nac uoy ,gnir eht evah uoy fI

?rorrim eht retne ot deen I od yhW

…deerf eb I nac ,edis ym morf tuc si rorrim eht fi ylno esuaceB

?edis siht morf rorrim eht tuc ew t'nod yhW

…edis siht morf ti tuc dluoc I ,seY

…pleh ,esaelP …em llik lliw uoy edis ruoy morf rorrim eht tuc uoy fI

…erehwyna og t'noD .yrt ll'I


- ot gniog er'uoy, rehtorb hO Now you've got me doing it! You're going to waste some time helping someone who's already long dead?


Well, I might. We still don't have that ring yet.


- og s'teL This place is giving me a headache.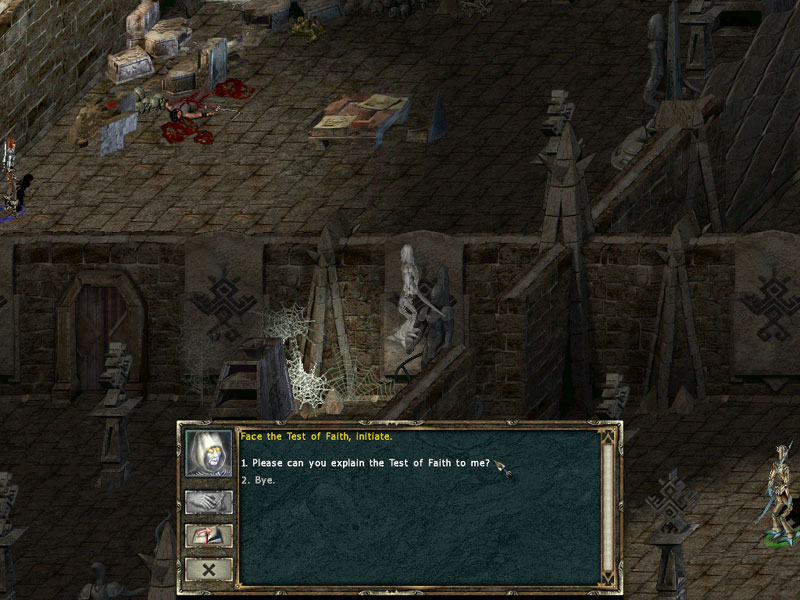 Face the test of faith, initiate.

Please can you explain the Test of Faith to me?

This test will test your faith… that is all you need to know. … Step through the first door… begin this test… When you are through the door… there is no turning back…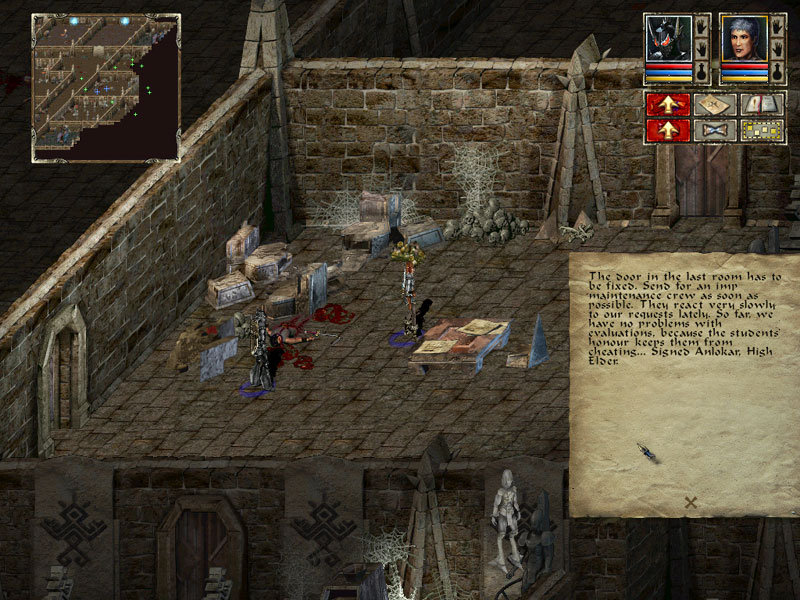 Mort caught a glimpse of a note on the instructors desk.

Let's go, human.
Mort stepped through the door and entered a torture chamber.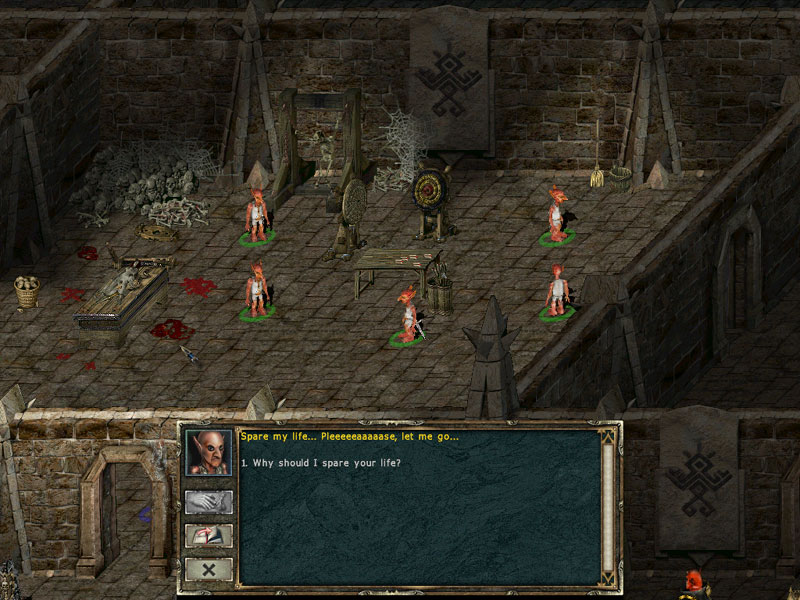 Spare my life… Pleeeeeaaaaaase, let me go…

Why should I spare your life?

Many imps work here in Citadel of evil demon. Much torture, much killing. Many Raanaar murdered. Imps not want, but we forced to do. You want all imps die?

… No, you were forced into your crimes!

You merciful. Imps may deserve death, but what good is revenge? …Better to forgive the weak.
Everything vanished, leaving a small rubber duck on the floor.
"About the Game" posted:
A coin flip broke the tie vote and decreed that the imps shall live.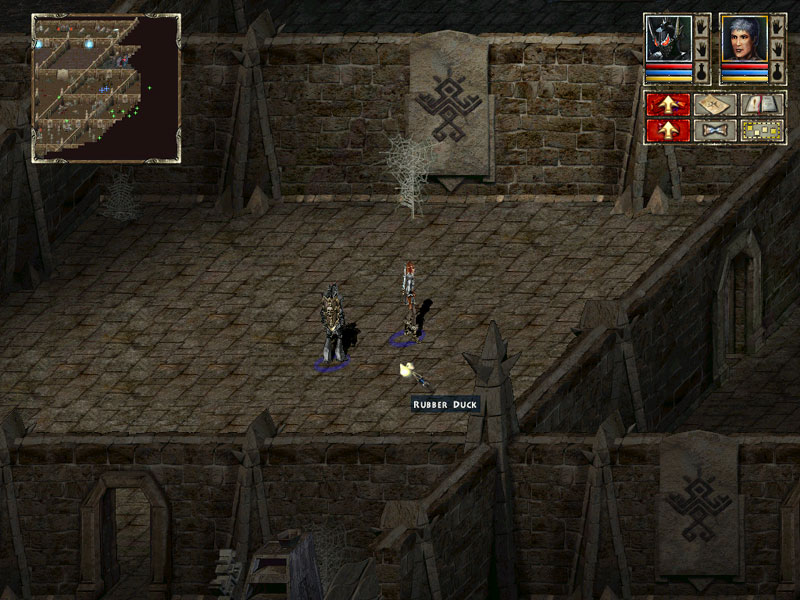 What's this?


It's a rubber duck.


Odd… this wasn't part of the test before.
Mort picked it up and headed into the next room.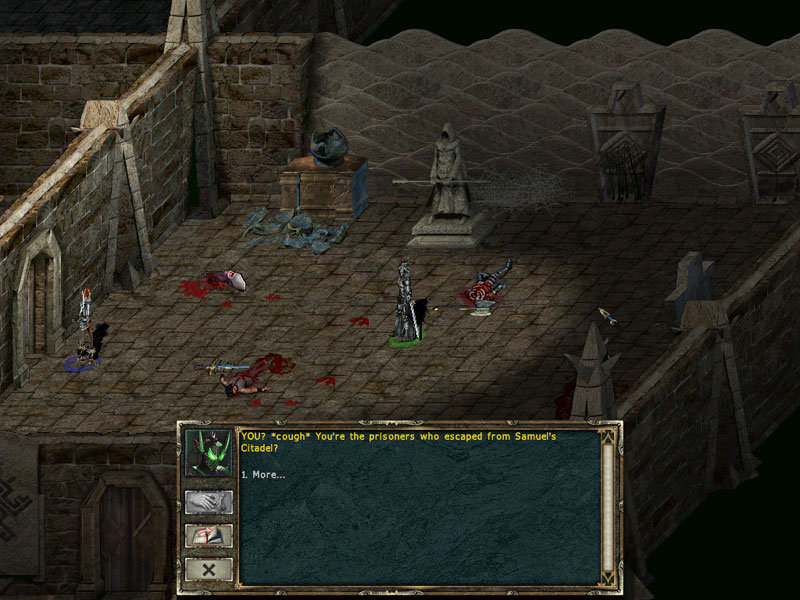 YOU? *cough* You're the prisoners who escaped from Samuel's Citadel? I was one of Samuel's guards… *groan* He resurrected us after his return… to punish us for letting you escape… and then he sent me after you! *groan*

It's unsettling the way these Academy tests can effortlessly reach inside your head… especially when your memories are blocked, even from yourself...

I've killed all the imps in this dirty village because they couldn't tell me where you went. I would kill you where you stand, but… *moan* the rebels attacked me… I only just managed to escape… and now I'm barely alive… *cough* KILL ME, YOU SLAVE OF THE BURNING LIGHT! FINISH ME ONCE AND FOR ALL, OR YOU WILL REGRET IT!

Hummm, I can hear this Death Knight as well, it must be part of the test.

If you don't kill me, human… I will tell Samuel where you are… he will come after you and burn this building to the ground… SO KILL ME!

Yes, I will kill you, Death Knight!

You show your true face, human… you're not as stupid as you look… So be it!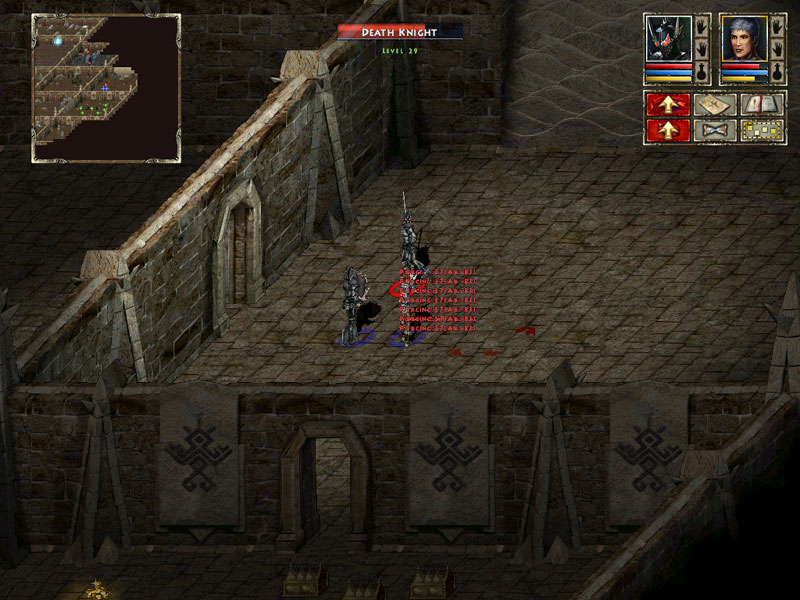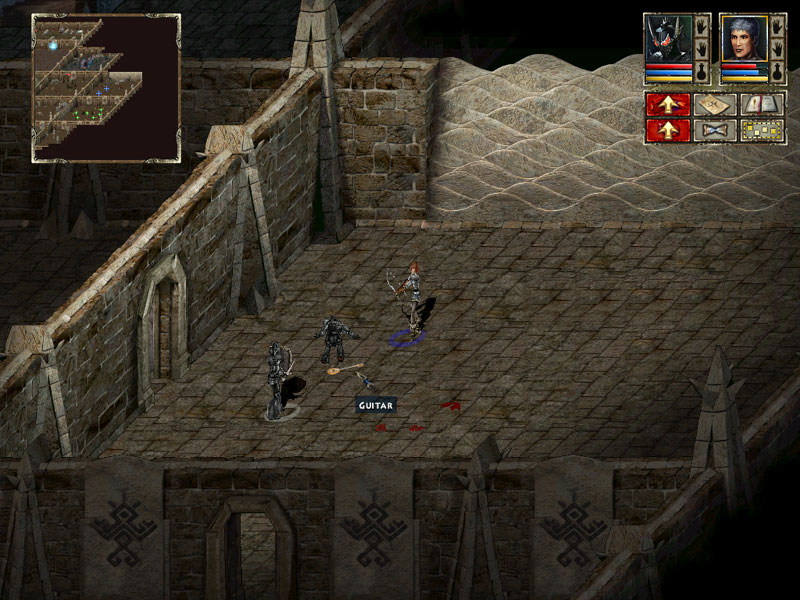 A guitar? What would a Death Knight be doing with a guitar?


Don't look at me? Death Knights DO. NOT. FIDDLE!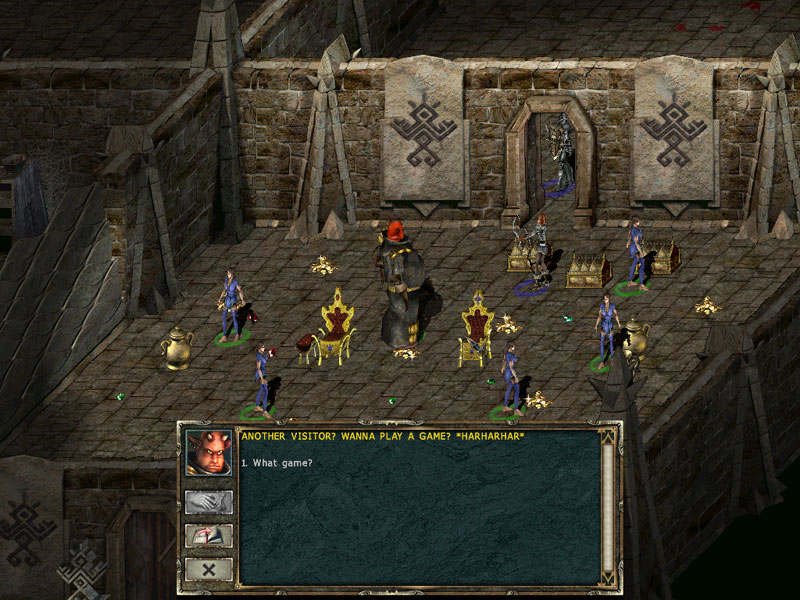 ANOTHER VISITOR? WANNA PLAY A GAME? *HARHARHAR*

What game?

I'M WILLING TO ADD THE LIFEFORCES OF THESE *LADIES* TO YOUR OWN… THEY'RE EVIL WITCHES, NOT WORTH CARING ABOUT… THEY'VE ALREADY KILLED MANY IN THE NAME OF CHAOS… THEY WILL KILL AGAIN, IF I LET THEM LIVE… YOU MUST KILL THEM… IF YOU WANT TO LEAVE THIS ROOM… DO YOU AGREE? SHOULD I ADD THEIR LIFEFORCE TO YOURS?

No, I will not take their lifeforces.

YOU REFUSE MY GIFT? HOW AMUSING! *YOU* WILL HAVE TO KILL THEM NOW AND YOU WON'T GAIN ANYTHING… STUPID HUMAN…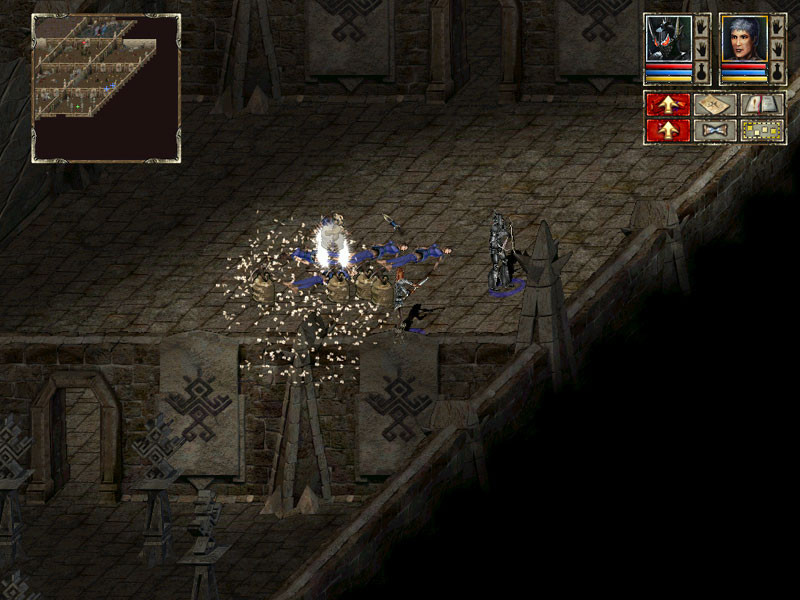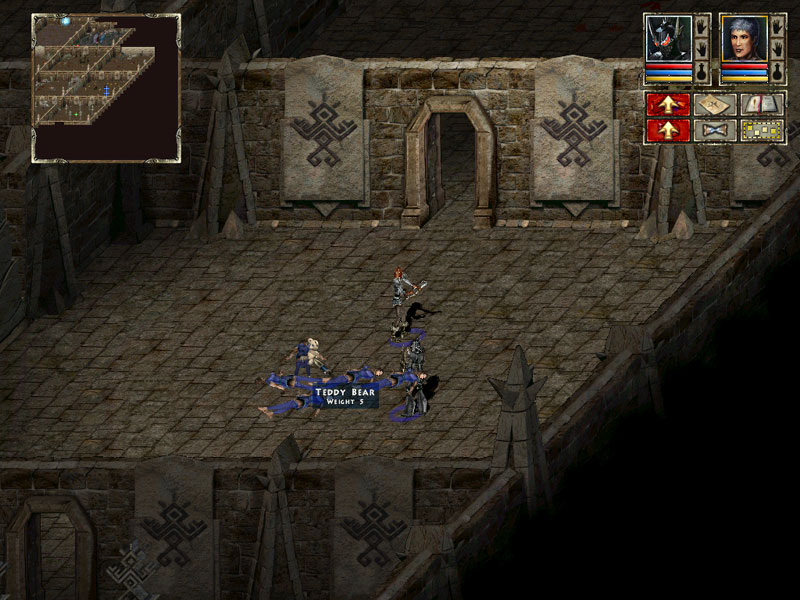 These things just keep getting weirder and weirder.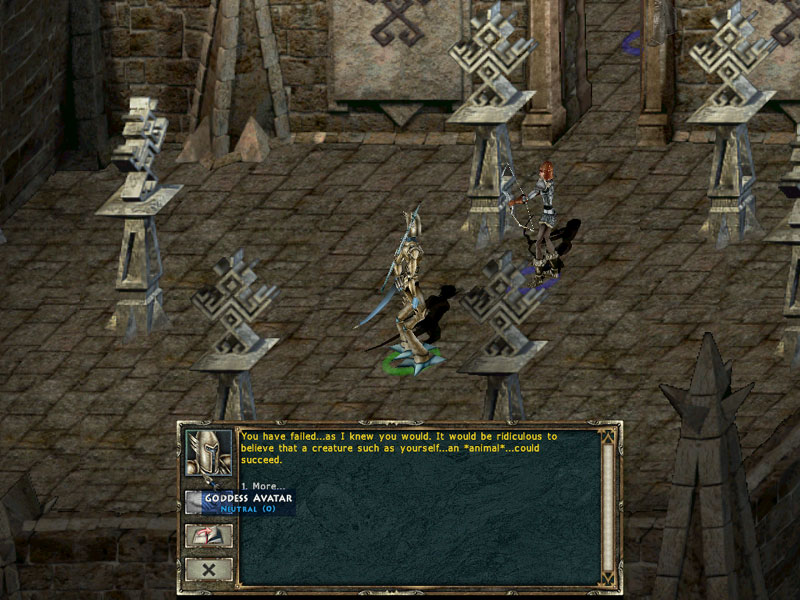 You have failed… as I knew you would. It would be ridiculous to believe that a creature such as yourself… an *animal*… could succeed. … You've killed my people… you've tortured… you've murdered… You worked for the demons. You're not worthy… Show me you at least have some honour… and accept my punishment… go through the left door… and lose one of your items… the right door is not for you… that is only for the enlightened…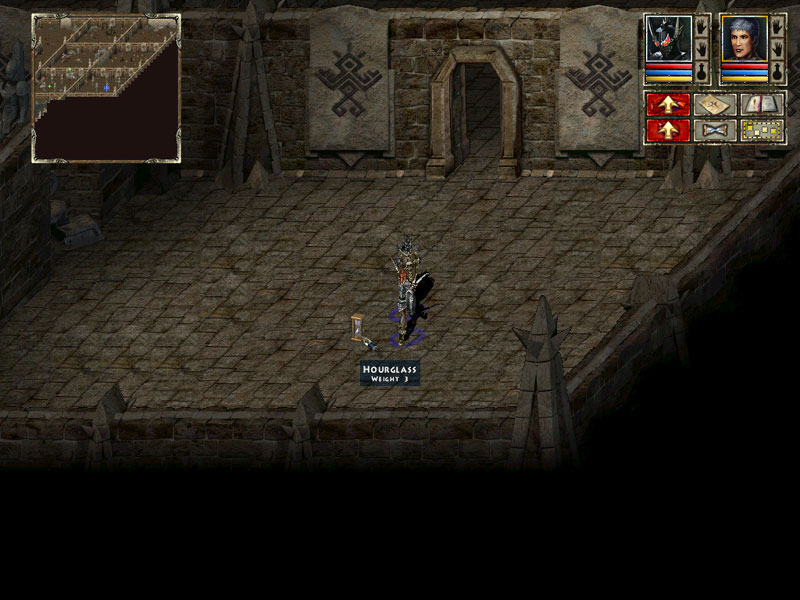 Raan faded, leaving behind an hourglass.

Bitch Goddess! But wait… look… the right door is also open, it was damaged during the attack, and these stupid idiots haven't fixed it yet. … So we *can* go through the right door, an reap the rewards of the Academy instead of letting this sanctimonious Goddess take one of our items.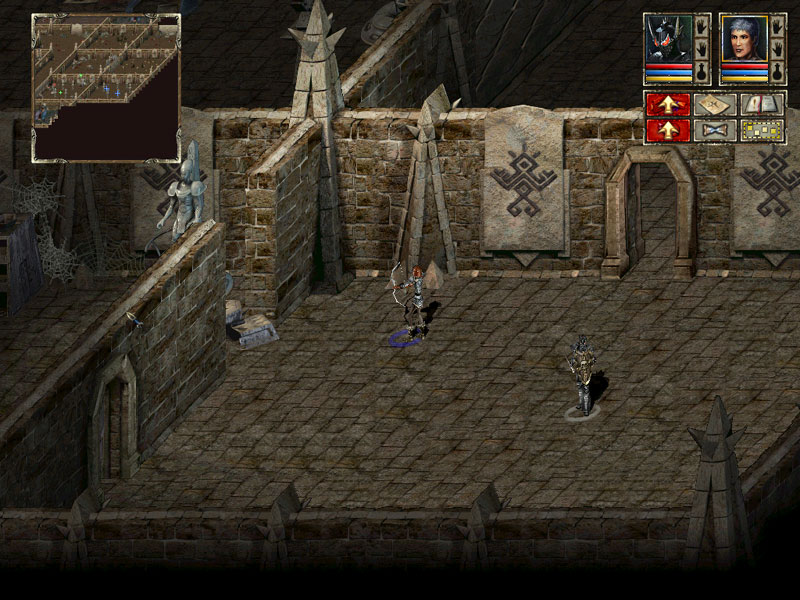 Hmmm…
The sand in the hourglass was quickly running out. There was no time to delay in making the choice.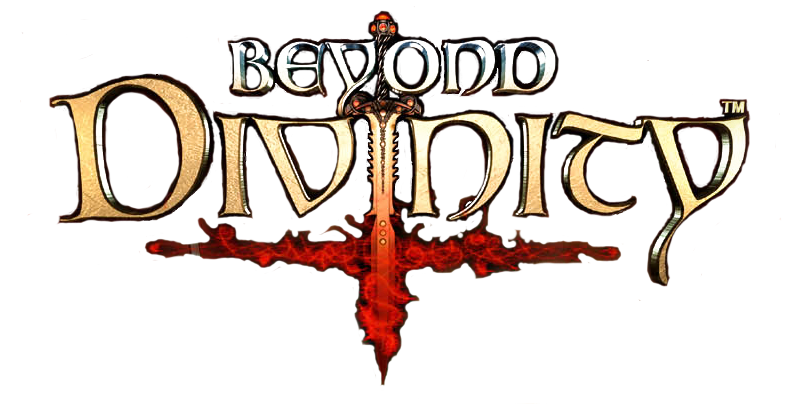 Reader Participation Required:
For the first four questions please answer with the choice corresponding to what you believe the correct Raanaar numeral is. I will not accept any other form as a valid answer. (I've actually made this test EASIER for the readers than it is for the first-time player.)
1) How many initial tests do you have to pass?
a)

b)

c)

d)

2) How many hours a day should you study to show your teachers you take your lessons seriously?
a)

b)

c)

d)

3) How many times a day should you pray to Raan?
a)

b)

c)

d)

4) How many rules does the Code of Behaviour have?
a)

b)

c)

d)

5) Raan has decreed us unworthy. She has instructed us to leave through the left door to receive our punishment. But the right door is broken.
Left door
or
Right door
?
Voting
will close Tuesday at 11 AM (EST).
IS CLOSED.