Part 50: Level of Experience


Music - "Hope for the Damned"
Download
(Thanks to Grawl)
Chapter 45 - Level of Experience
VIDEO: The Last Summoning Test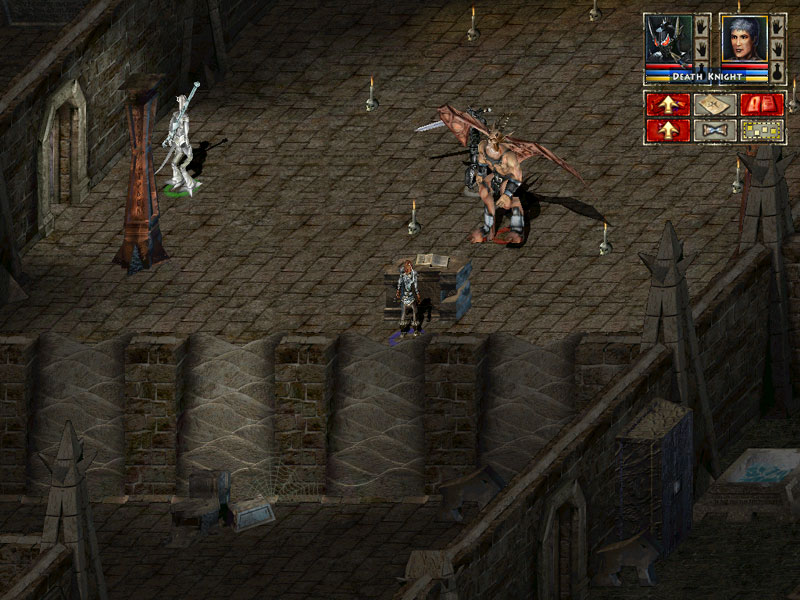 Samuel charged straight at Mort. But as he crossed the boundary of the circle…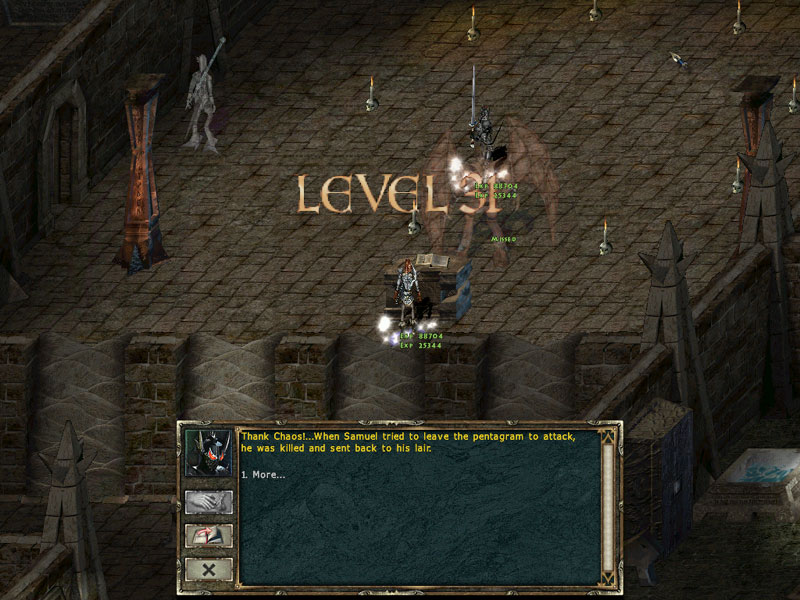 … he vanished.

Thank Chaos! When Samuel tried to leave the pentagram to attack, he was killed and sent back to his lair. … It was unfortunate we summoned him of all demons… I'm sure he will have recognized this place. …He will be back… and we must be prepared…

So Samuel was killed?

Yes, but it's nothing to celebrate… If a creature gets killed during a summoning, they will return to the original place they were summoned from. … He is weakened now, but the effect will wear off quite soon.

I don't understand… this shouldn't have happened… The protection crystal… only an *image* of a demon should have appeared… something is wrong with the crystal… luckily we had the protection runes…

The crystal has been reassembled, but what the instructor couldn't have known is that the demons are already in *this* dimension… Foolish spirits.

Congratulations… you've learned everything about summoning… You've passed this test, Damian… you've successfully summoned a demon… You can go up to the next level… but you can't come back down here…

Let's go, "Damian."


Not just yet. Something from the second summoning test reminded me of something…
"About the Game" posted:
I think it might actually be possible to fight and kill Samuel if you keep him within the circle. But the dialogue clearly indicates that wouldn't make a difference, so save yourself the trouble and don't try to fight him.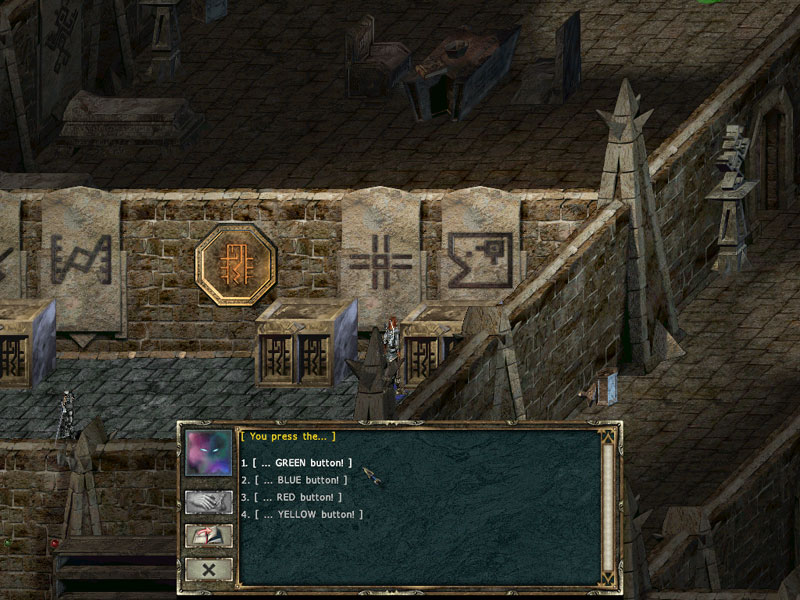 This is the rune of poison… so, the green button.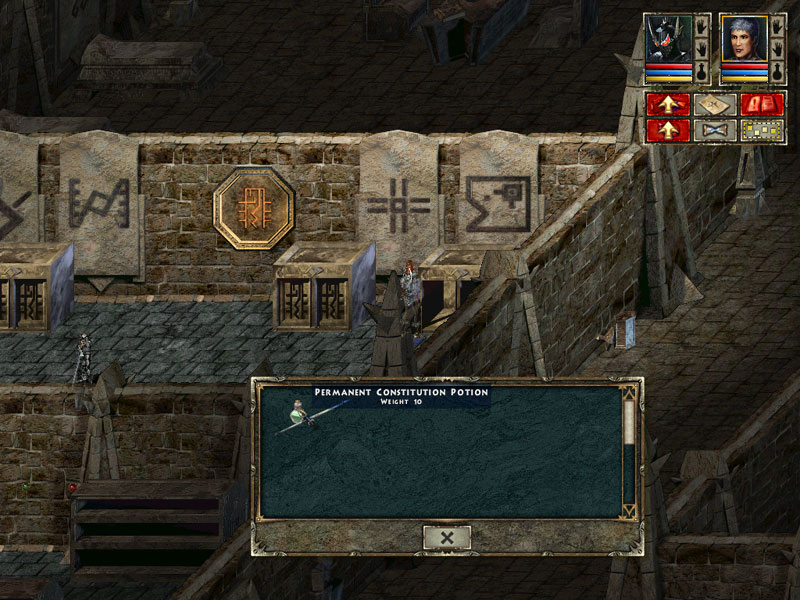 The next one is water, so blue.


It's really frost, not water.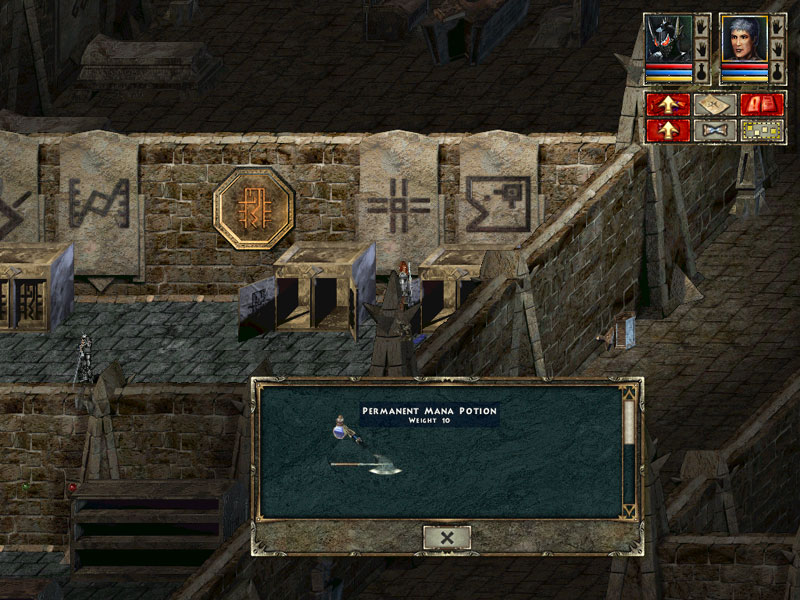 Then air so… yellow, I guess?


Lightning.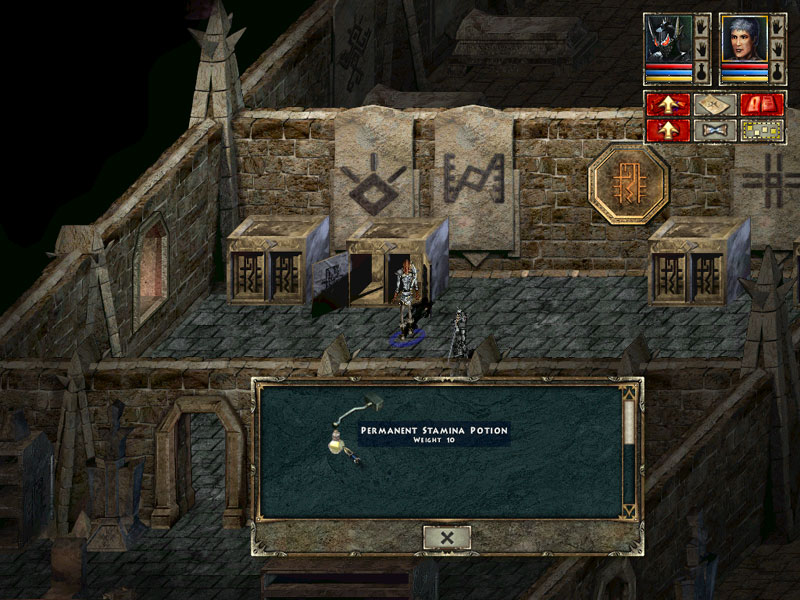 The last one is fire, so red.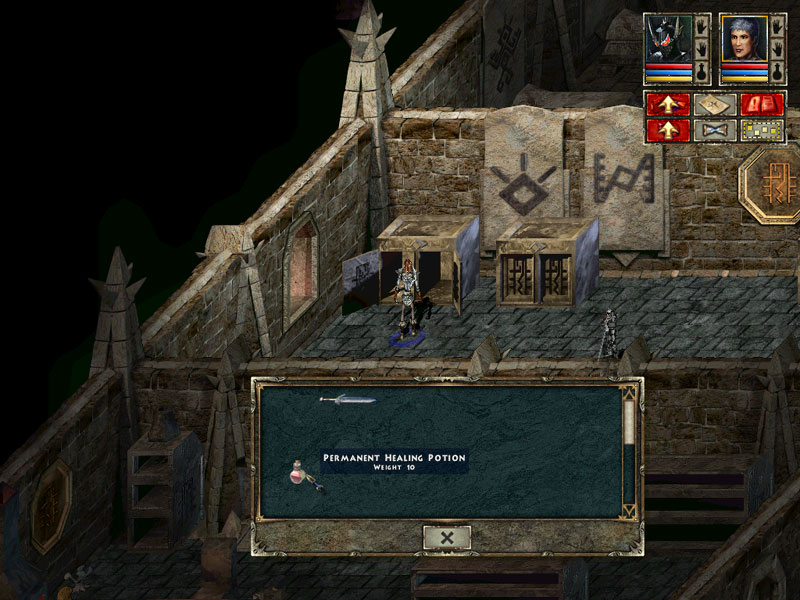 Quite an impressive haul, human.


Now we can go up.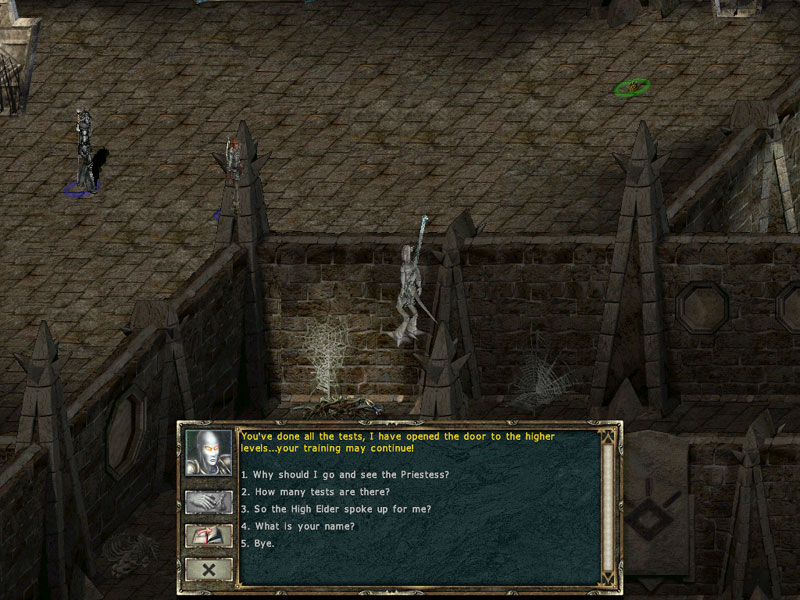 You've done all the tests, I have opened the door to the higher levels… your training may continue!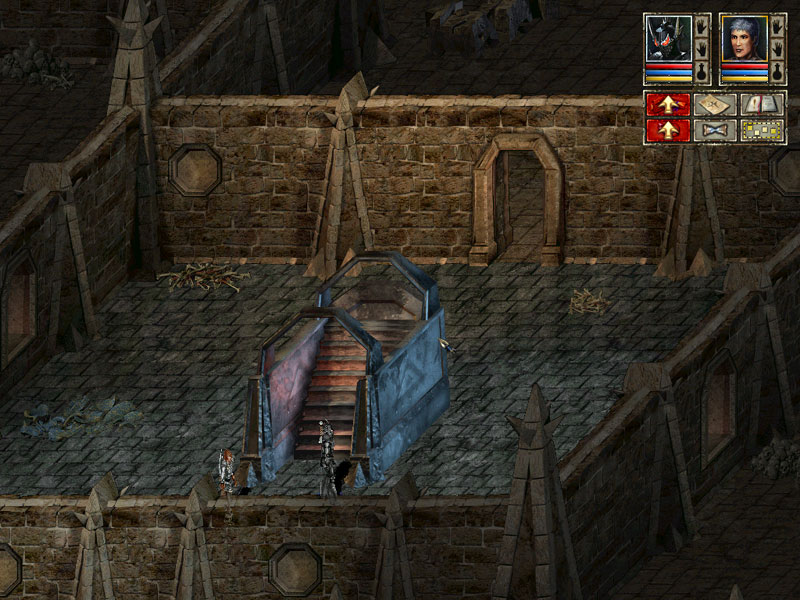 Music - "Dimensional Doorways"
Download
(Thanks to Grawl)
I think aspects of this song appear in some tracks in Divinity 2.
VIDEO: The Level of Experience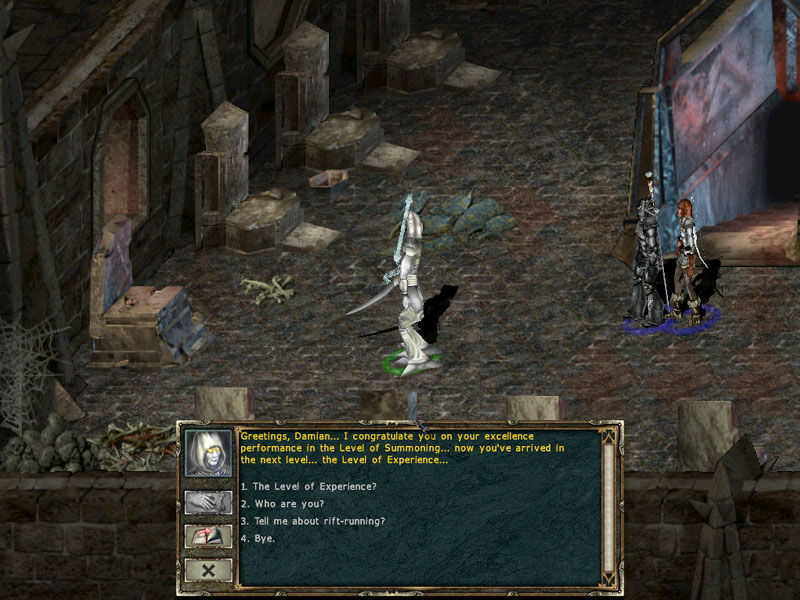 Greetings, Damian… I congratulate you on your excellent performance in the Level of Summoning… now you've arrived in the next level… the Level of Experience…

Who are you?

Elder Anbenktar I am…

Tell me about rift-running.

The process of rift-running? … Well, there are so many different aspects… you'll have to experience them all… otherwise traveling the universe will only bring about chaos and destruction.

These lessons are designed only to reinforce the Raanaar worldview… but their way is not the only way!

Be patient, Damian… You *will* learn… soon enough…

The Level of Experience?

We call it that… because here you experience various aspects… correlating to the process of rift-running…

All this damn fuss! All we want to do is open a rift and go through it!


At least the tests here are simple and hard to fail.

Rift-running is very complex… as you will soon learn… Go and talk to people… some of them will teach you…
The teacher left the room. Mort and D.K. headed out as well, when they were interrupted by a ghost.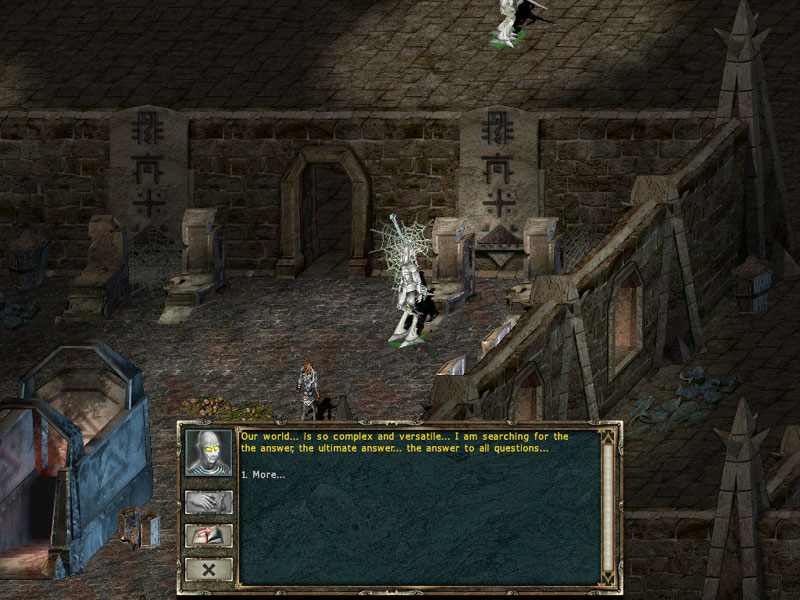 Our world… is so complex and versatile… I am searching for the answer, the ultimate answer to all questions… For years now… I've asked thousands of people… and I've heard thousands of thoughts…

Perhaps he should consider getting a *real* life?

If someone can find the answer… the ultimate answer… oh I would be so happy.

Who are you?

I don't think that is the question… or the answer… but if you must know… I am Elder Anfegar…
Mort and D.K. left the room. The Experience Level was mostly one large central chamber. No classrooms, no corridors. All the teachers were in the middle.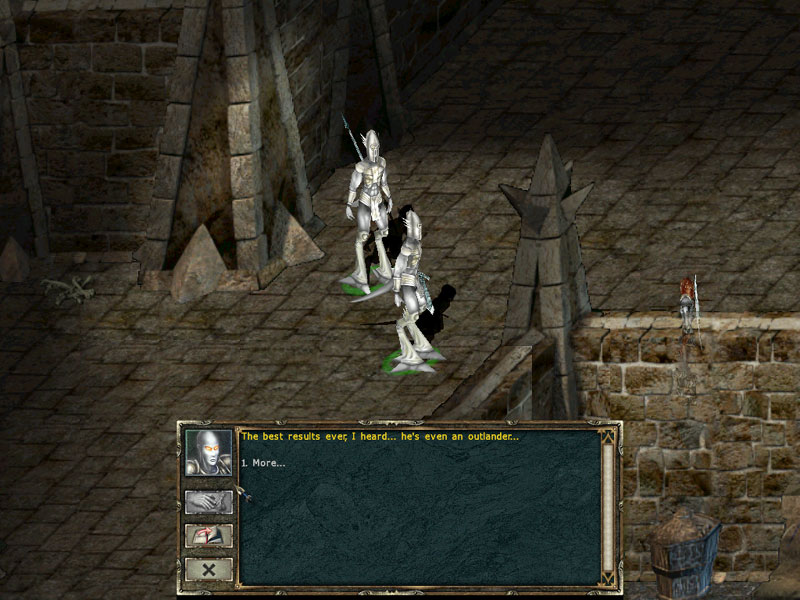 The best results ever, I heard… he's even an outlander…

What is his name?

His name is Damian… the High Elder himself is his mentor…

High Elder Ansukar… he himself was never so talented… in the art of summoning…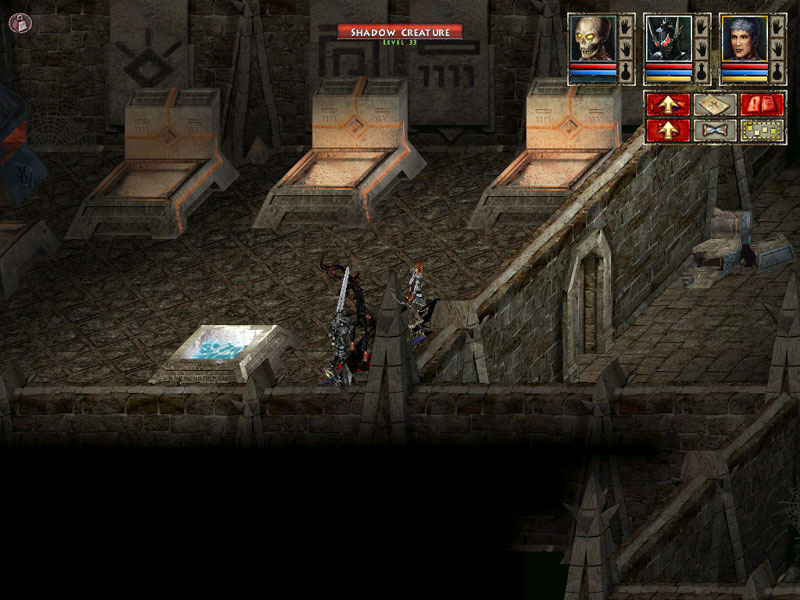 A shadow creature lurked in a room in the southwest, but not for long.

Are these pools for bathing?


I suppose so, human.


These trials can be much more physically strenuous than the ones below.
VIDEO: Arguments of the Past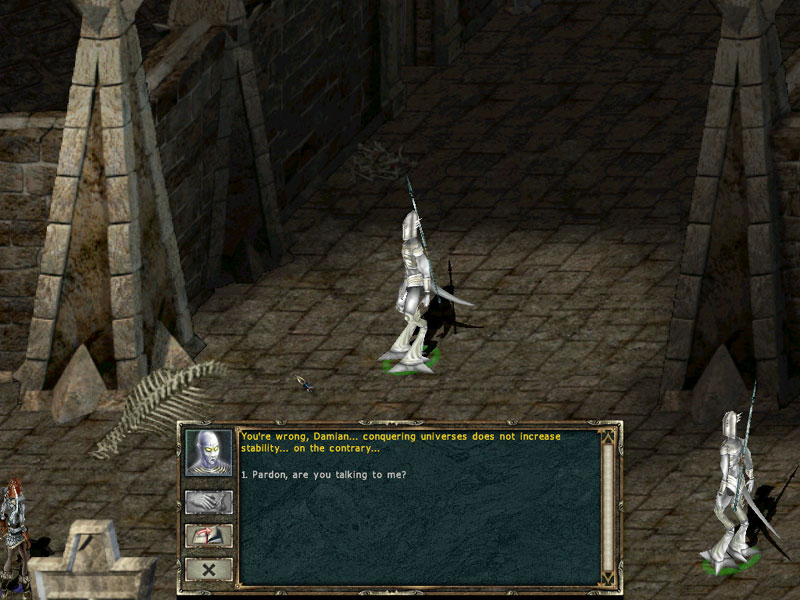 You're wrong, Damian… conquering universes does not increase stability… on the contrary…

Pardon. Are you talking to me?

No, no, no… not even when the inhabitants are weaker… How will you secure it… and keep the stability?

I remember this argument.

I think he's having another past discussion with the *real* Damian…

Installing a powerful overseer… leads to dissatisfaction… to chaos and instability…

Law and order? Establishing law and order by force… always leads to more violence…

Better to ignore… not conquer them…

Slavery? Unacceptable… so violent and chaotic…

What do you mean… imps? … Don't be ridiculous, Damian… this is something totally different…

I don't care what he says. I AM right!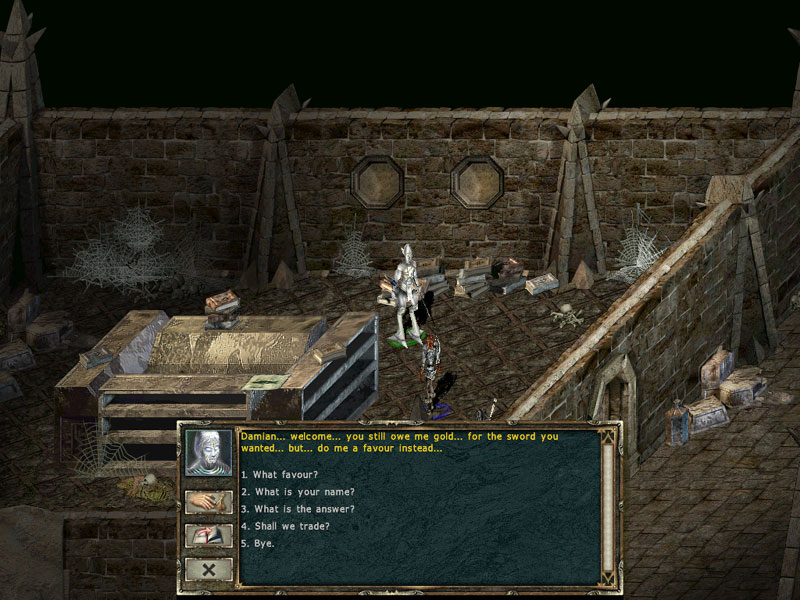 Damian… welcome… you still owe me gold… for the sword you wanted… but… do me a favour instead…

What is your name?

Begurar… the merchant here…

What favour?

I'm looking for one of my possessions… an amulet… it's gone…

Maybe my imp servant knows something… but he has disappeared as well…

It has to be somewhere around here… will you help me, Damian?

Yes, I will.

Are you insane, human? Samuel KNOWS we're here, and he'll be coming for us! We don't have time to waste on errands for *ghosts*!

If you do… the sword is yours… and I even have a better sword… a powerful Death Knight one!

What is the
ultimate
answer?

The ultimate answer? Easy… it's gold… it rules the world…

Bye.
There were some books and papers scattered around.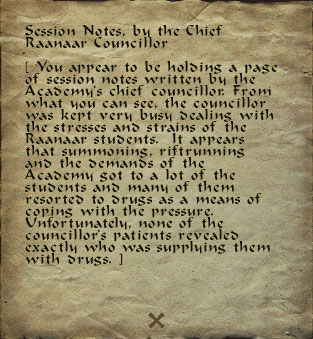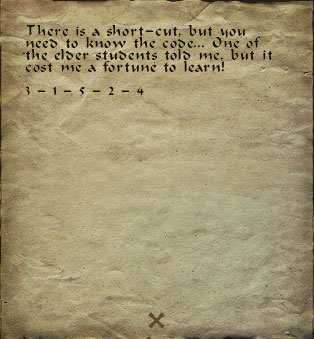 I wonder what this means?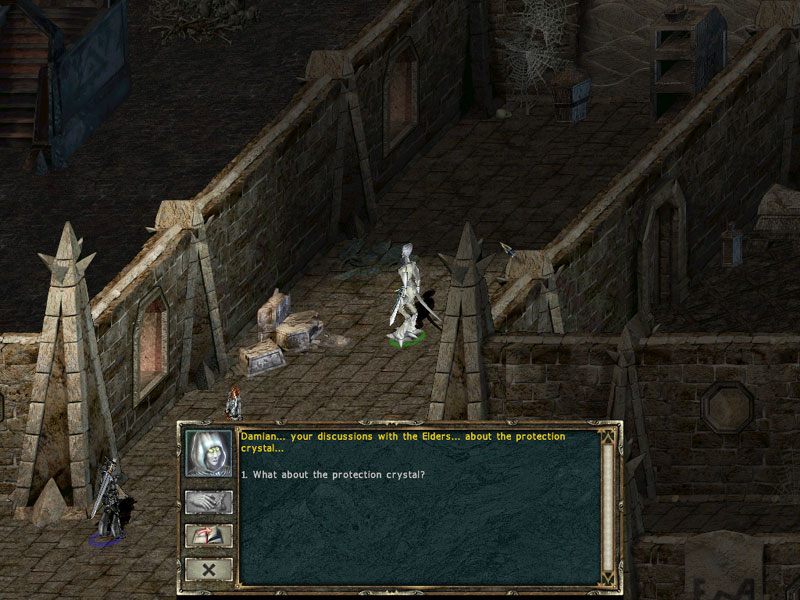 Damian… your discussion with the Elders… about the protection crystal…

What about the protection crystal?

I do not agree with you… It's Raan's will… the crystal has to be there… summoning demons outside the Academy cannot be allowed… it is evil…

I think her mind is stuck on a *different* conversation.

The imps? Imps should never be allowed to summon… it will lead to chaos… they're untrained savages…

The Raanaar think they're superior to everyone. They claim to despise slavery, yet they don't recognize that they're the ones holding chains. Still… it was helpful. It was hardly any effort at all to manipulate the Shaman.

Ridiculous… imps study at our Academy? … Are you insane… what you're suggesting? …

Stop it… I'm not tolerating this blasphemy…

This woman eats *crazy* for breakfast!

Not even the High Elder can protect you… IN THE NAME OF RAAN!!!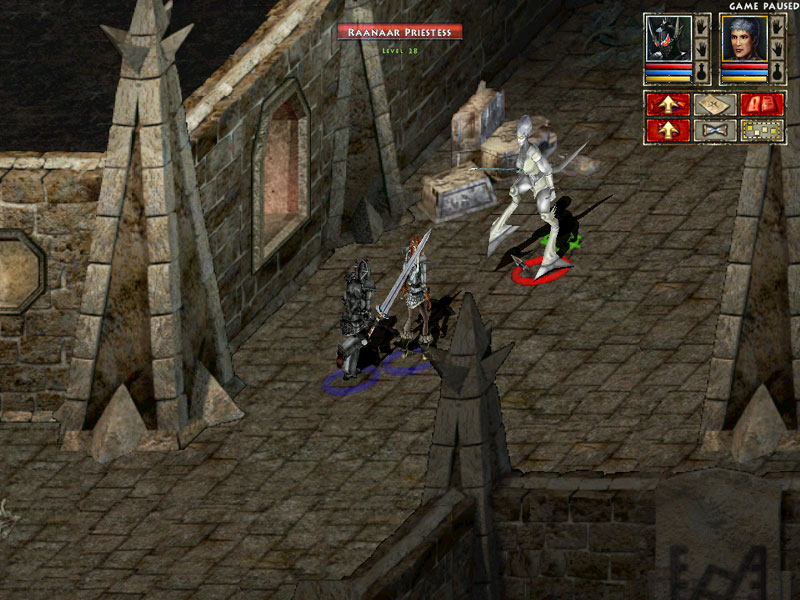 This never happened to me before! I guess being dead doesn't agree with some people.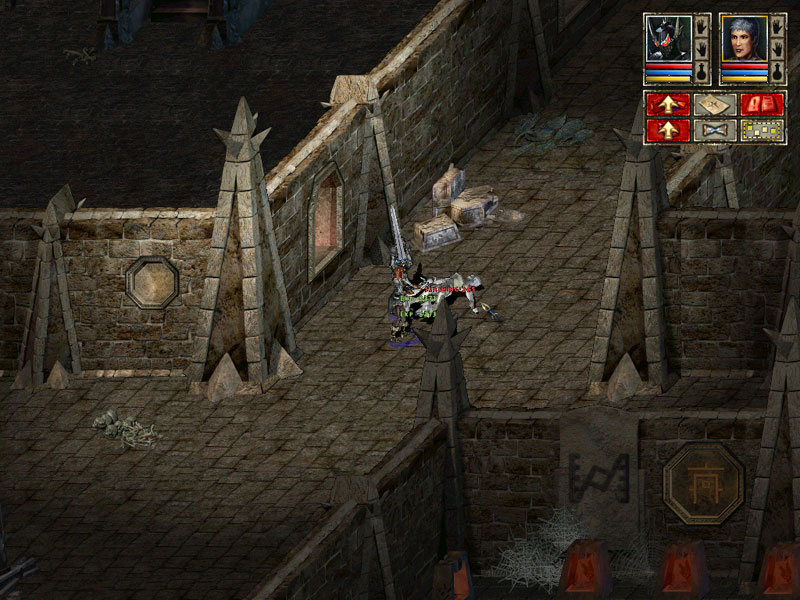 I sure hope no one saw that. I'd hate to be this close only to get stuck because a ghost thinks I killed a ghost teacher.


What was all that talk about the crystal? Do you think Damian might have had something to do to with stealing it?


It could be…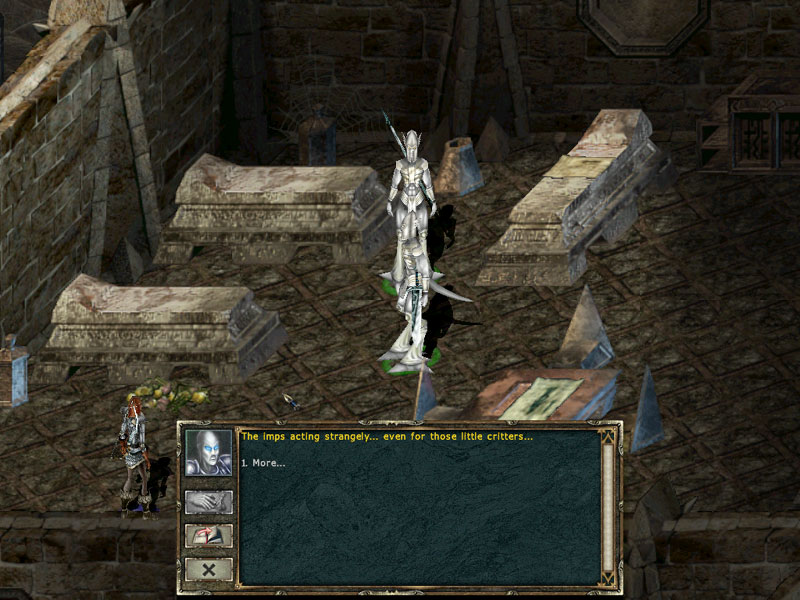 The imps are acting strangely… even for those little critters…

They are becoming rebellious… can you imagine… an imp talking to an elder… complaining about the crystal? … It's madness!

Doesn't it know… that the crystal prevents demons from coming…

Imps summoning creatures… from the planes of hell… can you imagine?

It has to be some kind of sick joke…

I wonder if the imp who was interested in the crystal was actually the Shaman who stole it?


It might be. But that's the past.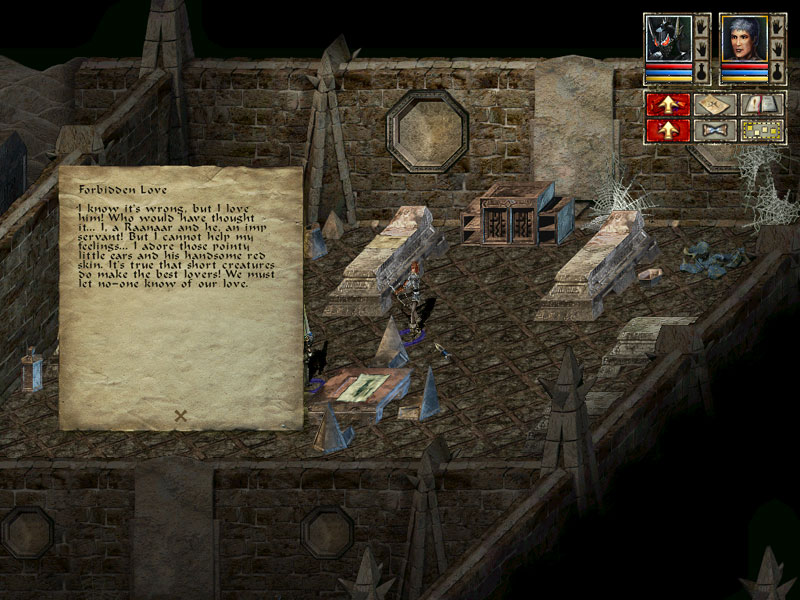 There were some scattered papers in the room.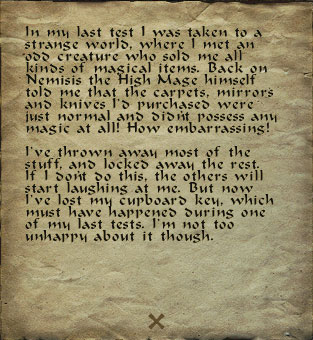 "About the Game" posted:
This second note is actually a clue to solving the merchant's side-quest on the level. It is a reference to Divine Divinity, where a con-artist sold fake magical items.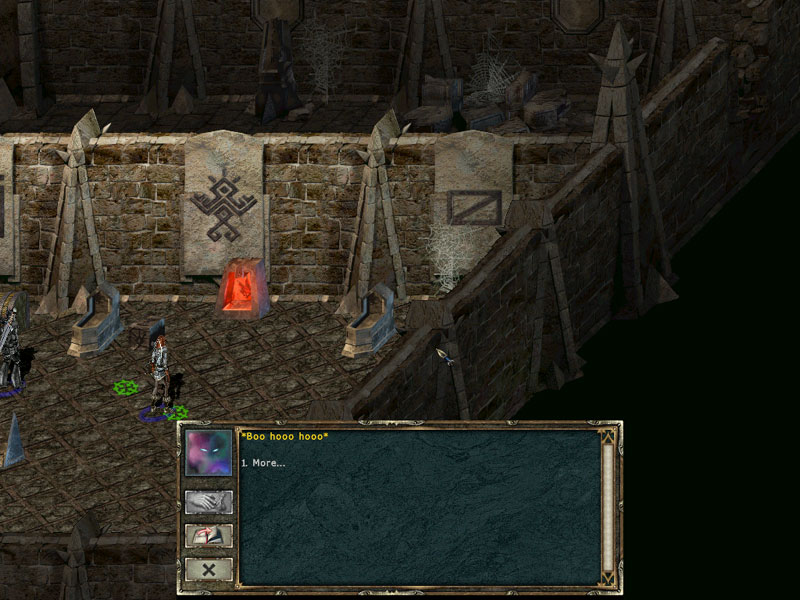 *Boo hoo hooo*

Do you hear that? Someone seems to be crying… but who… and where?

The where seems to be that cradle… but it's empty.


Hmmm… Human, let me see your pack for a second.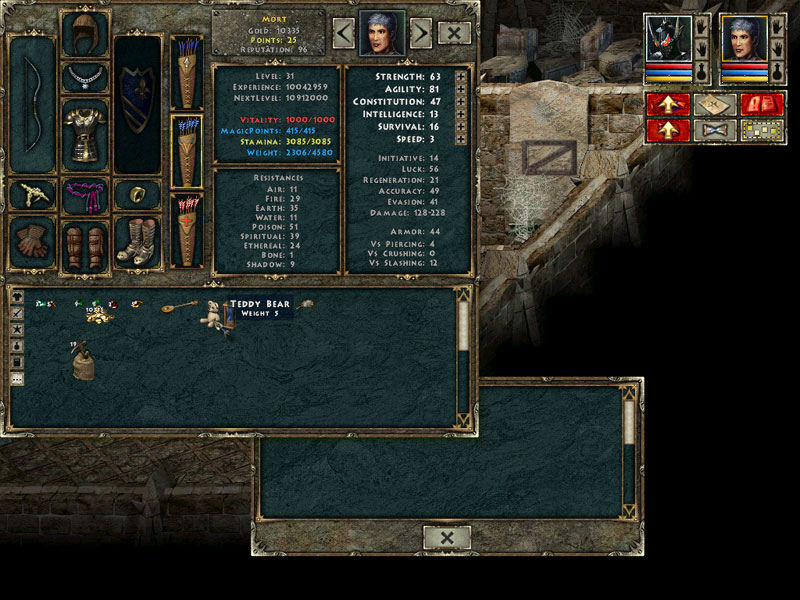 D.K. laid the teddy bear into the empty cradle.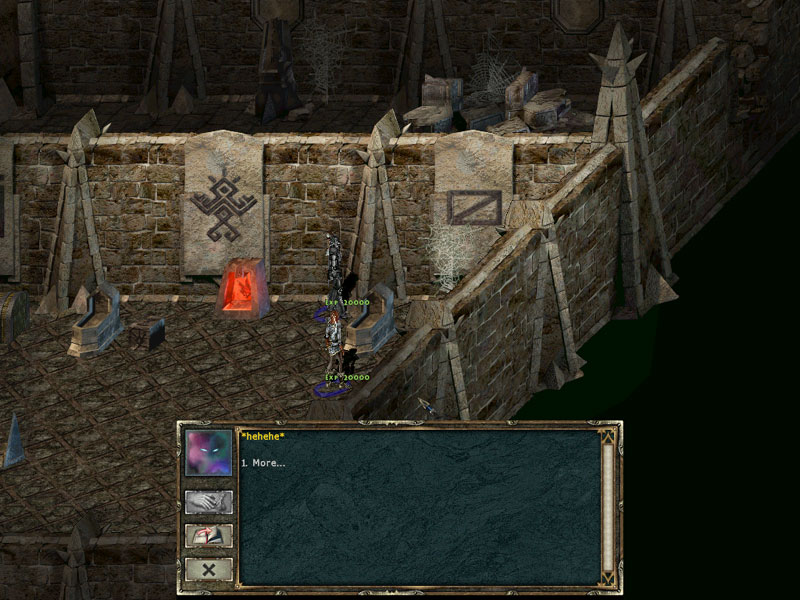 *hehehe*

You hear that? Someone seems to be very happy now…


Maybe he's happy, but as for me, I'm just creeped out.
VIDEO: Dreams of a Dead Imp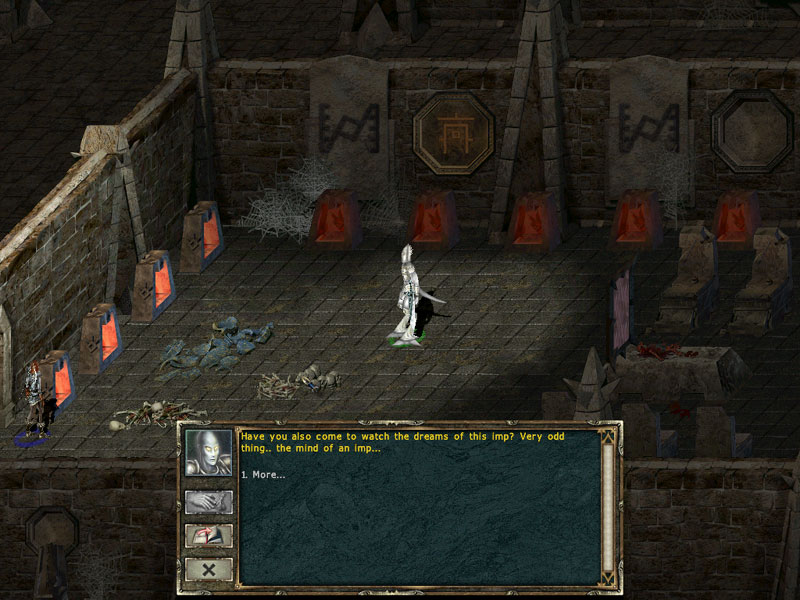 Have you also come to watch the dreams of this imp? Very odd thing… the mind of an imp… remember… you should only watch… entering the dreams of this imp would be very risky… whatever happens to you in his dreams… happens for real…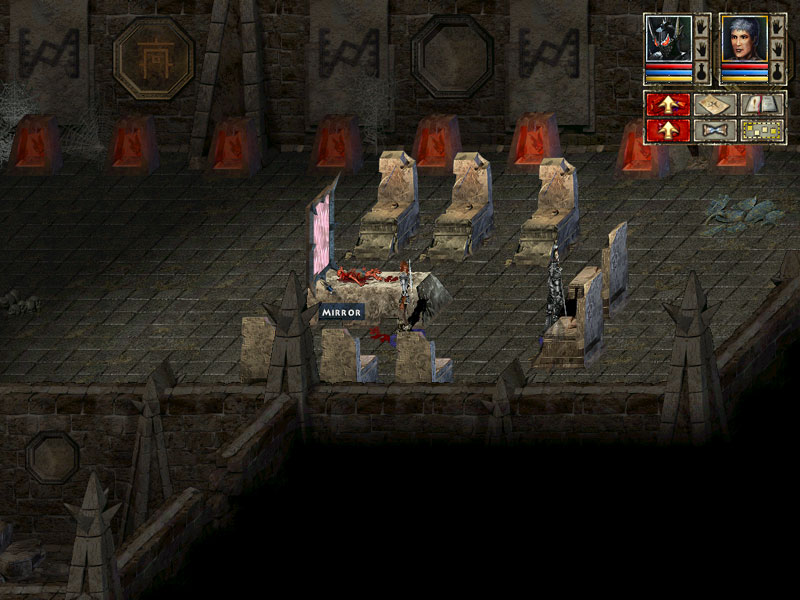 The imp is dead.


But the mirror is still glowing. Hmmm…


No! Don't touch it!
The warning came too late.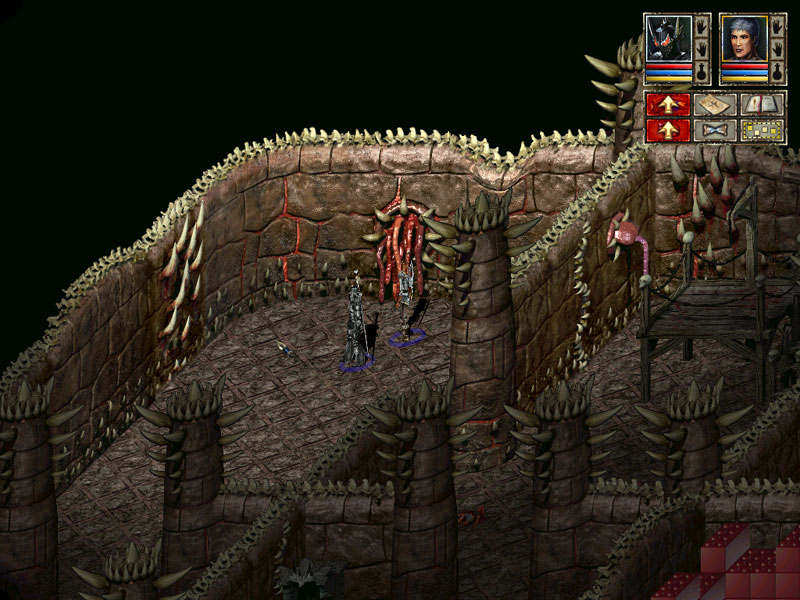 Oops.


Well done, human.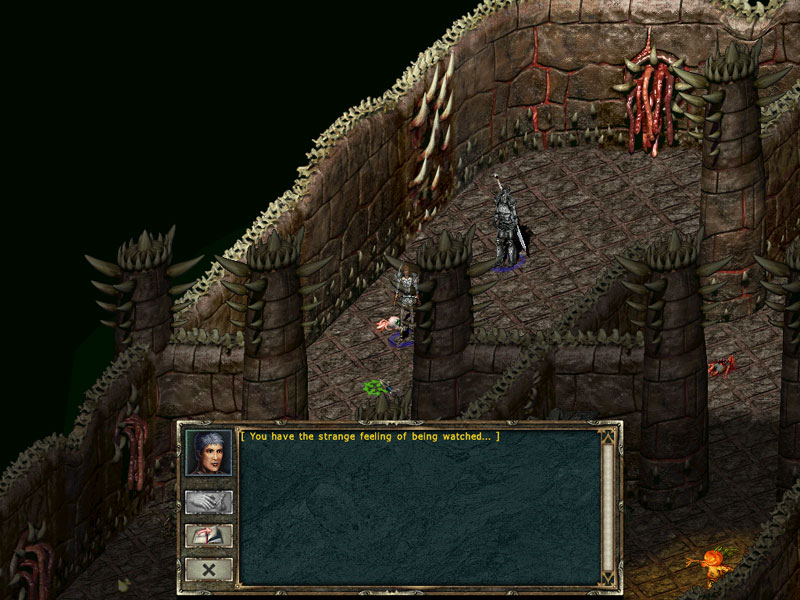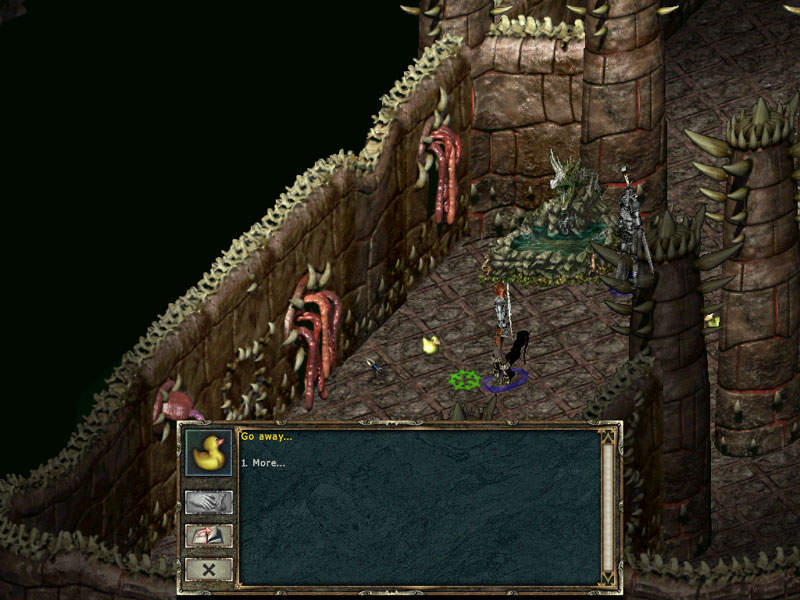 Go away…

You're not welcome…

Leave…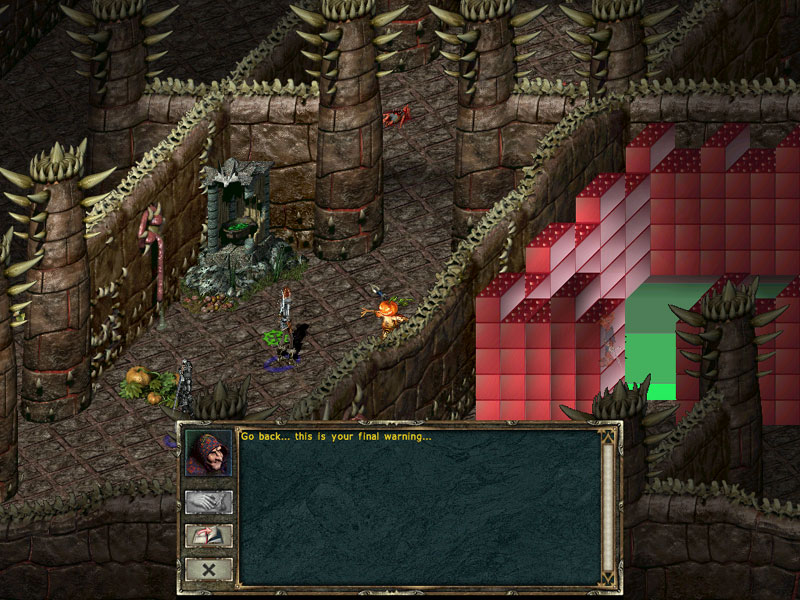 Go back… this is your final warning…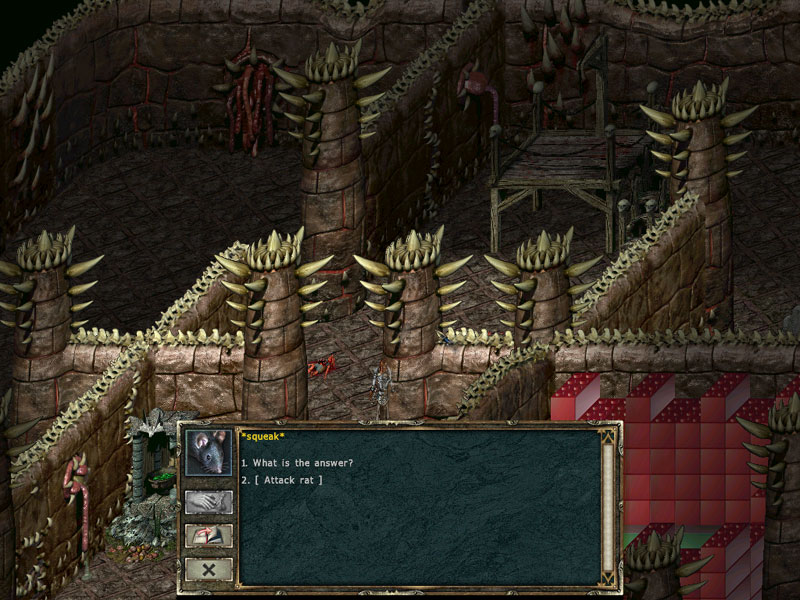 *squeak*

What is the
ultimate
answer?

*squeak* Question? *squeak*

Have I been hanging out with crazy people too long… or did this rat just say *Question*?

Yes, I heard it too!

*Squeak*

Let's slaughter this spooky rat and forget about the whole thing…

*Squeeeaaaaaaaaaaaak*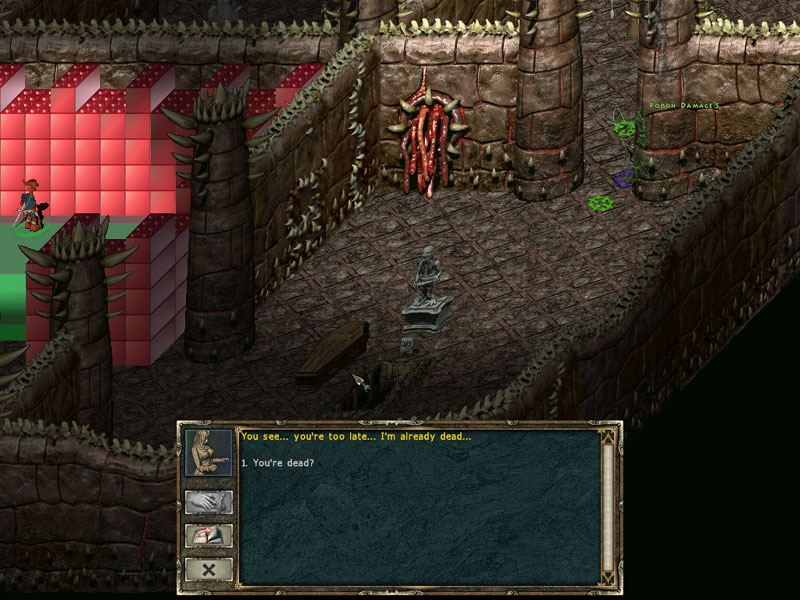 Statue:
You see… you're too late… I'm already dead…

You're dead?
Statue:
Yes, completely dead… more dead than dead… you can't get more dead than me!

This imp tries everything to drive us out of his mind… I'm sure the sneaky little creature is hiding somewhere nearby…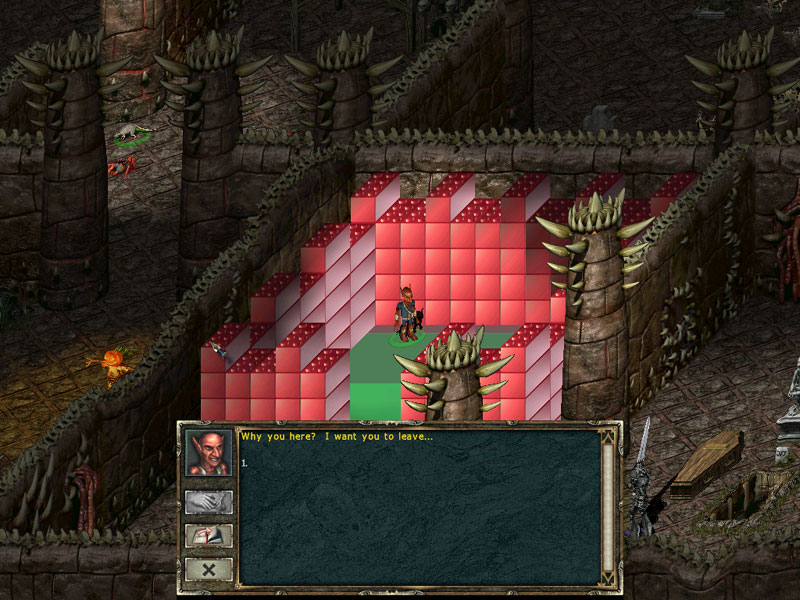 Why you here? I want you to leave…

Do you know anything about an amulet?

You look for amulet from merchant? I have hidden it… nobody finds it…

Where have you hidden it?

Not where, how is the question… powerful imp spell… made amulet invisible… in room with water… Powerful spell… amulet can only become visible with fairy dust… but nobody has… nobody can put fairy dust in water… Now go…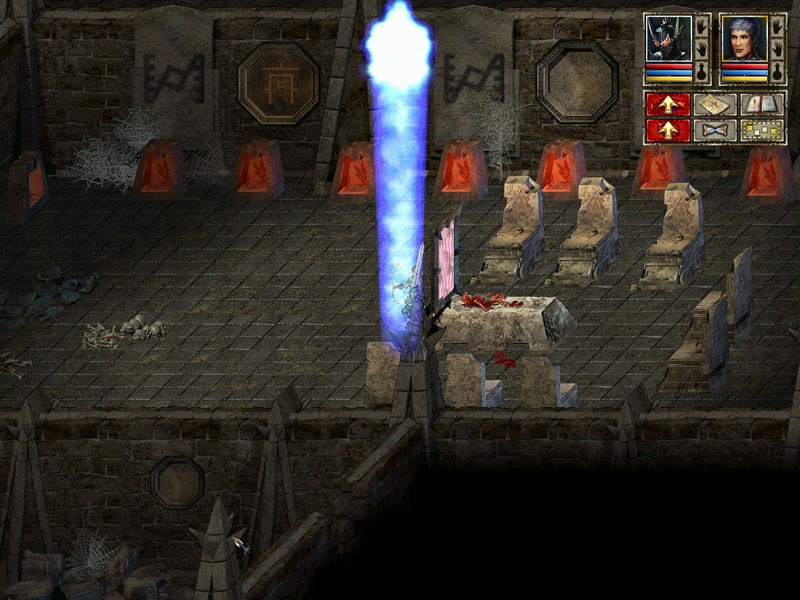 We're free.


*Now* do you want to get back to your studies, "Damian"? Or should we wait for Samuel to show up and give us a personal lesson?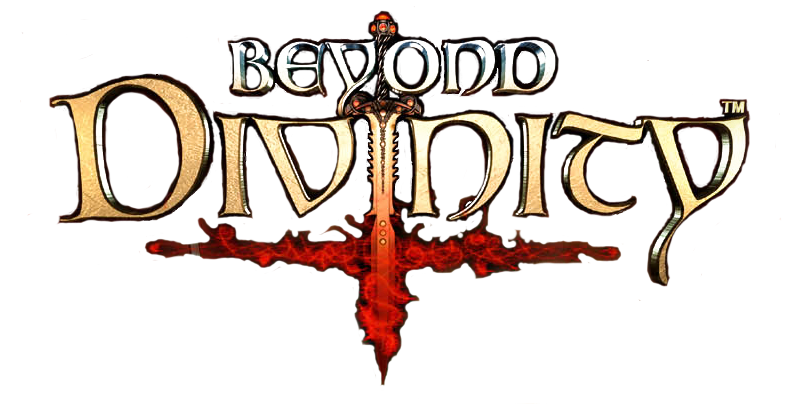 The Map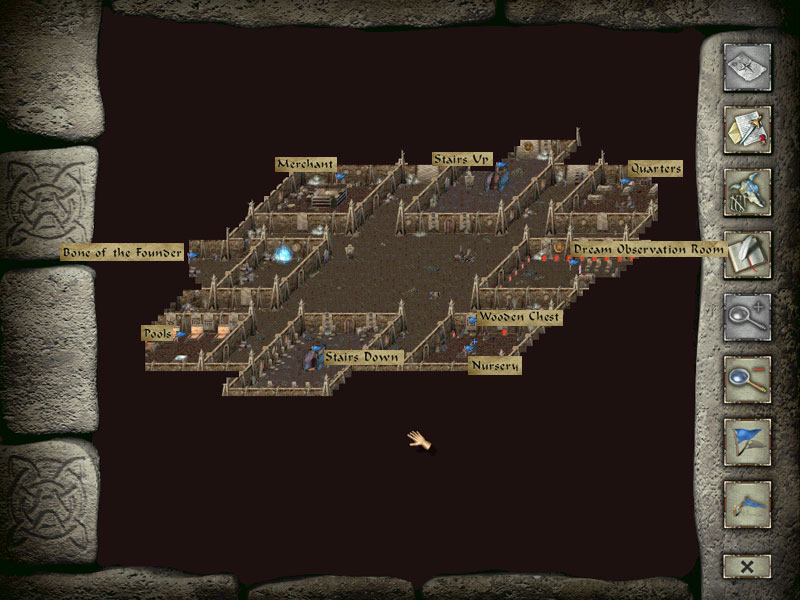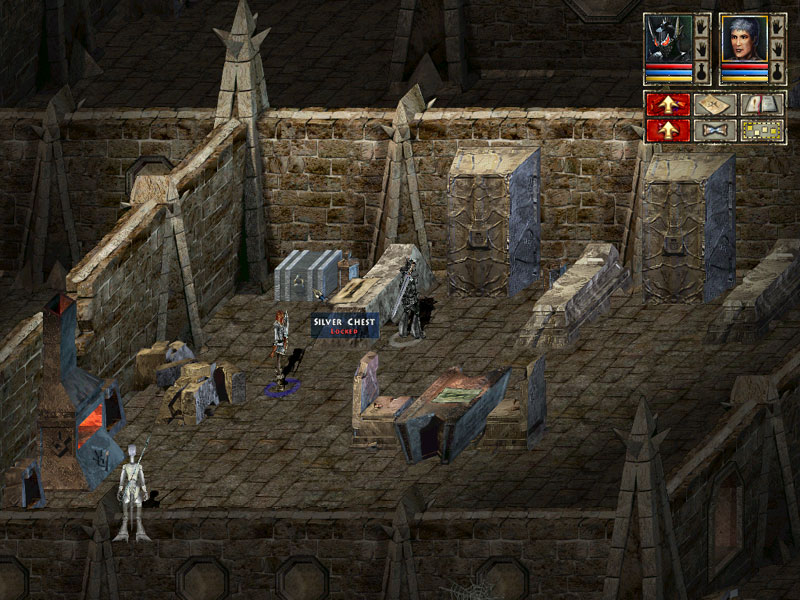 There's a silver chest on the Summoning Level quarters, which I don't think I showed off. We'll return for that. Also, there's a note there I didn't notice until now.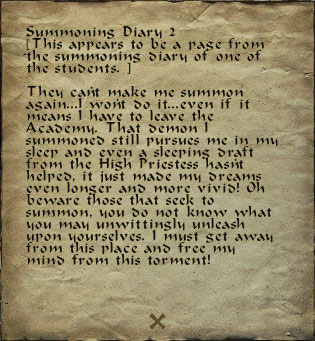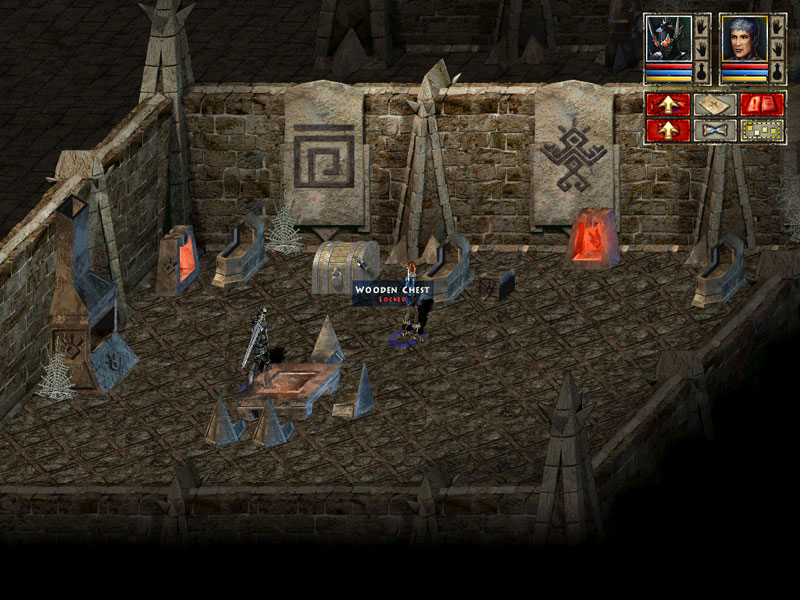 There's a wooden chest on the Experience level. What's the deal with all these strange chests? We'll find out later.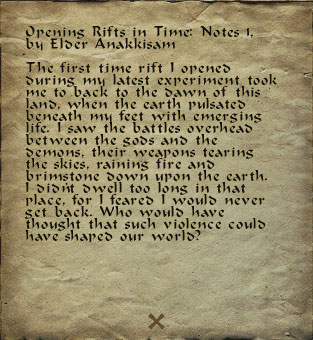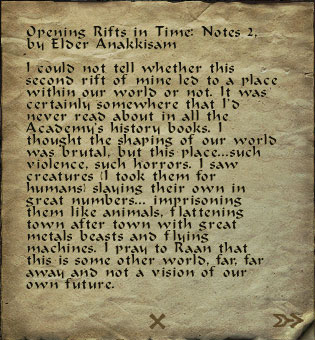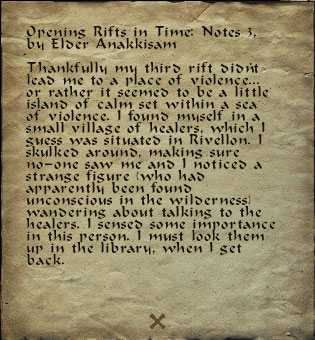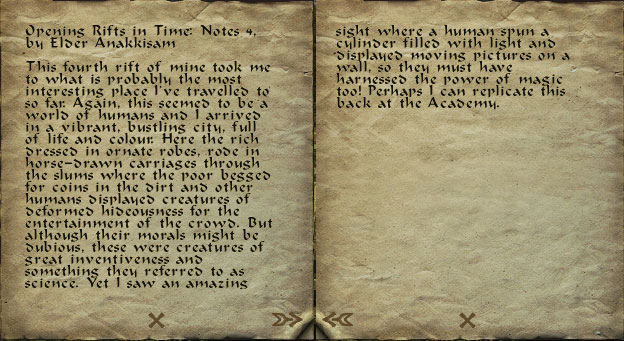 The second Rift in Time book might be a reference to one of Earth's world wars, or it could be anywhere, really. The third Rift in Time book is a direct reference to the start of the previous game, Divine Divinity. The fourth rift in time book also seems like a reference to Earth. By the way, just to be clear, Rivellon is a different world from Earth. I know this is true because in "Child of Chaos", Lucian goes through a rift and finds himself on Earth for a few minutes.
Reader Feedback
1) The damage to the Academy has caused a room to collapse, blocking the way to a precious artifact to the Raanaar - a bone from the Academy's founder. A Raanaar wants us to retrieve it, and will open a portal which will take us back in time to get it.
Should we go back in time to get the bone
, or
Decline his request
?
2) The third level tests are interesting, require no fetch quests, and can be done in any order. If you want, you can choose an order for me to do the tests in. If there is no consensus, I'll pick an order on my own.
2a) Truth and Lies
2b) Concentration
2c) Consequences
2d) Interferences
3) A note suggests a possible shortcut for one of the tests. This shortcut was deliberately built-into the test, so it's not cheating to take it. This won't matter too much, it will let us skip one room. This vote is mainly just for narrative purposes.
Shortcut
or
no shortcut
?