Part 8: Chapter 6 Part 3

You ok, father? Your pupils just got real sma

I MUST PURGE THIS HOUSE O' EVIL! EVVILLLL

I don't see why my constant theft gets sort of playful slaps on the hand from you, but any folk religions like this and you go off the handle

CAN YE NOT SEE, LAD? CAN YE NOT SEE THE VILE RUNES, THE CAULDRON SMOKE? THE TAINT O' EVIL IS ON THIS PLACE!

Huh. Well, I guess you'd know! Let's see if there's anything of value in there!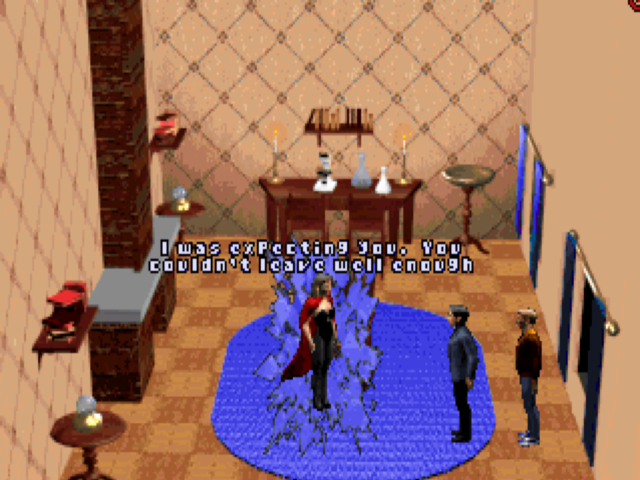 alone could you? I haven't done anything to you, yet you feel compelled to come here and disturb me! I think you might live to regret this disturbance. That is, you MIGHT live. Hahaa hahaaa! I haven't the time to deal with you now! Be off with you!

I'm not scared of ye, woman! The demon ye serve's no more than a bug to be swatted by the hand o' the Lord!

Bwahahahah THIS stage prop is the evil black witch? Man that is a playboy bunny halloween costume with a superman cape! No actual witch would wear this!
Hey... what th'...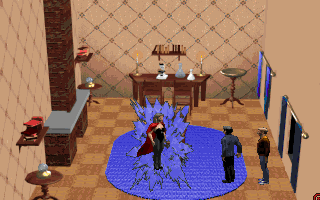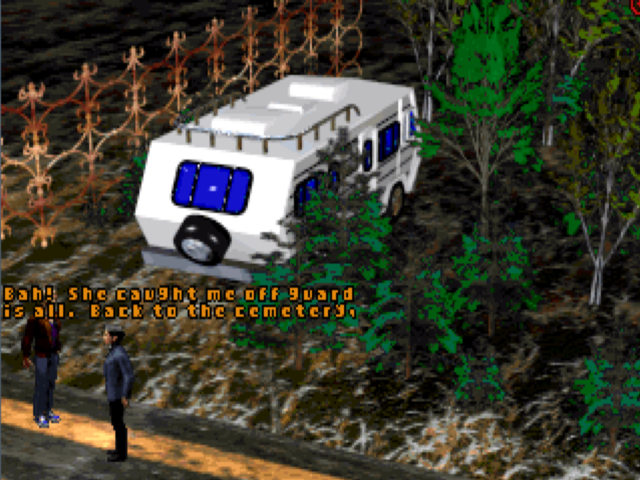 And I'll finish her fer sure!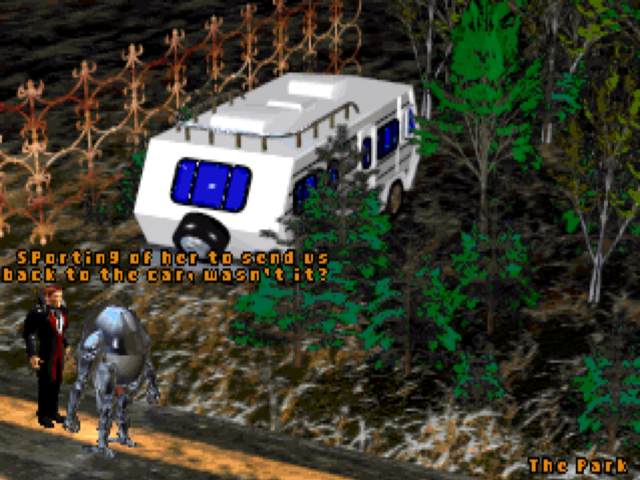 Yes, despite this being a game where you can die and get game overs and everything, this witch will never harm you. She will simply teleport you back to the RV every time you enter, while claiming it's because she's just soooo busy.
And you can't do ANYTHING while she's giving her speech. You're utterly frozen in place.
How to fix this? Prayer does nothing (go figure), spells do nothing, sneaking does nothing, misting does nothing.
There is only ONE way to fix this.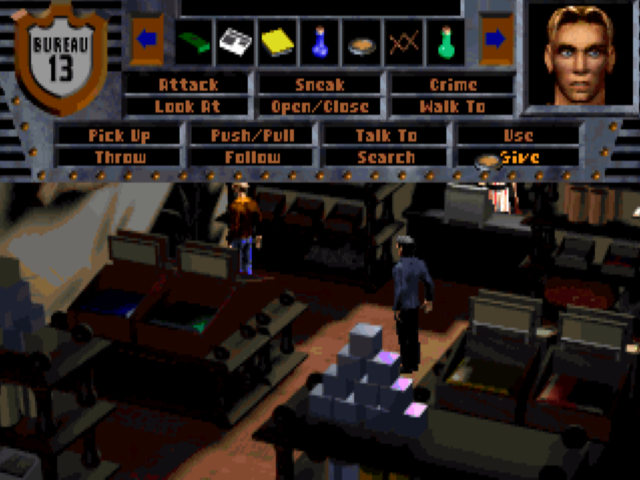 Remember when you got that amulet? You have to give it to Myra the shopkeep. No, there is no in-game reason given for this. At all.
No, you never have to do this with any other item. No, there is no connection made between the amulet and her power, as far as the game is concerned, it's just a telephone she uses to talk to you.
You can't throw it, you can't drop it, you can't give it to a character and make them wait by the RV while you go on. You have to GIVE it to the shopkeeper.
HOW?! HOW WERE WE SUPPOSED TO FIGURE THIS OUT!

This is probably the single worst mechanic in the game. Not the stupidest, mind. The WORST. It's unintuitive, hidden, and just WEIRD. I managed it as a child by brute-forcing it. As in, I tried to give and throw and use everything on everyone, and EVENTUALLY this lady took the amulet. There's not even any text when you give it to Myra, just the "pick up or put down" sound clip plays.
This GAME

(Meanwhile, in the save file where the holy high rollers gave back the amulet and are headed to Veronica's house)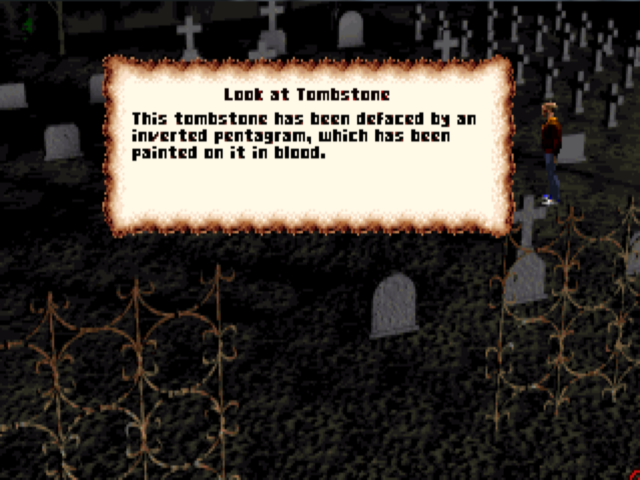 I swear we should investigate this.

Son, look ye. It's a pentagram, yes? The mark o' the divvil?

Yeah, I figured you'd be upset about that!

But see, it's an INVERTED pentagram! Now, what does it mean when ye see an inverted cross?

Well, if I remember, that's the sign of the apostle Peter, who didn't consider himself worthy to be crucified the same way as Christ was, so it's a mark of humilit-

IT IS A MARK OF SATANISTS AND THE DEVIL! AN INVERTED CROSS IS A NEGA-CROSS, OR A DEVIL SIGN!

Ow! Jeez! Ok!

Therefore, doesn't it make a certain kind o' sense that an inverted PENTAGRAM would be PIOUS?

I'm not su... ok yes! I take it back! Let's just move on!

...I still think it's weird that it was in blood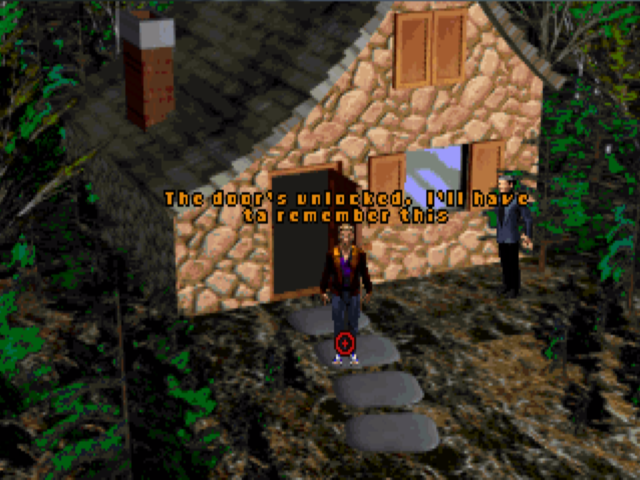 Why? It's a stupid shack in the woods! This will never come up again!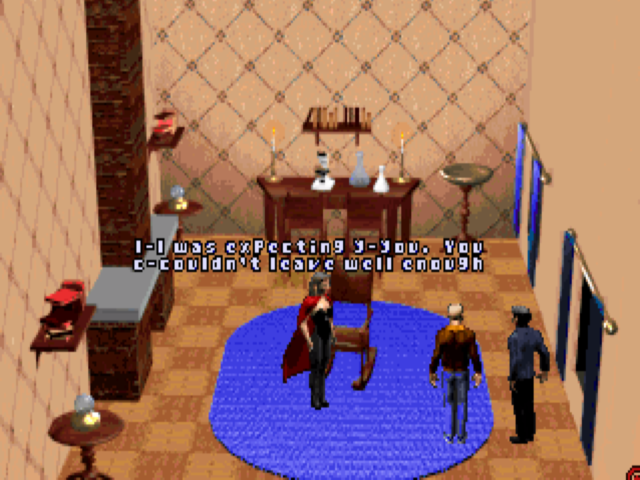 So yes, through the power of giving that shopkeeper our amulet, we have given Veronica a stutter. For some reason.
a-a-alone c-could you? I haven't d-done anything to y-y-you and yet you feel c-compelled to come h-here and disturb me. I-I thnk you m-might live to regret this d-d-disturbance. That is, y-you MIGHT l-live.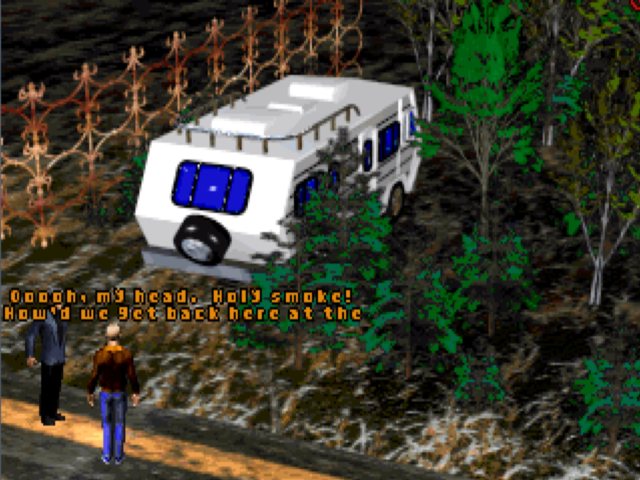 RV?
And yes, she still totally teleports you at the end of this stupid speech. The difference being that THIS time you can move and do actions!
Hot dog! Glad we stole that gun offa that cop!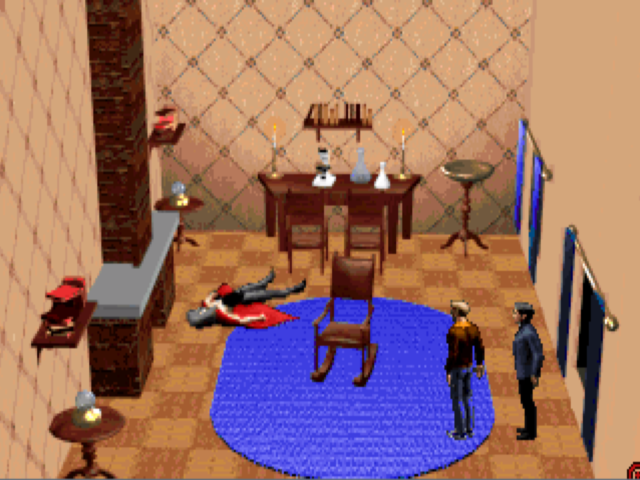 And yes, that is actually a workable solution. You can just straight up murder every drone we come across. And the game is totally finishable, with the good ending and all (let's not insult each other by pretending that they programmed in multiple endings)
Of course, it does tank our (totally superfluous and unnecessary) score!
No, there's a GOOD GUY way to get this done.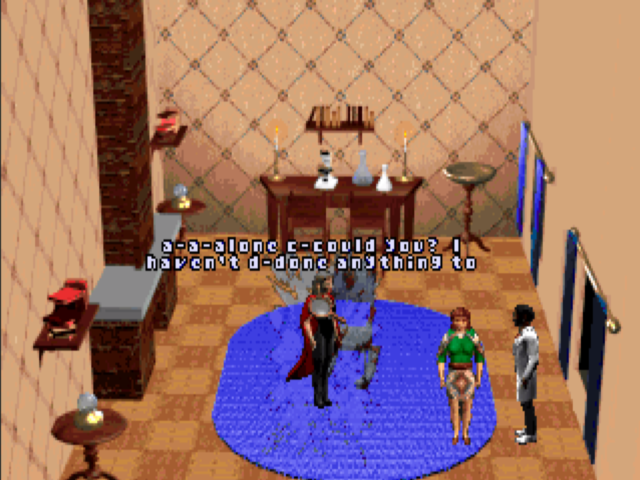 Simply move the search icon over her, click...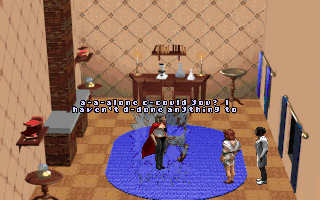 And she vanishes. Forever.
Now, something happened when you searched her. And I debated telling you guys what it was, because it happens with the other drones, and it's almost indescribably stupid.
But I thought, why spoil ALL the fun in this update? This isn't the order the devs EXPECTED you to play in, but it's a legitimate, supported order!
So let's close with that. After giving away our amulet for no reason, we searched the witch, and she vanished forever, de-droned and alive, in a blinding flash of light.
For no reason that the game gives us at all. The characters don't even wonder about it. I guess by this point they know not to ask too many questions.
I need a drink.
So! WHO DO WE GO AFTER NEXT?
Vampyre hunter, chief of security, or mobster?