Part 4
Fourth one.
Worst one.
PS1/Saturn.
Cho Aniki: Kyuukyoku Muteki Ginga Saikyou Otoko
Ultimate, Strongest, Most Invincible Man in the Milky Way.
Undeniably a total piece of shit.
hOLY SHIT it is bad. And the iso I had was ripped so I do not know if the music is better or worse.
Since then I acquired a iso that was not ripped, but I have absolutely no inclination to try this one again any time soon.
So, the music was replaced by appropriate selections.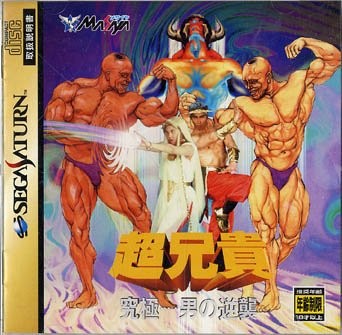 One
Two
Three
Four. Ai Cho Aniki ended by this point.
Five. Cho Aniki ended by this point
Six
Seven. Why doesn't it end?
Eight
Nine
Ten
Eleven
Twelve
Ending.
Extra.
Game so shitty doesn't deserve extras. Don't have more anyways.
nEXT would be the Wonderswan RPG but it is a Wonderswan card rpg, not translated, doesn't count.