Introduction
Alternative Thread Title: My Name is Leave, and I Have Metal Bits, and I think Chrono Trigger is Totally Rockin' Tits

Howdy, folks! Leavemywife here, back with yet another LP of an awesome RPG!
This time, as you can see from the banner, we'll be doing Chrono Trigger, the SNES classic. It covers love, fighting, time travel, magic, frogs, robots, hunting, dinosaurs and a bunch of other stuff. Rather than doing the SNES version, which has been done before, we'll be doing the Nintendo DS version, with the new translation, the anime cutscenes from the Playstation version, and some extra content! I'll be covering all of that stuff, but I probably won't be pointing out every translation difference, as there's going to be a few, and I don't know all of them. I know a few here and there (mostly relating to item names).
I'm also going to assume that you, the reader, have little familiarity with the game. Sure, it's a very popular game and everyone should have played it by now, but I encountered someone earlier today who hadn't.


SPOILER POLICY


Fitting with that above is that we're not going to have any spoilers in this thread. Not even any spoiler tags; the only person using spoiler tags is going to be me, when I make a shitty joke and want to hide my shame.
If spoilers persist after I ask, I will lock the thread for a while.
Since this is an RPG, the only voting will really relate to changing character names and what party I take; there are a few different sidequest choices you can make, but I'll be showing off the worthwhile ones. However, to make up for that sort of thing, I'll be having contests here and there so that you can compete and win actual prizes!
Updates will come at least once a week, if not more (probably more, those of you who know how I update are thinking), but I've got myself a job that usually wipes me out by the end of the day, but I'll see maybe if I can't get an update out on work days. No promises, but we'll see. Expect at least one during a weekend.
And as a special shout-out to Silver_Falcon, she gets all credit for the thread title, and is a genuinely wonderful lady.
With that out of the way, let's bounce.
I'll be announcing when I update on
Twitter
if you're into that sort of thing.
VOTING INFORMATION
I'm going to make a thread rule here.
Normal votes, where you just bold it and slap it down, count for one vote.
If you do a rap/musical cover, your vote now counts for two. If you actually perform it, I'll count it for three.
Table of Contents
Update One: Good Morning, Crono!
Update Two: Fair Bouncing
Update Three: Where The Hell Are We?
Update Four: Castle Exploration
Update Five: Losing My Religion
Update Six: X-Strike
Update Seven: Princess Escort Service
Update Eight: The Trial
Update Nine: Prison Break, Starring Chrono McSilent
Update Ten: Why Does A Prison Need A Tank!?
Update Eleven: Gettin' Some Dome
Update Twelve: Sewer Sidequesting
Update Thirteen: Under The Dome
Update Fourteen: Riding The Wind
Update Fifteen: Bringing Lucca To The Factory, Just As I Hoped
Update Sixteen: Henry Ford Levels Of Safety
Update Seventeen: Drifting Through The End
Update Seventeen And A Half: The World Refused To Change...
Update Eighteen: Heckran's Cave of Mystical Wonders (SSLP)
Update Nineteen: Dedicated To Old Greg (The Poster, Not The Guy From The Show I've Never Seen)
Update Twenty: Bridge On The River Die
Update Twenty One: I'm Burnin' For You
Update Twenty Two: Re-Ride The Wind
Update Twenty Three: Open The Door, Get On The Floor
Update Twenty Four: Let's Dance, And Go Off A Blue Suede Nu
Update Twenty Five: Bad Things Are Not Good
Update Twenty Six: Lair Down To Rest
Update Twenty Seven: Lightning Bitch Slap
Update Twenty Eight: Opening The Magic Cave
Update Twenty Nine: Breaching The Keep
Update Thirty: Emptying The Keep
Update Thirty One: Felling the Fiendlord
Update Thirty Two: Take To The Skies
Bonus Update: Checkin' On Shadow Smidge Gato
Update Thirty Three: I'll Title This Later
Update Thirty Four: "Up" Means "Leavemywife" "Date" means "Has Too Much Free Time"
Update Thirty Five: I May Have Been Overzealous In Taking Shots
Bonus Update: Sealed Chests
Update Thirty Six: The Wings of Time
Update Thirty Seven: I Got Back Quicker Than Expected
Update Thirty Eight: Woe Is To All Them Guys I Murdered For Their TP
Update Thirty Nine: Giga Gaio Gar
Update Forty: Dalton Gets His Bitch Ass Kicked
Update Forty One: Lavos
Update Forty Two: Aftermath
Update Forty Three: Free As A Black Bird
Update Forty Four: An Unexpected Ally
Update Forty Five: Surmounting Death
Update Forty Six: The Northern Ruins
Update Forty Seven: Ozzie's Fort
Update Forty Eight: The Sun Stone
Update Forty Nine: The Rainbow Shell Part One
Update Fifty: The Rainbow Shell Part Two
Update Fifty One: The Genocide Dome
Update Fifty Two: The Sunken Desert
Update Fifty Three: Knock Knock, Motherfuckers
Update Fifty Four: And Then I Was Like, "'ey grrlfrnd, les turr up the Omen"
Update Fifty Five: Sinking The Omen
Update Fifty Six: Leavemywife Enters Attack Mode!
Update Fifty Seven: Death From The Inside
Bonus Update: Alternate Dialog
Update Fifty Eight: Beyond Time
Update Fifty Nine: Reunion
Update Sixty: The Lost Sanctum
Update Sixty One: Some More Bullshit And The Golden Hammer
Update Sixty Two: Primastone Horseshit
Update Sixty Three: Meet The Nu Master, Same As The Old Fuck You This Reference Is Too Cool For The Lost Sanctum
Update Sixty Four: Cut Down For Your Convenience
Update Sixty Five: I Attack The Darkness!
Update Sixty Six: Oh My God, We're Done!?
Update Sixty Seven: Dimensional Vortex: 12,000 BC Style
Update Sixty Eight: Team Battle Bros

s Some Fools
Update Sixty Nine: Team Girl Power Visits The Future
Update Seventy: Dream's Epilogue
Update Seventy One: Guardia's Successor Wishes A Good Night To The Legendary Hero
Update Seventy Two: The Unknown Past Is Made Of The People Of The Times Who Keep The Oath
Update Seventy Three: The Dino Age Is Not What The Prophet Seeks While He Travels Memory Lane To Meet The Dream Team
Achtungnight talks about Chrono Trigger!
Bonus From achtungnight: Differences Between The Two Endings Based On Certain Factors
AN's Bonus Update #2- The Many Faces of Spekkio
AN's Bonus Update #3--He Talks About Weaponry!
AN's Bonus Update #4--He Talks About Armor!
AN's Bonus Update #5--He Talks About Items and Accessories!
Contests

BRAND NEW ART CONTEST

How will this work?

Alright, folks, I'm feeling an art contest needs to be done. My love of fan-art is pretty well known, but I haven't been able to reach any of my old favorites. But, despite that, I know there is a goldmine of artistic talent in this thread. As for your guidelines of what you want to create, pick something from the game, whether it's a line, an action, moment--anything is fair game, as long as it came from Chrono Trigger. Once you've decided on your subject, create it as a bit of fan-art and submit it to the thread.
What style am I required to use?
Any style is fair game; if you want to do manga style, go for it; modern Cubism is a-go; traditional portraiture and action painting are all allowed to be done. Hell, even if you want to do some weird pixel art on the side of a spaceboat, then you can go for that! What we're looking for here is creative, imaginative art, and I have no desire to hold someone back by limiting things. In short, do whatever you'd like!
How long do I have to create my masterpiece?

Well, it's June 25 for me right now, so we'll run the contest until July 31st, for a little over a month to draw and submit your piece.
How will we know who wins?
This is where I come in. For this go 'round, I'll be falling back to a panel of judges; myself, Keeshhound, and Silver_Falcon, but we're joined this time by Explosionface. If you want to try hard enough, you can figure our likes and dislikes out and incorporate those into your works (hint: I like minotaurs).
Okay, so if I'm doing all of this work, what do I get out of it?

Well, there will be
three prizes
awarded for this go 'round.
Prize One:
A new avatar (with picture and text of your choice), a forums upgrade, or a $10 Steam game
Prize Two:
A $5 Steam game
Prize Three:
This one can be open to negotiation, but my current thought is that the third person wins a commentator spot on my next LP, which will be a VLP.
So, before we even fought the first boss,
Explosionface
made a thing that wound up as yet another smiley added to the list that SA offers.
He has given us

.
And knowing my love of the

smiley and the various incarnations we've made come true (

and

),
Feyerbrandx
made

, which is just fantastic.
And then Explosionface went ahead and made this, as he's totally rad and deserves more money than I pay him.

Seriously, let's start a Kickstarter to fund Explosionface's wasted time in making silly shit for my LPs.
Speaking of which, here's the Explosionface .gifatar extravaganza!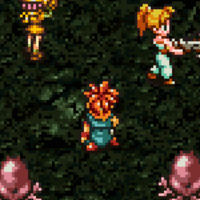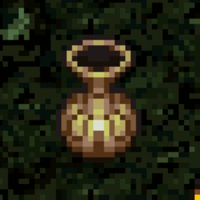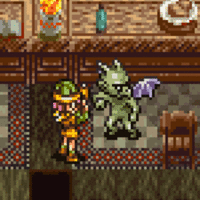 And I make a regrettable choice of words turn into something that scares me to the core.
Serving as some special fan-art, here's a child's rendering of Chrono zapping the shit out of an enemy.

Character Raps

It's become a thing in this thread to throw down some mad rhymes about who you want me to take in the party; for archival purposes, I'll be saving those. To look at them, click
here.

Music Links

Counterfeitsaint, the fine fellow he is, has taken it upon himself to compile the music links together, for easy access. What a guy!