Part 22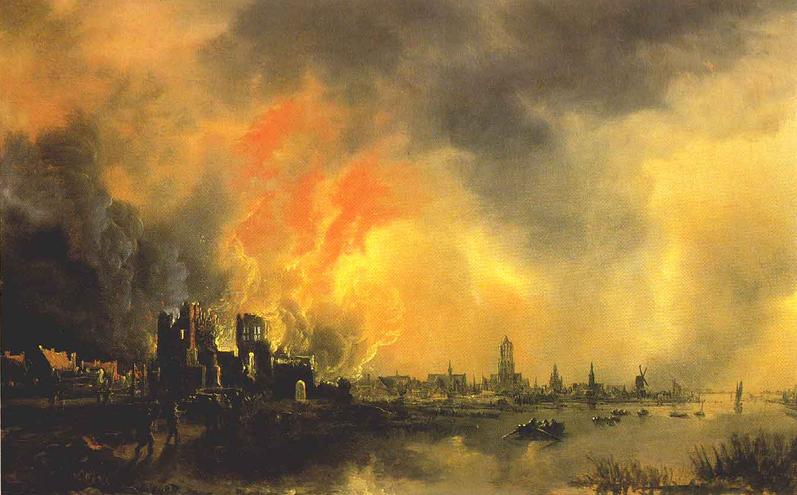 Admirable and horrifying, the Russian's fortitude for brutality glowed like the mouth of Hell. My wife balked from the fire, but I sat upon the prow and percieved the reality masked by that spectacular phantasm. Beneath the veil of smoke, an icy ruthlessness consumed our possessions, our dreams, our hopes for a sane future. -- Gabriel Zaid, the last paragraph of Remembering Seville.
We lie when we say, "History is written by the victors." The victors weave truth and wishes into fictional tapestries that surpass the creativity of our greatest epics. If they stooped so low as to write history, they'd waste a rare portion of that special cultural energy which can only be attained through triumphs of a planetary magnitude.

History is written by subversives. We pick out the real threads of the human narrative, and we fit them into their place on the calendar. We do not speculate on the vast tracts of missing time, because speculation is another kind of story, the kind written by so-called historians. We simply present what we know for certain, and this subverts the common perception by virtue of being true.

In the next one hundred pages, I present only those fragments of truth which dignify the Spaniards with more objectivity than you'll ever find in a textbook. I leave the moral judgements to you. However, I hope that you will find, as I did, a new respect for this dissolved people.

-- The introduction from Most Of What You Know About Spain Is A Lie by Vasilii Selezen. Warning: This book contains dangerous rhetoric. By order of the Russian World State, all photocopies, transcripts, quotations, or repetitions of any kind--vocal, electronic, or personal--are prohibited. Unauthorized possession of this text or any portion of this text in any form is a crime punishable with a fine of up to $500,000 and five decades of confinement.
The Story of Sergei Nilus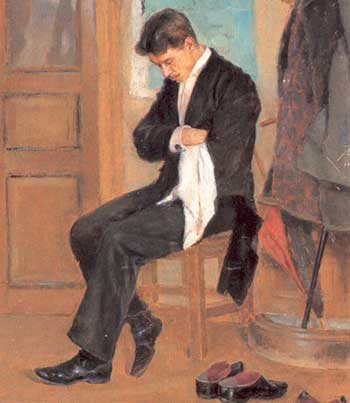 My birth and upbringing are only important because they establish my credentials. I am the youngest child of Berber Nilus, who had enough sons to manage his estates, so he gifted me to the military. I studied war at the University of Moscow until I was twenty-one, when I became a
Poruchik
(Lieutenant) of the Ninth Grozny Engineers, a siege unit armed with experimental gonnes. At twenty-three, I was replaced by a
Captain-Poruchik
(Lieutenant-Captain), who was sent to reform the Ninth Grozny into an elite unit utilizing a newer Archimedean weapon. I stayed with the Ninth as an aide and studied this weapon's tactical potential until I grew bored. Then I sent a letter to my father, and he used his influence in Parliament to assign me as a diplomat to Egypt.
After a mind-numbing tour of duty in Thebes, I slowly returned eastwards. While passing through Memphis, I spent some time sampling the women of the Spanish quarter. On my final night in the city, I became obscenely drunk and attempted to sleep with the wife of a pimp. The pimp attacked me, and I would have died if not for the intervention of a Christian priest who was awakened by the struggle. The priest's name was Hernán Cortés, and after taking me out of the city in his wagon, he gave me the choice of returning to Russia or accompanying him on his pilgrimage to Barcelona. Feeling a sense of malaise whenever I thought of returning to the Empire, I joined him.
For a time, my atheism, my secret shame, led me to doubt Cortés's authenticity. I distrusted all men of religion, as I thought they were all tricksters and diplomats; but Cortés changed my opinion. Every night he read aloud passages from the Bible, and over the course of a year, I came to appreciate the wisdom of his faith.
After crossing the desert to Lake Hatshepsut, we paused at a lakeshore shrine to water the horses and rest in the afternoon shade. A band of Steel Buddhists were waiting there and selecting Christian pilgrims to take to Barcelona. Cortés gave one of them with an invaluable book whose pages unfurled into paper sculptures, and at sundown, they chose to take us over the border into Spain. Cortés smiled at his "good fortune" and stepped into the shrine to pray to Jesus Christ for a safe journey. To his surprise, I kneeled beside him and repeated his prayer. Something had entered me when I watched him bury his robes in the dust and face the shrine's rusting iron cross. I felt the tangible presence of divinity, and for a moment, I was in contact with God, the Son, and the Holy Spirit.
I shortly accepted Jesus Christ as the Savior of Mankind, and when I arrived in Barcelona, I was well rewarded. As a convert, I was allowed to enter the Church of the Nativity and hear its famous Christian Choir. Such angelic heights and echoing depths are never heard in the music of string and wind instruments. Only the God-given human voice can attain the sound which shakes the windows and the souls of men. While listening to those heavenly tones, the malaise, the sense of pointlessness that had hounded me throughout my life--it all vanished like fog after dawn. I understood what it meant to be part of something greater, something eternal. I decided then and there that I was never returning to Russia, for Barcelona was my new home.
Cortés left me after a month--he had business in Madrid that might keep him for several years--so I joined the Christian Order of the Rose, a monastic order of accountants, in order to occupy myself. As a novice under their tutelage, I learned and relearned much about the Spaniards.
In Russia, I had been taught that the Spanish theocracy had outlawed Christianity and sent all the practicing Christians to Egypt, but that was obviously false, so I asked the native monks
when
the Steel Buddhists had allowed them to return. Several of them laughed at me, but my patron in the Order, Brother Gregory Ramirez, explained, "The Steel Buddhists drove us in, not out. They corralled the natives in the Christian District and sent the foreigners home. Arana wasn't a murderer, and he didn't want to kill Spaniards. He only wanted to cull our political leaders so that we could not revolt."
In other words, the Steel Buddhists were efficient. Under their command, Spanish society had essentially completed over five hundred years of social progression and urban evolution in less than a century. At this rate, their pint-sized nation was set to meet and eventually outpace the Russian Empire. In time, the world would have been theirs.
Unfortunately, as we all know, Isabella III and General Magnain pruned that branch from the tree of potential.
As for how I became Magnain's second in command?
I was fond of educating. If I could find anyone kind enough to listen, I would spend hours teaching them military tactics and logistics. During the pilgrimage, I had unwittingly convinced Cortés that I was something a military genius, and after he met with Queen Isabella in Madrid, she was convinced as well. After a month, she sang my praises to General Magnain, who wrote me a letter as he marched towards Crimea. Knowing full well that I had already betrayed Russia by joining the Christian Order of the Rose, I accepted his offer to advise him on the Russian military. I hoped that I could convince him to avoid open conflict the Empire.
Of course, as you must know, I failed.
Studying the Spanish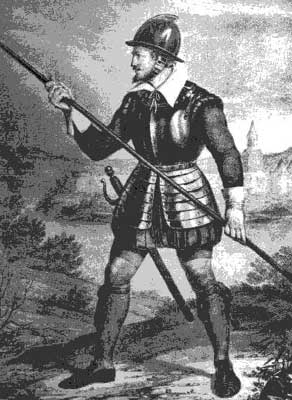 A Spanish Pikeman
While I rode to Cordoba to meet with Magnain, Brother Ramirez taught me the most vital details concerning the organization of the Spanish military. Surprisingly, my Russian teachers had been mostly correct, though nowhere near as thorough as the monk. Spain's system was a proper mix of the Chinese and Russian systems.
From Russia, the Steel Buddhists had acquired the top down method of supply and military organization. They collected taxes to fill the war chests of their noble generals, and they provided the clerks and supply officers that tithed the local farms, transported food, and tallied the counts on the battlefield. They also used civil taxes to pay the guilds that produced military equipment, and they trained the professional soldiers which in turn trained the Spanish militias.
From China, they had acquired the militia-command model, which allowed them to quickly produce large groups of well-organized troops. The nobles raised local militias based on the guild-structure of society. This is a bit hard to understand in the abstract, so let me present an example. Any noble who owned land in a city was assigned one or more military districts corresponding to the value of the land he owned. From each district, he was required to raise and supply a certain number of soldiers to the state, generally about fifty, though the number varied
depending on the number of guilds situated in his district.
If he had more guilds, then he had to supply more soldiers.
A dozen military districts would form together into a militia block, each supplying the men for a full brigade (approximately 600 soldiers). All brigades raised in a single city were placed under the command of the mayor, who in turn was loyal to the Provincial Lama. The four Provincial Lamas were loyal to the Dalai Lama, who was also the King or Queen and wielder of the Steel Blade. So whenever military forces were needed, someone in the command structure would contact the mayor (or mayors) closest to the conflict, and the mayor would select the military districts under his jurisdiction which would raise an army. This army would train for six months while the Steel Buddhists footed the bill, and then it would march to wherever the Spanish needed it.
This was the pinnacle of medieval military organization and production.
Meeting Isabella and Magnain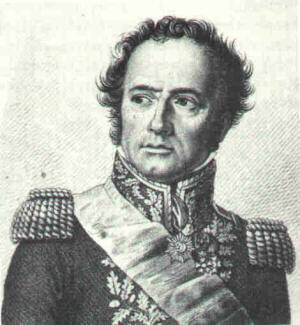 General Christopher Magnain, General of the Army
I'd like to take a moment to briefly describe General Magnain. Imagine a man whose well-tailored costume, immaculate gold trimming and gleaming onyx-black boots intimidate the glancing eye, yet whose facial jowls, receding hairline and wildly unkempt locks confuse the lingering eye into thinking that a seedy merchant had fleeced a drunk nobleman of his most expensive wardrobe.
His appearance is not the only contradictory element about him. He has a warm, heavy voice, a gift for any poet, but his words are utter vulgarities. When Isabella is not present, he chatters incessantly like a common gossiper, and when he meets with his advisors, he refuses to concentrate, preferring instead to question them like they were his wives. When I first entered his tent, for example, he must've thought that I was one of his subordinates, because he asked me offhand, "When will I be served dinner?"
"Ask a servant," I replied. I thought he'd mistaken my identity, but I reconsidered after I saw his expression. He was utterly shocked. Keenly realizing my precarious position, I introduced myself and apologized for my impertinence, and he brightened a bit. He even invited me to share a drink with him. I accepted his offer and took a cup of wine. Before I had finished drinking it, however, another officer entered Magnain's tent, and Magnain asked, "When will I be served dinner?" That was when I understood: he treats his men without respect.
"In an hour, General," said the officer, who then turned around and left in what I thought was an indignant manner. It was the way he twisted his heel into the floor and kicked up dirt as he stepped away: very unprofessional.
"Who is that?" I asked.
"The man you are replacing,
Teniente General
Gomez," said Magnain. He was scowling at the scuff mark near the entrance to his tent.
Teniente General--it took me a moment to remember Brother Ramirez's lessons. Then it clicked: Lieutenant General in charge of the army. On a whim, Magnain had granted me the third most powerful position in the Spanish military.
Was Magnain insane? I suppose so. I considered refusing the "promotion," but I decided against it. I knew Magnain's type. He was the spoiled son of a noble, and he expected that his will be done, or else. In addition, it placed me close to Magnain at all times, improving my chances at swaying is judgement.
I watched out for my own neck and said, "Thank you, General."
I finished my cup and asked for another. Though I had a lot of work to do the next day, such as learning how to be a Lieutenant General, I decided to drink myself to sleep that night.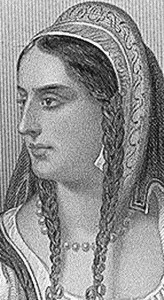 Isabella III, eventually called the Slut Queen of Spain.
Over the course of a month, I established myself in the Spanish military. I "ordered" the Division Generals to advise me in all strategic aspects; effectively, I gave all my power to divide amongst themselves, thereby freeing myself to work on more important tasks, like dissauding Magnain from waging a campaign against the Russians.
I came very close, in fact, to succeeding in that goal. I became Magnain's best friend. I revelled in his strange tics and obnoxious behaviors. I laughed at his jokes and aped his brutish mannerisms. I listened to his sexual exploits, and I believed them, even when they were lies. Two days before we were scheduled to leave for Crimea, he told me that I was "like a brother to him." I took that as my signal to act.
I got him very drunk, and began to tell him stories about Russia.
I described the vast military production complexes that I'd seen in Grozny--entire warehouses filled with gonnepowder mills and corning sieves. I told him about the new kinds of Russian weapons, like explosive gonnes which could lob an iron bullet faster than an arrow. I don't think he quite understood everything I said, but I nearly had him convinced when I told him about the Grozny siege units.
"Russia can field a thousand gonnes in a single unit, and their combined destructive power is ten times greater than that of a thousand longbowmen. Even now, while we speak, the Moskva River flows onwards, driving the mills that produce an average of a pound of powder every second, every day. There is no limit to the number of bullets that the Russians can fire in battle, for their supply of iron and gonnepowder grows faster than it can be spent."
Magnain's eyes watered in the lamplight. He grabbed me by the elbow and asked, "Could you defeat a unit of these gonnes, if I gave you the men?"
"No," I shook my arm free, "it would be like fighting in the rain, except every droplet would kill."
"Buddha," he murmured, and then fell silent.
I thought I had broken his enthusiasm. He left the next morning to meet with Isabella, and he didn't return as scheduled. We missed the date of departure for Crimea, and rumor began to spread that Magnain wanted to back down.
But when he returned a week later, Isabella was with him. Everyone was called to assembly, and she proclaimed at the top of her lungs that we were leaving to fight in the borderlands. Orders were issued by Magnain, and before noon, we'd broken camp and began to march eastward. In the evening, at our first rest, I was called into Magnain's wagon. Once I stepped inside, I saw that the Queen was there.
She was a fine-looking girl, I took it, but very dim. Her voice had an airy quality, and she often paused to search for the simplest words. In a very short and angry speech, she told me that "her advisors believed Russia would not use gonnes in battle, for they were far too expensive and heavy." Then she paused to let me defend myself.
I was a former diplomat. I understood exactly what was happening. Isabella had reccomended me because she thought I could advise Magnain. But then I'd advised Magnain in a way she didn't like, so she had asked her sycophants to contradict me. The rules of the game were this: either I agreed with her sycophants, thereby proving to herself and Magnain that she'd had excellent judgement when she'd reccomended me, or I disagreed, and all sorts of unspoken hells would be unleashed.
Sometimes in the winter, when I can hardly feel my feet or my fingers, I wonder if it would have been better to disagree.
Dallying in Crimea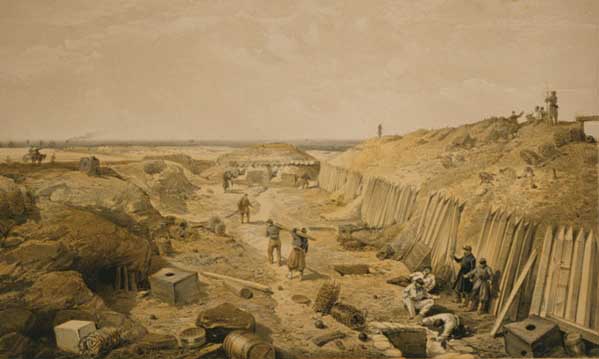 The bleak landscape of a Crimean village being rebuilt after the Russo-Spanish war.
After a three month march, we set camp in the hills north of Crimea. I tried twice to convince Magnain to overrule Isabella, but he swore to me that if I tried again to refuse his Queen's wishes, then he would have me killed. I diplomatically backed down, but I secrectly refused to resign these soldiers to destruction at the hands of Russia.
Our scouts eventually discovered a semi-permanent settlement of Jewish laborers mining into the side of a bluff. Isabella ignored them, and asked for her men to find real soldiers to fight, but after a while, it seemed unlikely that her orders could be fulfilled. The Russians simply didn't patrol these uninhabited hills.
I told them that Russia hadn't considered Spain an imminent threat since the Russo-Chinese war, and hence wouldn't man an outpost so far from habitation; Isabella spit on me, and wouldn't allow me to sit near her or Magnain for a day. On that day, I ate with the Division Generals instead, and I told them about the great danger we faced:
If we attacked anyone in Crimea and let them walk away with the impression that the Spanish were invading, we would provoke a potentially deadly Russian military response. The best strategy would be to retreat immediately to Cordoba, in case we'd already been scouted; but if we had to stay and fight, our second best strategy would be to annihilate our enemy, so that when the Crimeans learned of an attack, no witnesses could identify Spain as the culprit.
The Division Generals agreed, and annihilation became our policy.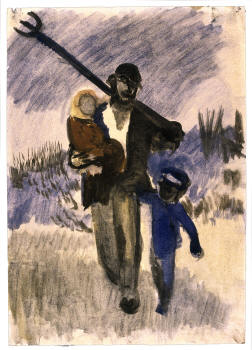 A sketch of a Jewish farmer and his children. Note that the faces are indistinct--an aesthetic trait common to older Jewish art, since they abhorred iconography and considered most images a form of idolatry.
Eventually, Isabella grew impatient. She had gifted the position of General of the Army to Magnain because she expected him to lead her to war and glory. She hadn't understood the true nature of war: eons of boredom and hard living punctuated by an few hours of mind-wrenching violence and crippling exhaustion.
So in the end, Magnain had an "idea." I don't believe he came up with the plan on his own, but one morning he ordered me to prepare a strategy to assault the Jewish mining village we'd scouted shortly after we arrived. He specifically asked for a plan that "could be watched from a hill." The more men we used, he said, the better the plan.
In plain language, he was asking me to slaughter the miners for Isabella's entertainment. I told him, "We cannot afford to capture anyone alive. Magnain, if we fight the Jews, we'll have to kill them. All of them." The fool was pained for a moment, but after glancing over his shoulder in the direction of the Queen's tent, he said, "I don't care."
I passed his order onto the Division Generals, and they prepared my plan.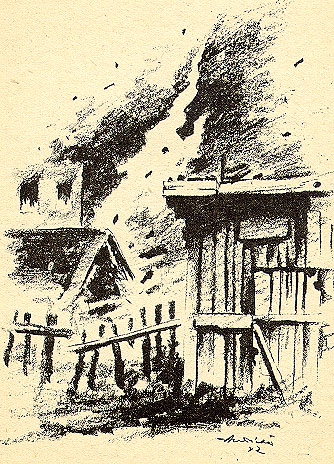 It was an atrocity, I admit it. I deserve my punishment for letting this happen. During the night, our troops circled around the village while a party carried Isabella and Magnain on a litter to the hilltop over the mine. Inevitably, the Jews discovered our movement--you can't hide the noise of 20,000 men in armor--but we caught all the messengers that they tried to send and executed them without hesitation. A few more Jewish settlers were found sleeping or socializing in buildings along the hill or on the primitive road leading towards Crimea. These were killed as well.
At dawn, I joined Isabella and Magnain. They were laying back against a cushion with their arms hooked at the elbows between them, and their free hands were digging through platters of cheese, cured meat, and dried fruit. I declined their offers to eat, since I hadn't the stomach for food, but I accepted a cup of wine to calm my nerves and soothe my burning throat.
Below me, I saw the Spaniards aligned in glittering rows. The angles of deployment were perfect, so that as the eye crossed across that sea of polished armor and flittering rose-colored banners, you could see the dark lines of their pikes curving away into the distance. It was a faux endlessness, reminding me of the cornrows of Moscow, and leafy corridors curving away into a fuzz of green.
Isabella was undoubtedly excited. Magnain congratulated Isabella on her magnificent army, and in response she pecked him on the cheek with a chaste kiss. I waited in a chair beside their litter until the Division Generals sent a messenger saying, "We're ready."
Then I ordered the attack.
"Look," I said, "as our superior pikemen secure the edges of the city."
Flaggers signalled to the banner-sargents of the Spanish army, and in eerie unison, the pikemen began to close on the village. By now, the Jewish settlers were completely aware of the Spanish army, and had already moved their meager population of a half-thousand men and a couple thousand others to the center of the village. This was good strategy on their part, but it made for a boring show. However, the Division Generals had prepared for this inevitability.
"The enemy has fortified himself in the square," I said, "but our Conquistadors will scatter them."
The regiments of pikemen stopped advancing and smoothly compressed themselves into blocks. I admired their superior training--these battlefield manuevers were more advanced than those used by Russian veterans, yet these soldiers hadn't even fought in a battle.
As the regiments compressed, a corridor formed between them on the eastern side of the city, and out of the shadow of the forest rode our full compliment of Conquistadors. These were the most elite soldiers in the world, and I was ordering them to slaughter civilians. What a waste. Their shadows leapt ahead of them and into the corridor. By the orange light of dawn, they stabbed at the city like Satan's fingers.
Isabella was enthralled. She held onto Magnain's arm with both hands. The General of the Army merely looked at her face--it was soft and warm in the morning light--and smiled. This was their happiness.
The deaths of miners and their families.
The Conquistadors pushed through the miners' defensive line like it was open air. Their well-trained warhorses crashed into the crowd of defenseless women and children. I saw an old man raise a grain scythe against a conquistador. The horse reared back, but the knight simply twisted down and struck the elderly farmer with a long sword. I heard Isabella gasp and say, "What fools. These Russians resist us."
I wanted to tell her that these miners were as much a sample of Russia's might as she would be an example of Spain's, but I held my tongue.
As the conquistadors' charge pressed into their numbers, the civilians routed like balls in a game of billiards. The conquistadors picked out the fastest, healthiest targets and ran them down, either slashing them with the sword or trampling them beneath their horses. Then, as suddenly as the attack began, the conquistadors retreated.
"Where are they going?" asked Isabella.
"They have weakened the enemy," I said, "so that our men may fight them in combat."
After the conquistadors returned to the forest, the pikemen opened up their ranks a little, and then resumed their march on the city. For two more hours, they systematically eliminated all life. It was a slow, sure butchering. I watched scared toddlers run from their parents' corpses, only to run towards a Spaniard, thinking that he is human, he is safe.
My orders were clear. Even the toddlers were slain.
But I also wondered, how did this fulfill the goals of Steel Buddhism? Why didn't Isabella ask me, "Who will you take prisoner?" or "How will you convert them to the Buddhist religion?" Of course, I knew the answer. Isabella was the Dalai Lama, but Isabella didn't care about Steel Buddhism. She only wanted to win wars.
Once the slaughter was over, the pikemen reassembled on the edge of the city. I met with the Division Generals, and they discussed how to go about pillaging the city.
"Only pillage the perishables," I said. "If someone scouts our forces carrying Russian-made tools or Russian gold, we'll be identified."
"If you fear identification, then we have another problem. A Russian will only have to look at the corpses to see that they were killed by an army," said one general.
I hadn't thought of that, so I paused and looked back at the battlefield. "Pile up all the bodies you can find in the largest building," I said, "and then burn the entire village."
That evening, as Isabella and Magnain chatted about their favorite moments in the "battle," I sat on top of their wagon and stared back at the Jewish villagers. They were black now, and billowing. Over twenty miles from their funeral pyre, I watched them as they flew up like cinders in the sky.
The Russo-Spanish War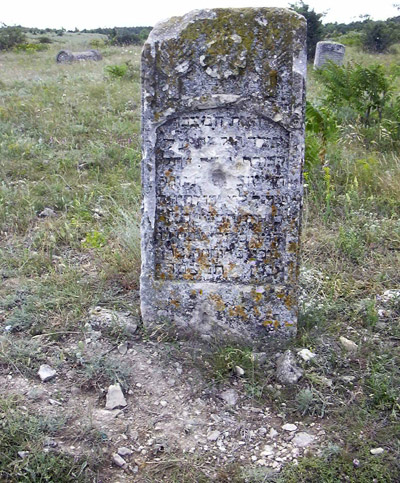 Nigh to a grave that was newly made, leaned a sexton old on his earth-worn spade. -- Park Benjamin, The Old Sexton
I would eventually learn of my terrible mistake. The column of smoke rising from the fire alarmed a Saxon fur-trapper, who rode down to the mining village two days after we'd left. He discovered the devastation and scouted the area until he found the campsite of a Spanish scout, whom he tracked back to our primary camp on the Spanish side of the border. After estimating our size, he returned to Saxon and reported to the military governor that Spain had stationed a force of at least ten thousand on the Crimean border, and they had already destroyed a Jewish settlement.
We were found out.
The Russians didn't immediately assault us. The current Tsar, Krasny Kavkaz, couldn't convince Parliament to agree to war. However, he invoked some of his power and insisted upon a peaceful arrangement of force near Cordoba, a measure to which Parliament grudgingly agreed.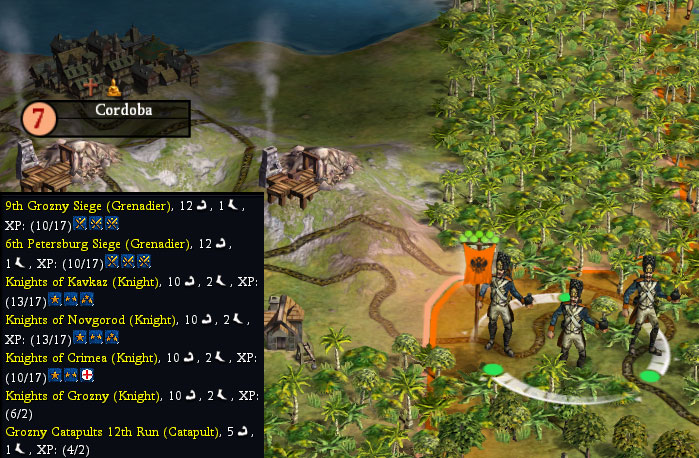 If I had known of the forces assembling a hundred miles northeast of us, I might have warned Magnain of the impending disaster. Gonnes were one thing I'd studied thoroughly in my time with the Ninth, but
grenades
were something else entirely. Just before I'd left Russia, the 9th had been sent to train with hand grenades, which I'd considered a powerful but clumsy weapon. However, training had improved in the decade since my absence, and now hand grenades were considered an elite siege weapon.
Simply put, the largest, strongest soldiers were given bags filled with grenades. Grenades were heavy iron spheres packed with corned gonnepowder and ignited by Chinese firerope fuses. A grenadier was required to run to the forefront of the battle, ignite a grenade, and then wait in range of the enemy until the grenade was about to explode. Then they would hurl the weapon and dive into the prone position. The grenade would explode shortly after this "cooking." The debris was fatal for up to thirty yards.
For those of you who are unfamiliar with gonnepowder techniques, corning was one of the advancements made with Tsar Casimir's money. By milling gonnepowder with water, pressing the mix and then forcing the half dried powder through a series of sieves and lead rolling mills, you could form granules of perfectly mixed gonnepowder,
and the granules would not sift apart over time. This "corned" powder would remain mixed permanently.
This immediately led to a revolution in Archimedean weapons. The prohibitively expensive slag-paper-powder grenade was swapped for the current iron grenade, and production of these grenades began years in advance of their use, rather than minutes. Effectively, Russia could stockpile these weapons.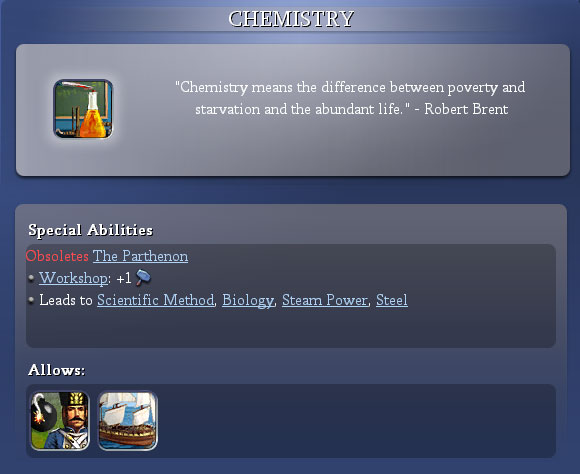 Aside posted:

I'll discuss Chemistry in a peaceful update. Suffice to say, I got it just before I went to war. The turn I finished producing these units, I took all the money I'd saved up during the Russo-Chinese war and simply upgraded my spare city-raider macemen into city-raider grenadiers. Now I have strength 12 grenadiers with city raider 3, which should be capable of absolutely destroying a medieval defense force.

Grenadiers are worthwhile units. Not only are they gunpowder (and therefore immune to the effects of walls and castles), they get a large bonus against riflemen (+50%), which are the primary defender in the Renaissance.

Notice one more thing: grenadiers cannot gain the city raider upgrade on their own. They must be upgraded from a medieval or earlier unit that can gain the city raider upgrade.
I would only learn later of what happened to Cordoba. Over the course of a summer, Isabella and Magnain traveled west along the border of Crimea, seeking out Jewish villages to destroy. For reasons I wouldn't understand until I fled Seville, the Russians finally responded to our assaults on their border, and the forces assembled near Cordoba made a move on the city.
The governor of Cordoba prepared his defenses admirably. All military districts in the province were activated, and three divisions, each consisting of 3000+ longbowmen were assembled. This sort of defensive force was only exceeded in size by the armies that had clashed over Parthian in the Russo-Chinese war, except that the Spanish defenders were better trained, stationed on a hill, and the Russians only brought one run of catapults to siege with. In short, the Spaniards felt unassailable.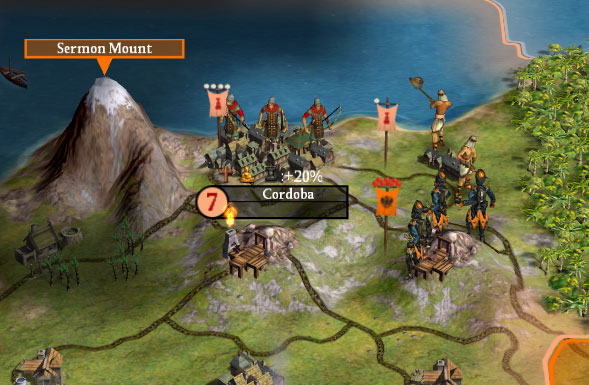 The Russians move on Cordoba.
I've often thought about battle plans that might have saved Cordoba. Maybe if the defenders had set up outposts around the hill and moved their troops to these strongpoints in response to the Russian advancements, they could have exhausted the heavily equipped Russian forces and repeatedly driven them back.
Instead, the Provincial Lama ordered his troops to array themselves in thick blocks along the wall facing against the approaching Russian forces. The Russians moved into the countryside, pillaged the food they needed from the local farmers, and then started building siegepoints along the eastern face of Cordoba Hill. The planned Russian advantage should have been immediately apparent--at dawn in the early spring, the Spanish longbowmen would be firing directly into the sunrise, while the Russians would have the sun at their backs, clearly illuminating the defenders.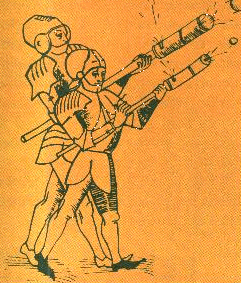 An image of Russian soldiers using gonnes as indirect-fire weapons.
In the spring of 1478 AD, that's exactly what happened. About an hour before dawn, the 9th Grozny and 11th Petersburg placed approximately two thousand longgonnes along the edge of their siegepoints, and they began to indirectly bombard the Spanish defenders. In a terrible blunder, the Spanish commander on duty waited through three volleys before ordering the men to retreat from the walls and find cover.
A Spanish soldier later told me what it was like to survive a gonne-barrage:
quote:

There was thunder on a clear morning, and then a hiss like the end of a sling turning in the saddle, except that it happened a thousand times at once. Suddenly I heard a second of patter like hail from a tropical storm, and men around me screamed. Two of the men from my district clutched at holes in their chests and shoulders, and five others were calling for someone to press their wounds shut. I couldn't understand... like the Russians had attacked us with fragments of sound... but then I found a little iron ball by my feet, and I understood at last. These sling bullets were thrown at us with unbelievable force. That must've been the source of the sound.

After about a minute and a half of sorting out the injured, we reorganized along the wall and stared out at the Russian siegepoints. The land was still dark, but I could see a pall of smoke rising from the Russian siegeworks, like smoldering fires. I suddenly saw innummerable lances of sparks, and the thunder cracked again. I could hear the sling bullets whistling overhead, and behind me, I heard another patter like hail and the crackle of iron tapping on stone. The reserves down in the courtyard began to howl, and some of the men on the wall suddenly called out, "Shield yourselves."

Nobody knew if the commander had given the order, but we quickly distributed the shields from the stacks along the wall, and set them up over ourselves as if we were defending against a rain of arrows. I stared out from under my shield at the Russian siegepoints. These weapons reminded me of Chinese fireworks, but they were so much more explosive, and so much more dangerous.

There was a third array of flames which glowed for a moment like lamps in a fog, and then another crack of thunder. Men huddled under their shields. I heard an awful crack, like a log splitting under the axe, and there were cries of dismay, and people screaming retreat. I saw the commander holding his left arm in his right hand. He was waving away from the walls and yelling over the commotion, "Find cover, find cover!" I looked up and saw a hole near the edge of my own shield. The iron bullets were too heavy or moving too fast to be blocked with mere sheets of wood.
Every two minutes for about an hour, the Russians fired longgonnes while the Spanish defenders hid under cover. Then, just about fifteen minutes before dawn, the Grozny Catapults (12th run) began firing on the walls. Though catapults had not much improved in power over the centuries, they had improved in accuracy. These Russian catapulters drilled a breach in the wall in a single round of bombardment.
All at once, the gonnes and the catapults ceased firing. The Spanish commander ordered his bowmen back to the walls and his pikemen to defend the breach.
A few minutes later, the first Russian grenadier approached the breach. The Spanish longbowmen fired a few arrows at them, but the Russians were carrying shields and shortgonnes. After one or two shots from the shortgonnes, the longbowmen stopped firing from anywhere open but their firing slits. It was a true breakdown in discipline.
Then the first hand grenade was thrown. The Russians must have sent their best to make the first throw, because most of the hand grenades used in the ensuing conflict would never kill as many as this one. The iron ball sailed up and over the wall and landed at the longbowmen's feet. Before anyone could react, it exploded, and twelve men were immediately felled by shrapnel. The scream must have satisfied the Russians, for the number of grenadiers approaching the breach rapidly increased. The longbowmen made their best effort to drive back the assault--hundreds of grenadiers died--but they couldn't fight back efficiently without grouping on the walls--and grouping in the explosions.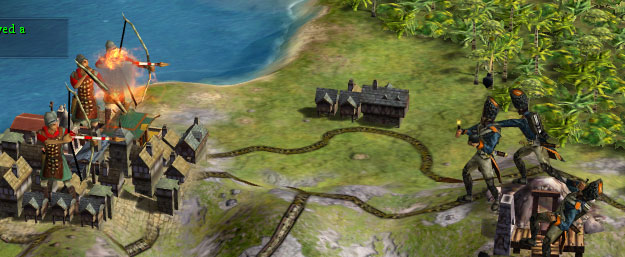 Grenades detonated amongst the closely-packed Spanish longbowmen.
As the grenades ran out, the knights of Grozny, Novgorod, and Kavkaz were sent into the breach. Unlike Medieval Russia, the Renaissance mercantile empire generated enough commerce to arm forces of knights that were four to five times larger than previously fielded. For every one Spanish defender, two Russian knights participated in this attack, implying a grand total of fifteen thousand Russian soldiers.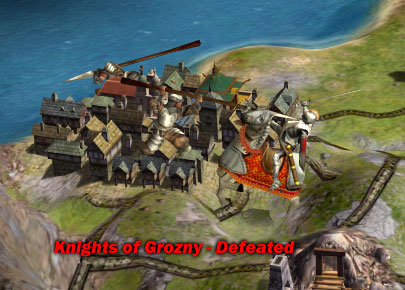 Even so, the Knights of Grozny were routed by the Spanish defenders, but at a terrible cost to the Spaniards. Well over three-quarters of the Spanish pikemen died, and the ranks of the longbowmen were half-scattered by the assaults of the Russian horsemen. As the Knights of Kavkaz and Novgorod shimmied through the breach, it became obvious that the Spanish forces could not possibly organize and repel this attack before the numerically superior Russian military was assembled inside the walls.
Cordoba was doomed.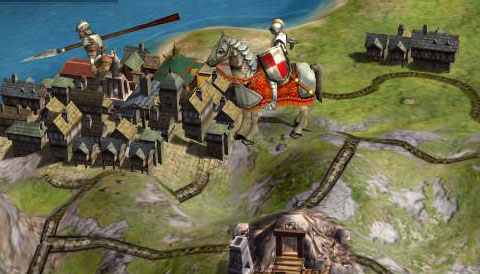 By late morning, the last of the pikemen were routed, and the Provincial Lama was captured. For the rest of the day, any native found carrying a weapon in the street was killed, and all citizen's weapons were collected in a cache in the city market. The pillaging of Cordoba lasted a week after that. Then the Russian general declared Cordoba the newest province of the Empire.
Magnain and Isabella were asleep when the first messenger from Cordoba arrived. He told me, "The Russians have set siege to the city," and he described their forces. I woke the Division Generals, and they claimed that the militia at Cordoba could hold off a mere force of fifteen thousand to twenty-thousand. I disagreed--if the Russians were mobilizing that kind of force, they were sure to use gonnepowder weapons in massive amounts--for no wall would provide an effective defense.
I convinced them to break camp and immediately march for Barcelona. Russian history provided us a model for Russian warfare--they would literally conquer one province after another with simple brute force. This was called Vasnetsovian warfare--find your enemy in strength, and crush him in a decisive battle.
When Isabella and Magnain awoke, I delivered them the news. Isabella was furious--she wanted to attack Cordoba. However, after I told her and Magnain about the scale of the Russian military force--there were twice as many knights in one army as there were Conquistadors in the entire Spanish empire--Magnain asked me to leave so that he could speak to Isabella alone. After half an hour, Magnain emerged with a bruise on his face, but he had been victorious. We were going to Barcelona. He wasn't completely incompetent after all.
After the fall of Cordoba, two things happened at once. Our supply chain dried up, and the Provincial Lama at Barcelona raised a contingent of forces to row up the Moskva River towards Moscow. Our march slowed to a crawl because of famine and a lack of well-established roads. The summer of 1479 was a drought, and the game in the forests was scarce. Four thousand soldiers died before we reestablished the supply chain with Barcelona.
We wintered a hundred miles outside of Barcelona, in the cattle pastures and barns set along the province's outermost border. Messages were exchanged with Barcelona, and we learned of the fate of the soldiers that had attempted to attack Moscow.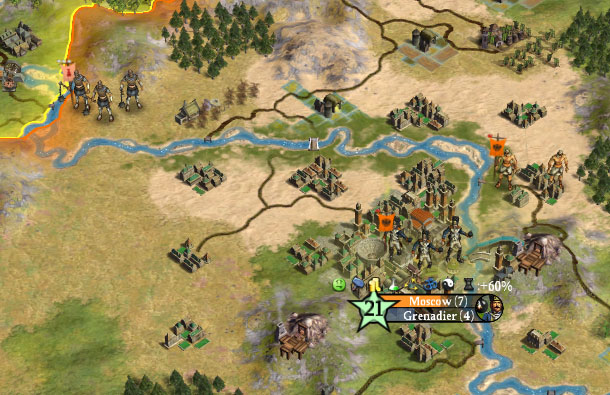 The landing position of the soldiers who rowed up the Moskva.
The Moskva River is shallow and slow in the summer, so the converted mercantile barges had little trouble poling and rowing the Spanish soldiers upriver. Egypt sent messengers to follow the troops, so that in the future they could claim they were warning the Russian Empire, but they did not attempt to stop the Spaniards. Furthermore, because of their relative speed, they expected that the Russians would not be able to mount an effective counterattack before they reached the capital and trounced the garrison.
Such wishful thinking can only exist in a nation that hasn't fought in any real wars.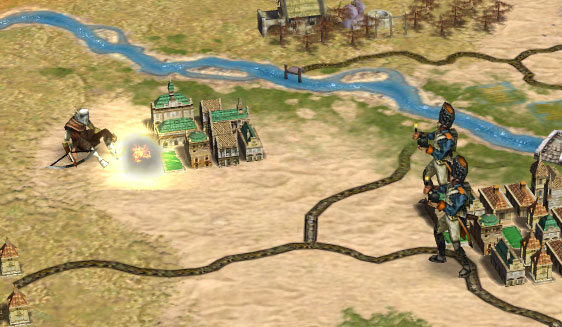 The defeat of the crossbowmen in the easternmost villages around Moscow.
The combination of the 1479 drought and low snowmelt in the Novgorod foothills left the upper Moskva too low for barging near Moscow, especially in the silty regions following the flood plains. The Spaniards disembarked near the Russian-Egyptian border, in sight of the Gold Spike, and then began marching east through the mostly uninhabited Golden Plains.
Inevitably, their troop movements loosed huge dust clouds into the summer sky, which were then picked up by the herders who drove cattle out in the western plains. Rumor got back to the Tsar in Moscow of an army coming out of Egypt, and the 1st Moscow Garrison was mobilized to meet the potential threat. To put a number to the name, Moscow could field 4000 grenadiers, with another 4000 to be immediately raised if the need arose. Armed with longgonnes, shortgonnes, and twenty-thousand hand grenades, this unit was capable of easily overpowering any medieval force.
The Spaniards had only four thousand troops, consisting of macemen, crossbowmen, and a handful of catapults. Can you imagine what happened?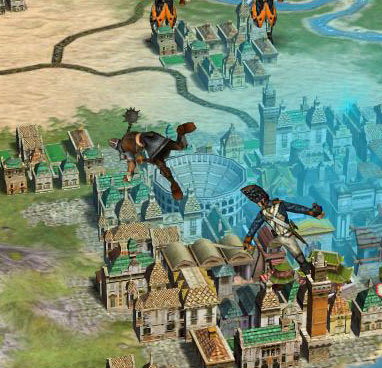 The Spaniards were handily defeated.
Twenty-two survivors managed to escape and sail downriver. In the spring of 1480, they described the battle in very simple terms:
quote:

We were hardly lined up before the Russians were pelting us with bullets. The crossbowmen attempted to approach and return fire, but those damned gonnes were belching so much smoke that we couldn't see any targets. However, blindness didn't stop the Russians. They lobbed grenades and fired gonnes like they had no end of ammunition, while our men had to conserve every quarrel of bolts. Those wasteful fools wouldn't fight us in real combat, until we were running, see, and then they charged us with swords and cut down our remainder.
We had little time to mourn those losses, because our scouts reported the approach of the Russian army, and it came time for Isabella to leave. I don't think the Queen fully appreciated the danger, but I had Magnain convinced that we could hardly defend Barcelona with our forces, and his first priority had long since switched from the army to the Queen.
You must understand, I wanted to stay in Barcelona to negotiate with the Russian military. I hoped to prevent the capture of the Church of the Nativity, for if it were damaged or destroyed, the world would have irrevocably lost one of its most important sites.
However, General Magnain would not hear of it. He trusted my judgement more than his own. In his mind, Barcelona was already doomed, so he ordered me to follow him and advise him on the defense of the Spanish capital. We left immediately, and we took half of the garrison with us. Excluding a few nobles who rode with us, most of the civilians were left to their fate, Christ help them.
The story of the battle in Barcelona was recently repeated to me by the Division General we left to lead the forces.
quote:

In the early spring, the Russians arrived with a force three times as large as expected. Over forty-thousand men were in arms, and from their banners, we discerned three siege divisions, three knight divisions, and two full runs of catapults. With only one division of experienced longbowmen, some native pikemen, some native longbowmen, and no walls, I knew that Barcelona was doomed. The question was, how difficult should I make this capture?



I remembered what you said, Nilus. The Russians preferred a single decisive battle, and if we gave it to them, then we would be treated fairly. If we dragged out the conflict in any way, or avoided a fight, then they would trash the city in order to assure a permanent victory.

I moved my longbowmen and pikemen to the countryside, and as if this were a simple training exercise, I lined them up in ranks and waited on the road for the approach of the Russians. There would be no siege, because there were no walls to defend. Barcelona was a mercantile city, not a place designed for war. We would fight and lose out here, and once the Russian bloodlust was satisfied, we would submit. It shamed me to do it, but it had to be done. If we didn't, people would die for simple pride.

When the Russians assaulted, we released arrows and aligned ourselves in a defensive strongpoint. However, as per my orders, we did not harden against their approach, but instead threw down our weapons as our numbers thinned. Many soldiers were crying as they stood amongst the dead and surrendered, but there was little else we could do against such overwhelming numbers. The Russian Empire was simply too massive and too advanced to face in combat.


Longbowmen die from grenade blasts.

There were a few people who resisted, of course. Some men's spirits were too fierce to be subdued by my will, and they fought to the bitter end. Some of these were captured by the Russians and beaten, so they would live to feel shame. Others were granted the proper death of a Steel Buddhist, and they went to the heaven of Amitahbha with a steel sword in their hands. But there was one constant to all this: Spain lost.
So far...
Holy shit. I just hit the post length limit. I'm going to finish the second part ... edit: tomorrow. This is just getting longer and longer.