Part 58: Soviets - Testing Grounds
Testing Grounds
https://www.youtube.com/watch?v=jY05R0UTnyo
Testing Grounds

Intelligence services have informed us that the Allies are building a "Phase Transporter" and the Chronotank. An island with some of these new tanks has been marked for capture and inclusion into the Soviet Empire.

[This space left intentionally blank.]

Location: Unknown, Unknown
Objective: Capture the island. Destroy all allied forces in the area.
Briefing: The Allied pigs have developed a new weapon called the Chronotank. This weapon appears to share technology with their despised Chronosphere, allowing it to chronoshift by itself. They are testing this new weapon on an island that rightfully belongs to the Soviet Empire. New weapon or not, this island will be ours. Establish a base and deploy your troops accordingly. The Allies have the advantage of a natural ridge barrier, but do not let it stop you. Let no trace of the allies remain on our island.
Author's note: Not a big fan of the map itself, but I do like the difficulty provided by the Chronotanks. The ending was... unexpected.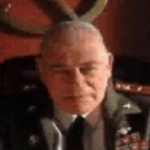 Name: Gen. Topolov
Aliases: Unknown
Affiliation: Soviet
Occupation: General in the Soviet Forces
Voiced/Played by: Alan Charof
General Topolov wastes no time in detailing the Allied plans and what he expects of you. Also hates the Allied horonosfiere. Probably drunk on a regular basis, while on duty.


; Missile Submarine
[MSUB]
Prerequisite=stek
Primary=SubSCUD
Strength=150
Armor=light
TechLevel=9
Sight=6
Speed=5
Owner=soviet
Cost=1650
Points=45
ROT=7
Cloakable=yes
Inaccurate=no
With a range of 14, the Missile Submarine is outclassed by the Cruiser, but it should be noted that it
only
does 400 damage vs the cruiser's 500. The fact that they are invisible (minus glitches, sonar, or some quirk I've yet to figure out) means that the Soviets present a very real threat from the water, and also allows for the spy to have a little more use than he initially had.

; Shock Trooper
[SHOK]
Prerequisite=tsla
Primary=PortaTesla
Strength=80
Armor=none
TechLevel=7
Sight=4
Speed=3
Owner=soviet
Cost=900
Points=15
Explodes=no
NoMovingFire=yes
Crushable=no
While they are expensive, being something like the 2nd most expensive infantry, after Tanya/Commando, the fact that they are immune to being crushed is a huge boon in light of the speedy tanks and APCs of the Allied arsenal. They are as fast as flamethrowers and rocket soldiers, which does mean that, bunched with other units, they will tend to filter into the back of your forces. And, while they are powerful, they don't render anti-infantry weapons like the Artillery or V2 obsolete.

; Tesla Tank
[TTNK]
Prerequisite=tsla
Primary=TTankZap
Strength=110
Armor=light
TechLevel=8
Sight=7
Speed=8
Owner=soviet
Cost=1500
Points=30
ROT=5
Tracked=yes
Crewed=yes
NoMovingFire=yes
The Tesla Tank has a range of 7 going by the attack type in the .ini file, which is 1 further than Artillery, but deals less damage. The 1500 credit cost is high, similar to a Mammoth Tank, and considering its low survivability, its fair to see why you wouldn't want an army of these without something to act as a meat shield.