Introduction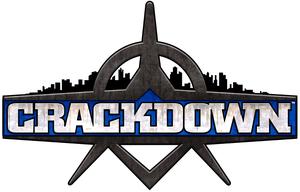 Crackdown
is a sandbox third-person shooter released in 2007 by Realtime Worlds. You might have heard of it because it came with the Halo 3 Multiplayer Beta, and you also might have heard of it because it's
fucking awesome
and is one of the 360's better co-op offerings.
The premise of the game is that you are a super-powered cop tasked with cleaning up the rampant crime problem of Pacific City. Your focus is directed toward eliminating gang leaders who are holed up in a variety of locations until a gang has been disassembled from the ground up, and then finishing that gang's Kingpin so that the Agency can reclaim that portion of the city. You get stronger as you play through a stats system that rewards experience in different stats (agility, driving, firearms, explosives, and strength) depending on how you take out gang members.
This LP will consist of buddy cops A Wooden Palisade and I kicking each other off of buildings and blowing each other up on our quests to dismantle the various gangs and conspire against each other. We will also show off each of the minigames at least once, including the multiplayer-only favorites like Rocket Tag! All commentary will be recorded live.
Finally, since this game is a sandbox and you can tackle the gang leaders in any order you'd like, and since we are playing on Ruthless difficulty (this game's "Hard" mode; between Tough (Normal) and Psychotic (Very Hard)), there will occasionally be a video wherein we accomplish nothing productive at all. Each video will be between 15 and 30 minutes, and we probably won't note which videos accomplish nothing because we are relatively efficient overall. You'll still get to see explosions and physics-defying car flips, so it's all gravy.
Videos
Bonus Videos