Introduction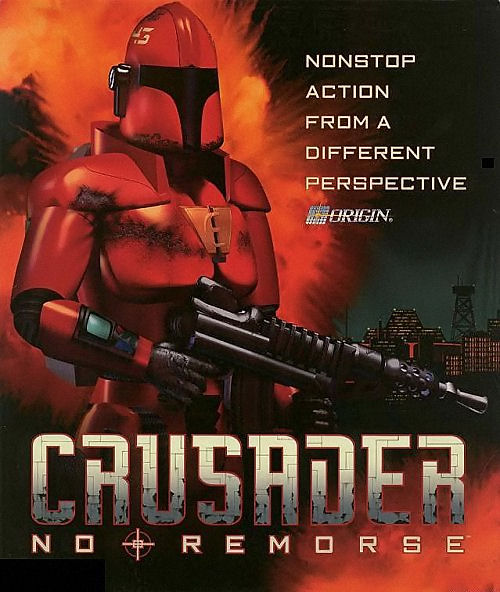 Crusader: No Remorse is an isometric-perspective action game made by Origin Systems in 1995. The game was released for the PC, Sega Saturn, and Sony Playstation. The game had a sequel, Crusader: No Regret, and was notable for its heavily destructible environments.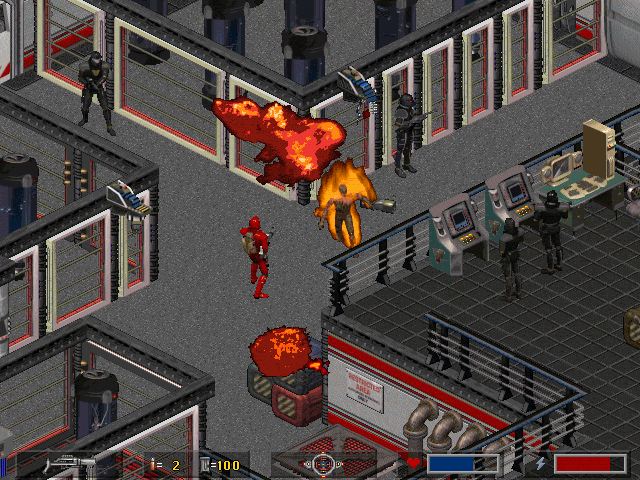 The player takes on the role of a rogue Silencer, an elite soldier in the employ of the World Economic Consortium, your standard-issue dystopian-future corrupt mega-corporation which controls pretty much the whole world. After a mission gone bad, the Silencer defects to the Resistance. Guess what
they
do.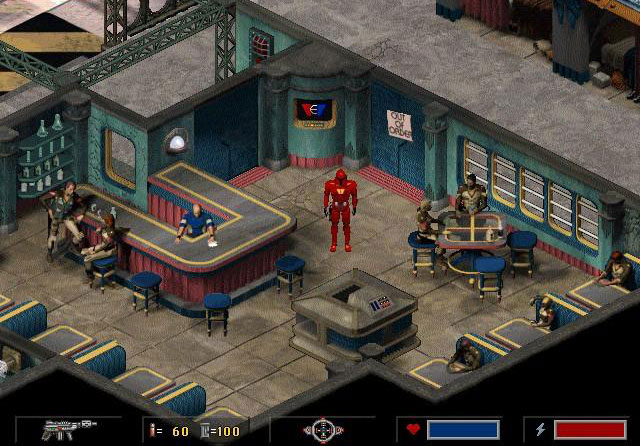 The game plays out over several lengthy missions, each one pitting the Silencer against tougher and more advanced enemies and situations. In turn, the Silencer gains access to more powerful weapons to help even the odds. The weapons can be found on-site or purchased from Weasel, the Resistance's arms dealer.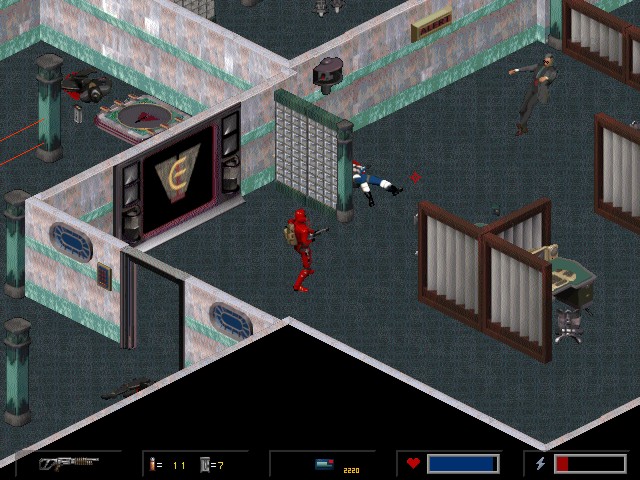 The missions are broken up by interlude sessions where the Silencer returns to the Resistance base to rearm and talk to Resistance members via FMV cutscenes. The cutscenes have subtitles available, and I've left them in the videos, but due to what I guess are space constraints, the subtitles can differ a bit from what the person is actually saying.
Controls are a little awkward and the sense of movement is stiff and has a grid-based feel to it. Sometimes while trying to walk along or past an obstacle the game will freak out a little and change the Silencer's position slightly. Mouse-based aiming is available, but given the placement of the keys, it's not a terribly viable option. Despite the nitpicky technical flaws, it's a fun, easily-overlooked action game which doesn't recycle its environments too much.
Documentation (thanks Kerris!)
Resistance Manual
(PDF)
"Captured" WEC Manual
(PDF) - with annotations by Wizard
TopLine WEC Newsletter
(PDF) - see if you can spot the link to System Shock

Soundtrack
Listen to it online
here
. Use the small media player just above "Community Soundtrack Rating Average."
Introduction
Opening Cutscene and Mission 1 Briefing:
Viddler
|
DailyMotion
Mission 1: Destroy Thermal Coupler
Part 1:
Viddler
Part 2:
Viddler
Resistance Hideout
Interlude 1:
Viddler
|
Dailymotion
Mission 2: Rescue Resistance Prisoners
Part 1:
Viddler
|
Dailymotion
Part 2:
Viddler
|
Dailymotion
Resistance Hideout
Interlude 2:
Viddler
|
Dailymotion
Mission 3: Steal Mech Plans
Part 1:
Viddler
|
Dailymotion
Part 2:
Viddler
|
Dailymotion
Part 3:
Viddler
|
Dailymotion
Resistance Hideout
Interlude 3:
Viddler
|
Dailymotion
Mission 4: Destroy Monitoring Station
Part 1:
Viddler
Part 2:
Viddler
|
Dailymotion
Part 3, with interlude:
Viddler
|
Dailymotion
Mission 5: Steal Encryption Chip
Part 1:
Viddler
|
Dailymotion
Part 2:
Viddler
|
Dailymotion
Part 3:
Viddler
|
Dailymotion
Mission 6: Kidnap WEC Senator Snell
Part 1:
Viddler
|
Dailymotion
Part 2:
Viddler
|
Dailymotion
Mission 7: Destroy Nerve Agent
Part 1:
Viddler
|
Dailymotion
Part 2:
Viddler
|
Dailymotion
Part 3:
Viddler
|
Dailymotion
Mission 8: Extract WEC Scientist
Part 1:
Viddler
|
Dailymotion
Part 2:
Viddler
|
Dailymotion
Part 3:
Viddler
|
Dailymotion
Interlude:
Viddler
|
Dailymotion
Mission 9: Eavesdrop on WEC Conference
Part 1:
Viddler
|
Dailymotion
Part 2:
Viddler
|
Dailymotion
Mission 10: Investigate Secret Weapon
Part 1:
Viddler
|
Dailymotion
Part 2:
Viddler
|
Dailymotion
Part 3:
Viddler
|
Dailymotion
Mission 11: Steal Vigilance Platform Plans
Part 1:
Viddler
|
Dailymotion
Part 2:
Viddler
|
Dailymotion
Mission 12: Redirect Vigilance Attack
Part 1:
Viddler
|
Dailymotion
Part 2:
Viddler
|
Dailymotion
Mission 13: Rescue Colonel Ely
Part 1:
Viddler
|
Dailymotion
Part 2:
Viddler
|
Dailymotion
Interlude:
Viddler
|
Dailymotion
Mission 14: Commandeer a Shuttle
Part 1:
Viddler
|
Dailymotion
Part 2:
Viddler
|
Dailymotion
Part 3:
Viddler
|
Dailymotion
Mission 15: Destroy the Vigilance Platform
Part 1:
Viddler
|
Dailymotion
Part 2:
Viddler
|
Dailymotion
The End:
Viddler
|
Dailymotion