Part 19
In this section of our adventure, we were about to beat the living hell out of a slime.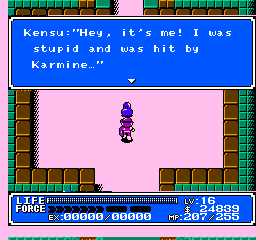 Oh. It's Kensu. Anyways, we were about to beat the shit out of Kensu -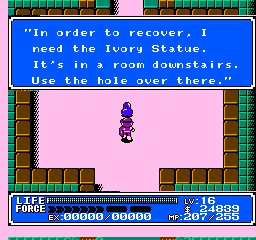 [

] ...I don't give a shit about your problems, Kensu. However, I guess that Asina would probably look poorly on me if I killed her friend. Besides, an Ivory statue can probably earn me a couple of bucks. I'm on it.
So, down a hole later...
Car! Mine!
Karmine was a huge cock. I threw away all my fruits of repun because I'm an idiot, so he turned me into a slime no less than eight times. After you get slimed, you don't get to fight anymore (as far as I know), so I basically could only run around until I died. I wasted a shitload of recordings with that bitch. >:|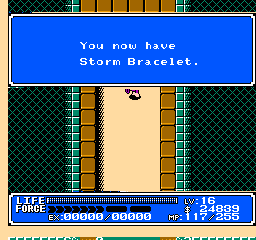 Let's test this shit out.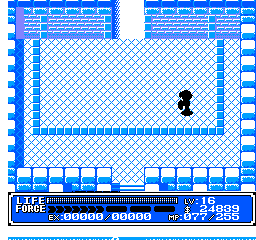 [

] HOLY SHIT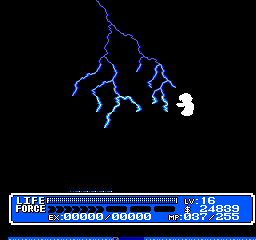 [

] OH MY GOD THIS IS THE COOLEST SHIT EVER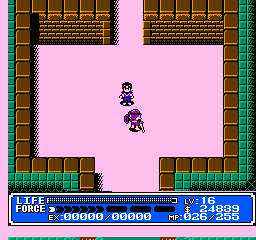 Anyways. Back to the stupid idiot wiseman asshole.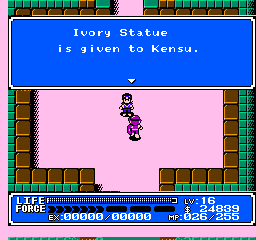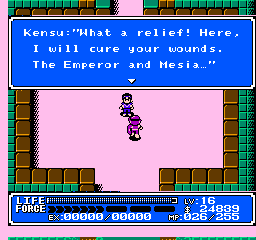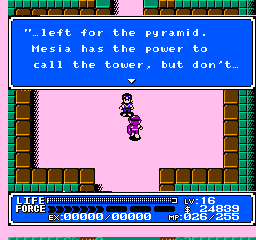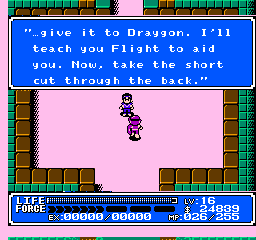 [

] Magic? Huh. Awesome. Why exactly couldn't you teach me this shit when you first met me? You knew that I was the saviour or whatever. That's poor planning on your part, asshole.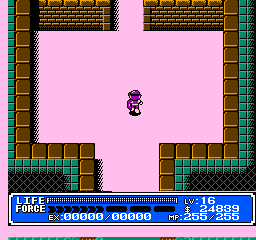 [

] Oh okay see ya?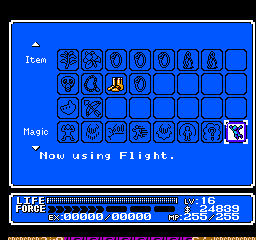 Anyways, Flight - a spell that could have been useful about a hundred caves ago but is now just kind of important for advancing our quest.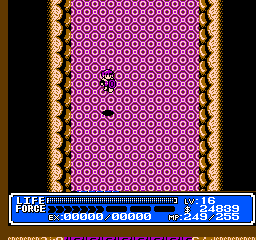 It does help me get over this purple hurting shit at the bottom of the fortress, which, for some reason, drops me into the desert. :| Okay. Back to Goa. All of them say things like "I'm so glad it's over" and "Dragonyia sucks", which doesn't make any sense to me since they couldn't possibly know what I'd done inside the fortress already. Besides, the emporer's still alive, so what the hell? Dragonyia's still around.
Two strange things, though, that are worth mentioning.
[

] When I met the grand puba, Karmine, I felt scared, but one look in his eyes made everything OK.

wn: And remember the crazy bitch from earlier?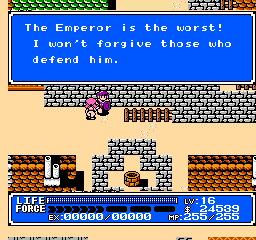 Yeah.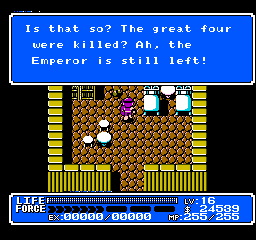 Wait, I remember something Akahana said...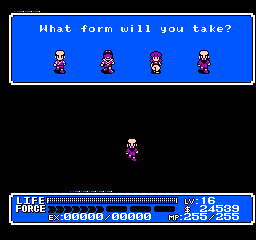 [

] Time to disrespect the memory of the fallen!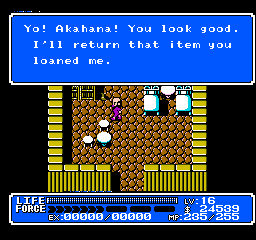 : YES I AM TOTALLY AKAHANA PLEASE GIVE MY THING BACK FRIEND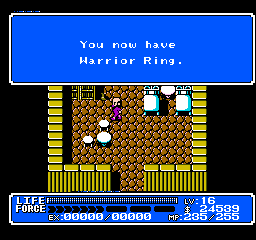 BEHOLD THE POWER OF THE WARRIOR RING
Anyways. On to using the power of flight to get things that I couldn't get a while ago.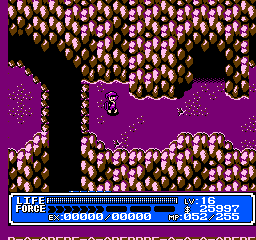 For example, this dangerous looking hole...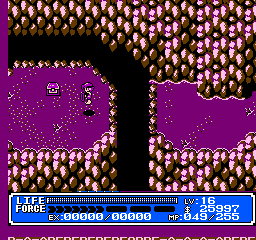 No problem!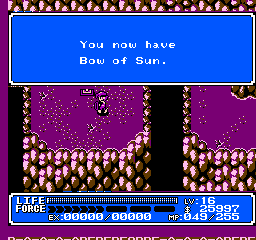 [

] Awesome now I have matching bows

We also picked up leather boots, but for some reason I didn't document that. Not very exciting, I just grabbed some boots inside a cave with my Float spell.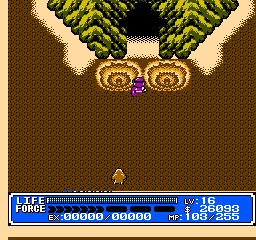 Anyways, time to follow the Emperor and getting to Mesia. Totally floating over this shit.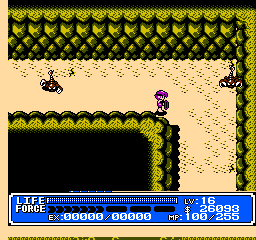 New enemies. Scorpions. Exciting and poisonous.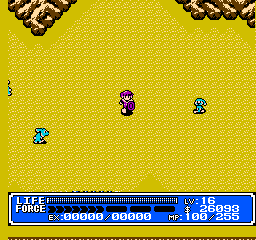 Then we come up to this field. A field full of bunnies. Why there's a field full of bunnies in a cave in the desert is anyone's guess.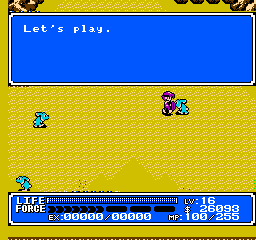 This is what all of the bunnies say. This is funny because this is image number d069.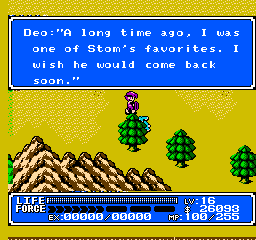 This bunny, however, says something different.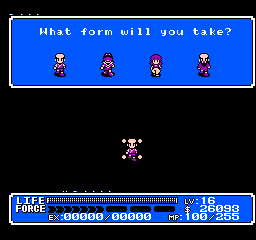 [

] I am so going to hell for this.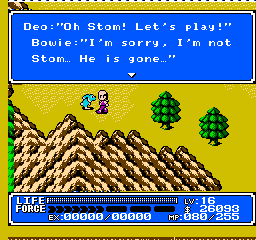 This actually seems like a pretty assholish move from Bowie to me.
[

] HEY FRIEND HOW HAVE YOU BEEN I'VE MISSED YOU LETS PLAY
[

] I'm not really your friend. YOUR FRIEND IS DEAD.

I JUST LOOK REMARKABLY SIMILAR TO HIM.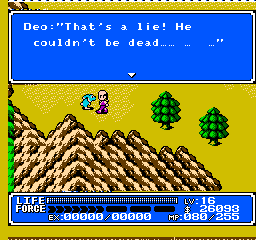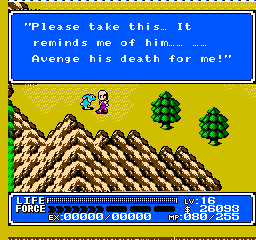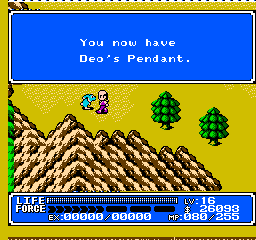 What kind of a name is Deo for a bunny anyways?
Anyways, that pendant restores mana if you stand still. Pretty handy but it comes so damn late in the game.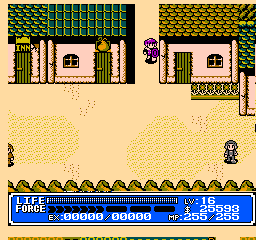 Next time: The town past the bunnies past the scorpions past the quicksand past the desert!