Part 105: Super High-school Level Update #94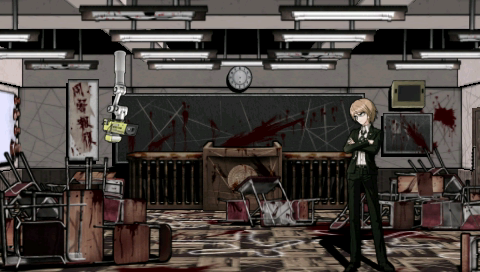 W...What is this room...!?
Just a single glance was enough to understand the magnitude of the grotesqueness...

No, that grotesqueness wasn't just in the scenery that spread before my eyes...
It was also in the intense, unpleasant odour that drifted through the classroom.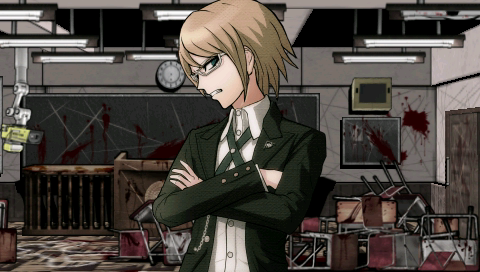 It's a dreadful smell, isn't it?

W...What is it...?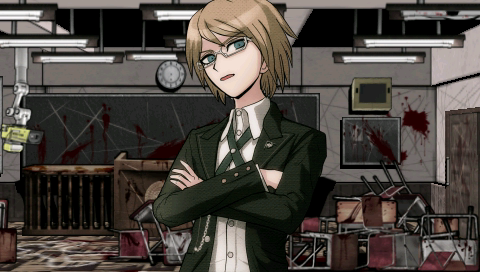 Don't tell me you don't have a clue. You've faced death several times now...

Are you saying this is...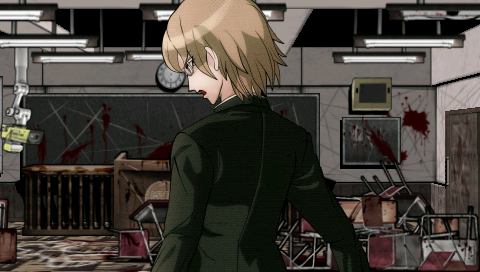 It's the smell of death... The smell of human blood and entrails...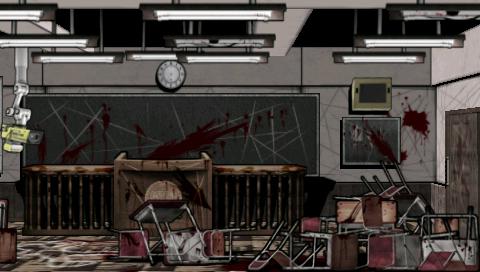 ...Strangely, Togami-kun's declaration did not shock me.

It's just as he said. I have experienced this smell several times now.

I know this smell... it's the smell of death and despair...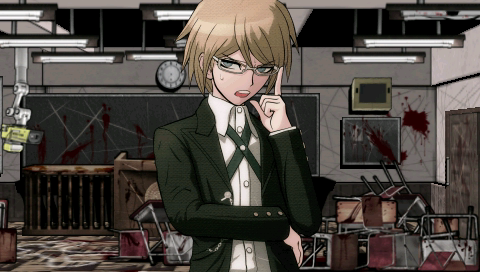 That said, it's more intense than we're used to. It's like a condensed version of that smell... As if we're in a battlefield.

It must be Monobear's doing...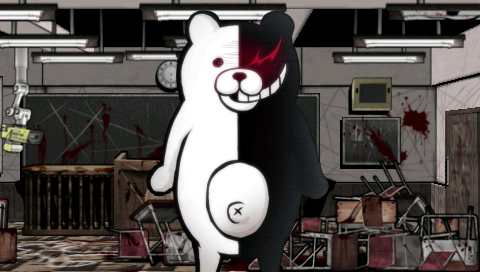 Oh, so it's my fault again!?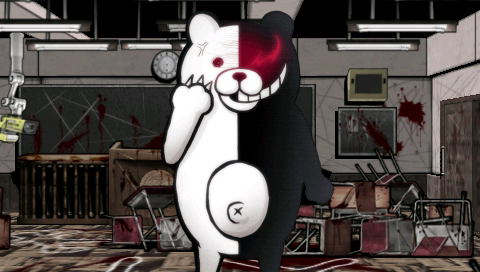 It never ends. Time after time you try to blame it all on me!!

I...If you didn't do anything, this classroom wouldn't look the way it does...!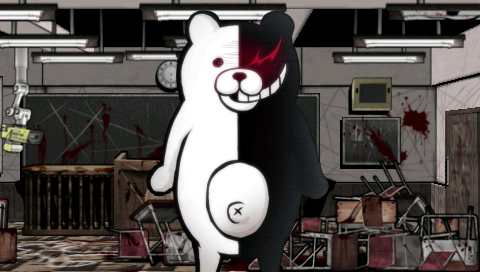 No, no, no. It's just the opposite.

...The opposite?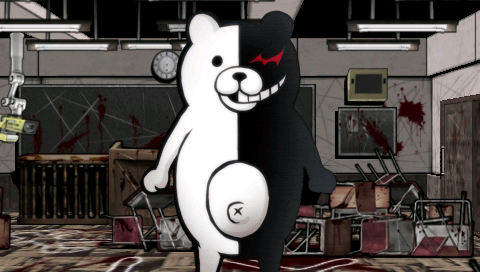 Um, let me give you a hint.

I didn't do anything to this classroom.

I didn't even clean it up. I left it just the way it was!

Eh...?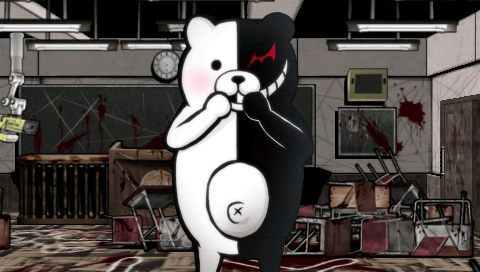 That wasn't even a crummy RPG-style hint. It was the real deal!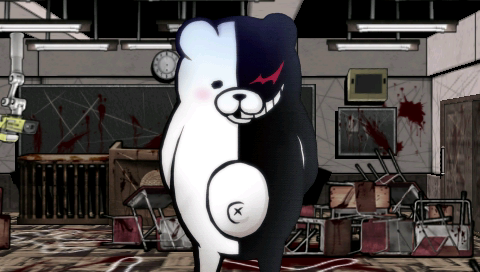 Nevertheless, so much blood is not a pretty thing, is it.

But, you know, even in the outside world, people die every day...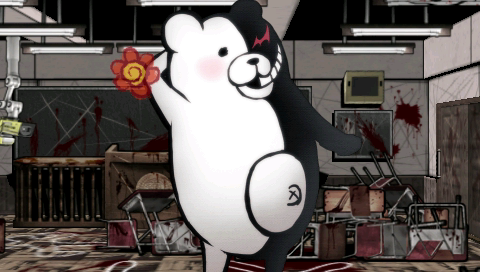 So it's not such a big deal! Let's be positive and keep on going!!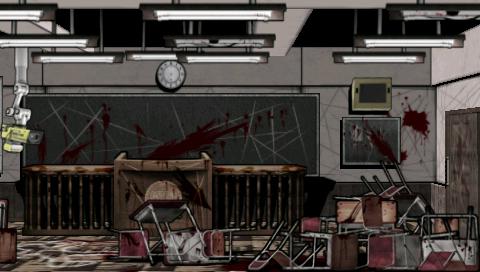 What the hell was he trying to say...?
He left the room as it was without even cleaning it up...?

What does that mean...?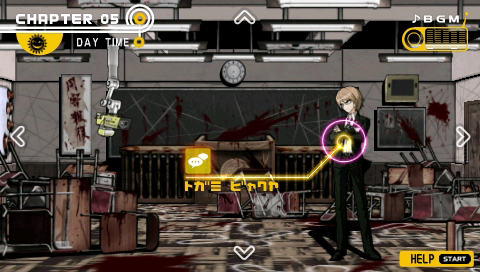 Let's see if Togami has any more wisdom to share.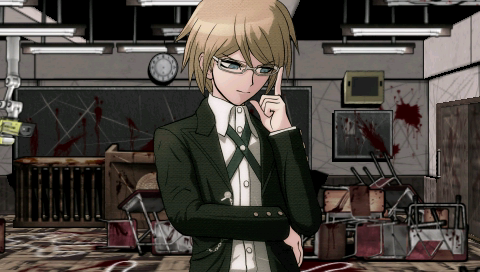 Togami-kun... It's about what Monobear just said...

............
He doesn't even look my way. It looks like he's deep in thought...

Is he concentrating...? Nah, he's probably just ignoring me as usual...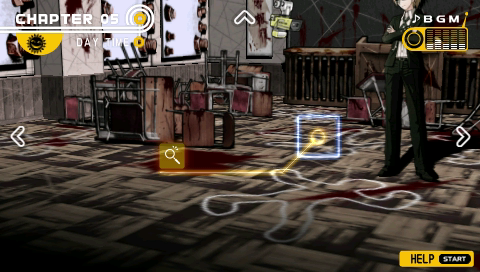 Despite the class's condition, there isn't that much we can actually click on.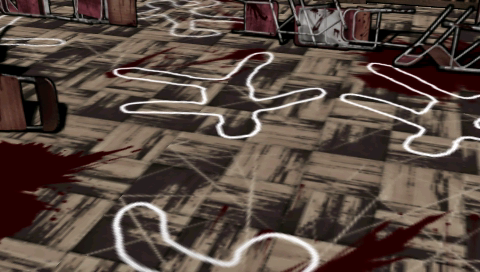 White lines painted directly on the floor... Disturbing, people-shaped white lines...
I've seen them before, in police dramas on TV...

...They're used to mark the position of dead bodies.

............
I wish I could believe... that they are here for some other reason.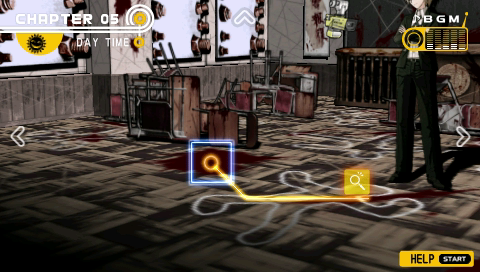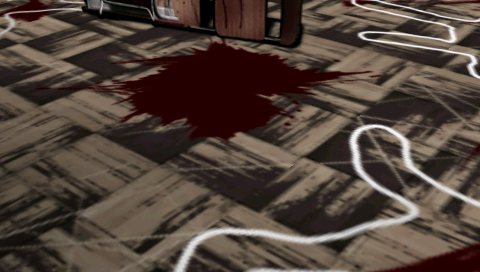 Blood is splattered all over the classroom. It's a terrible sight that makes me want to cover my eyes...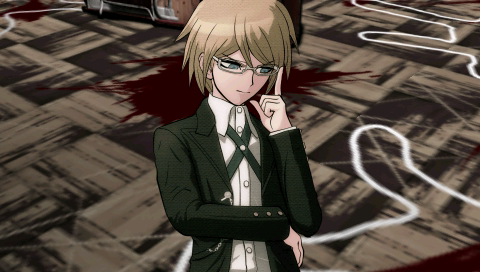 ...This blood is completely dry.

Furthermore, based on its color, I'd say it's pretty old.

Is all of it... real blood?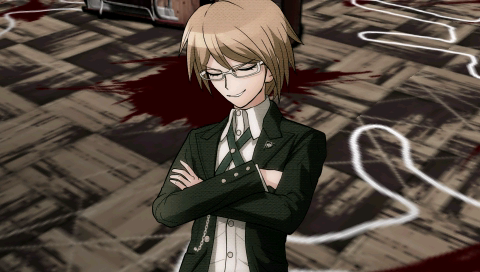 Of course. If it wasn't, it wouldn't be interesting.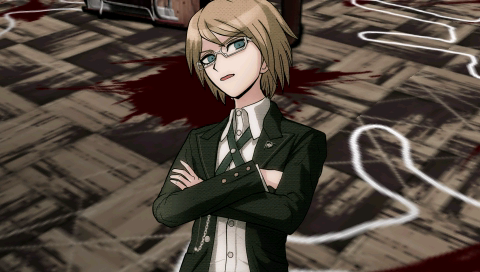 My interest is piqued. What happened in this classroom...?
He looks like he's enjoying it... I guess he doesn't change that easily...

That's everything in this classroom. Moving on...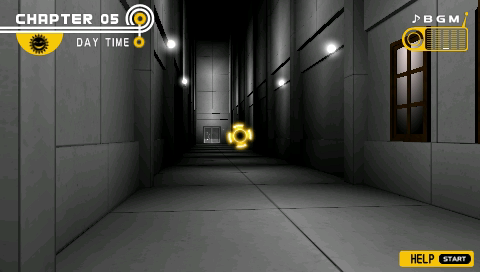 Turning right, we're faced with a long corridor leading to a door.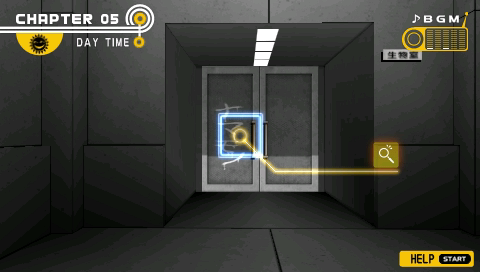 Graffiti on door:
"Raw meat"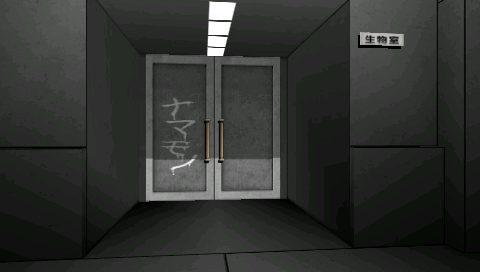 *rattle rattle*
It's locked...
I walked all the way down this long corridor, and I can't even go inside.

The plate next to the door says "biology lab"...

生物, the first two kanji of "seibutsugaku" (biology) means "a living thing" or "an organism", but you can also read them as "namamono", which is the word painted on the door in phonetic katakana. When read that way, it means "raw meat".

The sealed biology lab...
...Sounds like a horror b-movie.

There's nothing else here. Time to go back down the corridor.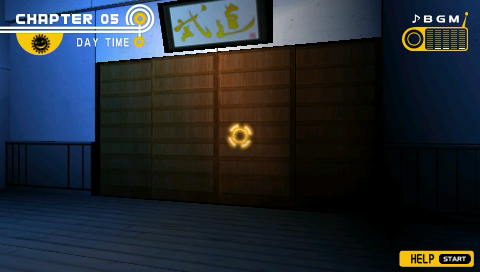 Sign over door:
Martial Arts (budou)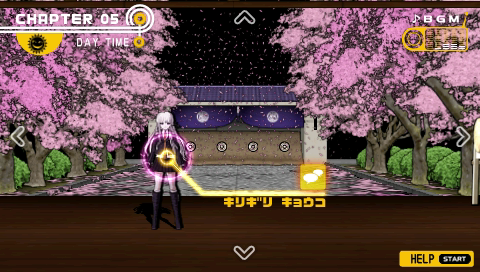 First things first, we have Kirigiri alone.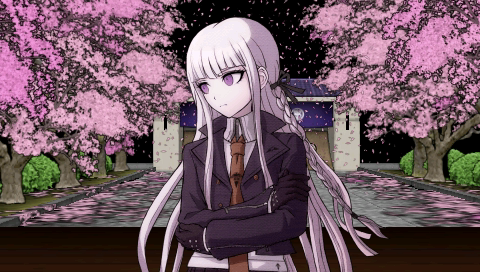 ............
The words Kirigiri-san said last night...

What did they mean...?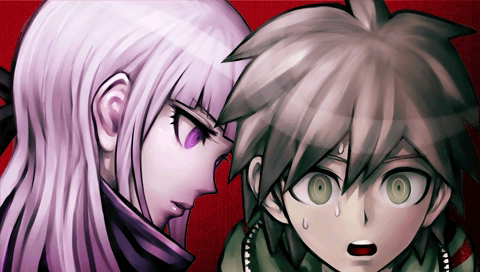 Mukuro Ikusaba...

The sixteenth student in this academy...

The girl they call "Super High-school Level Despair"...

Beware Mukuro Ikusaba...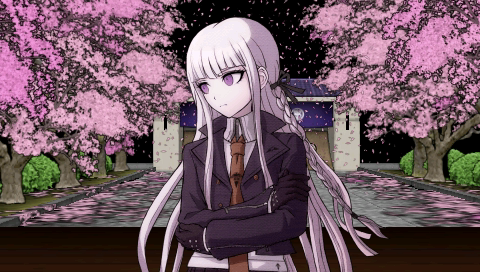 Hey, Kirigiri-san...

I won't answer any of your questions...

...Eh?

I can't answer anything right now.
Kirigiri-san narrowed her eyes and gave a warning glance. The thing she pointed to with her eyes...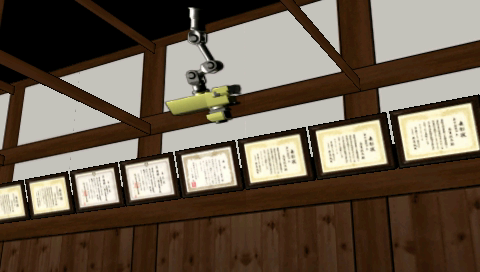 ...was the security camera.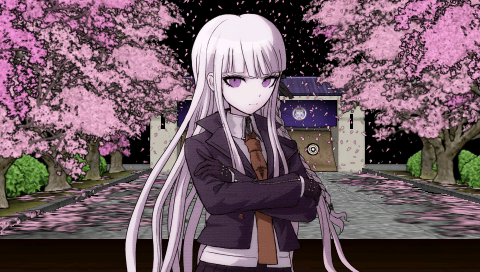 ...Do you understand?
In other words, it would be bad if the mastermind finds out about it.

If that's the case, where did Kirigiri-san even find this information...?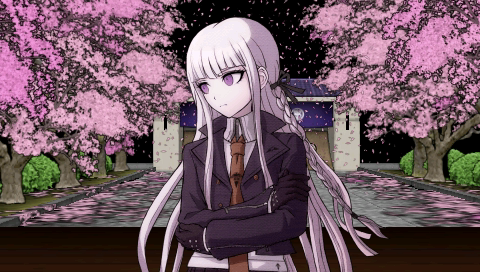 Let's end this discussion right now.
Saying that, Kirigiri-san cut our conversation short.

As always, she doesn't volunteer any information...


There are a few interesting things in this dojo.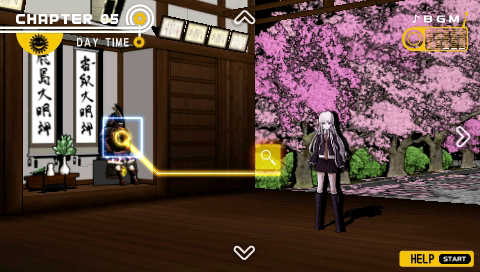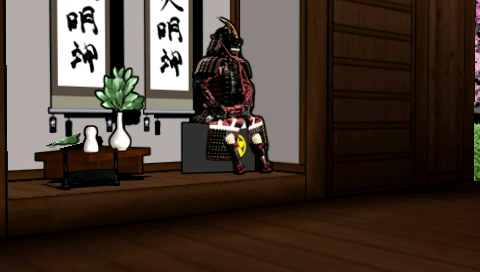 There's a decoration armor here, the kind American tourists get all excited about...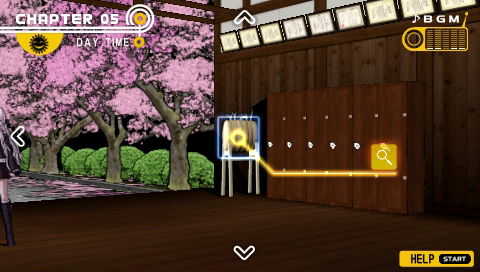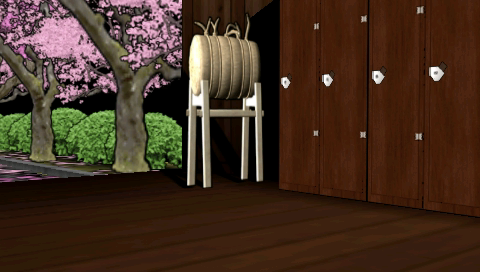 Sheaved straw, probably used for practice...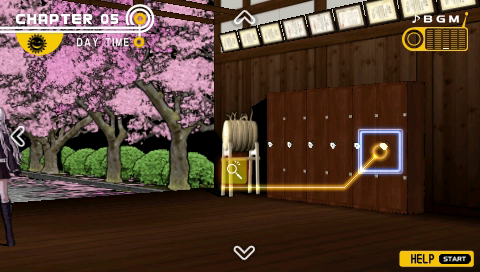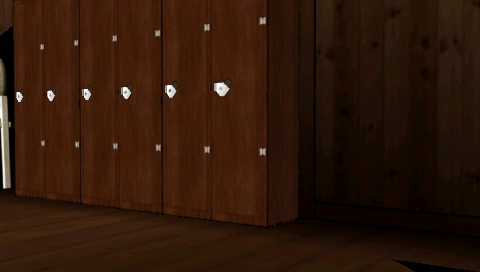 Wooden lockers...

There's a wooden tag shoved in each door. Reminds me of public bathhouses...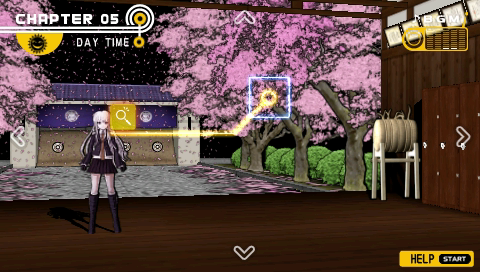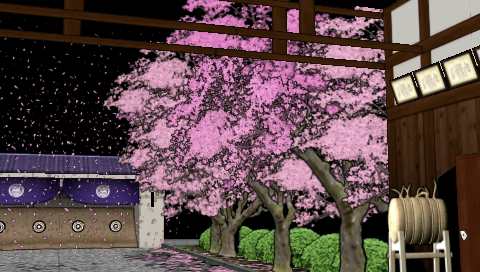 We're inside a building, yet there are cherry trees growing here. In full bloom, no less.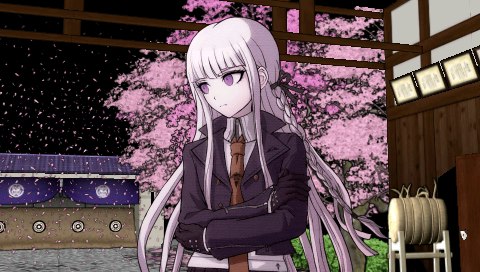 It's an elegant atmosphere, don't you think?

I don't know if I'd call it "elegant"...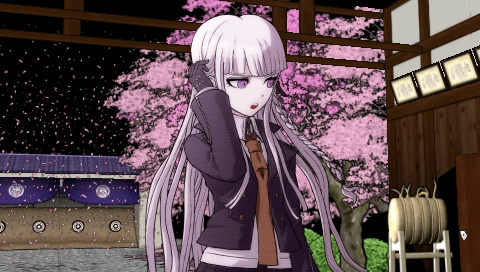 I lived overseas for a long time... This kind of Japanese scenery is still fresh to me...
...Except it's just a fake ideal.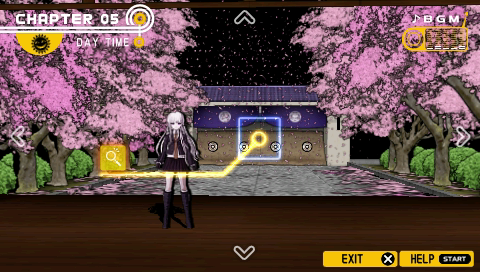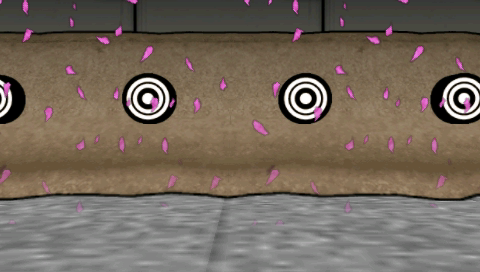 There are targets in the distance.

...And that's what we have here. Time to turn to the last unexplored room on the floor.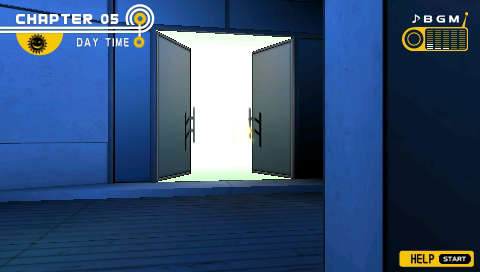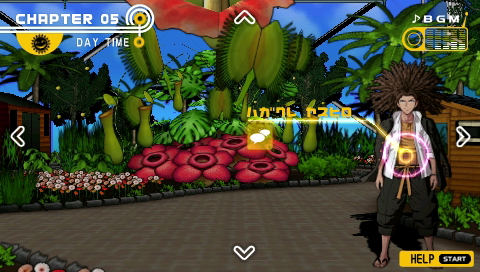 Wait, is that really a glass roof?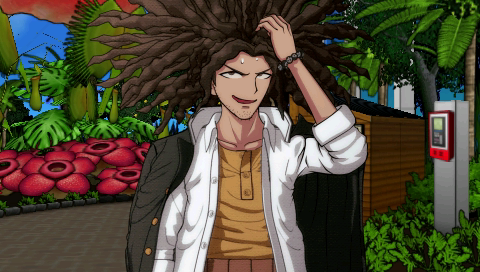 I thought I found my blue sky, but it's just a painting on the walls and ceiling.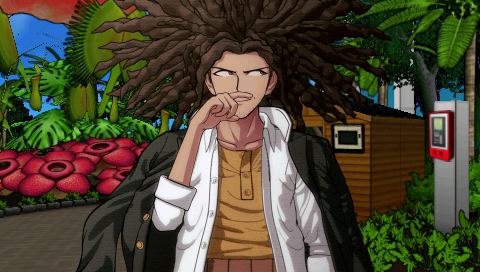 The plants are the real deal, though. Don't you feel your body healing already? It sure is nice to smell some nature again...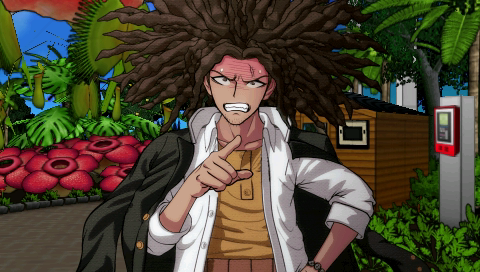 ...I hope that's not what you're thinking, 'right?!

Eh...? Is that wrong...?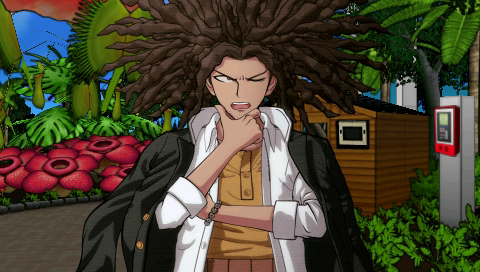 Don't you know anything? Plants are scary beings...

They just lie there quietly, feigning naivety, when what they're really doing is constantly observing us humans.

And when the time comes they feel they can't entrust the earth to us anymore...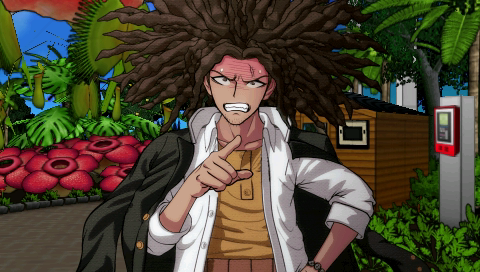 That's when the human hunting begins!!

............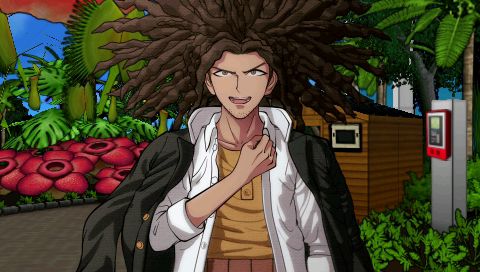 It's true!!

............

There are a few interesting things in this garden, too.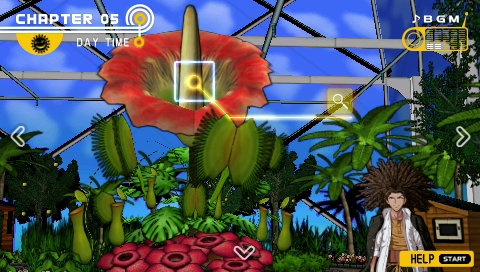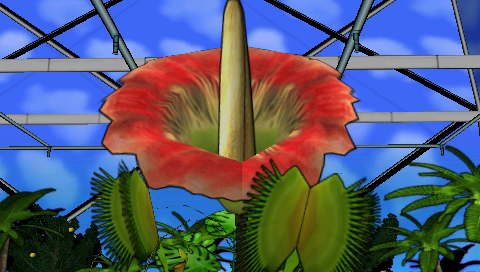 ............

Whoa... what is that thing...?!
Just by looking I can tell it's a strange and mysterious flower... Furthermore, it's huge and seems to ignore the laws of perspective!

Is that a real flower...?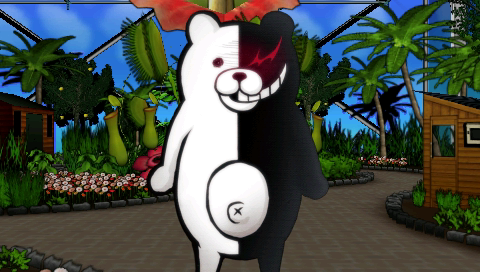 Stay away!!

W...What is it...?!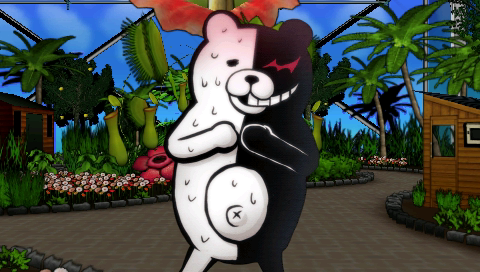 This is a Monobear flower. I named it after myself.

If you don't take care when you touch it, it will set your heart running.

First it'll run then it'll burst then it'll turn mushy and sticky and after that it won't move at all!
In other words... it's some kind of absurd poison...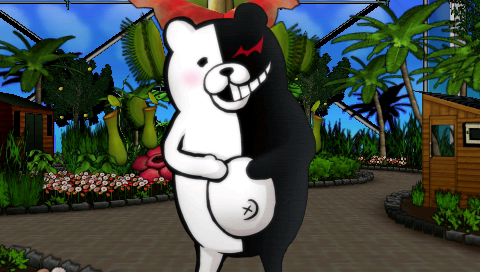 Ahem! It's amazing, isn't it!

It was cultivated and improved by one of Hope's Peak Academy's own! A miraculous, unique specimen!

Ah, our Super High-school Level Botanist... Too bad he died in despair at the "former" Hope's Peak Academy, isn't it...?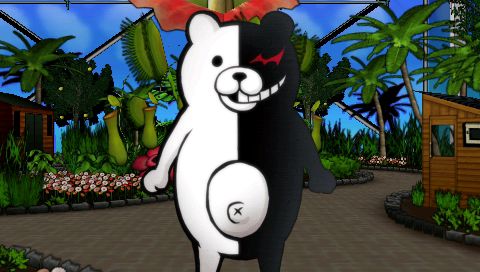 By the way, this flower may look scary but it has an excellent practical use!

It can eat garbage and plastic and human flesh, so it's fantastic for the environment!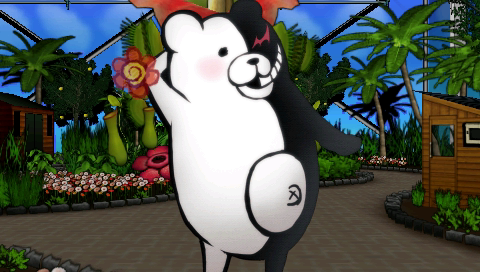 That's what ecology is all about! Our society could use more of it!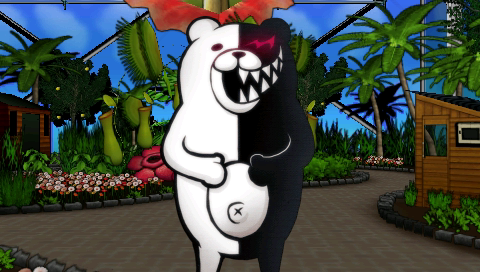 Not that I'd know! Ahahahaha!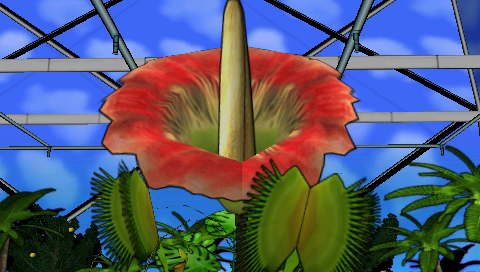 As usual, Monobear disappeared after imparting some senseless words.

Anyway... I'd better stay far away from that thing...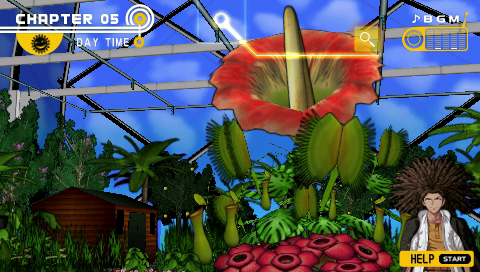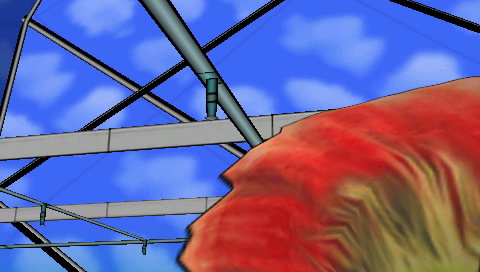 Those beams on the ceiling...

These are.. sprinklers, aren't they?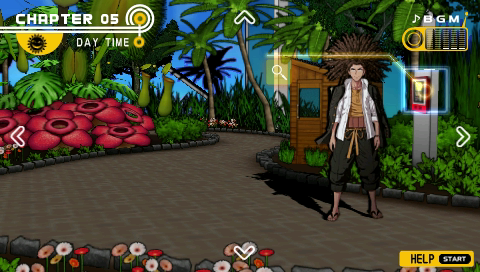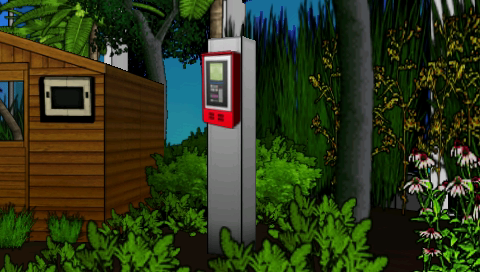 There's some kind of a control panel on the wall.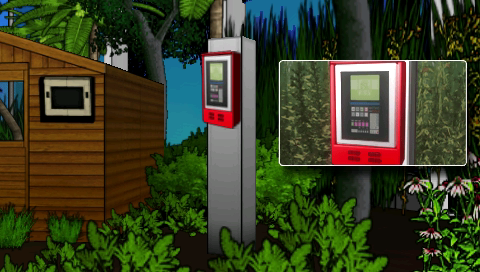 Is it for controlling the ventilation?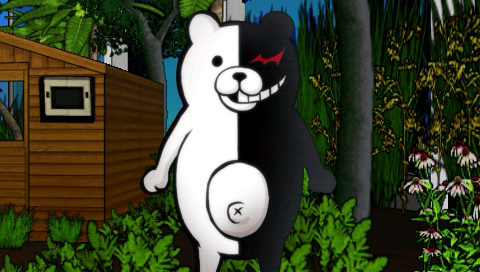 It's for the sprinklers!

...Sprinklers?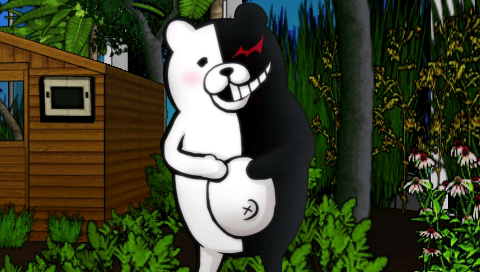 It's the control panel for the sprinklers installed in the ceiling!

The sprinklers are set to provide water for the plants every morning at 7:30. Don't mess with it.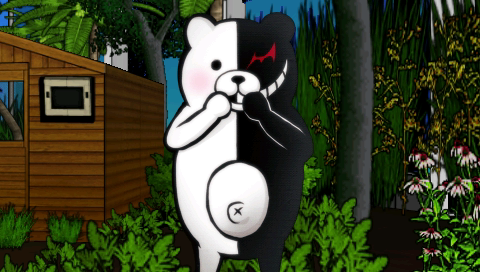 ...That is to say, you have to unlock the panel to use it, so it's not like you can anyway!

So, every morning at 7:30 the sprinklers in this garden turn on?

You're very good at repeating what other people say. That's what I call User Friendly. You're the worst.

Be careful! If you come here too early in the morning, you're going to get yourself all wet!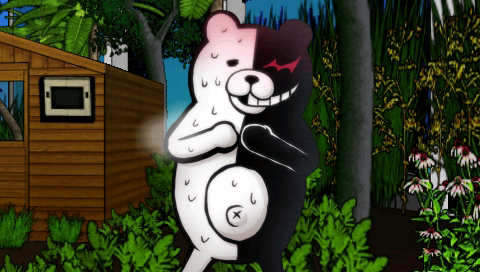 You're not in kindergarden anymore, or at an age where sprinklers get you all worked out, are you?!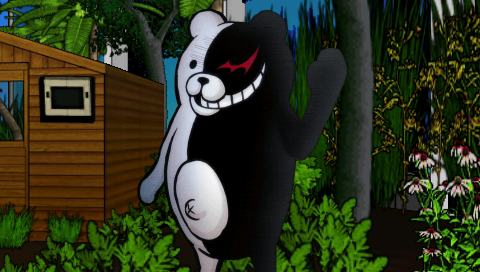 ...Or maybe you just have a fetish for wet things, Naegi-kun?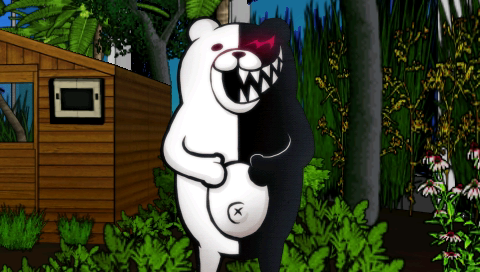 I'm going to tell everyone! Ahahaha!!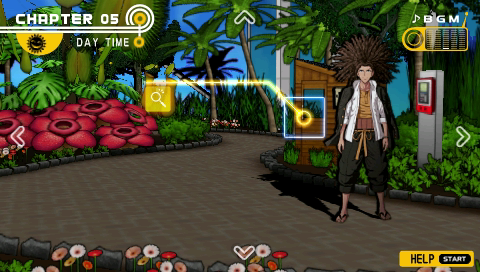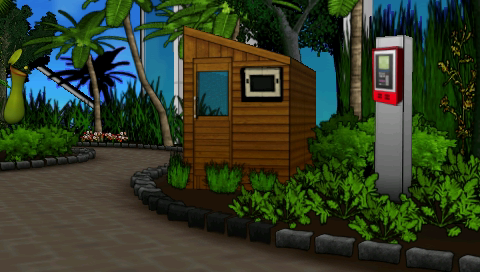 Is that... a chicken coop...?

But, why is there a chicken coop here...?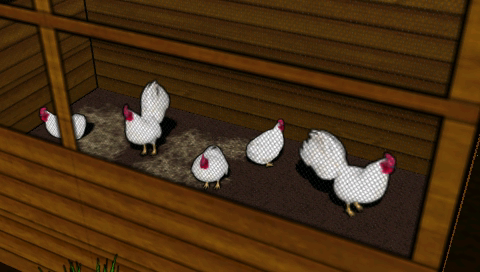 It even has chickens in it...
They're... regular chickens, aren't they...?

They won't hatch bombs, or turn out to be flesh eaters, right...?

............

...I think they're okay.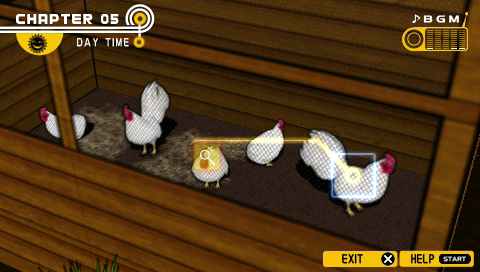 It's a chicken...
It won't turn into anything else. I'm sure of it.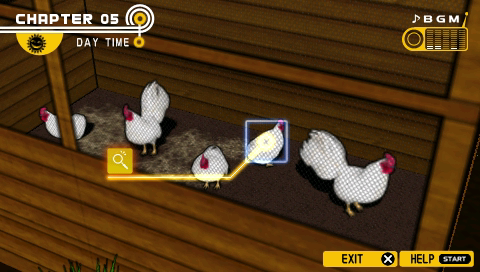 It's a chicken...
It's a living, breathing thing, right? There's no way I'm mistaken about it?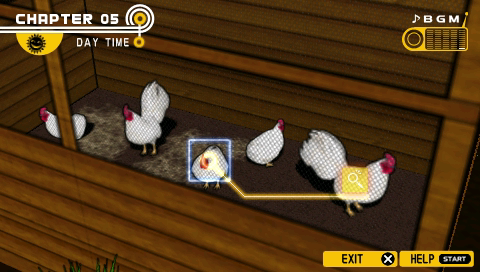 It's a chicken...
Just a chicken, right? Can I really trust my eyes?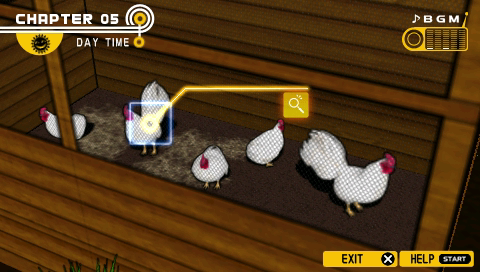 It's a chicken...
I don't think... it's going to eat me.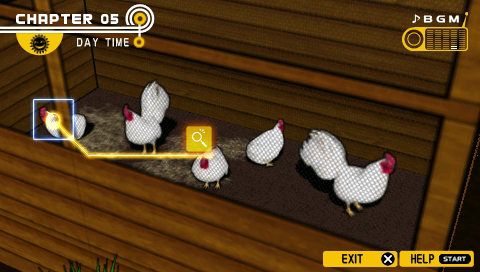 It's a chicken...
It's not going to hatch any bombs... Probably.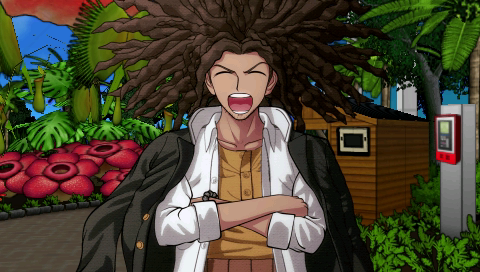 Oh, do you like birds, Naegi-chi?

To tell you the truth, I love them too! They're totally cute, 'right? And there's exactly five of them!

Exactly...?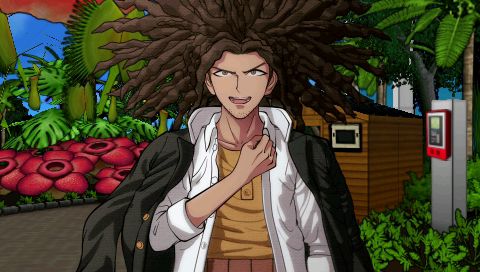 Five! We're talking natural numbers here, so it's the one that comes after four and before six.

The number five is all over this place. It's an omen! I truly feel something mystical is all around us...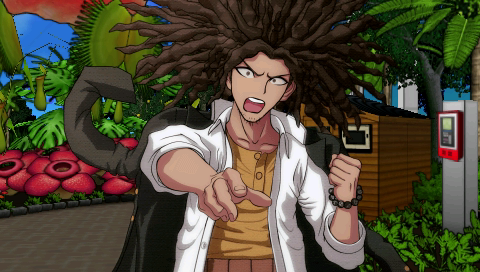 It's a Power Number! Refreshing as lemon squash!
Talking with Hagakure-kun is always a one-way conversation...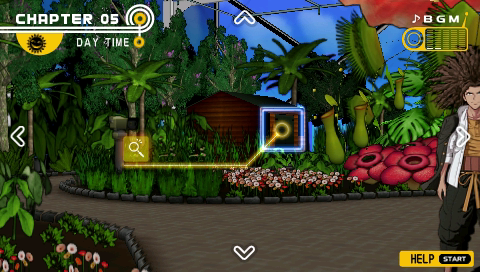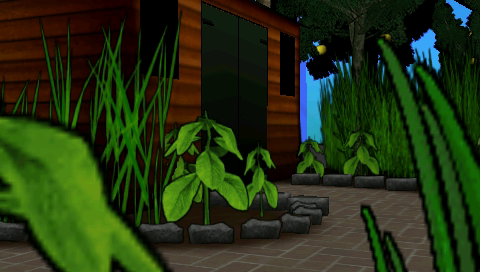 That's a shed... I should look inside, I guess...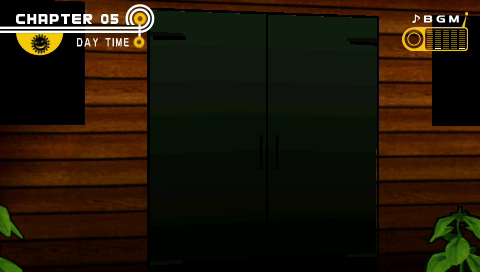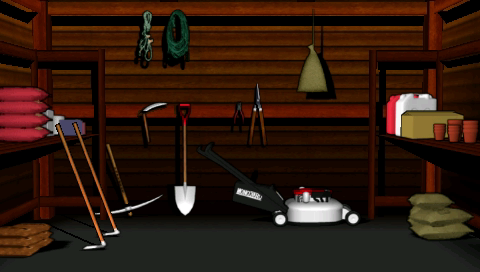 All sorts of stuff is cluttered around. A lawn mower and some flowerpots... Fertilizers and farming tools...

Is that a pickaxe over there in the back...?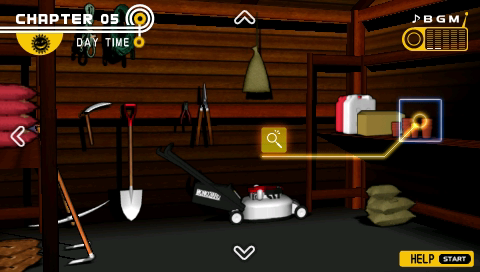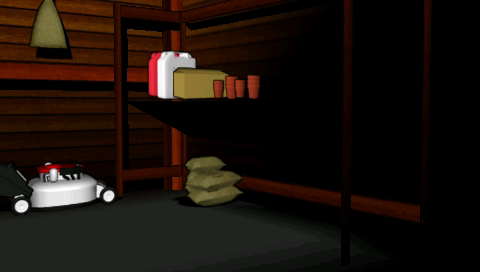 Flowerpots, big and small, are lined up on the shelf...

Maybe I should think about decorating my room with some flowers...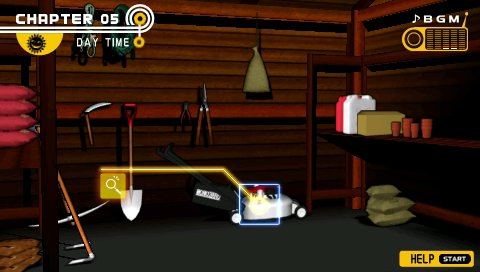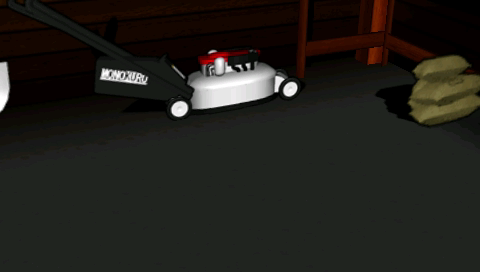 It's a lawnmower...

Even with that thing here, I doubt anyone would start taking care of the grass...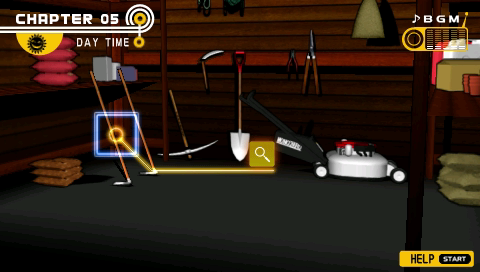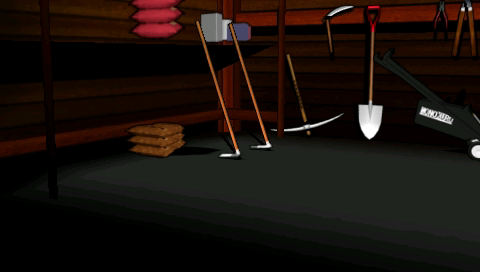 Farming tools... Is Monobear going to make us live self-sufficiently from now on?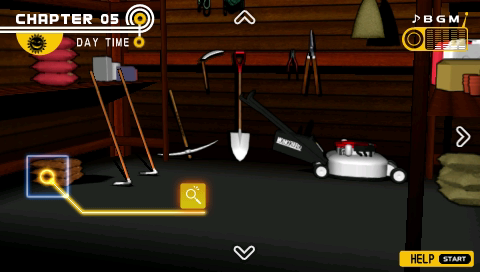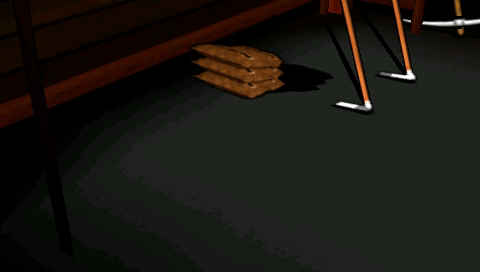 Sacks of fertilizer... There are several types piled up here.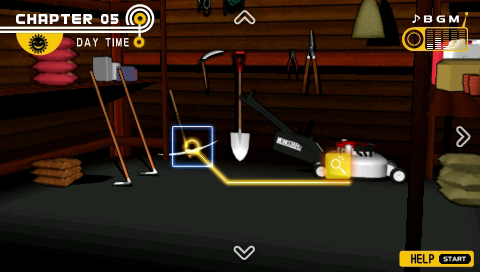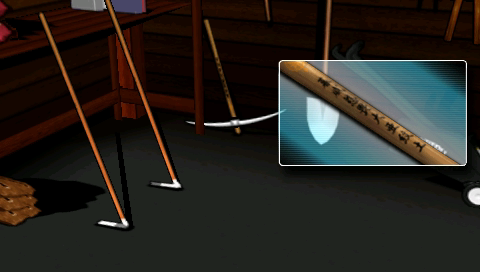 It's a pickaxe. There are some letters carved on its handle...

"Crazy Diamonds"...?
I think... I've heard these words somewhere before...

And with that, our exploration of the fifth floor is over.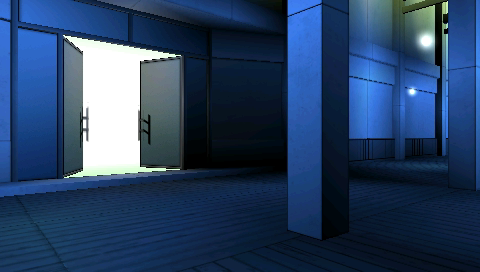 I think I've done all I could here today...
This time, all of my discoveries were pretty far out.

Well, let's get back to the cafeteria and hear what everyone else has to say...