Part 27: Super High-school Level Update #23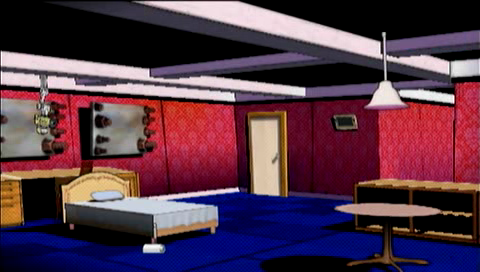 ............

............

............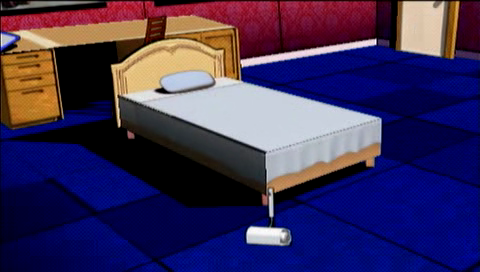 ............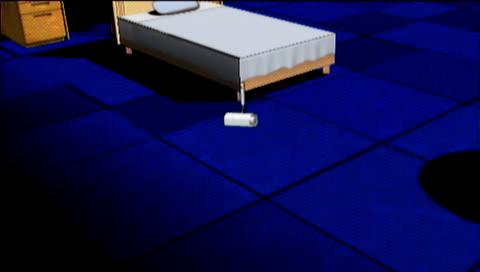 ............

Naegi isn't being very communicative. I think I know where he's afraid to look.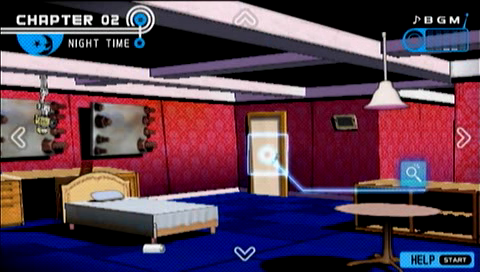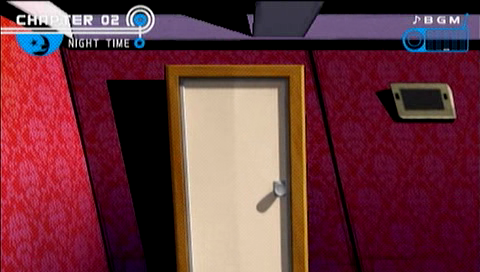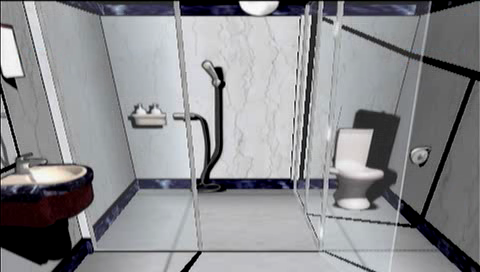 ............

She's gone......

............

She's really... gone...

............
It's as if... nothing ever happened in this room...

Every trace of Maizono-san has been wiped clean...

Just like... he said...
When the school trial was over, just as we were about to go back above ground, Monobear appeared again.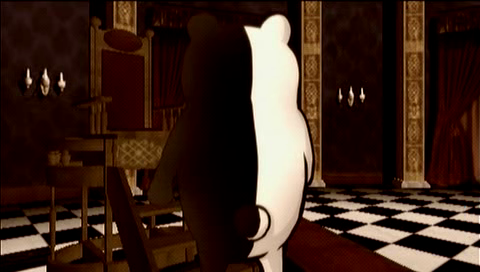 Oh, I almost forgot! Since the school trial is over, I cleaned that pesky body away!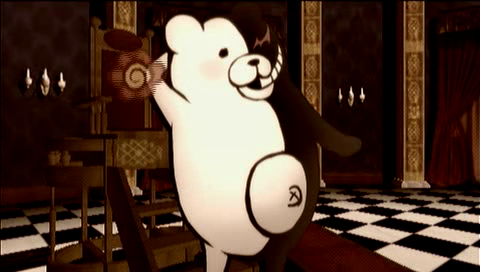 Oh, you don't have to thank me! Your smiling faces are thanks enough for me!

Of course, there's also the issue of it rotting and stinking up the place. A clean and healthy life is a priority here at Hope's Peak Academy!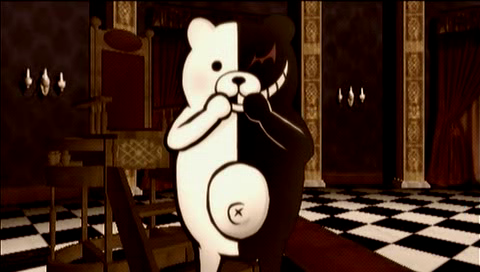 Nyohohoho!!

He won't even let us... mourn our friends' deaths...

So that's how it is...
It's like it's all a joke... or maybe a nightmare... But now that I checked up on my room...

I should go back to the others, who are waiting for me at the cafeteria.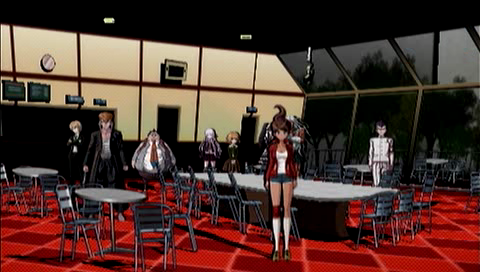 I'm sorry I'm late...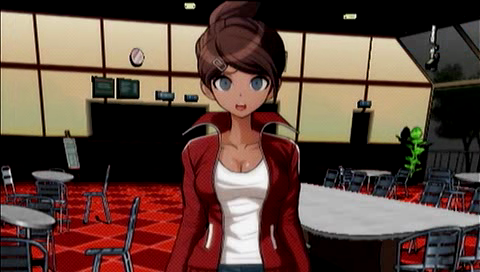 Oh, Naegi. Are you alright...?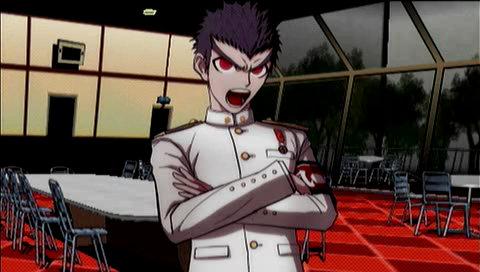 You said you're only going to check up on your room, but you sure took your time! I was just thinking of coming over to hurry you up!!

I... I'm sorry...

Well, how was it? Was the room properly cleaned?

It would sure be bothersome sleeping in a room with a dead body next to you!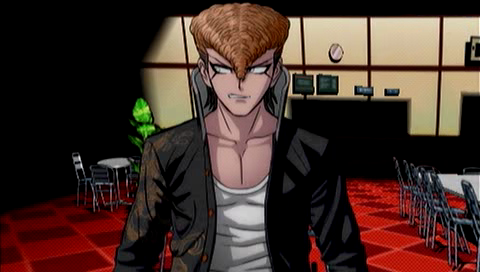 Oy, oy... You have no idea what tact is, do you.

My room is clean... as if nothing happened there...

It really seems like... nothing ever happened...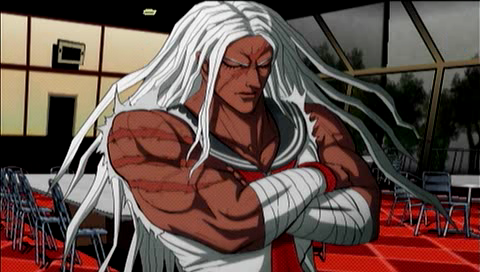 It must be difficult sleeping in a room where a murder took place. How about making use of Maizono's room for a while?

No, it's going to be much more difficult sleeping in a room that has her smell all over it...

And also...

I don't think I should avert my eyes from Maizono-san's death...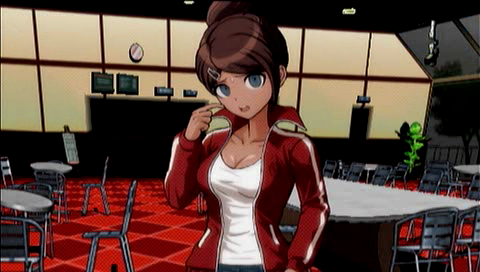 N...Naegi......

Hey, try to cheer up! I know it must feel utterly depressing right now...

...but if we all team up, I'm sure we can find a way out of this place.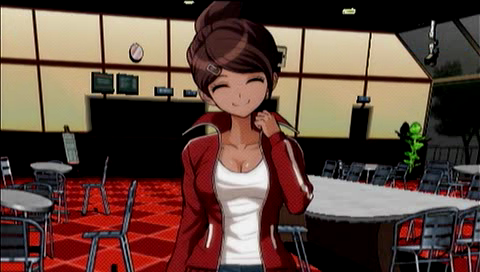 So... let's all work together and not let the dark thoughts take over us!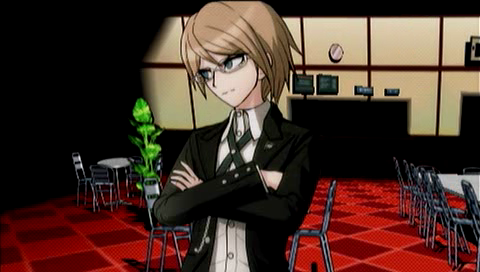 Don't say such hollow words of comfort.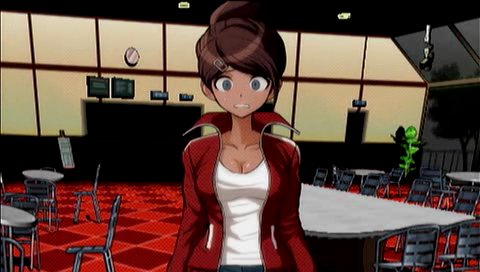 Eh...?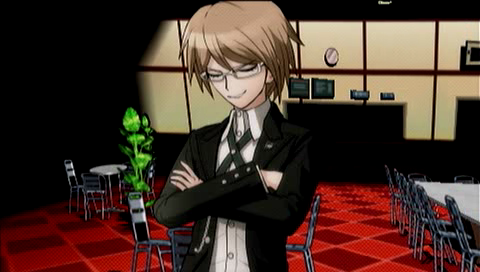 You all kept talking about working together before and yet someone got killed. Next time it will be even easier for someone to betray us.

Murder is not something far removed from reality for us anymore. Everyone here knows now it's always waiting in the shadows...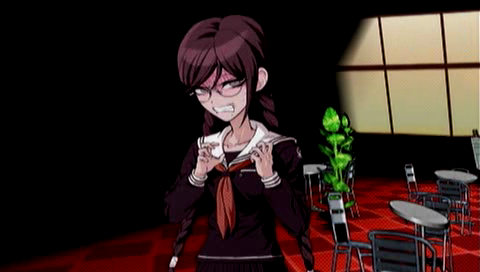 Sayaka Maizono... she lighted that spark, didn't she...

............

B...but... if we don't want more victims, we should band together and fight the mastermind behind this...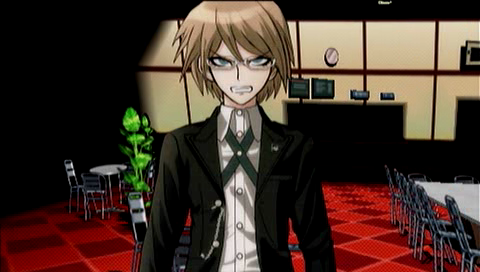 Didn't I just tell you? Stop saying such hollow words of comfort...

Band together... Fight... You're losing the big picture here.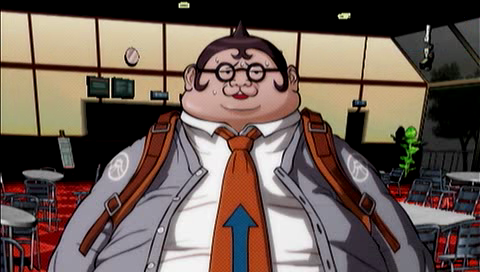 ...what do you mean?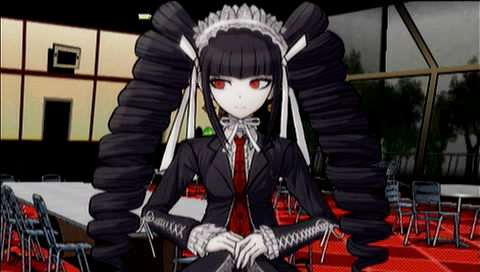 The mastermind behind all of this possesses even greater power than we imagined.

He managed to take over Hope's Peak academy, which must have been heavily guarded. He even managed to make modifications to the building...

He has the resources to develop something as complicated as Monobear, and he can even drop a large amount of food and living necessities on a daily basis...

And on top of it all, that execution...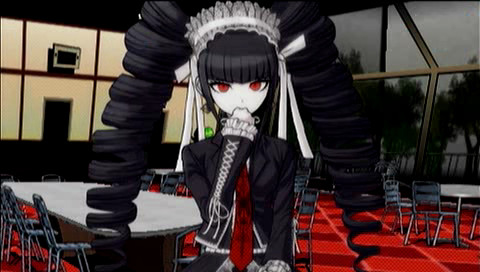 Everything... is much too elaborate...

It's impossible to think we're dealing with a common criminal. He's going to be a very dangerous enemy to resist.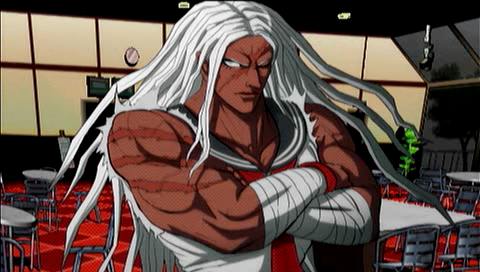 In that case, what is best for us to do?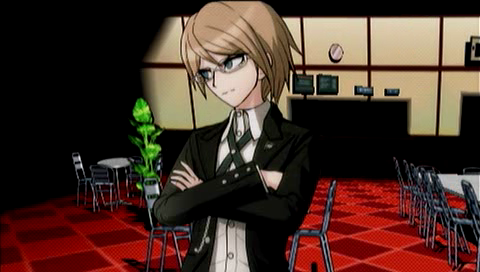 ...we should follow this place's rules. Anyone who really wants to get out...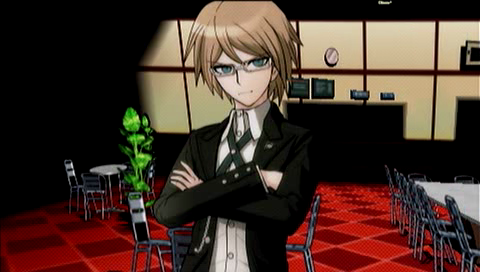 ...should deceive everyone and win... That's the only thing we can do.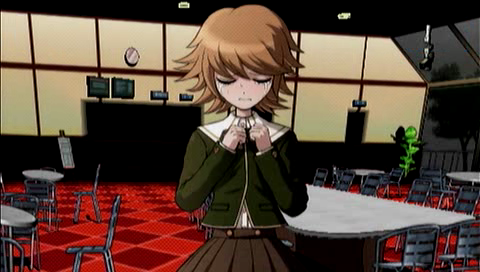 I don't want that....

What did you say...?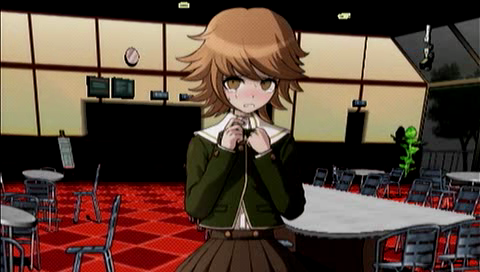 I don't want to live... waiting to kill or be killed...

Killing people... I'm already sick of it...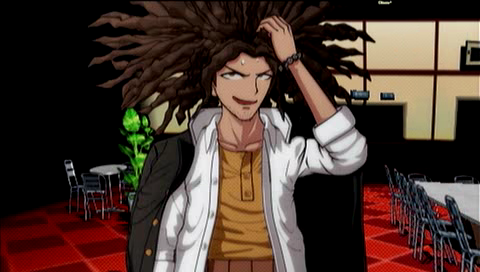 …"already"? What do you mean?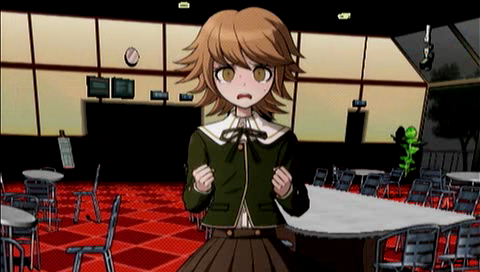 Didn't Kuwata-kun die because we all voted against him...?!

It's just the same... as if we all killed him...!

B...but...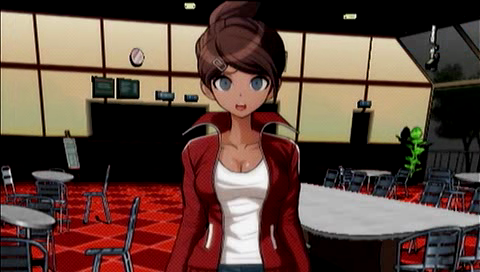 If we didn't vote the way we did, we would all have been executed, wouldn't we?

Would that have been better, Fujisaki-chan?

............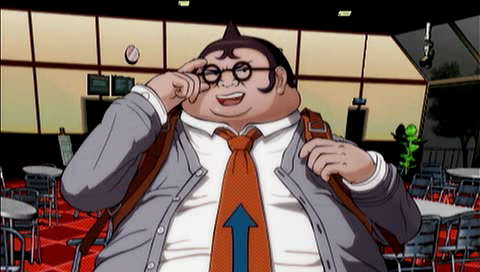 Listen to her. Beating yourself too much over it is just plain masochism!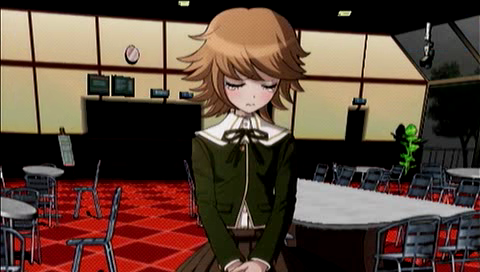 ............

Hey, Fujisaki-san...

You're not the one to blame. Neither are Kuwata-kun or Maizono-san...

It's all... his fault.

He's the one who forced us to vote. If we tried to resist, who knows what would have happened...

He may be using words like "trial" and "execution", but when all is said and done, it was the mastermind alone who killed Kuwata-kun!!

We shouldn't hate ourselves...

The only person we should hate is him!!
*ding-dong-ding-dong*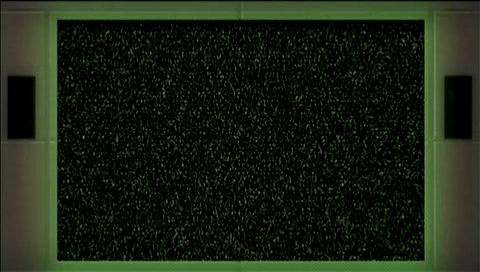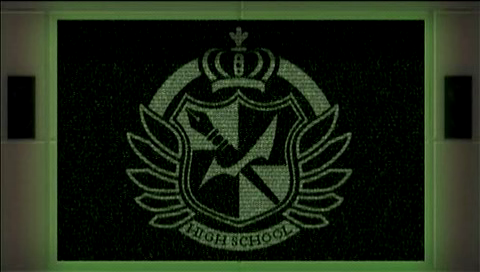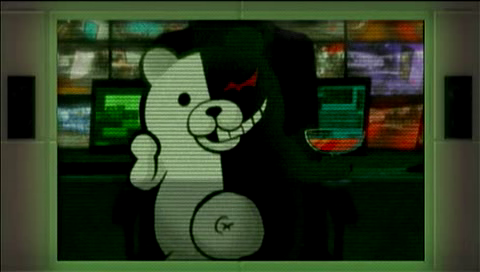 Eh... this is a school announcement. It is now 10pm.

"Night Time" begins now.

The cafeteria's doors will be locked shortly. You are forbidden to enter it.

Eh... furthermore...

When you were talking right now, the pathetic subject of trying to justify yourselves kept coming and going.

It came and came and went and came and came... I think that was about the ratio. At that rate you might even end up believing it!

Listen, and try to remember...

Judging others is a heavy responsibility! Remember that well!

Public order is only achieved through victims and responsibility!!

Well then. Pleasant dreams and goodnight...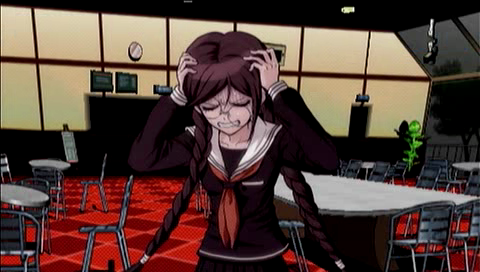 What the hell was that...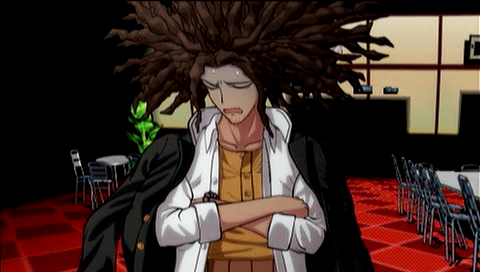 Everything... was our own responsibility? He's just being overdramatic as always, 'right?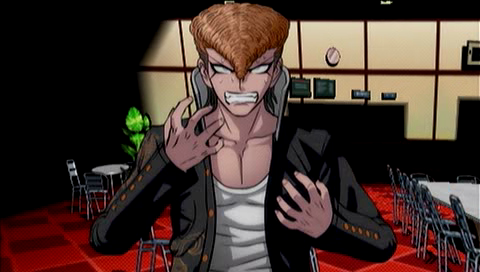 ...Shit!! The fucker keeps saying whatever he wants...!

............

And so, an eventful day came to an end...

Maizono-san, Enoshima-san, Kuwata-kun... An eventful day where three of our classmates became victims...
But... that was only the beginning...

Our despair... was only starting...!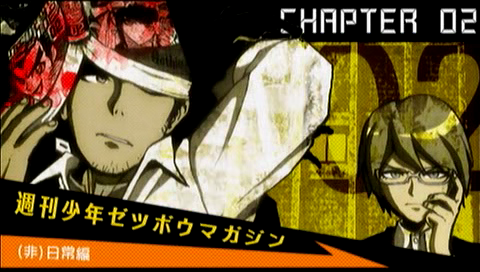 CHAPTER 02 - WEEKLY SHONEN DESPAIR MAGAZINE / (ab)normal days part

I don't think I even have to say this, but the title of this chapter is a take on Weekly Shonen Jump Magazine, a popular manga weekly magazine that is and was host to many series you've heard of even if you don't watch anime.

The next morning, Monobear called us to the gymnasium in his morning announcement.

What does he want now...?
Anxious and scared, we made our way to the gym...
...where something very unexpected waited for us...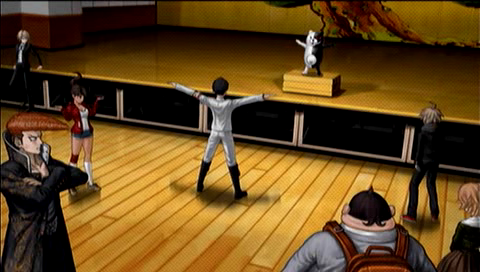 Right! Lift your arms up and down!

One Two Three Four...

ONE TWO THREE FOUR!

Put more into it! Lift your arms high!

Stretching your entire body is great to get that energy flowing!

............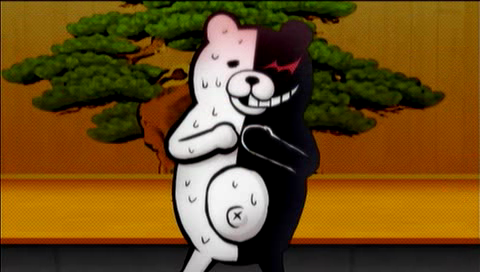 Fuuu... As expected, exercise is good for the soul! The body starts to rot when you stay indoors all day, after all!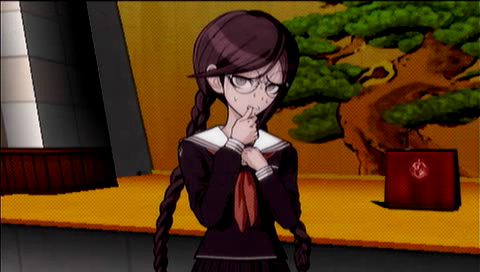 You're the one who... locked us in...

Let's not worry about the details... that's my motto in life...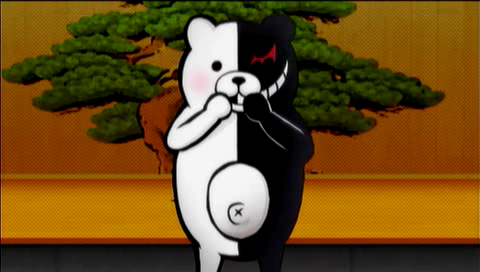 Ah! I just said something cool, didn't I?

Don't you just love me? Love me to death? Agonizingly love me to death?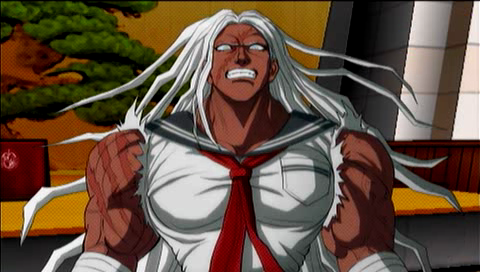 ...what is your business with us? You cannot have called us here just for radio exercises...

Radio Exercises are a traditional feature of NHK's radio and TV programming since the 1920s. It's a short, minutes-long, daily program instructing the listeners on light stretching exercises to start their day with, set to music. Many schools still use it in their daily schedules, but they're more likely to be elementary schools than high schools.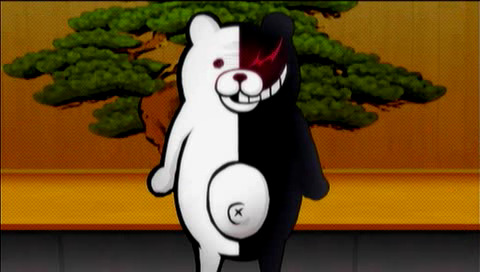 Just for radio exercises...? Did you say "just"?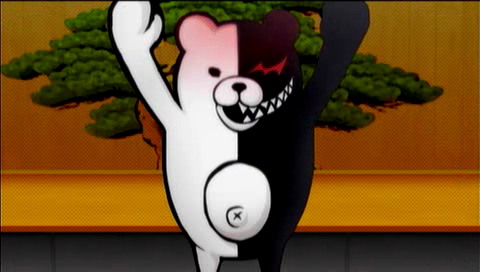 Don't make fun of radio exercises... you'll make radio exercises cry!

Also, there is a special assassination technique hidden deep inside my Monobear Radio Exercise!

It's a secret technique passed from generation to generation in a dark empire...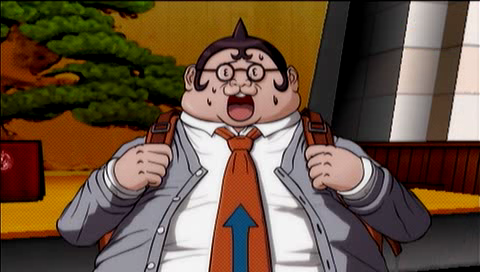 This is just like that embarrassing script about radio exercises I wrote in junior high!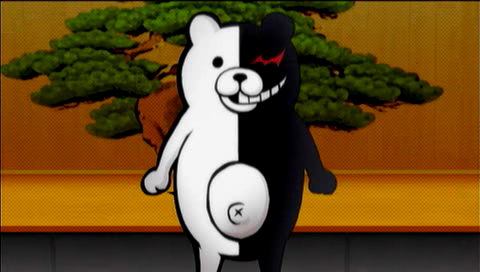 Seriously, let me answer your question... Did I really just call you here for radio exercise?

No way! I don't have that much free time on my hands!

So...

Eh... I have an announcement!

Every time you survive a trial here at Hope's Peak Academy, a brand new world will open up before you!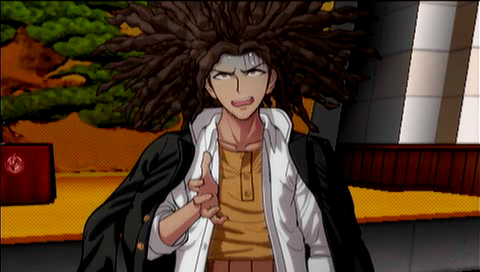 A brand new world...?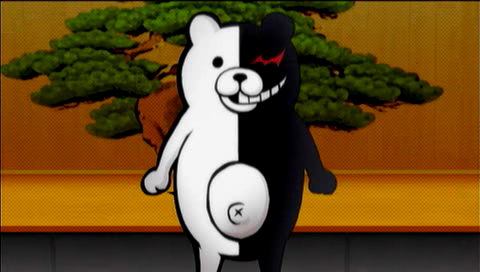 You bastards are going to live here your entire lives. It's going to be boring without some new stimulus now and then, isn't it?

If I don't give you something to get excited about, you bastards of the Disenchanted Generation will just sit here complaining all day!

The Disenchanted Generation is yet another term coined by Japanese media and refers to Japanese youth growing up during the Japanese financial bubble. Unlike youth of the '60s and '70s, who were active in social movements, today's youth is stereotyped by the media as apathetic slaves of consumerism.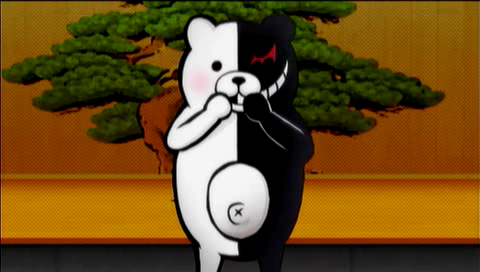 So feel free to explore. The world beyond the school trial is yours for the taking!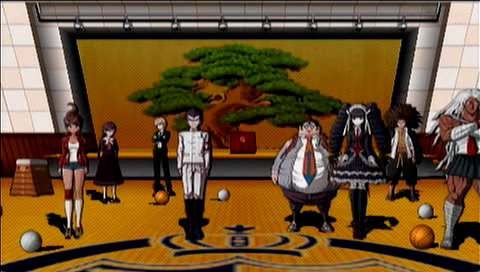 Leaving us with that unclear explanation, Monobear disappeared.
Nevertheless...

A brand new world...?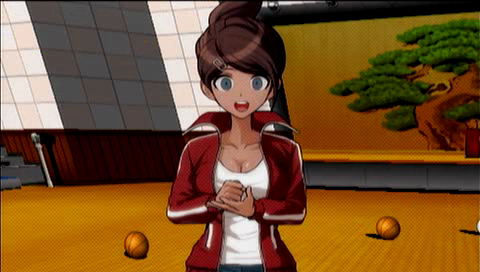 Maybe it's a way out!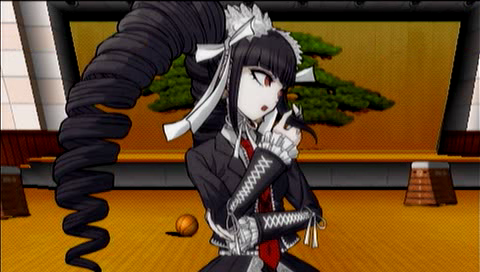 There's a very low chance that is the case.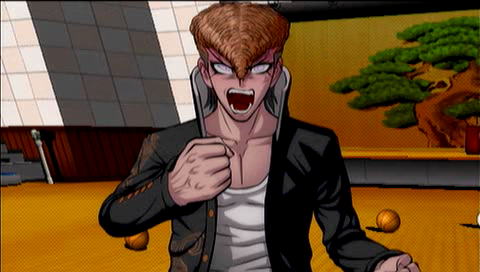 ...the fuck! If we don't explore we'll never now!!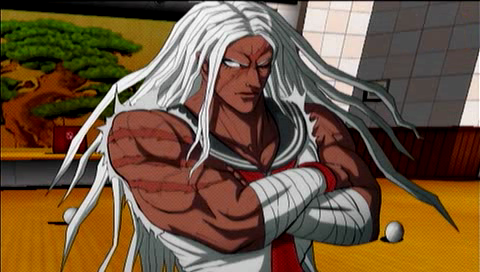 It appears we need to explore this school once more.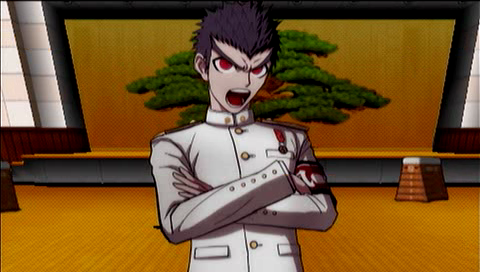 For the time being let's split up and investigate!!

Let's return to the cafeteria later and report our findings!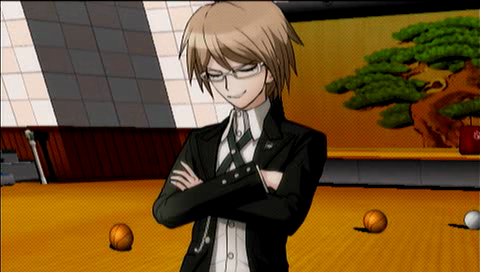 That's all you ever think of, you idiot.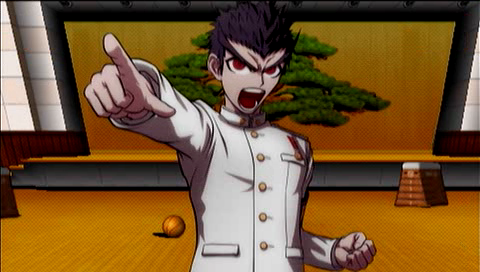 It's standard procedure! Let us get started!!
Taking those words as a sign, everyone left the gym, going their own way.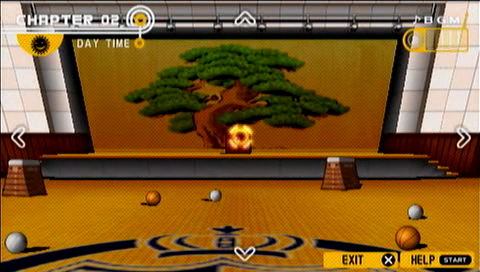 Everyone really is gone this time, and there isn't anything worth exploring in the gym. Let's go out and see what we can find.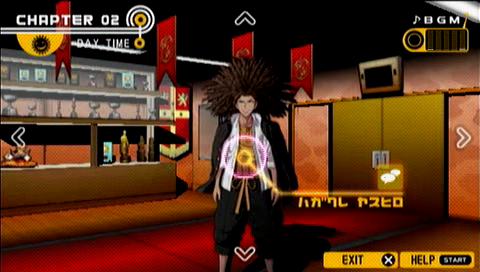 The first thing we can find is Hagakure, standing in the trophy room on the way out of the gym.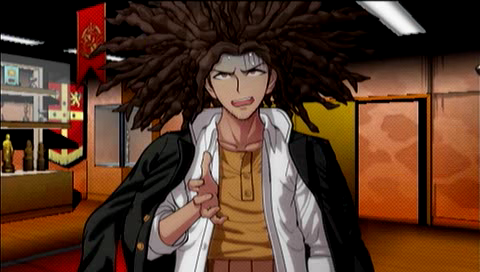 Oh, Naegi! Did you see what's in this show case!?

This is bad... Really bad, 'right?!

What is...? I don't see anything weird about it.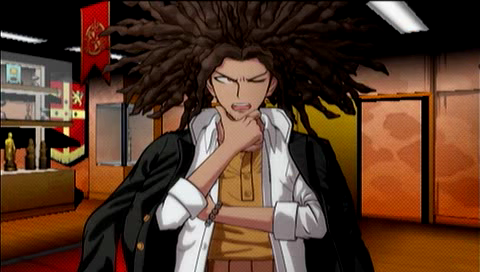 I see, it looks like nothing to an amateur. This is indeed a frightening trap...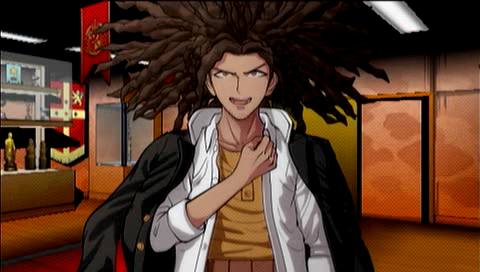 There is a message from the outside gods in the items lined up in there, 'right!

Um...? What is it?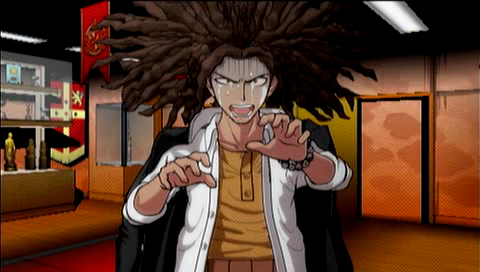 Aaaaaaaaa...! I can read it! It's an omen of ruin and destruction!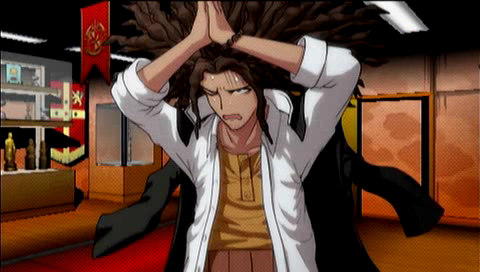 Let me out of here! Please, someone!

...I don't really get him. I should just leave him alone.

Yeah, we should leave him alone. Out into the school hallways, and the first thing in front of our eyes is something new!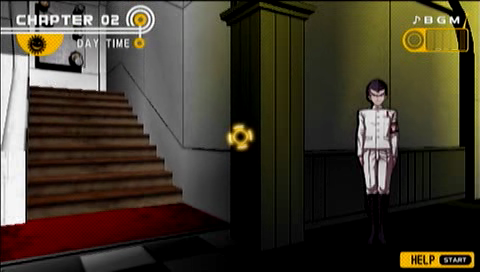 But first, Ishimaru looks like he's dying to tell us something, so let's talk to him.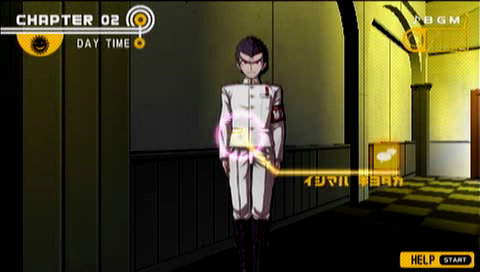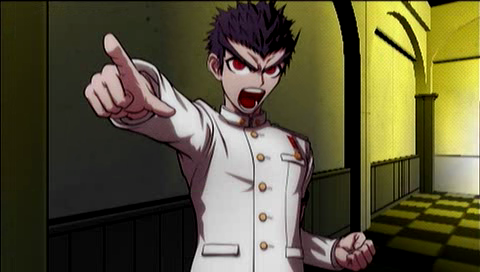 Naegi-kun! Take a look here!

The shutter gate in front of the stairs disappeared... It seems we can go up to the second floor!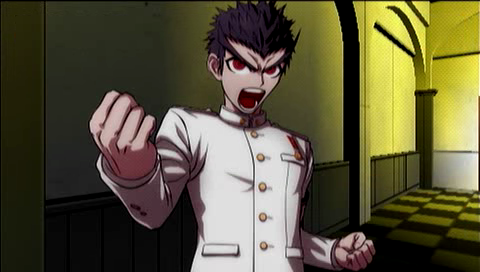 But it's exactly in times like this that we need to investigate places we already know!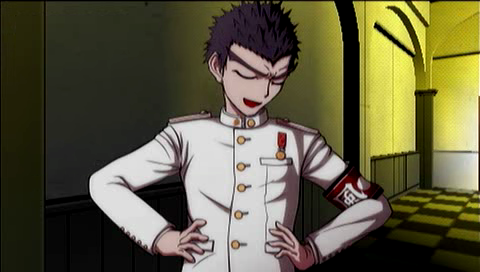 What do you think? Isn't that a wonderful insight?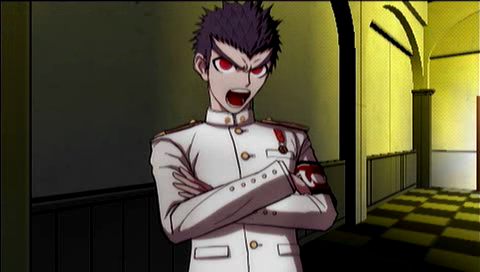 I'm leaving you in charge of the school area!

Whatever. I think you all know what's our next destination is.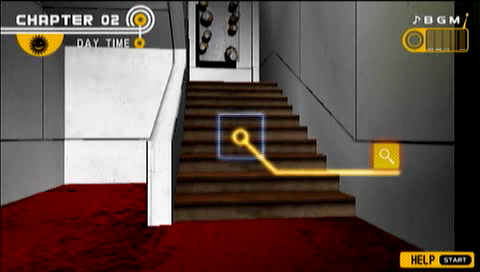 The shutter gate that closed off the staircase disappeared...

Is that the meaning of the brand new world Monobear talked about?

If that's so... what is up there?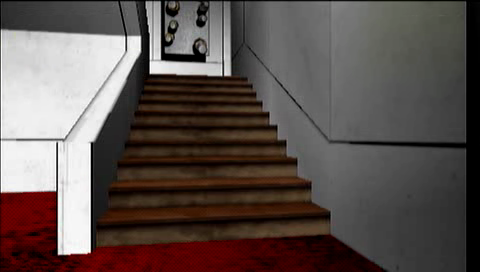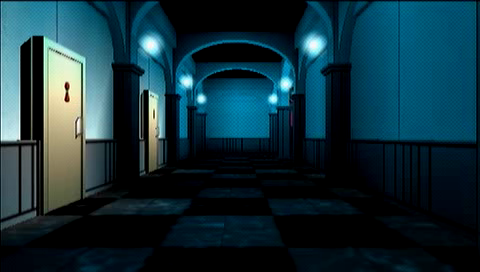 So this is... the second floor of the school area...
Maybe... we'll find something helpful up here...

...no, I'm sure we will!

I'll live you with the overlay map for this brand new world. We're going to be exploring it in detail next time!