Part 53: Super High-school Level Update #47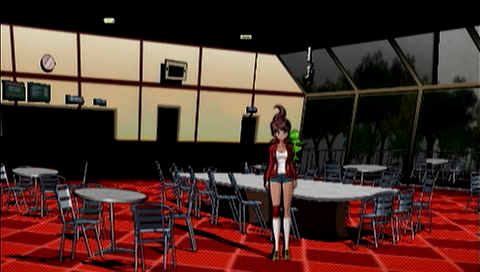 The first thing I saw when I returned to the cafeteria was...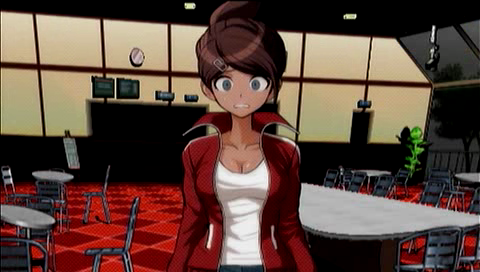 Ah...!

...Asahina-san!?
I tried to start speaking to her, but...

My voice was soon drowned by the voices of other new arrivals to the cafeteria.

...Asahina!!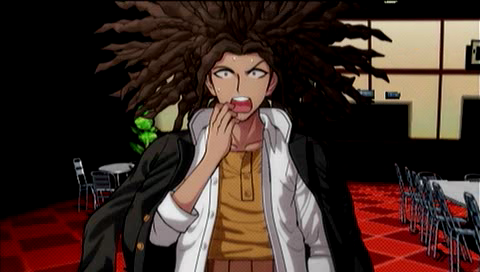 Huh? Weren't you feeling sick?
As everyone entered the cafeteria, they walked right past me and gathered around Asahina-san...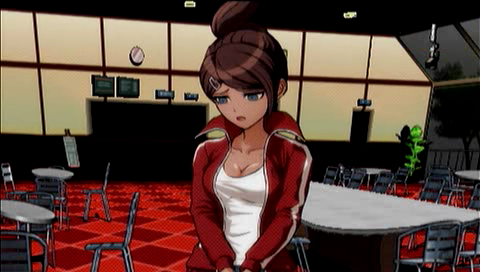 Asahina-san herself had an uncomfortable expression on her face as she became the center of attention.

...Are you feeling well now?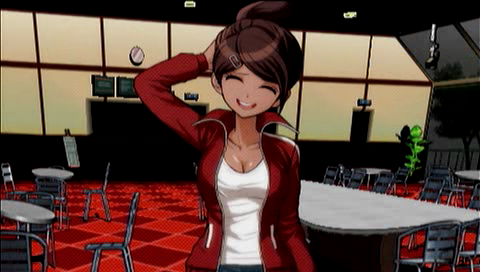 Y...yeah... as soon as I ate some donuts I started feeling better...

You really like them, don't you...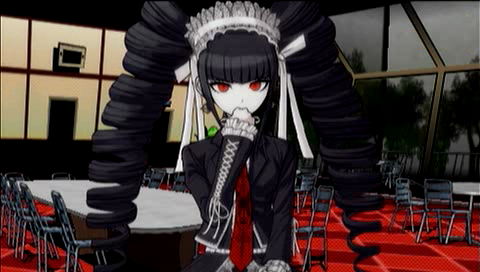 But, didn't you have a stomach ache?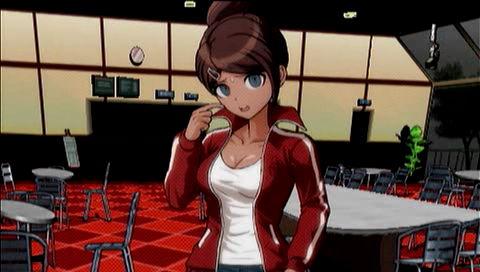 It's probably... because of that stomach ache that I got so hungry...

A...hahaha... it seems my memory is all jumbled...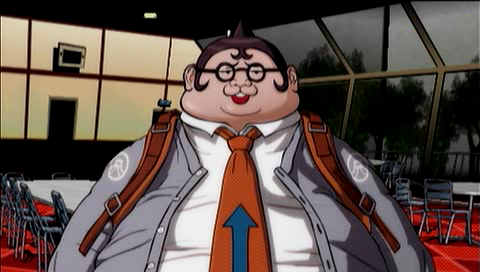 It is said that goldfish do not take into consideration the condition of their own stomach and will eat as much food as is put in front of them...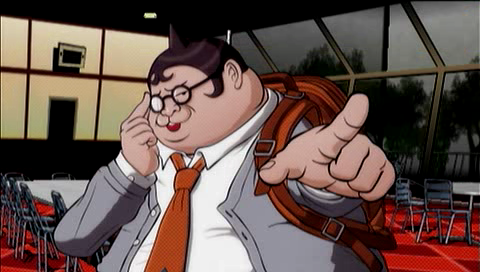 ...You act just the same, Asahina Aoi-dono, don't you.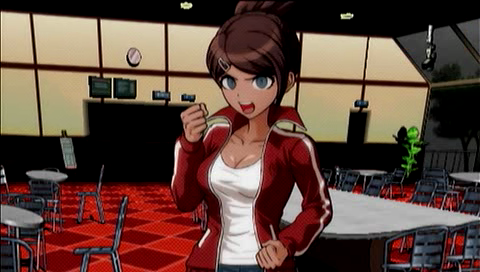 Hey! You're the last person I want to hear that from!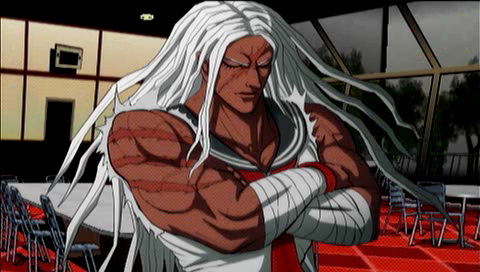 Be that as it may... I was worried.

I... I'm sorry......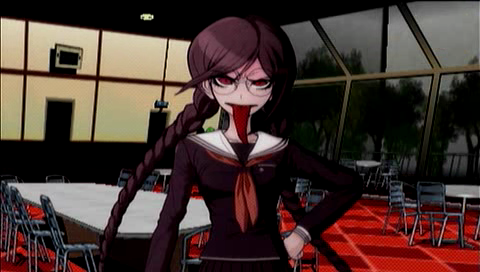 More importantly, hey, you!!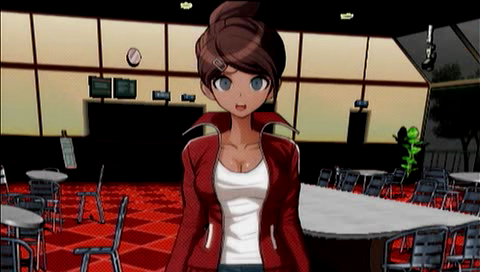 W...what is it...?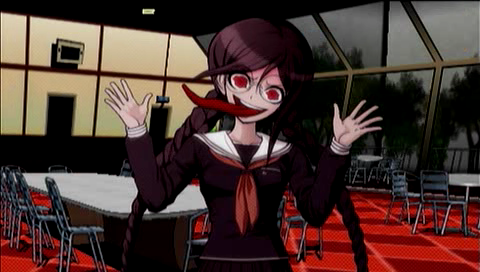 Aren't your boobs far too large? What are you trying to do - mass produce milk?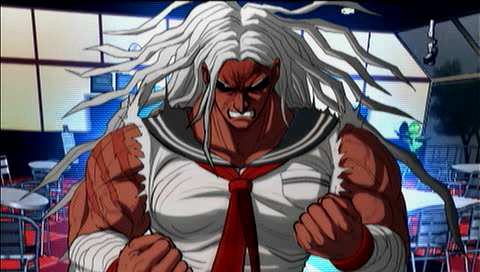 You cretin, step away from Asahina...!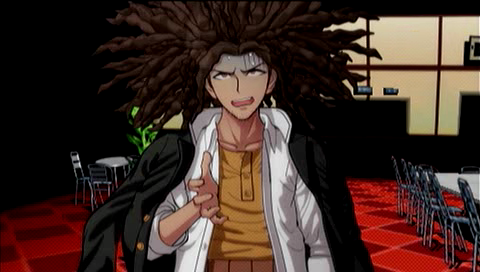 A...anyway... let's discuss what we found today. Isn't that right, Ishimaru-chi?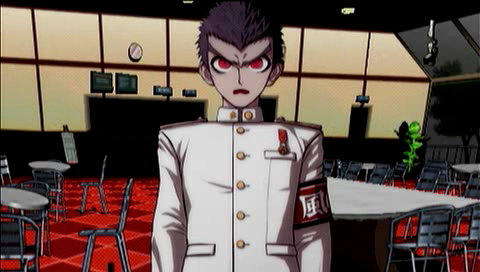 .........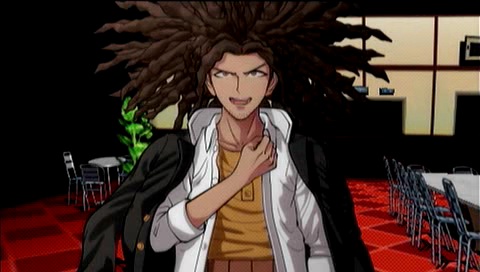 ...Right.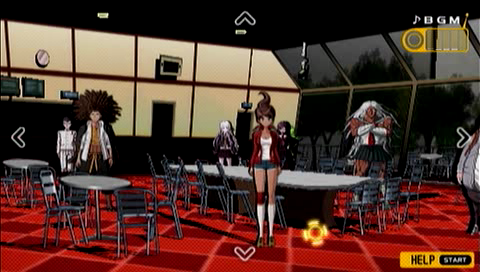 We're free to talk to the others in any order we want. Let's have the dessert first.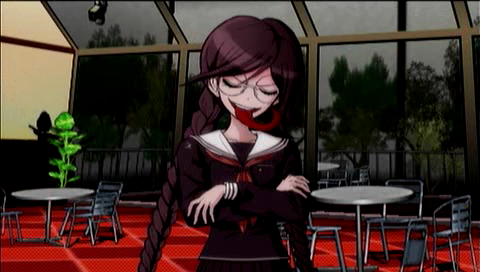 Even a thousand-mile journey on the Otome Road begins with a single step...

There are many obstacles on the way to becoming a veteran.

"Otome Road" (Maiden Road) is what certain people call one street in Ikebukuro, Tokyo, that somehow became the female version of Akihabara. That road is lined with shops dealing primarily with goods for your common fujoshi.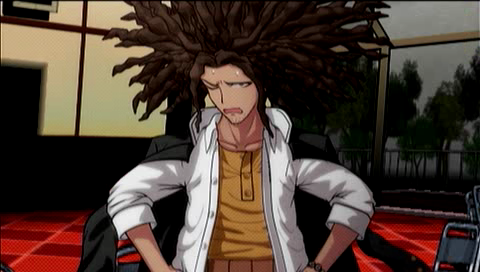 I have no idea what she's talking about...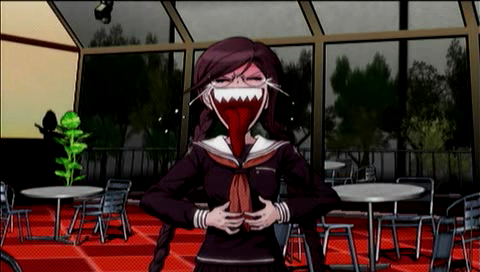 Gaahaaheehaahaahaa!!

And now, in no particular order, let's move on to Hagakure.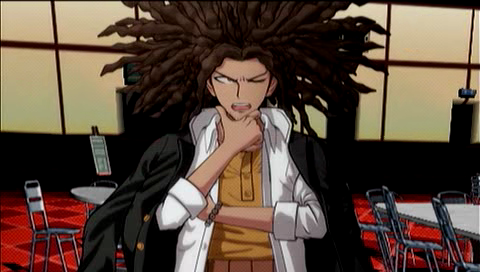 You know, I bumped into Togami-chi earlier.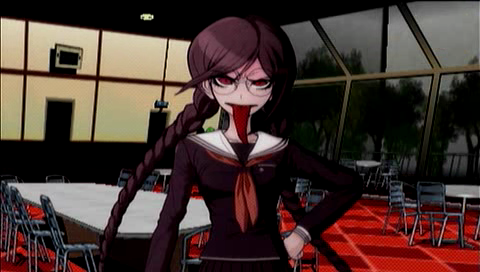 Spill it!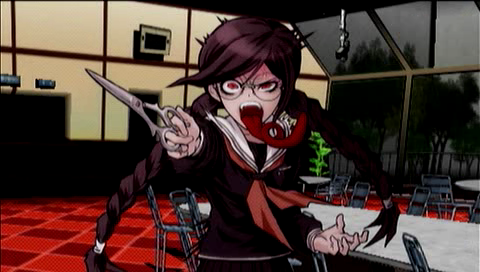 Where!? Where is he!?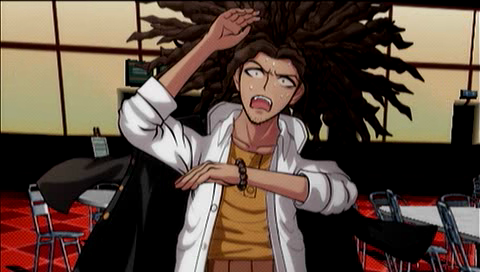 Wait... you're suddenly scary...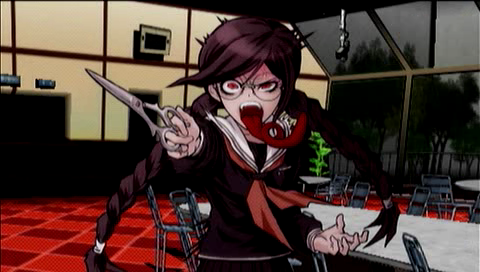 WHERE. IS. HE?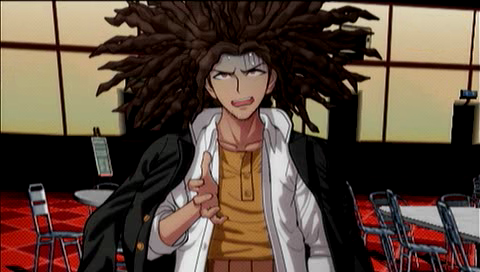 He was carrying a large number of books from the library, and went to the changing room next to the pool to read them...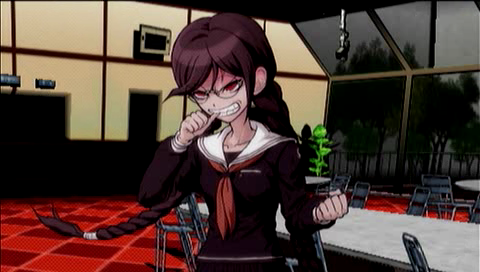 So that's where he's been hiding! I won't let him escape...!

Gaahaaheehaahaahaa!!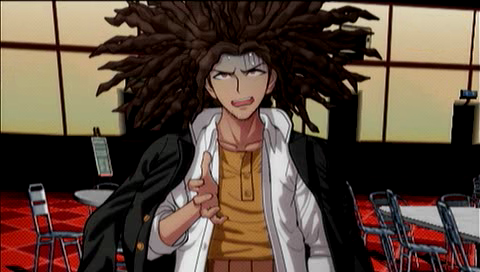 S...she sure ran out of the room quickly...!

Are they going to be okay?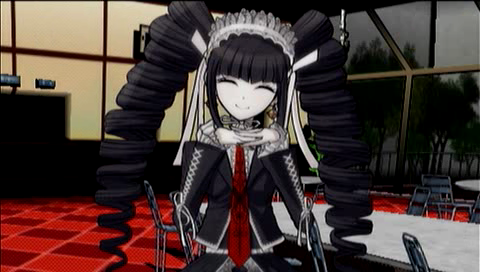 ...We should just leave them alone.

Next, I try Ishimaru. Maybe he's feeling better by now.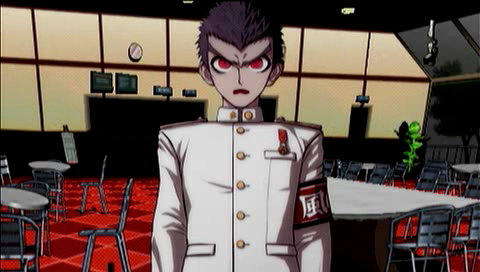 ............

...........
It's no use after all...

I guess not. Next - Kirigiri.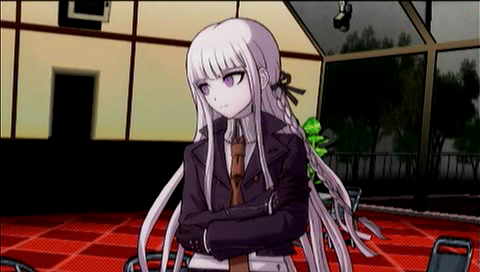 There is an extravagant physics laboratory on the third floor...

There's a large machine there like I've never seen before...

...It seems it's an air purifying machine.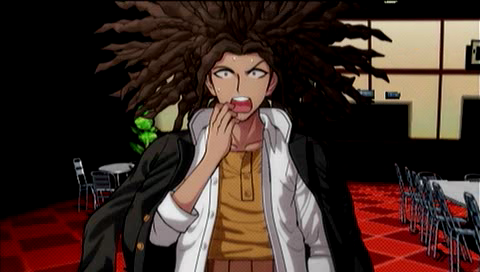 Huh? Why is such a thing necessary?

Do we really need such a large air purifier...?

It really... makes no sense...

............

Next - Celes.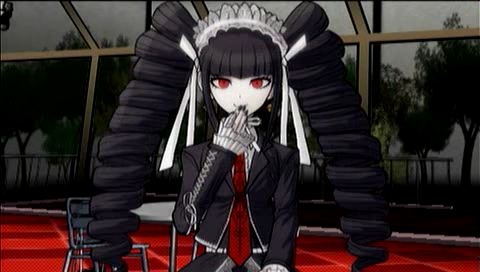 I have good news for everybody. There is a recreation room on the third floor.

I have no doubt it will make our school life much more enjoyable.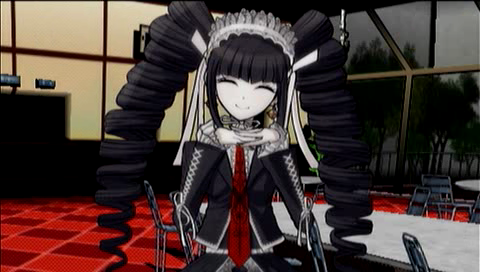 Heh heh heh... I hope someone joins me for a game of Othello soon.

Maybe Sakura knows something we don't?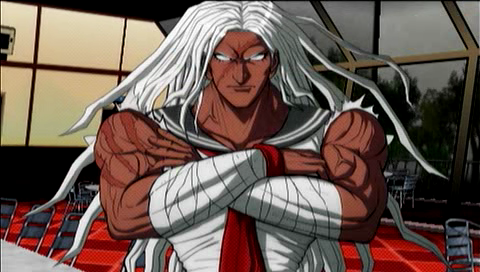 I walked around the third floor... As expected, every window is barred with iron plates.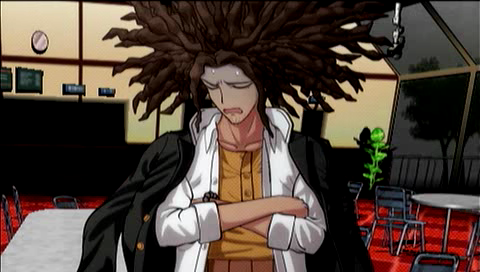 I really wish he'd give us a break, 'right? Give me back my blue skies and sun!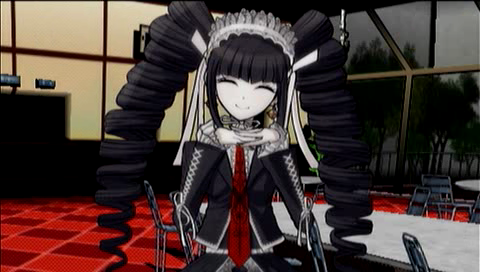 We should just forget about them.

Don't say that as lightly as if it's just some small change that we lost...!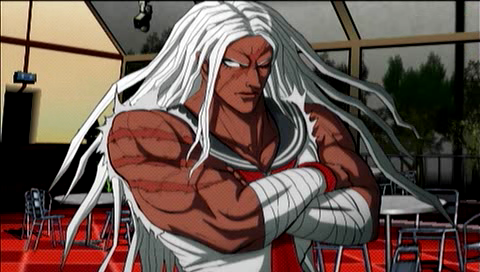 I checked every one of the iron plates just to make sure, but they were all as sturdy as the ones in the lower floors.

As expected, escape will be difficult from the third floor as well...

I see......

Yamada is next in line.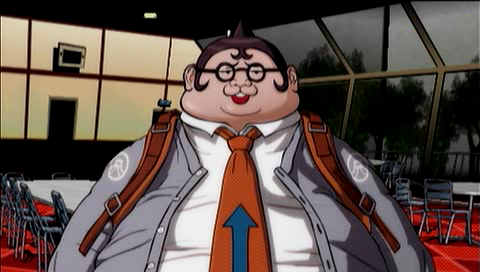 There is an art room on the third floor. There's a fine array of equipment there, too...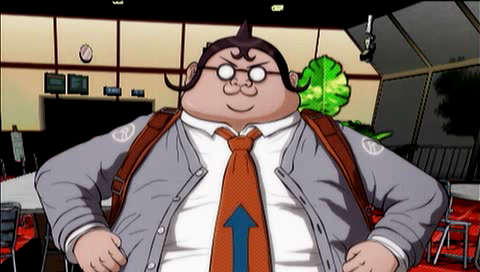 Nyahaha! With that, I can make as many
anime characters
as I want!
anime characters

That's right! Speaking of anime, I just remembered I found this thing when I explored the third floor!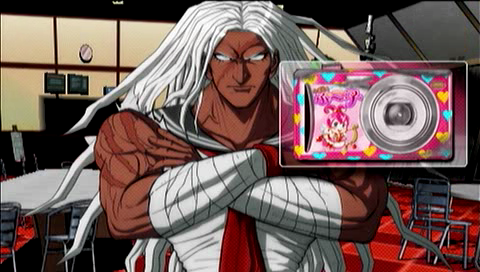 Hmm... Is that a digital camera?

...That's what it looks like.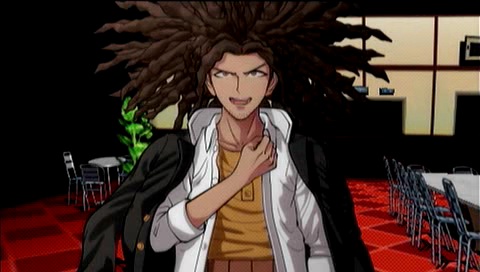 Is it working?

It seems fine to me.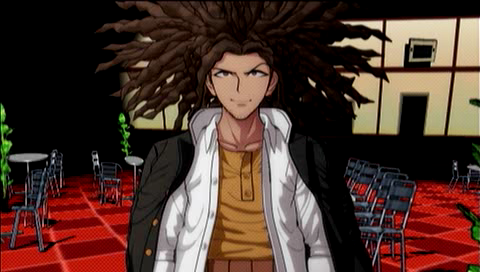 Well, then, let me have a look...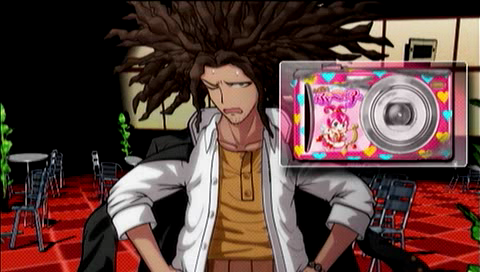 Hey, what's up with that? It's just a low-spec toy camera, 'right?!

It can't hold more than 5 photos in its memory, and there isn't even a self-timer.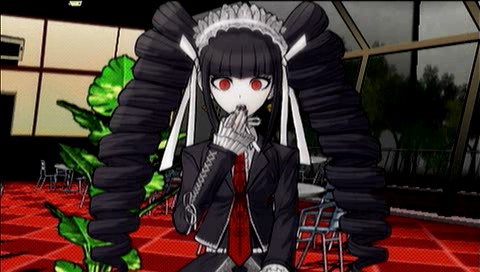 Nevertheless, this is a peculiar design. Who is that, this weird anime character...?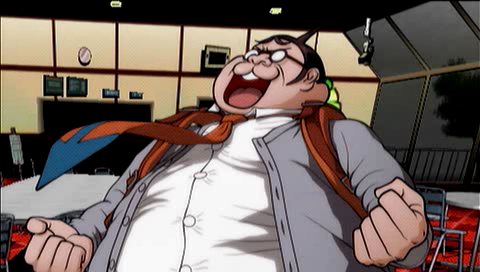 How rude! This is Princess Boo-ko from "Heretic Angels ☆ Mochi Mochi Princess"!!

...Oh, you know it, Yamada-kun?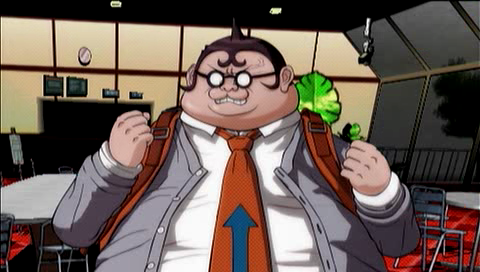 How can you even ask me that...

This camera is a super-rare item... It was the first place prize in a bingo contest they had at the event where they announced the animated version...

I paid a very high price to the winner of that contest to get my hands on this treasure...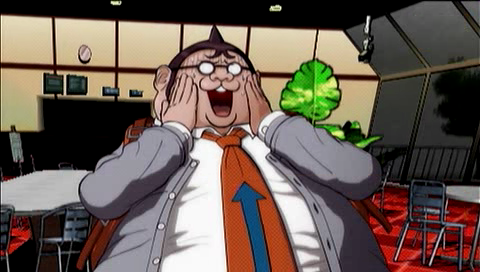 ...Hey, wait a minute, that's my camera!!

Eh!?

W...where did you find it!?

It was just laying on a table... in the physics lab...

It's such a rare treasure, so I brought it to this school with me... but on the first day it disappeared along with my cell phone and everything else...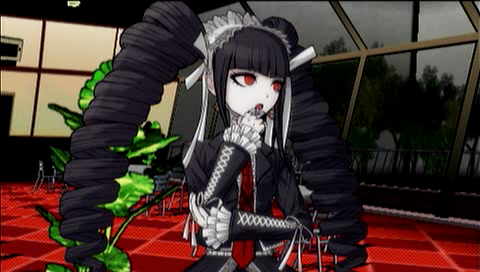 ...Why was such a thing in the physics lab?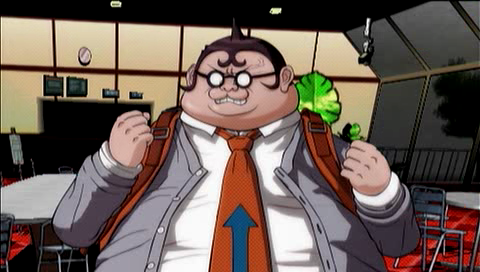 But now that I look at it, this digital camera...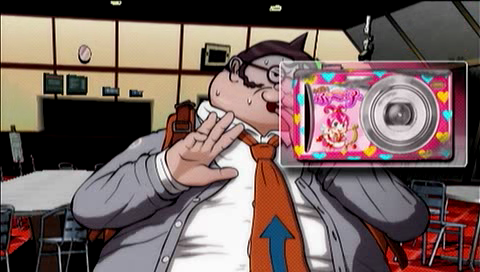 It somehow got really dirty and scratched...

Someone even put the collectors sticker on it... It's like buying a shirt someone else already wore...

I don't need it anymore...

Eh? You don't...?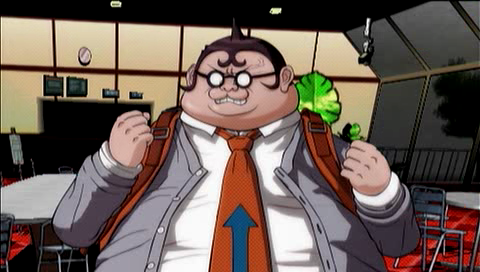 If it's not in mint condition, it's no use to me...

Didn't you just talk about how it's a precious treasure...?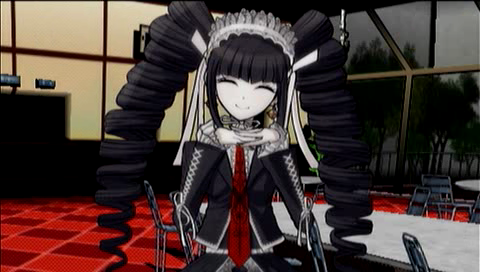 In that case, do you mind if I take it? I may find a use for it sometime.

If anyone else wants to use it, just let me know.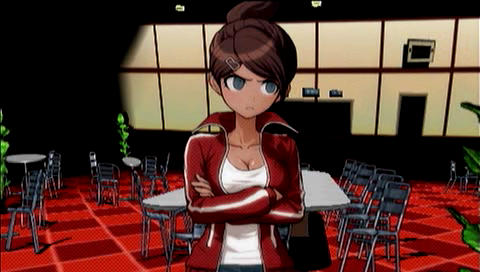 Well, I don't really think there's any reason to use a camera in this place...

That's certainly true...

The only person we didn't talk to yet is Asahina.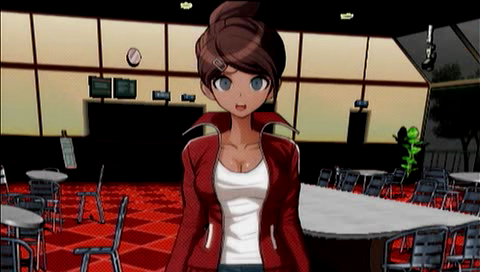 Um, I didn't participate in searching the third floor, but I did make a little discovery.

It's not some discovery concerning donuts again, is it?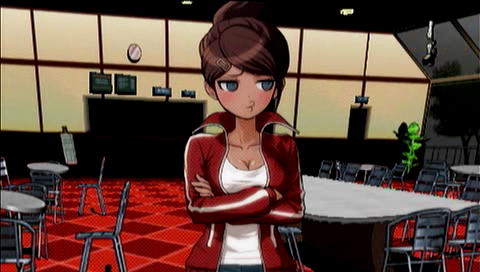 What is there left to discover about donuts...?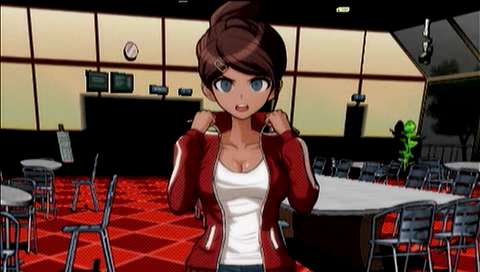 ...Um, that's not it! It's the infirmary! There's one on the first floor, right!?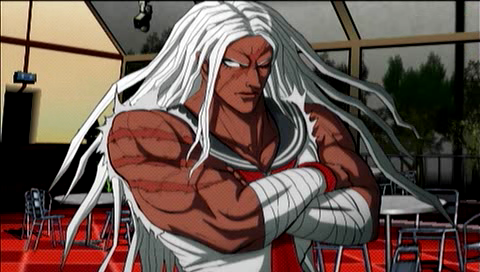 The door is locked, though...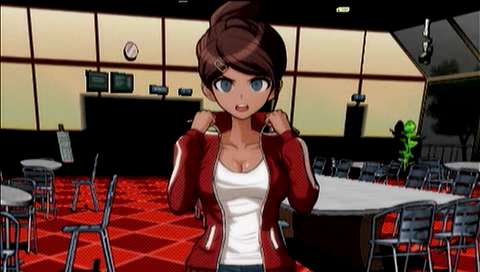 That's just it. It's now open.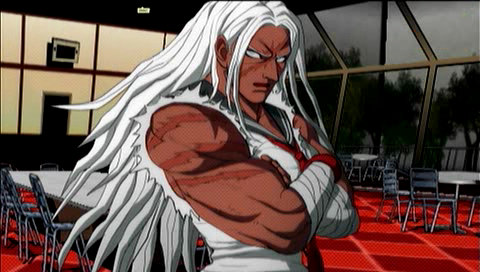 Are there protein supplements in there?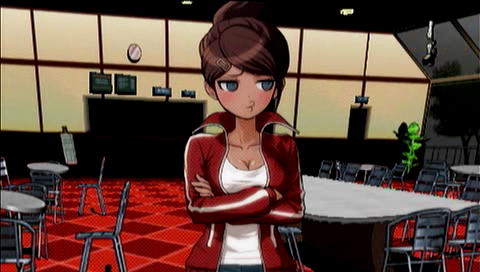 I looked for that too, but there aren't any... It's just things like headache medicine and commercial medical products...

I see... That is unfortunate...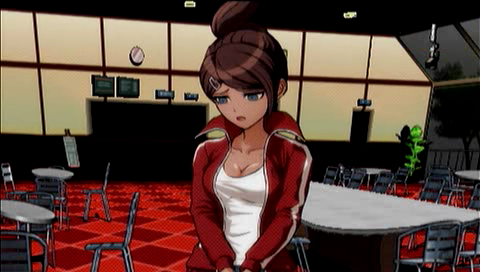 It's... as unfortunate as the world ending...
I... don't think it's as unfortunate as that...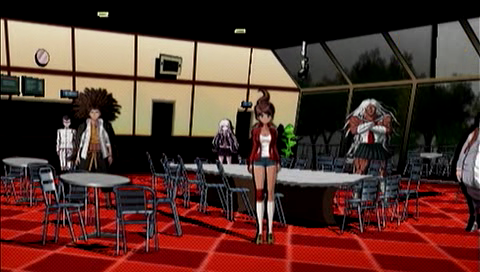 ...With that, We've heard from everybody.

So, it's finally my turn...!

...Hey, listen. I found something a little worrying...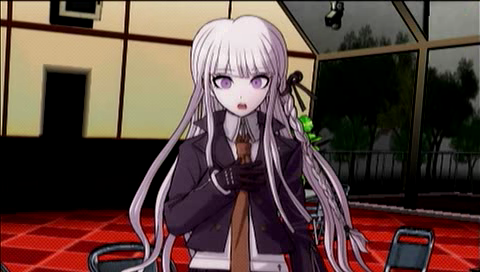 Something worrying...?

There was a strange photo in the art room annex on the third floor. Monobear took it away from me, though...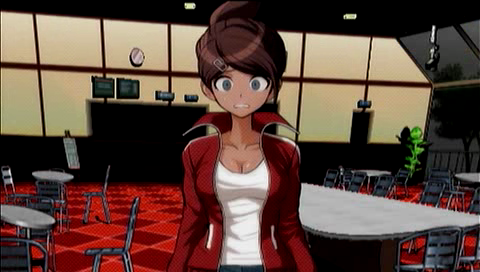 A strange photo... it wasn't anything erotic, right!?

No, it wasn't that kind of strange... That photo...

It had Kuwata-kun and Oowada-kun and Fujisaki-kun in it together.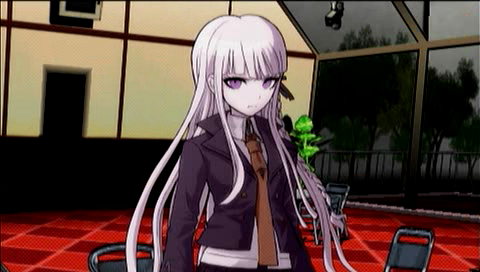 Those three...?

It's not just that. They were... smiling...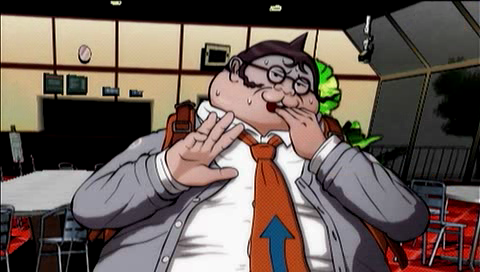 Those three, smiling together in a photo... When was such a photo could be taken...?

And that's not all.

The classroom in the photo... the windows there weren't barred...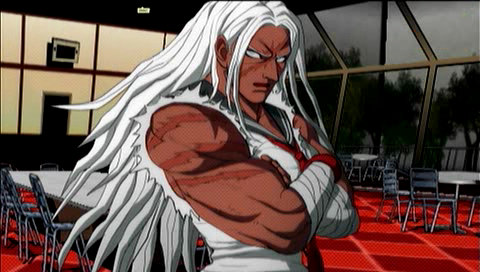 So, that photo was not taken in this school...?

I don't think anyone mentioned those three knowing each other before coming to this school, though...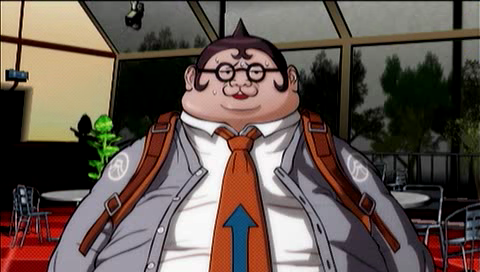 It must have been an illusion. Maybe you've been cursed by Monobear...

No, I really saw it!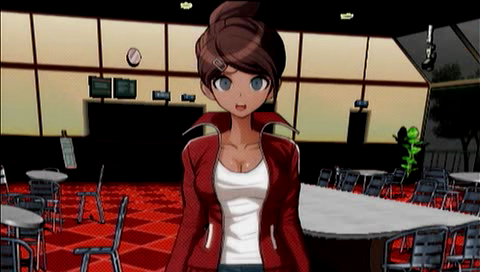 So, if this photo wasn't taken after they came here, and it wasn't take before...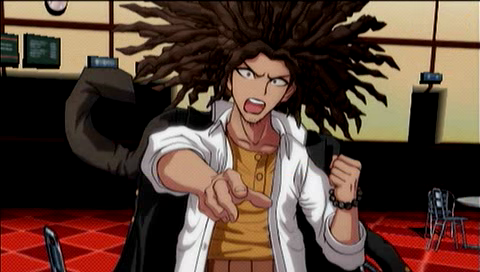 Those three are really alive, and the photo was taken after they left the school, 'right!?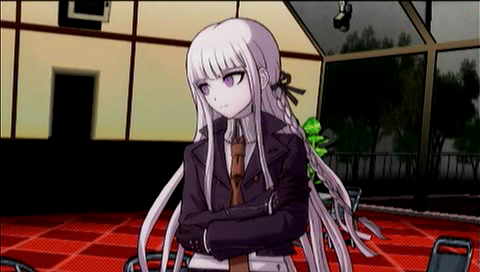 That's not possible. I mean...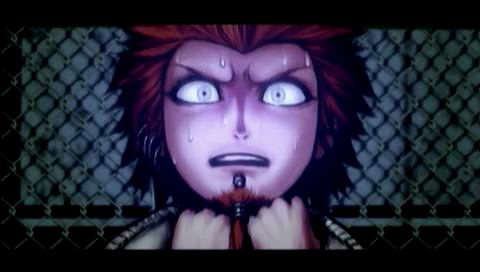 We... saw it all happen with our very own eyes.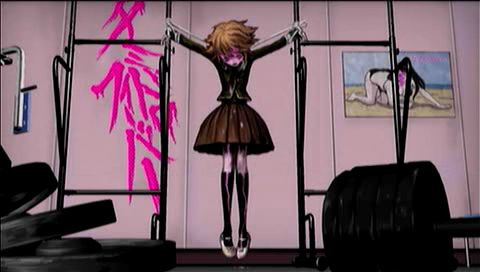 We saw how they were all killed...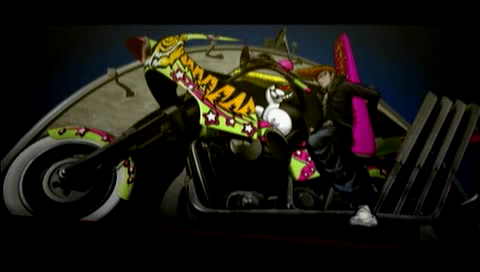 We witnessed every execution...
No, it wasn't just those three...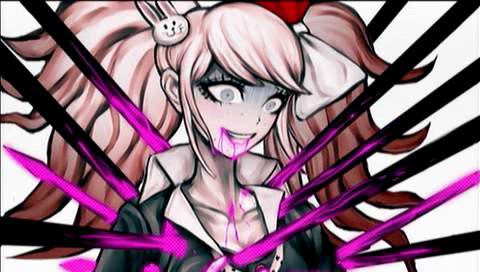 There was also Enoshima-san, who Monobear killed, and then...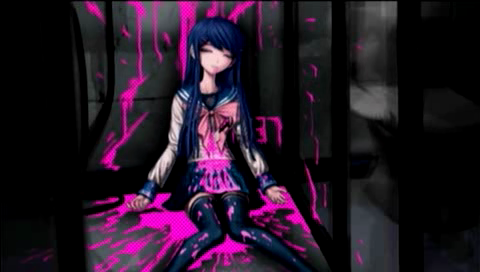 Maizono-san...

Those things we saw... they were most definitely not illusions...
They were undoubtedly real.

They're all dead. It's... impossible for them to be alive.

In that case, the question about when that photo was taken remains...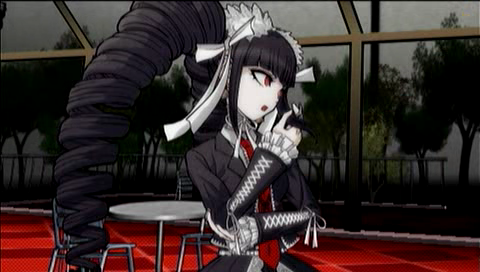 Monobear probably faked it. I can't think of any other possibility...
A fake photo...... That must be it...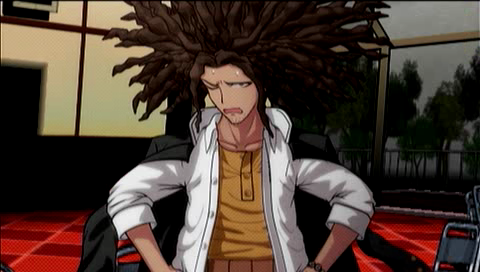 ...Just forget it! We can't let Monobear's pranks get to us!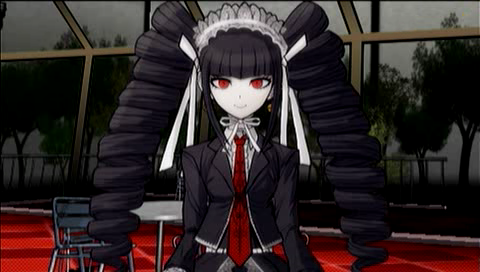 That's exactly what we should do. And also...

I have
something else
that worries me. Something else we must check on.
something else

What worries you, Celes-san...?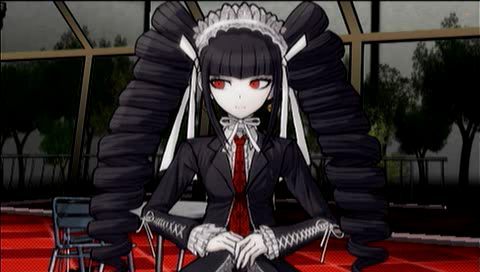 It's about Asahina-san...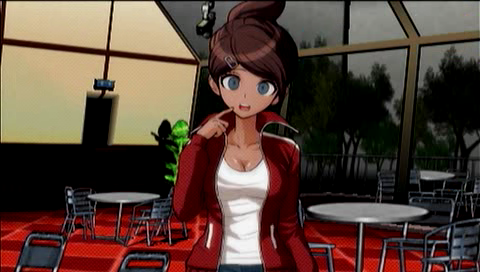 Eh? Me!?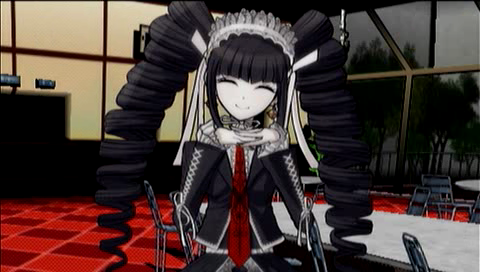 You lied... about having a stomach ache, didn't you? I wonder what really happened to you...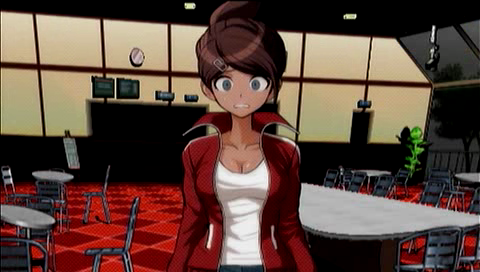 Huh...?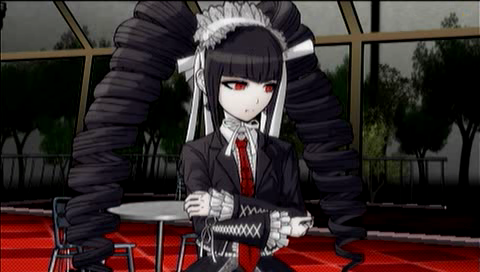 Every person has a unique tell they do subconsciously that can reveal when they are lying.

That's why, one can never really hide things they want to stay hidden...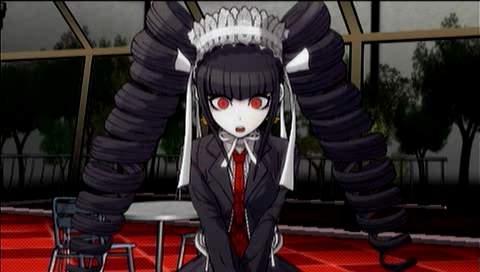 The tip of your nose becomes red whenever you tell a lie, Asahina-san.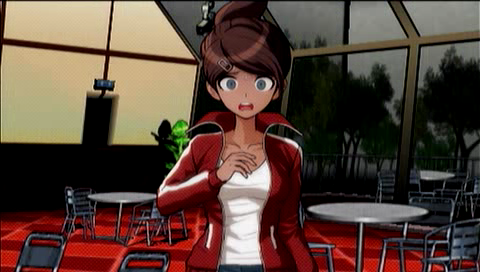 Eh! Really!?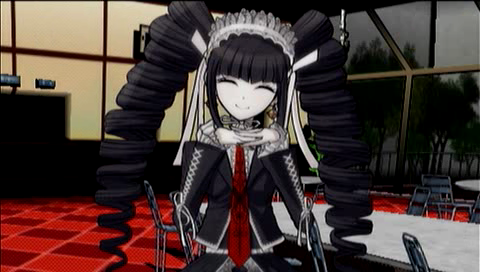 That was a lie.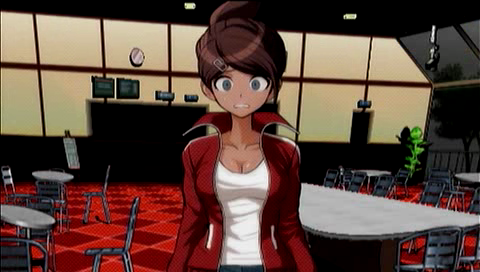 Huh...?

Nevertheless, you just confirmed my suspicions. That is, as expected...

T...that's too cunning!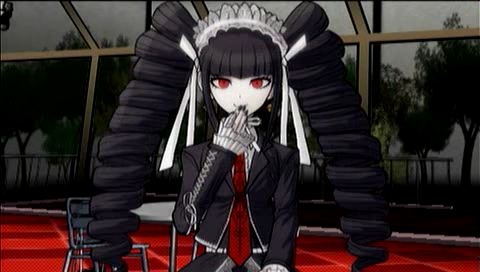 Heh heh... If you're going to tell a lie, I wish you'd be more thorough about it.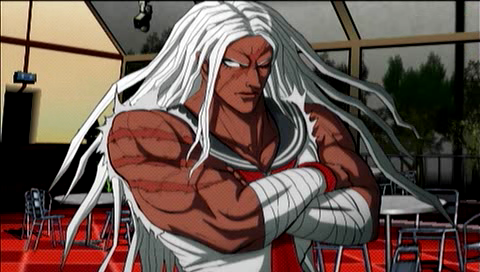 ...Asahina, please tell us the truth. Was your stomach ache a lie?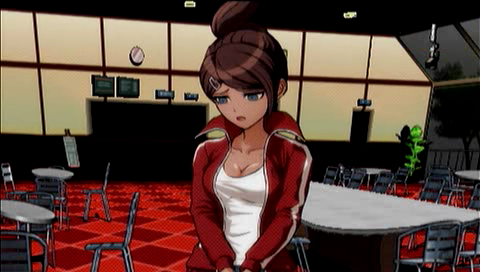 ............

Y...yeah...

Why... did you lie...?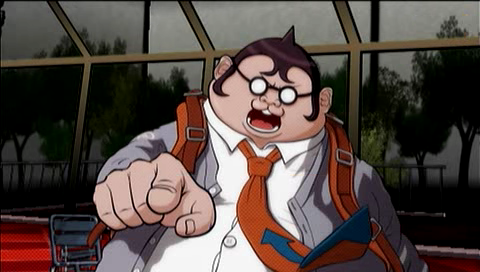 What is it? Are you feeling guilty about something!?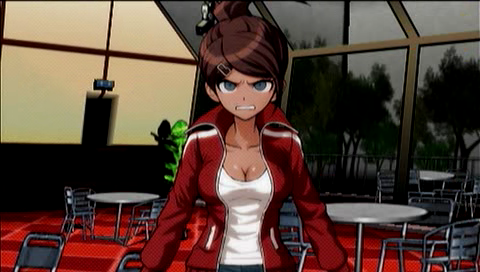 It's nothing like that!!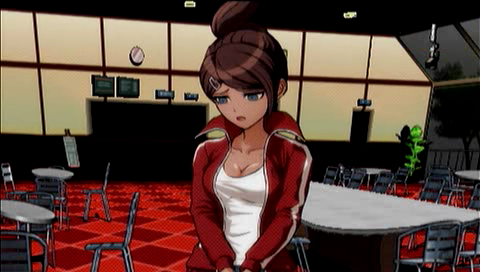 I... I have my reasons...
Reasons?


I didn't really... have a stomach ache...

It's just that... if I told you
the truth
, no one would believe me...
the truth

The truth...?

...I saw something.

Saw something...?

...A ghost.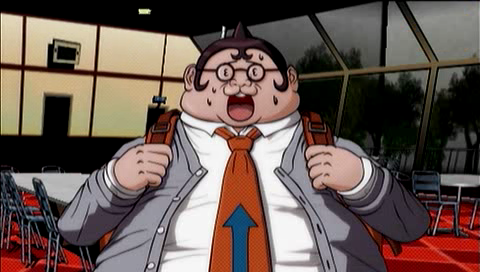 A ghost... You mean like a real ghost!?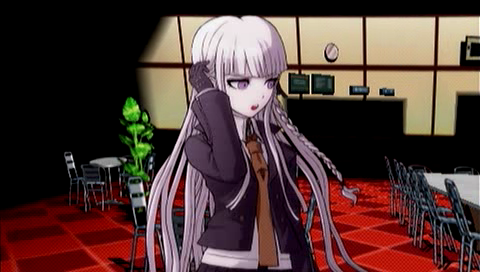 Is there any other kind?

B...but... there isn't any such thing as...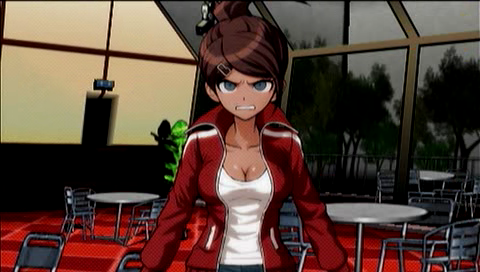 See, I knew you won't believe me!

T...that's not what I mean...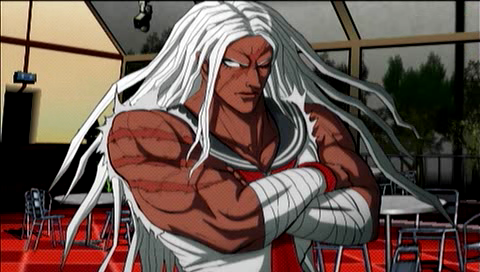 ...I believe you.

I do not care what the others think. I will always believe what you say.

So please... tell us what happened?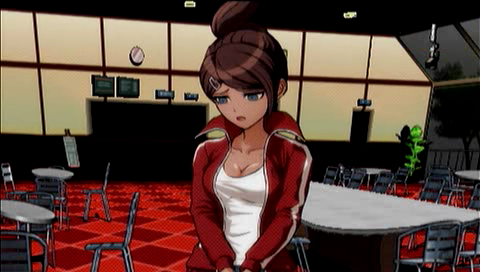 If you say so, Sakura-chan...

...I got it. I'll talk.

You see... it happened last night...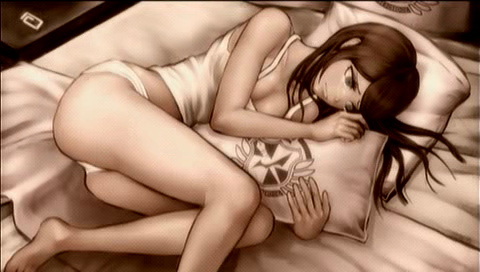 Somehow... I couldn't fall asleep...

I had a lot on my mind... and I suddenly became scared.

So I thought I'd go look for some donuts to ease my mind...

Again with the donuts!?

So you broke our Night Time rule...

I'm sorry... I'll try not to do that again...

...Please continue.

So, you see, I thought I'd go hunting for donuts in the storage room, but just when I left my room...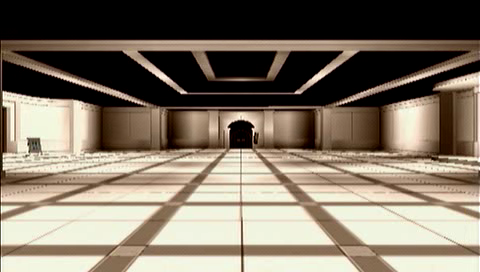 I heard a strange voice...
* BZZZZZZZZZT *
* BZZZZZT BZZZZZZZZZZT *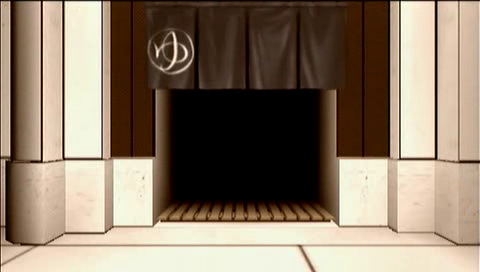 That voice... came from the direction of the public bath, so...

I went in to check...

And when I opened the door of a locker that was half-opened...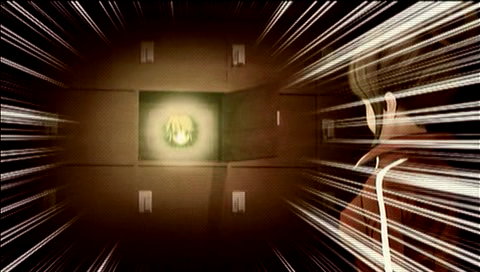 A human face surrounded in blue light suddenly appeared...

And that figure was, without a doubt...

It was Fujisaki-chan!!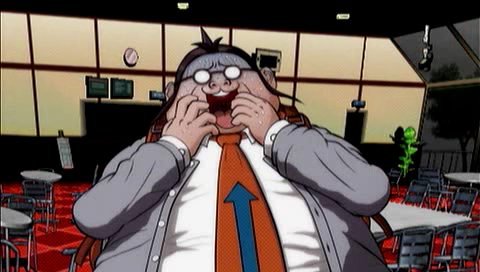 KYAAAAAAAAAAAAA!!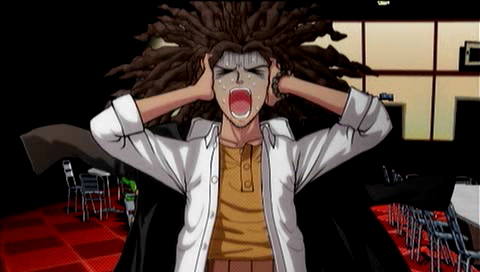 T...t...that's not possible...! A...a...a...a ghost!!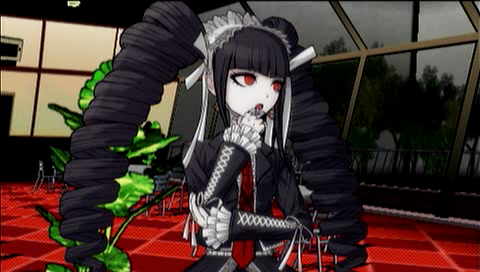 ...A ghost. That can't be real. You must have mistaken something else for one.

In most such cases it's simply your mind's condition playing tricks on you...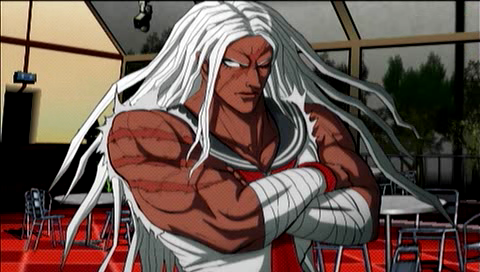 ...We should go and check.

The thing Asahina saw. Let us go to the public bath, and see it with our own eyes.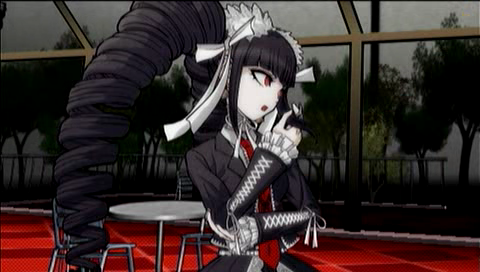 It's a waste of time.

B...but... we can at least try...?

If there's nothing there, that's the end of the story...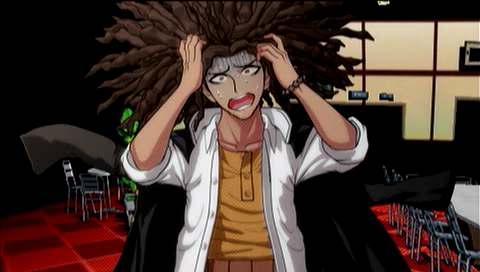 W...we're going to... look for a ghost...? Are you sure it's okay? We're going to get cursed!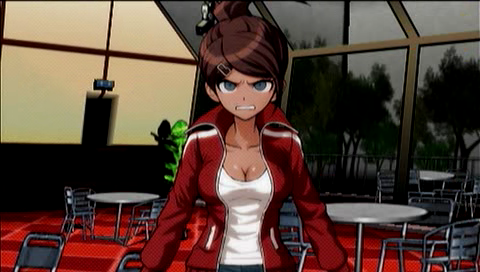 Why don't you just wait here, alone, then.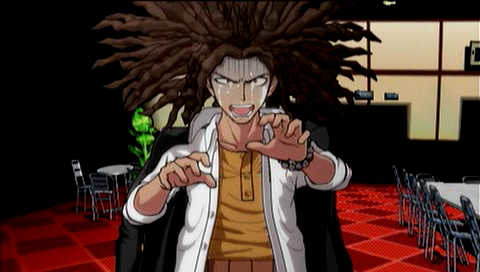 Alone is even worse! Take me with you!!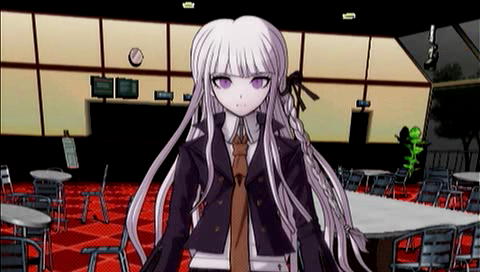 So, what do you say, Celes-san?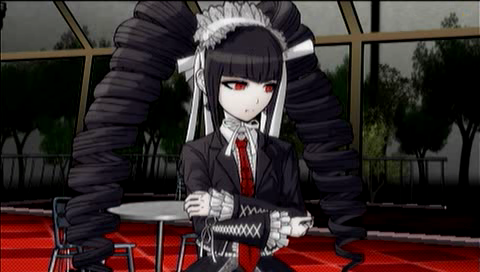 ...I guess I have no choice.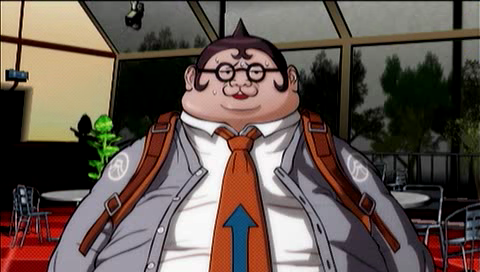 What are you going to do, Ishimaru Kiyotaka-dono? Are you going to wait here?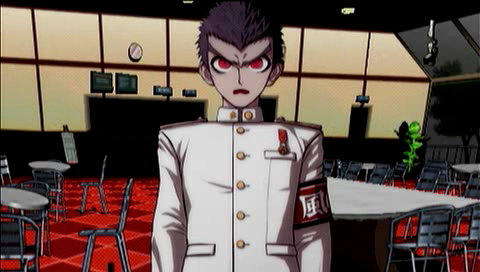 ............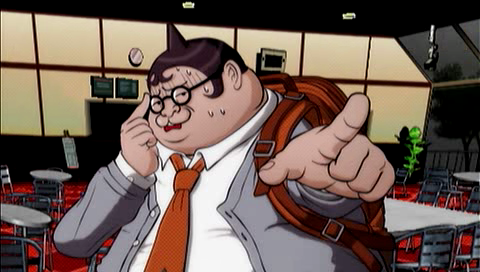 ...I think he's saying he will.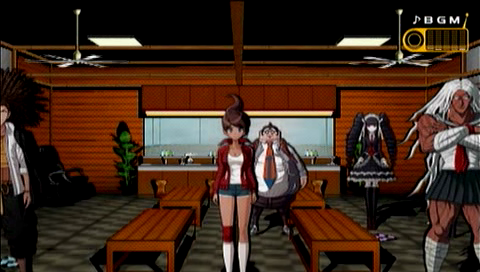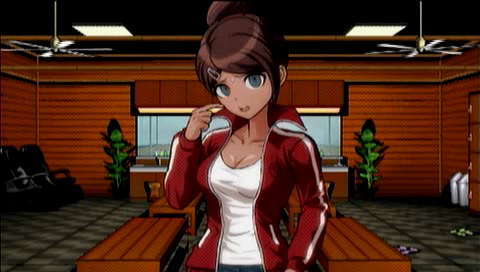 I...It was right here... I saw it in this locker room...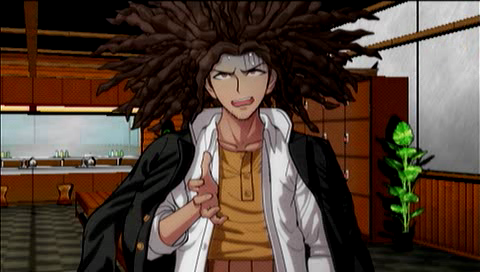 Uu... I'm starting to feel bad vibrations...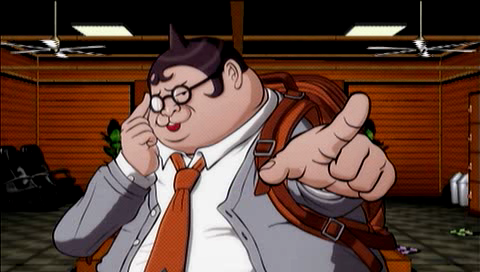 Ekoekoekoekoekoekoeko...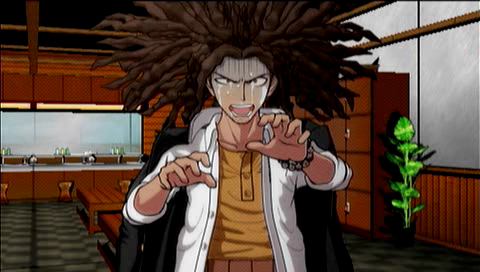 Stop it! What are you going to do if he really appears!

This is a reference to the Wiccan chant, better known as "Eko Eko Azarak". Japan probably knows it best from the Eko Eko Azarak manga, TV and film horror series, where it is used to summon Lucifer.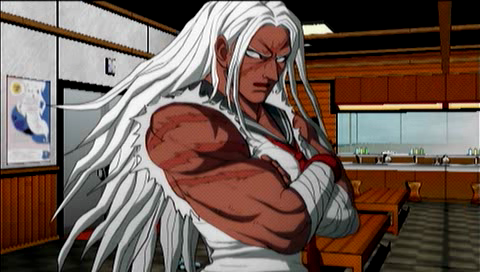 Asahina... where exactly did you see the ghost of Fujisaki?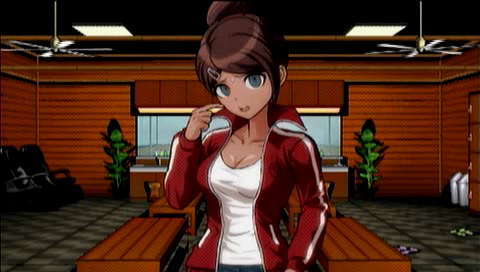 I heard some kind of noise... and when I opened one of the lockers' door...

Fujisaki-chan appeared in a halo of blue light...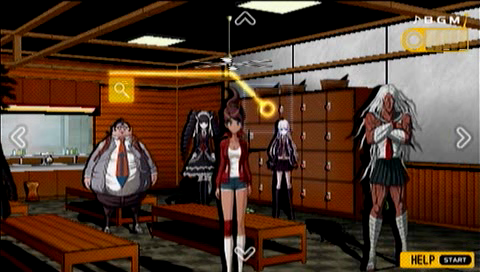 If we try to talk to anyone they just prompt us to look at the lockers. So let's do that.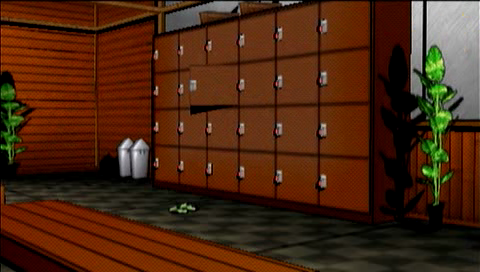 Um... I guess it's this locker here...

There's something in it...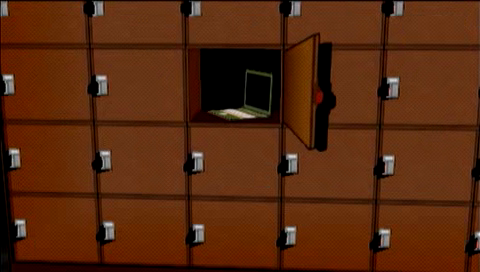 Huh...? Inside the locker...

A computer...? A computer in this place...?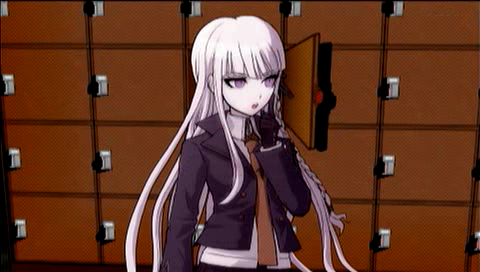 ...I think I know this computer.
That's right, it's the one we found in the library...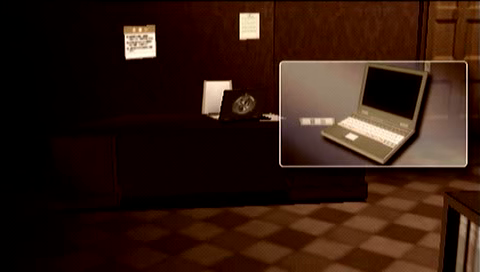 This is... a laptop computer...
It looks like an old model. And on top of that, there's a lot of dust on it...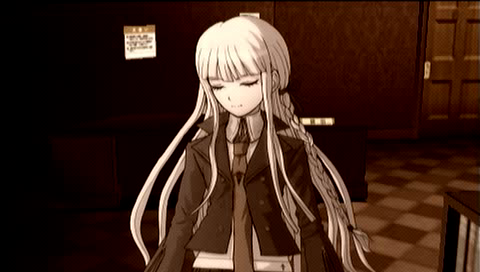 ...it's broken. It didn't start up even when I plugged it in.

Oh... so it doesn't work...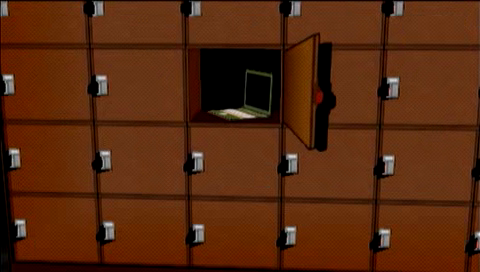 But, why is the laptop we found in the library in this kind of place?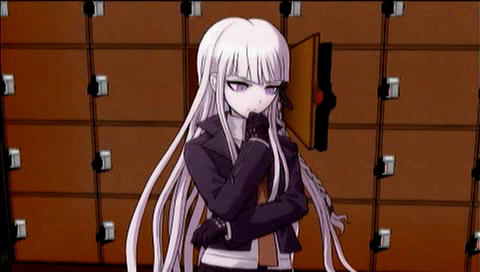 It's... in sleep mode, but it seems it's powered up.

Eh? Wasn't it broken?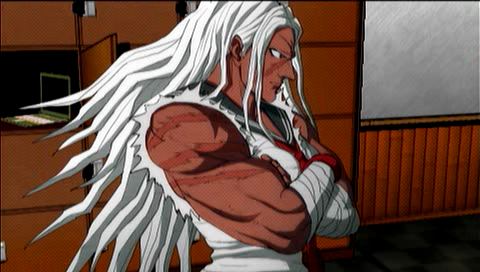 ...Chihiro Fujisaki most likely fixed it.

She was called a "Super High-school Level Hacker". She was a genius...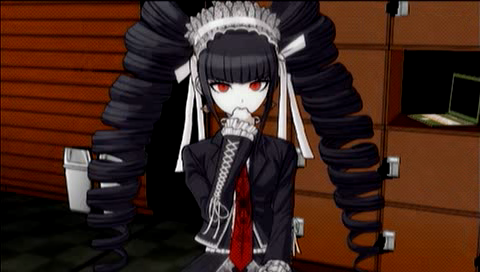 Now that I think of it, you did say that Fujisaki-san appeared in a halo of blue light...

...could it be this monitor's light you have mistaken for a ghost?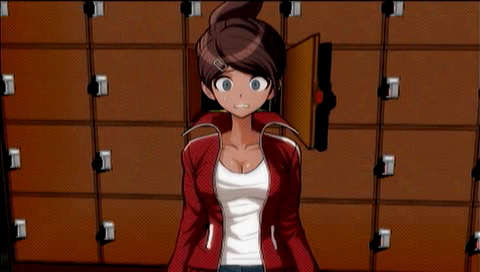 ............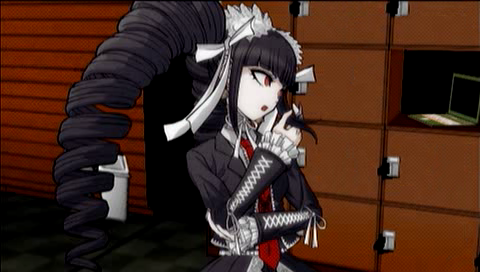 ...You really aren't very perceptive, are you.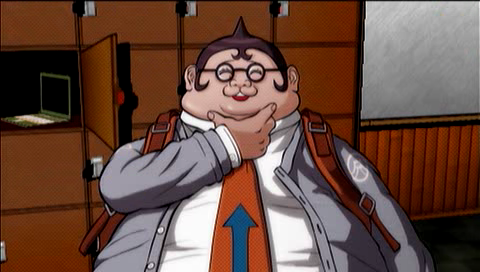 Well, well... We escaped a dangerous situation. I really like ditzy characters.

Phew, I'm relieved it wasn't just her being a ditz.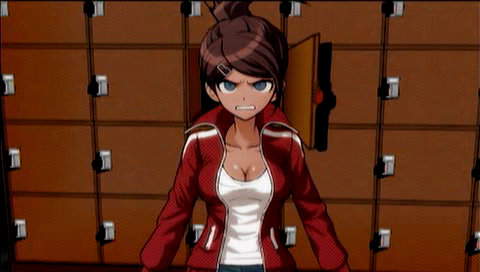 Hey, no one would normally think a computer is hiding inside a locker!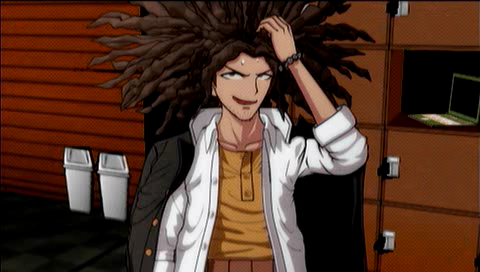 Well, anyone could have made that mistake, 'right?

Actually, I myself once mistook some tadpoles for grey aliens...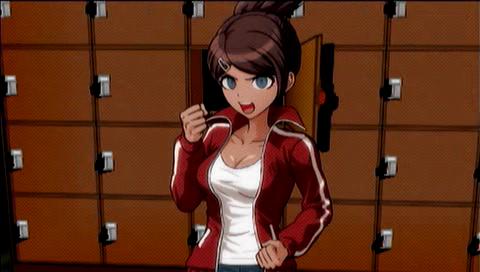 Don't compare my mistake with an idiotic one like yours!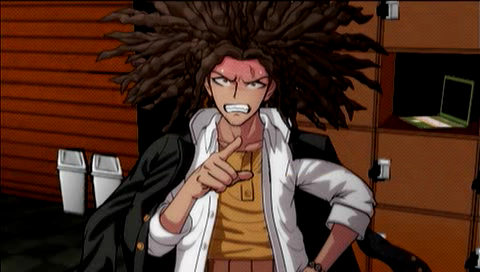 That's too cruel to someone who's trying to help you! What are you going to do if I can't recover from the shock?!!

...But, isn't that strange? Why would anyone put a computer in this locker room...?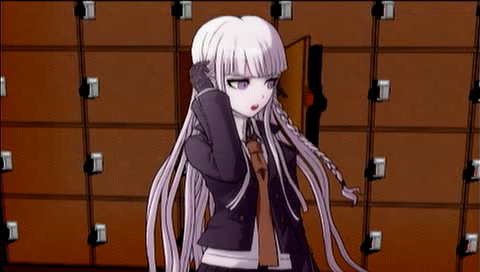 It was probably in order to hide it...

...in that case, didn't we find it way too easily?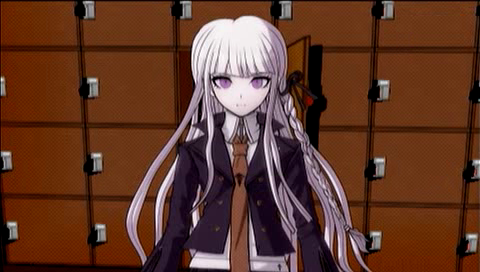 They weren't trying to hide it from us...

Eh...? What do you mean?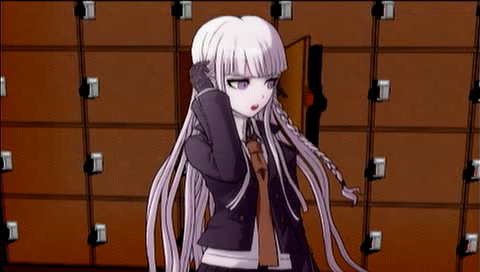 Didn't you notice? The difference between this locker room and other places in this school...?
The difference between this room and others...

There are no... surveillance cameras here...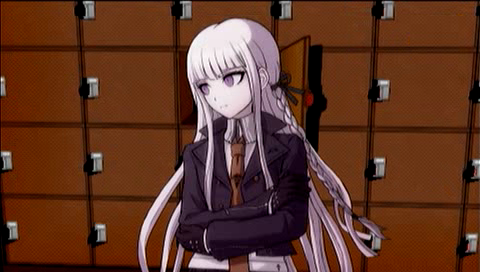 Yes, that's right.

There are no cameras here. Therefore, the mastermind can't see us...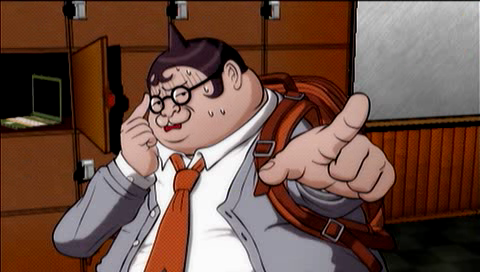 So you're saying someone wanted to hide this computer here? Hide it from the mastermind...?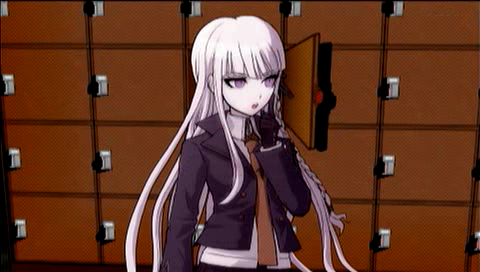 Furthermore, what Asahina-san saw wasn't just a simple blue light...

It was blue light surrounding an image of Chihiro Fujisaki-san... wasn't it?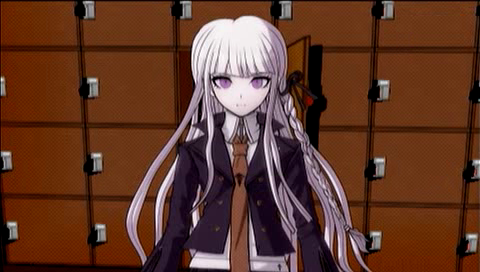 I think it would be best if we investigate this laptop in more detail...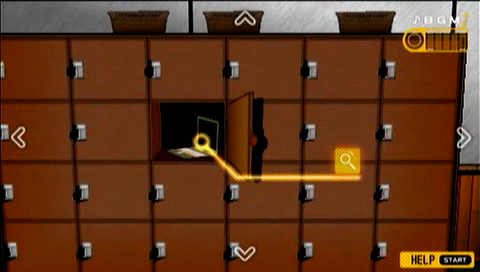 Let's do just that.
Just like Kirigiri-san said, the laptop was in sleep mode, but powered up.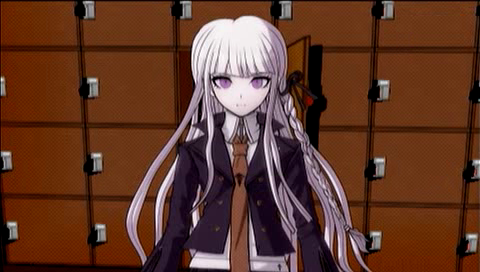 First, we should awake it from sleep mode.

Yeah...
When I tried tapping a random key on the keyboard...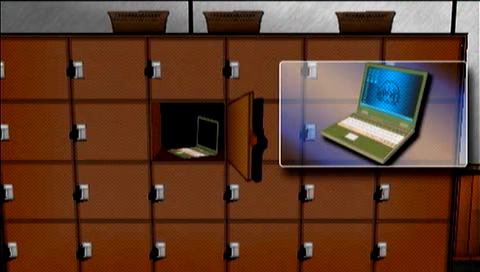 The display lighted up.

There were many icons lined up on the desktop.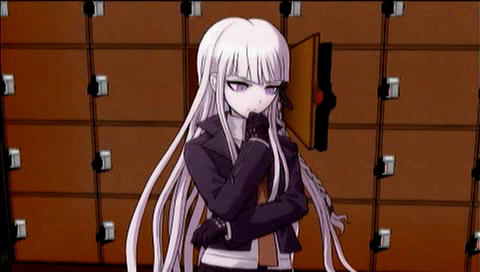 That icon on the left...

What about it...?

Its title is... "Alter Ego", isn't it...?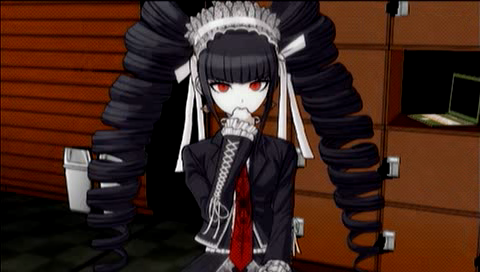 "Alter Ego"... That means, "the other self".

In creative arts, it's a term used a lot when creating something for the purpose of acting out a different personality...

Something like a pen-name.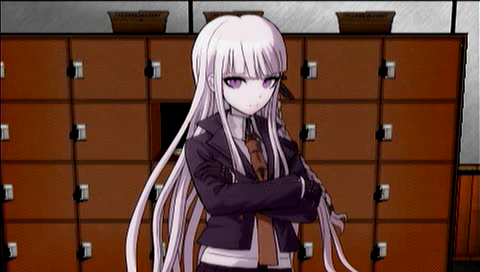 ...Naegi-kun, can I take your place for a while?
After getting my permission, Kirigiri-san moved up in front of the laptop...

She moved the cursor, and pointed to the "Alter Ego" icon.
Immediately after, a clicking noise could be heard...

The screen suddenly faded to black...
And then, we heard a voice coming from the monitor...
"Welcome back, Master!"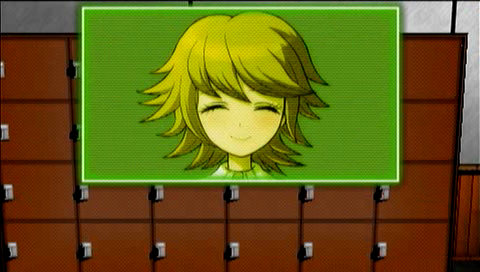 And an image resembling Fujisaki-kun's face appeared on the screen.