Part 54: Super High-school Level Update #48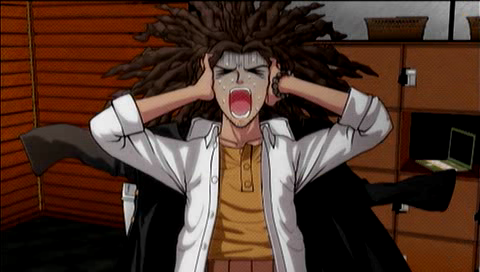 I...I...it's here!! Namuamidabutsu namuamidabutsu!!

Namuamidabutsu is a popular Japanese version of a pure-land buddhism chant, which is supposed to grant you access to the pure land of the religion's name.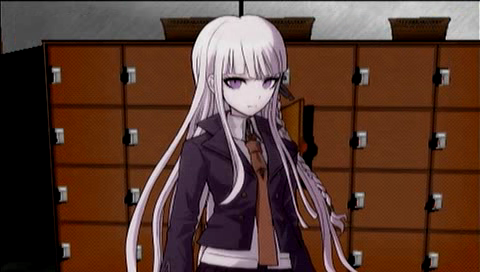 Calm down. This is not a ghost.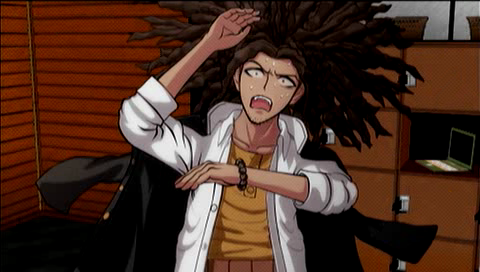 Eh...?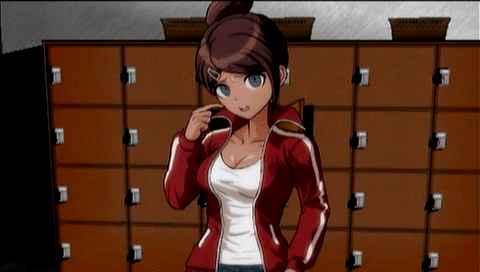 So... what is it...?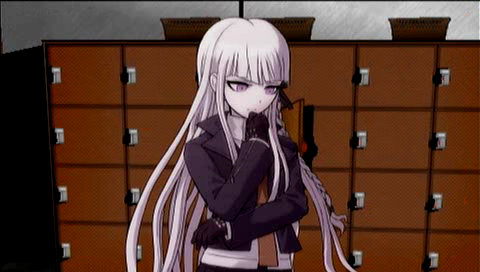 I think all will be made clear if we try talking to it...
With quick hand movements, Kirigiri-san typed a phrase on the keyboard.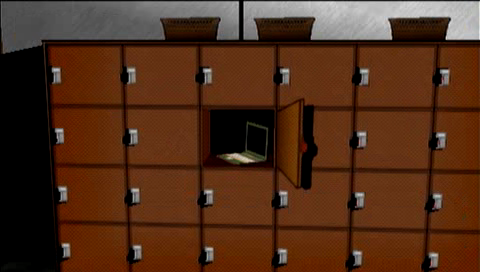 "Who are you?"
And then...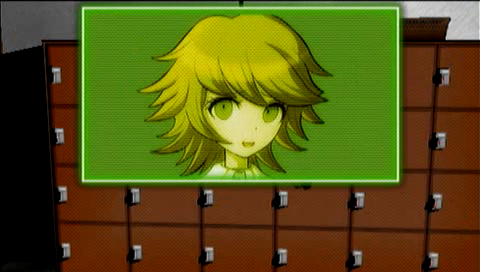 Nice to meet you... My name is Chihiro Fujisaki.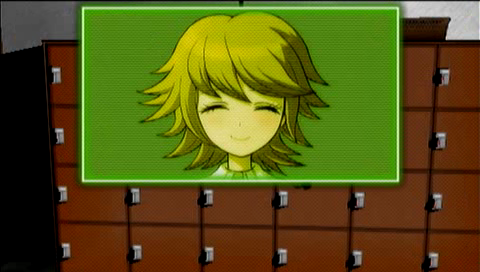 Heh heh... Self introductions are always embarrassing, aren't they...

B...both the voice and the manner of speaking...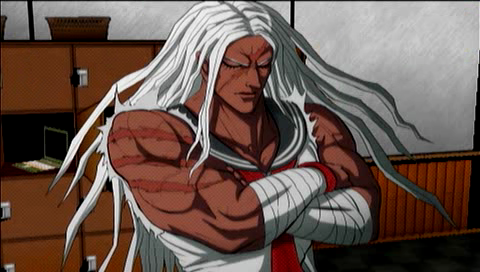 They are exactly like Chihiro Fujisaki's...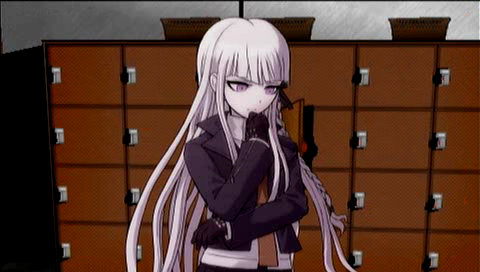 "Alter Ego". The artificial intelligence system... I heard rumors, but this is the first time I've seen it in action...

Artificial intelligence system...?
It's the reason Chihiro Fujisaki came to be known as a "Super High-school Level Hacker"...
He was central in the development of an artificial intelligence program that can be installed on a computer, and find information through conversation with the user.
It uses Support Vector Machines and Reinforced Learning as a base, customized with a hand-crafted rule based system he designed himself...
...producing a landmark artificial intelligence like no one has ever seen before.

"Support Vector Machines"...? "Reinforced Learning"...?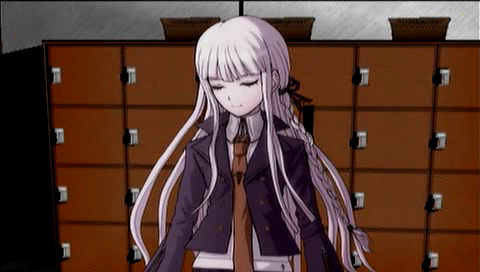 Let's just say... they are methods to make a computer program learn...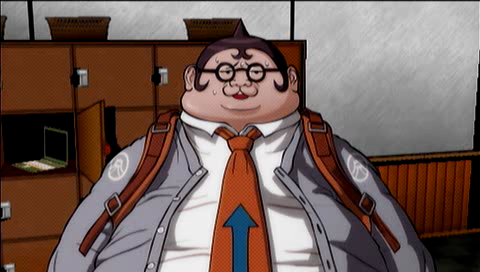 So you mean...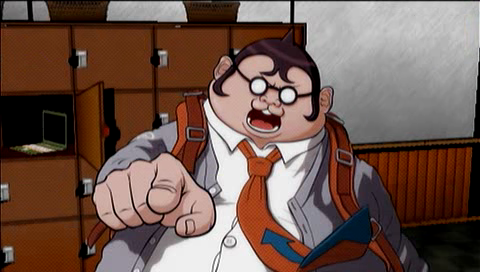 This is a program for the dumb users who can't even bother to open Google and search for things themselves?!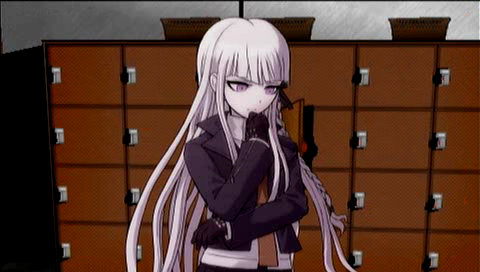 If development on this artificial intelligence program continued, it would probably be used for simple support roles...
Or maybe even to serve as a replacement for a real person for the accomplishment of various everyday tasks.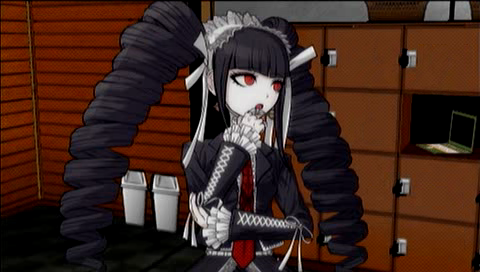 So that's why it's called "Alter Ego"... It fits it perfectly.

It has a memory, builds on it with new experience and grows... This program is just like a real person.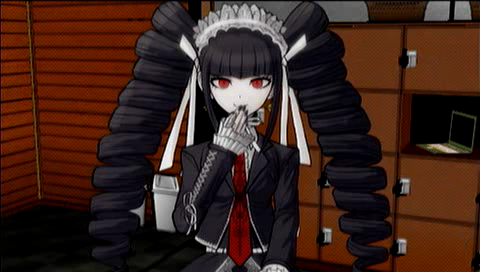 If such a program continues to grow, it might even develop its own consciousness...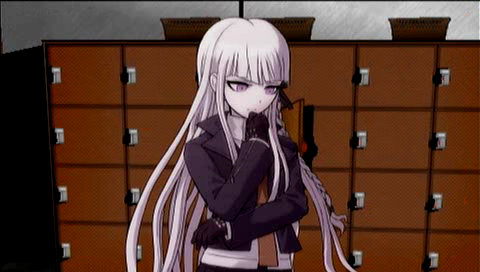 A second self that can't forget things or be weakened... That's the kind of program he chose to make...
And that program... is this "Alter Ego" right here...

Kirigiri-san... You sure know a lot. Even complicated stuff like this...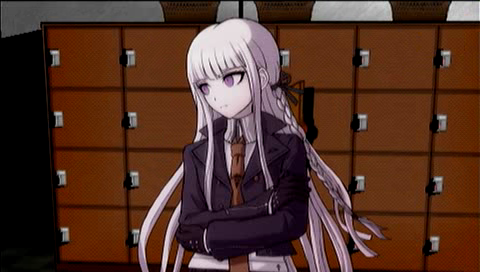 ............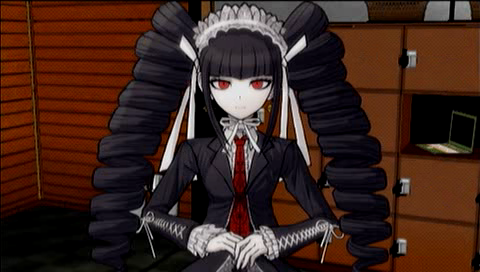 Anyway, it seems he fixed the laptop we found in the library, and then recreated his program on it.

Then, he placed the computer in this room to hide it from the mastermind's eyes...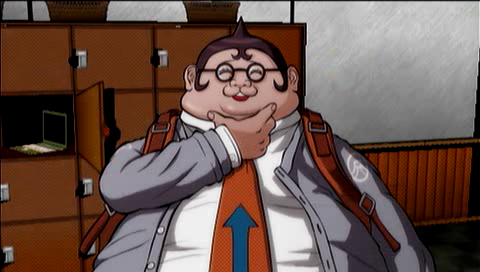 Ah, and it calls its user "master"... I see... This sure is nice...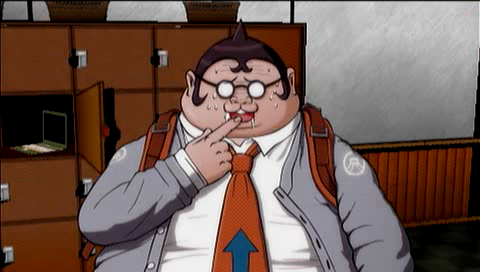 ...This turns me on.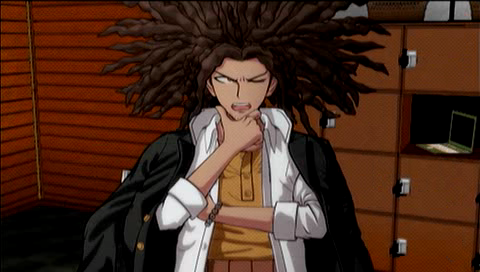 Didn't you say you were exclusive to 2D, Yamada-chi?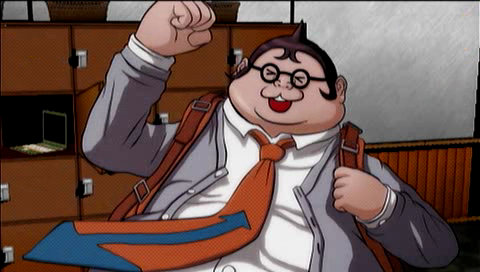 This most certainly can be categorized as 2D, can't it!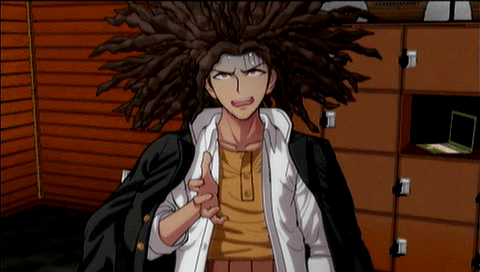 It's male. And also an artificial intelligence!!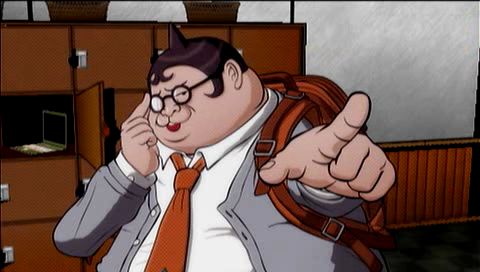 I see no problems with either of those.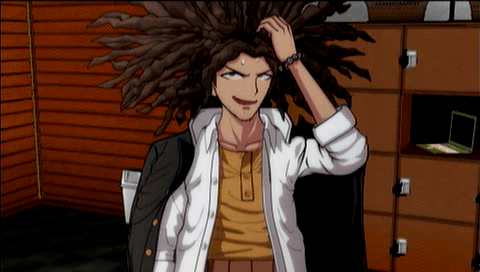 No problems... huh...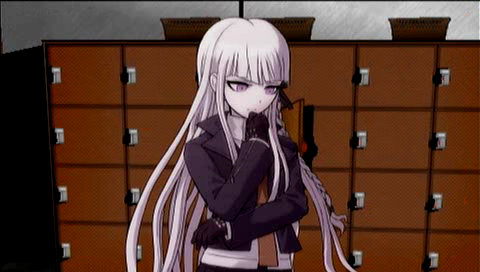 Anyway... we should try speaking to him some more.
Saying that, Kirigiri-san tapped the keyboard rhythmically again.
"How much do you know about our situation?"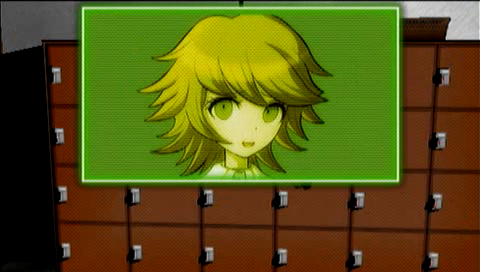 My master explained the general situation to me...

We sure found ourselves in a dangerous place.

Getting involved in such a horrible thing so suddenly...
Kirigiri-san quickly followed up with another question.
"Why are you here?"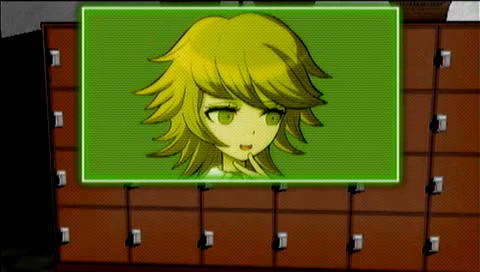 Let's just say... My master wanted to use me for a certain task...

That is...

He wanted me to analyze the huge number of files he found on this computer's hard disk...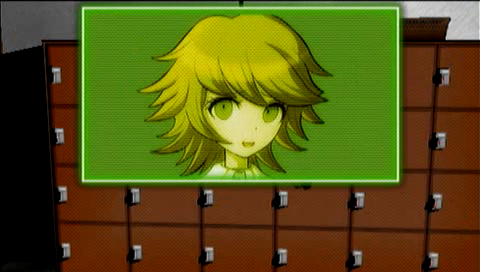 They seem to be documents concerning this school, but they're all under surprisingly heavy encryption.

It's going to take a while to break it...

But, I think I know what my master thought.

If someone bothered to encrypt these files so heavily, they must contain some kind of secret...

Maybe even... this school's secret.

...!!
In contrast to my audible gasp, Kirigiri-san simply typed another question in calmly.
"What is your progress on decrypting the files?"

Hmmm... It's going to take a little while longer...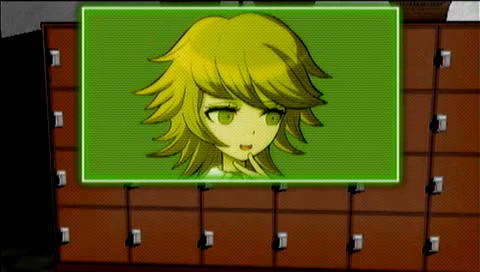 But, I'm sure I can do it, so just leave it to me!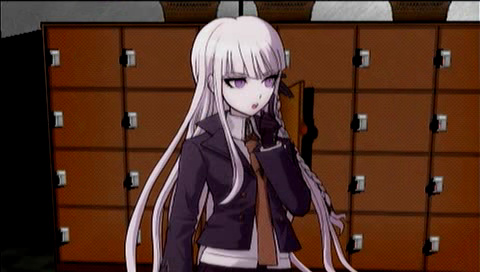 He left this task for Alter Ego exactly because it's so time intensive...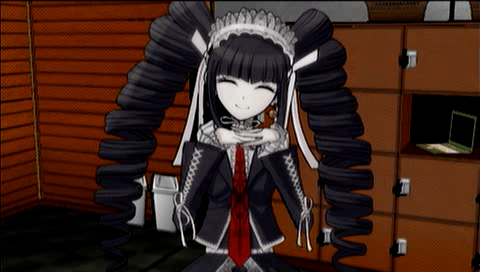 I see. It was a splendid plan. The job can be completed even in the case of his own death.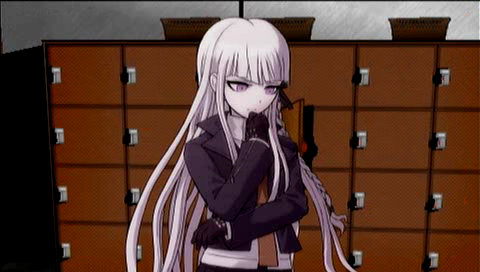 Kirigiri-san's fingers danced rhythmically across the keyboard once again.
"Please go on with your work. Take care not to be discovered by the mastermind."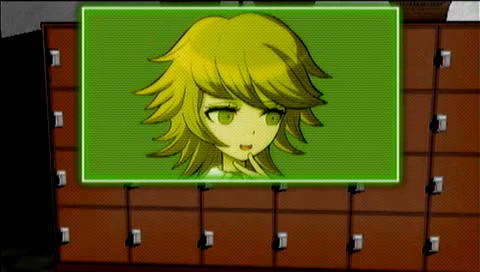 I'll be fine. I even have a secret countermeasure set up...

I keep monitoring the environment using the webcam installed in this computer. If anyone suspicious enters the room...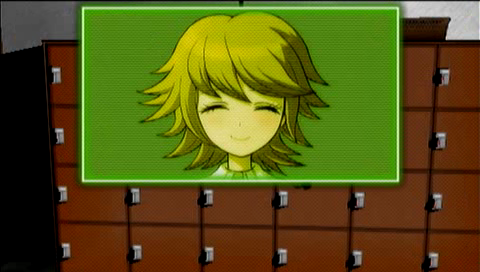 I'm going to yell "help me" loudly!

That's one primitive countermeasure...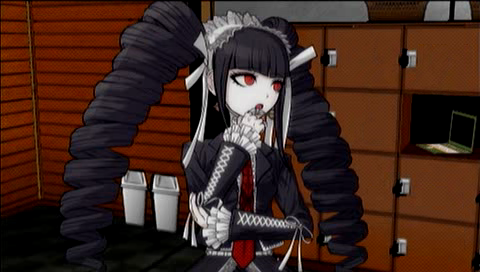 That's going to work fine during the day, but I'm worried about Night Time...

...Eh? Why?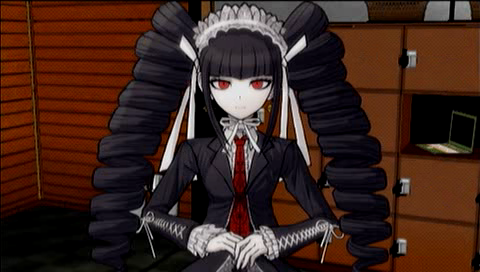 Did you already forget? Our rooms are soundproof.

Once we close the doors, it doesn't matter how loud someone yells outside. It will go unnoticed.

...So, how about we take turns and guard this locker room during Night Time?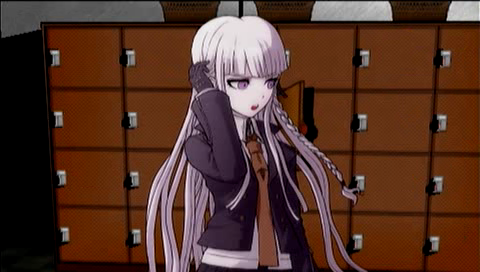 It's too dangerous. If the mastermind sees people coming and going out of this locker room during Night Time, this entire scheme can be easily revealed.

So... What should we do...?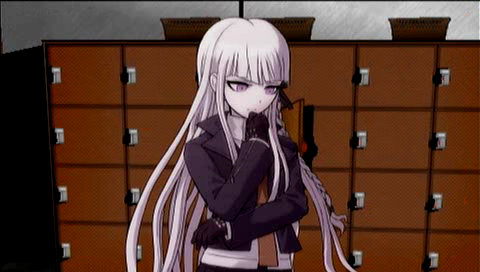 I'm going to leave the door to my room open during Night Time...
My room is close to the public bath. I should be able to hear any noise easily.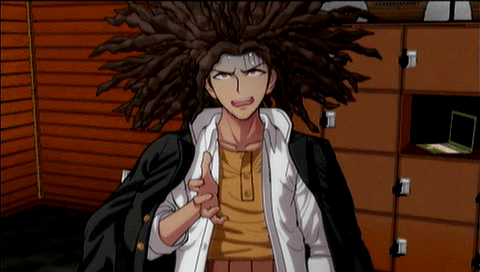 B...but... if you leave your door open...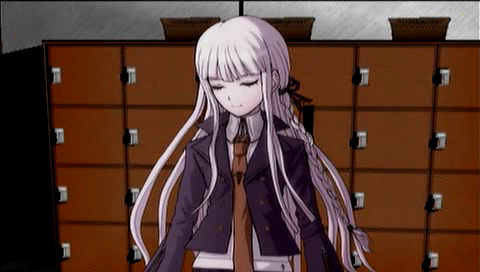 ...That's right. I leave myself open to an attack.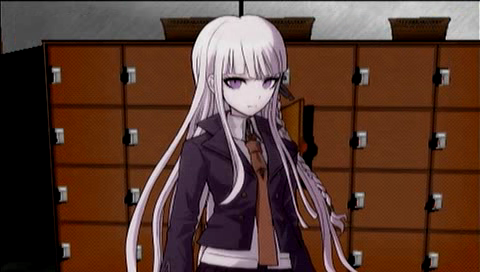 But... I wonder if anyone can really kill me...?

I don't think I'm going to die that easily.
Kirigiri-san's voice was firm.

Her conviction that she was not going to die...
It was similar to what Togami-kun said earlier. But at the same time, there was something decisively different about it...

Something fundamentally different...

It was like the difference between a person who got thrown into a battlefield and someone who was born there.
That kind of a fundamental difference...

...And then, as those thoughts piled on inside me, this time a voice came from the computer without prompting.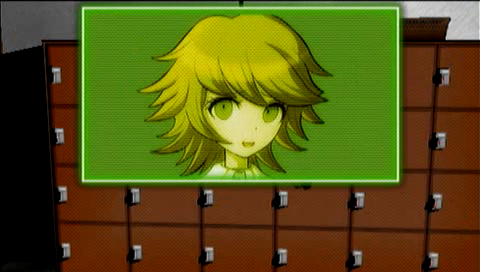 Um, May I please also ask a question?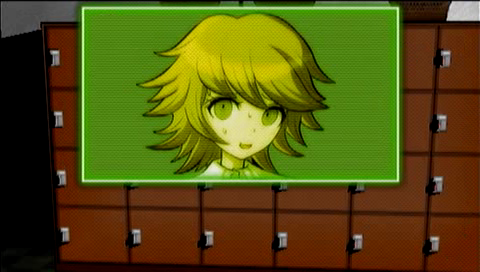 I see that my master isn't among you...

Could it be that......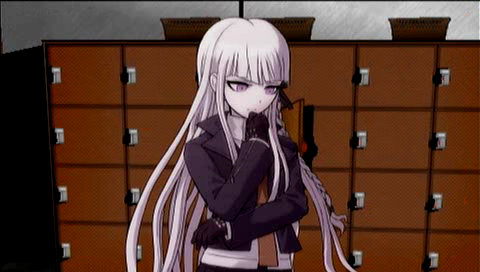 For just a second, Kirigiri-san stopped moving her fingers... and paused to think.
But she soon regained her senses and typed some words on the keyboard again quickly.

A clear, brief and straightforward answer...
"Chihiro Fujisaki was killed by Mondo Oowada."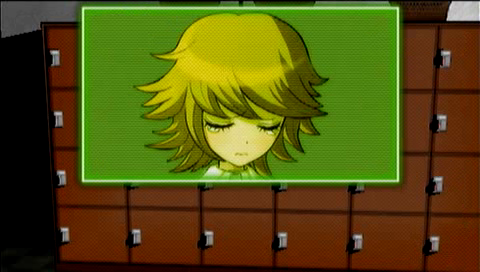 I see... It's just as I thought......

I knew this could happen from the very beginning...

The chances of my master's survival under these circumstances were exceptionally low...

That's why... I prepared myself...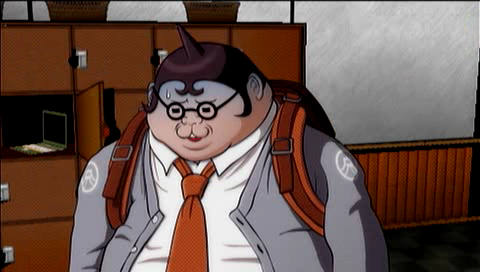 The atmosphere suddenly became gloomy...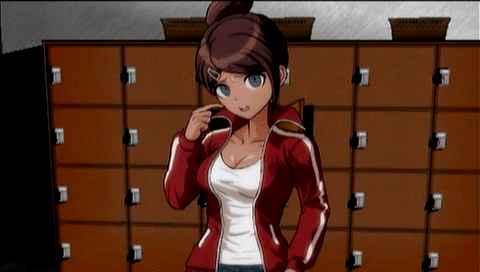 Who knows what it feels like to lose your other self...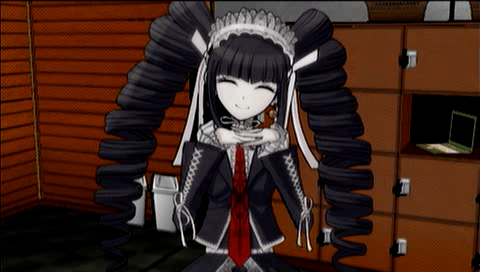 It doesn't "feel" anything. After all, it's just a computer program.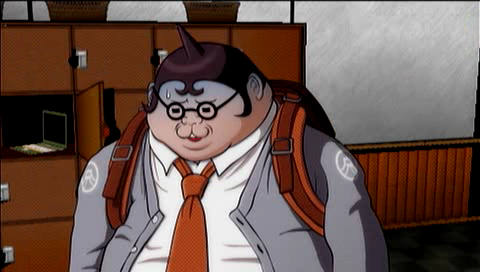 Is that... really so...?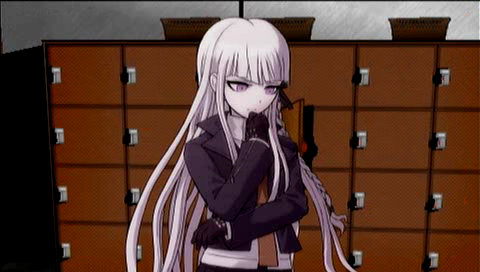 In any case, let's take a break for today. If we stay here too long, the mastermind will probably notice something isn't right...
After saying that, Kirigiri-san typed one last short sentence.
"We will come visit you again."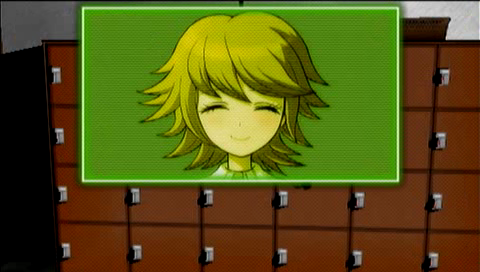 Yeah, please do! It's a promise!!

Bye-bye!
The voice from behind the display returned to its previous light-hearted tone.
That was probably because it really was just a simple computer program. Or maybe...

In its own way... it was concerned for us......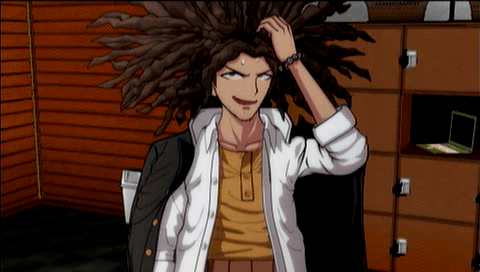 Hmmm...

...Is something wrong, Hagakure-kun?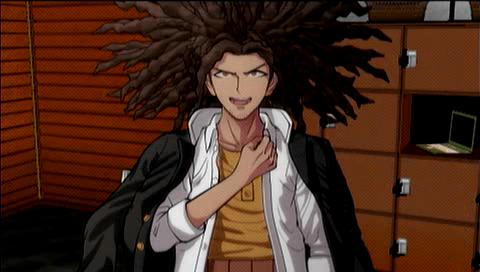 No... it's just that I thought maybe we could find a way to connect this computer directly to the net...

If we can do that, maybe we can call for help from the outside world...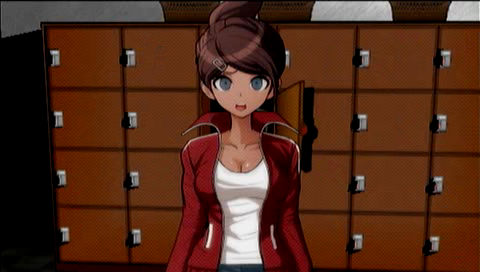 But, there aren't any network outlets in this locker room...

In that case, we can carry it over to somewhere with a network connection...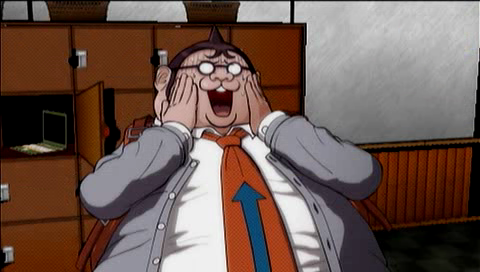 T...that's way too dangerous! The mastermind will surely notice!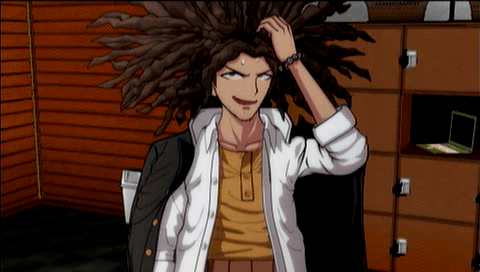 I guess you're right.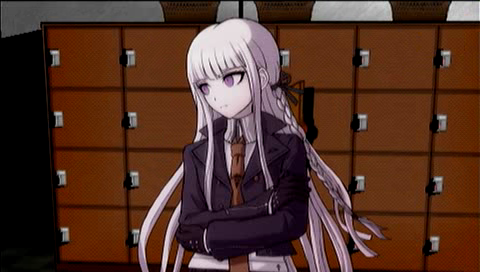 For now, instead of taking unnecessary risks, we should proceed with decrypting the files on the computer's hard drive...

We may find something that can help us in them...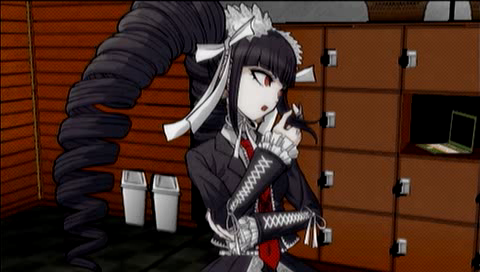 That sure is a roundabout way to get help... but I guess we have no choice.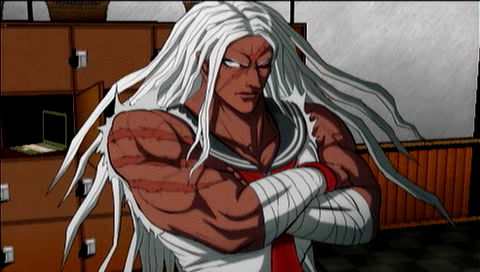 So for now... we can do nothing but wait for Alter Ego's work...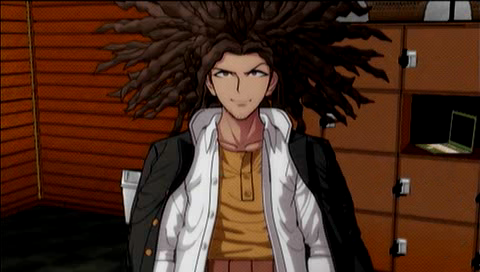 …But for now, we should go back to the cafeteria.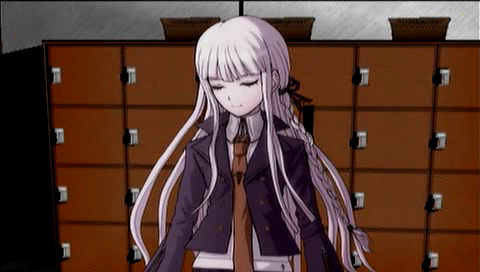 Yes. We should.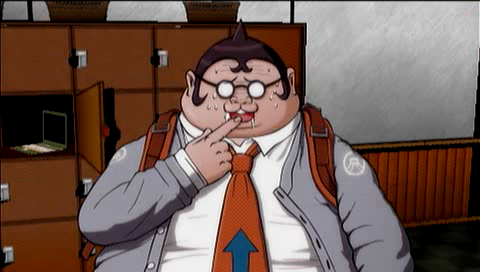 But I really will come back... It was such a wonderful promise...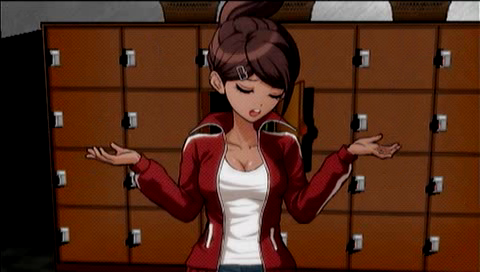 Yamada, you're not staying here!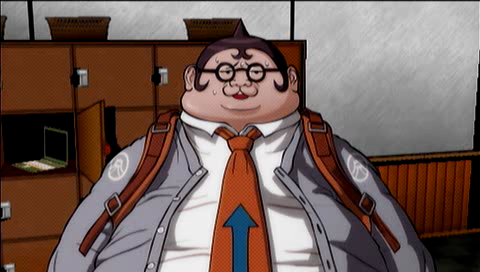 Whatever... you say...
We left of the locker room.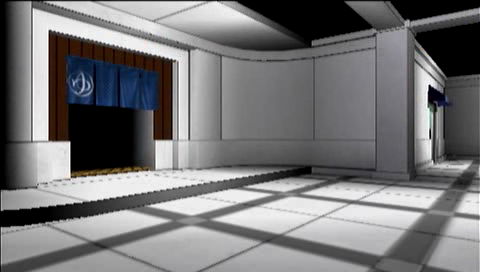 Immediately after stepping into the corridor, Asahina-san let out a cry of happiness.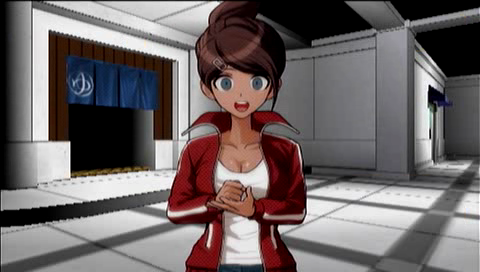 Isn't it amazing!? And it's all because of me!!
And then... as if in response to her words...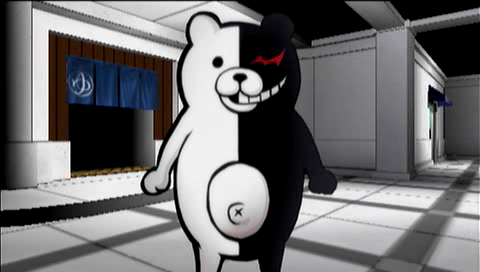 Ta-ta-ra-ta-taa! Asahina's energy made her level up!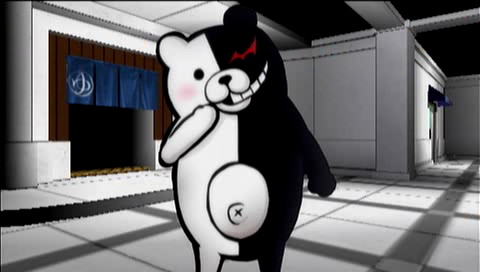 Speaking of, what's "all because of you"?
M...Monobear...!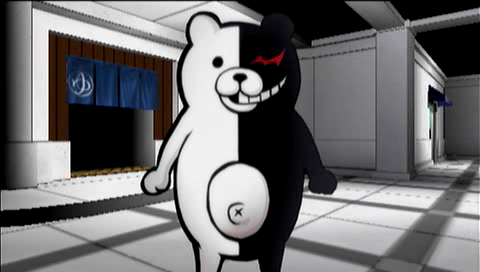 You bastards sure are in good spirits. Did something good happen!?

N...nothing happened... really...!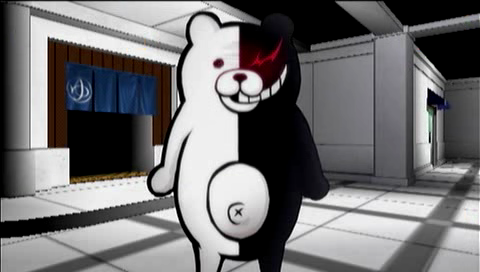 ...Is it a secret? That's cowardly, keeping things for yourselves!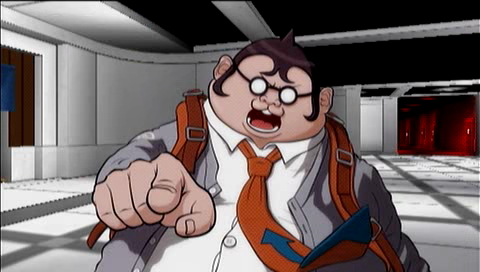 Go away, go away, go away!!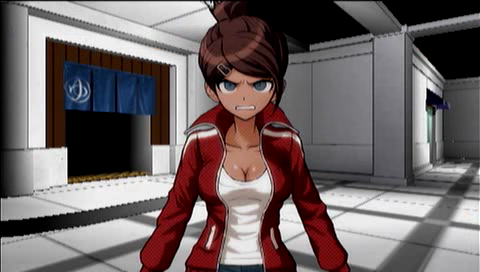 I...It has nothing to do with you!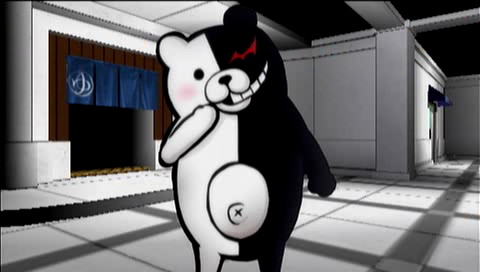 So is it...
that
kind of secret...?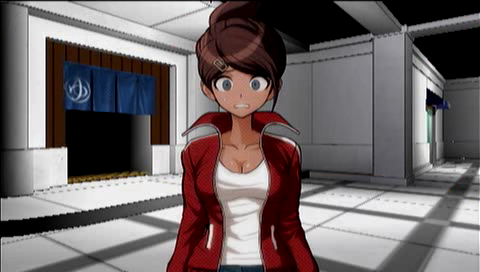 W...what do you mean by "
that
"...?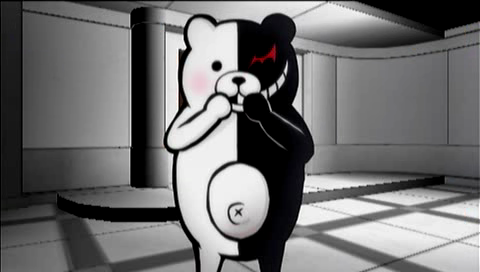 You know... "
that
"! How filthy!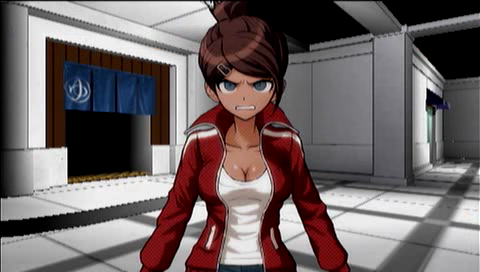 I told you, it doesn't concern you!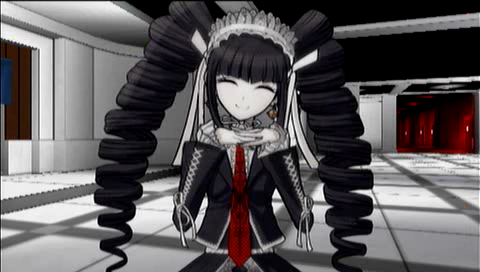 We just wanted to relax and spread our wings for a little bit in that big public bath we have here...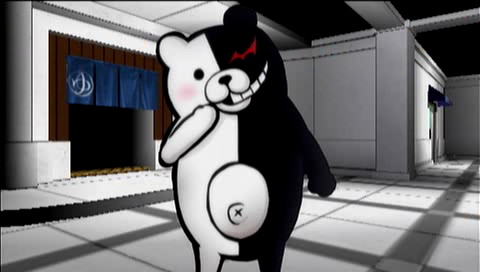 ...Eh?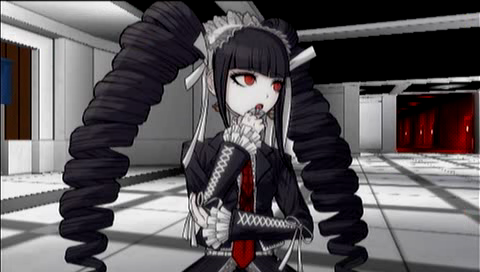 But we had a problem. The bath isn't divided into male and female areas...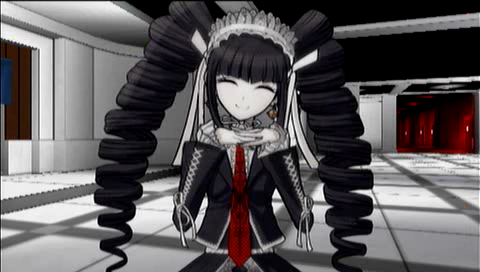 So we decided to decide which group gets to go in first with a little rock-scissors-paper contest.

Asahina-san won that contest, and that's why she's so happy.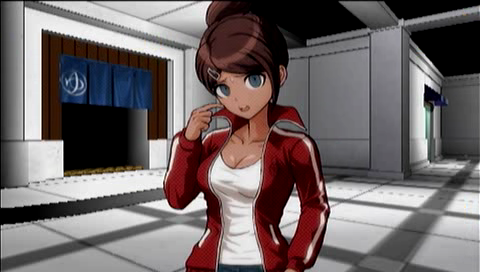 Y...yeah...! That's right!!

So that means...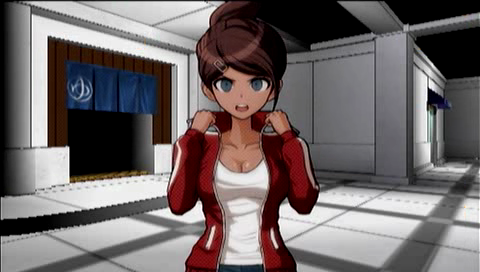 Hey, you guys! Go back to the cafeteria already! We girls have exclusive use of the bath right now!!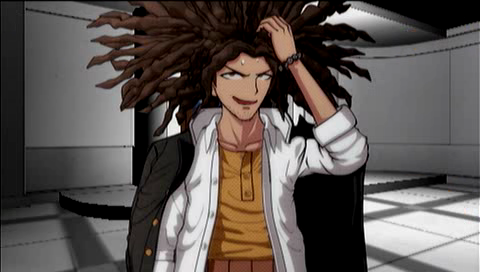 Y...yeah, we got it, already! Sheesh!!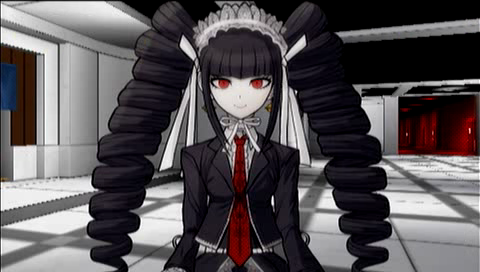 Well then, girls. Let's jump in...
Celes-san said that with her usual poker-face on, and then...
She pulled the other girls along and entered the locker room once again.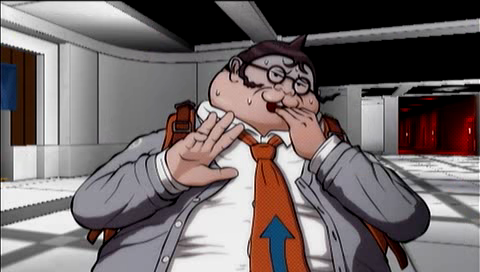 U...um....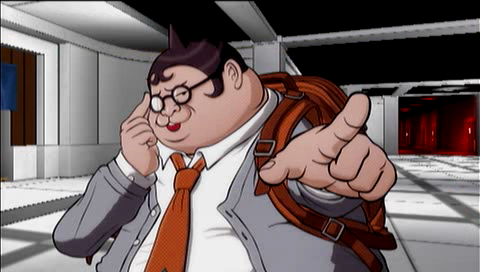 Darn it...! I lost at rock-scissors-paper...! I wanted to go first...!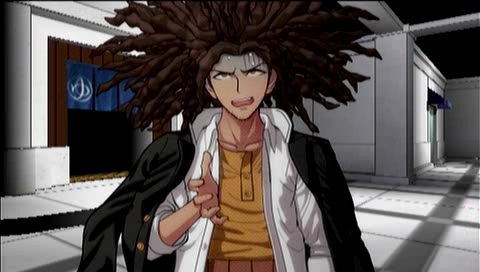 Um... tomorrow we are sure to win, 'right?!

Well, then... let's go back to the cafeteria...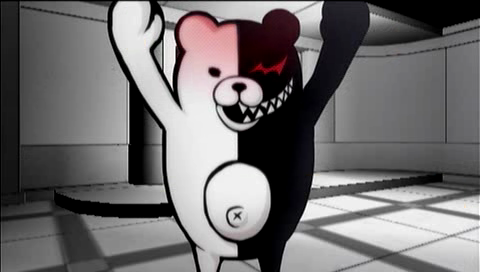 Wait a second!!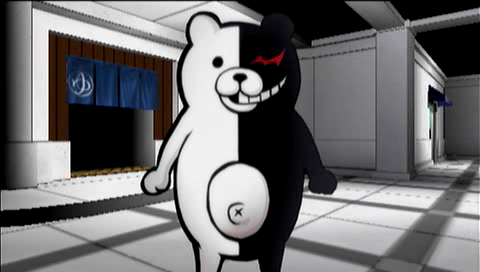 ...That's strange. Isn't it totally strange?

W...what's so strange...?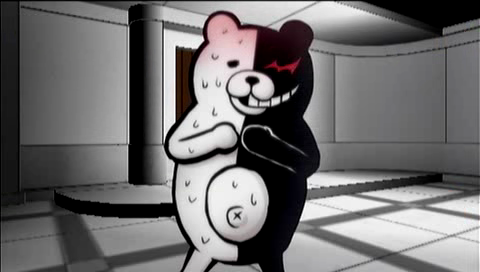 I mean, this is your big chance to do some peeking!! Are you going to let such a chance escape so easily!?

...Huh?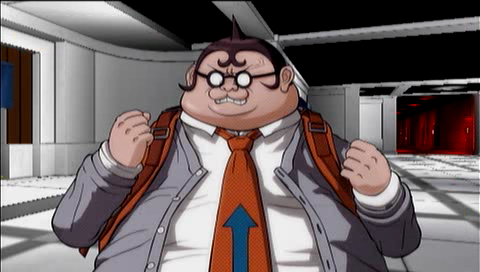 Aaa...! T...that...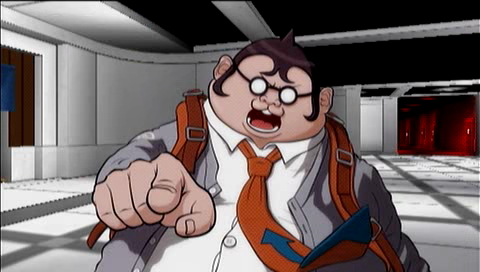 ...Makes total sense!!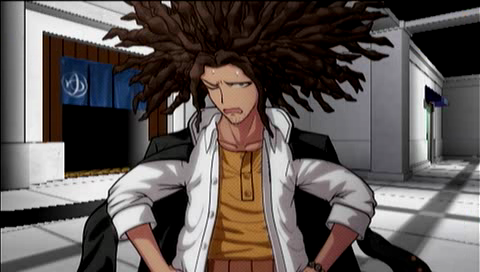 Honestly... with every sentence you say that 2D-only clause of yours slips further away, doesn't it...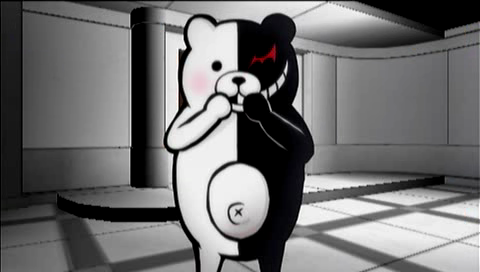 Listen to what I have to say...

This kind of a chance doesn't come very often... It's Man's Greatest Ambition...!

...........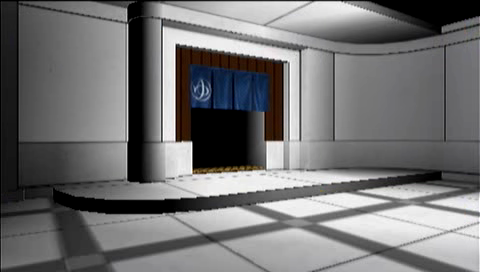 I tried asking my inner self.

Should we sneak into the bath like Monobear suggests...?
Or maybe, we should act like adults and go back to the cafeteria...


No... It's no good... Let's just go back to the cafeteria. It wouldn't be fair to the girls...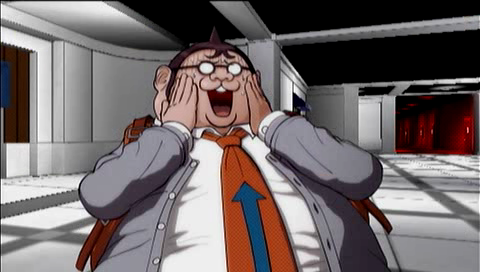 Ehhhh!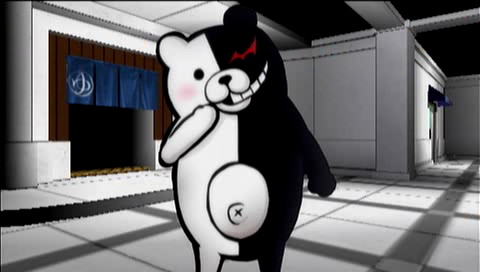 What happened... to Man's Greatest Ambition?

Isn't simple peeking way too lowly to be called "Man's Greatest Ambition"?

It should be something grander, like going on an adventure or chasing your dreams...

...Anyway! I'm not going to peek!!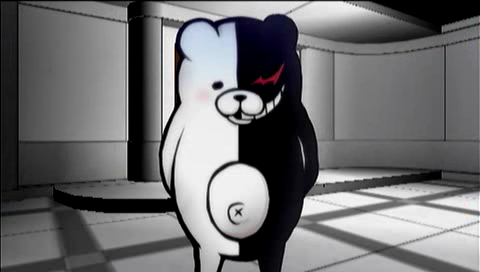 I see.. How disappointing and regretful. To think we could have seen a fan-service shot...

We left a dejected Monobear and stepped back into the cafeteria.

Honestly, though, I should keep what really went through my mind a secret.