Part 81: Super High-school Level Update #71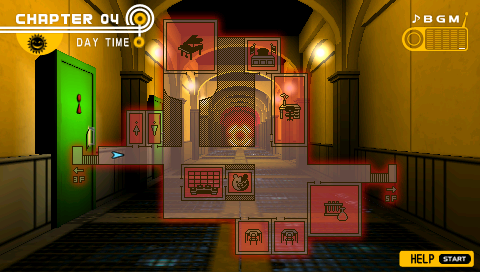 Please refer to this map as we make our way through the floor. As usual, I'm going to start with the two classrooms.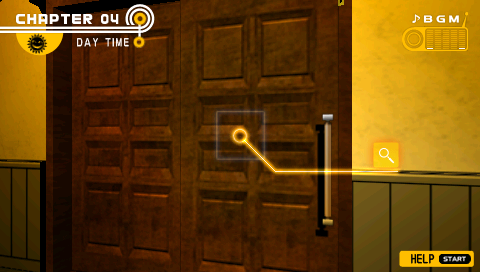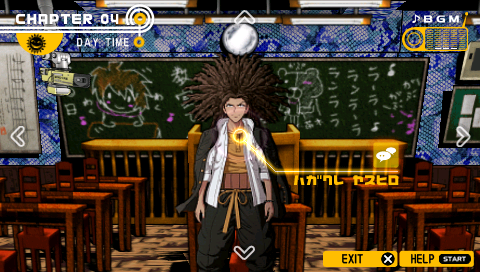 Blackboard:
The other day / I met a Monobear / Out in the classroom / Oh way out there

This American camp song has a popular Japanese translation, called "mori no kuma-san". Whoever is drawing these blackboard graffities wrote their own take on the lyrics.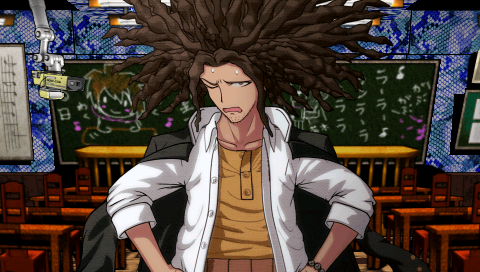 I'm glad this floor is open now, but there sure are a lot of locked doors here, 'right?

Locked doors? That's not good. Anyway, moving on to the other classroom.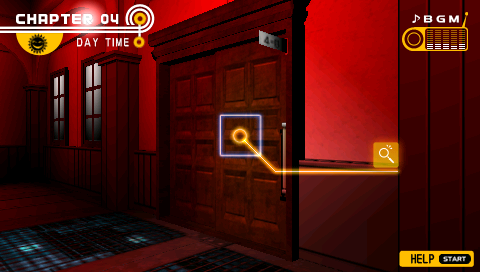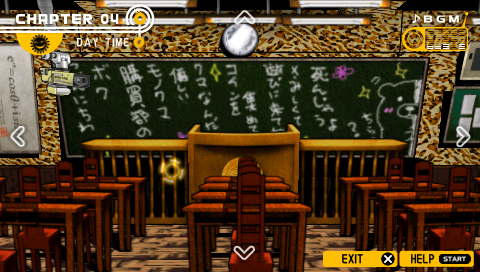 Blackboard:
Good day! I'm the shop manager, kind Monobear. Gather coins and come visit me, won't you? I'm so lonely I could die!

This one is empty. On to the large room on the bottom right corner of the map.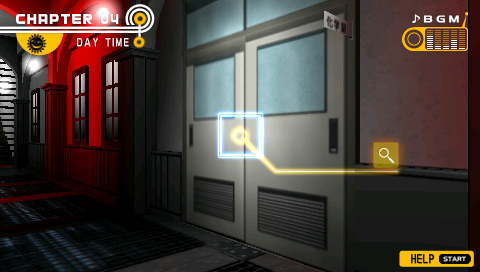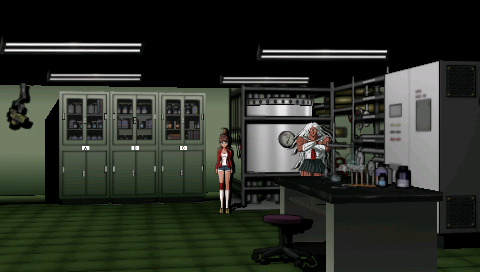 A smell of chemicals fills the entire room.
So is this a chemistry lab...?

This place sure stinks... Are we sure nothing here can affect our health?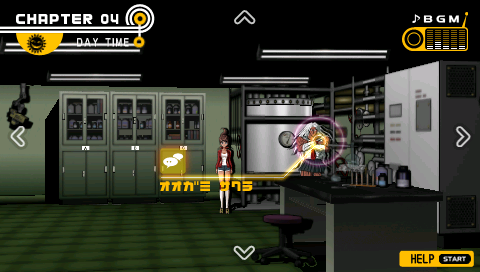 We still want to talk to Sakura, although I think now's still not a good time.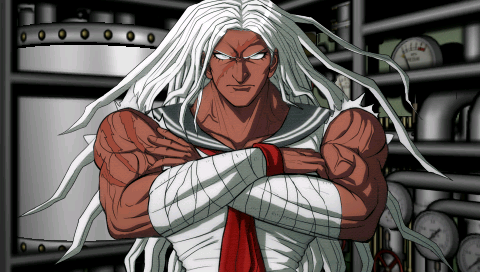 Oogami-san is busy talking with Asahina-san.

I want to check with her on what I saw last night, but I can't do it with Asahina-san around...

Is anything wrong, Naegi? Do you want something with me?

N...no... It's nothing.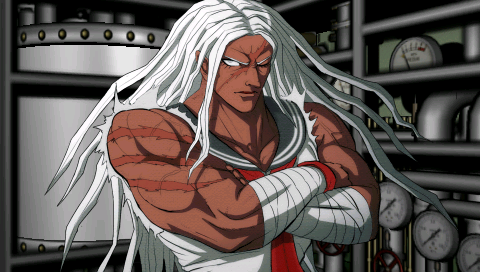 Is that so...? Very well.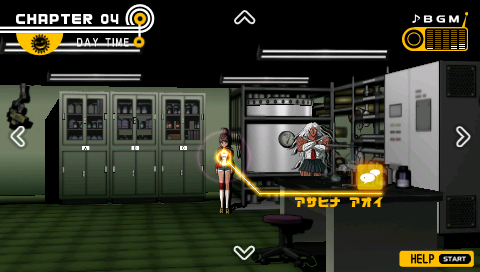 Maybe Asahina has something to say.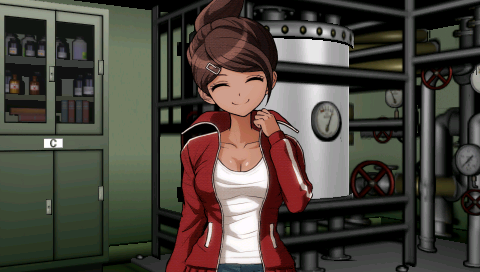 Asahina-san is busy talking with Oogami-san.

I want to check with her on what I saw last night, but I can't do it with Asahina-san around...

...What is it? Do you need something?

N...no... It's nothing...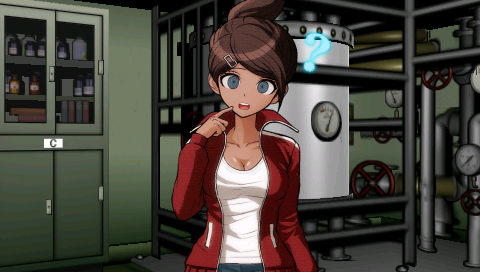 ...Really? Okay, I guess.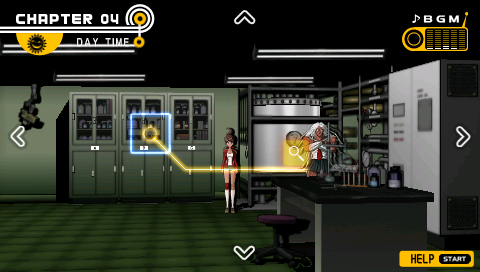 Oh well. At least we get to check this foreboding cabinet.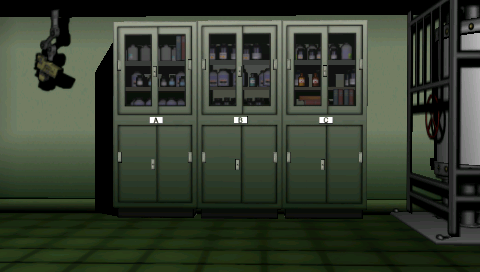 There are many shelves, and they are all filled with chemicals...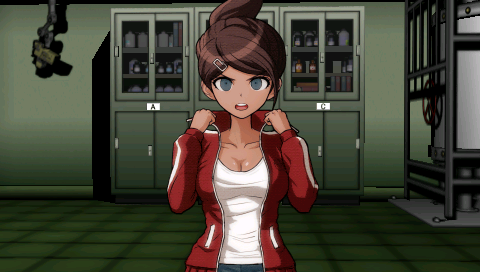 Ah, Naegi! Listen, listen! Take a deep breath, calm down, and listen!

Sure... but I think it's you who needs to calm down...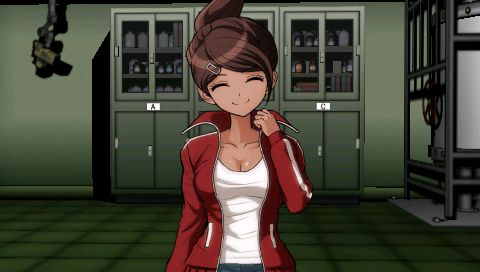 There weren't any in the infirmary or in the storage room, but there are all sorts of supplements here! Vitamins, minerals, amino-acids, creatine...

L...l...look! They even have Prodolmen X!!

Prodolmen X...?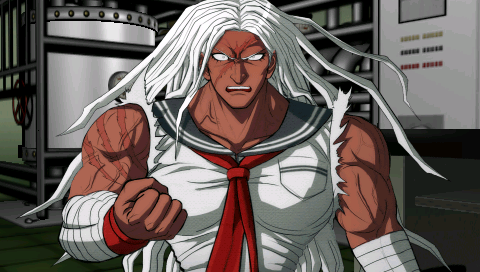 It is an ultra high-grade protein supplement manufactured overseas. It is nothing like those cheap things in the storage room! Are you trying to say you never heard of it...?

U...um, I really haven't...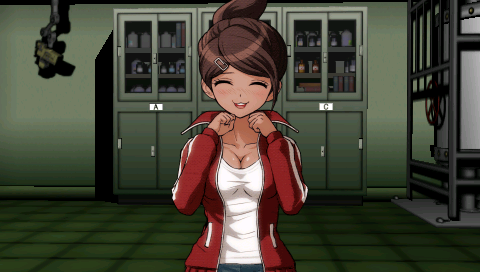 This is so cool! It's a treasure trove! It's almost like a religious experience!
Oh, happy days happy days...
A treasure trove... Those things?

That's it for the chemistry lab. Next, let's backtrack and try the room in the middle of the floor, with the monitors icon.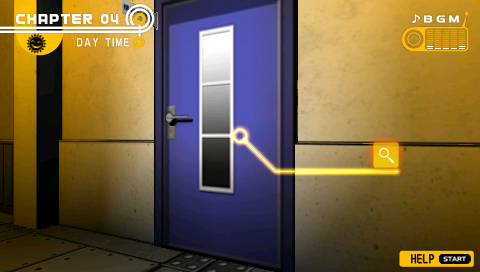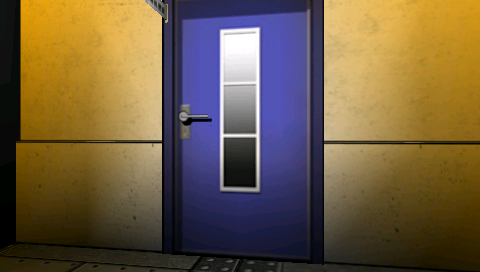 *rattle rattle*

It's no use. The door is locked. It seems we can't go in here.
The sign near the door says it is the data processing room...

...What's in there is still a mystery.

So Hagakure wasn't lying when he said there are locked doors. Continuing straight up the map to what must be a music room.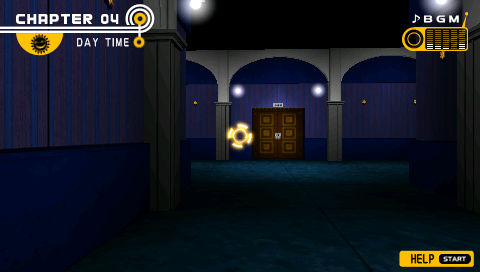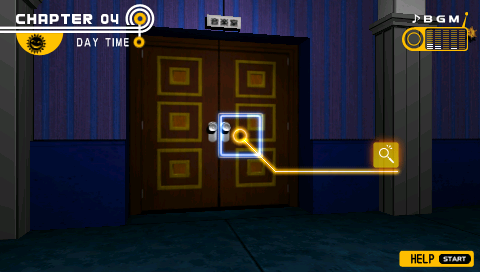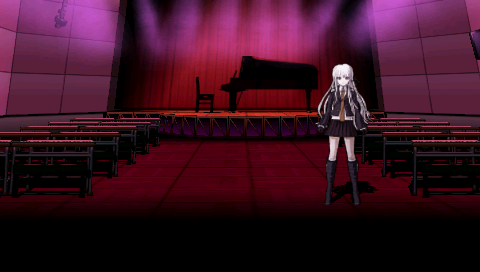 So this is... the music room.

It's not as much a classroom as it is a small concert hall... It seems all the necessary equipment is present.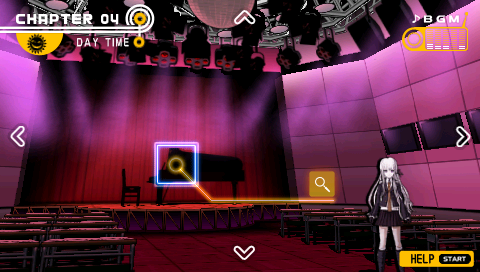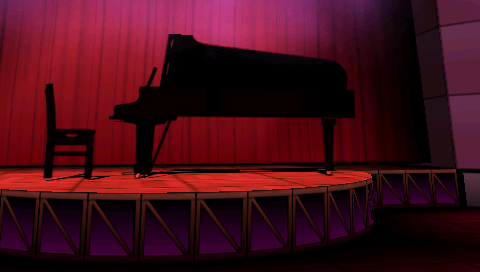 It's a grand piano...
It shows signs of age... Perhaps it's worth something?

There's no one here who can play it, though, so it's meaningless.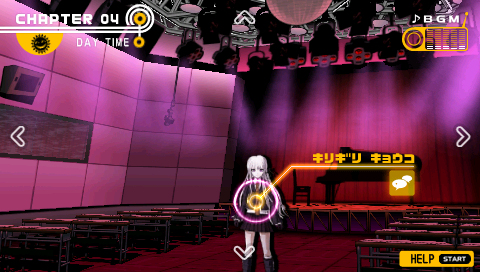 At least we managed to catch Kirigiri alone.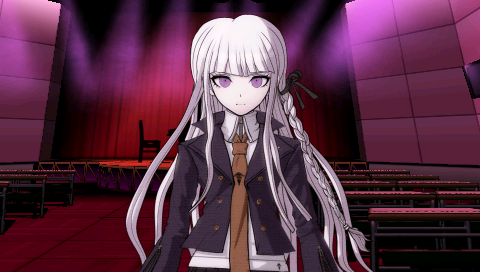 ...By the way, I haven't heard your thoughts yet.

Thoughts...?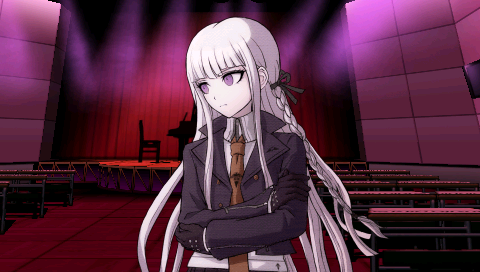 About the hidden room behind the boys' restroom...

...Ah!!

U...um... I did find the hidden room, but, you see...

...I only had a chance to search it for a short time before someone attacked me......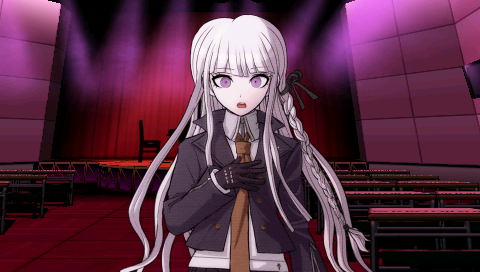 Attacked you...? Who attacked you...?

They... came from behind, so I couldn't see their face...

When I regained consciousness, every file in the room was gone...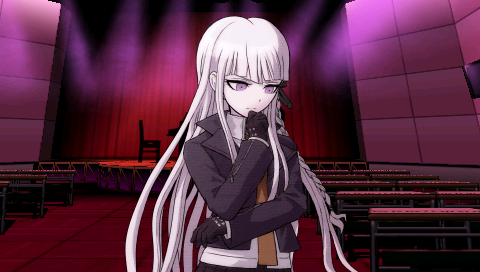 .............

I'm sorry... They were important, weren't they...

...It's fine. I already read them.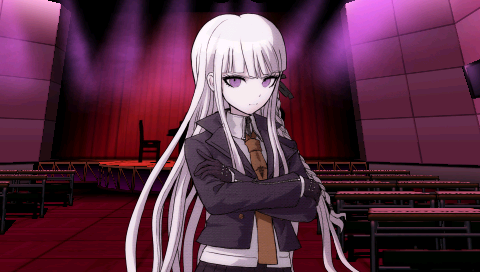 Furthermore, I thought it could happen. You being confronted by the mastermind, I mean.

Eh...?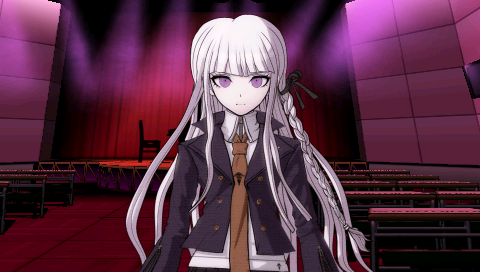 When I found that hidden room, the mastermind was probably watching the corridor through his security cameras.

I went into the boys' restroom and didn't come out for quite a while...

That was another reason I told you to go to that room.

I wanted to see how important that room was to the mastermind.

Whether he even knew about its existence or not...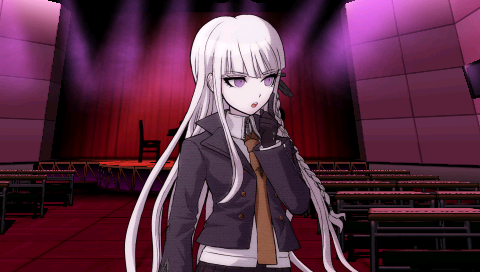 I didn't imagine he'd actually attack you, though...

That means that room contained information the mastermind didn't expect we'd find...

So... you knew I could be in danger...?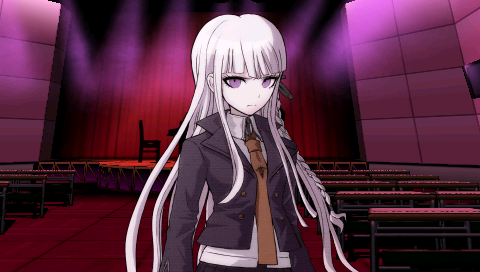 Is anything wrong with that? Aren't you man enough for it?
"Man enough"... What does she even think that means?

Fine...

At least tell me this: did you see the note in the hidden room?

The one that said, "We must not leave this place"...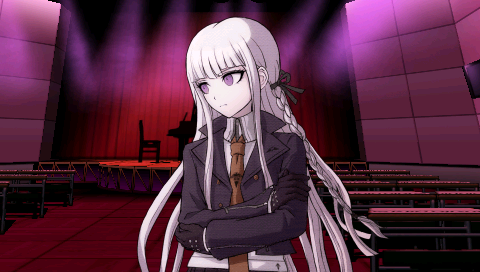 This... is not a conversation we should have here.
As she said that, Kirigiri-san glanced quickly at the security camera.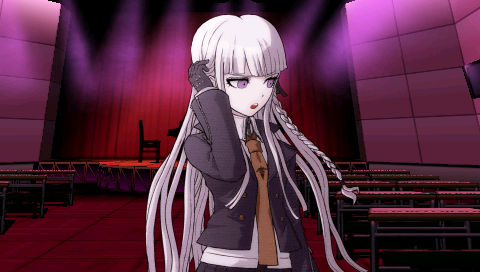 ...Also, I'm still investigating it. As soon as I know more, I'll tell you.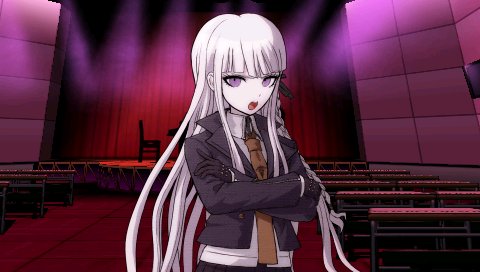 ...That's fine with you, isn't it? It's settled, then.
Her words were in the form of a question, but her attitude didn't leave much doubt that answering that it wasn't fine wasn't an option.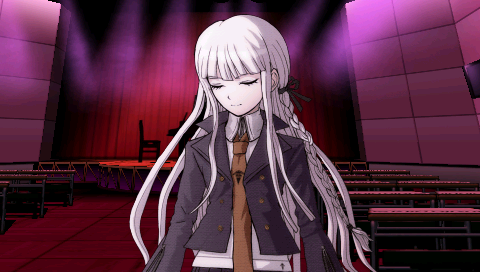 ...It's your turn now. Let's hear your secret.

...Eh?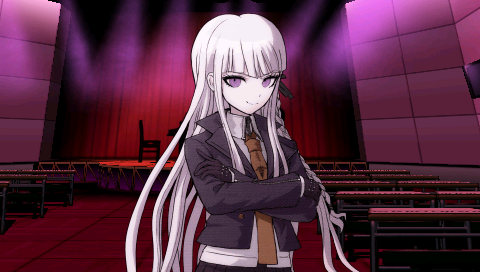 Did you think I wouldn't notice? You're hiding something...

...Aren't you?

T...that's...!!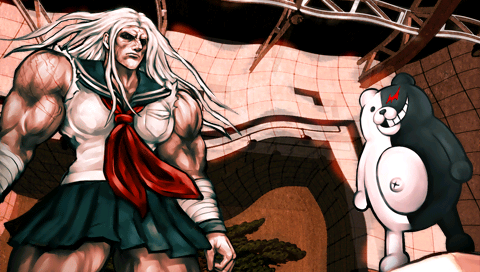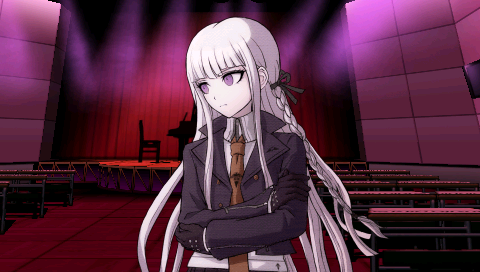 ...What's wrong?

If you're worried about the camera, just write it on a piece of paper and show me.

U...um, that's not it...

............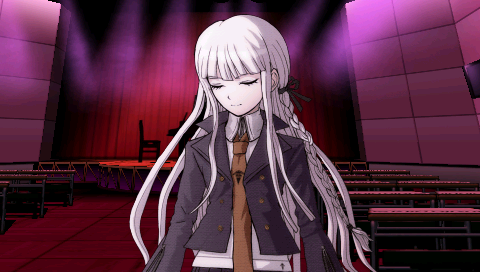 Friends should trust each other... Those were your own words, aren't they?
She's right. There shouldn't be secrets between friends. But...

I can't just accuse another friend of something before even checking with her first...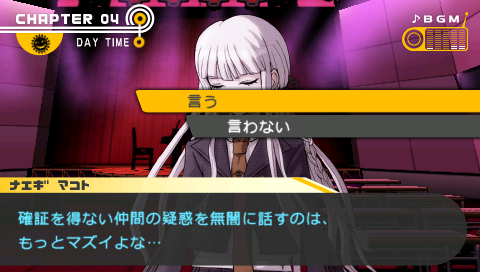 Tell her
/ Don't tell her

Wait, I actually have a choice to do the wise thing and consult with someone much more qualified than me to handle the situation?!
I never had a chance to ask Oogami-san what happened...
If I tell Kirigiri-san, I'm probably just inviting trouble...

Secrets between friends aren't good, but...
I can't just accuse another friend of something before even checking with her first...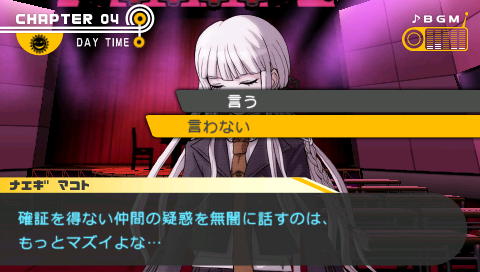 Tell her /
Don't tell her

Oh. This is a Dragon Quest-style multiple choice question.

I...I'm sorry... I can't tell you yet...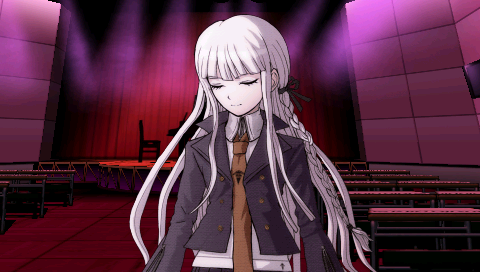 ............

So that's your answer, is it.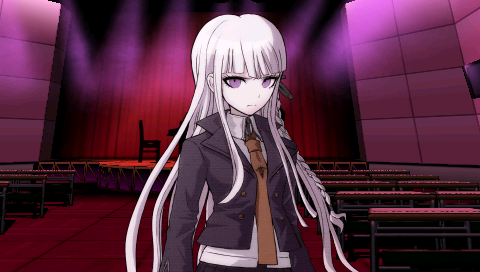 Asking to hear other people's secrets while keeping your own to yourself is a little cowardly, don't you think?

I...I'm really sorry...

............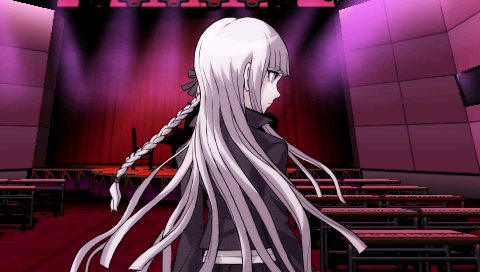 Fine, then.

Goodbye.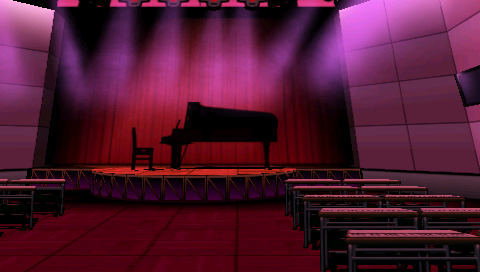 Kirigiri-san left without saying another word, as if casting me aside.

I think I got her angry...

Moving on to the room with the desk and the flags.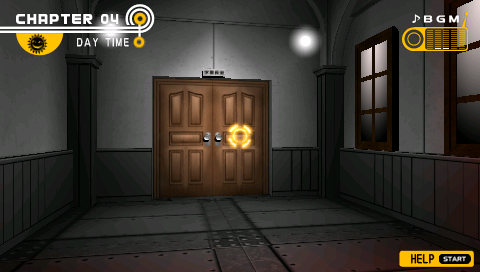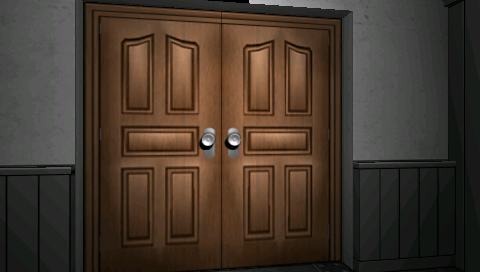 The sign says this is the headmaster's office...

The headmaster's office... There must be something here.
* rattle, rattle *

What the...? It's locked...?

Shit...!

Damn, another locked door. There's just one room we haven't visited yet, the one right next to the locked headmaster's office.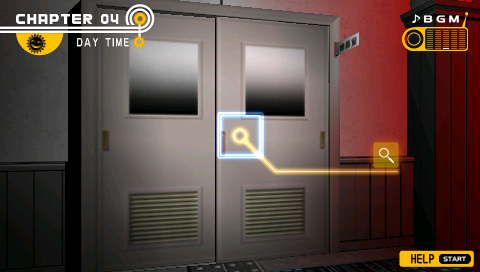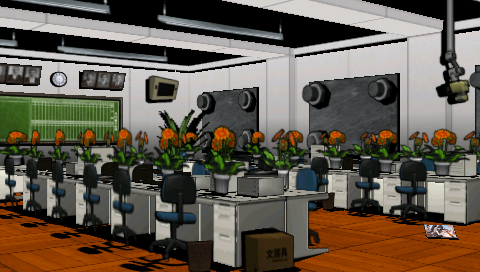 So this is the faculty room...

But, of course, there are no teachers anywhere around...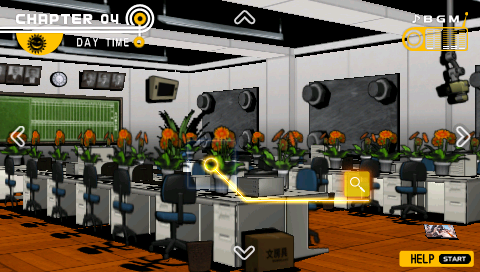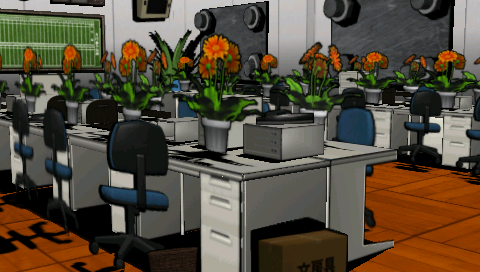 There are flowers on the desks. They somehow feel... out of place.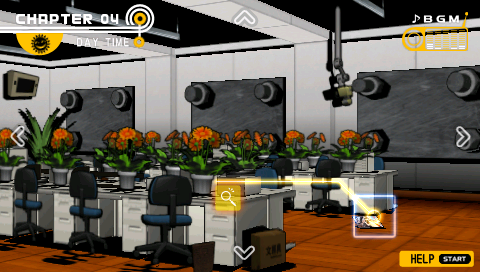 Much more importantly...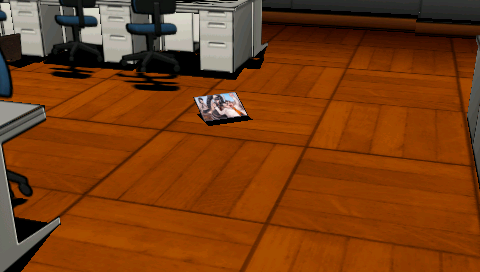 Huh? There's a photo on the floor...!

This photo...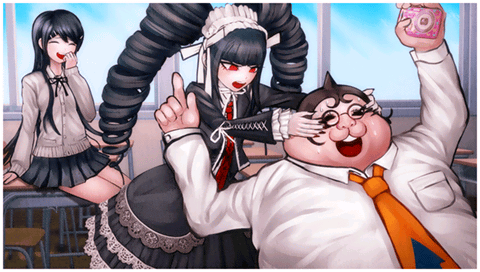 ...Eh!?
Celes-san, Yamada-kun... and Maizono-san!?

They all died... but they are smiling...
In a classroom with open windows...

It's... just the same...!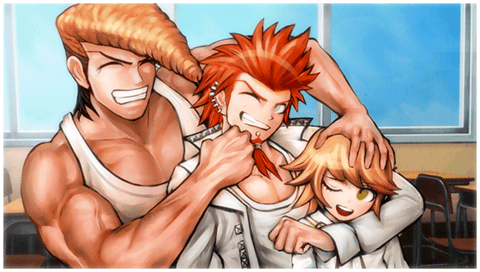 The same as that photo I found before...!
They can't not be related...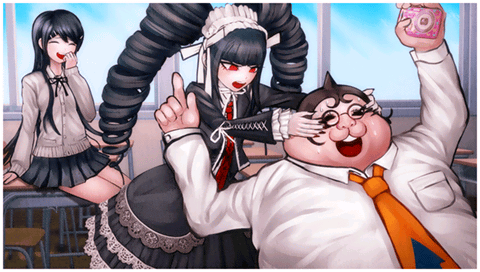 They're smiling as if they're regular high school students...
Regular high school students with a regular high school life...

Smiling like that after experiencing our current despair inducing situation... I don't think that's possible...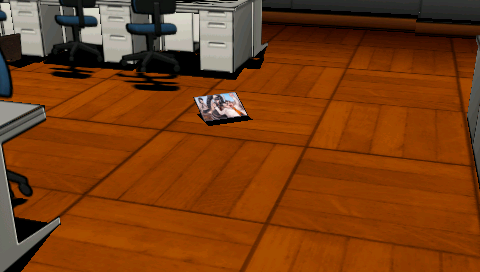 Was this picture taken... before they came to Hope's Peak Academy?
If that's the case... did they know each other before coming here?

Even... Maizono-san...?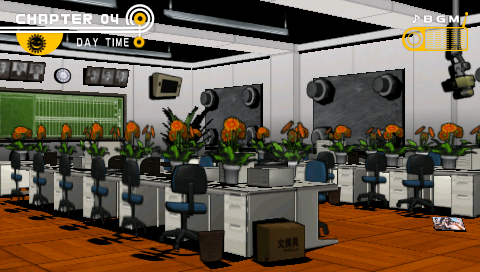 No, that's impossible! Monobear must have faked it!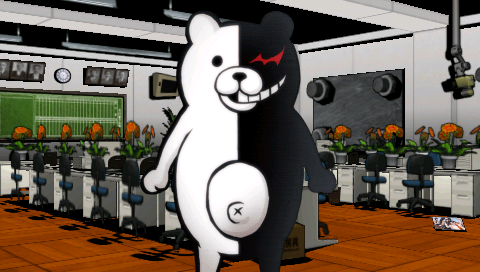 Nyohoho! Do you think this is fake?!
The photo in my hand was snatched away by Monobear, who suddenly appeared.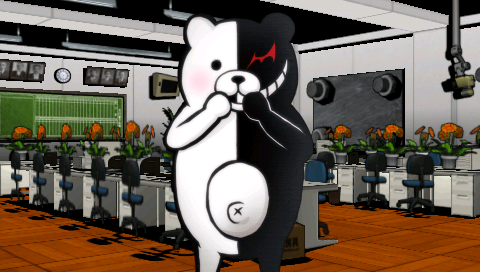 You're just like a little baby, seeing conspiracies all around! What is your paranoia gonna make you say next? That the moon landing was also faked?

So... is this photo real...?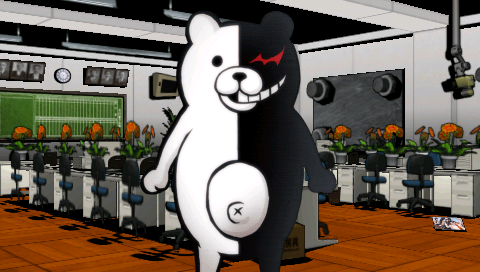 If they gave a nobel prize for honesty, I would have undoubtedly be on the short list for winning it.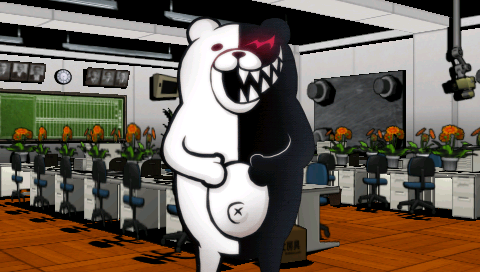 ...Just kidding!

I don't care! I just want to know if this is real or fake!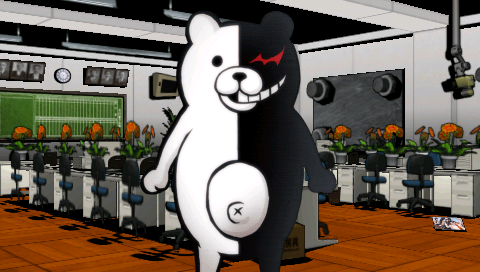 Naegi-kun... You love to classify things properly, don't you...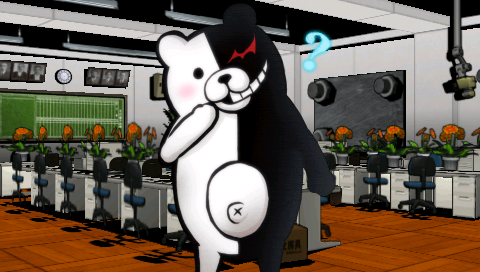 That's no good. No good at all.

If you try to classify the unclassifiable, doesn't that just mean you classify your own thoughts?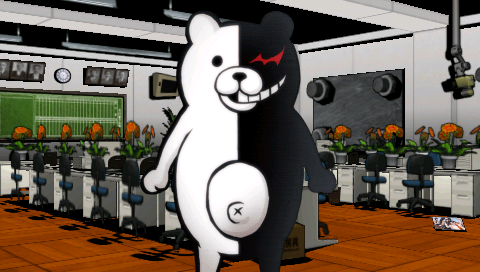 This photo is real. Nothing more and nothing less.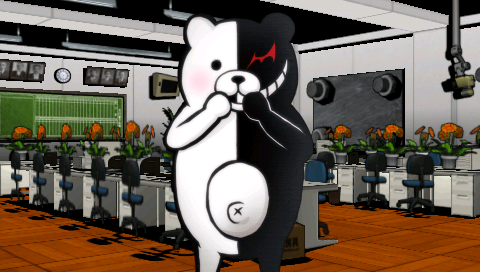 Upupupu...!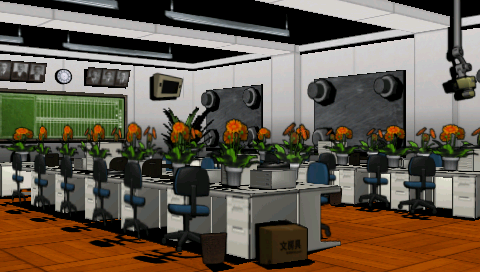 Saying nothing more, Monobear disappeared...

So is that photo... truly real...?
Was he telling the truth...? In that case...

In that case...

Anyway, I think I've seen everything there is to see on this floor...
There are a lot of things to think about in here, but first I should go back to the cafeteria to hear everyone's reports.