Part 84: Super High-school Level Update #74
*ding-dong-ding-dong*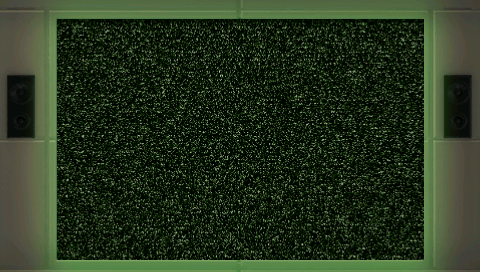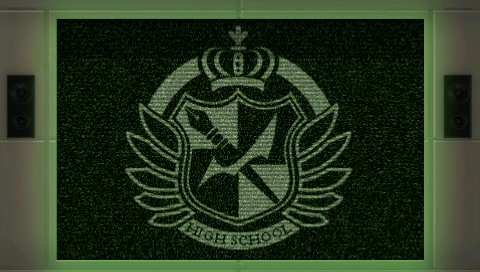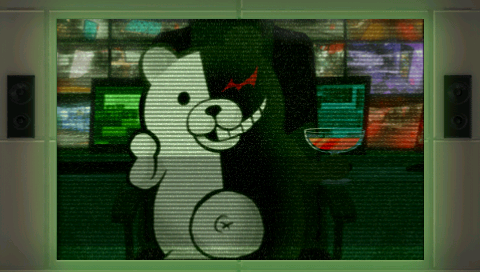 Good morning, you bastards! It's 7 am in the morning! Time to wake up!

Let's all strive to do our best today!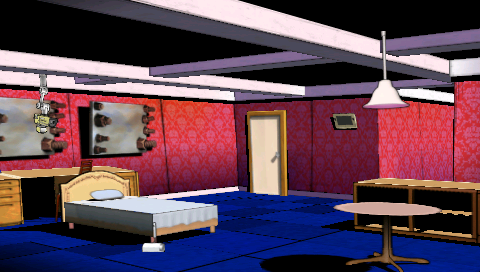 First things first, off to the cafeteria...
This morning the game lets us walk there manually, optionally talking to some people on the way.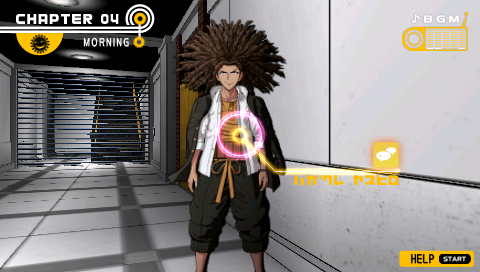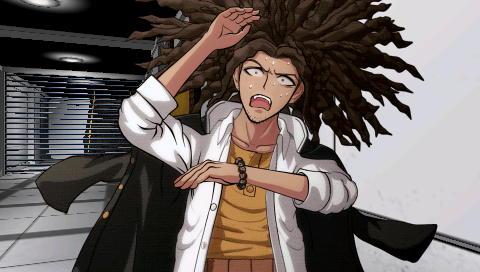 Waa! Naegi-chi!

W...what is it? Why are you so surprised to see me?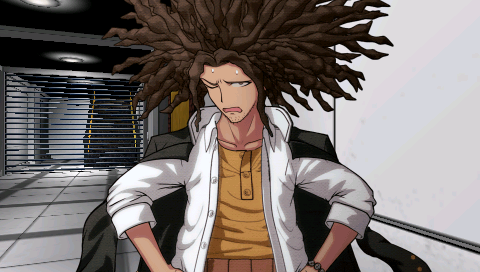 Give me a break...

If you had gotten here even one minute earlier, my lifespan would have been shortened first thing in the morning.

Eh? Why?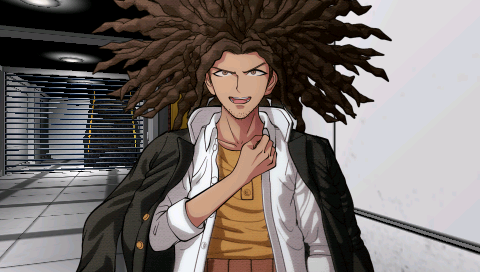 Kirigiri-chi was here until just a minute ago.

Kirigiri-san?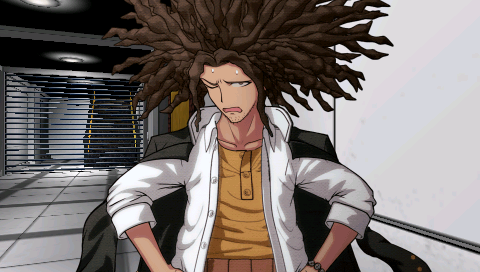 Um, Naegi-chi.

When a boy and a girl's relationship goes to shambles, the two people involved aren't the only ones whose lives get wrecked.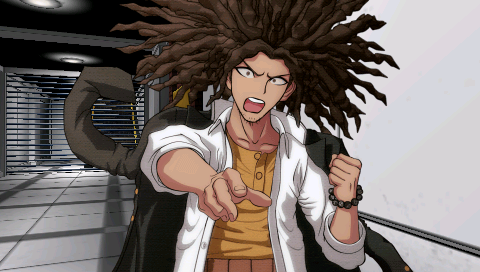 Trust me, I know what I'm talking about!

So just make up with her quickly, 'right?

Well, I'll see you at breakfast.
No matter what he says, it isn't that easy...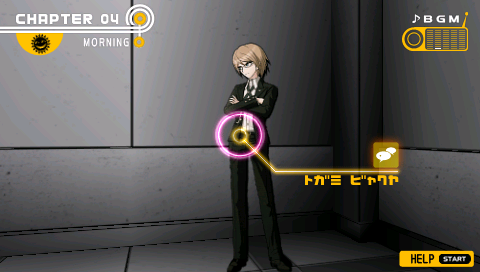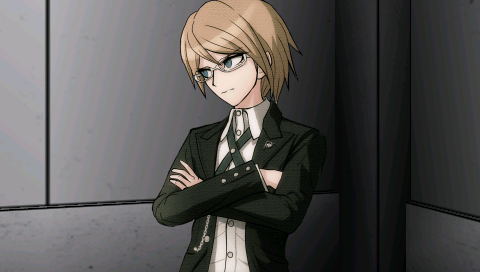 ...What do you want?

Togami-kun... About breakfast...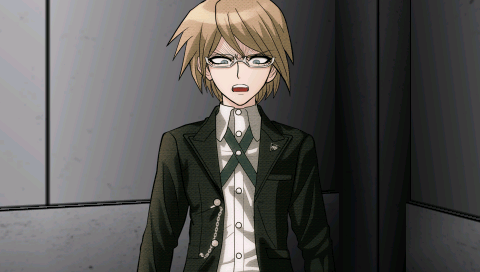 You don't think I'm just going to join you, do you?
I guess not...

Oh, but since I'm talking to him...
Maybe I should ask what he thinks about Alter Ego's information...

...No, that's no good. There are surveillance cameras here.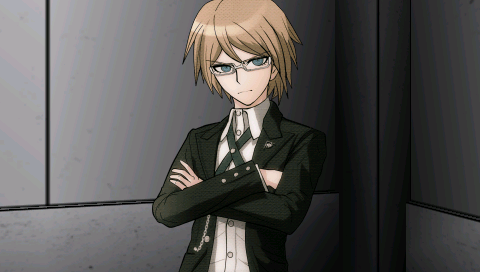 ...What is it?

U...um...

Hmf.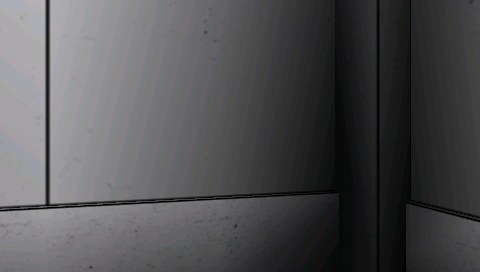 He went away...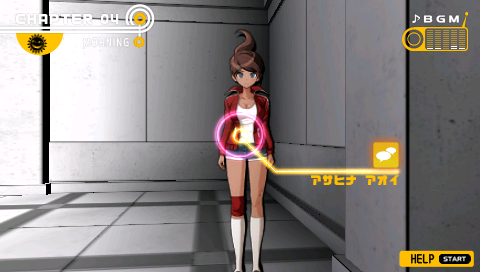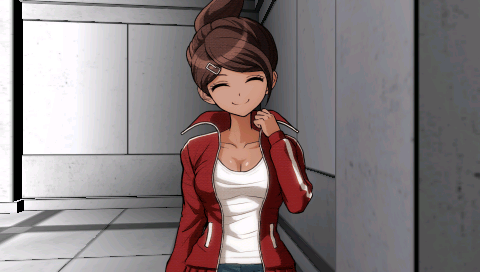 Good morning, Asahina-san.

G'morning!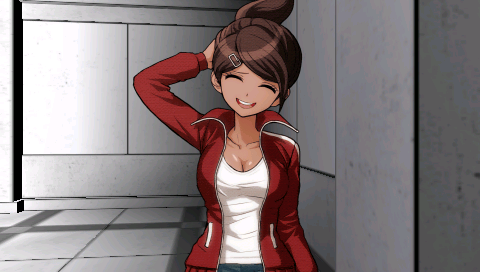 Hey, you were pretty cool last night, you know!

Eh? What are you talking about?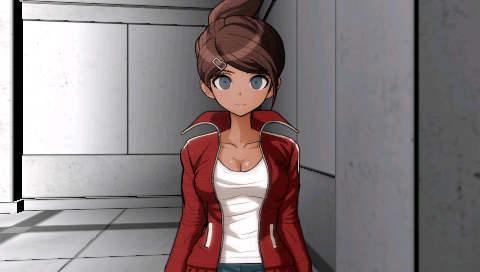 Y'know, what you said about Alter Ego being our friend!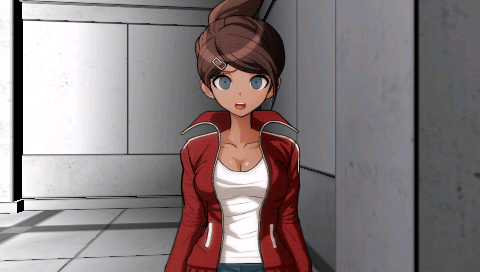 I've been thinking the same thing, but...

I couldn't really put it in words at that time...

So I was really happy when you said it!

Heh heh... Thanks!

Y...you're welcome...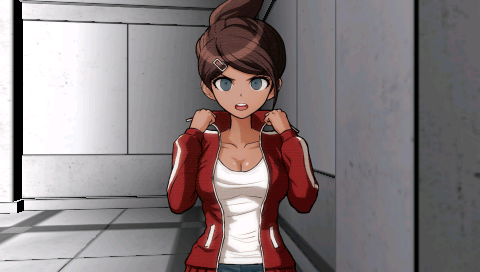 You're usually kinda normal, Naegi, but from time to time you say some powerful things!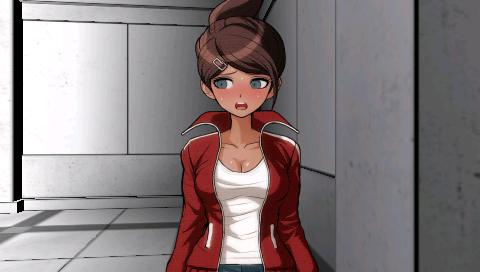 You know... you did some awesome stuff for us more than once...
"More than once"... She's talking about the school trials, isn't she.

T...that was nothing. I was just lucky...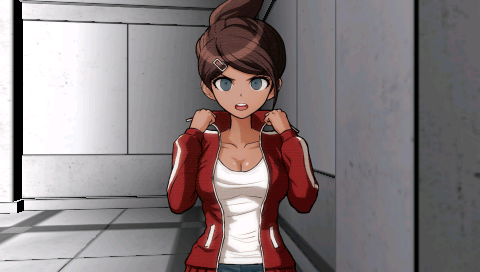 It wasn't nothing!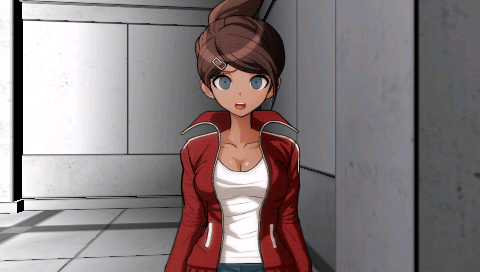 If you and Sakura-chan work together, I'm sure we'll be able to find a way out of here...

I'm sure we can.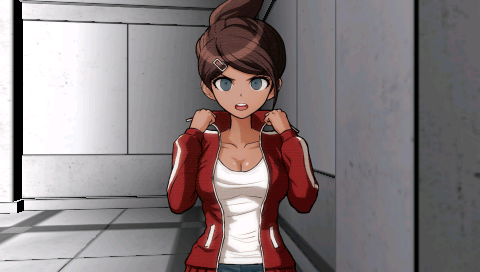 Yeah! We must!

Now that I'm all pumped out, it's time to go eat!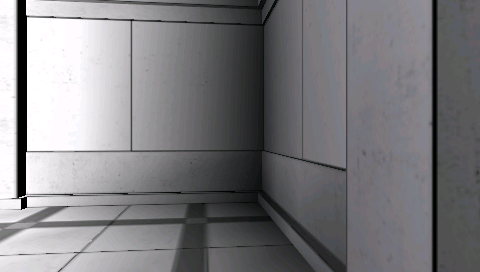 That's right... The road may be long...

But we must go on and reach our goal...!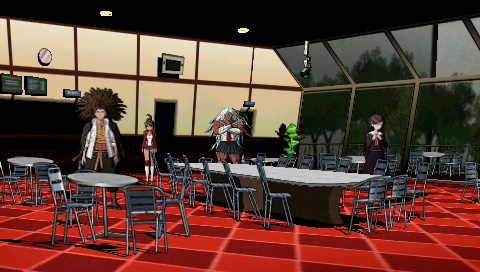 When I entered the cafeteria, the first thing I noticed was her standing there.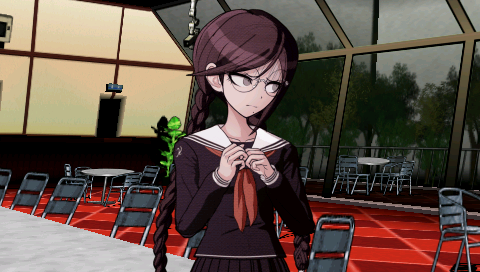 W...why are you staring at me...?

Fukawa-san...?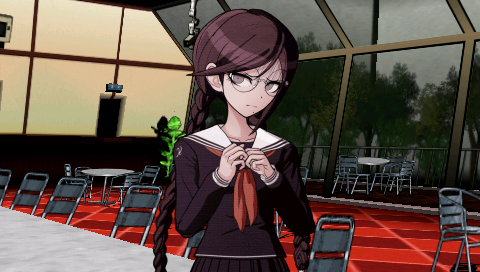 Y...your eyes probably rot just from watching me, don't they...?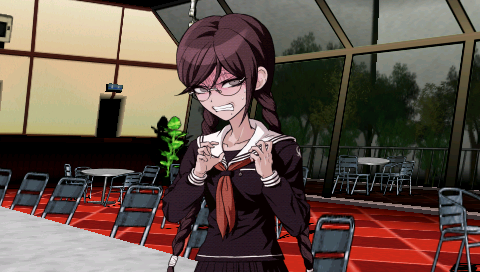 In that case, just look some other way...!!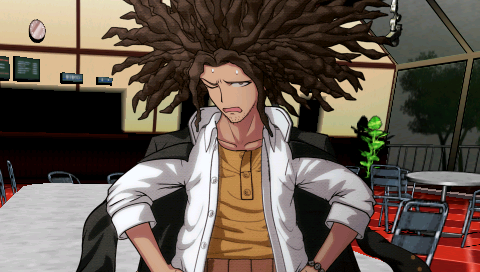 Naegi-chi is just surprised to see you here at breakfast...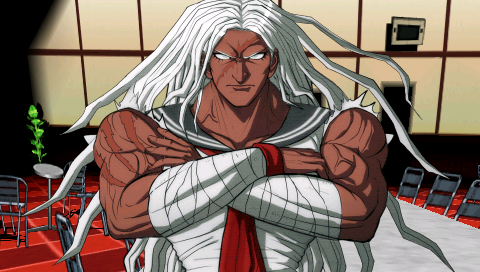 To speak the truth, we have not seen you here for a long time, Fukawa.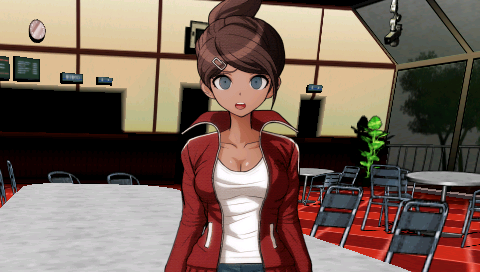 ...Did you have a change of heart or something?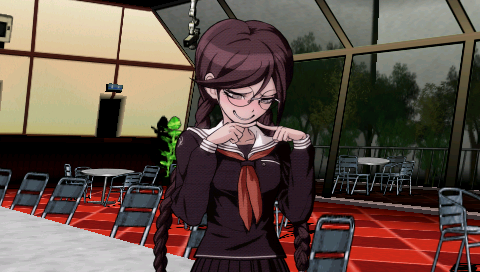 Byakuya-sama... told me he doesn't like girls who are too thin... s...so...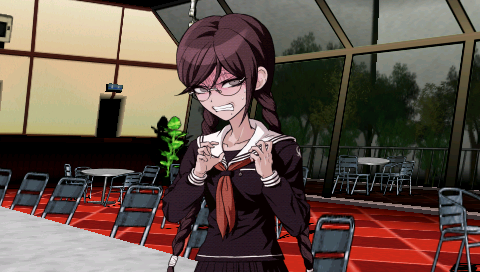 I'll eat! I'll eat until I can't take it anymore! Until I drop!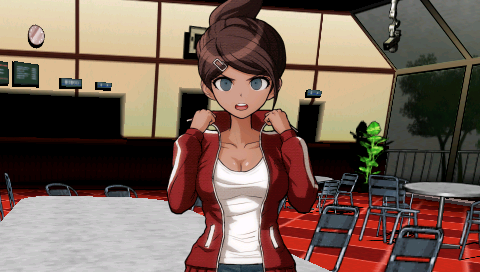 Let's do it!!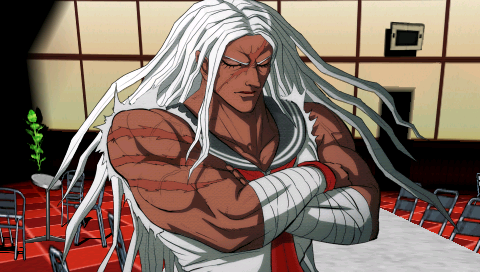 Do not take it too far, Asahina...

Um... I don't see Kirigiri-san around...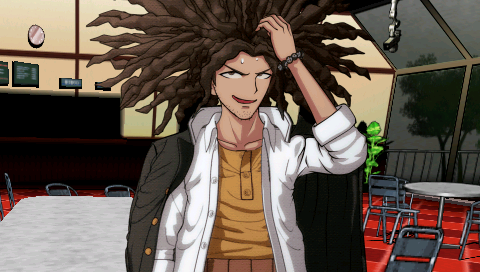 She said she's going to come in later.

Later...?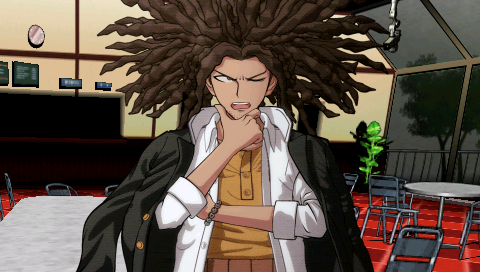 After you leave.
So she hates me that much...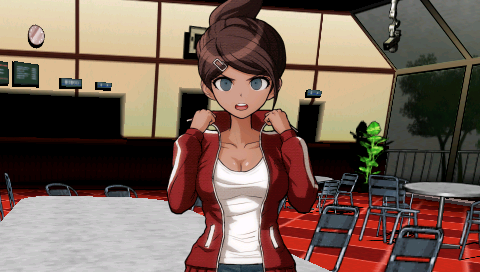 I said her type was easy to win over, but you've been doing it all wrong!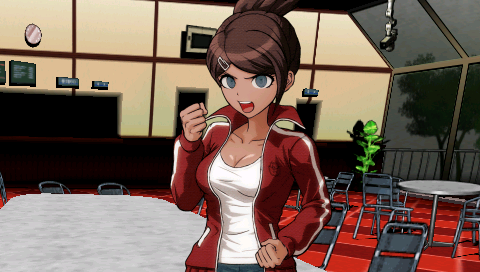 It's dirty, Naegi. Real dirty. You're the king of dirty boys!!

I...it's all a misunderstanding!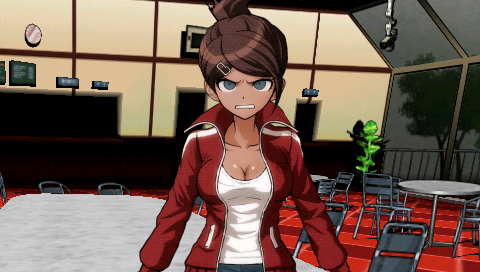 You're just one of those despicable guys who try to speed their way through romance, aren't you!!

N...no, you've got it all wrong...!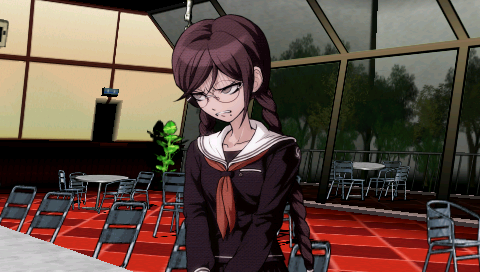 Asahina... Give me a break...!

You've been doing nothing but talking your naughty talk all morning...!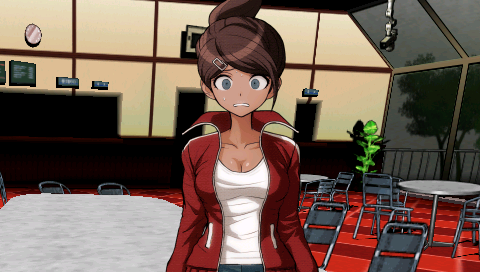 N...naughty? Me?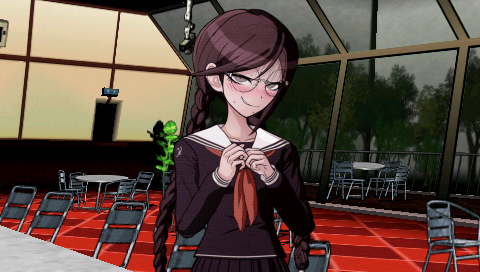 You're naughty, and so are the things you say...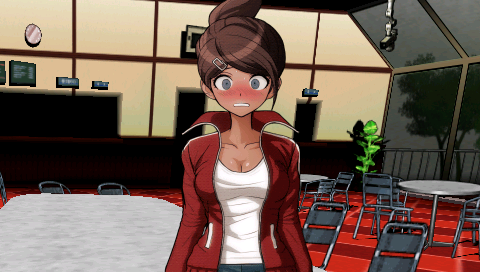 I...I'm not naughty...!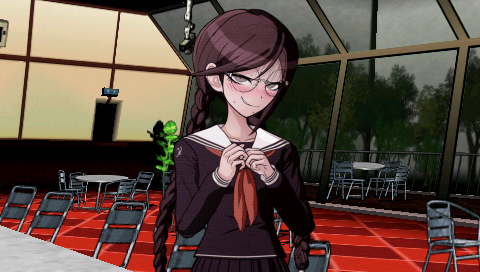 Don't try to deny it... you're a naughty girl... I can tell...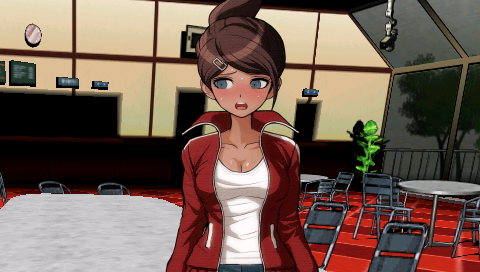 S...stop it...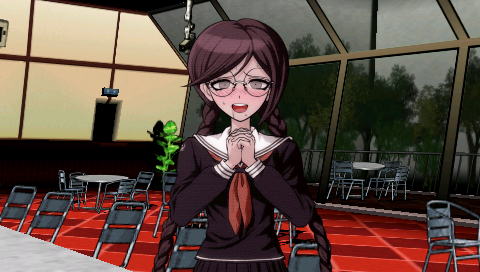 You and.. that selfish body of yours...

You're probably out there doing restricted school club activities every night, aren't you?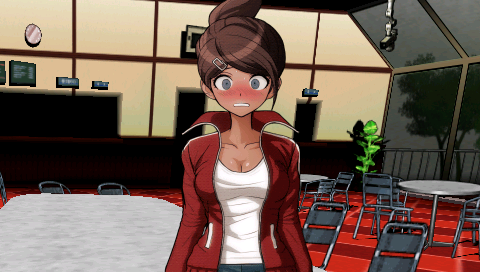 W...wait... I can't handle that kind of talk...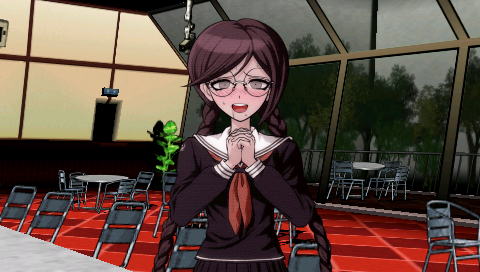 Extracurricular lessons in the middle of the night... Your misbehavior in class doesn't go unnoticed...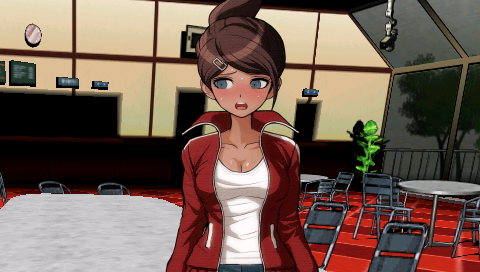 P...please stop...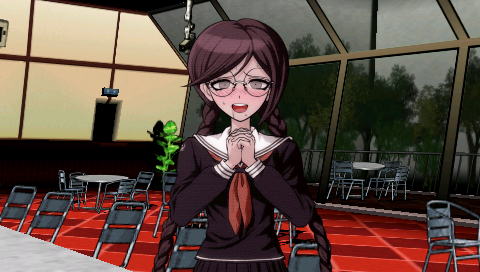 You tell them to stop, but your sweaty hand picks up a fat chalk!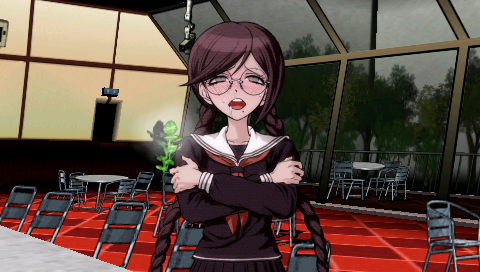 A pop quiz soon follows, your sighs scratching the blackboard, bathing in the dark light...

And then... and then!!

Oh, this is so wonderful! My mind is brimming with indecent inspiration!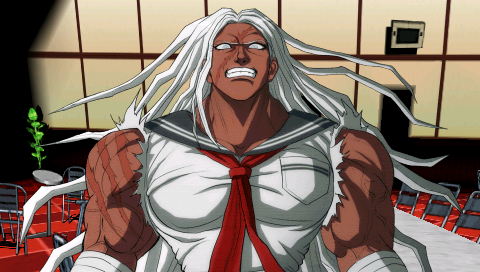 You villain! Which side of your face do you want me to tear apart first, the left or the right?!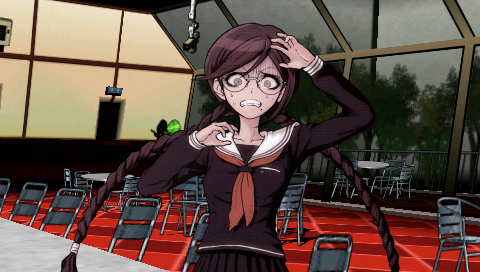 Eeeeek! I'm sorry I'm sorry I'm sorry I'm sorry!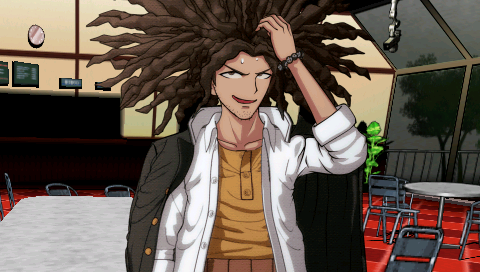 Let's just let her be. She's just a little weird in the head.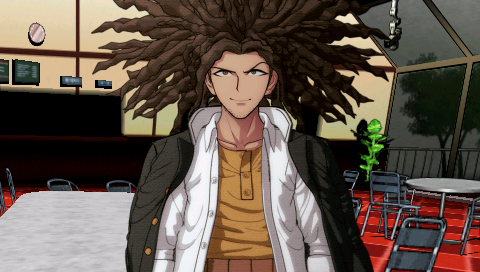 Anyway, it would be best if Naegi-chi and Kirigiri-chi just make up, 'right?

S...sure, I get it...
Of course, I'd love that to happen.

But, it all started because I couldn't tell her about that incident.
That's why... I must talk to Oogami-san about it. Quickly.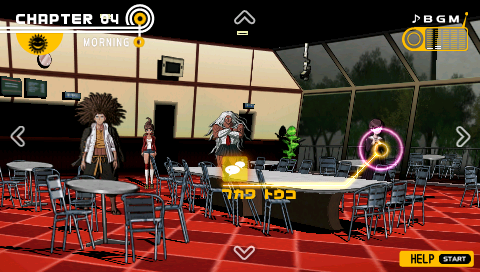 Back in control, but there's nothing really to do other than speak to everyone in the room, starting with Fukawa.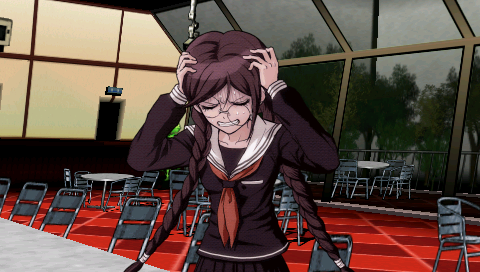 I'm sorry I'm sorry I'm sorry... Don't hit me don't hit me don't hit me...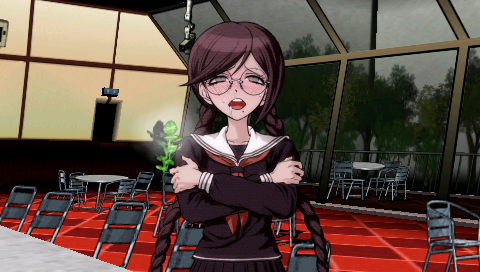 If you're going to hit me ask Byakuya-sama to do it please... Please hit me Byakuya-sama please hit me...
I think it's really best if we don't get involved.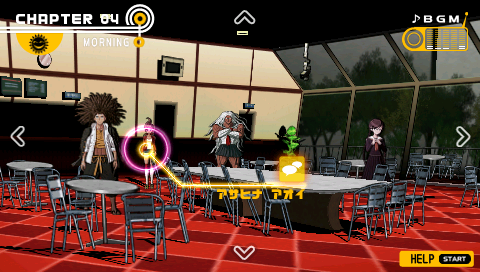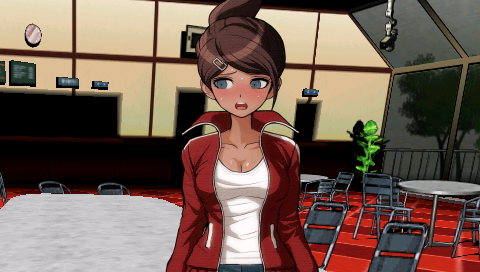 Uu... My head is spinning...

I really can't handle talking about... that...
That's quite an unexpected weak point Asahina-san has...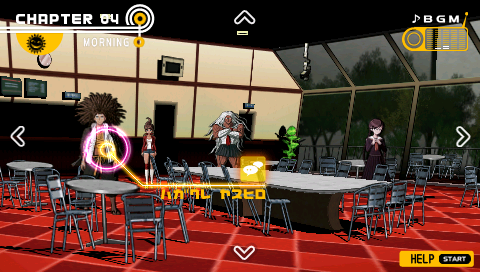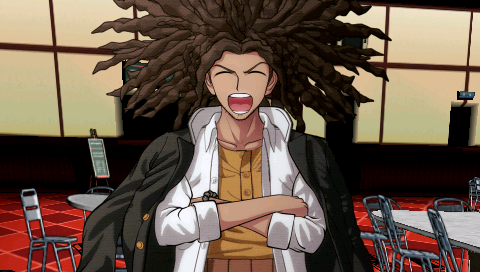 Hey, cheer up! It's not that bad when girls hate you.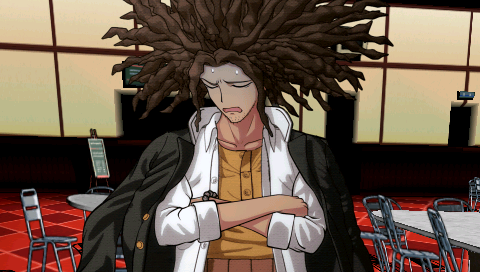 At least, it's better than being sued by them like me, 'right?
He... really does have all kinds of experience, doesn't he.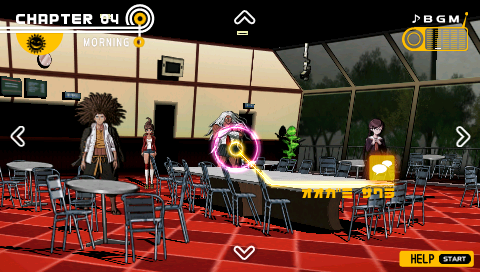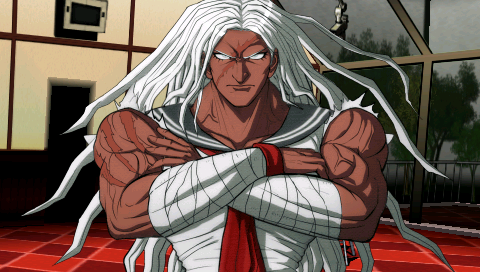 U...um, Oogami-san?

What is it?

Do you have some time later? I have something I want to talk to you about.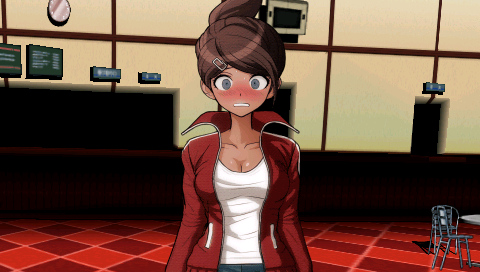 Ah! You aren't trying to make a pass at Sakura-chan after Kirigiri-chan dumped you, are you?!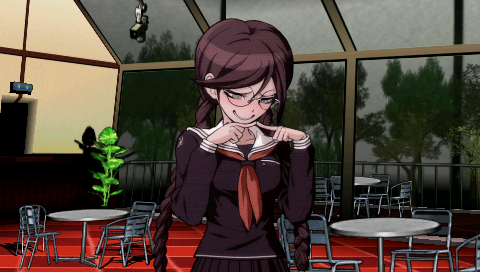 He'll take any female that's available, won't he? I...I guess it's natural, he
is
a high-school boy, after all...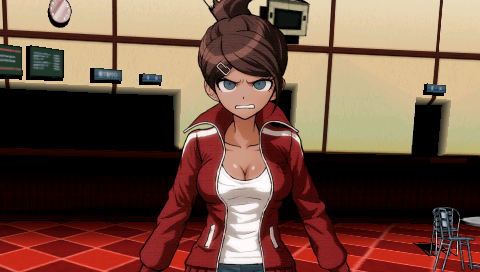 Watch out, Sakura-chan! Naegi became a wild beast! The king of beasts!

Y...you've got it all wrong...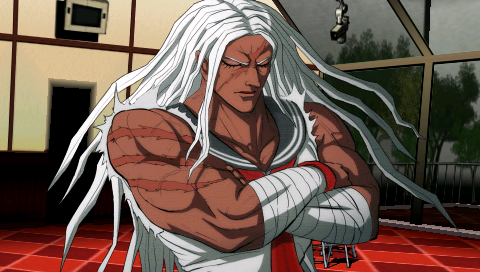 ...Naegi. Can it wait until tomorrow? I want to rest in my room for a while today.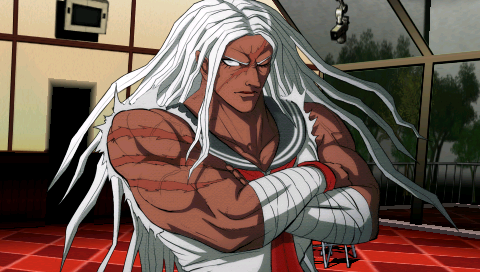 For the past few days, My body has not been in the greatest shape.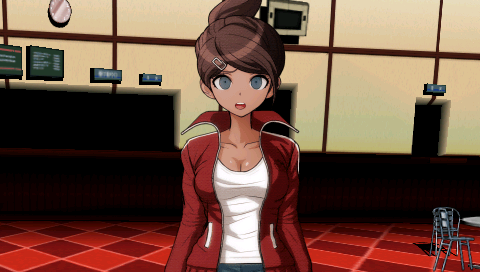 Eh? Are you sick?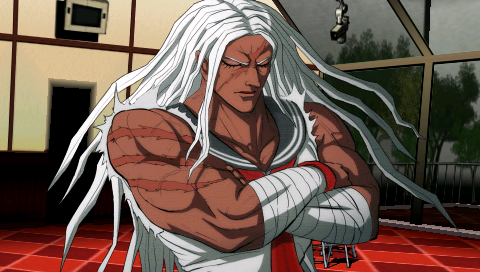 It is not a big deal... I have just strained my muscles a little too much.
Eh? Could it be...?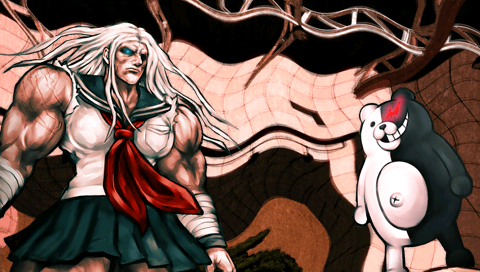 Could it be because of that battle...?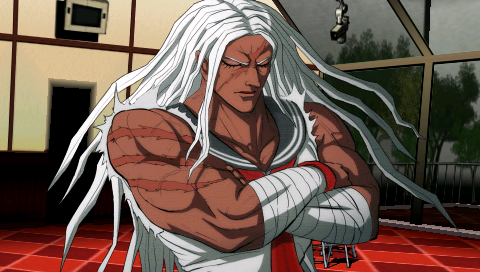 ............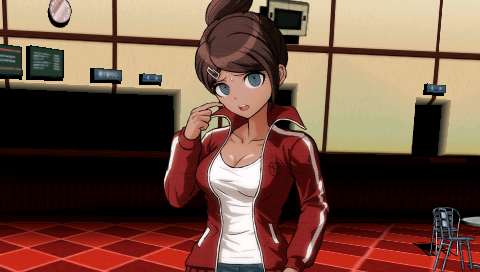 But, it's rare that you'd want to rest, isn't it? Are you sure you're alright?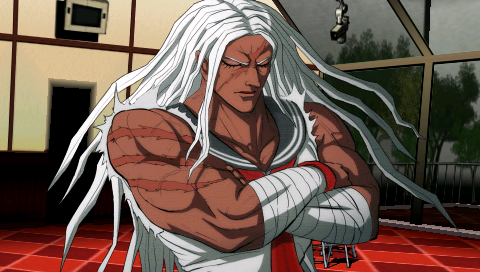 If I drink some protein and sleep, I will get better in no time.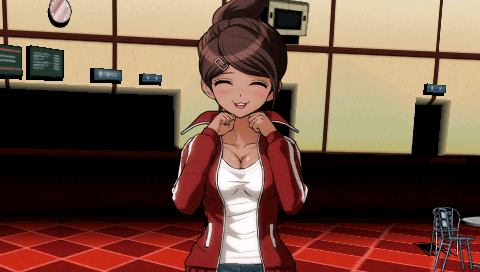 Protein sure is the ultimate medicine, isn't it.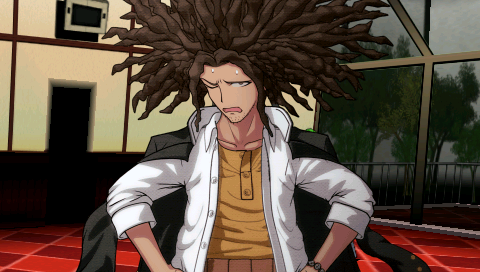 I wish you two stop treating that stuff like some kind of mana from the gods.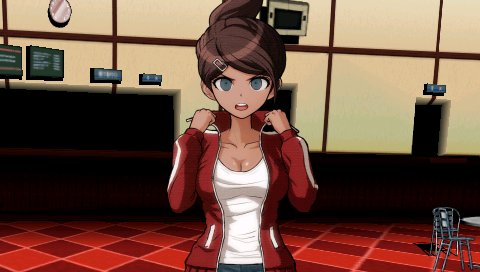 Naegi! I don't know what it's about, but please wait until tomorrow! Sakura-chan isn't feeling well!

S...sure...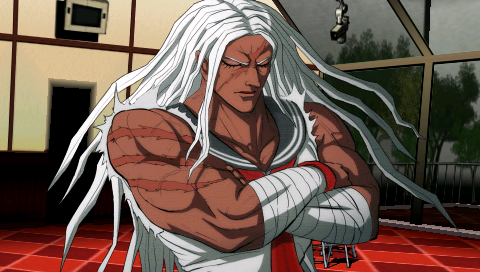 I am sorry.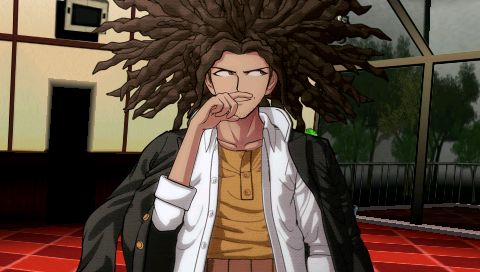 Well, it's about time we start eating, 'right?!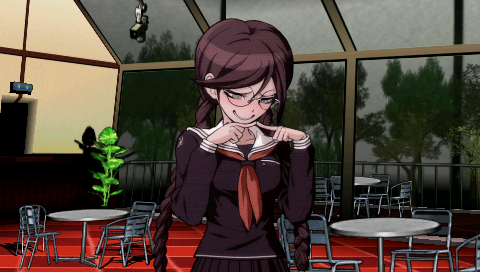 E...eat? My nerves are killing me...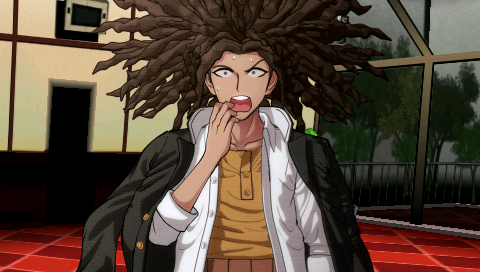 Why are you so nervous...?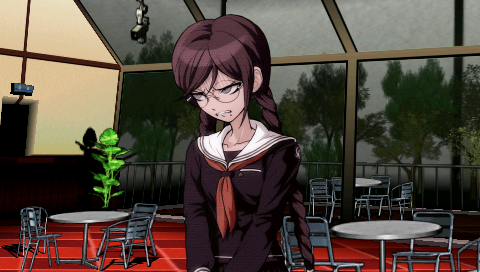 I...it's just that I'm not used to eating in front of other people...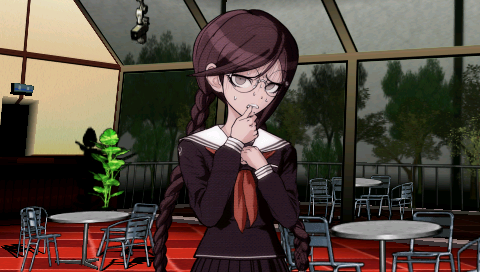 I...I've eaten alone ever since I was a child...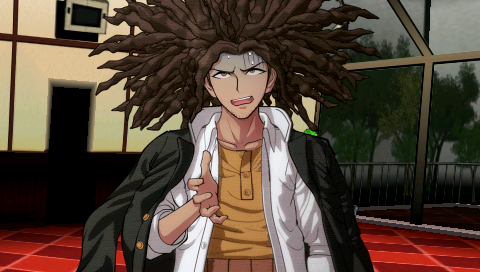 What about your family?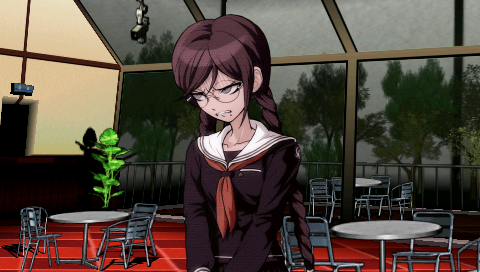 ...I have one. I live with my father and my mother and my mother.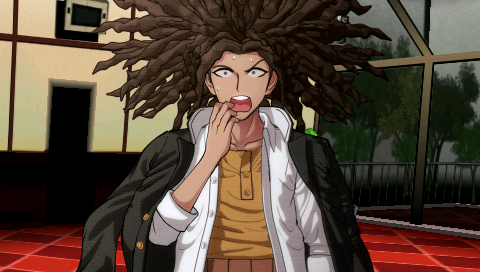 You have two mothers?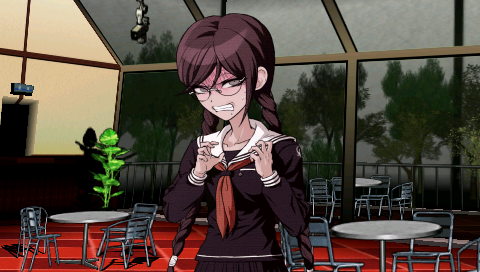 I...it's just private family circumstances...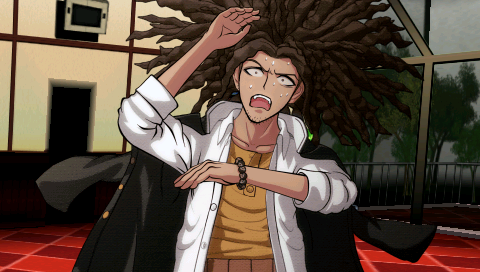 Those are some heavy circumstances!

Didn't we agree to just let her be? Nothing good can come out of getting involved with her...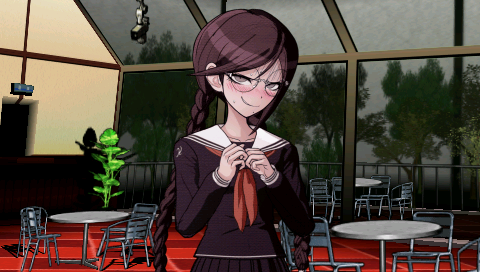 That sounds good coming form a filthy mouth like yours...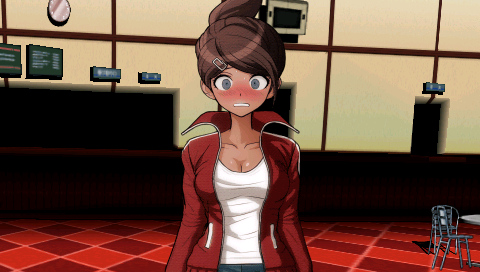 I...I told you to stop...!!

Um... anyway, I'll try eating fast.

Kirigiri-san won't come in until I'm gone, right?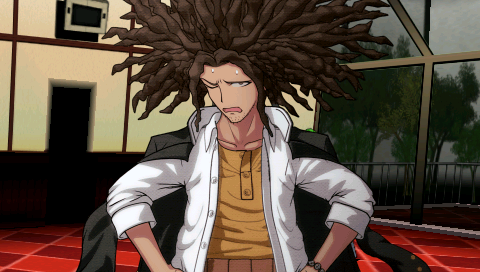 It sure is heartbreaking...

Ha, ha ha ha...

I ate my breakfast as fast as I could, and returned to my room.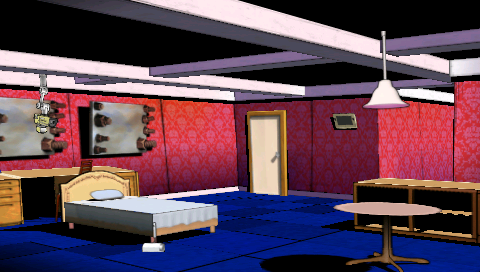 So I can't ask Oogami-san about that incident until tomorrow...

But... I guess that's a relief...
It takes courage to confront Oogami-san like that, after all...

It's free activity time! We need two characters to spend time with, so get to voting!