Part 20: Episode 17 - I'm still in a dream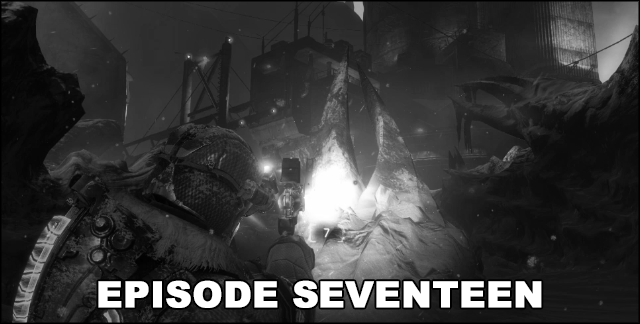 Alternate title: The really long one. This video doesn't have a cut commentary version because there aren't any cutscenes in it! I am joined by Blind Sally and Nine-Gear Crow.
TEXT LOGS IN THIS CHAPTER:
(there are a
shitload
of them)
quote:
FIRST CONTACT SCENARIOS

ONE - No danger of infection or contagion.

TWO - Moderate danger of infection or contagion. Standard sterilization procedures required.

THREE - Localized outbreak. Infected personnel to be quarantined.

FOUR - Virulent outbreak. Destruction of site and all associated personnel required.

FIVE - Extinction-level outbreak. Extreme containment procedures required. All personnel participating in, associated with or with knowledge of the outbreak site must be destroyed. All locations connected to said personnel to be destroyed. Where destruction is impossible, permanent containment is required.
quote:
FROM: GOA Ambrose Caiden

TO: GEN Spencer Mahad

SUBJECT: SCENARIO FIVE

After reciving your reports on Dr. Serranos's latest discoveries and in light of recent activities at the marker test sites, it is the decision of the council to invoke scenario five. What we once thought would save us from extinction has only served to hasten it.

Everything about the markers - all research, all replicas, even the black marker - must be forever buried. All sites are to be shuttured. All involved planets are to be blacklisted. Everyone involved in the marker program, from Aspera to Aegis VII to Tau Volantis are to be executed.

We realize this will effectively negate our ability to fight the war against the separatists. They will no doubt take power and form an Earth government in the vacuum we leave behind. But to save the future of mankind, this must come to pass. Should one person, ship or scrap of paper survive to make its way into their hands, the epidemic will begin anew and our sacrifice will have been for nothing. I know I can count on you to carry out these orders.

It has been a pleasure working with you for these many years.

Long live the colonies.
quote:
FROM: COL J. Gaskell

TO: GEN S. Mahad

SUBJECT: Disposal

Per your orders, the halls are packed with all of the research papers, biological specimens and lab equipment we could find. Incinerators are on standby. Just waiting for your final command to pull the trigger.

Still no sign of Serrano or Rosetta.
quote:
FROM: ADM M. Graves TO: GEN S. Mahad

SUBJECT: 163rd Special Unit

Would you mind telling me why I have to double-bunk half the officers on my ship so you can house your freeloading 163rd? They're rude and they don't do a single useful thing aboard my ship. Why are we wasting resources on this frivolous addition to the mission?

---

FROM: GEN S. Mahad TO: ADM M. Graves

SUBJECT: RE: 163rd Special Unit

If it's bunk space you're worried about, you won't have to worry for much longer. I'm taking half of them down with me to the planet once we get ourselves dug in.

And as far as manners go, I didn't pick them because they play nice with others. There's a reason they call the 163rd the "Reapers". These guys all cut their teeth doing wet work for us during the Secessionist riots on Earth. They're the coldest bunch of killers you're ever going to find and they're my insurance that nothing's going to go wrong.
quote:
IN THE EVENT OF CONTAINMENT FAILURE, STERILIZATION GAS MUST BE ADMINISTERED FROM THE NEAREST STERILIZATION BOOTH. THESE AIRTIGHT CHAMBERS WILL PROTECT YOU FROM THE HIGHLY CORROSIVE STERILIZATION GAS. ALL UNPROTECTED BIOLOGICAL TISSUE IN THE AFFECTED AREA WILL BE DISINTEGRATED. IT IS IMPORTANT THAT THE STERILIZATION GAS MIXING STATION BE MAINTAINED AT ALL TIMES. YOUR SAFETY AND THE SAFETY OF THOSE AROUND YOU DEPEND ON IT.
quote:
PERSONAL LOG: DR. ALEXEI OBRUCHEV

The extracted ice cores are spectacular. Contrary to everyone's expectations, the ice is not layered in a predictable pattern befitting millions of years of gradual deposits. Rather, it indicates a single period of great upheaval and then a sudden, dramatic climate shift.

As impossible as it seems, I believe the planet underwent an ice age in a single day. But how can this be? With each discovery we make, even more questions surface.

Thankfully, Dr. Serrano's signal-tracking experiments have painted a trail that leads under the ice. It is there that I suspect we will soon find all of the answers we seek.
quote:
FINDING TAU VOLANTIS

Tau Volantis was discovered after intense study of the Red Markers, the man-made copies based on the original alien artifact, the Black Marker. The Red Markers, sequestered safely away on distant star systems such as Aegis VII, Aspera and Proxima Centauri, among others, were themselves a mystery, as they were more grown than built. As the Red Markers were studied, it became clear they were receiving the signal they broadcast, rather than creating it themselves.

The Ptolemy Array was built specifically to triangulate the distant signal using three Red Markers. They located the source, and it proved to be the most distant point ever reached by man, Tau Volantis, here in this previously uncharted arm of the galaxy.

This feat of science and technology will hopefully reward mankind with the ultimate prize -- the limitless energy that seems to emanate from the Markers, the source of which we expect to find here.
quote:
DAILY REFLECTIONS: JACOB DANIK

My patience, like our numbers, grows thin. It is infuriating that the reckless behavior of a single man can be the undoing of our entire existence.

Should Isaac Clarke succeed, man will dwindle and die. The legacy we leave behind will consist of nothing but dust and decay.

The only hope for our future rests in the Marker's plan. Our only hope of enlightenment, of harmony and peace will come from the undoing of all the horrors man has sown.

Worry not, in the end, Isaac will relent. There are ways that even a difficult man such as he can be swayed.
GOD DANIK YOU'RE SUCH A TOOL STILL
quote:
PERSONAL LOG: DR. ALEXEI OBAUCHEV

I am first and foremost a scientist. It is our duty to be bold in our studies. It was, therefore, my decision to attempt a controlled thaw of an intact specimen.

While I'm sure many will miss his antics around camp, I remind my colleagues that it was PVT Freeman's decision to volunteer for the duty of handling the specimen while we stood in the protective safety of the control booth.

I'm sure we were all surprised when the ancient tissue showed twinges of life once freed from its icy encasement. And no one was more surprised than the poor Private when a previously unseen appendage snaked forth from the thawed carcass and into his chest cavity.

It may have been PVT Freeman's end but I'm sure he would have been happy knowing science had taken a bold step forward that day.
quote:
FROM: CPT RAYMOND REED

RE: PVT MYERS APPEAL TO JOIN THE 163RD

When I look out across the yard, I see only weakness. The war with the secessionists has claimed our fiercest warriors and replaced them with children.

Half of these pricks can't hold a rifle and the rest piss their pants the moment they hear one go off. If you want to make it in this world, not only do you have to be willing to kill, you have to like it.

PVT Myers is a tool so it's only fitting we use him as one. Let's give him one week of solid abuse before we kick him out the door. Maybe then he'll wise up and realize he'll never have what it takes to be one of us.
I like this guy, there are a couple logs about him (Private Myers, not Reed). Tells a little story about what happens when to your brain when you're succumbing to the marker's craziness signal.
quote:
PERSONAL-LOG: PVT K. Myers

I did anything I could to get put on the mission, to go to this frozen wasteland so I could follow the Reapers. It was my chance to get them to notice and I wasn't going to let anyone stop me. After PVT Freeman went missing, I became the new "water boy". I scrubbed Reaper toilets, made Reaper beds and cleaned Reaper guns, admiring the notches carved into the stocks of each beautiful weapon.

I finally worked up the nerve to ask one of the Reapers if I could join their team. I was ruthless, I was determined, I was ready.

He laughed at me just like my drill sergeant back at boot camp. Then he said I could join if I cleaned the toilets for a week with my bare hands with no shower privileges in between. He said if I could do that, I'd have what it takes.

What could I do? It was my dream. And he promised. So I did.
quote:
SCAF-ISC-31022 TV-AF2

PERSONAL-LOG: PVT K. Myers

So there I was a week later. Caked in human excrement. My skin broken out with sores. I had gone the extra mile. I was ready.

I guess I should have seen it coming. They took my picture and sent it out to everyone to see. They told me the only way I'd become a Reaper is if every last one of them miraculously died and I was the only one left who could take their place. Then they sent me packing. I got demoted to working in the pits.

I credit my determination and strong work ethic for not giving up.

In the dead of night, I returned to their barracks and went to their beds, silent, discreet. With a firm, swift stroke, their heads rolled away one at a time.

One... Two... I counted as I cleaved. Three... Four...Scratching the notches into my axe. Five... Six... They couldn't refuse me now. Seven, eight, nine, ten...

Fifteen heads later and I'm the 163rd. The most feared unit in the SCAF.

I am the Reaper.
Gruesome and edgy! Thanks, Myers! Also, this log is titled "The Axe Is Of Evil" which is a terrible pun, shame on you Dead Space 3.