Part 39: Masquerade at the Castle Gates
Chapter 36: Masquerade at the Castle Gates
Last time on Disgaea 2 we traveled a long road to Zenon's Castle. This time, we face the most brutal test yet.
Drama- Castle Gates Intro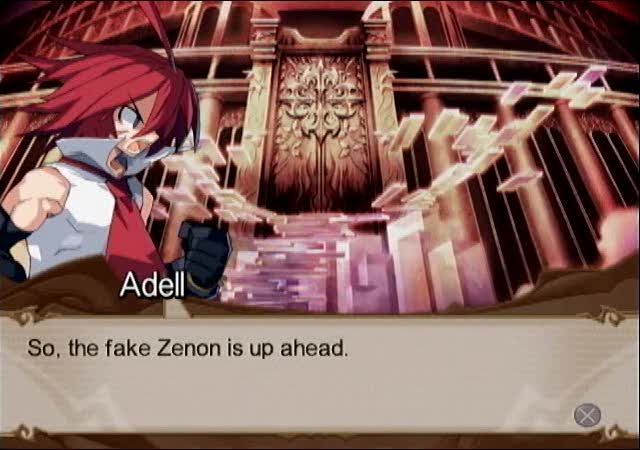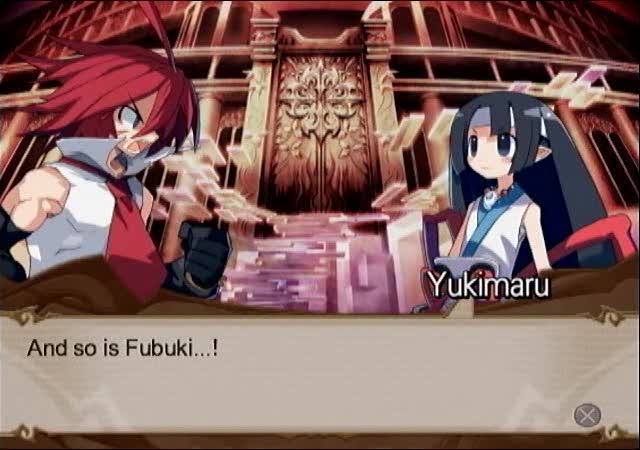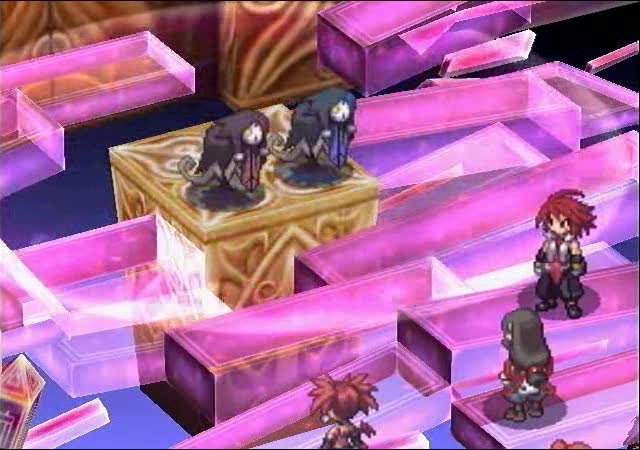 ......!!

...I knew you would come here. If I had the freedom, I would choose not to fight you. But, alas, this is our fate...

Do we really have to fight? I do not wish to fight you either.

...Do not hesitate. We have aided the cause of everyone's suffering...
...You must defeat us. Of we will be forced to continue to aid Overlord Zenon and his evil crimes...

What!? What do you mean?

You two... You are being controlled by him?

Yes... Our will and memories are sealed by Overlord Zenon.
His power is nearly exhausted from his battle with the other Overlords.
As a result, the strength of our seals has also weakened...
If you are to defeat Overlord Zenon, now is the time...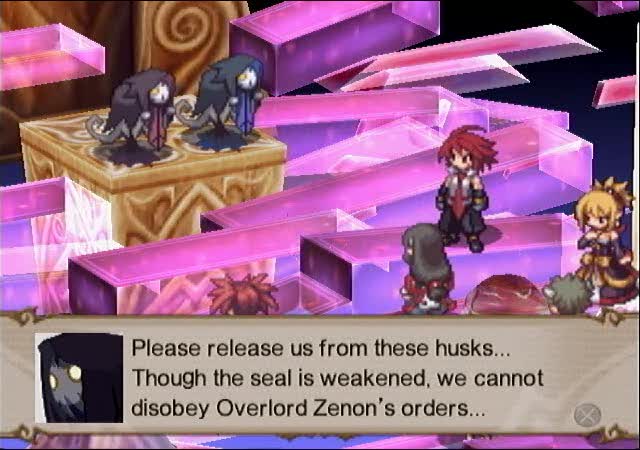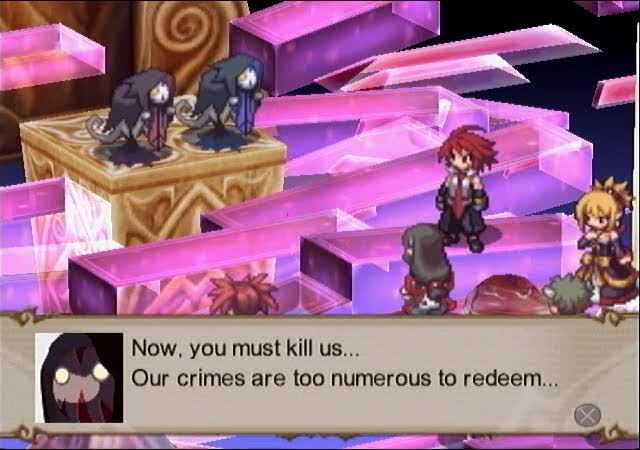 Let this be the atonement for our sins...

Damn...! I...!

Do not hesitate... We can only have one of two destinies...

I, I...!

Are you not fighting your way to confront Overlord Zenon...?
You have loved ones who are depending on you... Will you let them down...?

Errrh! Do I really have to do this!?

Yes... The time to choose is now...
Map- Castle Gates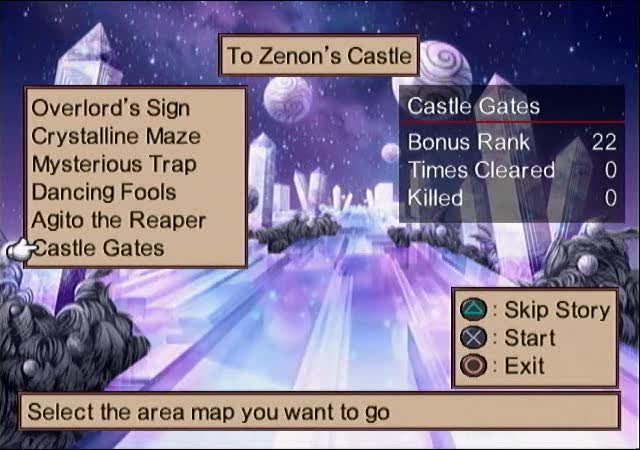 This is the most brutal map yet, and can easily end your game if you're not prepared. Why? Well let's look at what makes our masked friends Serion and Shura special.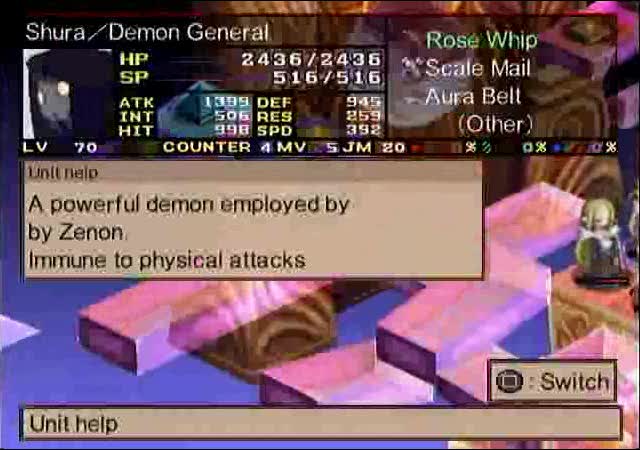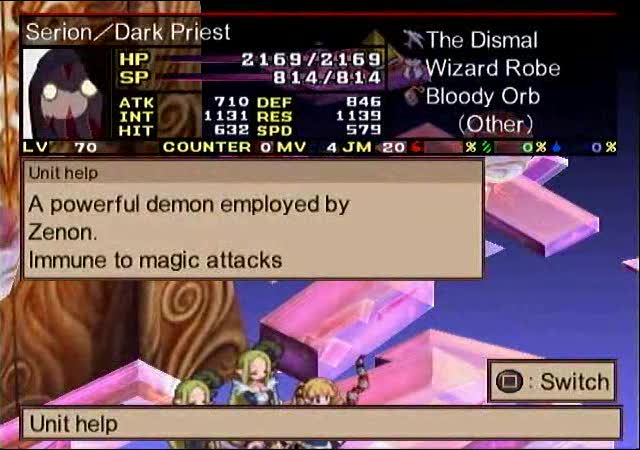 Only physical attacks can affect the Demon Priest Serion, and only magical attacks the Demon General Shura. If this were the only difficulty it'd be unpleasant, but it's not. First you need to push through a group of Holy and Zombie dragons. Then you need to deal with a pair of archers and priests on Enemy Boost x3 tiles. The only way to clear the Enemy Boost is to kill the Symbols, which are behind Serion and Shura. Be very careful not to let your magical attackers get killed by the archers, and do your best to isolate them from Shura too, because his special Dark Blade will kill them in one hit most likely. If you're desperate Rose Liberation counts as magical and therefore will injure Shura. You can also draw Serion to attack someone near him with her Dark Magic, hitting him as well. If your main crew is all around level 50 you should have zero problem with this map as long as you're careful. Stock up on healing and SP restoring items, because you might get someone isolated and in need of healing themselves.

Oh, and I'm calling her Serion because that's what her name is in the map but the only time she's ever called by name in dialog they call her 'Selion', which makes me think the dialog team and the unit team had a serious miscommunication as to which fluid they were going to use.
Drama- Castle Gates Outro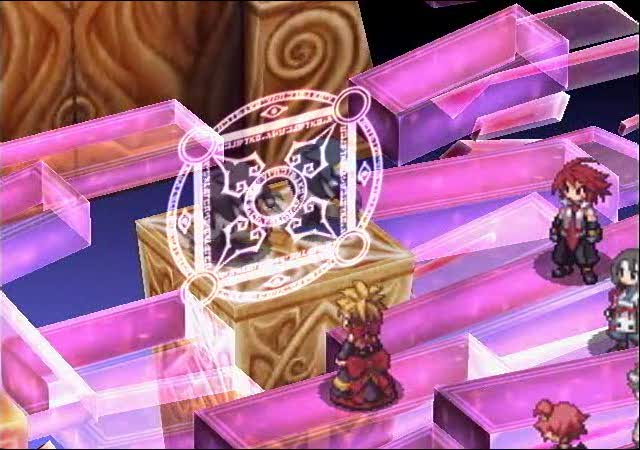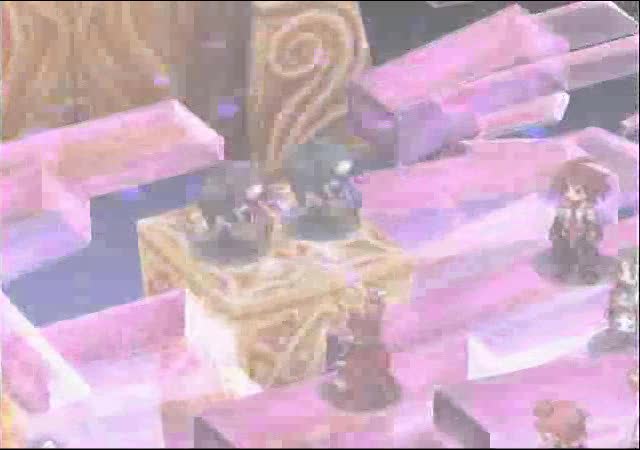 The seal over us was broken...?

Is this one last miracle before we die...? Is this to allow us to confess our crimes?

Confess your crimes? What are you talking about?

The curse on us has lifted. Our memories are faintly returning...

Ah, we, we need you to hear this...
We are demons from another netherworld. We fled to this land to avoid a war for power.

So, you aren't altered humans. You are pure demons...

Though they knew we were demons, the people of Veldime gave us a warm welcome...
That was the first time we had ever felt the warmth of human kindness. From that moment on, we swore to live here as humans...

But, 15 years ago... Overlord Zenon came to Veldime...
Our duty was to protect the people we loved. We entrusted everything to our best friends before reverting to demons to face Zenon...

But, Overlord Zenon's dark powers were too strong...
We were at his mercy. But instead of killing us, he sealed our will and memories...

I see...

He is what caused Veldime to change from a beautiful world into a new netherworld...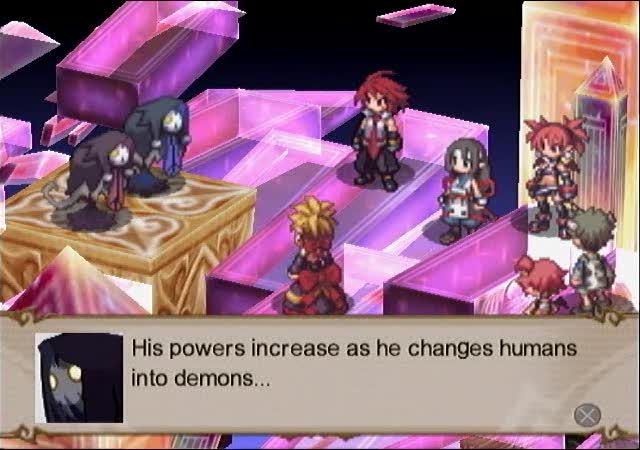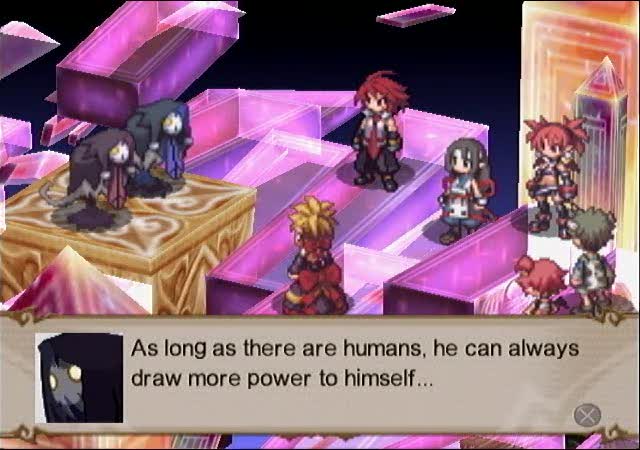 Huh? So that's how he came back to life after I killed him.

It's a good thing you solved the mystery, Etna.

But, that's not a good thing. Doesn't that make him invincible?

No... Even his powers have their limit.
Their true source is the human conscience...

He feeds off the consciences of humans!? That bastard...

But if that's running out, then the humans are only a few steps away from becoming monsters...!

...That is right. Once Veldime is populated by real monsters, if will become a true netherworld...
I beg you. We can no longer fulfill our duty. Please perform this duty in our place...

...Alright. I promise to defeat him, once and for all.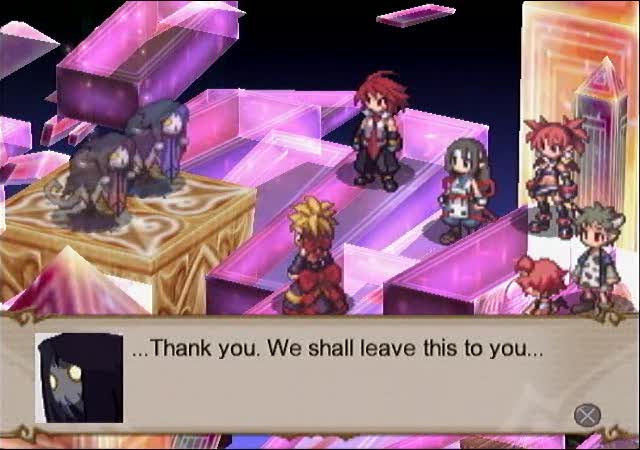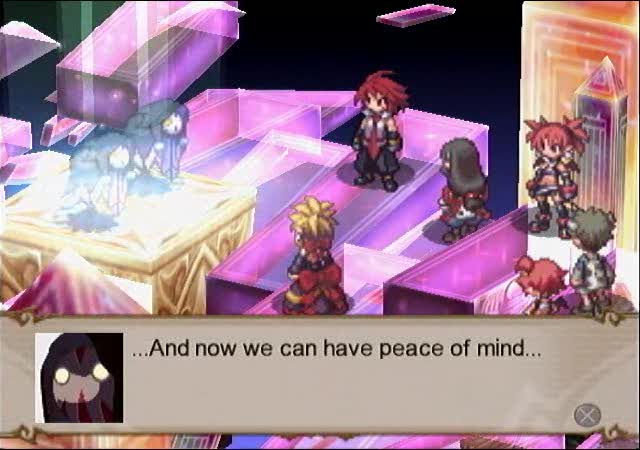 Thank you... Adell...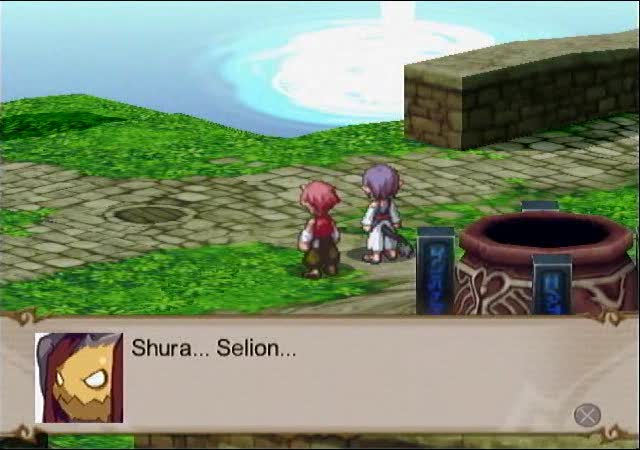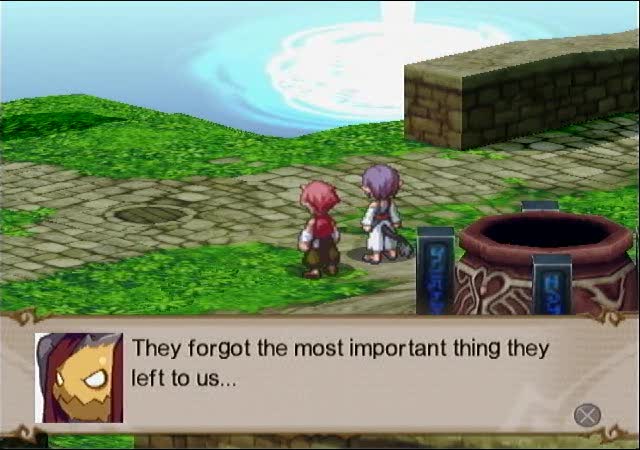 But, Adell has grown into a fine young man.
We shall continue to watch over him in their place...
That has always been our destiny...
Yeah. That's right. Serion and Shura were Adell's parents, as many of you probably had already guessed a while ago. They're also pure demons. Which means, naturally, that Adell's also a demon. There's been plenty of evidence for this all throughout the game, not that you'd know to look. Rozalin has constantly been pointing out that Adell always seems way too eager to fight. The Prism Rangers' demon detectors even said he was a demon, but it was easy to ignore because come on, the Prism Rangers. And of course the main one is that Adell's never been a human and thus has never been vulnerable to Zenon's curse. It was the most obvious answer to the question of 'why is Adell immune to Zenon's curse and therefore is the sort of thing you'd never even consider.
Episode 12 Ending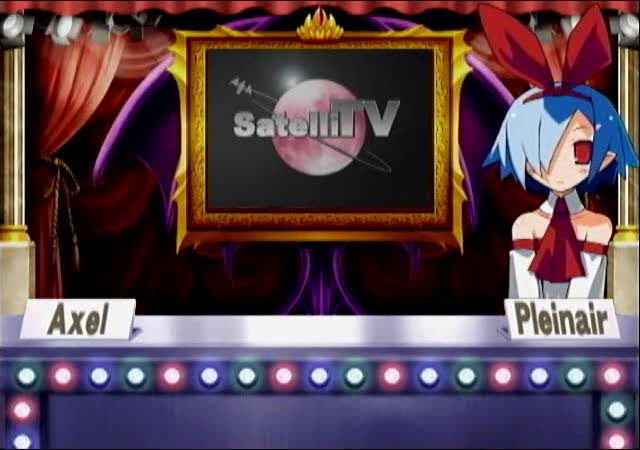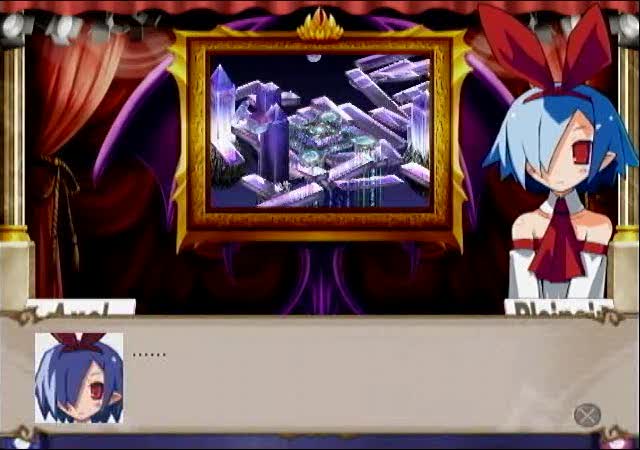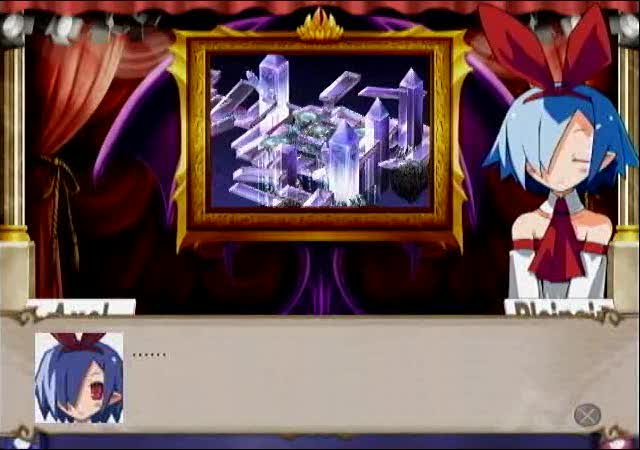 Next Update:
The Prism Rangers Return!
Next Time on Disgaea 2:
The Truth