Part 24: Thursday: Best Robot Ever.
Chapter 19: Thursday: Best Robot Ever.
Last time on Disgaea, we met Captain Gordon, Defender of Earth. Today, we head to the Stellar Graveyard to investigate a mysterious anomaly totally unconnected to his trip to the Netherworld, fer realz. Episode 9 will be split into two updates because as I recall the last two maps are pretty text heavy as well.

I have been waiting for you, Prince. You are headed to the "Stellar Graveyard", correct?
People have been saying that I am spoiling you, but I don't want you to get lost. I will see to it that you get there safe.

Listen, I'm not a child. ...Geez.
Map 1: Valgipus IV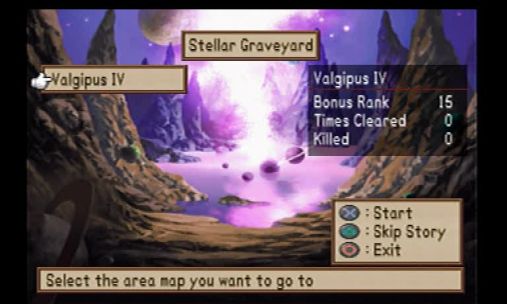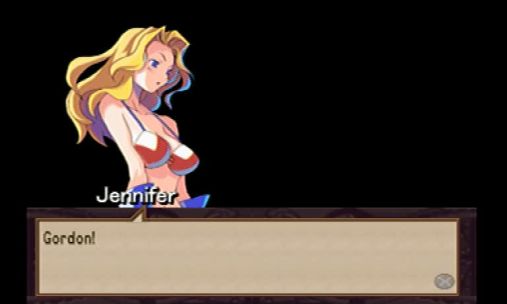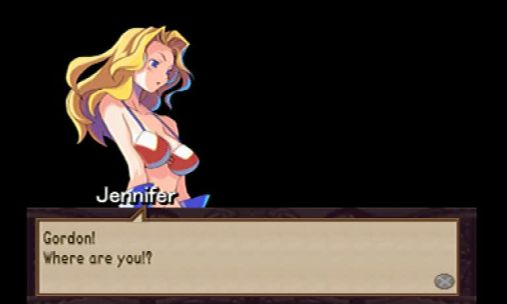 This isn't good. Where could he be?

SPACESHIP CRASHED. GORDON FAILED TO ESCAPE.
PROBABLY SMASHED INTO ATOMS. REST IN PEACE...

Don't worry, Thursday. He is Captain Gordon, Defender of Earth.

UNDERSTOOD, JENNIFER. ACTIVATING LIFE SCANNER.

Thank you, Thursday.

ALWAYS LISTEN TO A HOT BABE. THAT'S THE LAW. BEEP BLIP BEEP...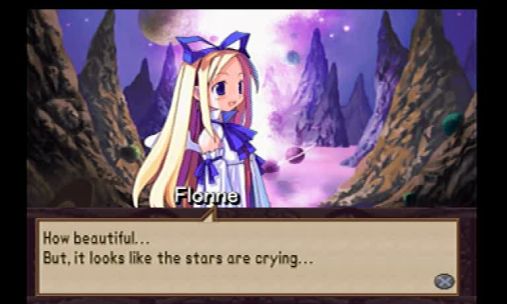 Flonne, you're so romantic. I just wanna choke you to death!

E,Etna...! You ARE choking me...! I, I, I can't breathe...

Hey. Enough of that.

Yeah, yeah. ...Saved by the bell, Flonne.

*gasp* I hope she was just joking...
I almost became one with the stars.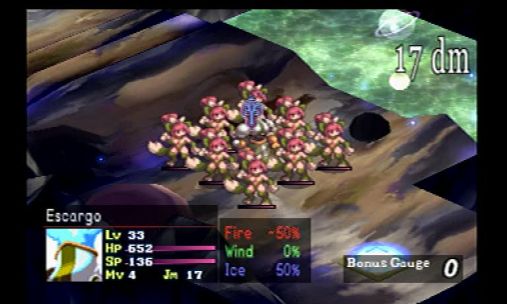 So, this map is a 3x3 square of enemies. The sword skill Winged Slayer is aces here, as are mages. There's really not much to say about it. It's not as good for leveling as 7-1, so don't bother too much with it.
Map 2: Thurvean Sector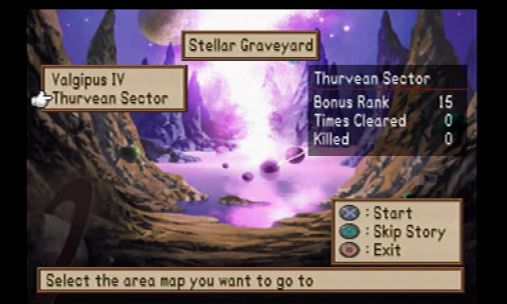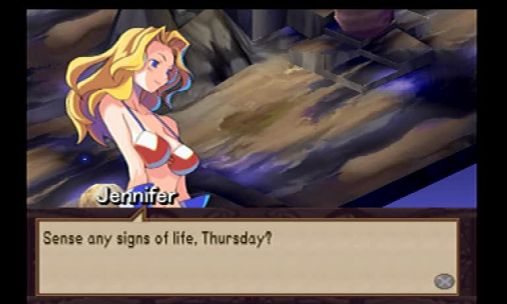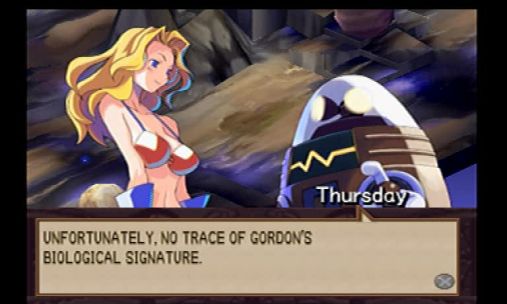 I see... We have to find him.
I heard at headquarters that the Netherworld is full of nasty, vicious creatures.
I we're discovered...
Ahh! I'll be molested by countless slimy tentacles and my bodily fluids will be sucked dry!!
Or, we could be swallowed whole and suffer a slow and painful death as we're digested alive!!
Or even worse...

JENNIFER, PLEASE KEEP YOUR IMAGINATION UNDER CONTROL.
LIFE SIGNS DETECTED... READINGS DO NOT CORRESPOND WITH CAPTAIN GORDON'S BIOLOGICALS!
LIFE FORMS ARE APPROACHING. OH $*&% RUN RUN RUN...!

Shh! Thursday, be quiet.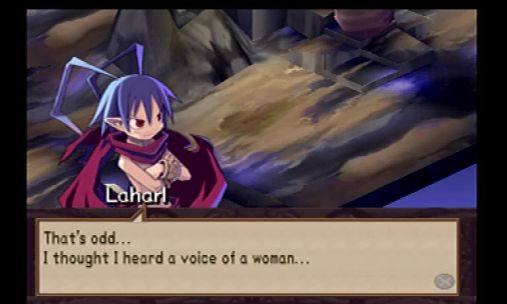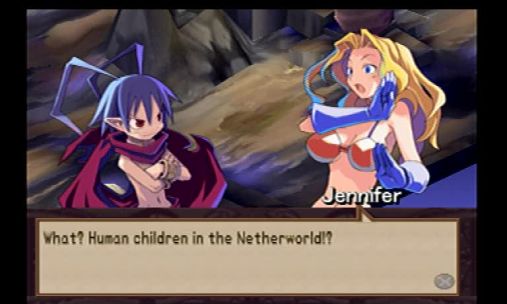 A human!? And on top of that, she's...!!

I got it! You were kidnapped by the Overlord, weren't you!?
Oh, the humanity! I heard that demons are merciless, even towards children!
Aww, you poor things...!
They didn't bite your arm off, did they!?
They didn't suck your brains out, did they!?
They didn't anal probe you, did they!?

What the hell does she think demons are!?

But, don't worry, big sis will make it all better.

N,No! Get away from me!

What?

Keep your sexy body away from me!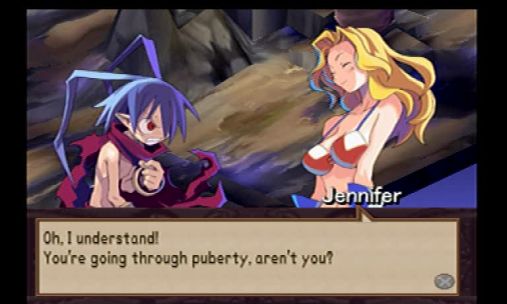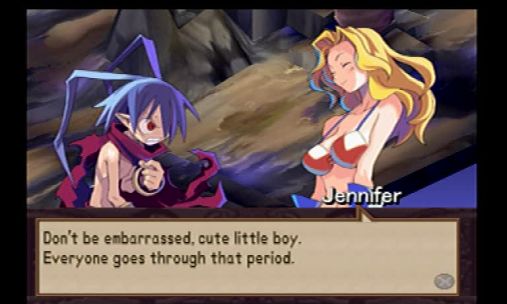 Okay, I'll teach you everything there is to know.
You see, as young girls mature, their breasts grow bigger, and boys...

...Great, now she's teaching sex ed. Who the hell is this lady?

Ummm... I'm sorry to interrupt you, but we're not human children.

Huh? ...What do you mean?

I am Flonne, an angel in training...
...This is Etna, a demon.
And the one you called "cute little boy" is the Overlord Laharl.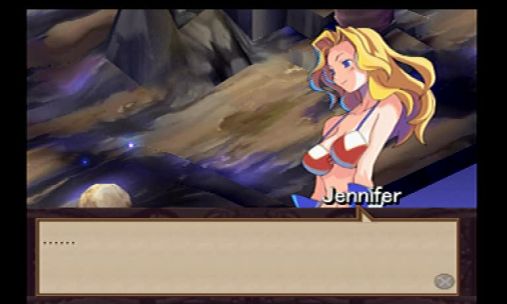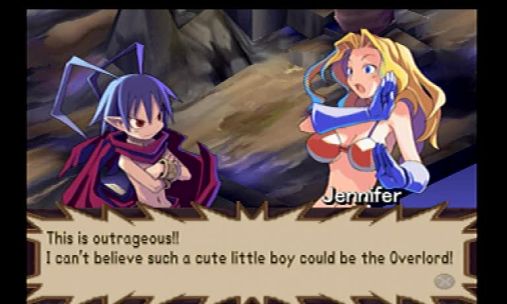 This is completely different from the information provided by headquarters! What's going on, Thursday!?

BEEP BEEP BLIP BEEP... NOW CALCULATING, NOW CALCULATING...
NOW CALCULATING, NOW CALCULATING...
CALCULATION COMPLETE.

What's the answer?

"HEADQUARTERS IS A BUNCH OF LIARS."

Oh, no! Does that mean that the Overlord planning to invade Earth is a lie, too!?
We came here to slay the Overlord, for heaven's sake! There must be some misunderstanding!

Wait. Did I hear you say... You came here to slay the Overlord?

N, No no... Not me.
That's the responsibility of our hero, Captain Gordon, Defender of Earth.
I'm his assistant, Jennifer. And this is Thursday, the multi-purpose super robot.

BEEP BEEP BLIP BEEP... NICE TO MEET YOU.

Hero, you say?

Yes, Captain Gordon is the earth's hero. His noble mission is to vanquish any evil that threatens the earth.
But, we were separated from him when our spaceship crashed.

Hmhmhm...
Very interesting! I must definitely meet this Captain Gordon!

Why is that?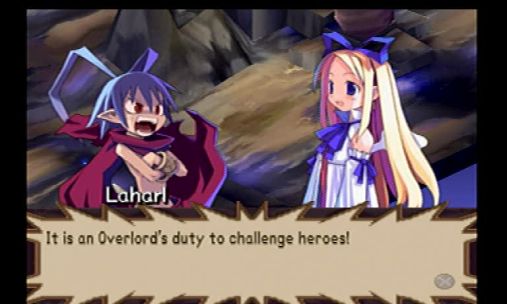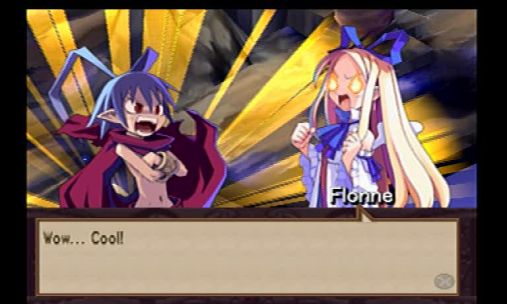 Woman, follow me! I shall find your hero!!

Really!?

But, I don't want that sexy body of yours within a 3-foot radius of me!

*chuckle* As you wish.
Okay. Let's go look for Gordon!
So, the trick to this map is pretty simple. You can prevent the Dullahans and Nekomatas on the outside from molesting you by throwing the No Entry Geo Symbol on to the green panels, then kill the Nekos still in and throw any left over out. Then kill the things outside at your leisure, possibly lifting the Symbol, moving Laharl out, then canceling the move if you want to let him out.
Next time on Let's Play Disgaea:
The Overlord versus the Defender of Earth!