Part 28: You just now realized that, Gordon?
Chapter 23: You just now realized that, Gordon?
Last time on Let's Play Disgaea, Mid-Boss stole our picnic basket, because that's how he rolls. Today we're going to chase after him.
Map 3: River of Lava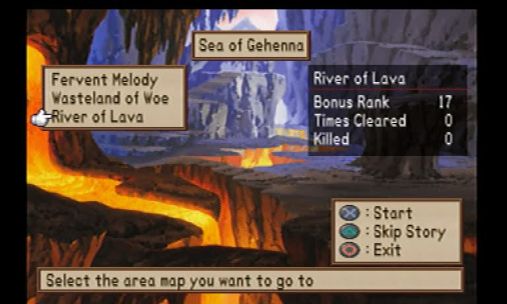 No drama scene for this one, just a map. Let's check it out.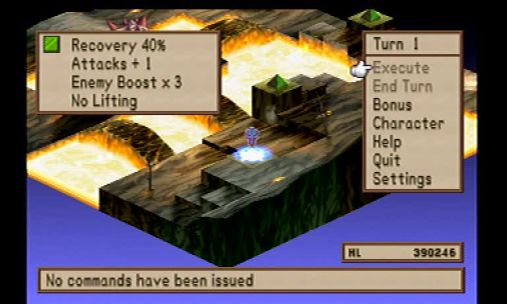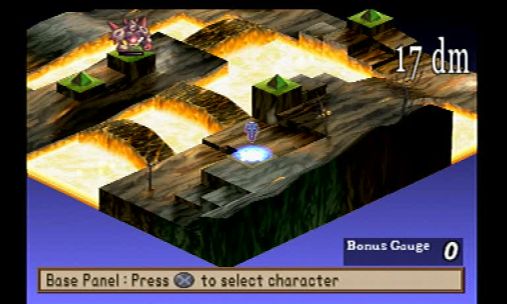 There's also some Pucks guarding the Geo Symbols, but trust me when I say that the Galactic Demon's the problem. If you don't take out his Geo protection he's going to be impossible to kill. He won't move, though, so just skirt around the outside of the map using fist attacks to move Geo Symbols or throwing enemies onto them. Once the Symbols are all dead he's not too bad to take out.
Map 4: Searing Tyranny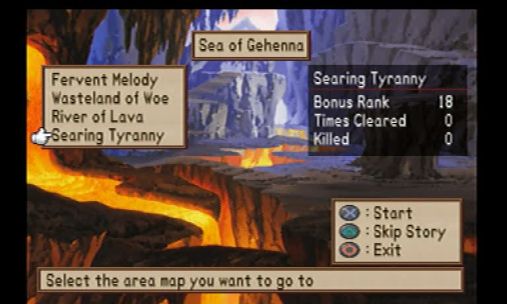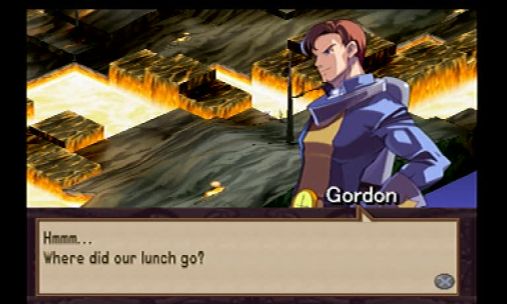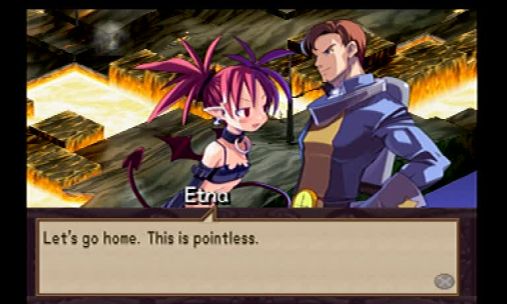 I agree.

We can't leave now! We woke up early just to make it.

That's right! As Defender of Earth, I cannot let our food fall into the hands of evil!

You're just hungry.

What are you talking about!? This is a challenge by evil! I cannot turn my back on this ordeal!
Justice must prevail!!

How wonderful! You really are a hero!

Gordon, let's have Thursday search for the basket using his olfactory tracking device.

Oh yeah! I forgot about that!

Thursday, can you pinpoint the location where the picnic lunch's smell originates?

BEEP BEEP BLIP BEEP... NO PROBLEM, JENNIFER.
BEEP BEEP BLIP BEEP... ANALYZING AIR COMPONENTS. SMALL TRACES OF SCENT CONFIRMED.
BEEP BEEP BLIP BEEP... FACTORING IN WIND VECTORS.
PROJECTED COORDINATES LIE IN THE AREA UP AHEAD.

Thanks, Thursday. Hey guys, the culprit is up ahead.

That robot can do stuff like that, too? Pretty useful.

Of course! Thursday is a multi-purpose super robot!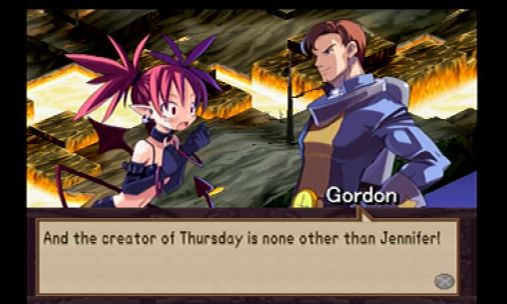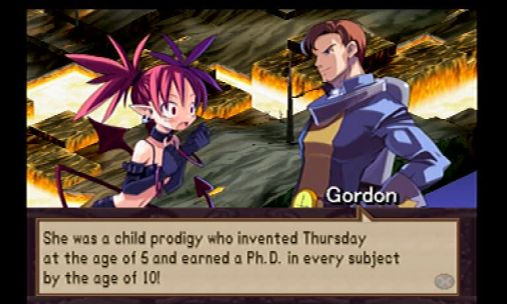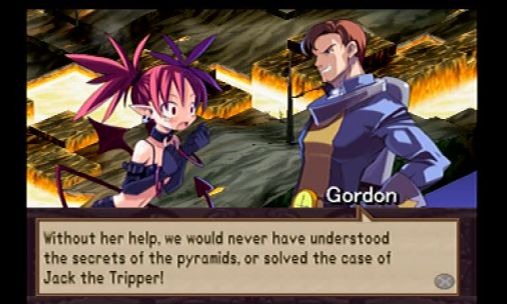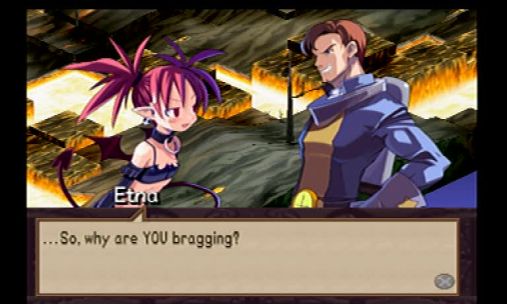 That's incredible, Miss Jennifer.

It's nothing, really.

I thought you were just a dumb blonde, but I guess I was wrong.

Hmmm? Who was the one saying not to judge people by their looks, Harlie?

Uh... Did I say that?
Anyways, we have to get the basket back before Mid-Boss eats it all!

*chuckle* You're right. Let's go.
And another bonus map. There's green Exp +100% tiles and treants. It's not an idea leveling map compared to one next chapter, though, because it's hard to get the second wave of treants on the Exp + tiles.
Map 5: Inferno
Episode 10 Boss Battle and Drama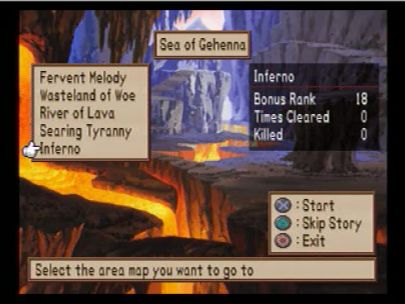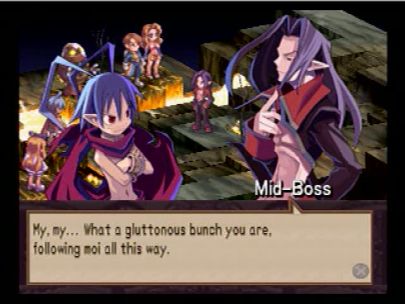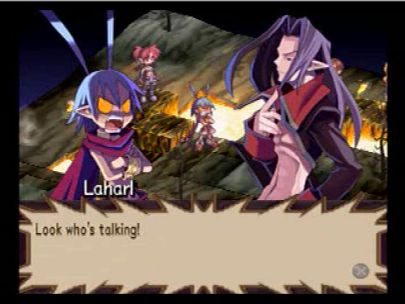 Give it up! I swear by the name "Defender of Earth", that I'll get that basket back!!

Haaahahahaha!! You are going to get hurt if you think that I am your average picnic basket thief!
Very well! I shall demonstrate for you humans the elegant techniques of the Dark Adonis!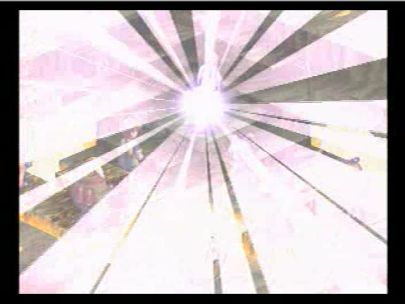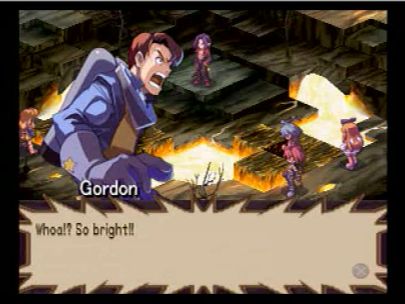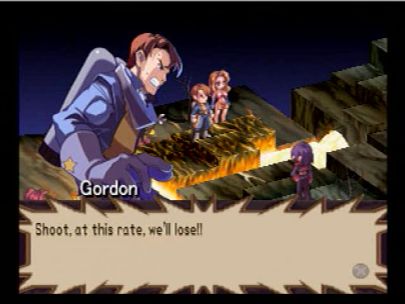 Gordon!!

Jennifer! Thursday! Let's give it a go!

To protect the earth from evil!!

THERE IS NO REST FOR THE CHAMPIONS OF JUSTICE.

Captain Gordon, Defender of Earth! Here to save the day!!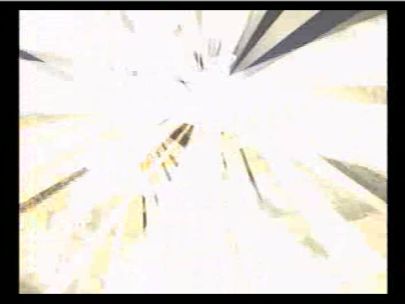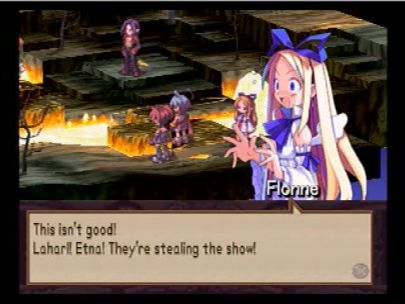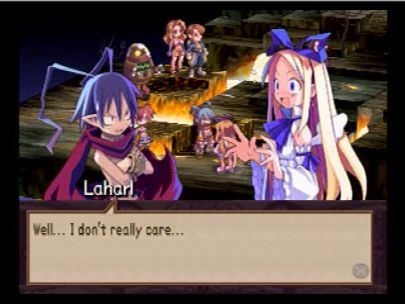 You should! We're joining in!!

What!? You serious, Flonne?

I'm no longer ordinary Flonne! I'm Guardian Flonne!
Alright, here we go!
As long as evil exists in the world, this elegant angel will soar the skies!
The people's cheers bring me courage!
The Warrior of Love, Guardian Flonne!!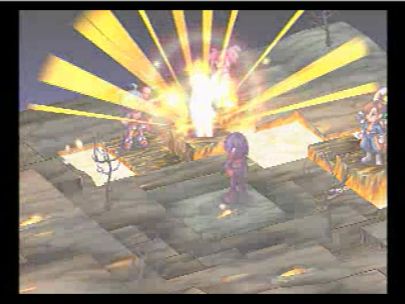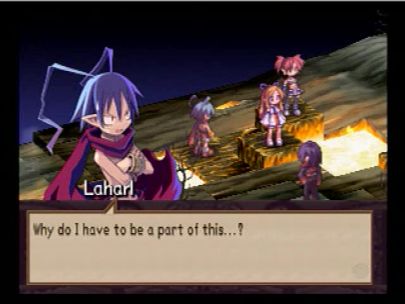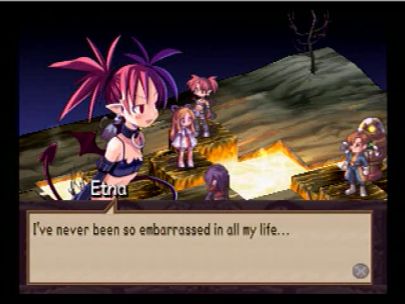 Haaahahahaha!! Your teamwork is terrible compared to the Defenders of Earth!

Sheesh! We're being laughed at because of you two!

S,She's pissed, Prince...

I give up! Do what you want...
So, Mid-Boss again. He's been preparing for this since last time.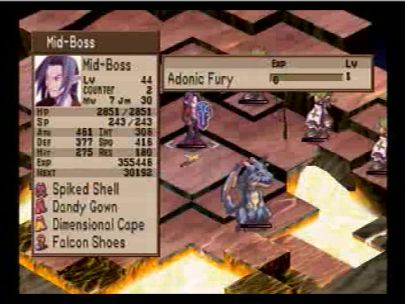 He's got some buddies, too, Pucks and Fafnirs. This can actually be a very tough fight, because you can't really lure enemies one by one. You need some pretty decent brute force. Luckily, I've been powering up weapons in the Item World and have some serious beaters on my side, so we make it through this mostly intact.
Honestly, there's only a couple of boss fights in this game that are 'tricky'. Most of them are just straight level checks. The real 'trick' ones are yet to come.
11 and 13, oh god fuck episode 13's boss stage, and trying to clear all three of those enemy boost symbols in one turn.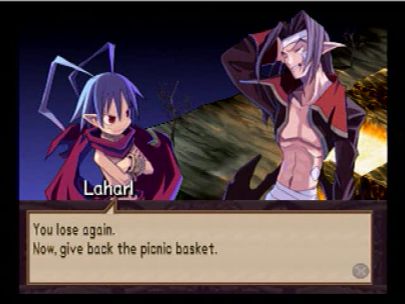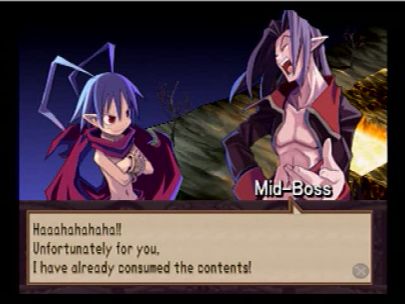 You fiend! How dare you!

That means this duel is a draw!
We shall meet again! My compliments to the chef!

Ahhhh... Our lunch...

Oh, it's okay. We can always make it again.

Jennifer's right. Lunches are expendable.
Which reminds me... I haven't had Pizza Shack's Teriyaki Pizza in a long time.
Now then, since this is all over, we'll be heading back to Earth.
There's no need to shed any tears. So long, people of the Netherworld!
(You go, Gordon. Take it nice and easy!
No one, not even a demon, can deny a man his Pizza Shack Teriyaki Pizza.
Now, if I can just return to Earth and act like nothing ever happened...)

You know, I could care less about you leaving...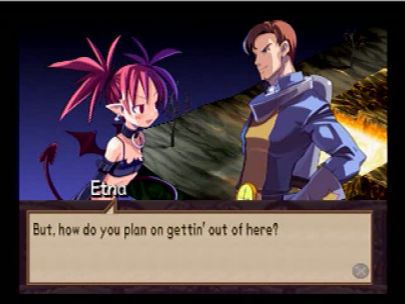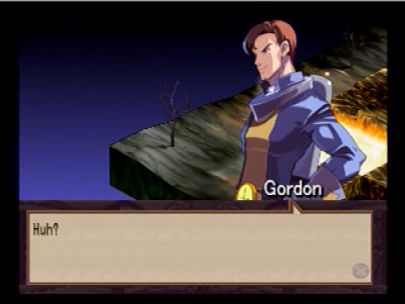 Noooooooooooooooooo!!
Now that you mention it, our spaceship is in pieces!!
We have no way of getting home!!

... Gordon, you just realized that?

GEEZ LOUISE.

Ohhhhh... My perfect plan...

Too bad, Gordon. You fate is to be my vassal.

Ugh...!
Will we ever be able to return to Earth?
Who will defend the planet now? Will my duty as Defender of Earth go unfulfilled...?

......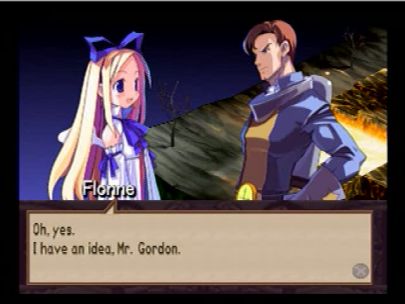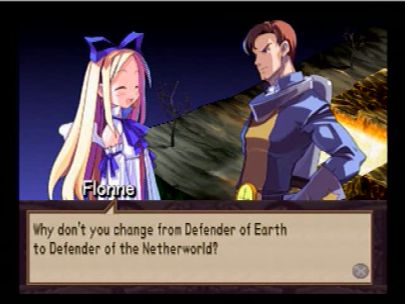 Wha!? I, I could never do that!

Oh, come on, Gordon. The earth isn't the only world.
Our duty is to safeguard peace, whether it be on Earth, or in the Netherworld.

Hmmm... But, that title doesn't sound right...

Fine, I'll give you a good title. In the name of King Laharl, I knight thee, "Slayer of the Netherworld".

Hey, wait! That's not any better...

I promoted you from being a vassal. Quit complaining.

Does that mean... we can stay here, Harlie?

Your unusual abilities... They'll come in handy as I take control of the Netherworld.
*sigh* I'll try to tolerate that sexy body of yours.

*giggle* I never thought I'd hear the word "tolerate" come from his mouth.

That's as close to acceptance as he gets, right?
Of course, it could just be that he started liking sexy bodies...

BEEP BEEP BLIP BEEP... ALL'S WELL THAT ENDS WELL.

It's not well!
This is a dream! It must be a dream!
Somebody tell me it's a dream!!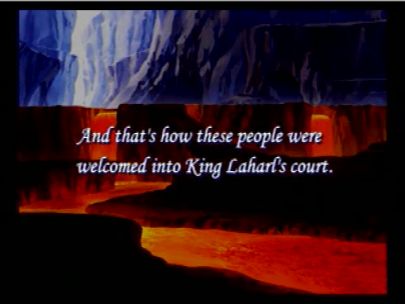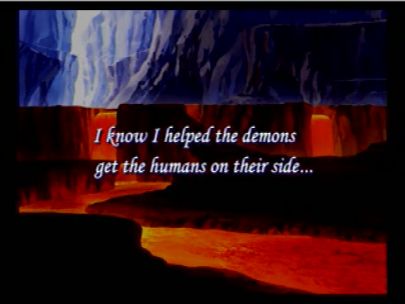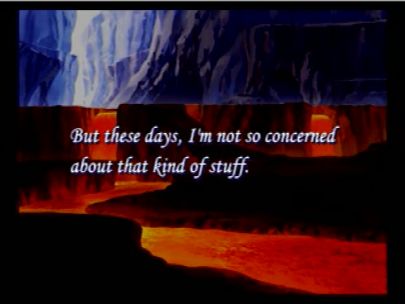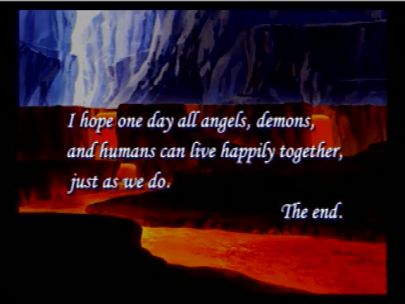 And now for our Episode Preview, with special guest General Carter!
Episode 11 Preview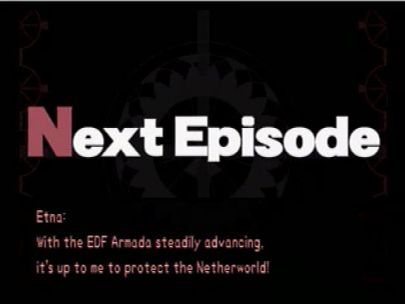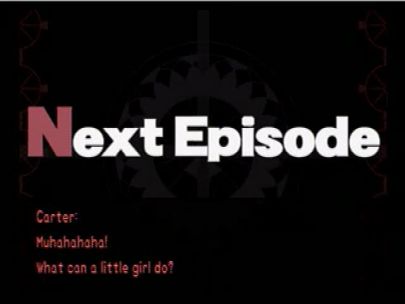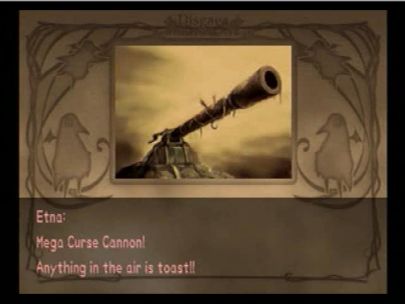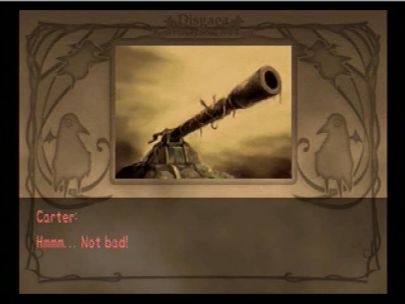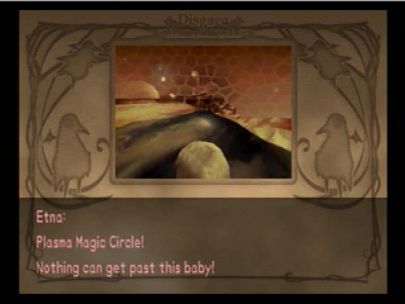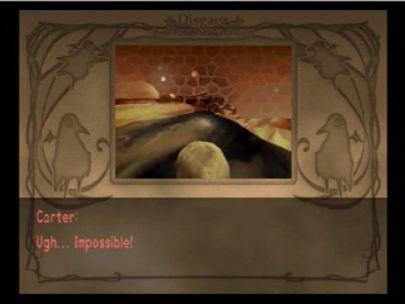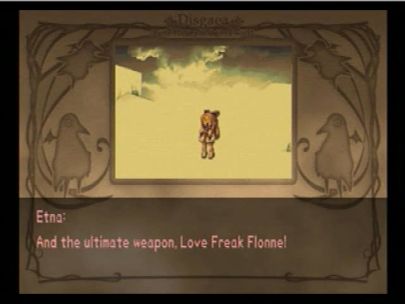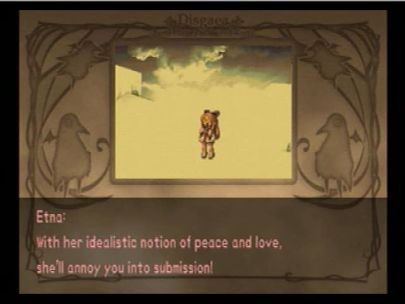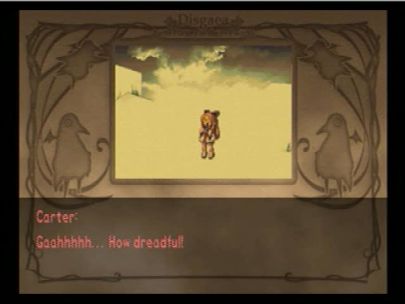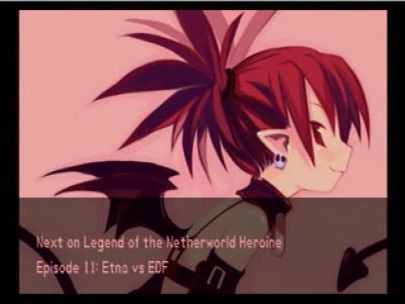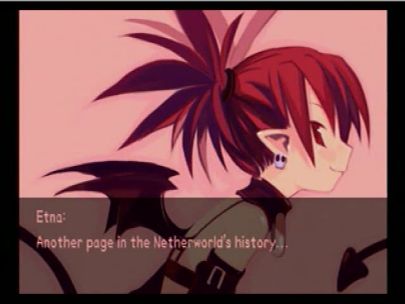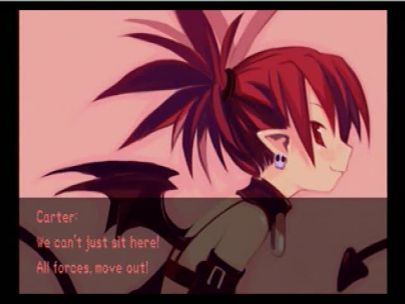 Next time on Let's Play Disgaea:
We find out more of what the hell's going on!