Part 31: Soul of the Defender.
Chapter 26: Soul of the Defender.
Last time on Disgaea, we met the First Defender of Earth. Today, we kick his ghostly ass.
Map 3: Crawling Terror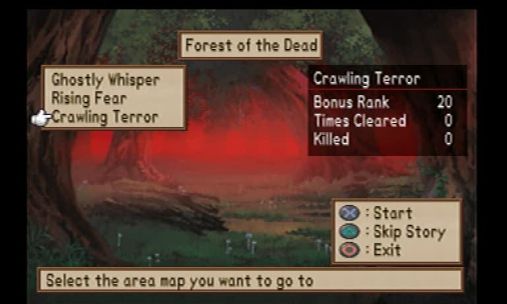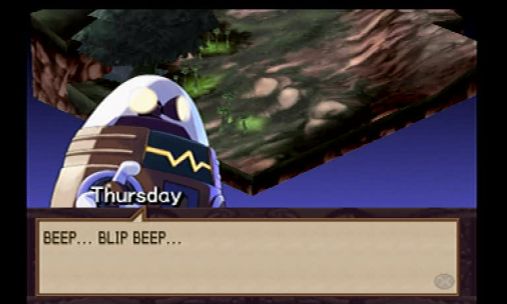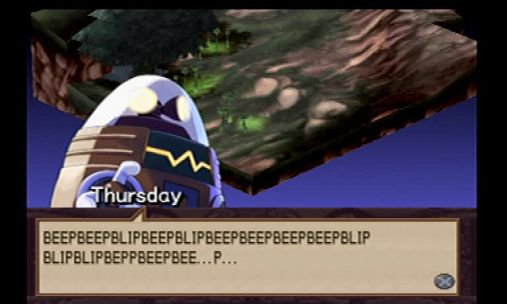 Huh!? Wh, What's wrong, Thursday!?

Oh no!
The shock from that old man's attack has short-circuited him!

Can you repair him, Jennifer!?

Even though I built Thursday when I was 5, I can't fix him without the proper equipment.

BEEP... BEEP BLIP...

Ahhh... The damage to the Memory Circuit is extensive.
If Thursday overheats, then his entire memory will be lost.

Hmmmm... That leaves me no choice. Thursday, you're going to have to sit on the sidelines for now.

BEEP... BLIP BEEP... W,WAIT. THURSDAY CAN FIGHT.

I won't allow it. We can't afford to lose you.

Gordon's right. You heard what I said, didn't you? Your memory could be lost.
If that happens, you'll forget about Gordon and I, and all the wonderful memories that we've shared together.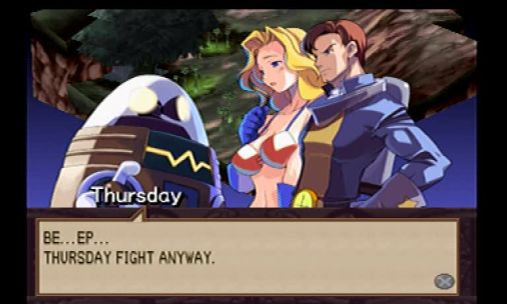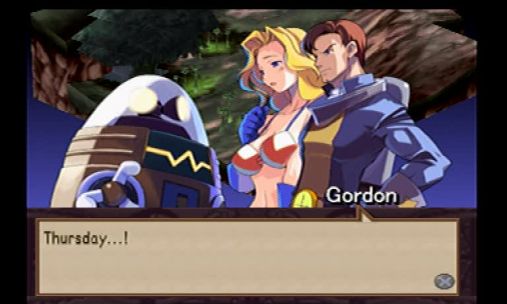 EVEN THOUGH THURSDAY ROBOT, GORDON AND JENNIFER CALL THURSDAY FRIEND.
THURSDAY HAPPY. THURSDAY WANT TO SHOW GRATITUDE...
THURSDAY MAY LOSE MEMORY IF PARTICIPATION IS RESUMED...
LOSE MEMORY. VERY SAD...
BUT BEING USELESS EVEN MORE SAD...
THAT IS WHY THURSDAY FIGHT ALONGSIDE YOU UNTIL VERY END...

Thursday...! Ughhhh... *sob*...!

What's wrong, you gotta go?

No he doesn't! He's been touched by Mr. Thursday's heart!

Heart? Robots have hearts?

What are you saying! Thursday's words are the very heart of a Defender of Earth!!
It doesn't matter if he's human or robot; he has the same spirit burning deep inside of him!
Thursday!

YES, CAPTAIN GORDON?

Your noble spirit has touched my heart! No matter what the outcome, I will be proud to fight beside you!
Now, join us, Thursday!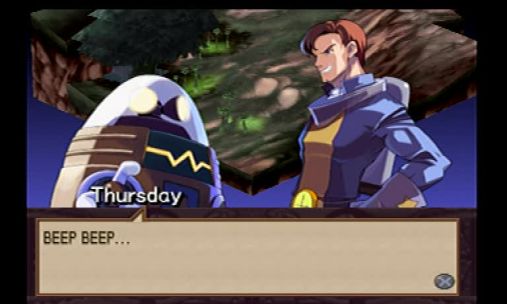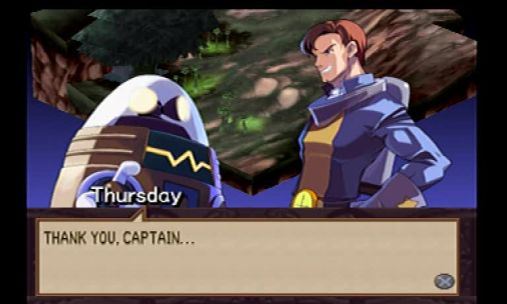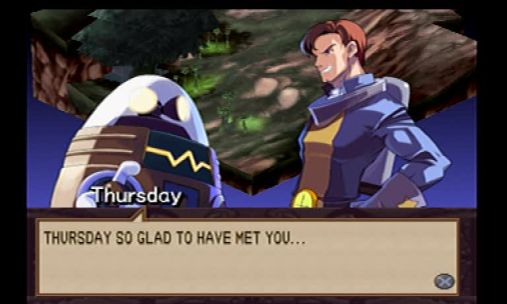 So, this map's annoying as hell. There's a bunch of gremlins with Wind spells, and they're all on panels like this: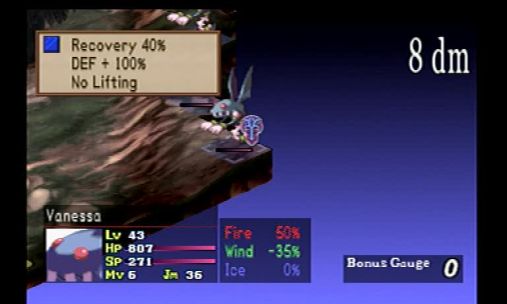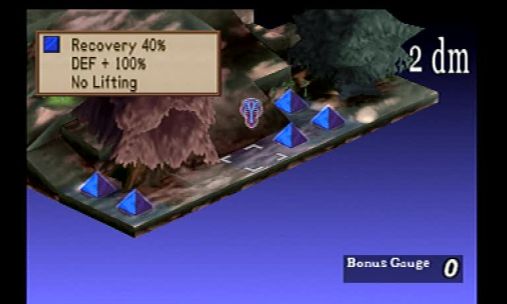 Your only real option is to tower throw across the map to kill the symbols and suck up the horrible reprisals you'll get the turn after. It's pretty unpleasant.
Map 4: Hero's Tomb
Hero's Tomb
Warning- Video is 27 minutes long.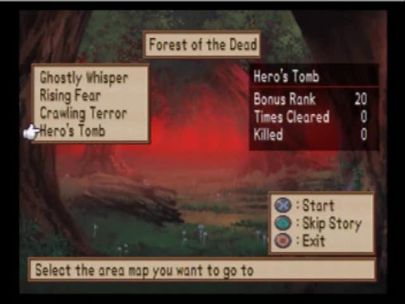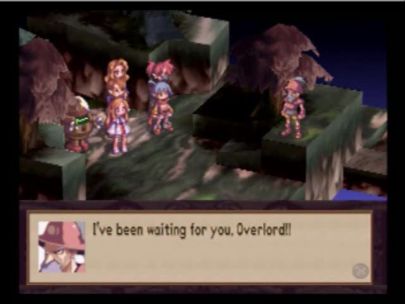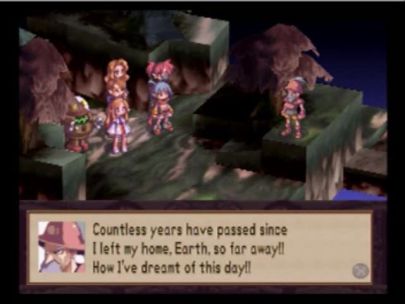 Now, we shall settle this at last!

That we will! King Laharl runs from no one! Come on!!

W, Wait, Laharl! You're not going to actually fight him, are you?

Why not? He challenged me, didn't he?

Laharl...! You're------

Flonne, just let him do things his way.

B, But...!

My friends!! Aid me in battle!!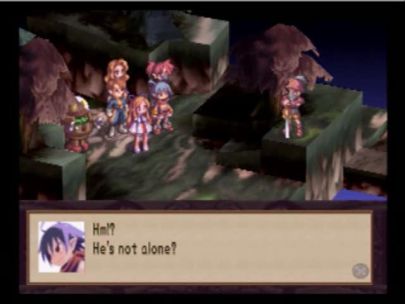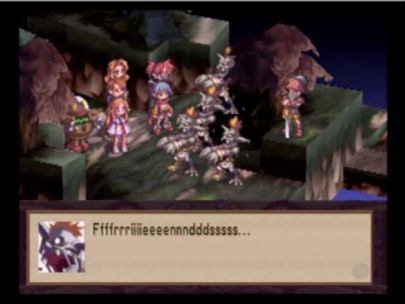 ...More zombies, huh.

Whaddya think of this!? I've made a few friends over the years!
Here I come, Overlord!! Now is the moment that I fulfill my duty!!

Very well! En garde, old hero!!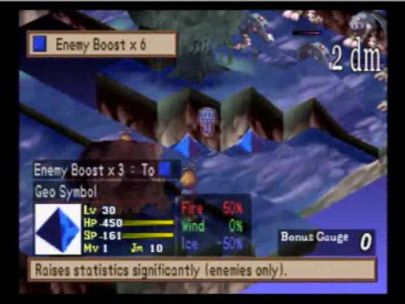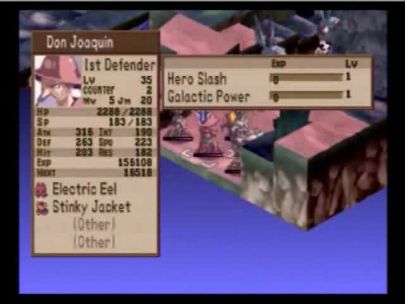 This map SUCKS. You need to tower throw someone into place to kill the two Enemy Boost x3 symbols on the first turn or you're doomed. At least Don Joaqin is pathetically weak. Also, the enemies don't all come at once, they only move if you get in attack range of them.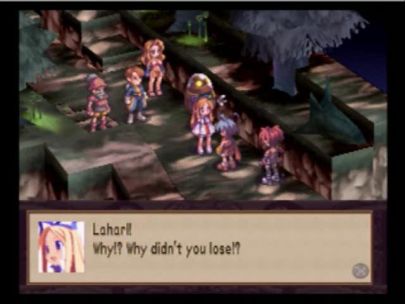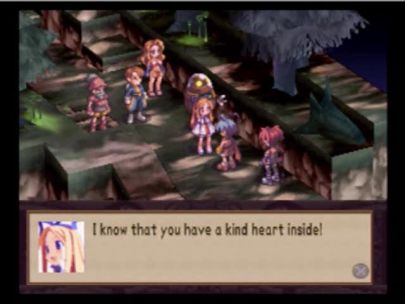 Why...?

...You're starting to get annoying. I'm a demon. There was never any kindness I my heart.
You were wrong about me. Sorry to disappoint you.

------!!
You've let me down, Laharl! You're the worst...

It's okay, little girl...

Huh...?

It's all okay. I'm satisfied now...

...What do you mean?

It may be hard for you to understand, but we heroes live a certain way, and we die a certain way, too.
I was once known as the Defender of Earth, but I grew old, died, and have since existed as a mere soul...
I could no longer live as a hero, nor could I die as one; I just wandered the Netherworld...
How pathetic I felt...
But, at long last, I was able to fight again as Defender of Earth.
I wasn't able t win, but I have no regrets. In fact, I feel as if a great weight has been lifted from my shoulders.
It's all thanks to this kid Overlord, because he fought me with all his might.
Now, I can finally rest in peace.
...Thank you.

Hmph. What kind of hero thanks an Overlord?
...I was just fulfilling my own duty.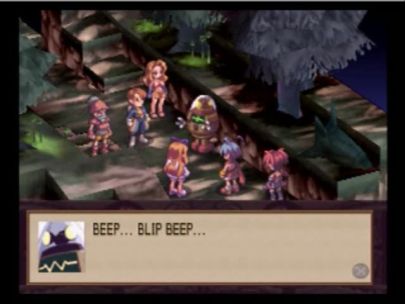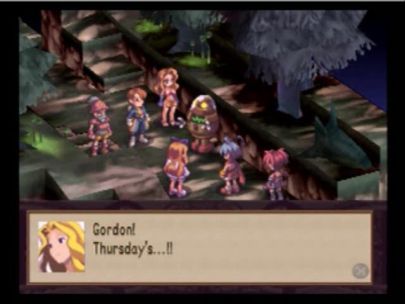 Hey, hang in there, Thursday!!

GORDON... JENNI...FER...

Don't speak, Thursday! You'll waste your energy!

IT IS... OKAY, JENNIFER...
DID... THURSDAY... SERVE... HIS... PURPOSE?

Thursday...!
Yes! Of course! Of course you did, Thursday!!
We were only able to overcome the many obstacles we have faced in our adventures because of your support!!
We three together are the Defenders of Earth!!
So, don't give up! Thursday!!

THANK GOODNESS...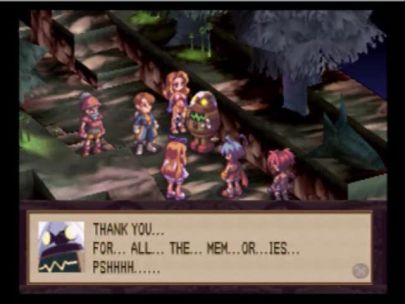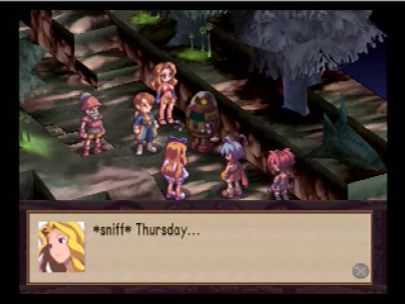 Thursday...! Thursdaaaaaaaaaaaay!!

Young Defender of Earth, you have wonderful friends.
If I had friends like that, maybe things would have been different.
...This shall be my final act as Defender of Earth.
Haaaaaaaaaaaaaaahhhhh...!!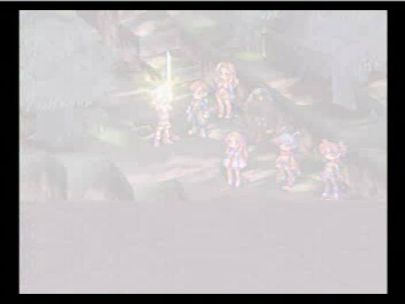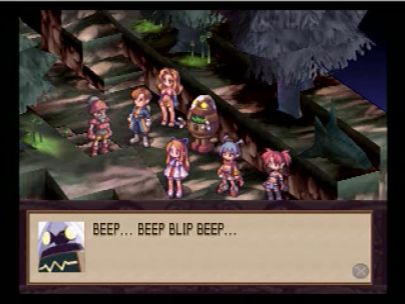 Thursday!! How can this be!? His circuit is fixed!!

...Which means!!

BEEP BLIP BEEP... GOOD MORNING, CAPTAIN GORDON, JENNIFER.

Ohh, Thursday!!

Ahh, thank goodness!
Thank you so much! How can we repay you...?

No, it was my fault that this happened in the first place... I don't need to be thanked...
Farewell, young Defenders of Earth. Remember that spirit inside you...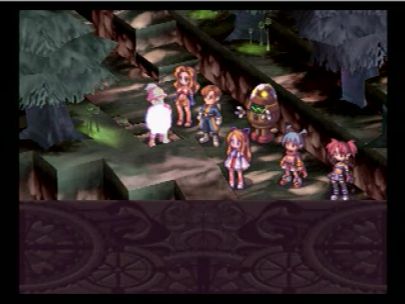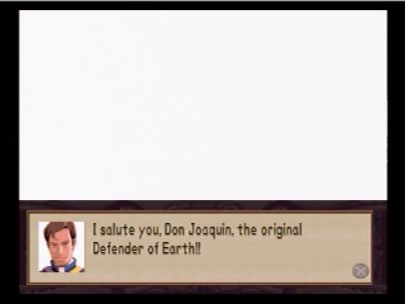 ...Maybe there are some decent humans out there, after all.

It looks like you're getting the hang of being Overlord, aren't ya, Prince?

Of course. Who do you think I am? I'm the great King Laharl.

Umm, Laharl... I'm sorry that I jumped to conclusions and said such horrible things...

That's right! You said I'm "the worst...", didn't you?
What were you gonna say next? "The worst..." what?

Uh... W,Well...

I'd like to hear the answer to that, too.

Me, too.

What kind of filthy language was about to escape those love-preaching lips?

BEEP BEEP BLIP BEEP... NOW CALCULATING, NOW CALCULATING...
CALCULATION COMPLETE. THE ANSWER IS...

Noooooooo!!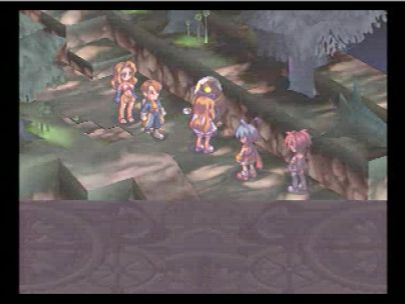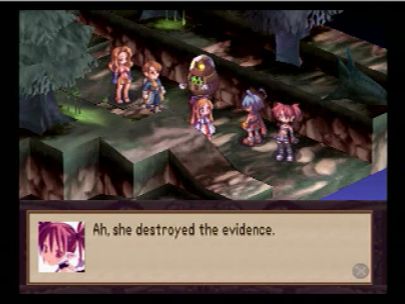 Ahh! Thursday!!

Oh my god! Are you okay, Thursday!!

...Wicked little angel.

Yep. Worse than a demon.

N,No, I'm not...!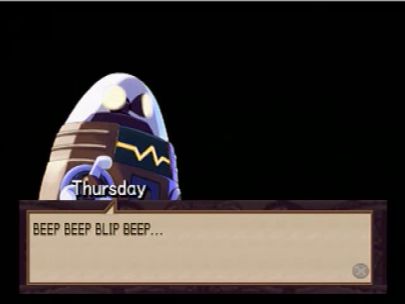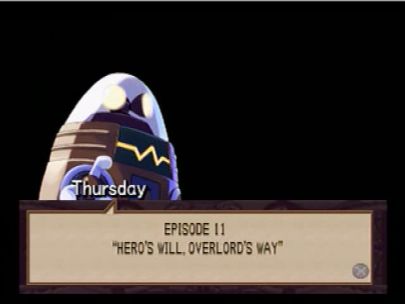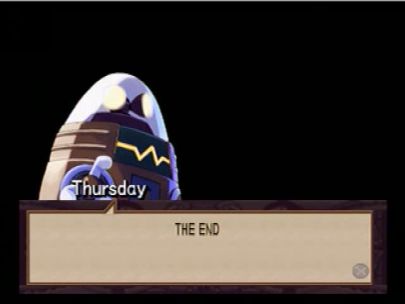 And now for a brief message from the Netherworld Shopping Network.
Episode 12 Preview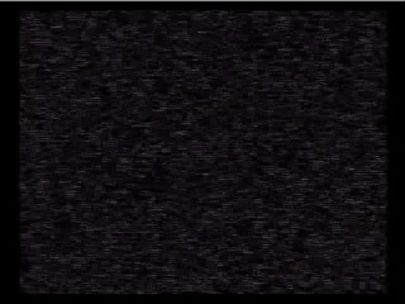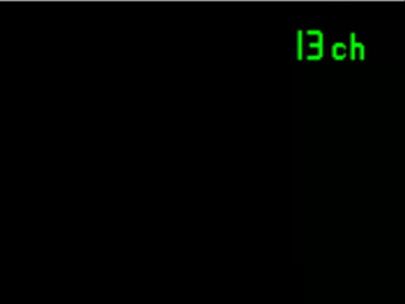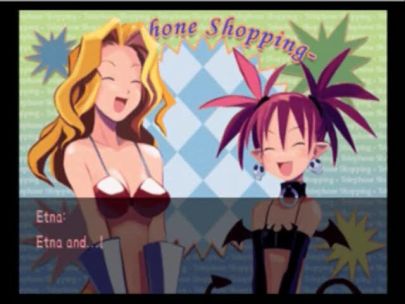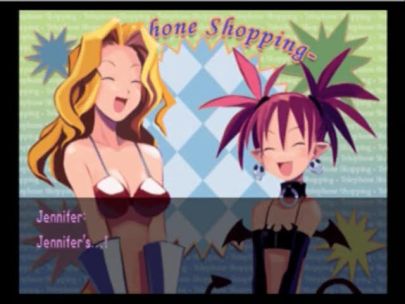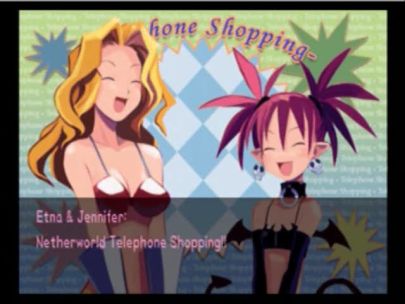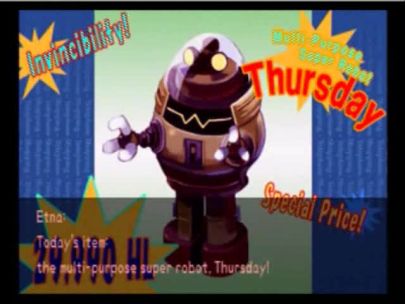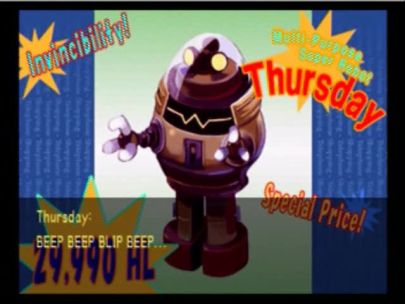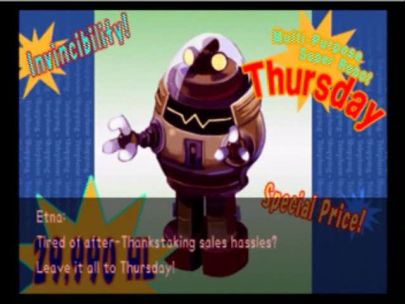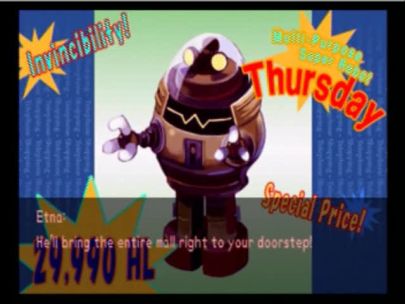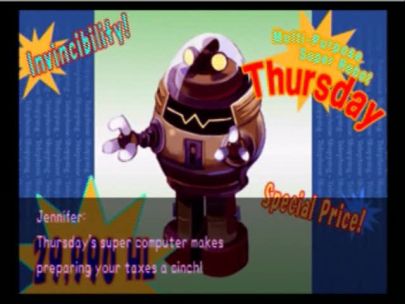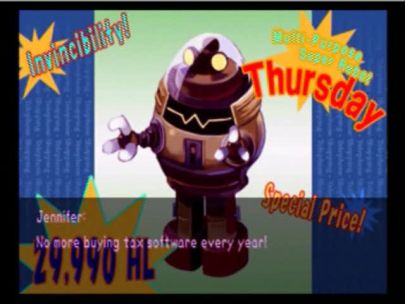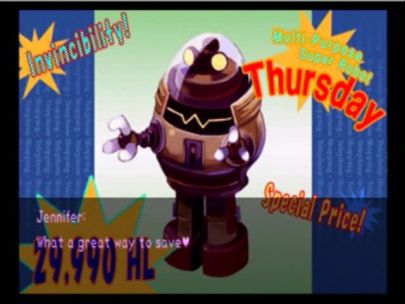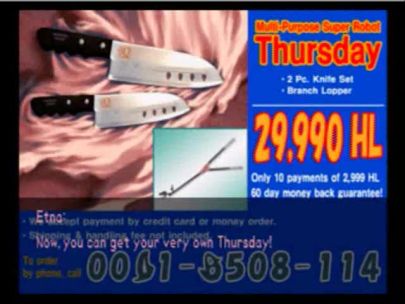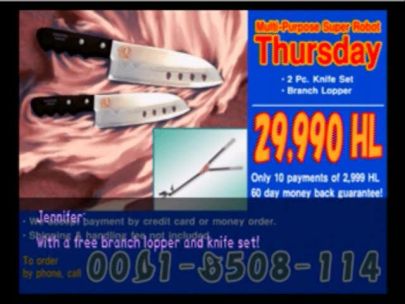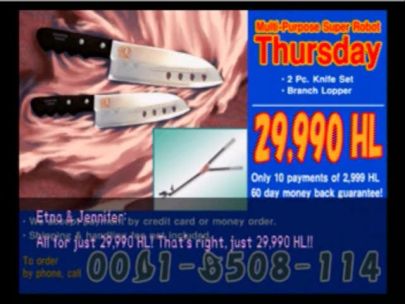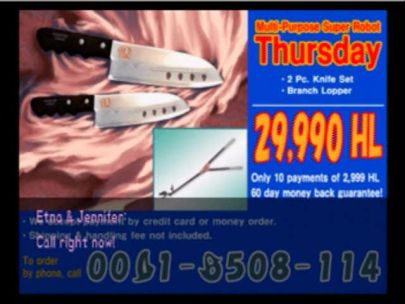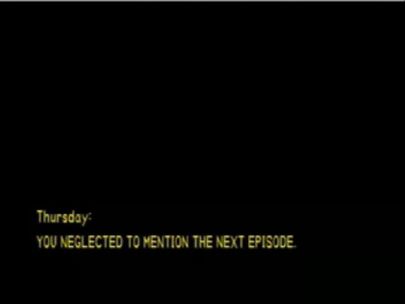 By the way, look closely at the knives, because it's an awesome touch.
Next time on Let's Play Disgaea:
The invasion of the Netherworld begins!