Part 112: Mind over Matter









Chapter 86 – Mind over Matter

The House of Secrets
Jewellery NOT for Astridax
Mind Over Matter
Murder?

Music: Carmina

Music: Madam Eve's


This update is light on plot, but it serves as one last tour of Aleroth, before we plunge into the endgame. We'll be doing the two quests that got 0 points this update – the one that only got one point will be saved for next time, because it makes more sense to finish the last of the side-quests now.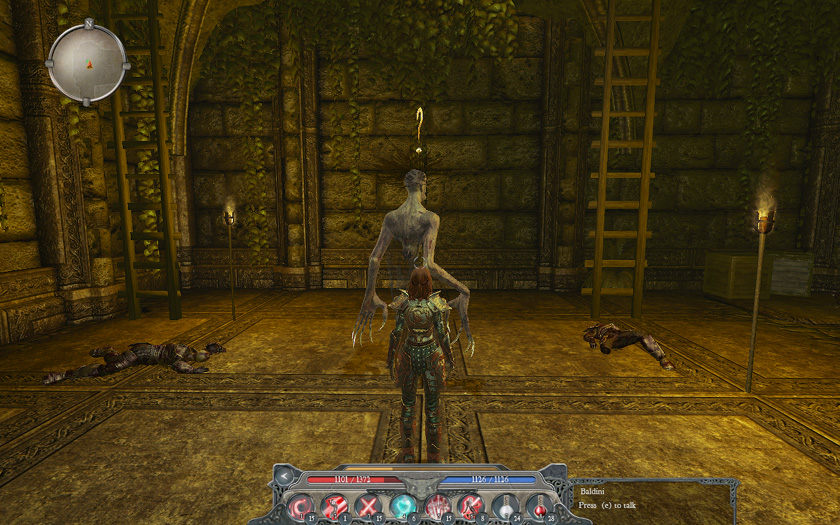 First stop, back to the Temple of Nimir to show Baldini the perfume and complete the quest (and to open a Rank 7 chest.) The video is short because I recorded the first couple of rooms before realizing it was on Normal, then I changed it to Nightmare and it was just long and tedious slog to Baldini, so I decided to spare you that.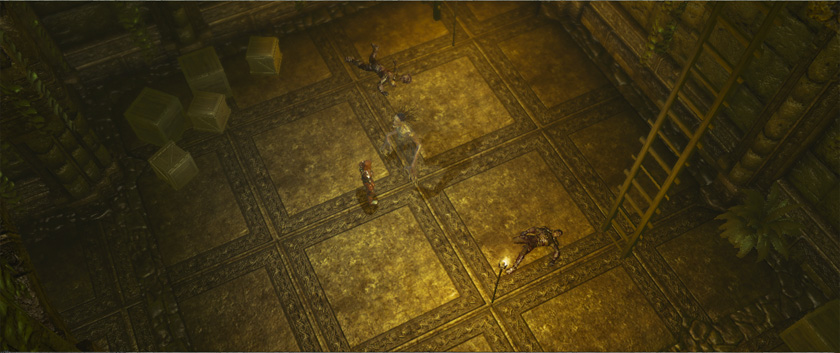 (Baldini)
How fares your quest for the perfect perfume?

I saw your niece and gave her the flower.

Well done! After all this time! And the perfume – did she make it? May I have a whiff of its exquisite bouquet?

Knock yourself out.
Baldini deeply inhales the perfume.

It is… beyond words. Beyond description! You have participated in the making of art, and I am eternally grateful. Farewell, then. Know a soul will remember and cherish thee from the beyond!
The perfume evaporates in the chill, moist air of the dungeon.

"Baldini's Bouquet" complete! Quest Reward:
5632 XP, 900 Gold.
Bonus Chosen:
2815 XP.

Now off to Crow's Nest…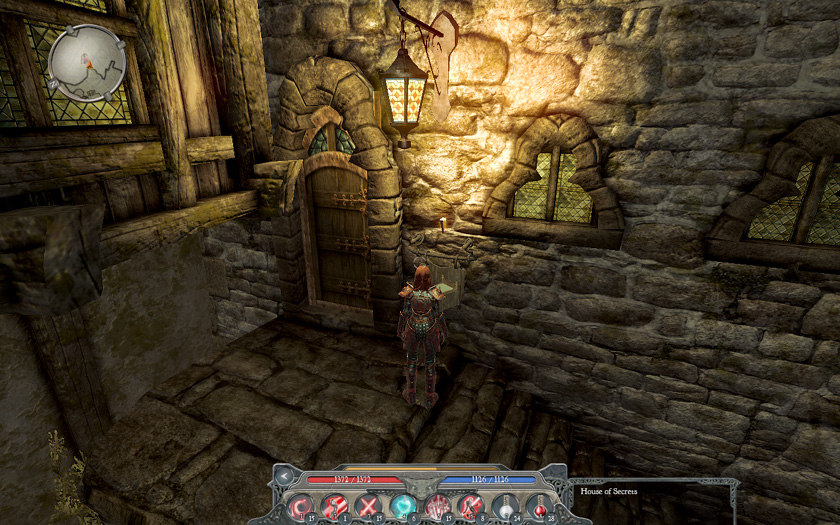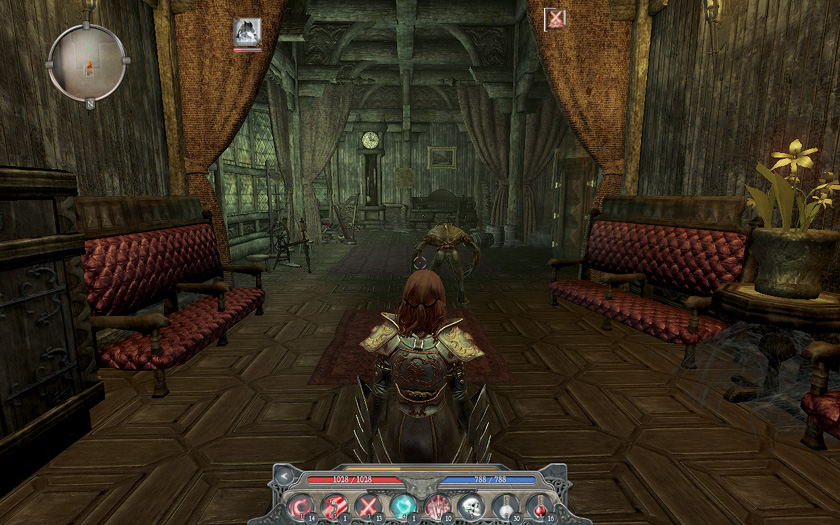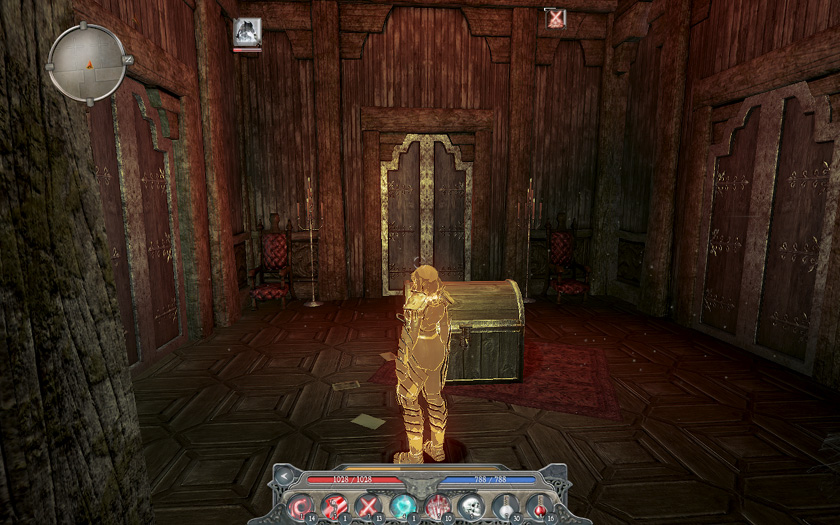 The chest has two "Troublesome Keys", and we're following the suggested route that goes straight ahead. Unfortunately, it's also a route that relies mostly on sound, so the screenshot portion loses something.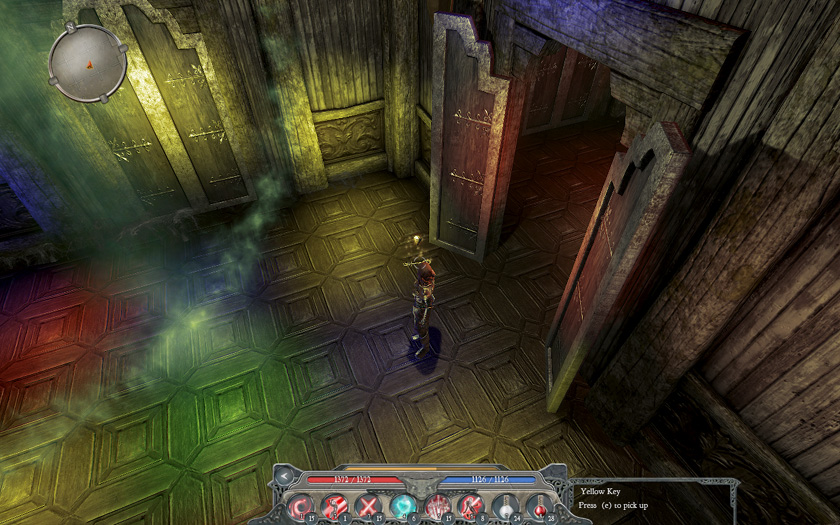 What is that gods-awful music?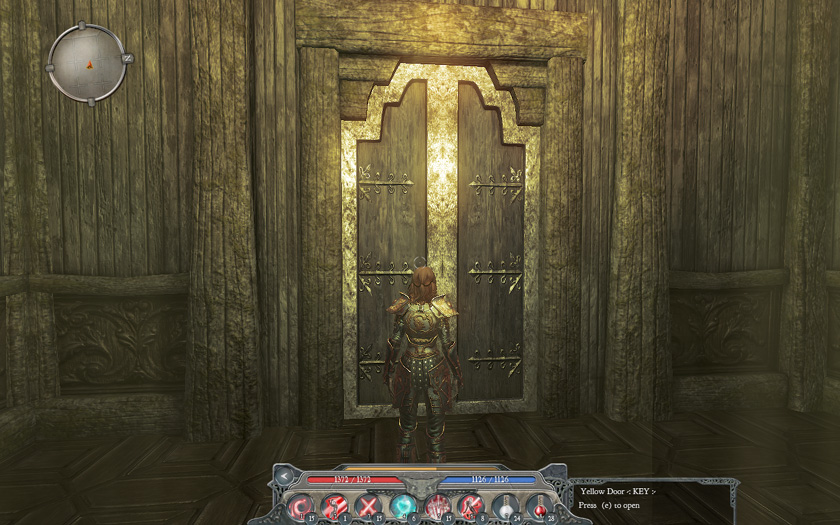 This room… exudes a feeling of peace and serenity.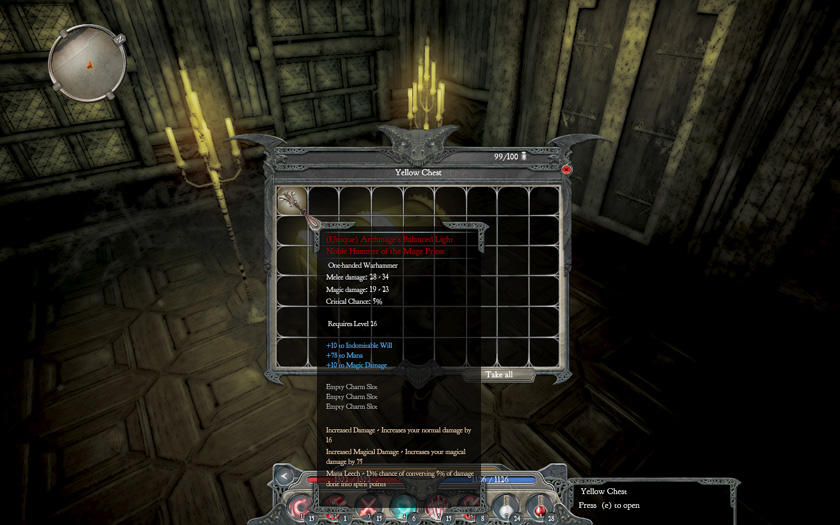 The last room has this chest with a rare Unique item in it. Interestingly, all four of the rooms on the far end are joined to each other through PICKABLE locked doors, so if you get into one treasure room (which is as simple as picking any direct horizontal path), you can get into them all.

There's one weapon, one piece of armour, one piece of jewellery, - all of them of Unique quality - and a TON of gold, in the 9-11 thousand range.

Strangely enough, Bellegar's usual wackiness was confined solely to making the rooms strange. Nothing here will actually screw you over.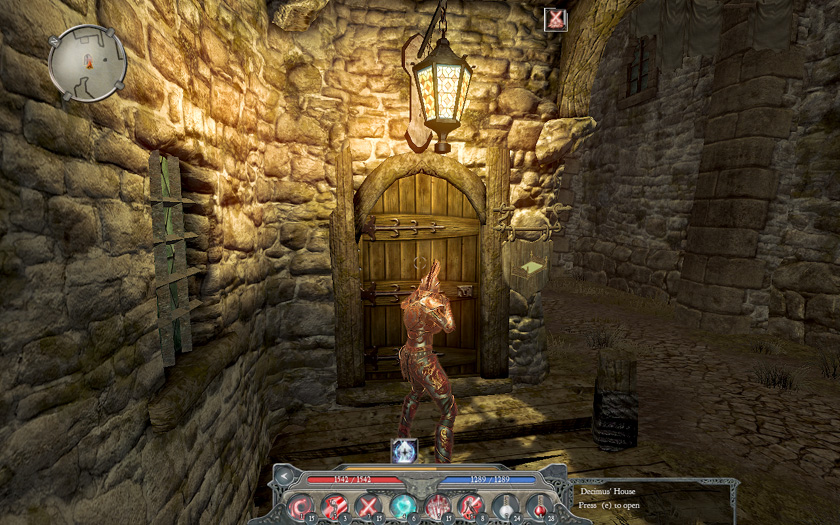 This is where the dying man in Healer's House lives. I suppose I should look for his wife's ring, like I promised.
Music: Carmina

I really like this track, this game remixes a lot of music from Ego Draconis, but the new original tracks are good too. It's a shame that a lot of them are one-shots that are easily missed and forgotten.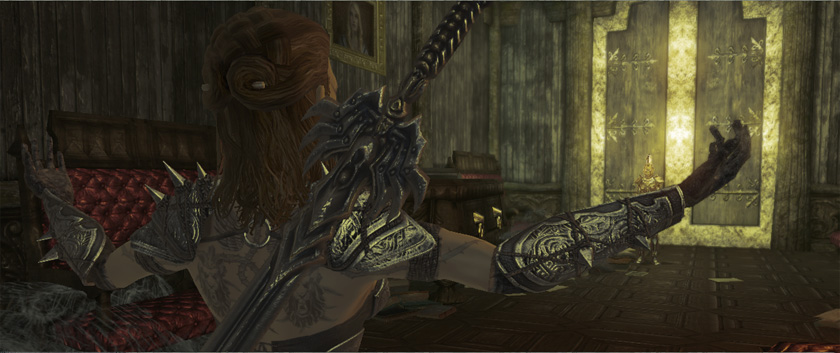 (Carmina)
Look here boys! Something walks besides the dead! Come, let's extinguish the twinkle in its eyes!

It'll be a nice change to punch solid flesh instead of rotting, that's for sure.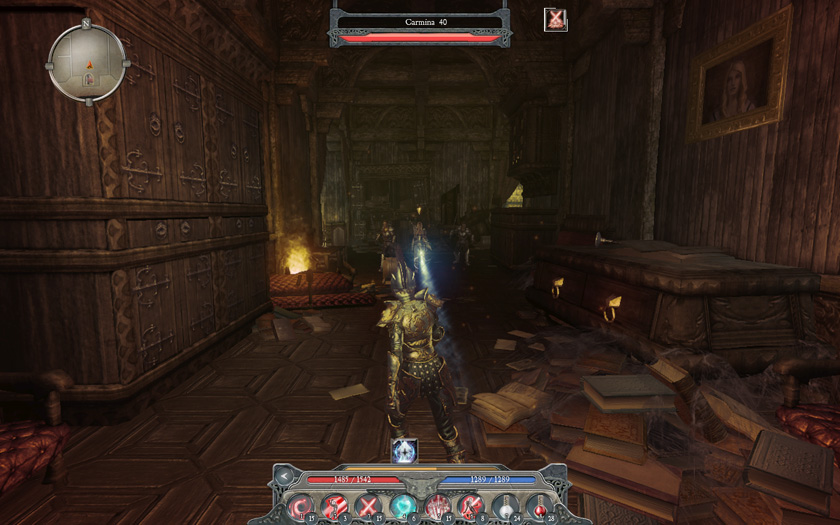 Carmina:
Well, she's the closest thing to a boss than we've had in a long time. Even with my crazy, maxed-out stats, this is a tough fight.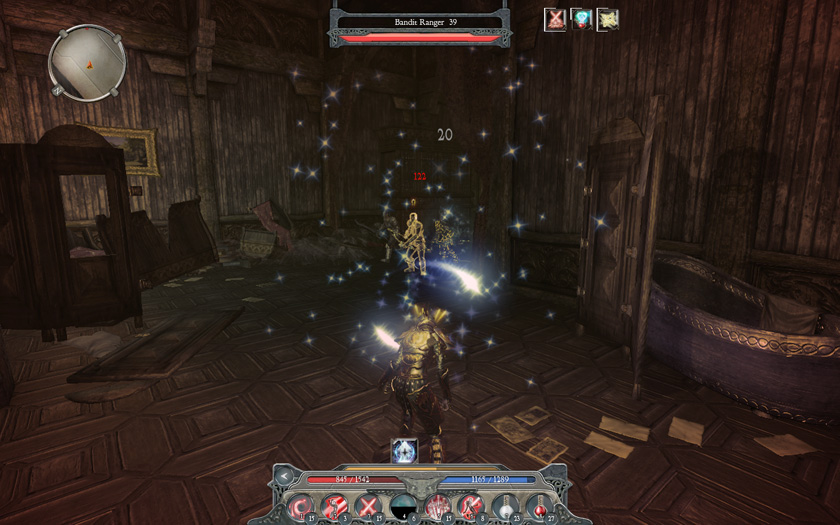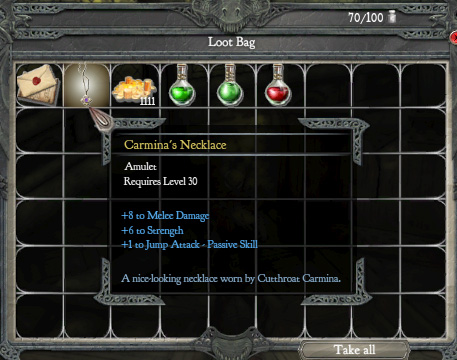 Carmina's Letter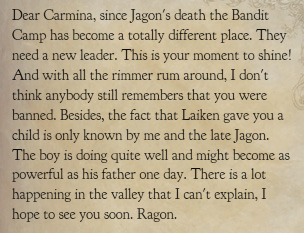 Laiken… has a son?!!!



There's a REALLY short window between "Jagon dying" and "Broken Valley Nuked", and the one between "Jagon dying" and "Bandit Camp overrun" is even shorter! Seriously, when did Ragon have time to write and send someone out with this letter?

The mention of Laiken having a son is interesting.
It won't come up in this game, but that's a pretty blatant hook for a Divinity III mid-boss.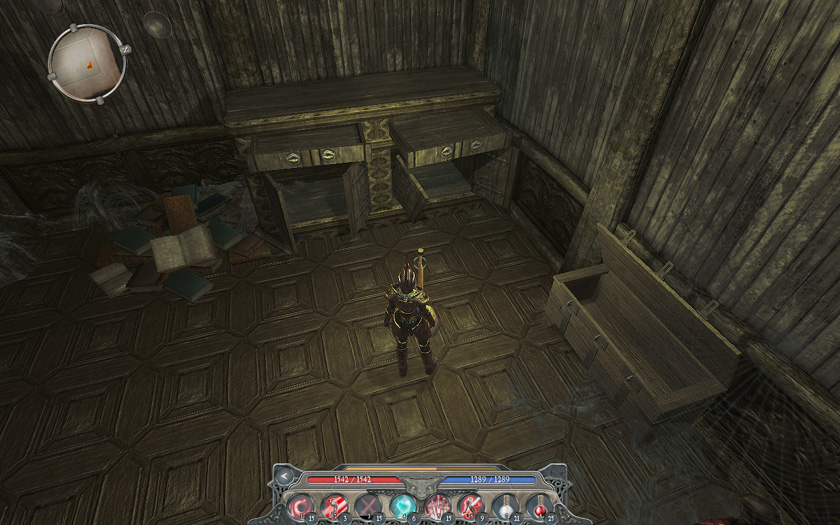 This house has three levers. Pull them in the right order and it opens the way to a treasure chest.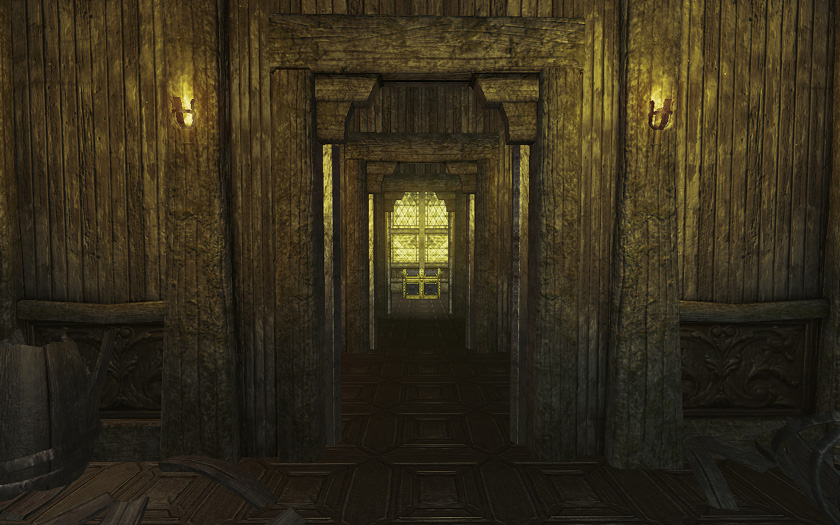 It's not even a simple puzzle where you need to hit levers that open and close doors, it's just "find the right order". The chest at the end is random loot, not even the ring we were sent here to find.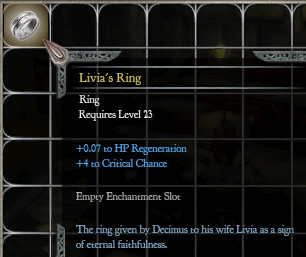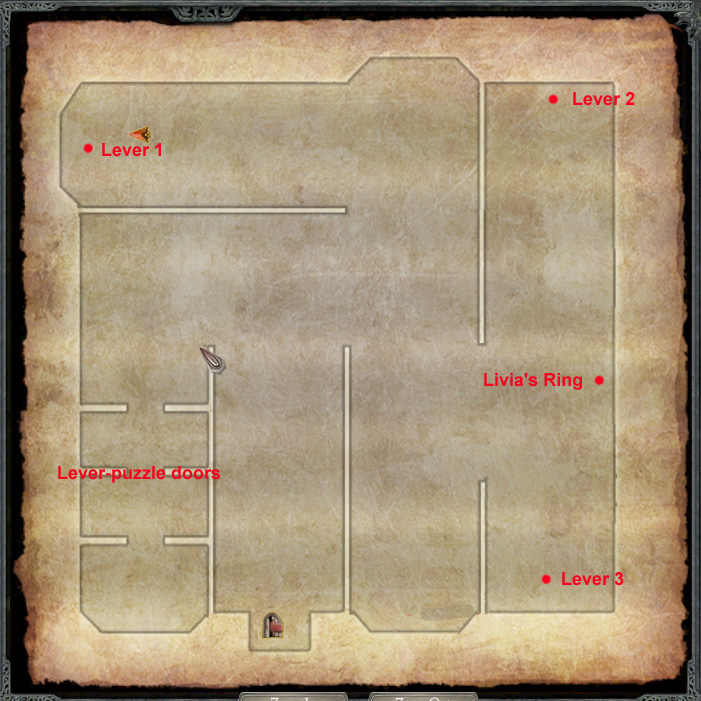 THIS IS NOT A HOUSE IT IS A COLLECTION OF CORRIDORS. There isn't even a bedroom here, everything is just in the hall.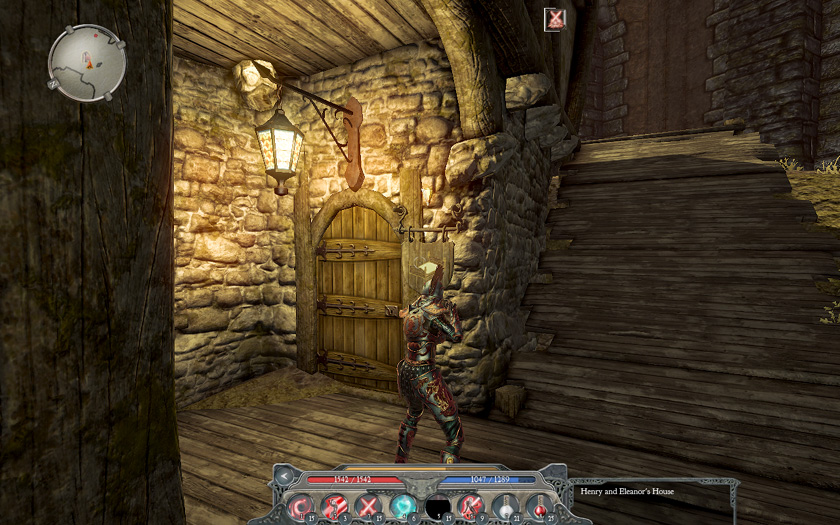 The nearest houses to the entrance to Crow's Nest are Servus and Alina's, and Henry and Eleanor's.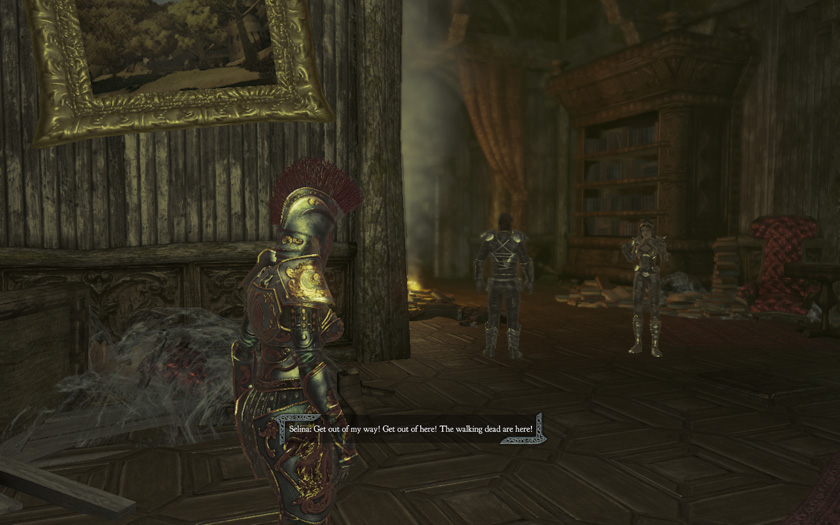 (Selina)
Get out of my way! Get out of here! The walking dead are here!

(Pyro)
Don't stop running, Selina, we have to go: now!

Pussies.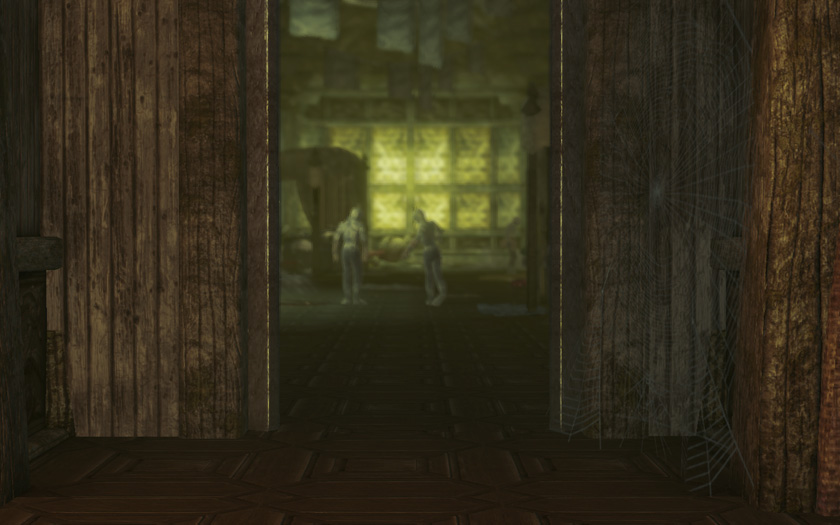 Doing this house last kinda takes the value away from this scene.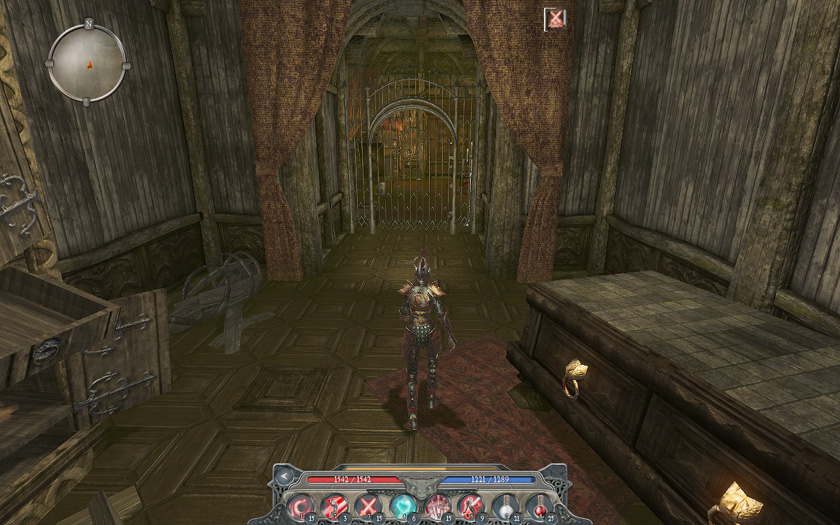 Just to Yara's left is a touchplate trap that will zap her. Straight ahead is a nice-looking room behind a locked gate.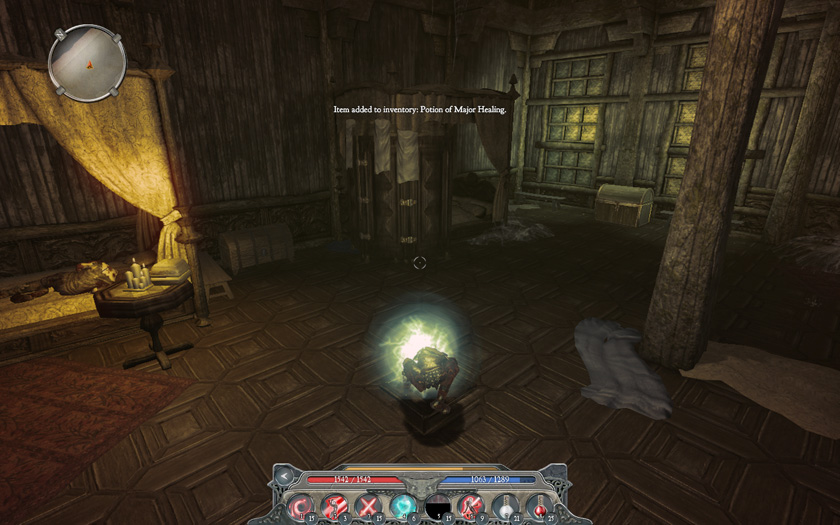 Looks like someone – OW – has been sleeping in Henry's bed… and he's still here!

The small chest contains the necklace Ricky wants.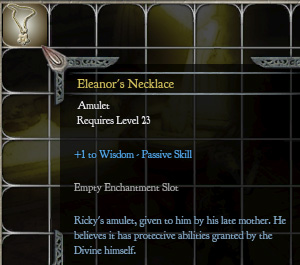 That's all well and good, but what about the locked room?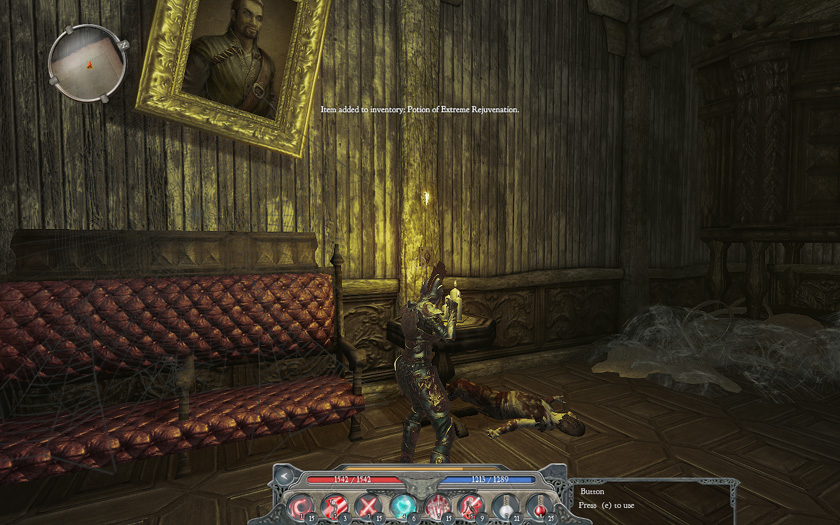 The switch opens up a room that isn't on the map, it has a trapdoor to the basement. My first time playing I somehow missed that switch or took ages to find it.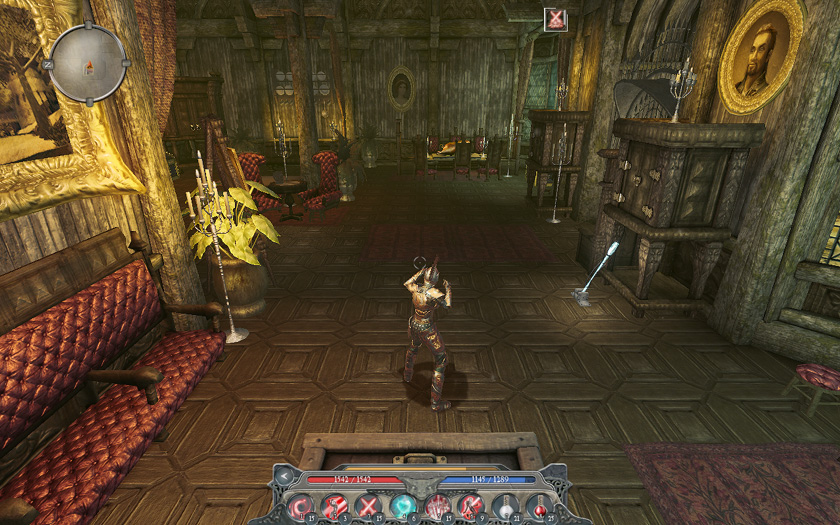 And here's the nice room with the golden treasure chest full of random loot.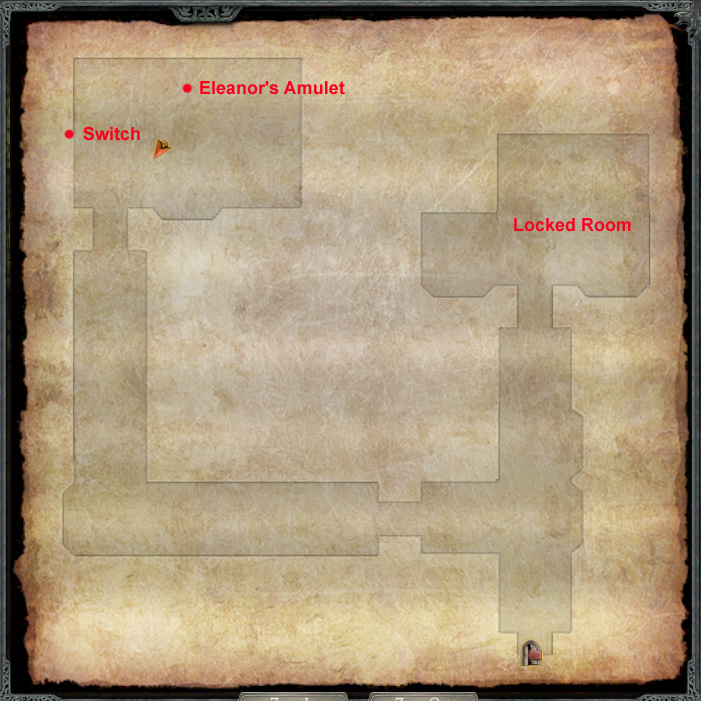 This is at least closer to a real house than Decimus' but look at that huge unused space. You'd think with a city clinging to the top of a mountain, that space would be better used.
Music: Healer's House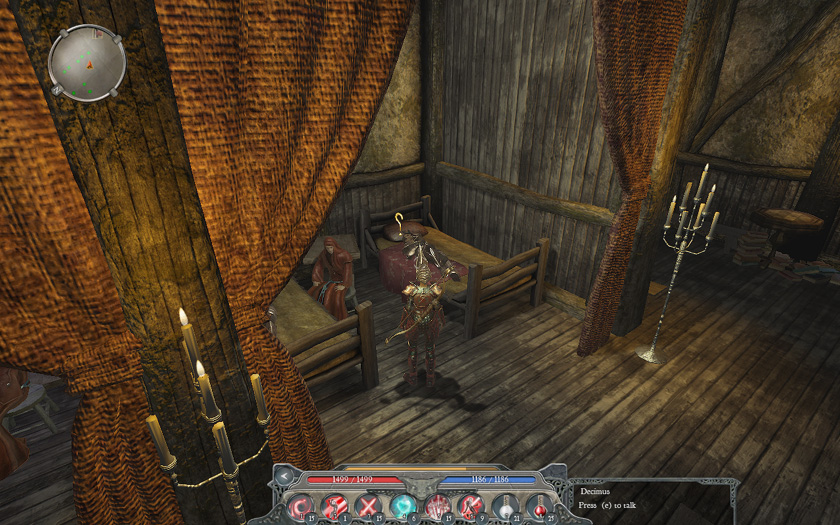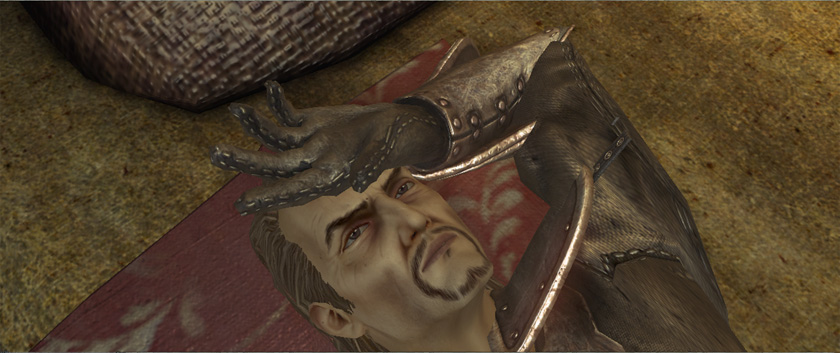 (Decimus)
Did you find the ring, Dragon Knight?

Here is your wife's ring, friend.

Joyous hour! Look at it: a precious band, its jewels sparkle as did her eyes. I thank you with all my heard, Dragon Knight. May fate always favour you and yours!

"Eternal Commitment" complete! Quest Reward:
5632 XP, 900 Gold.
Bonus Chosen:
2815 XP.
Decimus clutched the ring tightly, his breathing slowed, and stopped as he closed his eyes for the last time.

He looks peaceful and happy. Rest in peace, Decimus.

Most of the rest of this update will be zigging and zagging around town. First, to the Circle of Trust Inn.
Music: Troll Village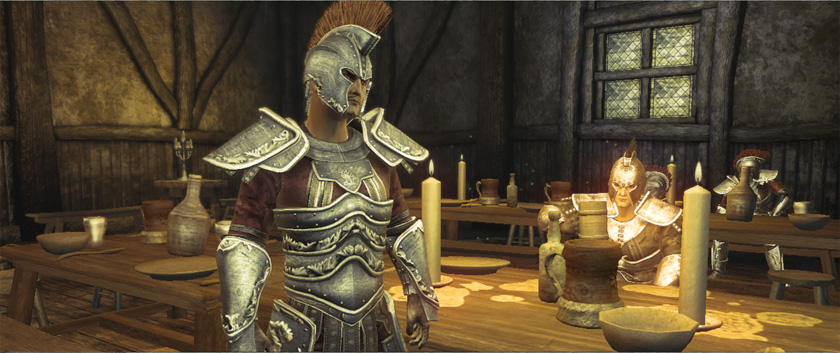 (Balbus)
Yeah? Got one of the feral three?

I killed Mysus. Here is his contact list.

Splendid! You certainly earned this gold. Don't give up now, I'll make it worth your while if you slay 'em all!

"Mysus" complete! Quest Reward:
4873 XP, 600 Gold.
Bonus Chosen:
2435 XP.

I killed Carmina. Here is her necklace.

Splendid! You certainly earned this gold. Looks like you cleared the board! This weapon might have made your work easier, but you had to show you were worthy of it: the Warhammer of Caracalla!

"Carmina" complete! Quest Reward:
4873 XP, 600 Gold.
Bonus Chosen:
2435 XP.

"A Hunting We Shall Go Once More" complete! Quest Reward:
6211 XP, 1300 Gold, Skill Book, Caracalla's Warhammer
Bonus Chosen:
3105 XP, 1300 Gold.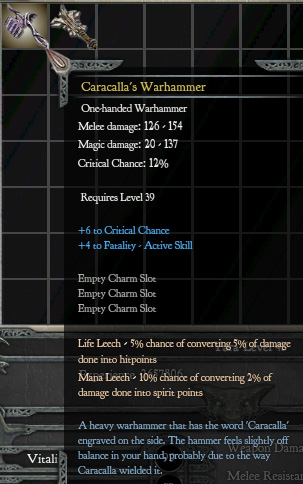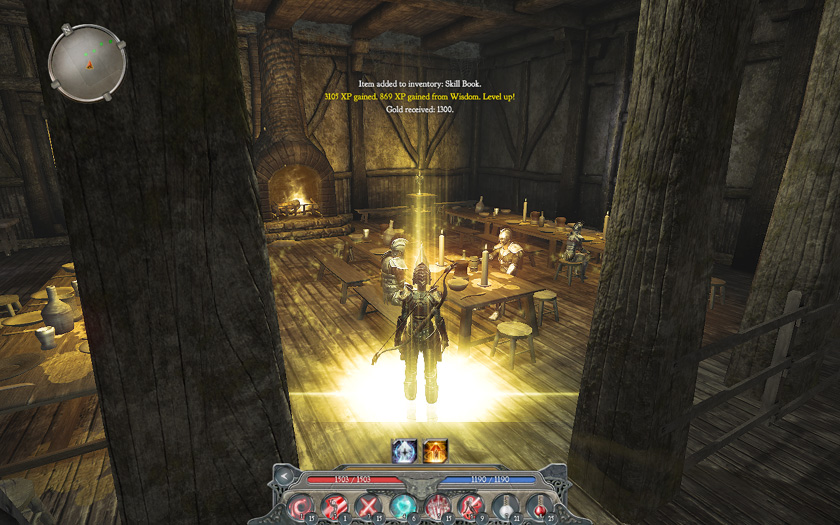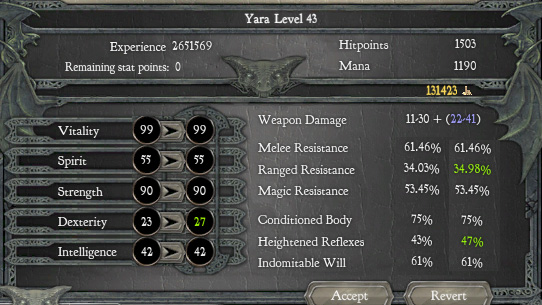 Level 43! I'm not sure I'll reach Level 45 – I'm not going to grind for it. It depends on how much XP I get from enemies.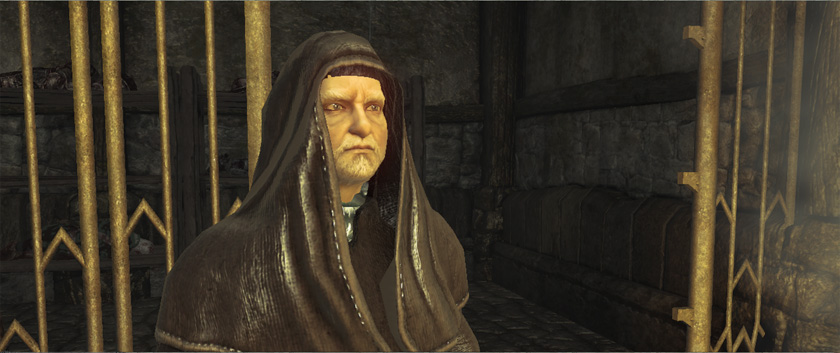 I have this limb here I have no use for. Would you like it?

(Doctor West)
My yes! Thank you indeed! Ha, I'll sharpen my best knives for this one! I feel I should reward you. Um, I have a miniature zeppelin. You can have fun with it in the tub.

Gee. Thanks.
Goodbye, Doctor.

May death follow in your footsteps!

"Dr. West" complete! Quest Reward:
4873 XP, 600 Gold.
Bonus Chosen:
25 Whisperwood.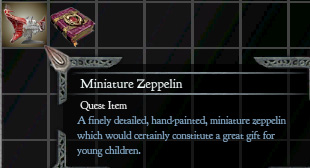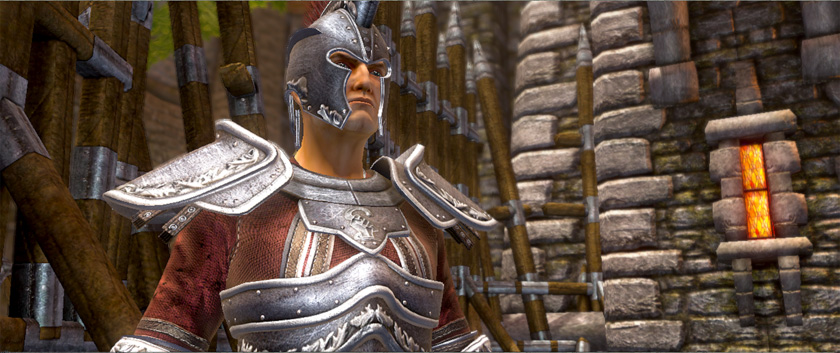 (Casca)
We might as well be sitting around painting naughty pictures of Damian and Ygerna on eggs for all the use we are.

That sounds like it could be a lucrative side business.
I found a toy zeppelin of all things somewhere. You're not going anywhere. Wanna play?

My, I haven't seen one like it in years! Thank you! You gave me a random gift and I'll give you one. May this compass be of use to you!

Stand firm, soldier!

Yes, Dragon Knight!

"Casca" complete! Quest Reward:
4873 XP, 600 Gold.
Bonus Chosen:
2435 XP.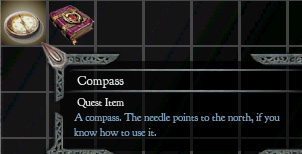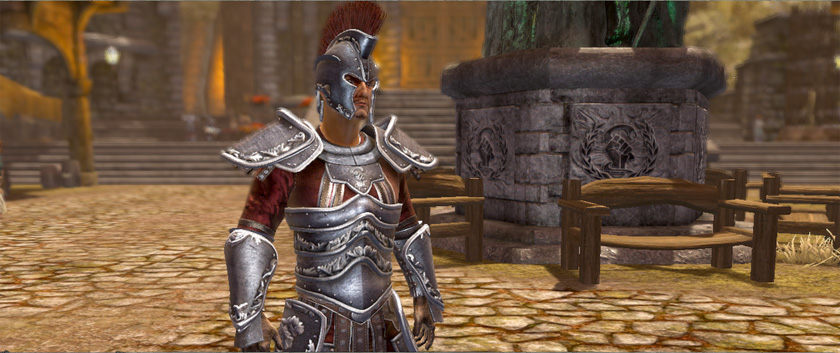 (Virginius)
How can I help you?

I've been asking people and no one has use for this compass I found. You want it?

Yes, yes I do! Just the thing! Here, take this pearl necklace. Maybe you can give it to some lucky fella!

I can't wear it, it clashes with my armour. And my hair.
G'day!

And you!

"Virginius" complete! Quest Reward:
4873 XP, 600 Gold.
Bonus Chosen:
2435 XP.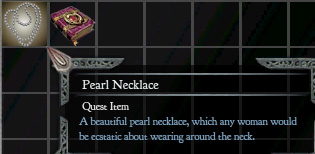 Music: Phoenix Inn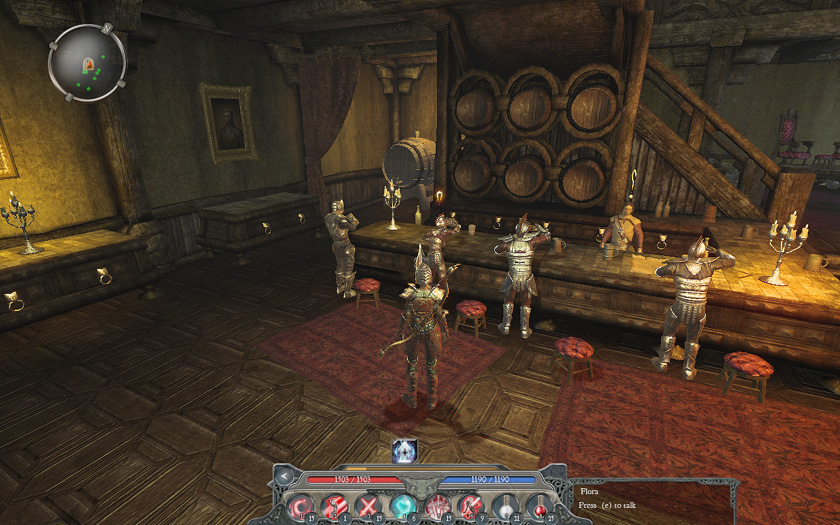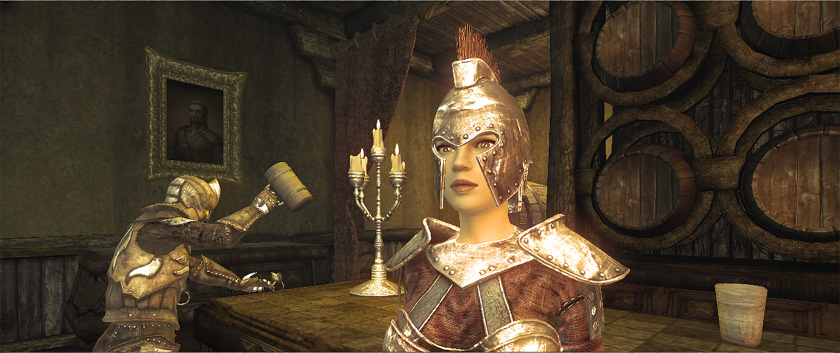 (Flora)
You have to try the Phoenix Ale, it's brilliant.

Yeah, but I heard when the aftertaste comes back it really burns. Anyway,
I believe you were pining for a pearl necklace?

My necklace! I can't believe you found it!

Thank Virginius, actually.

How did you know? This is a ray of joy in a dreary existence. Here, take this rune. An arbitrary gift, perhaps, but maybe it will bring you good fortune.

"Flora" complete! Quest Reward:
4873 XP, 600 Gold.
Bonus Chosen:
2435 XP.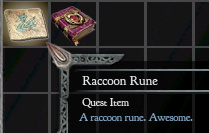 When will all this end?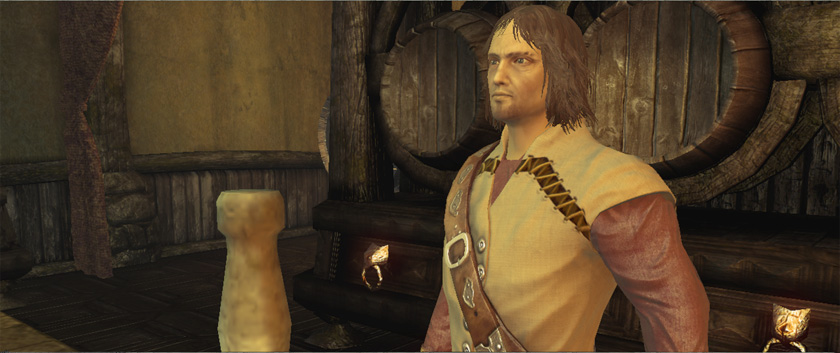 (Ricky)
What's your poison, my friend?

I believe you were missing an amulet?

You mean you have it? This is wonderful news indeed! Can't believe you took the trouble to bring me the amulet,


(Behrlihn and Lucian)
Neither can I!

…but I haven't forgotten my mention of a reward!

"Reminiscence of the Past" complete! Quest Reward:
5632 XP, 900 Gold.
Bonus Chosen:
2815 XP.

One last stop to make…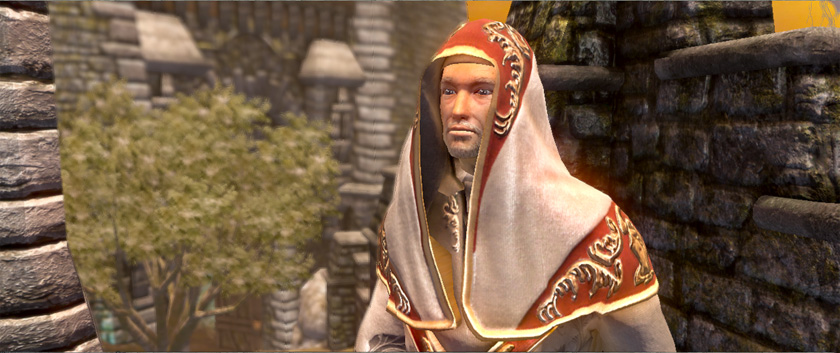 (Valeri)
Hello again, my Dragon friend!

You know, I have here a Raccoon Rune I'm not doing anything with. Interested?

Interested? You have actually procured that rarest of runes? What an achievement!


Such a victory deserves a most generous reward!

Good day!

And you, Dragon Knight!

"Valeri" complete! Quest Reward:
4873 XP, 600 Gold.
Bonus Chosen:
2435 XP.

"Mind over Matter" complete! Quest Reward:
10560 XP, 2400 Gold, 3 Skill Books.
Bonus Chosen:
5280 XP, 2400 Gold, Random Jewellery.

For completing that endless series of delivery quests sparked by the Bellegar coin, we get the biggest single quest reward in the game. A huge chunk of XP and THREE skill books.
Fatality

Increased from Rank 9 to Rank 14
Mana Cost:
43 -> 60
Kills Enemies under:
34% -> 49% Health

With the five skill points we got this update, Fatality is now almost maxed, and it's very useful. Anything below half-health can be instantly dispatched. And seriously, I'm going to need that pretty soon – this is Nightmare skill, after all.

But we're not done the update yet, I want SOMETHING interesting to happen here, so I'll tease the next chapter…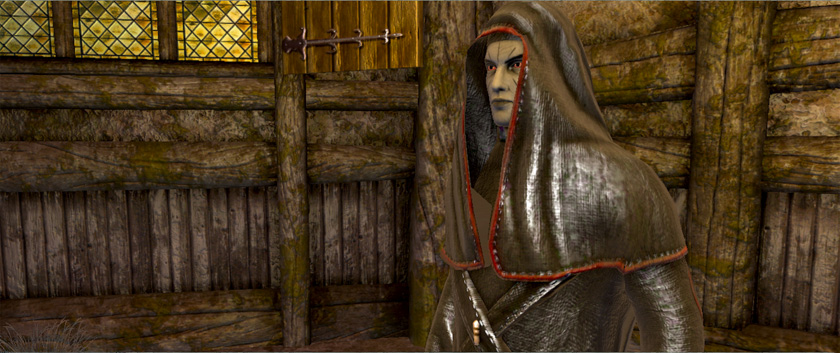 (Astridax)
Ah! Has your forage for the bijoux of the corporeally inert proved to be plenteous?

Why do you need these ghosts, if you don't mind my asking?

It is but my latest little excogitation, the exact purport of which I as yet hesitate to proclaim. Suffice to say that in the long run it will assuage the vexatious road to absolute preponderance in the dark arts over all corrivals.

I did find some examples of the types of jewellery you were looking for, but I preferred to give them to their rightful owners.

An infelicitous adjudication if you ask me, but so be it. Farewell then.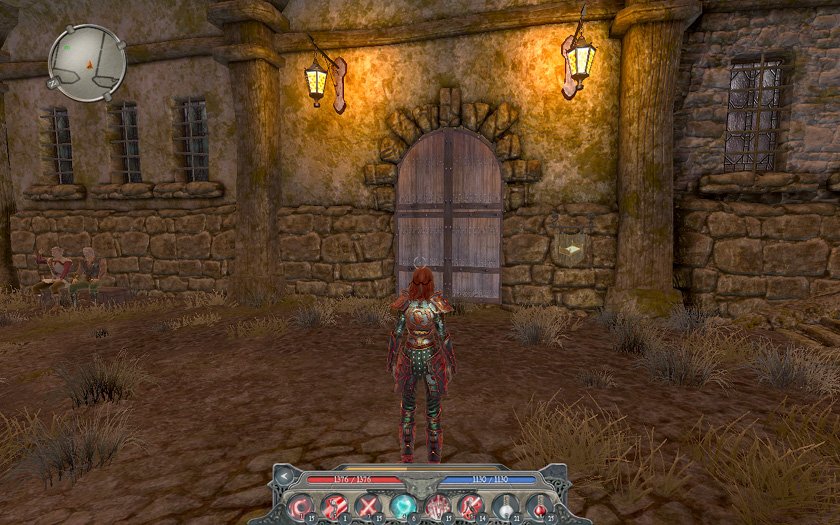 What is it, Dragon Knight?


I'm out of ideas, and there's just the one place besides Source Square that I have yet to visit.


Madame Eve's.


Ah, I am quite familiar with such places. Did I tell you about this time I met the lovely Penumbra in –


AAH! Shut up shut up! I'll just take a quick peek, make sure there's nothing interesting happening, and then see if Thaddeus has found anything.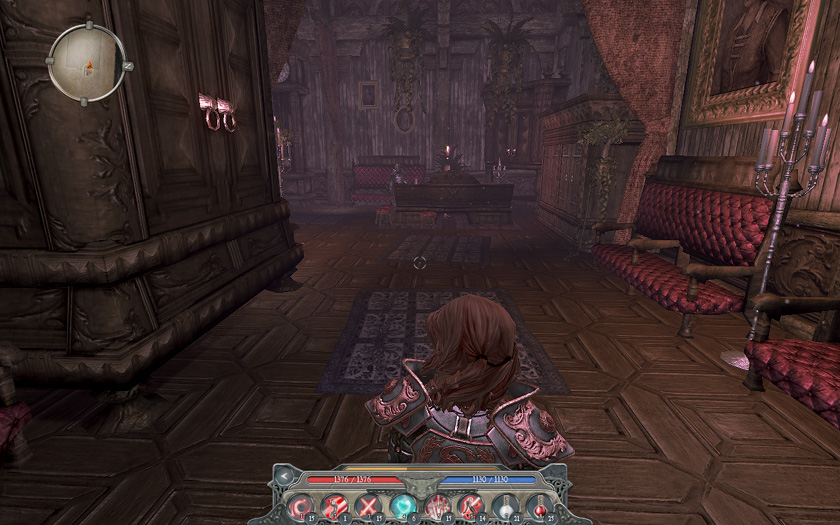 Music: Madam Eve's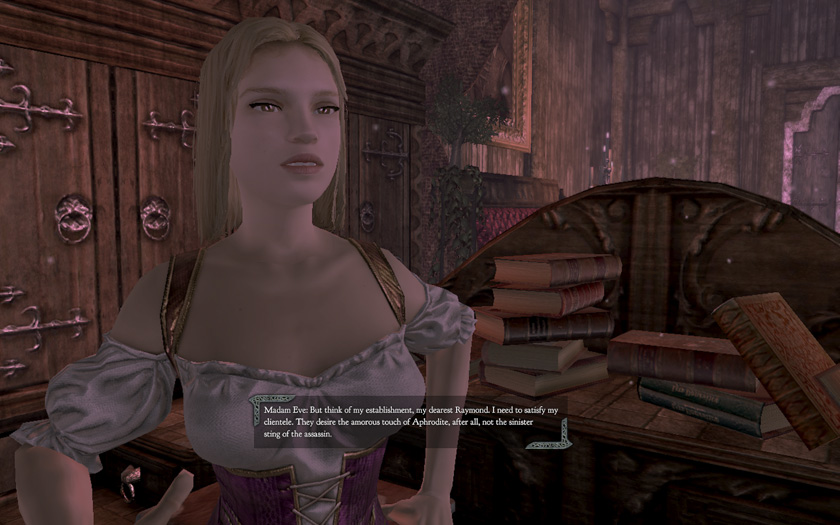 (Madame Eve)
But think of my establishment, my dearest Raymond. I need to satisfy my clientele. They desire the amorous touch of Aphrodite, after all, not the sinister sting of the assassin.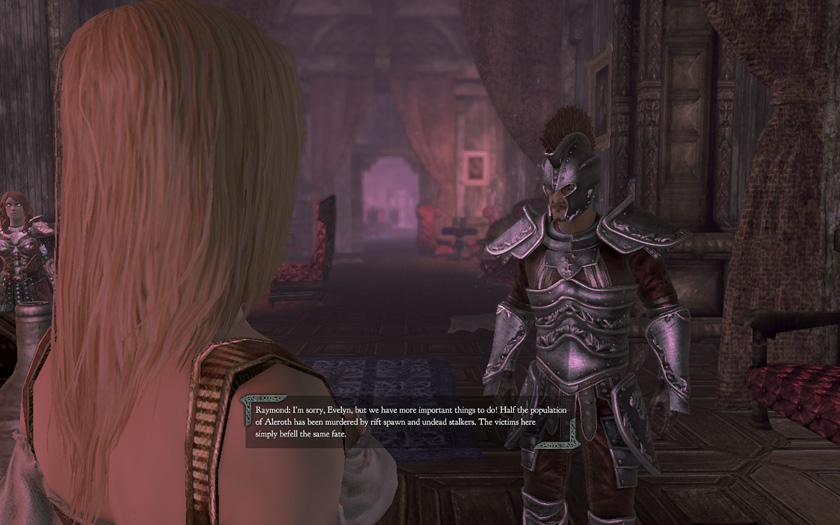 (Raymond)
I'm sorry, Evelyn, but we have more important things to do! Half the population of Aleroth has been murdered by rift spawn and undead stalkers. The victims here simply befell the same fate.

Are you seriously telling me you will leave these vicious murders unresearched and unavenged? Raymond, sugar, do reconsider… and consider just how passionately grateful I would be…

My duties lie elsewhere, alas. And besides, I believe my desires will remain sufficiently doused as long as Damian and his droves of Demons dominate the skies over Aleroth.

Go then, you heartless lout! And don't come begging for my caress when the battle is over and your appetites have been restored!

Looks like nobody's going to be loving Raymond!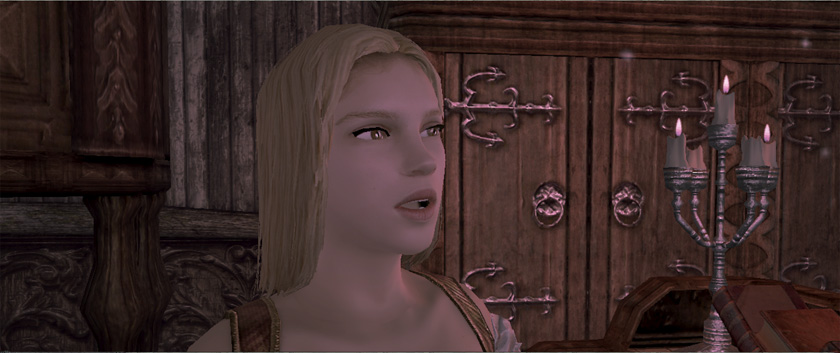 Oh, it's you, isn't it? The Dragon Knight! What an exquisite creature you are! Such seductive eyes, such a pretty face. Ooh, I'm getting quite warm all of a sudden!



(-22500 XP)
How easy it is to seduce for one with my charm.


Your Charm skill has increased by 1.

Ahem!
I couldn't help but overhear something about a spate of murders?

Oh, it's simply horrible. Have of my current clients have been savagely slain! I have three rooms here in my hotel and in each lie the victims of vicious massacre! The Champions do not care at all, but I need to know what has been happening or this tragedy may spell my ruin and perhaps even death! Praise be that fate has brought you here this day! To have a being of such beauty come to me must surely mean the gods of love and lust have not abandoned their most ardent follower. Here are the keys to those rooms of terror. Please investigate, my sweet, and the reward will be… spectacular.

Perhaps this is what could be considered a clue?


Oh, shut up.


The House of Secrets
Jewellery NOT for Astridax
Mind Over Matter
Murder?

Music: Carmina

Music: Madam Eve's

Maps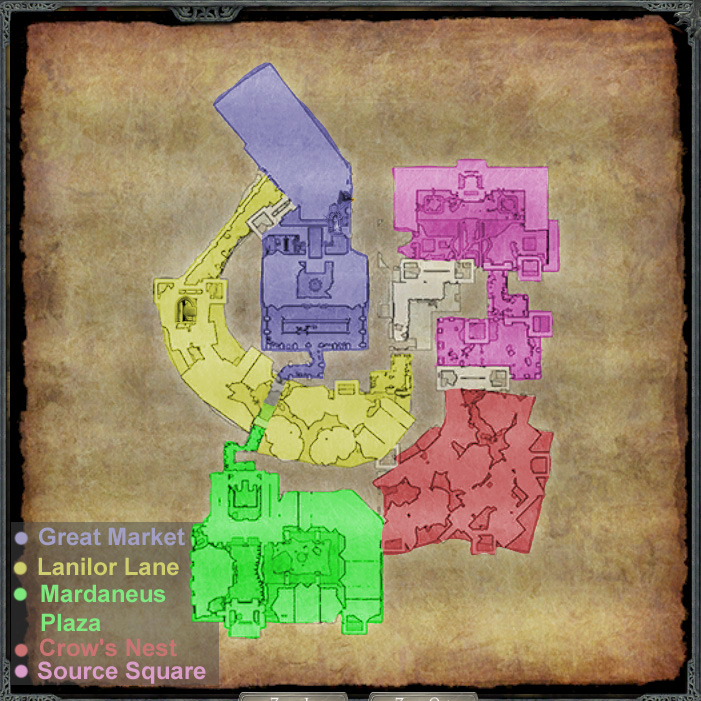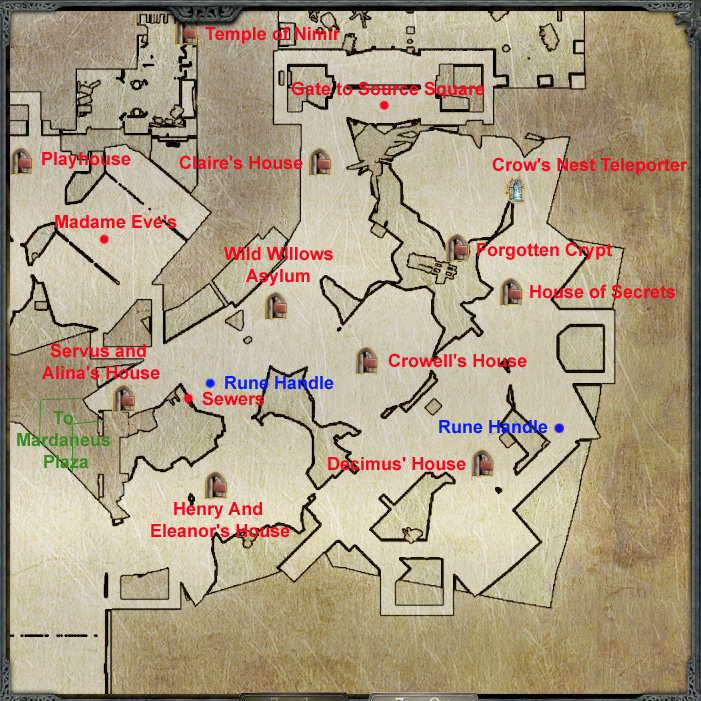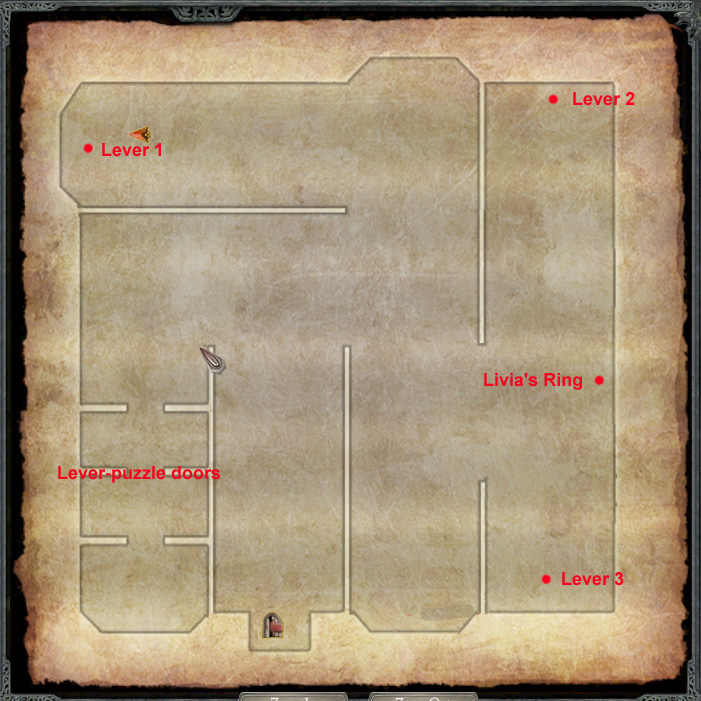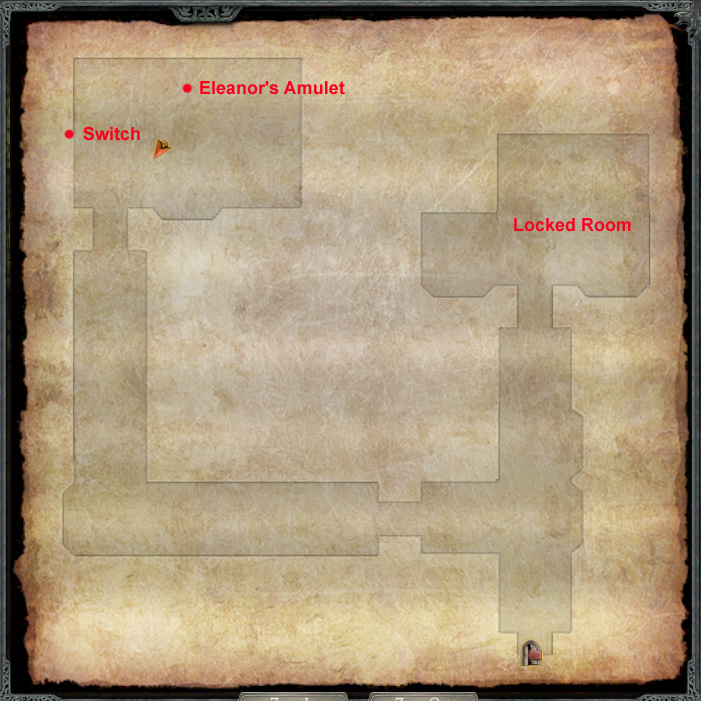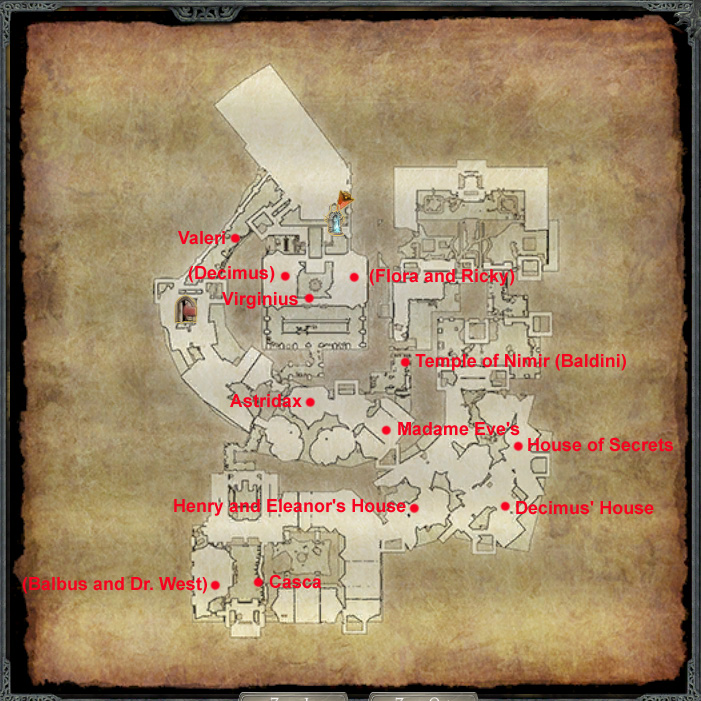 Order of the Viper Set Bonuses
Order of the Viper Helmet:
+30 Ranged Armour Rating
Order of the Viper Cuirass:
+20 Vitality
Order of the Viper Bracers:
+20 Strength
Order of the Viper Leggings:
+30 Heightened Reflexes
Order of the Viper Belt:
+30 Magic Armour Rating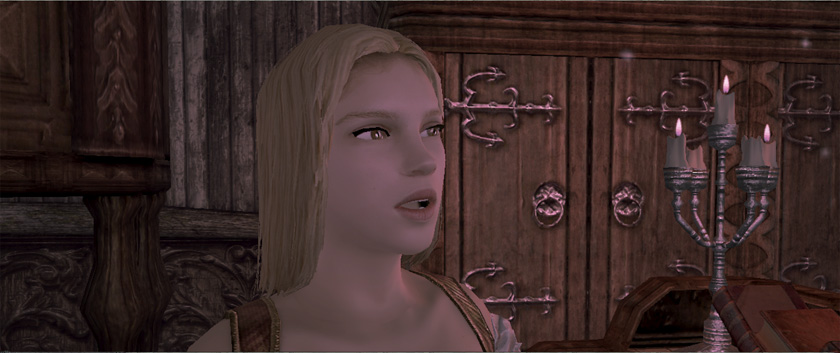 Oh, it's you, isn't it? The Dragon Knight! What an exquisite creature you are! Such seductive eyes, such a pretty face. Ooh, I'm getting quite warm all of a sudden!

Though I realize I am uncommonly attractive, your flattery remains a tad transparent.

Not at all! It is my business to know beauty, only… I have unfortunately discovered things of profound ugliness in this, my house of sensuality. I have three rooms here in my hotel and in each lie the victims of vicious massacre!