Part 18: Turn 17: Rise Of The Elephants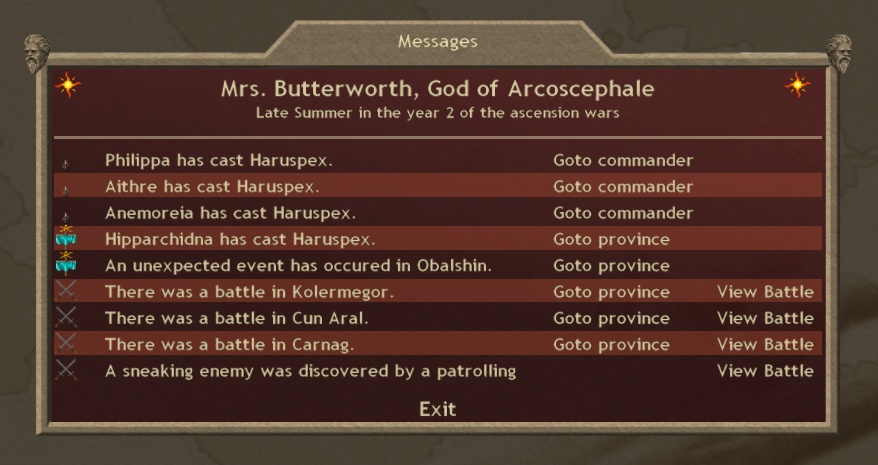 By now, my scout network is big enough that you should expect to see extra battles.
As usual, we find absolutely nothing through sitesearching. Seriously, what the fuck. Am I cursed?

I
think
this is a dominion-reduction event. At least, I seem to have less dominion in that province than I used to. Sometimes the meaning of an event is . . .
unclear
.
We all know what you're waiting for. Let's get on with it.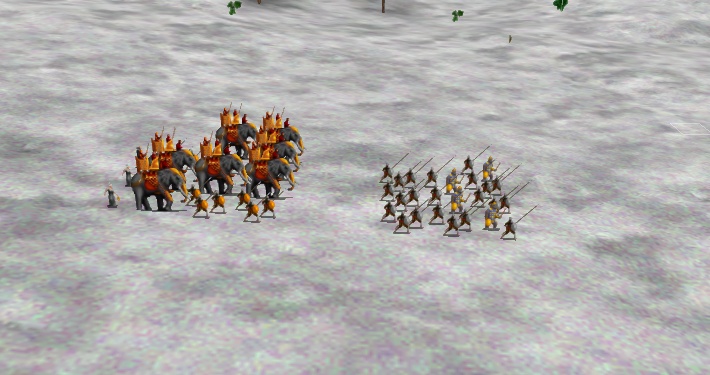 This is my largest war party. In the front are my melee shock troops. Behind them are my elephants and elephant handlers, right behind them are the three mages that are coming along.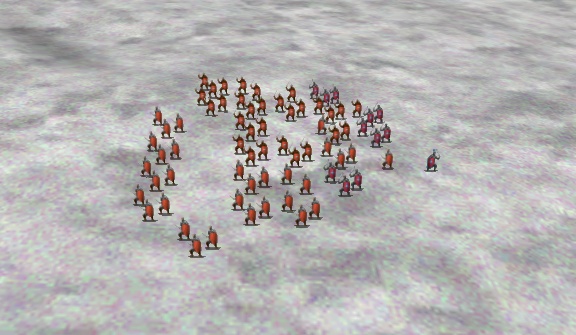 And here's Agartha's province defense.
Hey, you know what's great in the middle of a battle?
KNOWLEDGE
Let's Learn About The Game: Province Defense
Every nation can hire province defense in any province they own. Province defense takes the form of a large army of basic military units. Some nations have better province defense than others. I actually have no idea how good my PD or Agartha's PD is comparatively, but some nations get twenty-foot-tall armor-clad warrior giants and some nations get monkeys that throw rocks.
I'm not even joking about that, they're literally rock-throwing monkeys.
Province defense costs an increasing amount per point. The first point is one gold, the second point is two gold, the hundreth point is a hundred gold. It adds up
fast
, because, remember, you don't get anything fancy - at absolute best you get a wimpy mage. Plus, it's defense - you can't move it, you can't even give it orders, it just hangs out in that province and defends for you.
Coupled with that, though, are a few
giant
advantages.
First, the later points are ridiculously expensive, but the earlier points are hilariously cheap. You're talking about paying half a dozen gold for a pair of units that would cost 30 gold otherwise. Second, there's absolutely no upkeep - you hire it, you've got it. Done. And third, it automatically regenerates. If your opponent kills 95% of your province defense, then routs, the
entire province defense
will be back when he tries again. Even if that's the very next turn. Hell, even if that's the
same
turn.
I haven't been putting much into province defense - a single point to prevent scouts jumping me, but nothing more. Agartha's been putting a lot more in, possibly in response to the army showing up on his doorstep. This is at least 20 province defense, maybe more like 30. The advantage for him is that if I lose, I'll have to fight it all again.
I don't plan to lose.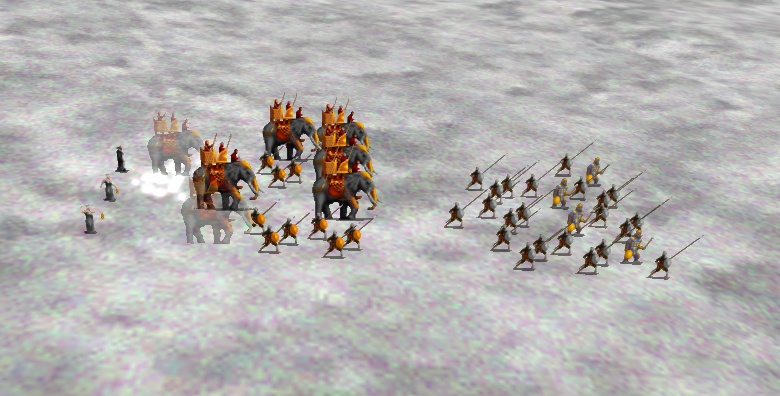 On my first turn, my mages cast Body Ethereal on two elephants and a squad of Hypaspists. You can see the ghost elephants nicely, though the Hypaspists are cowering behind a non-ghost elephant. Everything is going according to plan.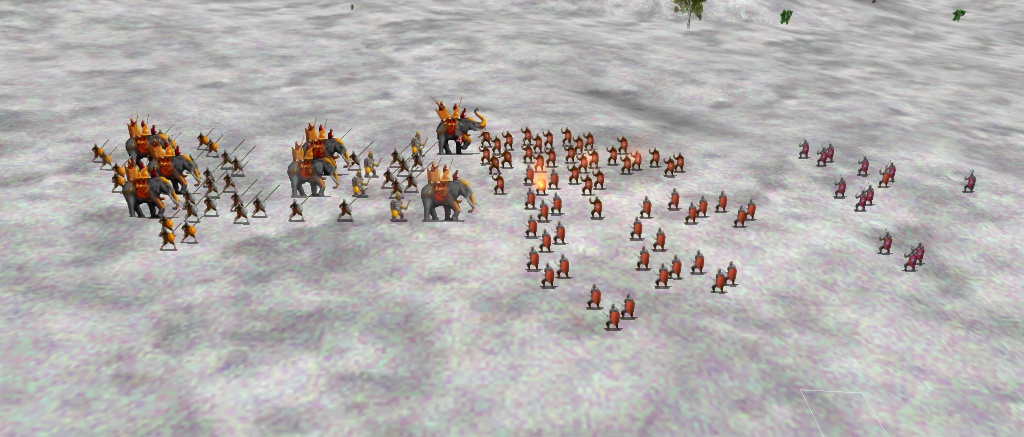 You'll notice that one of the enemy is on fire. Go, Combustion!
(Future Me: lol combustion)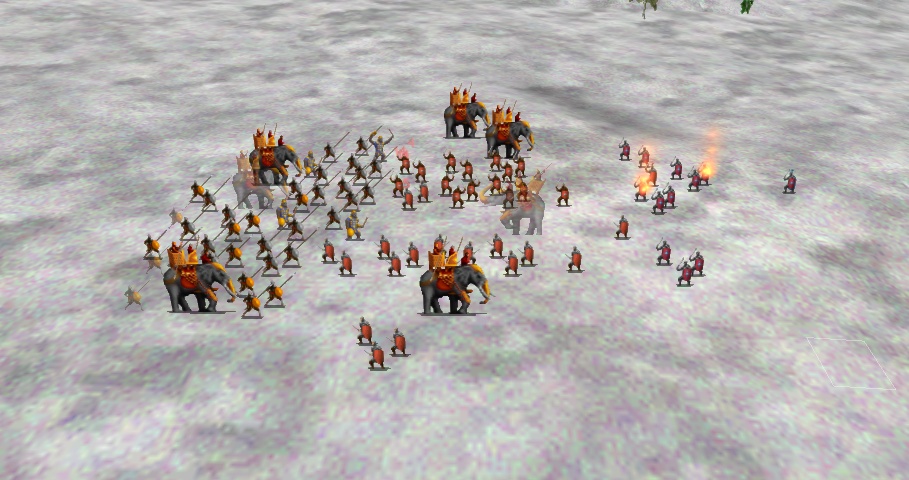 The battle proceeds roughly as expected.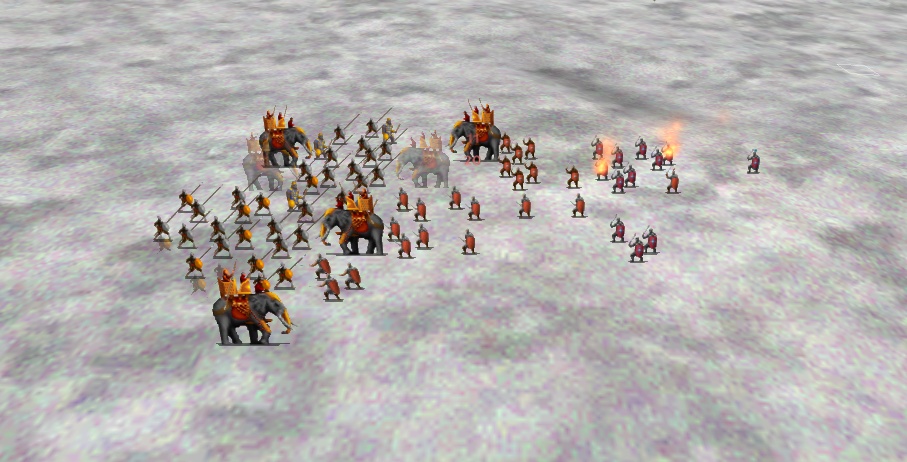 Well, almost as expected. See that elephant-sized hole? Yeah, we lost an elephant.

Losses are to be expected - that's why I'm funneling more reinforcements from Jome - but I was hoping not to lose any elephants for a bit.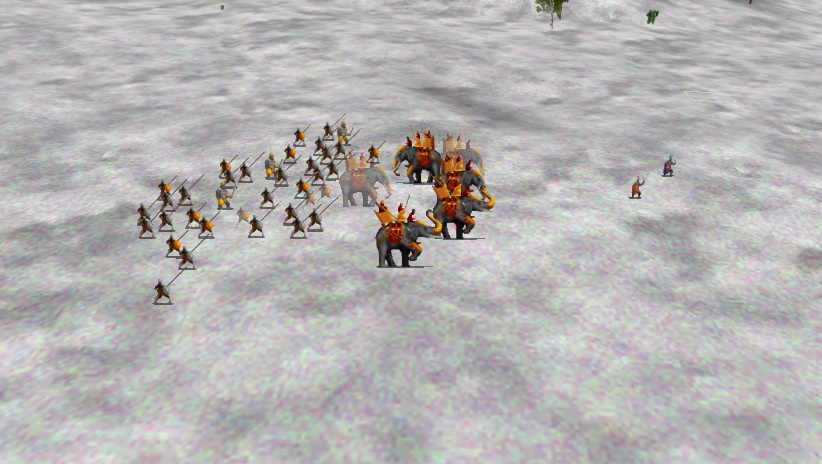 Eventually my elephants finish off all the forces. End results: one elephant loss for me, no
actual
military losses for Agartha but a lot of money wasted in province defense. Acceptable.
The next battle is a little more interesting.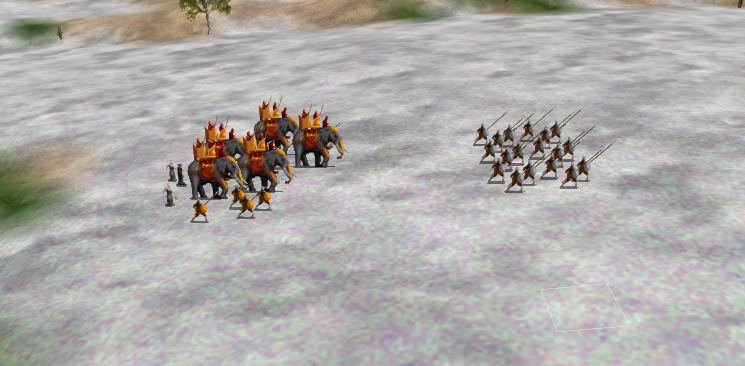 Again, my forces.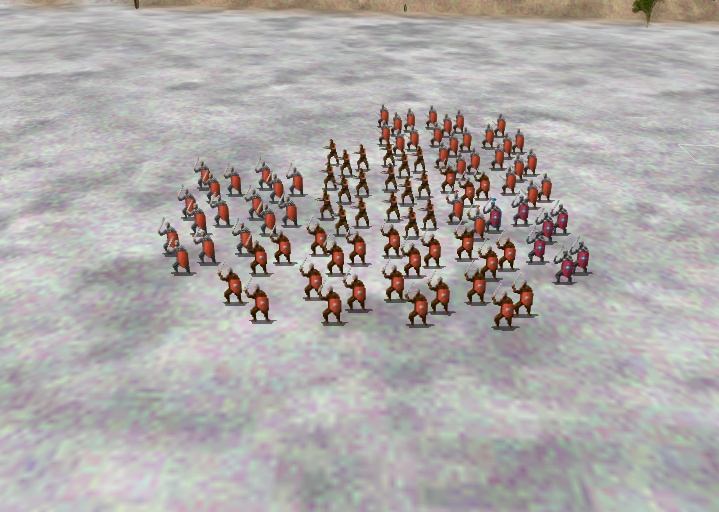 And their forces.
That's . . . that's kind of a lot of forces, Agartha

This would be the army we saw northwest of our entry point. They've trooped down here to meet us. Whether that was Agartha trying to defend their territory, or Agartha heading down to pick up the independent province that they still haven't captured, I couldn't say. Nevertheless, they're here, and they have a lot of crossbows.
And, again: province defense. Yes, they fight together - another advantage to province defense. A few hundred gold of province defense can easily provide the sheer hit point blob needed for a large hired army to be quite effective.
I've carefully placed my units so that the ranged attackers will lock onto my shock troops in front, not my elephants, assuming they're using Fire Closest. As planned, my shock troops take a shower of crossbow bolts and not a single point of damage.
From here, though, it goes exactly the same. My elephants stampede forward, one of them gets a bit too far in front and turned into blubber, my mages nuke individual units while the elephants flatten the majority of them.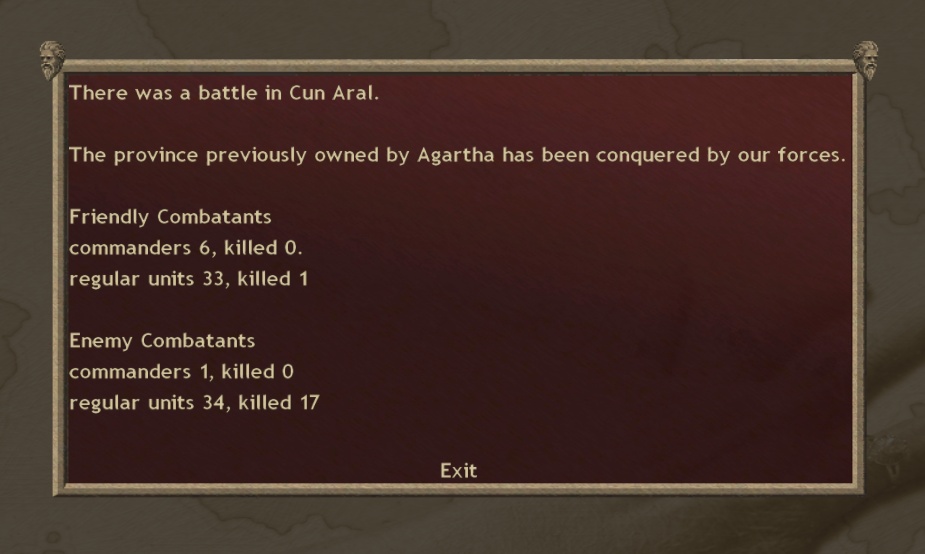 According to the battle report, I killed 17 Agarthan units. Battle reports don't count province defense, because who cares about province defense, so that's all Agarthan military deaths. I'm pretty sure their crossbowmen escaped completely, so that's probably all melee that got flattened.
End result: one elephant loss for me, seventeen military lost for Agartha and a lot of province defence. I'll accept that too.
The third battle report turns out to be from that little gap in the middle of the Agarthan empire - Agartha vs. Independents. There's a dozen crossbowmen and nine heavy infantry, plus a commander.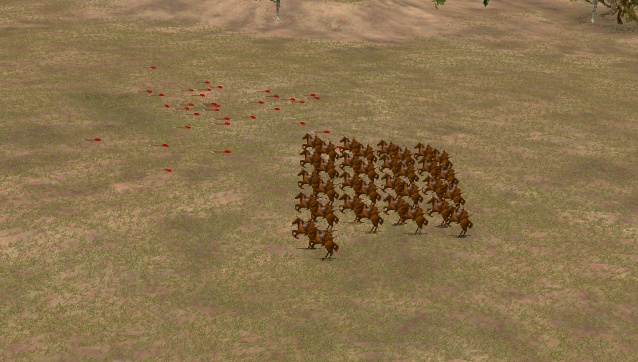 Versus holy shit that's a lot of cavalry archers.
The first few rounds are archer barrages, and each barrage kills one or two of the targets. You may see the problem here: Agartha started outnumbered, and they're not closing the gap.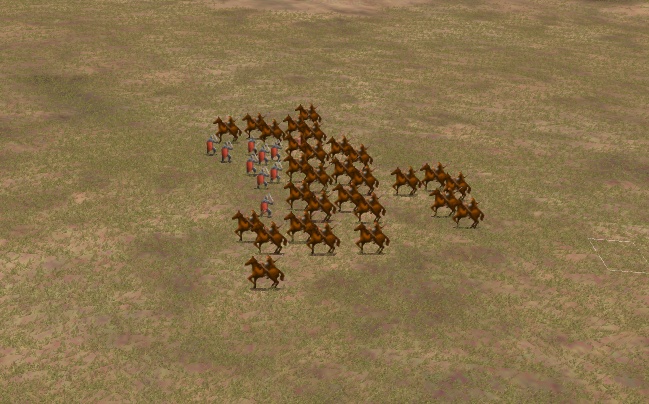 Eventually the infantry closes to melee range, and . . .
well, you can't see it here, but I swear they're hitting each other with nerf bats. The cavalry has a huge Defense Skill while the infantry has a terrible Attack Skill. The infantry simply never hits. Meanwhile, the cavalry does very little damage, while the infantry has a huge Protection. The cavalry hits all the time but almost never punches through their armor.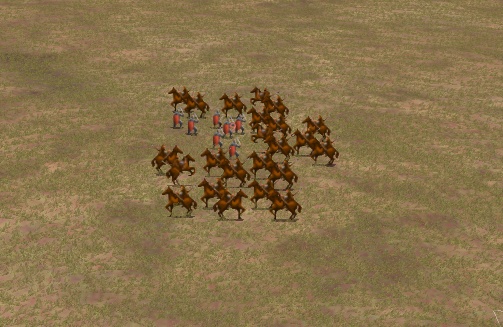 This is about eight turns later. Note that the cavalry is also killing themselves via friendly fire from their bows. Slowest battle ever.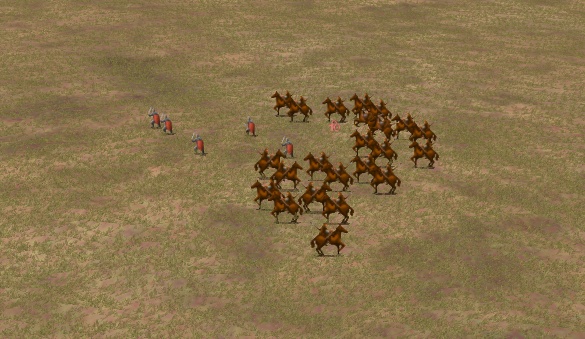 And then the Agarthan infantry turns and runs.
That's pretty much the end right there. Some of the cavalry dashes ahead to engage the crossbowmen, some stay back to finish off the painfully-slow infantry, the majority start pelting the crossbowmen from range. There's eight crossbowmen left by the time they rout, and neither the heavy infantry nor the commander manage to escape.
Which means that their eight crossbowmen are now marooned, and, worse, split up on both sides of that province, as it chooses a random friendly province to escape to.
Finally, Agartha is cleverly scouting my capital. Good plan! I'm quite curious how extensive their scouting is. Unfortunately for Agartha, I have a few Commanders waiting there for ferrying duty, and I tend to set them to Patrol when they're not moving. One of them finds the scout, and, well . . . when you find a scout, the province defense comes along to help.
Remember that event I got early on that boosted my capital defense?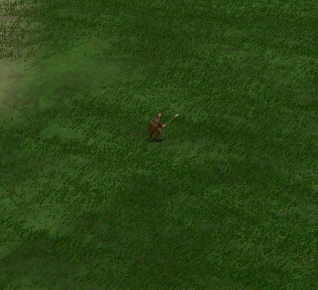 There's the scout.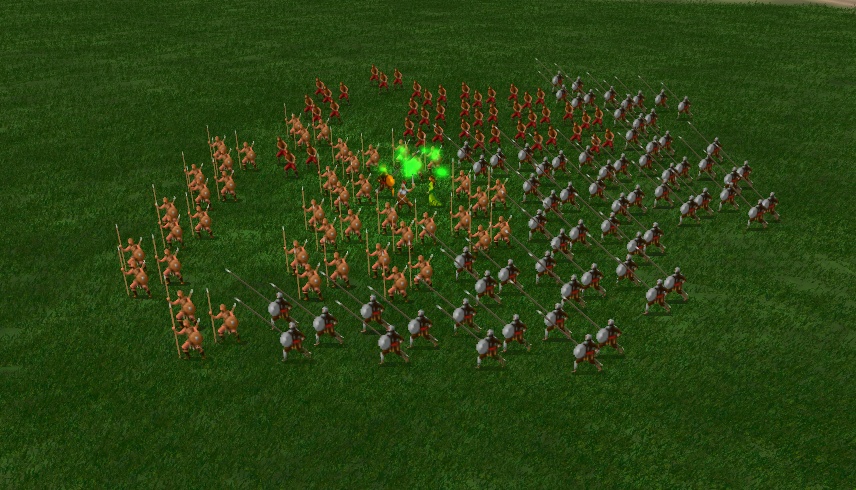 There's my army.
It goes badly for the scout.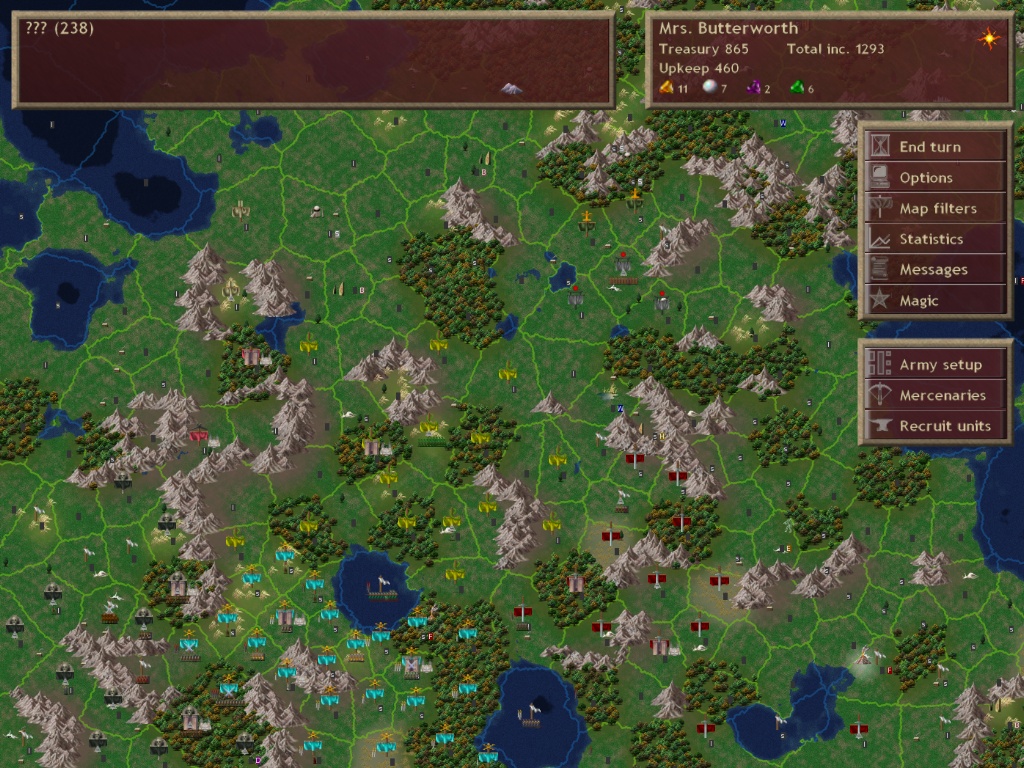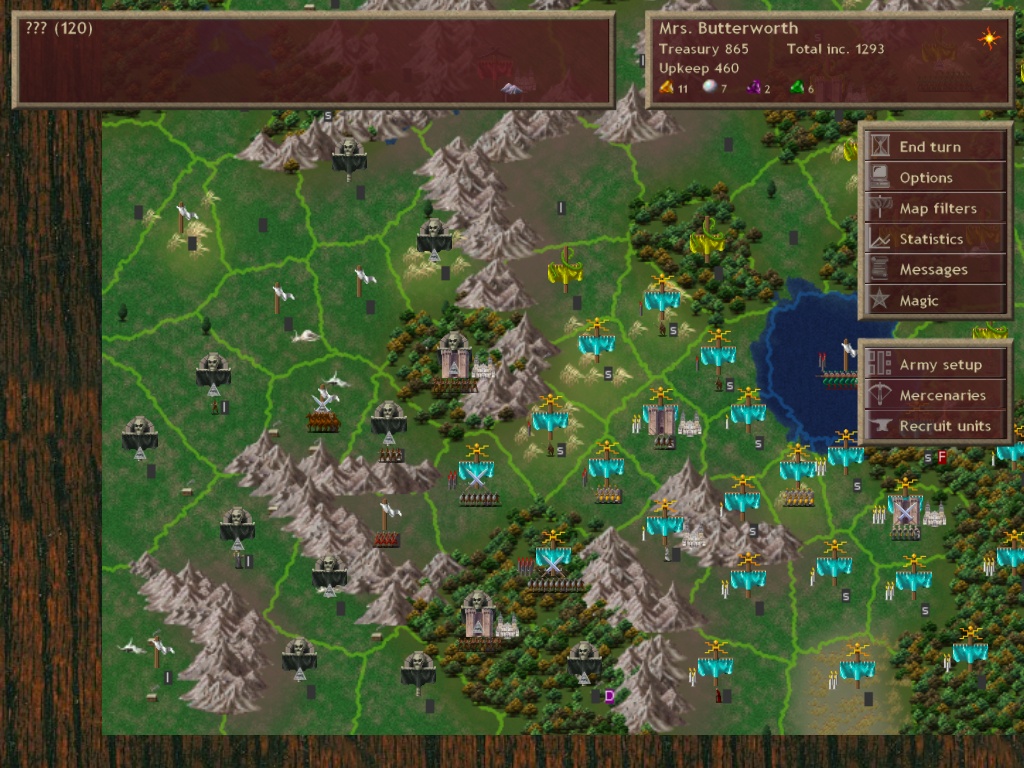 (Future Me: Oh hey I guess I did start doing this for a bit. Huh. I'd totally forgotten.)
At this point I have scouts in nearly every Agarthan province. As near as I can tell, they have literally
none
of those worrisome Cave Drakes. They no longer seem to have an expansion army nearby - they've got some units in each city and that's about it. They don't have anything mobile near my provinces besides what's in their forts, and only a single necromancer bumming around in the southwest, so if I lock down their forts they are
completely screwed
.
Let's lock down their forts. Or try to - movement is simultaneous, so if they decide to vacate their forts, they could try to do an end-run around my units.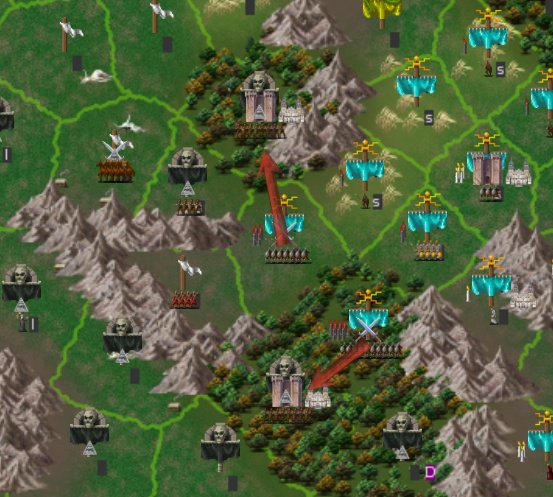 Done and done.
This is a bit risky. I might lose a
lot
of momentum if they manage to defend. But if I pull it off, I've won the war, flat-out.
I go to look at the score graph to gloat a bit.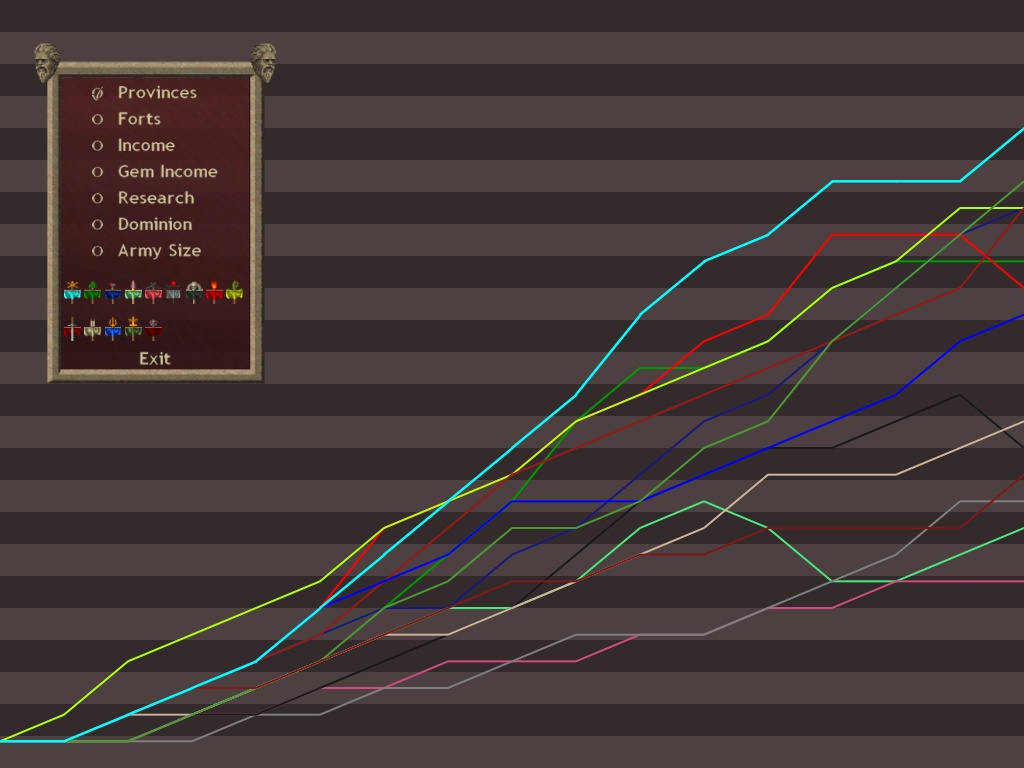 Hee hee, look at that.
Looks like Abysia ain't doing so hot right now either, almost precisely mirroring Agartha's losses. It's possible Pythium or Bogarus, the other two red lines on the graph, are invading them. No real way to know until my scouts get out that far, wherever "that far" turns out to be.
Pity my gem income is so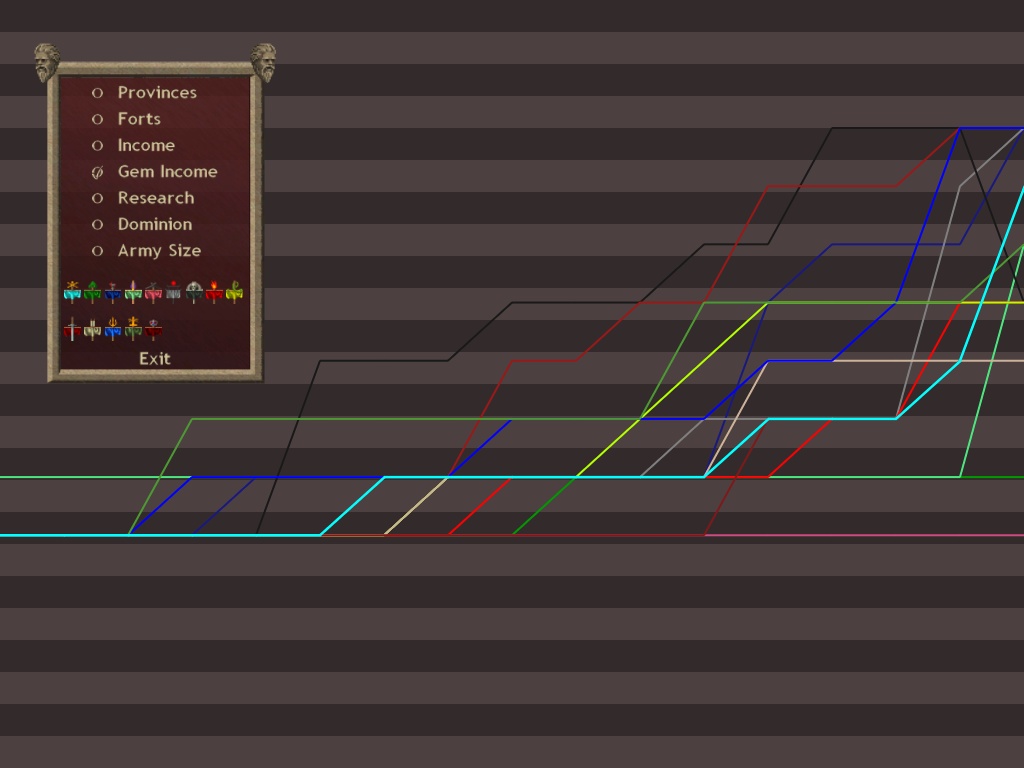 WHOA WHAT THE FUCK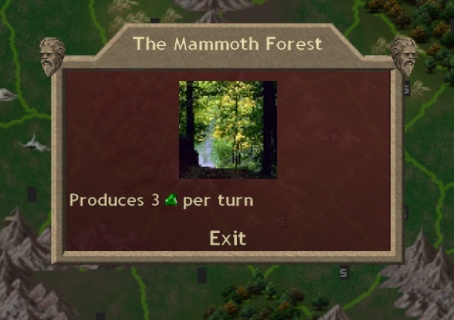 Why, thank you, Agartha! How
delightful
! Man, site searching is for
chumps
- this whole "conquering territory" thing is totally the way to go.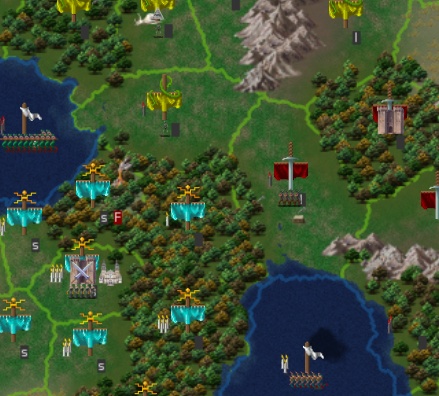 On a side note, though, this is a bit worrying. I'm not
sure
why Midgard is hanging out on my border, but I can't say I like it. It might just be innocent, though - he's adjacent to more of C'tis than he is to me. I'll be keeping an eye on him.
Evocation 3 is almost done, and Evocation 4 will be starting next turn. I redirect the remaining RP to Construction, as there's stuff I need there before I go for my Evocation end goal anyway.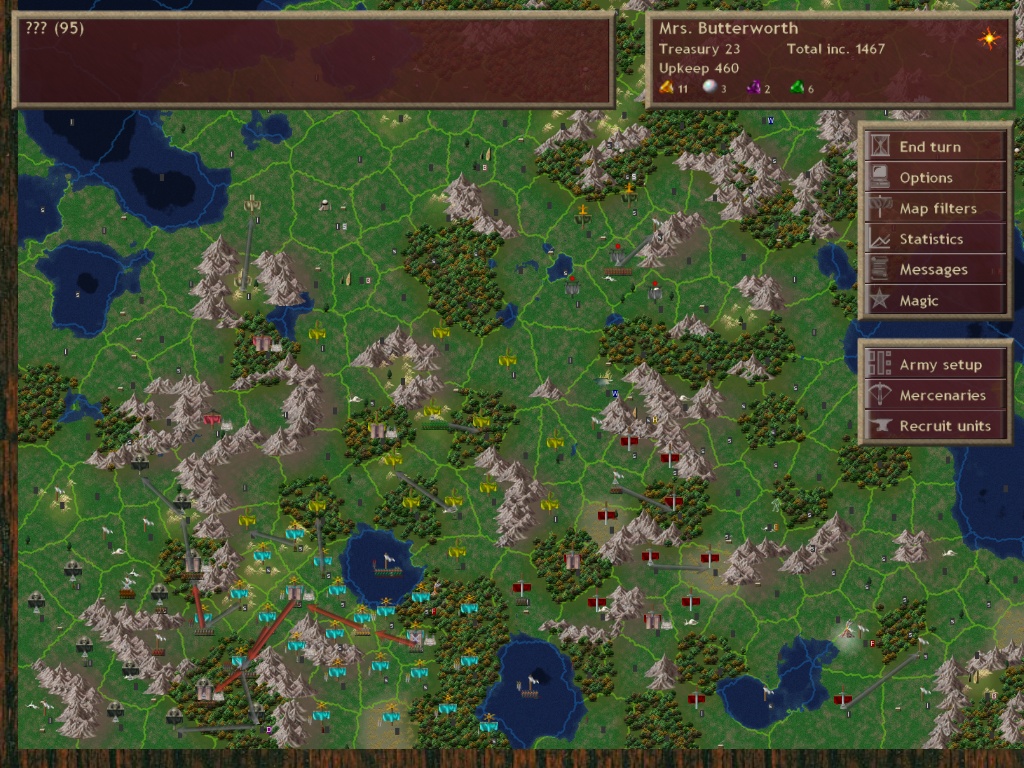 Next: The sieges begin.