Part 12: Complications and detours.
Update 10: Complications and detours.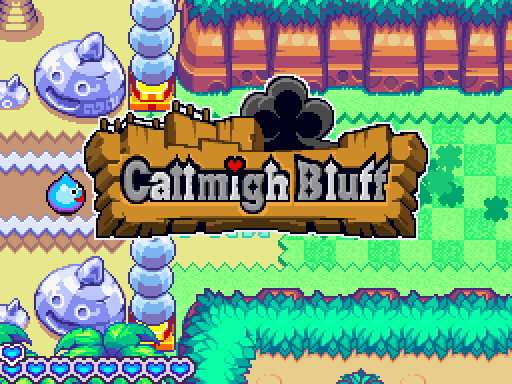 Welcome back, everyone! It's time to scale this bluff in search of Rocket's parents, and perhaps a casino if we're lucky.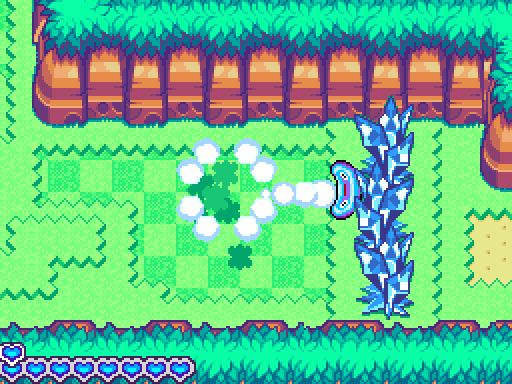 Callmigh Bluff is absolutely littered with these crystal walls, so the route we're going to take today is gonna be rather restricted.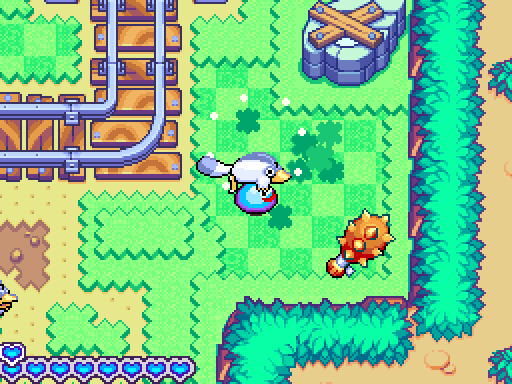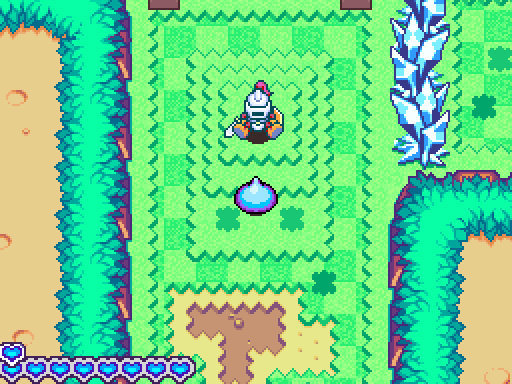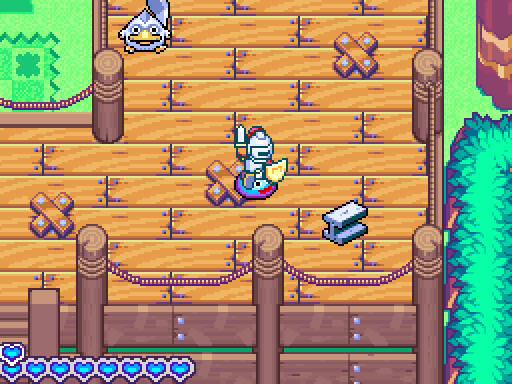 There's a number of nice items lying about for us to take possession of, though.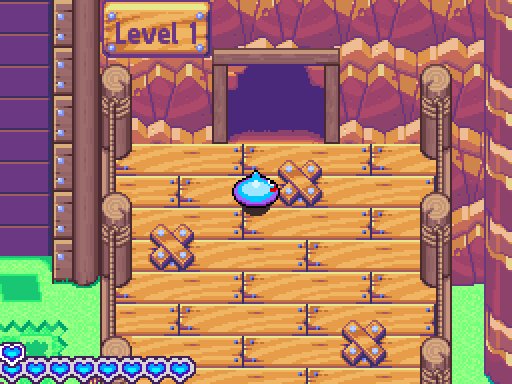 As you may have already gathered, this is a fairly vertical area. Fortunately, somebody has already set up a pathway to the top, so Rocket won't have to climb the cliff with his face.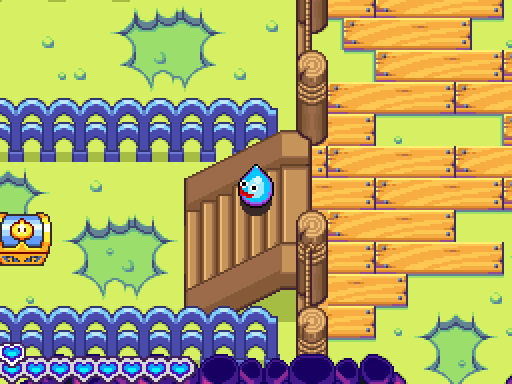 There aren't too many slimes we can save here without breaking barriers, but at least they're all clearly visible from the main path.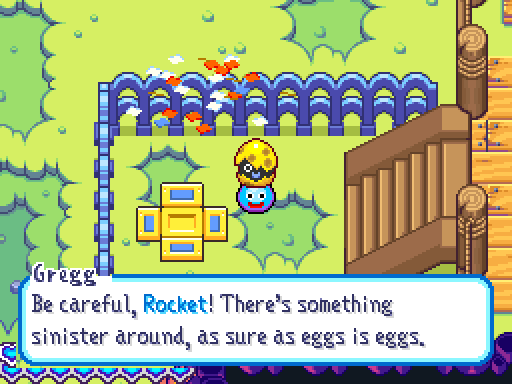 Sinister, you say? Well, the Goonins did give us a warning about something like that…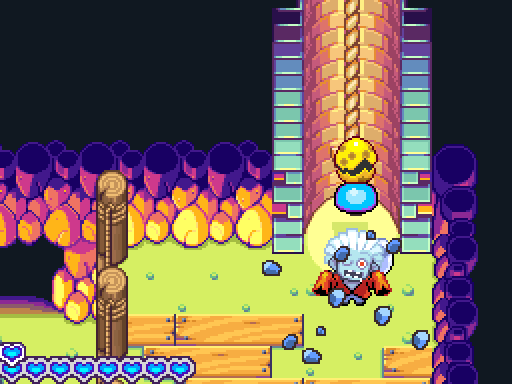 And sure enough, Callmigh Bluff has evil spirits in spades. Walking Corpses have only 3 HP, but they respawn as soon as Rocket kills one and only drop a single Gold. They're also the only enemy with a zero percent chance to drop lucky bags, so there's no reason at all to try killing these things. Capture or avoid.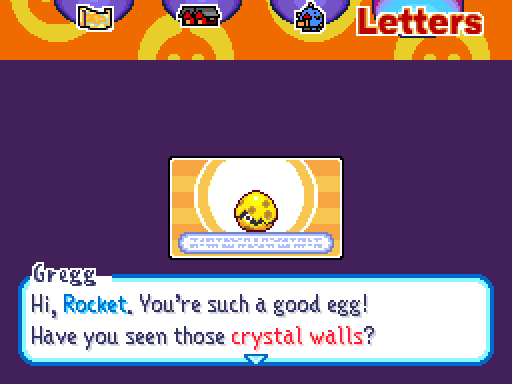 I bet even an Elasto Blast won't break them. I think I saw some on Mt. Krakatroda.
Gregg hands over an iron arrow for our collection.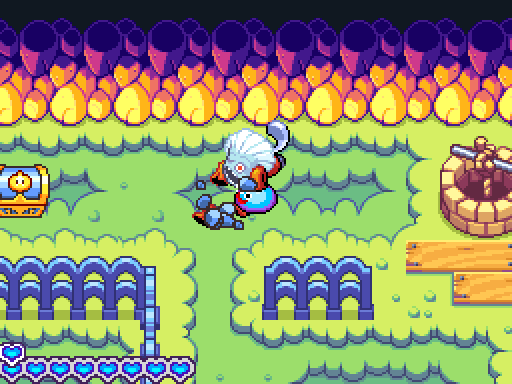 Seriously, this place is full of the living-impaired. Any time you're inside the cliff, you'll run into plenty of these things.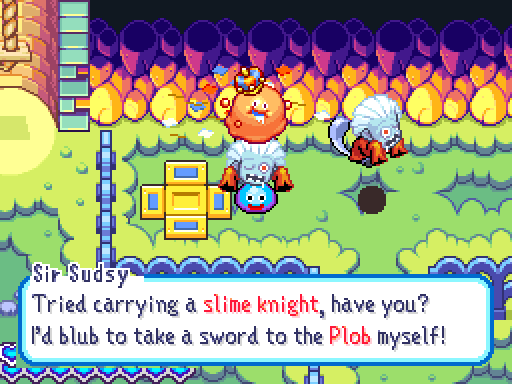 Anyone who wants to wade in and start slashing fools is welcome, sir.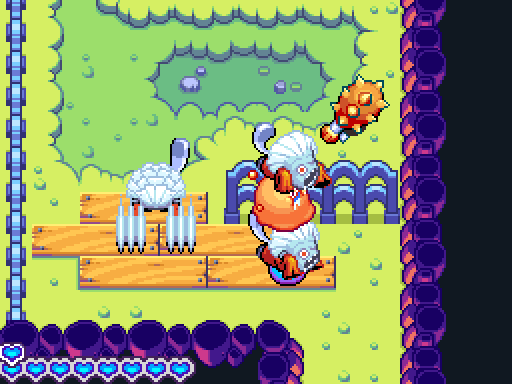 For the curious, the Walking Corpse slashes at Rocket in a very Jailcat-esque manner. They're basically a less threatening, less cute version of the same enemy.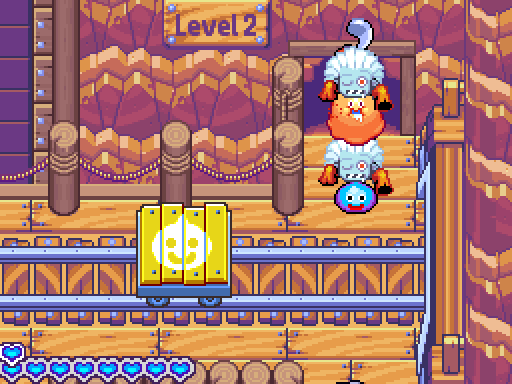 Whatever it's used for, this path must be an official Slimenian construction if the railway's running through here. I wonder what the point of it is… I mean, clearly the otherworldly connection's somewhat public knowledge.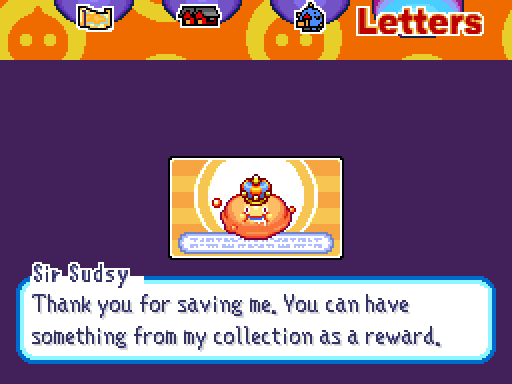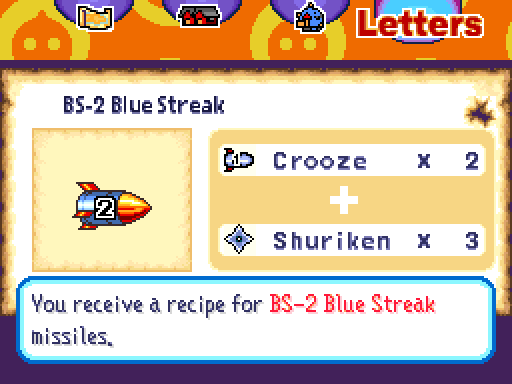 Hmm, I'm going to need more Pompoms to make the Croozes with… But while I remember, I should probably point out that there is no recipe for the third tier of missiles. This is the best we can do with those through alchemy.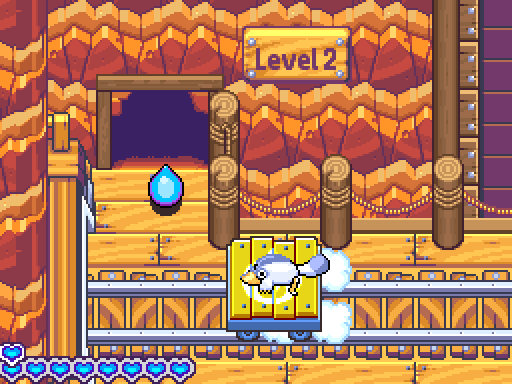 The level two platform has another barrier blocking a sidepath (and a girder to be collected), so we'll have to continue this way.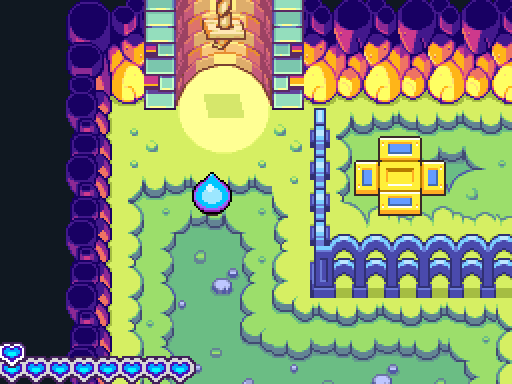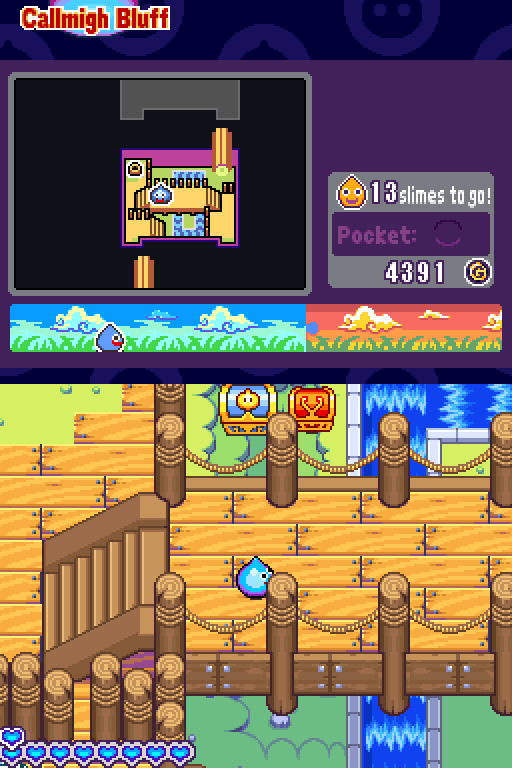 A wooden bridge over a rectangular stream of rushing water? Maybe this was a tourist trap. Hike to the top, admire the scenic vistas and such.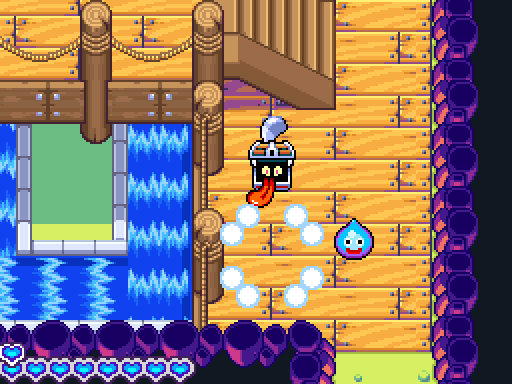 Mind the mimic as you exit.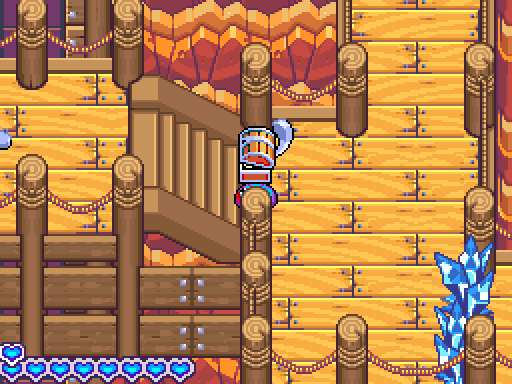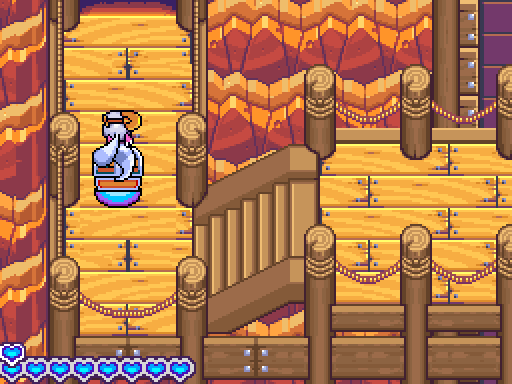 Yeah, this looks like a good place for some photo opportunities.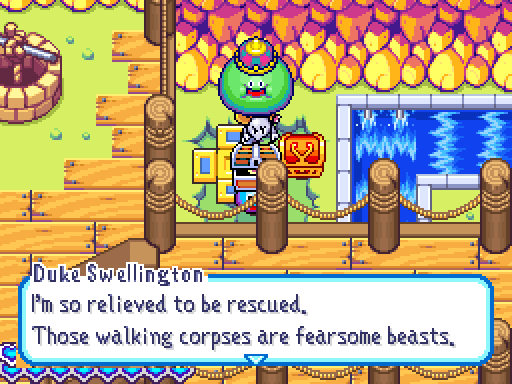 No matter how many times you knock them down, they just keep coming back for more!
They certainly do get top marks for persistence, as undead are wont to do.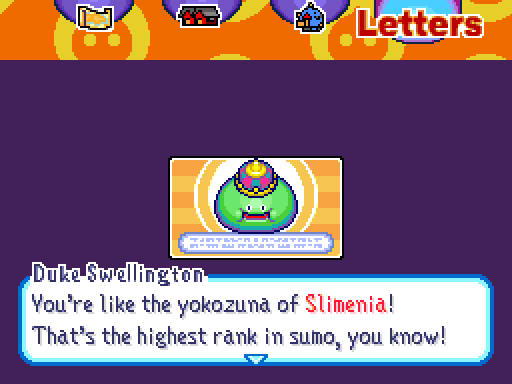 Which reminds me, I must get back to my training.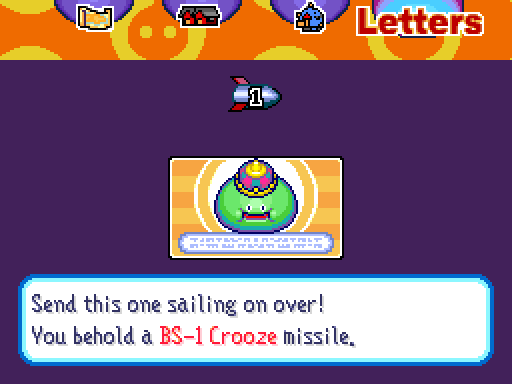 Okay, now I want to see slimes sumo wrestling. The idea sounds pretty ridiculous to me (not that regular sumo wrestling isn't ridiculous in the first place).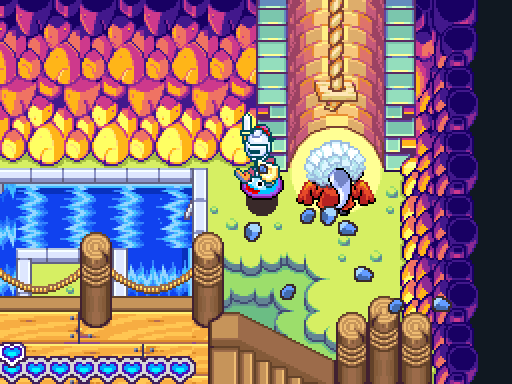 Alright, we can't have far to go now.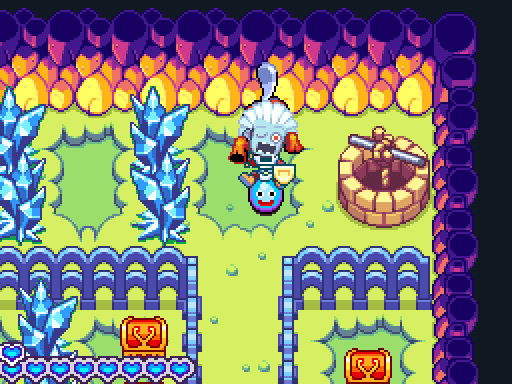 Gee, which way should I go? Decisions, decisions.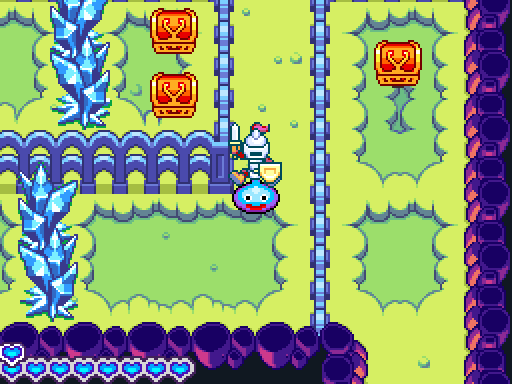 Hey, wait a minute. If this is a dead end, then…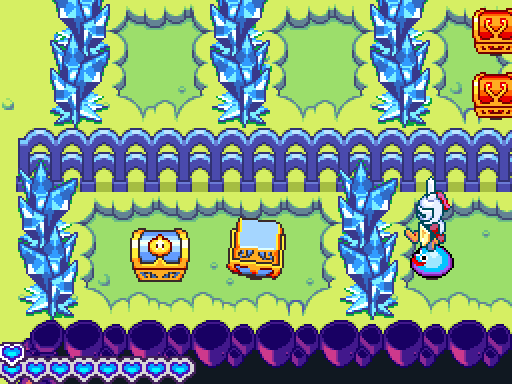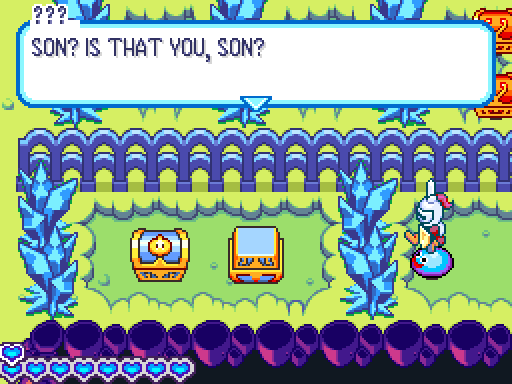 GAAARGH! I'VE HAD ENOUGH OF THIS BOX. I'M BREAKING OUT!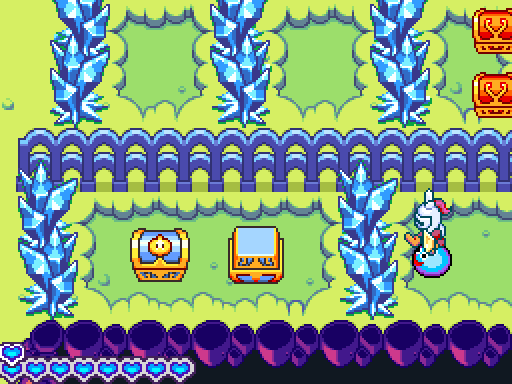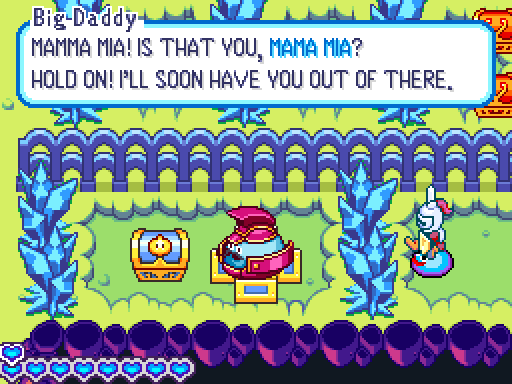 Alright, I'm not sure if that's better or worse than Spine Les calling Rocket spineless. Also, Big Daddy sets a new record among slimenapping victims for being the only one to break out of the chest on his own.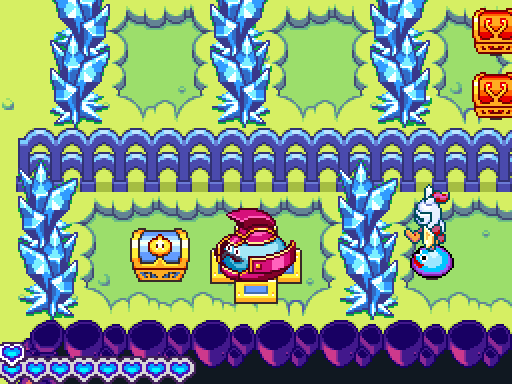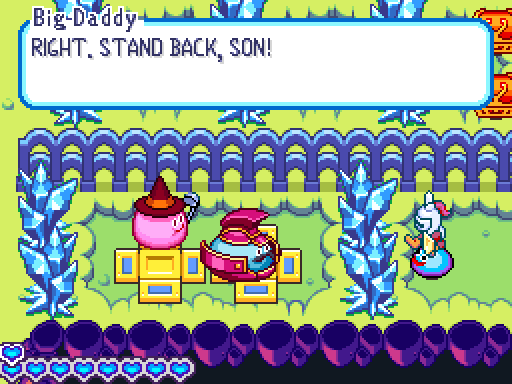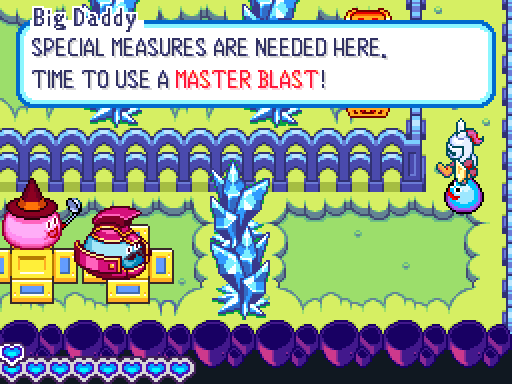 Master Blast, you say? Go on…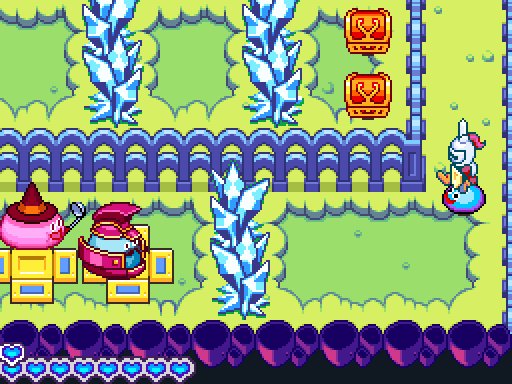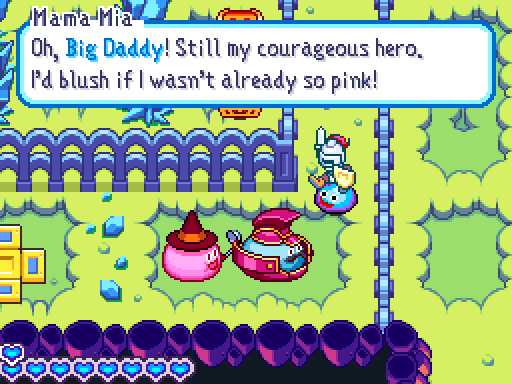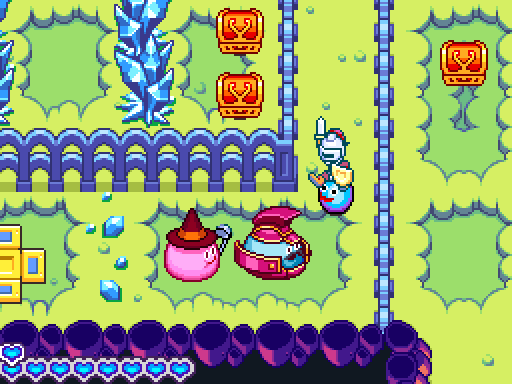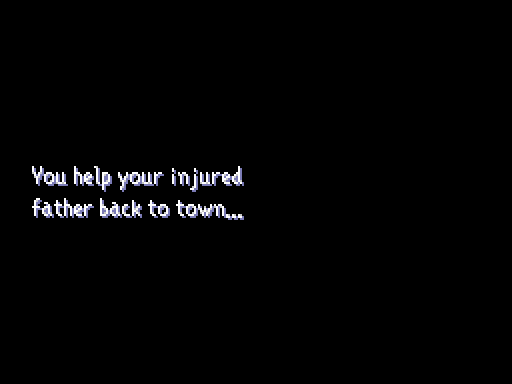 ...Whoops. Guess the old slime overdid it a bit.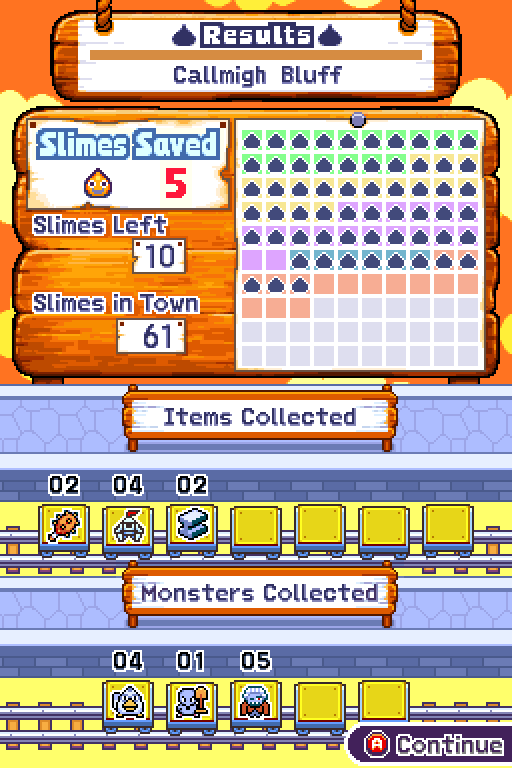 -------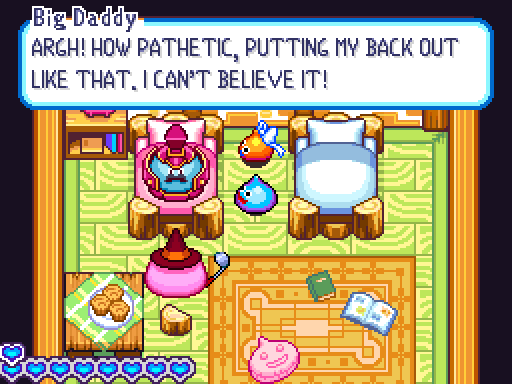 It's your own fault. You shouldn't have been showing off in front of Rocket.

I'M OUT OF ACTION FOR NOW, SON. IT'LL BE SOME TIME BEFORE I'M BETTER. I WANT YOU TO TAKE THE GOONIN TRIALS IN THE MEANTIME TO KEEP YOU OUT OF TROUBLE!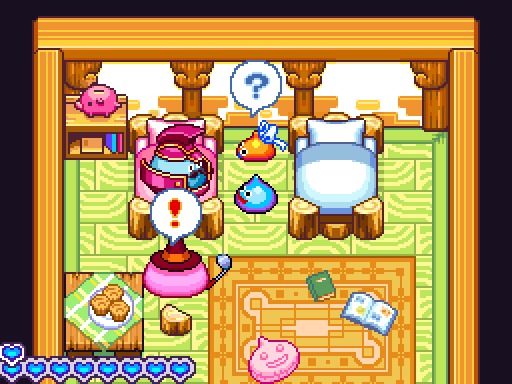 What are the Goonin Trials, Dad?

YOU KNOW THE GOONINS, DON'T YOU, BO? THEIR BASE IS IN THE PALACE GARDENS. THEY SPEND THEIR TIME IN TRAINING, PUSHING THE LIMITS OF WHAT'S SLIMANLY POSSIBLE. ANY SLIME WHO WANTS TO MASTER THEIR SKILLS MUST UNDERGO THE GOONIN TRIALS.

Big Daddy took the trials too, you know. That's when he became a real man.

ONCE I'D COMPLETED THE GOONIN TRIALS, I DISCOVERED NEW STRENGTHS WITHIN MYSELF. I WAS INITIATED INTO THE SECRETS OF THE POWERFUL MASTER BLAST TECHNIQUE. THE GOONINS WILL HELP YOU, SON. BECAUSE THE COUNTRY NEEDS YOU. SLIMENIA NEEDS YOU.
So, no pressure or anything…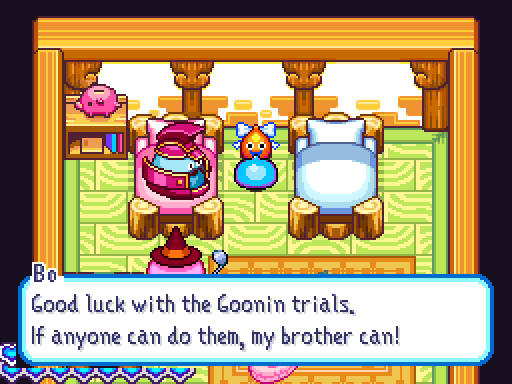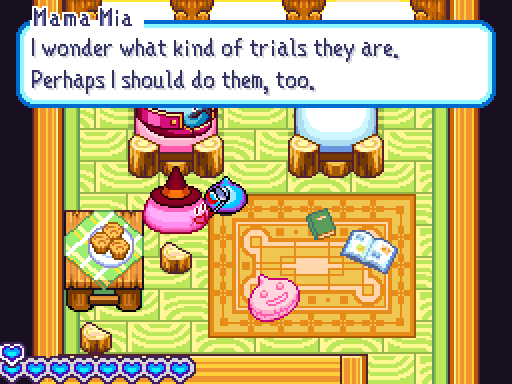 Well, there's only one way to find out. But first, let's check the letters from Rocket's parents.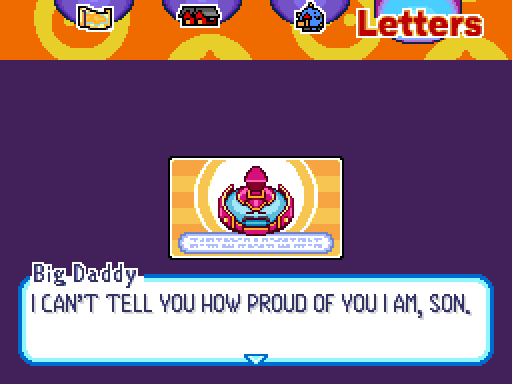 YOU'RE ON YOUR WAY TO BECOMING A TRUE HERO, WORTHY OF THE SCHLEIMAN TANK.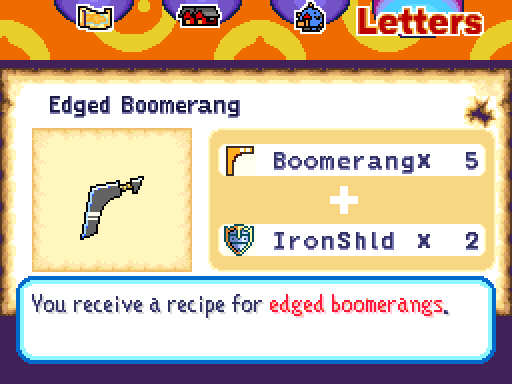 Despite being a little bit slower than the normal boomerang, this fearsome projectile can take down up to three items (or one iron shield). It's handy to have one or two of these laying around.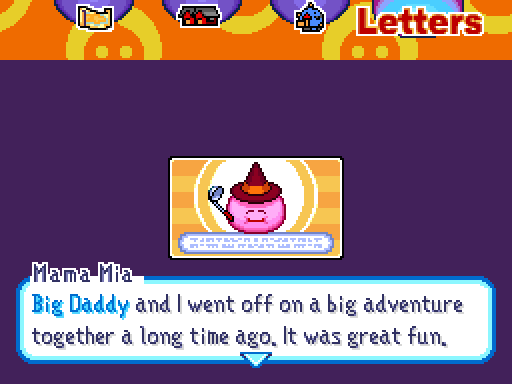 I hope you end up with lots of nice memories from your adventure too, Rocket.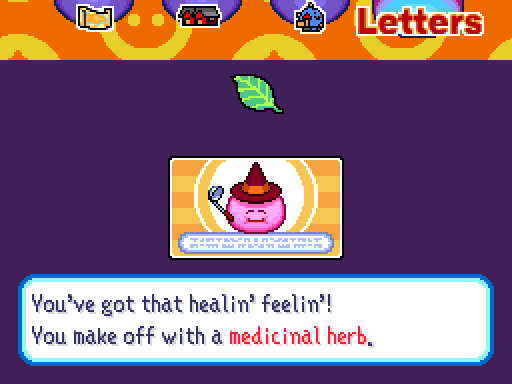 Adventuring runs in the family, it seems. From the looks of her hat, Mama Mia must have been a mage.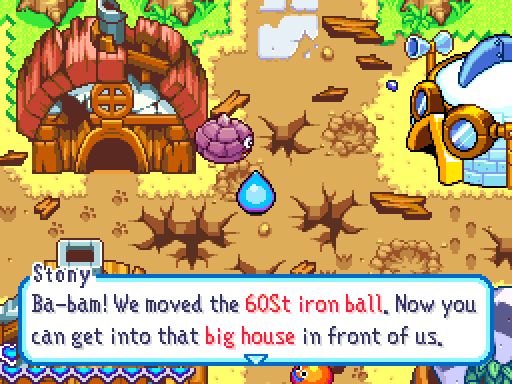 There's a shop in there, apparently. But don't let them give you the hard sell, squishy!
The shop is actually slime-free at present, but I suppose we can go say hello to the other three rescued Boingburgians.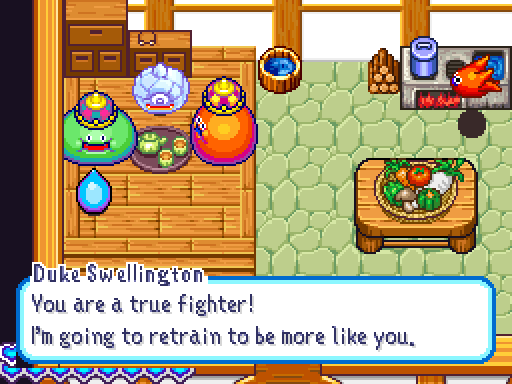 Well, we're going to be doing some training too. I'm sure that the Goonins could do something with your sumo skills, Duke Swellington.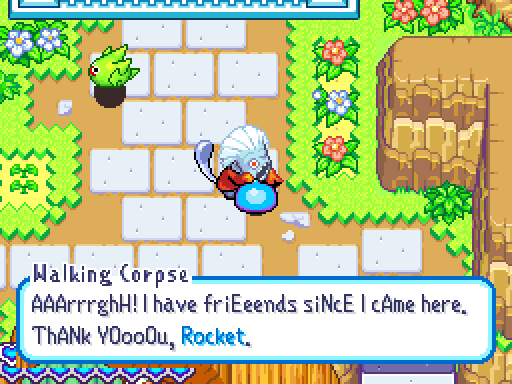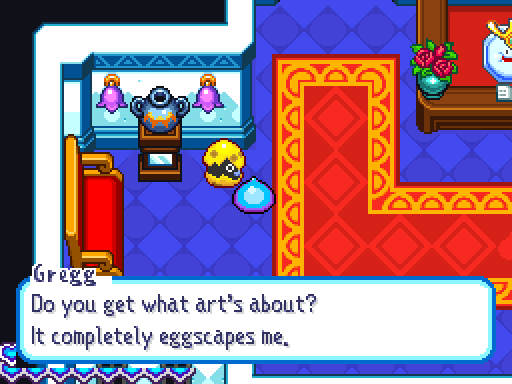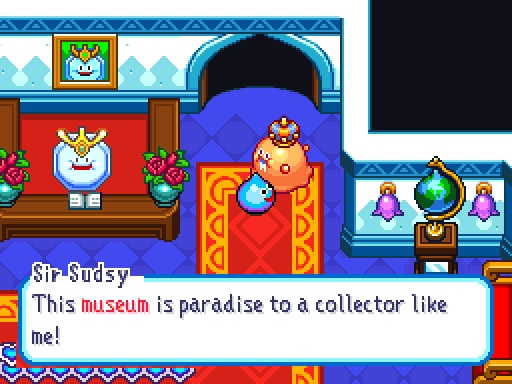 What is he a collector of, aside from alchemy recipes?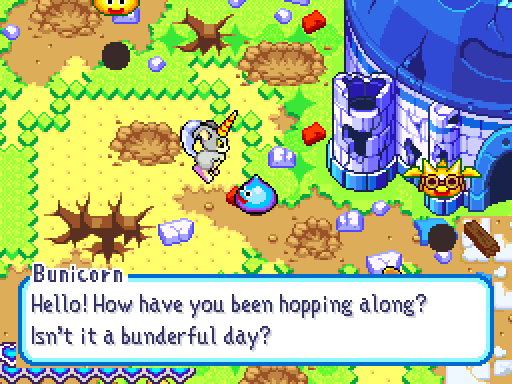 Anyway, we should probably go see the Goonins after this last pun.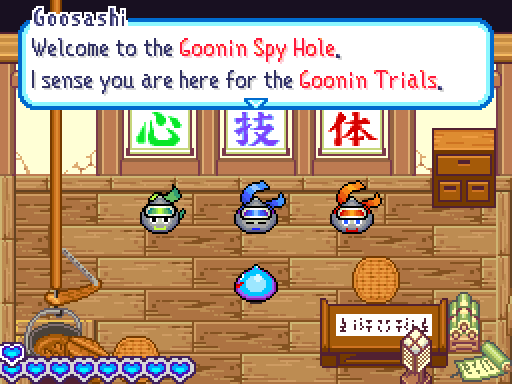 We will teach you to focus your body and spirit, as only an elite warrior slime can. I will be waiting behind the green screen, in the dojo of the mind.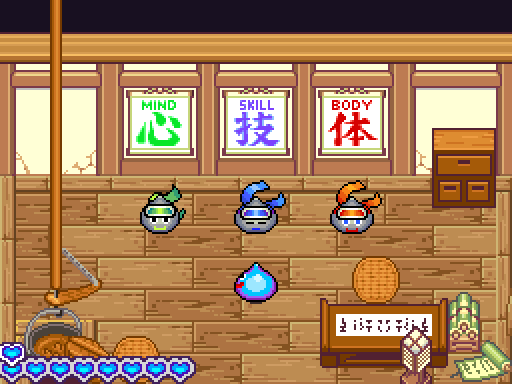 Alright, let's see what sort of trials the Goonins have in store for us.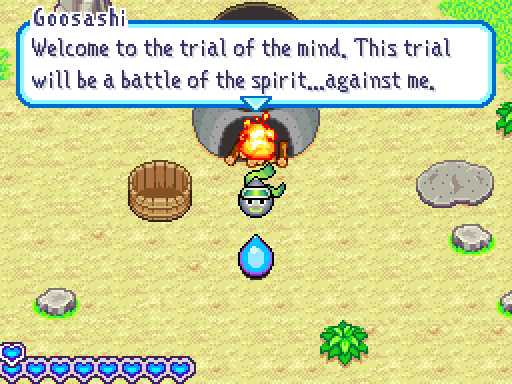 So, let us begin.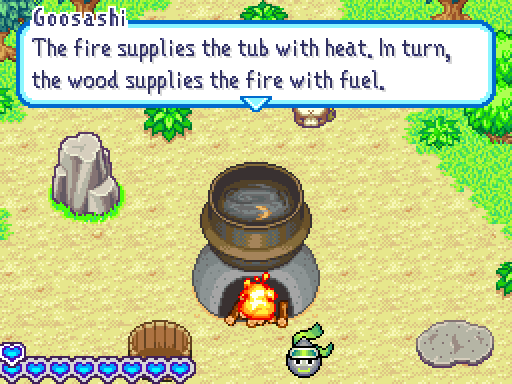 And in turn, you must supply the wood. But you will have to find it yourself. The many objects in this dojo will show you the true path.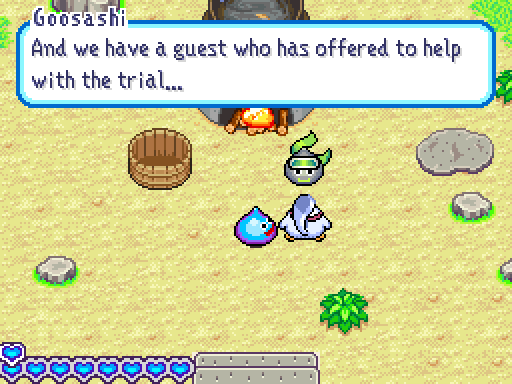 Oh, hi there Ducktor Cid!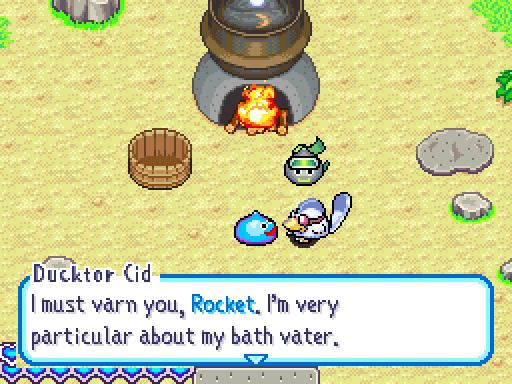 Zis trial vill be over only ven I'm happy viz ze temperature und I get out!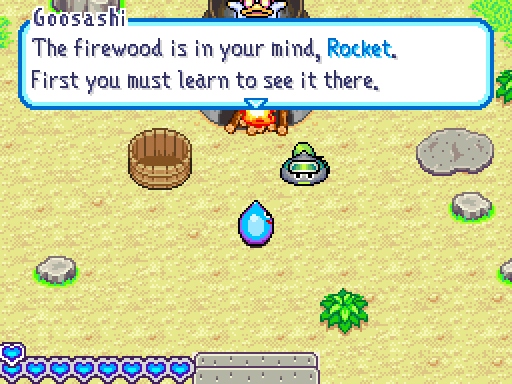 So… Let the Goonin Trial of the Mind begin!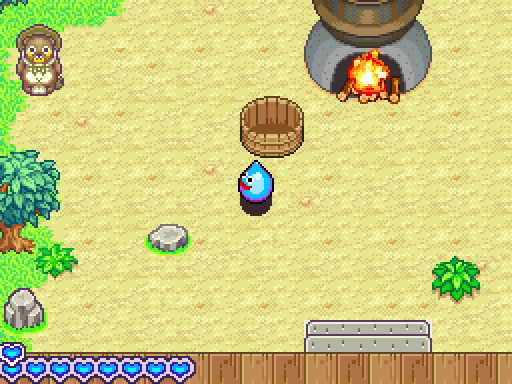 So the trial of the mind involves breaking a bunch of stuff around the dojo, including a few tanuki statues and lanterns.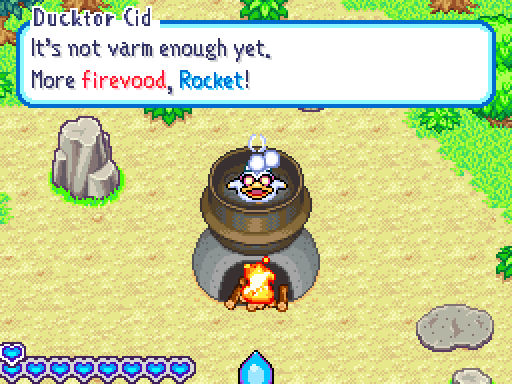 Ducktor Cid chimes in every now and then, when he isn't busy blowing bubbles.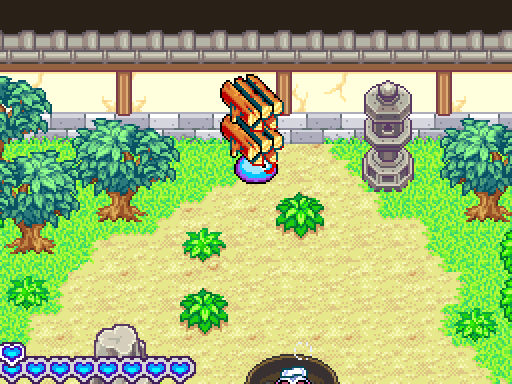 The trick here is that even things which don't appear to be made of wood are in fact firewood placed under an illusion.

We're going to need every last place in the room to finish up, so you'd have to figure this out sooner or later.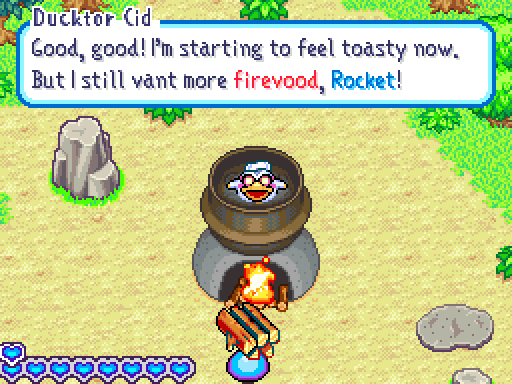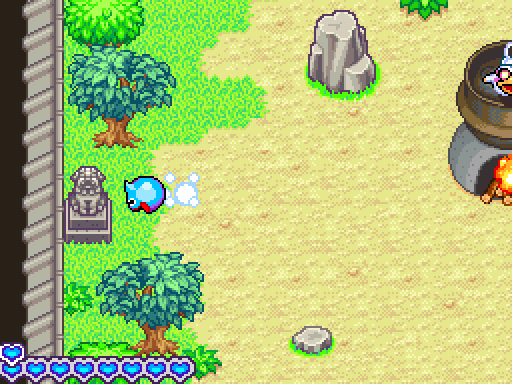 Yes, even the… Are those supposed to be guardian lions? I thought those were more of a Chinese thing.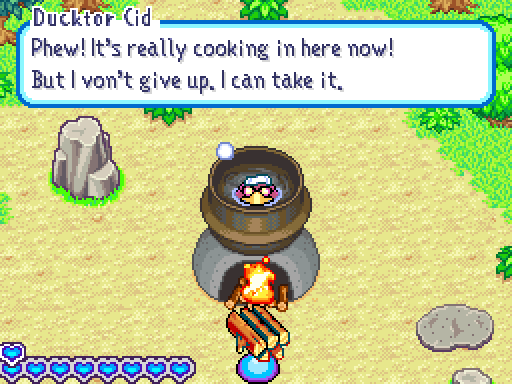 That doesn't look too good for your health, Cid. Now for the last piece of firewood…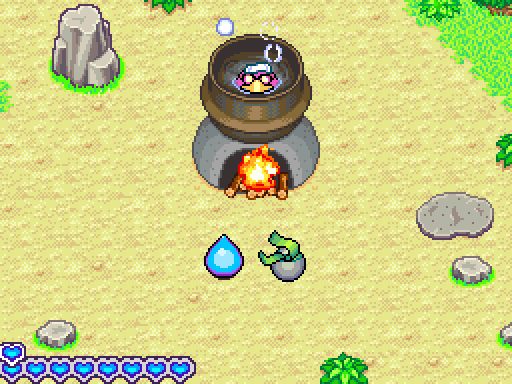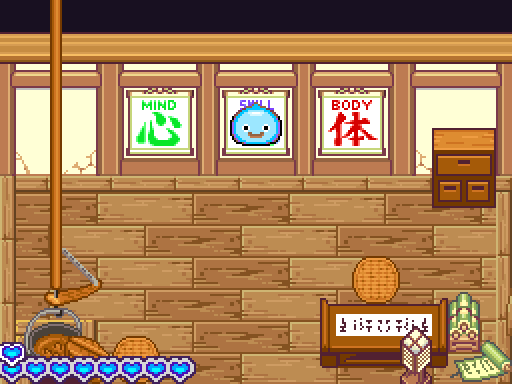 Alright, on to the next one!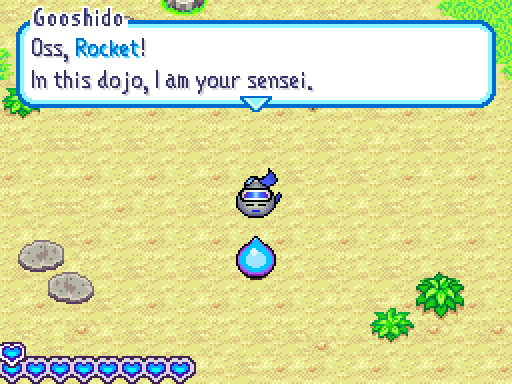 The trial is simple. I will run around the dojo, and you must catch me. If you succeed, you pass the trial.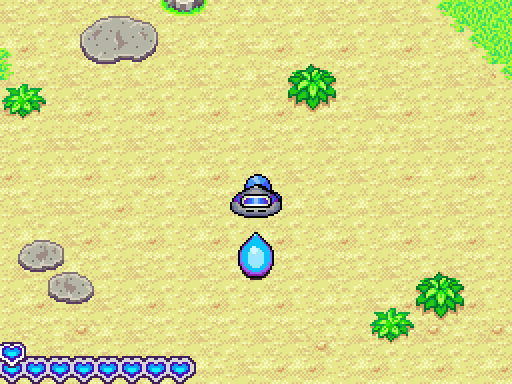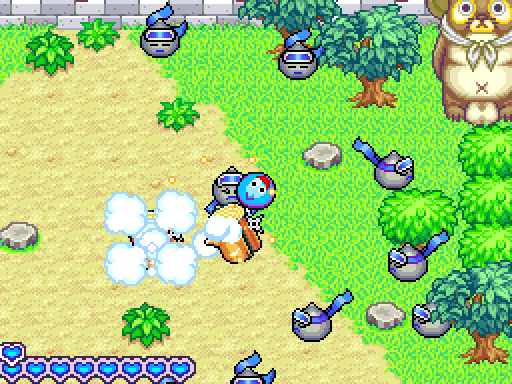 So, uh… Not a lot to say about this one. The real Gooshido is always the last one, and each of the slimes standing around won't run until you get close enough. Charge an Elasto Blast from outside that range, and you should get them no problem.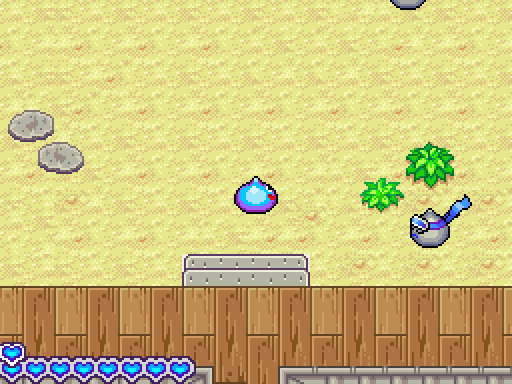 Like so.

Repeat ad nauseum.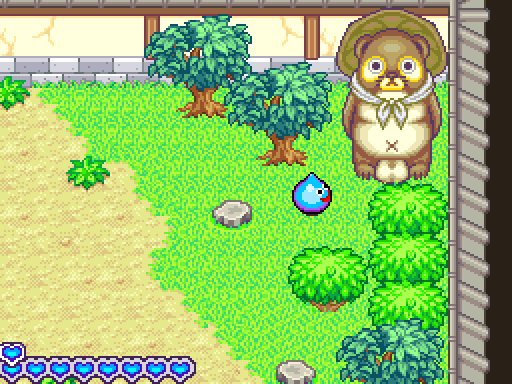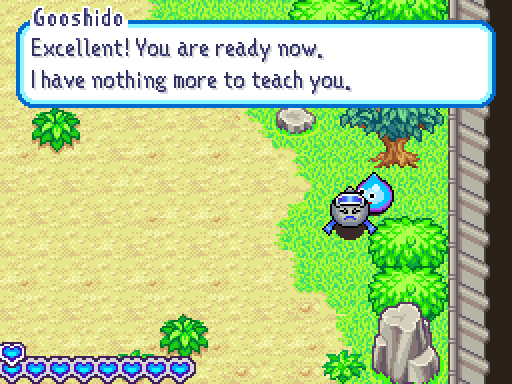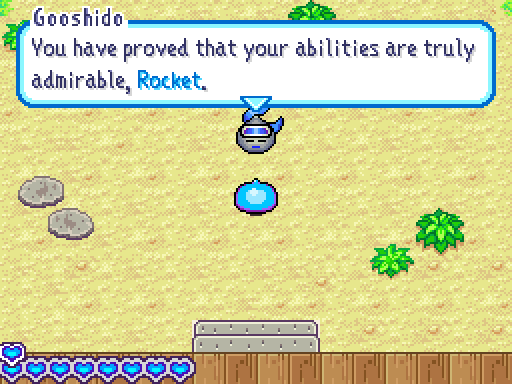 The trial of skill is now over.
Just one more to go! Now, Tokyo Tom's trial of the body…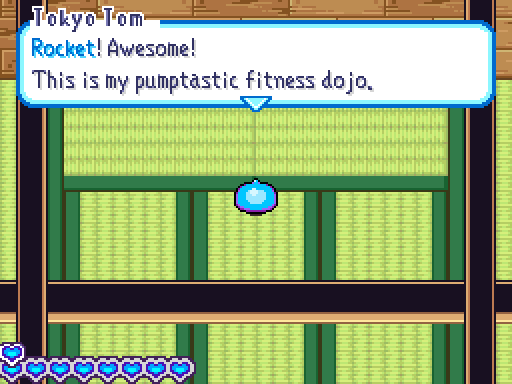 And this is my totally Goomungous trail! You gotta be tough for this one. I'm hiding somewhere in the dojo. All you gotta do is find me and Elasto Blast me!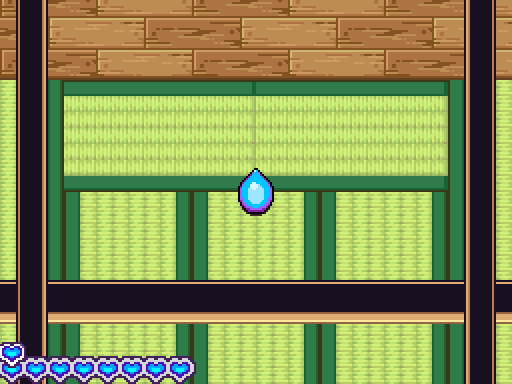 .......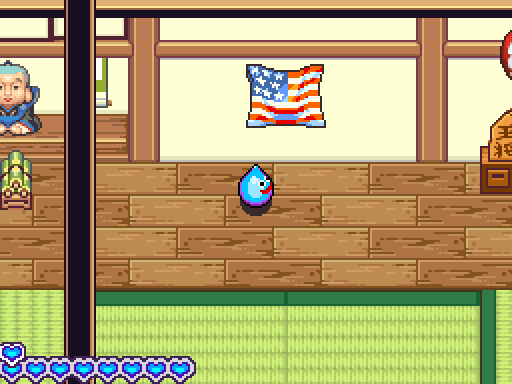 Gee, I wonder where he might be.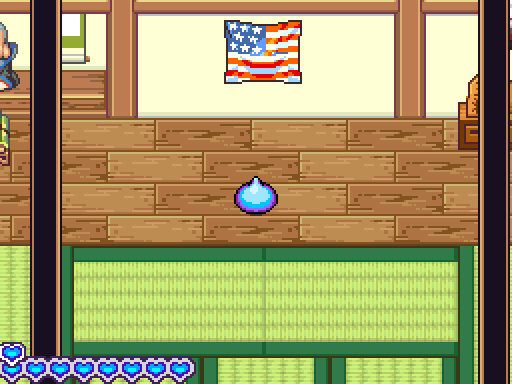 Huh. Guess he's trickier than I thought!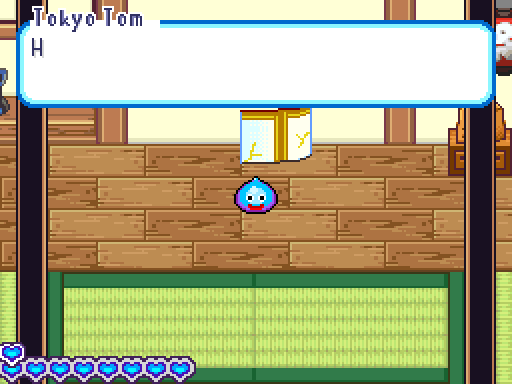 ...Well, a win's a win!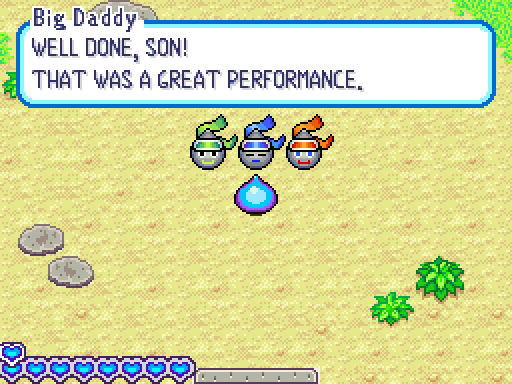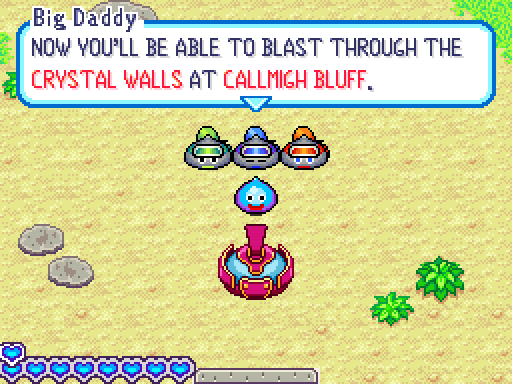 I NEED YOU TO GO BACK THERE. BACK TO CALLMIGH BLUFF. YOU'RE A CHIP OFF THE OLD BLOB, SON! I KNOW YOU'LL BE FINE.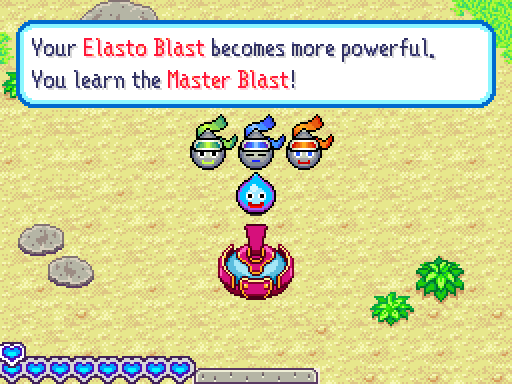 Of course, there are still two slimes left on Mt. Krakatroda as well. How about we go save them first?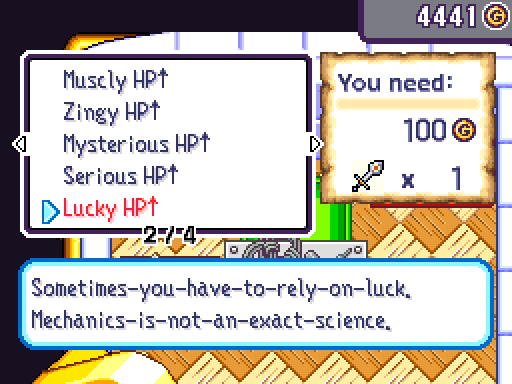 ...Riiiiight after I do some alchemy. This is the point where Slimechanic starts asking for stuff that actually stings to lose, and which you might not even have at the time. Aside from this, he also wants:
-50G, 4 Iron Balls
-60G, 3 Thousandweights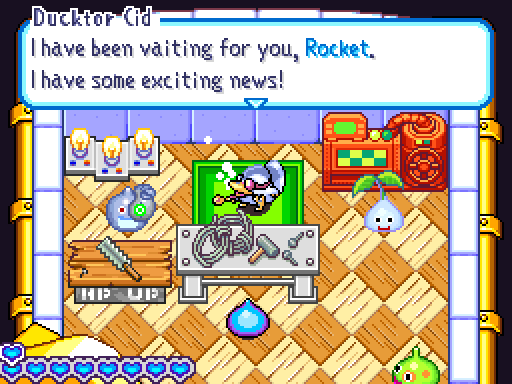 Bo iz going to fight viz you in ze tank! Goosashi iz going to fight viz you in ze tank! Gooshido iz going to fight viz you in ze tank! Tokyo Tom iz going to fight viz you in ze tank!
I was actually expecting this to happen last update, but this is about the point where things start getting a little bit less familiar for me.

Alright, let's take a look at some new crew members!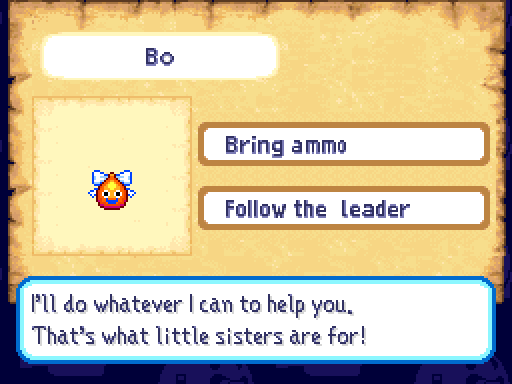 Sooo… Bo's second tactic just has her follow Rocket around wherever he goes, and she can't attack. So while she wants to be helpful, our hero's little sister isn't really a crew member I'd recommend. Sorry, Bo!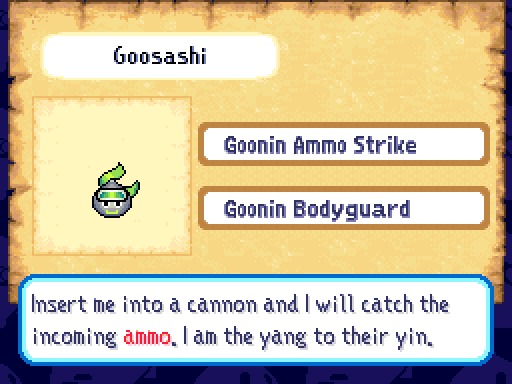 Goosashi's regular commands are just 'fire like crazy' and 'follow the leader' with different names, but as he says, he has a third ability you can make use of if you bother to throw him into the cannons yourself. Oh, and all the Goonins have 4 HP.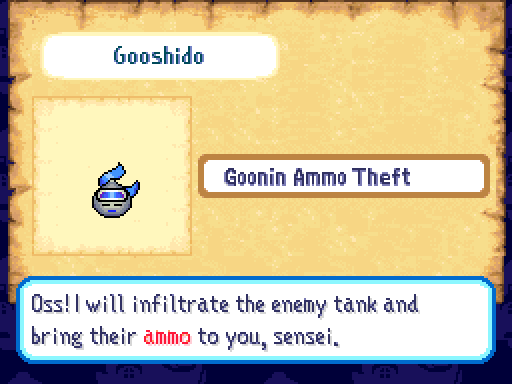 Gooshido is another ammo thief, but since we have the Goodybag available now… Yeah, he's not the best choice for a crew member either.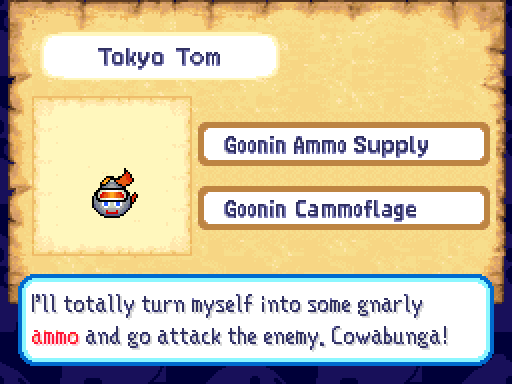 Tokyo Tom's first command is just a fancier name for 'bring ammo', though the second is slightly more interesting. I'm not sure if he's stationary like a Mimic or not while pretending to be ammo, so his worth as an infiltrator is questionable.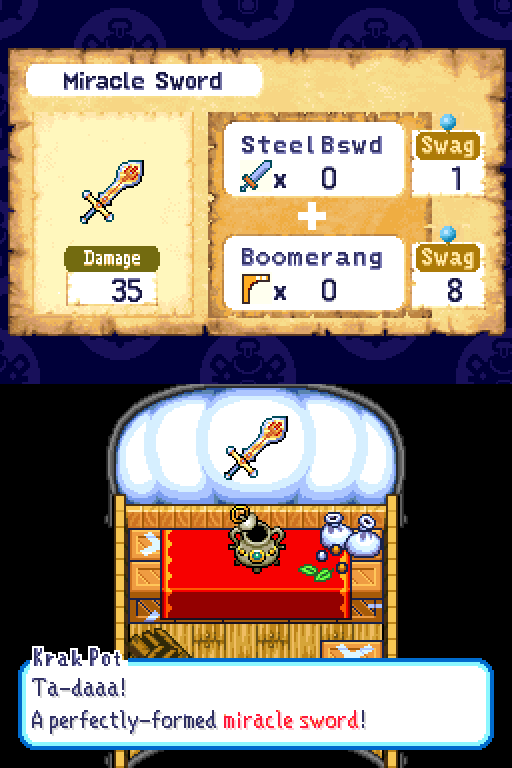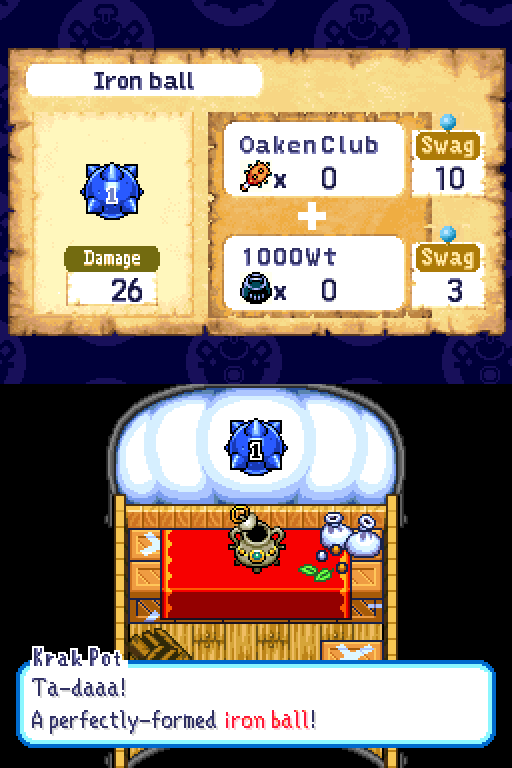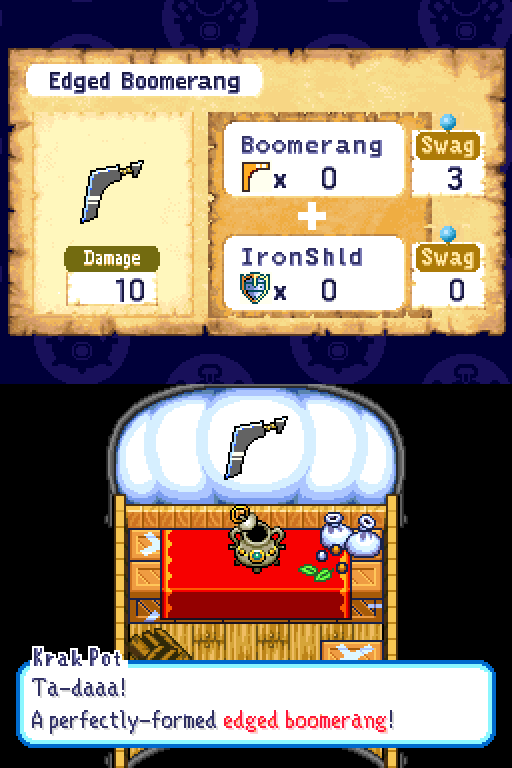 Alright, this should cover Slimechanic's needs. The edged boomerang is just because I wanted one for the Schleiman.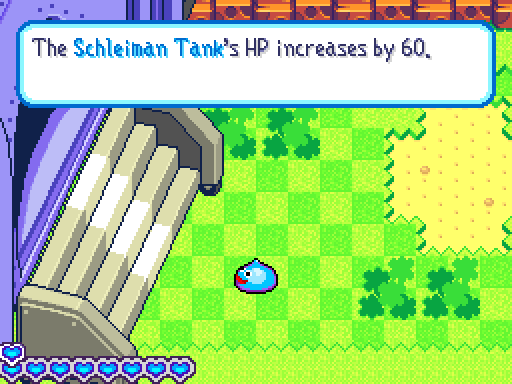 Two 50s and a 60 HP boost later, the Schleiman has reached a total of 570. Not bad when you consider that it started with 100!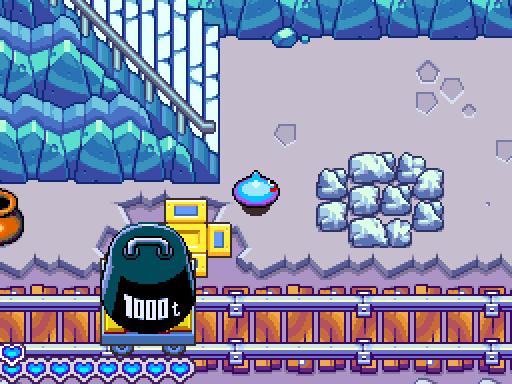 Alright, let's round things out by finishing off Mt. Krakatroda. Those upgrades used up a bunch of my items, so it'll also be a good chance to restock.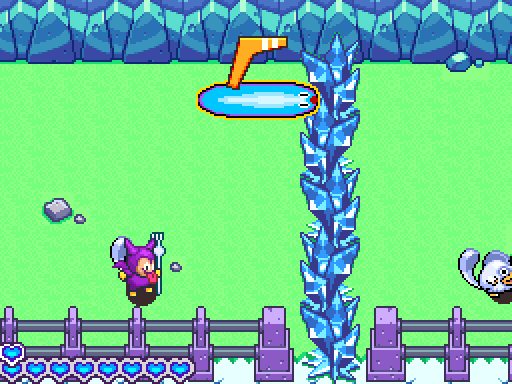 Haha, no more crystal barriers are gonna get in our way!

You don't have to charge the Elasto Blast fully for this, but it looks cooler.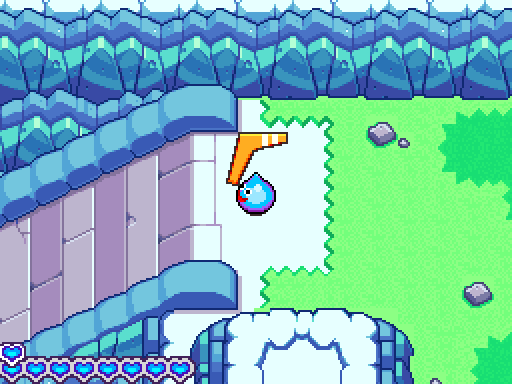 Oh-hoh! Looks like Rocky's advice is finally gonna come in handy!
Alright, let's see… How to do this…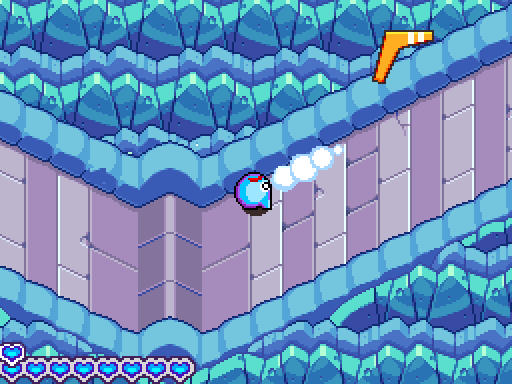 Oh Goddess, not like this!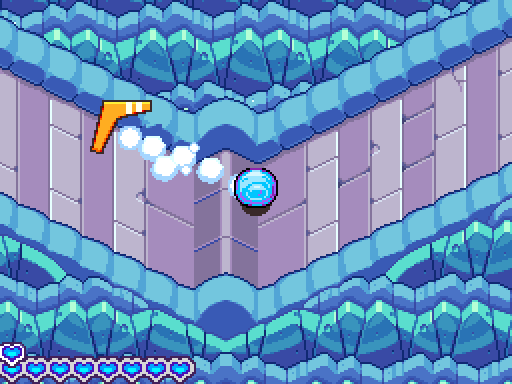 Ack, this is the wrong direction!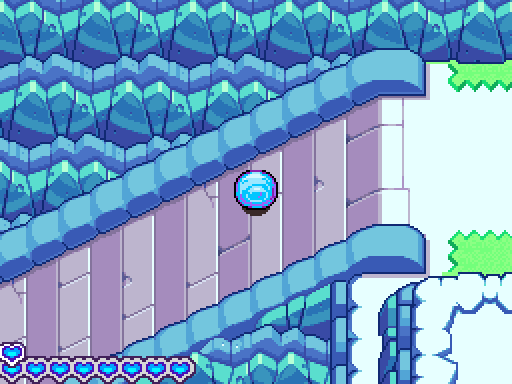 Jane, stop this crazy thing!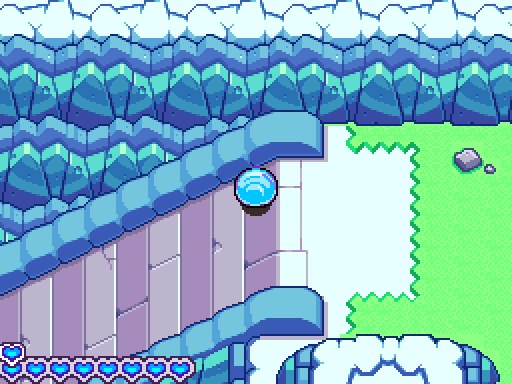 ...I totally meant to do that. Yeah.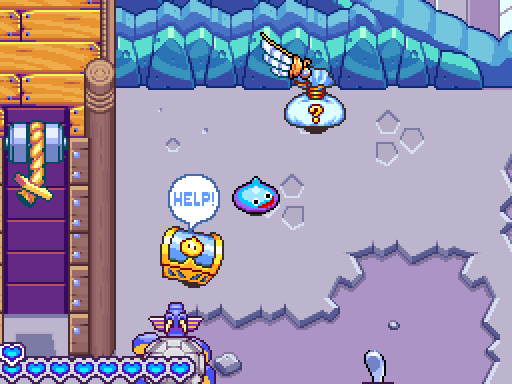 I'm not sure how the lucky bags in these piggy banks work, so I'm definitely sending this one back to town in the hopes of lucking into something good.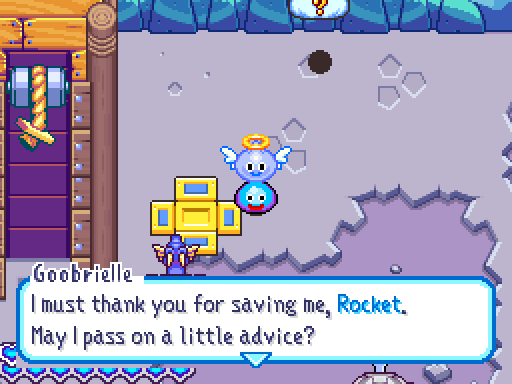 The piggy banks on Mt. Krakatroda are gifts from the Goddess. So you must feel free to help yourself to the contents. Sorry? How do you break them open? A Rollerdash should do it!
Hey, good to know that I've got permission to do that thing I actually did anyway!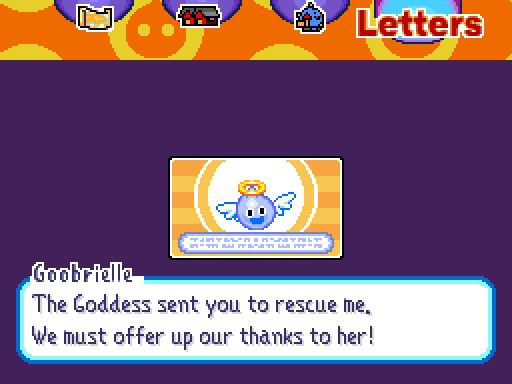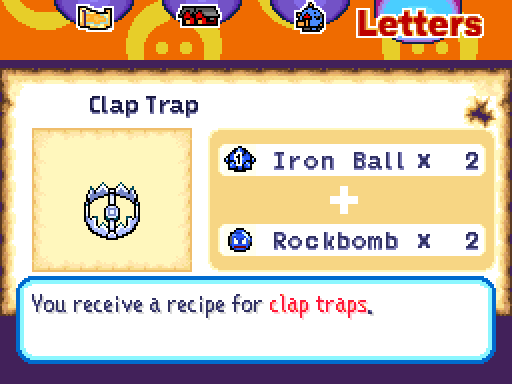 Oh, that reminds me… Did anyone notice the link hidden in the last clap trap picture?

It's the only time I've pulled that trick, but it simply had to be done.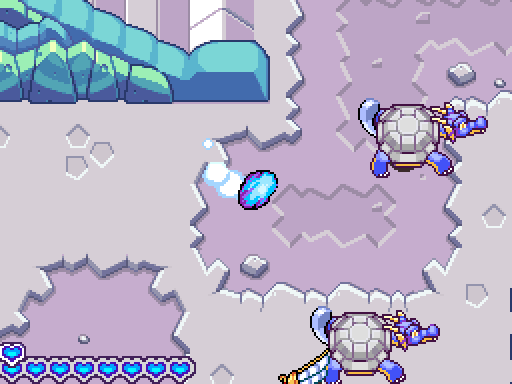 Alright, I think I'm getting the hang of this!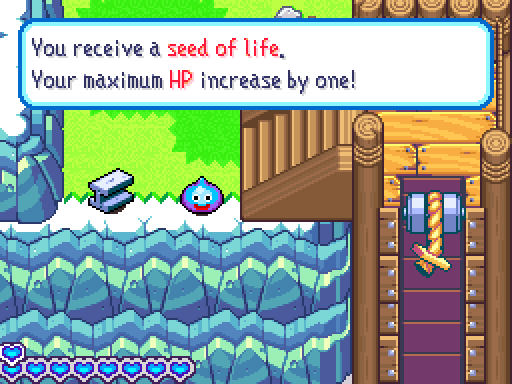 And at the top of that ramp, we find another health booster! There's really no way you should get killed in this game unless you're like, eight years old or something.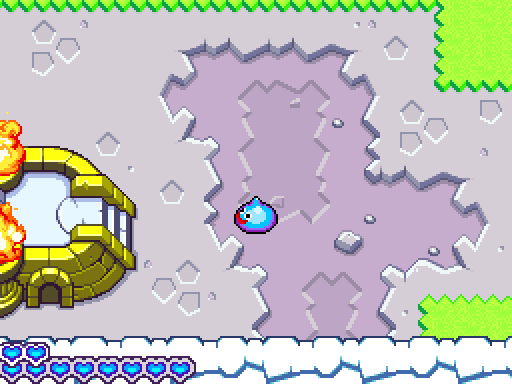 Since we had only encountered three tank battles on Mt. Krakatroda and there tends to be four per area (though not always), the odds that the last slime would be inside an enemy tank were pretty good.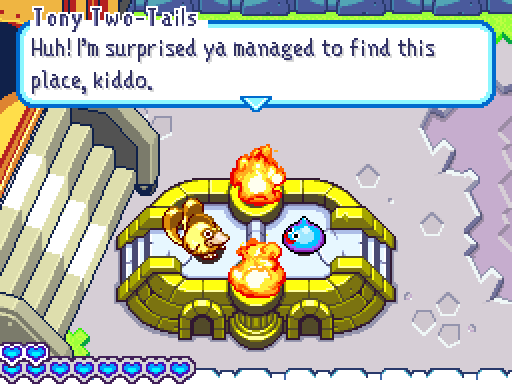 Guess I'd better make the trip worth your while, huh!?
Oh, I'm sure it will be. No worries there.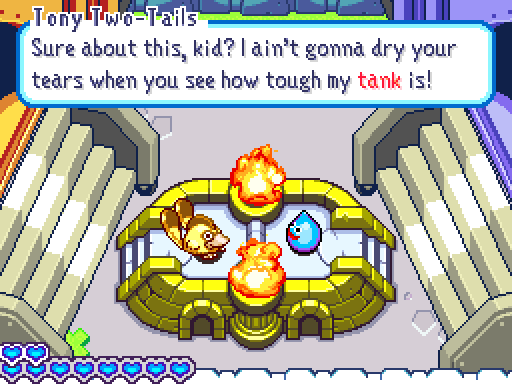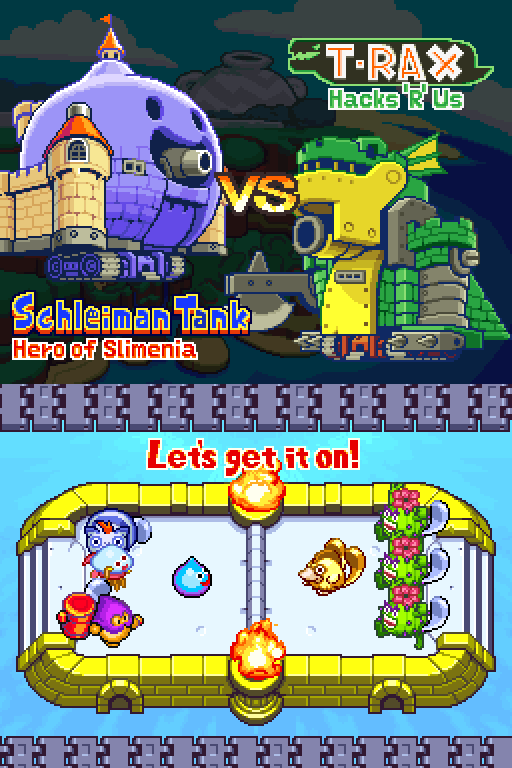 Heh, that's a pretty good name for a Hacksaurus-themed tank.
Alright, time for one last showing before the crew gets shuffled!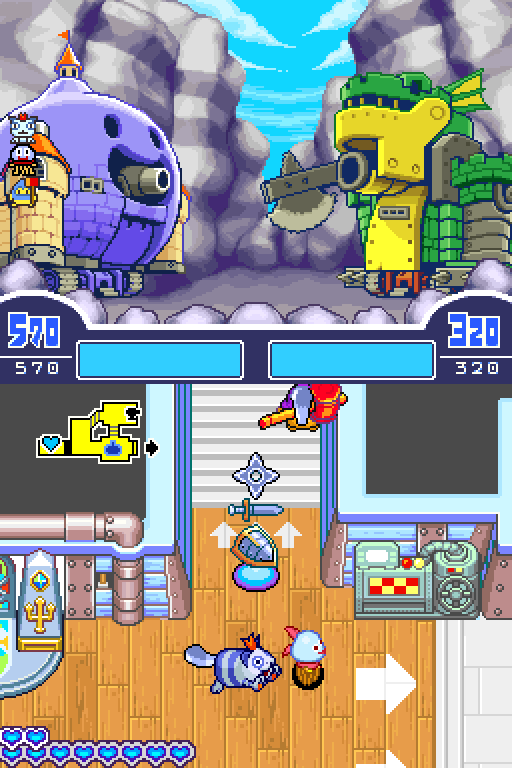 Our usual tactics should suffice, though this enemy does have one small trick up their sleeve.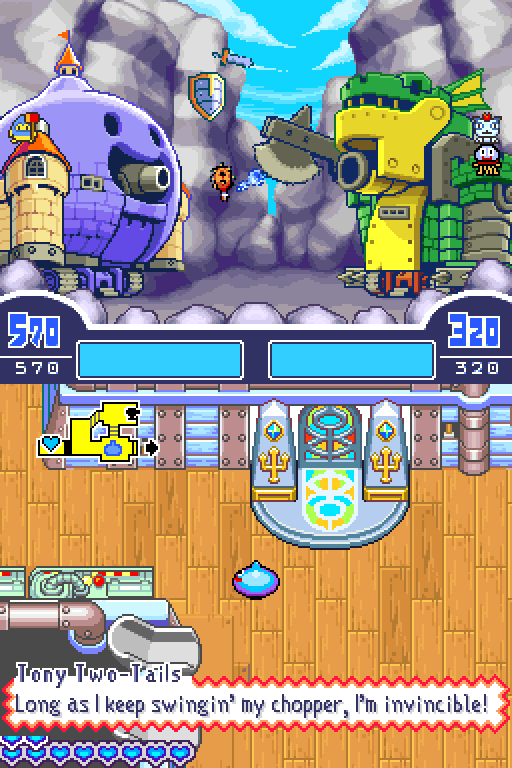 If it would just hurry up already…
You see, that axe will slowly rise up before coming swinging swiftly downward, destroying any ammo in its path. That's any ammo, even stuff that came from the T-Rax! I think it destroys five of my shots and four of theirs over the course of this battle.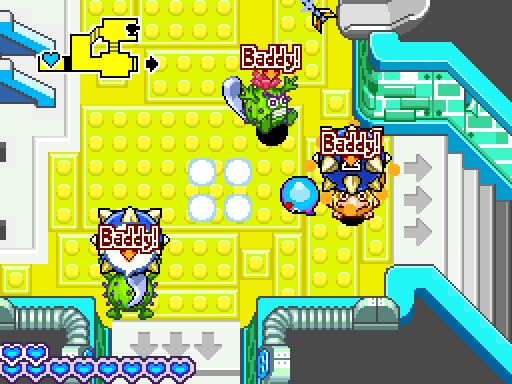 There's a whole lot of Irritaballs in this tank; these upgraded iron balls deal a hefty 55 damage each, if you can land a hit with them.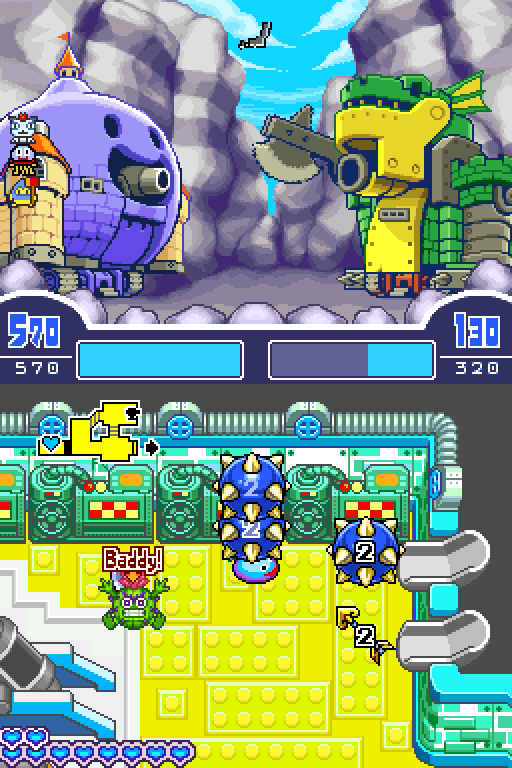 And then there's this beauty, the Destructiball. This beastly item deals 110 damage, the second largest amount in the whole game. It's still slow as hell though, so throw out a lot of stuff in front of it for protection.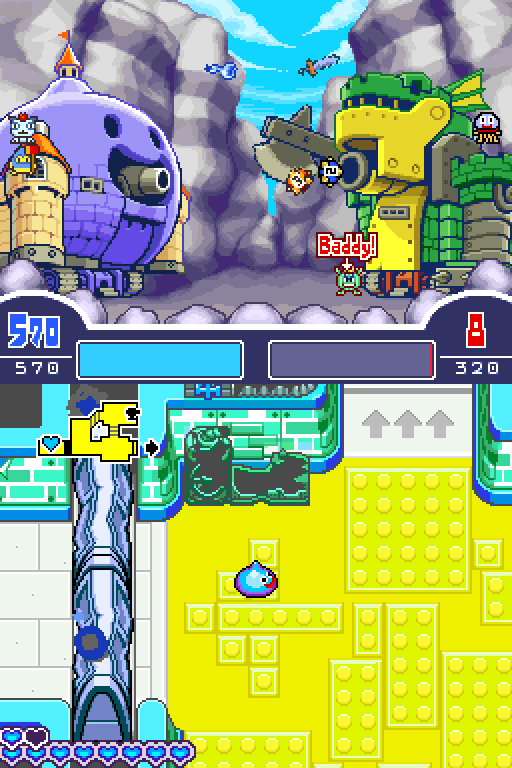 Sadly, the T-Rax's axe manages to take this one out before I could nail them with it. The battle's long since been decided, of course.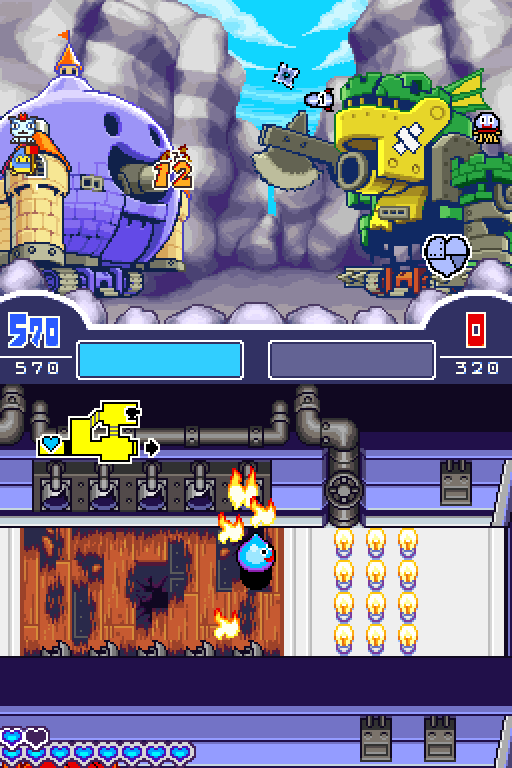 I might have possibly been able to grab a S(ub)lime rating here, but it turns out the T-Rax has that forked engine room… except this time the southern path's the correct one.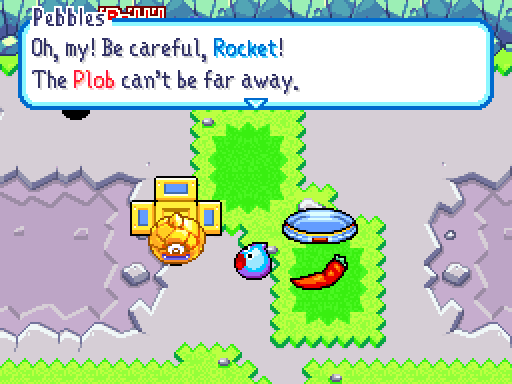 Come out, wherever you are! ...What? You beat them to save me? Well! What a strapping young lad you are!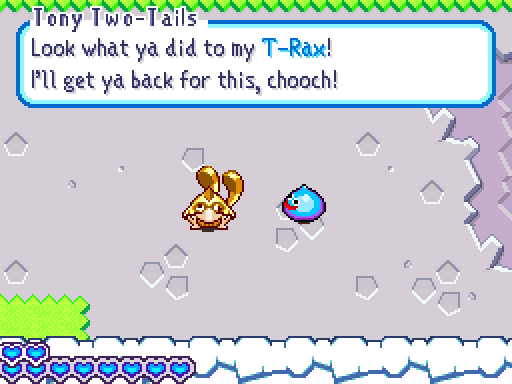 ...Chooch?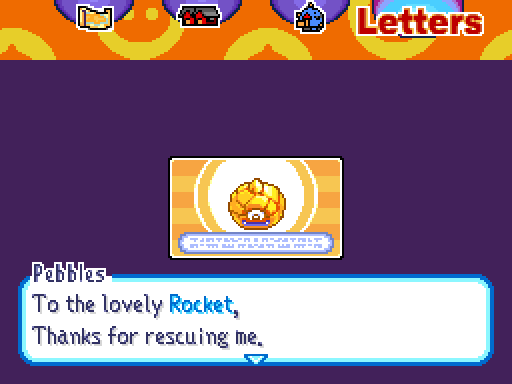 Being in that box was a nightmare. It did my skin no good whatsoever. Curse the Plob! They won't get away with this! Ooh! Listen to me being all macho!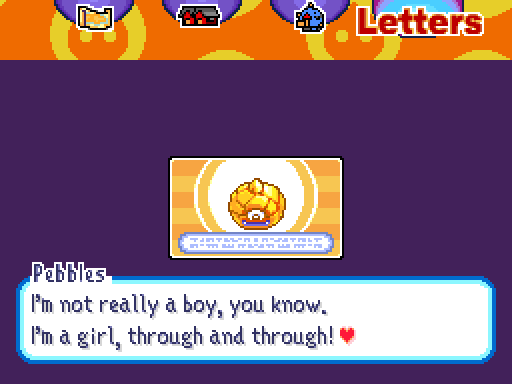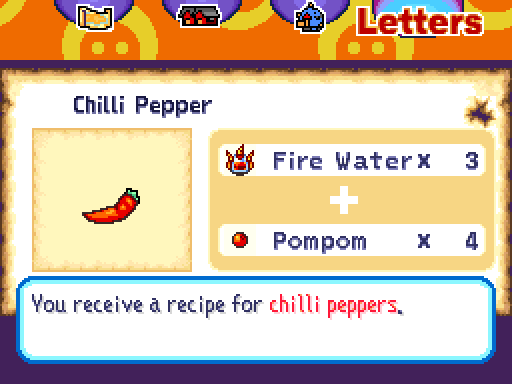 Booze plus apples equals peppers, got it.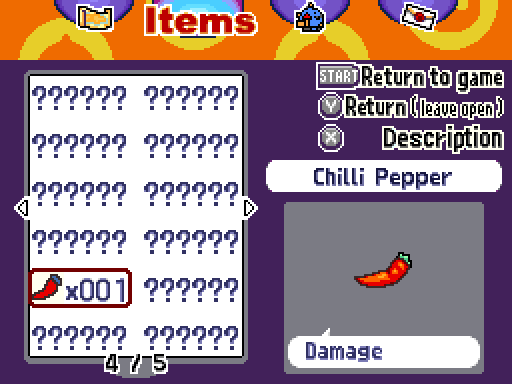 Load this hot veggie into a cannon and it'll set the Schleiman's mouth on fire!
Much like the T-Rax's axe, the chilli pepper will destroy any ammo in front of the Schleiman, regardless of who fired it. It's a defensive tool, but there's good odds your crew members will keep throwing ammo out to be destroyed unless you set all of them to other tactics.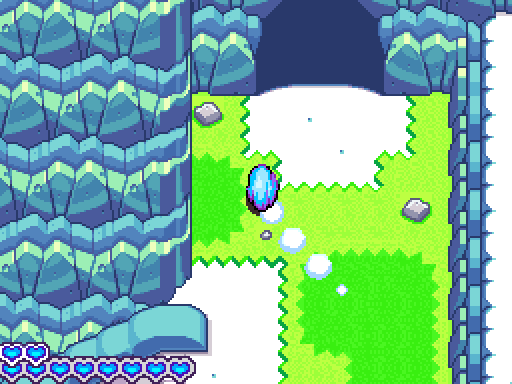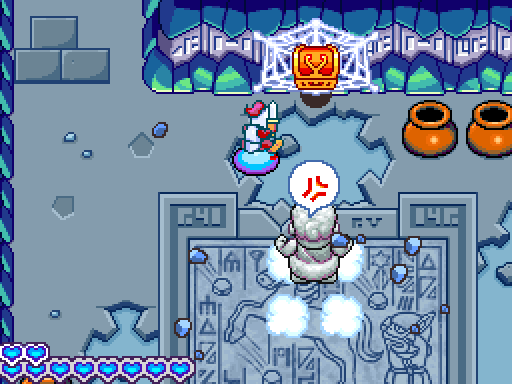 There's another room up on the opposite side from the T-Rax fight, but it only has some gold and a path to the other crystal barrier. You know, the one just before the first Living Statue.
However, you may remember that there's a second piggy bank over where Rocky was being held captive. And that it's half the zone away from any ramps.
Which is why this video exists.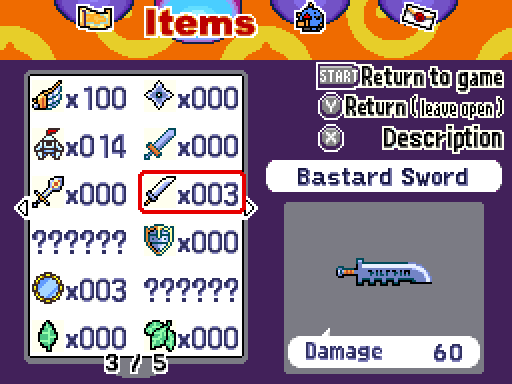 A real survivor's sword. You want to be careful with this one!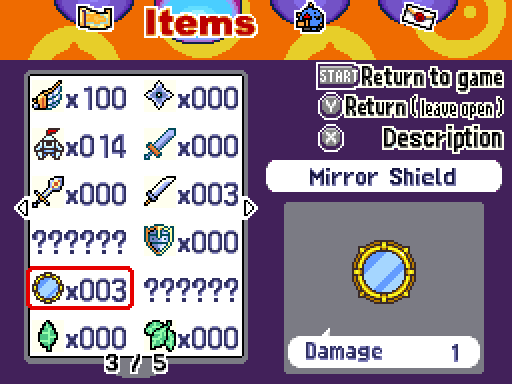 A miraculous aid that can reflect the enemy's fire right back at them. But be warned, it'll only work once!

Jackpot. It turns out that even resetting the game keeps the first piggy bank's item as a Bastard Sword and the far-away one as a Mirror Shield. So, uh… There may be some farming between this update and the next.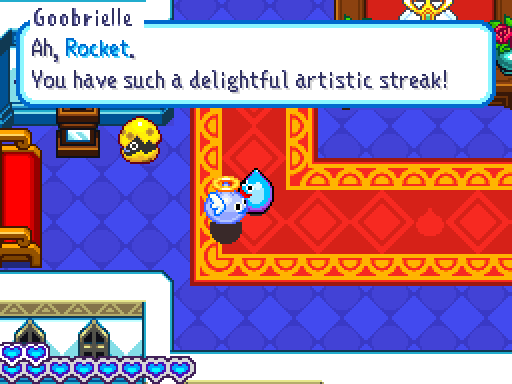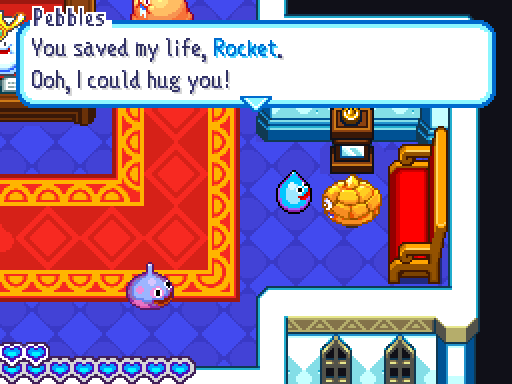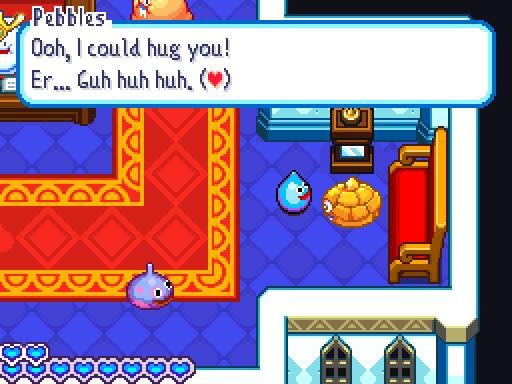 Oh, and there's one more thing before we close out the update.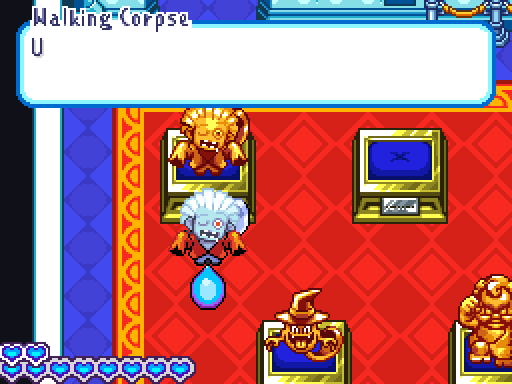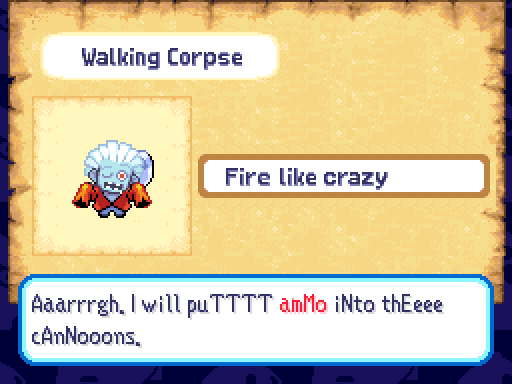 How do you kill a monster that's already dead? It just keeps coming back. And boy, does it stink!
The Walking Corpse will instantly be revived if defeated during a tank battle, but he's probably not going to be getting in many brawls. Add in the fact that he's pretty slow, and this is another crew member you really shouldn't be using.
We now have twenty-four options for our tank crew, and all four tank battles in Callmigh Bluff to do.
Go ahead and vote on a new crew.