Part 26: 8 years later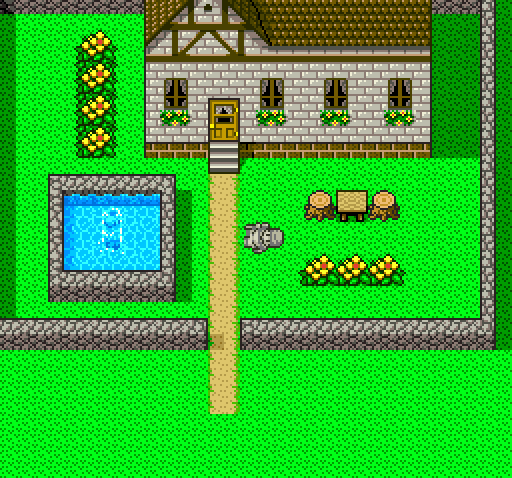 It's been a long, long time, but Simon has not been forgotten.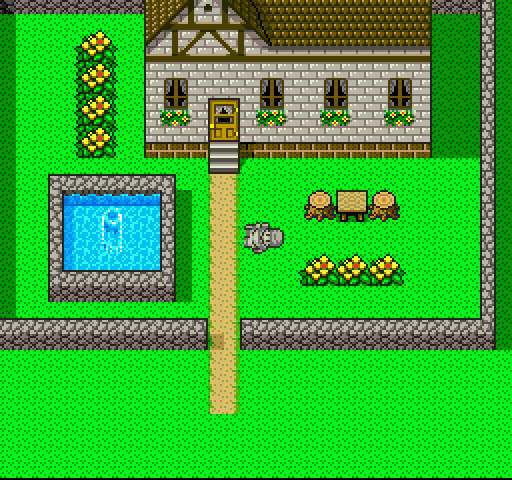 Surprised by the unexpected visitors, the owner of the house barges out, demanding to know what's going on.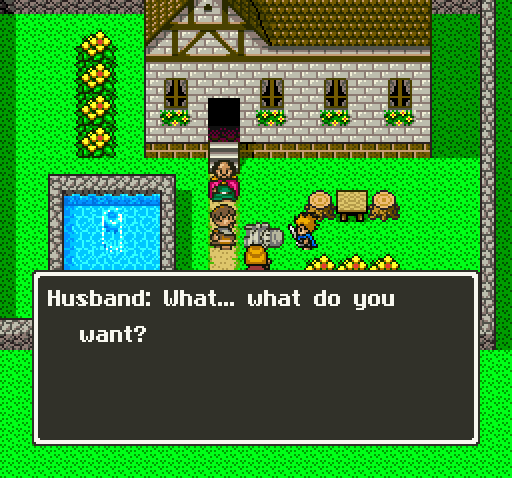 : Good afternoon, sir. We are merely travelers, we bring you no harm, I promise. Hmmm? What a magnificent statue you have...

: ...

: What say you, sir? Will you please lend me this statue...?

:
Is this a prank? What's going on here?
Hmmph! That stupid statue! Lend it? You can have it! Just get it out of my sight!

: Ohhh! Really! Thank you! How kind you are! Lady Lola!

: Okay, Uncle Sancho. I just have to use this staff, right?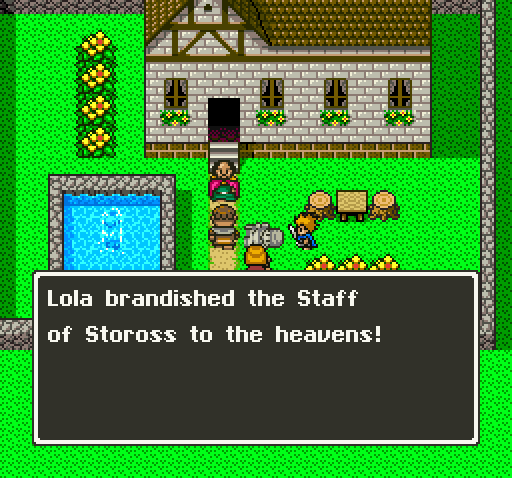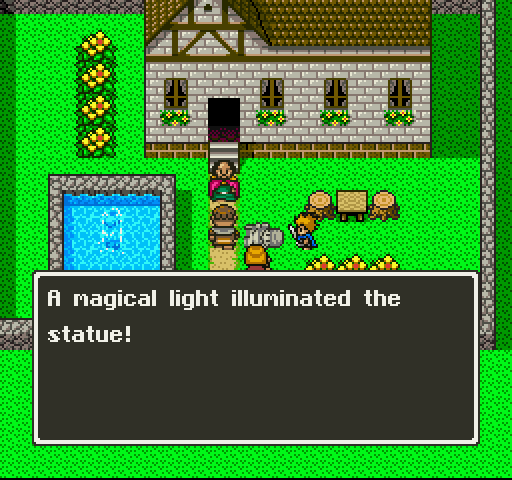 : Whoa! A statue!? Turned into a human?! Aiyaiyaai!!

: It is you! Oh, King Simon! It really is you! We've searched so long!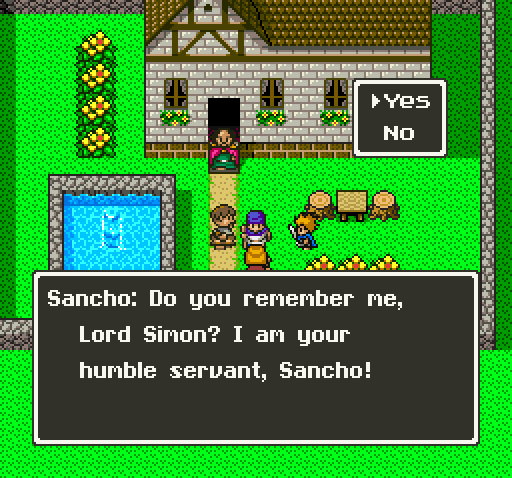 :
Nng.. I.. well...

: Oh!! You're alive! Oh, young master! Come, children! This is your father!

: Wow! You're my father?! We've travelled all over the world to find you, you know!

:
I...

: Hello, father. My name is Lola... It's the name you and mother gave me. I've heard a lot about you from Uncle Sancho. And... I learned about mother as well...

:
Bi...

: Oh yeah! And we learned that the world's in trouble, too! Hey, Daddy! Will you come help us go find and save mama?! And after that, will you go with us to save the world...?

:
I need to...

: Daddy, guess what! You know that Zenithian Sword you left behind? I can use it!

:
You...

: Come now, children. You shouldn't inundate your father with so much at once... Let's return to Granvania for now... your father needs time to rest... Lady Lola...?

: Yes sir!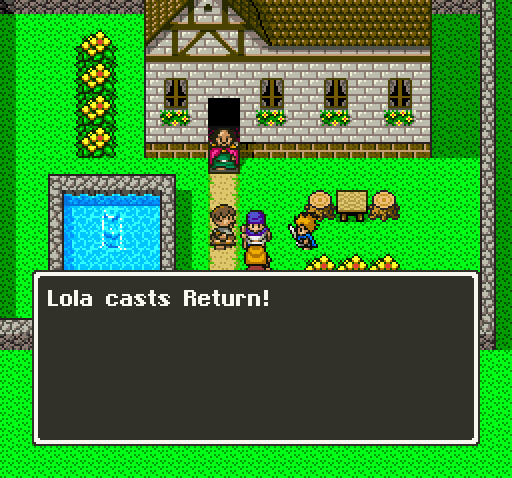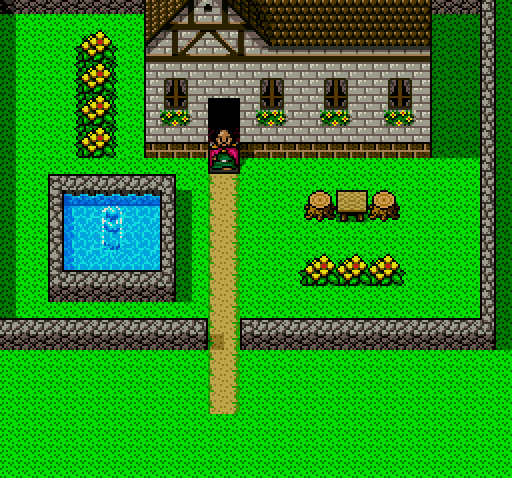 :
... What the fuck was that?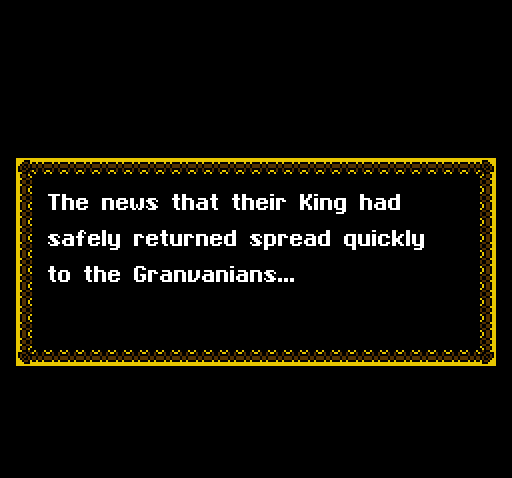 Some expressed their joy by shedding tears, some held each other, but all were glad of his return.
Hooray for King Simon! A festival to commemorate the return of the King carried on throughout the night...
And in the morning...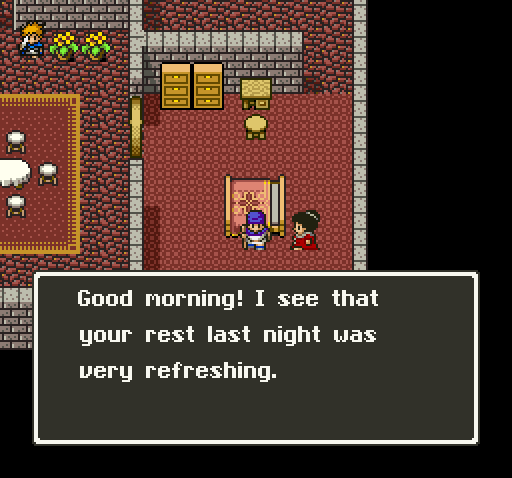 :
It's the first proper sleep I've had in eight years.

: If you will follow me, Lord Ojiron awaits your presence.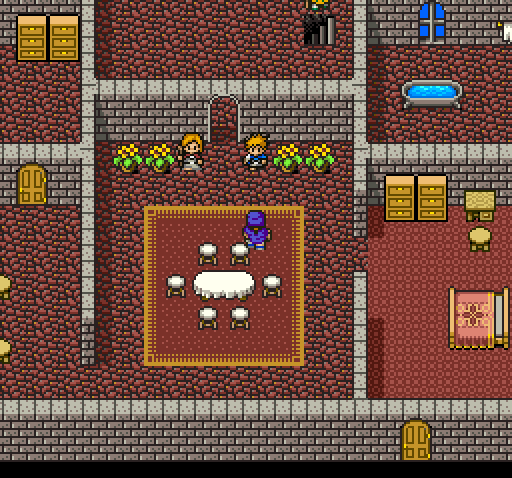 :
My God... I missed so much...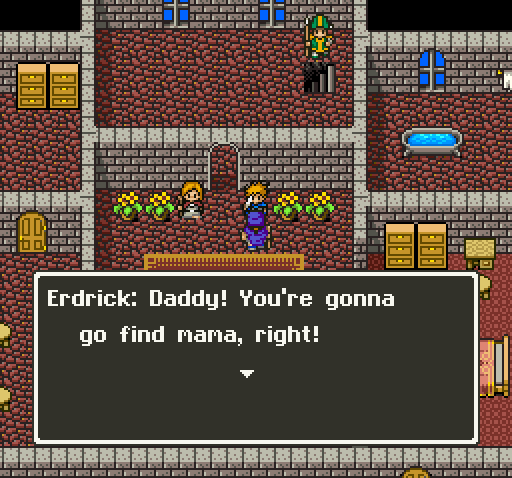 : And then you're gonna beat up the bad guys who are mean to the world, right...?

:
Hah. Yeah, I think I've rested long enough. It's time to get to work.

: Well... can we go along too?!

: I heard the entire story from Uncle Sancho... When you were about our age, you went off on a grand adventure with Grampa Papas...

:
A little younger than you are now, I think...

: So we've decided that it's only fair that we go with you as well!

:
Oh? You've decided, have you? Just like that? Listen, children. The world is dangerous. I've fought on your side long before you were born, and... I've lost so much. More than I can stand. And I won't lose you.


:
But...

:
So you had damned well better stick close. Let's go find your mother.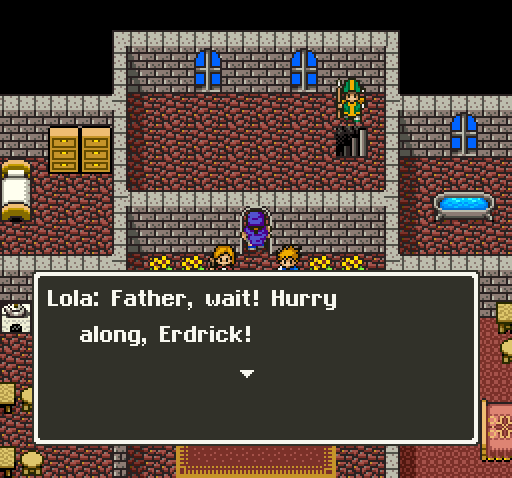 : Okay!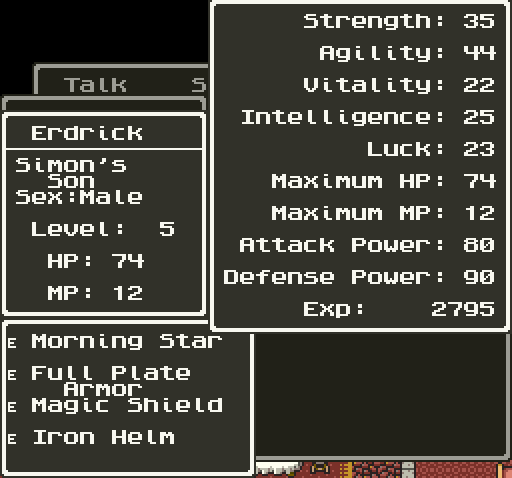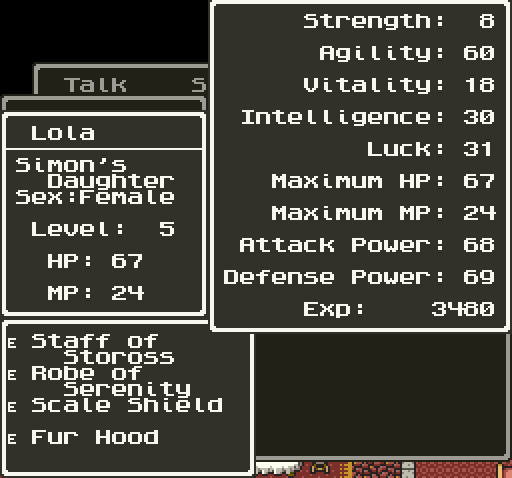 Erdrick and Lola are now permanent members of the party! For the rest of the game, the front lines of the party will be entirely family. Both kids are capable at both fighting and magic. Erdrick is the stronger fighter, and his spells tend to be support. Lola has more damaging magic, but isn't as strong. She can still hold her own just fine, though! Also, Lola takes after her father; staffs are her weapon of choice.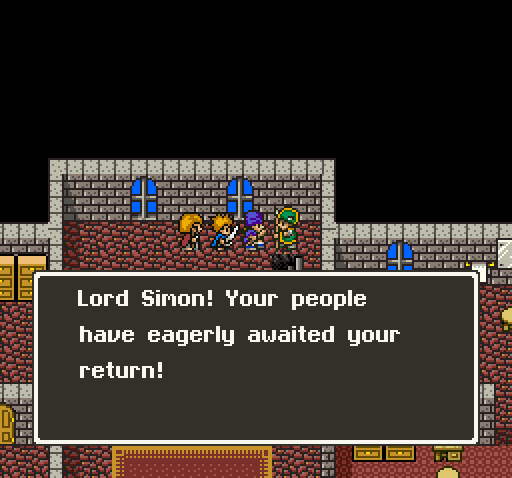 : Hooray for King Simon! Glory to Granvania!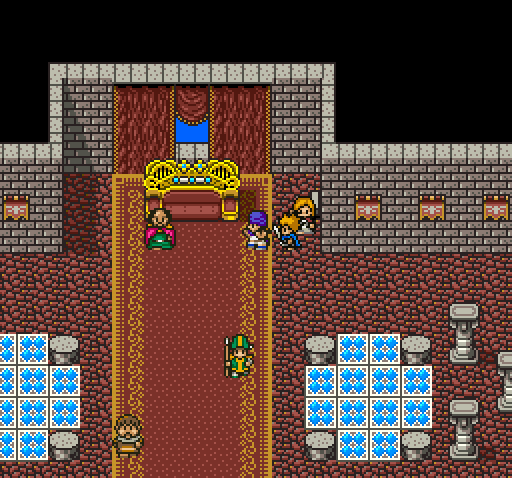 :
Wait, is that...?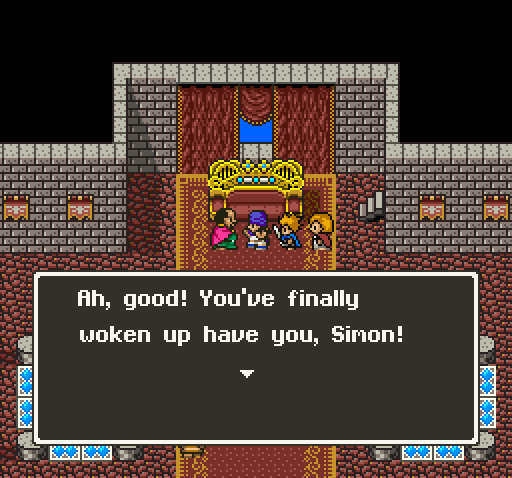 : Hmm? Don't tell me you've already forgotten me! It's me, Ojiron! Of course... you have been a statue for eight years now so I understand if you forget a second there.

:
You look... younger.

:
Ha ha! Giving up the crown was the best thing I ever did.
Anyhow, King Simon. On our search for you, my lord, we chanced upon none other than your mother's birthplace!

: Though your father was rather hated amongst them, time are different and old wounds have healed... You are Martha's child. Perhaps to you, they can... and they will... offer some assistance.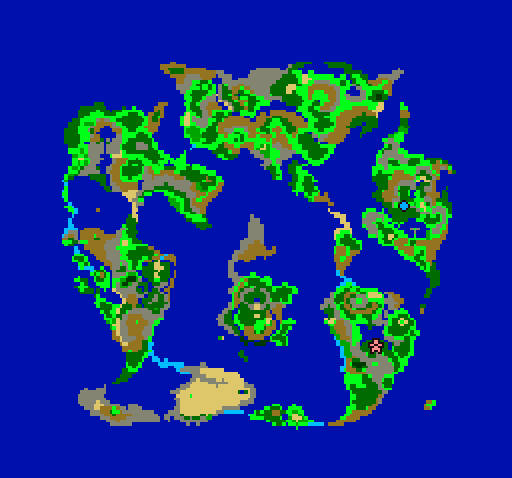 : Lady Martha's birthplace is just about right here...

:
The one continent in the world I haven't been to yet. That figures.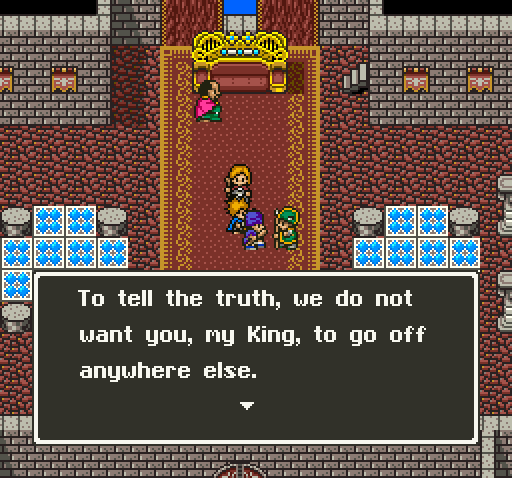 : But we've waited eight years already, so a day here and there won't make too much of a difference, Lord Ojiron says. Lord Simon... Please take care of yourself!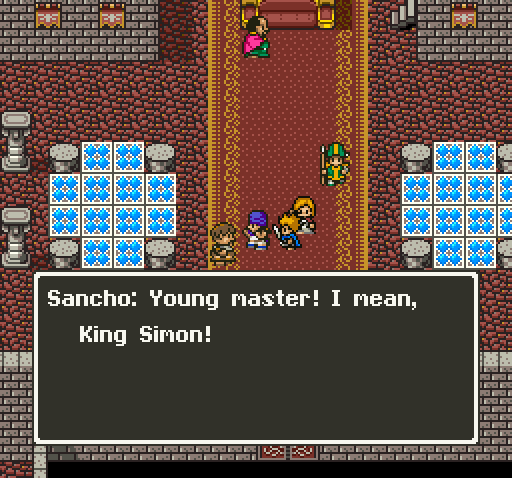 :
Ha ha, that just sounds weird from you, Sancho. You used to babysit me, for God's sake!

:
Yes, well...
Lord Ojiron has prepared a ship for you to use on your journey. And he's even called for the Monster Caretaker to set up shop on the second floor of the tavern. Oh yes, and if you speak to Ruida, she'll arrange it so you can take some of your palace friends with you on your journey.
Ah, awkward exposition dump! We'll visit those places in a moment.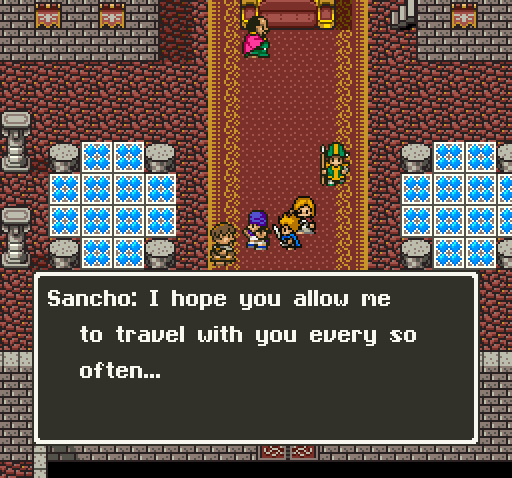 : I may have aged a little, but I'll take down any young buck who'd dare me I'm old to my face!

:
Listen... Thank you, for everything. For bringing me back, and for keeping my children safe.

:
I tried to bring them up like you would have, Young Master. Finding the Staff of Stoross and tracking you down, well... you can be proud of them, sir.


:


:
Oop, I think they heard you. I'm sure I didn't blush that much at their age!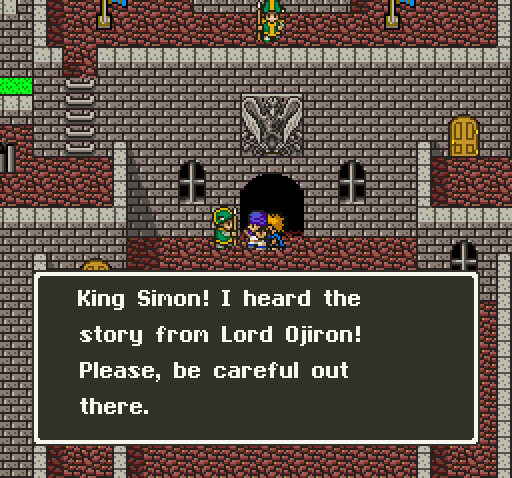 :
Don't worry, dude! We'll protect him!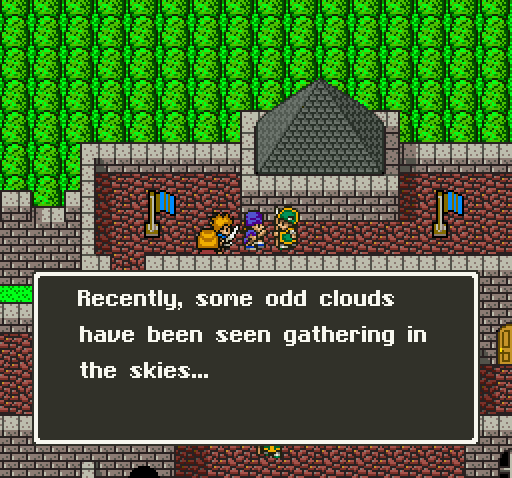 : I wonder then, if the rumor about the Great Demon Lord breaking free from the Dark World is true...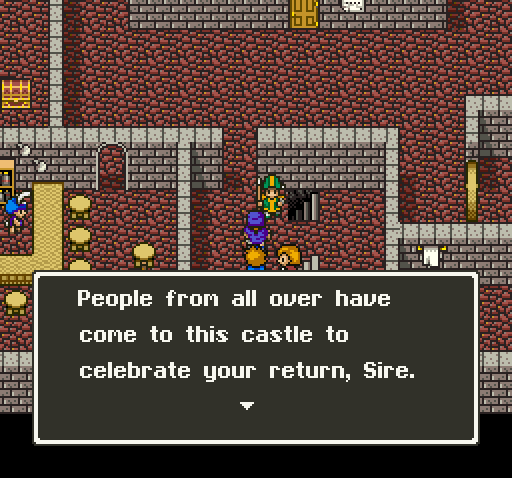 : Please be sure to ready your supplies and soul here, before embarking on your journey...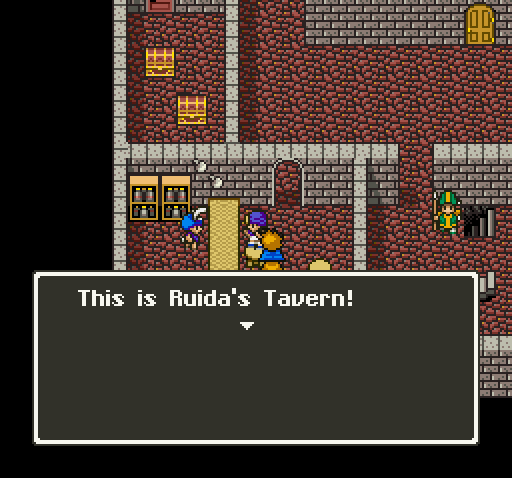 : This is a place where some come to find friends. A place of hellos and farewells.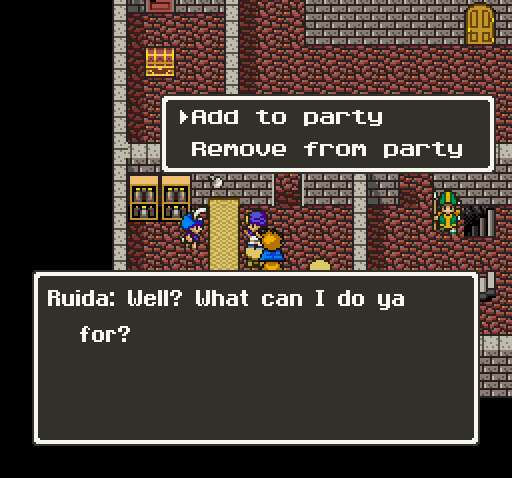 Ruida's let's you add or remove any human party members. She doesn't handle monsters, though, that's what the Monster Caretaker is for. Right now, the only human that's not already in the party is ol' Sancho. We can't just leave him behind, so I make some room and add him to the party.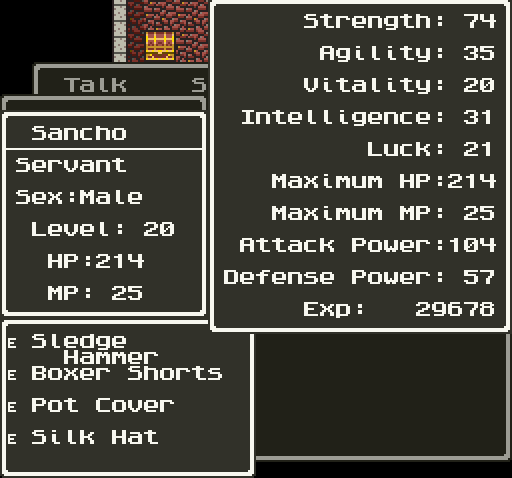 :
... That's... some interesting adventuring gear.

:
It's from my days travelling with your father. And it still fits!

:
... You both took your pants off for combat?

:
Unhampered mobility is the key, Young Master.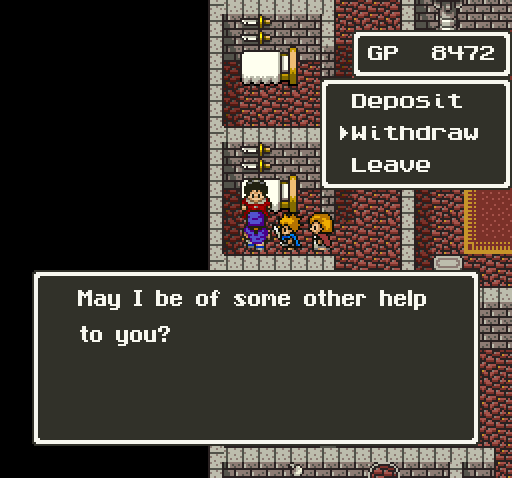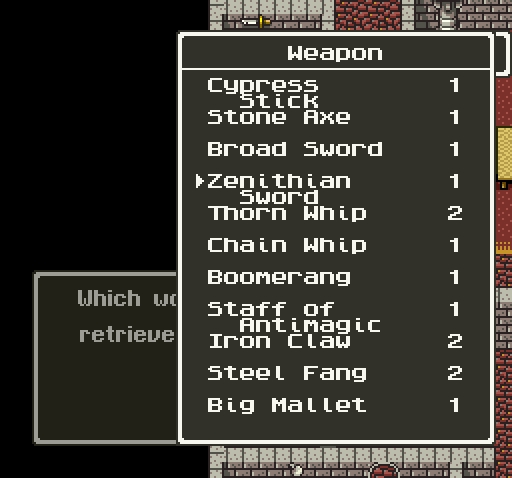 The item vault is accessible here, too. It's not like it's hard to go visit one of the other vaults, but it's pretty cool to have everything handy at our home base. Anyway, Erdrick mentioned that he can use that old piece of junk we had stashed away...

:
See! Light as a feather! Snicker-snack!

:
Hmm...

:
Hunh? Why the weird face, Daddy?

:
I think a mystery's about to be solved, and I'm not sure I like it.

:
Huh? I don't get it.
Oh, and I totally gave Erdrick the Zenithian Shield, too, but forgot to capture it because I am a dumb. It's not like anyone in game comments on it, though.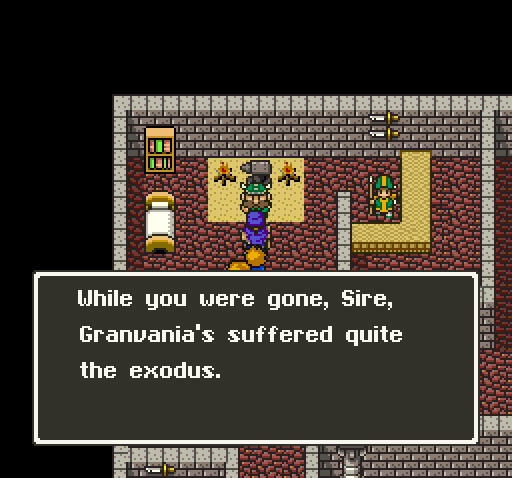 : Were things different, I wish I could join you on your quest... But every body counts now, both soldier and citizen, if we are to protect our lands successfully.

: We will protect the castle with our lives, Sire! So please, go and do what you must!

:
We all do what we can, eh?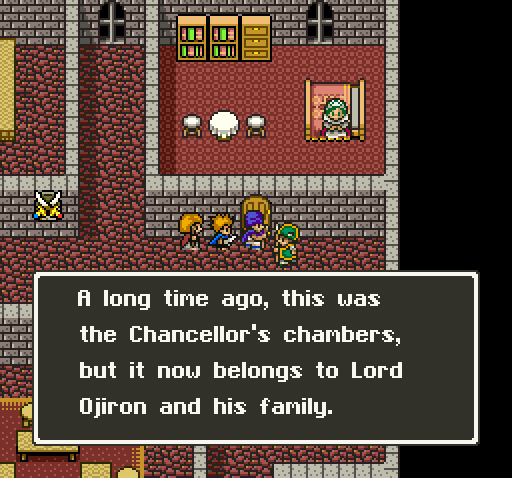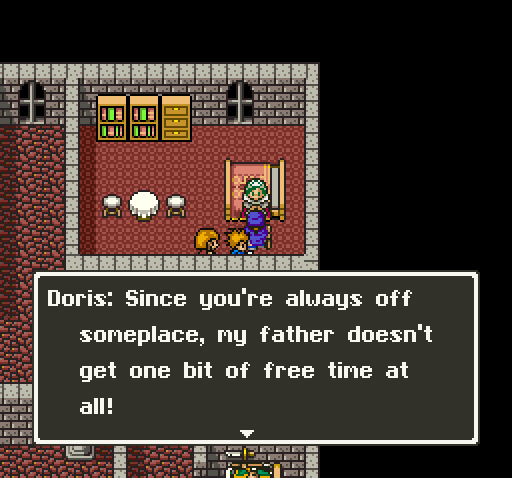 : Since you're always off someplace, my father doesn't get one bit of free time at all! 'Course... with him busy all the time, I don't get yelled at no more...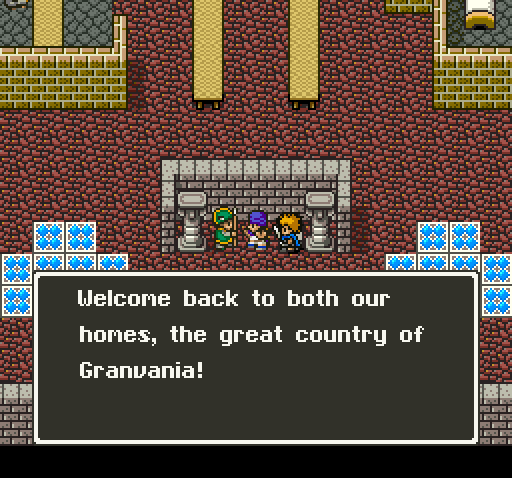 : The citizens have been eagerly awaiting your return, Sire!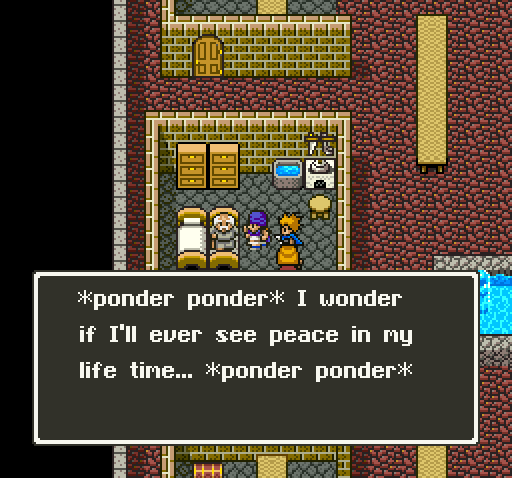 :
Of course! Daddy's back, he'll fix everything!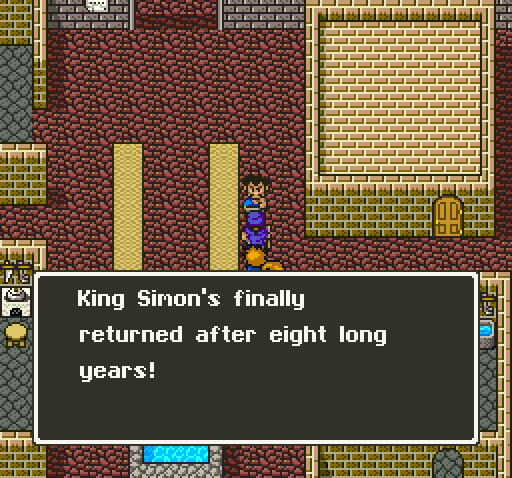 : I'm so happy I could... urrr... drink! *hiccup*

:
This is what alcohol abuse does to you, kids.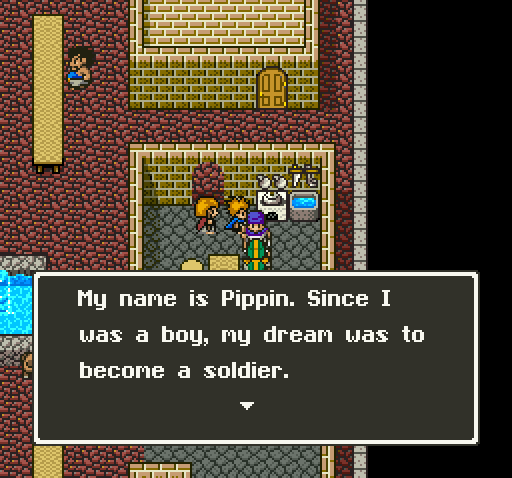 : Now if only I could set out on a journey alongside my King... how happy I'd be!

:
Are you remotely useful?

:
I'm... uh... very eager to help!

:
Right...
Pippin's available at Ruida's tavern now. He's... underwhelming.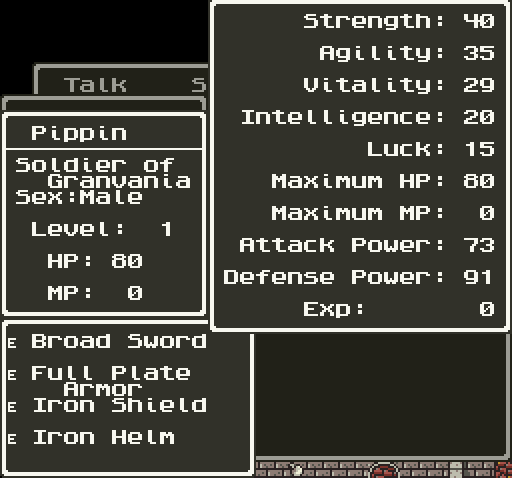 He's a purely physical character, he'll never learn magic. He can use a decent selection of equipment, but nothing spectacular. He'd be a decent filler character if we didn't have monsters. But we do have monsters! So, fuck Pippin. He doesn't have any story relevance, anyway. I plan to completely forget he exists.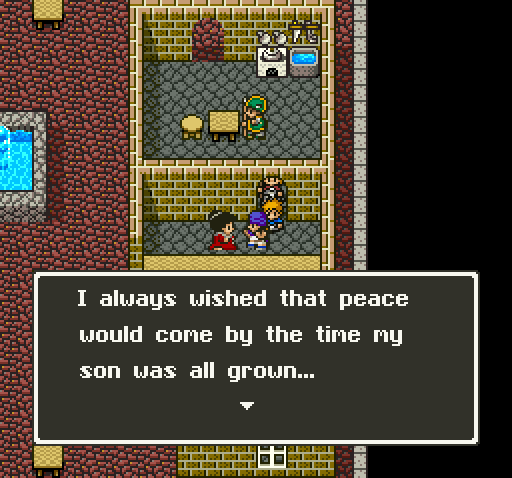 : But this is what he told me: "Mother, you can't just sit around and wait for peace... it's something we've got to shape together with our own hands..."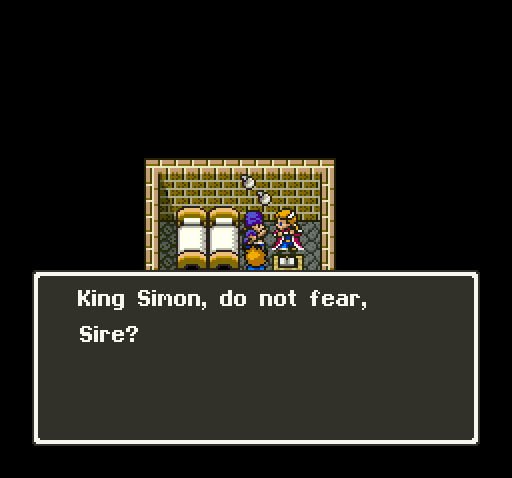 :
Question mark?

: I'm sure that both Lady Martha and Lady Bianca are alive. And when you find the both of them, surely a new path will be opened to you!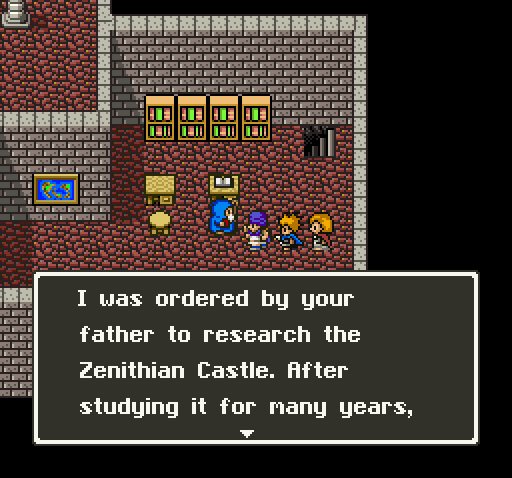 : I learned the following: The palace no longer exists in the skies and the Dragon God himself has vanished without a trace.

:
Wait, God is an actual person that you can just, like, go and talk to?

:
Well, not anymore.
But should someone be able to restore the palace to the skies, peace may once again come to our lands...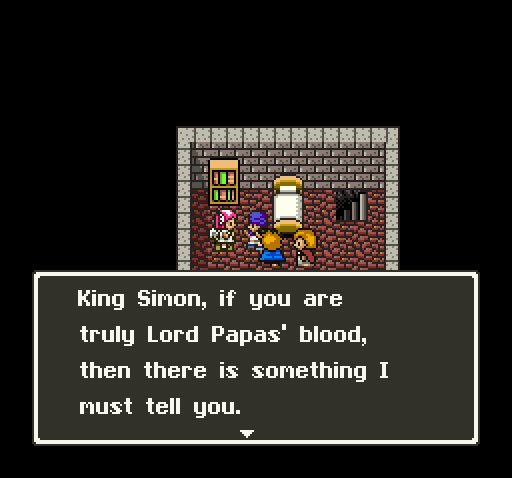 : The bloodline of the Legendary Hero still survives to this day. Only when the world truly is in danger, will the Hero appear... So goes the legend.

:
Just... keep that to yourself, ok?

: Oh? Lord Erdrick has equipped the Zenithian Sword? Oh my!

:
What's the big deal?

:
It means I'm special!

:
Ha ha! You wish!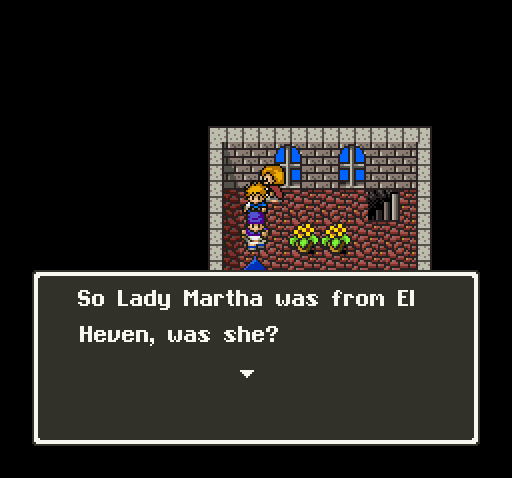 :
Again with the text box on my face. Can't you talk to me from the other side?
I've heard that those from El Heven have the ability to cleanse the tainted souls of beasts... Such blood runs within you too, Lord Simon.

:
That... actually makes a lot more sense than the Punch of Friendship theory I was going with.
Before we leave, I'm going to grab something to replace Sancho's shudder boxers.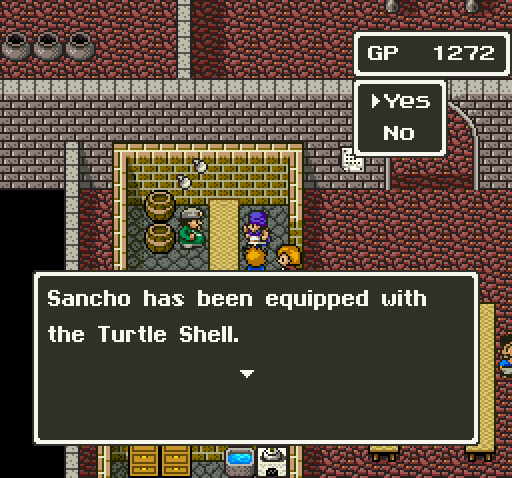 :
Seriously, Sancho. Hide your shame.

:
So, where are we going first, Daddy?

:
To El Heven to meet Gramma Martha's people?

:
... Soon. First, there's someone I'd like you to meet...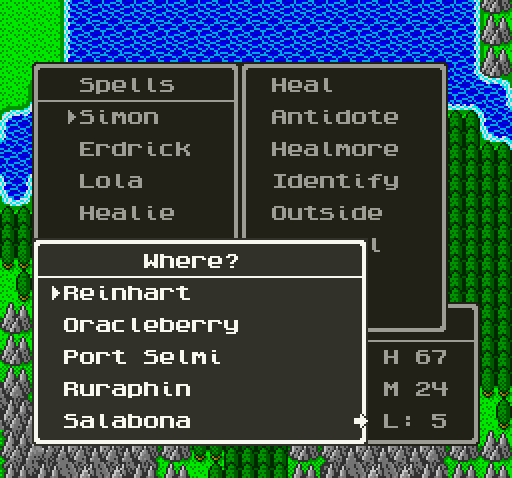 Next time: What's eight years to a bro?