Introduction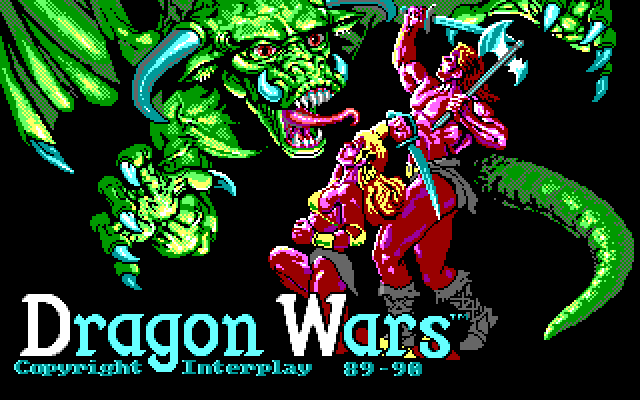 Between 2015 and 2017, I did a Let's Play of the 1989 Interplay RPG,
Dragon Wars
. It was my first and only LP ever. I almost finished it, then got distracted and let it fall into archives, leaving it eternally one chapter away from being completed.
Let's fix that. In this thread, I will be posting the 43rd and final update for the main play-through, along with some bonus content to follow.
What is Dragon Wars?
A computer RPG released by Interplay in 1989, it was intended to be The Bard's Tale IV but was re-purposed at the last minute as the rights to the name and setting were held by Electronic Arts. As a result, Dragon Wars takes place in its own setting called Dilmun, a small collection of islands in a land known as Oceana. Despite the last-minute changes, it is a fully fleshed-out game with a deep storyline and setting.
The game was released for the Apple II, Amiga, and MS-DOS, among others. They're all functionally the same, just a few graphical differences. I'll be playing the DOS version. There's also a Famicom version, and as you might guess, it's totally different (and totally in Japanese, though there's a prototype English->Japanese->English version floating around). I might show it off when I've finished the PC version.
Why are you playing this?
It's one of my favorite games of all time! It really is a better game than any of the three Bard's Tale entries and stands up to many of the classic computer RPG's of the era. It's also one of the most open-ended and replayable games I've ever experienced, which makes it ideal for an LP in my opinion.
Original thread can be found here:
https://forums.somethingawful.com/s...hreadid=3702374
It's archived, but I had everything saved on my computer, so I'll be re-posting on LPIX for those of us without archives access:
Table of Contents
-
Part 1: Character Creation
-
Part 2: Purgatory
-
Part 3: More Purgatory
-
Part 4: Low Magic & Combat
-
Part 5: Literally going from Purgatory to Hell
-
Part 6: Tars Ruins
-
Part 7: Slave Camp
-
Part 8: Slave Estate
-
Part 9: Guard Bridge
-
Part 10: Mystic Wood
-
Part 11: Phoebus
-
Part 12: We're in the Army Now: Siege Camp
-
Part 13: We're in the Army Now Part II: Byzanople
-
Part 14: We're in the (Byzantian) Army Now: The Battle With Kingshome
-
Part 15: Byzanople Alternate Paths
-
Part 16: Temple of the Sun
-
Part 17: Phoeban Dungeon
-
Part 18: City of the Yellow Mud Toad
-
Part 19: Smuggler's Cove
-
Part 20: Necropolis
-
Part 21: Smuggler's Cove Revisited
-
Part 22: Sunken Ruins
-
Part 23: Freeport
-
Part 24: Dwarven Ruins
-
Part 25: Heavily Guarded Bridge (to Lansk)
-
Part 26: Lansk
-
Part 27: Lansk Undercity
-
Part 28: Old Dock
-
Part 29: Snake Pit
-
Part 30: Kingshome Dungeon
-
Part 31: Kingshome Not-Dungeon
-
Part 32: Lanac'toor's Lab
-
Part 33: Journey to the Magic College
-
Part 34: Magic College
-
Part 35: Dragon Valley Part I
-
Part 36: Dragon Valley Part II
-
Part 37: Royal Game Preserve
-
Part 38: Taking the Pilgrim Ferry to Nisir
-
Part 39: Nisir (Not Quite the Last Dungeon Yet)
-
Part 40: Depths of Nisir 1
-
Part 41: Depths of Nisir 2
-
Part 42: Depths of Nisir 3
-
Part 43: The Final Battle
Epilogue
-
Part 44: Purgatory Revisited
-
Part 45: Salt Mines
-
Part 46: The End