Part 28: Episode XXIV: In Which Someone Actually Opens a History Book
Episode XXIV: In Which Someone Actually Opens a History Book
Verse 3: The Witch
-
Music: Impatience
Alright, it's time to get the hell out of Dodge. The area is lousy with KotS's airships and planes, but our only objective is to just break through their line and make it to the other end of the district. Doing so will trigger another cutscene and the boss of Chapter 6. Did I mention this was the final mission of this chapter? I told you it was a short one.
Zoom zoom...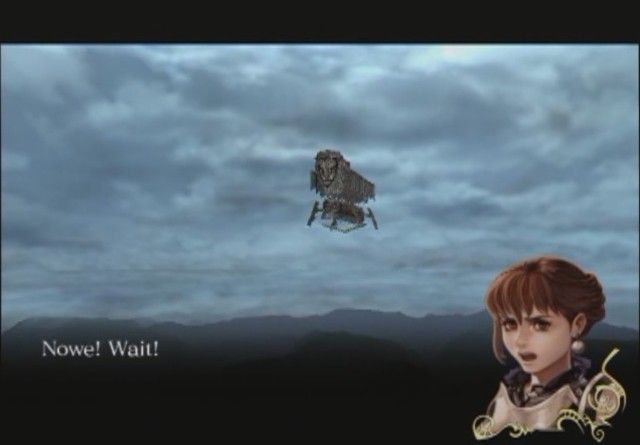 Eris isn't giving up her pursuit of Nowe that easily. However, instead of the usual attempt to stop the group through traps, ambushes, and overwhelming numbers...she's gonna try something a bit differently this time. Eris unleashes the greatest weapon of all: knowledge.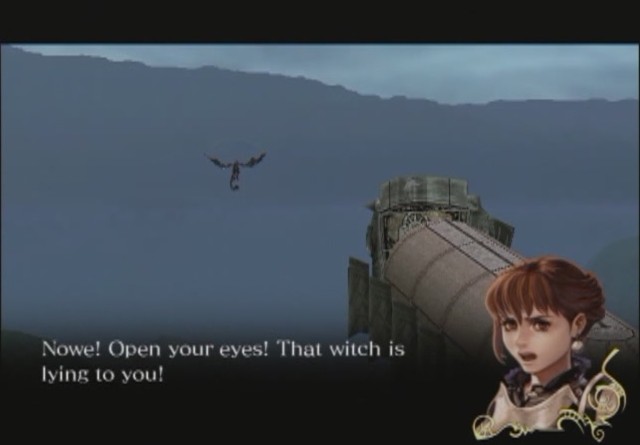 "Witch!"

"How do you two even hear each other over all this wind, wings flapping, and engines rumbling...?"

"That witch could never save the world."

"...!"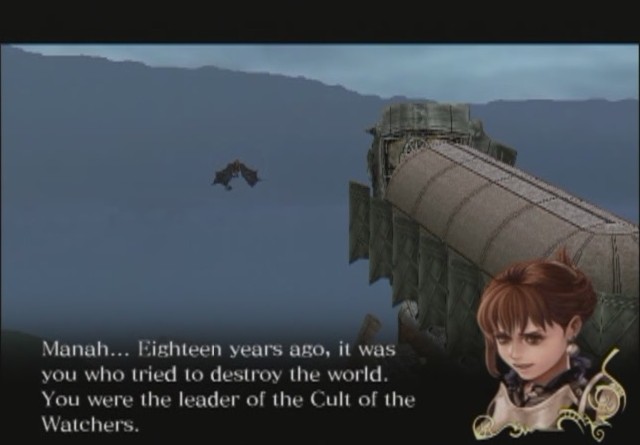 Well what do you know? Somebody finally cracked open a history book to see...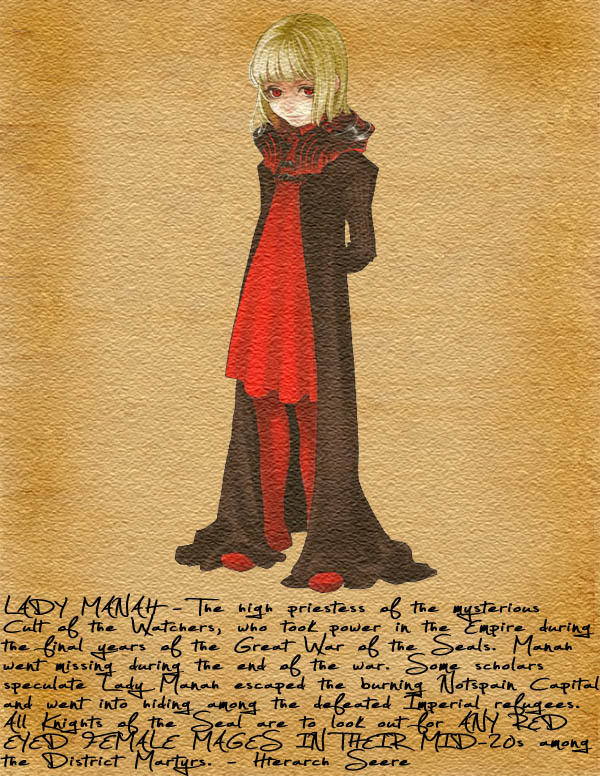 MANAH WAS FANTASY HITLER! HELPING ANY PLANS INVOLVING HER IS A GODAWFUL IDEA!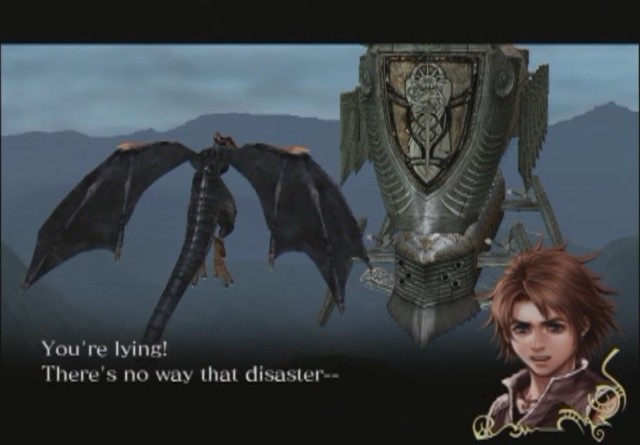 "Oh yes, the disaster that threatened the whole world was her doing. Manah is the enemy of humanity!"

"...Ah... But I..."

"Is this true?"

"Of course it's true. I've read the old documents preserved by the knights. The Empire, the Cult of the Watchers, the red skies... It was all her doing."

"But Manah is trying to help people! She's trying to save them! I've seen it with my own eyes..."

"Did you really now? Or were you too busy killing your former comrades to see you were just being used like a tool. I bet having a dragon to zip across the land from district to district has been quite the asset."


"...Why would anyone want to take advantage of my good nature like that?"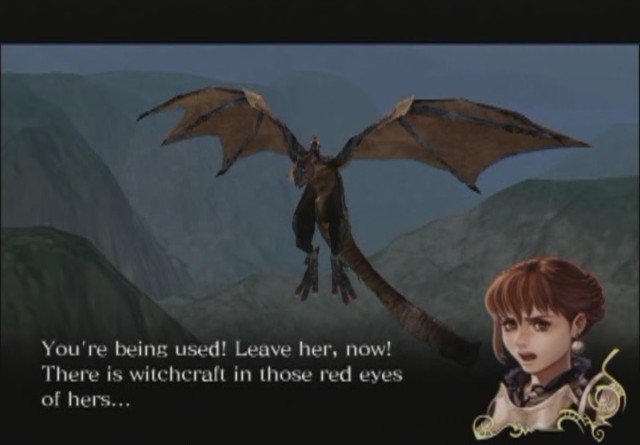 "Furthermore...she has RED EYES, Nowe. Come on, how many virtuous freedom fighters have you heard of possessed blood red eyes?!"


"Ergh... That is a bit strange but..."

"Manah! Is this true? Say something! Do you hear me?"

"...I'm sorry. I'm so sorry."

"..."

"Umm... Would it be possible for me to get off at the next stop, please? This ride suddenly got a wee bit too uncomfortable for my tastes..."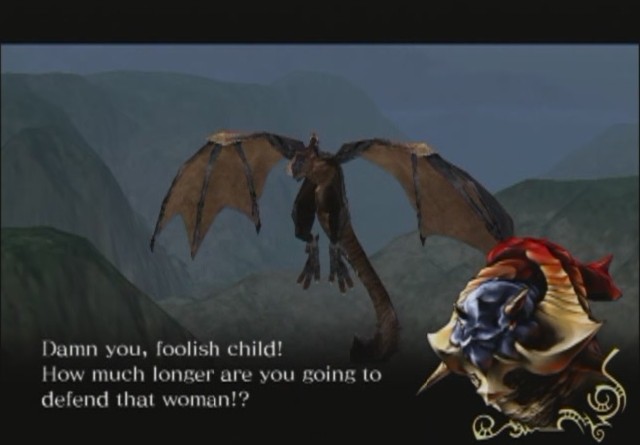 "But, Manah...she..."

"I'm not talking about the one on my back. Stop being so damn wishy-washy when dealing with that damn human who dragged you around like a puppy on a leash. What she says doesn't matter, dammit. She's the enemy now. I'd prefer not to get shot down by those cannons zeroing in on us while you humans exchange history lessons on your brief flickers of relevance!"


"Ergh... I don't follow..."

"Stop clinging to the ghosts of the past! Don't you know who you are anymore!? Now is the time to strike! Bring down her ship. Attack!"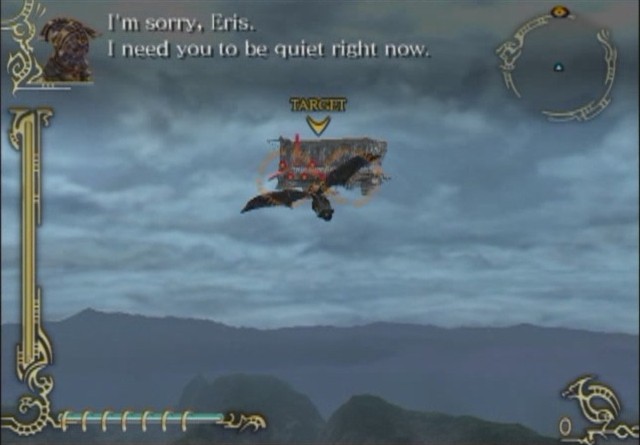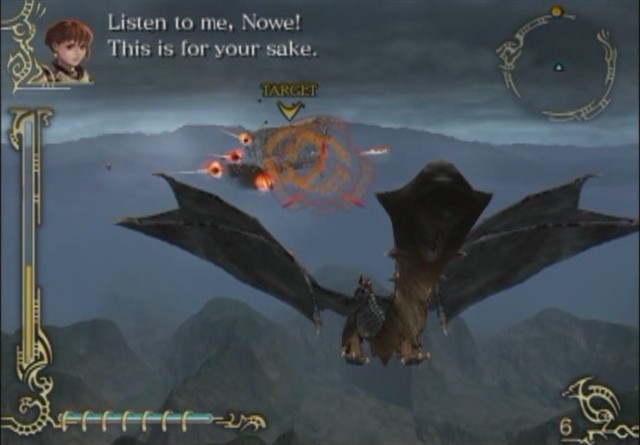 So Legna is suddenly really annoyed with all this jibba-jabba and decides it's time to shoot down Eris' airship. There's really nothing to be said about it. It's pretty much the same as every other airship we've encountered, only this one has a bit more firepower and a lot more armor. But luckily, the rest of the KotS airforce has vanished, leaving the flying barge rather defenseless beyond its own cannons.
A very one-sided pummeling with fireballs later...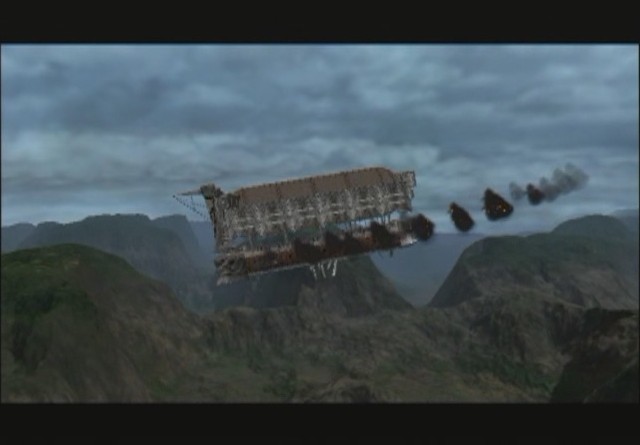 As fortune would have it, Eris was riding on the same model of airship with exclusive Plot Armor hull strengthen enhancements as Manah's previous hijacked vessel. This results in the heavily damaged blimp safely crash landing instead of violently explode in a ball of fire as every other airship besides those two have done.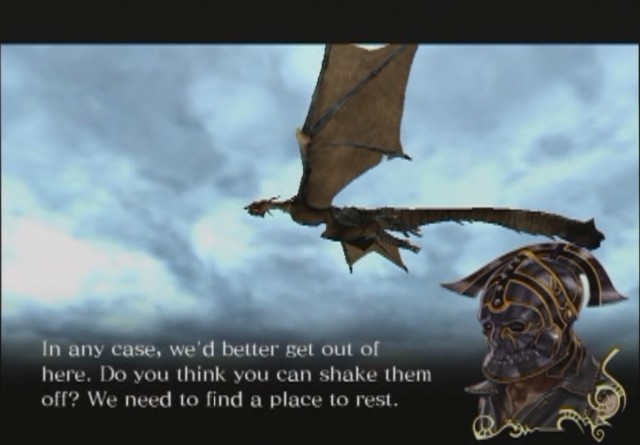 "I agree. Even stone-headed fools have the right idea, some of the time."

"Well, I have my moments. Though, might I suggest we land in...I don't know...a population center of some sort... To blend in...to the crowds... Don't want some crazy black magic spells going off by accident or anything, you know. Hehe..."


"..."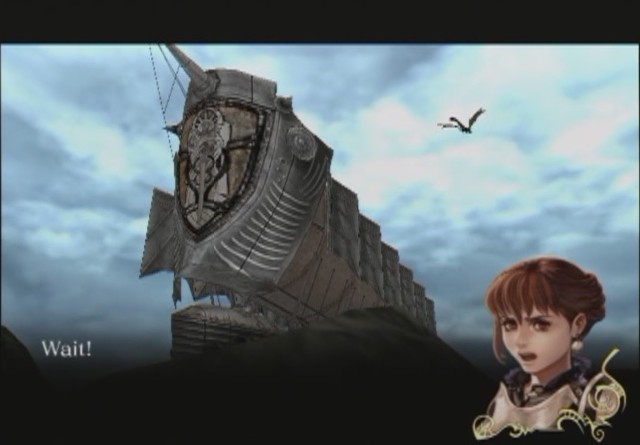 "The truth of the past and the reality of the future are not always easy to reconcile. Farewell."

"...What?"


"In layman's terms...shut it, human!"


"Buh-bye! Was nice seeing you again, Eris! Glad that you're doing well! Do try to get that stick out of your ass before our next meeting! Peace!"
Some time later...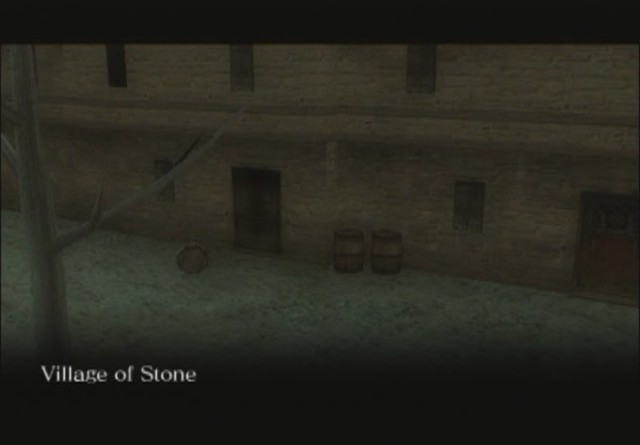 Shortly after that little skirmish, the party retreats to the Village of Stone to erm...deal with the issue of Manah having hobbies such as world domination, genocide, slavery, dealings with dark gods, attempts to bring about the apocalypse, and other general crimes against humanity in her youth.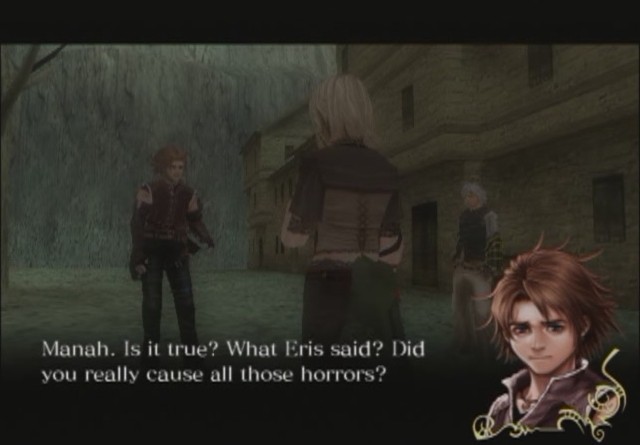 "I...I had forgotten the past... But now..."

"You're lying! Right? It's all just a big lie, isn't it?"

Oh boy...talk about having it awkward as being the third wheel to a bad date...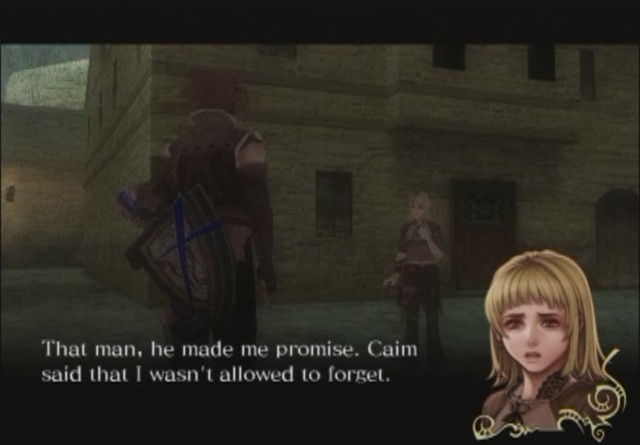 "He said that? I thought Caim had lost his ability to speak...?"


"He had a sign. Well, more like a carving in a plank of wood. A really hard plank of wood... One that he really liked whacking me around with..."

"Caim, the one-eyed man. The one who saved the world eighteen years ago. The one who later attacked the seal and killed my father, Oror."

Why ever does he always say 'my father, Oror' every time? I've NEVER met another Oror in my life.

"He told me, never forgot. Never forget your crimes. Live on, open your eyes, and spend every waking moment reflecting on your sins."
"That was all also carved into pieces of wood... He pounded those words into my head both figuratively and literally..."

"So when you break the keys and save the people... Are you just trying to atone for your past sins?"

"No...I...!"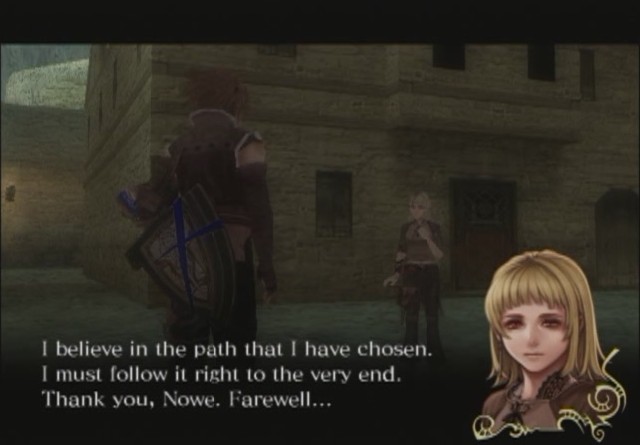 And so as soon as the jig is up, Manah immediately bails on Nowe and wanders off alone. Welp!
Manah leaves the party... Please don't through a bunch of mages at me next chapter, Cavia...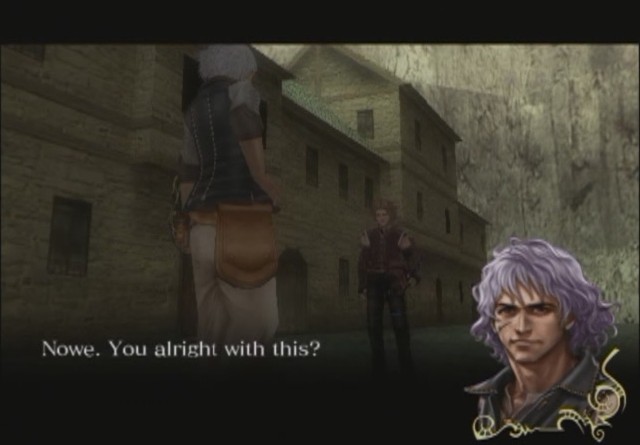 "I don't know! I don't know anything anymore!"

"Hah! 'Anymore?'"


"!?"

"Alright, so stop thinking too hard. Just say, 'to hell with it' and come with me. I'm going to the District of Shining Life. You coming?"

"I don't...I don't know what I'm supposed to do anymore. But I can't go back... Until I find my way again, I'll travel with you, Urick."

"That's the spirit, kiddo. Yeah, your girlfriend tried to destroy the world. Pfft... You're young. A few drinks in your and you'll be better in no time. After all, it could be worse."


"How could it be worse?"


"She could have had a penis."


"!?"


"Hey, just throwing it out there. I remember I saw this girl once. Slammin' body, great chest, waltzed around in lacy lingerie and heels. Real feisty personality too. Swore like a sailor. My kinda woman. But before I made my move, one of the other guys at the bar goes 'no bro...that one is packing heat' and I was like 'NO WAY! There was just no way.' But later that night I was stumbling outta the tavern on my way to wherever the hell and I looked down an alley and there she was taking a leak next to a dumpster. Standing up. You just never know, kiddo... You just never know..."


"Umm...okay?"


"That's the spirit! Come on, off the District of Shining Life. I know a place that has the best gyros over there..."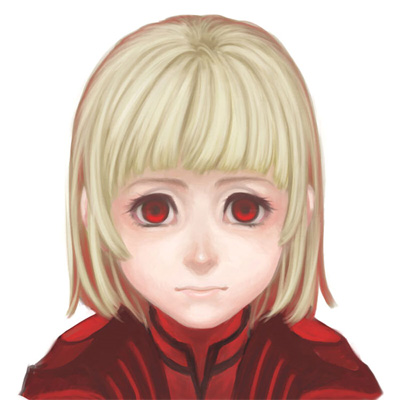 Verse 3 and Chapter 6 Outro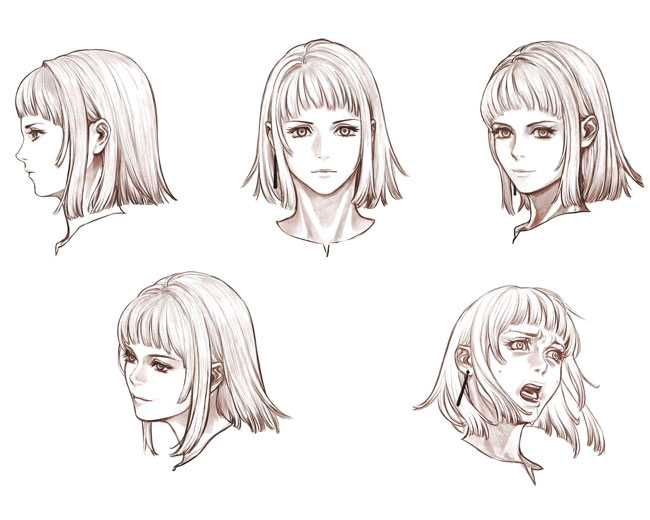 The Many Faces of Manah - Meh, Meh, Slight-less Meh, Zoned out, and OH FUCK IT'S CAIM COMING!