Part 49: Episode XLIV: In Which Caim Becomes King of the Ring
Episode XLIV: In Which Caim Becomes King of the Ring
Verse 9: A New Sword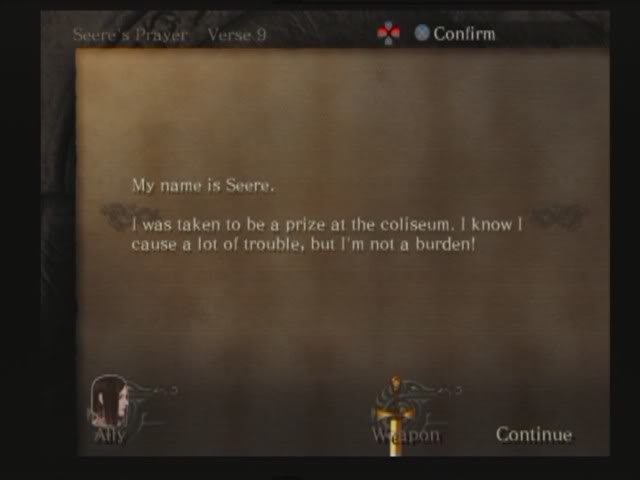 No, Seere. You are just entirely useless, with no value to any part of the war effort against the Empire, and repeat yourself like a dipshit constantly. No wonder you go on to become Verdelet 2.0 in Drakengard 2.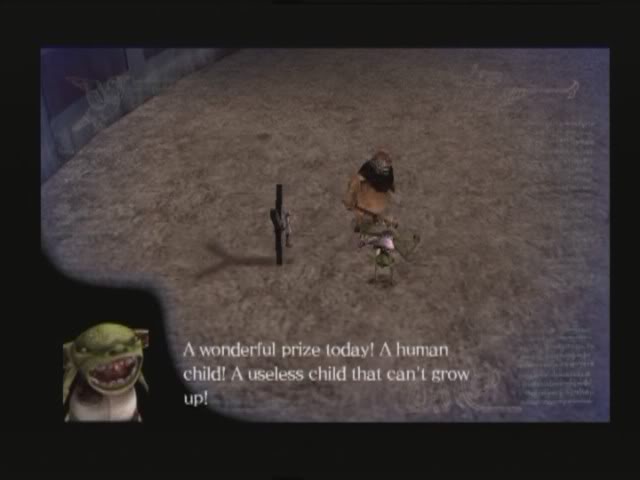 We join a crucified Seere being mocked by a scenery chewing goblin and his pigman servant. Wait, what? Goblins can talk?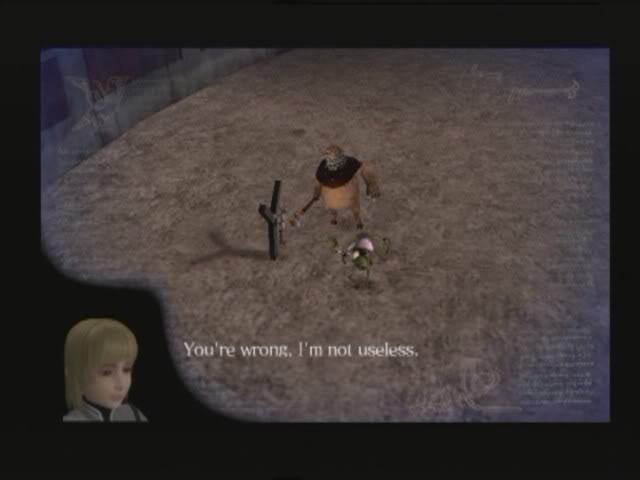 "I don't grow old so I can save up time. I'll save the world, just like the Little Hero."

"Shut up! We don't care about your fairy tales. That whole story sounds like just a cheap knock-off of Ocarina of Time! You won't save the world. The best you could hope for is to just get molested, dressed up in tights, and get your ear pierced by a creepy old man while you're in a coma."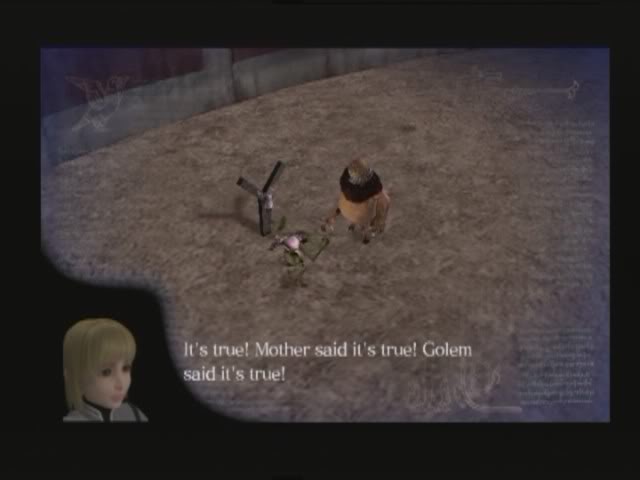 "Oh Mama said It's true! Oh well this just changes
everything
! So, where is your mommy now, boy?"

"She...died..." <sniff>

"Hah. I rest my case!"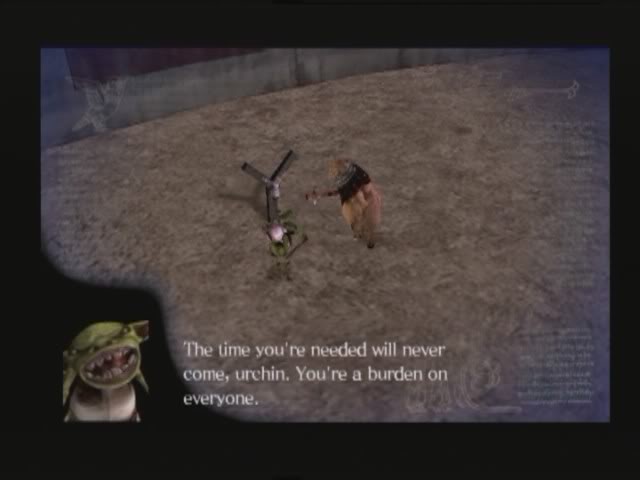 "All you're good for is to be a prize in the coliseum! And just a bronze prize at that. You are wedged in the prize list between the oversized stuff pink teddy bear and a voucher for a free corn dog and medium sized soda at the concession stand!"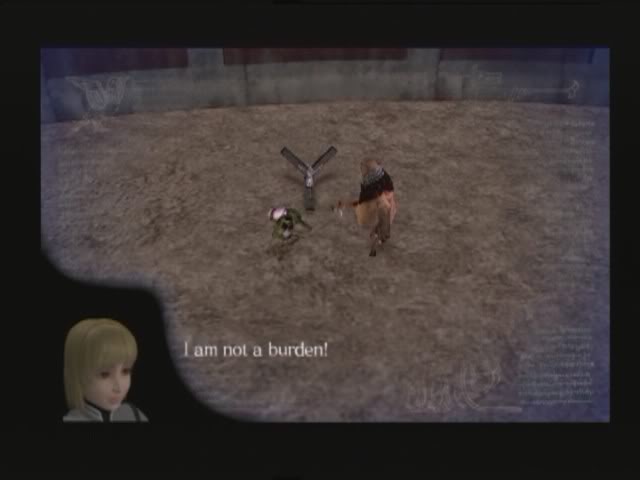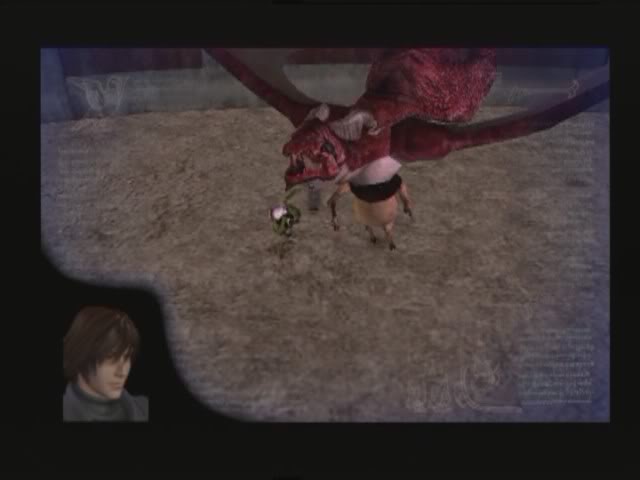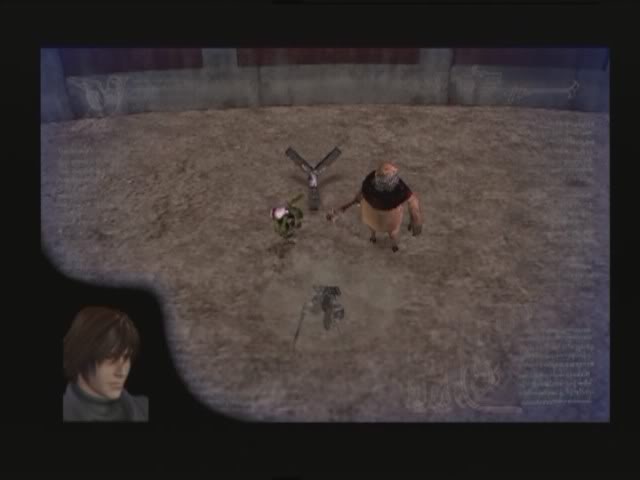 I disagree.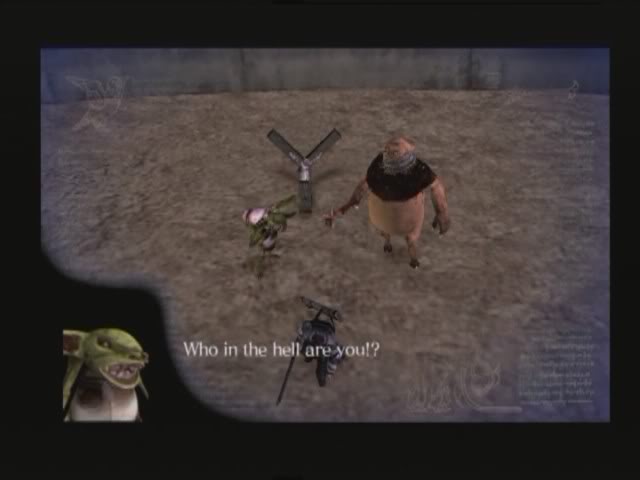 "..."

"...?"

"..."

"Well, out with it, man!"

Dragon, say it for me.

"No, Caim. I shall not."

Come on! It's a good one liner!

"'My name is Caim and it's killing time' is not a good one liner. I'm embarrassed to just repeat it aloud to you."

Dammit, dragon! You're ruining this for me!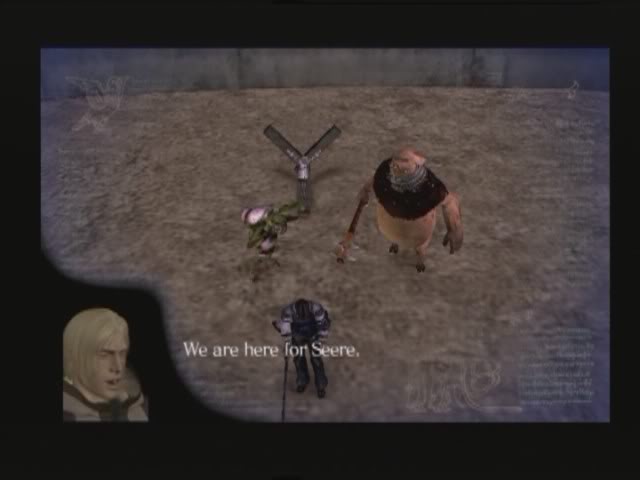 "Oh! You want to play in the arena, do you? Well, there are several forms that must be filled out. As well as valid copy of your health insurance claims, several wavers regarding policies should there be an unfortunate accident, a valid picture ID, as well as-"

<glare>

"Ah..haa... Uhh...but I suppose we can afford to cut a bit of r-red tape today..."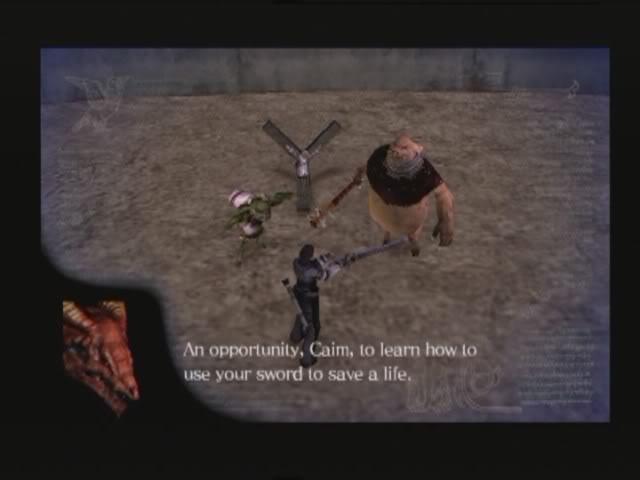 By wasting a load of monsters? Hey, I could get used to this altruism thing!

"Whatever works for you, Caim..."
Verse 10: Coliseum
ROUND 1: CAIM vs. THE GOBLIN HORDE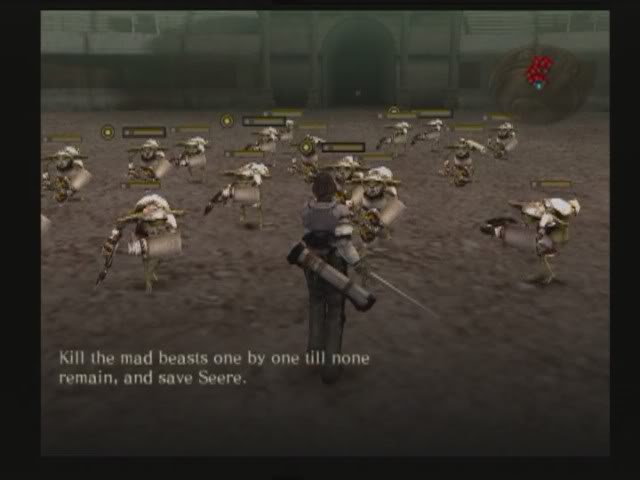 Alright, then. Time for Caim to fight in the coliseum! This mission is a bit unique. It's broken into ten rounds in which Caim must do battle with a different wave of sub-human hordes. On top of that, there is a very stiff weapon unlock requirement. This gauntlet must also be completed in under five minutes in order to grab the final weapon of this chapter. It's probably one of the stiffer requirements of the game, though very much worth it as it gives Caim access to the most powerful sword Drakengard has to offer.
We have to hurry, anyway. After all...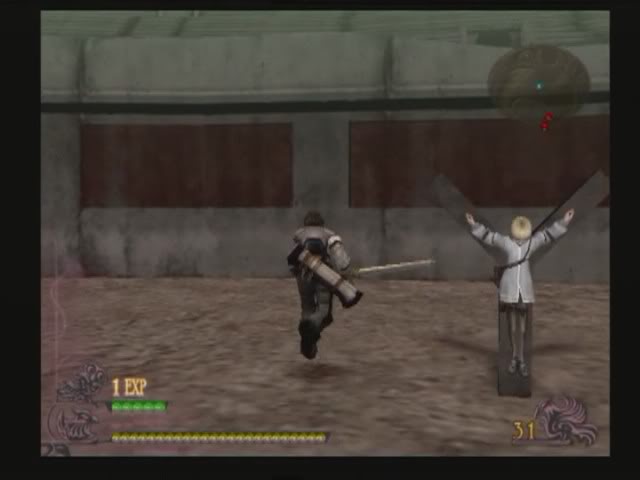 Seere died for your sins.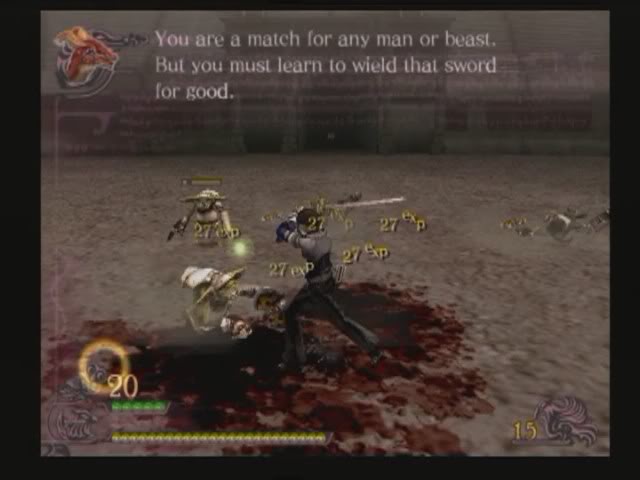 "You never know what evil may lurk around the corner. Why, even allies may one day become foe. Not that I'd know anything about that..."

What's that supposed to mean?

"Oh nothing, nothing at all..."
ROUND 2: CAIM vs. THE BLACK OGRE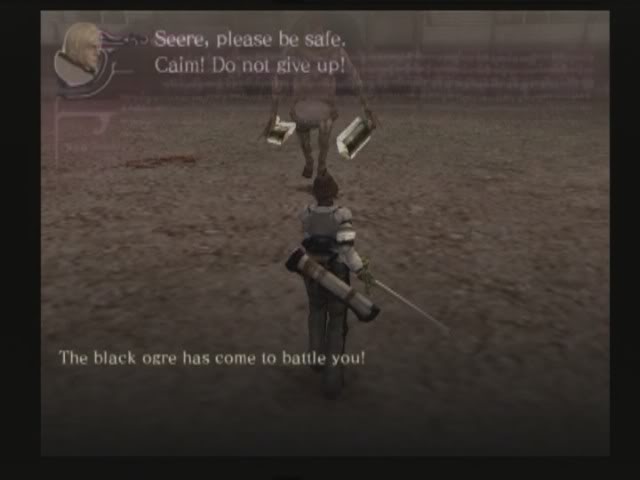 That ogre doesn't look black to me... The hell are they tal-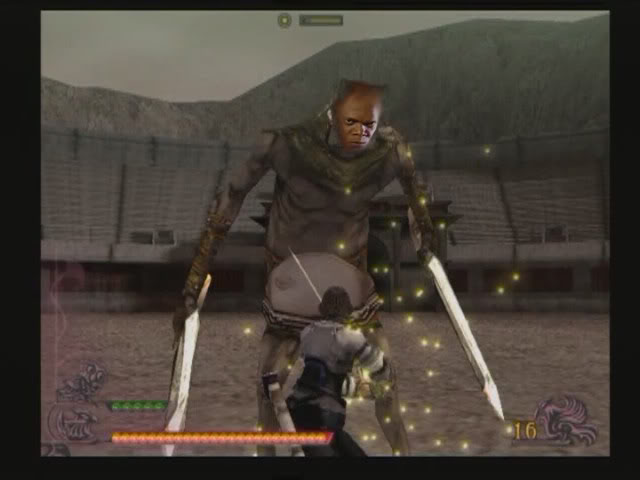 Oh, okay. I can see it now. Leonard and his lousy intrusive subtitles were in the way.
ROUND 3: CAIM vs. THE GIANT BROS.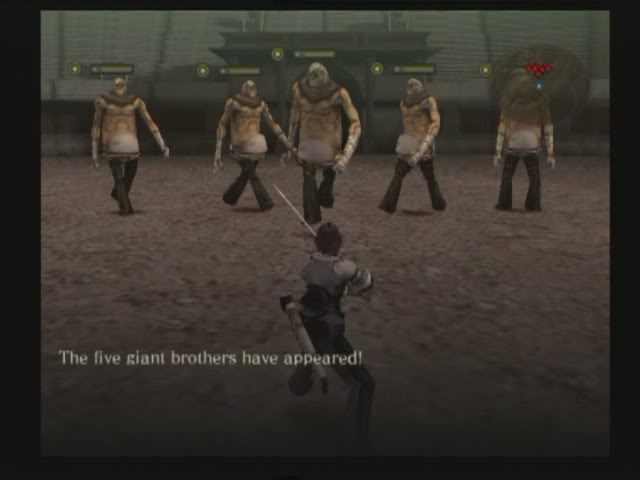 Their father was only 5'2" and their mother was a dwarf. True story!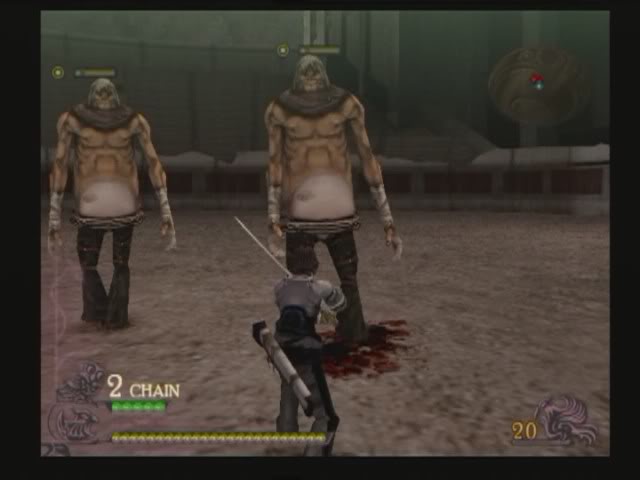 I don't think we've encountered giants before. They're basically identical to ogres, just with a different character model. Indeed, there are two enemy types that only appear in this verse and nowhere else. Then again, there are a whole slew of enemies that only appear in Chapter 4/Seere's Prayer and never again. Drakengard's development decisions are a web of puzzling design and mysterious actions.
ROUND 4: CAIM vs. THE THREE SISTERS AND THEIR WELFARE BABIES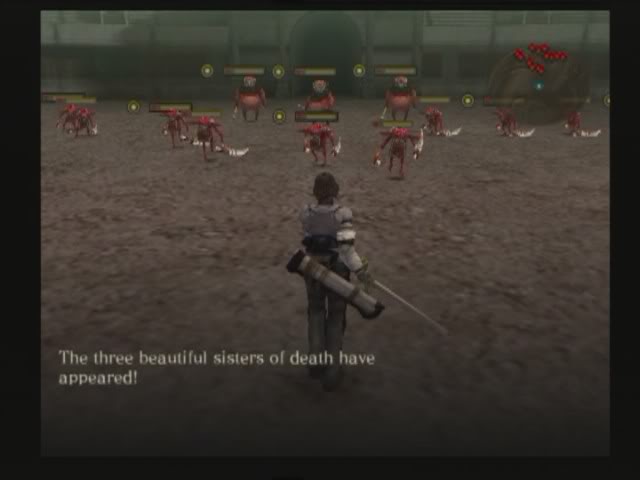 So, either there's some unseen subhuman event announcer up in the rafters or Drakengard's narrator has a very err...interesting taste in...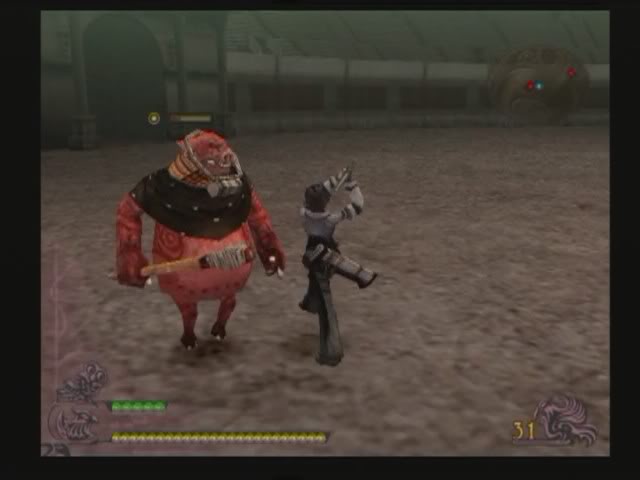 ...women?
The "three beautiful sisters" are also an unique enemy. They never appear at any other point in the game. They're basically a reskinned magic-resistant varients of the Ganondorf's retarded cousin enemies. However they attack with fireball spitting, caused by lighting the torch they're carrying and pulling a Dhalsim via belching its flames at Caim.
ROUND 5: CAIM vs. THE GUARDS FROM VERSE 8 - REMATCH!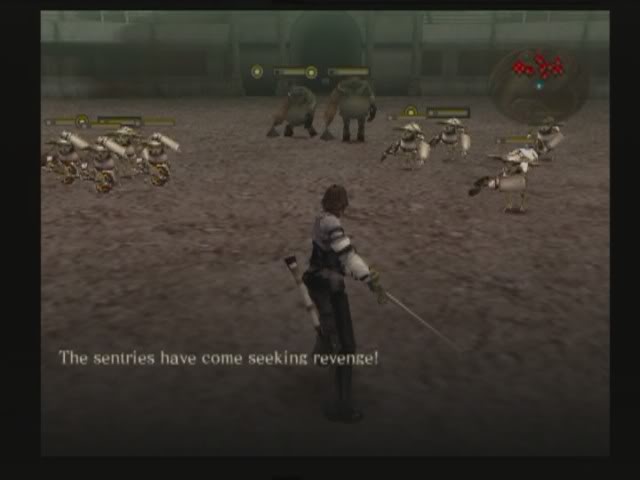 So, the guards from the previous ground mission are back for revenge. It ends poorly.
ROUND 6: CAIM vs. THE UNBEATABLE TRIO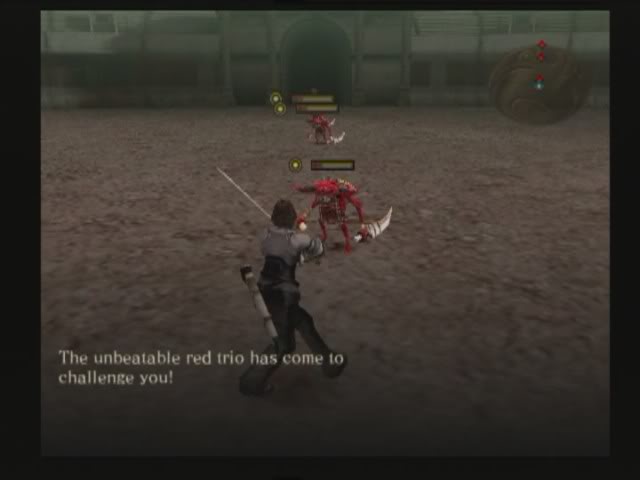 Caim easily beats them.
ROUND 7: CAIM vs. MR. and MRS. OGRIM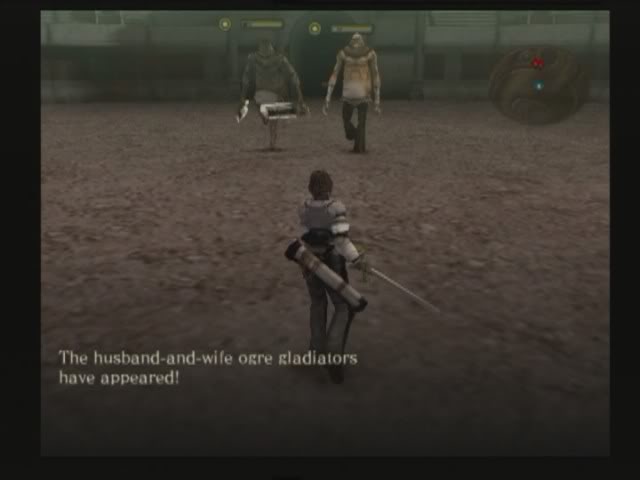 So, it seems the giants and the ogres are of the same species.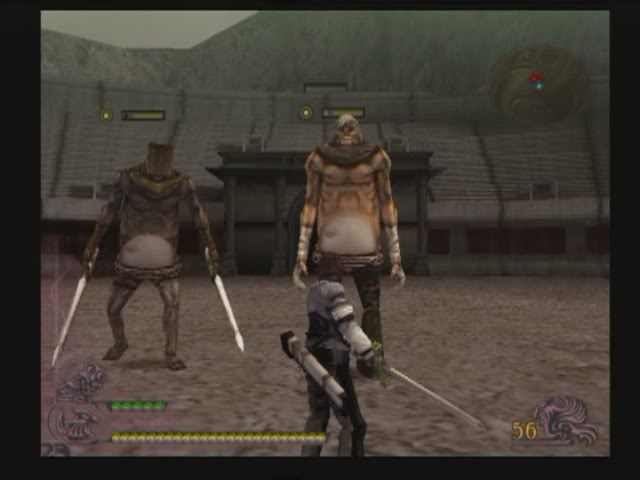 So uhh... Which one do you think is the female of this equation? Unless subhumans are far more progressive with their marriage laws that I would have figured...
ROUND 8: CAIM vs. THE GOLEM PMC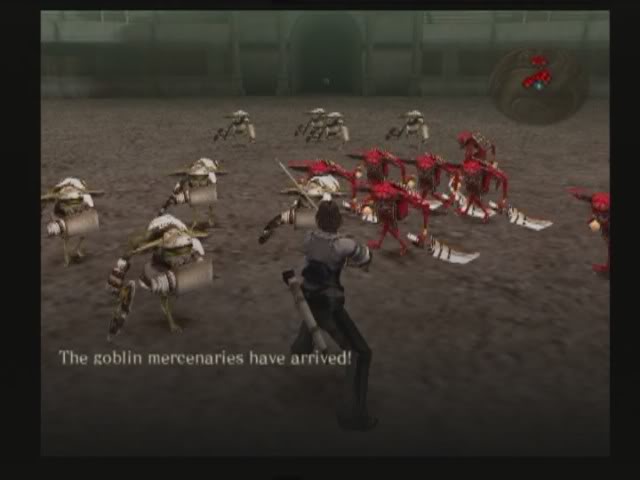 You will all be happy to know that at no point do nanomachines become a plot device in Drakengard. Nor will there be any abbreviations or cutscenes consisting of an old man coughing for five minutes.
ROUND 9: CAIM vs. THE COLISEUM KING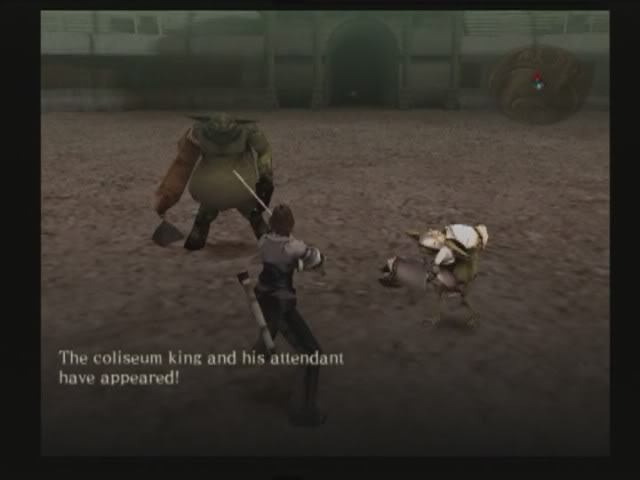 "You damned ignorant human! It's only been four minutes and you've murdered all the events I'd lined up for the entire afternoon! How am I supposed to sell tickets and make money if you end the program before the audience has time to get their asses warm in their chairs?! Can't you showboat or smack talk like a proper arena entertainer?! Why, you haven't so much has let out a battle cry. This is a disaster! A PR nightmare! The only one buying any souvenirs is that wormy bald man. You have ruined me! Ru-"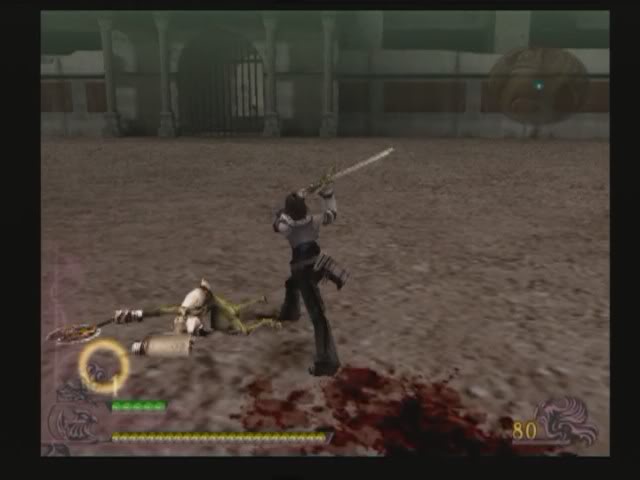 "Gah! In retrospective I should have seen this coming..."

"Barf!"
ROUND 10: CAIM vs. OH SHIT HE KILLED THE BOSS! EVERY MAN FOR HIMSELF!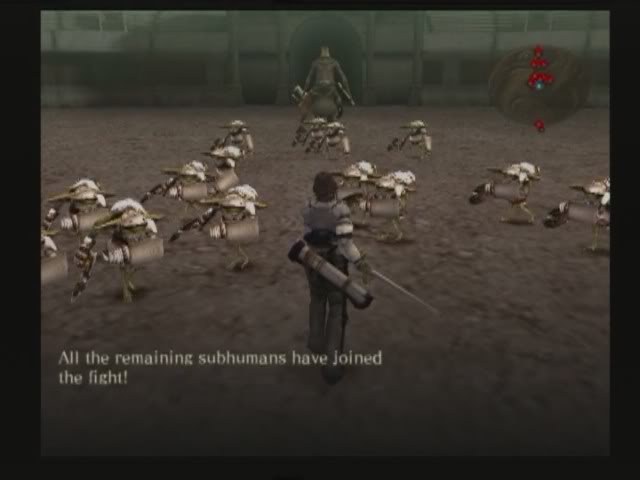 I think we can all agree that Slaughterism is the very best weapon name Drakengard has produced. Little did we know that the mighty blade of slaughter education holds...the
Power!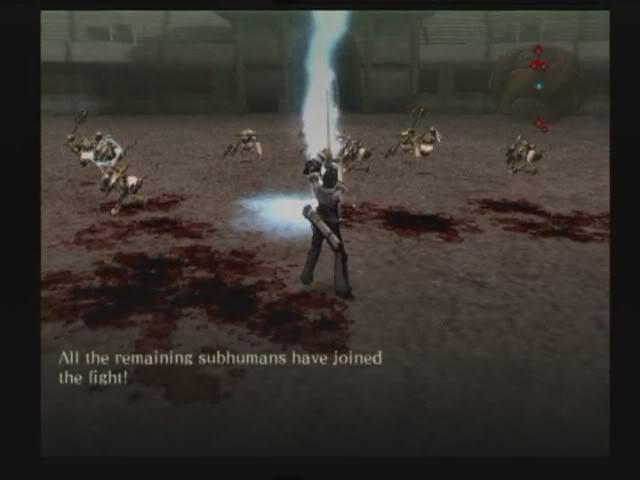 "What, Caim? Not going to quote He-Man now?"

Dragon, please. He-Man was gay as shit. I wouldn't be caught dead quoting that crap.

"Good. At least you have some tas-"

Thunder... Thunder!

"Oh good grief..."

Thundercats! HOOOOOOOO!

"My shame being in a pact with you grows with each passing hour..."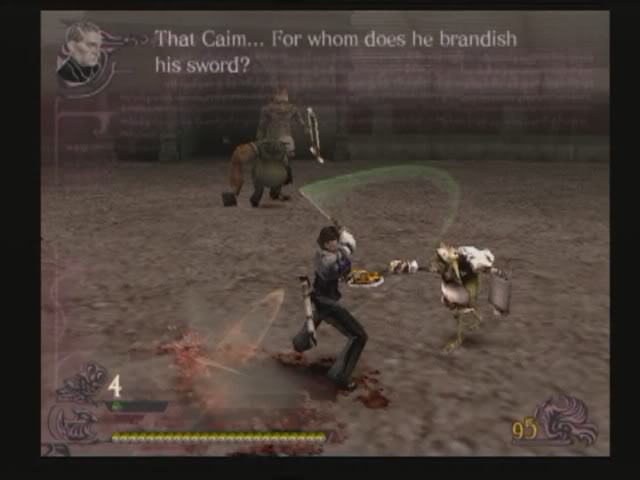 "At least he wields it against the enemies of the gods. May his blade find the necks of all subhuman scum tainting god's green earth and shaming the master race."
An arena full of piled high with the corpses of subhumans later...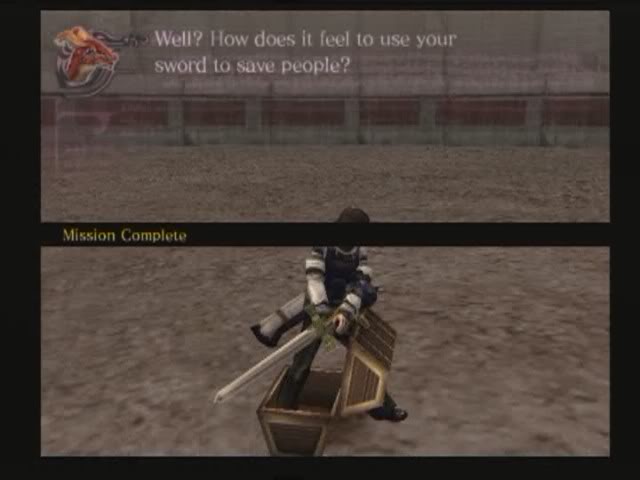 I gotta be honest... It feels exactly the same as when I was just using it to kill people. Mostly because I was...using it to kill people. Dragon, I'm really not feeling your whole after school PSA angle...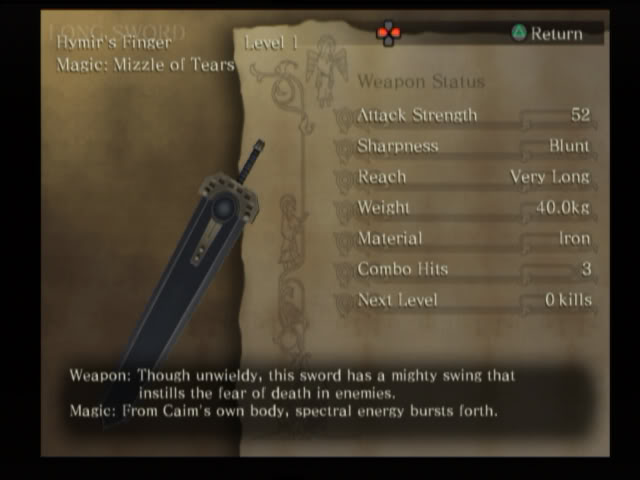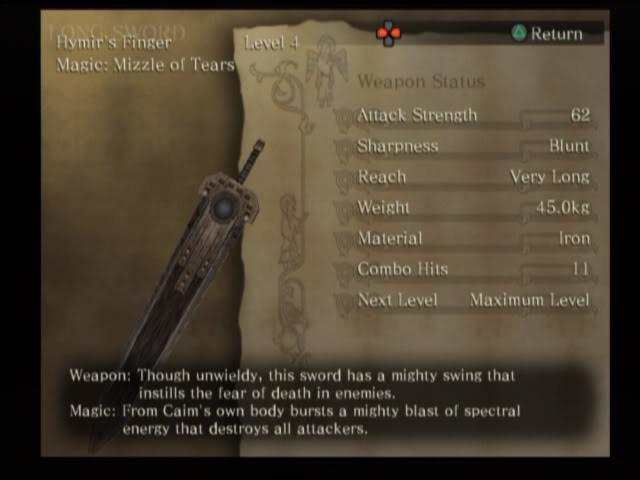 So, behold the gift completing the arena challenge in under five minutes yields: Hymir's Finger. Now Drakengard is truly a poor man's Berserk. Hymir's Finger is by far the strongest weapon in the game. It's slow as shit. But, when you're one-shotting everything in about a twelve foot radius in front of you...speed isn't much to worry about.
But what is this Hymir fellow? And the hell is a "mizzle"?
Wikipedia posted:

In Norse mythology, Hymir was a giant, a husband of Hrod. He owned a mile-wide cauldron which the Æsir wanted to brew beer in. Thor obtained it from him.

He is mentioned in a poem titled the Hymiskviða, in the Codex Regius between the Hárbarðsljóð and the Lokasenna. Hymir is the owner of a cauldron large enough to hold the Æsir's mead. His skull is unusually hard, and Thor breaks a cup by throwing it at Hymir's head.

Another myth involved Hymir assisting Thor when fishing. Thor caught Jormungand, the world serpent, on his fishing line, but Hymir cut the line before Thor could kill him.

Ah. Norse Mythology drunken fisherman giant. Got it. But, mizzle?
Dictionary.com posted:
miz⋅zle [miz-uhl]
usage: South Midland and Southern U.S.

-verb (used with object), verb (used without object)
1. to rain in fine drops; drizzle; mist.
-noun
2. mist or drizzle.

I've lived in the South for a good decade now and I've never heard anyone use mizzle. I also never realized how silly "drizzle" looks when spelt out.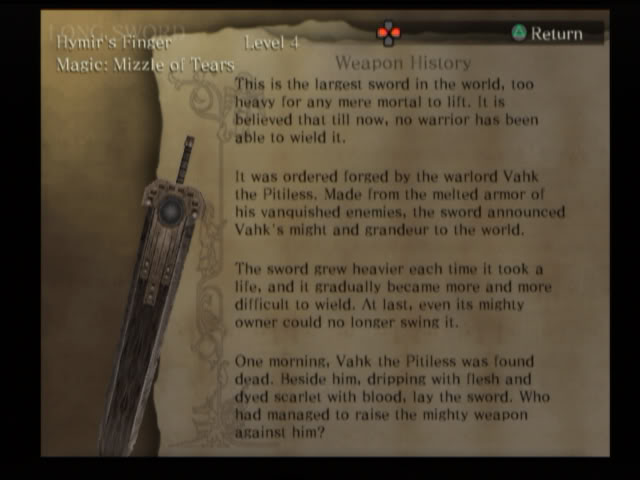 Oh, Christ. It's more Final Fantasy VII fanfic. Wasn't Dirge of Cerberus enough?!
Verse 11: Gratitude and Carelessness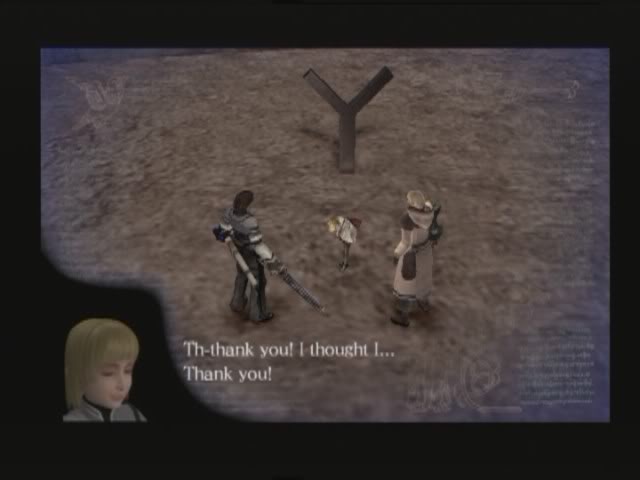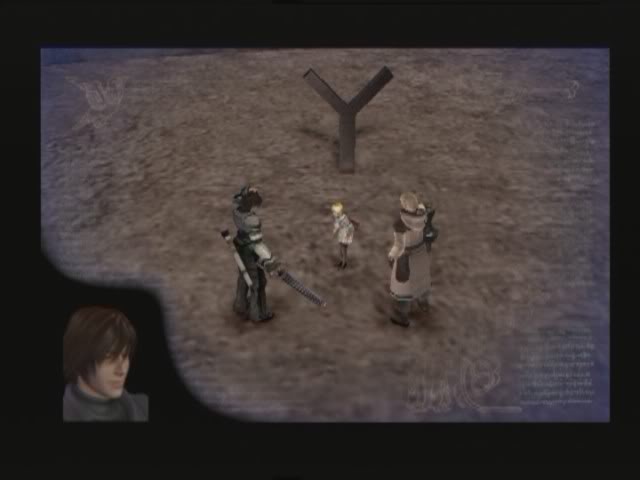 Ah...well... I guess I can't get too pissed. I got to fight as a gladiator and become the champion combatant in five minutes flat, had fun wasting a bunch of monsters, and get this ridiculous ass sword as a prize. No harm, no foul kid.

"Seere, you are safe now."

"I'm sorry. I always cause much trouble.
Where's Manah to blame when you need her?
"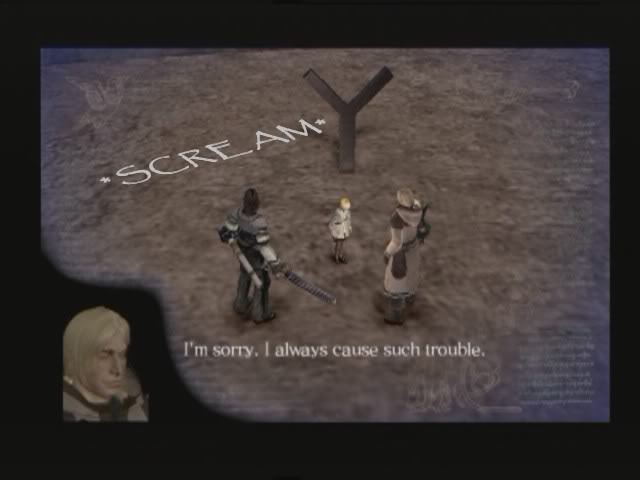 This warm moment is interrupted by the genocide of the fairy race.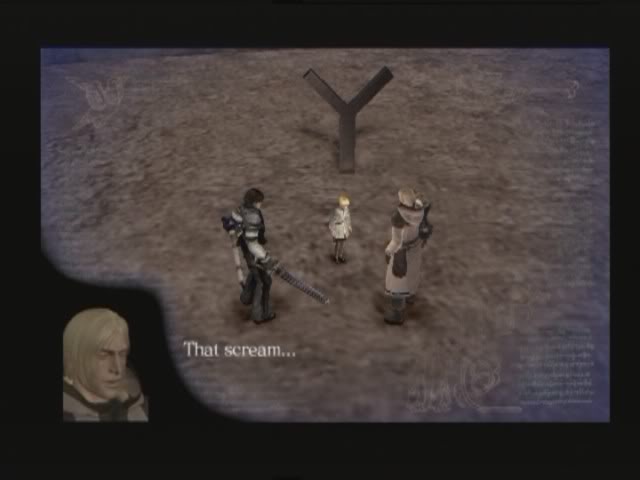 "The death cry of the faeries. The three seals are broken."

"Only the goddess remains-the very last seal!"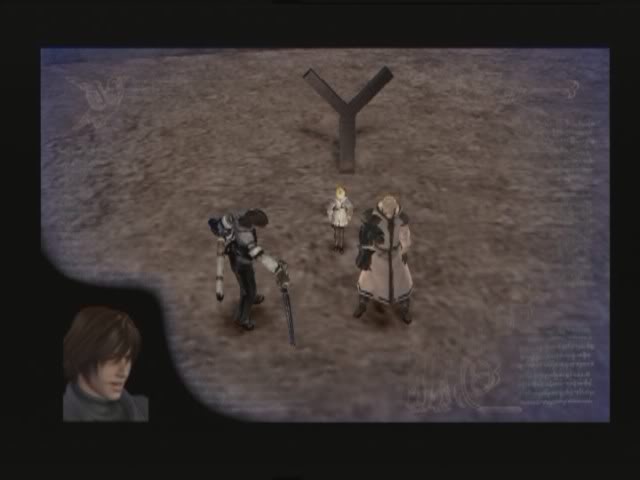 "Grr..."

Oh crap, oh crap, oh crap!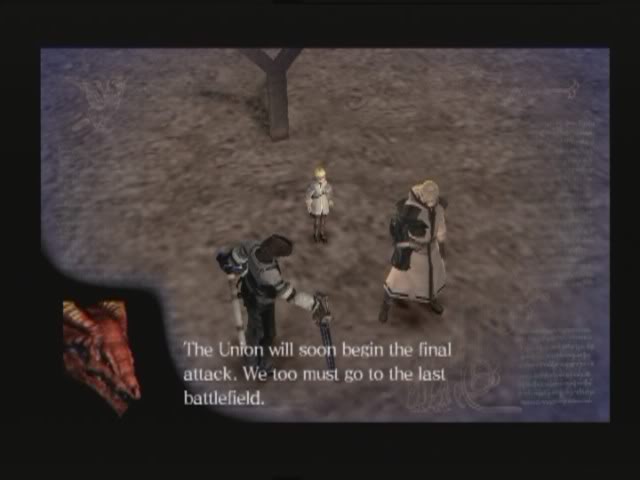 "Heaven knows those fools are about as effective at fighting as a quadriplegic being rolled down a steep hill."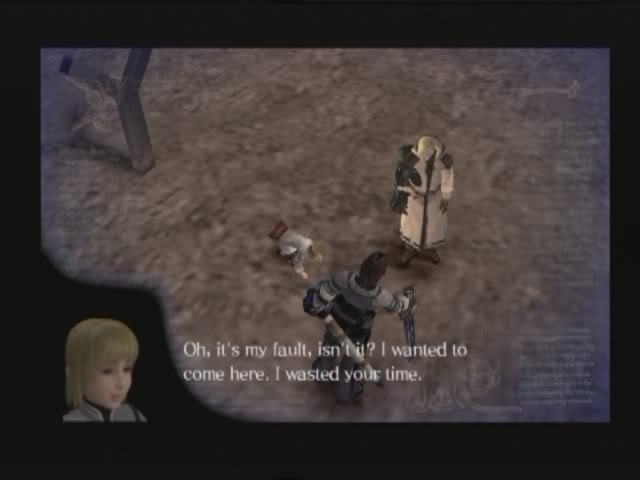 Understatement of the goddamned year, right here.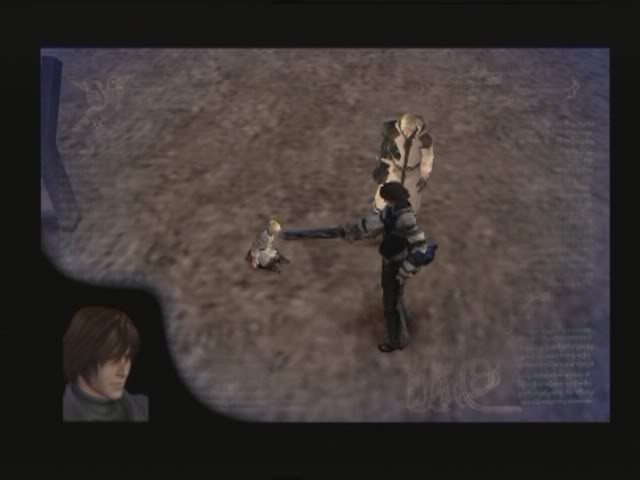 Our hero proceeds to threaten to stab the boy in the face for being such a fuck-up.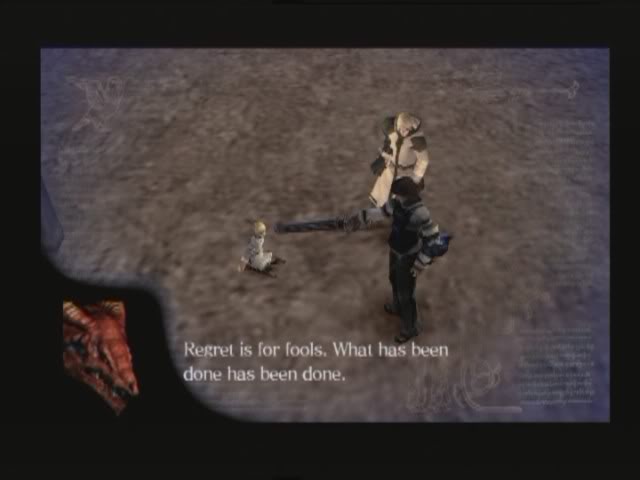 "Yes. All right."

"Seere, you sister..."

"Forget it. It doesn't matter now.
Not anymore...
Come on. We have to hurry."
And so our merry band of murderers rushes off to join the Union for the final battle. Will little Seere redeem himself one day?
Hell no! He makes the biggest fuck-up of the game since Inuart and the Seeds.
BONUS CONTENT:
Movies -
Seere Died For Your Sins
It's pretty bad when even the game itself acknowledges this was a gigantic waste of time.
Artwork -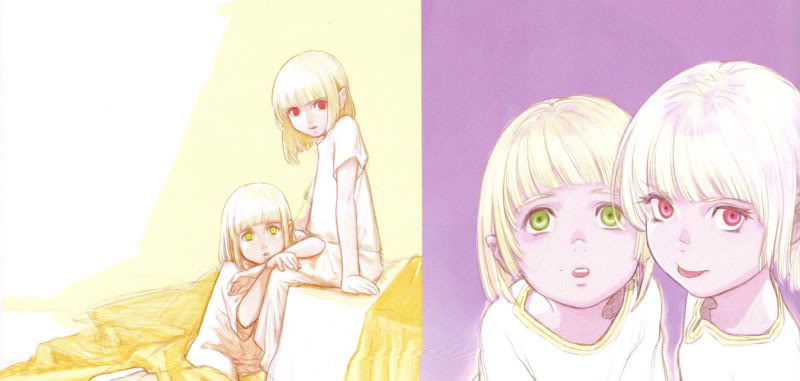 Seere and Manah Concept Art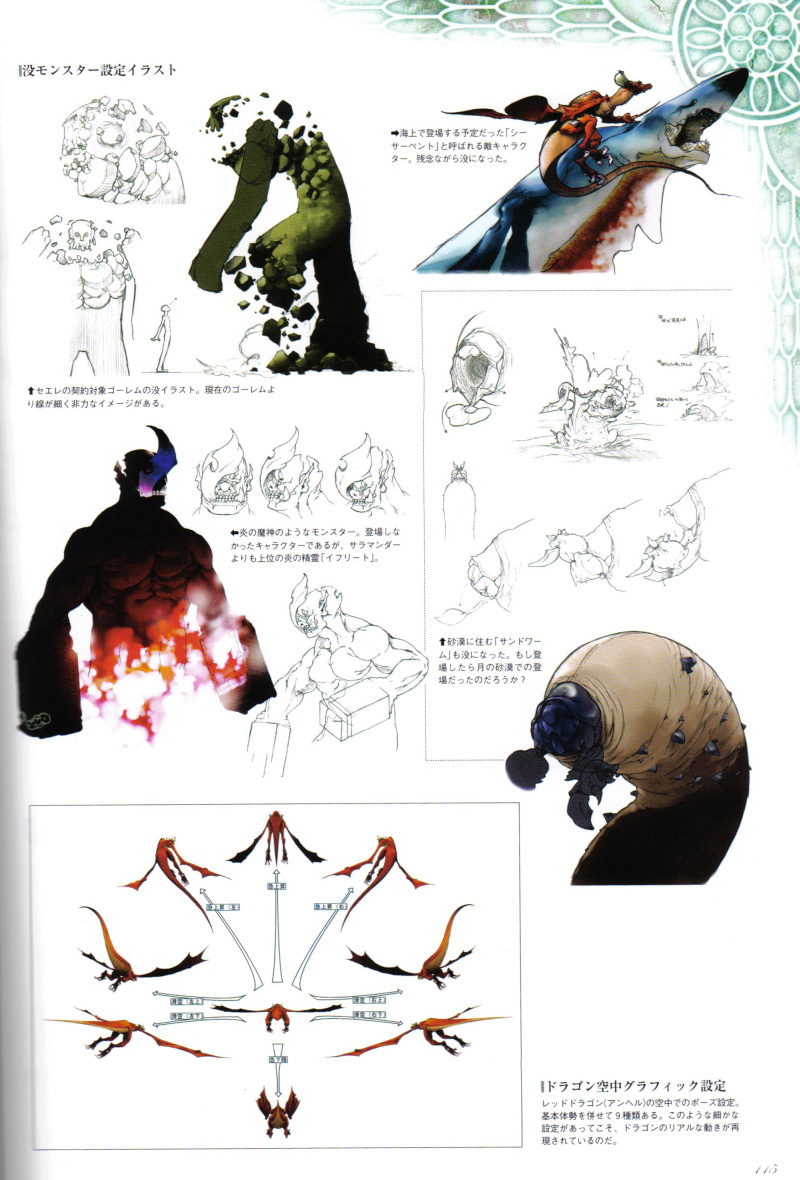 Unused Monster Concept Art