Part 4: Bonus 1 Landmark Guide
This update shows us a better view of the North-Eastern part of the city; mainly the Marina and Chinatown areas. The quick freeway sections gave a better
of the clocktower
from the first episode, as well as a good look at a couple other landmarks.
Infinity Towers -
Screenshot
-
Streetview
-
Wiki
Sutro Tower -
Screenshot
-
Streetview
-
Wiki
The Trade Mark and China Gate -
Screenshot
- Streetview
Trade Mark
Gate
-
Wiki
-The church on the right in the streetview is the
Old Saint Mary's Cathedral
UCSF Laurel Heights Building -
Screenshot
-
Streetview
-
Wiki
County Jail -
Screenshot
-
Streetview
-
Wiki
The Embarcadero Center -
Screenshot
-
Streetview
-
Wiki
-The Embarcadero Center had been passed and driven through a few times, but this is the best view we've had of it. The center itself is a 4 block long, 3 story high, outdoor shopping plaza. The 4 office towers that are placed on top are a pretty iconic section of the San Francisco skyline.
Marina -
Screenshot
-
Google Maps
Red - Fontana Condos
Black -
Hyde St Pier
. The pirate ship is the
Balclutha
White -
Fisherman's Wharf
- Home of the
SS Jeremiah
and the
Musée Mécanique
Blue - The previously mention Forbes Island
Green -
Pier 39
Feature: The Bay
Wiki
Google Maps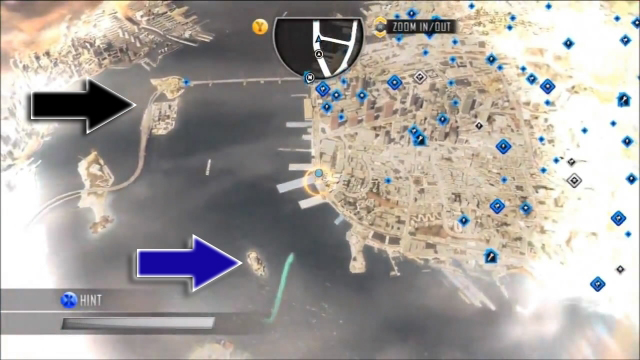 This bonus gives us the first real good look at the city as a whole. The
Bay Bridge
(Part of Highway 80) can be seen exiting the city at the top left (This screenshot is of the city looking south). As mentioned in the video, the real bridge is a double-decker with the top level moving inbound from
Oakland
to San Francisco. The two sections of the bridge are separated by
Yerba Buena Island
. The flat section of land (black arrow) connected to the island is
Treasure Island
, an artificial land mass that was created to house the
World's Fair
(the bridge does not really pass over the island). From the mini map we can see that the game makes you turn left onto highway 580, which travels up the inner coast before turning left again to cross the bay into the North Bay via the
John F. McCarthy Memorial Bridge
. The "park with all the kites" that was mentioned is
Cesar Chavez Park
, an artificially built park on the water in
Berkeley
, which holds a giant kite festival the last week in July.
The Blue arrow points to
Alcatraz Island
. The largest island in the bay,
Angel Island
, does not appear to be in this game. That second island that the Bay Bridge passes through in game does not exist in real life; my guess is that it is supposed to be
Alameda
Bonus History
On the topic of kites and aerial shots of the city, probably
the most famous kite photograph ever made
was a panoramic shot of San Francisco captured by
George R. Lawrence
just 6 weeks after the
1906 Earthquake