Part 65
judenhauer posted:
I've used vulomedia.com when waffleimages is down before

Thanks! This seems like it'll work.

Wait what.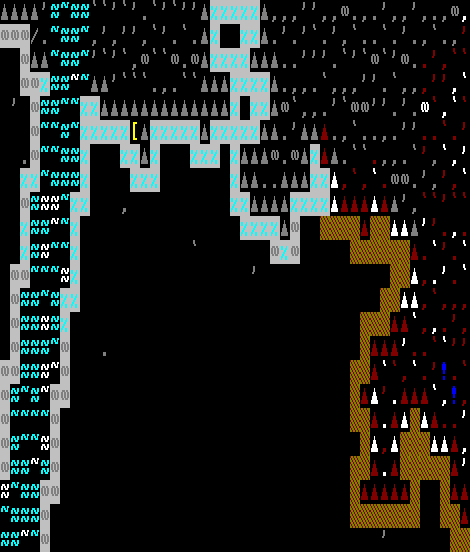 Oh, it seems like the elves were too stupid to leave. They eventually went crazy from starvation and sleep deprivation, animals included. Now they just mope about outside looking for a way to kill themselves.
Here's a tip: find a large, angry, undead bat. Trust me.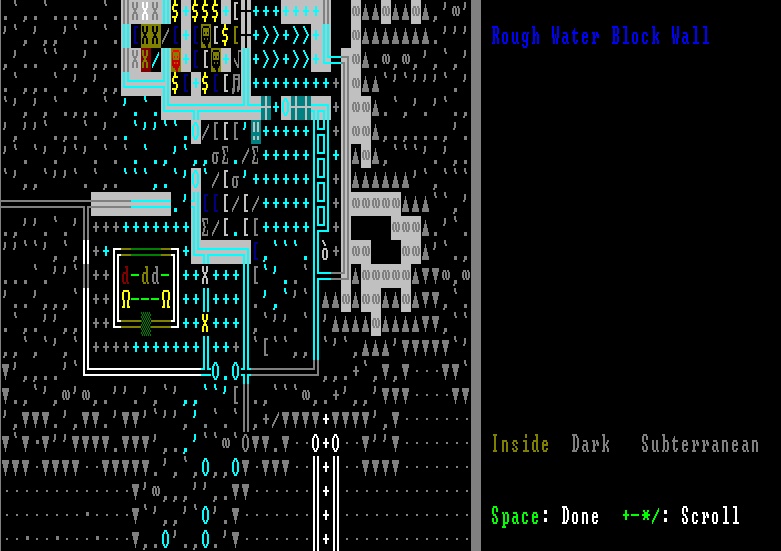 Later, I discovered that Headshoots defies both the laws of nature AND physics. These walls by the dog chamber are made COMPLETELY OF WATER. I figured I was drinking too much at first...or not enough. Either way, I won't be setting foot in wacky water wall world lest a thirsty dwarf drink us into a cave-in.

Hey kids! It's question corner with Orangesoda!

rotinaj posted:
Have I been redorfed? And as what, if so?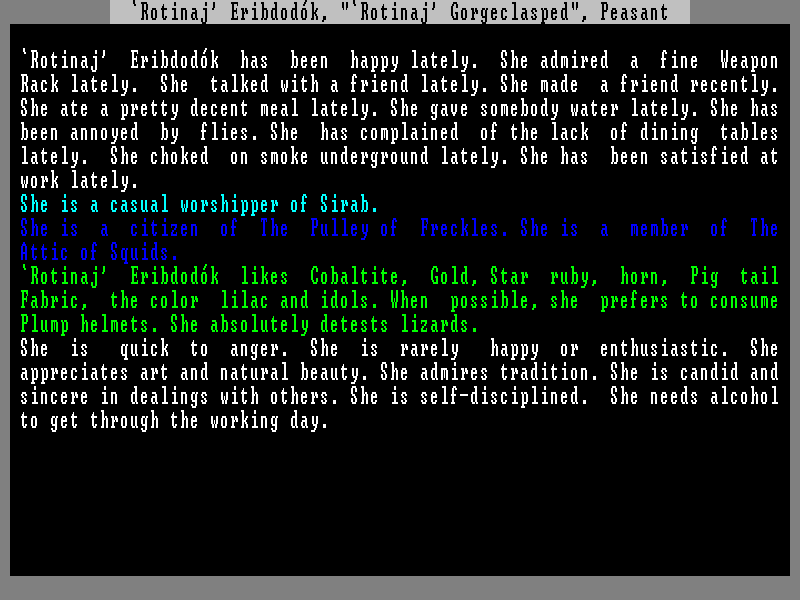 Royal W posted:
Just chiming in here to give a big high 5 to the

TRIBUTEWEAPON

art. I think I have a new desktop.

I'm also curious if Royal II has managed to find his way to the fort yet and, if so, what he is up to.

Keep up the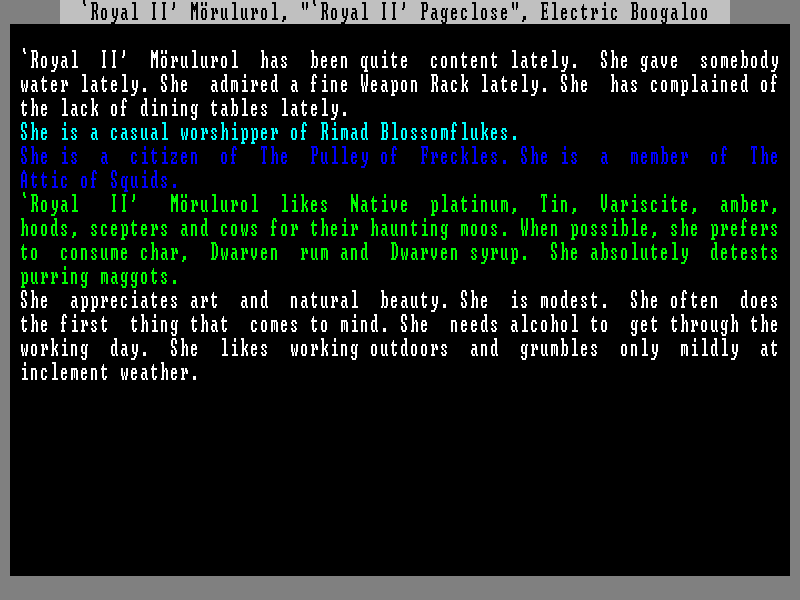 EvilCoolAidMan posted:
I just read the whole thread and damn, this place is fucking hilarious and just a huge travesty wait to happen again. also requesting dorfing so I can see a ascII version of myself run amok!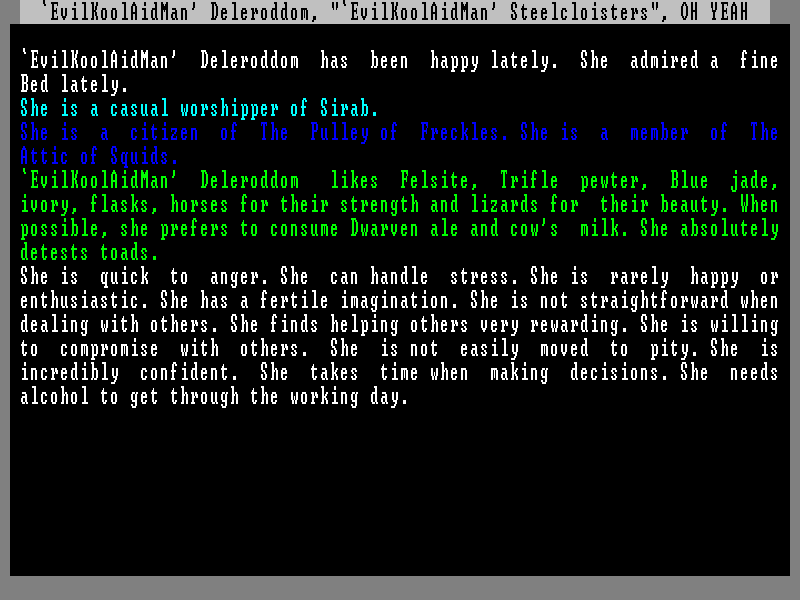 Question time over, shut the hell up!

Although there is no image provided for this occasion, I managed to find another area of noble-worthy offices, crypts and bedrooms all connected and vacant. I've assigned everyone their things and for ONCE the nobility isn't complaining, expect the countess who is whining that her crypt of gold statues and glass doors isn't pretty enough.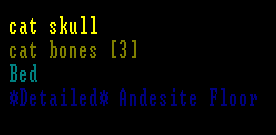 However, I must question one thing...how long has the damn place been forgotten? In a few other rooms, fully clothed dwarf skeletons were found in bed. The nobles seem happy to sweep the bony corpses out of bed and then just sleep there themselves, though. Creepy ass nobles.
Suddenly, I get word that the previous overseer "Uncle Jam" has bled to death! I search outside for his corpse, assuming that he'd been mauled by one of the shambling monstrosities we call "wildlife" here...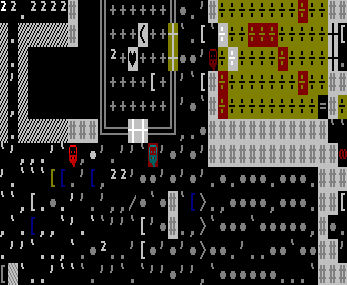 However, I find the corpse slumped against a wall in the hallway in a pool of blood. I'm suspecting foul play, to be honest. It's a good thing you can't really assassinate a dead guy.
But then again, i'm starting to wonder about something. The mangled wardogs in that hidden room, the weird, open area that tag plastic was in that never seems to exist, the mysteriously wounded guards and slightly maimed peasants....is there something lurking in headshoots that we don't know about?

Oh, let me guess...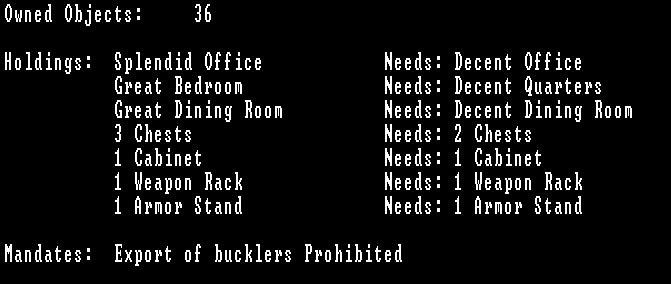 Yep. He really wants his fucking bucklers it seems. The guy has a HILL of bucklers in his room and he dives around in them for fun. I guess that explains the bruises.
In closing, Summer has been more of the same. Fire, death and retarded design. As the weather cools outside to make that transition from hellishly hot to bitter, grave cold, I think to myself about the creation I was supposed to-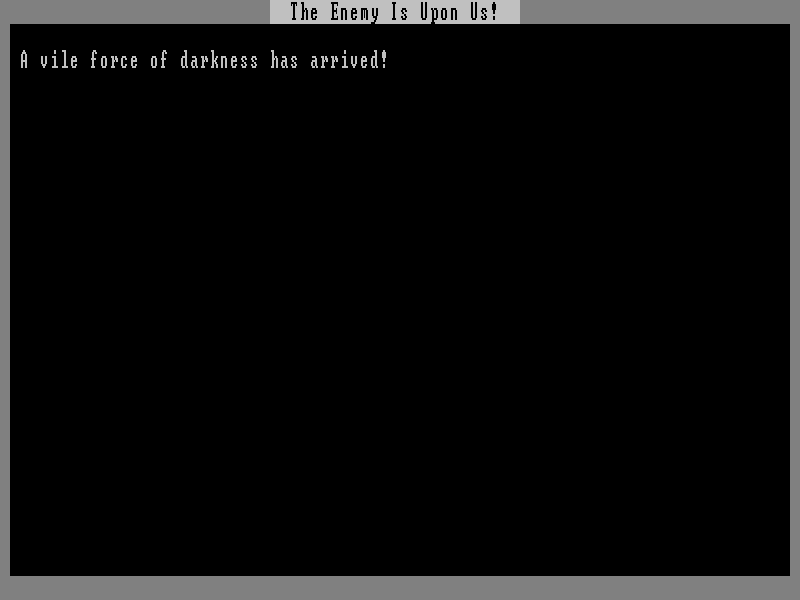 Oh
FUCK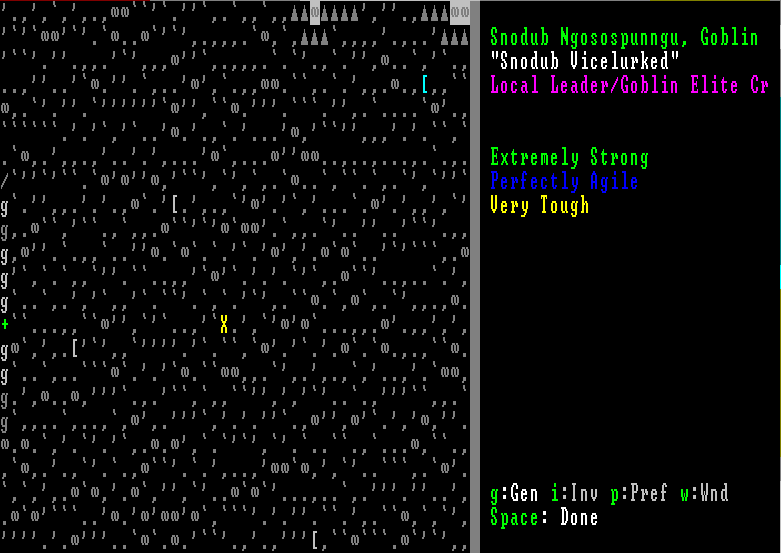 Scouts report that it's a war party lead by the local leader of the goblin fort, Snodub. A master marksman with a crossbow and an army of well trained wrestlers. From the north, a goblin guard and a group of goblin crossbowmen. I don't need to tell you how dangerous those marksmen are. Then can nail a dwarf in the throat from a mile away!
...wait, why aren't they advancing? Oh right, the lava pool outside our entrance.
It turns out the goblins took one look at the surrounding scenery and the giant
TRIBUTEWEAPON
leaking lava all over the place and now they're huddling together fearfully in little camps at our borders. These guys serve DEMONS half the time and they're afraid of Headshoots. Thats really saying alot about this place.
Suddenly, a Kobold thief is spotted near the lava flow by one of our on-duty champions, Hollistic Detective! The Kobold makes a run for it and..wait..what is he...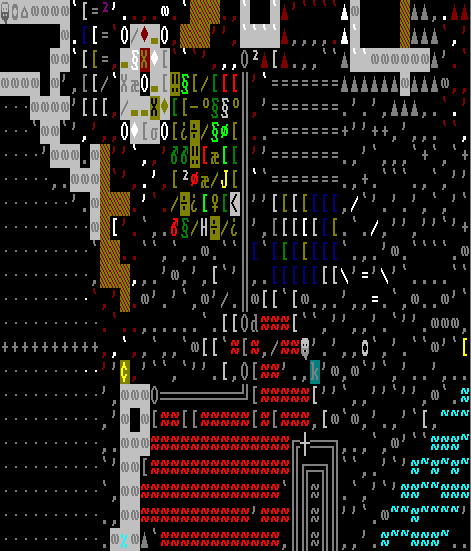 I leave you with this final shot for summer, of Hollistic Detective charging through a lake of fucking lava to maul a kobold beyond recognition. He survives without a scratch.
Remind me to never, ever piss off our military.